Brazilian artist Hidreley Leli Diao loves Disney films and cartoons. So he brought them to life using nifty artificial intelligence software to show us what our favorite cartoon characters would look like as human beings. He achieved this feat by combining characters with photos of real people. Hidreley explained: "When we watch some animation, it is natural to accept the cartoonish proportions of the characters without any problems…after all, we are quite used to this type of trait. But what if, as in a spell, they became real, flesh and blood? I tried to bring them into our world through artificial intelligence." So join us as we discover what happens when cartoons come to life! 
Snow White, Snow White and the Seven Dwarves
Snow White was a European fairy story long before Walt Disney turned it into the world's first feature-length animation back in 1937. With its wicked witch, prince charming, and cute dwarves, the cartoon mesmerized the entire world and ushered in a whole new medium. Can you imagine your childhood without Disney films? Thanks, Walt!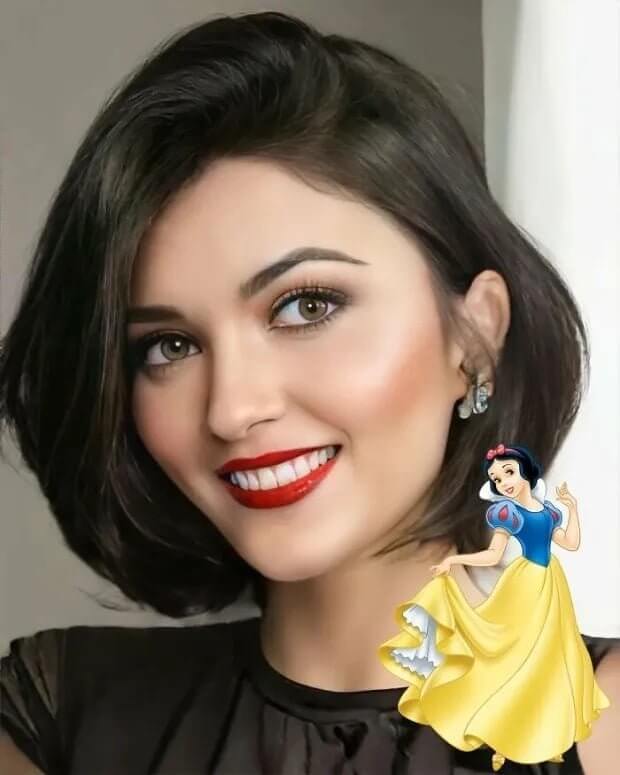 The Brazilian artist recreated Snow White brilliantly and brought her bang up-to-date into our modern age. The only downside is that Hidreley Leli Diao didn't get to wake her from her slumber with a kiss! 
Joe Gardner, Soul
On one level, Soul is a great kids' movie with some cool jazz and soul music. On another level, it's a profoundly existential and philosophical movie about life, death, and the afterlife. Joe Gardner was a middle-school band teacher, but his real passion was playing jazz. When he falls down a manhole, he dies and ends up in The Great Beyond. But don't worry, Joe returns to earth, and everything works out okay in the end. This is Disney, after all.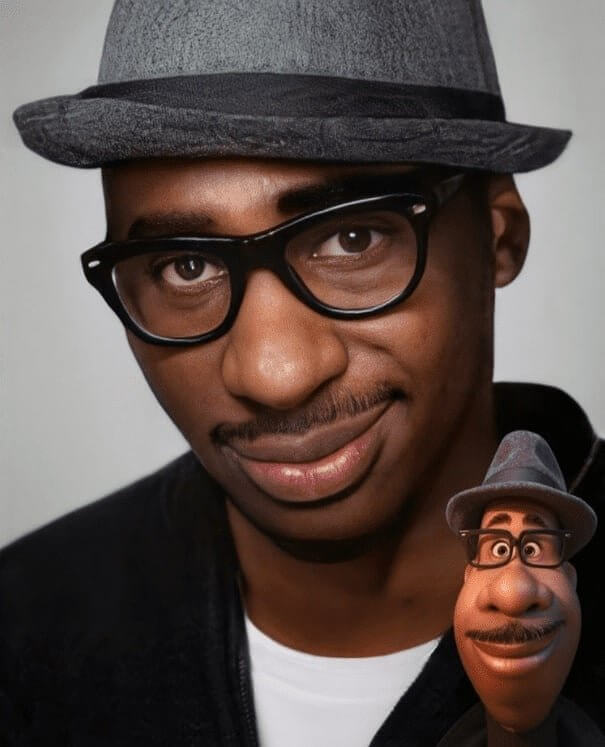 Counterpart Joe's brown eyes, skin tone, nose, mustache, thick-rimmed glasses, and gray fedora are all excellent. You can almost hear Jamie Foxx's voice. This is our favorite 3D rendering so far, and one day, all Disney animated characters will look this good. Who's next?
Annabelle, Annabelle
Chucky isn't our only murderous doll. Annabelle is another terrifying doll who first appears in the prequel to The Conjuring. Now, the rules kinda go out of the window because whereas all our other characters are 2D cartoons, Chucky and Annabelle are real, 3D entities.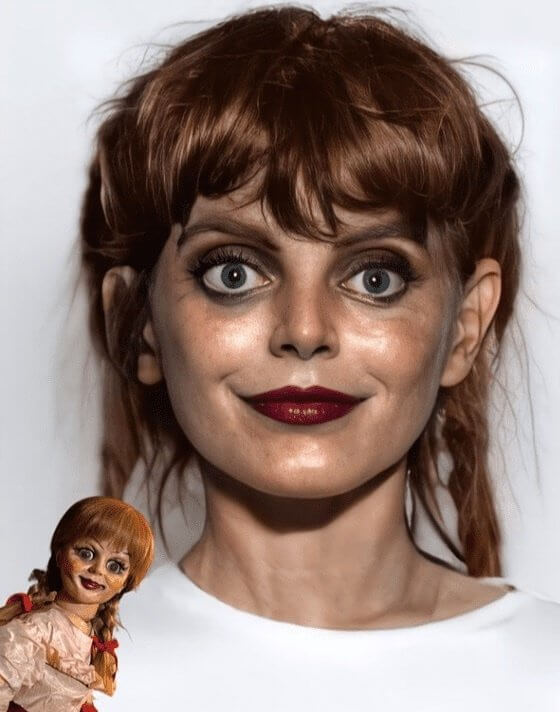 Does the fact that it's a real-life doll mean creating an AI version is easier or harder? Answers on a postcard, please. Either way, this updated version of Annabelle is still pretty scary. She's even wearing too much makeup like the doll. You wouldn't want to meet this lady in a dark alley! 
Elsa, Frozen
Elsa of Arendelle is The Snow Queen from Hans Christian Anderson's famous fairy tale of the same name. Walt Disney tried to bring the Danish writer's tale to life in 1937, so it would have been his second feature film after Snow White, but maybe it would have been too much snow! Walt passed away in 1966 after The Jungle Book came out, so he never got to see Frozen.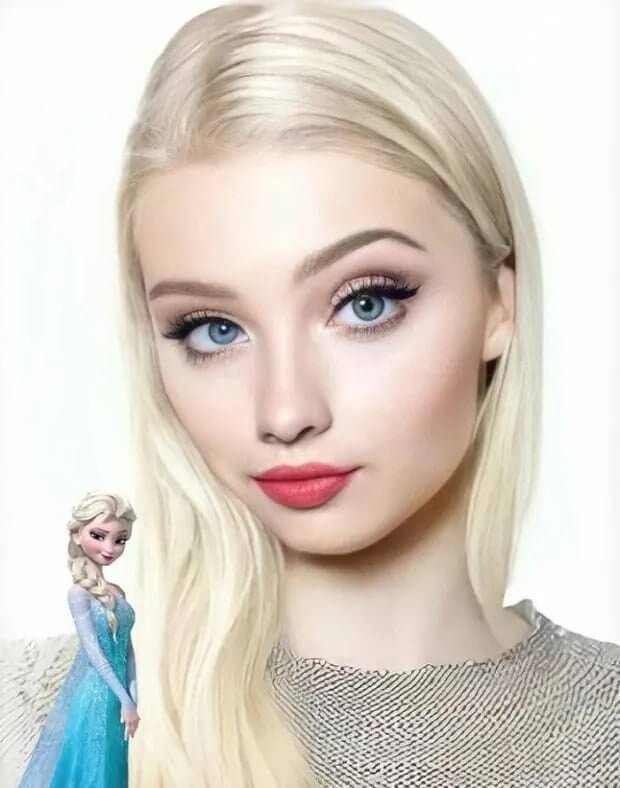 But, if the rumors are true, he can watch it when he comes back to life. You see, legend says that Walt was cryogenically frozen. So, feast your eyes on this real-life version of the 3D AI version of Elsa. It really captures her spirit.
Carl Fredricksen, Up
Disney's Up tells the tale of cantankerous 78-year-old balloon salesman Carl Fredricksen, who wants to fulfill his boyhood dream of flying up, up, and away to South America to search for the forbidden Paradise Falls. So, Carl ties thousands of balloons to his house and sets off. But his dream is popped when he discovers a little boy named Russell has stowed away aboard his balloon-powered home.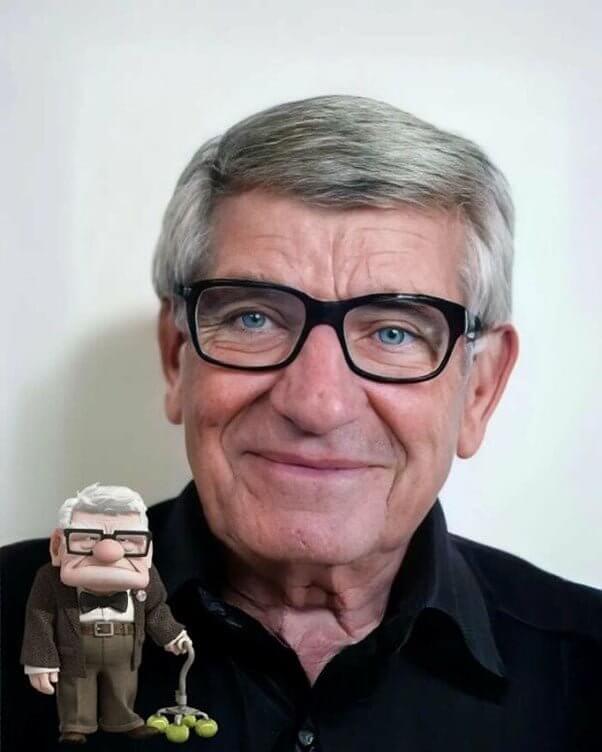 The AI photo of Carl Fredricksen is fantastic, from his oversized eyeglasses hooked over his long ears (long ears are a sign of wisdom) to his wrinkled, weather-worn face. But the photo also captures the fact that, under the grumpy facade, there's still a youthful, adventuresome young boy behind those big blue eyes.  
Cinderella, Cinderella
Cinderella was Disney's 12th feature-length animated film. It came out over 70 years ago in 1950 but is as fresh today as ever. The story is based on Charles Perrault's 1697 fairy tale, and did you know that Cinderella's famous glass slipper was originally a green slipper? The French for green is vert, while the French for glass is verre, and it got lost in translation.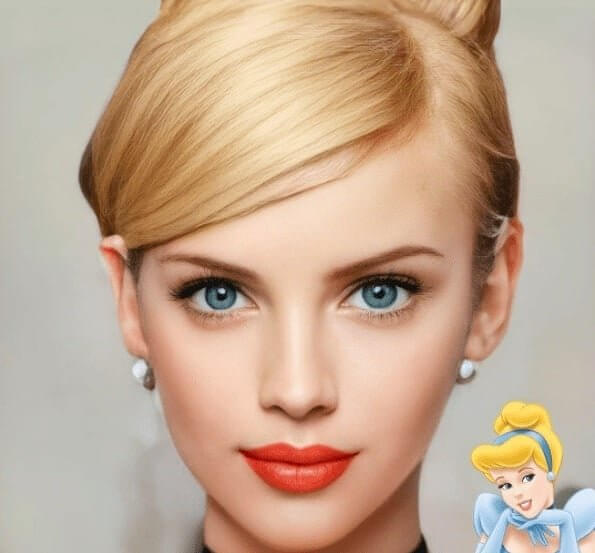 If this beauty turned up at the ball, she would be the only girl Prince Charming would choose. But since she was created by artificial intelligence, she'd probably tell the prince, "I need your boots and carriage," before blowing him away like Arnie's Terminator! 
Tintin, The Adventures of Tintin
Herge's intrepid Belgian reporter TinTin first appeared in comic books in 1929. For almost one hundred years, TinTin, his cohorts, and his dog Snowy have traveled all over the world solving crimes and getting into scrapes. The young lad is famous for his quiff and was voiced by Jamie Bell in Steven Spielberg's 2011 computer-animated feature film.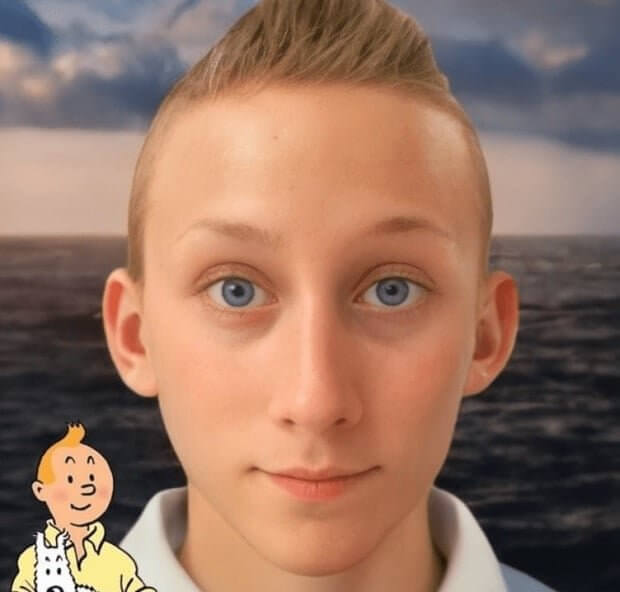 The part the AI software got right is that this young lad looks French or Belgian. The part it got wrong is that he seems flat and lifeless, the total opposite of the real TinTin. We think he needs a bigger quiff, and we'd love to have seen an AI version of Snowy. 

Chucky, Child's Play
Chucky has been haunting our screens and dreams for decades. The murderous redheaded doll first came to life in the 1988 film Child's Play. If you don't know Chucky's origin story, it's hilarious. When serial killer Charles "Chucky" Lee Ray is trapped by cops in a toy store, he casts a voodoo spell to transfer his soul into a Good Guy doll to escape.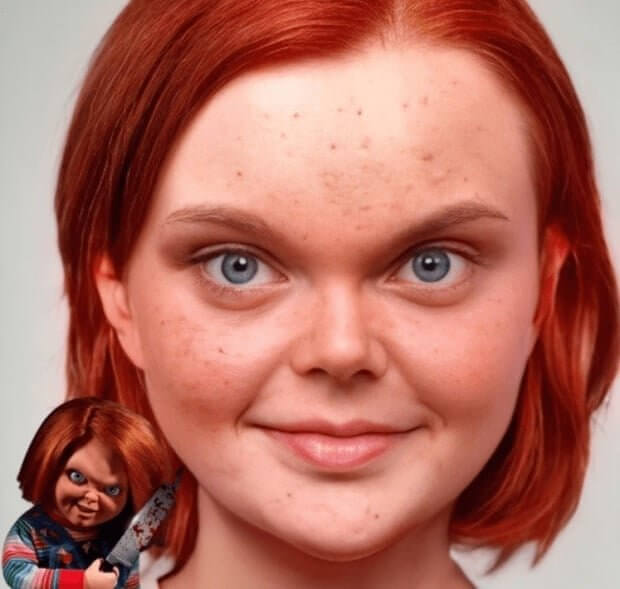 A kid gets given the doll, which comes to life, and goes on a killing spree. If Chucky the doll wasn't scary enough already, this quite androgynous real-life version will give you nightmares! Just don't stare too long into its eyes! 
Princess Jasmine, Aladdin
The story of Aladdin first reached European shores around 1700, but it comes from The Arabian Nights or One Thousand and One Nights collection of fairy stories and is as old as the sand dunes. One story tells of the Sultan's feisty daughter Jasmine. She has grown bored of her life confined to the palace and rebels against the law stipulating she must marry a prince. Instead, she's determined to marry someone who loves her for who she is. And that's when street-smart Aladdin enters the story.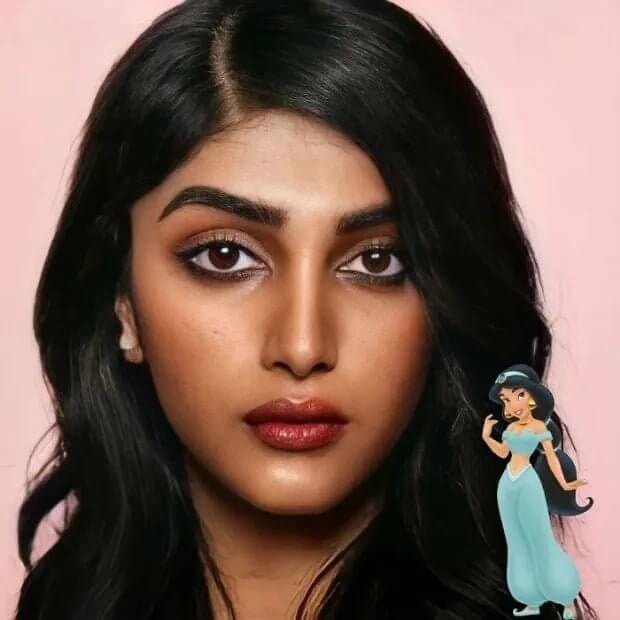 We don't need three wishes from a genie in a bottle to see what Jasmine would look like in real life, as Hidreley Leli Diao has brought her to life. Her captivating beauty might be hers, but those gorgeous big brown eyes are definitely Disney's. 
Peter Pan, Peter Pan
Peter Pan was the boy who never grew up and had wild adventures in J. M. Barrie's Never Never Land. If you wondered what he'd look like in real life, ponder no more. He is the spitting image of brilliant young English actor Will Poulter who played Eustace Scrubb in The Chronicles of Narnia: The Voyage of the Dawn Treader and Adam Warlock in The Guardians of the Galaxy III.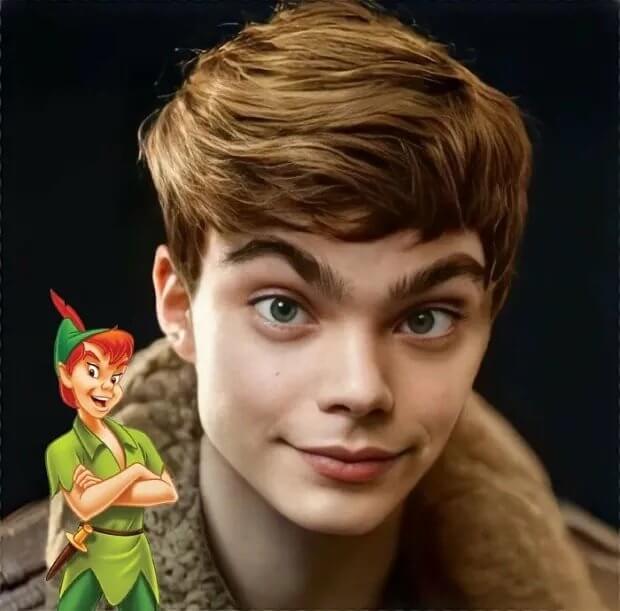 It's those cheeky arched eyebrows, you see. Whether it's a 2D cartoon from the 1950s, a modern-day, AI-guided 3D rendering, or Will Poulter himself, you just know that this boy will never ever grow up and will cause mischief wherever he goes! 
Ned Flanders, The Simpsons
Hi-dilly-ho, neighbors! God-fearing, Bible-quoting Ned Flanders is Homer, Marge, Bart, Lisa, and Maggie's unbearably nice, permanently upbeat, and overfamiliar neighbor in The Simpsons. He has a heart of gold, but his naivety often sees him coming off worst. Do you think Homer ever returned the weather vane, camcorder, diploma, toothbrush, or air conditioning unit that he "borrowed" from Ned?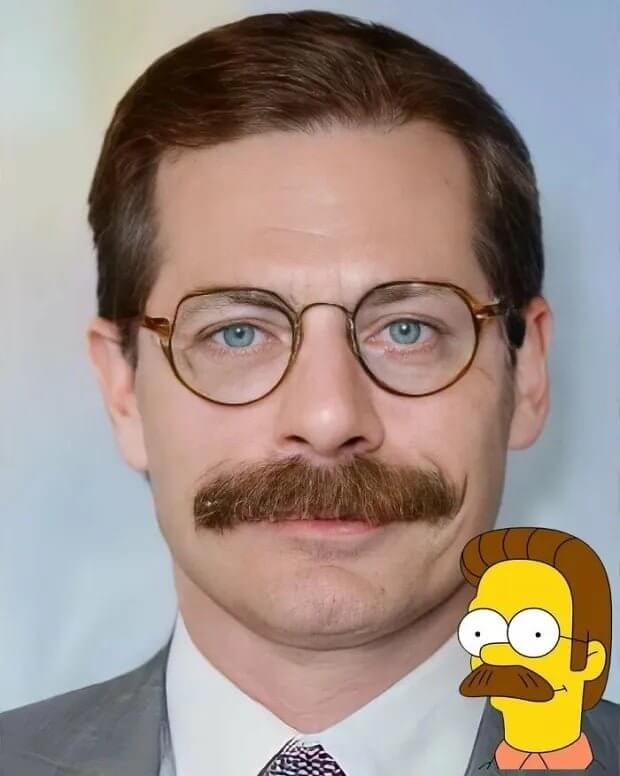 Okily, dokily! This AI version of Ned Flanders is almost perfect. We say almost because the mustache and expression are spot-on. The only thing missing might be Ned's slightly longer sideburns. 
Queen Anna of Arendelle, Frozen
Queen Anna of Arendelle is Elsa's little sister in Disney's excellent Frozen. Optimistic Anna is loosely based on Gerda, a character from Hans Christian Andersen's aforementioned fairytale, The Snow Queen. We've loved the socially awkward younger sister from the get-go, and now AI has given us an adorable real-life 3D version of Anna, freckles and all.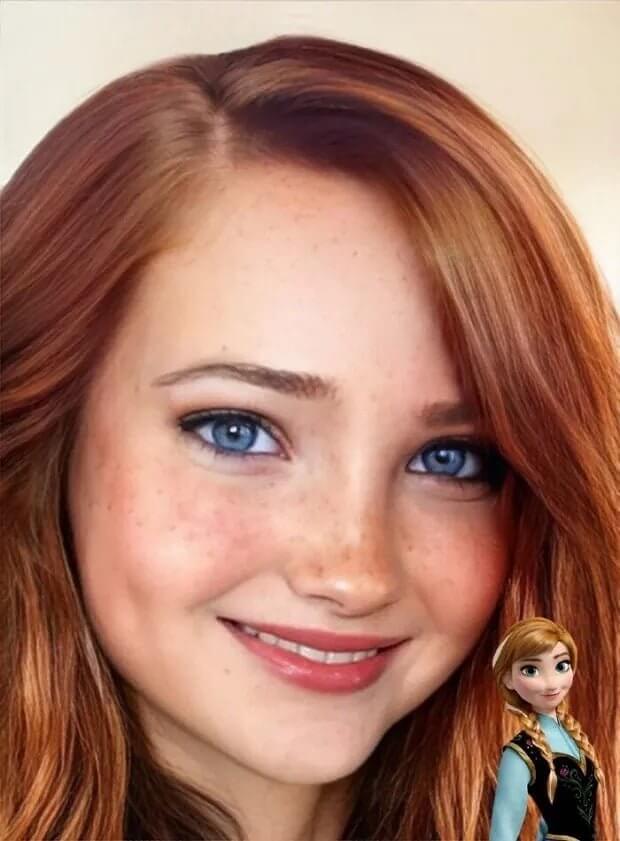 But before Hollywood casting directors rush to cast her in a new hit sitcom, remember this delightful young lady isn't real. How on earth could Handsome Hans betray this angelic face? Let it go, Anna. Let it go, and go and find someone who deserves you! 

Aladdin, Aladdin
Aladdin was a charming street urchin who pretended to be a prince and had everyone fooled, including Princess Jasmine. Sure, having Robin Williams' (or latterly Will Smith's) genie and a flying magic carpet helped him get away with his long con, but Aladdin is the perfect rags-to-riches story and as captivating today as it was across Arabia in days of old.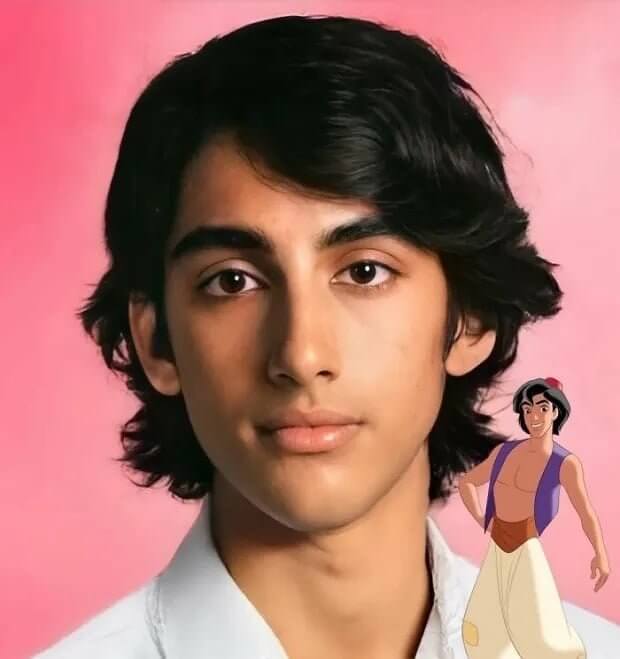 And speaking of captivating, check out those dreamy eyes. With those glorious cheekbones and smoldering Arabian good looks, and any princess would be happy to take this lad home to meet her Sultan father and her mother, the Sultana. Yes, really––a Sultan's wife is called a Sultana! 
Tinker Bell, Peter Pan
Speaking of the models that inspired Disney princesses, have you heard the urban legend that Tinker Bell from the original 1953 Disney Peter Pan film was modeled after Marilyn Monroe? Well, sadly, it's not true. The model for Tinker Bell was, in fact, an actress, dancer, and model named Margaret Kerry.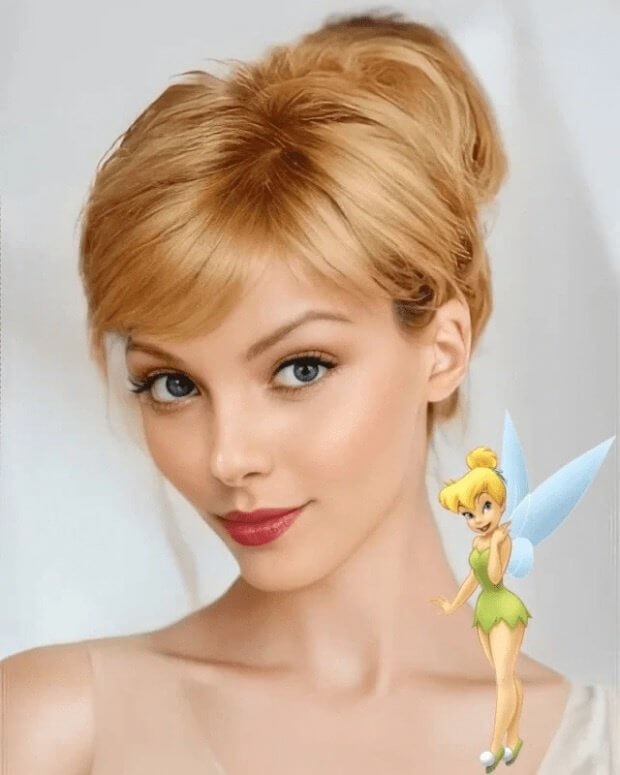 Disney animator Marc Davis called an audition and chose Margaret because her background in dance made her grand movements perfect for the non-speaking role of feisty Tinker Bell. However, we think this excellent AI interpretation looks more like Taylor Swift. Well, she would look like Taylor Swift if the beloved singer had one massive eye and one tiny eye!
Bart Simpson, The Simpsons
Peter Pan isn't the only boy who never grows up. Bart Simpson is, too. The mischievous little skateboarder and his loveable family have had their own show since 1989. Bart was ten years old when the series debuted, so that puts him in his mid-40s now! And he still looks ten years old and hasn't aged a day.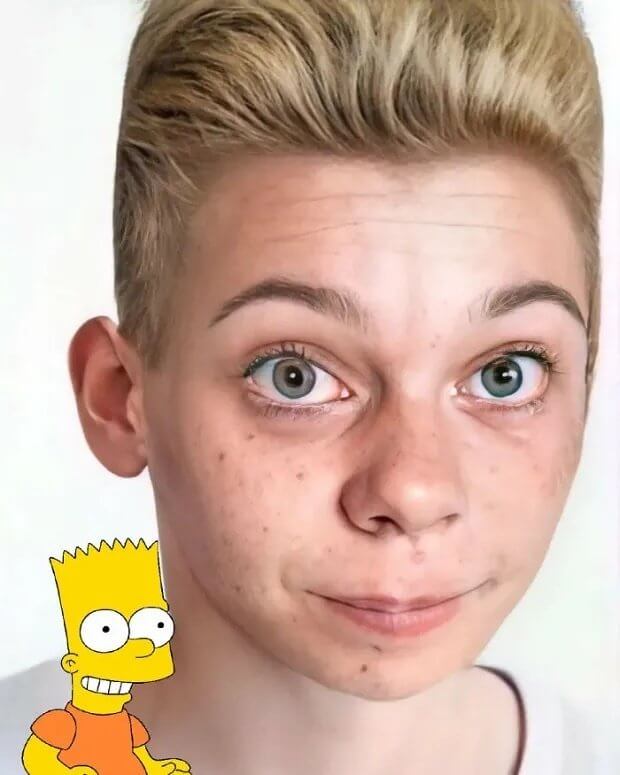 This AI creation isn't the most photorealistic picture. Ignoring Bart's normal yellow skin, it captures his blonde hair and cheeky grin, but check out that misshapen eye. Either the AI is on the fritz, or Milhouse hit Bart in the eye with a catapult from their treehouse.
Princess Tiana, The Princess and the Frog
Tiana was a gifted cook in New Orleans who dreamed of opening a restaurant. When she kisses a frog, he turns out to be a prince. A lazy and vain prince called Naveen, who we'll meet in a moment. He was hilarious as a frog, though. Do you think Tiana might have wanted to kiss him and turn him back into a frog? He was certainly less annoying as an amphibian!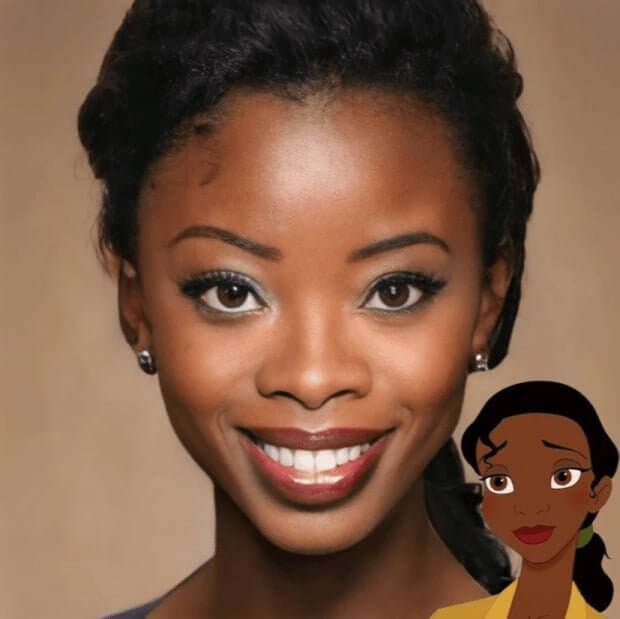 Artificial intelligence software has created an exceptionally life-like version of Princess Tiana. The beauty in the photo has Tiana's eyes, smile, and even her rosy cheeks. 
Prince Naveen, The Princess and the Frog
Prince Naveen was so lazy, vain, and selfish that his parents disowned him. And if that wasn't bad enough, he got turned into a frog to teach him a valuable life lesson. The story was based on a German folk tale called The Frog Prince and was made famous by the Brothers Grimm. But Disney cleverly updated the story to roaring 1920s New Orleans to include all that sumptuous Dixieland jazz music. 

New Orleans' Creole influence explains the witch doctor, who uses Voodoo magic to turn Prince Naveen into a frog, and the Louisiana swamps and bayous make the perfect amphibian home. This modern update of Naveen is so hunky; it's no surprise he was so vain!
Rapunzel, Tangled
In both the Brothers Grimm fairy tale and the new-fangled Tangled––the computer-animated Disney film from 2010––Rapunzel was imprisoned high in a tower. She had been trapped there ever since she was captured as a baby by an old witch. Rapunzel's lovely long hair grew until her 18th birthday, at which point she finally let her hair down to escape.... with some help from common thief Flynn Rider.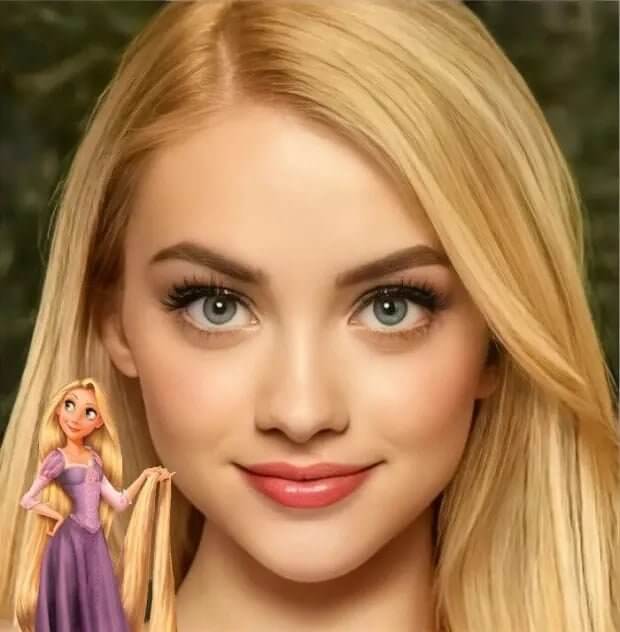 This 3D version of Rapunzel has a stunning face and sports the fairy tale princess's most important characteristic––lovely, long, flowing blonde locks. She's a bit like a young Resse Witherspoon, isn't she?
Flynn Rider, Tangled
Flynn Rider was the charming bad boy with the gift of the gab in Disney's Tangled. He started out as a notorious, good-for-nothing thief but soon had a change of heart when he met Rapunzel. It's no wonder he rebelled against his parents and fell in with a bad bunch after his folks named him Eugene Fitzherbert!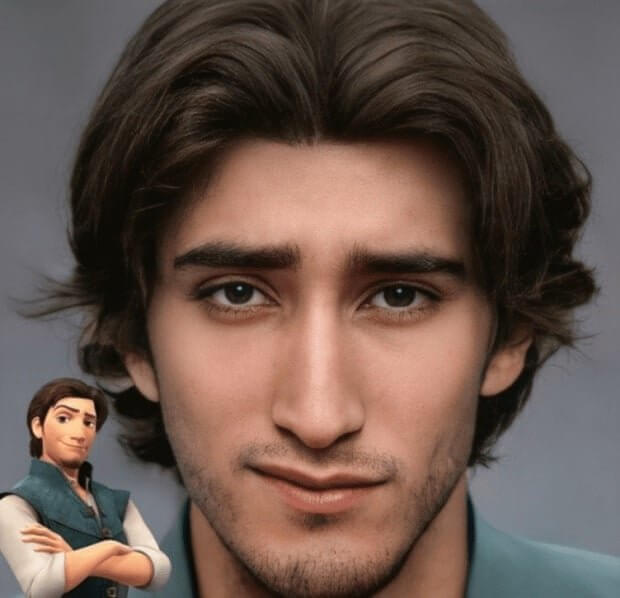 While this photo shows Flynn as a handsome, dashing young lad that any girl could fall for, it doesn't quite cross the Uncanny Valley. This is the name for CGI that doesn't quite look real to the human eye. 
Ariel, The Little Mermaid
Though "Under The Sea" is the best song from the film, life underwater was actually kinda boring for Ariel. She always dreamt of a life on terra firma, and––thanks to Ursula's magical spell––she got her chance to experience life as a human. We know and love Disney's animated character, but what does she look like in human form? The Mouse House has recently answered that with a real-life version of the film starring super-talented Halle Bailey.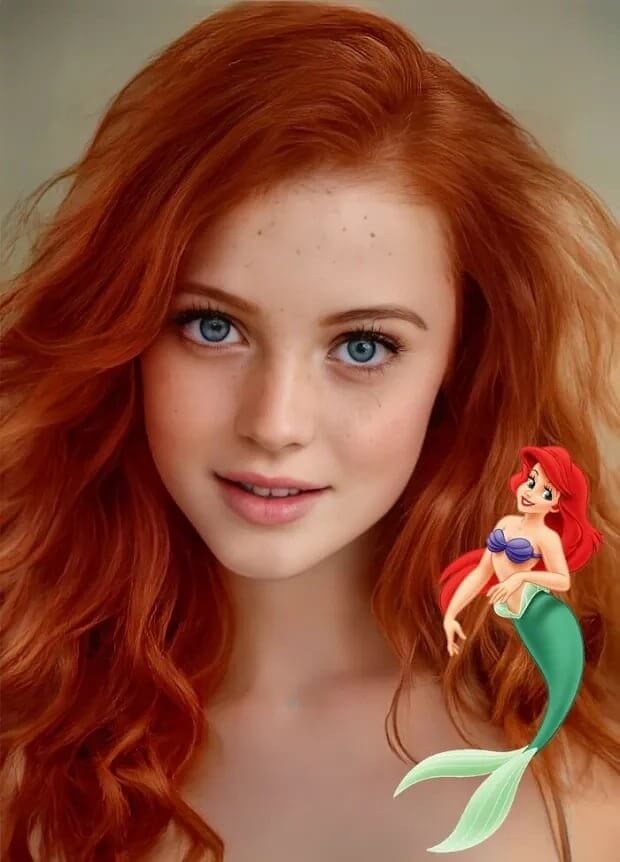 This pretty AI-generated young woman captures all of Ariel's charms. From her long, flowing red hair, big blue eyes, and freckles, it's no wonder Eric fell for her! Interestingly, when Disney animators came up with Ariel's look for the 1989 film, they based her on teen star Alyssa Milano.
Milhouse, The Simpsons
Milhouse is, and always has been, Bart Simpsons' best friend. The two boys have been best buddies for over 30 years, and yet, they don't look a day older than when the cartoon debuted in 1987 as part of The Tracey Ullman Show. The two treehouse-dwelling crazy kids have got into all kinds of scrapes and have fallen out many times, but they've (pretty much) always remained BFFs.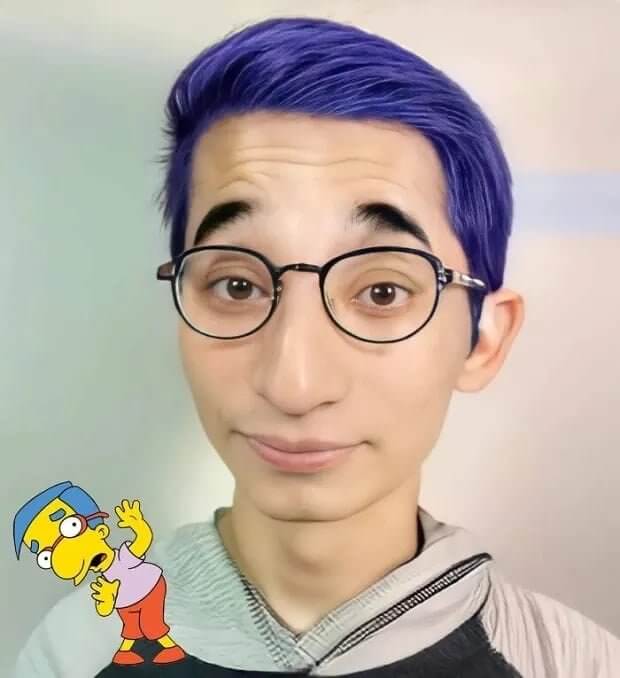 We love this new interpretation of Millhouse, but there's just one tiny problem. The face, the nose, the nerdiness, the spectacles, and especially those eyebrows are all spot-on. But while Millhouse does have blue hair, here, it makes him look too cool. The 3D artist should have just stuck to normal dark brown hair. 
Olive Oyl, Popeye
Olive Oyl was Popeye's drippy nerdy girlfriend who––for some inexplicable reason––Bluto was always trying to steal. She's been the object of spinach-scoffing Popeye the Sailor Man's affection for over a hundred years since she made her debut in 1919. Even now, she's still beloved, especially by the two men in her life, Popeye and Bluto.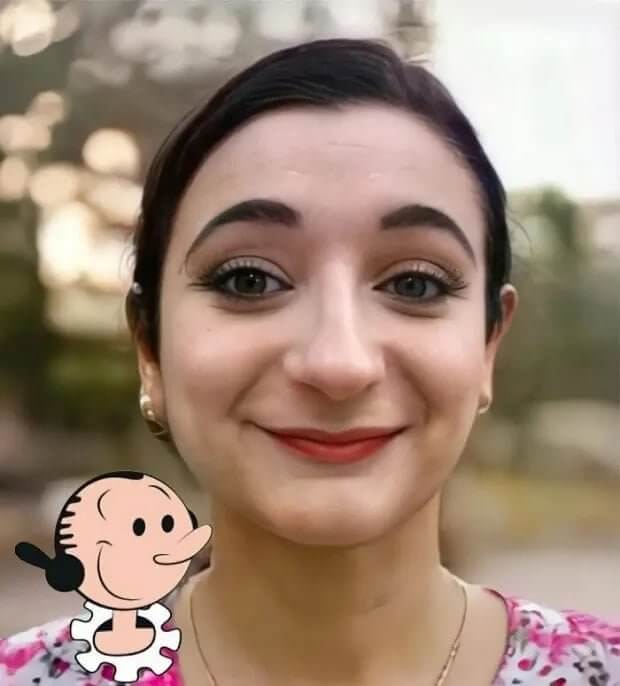 Bringing Olive Oyl's 2D image to life was one of the hardest of the bunch as she's so unique. And yet the software captured all her trademark features, from the quirky hairstyle to her huge eyes, nose, and mouth. 

Eric, The Little Mermaid
Eric is based on the prince character from Hans Christian Andersen's 1837 fairy tale The Little Mermaid. When he almost drowned in a storm at sea, Ariel rescued him, dragged him to shore, and sang to him, leaving him haunted by her beautiful voice. Eric searched the kingdom for years, and when he eventually found his long-lost infatuation, he didn't know it was her as Ariel had swapped her tail for human legs and given her voice to Ursula.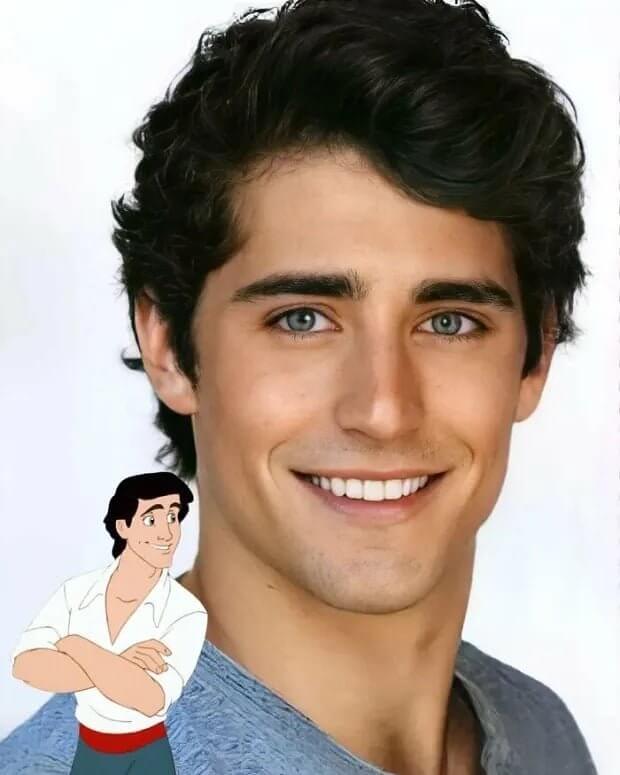 From his dark wavy hair, full eyebrows, great smile, and prominent chin, this AI creation perfectly captures not only Eric's look but also manages to encapsulate his spirit, too. 

Pocahontas, Pocahontas
The story of Pocahontas we learned at school and Disney's film are entertaining childrens' tales, but the truth was far more devastating. Pocahontas was the daughter of Chief Powhatan, whose people lived near the colonial settlement at Jamestown, Virginia. She was captured and ransomed by English colonists. Though she allegedly fell in love with John Smith, she married tobacco planter, John Rolfe. He took her to England, where she died in England in 1617, aged just 21. Disney left that part out.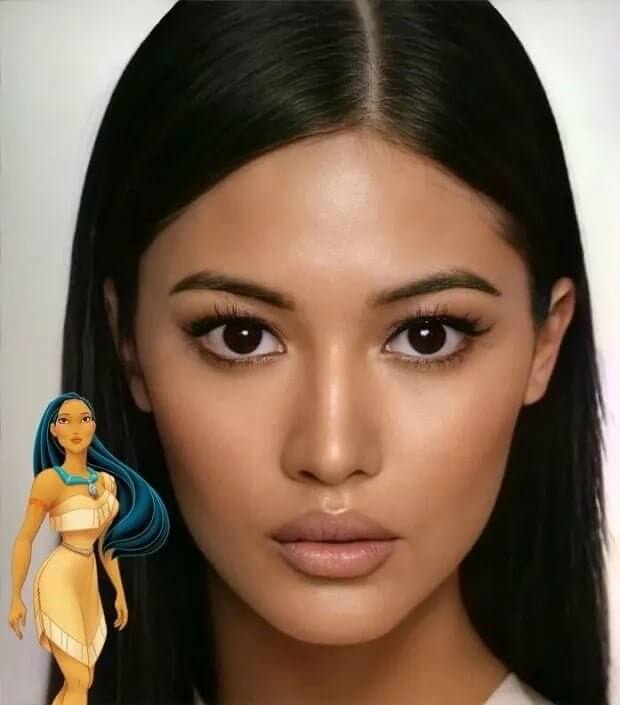 No one knows what Pocahontas looked like in real life, but her exotic looks stole the hearts of Smith and Rolfe. This AI rendering shows her unrivaled beauty and captures the Disney character's spirit and wonderfully high cheekbones. 

Captain John Smith, Disney's Pocahontas
Captain John Smith was an English explorer, soldier, leader, and one of the better Jamestown settlers in Virginia. During harsh winters known as The Starving Time, he led the planters and forged relationships with local Native American tribes to secure food and supplies for his struggling colony. Legend says Smith was a kind, gentle man who fell in love with Pocahontas. She warned him of a plot and saved him from execution by her father.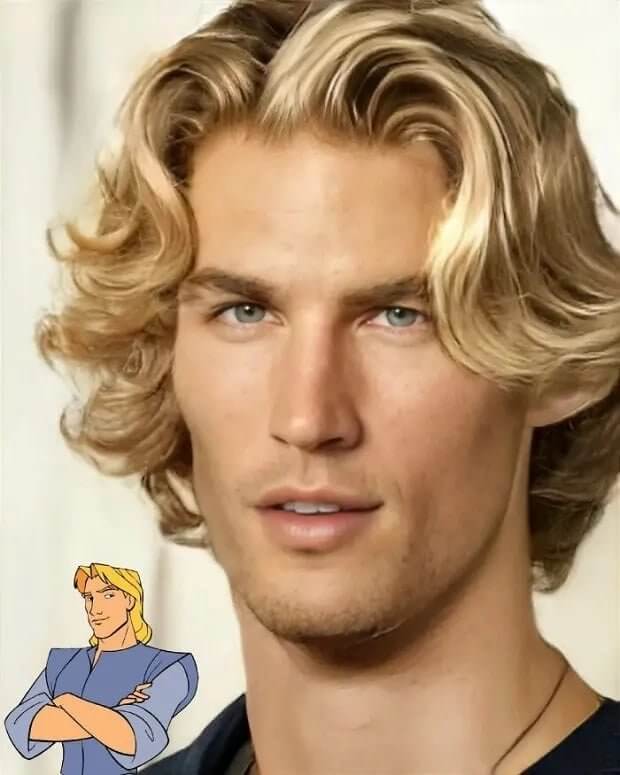 Colin Farrell played John Smith in Terence Malik's excellent The New World (2005), but he wasn't the dashing, blonde-maned hero of the Disney film. This 3D design is less Colin Farrell and more a Beverly Hills 90210 original series cast member! 

Moana, Disney's Moana
Gramma Tala said her granddaughter, Moana, "stands out from the crowd," and boy was she right! Inspired by Polynesian mythology, the sea-loving, fearless heroine sets out on a mission with her dim-witted pet rooster to save her people's Pacific island. Along the way, Moana encounters Maui, a legendary shapeshifting demigod played by Dwayne "The Rock" Johnson.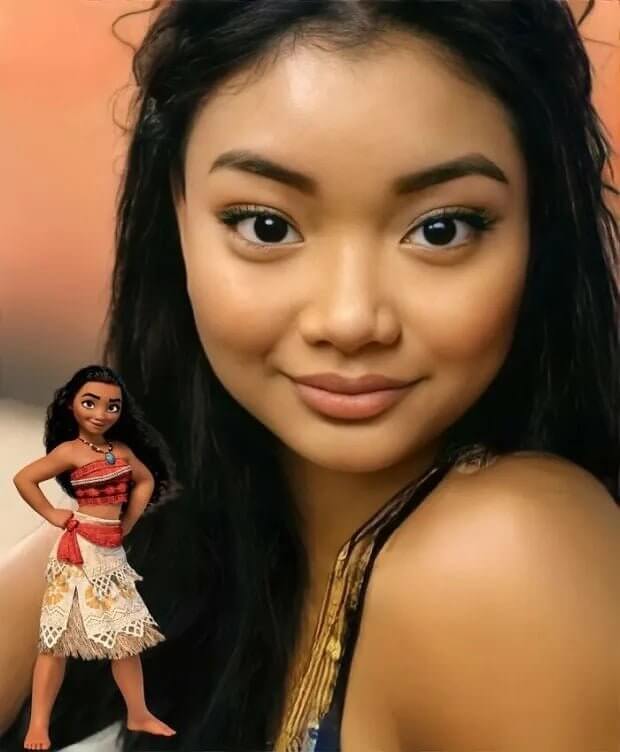 Check this out; AI has brought Moana to life. We think this photo is one of the most realistic of them all, and we can't believe it isn't an actual photo of a girl from a Polynesian island. 
Moe Szyslak, The Simpsons
There's a reason Moe Szyslak, the owner of Homer Simpsons' favorite bar––Moe's Tavern––was always irritable and rude to his customers. When he wasn't serving Duff beer, he spent most of his time answering prank calls for Hugh Jass, Seymour Butz, and Amanda Huggenkiss from Bart. Then, he'd always say, "When I get a hold of you..." That said, Moe was usually friendly to Homer, Lenny, Carl, and Barney.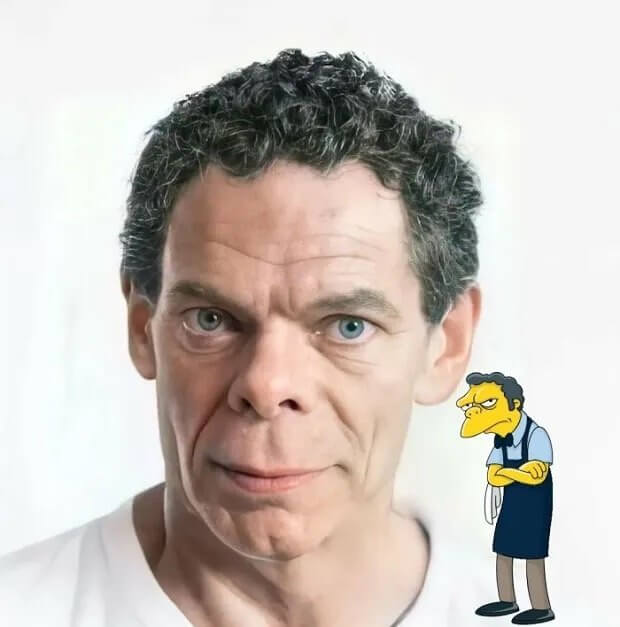 This photorealistic rendering of Moe is perfection. It captures every single detail of Moe, from his tired eyes and droopy, wrinkled face right down to his personality. In fact, this rendering also looks a bit like American stand-up comedian Rich Hall, aka Otis Lee Crenshaw. 
Isabela Madrigal, Encanto
Hidden away in the mountains of Colombia is a magical place called the Encanto. Every child in the Madrigal family except Mirabel has been blessed with a unique gift. Mirabel's sister, Isabela's gift is the ability to make flowers grow. Which would be a blooming great gift to have in real life.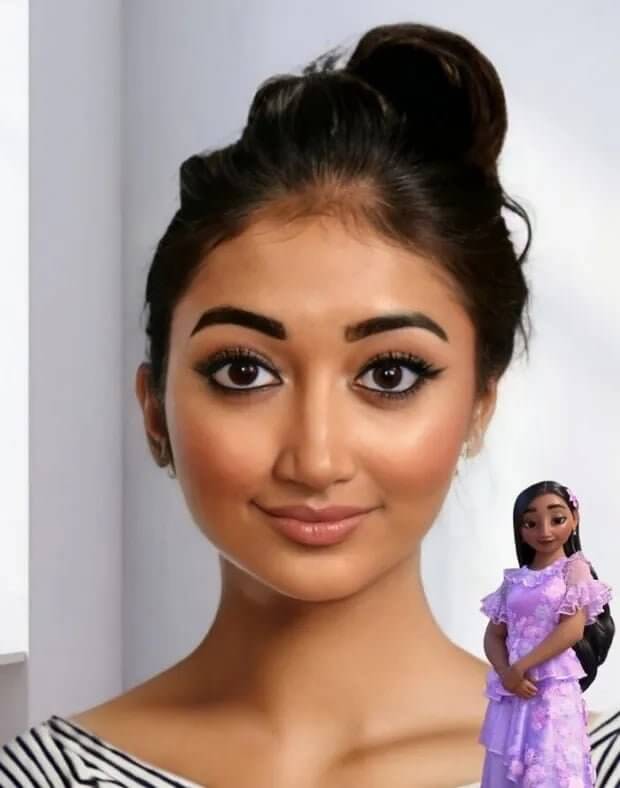 However, next door to Colombia, in neighboring Brazil, artist Hidreley Leli Diao uses 21st-century magic to bring Isabela to life. Like Moana, Isabela is so realistic that she could be mistaken for a real teenager. 
Camilo Madrigal, Encanto
Encanto fan favorite and theater kid Camilo Madrigal's magical power allows him to shapeshift, which is a pretty handy superpower. He is Mirabel's second-oldest cousin, and they are both 15 years old and have hung out together since nursery school. And here's a remarkably life-like version of Camilo.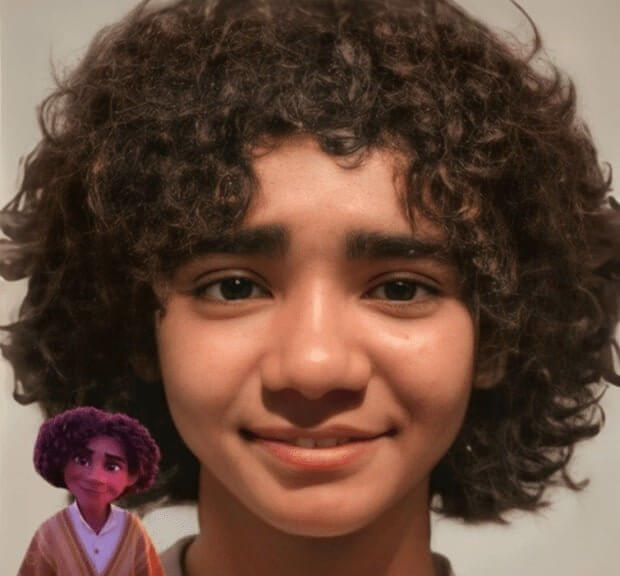 The artificial intelligence software did a fantastic job with his curly hair and eyebrows. His nose and smile are similar to the cartoon version. AI has captured his spirit, but he does look a little bit like a caveman! 

Belle, Beauty and the Beast
La Belle et la Bête was written by French novelist Gabrielle-Suzanne Barbot de Villeneuve and published in 1740. It became Disney's 30th animated feature film, Beauty and the Beast, in 1991. With its beggar lady's curse, a damsel imprisoned in a castle, and a monstrous man, it's a classic case of Disney borrowing from ancient fairy tales. But it's also one of their best.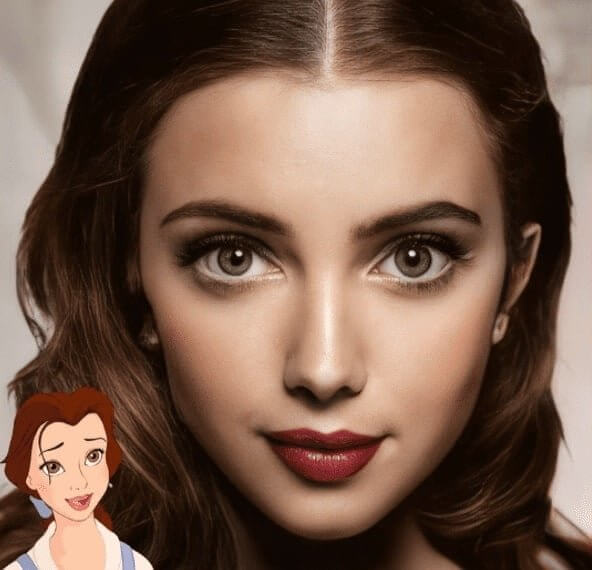 Belle is one of the most loved and attractive Disney protagonists. That's not just our opinion; her name even means beautiful in French. It's no wonder Gaston and the Beast fell for her, and now you can see why in real life! 
Handsome Hans, Frozen
Hans is named after Hans Christian Anderson, author of The Snow Queen. And just like Anna, we fell under his spell in Frozen. The youngest of thirteen sons, he attends Queen Elsa' crowing and intends to steal the throne. But when that doesn't go to plan, he moves his attention to Anna. When we first meet him, we think he's the dashing Prince Charming archetype, but he soon reveals his villainous nature.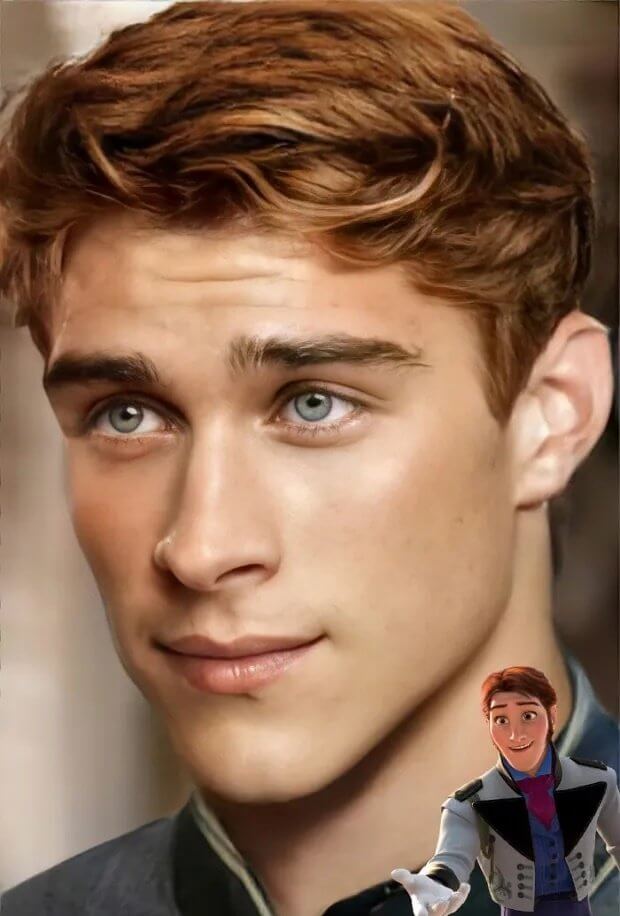 This photorealistic version of Handsome Hans more than lives up to his name. But to borrow a phrase from The Lord of the Rings, remember, "All that glitters is not gold," so don't get fooled by beauty! 
Kristoff, Frozen
Remember Kristoff Bjorgman from Frozen? He was the Sámi iceman who lived with his reindeer buddy Sven. Kristoff may not have been as handsome as Hans, but his heart was in the right place, and he ended up getting engaged to Anna after she realized Hans' treacherous ways.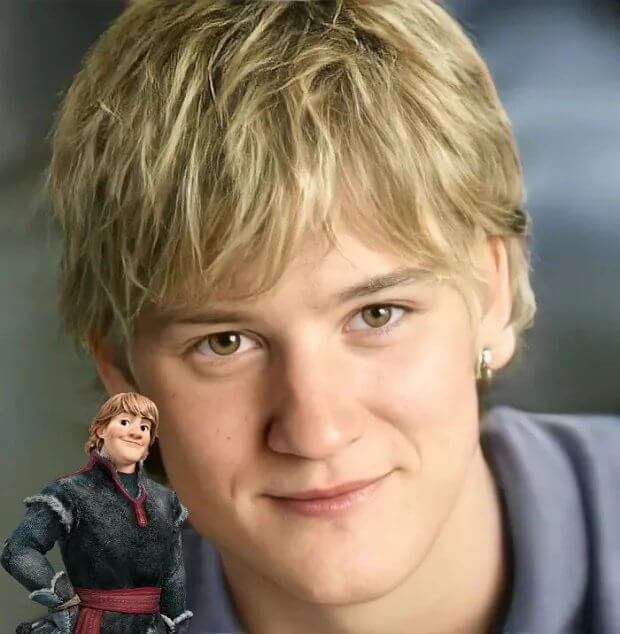 So, here's a glimpse of what our real-life Kristoff might look like, thanks to the magical powers of AI. The resemblance is uncanny, although we think the artist may have fused Kristoff with Sean Astin because there's a definite Sam Gamgee from The Lord of the Rings vibe going on here. 
Lady Tremaine, Cinderella
If you don't know the name Lady Tremaine, you probably know her as Cinderella's Wicked Stepmother. She was the cold-hearted socialite antagonist of Disney's film and the eponymous protagonist's evil stepmother. One of Disney's most realistically abusive characters, she wanted to climb the social ladder by marrying one of her daughters, Anastasia and Drizella, to Prince Charming. Until that is, Cinders went to the ball.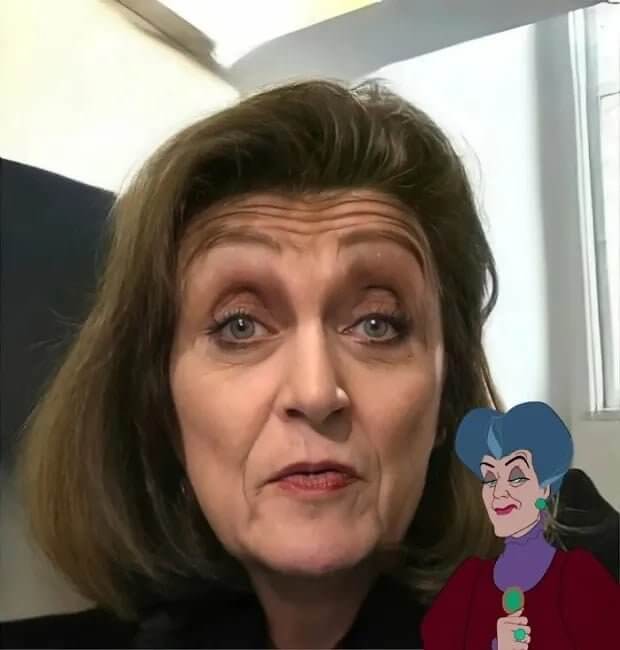 While they're all great, this photorealistic version of Lady Tremaine is one of our favorites. She 100% looks like a real human being, and you can almost hear her clipped upper-class English accent. From those arched eyebrows above tired, evil eyes to the lines around her mouth, everything is perfect. 
Dashiell Parr, The Incredibles
If you haven't seen The Incredibles, stop what you're doing and get down to Blockbuster Video to rent it. Sorry, wrong century! It might have come out in 2004, but seriously, folks, it's one of Disney Pixar's best modern films. It tells the tale of a family of superheroes who live a quiet suburban life with their three children until a vengeful fan-turned-foe becomes a supervillain.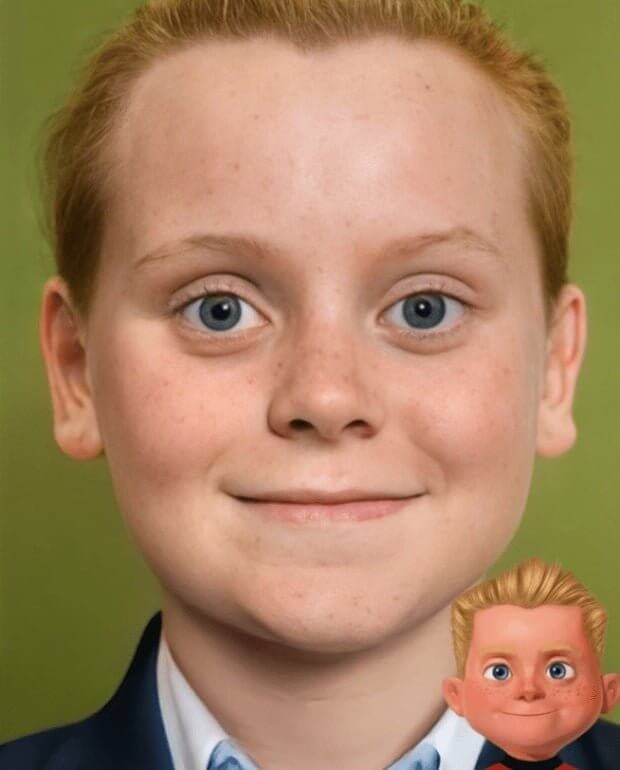 One of the kids is Dashiell, or Dash for short, and his superpower is; you guessed it... super speed. This photo of a real-life Dash looks like a real school kid. It's got his blue eyes, freckles, chubby cheeks, and sticky-out ears. It's even got his slight widow's peak hairline right. 
Julieta Madrigal, Encanto
Julieta Madrigal was the matriarch of Encanto's Madrigal family. She was Isabela, Luisa, and Mirabel's mother, and her magical power was healing people with food. Okay, everyone's mom's superpower is healing through food, especially with chicken soup when you've got a chill, but Julieta is the Real McCoy.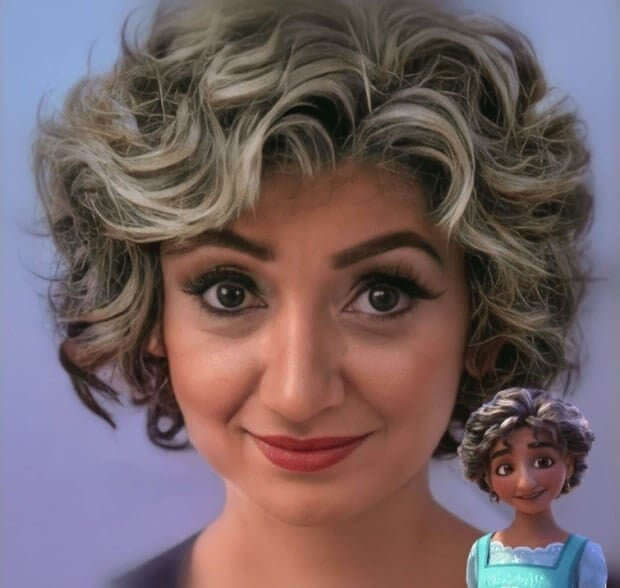 Julieta has a unique look in the film, and the AI version captures her features and style very well. The imposter Julieta's silvery blonde hair is perfect, as is the hairstyle. Her skin tone is great, and even her earnest, caring dark brown eyes droop slightly downwards. 

Bruno Madrigal, Encanto
Bruno was Mirabel's ostracized uncle and the black sheep of the Madrigal family. He had the gift to see into the future but got a bad deal. His name was taboo––leading to the song "We Don't Talk About Bruno"––and the whole town believed he was a bad apple due to his dark, doom-laden visions.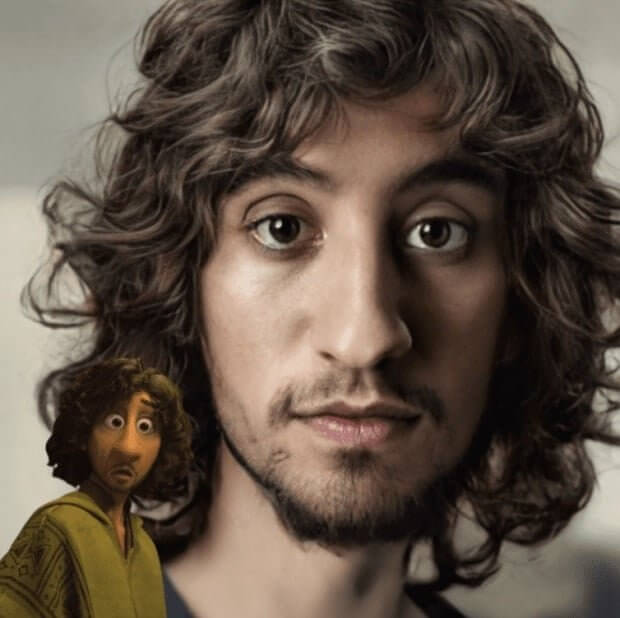 Bruno wasn't exactly a looker, and his photorealistic update is no better, especially with that nose! With his long hair, dirty clothes, and bedraggled look, Bruno is a bit of a misfit, so it's no wonder the townsfolk didn't trust him. 
Mulan, Mulan
In ancient China, all the men were drafted into the army to fight in a massive war. Worried about her elderly father, a young girl called Mulan takes his place, disguised as a man. But did you know that Mulan might have been a real person? She was first sung about in The Ballad of Mulan, a folk song believed to have been composed during China's Northern Wei Dynasty, which ruled from 386–535 AD.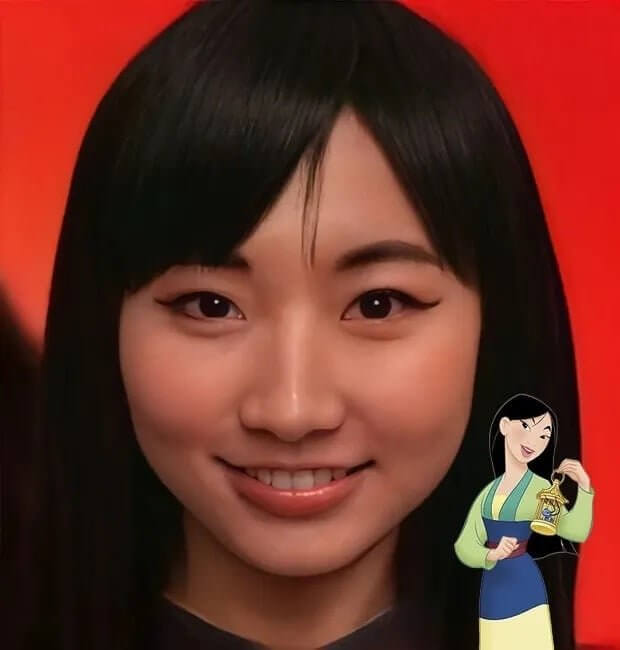 That said, there's no way to prove whether Mulan was real. But this photo makes her so pretty she'd never have passed for a man and snuck into the army. We love that the AI software has accentuated her gorgeous almond-shaped eyes by adding a little eyeliner. 
Captain Li Shang, Disney's Mulan
Captain Li Shang Mulan is another hero in Disney's 1998 animated feature film, Mulan. The son of a famed army general, Li Shang desperately desires to succeed his father as the leader of China's greatest army. Shang realizes his dreams when he is appointed the head of a ragtag platoon of soldiers that must defend China from the tyranny of Shan Yu. Eventually, Li Shang followed in his father's footsteps along the Great Wall of China and became a beloved hero.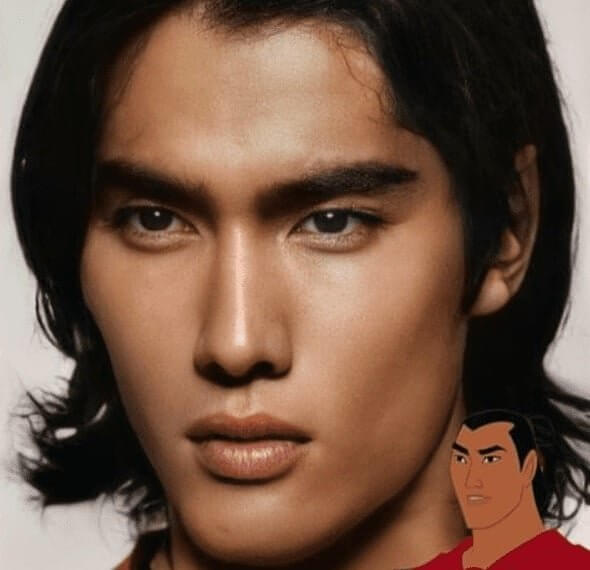 Teenage girls loved watching him defeat the Huns because his 2D cartoon form was already swoon-worthy. But now his 3D transformation is like something that stepped off the catwalk! Check out those cheekbones and exotic eyes. Talk about a handsome hero!
Princess Merida, Brave
Disney Pixar's Brave tells the tale of medieval Scottish Princess Merida. Her bravery inspires the film's name, and she's a hotshot with a bow and arrow. However, we don't think this 3D version of Princess Merida is quite right. Yes, she's pretty and has curly red hair, but that's where the similarities end.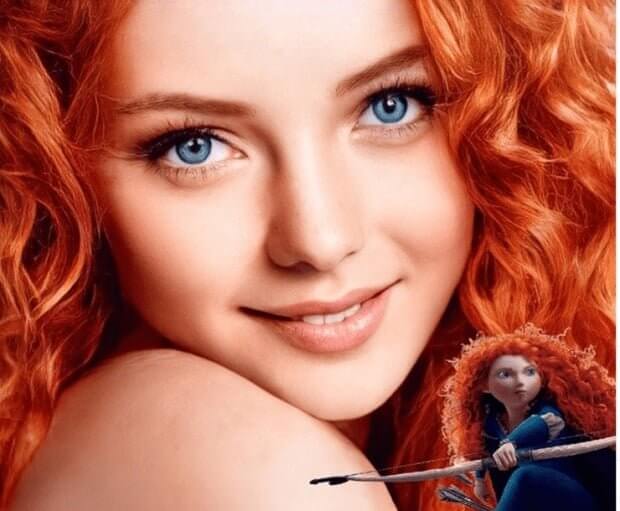 Merida's AI counterpart is far too all-American and looks more like she spends her time sunbathing on California beaches. In reality, Princess Merida would be fifteen shades paler, having never seen the sun as she hangs out taking to Willo' the Wisps in Scottish peat bogs, not Venice Beach! 
Apu, The Simpsons
Apu Nahasapeemapetilon is the beloved but cranky owner of Springfield's Kwik E'Mart. He is famous for his catchphrase, "This is not a lending library," sometimes followed by, "If you're not going to buy that thing, put it down, or I'll blow your heads off!" Apu has been loyally serving and admonishing his customers for over thirty years.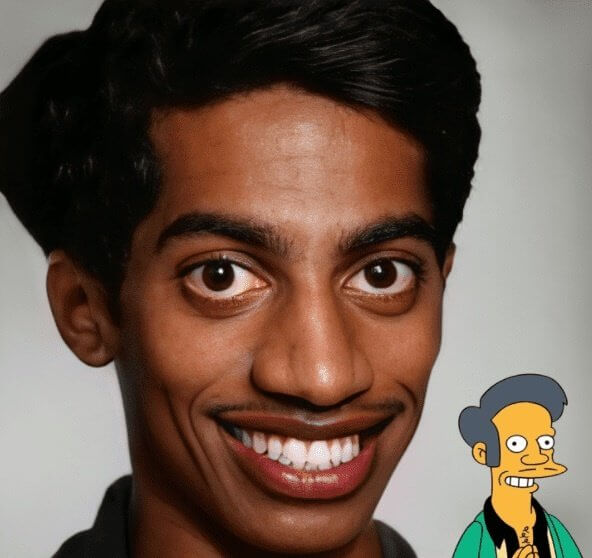 We've already talked about Simpsons characters not aging, and we'll let that go. However, if we had to find one minor quibble about this AI version of Apu, it would be that he's too young. We always imagined Apu as being in his 40s or 50s, not a handsome young man from India. 

Sailor Moon, Sailor Moon Series
If you're too young to remember Sailor Moon, the Japanese manga was a big hit in the late 1990s. It tells the tale of a student from Tokyo named Usagi Tsukino. She befriends Luna, a talking black cat who gives her a magical brooch that allows Usagi to transform into Sailor Moon: Earth's mightiest protective guardian destined to save the planet from the forces of evil.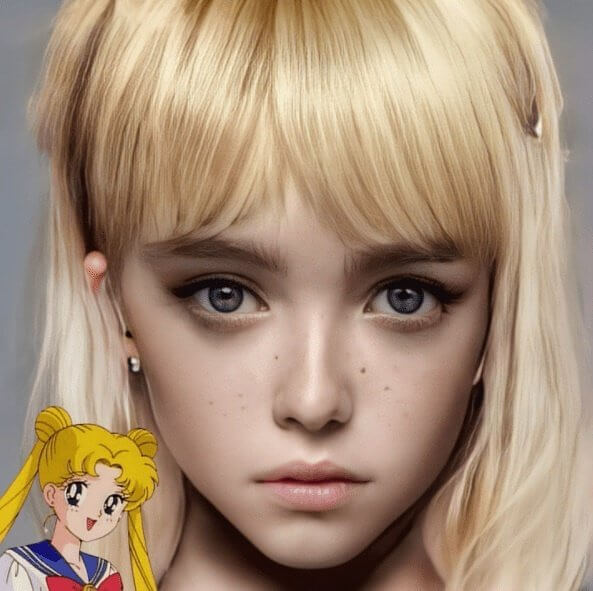 Anime is a difficult medium to turn into 3D photos. The Japanese animation technique exaggerates the eyes, so most manga characters have eyes far too big for their heads. Luckily, this photo has scaled the eyes down to look more believable. 

Raya, Raya and the Last Dragon
Five centuries ago, the sub-continent of Kumandra was ravaged by the Druun, mindless spirits that turn everyone and everything to stone. In the present day, the only person who wasn't petrified––literally and figuratively––was Princess Raya. So she trained to become the Guardian of the Dragon Gem and set off on a mission to collect gem pieces to restore Kumandra.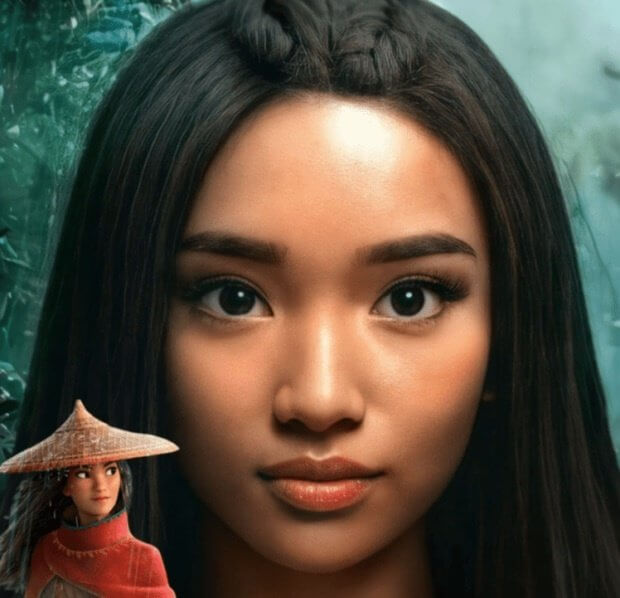 Raya and the Last Dragon is a rollicking Hero's Journey adventure, and its protagonist is a worthy heroine. Kumandra is a dragon-shaped river in Southeast Asia, and the AI software has done a brilliant job bringing Raya to life. 
Lilo Pelekai, Lilo & Stitch
In 2002, you couldn't move for Lilo & Stitch merchandise. Every lunchbox, every T-shirt, and every pencil case featured Lilo or Stitch. Lilo is an orphan from Hawaii. She wears hula skirts and lives with her older sister Nani. Off earth, Dr. Jumba Jookiba creates a genetically engineered, extraterrestrial life-form resembling a blue koala in Experiment 626. They crash land in Hawaii, and Lilo adopts 626 as a dog and names him Stitch.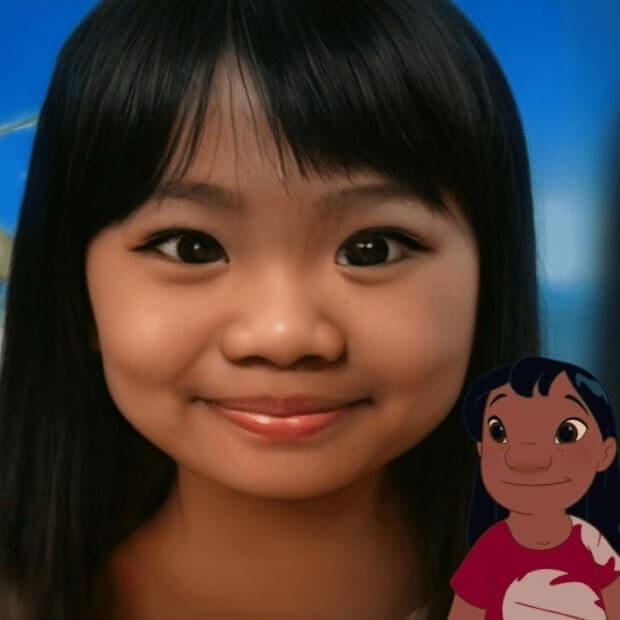 The software-created photo of Lilo epitomizes her cute, cheeky face, with her chubby cheeks and cross-eyes. We'd have loved to have seen what a real-life Stitch would have looked like. Maybe, next time...
Pepa Madrigal, Encanto
We can only assume that Encanto is Hidreley Diao's favorite film, as Pepa Madrigal is his fifth Encanto entry! Pepa was the most emotional member of the Madrigal family. Like Storm from the X-Men, she could control the weather, and when she was happy, it was all sunshine and warmth, but if she got upset, she could cause a tornado.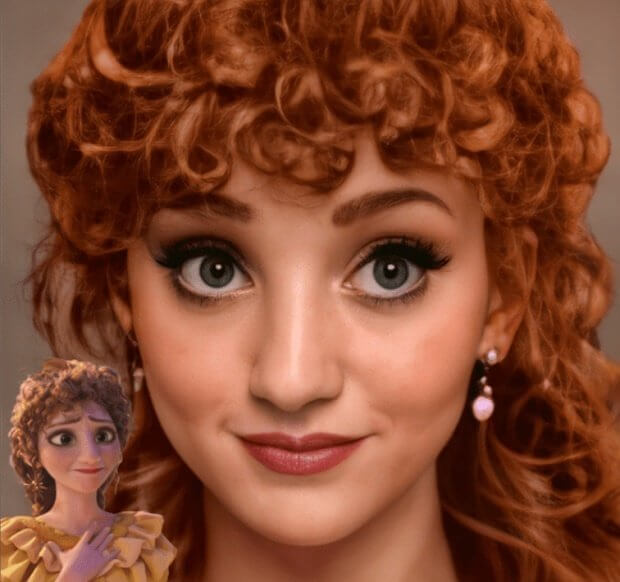 The red hair and prominent green eyes are correct, but the AI rendering misses part of Pepa. She's prettier than her cartoon version and doesn't have that unpredictable, loose-cannon dark side. 
Lisa Simpson, The Simpsons
Saxophone-playing eight-year-old Lisa is a fan fave and the glue that holds the Simpson family together. She's the cleverest in the family (which is nothing to boast about!) and brings a compassionate and caring side to offset Bart's mischievousness and Homer's ignorance. But as for the AI version of Lisa, we're not too sure.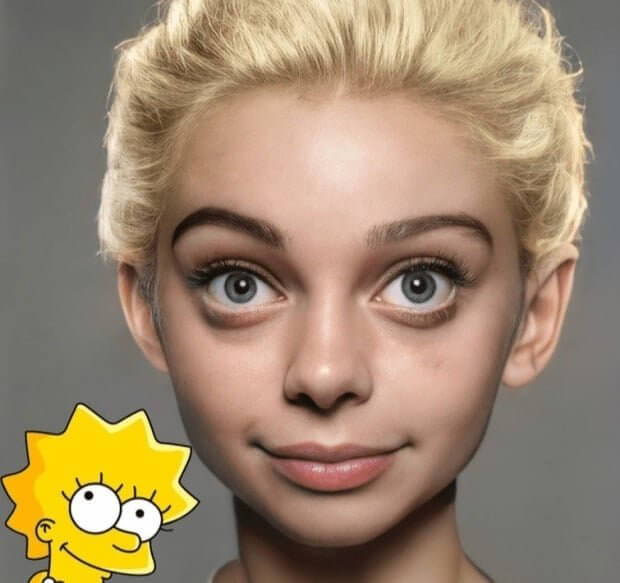 While Lisa's doppelganger does capture her eyes and personality if you saw this girl walking down the street, would you stop and ask her if she was Lisa Simpson? Because we wouldn't. We'd walk straight past her, barely noticing any resemblance. We might notice her if she was bright yellow, though!