Princess Diana captivated the world in her time. From her humanitarian work to her exquisite sense of fashion, she held everyone's attention. Her defiance of many royal rules fascinated the world. She blazed her own trail and created a new precedent for generations of royals to come, especially Kate and Meghan. Here are the rules that Princess Diana broke in such a graceful way that only she could.
Getting Involved
Before Princess Diana, royal mothers were not known to be hands-on parents. In fact, most of them parented from a distance. When Princess Diana became a mother, she made it clear from the very beginning that she loved her children more than anything. When she began setting her schedule around her sons, reportedly, Queen Elizabeth II was not happy.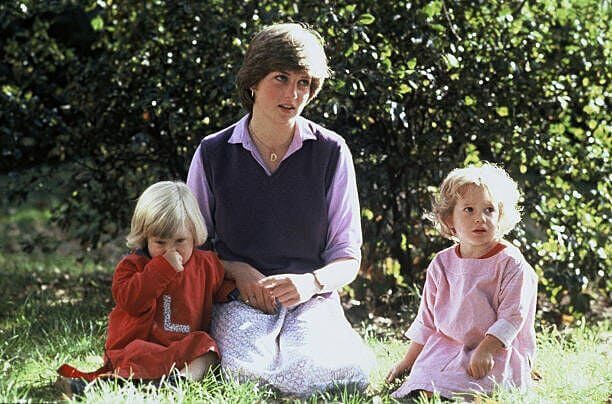 Until then, royal mothers would rely on nannies to take care of their children when their royal duties came first. Princess Diana is also most likely the first royal mother to breastfeed. We know that Queen Victoria found breastfeeding disgusting, so other royal mothers likely followed suit. Diana, who did in fact breastfeed, was open about it and removed the stigma around it for future royal mothers.
Breaking Traditions
The royal family has always been known for their rigid traditions that covered everything from the royal family's everyday lives to intricate royal ceremonies. But, when it came to Princess Diana, she wasn't afraid to break tradition. Not only did Princess Diana break tradition, but she also went far beyond it.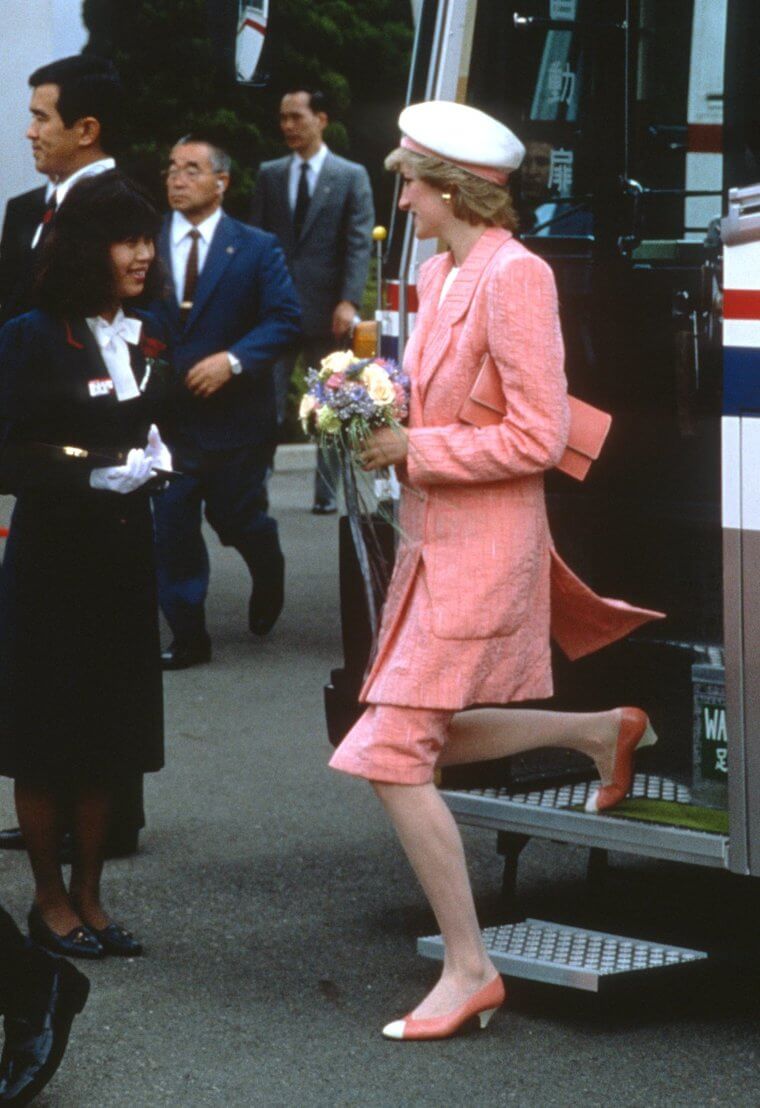 She was often seen taking her sons out and about as if they were everyday people to give them as much of a normal life as possible. Princess Diana dressed her sons in jeans and t-shirts, took them places on public transportation, and even waited in line with them, and everyone else, at Disneyland and McDonald's. Prince William later described his mother's actions as giving them a "real life outside of the Palace walls."
Brand New Jewelry
According to tradition, family relics would be used as the main stones when the engagement rings of future royal wives were custom-made. For instance, the diamond tiara of Prince Philip's mother was used to make Queen Elizabeth II's engagement ring.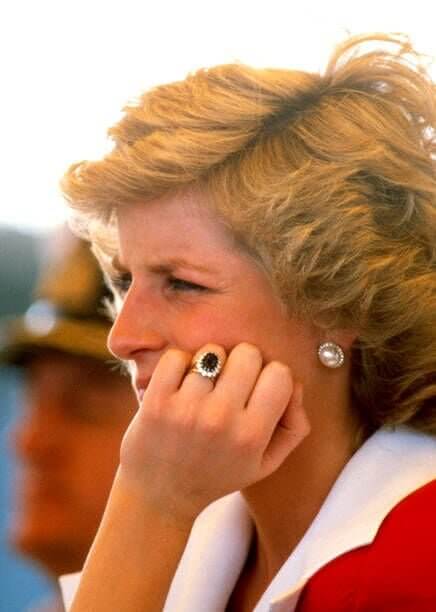 However, when it came to her own engagement ring, 20-year-old Lady Diana Spencer picked it out of a Garrard jewelry catalog in 1981. Since it was available to the public, this caused a big stir surrounding the 12-carat sapphire ring. The beautiful sapphire ring was surrounded by 14 solitaire diamonds. It was eventually passed down to her oldest son, William, then subsequently to Kate Middleton when Prince William proposed to her in 2010.
Itty-Bitty Bikini
Royals are required to dress a certain way as they represent the family wherever they go. But Princess Diana often wore bikinis during her vacations. With the paparazzi and all of the British public's eyes on her, she was often criticized for it—especially by conservative groups. But Diana couldn't be made to do something she didn't want to.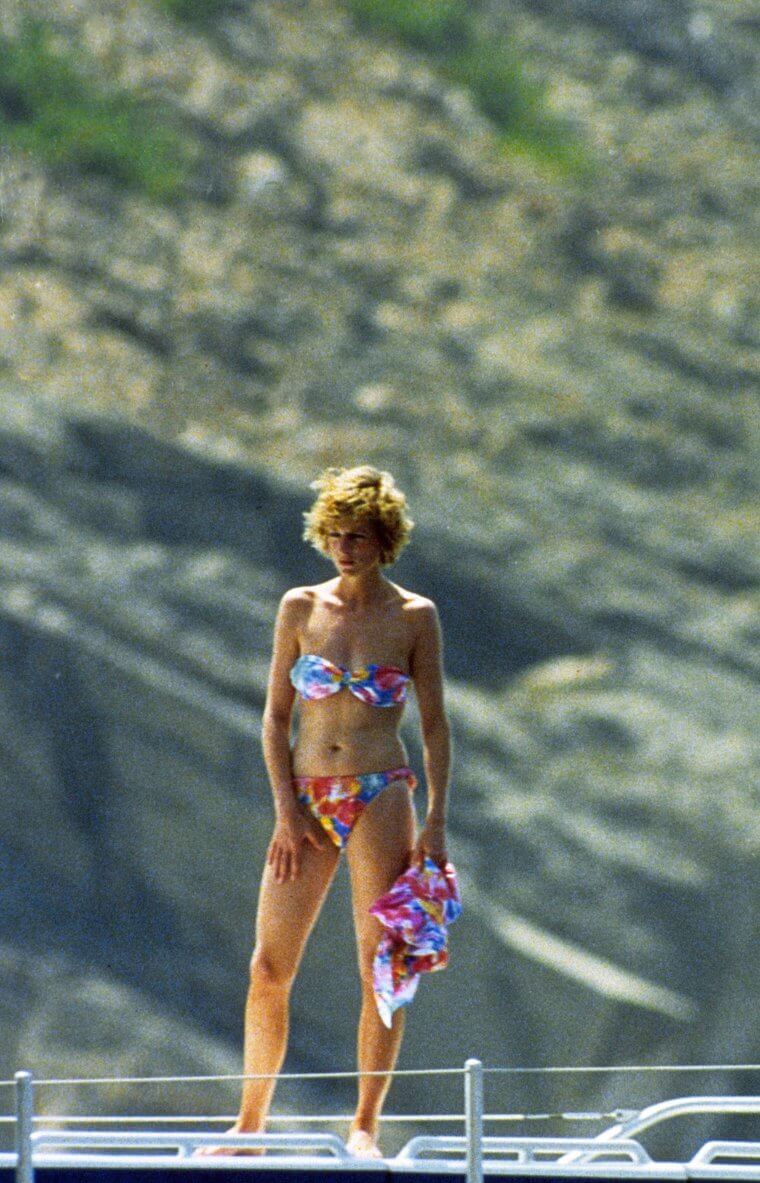 She paved the way for future princesses, like Kate Middleton, who was also caught in a bikini on a yacht by paparazzi. Like her late in-law, she was prone to some criticism herself. Fortunately, the elegance was also passed on between generations, as she royally played it off, like Diana.
Working Class
Before Prince Charles and Princess Diana go engaged in 1981, no royal woman had held a paying job. At the time, Princess Diana was working at a school in the Pimlico district of London as a part-time kindergarten teacher. That made her the very first royal woman to work a paying job.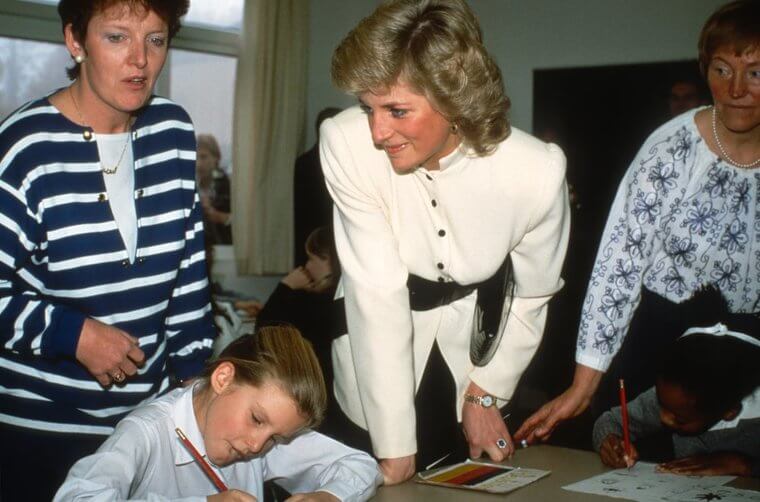 Not to mention, at the time of her engagement, she and three roommates were sharing an apartment. Princess Diana was very good with children and she obviously loved working with them. However, many people said that it was ironic that she educated children as she failed her O-level exams twice. The O-level exams are what students take when they want to go on to college.
Rewriting Marriage Vows
In English royal weddings, it was traditional to read from a liturgy from the Church of England's Anglican Book of Common Prayer. Part of the vows read aloud included "to love cherish, and to obey, till death us do part," which had been written in there since 1662. However, when Prince Charles and Princess Diana were married, this tradition was thrown out the window.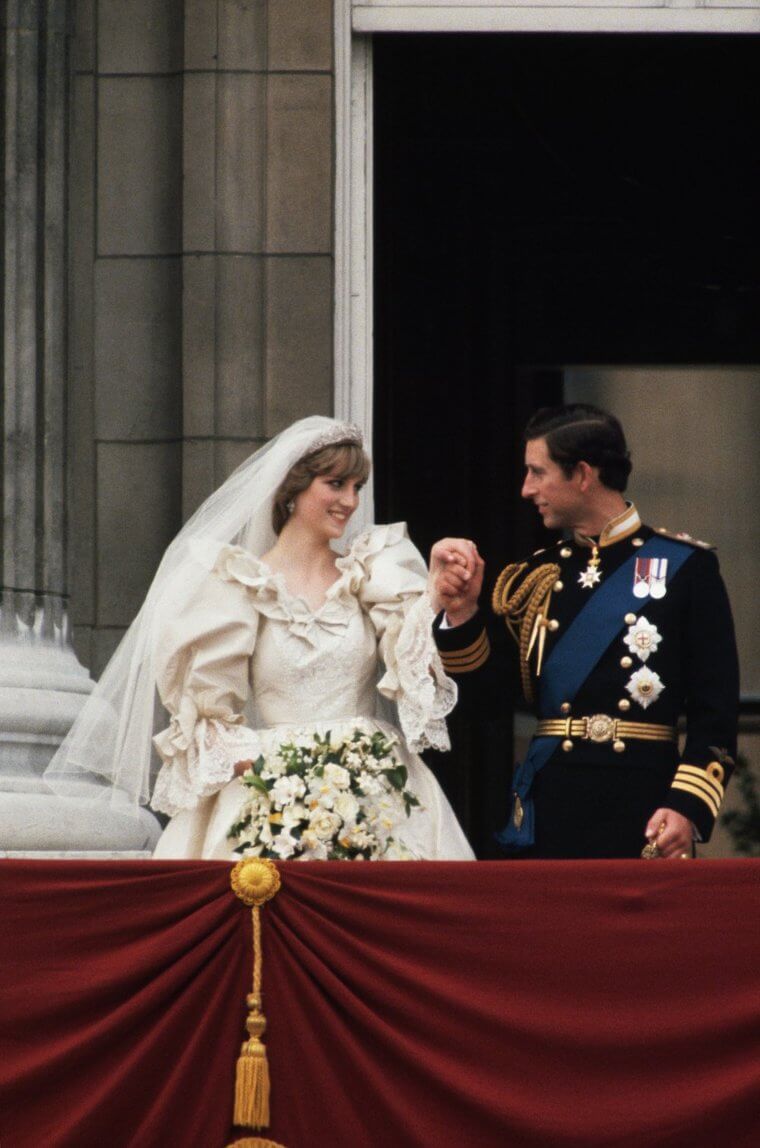 Princess Diana changed the vows by excluding the word "obey". In doing so, she made a big statement about the traditional roles and expectations of husbands and wives. At the time, it set off a firestorm of controversy and backlash. However, she created a brand new tradition that is more welcome in modern times. In fact, both Kate Middleton and Meghan Markle followed in her footsteps and omitted the same word from their own vows.
Trailblazer Even in Childbirth
When it was time for a royal mother to give birth, they usually did so at home with all the same equipment used in hospital births. When it was time for Princess Diana to give birth to both Prince William and Prince Harry, she decided to do so at St. Mary's Hospital. She created a new normal for royal mothers by doing so, including the new tradition of debuting the newborns on the steps of the hospital.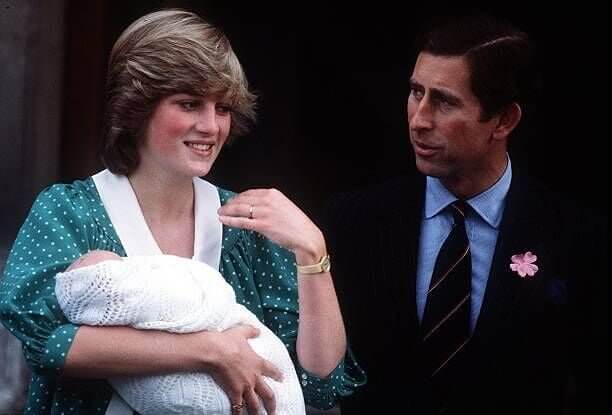 A hospital delivery soon became the precedent for royal mothers as Kate Middleton and Meghan Markle followed suit. Kate Middleton, The Duchess of Cambridge, gave birth to all three of their children in the private Lindo Wing of St. Mary's Hospital, the same one Princess Diana gave birth in. Kate and William also debuted their three children on the same steps William was debuted. And while Meghan Markle gave birth in a hospital too, it was the Portland Hospital in London.
Bringing Her Kids Along
Members of the royal family often have to travel the world for various obligations and usually, they would leave their children at home with a nanny while they did so. Princess Diana was the first to throw this tradition out. Even Prince Charles was left behind with his grandparents when he was just two years old so Queen Elizabeth II could spend Christmas in Malta with Prince Philip.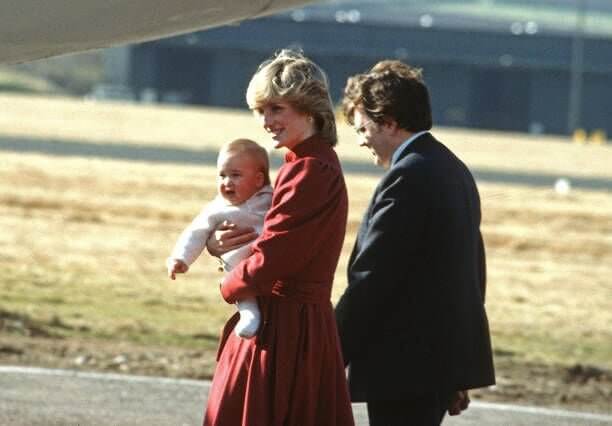 When it came time for Princess Diana to travel abroad, she chose to bring them along. It was a more modern approach than what the royal family was used to. In fact, Prince William went with his parents to Australia and New Zealand on a six-week tour when he was just nine months old.
From Private to Public
The children of royal families have traditionally been taught by private tutors and governesses at Buckingham Palace. When it was time for Prince William to start attending school, Princess Diana was quick to break this tradition. She enrolled Prince William at Jane Mynors' nursery school, making him the first future monarch to go to public school when he was just three years old.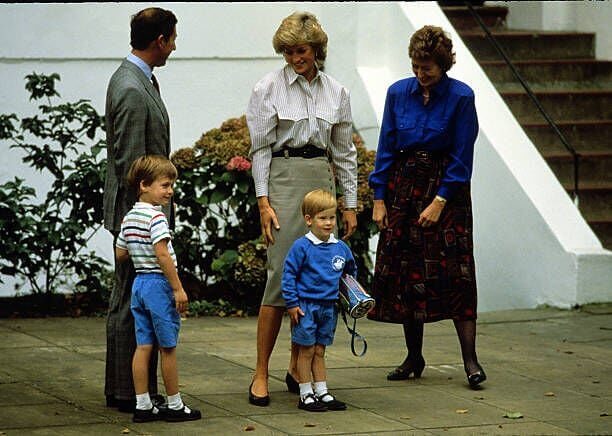 Like with many of the other rules she broke, Princess Diana wanted to give her sons a normal life and keep them grounded, so she sent them to school with "commoners." As with many of the new traditions Princess Diana started, Prince William and Kate Middleton have followed in her footsteps and enrolled their firstborn son in public school. Prince George started going to Westacre Montessori nursery school in 2016.
A Princess For the People
Princess Diana was beloved by everyone. She was known for being warm and friendly, something not always associated with a member of the royal family. Her friendly attitude towards the public is what made her known as "the people's princess." She quite famously said that she was following her heart, not her head.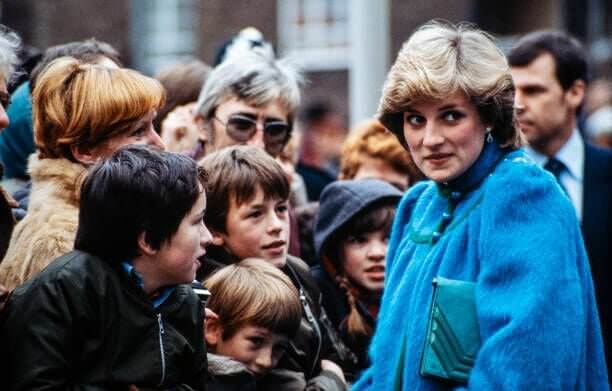 She thought someone should be close to the people so they could love them and express that love. How did she create such a bond with the public with such a high-profile life? She made the effort. Princess Diana once told the author of "Diana" that she could pick up a TV program anywhere she went and make conversation regarding its content. She said everyone watches it and it was able to put her on the same level as everyone else.
Physical Contact Welcome
There are royal rules for just about everything, but there was one in particular that Princess Diana broke with her compassion. That rule was the one that forbade "common" people from touching members of the royal family. Princess Diana did a lot of humanitarian work, especially with the sick.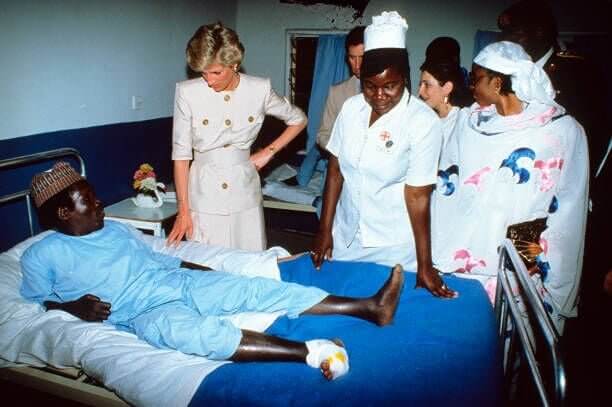 She would often hug the sick, breaking the royal rule while also getting rid of the stigma surrounding the disease. It was just another way she showed how compassionate and relatable she was. More importantly, Princess Diana did not wear gloves to shake hands with an HIV/AIDS-positive man in 1987 when the disease was still thought to be contracted through touch. That one touch started to change the way the public viewed HIV/AIDS as well as other diseases.
Standing Up For What's Right
Royal policies usually kept members of the royal family from getting involved in controversial issues. It was deemed unconstitutional if the monarch would get involved in a manner that could convey policial sentiment. Princess Diana threw that out the window in 1997. That year, she traveled to Huambo, Angola to visit an active minefield as a campaign against landmines. It was a huge international controversy at the time.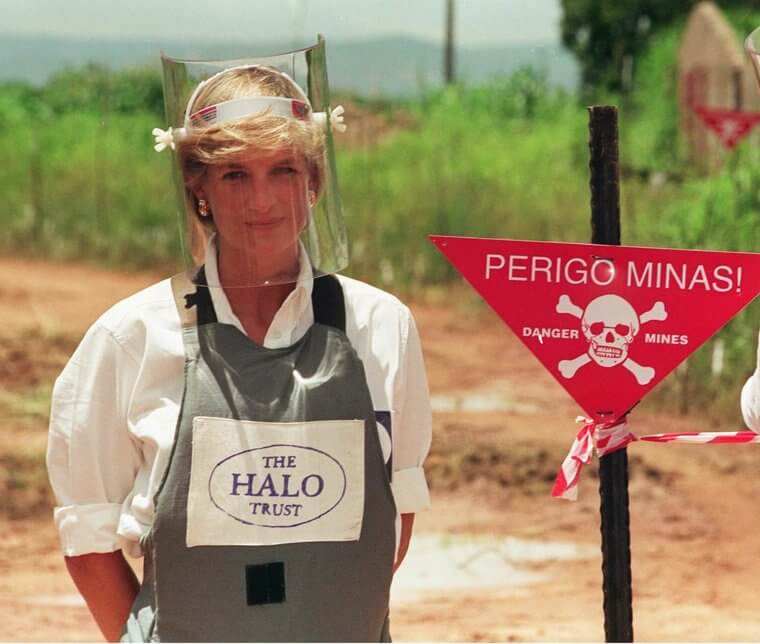 She advocated for banning all mines and helped lead to a huge reduction of landmines all over the world. Her impact began when Defense Secretary George Robertson made it illegal for the British troops to use landmines. Many countries then followed in his footsteps, but there is still a way to go to get rid of the weapon completely. Prince Harry has picked up when his mother left off and works with the same organization that his mother worked with, HALO.
Hug It Out
Princess Diana continued to break the "no touching" rule to show her love for a very specific sector of the public- the children. Reportedly, she is the first member of the royal family to be seen hugging children in public. Such a simple gesture was seen as inappropriate at the time, but Princess Diana didn't care.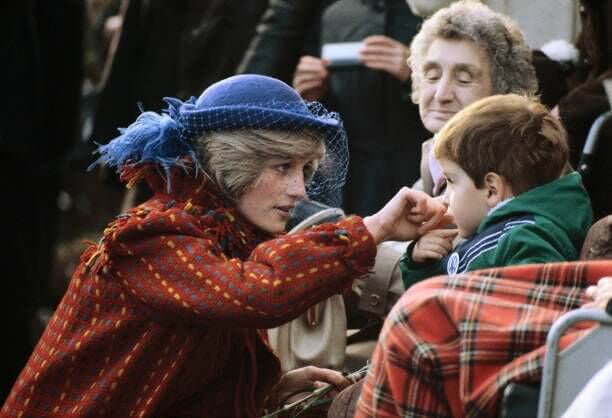 She would often say that the best way to communicate with someone who was nervous or sick, or even with a child, was to get on their level. While she may have been the first royal family member to do so, she was certainly not the last. Prince William and Prince Harry can be seen hugging the children they interact with, and their wives do the same.
Most Relatable Royal
The royal family has always been in the center of the public's attention. But despite all the media and interest surrounding them, the royal family was still immensely private. Until Diana came along. Princess Diana broke the mold in the way the royal family interacted with the public, especially the media.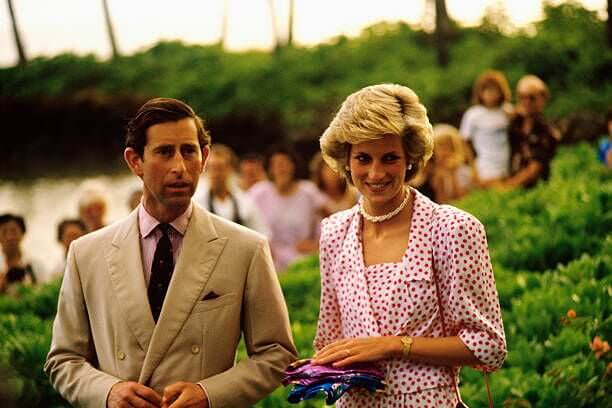 She was always sincere and open in interviews, characteristics that hadn't always been associated with the royal family. She shared a wide range of information, and that made her very relatable to the public. One televised interview she did with BBC in 1995 made history when she shared personal information, unlike any British Royal before her. She discussed her struggles with eating disorders and mental health, as well as problems with her marriage to Prince Charles.
Strains of Divorce
Divorces are never easy, but especially not royal ones. Princess Diana's marriage to Prince Charles seemed to be that of a fairy tale at first. But, people soon realized that it was anything but. Their marriage was filled with drama and cheating. The royal couple finally decided to divorce in 1996 after being together for 15 years.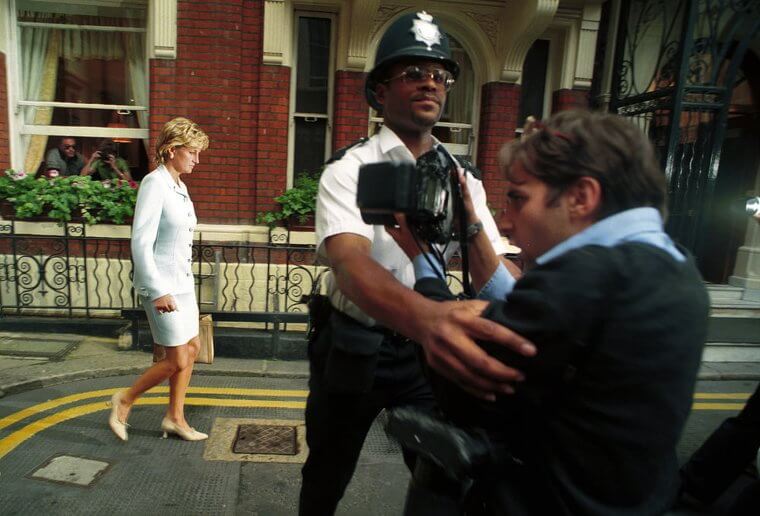 They weren't the first royal couple to call it quits, but they were the most popular. Between that and the fact that the royal family is so close to the Church of England, their divorce seemed like quite the scandal. One scandalous factor, in particular, was Princess Diana's title following the divorce. According to royal rules, the queen must approve the divorcee's title going forward. She permitted Diana to keep "Her Royal Highness," but Charles refused it. They ended up compromising with "Diana, Princess of Wales."
Public Dating
Even after such a high-profile marriage and divorce, Princess Diana was able to move on with her love life. Even though the media published all kinds of stories to try and ruin her reputation, she was successful in the dating world. Her first relationship after her divorce was with Hasnat Khan, a surgeon who Princess Diana dated for two years.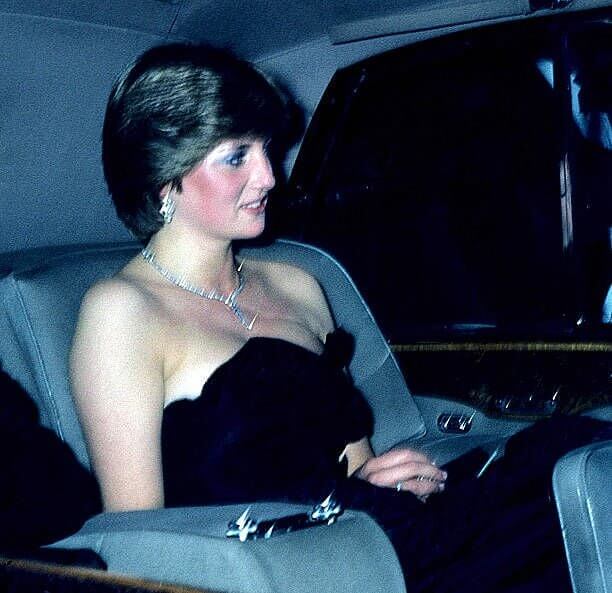 She had even introduced him to William and Harry, so it was definitely a serious relationship before they ultimately broke up. Later, Princess Diana began dating Dodi Fayed, a family friend, and Egyptian millionaire in 1997. The couple had been dating only a few months before that fatal Paris crash. However, her open and honest dating life post-divorce showed that royal family members are only human.
Princess In Disguise
Princess Diana was very independent. Even being a part of the royal family, she did many "average" things that the rest of the royal family did not. One of those things may have been sneaking out in disguise. Kate Williams, a historian, said that Kensington Palace gave her more independence than living anywhere else and that's why she loved it.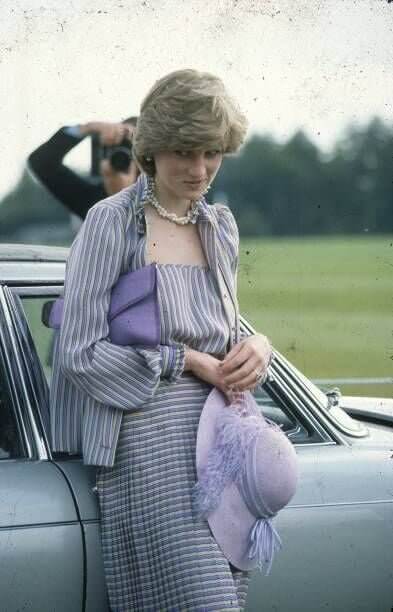 Because of the many exits around the palace, it would have been easy for Princess Diana to slip out onto Kensington High Street. Reportedly, she would wear a wig and go shopping. There are also rumors that she would take William and Harry to movies and restaurants while wearing a disguise, and that she used a disguise to meet up with celebrity friends Freddie Mercury and Elton John.
A New Dress Code
Princess Diana was beloved for her fashion, among other things. She became a fashion icon by breaking the strict royal dress code that kept the royal family buttoned up for centuries. One groundbreaking fashion moment came when Princess Diana went to an event with Prince Charles in Australia and wore a necklace as a tiara—a diamond and emerald necklace that belonged to Queen Elizabeth II.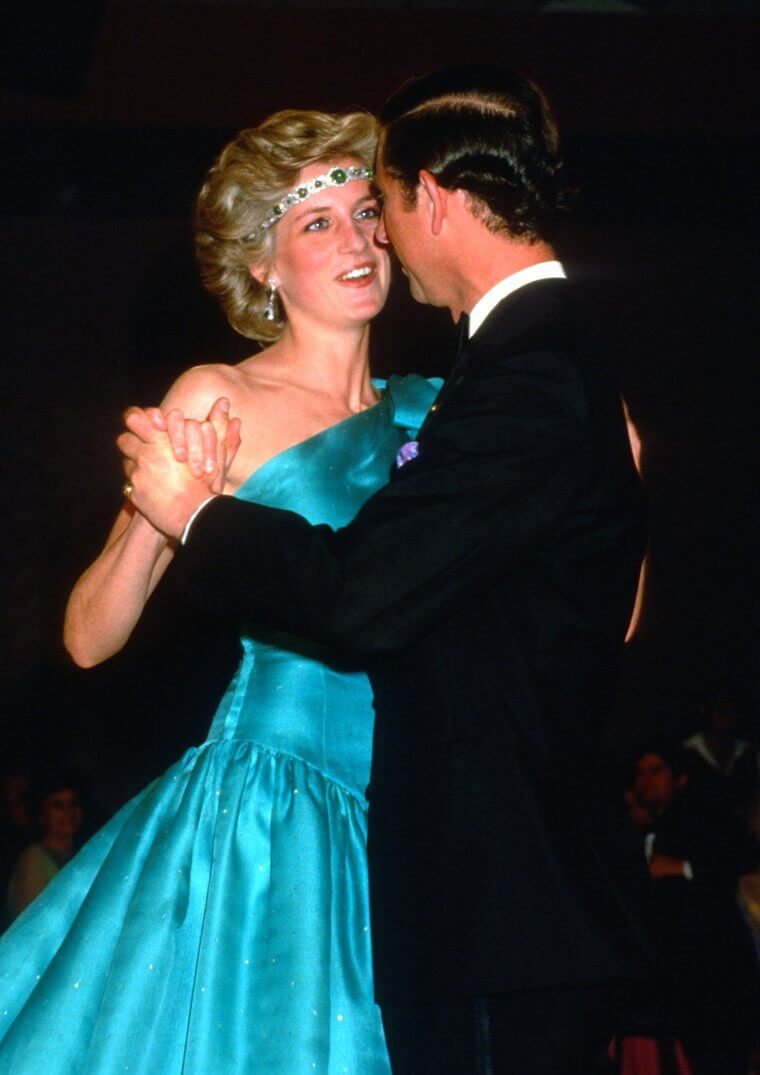 Princess Diana wore it frequently and according to her hairdresser Richard Dalton, she was the only one who could pull off wearing a necklace as something so sacred as a tiara. According to Dalton, a tiara is very significant. It's a crown jewel that requires respect and protection. He said it was something that took a lot of care and precision as no hair products would touch the stones.
Baring It All
Another way Princess Diana broke the royal dress code frequently was with the amount of skin she showed. Traditionally, royals would not wear anything that was considered provocative or immodest. But Diana was often seen wearing dresses that showed off her chest. To still be modest, Princess Diana would use her purses and clutches over her chest while exiting a car to cover her neckline from the paparazzi.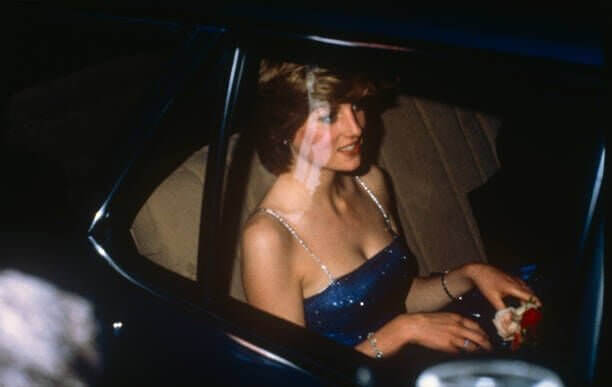 In fact, Anya Hindmarch who designed handbags for Princess Diana called them "cleavage bags." While Diana wasn't the first royal to carry a handbag, she was the first to use it for that purpose. For instance, Queen Elizabeth II uses her purse for social cues including signifying when no one should shake her hand, when it is time to finish eating, and when it is the end of a conversation.
Black It Is
There are surprisingly several royal rules surrounding the color black. For instance, the royal family would typically only wear black at a funeral or when in mourning. And, it is also a rule that royal family members must pack at least one black outfit when traveling in case of sudden death. Despite these rules, Diana was seen rocking a "little black dress" on several different occasions.
Her darker wardrobe is just one more thing that set her apart from Queen Elizabeth who wears colorful outfits. Speaking of colorful outfits, there is actually a royal rule surrounding the queen's colorful wardrobe. It is very unlikely that you'll ever see the queen wearing dark colors because colorful outfits make it easier to spot her in a crowd.
Breaking (Hand) Barriers
There's a reason royals are often depicted in the media as all dressed up, gloves and all. That's because it is a tradition for royals to wear gloves at formal events. Not only because it is elegant, but to protect from germs, as well. That was just another royal dress code that Princess Diana broke. However, many people believe that it didn't have anything to do with fashion, but more with making a social statement.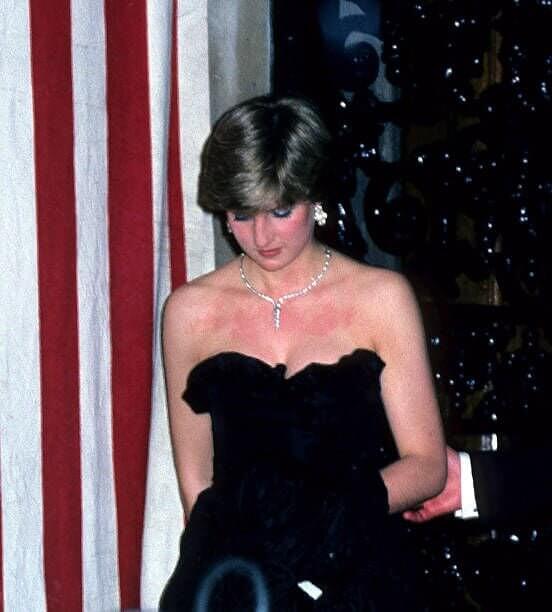 Since gloves were perceived as a barrier, it is possible Diana wanted to make herself more approachable by not wearing them. Not wearing gloves allowed her to use direct contact when shaking hands with "commoners." This was a big change from the royal policy that stated a handshake could only be two shakes long so royalty would not come into sustained contact with "commoners."
No More Hats
If you've ever seen a picture of Queen Elizabeth II, you know she has an affinity for hats. But hats were not an accessory that Diana cared to wear. Royal women were actually expected to wear fascinators and hats during the day, especially when they were attended formal events. Tiaras were saved for night events.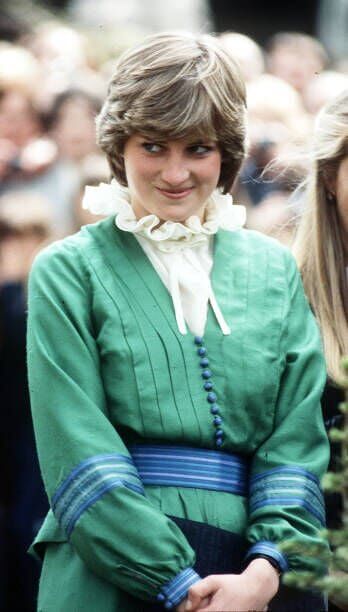 One of the main reasons Diana did not wear hats was the children. Eleri Lynn, the curator of the "Diana: Her Fashion Story" exhibit at Kensington Palace said that Diana once said, "you can't cuddle a child in a hat." She first stopped wearing hats when she was visiting with children in the hospital. Some people have also said that she would wear chunky necklaces and bright colors on these visits to cheer kids up and give them something to grab onto.
It's All In The Eyeliner
There is one beauty trend that Princess Diana was known for even though it takes a while for people to notice it: her bright blue eyeliner. Her eyeliner was bright and bold, even though the royal family tended to dress conservatively in neutral colors. While she was known for breaking royal rules, this one rule wasn't a royal one but one from her own makeup artist, Mary Greenwell.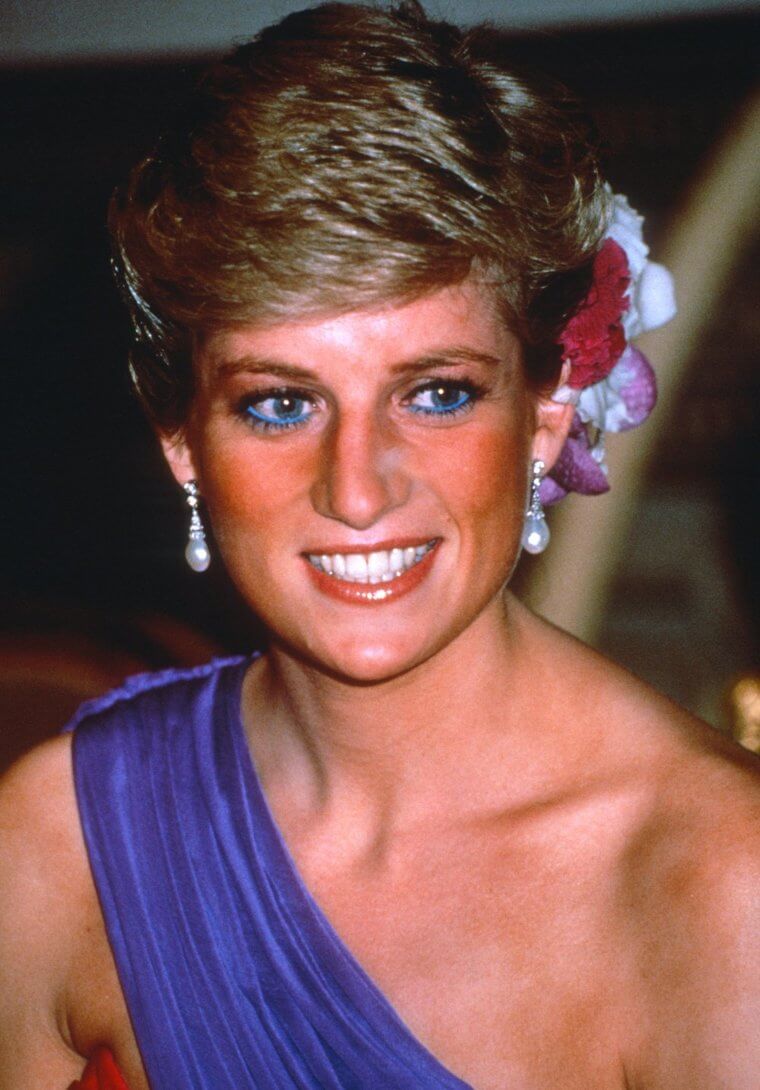 Greenwell did not like the fact that Diana wore blue eyeliner. In fact, she once said that someone with blue eyes should never wear blue in pencil or shadow form because it dulls their eyes. But Princess Diana, ever the rule breaker, did her own thing and became known for it.
Polished Perfection
Remember when we said there was a royal rule for everything? Well, there's even one about nail polish. Queen Elizabeth II created the rule that states royal women should not be seen wearing nail polish that wasn't a neutral color so they wouldn't come across as flashy. Much like the other royal fashion rules that she broke, Princess Diana took to wearing all kinds of nail polish.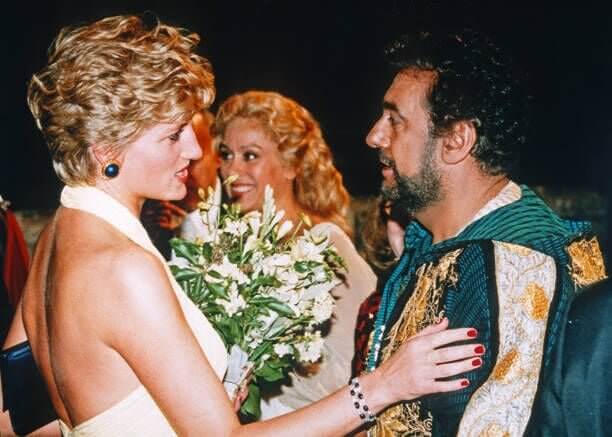 Most frequently, she could be seen wearing bright red nail polish. That made the simple statement that royal women didn't have to be plain to be beautiful. Much like her mother-in-law, Meghan Markle can be seen wearing a variety of colored fingernail polishes. Some of her favorite colors to wear to events includes purples, dark reds, and even black.
All Suited Up
Much like her nails and eyeliner, Princess Diana made bold statements with her wardrobe, as well. This was clearly seen in the way she wore pantsuits to formal events. Traditionally, royal women would wear dresses to these events because pants were seen as masculine attire. In fact, it's quite possible that Princess Diana was the first royal woman to break the rule and wear pants to a formal event.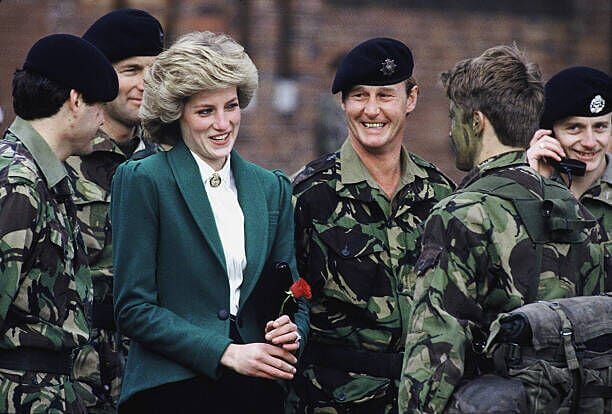 While she may have been the first, she certainly hasn't been the last. Meghan Markle, The Duchess of Sussex, has frequently been seen wearing blazers and pantsuits to events. However, her husband, Prince Harry, reportedly doesn't think the pantsuit look is very traditional.
Splitting Hairs
Royalty is often known for its great hair. Like how Queen Elizabeth II is known for her perfect perm, Princess Diana was known for her hairstyle choice. Diana kept her hair short and a little "undone" where it required little maintenance. Compared to Princess Diana's bold choices in fashion, parenting, and social etiquette, her hair was rather simple.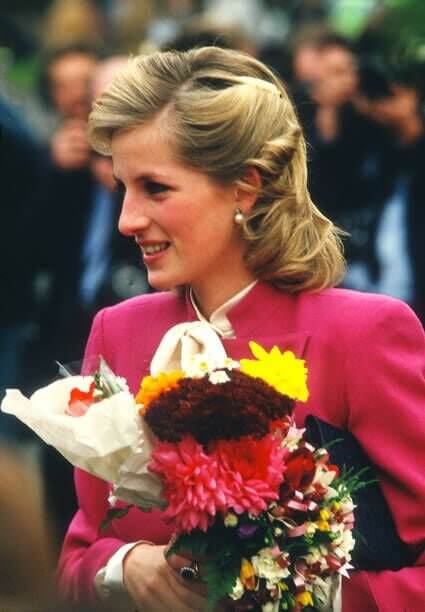 In fact, she helped make it popular for women to have short hair. While her hairdo was simple, it still required a lot of upkeep. Princess Diana's hairdresser, Richard Dalton, said that she would come in for a haircut every few weeks. And he would only cut a fourth of an inch at a time. She did so in secret to avoid a noticeable haircut because it would inevitably become front-page news.