You know their eyes staring out at you from their mugshots and their expressionless faces at their trials, but even the most notorious serial killers had lives and stories outside their heinous crimes. Friends and even family surrounded them just like they surround any of us, but the difference lies in the fact that most often, they were completely unaware of the monsters they had in their lives. 

These photos show the side of notorious killers you haven't seen - loving family members, best friends...a side that proves it was possible for them to embrace some human life at the same time that they delighted in taking it from others. The dichotomy is all at once fascinating and repelling...
Richard Ramirez With a Friend
Richard Ramirez, known as the 'Night Stalker', was responsible for the deaths of 17 people. Here he poses, smiling casually with a friend, with no indication of the terrible crimes he would go on to commit.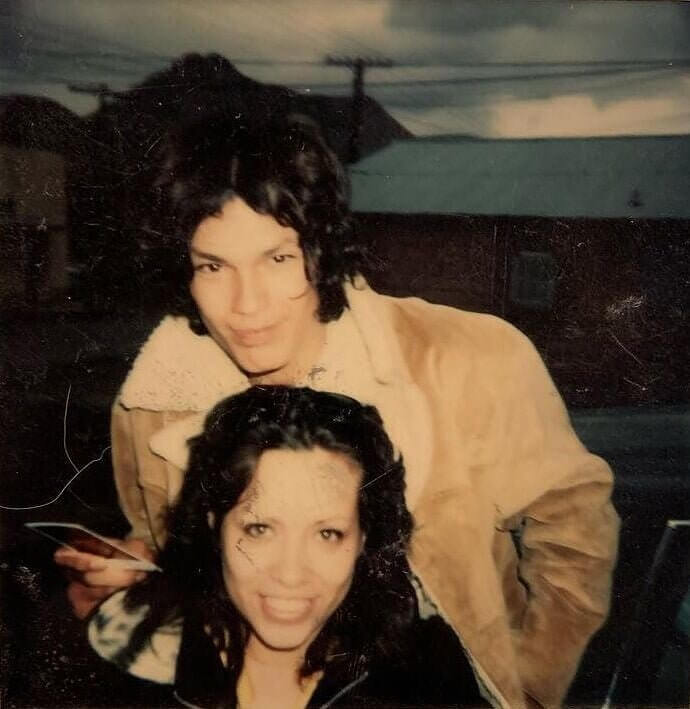 His serial killing spree in the '80s took place in the San Francisco area of California, where his mode of operations included breaking into his victims' homes at night. He was a serial rapist and burglar and was known to kill his victims in a manner of gruesome ways, often with an emphasis or tone of Satanism.   
Richard Ramirez Relaxing
Here Richard 'Night Stalker' Ramirez is seen relaxing in an apartment. It's quite terrifying that serial killers can look so incredibly normal. Ramirez may have fallen down the path to crime due to a troubled childhood and the influence of an ex-military cousin who told him graphic stories of his service during the Vietnam War, even showing him pictures of women he had raped and killed.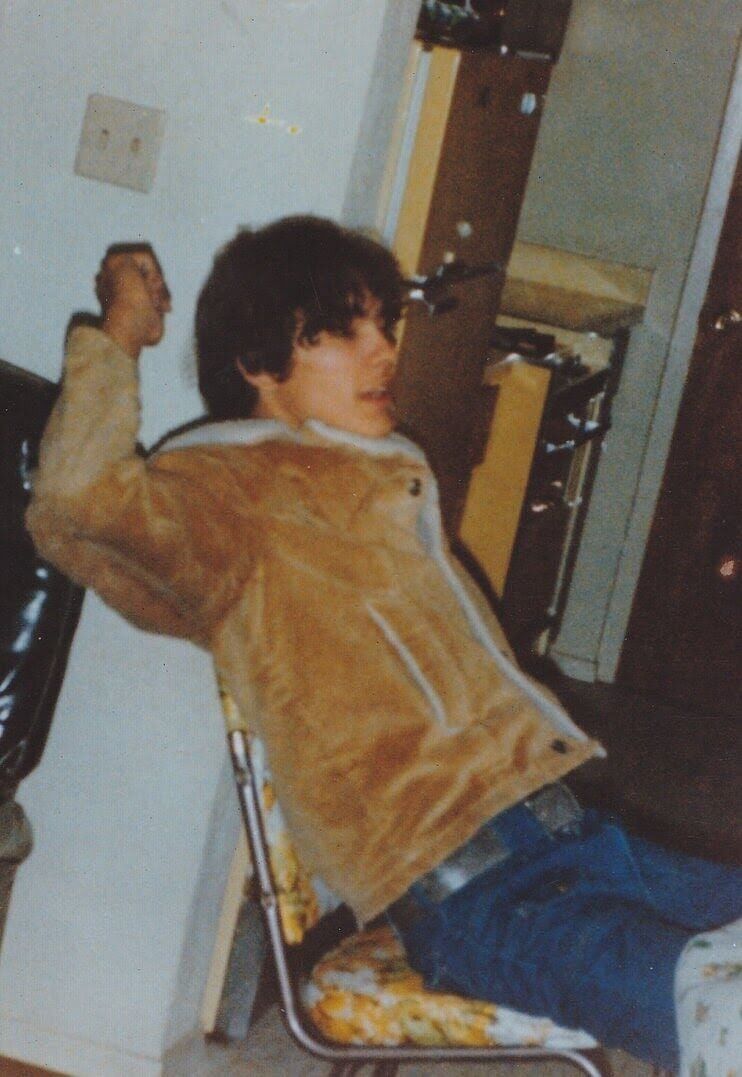 When Ramirez was caught, he never acted remorseful about his actions and was also thought to be a Satanist. He died on death row before his execution could be carried out.
Dennis Rader at the Grand Canyon
Upon first glance, nothing stands out about this image besides the beautiful vista of the Grand Canyon and the fact that the man in front of it is disturbingly close to the edge. But find out that he is actually Dennis Rader and this photo takes on a whole new meaning. He looks just like any other tourist, yet behind his smile is a dark secret.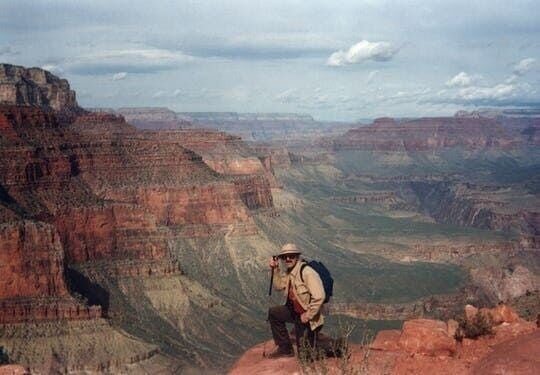 Dennis Rader is also known as the BTK ('bind-torture-kill') Killer, and he caused the deaths of 10 people between 1974 and 1991. He was also known to delight in teasing authorities, sending them disturbing calling cards and objects in the mail to highlight his crimes.
 
Dennis Rader in the Armed Forces
In the 1960s, Rader served in the Armed Forces, as seen in this picture. We are used to seeing those involved in the military and Armed Forces as heroes, but Dennis Rader was anything but heroic. His 'BTK' moniker was of his own creation.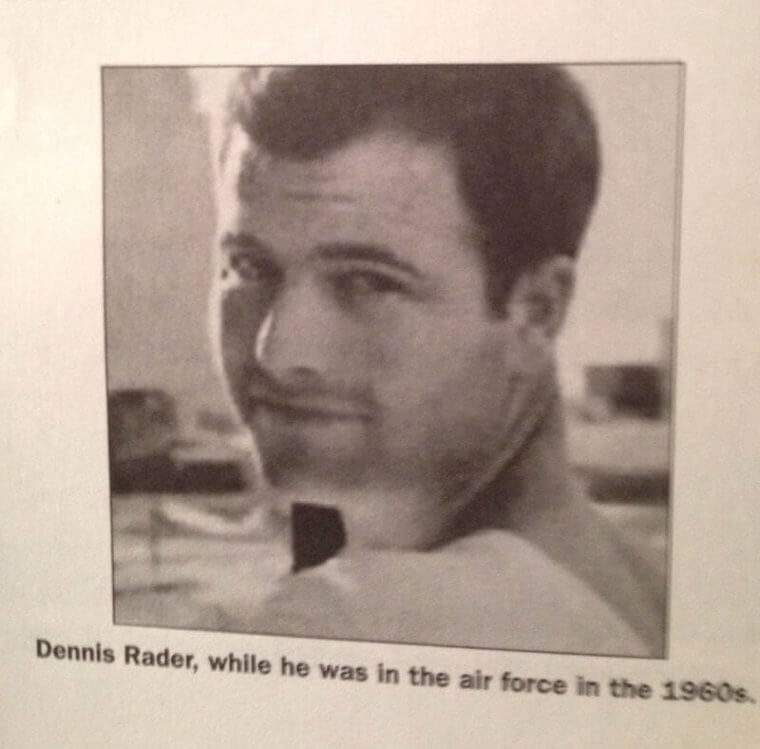 He taunted police who were attempting to track him down and stop his spree with letters laying out the details of his crimes. When he sent more letters in 2004, 10 years after his last communication to the police, he was eventually caught and sentenced to prison. His arrest finally came when he asked police if they would be able to find any identifying information on him if he sent them a floppy disk. When the police obviously lied and said they would not be able to, the disk he subsequently sent contained the clues to who he really was.
Dennis Rader With His Daughter
People can be surprising, even those we think we know best. The BTK killer had a wife and two children who had no idea of his double life until his arrest in 2005. Naturally, they were shocked and appalled to learn the truth. Rader himself even recognized the impact of his actions on his family, describing them as his "final victims". For decades, his wife Paula had only known him as her devoted husband, the loving father of their children. Rader was active in his church and also acted as a scout leader.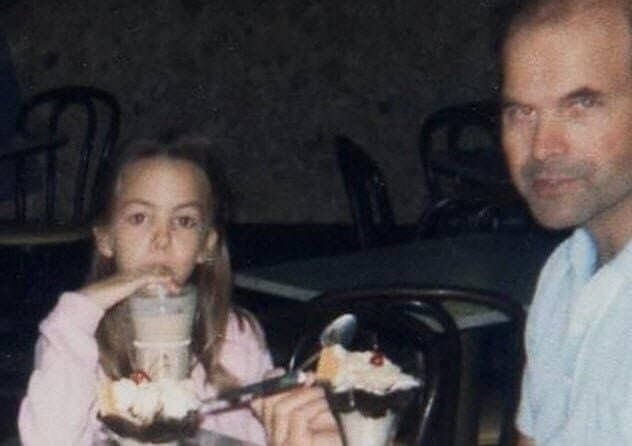 Strangely, Rader was surprised when his family didn't come to visit him in jail, and in response, his daughter Kerri wrote to him and said, "You have had these secrets, this 'double life' for 30 years; we have only had knowledge of it for three months. We are trying to cope and survive. You lied to us, deceived us." As serial killers are often impaired in the area of empathy, it's not surprising that Rader had such a hard time understanding his family's feelings towards him.
Ed Kemper With a Newborn Baby
Edmund Emil Kemper, also known as Big Ed, was convicted of several horrific crimes. He murdered ten people, among them his own mother and his grandparents. He was nicknamed the 'Co-ed Killer' as many of his victims happened to be college students. As if being a serial killer wasn't enough, he also has convictions for rape, cannibalism, and necrophilia.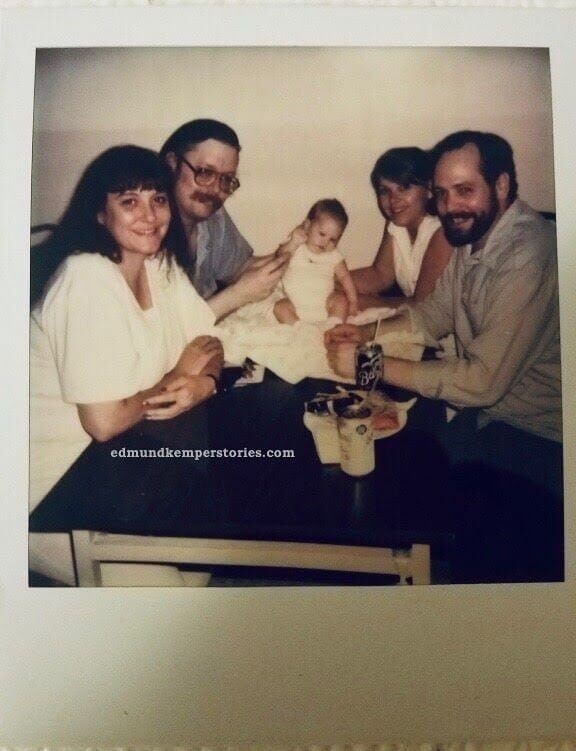 The picture above looks like it'd be a happy innocent shot of friends sharing the joy of their newborn son's birth, yet the knowledge that the man in the back left holding the baby is Ed Kemper adds a sinister air to this image. How must the parents of the child feel looking back on this once happy moment? Kemper is an imposing figure at 6' 9'' tall and is also known to be unusually intelligent, with his IQ recorded at 145. He is currently serving eight consecutive life sentences. 
Joseph DeAngelo Fishing
In the picture below, Joseph DeAngelo looks like any other man on a fishing trip, happily showing off his latest catch. But DeAngelo was responsible for catching a very different type of prey. Between 1973 and 1986, he embarked on three known crime sprees, resulting in the death of at least 13 people. He was also responsible for 50 rapes and 120 burglaries in California. His numerous crimes led to a few different nicknames from the press, such as the East Area Rapist and the Visalia Ransacker.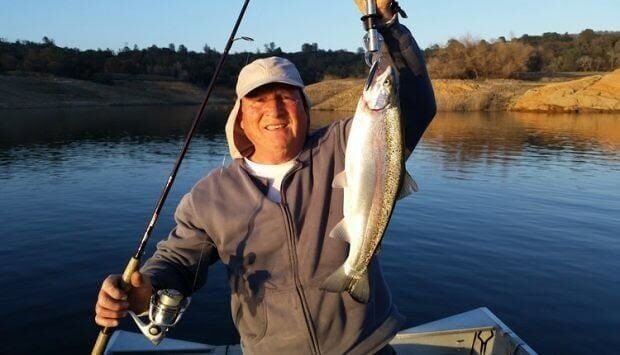 Like Richard Rameriz, he was also known as the 'Night Stalker', and later the 'Original Night Stalker' when Rameriz became prolific. Evidence in 2001 eventually led investigators to conclude these supposedly-different perpetrators were the same person. As the search continued, he came to be called the 'Golden State Killer' by a crime writer who hoped to raise awareness and bring him to justice.
Joseph DeAngelo With His Niece
DeAngelo was an ex-police officer but his twisted legacy lies on the other side of the law. The picture below shows him at home with his niece. Next to them on the table is a telephone taken off its holder. It's thought that this same phone was used by DeAngelo to call the authorities and taunt them about his crimes. He would also call the victims of his crimes and taunt them in a similar manner.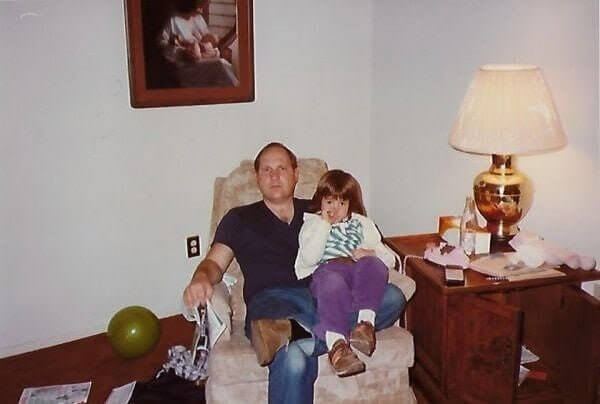 DeAngelo wasn't caught until decades after his crimes, with a renewed investigation beginning by the FBI in 2016 when they offered a substantial reward of $50,000 for his capture. He was eventually caught and admitted to other crimes he had not been charged with to escape the death penalty. In June 2020 he was sentenced to life imprisonment with no option of parole. 
Ted Bundy in Utah in 1970
One of the most well-known serial killers of all time is Ted Bundy. The picture below was taken before he embarked on his notorious crime spree. Here he seems perhaps playful, his hand resting on the heads of the pair who had accompanied him on holiday to Utah.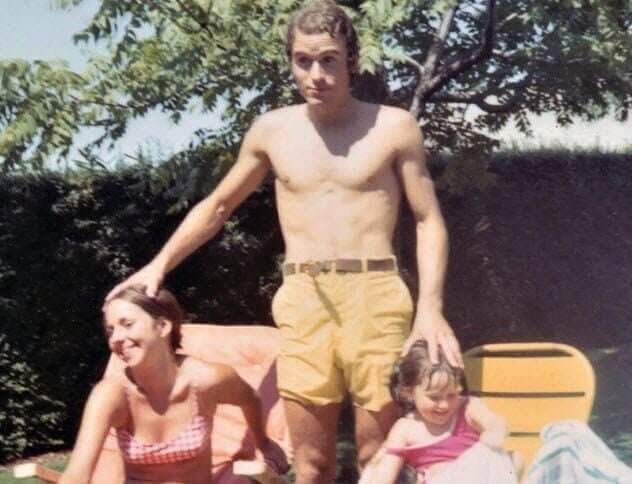 The pair are Liz and her daughter Molly. Liz was recently divorced when she met Bundy and began dating him in the hope that he could be a good father figure for young Molly. Liz later admitted he had been a 'bad boyfriend', and she let him get away with many concerning behaviors. Many people regret past relationships, but few will come to date actual serial killers. Just four years after this picture was taken, Bundy began killing.
Ted Bundy Camping in the Pacific Northwest
Liz went on more than one holiday with Bundy, also embarking to the Pacific Northwest for a camping trip. Bundy is on that trip in the photo below, playfully jumping and smiling. The Pacific Northwest was also the area where he undertook his journey into murder.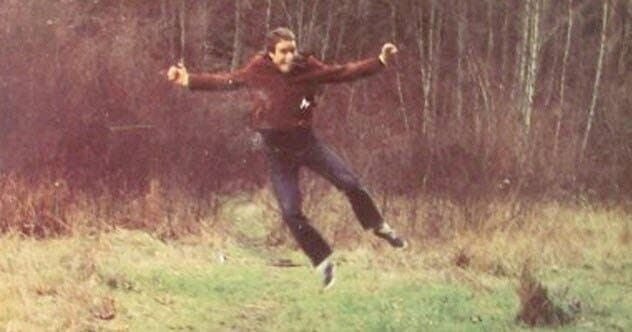 Among his first victims were Lynda Ann Healy and Donna Gail Manson, who were just 21 and 19 respectively when he kidnapped and killed them. Bundy used an arm sling as a prop to convince women to assist him before he would turn violent. It's not known exactly how many lives Bundy took; he confessed to at least 30, but he never told anyone where he left Donna's body.
Ted Bundy Fresh From Napping
Liz took this picture of a grumpy-looking Bundy in 1971, titling it 'An unhappy Ted who just woke up from a nap'. It seems he was known for mood swings, with this picture perhaps capturing the beginning of one. When he was caught, a physiatrist's report stated "he was suffering a bipolar mood disorder stemming from a manic-depressive illness."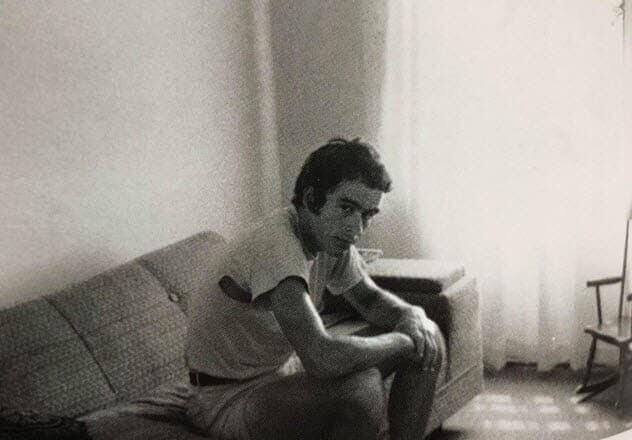 During his own trial, moments of high and low moods were demonstrated by Bundy, allowing the jury to see his true character and reach a verdict of guilt. 
Ted Bundy as a Father Figure to Molly
Here Bundy can be seen behaving as a father might with Molly, taking her out on a boat. Young Molly is smiling and seemingly enjoying the expedition. While there may have been moments of fun, an older Molly also recalls some disturbing interactions with the future killer. Liz wrote a memoir of her experiences with Bundy, and Molly included a story that happened while she was being babysat by Bundy.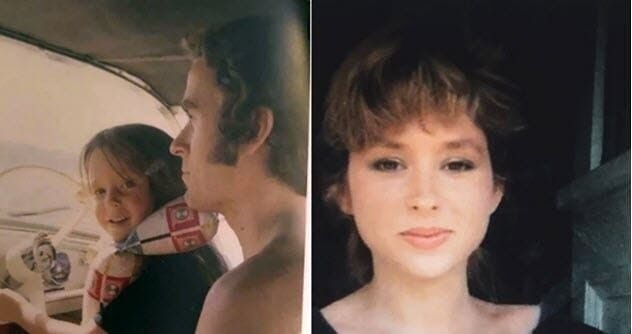 They were playing a game of hide-and-seek, but Molly found Bundy without his clothes. She was shocked and scared, but Bundy tried to laugh it off, claiming he had the power to turn invisible but only without clothes. Molly later recalled that disturbingly, Ted had an erection during this interaction. She also remembers lying in bed after the incident, terrified that he would come back into her room. 
Ted Bundy Having Fun With Local Children

Here Bundy plays with children in his neighborhood who were friends of Molly, spraying them with a hose as they hide behind umbrellas. While this might have ended up as a charming memory, now it's sure to be troubling for these children, wondering if they themselves could have ended up one of Bundy's victims.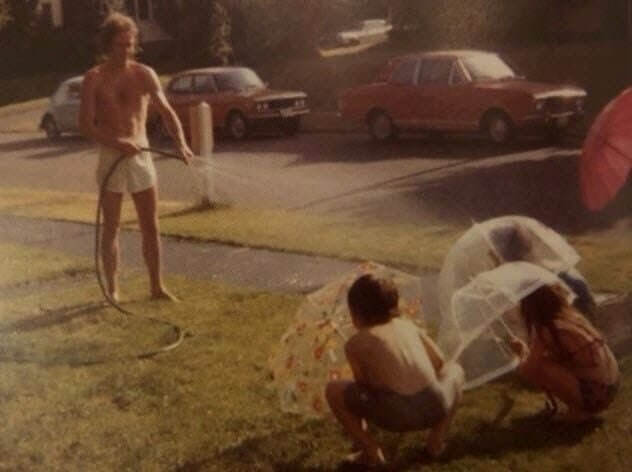 As is common for serial killers, Bundy did not have an easy childhood. The truth of his parentage was concealed. His mother was young and unmarried when she gave birth in 1946, so his grandparents decided to raise him as theirs, leading Bundy to believe his biological mother was actually his sister. Discovering the truth had a big influence on Bundy and his infamous anger. 
Ted Bundy in Liz's Bed
Liz and Ted were still a couple when his killing spree began in 1974. They even took a trip at Christmas to spend time with Liz's family in her childhood home in Utah. Here Bundy is lying down in her childhood bed, smiling and relaxing.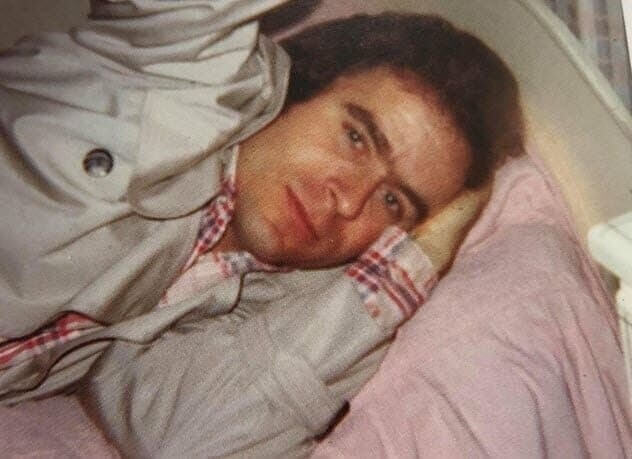 Liz knew there wasn't something right about Bundy. When he began his reign of terror, she saw his behavior change. When caught, Bundy claimed he carried out the killings because of an 'entity' in his mind. When he fell into a stressed mood, the demonic entity would force him to become violent and attack women. He said 'The demands and expectations of this entity would reach a point where they just could not be controlled'.
Ted Bundy and Molly Playing Together
Molly saw Ted as a father. According to her, she "adored him", which is evident from photos like the one below. The impact of Bundy's actions will stay with the families of his victims, and those who saw themselves as his family. At one point, Liz nearly had a baby with Bundy.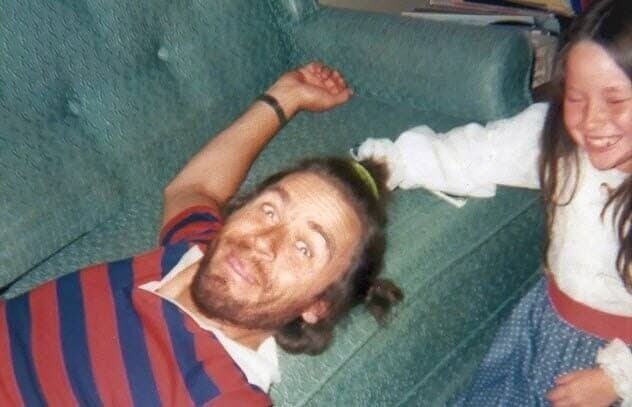 She chose to terminate her pregnancy as they were not able to care for a baby at that point in their relationship, especially as Bundy was beginning law school. Liz struggled with this decision, and Bundy helped her through it. Bundy would later have a child with Carole Ann Boone, who he 'married' during his trial, and impregnated while in prison. 
Ted Bundy With Liz in Utah in 1975
Bundy could be charming and funny. He managed to lure dozens of women into 'helping' him back to his car before attacking them. He was in a relationship with Liz for several years, although she had slowly become suspicious of him. Along with changes to his personality, she found odd possessions among his things, such as clothing belonging to other women, a meat cleaver not used in cooking, stolen plaster of Paris, and a pair of crutches, which were one of the props Bundy used to trick his victims into trusting him.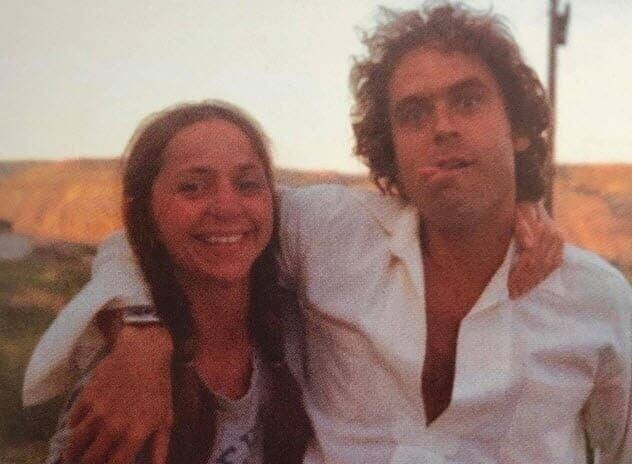 She had spoken to detectives previously and gave statements again. She discussed Bundy's revelations about being 'consumed by something that he didn't understand' and that 'he just couldn't contain it'. He had spoken to Liz about struggling with law school and normal life, but also how he'd claimed not to have a split personality or issues with blackouts, and that he could recall all that he did. 
Ted Bundy in Chains Outside the Court

Bundy was first arrested in 1975 but was released due to insubstantial evidence. Using databases to track down potential suspects with the few clues they had about the serial killer, the investigators had come across Bundy's name a few times. He was placed under police surveillance and eventually enough evidence was gathered that allowed him to stand trial and be found guilty of kidnapping and assault.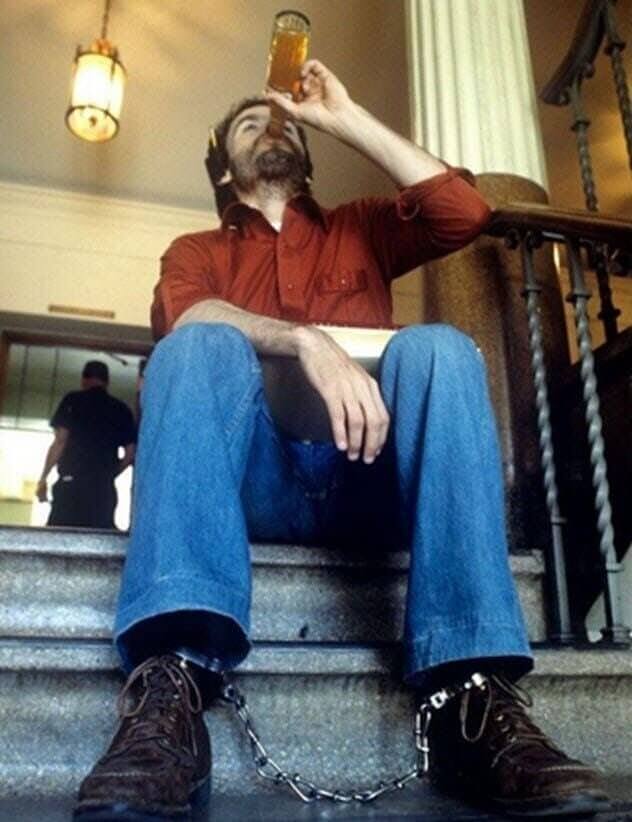 He was then convinced of murder in Colorado and transported to stand trial, where he acted as his own legal representation. He escaped from the authorities for six days but was eventually apprehended. After another escape in 1978, he broke into a sorority house, attacked several people, and killed two young women, Margaret Bowman and Lisa Levy. He then killed 12-year-old Kimberly Leach as his final victim. 
Ted Bundy With A Blond Female Friend
Bundy's crimes eventually led to him being given the death penalty and meeting his end in an electric chair in 1989. His favored victims were usually brunette women, often with their hair parted down the middle.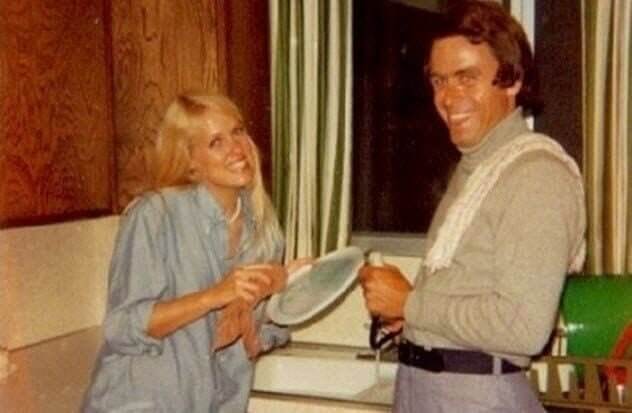 It seems this may have been the case due to a girl with these features breaking his heart in 1968. Bundy killed in seven states, with over 30 victims, and although he confessed to many of his crimes, the location of several victims was never revealed. 
Jeffrey Dahmer at the Beach
Another famous serial killer was Jeffery Dahmer, who killed 17 male victims. His nicknames, the Milwaukee Cannibal and Milwaukee Monster, reveal the disturbing acts he performed on his victims after killing them. He was known for dismembering their bodies and performing acts of necrophilia and cannibalism, especially in his later murders.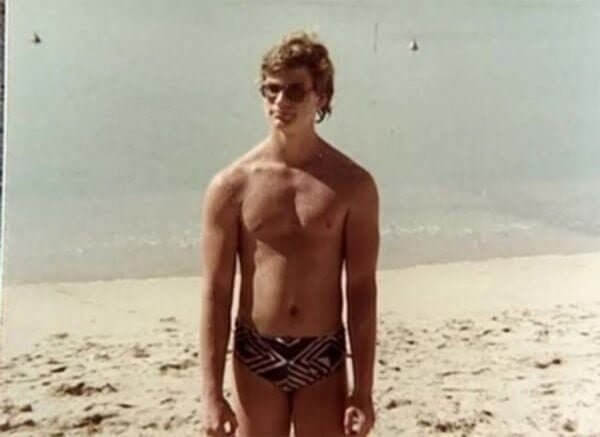 Dahmer would preserve some body parts, especially their skeletons. Here he stands at the beach apparently as a young man, looking a little ill at ease in his swimming trunks. His awkward appearance gives no indication of the horrors he would go on to commit.  
Jeffrey Dahmer at Prom With Bridget Geiger
Prom is awkward for many teens who come to look back on their old photos with regret or embarrassment. Few will have as much regret as Bridget Geiger, the prom date of Jeffrey Dahmer. The serial killer, sex offender, and cannibal was convicted for all but one of the murders he committed between 1978 and 1991.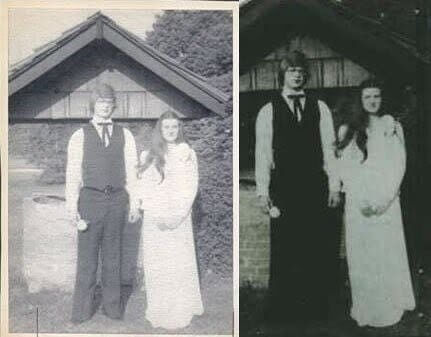 He was found to have borderline personality disorder, a psychotic disorder, and schizotypal personality disorder. Despite these mental illness diagnoses, he was ruled legally sane and given 15 life sentences at one trial in 1992, and then a further life sentence in a second trial. While serving these sentences, Dahmer was killed by another inmate.
Jeffery Dahmer With His Family
Here Jeffery Dahmer is pictured with his younger brother and father. He had just finished basic training for the Army, which he joined after dropping out of university. Two fellow soldiers later came forward claiming Dahmer had raped them during his service.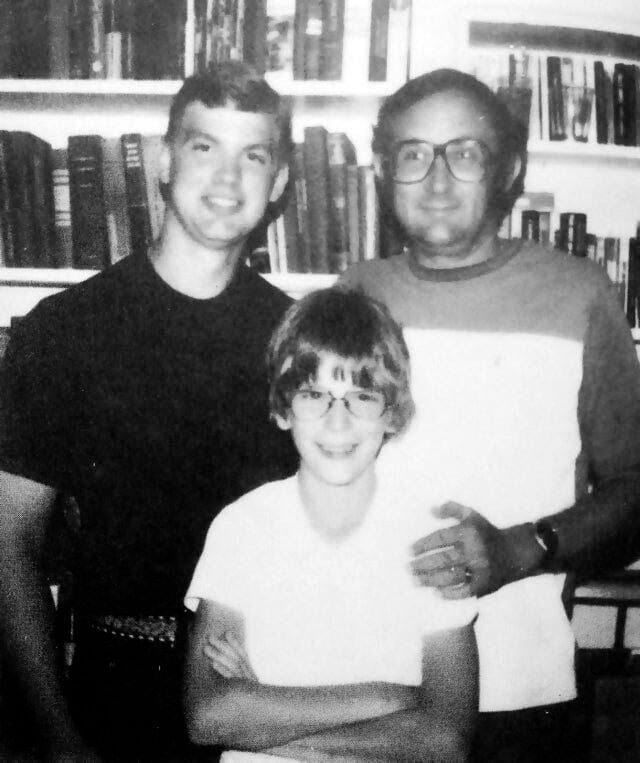 Dahmer's childhood was not the easiest, with a hypochondriac mother taking much of his father's attention and leaving him feeling neglected. During his childhood he developed an interest in dead animals and bones, once asking his father how to bleach and preserve them. 
Ed Gein in 1984
Ed Gein, full name Edward Theodore Gein, came to be called both the Butcher of Plainfield and the Plainfield Ghoul. He was convinced on two counts of murder and had a habit of digging up bodies from the cemeteries in Plainfield, his Wisconsin hometown, and keeping body parts as gruesome souvenirs.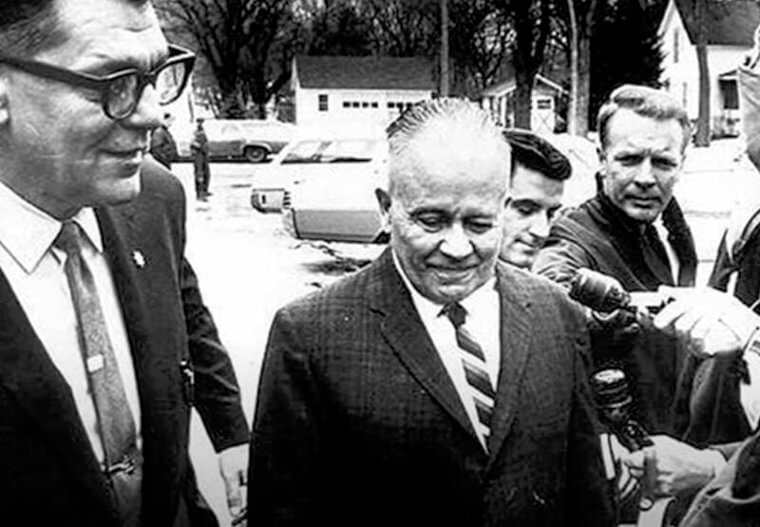 Gein, pictured here in 1984 not long before his death in a photograph that's a far gry from the disturbing ones taken upon the grisly discoveries in his home, killed Mary Hogan in 1954 and Bernice Worden in 1957. He confessed to both of these murders and was found guilty at trial, but due to being declared legally insane, he was placed in a psychiatric institution instead of a prison, where he would die. 
Aileen Wuornos Out Cycling
In this picture, Aileen Wuornos is seen cycling along a tree-lined lane on a sunny day looking young and carefree. But fast-forward to 2002 and Wuornos would be executed by lethal injection after being found guilty of murdering six men. She had killed seven in total, and confessed to having committed the murders due to being filled with hate, and that if left alive she believed she would go on to kill again.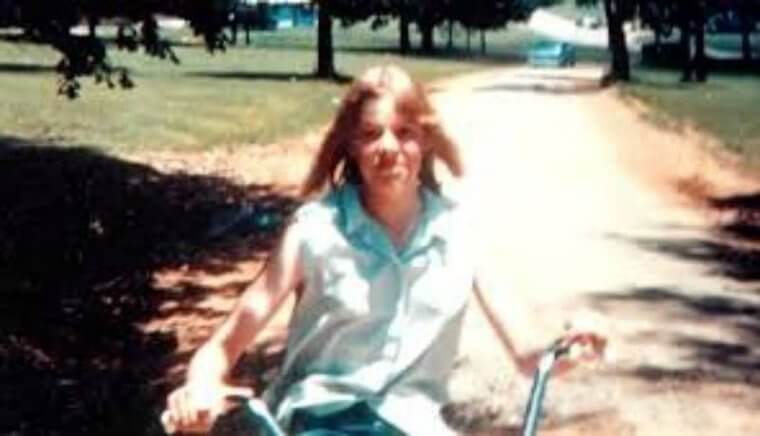 Wuornos was working in Florida as a prostitute when she carried out the murders. Originally she claimed the men she shot had been attempting to rape her, and each kill was an act of self-defense. She later took back these claims
Aileen Wuornos As A Young Child
Here a very young Wuornos is held by her grandmother, looking as sweet and innocent as any child. It's hard to match this child to the cold-hearted woman she would grow up to be. She was born to teenage parents who married young and divorced not long after. Her father, Leo Dale Pitman, spent time in prison and was diagnosed with schizophrenia. After being found guilty of sex crimes involving children, he killed himself in prison.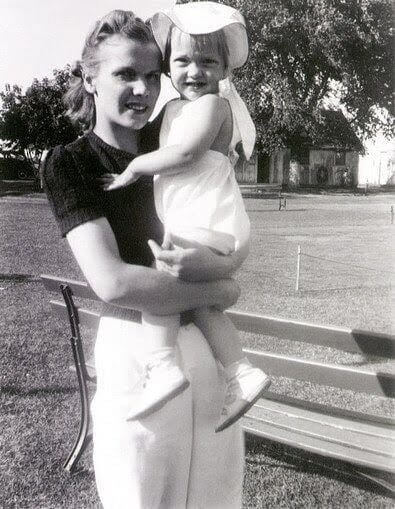 At the age of four, Wuornos and her younger brother were abandoned by their mother and left in the care of their alcoholic grandparents. Wuornos suffered abuse and sexual assault from her grandfather, even becoming pregnant at fourteen when she was raped by a friend of his. This turbulent and troubling upbringing led Wuornos down the path that would see her become a murderer, although no sign of this future is present in this photograph. 
Karla Homolka Posing in a Pretty Blue Dress
She looks like the kind of young girl you might wish to talk to at a party, with her attractive appearance and flattering open-backed dress. However, you probably wouldn't go near her upon learning the truth. Karla Leanne Homolka, sometimes known by her middle name, was convicted of manslaughter and given a 12-year prison sentence due to a plea bargain.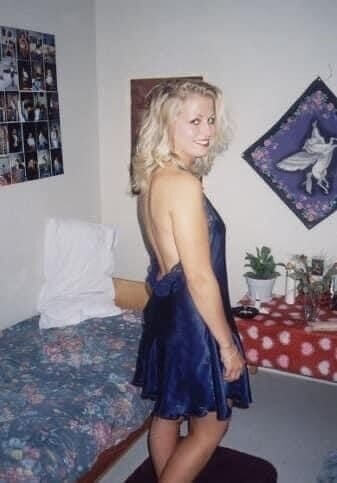 Her partner in crime was her husband Paul Bernardo, and together they raped and then killed three minors. Her husband was given the most severe sentence under Canadian law, which is life imprisonment and a mark as a dangerous offender. 
Karla Homolka in a Garden
Homolka was given a reduced sentence as she claimed her part in the acts was coerced by her husband Paul Bernado through abuse. When given the Psychopathy Checklist, she scored much lower than Bernardo.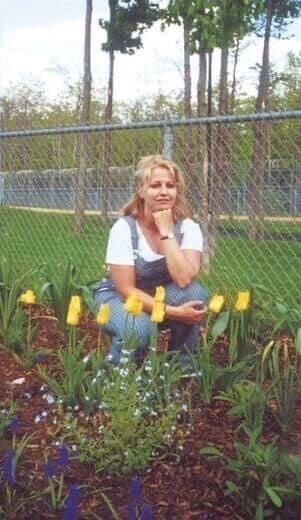 Later, evidence found after the plea bargain had been accepted revealed her claims were not true, but despite this, her sentence was not increased. Her victims were three teenage girls, one of them her own younger sister. Homolka served her sentence and was released from prison in 2005. She married a brother of her own lawyer, and still lives in Canada. 
Gary Ridgway Holding Pet Dogs
Everyone loves dogs, even serial killers apparently! Here Gary Ridgeway, America's second most prolific serial killer, is pictured with his poodles, lovingly holding them. Ridgeway was convicted for 49 counts of murder, and it is likely there may have been more victims yet to be uncovered.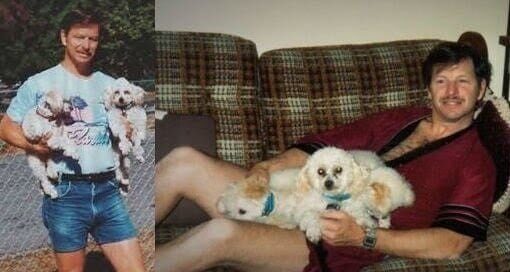 He was known as the Green River Killer, and many of his victims were teenagers and young women who often happened to be vulnerable, such as runaways and sex workers. He operated in Washington state in the '80s and '90s, with the first of his victims being uncovered in Green River, which led to his nickname. DNA evidence (and, interestingly enough, the insight of Ted Bundy) led to his arrest and life sentence. 
Charles Manson in Jail
Charles Manson never committed murder himself, but he directly inspired and caused others to commit it. Manson became a cult leader, creating the 'Manson Family' in 1967. Followers of his are known to have committed nine murders in four different places between July and August in 1969.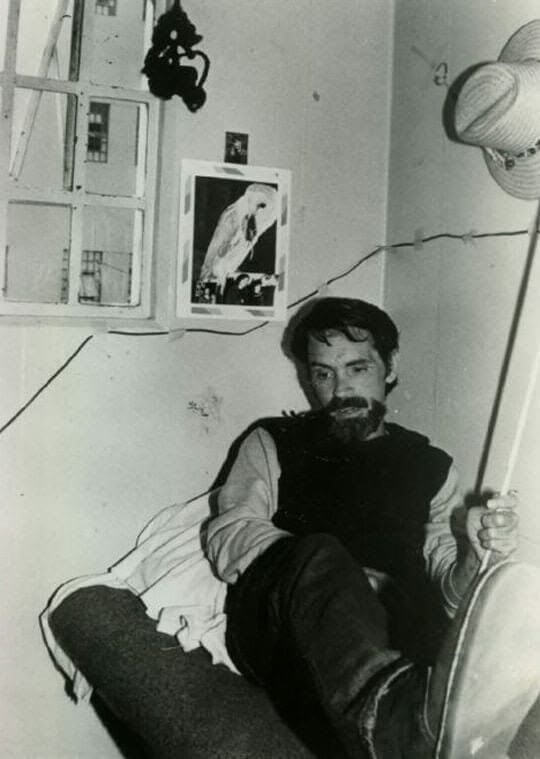 The murders were committed in the name of inciting a race war relating to a Beatles-inspired conspiracy theory of "helter-skelter". Manson himself was brought to justice on charges of first-degree murder and conspiracy to commit murder. Here he is finally behind bars. 
John Wayne Gacy at His Wedding
Many family members are shocked at the revelations of their loved one's actions. The person you thought you knew is suddenly switched and a much darker truth is revealed. John Wayne Gacy, seen here dancing with his wife at their wedding, was a big part of his local community, where he would often act as a clown for sick children and charity events.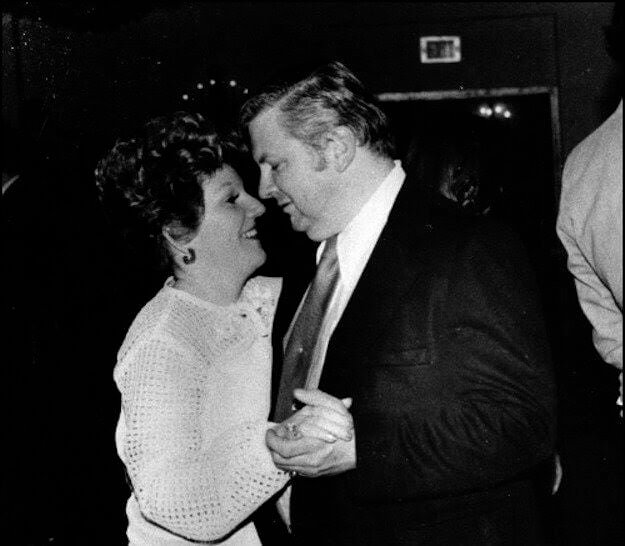 He was known as 'Pogo the Clown' and 'Patches the Clown', names that would morph into the 'Killer Clown' upon discovery of his crimes. Gacy raped and killed 33 times - and these are just the acts that are known. It's possible there were more young men and boys that became his victims. 
John Wayne Gacy Smiling With Friends
Gacy is the second figure from the left in this picture, which was taken at a dance. He looks normal, blending in with his friends, which is the terrifying truth about serial killers - few actually look like the monsters they are. Gacy would take his victims to his own ranch house. The bodies of 26 of his victims were found in the house, with others also nearby.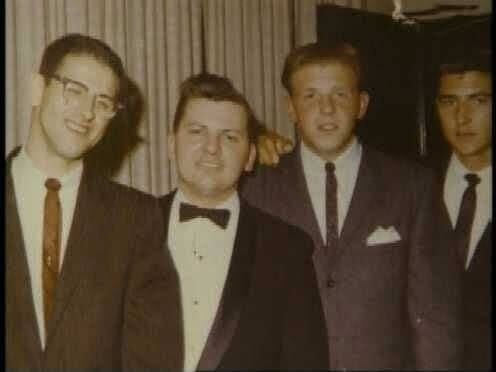 In 1968, Gacy was given a 10-year sentence for a sexual assault on a teenage boy but would be released only 18 months later. In 1972, he killed for the first time and continued with his attacks until his arrest in 1978.
John Wayne Gacy With First Lady Rosalynn Carter
Gacy is pictured here with the First Lady at the time - Rosalynn Carter. When the shot was taken, Gacy had been killing for some years and would go on to do so again. He once said, "A clown can get away with murder", but this would not turn out to be true.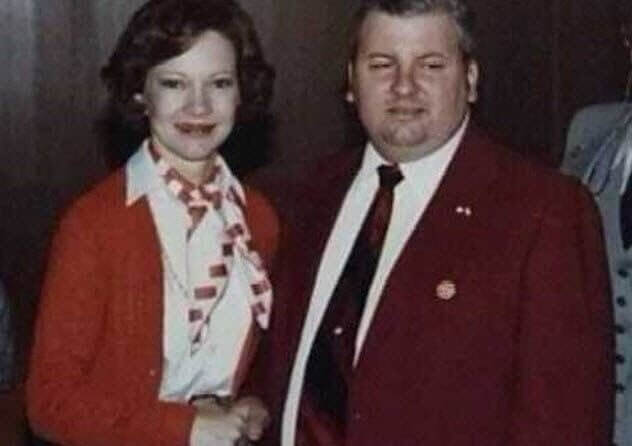 When his last victim was reported missing, the search for the young teenager ended in Gacy's arrest. At his trial, he had 33 convictions for murder, which was the highest number of any one person at the time. Gacy was sent to death row and executed by lethal injection in 1994.
Ted Kaczynski Heading Off To College

Many serial killers have similarities in their personalities or life events that seem connected to their eventual crimes. More than one has been marked as unusually intelligent, with intellect and planning leading to them being able to escape the notice of the authorities for years and even decades.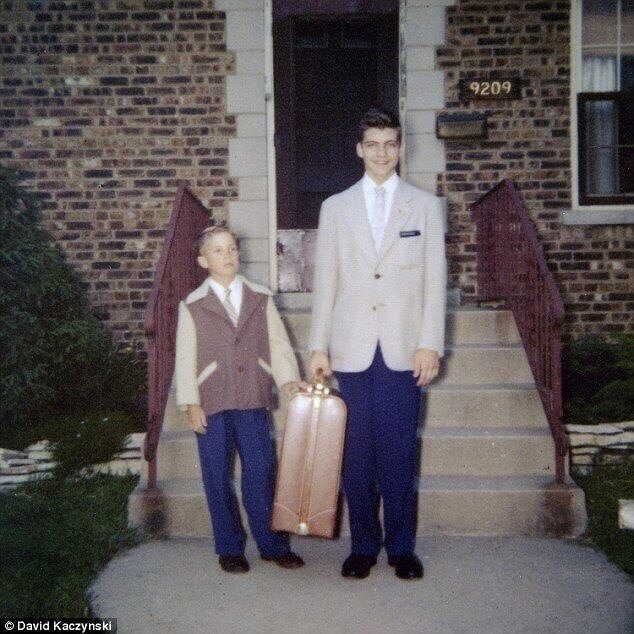 Theodore John Kaczynski was no exception. At just 16 years of age, Kaczynski studied at Harvard University, achieving a BA in Mathematics in 1962. Later he carried out a large-scale bombing campaign, driven to attack those connected to modern technological advancements, in a terrorist act against industrialization. He was nicknamed the Unabomber, and caused the death of three people, with 23 also being injured in his attacks.
Rodney Alcala With An Unknown Girl
Rodney Alcala could have killed numerous people, all women and children. He is known to have taken lives in New York and California, with only eight victims actually confirmed. Photographs of over 100 other women and girls that he had taken were found, so it is likely there were others murdered at his hands. The girl pictured here with Alcala has not been identified.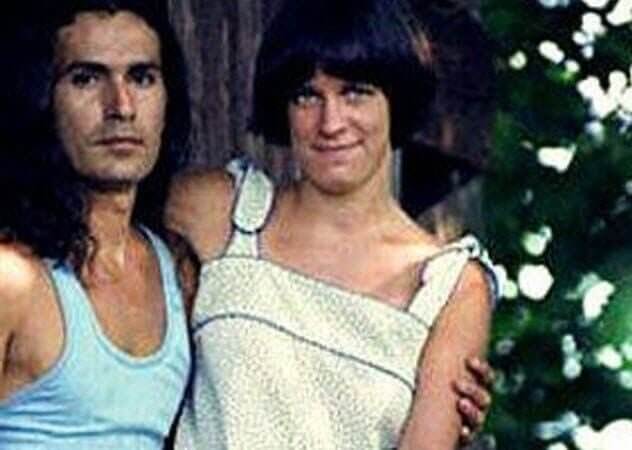 One woman, Liane Leedom, was fortunate to escape with her life when she was taken into Alcala's house in 1979. On seeing Leedom leave Alcala's car, an acquaintance warned her father to keep his daughter away from Alcala. It seems his reputation was known to many.
Andrei Chikatilo Demonstrates His Past Crimes

Some serial killers are incredibly cooperative when caught. It seems in some cases that they actually want to be found out and revel in the attention their actions have inspired. Others lead investigators on, even taking some of their final secrets, such as the location of victims' remains, to their graves. Here, Andrei Chikatilo is shown demonstrating how he killed one of his victims to police investigators.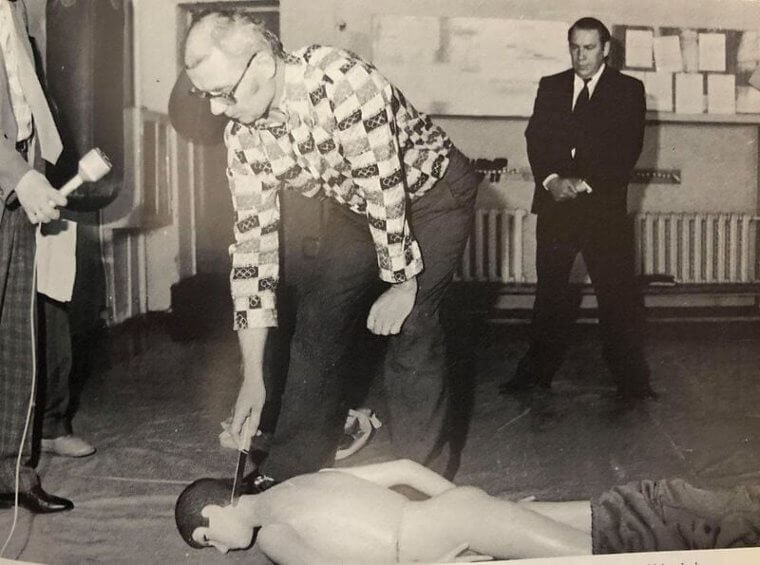 Chikatilo had nicknames such as the Rostov Ripper and Butcher of Rostov, the city that served as the location for many of his crimes. He killed over 52 women and children, eventually confessing to 56 murders, with 53 of these cases having charges brought against him. Nine accounts of murder at the trial were found to have insufficient evidence for a conviction. Nevertheless, his remaining crimes led to his death penalty in 1994.
Andrei Chikatilo Surrounded by Family

Chikatilo killed between 1978 and 1990, in locations across Russia, Ukraine, and Uzbek, all then under the Soviet Union control. Many of his victims were picked up at train stations and taken to remote locations like woodlands to be killed.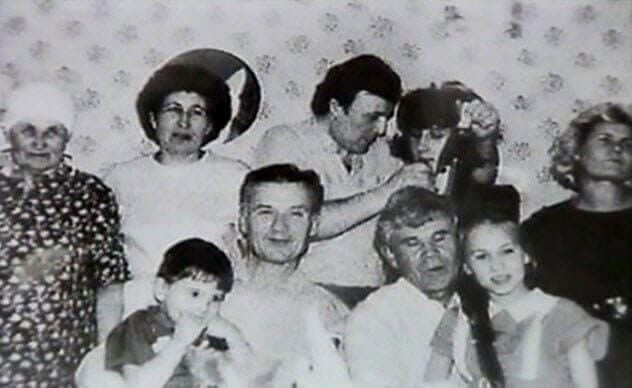 Chikatilo had a wife and children, pictured here, although he also was plagued by chronic impotence, which likely meant his children had to be conceived by other methods. Chikatilo passed on his violent tendencies, notably to his son Yuri, who he is holding in this picture, who also ended up in prison on a charge of attempted murder. 
Dr. Harold Shipman at School
We trust our doctors to heal us and care for us when we are our most vulnerable. But some become doctors not to heal, but to harm. One of the world's worst and most successful killers was British doctor Harold Fredrick Shipman. Below a young Shipman is pictured as a student among his peers.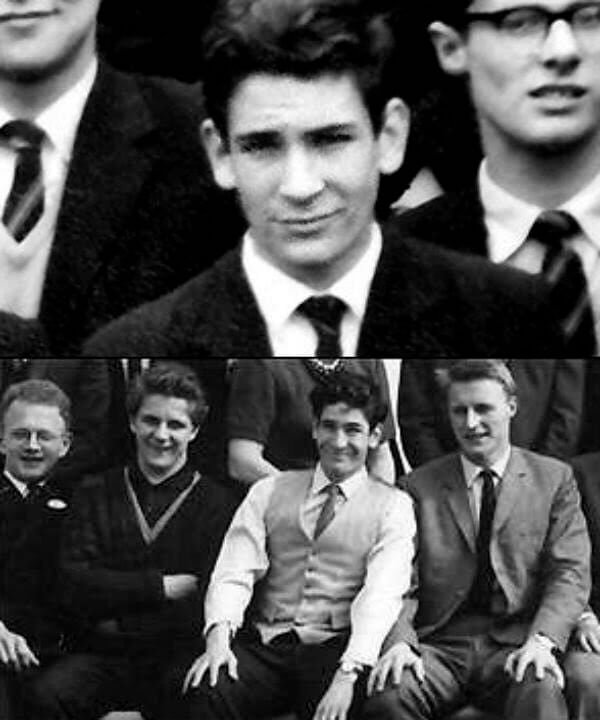 The entire extent of his murders is not fully known, but an investigation uncovered at least 250. Many of his victims were elderly ladies. The youngest known victim was in his 40s, but it is suspected he may have killed some patients as young as four years old.
Dr. Harold Shipman With His Child

Shipman was married to Primrose May Oxtoby, and together they raised four children. Early into his career as a general practitioner, Shipman faced fines for prescription forgery. It seems the pethidine he was stealing was for personal use. After spending time at a drug rehabilitation clinic, he took another position at a doctor's office.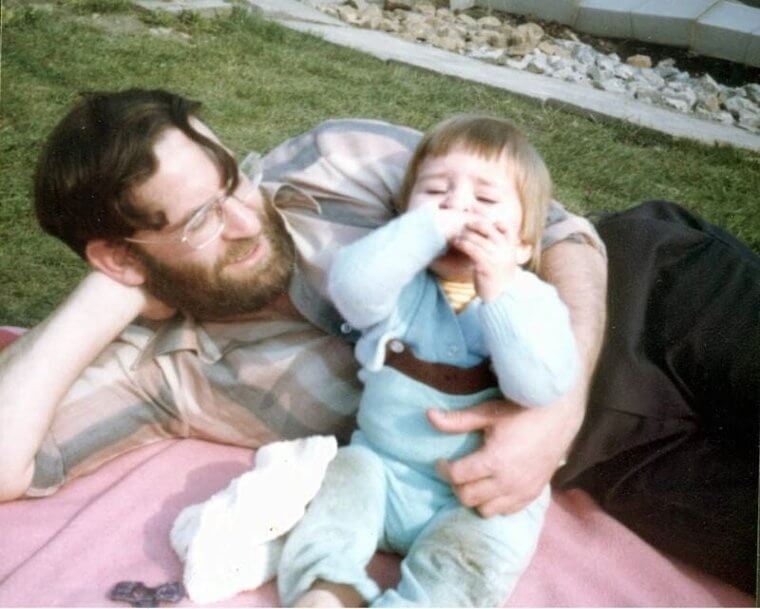 He built a respectable name for himself in the 1980s, although the high death rate of his patients began to raise concerns, and finally led to an investigation. Shipman was found guilty on 15 murder charges and is to date the only doctor found guilty of killing patients. Shipman committed suicide in prison in 2004.
Richard Kuklinski Sharing Presents With His Wife
Celebrating anniversaries is a great tradition for couples, and the picture below might be found in any number of beloved photo albums. However, the man below is Richard Kuklinski, who was arrested not long after this picture was taken for multiple counts of murder.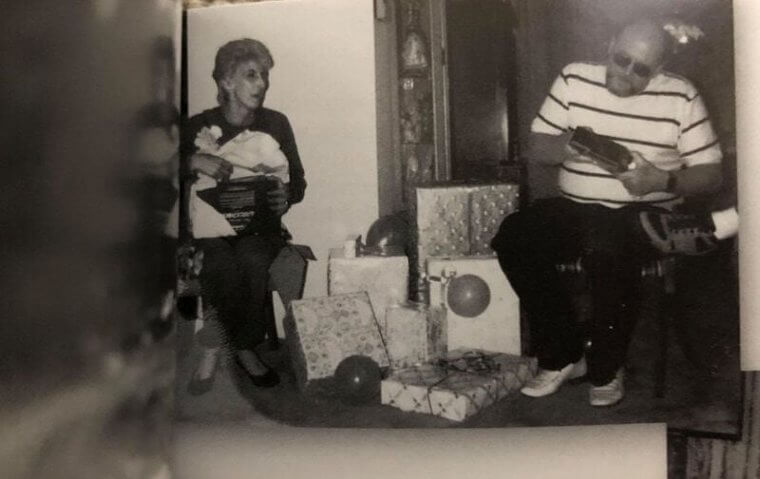 His wife Barbara only learned about his double life when he was arrested in the driveway of their family home. Kuklinski had been a great father to their three children, and a good husband. He was also a regular usher for Sunday Mass at their church. 
Richard Kuklinski and Family

Richard Kuklinski gained the nickname 'The Iceman'. The family he poses with below was just one part of his life. Kuklinski told his wife he was a salesman, while he actually worked as a mafia killer, and a fearsome one at that.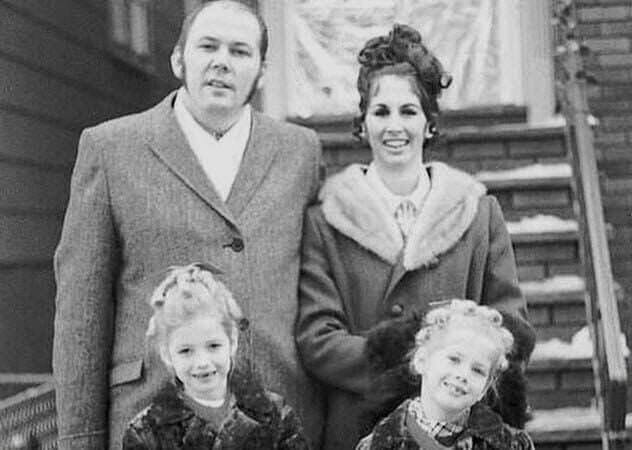 While six charges were brought against him, some believe the true extent of his body count might be up to 300. He was arrested just before Christmas in 1986. Following the revelation, Barbara declared that she had no idea, stating that there were never any signs, claiming Kuklinski didn't even bring guns into their home. 
Ian Brady as a Youngster
Ian Brady and Myra Hindley were partners in crime in the most literal sense of the word. Together they killed five children between 1963 and 1965 in the Manchester area of England. Their crimes were known as the Moors Murders. Along with their young victims facing death, most of them also endured sexual assault at the couple's hands.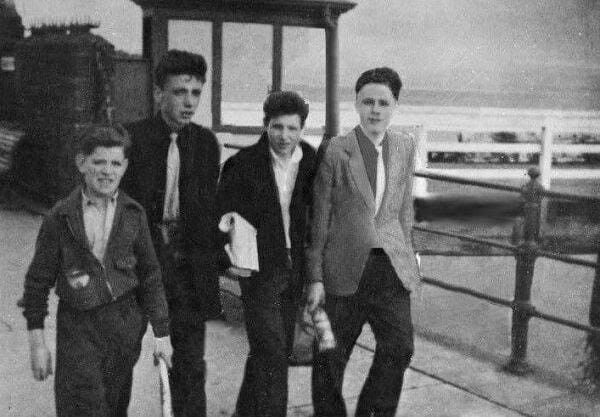 The bodies were buried on the Saddleworth Moor, and while three have been found, the body of Keith Bennet has never been uncovered. Ian Brady had a criminal history from a young age, with charges such as theft and housebreaking. He is said to have tortured animals when he was young, but Brady denies these accusations.