We all love Disney's characters. Do you know how these characters were derived? Many originated from Jacob and Wilhelm Grimm, better known as the Brothers Grimm, known for publishing folklore in the 19th century, which included the well know: Cinderella, Hansel and Gretel, Sleeping Beauty, Snow White, and many more. However, not all Disney characters originated from past media. Many characters are inspired by real people. Keep reading to find out more.
The Man Behind the Mad Hatter
Isaiah Edwin Leopold, better known as Ed Wynn, was an American actor born, November 9, 1886. He was famous for his rendition of The Perfect Fool in the 1921 musical revue. This is when he first developed his giggly, wavering voice and used silly props and costumes. Although the Mad Hatter character came about in the book Alice's Adventures in Wonderland written by Lewis Carroll in 1865. Wynn epitomizes the Mad Hatter character with his crazy antics and eccentric persona.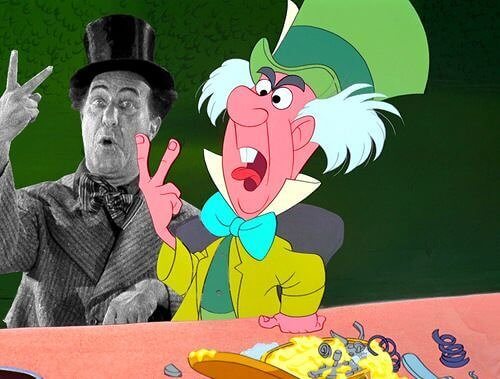 It is no wonder that when Walt Disney Productions produced the animated comedy-musical Alice in Wonderland in 1951, they enlisted Ed Wynn for the voice of the Mad Hatter. The character also visually portrays the outlandishness we have come to associate with Ed Wynn. We can't say if Wynn inspired some of Mad Hatter's quirks, but it sure was a great match!
The Real Life Cruella De Vil
It is no wonder that when Walt Disney Productions produced the animated comedy-musical Alice in Wonderland in 1951, they enlisted Ed Wynn for the voice of the Mad Hatter. The character also visually portrays the outlandishness we have come to associate with Ed Wynn. We can't say if Wynn inspired some of Mad Hatter's quirks, but it sure was a great match!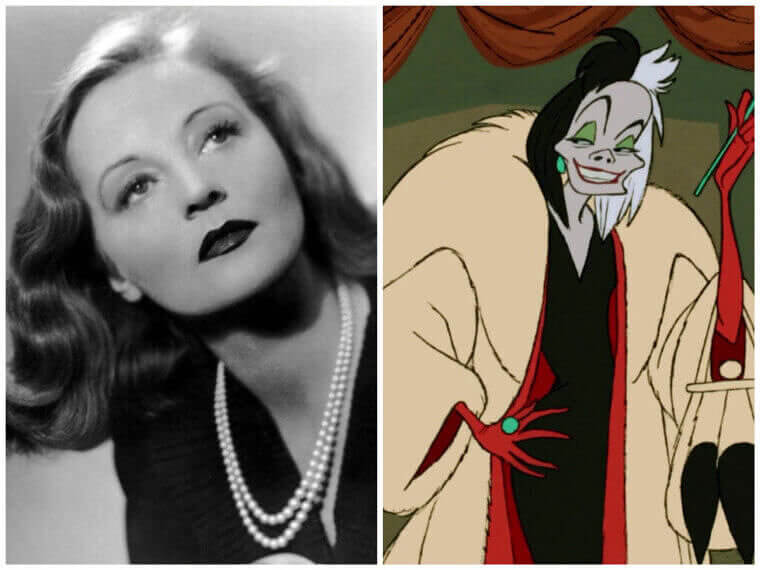 Her grandfather and uncle served as US Senators, and her father served in congress. Bankhead supported liberal causes and civil rights, and she publicly spoke out against her family. Bankhead assisted Spanish families to escape the civil war as well as world war II. She also supported foster children. Bankhead battled substance abuse and reportedly smoked more than 100 cigarettes a day. She was also open about her various relationships with both men and women.
The Beatles in the Jungle Book
The four vultures in the Jungle Book were designed to be a parody of the famous '60s British rock band, The Beatles. Buzzie was mirrored on Ringo Starr, Dizzy on George Harrison, Flaps on Paul McCartney, and Ziggy on Jonh Lennon. The development staff at Disney were hoping for the four vultures to represent The Beatles in more than just looks and offered the famous band a chance to do the voices of the four vultures. Unfortunately, due to an excessive workload, John Lennon declined the offer.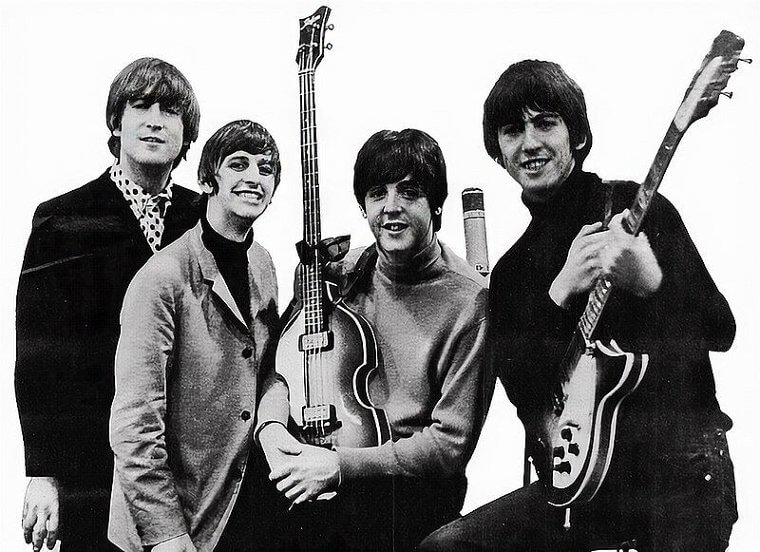 The hair and accents may be similar, but one thing that does differ is the style of music. The song That's What Friends Are For, that the four vultures sing, is in a barbershop quartet style. Initially, the vultures were going to sing a rock song. However, Disney thought that it would date later on.
Who Is the Key to Tinker Bell
Margaret Kerry auditioned for the part of Tinker Bell. The audition involved pantomiming actions and movements for the animators. During a Fox News interview, Kerry was asked how she became Tinker Bell. She replied: "I was 18 at the time and had an agent. She called me one day and said, "Get yourself over here. They're interviewing for a 3 1/2-inch sprite that doesn't talk... It's a Disney." And I said, "I'll be there!"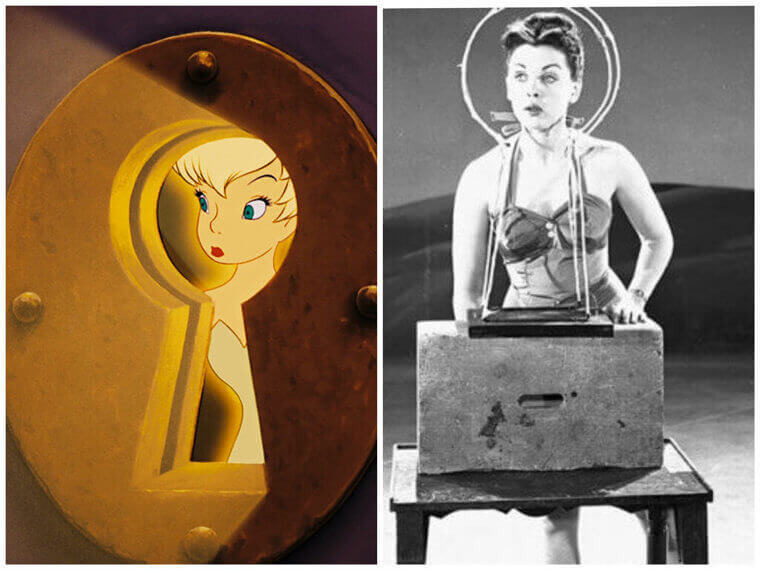 Everyone who went to the audition did the same thing. They just wanted to see what the inside of Disney looked like or were already fans. For my audition, you know the scene in the movie where Tinker Bell was looking at herself in the mirror? I played that as if she was 9 years old and had never seen a mirror. Next thing you know I was working".
Where Did Princess Tiana Get Her Dimples?
Princess Tiana in the 2009 film, The Princess and the Frog was roughly based on Princess Emma from the 2002 novel, The Frog Princess, and the original novel written by the Brothers Grimm. Another inspiration for her character was acclaimed New Orleans chef Leah Chase. At 19 years of age, Tiana is a hard-working waitress who dreams of becoming a chef and opening her restaurant.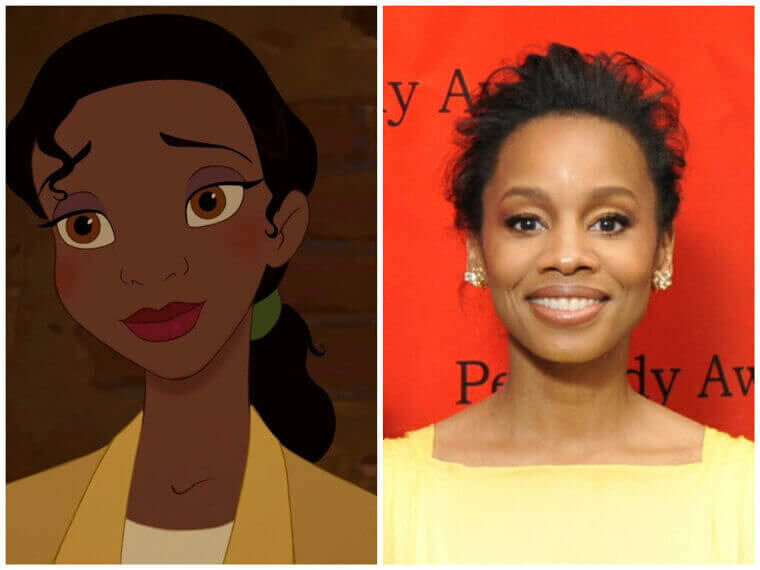 Now you may be asking, but where did the dimples come from? Easy, from Anika Noni Rose. Rose was not only responsible for the voice and singing of the character. She also acted as the model for the animators to capture actions, movements, and expressions, and you will see the visual references between Rose and Tiana. There were quite a few contenders for the role. Jennifer Hudson, Alicia Keys, and Tyra Banks were all reported contenders.
Scat Cat Made for Louis Armstrong
You may notice that Scat Cat in the 1970 movie Aristocats bears a resemblance to Louis Armstrong. That's because the part was written with the intention of Louis Armstrong playing the role. Unfortunately, due to health problems, Armstrong was unable to take this part. Benjamin Sherman Crothers (Scatman Crothers) was then appointed and directed to imitate Louis Armstrong.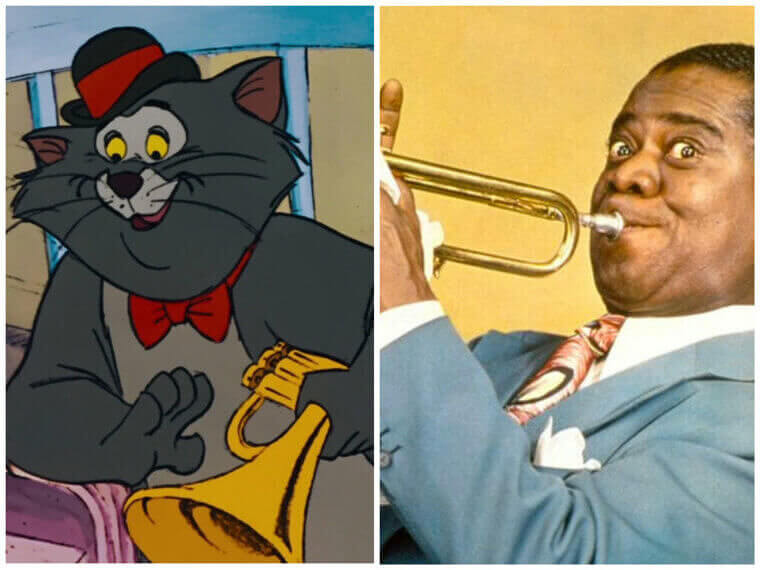 The name of the cat was changed from Satchmo to Scat Cat in recognition of the change. We are sure that Louis Armstrong would have made an incredible Scat Cat. However, Scatman Crothers needs to be commended for his portrayal in the absence of Armstrong.
Disney Mimics Her Moves Three Times Over
Helene Stanley (Dolores Diane Freymouth) was born July 17, 1929. She is famed for her time with Disney as a live model. Stanley was noted as a ballerina who moved with natural grace and style. During the making of Cinderella, she was filmed doing all the scenes. The animators then used the footage to create the animation.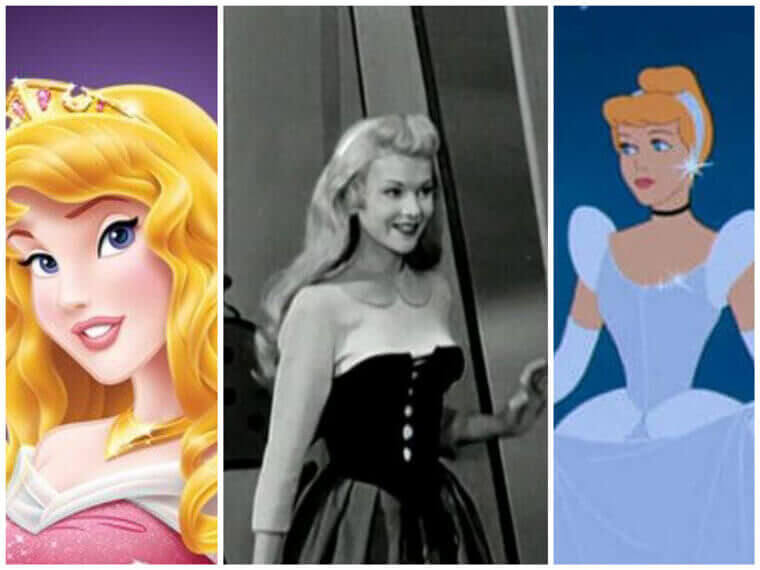 The way in-which Stanley moved and posed brought the character's personality and feelings to the forefront. She also understood what the animators were looking at in any given scene. Given the excellent job Stanley did, it was no surprise that she was chosen as a live-action model for two subsequent Disney roles. In 1959 she modeled as Princess Aurora in Sleeping Beauty and in 1961 as Anita Radcliffe in 101 Dalmations.
Famous Drag Queen Is Disney's Villain
The design of Ursula, the villainous sea witch in The Little Mermaid, evolved several times before being what it is today. Animators tried numerous design options for Ursula before reaching the final one. The script initially described Ursula as a Joan Collinseque character, tall and thin with high, regal cheekbones and black hair.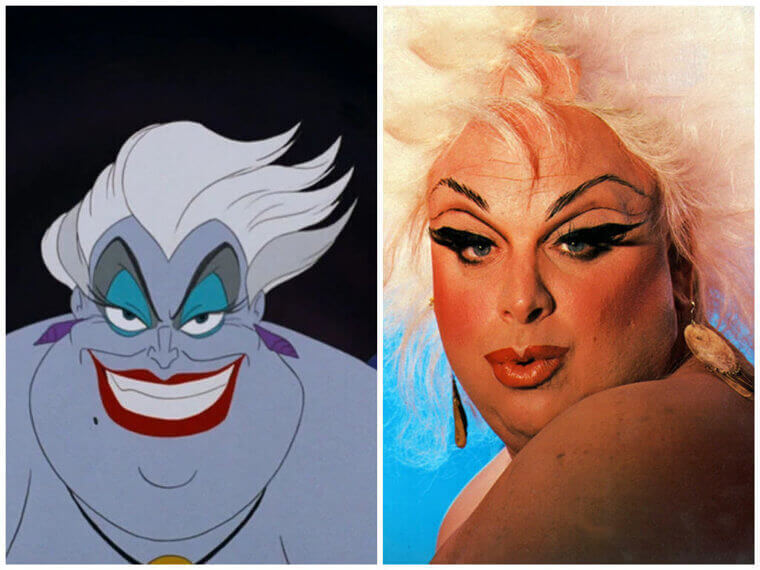 At one stage through the transformation, Ursula had spikes and resembled a spine fish. The final design of Ursula was inspired by the famous drag queen, Divine. She was overweight with Divine's signature eye makeup and had a matron-like vibe. The producer, Howard Ashman, described the first sketches by Rob Minkoff as looking "like a Miami Beach matron ... playing Mah Jong by the pool." Minkoff had drawn the character with a shark tail but later swapped this out for Divine's head on top of an octopus body that you see today.
Perfect for Pocahontas and Her Mother
Irene Bedard is a Native American actress born in Alaska in the '60s. She has played the lead Native American role in numerous movies, one of which is Pocahontas. Bedard was hired to do the voice and as a live-action model for the main character Pocahontas in the 1995 animation film with the same name. The lead character played by Bedard was a strong, independent, and intelligent woman who became a role model for many young girls globally.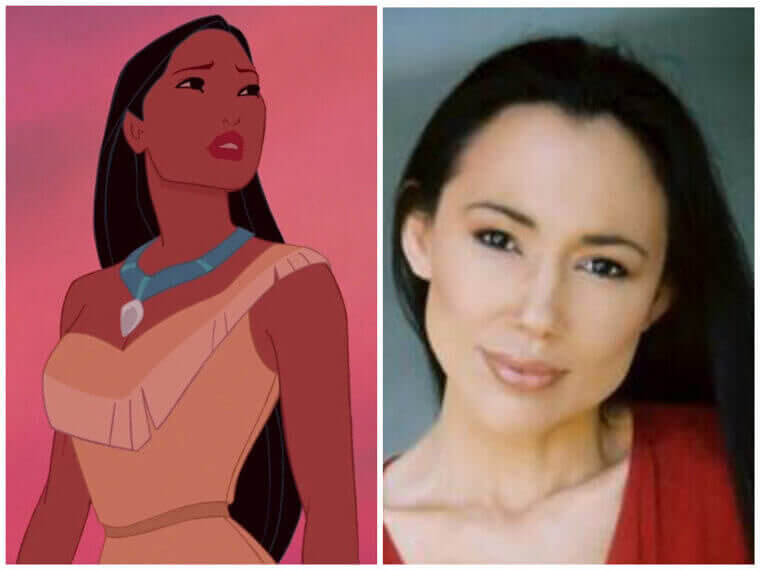 Bedard received good reviews for her performance in Pocahontas, her voice being described as both powerful yet angelic. She later went on to play Pocahontas in the sequel Pocahontas II: Journey to a New World. Bedard then starred as Nonma Winanuske Matatiske, Pochahontas's mother in, The New World, released in 2005.
The Rise and Fall of Peter Pan
Bobby Driscoll was a childhood actor that amassed numerous Disney roles in a short space of time. He had an enduring nature and boyish charm, becoming one of the first actors placed under contract by Walt Disney. Driscoll won two Academy Juvenile Awards for his parts in So Dear to My Heart and The Window. The 1953 Walt Disney classic, Peter Pan, was one of Driscoll's last highly successful roles.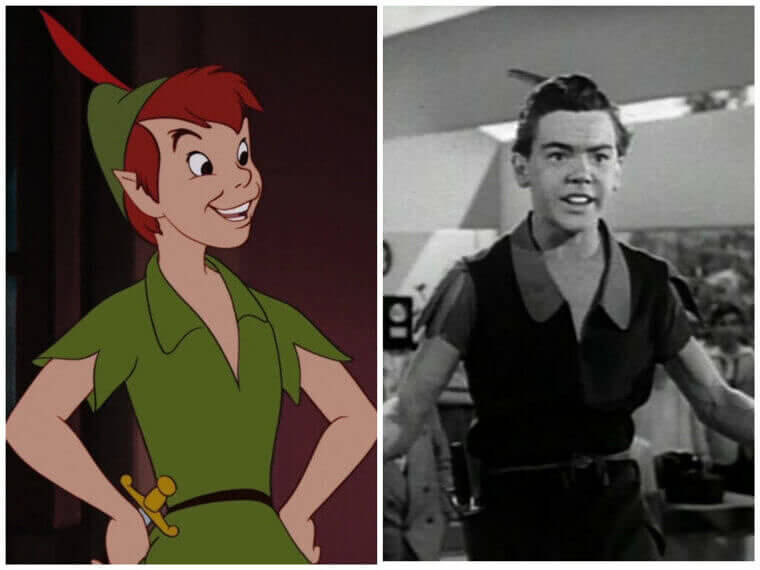 Driscol did the voice for the title character, and he was used by the animators as a model for close-up referencing. Shortly after the completion of Peter Pan, Driscol hit puberty and developed severe acne. According to Marc Elliot: "Walt often referred to Driscoll with great affection as the living embodiment of his youth." However, shortly after the completion of Peter Pan, he said Driscoll would be better suited as a bully.
Genie Created in Essence of Robin Williams
Robin Williams was an accomplished actor with a big personality and numerous accolades. Instead of Williams auditioning for the role of Genie, the Disney team approached Williams with a pitch to get him on board. In the presentation, the animators created an animated scene of an old stand-up comedy routine that Williams did, using the Genie. Williams was humored by the work and signed.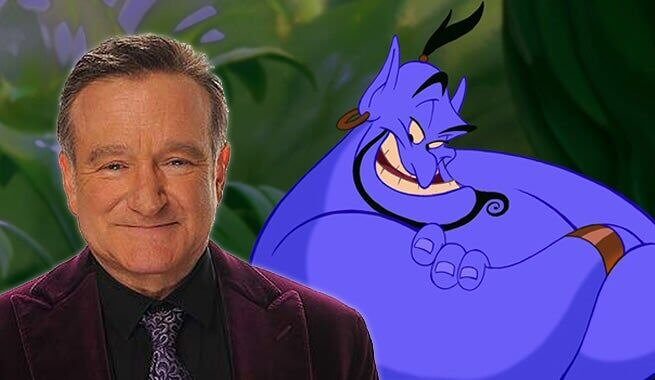 Upon its release in 1992, Aladdin grossed $504 million, becoming the first animation to exceed half a billion in revenue. Due to a fallout between Disney and Williams over contractual issues, Williams declined to appear in the sequel The Return of Jafar. However, when Joe Rath became Chairman of Walt Disney Studio, he arranged a public apology to Williams, repairing the feud. Williams then joined the cast in Aladdin and the King of Thieves, which was released in 1996.
Witch Doctor Inspires to Dr. Facilier
Dr. Facilier (the Shadow Man) is a fictional antagonist in the 2009 movie, The Princess and the Frog. The Shadow Man is a smooth-talking, evil voodoo bokor (witch doctor) played by Keith David. He is a representation of Baron Samedi, a loa of Haitian Vodou. His dress code of choice is a tailcoat and tophat. Bruce Smith, the animator responsible for Dr. Facilier describes him as a lovechild of Captain Hook from Peter Pan and Cruella De Vil from One Hundred and One Dalmations.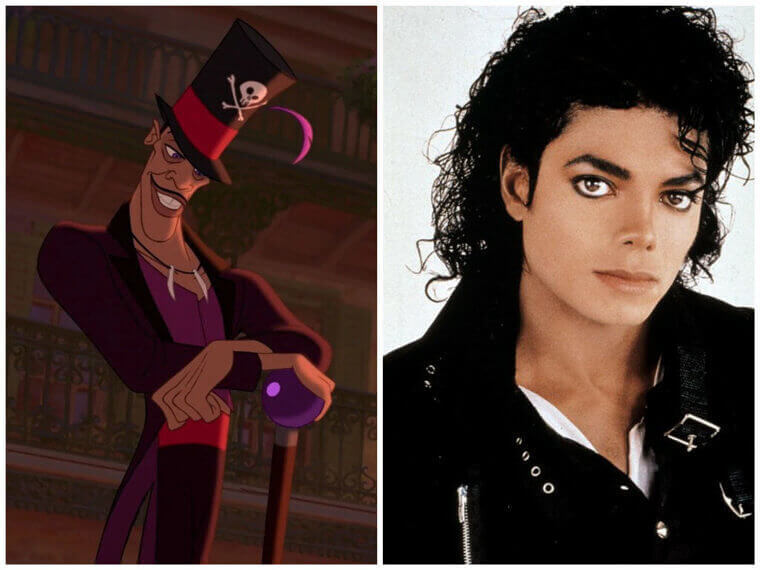 Inspiration while creating Dr. Facilier also came from the legendary jazz singer Cab Calloway and the King of Pop himself, Michael Jackson. It is easy to see the influence of both these stars when watching the performance. The animators have excelled in bringing out Michael Jackson's best moves in this animated production.
Christopher Robin Son of A. A. Milne
Christopher Robin was inspired by A. A. Milne's son, Christopher Robin Milne. Milne was not happy with being the namesake and expressed his feelings in a series of autobiographies. "It seemed to me almost that my father had got where he was by climbing on my infant's shoulders, that he had filched from me my good name and left me nothing but empty fame."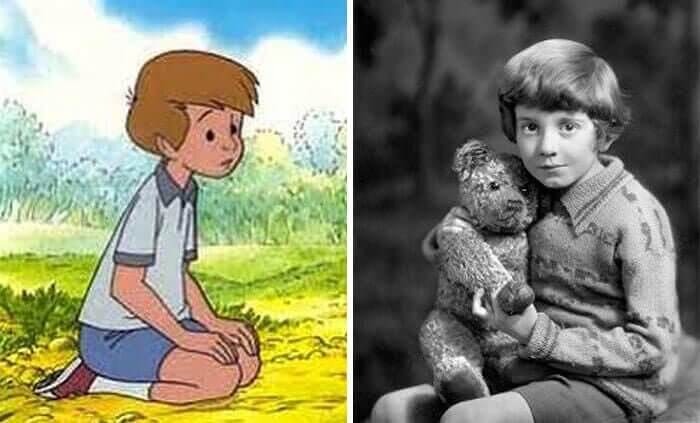 " Milne reveals that the poem, Vespers, written by his father is "the one work that has brought me over the years more toe-curling, fist-clenching, lip-biting embarrassment than any other". The poem describes Christopher Robin as a little boy, saying his prayers. All of Christopher Robin's friends were inspired by Milne's toys, except two. Milne and illustrator, Ernest Shepard created.
Captain Hook Animated Character
Captain Hook has been around in various novels and stories since 1904. He was created by James Matthew Barrie. It is rumored that the first inspiration for Captain Hook came from Christopher Newport, an English sea Captain, and privateer employed by Queen Elizabeth. Captain Newport was infamous for leading more attacks on the Spanish than any other privateer in the Queen's employ.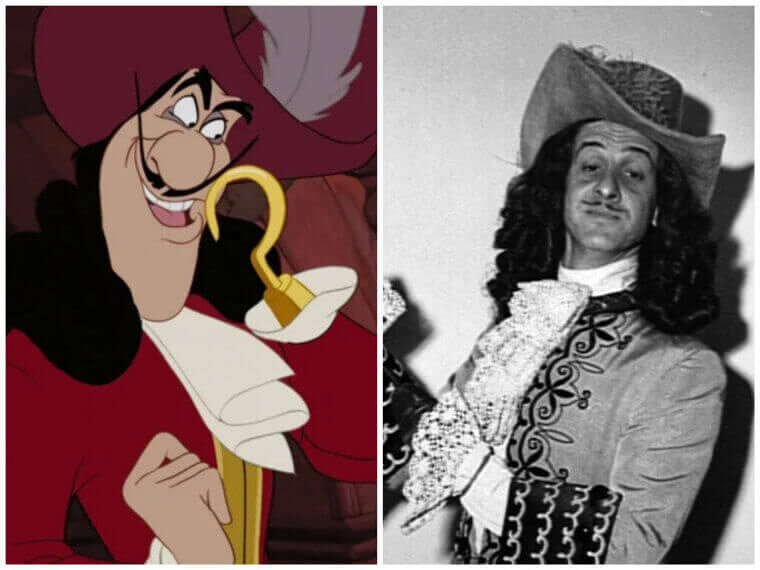 We can see how the actions of Captain Newport may have influenced Captain Hook's character. We are still uncertain where the visual design idea came from for Captain Hook, the much-loved comedic villain in Peter Pan. Some say that he is partially based on the directing animator, Frank Thomas. Other people feel that Hans Conried provided the basis for the interpretation of Captain Hook. Conried was the original voice artist and performed the play on stage.
Beaumont Chosen by Walt Disney
Kathryn Beaumont was born in London in June 1938. She debuted in It Happened One Sunday at the age of six. She was born into an artistic family, her father was a singer, and her mother was a dancer. The family relocated to Los Angeles, and Beaumont auditioned to portray Alice in Alice in Wonderland in 1951 at the age of 13.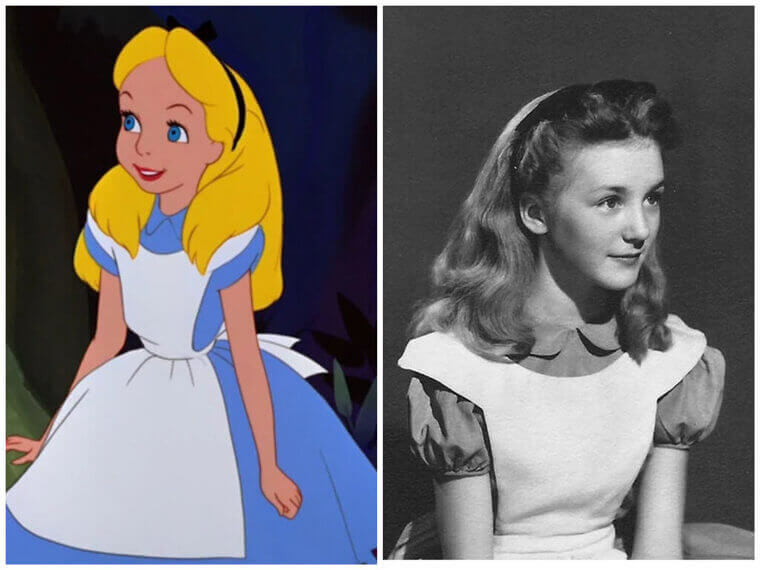 According to Just Giggles, Walt Disney handpicked Kathryn Beaumont to play Alice when he saw her in the 1948 film On An Island With You. There is a strong physical resemblance between Beaumont and Alice. Beaumont also assisted the animators with getting Alice's movements just right. They would watch how she moved and mimic it through animation. Beaumont went on to teach at an elementary school for 30 years but continued as the voice of Alice and Wendy from Peter Pan until 1995.

Eleanor Audley Is Disney's Choice for Vilain
Eleanor Zellman was born November 19, 1905, in Newark, New Jersey. She debuted on Broadway at 21 and appeared in several Broadway productions between 1926 and 1944. By 1940 she had started to go by the stage name Eleanor Audley.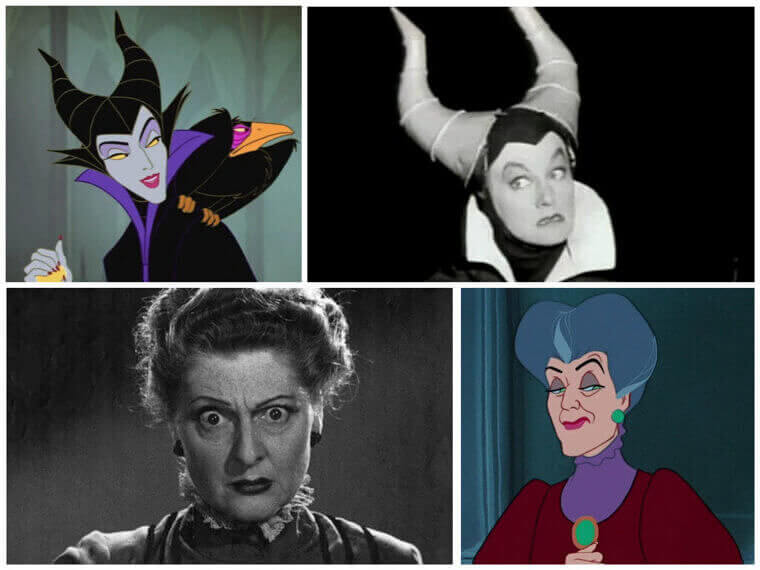 Audley was hired by Disney to do the voice and live-action referencing for the characters of Lady Tremaine in the 1950 Cinderella and Maleficent in Sleeping Beauty, released in 1959. The animators referred to her expressions and facial features to use on Lady Tremaine and Maleficent. Audley also did the voice of Madame Leota in Disneyland's Haunted Mansion.
Beautiful Belle in Beauty and the Beast
Belle, the lead character in Beauty and the Beast, has the looks of Audry Hepburn and the mannerisms of Sherri Stoner. Aubry Hepburn was rumored to be the inspiration for Belle from her expressions to her lovely yellow dress. Your Tango reported that two actresses inspired the look of Belle, Audry Hepburn, and Vivien Leigh. Digital Media FX published the following comments, James Baxter, a supervising animator made when referring to Belle.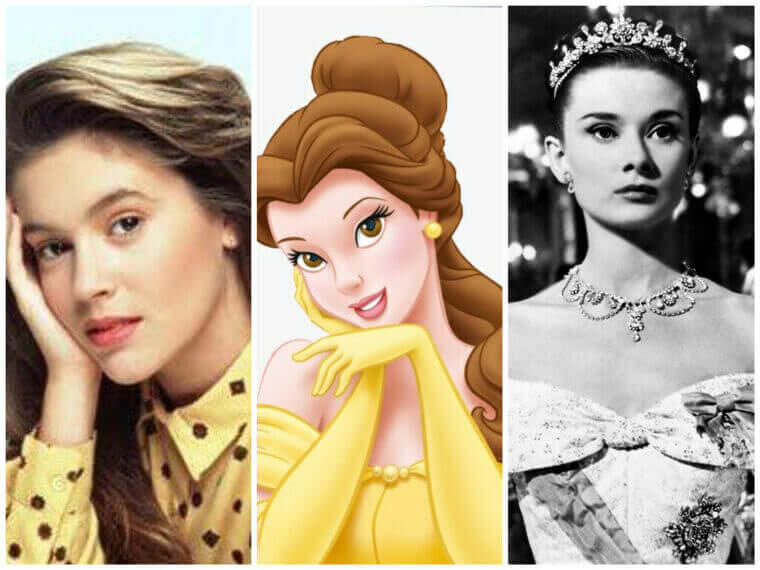 "Physically, we tried to make her a little bit more European looking with fuller lips, a little bit darker eyebrows, and slightly smaller eyes than Ariel [from 'The Little Mermaid']." "She's also a few years older than Ariel and a lot more worldly because she's always reading. We tried to make her movements very real whether she's simply walking or waltzing with the Beast in the ballroom sequence."
The Unknown Inspiration Behind Ariel
The animation and production team of The Little Mermaid wanted Ariel to be beautiful and portray a sweet, wholesome character. They found their inspiration in Alyssa Milano from the ABC sitcom, Who's The Boss.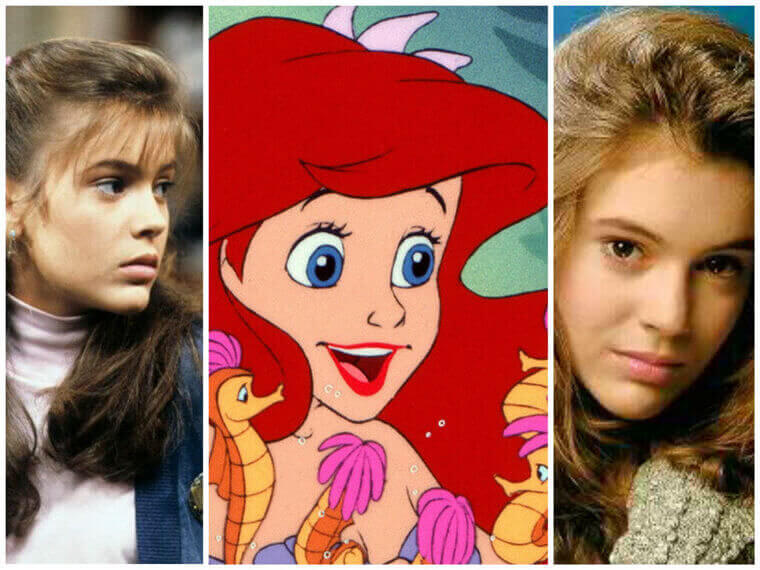 Ariel got her face and body structure from Milano, but the red hair was original. Milano only discovered much later when watching behind the scenes in the making of the movie that she was the inspiration behind Ariel. Sherri Stoner was hired by Disney as the live-action reference model for Ariel, which helps with movements and expressions.
Jessica Rabbit World War II Pin UP
Jessica Rabbit is a fictional character born from the novel Who Censored Roger Rabbit, which was written by Gary Wolf. In the 1988 film, Who Framed Roger Rabbit, Richard Williams, the animation director, said Jessica Rabbit was inspired by various actresses. According to New York Times, Williams said: ''It's the ultimate male fantasy, drawn by a cartoonist''.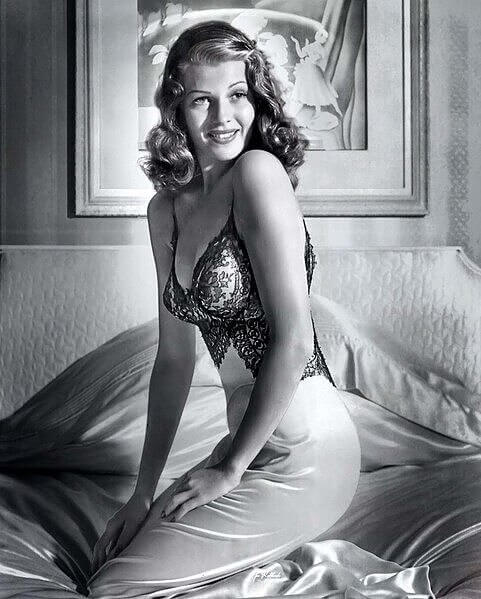 ''I tried to make her like Rita Hayworth; we took her hair from Veronica Lake, and Zemeckis kept saying, 'What about the look Lauren Bacall had?' '' Zemeckis was not only instrumental to the physical appearance of Jessica Rabbit, but he also hired Kathleen Turner to voice Jessica Rabbit. He and Turner worked together on Romancing the Stone. Turner was pregnant at the time of the offer, so she jumped at the opportunity an animation offered. Jessica Rabbit is undoubtedly the epitome of a sexy icon.
It's Classical Theatre and Shakespear for Scar
Scar, Mufasa's younger brother, is the ultimate antagonistic character in The Lion Ling. Scar was due to be the next-in-line to the throne until his nephew Simba was born. When the story was first pitched to Disney executives, the similarities to Shakespear's Hamlet were immediately recognized. Both Hamlet and The Lion King center around the main characters confronting their traitorous uncles after the death of their fathers.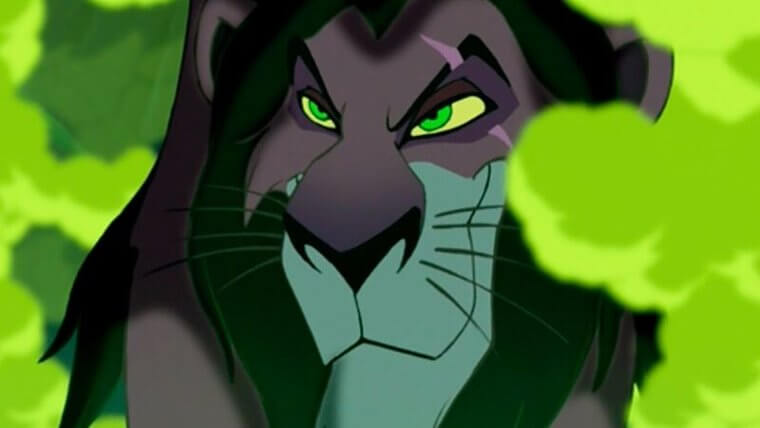 The character Scar also has similarities to Iago in Shakespeare's Othello. Iago hates Othello and works to convince him that his wife Desdemona is having an affair with one of his lieutenants. Malcolm McDowell and Tim Curry were both in the running for the role of the villainous scar. However, due to his classical theatre training, the directors desperately wanted Jeremy Irons. He had just won an Oscar and nearly turned down the part.
Chosen by Walt Disney a Second Time
Kathryn Beaumont made such an impression on the brass at Disney that she was chosen to do the voice and be a live-action model for Wendy Darling in Peter Pan. In 1987, the Walt Disney Company established a Disney Legend Award to recognize individuals that have made a significant contribution to the company.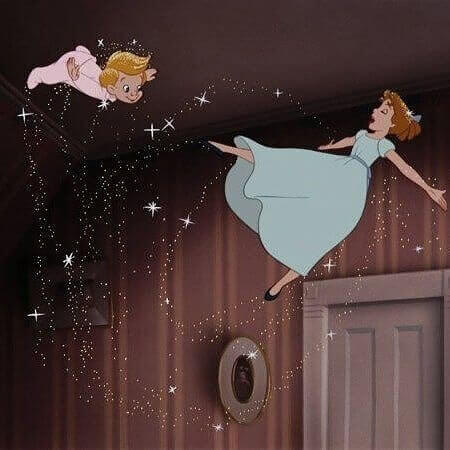 A committee selects the recipients, and they are awarded at a special ceremony held once a year. From 2009 the ceremony took place every alternate year. In 1998, Kathryn Beaumont received a Disney Legend Award for her contribution.
Edna "E" Mode - Mystery Inspiration
Edna Mode is a supporting character in The Incredibles, released by Pixar Studios in 2004, and Incredibles 2, released in 2018. The voice for Edna had initially been offered to Lily Tomlin. However, she turned down the position and recommended that Brad Bird, the director, take on the role. Many people feel that Edna Mode was based on the famous fashion designer Edith Head.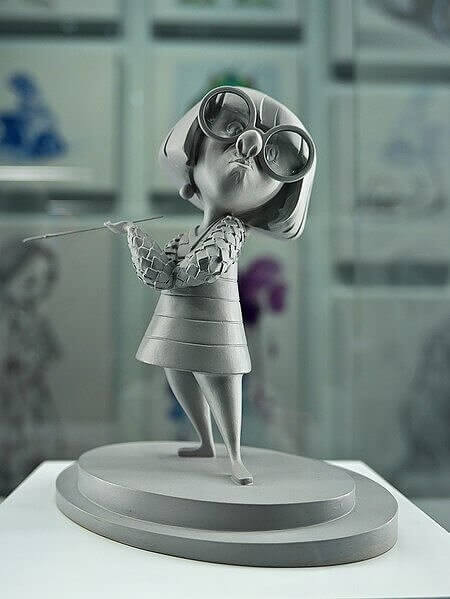 However, Bird has disputed this, confirming that Edna is not based on any designer, even though they share visual similarities. Other names that come up in speculation are editor-in-chief of Vogue, Anna Wintour, and Linda Hunt, the actress from The Year of Living Dangerously. There certainly is a remarkable resemblance to all three of the women. Just some added trivia for you: The translation of the word Mode from German and Dutch to English is fashion.
A Whole New World for Tom Cruise
Michael J Fox, famed for his role in Back To The Future, was the first thought when the animators were first looking for someone to model Aladdin off. However, they felt he was slightly too young and boyish, and they needed a more rugged character. During an interview with The Sun, Glen Keane, the lead animator, explained why they chose Cruise as their inspiration for Aladdin.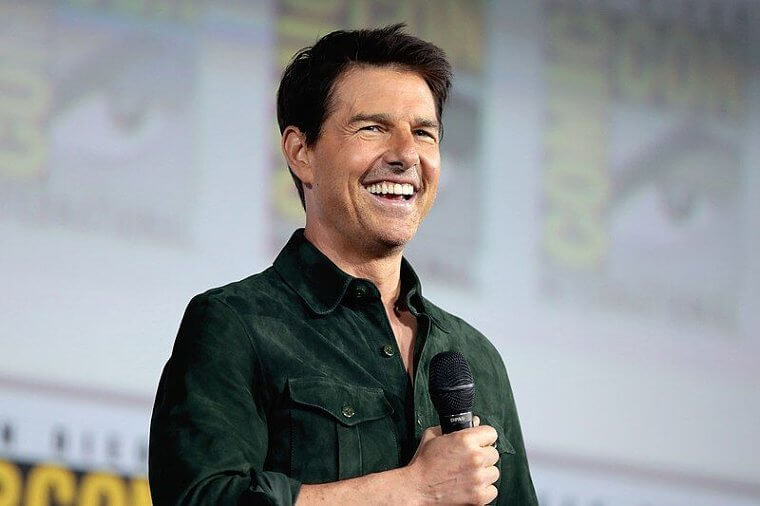 "There's a confidence with all of his attitudes and his poses," Keane said. The animators succeeded in portraying that confidence in Aladdin. Cruise is an acclaimed actor, having won numerous awards for his contribution to the entertainment industry. Japan even declared October 10, 2006, Tom Cruise Day! The Japan Memorial Day Association stated the reason being: "his love for and close association with Japan." Not just anyone can claim they have a day named after them!
Dance Your Way to Being a Princess
Marge Champion was a dancer and actress. Her father was a dance director who tutored the likes of Shirley Temple. He started instructing Champion in dance from the age of five. At 14 years, Walt Disney Studios hired her as a dance model for animations such as Snow White and the Seven Dwarfs, Pinocchio and Fantasia. was the action reference model.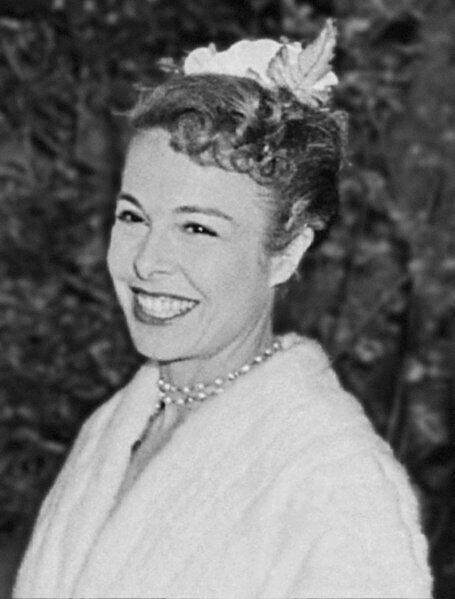 As a teenager, Champion danced and modeled for the Disney animation team. The animation team based the movements of Snow White on Champion. In an interview with Entertainment Weekly, Champion revealed: "There was no choreography: I was making it up as we went along and showing them how to dance. They were looking for the feelings that Snow White had when she was dancing with the dwarves. … They used the motion that I invented when I was dancing with them."
Can You Find References to The Godfather?
Zootopia has numerous subtle and not-so-subtle references to the 1972 classic film, The Godfather. Mr. Big was inspired by Vito Corleone (The Godfather), a fictional character played by Marlon Brando in the movie The Godfather.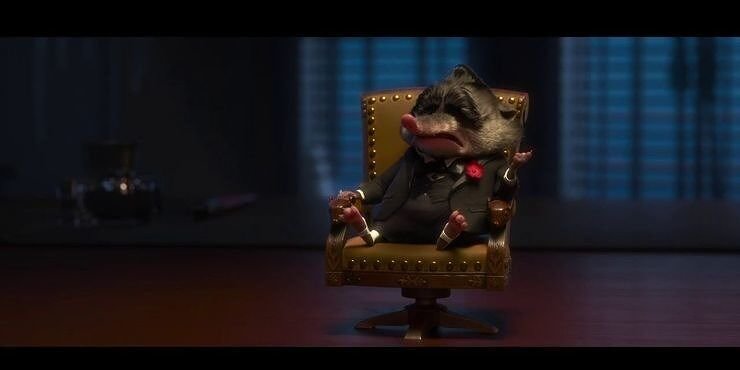 Gestures throughout Zootopia suggest that Mr. Big is Catholic, which is another reference to The Godfather. The scene in Zootopia where Officer Judy Hopps and Nick Wilde are in the lair of Mr. Big is a direct reference to the opening scene of The Godfather. Next time you watch either movie, look out for other similarities. 
A Hot Love Story
Kuana Torres Kahele is the voice of Uku in the short computer-animated musical film, Lava. Lava is a Pixar Animated Studios production that was released in 2004. Uku is a lonely volcano on a tropical island that longs to find his true love. The face of Uku is a mix of the vocalist, Kahele, and the famous Hawaiian musician Israel Ka'ano'i Kamakawiwo'ole aka Bruddah IZ.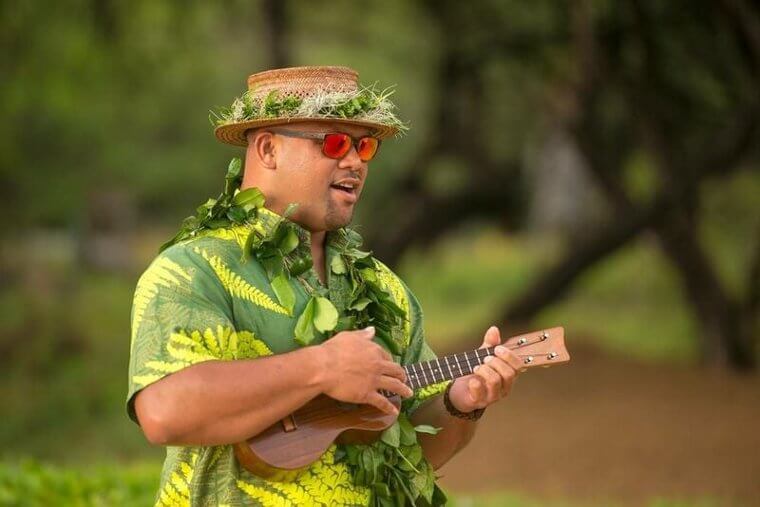 Kamakawiwo'ole means "the fearless eye, the boldface". The difficulties that the volcanoes, Uku and Lele, faced can also be referenced to the real-life struggles of Israel and Marlene.
The Origins of Walt Disney's Mortimer Mouse
The origins of Mickey Mouse started with Mortimer Mouse. Walt and Roy Disney needed a new character for their cartoon studio after losing the rights to Oswald the Lucky Rabit. Walt came up with Mortimer Mouse, but his wife convinced him to change the name to Mickey Mouse as Mortimer sounded too pompous for the studio headliner.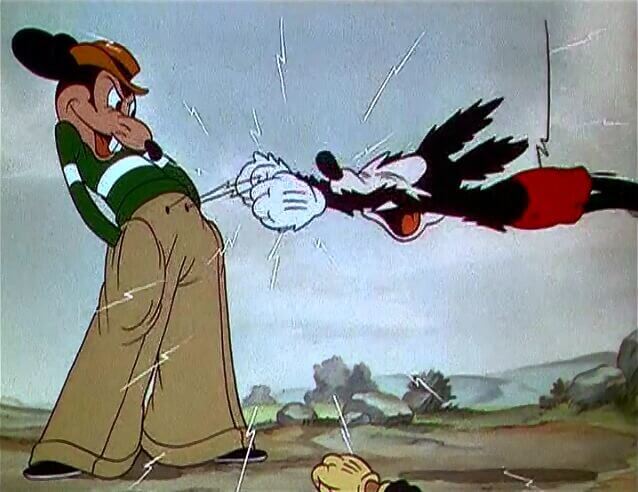 Mortimer was said to be the one-time boyfriend of Minnie Mouse and is the long-time rival of Mickey Mouse. The voice actor Maurice LaMarche did the voice of Mortimer is an exaggeration of Jon Lovitz and the original inspiration for Mortimer mouse came from Walt Disney.
Wall-E and the Silent Era
In preparation for the animation of the robots in Wall-E, the story and animation teams researched silent movies. Every day for several months, they watched either a Buster Keaton or a Charlie Chaplin film. "Chaplin wore his heart on his sleeve. But in terms of humor, of how much you can convey with very little, we pulled from Keaton's playbook," said Stanton.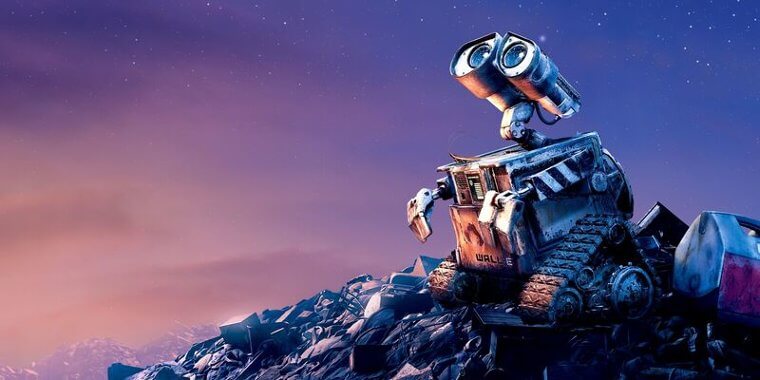 "He was the Great Stone Face - his expression never changed very much, and neither does WALL-E's." He added, "One of the biggest epiphanies we had was giving him zoom lenses for eyes. They have inner lenses that slide back and forth and replace what a human face does with its pupils and eyebrow muscles. It shows he's alive and thinking. I think that's what gives him a soul."
Dracula Is Not Right for Chernabog
Bela Lugosi has appeared in over 100 films. He is most commonly known for his role as Dracula. In November 1939, Lugosi spent an entire day at the Disney studio in front of the camera as a live-action model for Chernabog.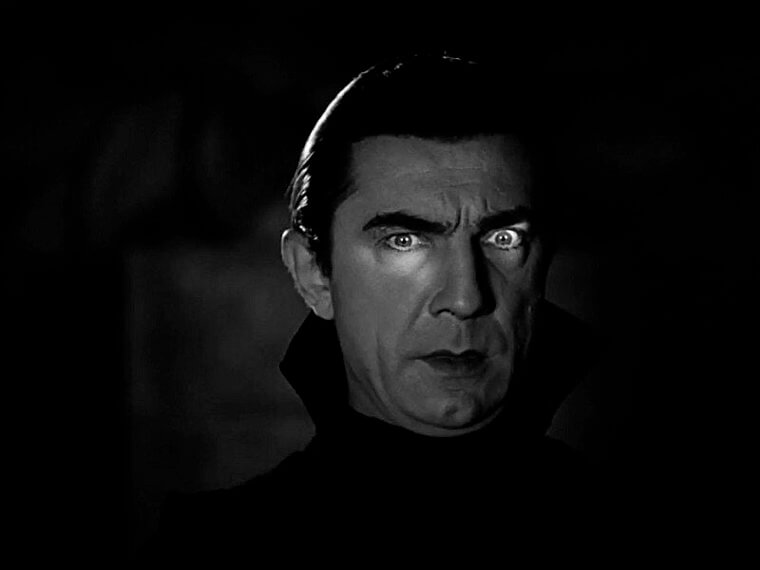 However, animator Bill Tytla was not happy with the outcome. He decided not to use any footage that was shot and turned to other material. Chernabog is a demon based on the Slavic God of Night.

Now, since we're on the Disney train, you ought to find out these fun, insider Disney facts that you probably didn't know...
Here Is a List of 30 Amazing Facts About Disney
We all have that one friend who is basically obsessed with Disney. These diehard Disney fans probably visit Disneyland at least twice a year, can kill it at Disney trivia games, dress up as a Disney character each Halloween and can most likely quote each Disney movie to its entirety.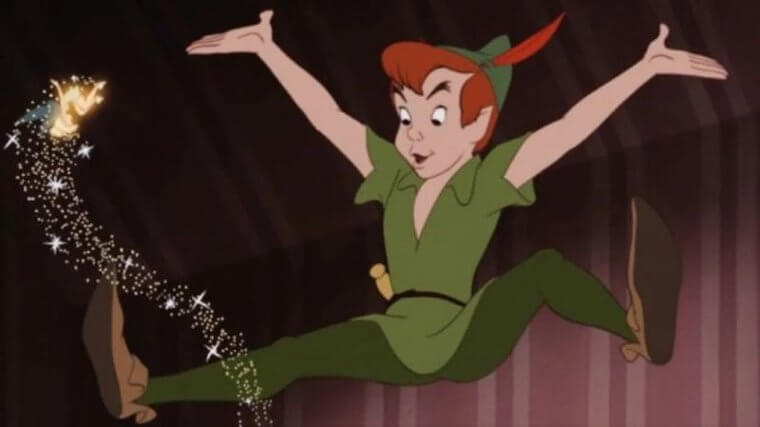 How much do your friends really know about Disney, though? The parks have been around for 55 years and the first film was released in 1937. That's a lot of Disney history! Here are 30 facts to help you and your friends breeze through a game of Disney trivia.
The Voice of Mickey Mouse Married the Voice of Minnie Mouse
The man who served as the iconic voice of Mickey Mouse for 30 years, Wayne Allwine, was married to the actress who played Minnie Mouse's voice, Russi Taylor. Taylor opened up about their romance in an interview with Variety.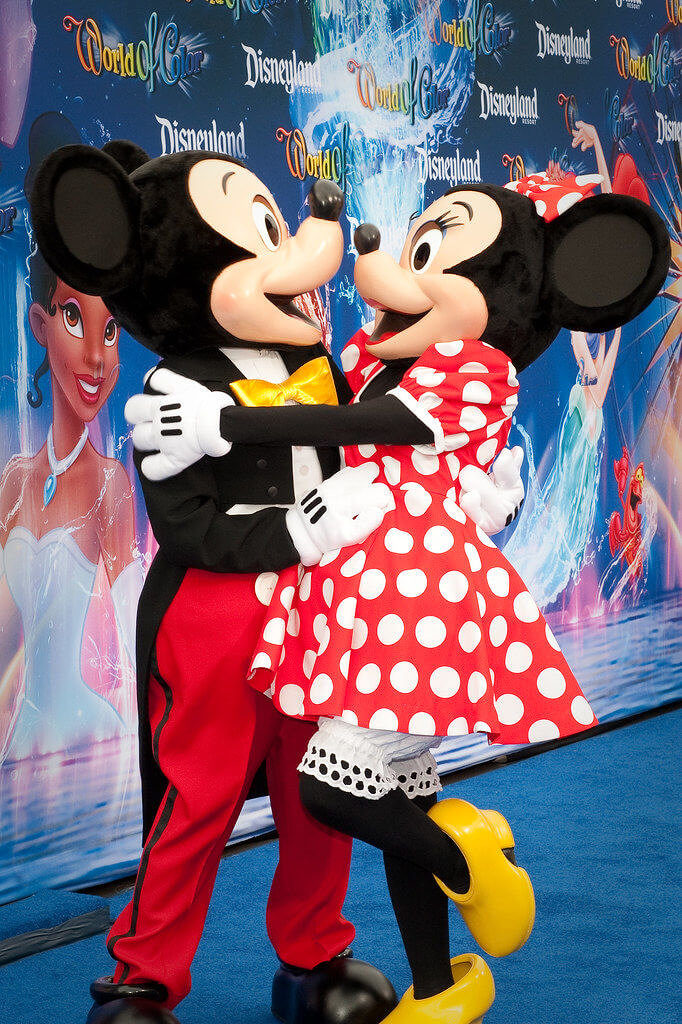 "We met in the hallway when I was going in to do "Totally Minnie," she revealed. He was married and I was married at the time. He said, 'I'm so glad I'm going to have a Minnie now.'" A few years later, the two of them were freed from their previous relationship and their romance blossomed.
Dumbo Was Almost on the 1941 Time Magazine Cover
Person of the Year is a Time Magazine tradition that has been around for years. However, when Dumbo became a huge hit in 1941, the magazine planned on honoring the beloved elephant by crowning him Mammal of the Year.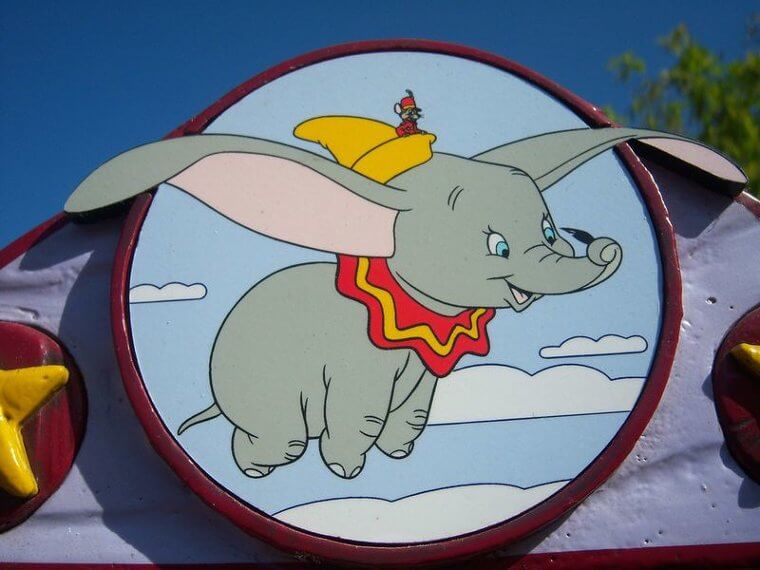 However, the Pearl Harbor attack on December 7 of that year forced the magazine to switch focus and strategy. Unfortunately, Dumbo never made it on the cover. He still got a tribute from the magazine by getting appointed Mammal of the Year in Time's cinema column.
Live Animals Were on Set for Some of Walt Disney's Productions
Walt Disney owes much of his film's success to the impressive accuracy of his movies. The animator was dedicated to getting the facts right. In order to make the animals in Disney movies as realistic as possible, the Disney studios often turned into somewhat of an animal kingdom.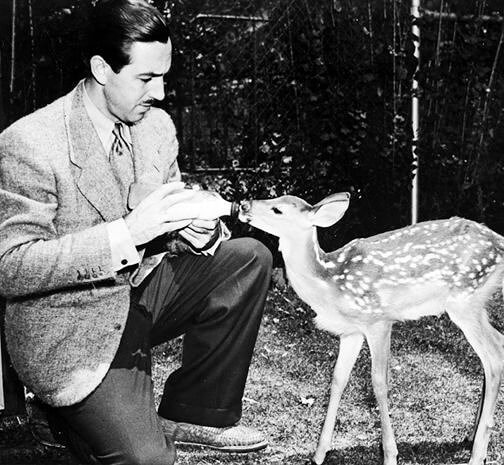 Live skunks, rabbits, and huge horses were brought on set to help animators create the characters in Snow White and the Seven Dwarfs. When the production for Bambi began in the 1930s, two adorable fawns were brought on set for the animators to study.
A Rabbit Named Oswald Was Disney's First Original Character
Contrary to popular belief, Mickey Mouse was not Disney's first-ever creation. Oswald The Lucky Rabbit made his big debut in 1927 and was featured in 27 animated one-reelers. In 1928, Universal Studios claimed the rights to Oswald, forcing Disney to come up with another animated character. It was at that moment that Disney created the legendary Mickey Mouse.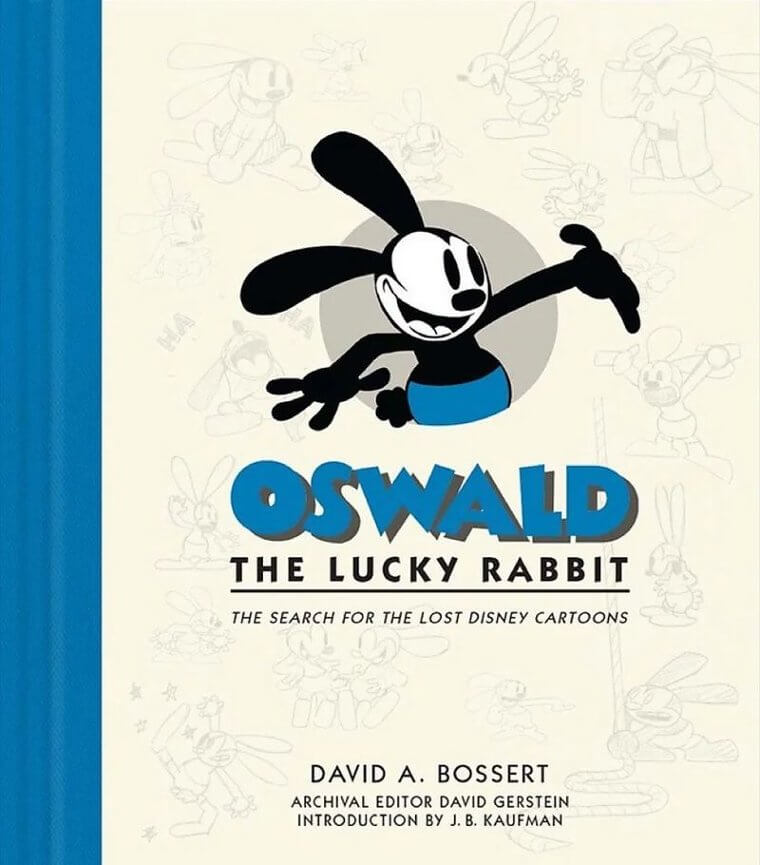 Mickey and Oswald do look pretty similar. After all, Oswald may have been a major inspiration for some of Mickey's characteristics. 
The Walt Disney World Resort and San Francisco Are Roughly the Same Size
Perhaps it's not a small world after all. The Walt Disney World Resort in Florida is giant - spanning over nearly 40 square miles. To give you some perspective as to how huge that is, the city of San Francisco is about 30 square miles. Manhattan Island is only about 22 square miles!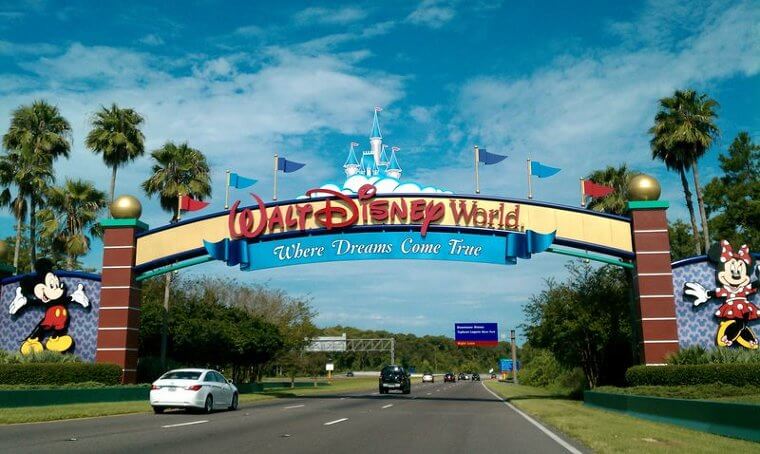 Disneyland in Anaheim, California, however, is not nearly as large. The California park is only about 0.13 square miles.
Disney's Hollywood Studios Were Designed With the Intent of Being a Production Studio
Disney MGM Studios opened up in 1989 with the intention of becoming a fully functional TV and movie production center. Ernest Saves Christmas, the holiday movie released in 1988, was actually filmed at the studios.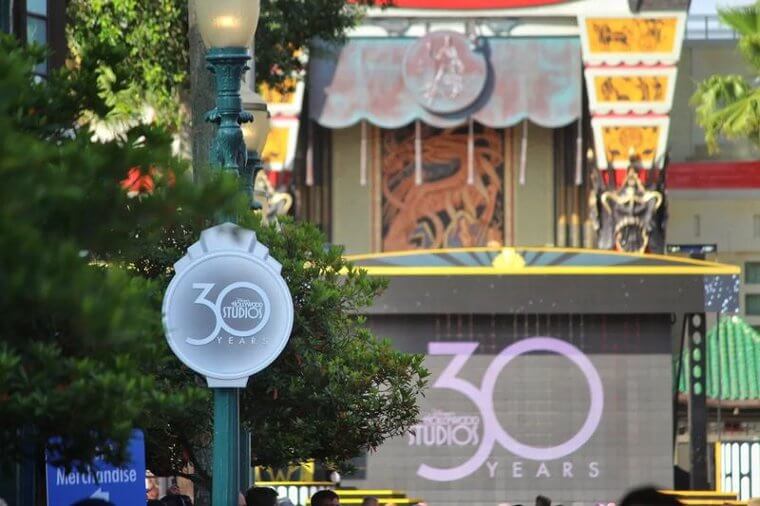 Now, the studio is called Disney's Hollywood Studios and is a giant theme park. MGM ended up opening up their own theme park in Las Vegas, but it closed down in 2000.
Epcot Was Originally Meant to Be a Model Community
A Disney documentary revealed that the park was initially meant to be used as a "planned environment demonstrating to the world what American communities can accomplish through proper control of planning and design."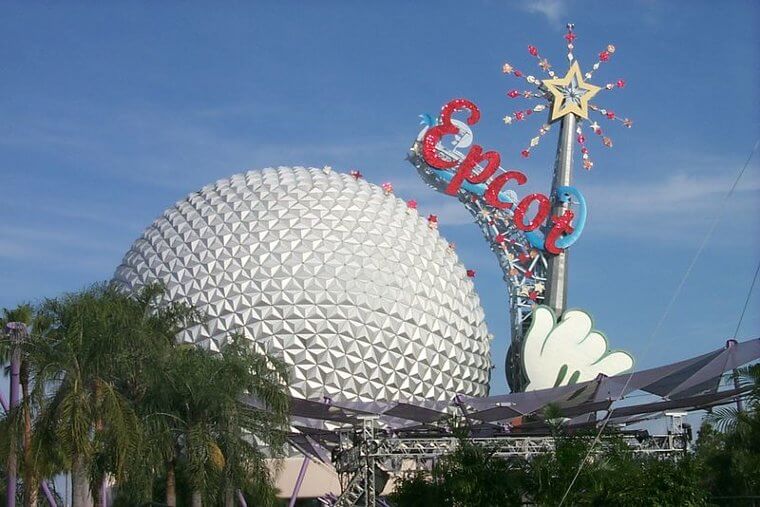 Twenty thousand people were meant to live in the climate-controlled setting that would be full of facilities such as houses, theaters, restaurants and more. After Walt's death, the project was deemed unrealistic. Epcot is now a giant Disney theme park in Florida full of family attractions, award-winning fireworks, and fun seasonal events. 
Some Meals Served at the Epcot Uses Food Grown Inside the Park
The Land is an incredible section of the Epcot that focuses on the foundations of human interaction with the earth. It is also home to a widely popular attraction called Soarin' Around The World.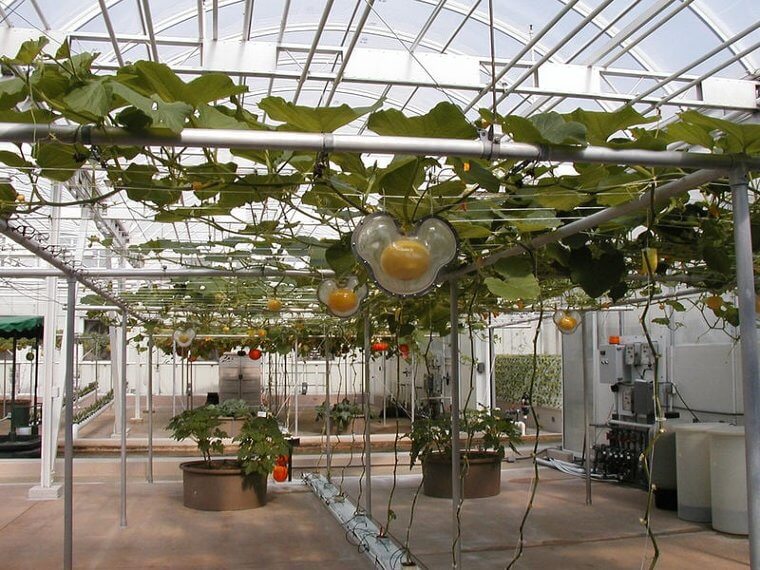 However, The Land offers much more than just a fun theme park ride. The 2.5 million square foot pavilion is actually an active greenhouse that produces much of the food in the park's restaurants such as the Sunshine Season and Garden Grill.
Disney Parks Serve Special Treats off of a Secret Menu
One of the best parts about visiting a theme park is enjoying the awesome food there. It may be expensive, but some meals are totally worth it. Some Disney parks offer extra special menu items that can only be accessed by downloading the Walt Disney app on your phone.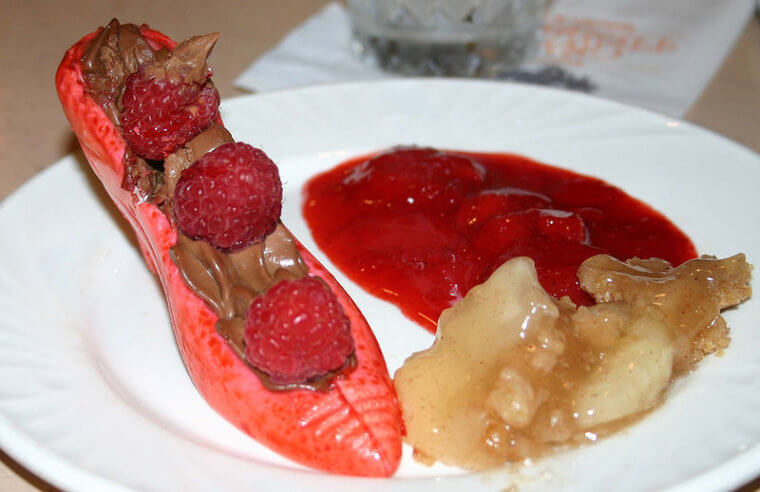 The secret menu treats are constantly changing. Some dishes in the past were cheese curds, a candied bacon cheeseburger, cinnamon buns and poutine with gravy.
A "Sister Summit" Was Held by Disney for the Movie "Frozen"
The animators who created Disney's Frozen held a "Sister Summit" to help them understand the powerful bond of sisterhood. Women at the company shared what it was like to have sisters.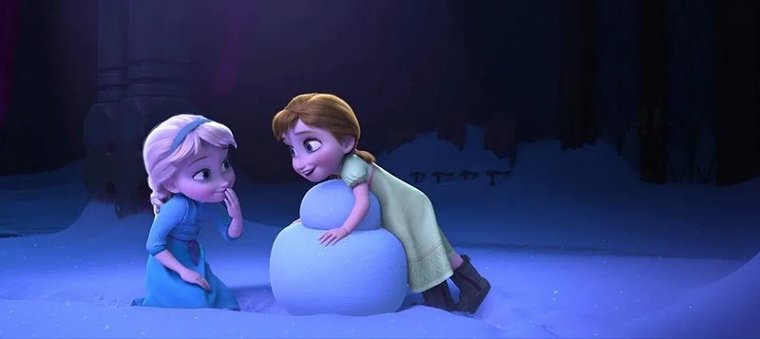 Jennifer Lee mentioned in a Girls Who Code Summer Immersion Program interview, "...we just let it out about what it's like to have sisters — the good and the bad. And the stories that came out, it was an energy; you could feel what's at stakes with siblings and what that feels like. It really helped the movie."