Even celebrities can have embarrassing moments, and theirs are even worse than ours! After all, their embarrassing fashion failures are photographed, shared, and published over and over again for everyone to see. But still, it's nice to see when the mask of perfect celebrities who are always put together and beautiful have that mask slip a little bit and show us that they can make mistakes too.

Sometimes the mistakes aren't exactly their fault, but they are still awkward moments that make us all feel more connected to the rich and famous, even when wearing super fancy and expensive clothing! Here are some of the best (or worst) things to happen to start on the red carpet.
Elsa Hosk Recovers on the Red Carpet
Elsa Hosk is a Swedish model who has worked for Victoria's Secret, and she was attending a film festival in 2019 in Venice when she had a bit of a wardrobe problem. One of her earrings - which were no doubt expensive - fell out of her ears and onto the carpet! She had to bend down to pick it up while keeping a lovely smile on her face.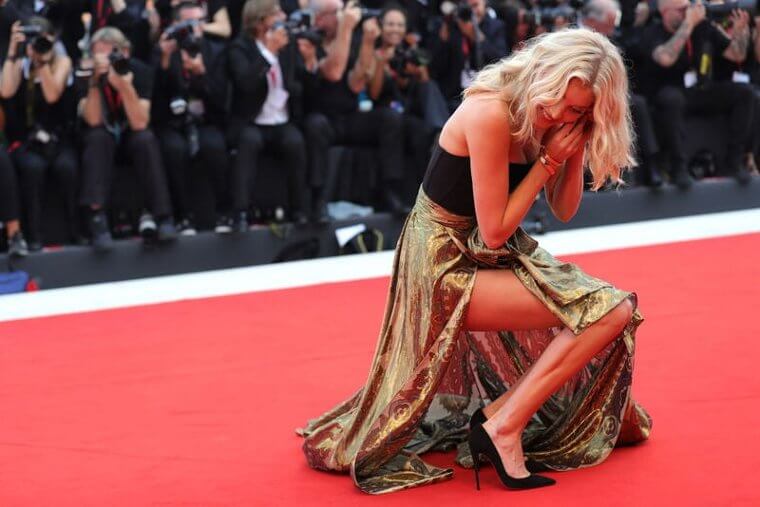 Bending down for an earring is never a graceful act, even when you're a model, and Elsa had to do it in stiletto heels that were at least six inches, all while wearing a skirt that had a slit all the way up to the top of her thigh. She even put the earring back in her ear before she got off the carpet, which was very smooth of her. 
Emma Thompson Tumbles
At the TLC Chinese Theater in Hollywood Emma Thompson was being honored with her handprint in cement in 2013. She lost her balance when she was kneeling near the cement block. She laughed it off, thankfully!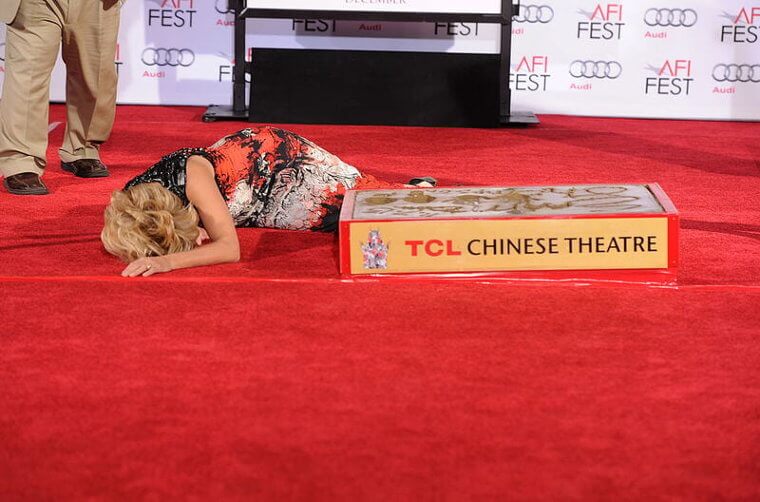 Emma made the fall even more dramatic, sprawling across the carpet and acting more emotional than she had already appeared. She was already very emotional from Tom Hanks's wonderful and touching speech, and the entire ordeal of getting an honor like this. 
Katherine Heigl's Hold Up!
Katherine Heigl is known for being pretty funny, and even she was laughing in 2010 when she went to the ShoWest convention in Las Vegas. She had gotten an award for Female Star of the Year when her dress, unfortunately, broke off!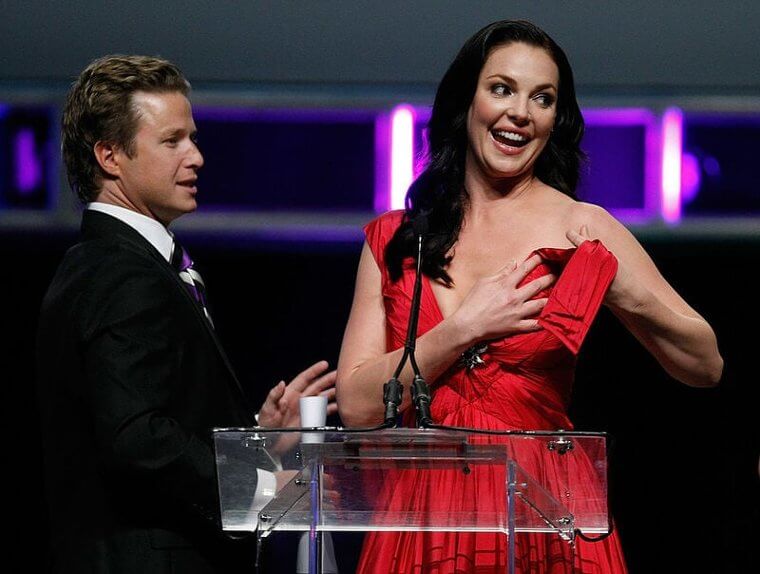 The strap came completely undone, and Heigl was cracking up along with some of her audience as she held the rest of the dress up and kept going with her acceptance speech, showing that she truly does see the funny side in things. 
Gary Busey... Enough Said
Actor Gary Busey has proven time and again to be an unpredictable character. Though his last Oscar nomination was in 1978 for The Buddy Holly Story, he continues to "engage" with stars and fans alike on the red carpet. At the 2008 Oscars, while Ryan Seacrest was interviewing Laura Linney and Jennifer Garner, Busey engaged a little too much…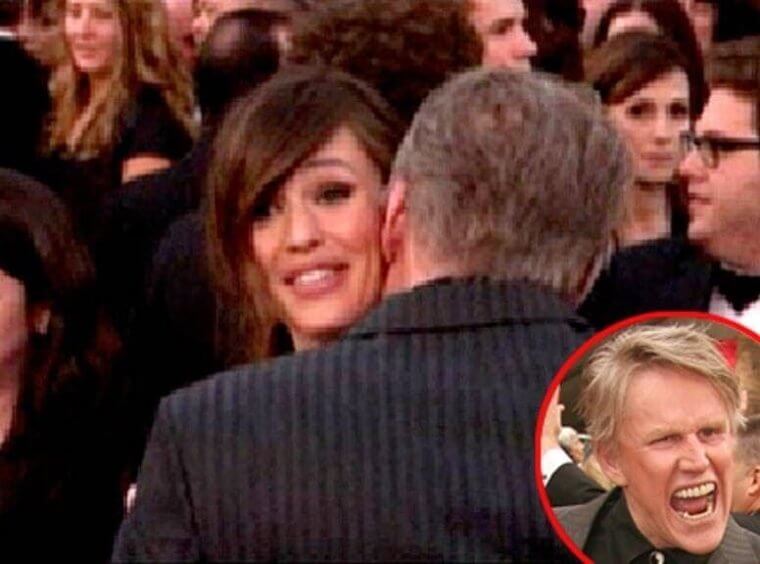 It was obvious that the actor wanted attention as he kept interjecting himself into the interview. In an attempt to calm the madness, Ryan Seacrest introduced Gary Busey to Jennifer Garner. Instead of saying "how do you do?" Busey swooped in and kissed Garner on the neck. As Seacrest was fumbling for a follow-up question, Jen assisted by saying, "Aren't you going to ask me about getting kissed on the neck on the red carpet by this man? Um, that was nice."

Cara Delevigne Spills All Over
Delevigne got her start modeling and then turned to acting afterward. She is very famous for her striking eyebrows and her boyish attitude. She was at the GQ Men of the Year awards in 2014 when she became striking for something else! She almost spilled her drink on a fashion designer who was nearby, and then she went on to embarrass herself even more!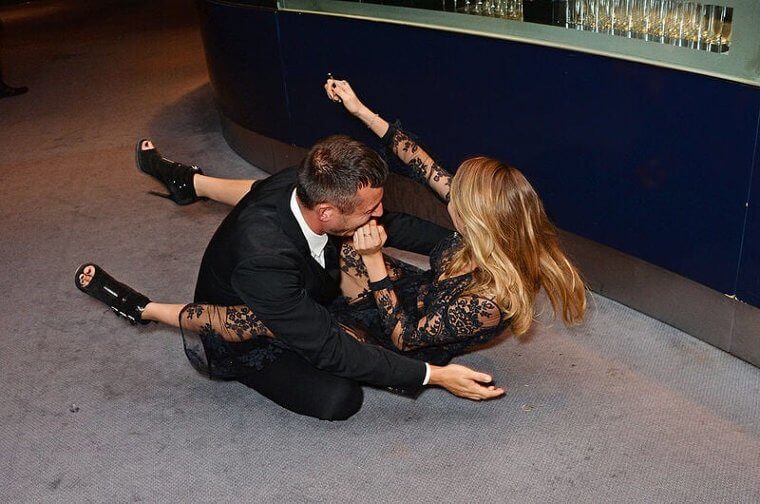 She fell over and tumbled onto the designer, grabbing all over the poor man. They went rolling about on the floor, unsure how they had gotten there. They were both very elegantly dressed and messing up their nice clothes, and the designer certainly seemed flustered. But Cara just laughed about it and went to find some more things to drink! 

Adam Levine Protects His Wife
Adam Levine is one of the world's favorite crooners and his wife, Behati Prinsloo, is lucky to call him her husband. He proved that he was also a perfect gentleman in 2015 when they were walking to the Vanity Fair Oscar Party together. Behati's dress was a little too loose and it slipped off of her chest, exposing her to the camera people who were all around!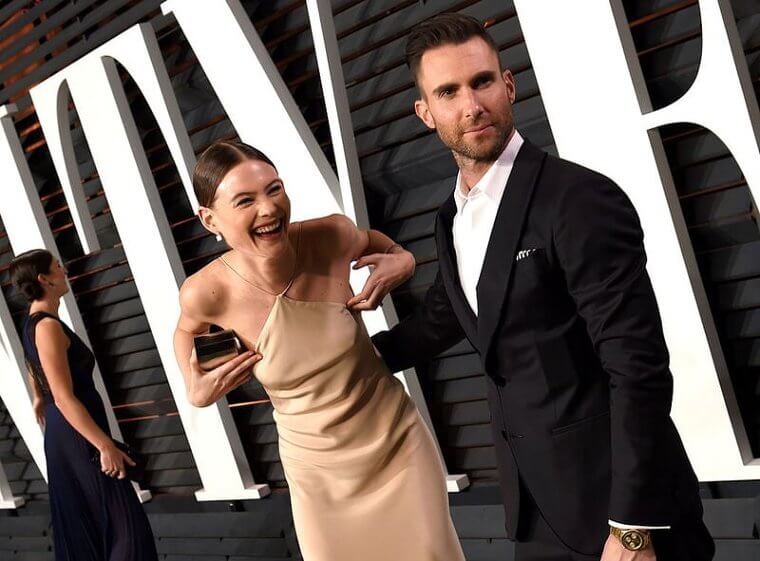 Although she is a Victoria's Secret model, she certainly didn't want people taking unauthorized pictures of that nature. Adam stepped in quickly to preserve his wife's dignity while she fixed the dress's problems and it seems the couple mostly laughed the whole thing off. 

Running Into an Ex
There is nothing worse than that gut-wrenching feeling when you run into your ex at a party. Now imagine if that encounter was on film and you were at the most prestigious party in Hollywood. This was exactly the situation for Australian model, Miranda Kerr, and heartthrob actor, Orlando Bloom.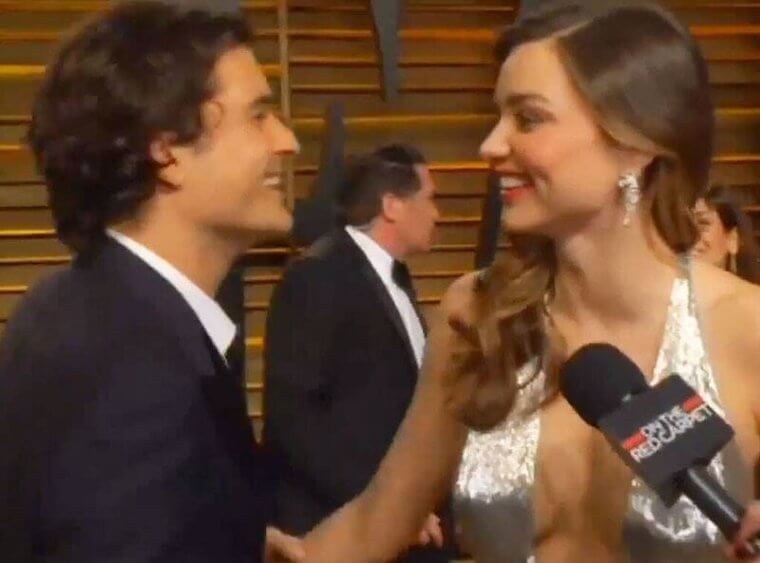 Kerr was giving an interview outside of the Vanity Fair Oscars after-party when her ex-husband randomly appeared, kissed her on the cheek, and asked how she was doing. It was apparent that he was completely unaware that they were on film. When it did dawn on him, the two exchanged an awkward smile and Bloom went on his way.

Jennifer Lawrence Skips a Step
At the 2018 Oscars, it seems Jennifer has given up trying to be posh and classy and instead is letting her inner embarrassing normal persona fly. She wore a beautiful dress that looked stunning on her, but she also didn't seem to mind simply hitching it up around her hips!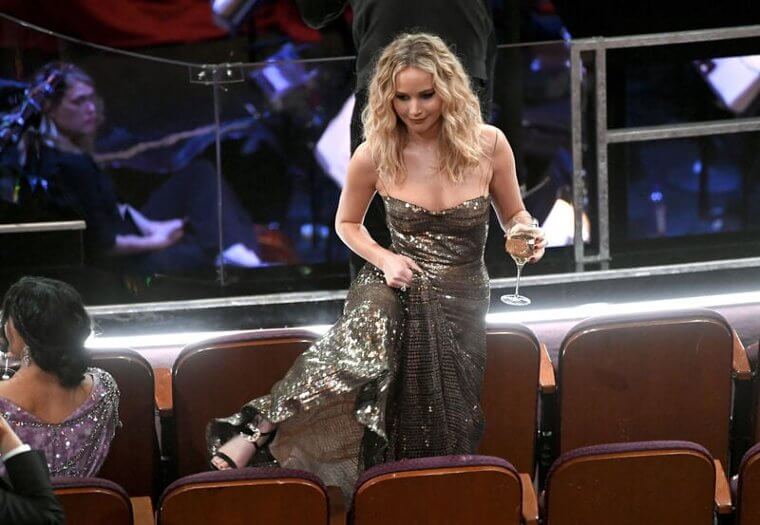 She did this in order to try to skip the row of seats she was in instead of patiently walking down the row and around to the next. While this may seem like it saves some time, it makes us worry about the Dior gown! What if it ripped while she was trying to vault her way to her seat? 

Virginie Efira Get's Helping Hand
In 2019 at the Cannes Film Festival, this French and Belgian actress found herself in a tight spot. Her buckle on her gorgeous strappy heels had come undone, and if she had kept walking up the stairs she may have tripped and definitely would have lost her shoe.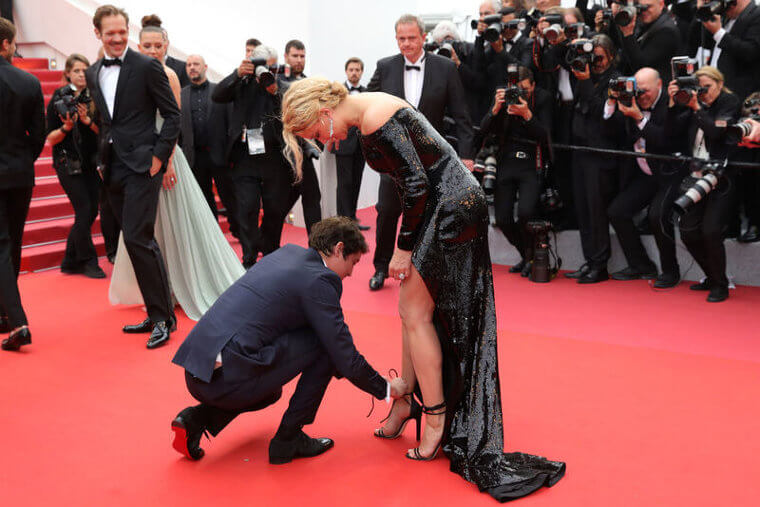 Luckily her co-star and fellow actor Niels Schneider stepped in to prevent her Cinderella moment. He sweetly bent down and buckled her shoe back up while she held her dress away, which was quite a challenge since it was such a tight gown. These two certainly look like Prince and Princess Charming! 

Kristen Stewart Has Had Enough
We've all been where K-Stew is: you put on a pair of heels at the beginning of the night and they look so good with your outfit you can't wait to wear them. But once an hour has passed your feet are screaming for mercy! Kristen got to the red carpet and decided enough was enough.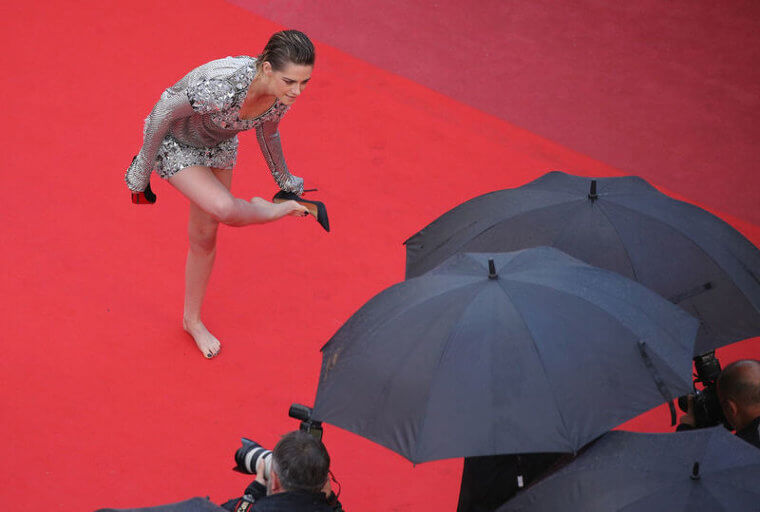 She took off her Louboutins right in front of everyone on the red carpet and walked the rest of the carpet in her bare feet - screw the outfit, she seemed to say! She's tall enough as it is and would much rather be comfortable, and we definitely respect that. 

Liang Jingke Goes Too Tight
Liang Jingke is a Chinese actress who attended the Venice Film Festival in Italy way back in 2016. She was going to see The Light Between Oceans, and the dress she chose to wear was beautiful, a bright shade of jade green and very tight and long. It ended up being her downfall - literally!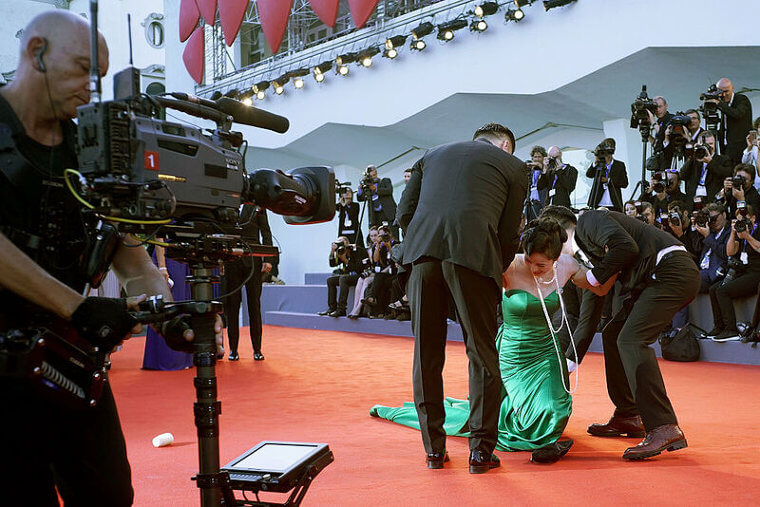 When she tripped and fell to her knees, her dress was too tight for her to get back up on her own. She had to be helped by fellow red-carpet walkers, who pulled her up almost as awkwardly as she fell down. It looks like they are tugging at her arms and chest, which is a funny picture in itself. It's embarrassing enough when you fall, but how much worse when all the cameras are on! 

Shameless Self Promotion
Singer/songwriter Macy Gray won the "What were you thinking" award at the 2001 MTV Video Music Awards with her pink lace and metallic denim walking billboard of a dress. Because she was a presenter on the docket, she decided to use the opportunity to shamelessly self-promote her upcoming album.

The front of the dress was adorned with silver iron-on letters that read, "MY NEW ALBUM DROPS SEPT. 18, 2001" while the back of the dress simply read, "BUY IT!". While the dress was the talk of the town the following day, her album debut was a bit disappointing. 

Jennifer Lawrence Trips Big Time
Jennifer Lawrence made headlines back in 2013 at the Academy Awards. She wore a beautiful ball gown that she looked radiant in, and was nominated for her Oscar as Best Actress for her performance in Silver Linning's Playbook. When she inevitably won and went to go accept her award, she was so overwhelmed she ended up tripping in front of an audience full of the most famous celebrities in the world.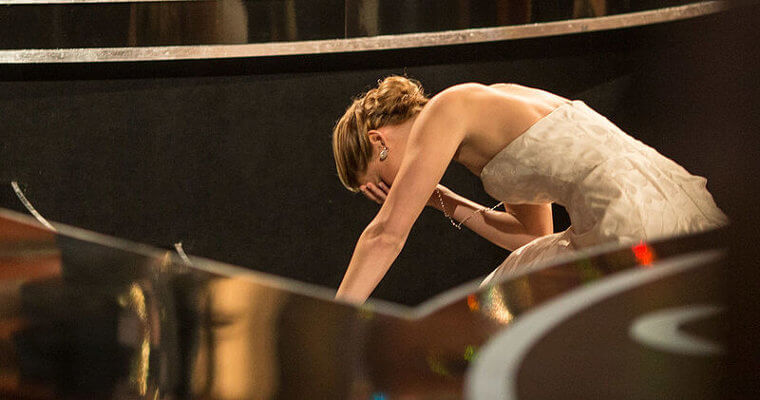 Jennifer missed a step, probably in all of her excitement, and ended up embarrassingly falling in front of everyone. When she got back on her feet and up to the stage, she graciously accepted her Oscar and told the audience, who had risen to their feet, that they were only standing because they felt bad that she had fallen. Lucky for her that she's so charming! 

Amy Schumer and the Kardashian
In 2015, comedian Amy Schumer thought she could scare the unflappable Kanye West by pretending to trip in front of the singer during the Time 100 gala event. She wanted to take attention away from Kim and Kanye's entrance and focus it on herself - but it didn't work out!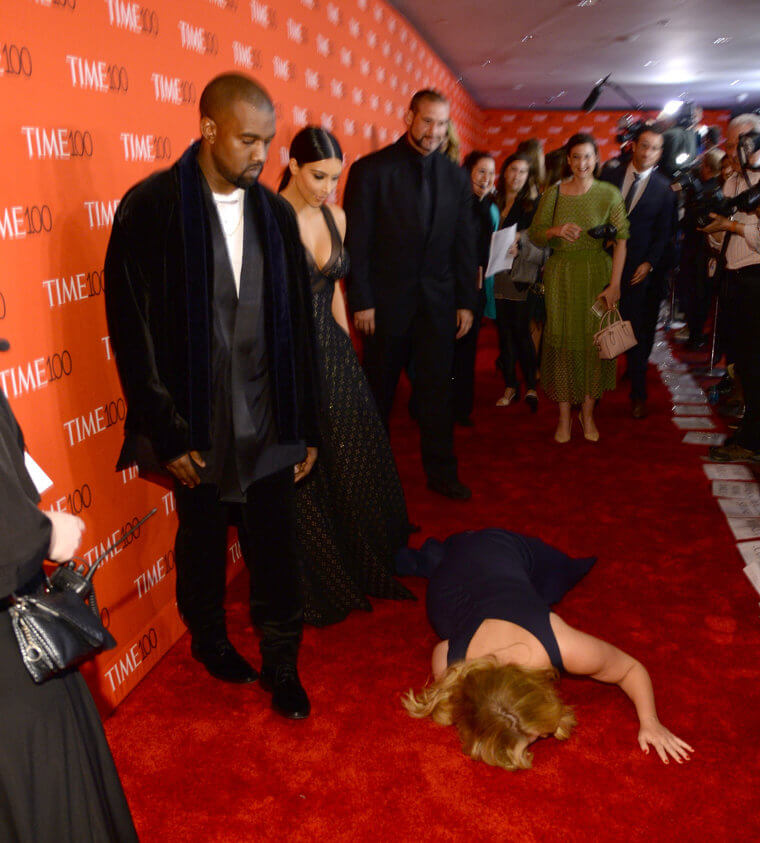 Kim and Kanye just kept walking like Amy wasn't even there. Amy said she was trying to interject because everyone was focused on the couple, acting like the Kardashian-West family members were the most important people in the world when, in reality, "they just stood there saying 'you're welcome'... they're very low and mighty." We get Amy's plan, but it didn't really work out!

Some People Aren't Huggers
Some people are just natural huggers, they dive right in whether they know the person or not. Singer/songwriter Kesha is one of those people. While walking the red carpet at the David Lynch Foundation's National Night of Laughter and Song, she approached sitcom star and comedian, Jerry Seinfeld, while he was right in the middle of an interview.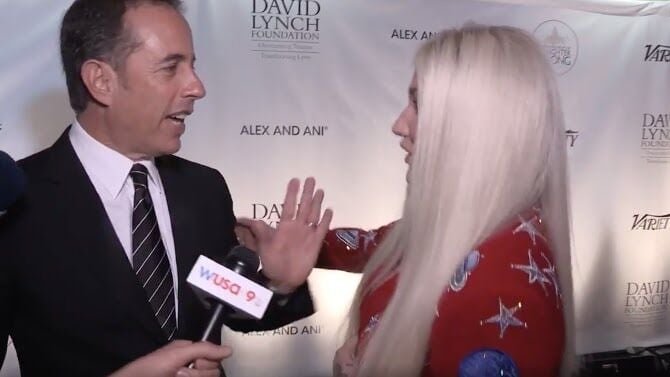 In front of the press, Kesha went in for a hug to which Jerry politely refused. Again she leaned in saying, "Just a little one" and again Seinfeld had to reject her advances. When Kesha finally gave up and walked away, the interviewer politely tried to explain who Kesha was to which Jerry replied, "Okay, well, I wish her all the best". Seinfeld later explained in an interview that he only hugs people he knows.

Snubbing One Star for Another
Apparently, there is a pecking order in Hollywood and Emilia Clarke is not on top. The Game of Thrones Mother of Dragons was officially snubbed on the red carpet by E! co-host, Giuliana Rancic, at the 2016 Emmy Awards. While interviewing Clarke, Rancic spotted Heidi Klum who, in her mind, is a much larger star than the GOT actress.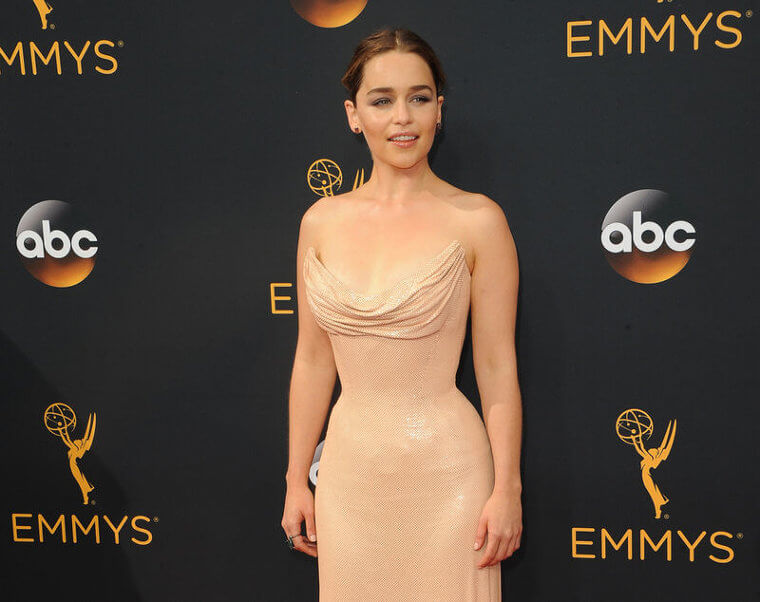 In an attempt to move Clarke along, Rancic told her that she would "let her go". Somewhat confused, Clarke stayed in place prompting Rancic to once again coax her to leave by saying, "You can go". Apparently, GOT fans were furious at the treatment of Daenerys Targaryen because they raised hell on the E! site and demanded Rancic be fired because of the incident.

Debra Messing Isn't Messing Around
There is certainly no love lost between Debra Messing and Giuliana Rancic on the red carpet. At the 2019 Golden Globe Awards, the awkward exchange between the two women had fans not only cringing but also questioning Rancic's ability to conduct an interview. At the Golden Globes a year before, Messing used her on-air moment with Rancic to call out E! for refusing to pay their female hosts an equivalent salary to their male hosts.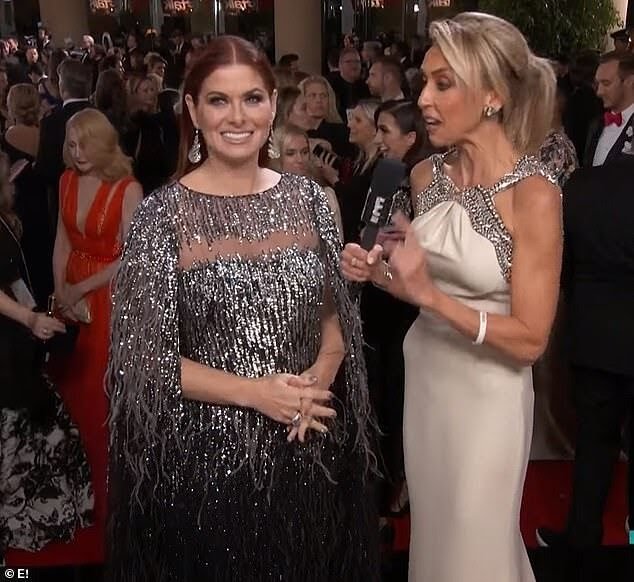 Of course, Messing was referring to E! co-host, Catt Sadler, who after 12 years with the show was unable to negotiate a pay deal that was on par with E! News host, Jason Kennedy. Messing made that clear by stating, "I miss Catt Sadler and so we stand with her".

Do Your Homework
Not to pick on Giuliana Rancic but once again she makes the list of what not to do during an interview on the red carpet. While interviewing the Insecure creator and star, Issa Rae, Rancic asked what could have been a safe and innocent question had she done her homework.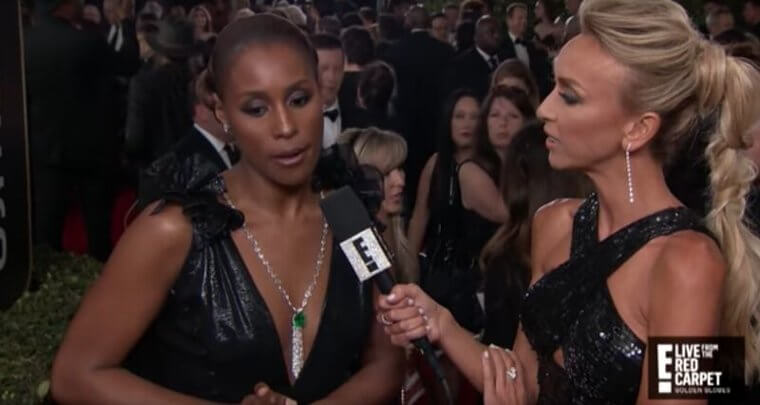 Looking to engage with Rae in some interesting banter, Rancic asked her what she would call her memoir if she ever wrote one. Unbeknownst to the E! co-host, Rae is the author of a memoir entitled The Misadventures of an Awkward Black Girl which was released in 2015 and appeared on the New York Times bestseller list. Graciously, Rae responded by saying, "My next one might be called Where Do I Go From Here."

Again, Do Your Homework
Issa Rae is not the only Hollywood star that received an awkward question on the red carpet. During the 2014 SAG Awards, an unknowing interviewer posed a question to Big Bang Theory star, Mayim Bialik, asking, "How many people - not that you aren't a genius - think that you can solve calculus at the drop of a hat?"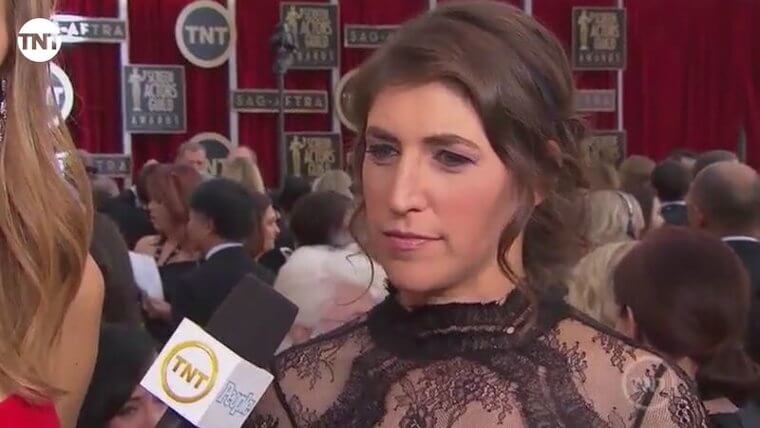 Bialik, who has a Ph.D. in neuroscience from UCLA, simply responded by saying, "I was trained in calculus for several years. I'm a neuroscientist - you may not have known that". Way to hold your own Mayim.

The Airing of Family Grievances
Though actress Dakota Johnson comes from Hollywood royalty, she proved her acting prowess in her career-defining movie Fifty Shades of Grey. As a presenter at the Academy Awards, she opted to take good old mom, Melanie Griffith, as her guest. During an interview, Griffith began gushing about how proud she was of her daughter when she was asked if she had seen the movie.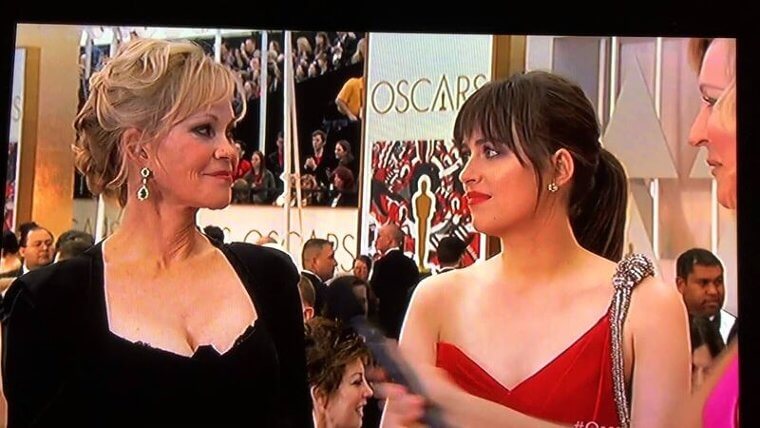 When Griffith quickly answered "No", Johnson chimed in and said, ``Maybe one day". Feeling awkward, Griffith went on to explain that she felt uncomfortable with the subject matter of the film and she didn't need to watch it to know how good of an actress her daughter was. This touched a nerve in Johnson who said, "All right! You don't have to see it!" Though the interaction was a bit tense, it just proves, royalty or not, mothers and daughters bicker.

Don't Let the Heels Hold You Back
While most of the beautiful people walking the red carpet are Hollywood A-listers, there are those who are a bit less recognizable. No matter though, stuntwoman Jessie Graff was determined to seize her moment when she attended the Emmy Awards in 2016.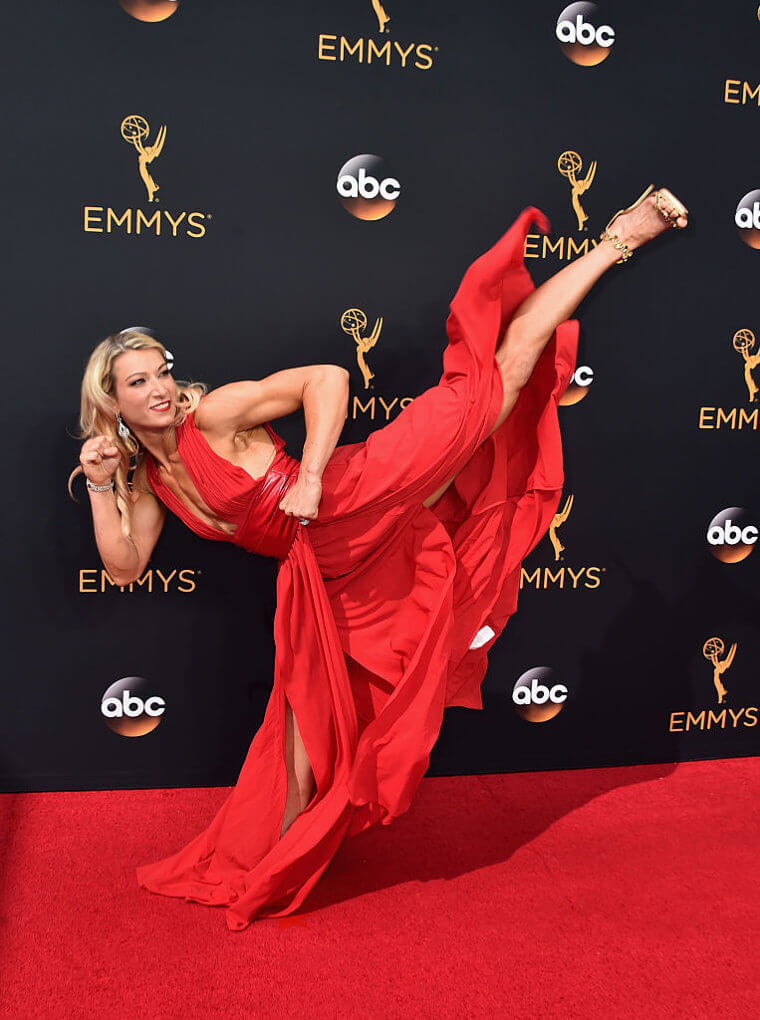 The perennial American Ninja Warrior showed off her skills by doing flawless karate kicks and an amazing backflip all while dressed in a stunning red gown and very high heels. When interviewed about her red carpet antics afterward, Graff recalled the freeing feeling saying, "I felt like I was being let out of a cage." Now that is how you do self-promotion.

Join In on the Fun
George Clooney is quite possibly one of the biggest names in Hollywood and yet his uber-fame doesn't seem to go to his head. Always up for a good time, while at the Suburbicon premiere at the Toronto International Film Festival in 2017, Clooney gave the fans a treat by joining the crowd so everyone could get photos with him.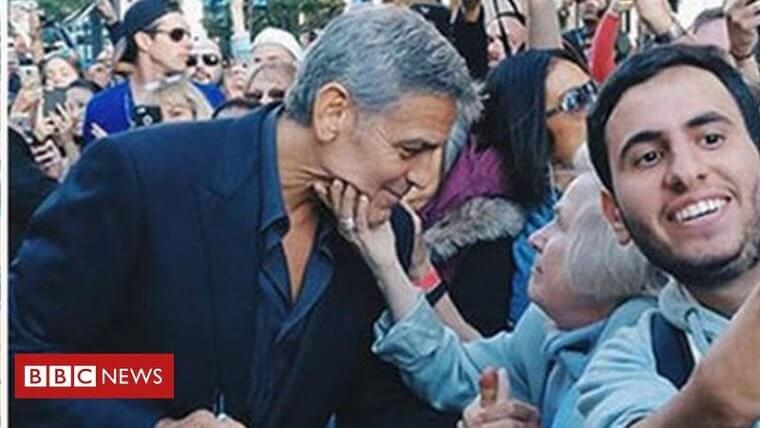 Well, of course, this got the crowd roaring with excitement. Because most of the people were literally freaking out, Clooney jokingly mocked their enthusiasm and had a freak-out session of his own. He began screaming and cheering for himself causing the crowd to freak out even more. Good for you George, joining in on the fun. 

Remember Red Carpet Etiquette
Supermodel Kate Moss has had many articles written about her high fashion style at the Cannes Film festival over the years, always commenting on her grace and beauty. After a 15-year hiatus, however, it would seem that Moss has forgotten her red carpet etiquette.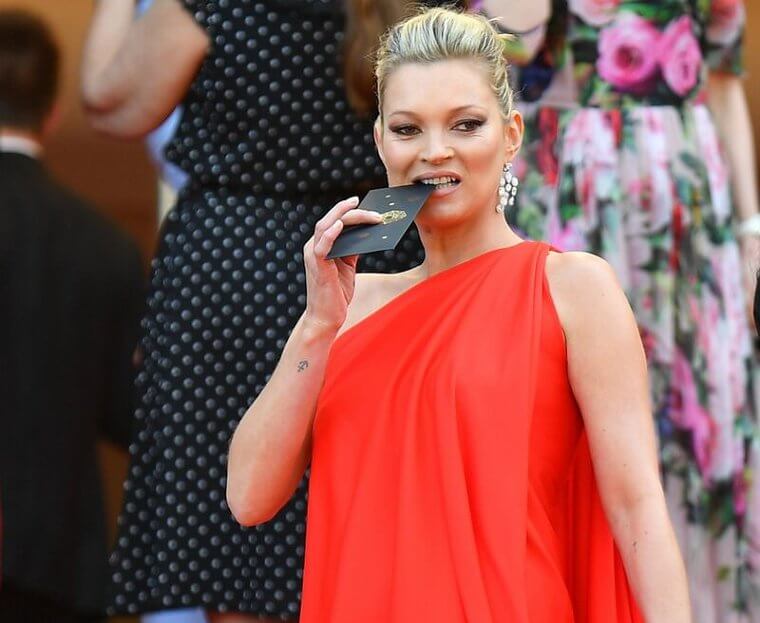 While attending the festival in 2016 for the premier debut of the film Loving, bystanders took notice when Kate attempted to take a bite out of her clutch. The odd behavior had everyone wondering if she was, in fact, hungry or if she was trying out a new modeling pose. Despite the confusing incident, Kate looked as beautiful as ever.

Fans Can Get Freaky
There is no doubt that fans around the world throw themselves at British actor, Hugh Grant. He is, after all, witty, handsome, talented, and easy-going. One woman, in particular, tested Grant's patience, however, when she popped out of the crowd at the Dutch premiere of his movie, Music & Lyrics, and handcuffed herself to him.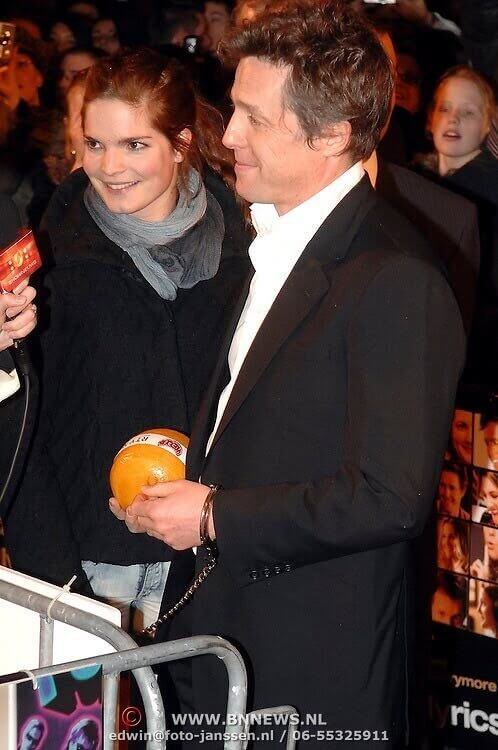 Grant was both stunned and confused when Cielke Sijben clamped the metal cuffs on his wrist but calmly asked her, "Do you have a key?". When she said no, he continued down the red carpet with her by his side. A grueling ten minutes later, police were able to free the actor from her clutches and take her into custody.

The Higher You Climb, The Harder You Fall
One point that certainly cannot be disputed is that walking the red carpet is much more difficult for women than it is for men. Between the high heels and the long gowns, it is astounding that there aren't more trips and falls. One celeb who can definitely attest to the trials and tribulations of walking the red carpet is 90210 star, Annalynne Mccord.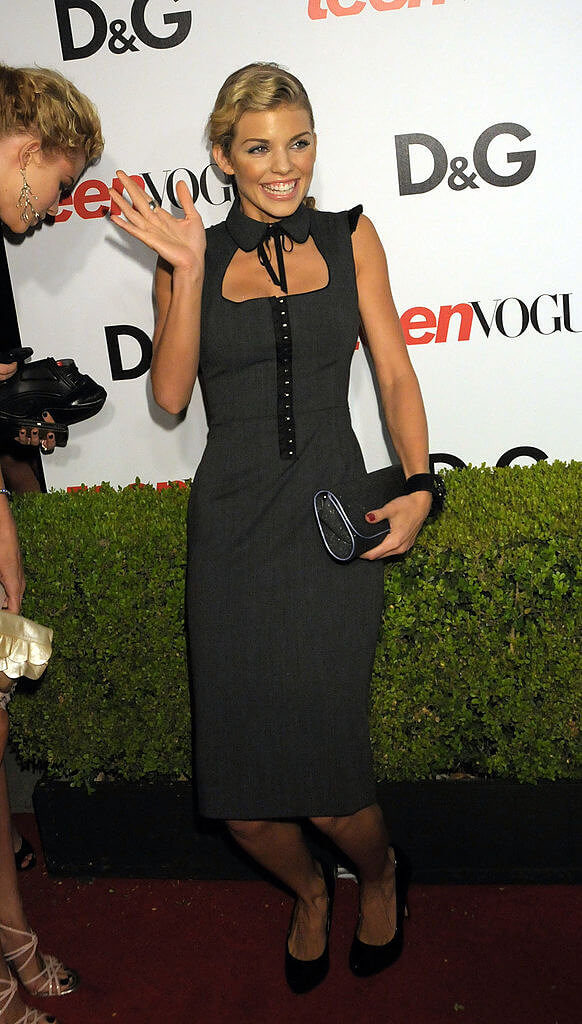 While posing for photographers outside of the 2009 Teen Vogue Party, the actress exerted herself a bit too much, lost her balance, and tumbled to the ground. Luckily she wasn't hurt as the perky actress jumped right back up and offered a wave and a smile.

Angelina Jolie's Slit
How does Angelina Jolie's leg get its own Twitter handle? Well, by being so obscenely advertised by Angelina herself. Jolie was at the 2012 Oscars wearing a very beautiful gown, but she apparently couldn't let the dress speak for itself and struck a provocative pose on the red carpet. Her leg was stuck out in a very unnatural and unflattering look, which was so embarrassing!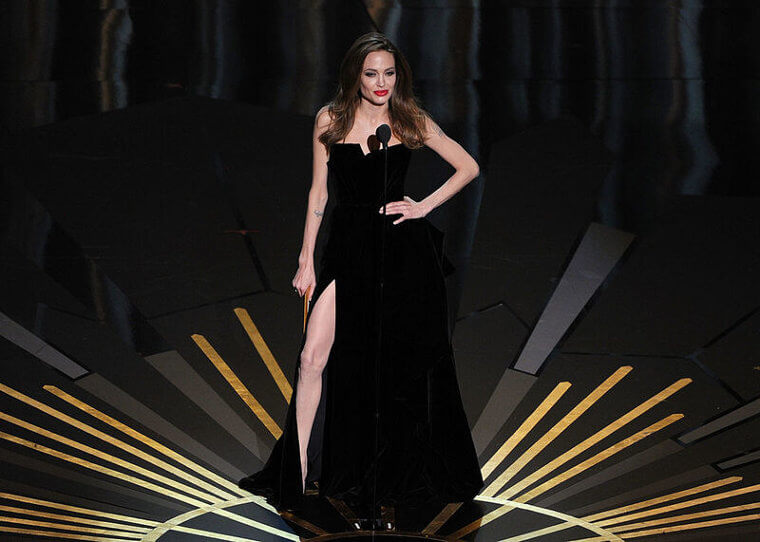 It was such a controversy that someone opened up a Twitter handle for the leg, called AngelinaJoliesL, and wrote that it "Stepped into my rightful place in history at the 2012 Oscars." Even though Angelina was dating Brad Pitt at the time, she got more attention for her toned limbs than her hot partner. 

Dust Yourself Off
Kim Kardashian is known for looking flawless when she attends an event so imagine her frustration when a random stranger flour-bombed her as she was entering the venue for the launch of her fragrance, True Reflections. The reality star was there to not only celebrate the launch of her new perfume but also to benefit the charity Dress for Success.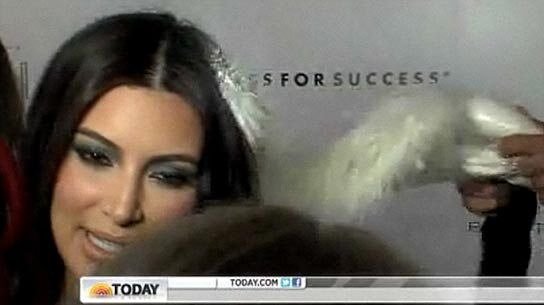 When the anonymous stranger released the flour she also yelled something along the lines of "Lousy fur hag" leading the media to assume that she was an animal rights activist angered by Kim's use of fur. Though the reality star mogul was mortified, she dusted herself off and continued into the event. The alleged assailant was detained by security but released when Kim declined to press charges.

Watch Out for the Pranksters
La La Land star Emma Stone is known for her great sense of humor, even so, she was the last one in on the joke at the 2017 Oscars. Stone was stopped on the red carpet and asked if she ever imagined being at the Oscars when she first dreamed of going to Hollywood. While she contemplated a thoughtful and heartfelt answer, prankster Justin Timberlake popped up behind her and flashed his adorable smile.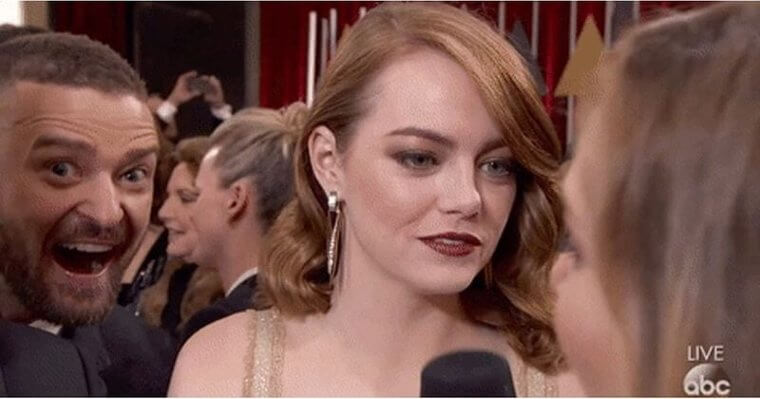 She went on to say "no, but it's a dream come true" prior to realizing that she had just been photobombed by the one and only Justin Timberlake. She made an attempt to grab him but he was gone before she knew it. 

Yulia Rybakova Exposed
Yulia Rybakova is a plus-sized model from Russia who is very famous for being an empowering model for women beyond the idealized version of thin that Hollywood traditionally favors. Unfortunately in 2018 at the Cannes Film Festival, an attendee trod on her dress - and a disaster resulted!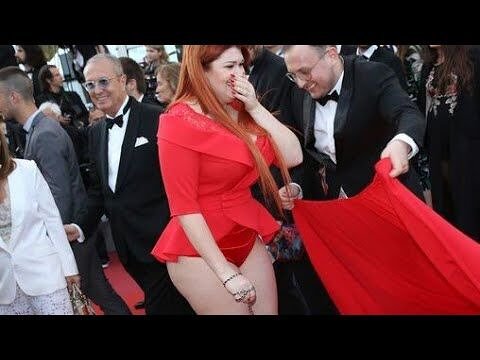 She walked away and part of the dress detached, leaving her entire leg exposed to the world. She had to run back and grab the lost fabric, and the man who had stepped on the dress hurriedly tried to help her tie everything back together and out of sight. It's definitely an embarrassing moment, and good for the man for not leaving her to deal with it on her own. 

Jennifer Lawrence Is Hurt, and It's Not a Game
Jennifer Lawrence, of the movies such as Hunger Games, Silver Linning's Playbook, and American Hustle is known to be very grounded and relatable. She's a fan favorite of celebrities, and she proves it every time she goes to a red carpet event. At the Catching Fire premiere in London, she made an incredibly relatable face that was caught on camera. The face was prompted because one of her costars (probably Sam, judging by his mischievous grin!) stepped on her toes!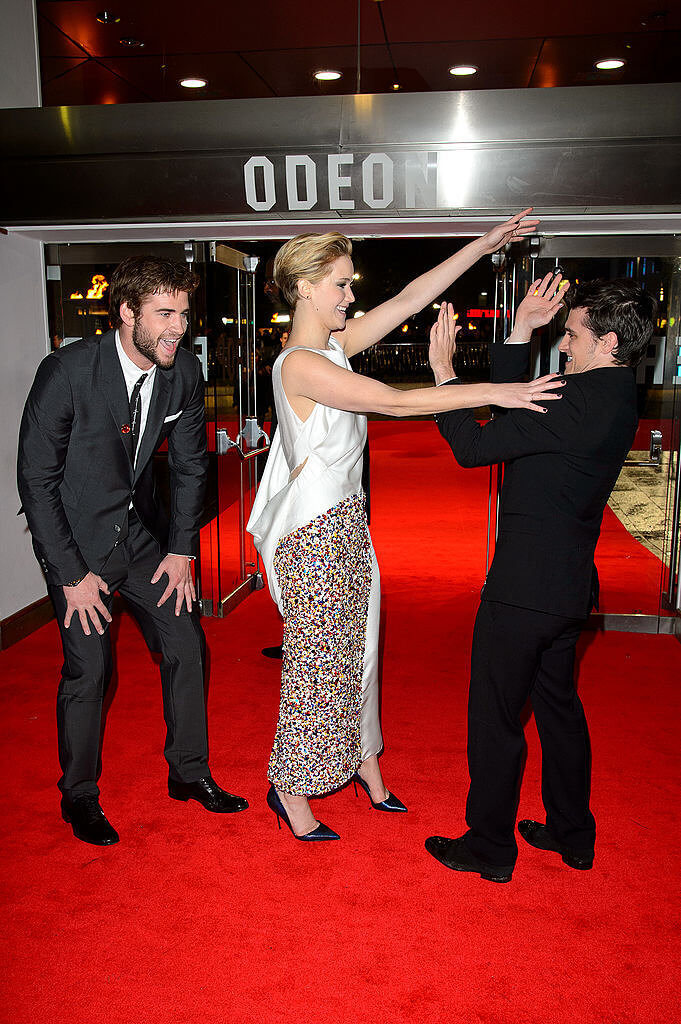 Lawrence was wearing stiletto heels, which are already super painful on your feet, as any woman knows. So it must have been double the agony and pain when she got her toes stomped - we've all been there, Jen! We just haven't all been caught on camera when we react. 

Jennifer Lawrence Strikes Again
Jennifer really does show up on this list a lot! She is a big movie star and also the star of falling in front of big movie stars. At the Screen Actors Guild Awards in 2011 - pretty early on in her career - her tall heels got caught in her long pink gown.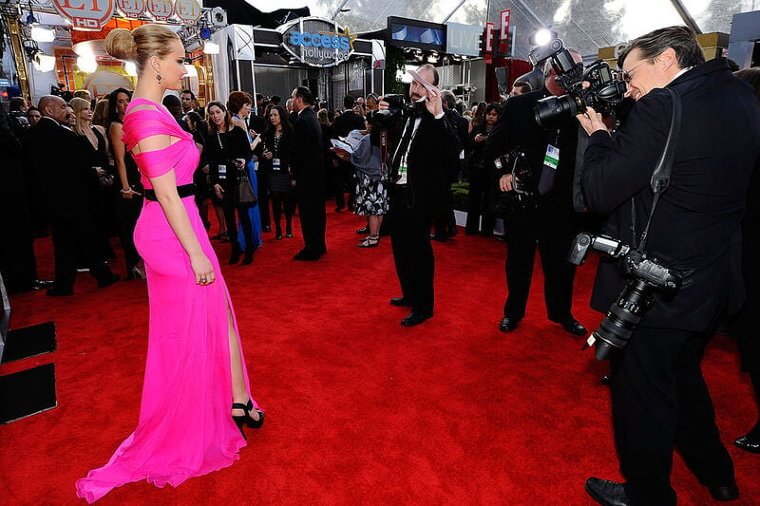 Jen was saved from completely falling over by a nearby good Samaritan who leaned down to help her take her heel out of her dress. She smiled bright and pretty for the cameras, and it's nice that she doesn't take all of her falling down too much to heart! 

Katy Perry Takes the Cake
In 2008 Katy Perry performed at the MTV Latin America Music Awards. She's well known for giving amazing performances, and this time was no exception. At the end of the song, she jumped into a giant cake. But when she tried to get off the stage after the performance...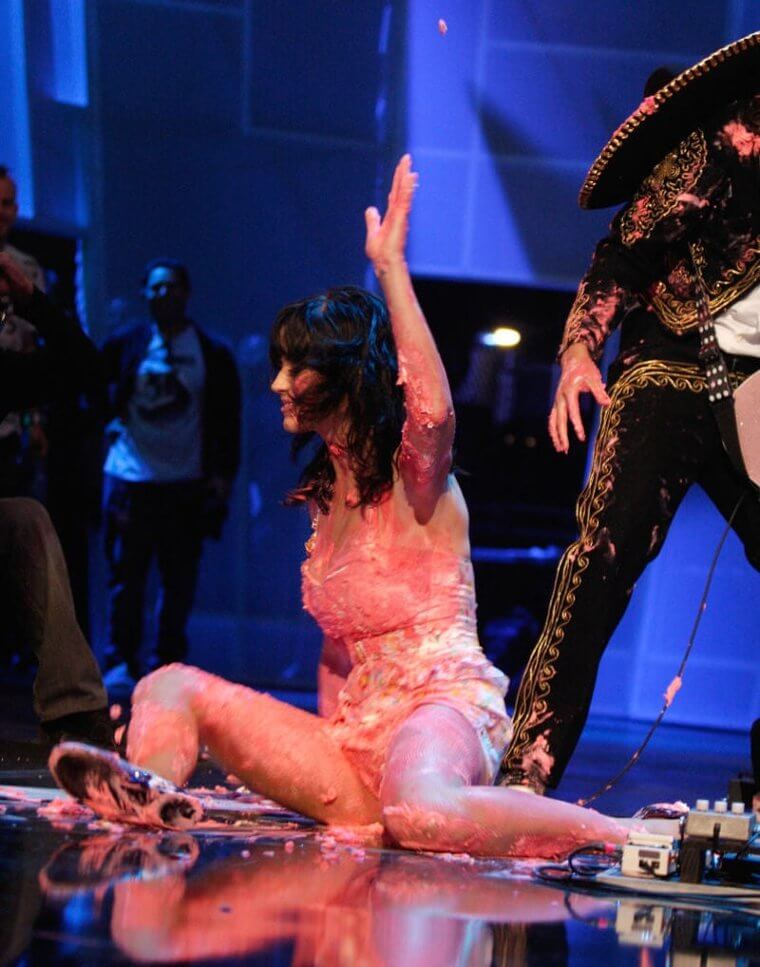 She slipped on the spilled cake, and tumbled all over the stage! The whole thing was a mess, getting all over Perry's legs and clothes and of course on the stage itself. It looked super gross and made you feel bad for whoever had to come to clean up the stage after her. 

John Travolta's Awkward Duck Face
In 2015 at the Oscars, John Travolta who is best known for being the smooth-talking Danny Zuko from Grease got a little less smooth. He leaned into famous actress Scarlett Johansson's neck and looks like he's going in for either a kiss or an awkward selfie-face? He's a pretty big guy, and the rest of his body is hidden behind Scarlett's slim frame, which makes this an even stranger photo.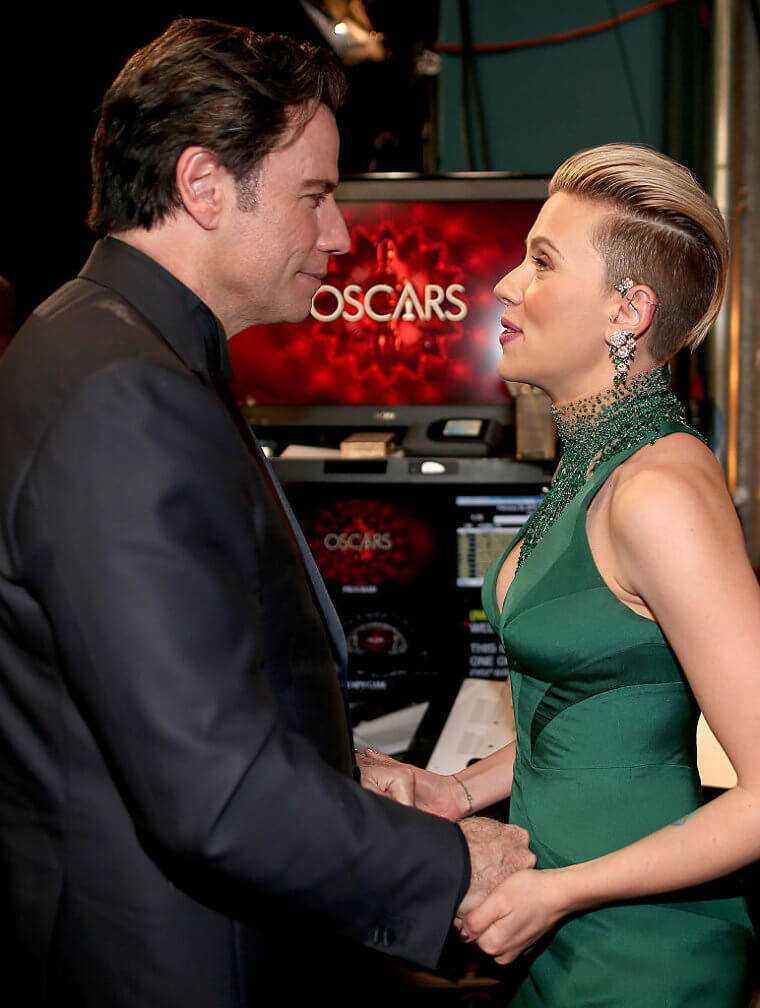 Also, his hand on her stomach is very awkwardly placed, especially as they aren't dating or anything like that! This is a very awkward embrace for someone to give a casual friend or acquaintance. Especially since John Travolta is over thirty years older than Scarlett Johansson! Her face is very blank in this photo, so one can certainly hope she knew what was going on already and just didn't mind. But it looks more like he's moving too fast for her to react. 

Amy Poehler and Tina Fey Are Doing Their Best... But Not Very Well
You've heard the phrase "climbing up the stairs", right? Well, Amy Poehler and Tina Fey had to take this to the literal level when they went up to the stage at the 2013 Emmy Awards show. At a minimum, at least they're wearing long ballgowns so they didn't have to worry about exposing too much.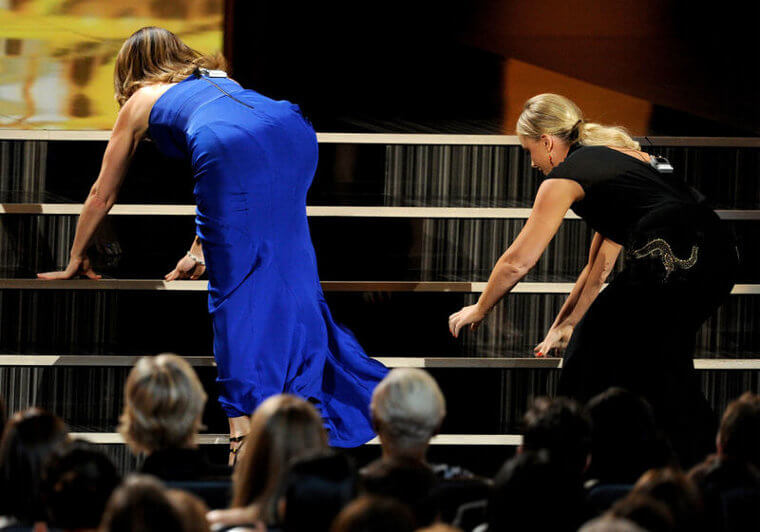 Without knowing who and what you're looking at in the proper scenario, you may just think these are two women struggling with themselves after a long night out on the town. Knowing that it's Amy Poehler and Tina Fey, though, makes it much more understandable as to why they're acting this way!

An Overdose of PDA
Young love was in the air as Noah Cyrus and Lil Xan made their red carpet debut as a couple at the MTV Music Awards. As adorable as they were, their PDA was a bit over the top. Just after the release of their duet, the duo shared with the world just how enamored with each other they were.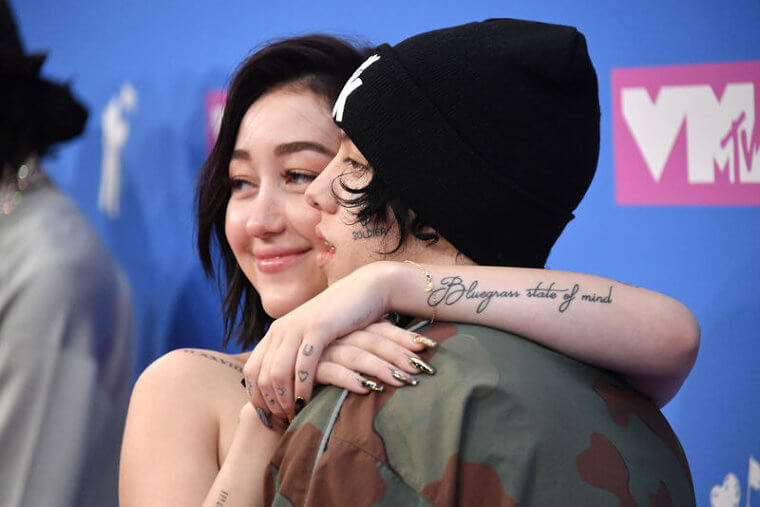 Aside from the groping and kissing, there were a few other displays of affection that had the onlookers scratching their heads. At one point, Noah stuck her tongue out in front of photographers as if she wanted to straight-up lick her beau's face. Rapper Lil Xan had an odd move of his own, he proceeded to put two of his fingers down his own throat. A match made in heaven? We shall see…

2015: Interviewer's Insinuations Are a No-No
Taylor Swift has been known to hold her own at award shows and the 2015 Grammys were no different. During her red carpet interview with Entertainment Tonight correspondent, Nancy O'Dell, Swift became so offended by a statement from the reporter that her intense death stare became the talk of tinsel town.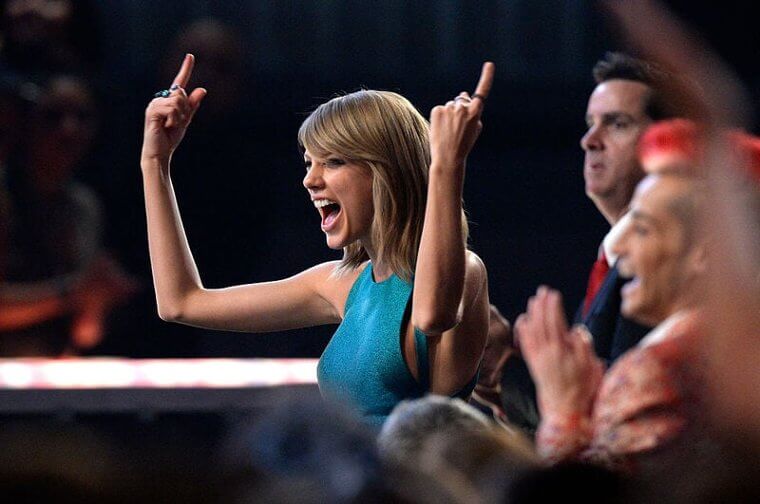 So what did O'Dell say to warrant such a response? She made a comment that suggested Swift's ensemble would have her heading home with not just an award, but also a lot of men. In true Swift style and a continued glare, Taylor responded by saying, "I go home to my cats. Men get me in trouble".

Resse Witherwrist
Felicity Jones and Reese Witherspoon shared a very professional but odd-looking handshake at a red carpet they attended at the same time. They seem to be greeting each other warmly, but when you look closely you see they are holding each other tight by not the hand, but the wrist?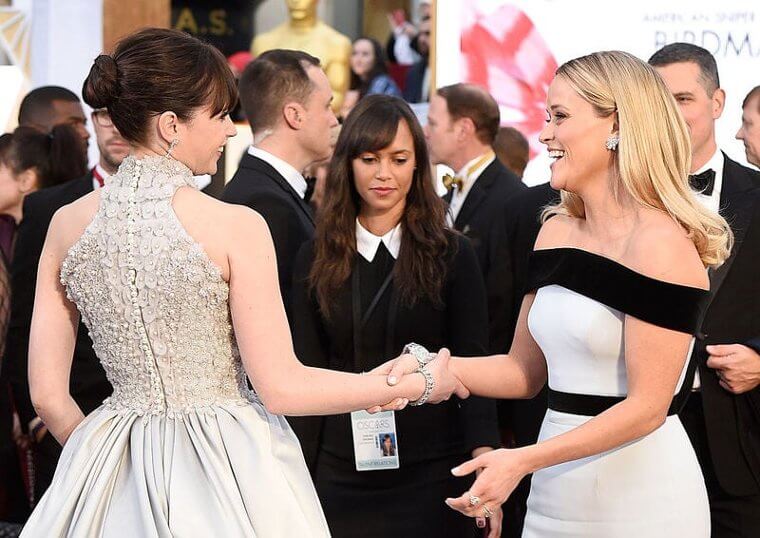 It isn't clear why they decided on this form of greeting - maybe someone went in for a hug and another one went in for a handshake, and this is where they ended up? But they seem to take the moment in stride and are all smiles toward each other. 

Naomi Watts Near Miss!
At the SAG awards in 2015 (that's Screen Actors Guild Awards!) the cast of Birdman won the award for Outstanding Performance by a Cast in a Motion Picture. That cast included the likes of Amy Ryan, Edward Norton, Emma Stone, and Zach Galifianakis, who all took the stage with co-star Naomi Watts.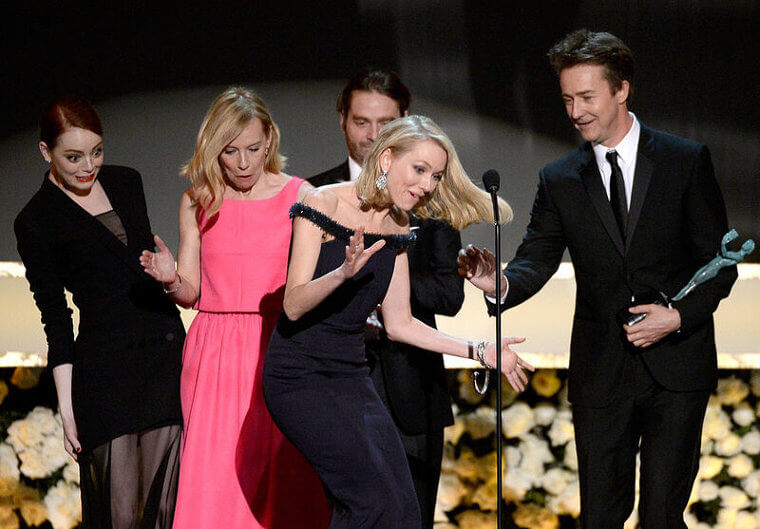 But when Naomi Watts walked to the microphone she slipped and almost fell forward into the stand or onto her co-workers. Of course, the whole thing was being filmed, so their reactions to her almost-fall were all caught in real-time, and they sure seemed surprised! 

Stella McCartney Tears Up Rihanna's Dress
At a gala held at the Metropolitan Museum, fashion designer Stella McCartney had a horrifyingly awkward moment with the incredible singer, diva, and designer Rihanna. She was lifting up her heel for an unknown reason when she got stuck in Rihanna's beautiful skirt!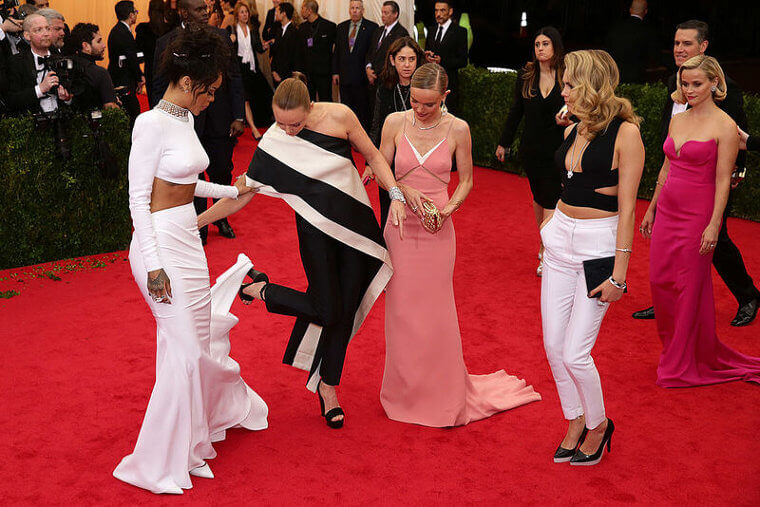 She had to steady herself on Kate Bosworth and Riri herself as she tried to extract her heel without doing further damage to the outfit. It must not have been a Stella McCartney design, or she wouldn't have looked so worried. 

Emma Stone Goes Feral
Emma Stone is known for being an awkward, down-to-earth celebrity of the people. She was at the premiere of her almost-Best-Picture of the year, La La Land, and later the Oscars of that season, 2016, and really reached her peak of awkwardness. She tried to hug the director, Damien Chazelle, but he had actually been trying to kiss his girlfriend and she ended up in a three-way hug that nobody wanted!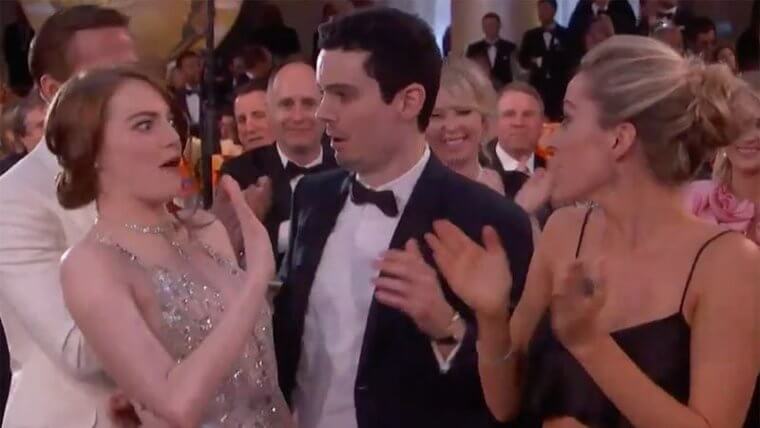 Damien tried to make Emma feel better about the awkward moment, but as any of us know, going for a hug that wasn't meant to happen can haunt you for years! It's almost as bad as waving at someone you think is waving at you - only to realize that they're waving at someone behind you! At least that didn't happen to Stone. Still plenty cringe though. 

Sacha Baron Cohen Spreads Trouble
Sacha Baron Cohen is well known for being a very controversial figure, who makes drama and trouble everywhere he goes, sometimes as a part of his act and sometimes just as a part of who he is. He went to the 2012 Oscars in character, which is a very Sacha Baron Cohen thing to do. He was in character as his creation Grimsby, in The Dictator. The Dictator was a very funny movie, but it definitely pushed some buttons - and so did Sacha!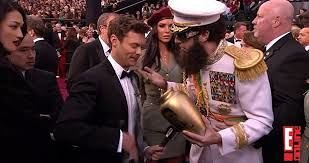 He carried an urn that he claimed was the ashes of a politician, and he spilled it all over the red carpet. Ryan Seacrest was nearby and got some of the ashes on his suit! It was a custom Burberry suit that was probably very expensive, and Ryan didn't look too happy. "Grimsby" later interrupted Seacrest's interview with Lady Gaga as well, demanding a hug and making Ryan very uncomfortable. It seems to be Cohen's best skill. 

John Travolta Invades Idina's Space
John Travolta seriously seems to have some problems with personal space. At the Oscars in 2015, he got way too close to Idina Menzel - whose name he famously mispronounced as well - and put his hands right on her face!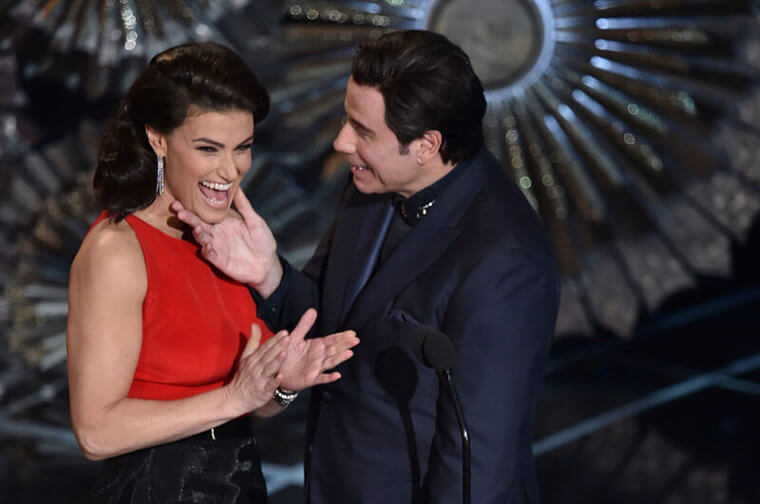 Most people hate having anyone touch their face, let alone a stranger. Idina seems to try to laugh it off and move away, but he keeps his hand right on her chin as if he wants her to look at him and not the audience. Definitely a breach of personal boundaries, which nobody seemed comfortable with. 

Rami Malek Falls Fast
Rami Malek won an Academy Award at the Oscars in 2019 for Best Actor, and when he got off the stage he, unfortunately, missed almost all the steps! He was so excited about his win that he forgot to look where he was going.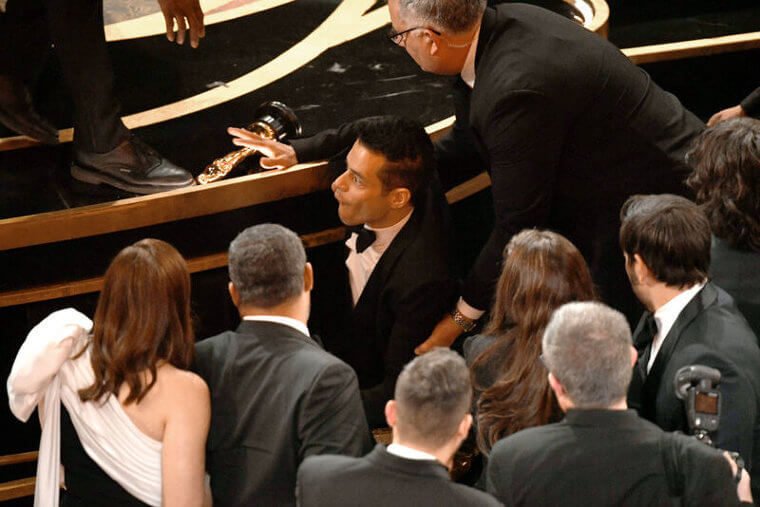 It was so bad that he had to be helped back to his feet and a medical staff member had to come to the front row to look him over and make sure there were no serious injuries as a result of his tumble. Luckily he seemed to be pretty okay, just embarrassed! But no one would reveal if he had gotten any bruises as a result of his win.