Social media provide the perfect mechanisms for flaunting one's worth. Spoilt rich kids know just how to utilize these well to show off their latest and greatest luxury possessions, gifts, and purchases. To them, it's a competitive world so don't be fooled by their sometimes seemingly innocent posts. These are really a subtle way for them to brag and showcase that they are more affluent and that their possessions are of a quality superior to everyone else's. Having been gold-spoon-fed all their lives, they have become self-absorbed, arrogant, and ignorant teens who have no idea how fortunate and privileged they are. They have lived in an easy, sheltered environment with few real-life experiences and with limited exposure to the world of ordinary folk. Simply, their lives are all about never-ending competitiveness, indulgence, and entitlement.
Bottled in Style
When money's not a problem and you want to parade your elite status, then why not carry a bottle of Bling H2O? Each 750ml bottle is made from limited-edition frosted glass and is corked, recyclable, and comes in various appealing designs and colors that will complement your style. At prices ranging from $25 to $75, this will surely make a defining statement just as Hollywood writer-producer Kevin G. Boyd, whose brainchild this is, intended.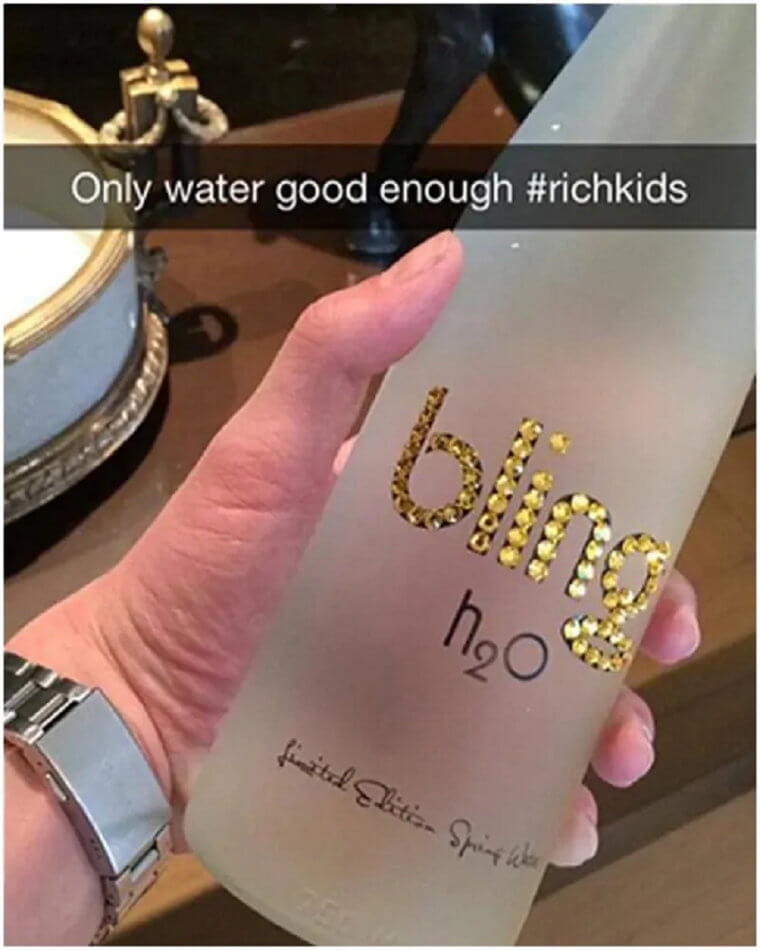 But why is this luxury water so expensive? The water, like other expensive brands, also comes from a natural spring. This is from Stoneclear Springs, in the middle of virgin forest, 60 miles west of Nashville, Tennessee, and is claimed to undergo a nine-step purification process three of which include ozone filtration, ultraviolet treatment, and microfiltration. Fans say Bling H20's smooth, tasty taste and trendy bottle designs make it well worth the price!
The Term "First World Problem"
Once it might have seemed clever and informed to say "First World Problem" when referring to a piddly problem or minor irritation when you really did not have any significant problem at all, like "My avocado isn't ripe – first-world problems!"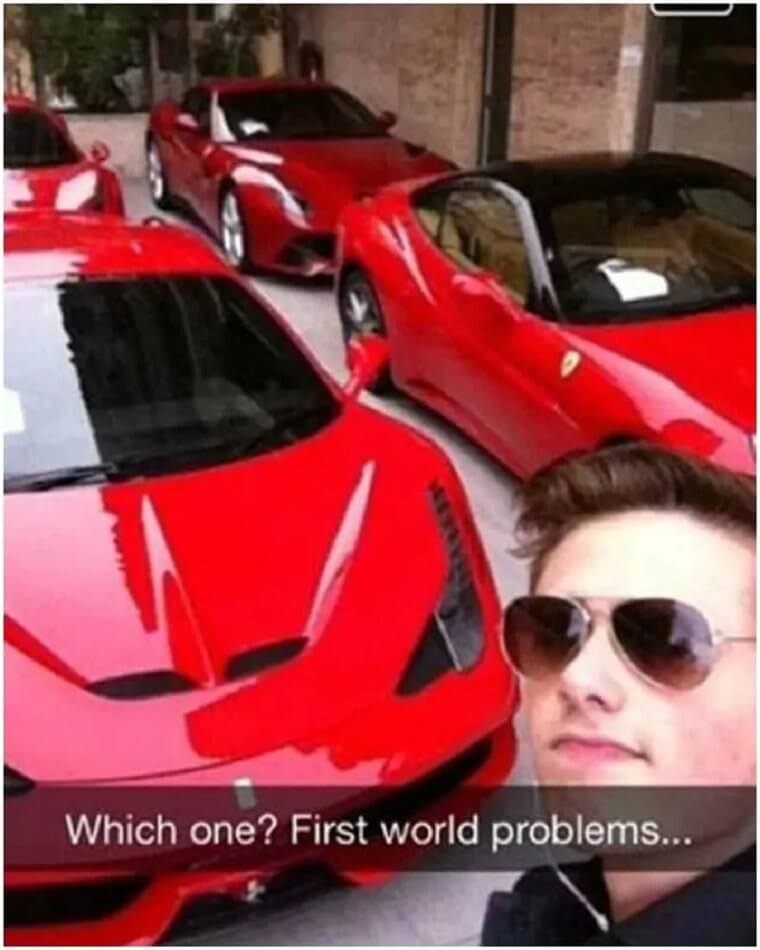 This term was first used in 1979 but became an Internet meme early in 2005, especially on social networking sites such as Twitter where it became a well-used hashtag. However, in recent years it makes one appear smug and condescending as it has become a means of simultaneously highlighting one's privileged and well-to-do lifestyle and social standing. Like "Oh, I just don't know which luxury sports car to pick from my fleet of luxury sports cars…first-world problems!" In comparison to something like the hunger plight of poorer nations, can this rather unimportant and trivial comment even be called a "First World Problem"?
The High and Mighty!
How easy it is to see yourself as more important than other people, to be arrogant and conceited when you are brought up to be a spoilt rich kid. If you live an affluent lifestyle, are spoilt rotten, and want for nothing, it's understandable you see yourself as royalty and far better than lowly inferior folk, like us!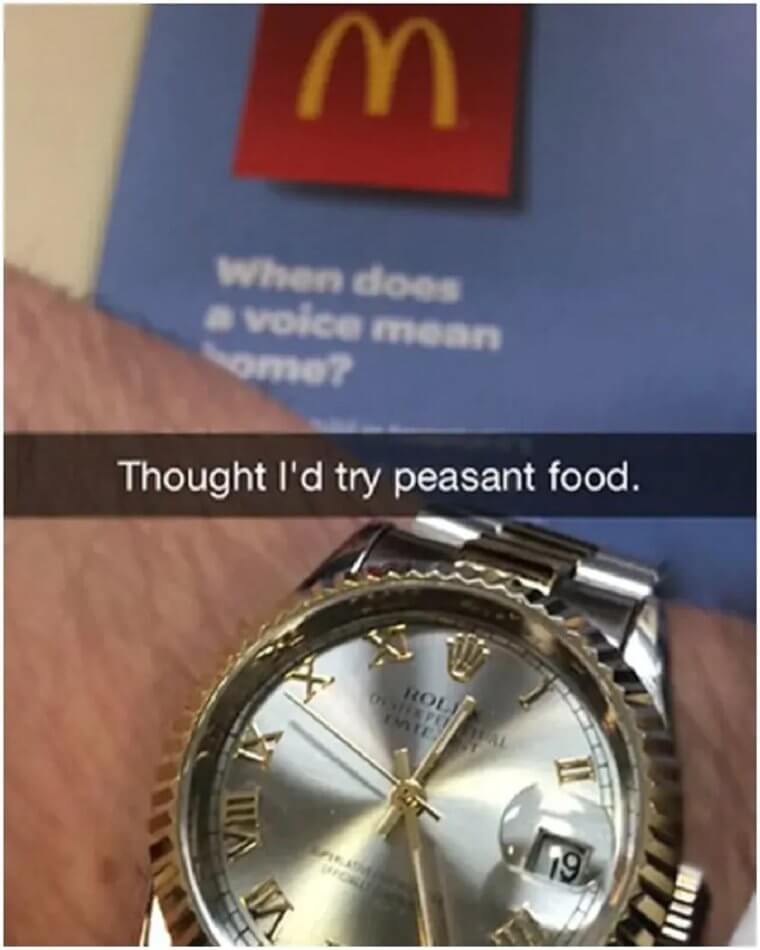 This kid, the proud owner of a Rolex, visited his nearest Mcdonald's so that he could get a taste of the "peasant food" that we plebs eat. He just had to show us how superior he is, ostentatiously showing us his Rolex, while debasing himself by visiting a Mcdonald's and trying out food that is quite beneath his normal standards. We hope the peasant food astonished him!

Posing at Night in Paris
Paris, one of the most beautiful cities in the world, is known as the "City of Love" because of its romantic atmosphere as well as the "City of Lights" for the 33 bridges which light up at nightfall and its 300 illuminated sites which include hotels, fountains, statues, churches, and monuments.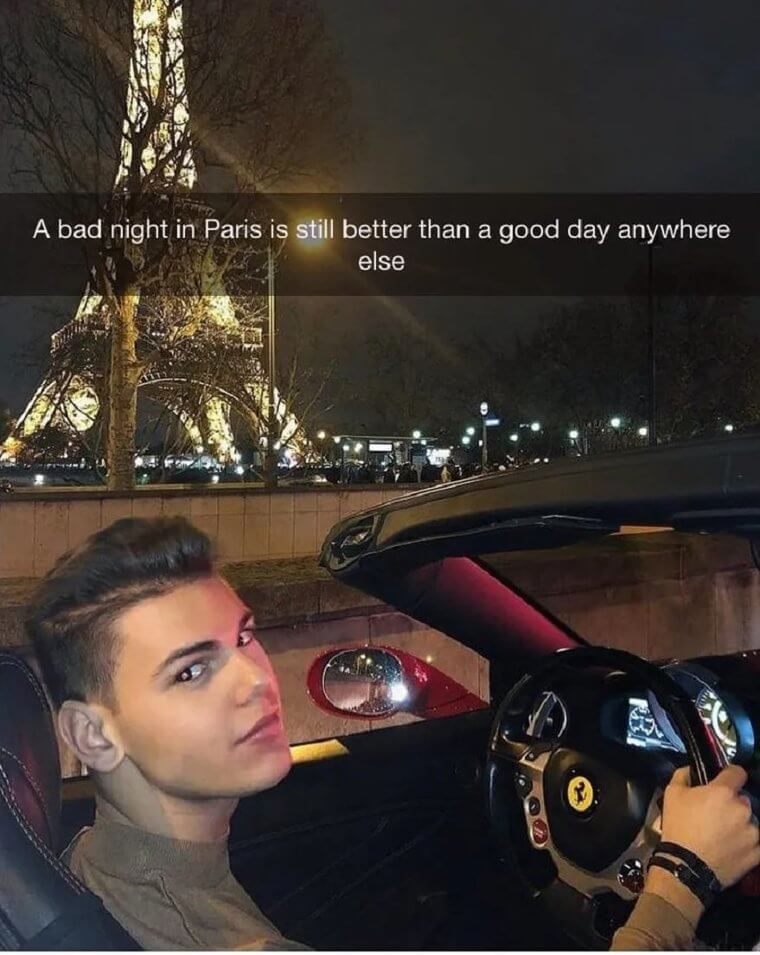 A most recognizable monument is the iconic wrought-iron Eiffel Tower, the summit of which is the city's highest point. This moneyed kid not only gets to cruise around Paris at night in front of the illuminated Eiffel Tower but also in a Ferrari, that luxury Italian sports car. No wonder he looks so cool and self-satisfied saying "a bad night in Paris is still better than a good day anywhere else." Of course, he is showboating that he can afford to enjoy such magical surroundings in a luxury classy roadster in such a spectacular city.
Disgruntled Porsche Driver
Very few kids get given a car the instant they get their driving license. Usually, they may be allowed to use their parent's car but only when their parents don't need it, or they get to use an old jalopy until they can afford to purchase something better.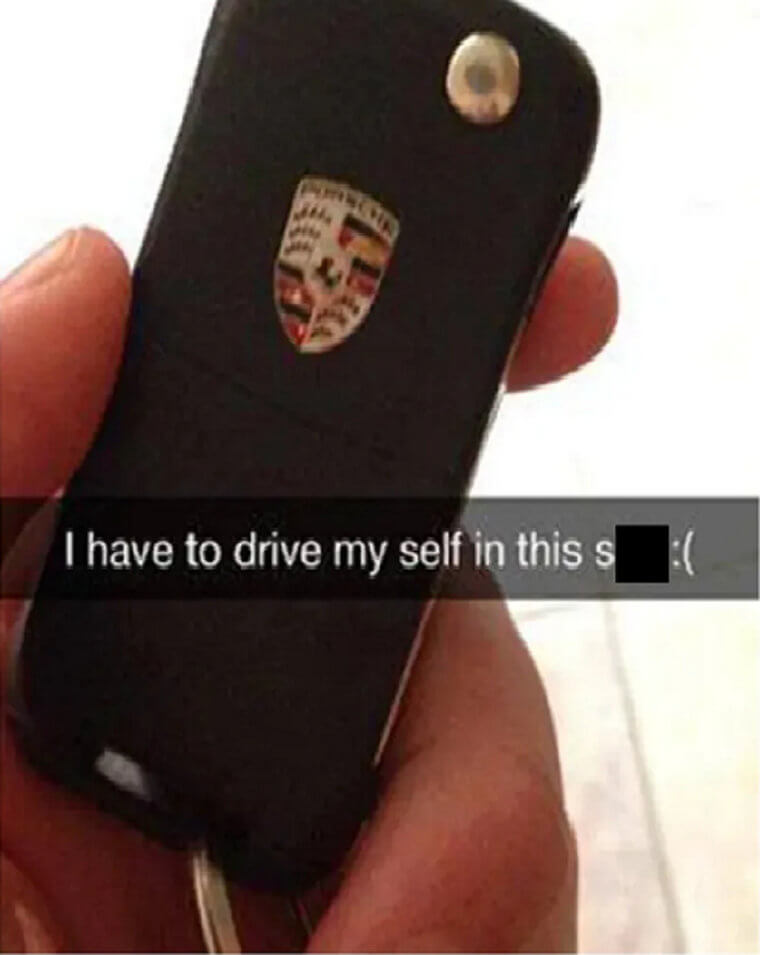 It's only the super-rich kids whose parents spoil them with a brand-spanking new car the instant they get their licenses! This kid is obviously one of those thoroughly spoilt offensive brats who have the cheek to post online and complain publicly that he is expected to drive around in such a lowly vehicle as a Porsche! We wonder what vehicle he expected instead! This completely and utterly disrespects his parents. Heaven forbid, he should ever be expected to use his two feet and walk instead of driving!

A Coco Chanel Pooch
Most pet dogs are satisfied with their two meals a day, some walkies time, an outdoor kennel or an indoor dog bed, and some fondling and attention from their owners. But wealthy pet-focused owners treat their pets like precious commodities and indulge them far more than they would if they were humans.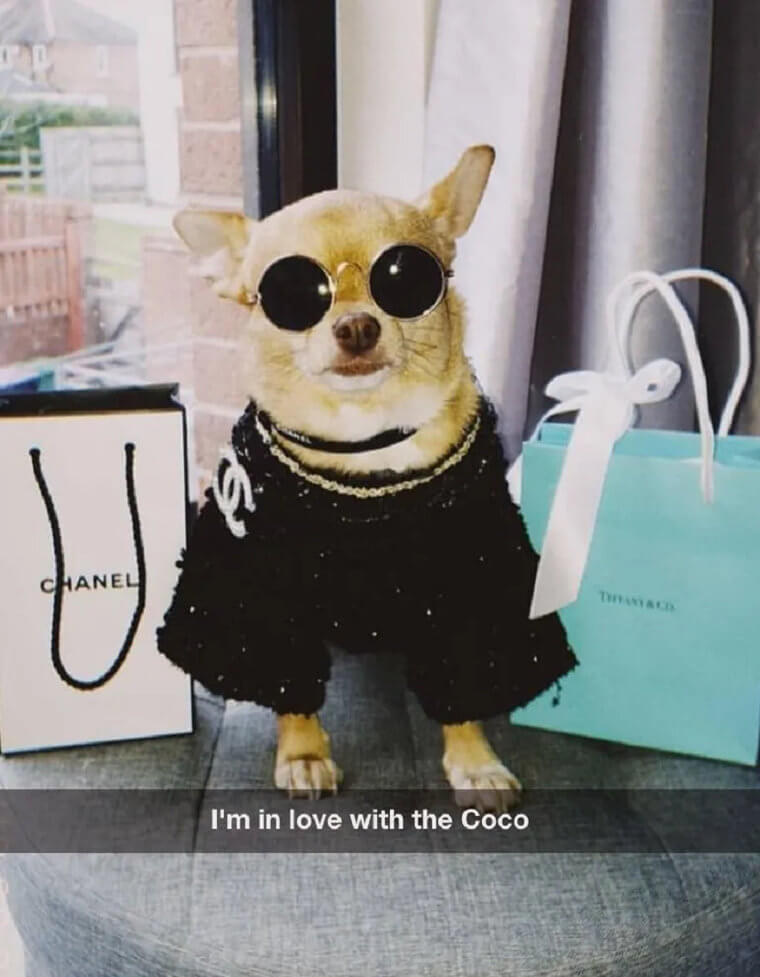 However, the dogs of the wealthy enjoy designer outfits, bejeweled accessories, gourmet meals, regular massages, and fly on private jets. Some even have their own separate Instagram and TikTok accounts like Paris Hilton's doggies which she says live in a "two-story doggy mansion that has air conditioning, heating, designer furniture, and a chandelier." Theirs is a swanky canine lifestyle!

Tacky Money Holder
Who would've thought that some rich kid would use a cheap empty tissue box to store their banknotes? We would've expected a designer wallet or a jewel-encrusted or leather-bound money box to do the trick rather. Oops, we didn't think! Perhaps the wallet and money box are already too full to accept any more bills!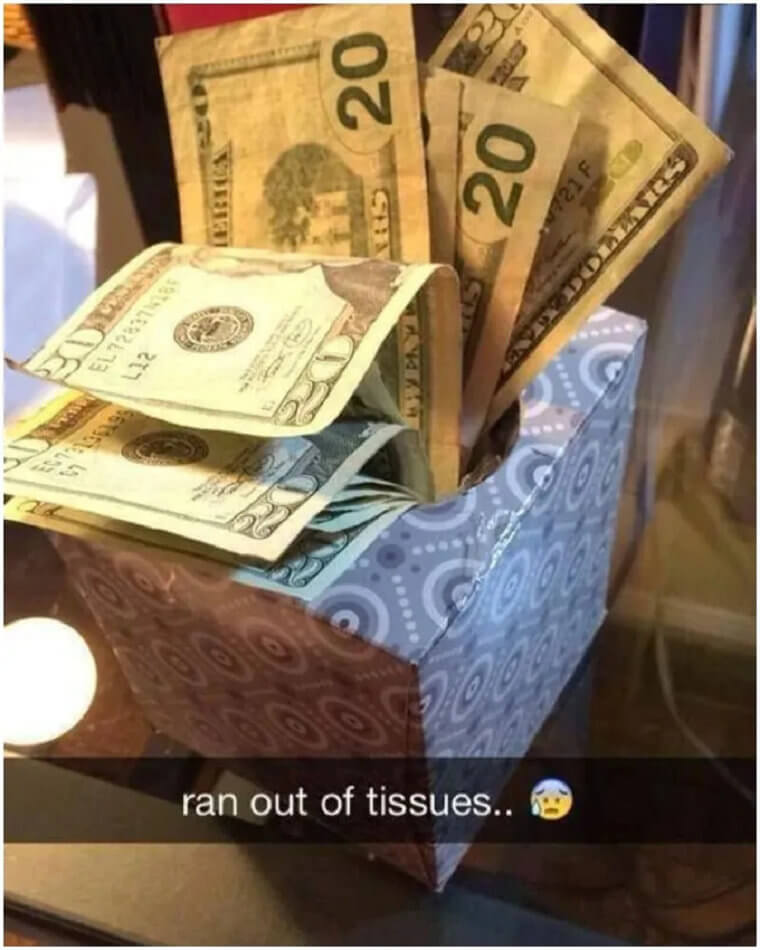 Did Mommy or the housekeeper forget to buy this poster a replacement box of tissues? Is that why this rich kid took a photo to post online because she is feeling neglected? It's really a rather tacky bleat! Or did she want everyone to see how privileged she is with all that spare money just lying around?

Time to Choose a Watch!
This wealthy teenager owns a collection of luxury watches. He's arrayed all of them on his arm and taken a snapshot of them and posted it just in case we didn't know how many he owns, or their high quality, or that he has a choice of a different one each day.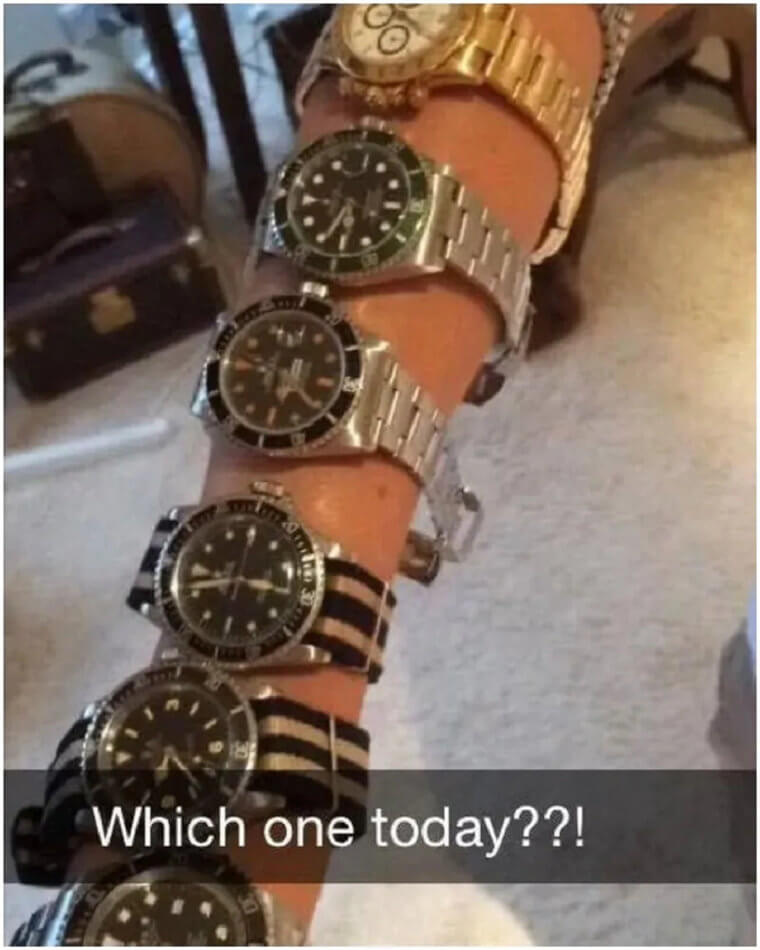 Well, as it is only necessary to wear one watch at a time, it is pretty excessive and extravagant to own so many, especially at such a young age. It blows our minds just thinking about how much money is sitting on that arm. Oh, how difficult it must be to select which one to wear each day!  He's spoilt for choice!
Keeping the Standards High
Rich kids most likely only hang out with other rich kids and their well-to-do families. The prosperous live in a cocoon of wealth and are accustomed to a life of opulence, extravagance, and unlimited and unstinted financial resources. Check out the glamorous and lavish lifestyles of the overindulged offspring of the Kardashian kids.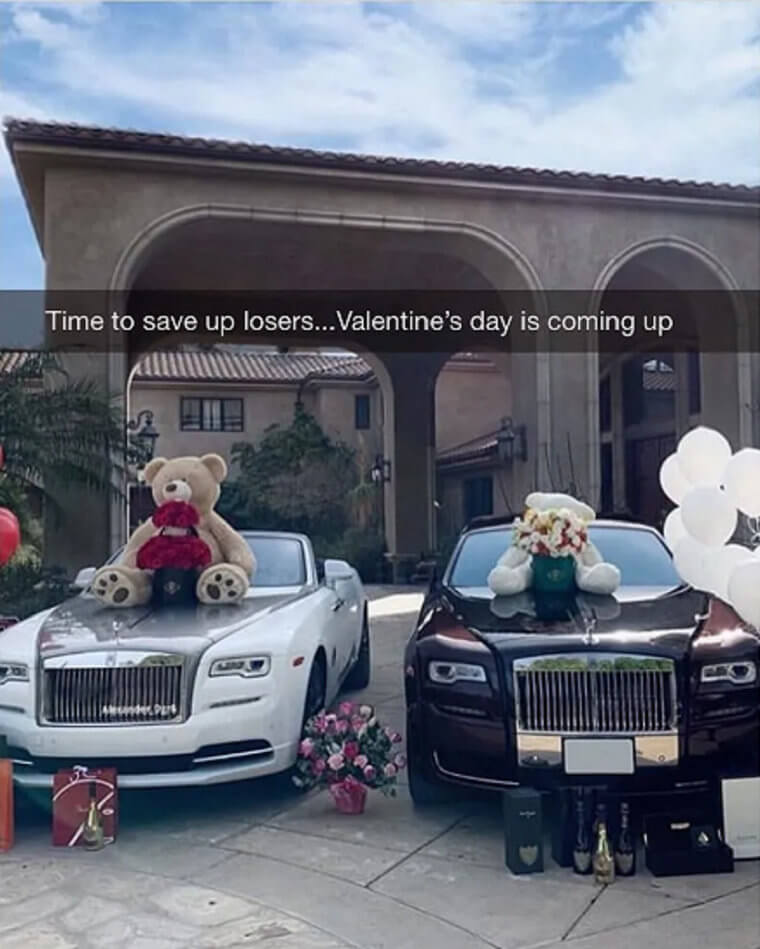 In such social circles, at celebrations, and on special occasions, these kids need to flaunt their wealth when presenting appropriate gifts. Here we see an array of ideal expensive Valentine's Day gifts that have cost thousands of dollars. To reach the status of the rolling rich, losers are advised to save up so that their gift will be in keeping with the high expectations!

Deluxe Door Stop
Don't expect to find old heirloom furniture from granny's attic or ready-to-assemble IKEA furniture in these grand well-to-do homes. Instead, they will be generously filled with large, expensive sumptuous sofas, numerous antiques, expensive draperies and artifacts, original paintings, and other exorbitant furnishing items.

But this house has exceeded all that. This rich youngster posts that the typical doorstops used in his house are these gold bars - 24-carat gold bars to be exact. Obviously, he is boasting that his parent's fortune knows no bounds as one of these alone is worth about half a million dollars!

Stepping Down to a Toyota
Naturally, the super-wealthy will employ an army of helpers like housekeepers, butlers, chauffeurs, nannies, and chefs among others to attend to their every domestic need. After all, why should they look after themselves when they can afford house staff to do all these mundane tasks for them?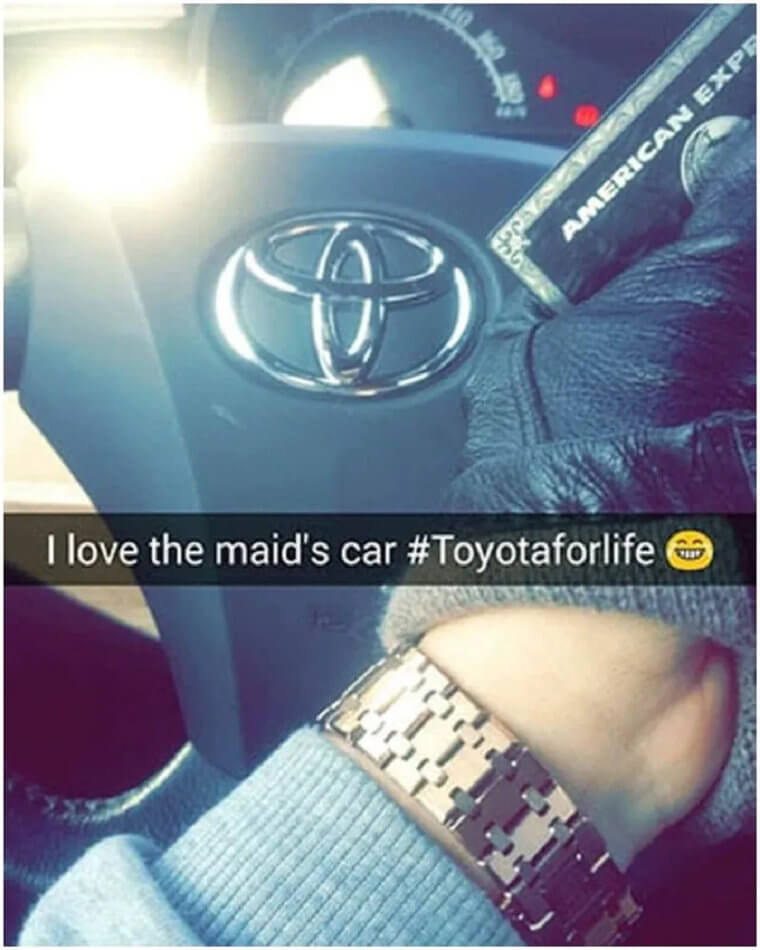 Some rich folk lead such busy glamorous lives that they will even leave the grocery shopping to the maid. How demeaning it must be for this wealthy teenager to have to use the maid's car, a low-end Toyota. This is not his usual style! He is accustomed to far more luxurious rides like a Ferrari or a Maserati. But, just in case someone spots him in it, they mustn't be fooled, because see there, he owns his own American Express card which he displays in his leather-gloved hands.

Holdall Obsession
It appears from this Snapchat post that this affluent teen is already planning a lifetime of round-the-world travels with a different holdall for every travel stop. Or is she just obsessed with holdalls? What's going to fill this space once all the holdalls have been removed? It will be an empty room… and an emptier house, of course.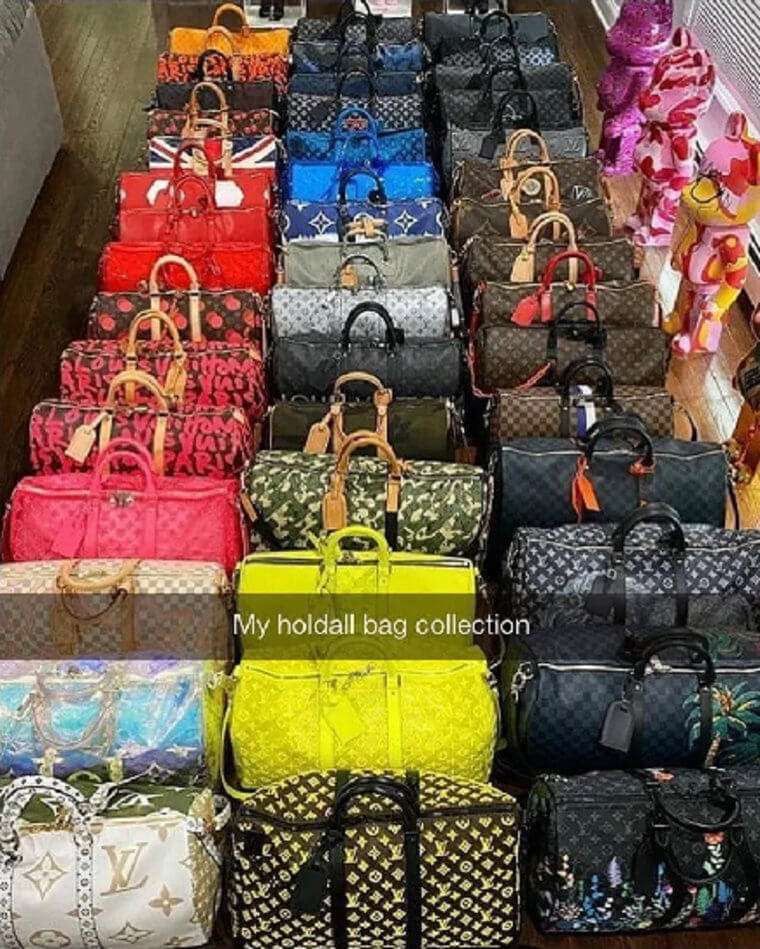 If this is her holdall collection, then what about her designer clothing and shoes, and her clutch purses? Does she have an entire room dedicated to each of these too? Hopefully not, because as fashion trends change pretty frequently, even a palace will soon be too small! She definitely seems to be in the Kardashian league, or is she simply just a copycat fan?

Name-Dropping to Impress
Rich kids like to keep reminding their followers that they travel in esteemed circles so they name-drop. Just a quick casual mention here and there about the designer outfit they have just bought, that they are in Paris or on holiday in the Caribbean, posting a picture of themselves carrying Bling H20, or dropping the name of a famous person into the conversation.

Of course, the super-wealthy know most of the other rich folks. As they all live in the same exclusive neighborhoods and socialize in the same social circles, that's not terribly impressive or unexpected. This kid just needed to remind his followers that he knows Mark Zuckerberg, none other than the Chief Executive Officer of Facebook himself… so he took to Snapchat in case they forgot!

Wallet Too Small!
Only rich people would be able to withdraw, and flaunt, this much cash. This person could not fit this bankroll into his wallet. But just to let us know about his great wealth, he snapped a picture of this money stack and posted it with a wry "Guess that's not working?!" and an emoji sporting sunglasses. Cool kid!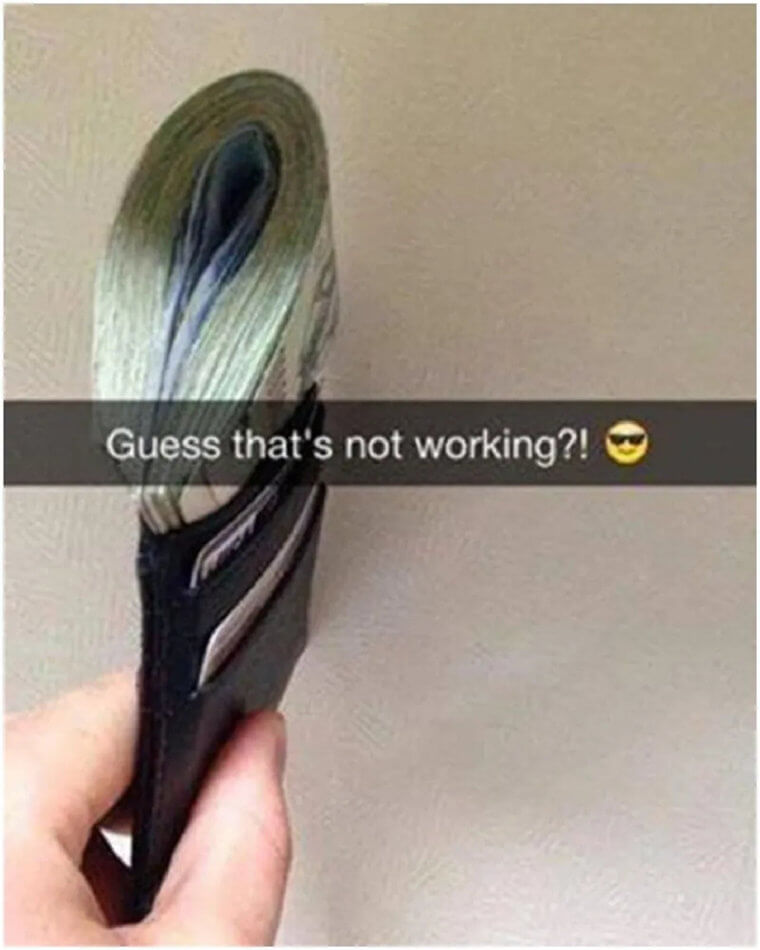 He could simply have bought a super-sized wallet if he wanted to carry this amount of cash around or have banked it if it was pocket money or a gift paid in banknotes! Perhaps he was off downtown on a do-good mission to hand these banknotes out individually to a whole lot of beggars, vagrants, or the needy! But, we seriously doubt it!

Hovering Taxis
There is no limit to the expense affluent people will go to in ensuring that they live the high life in comfort and ease. Why trouble themselves with traffic and travel hassles when a helicopter will drop them on their estate doorstep or directly at their exclusive dining destination? Invariably they own their own helicopter, or two.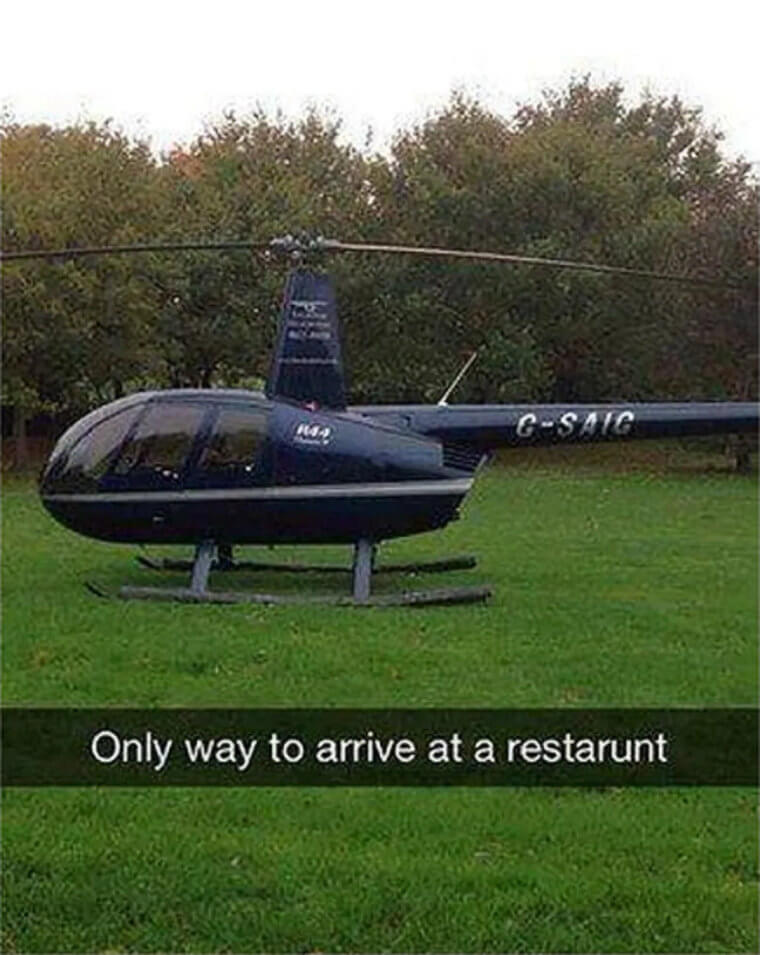 Helicopters may cause less than 1% of the aviation industry's CO2 emissions, but reducing this is not a concern for the well-heeled. They use their helicopters to ferry them around regardless. This kid may be well-off and have a helicopter as his personal taxi but perhaps he should use a little of his wealth to buy himself a dictionary or a spellchecker!

Only in a Gucci Glass, Thanks
For the rich and spoiled rotten, only branded goods will do. They must keep up their standards and remain a cut above the rest. They will utilize luxury goods like Versace candles, Valentino teaspoons, Prada phone cases, and Louis Vuitton headphones. It will not do for them to debase themselves by using off-the-shelf, unbranded, or non-designer goods.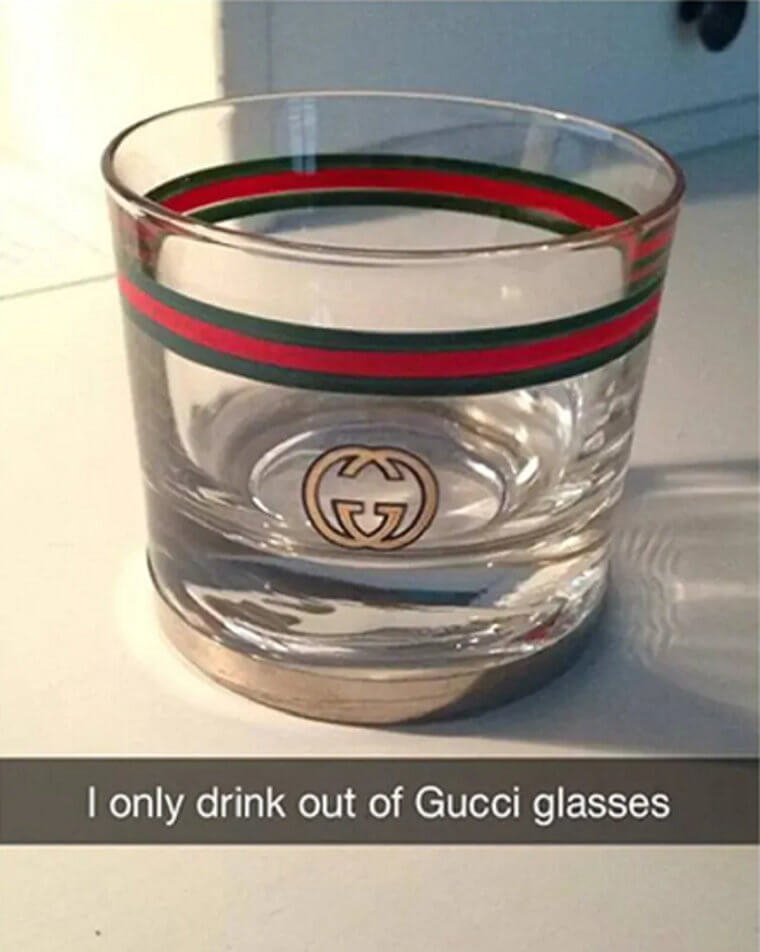 When all you've ever been exposed to are luxury goods you will not be comfortable settling for anything but the best. This loaded teenager will only drink from Gucci drinking glasses and posted this snap to indicate this. Woe betides those who should serve this visitor a drink in a non-Gucci glass! He has made his point and preference abundantly clear!

Traveling in Comfort
While some of the rich and famous are owners of a helicopter there are those who own their own private planes which they have ready and waiting to jet them anywhere around the world. For the well-to-do, this is ideal! They avoid the throngs gathering at commercial airports and celebrities can avoid the frenzied attention and crush of their adoring fans.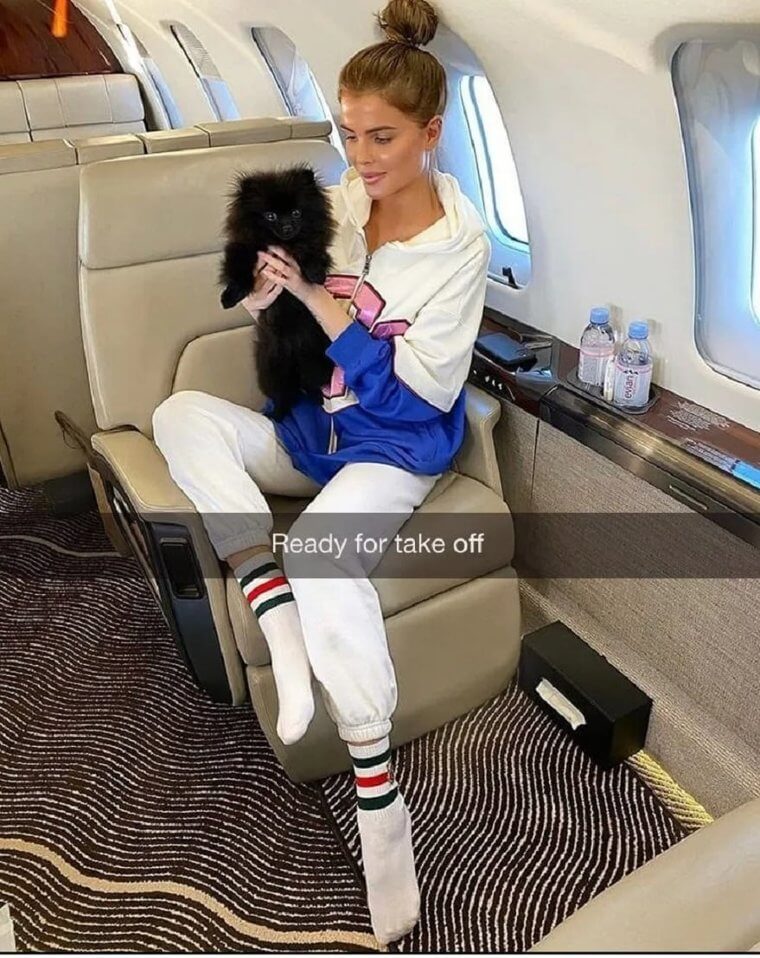 Flying private means they do not endure the inconvenience of long airport queues and it can save them a significant amount of time. They can travel in complete privacy, comfort, and luxury. It enables them to do as they please during the flight - wander around the cabin, bring their pampered pet, stretch out on couches, and enjoy their favorite beverages and gastronomic delights. Ah! What luxury!

A Fistful of Pounds
This British kid's post on Snapchat is merely to indicate that he is quite accustomed to handling this amount of cash. Just look at how flippantly he flaunts and holds the banknotes. We're supposed to think he has just grabbed them in a rush and arranged them vaguely in a fan shape to snap a quick pic..... to brag on social media.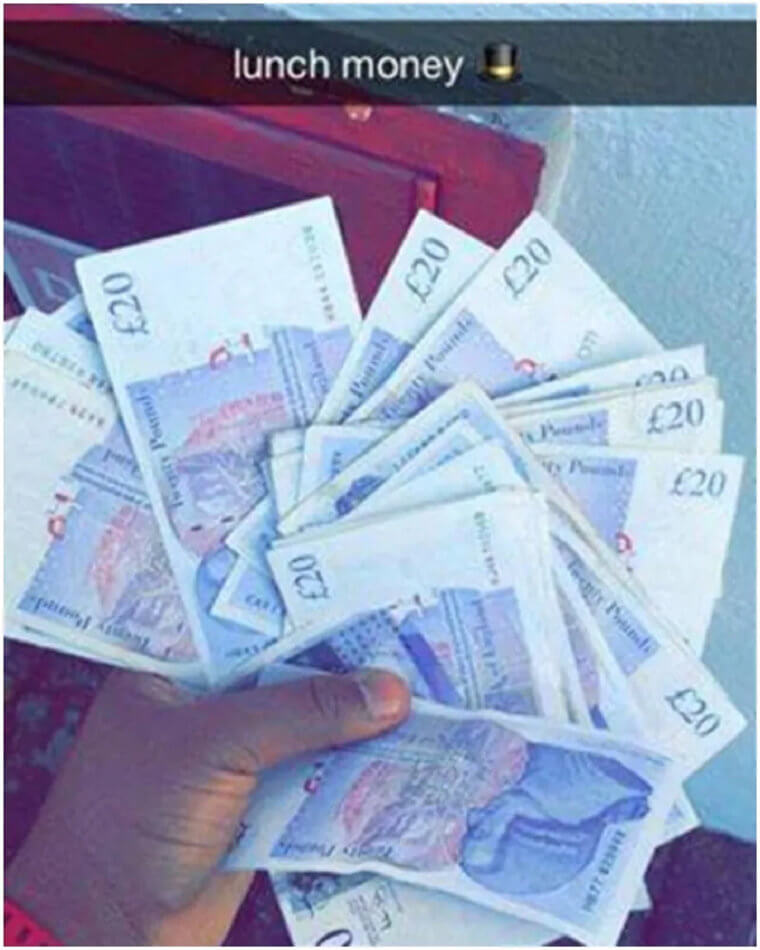 If that's only lunch money, then we have some questions. Is this to pay for a luncheon party with several guests? Is it lunch money only for himself for several days? If it is only his lunch money just for that day then he must be going to a top-hat gourmet banquet of many courses with high-end liquid refreshments that will surely last the entire afternoon! Wow!

The Have-Yachts
So they have a helicopter, a private jet, and now a yacht. It's like having their own world-class floating resort with everything at their fingertips - loads of lounging space, multiple bathrooms, and bedrooms for family and guests, fantastic decor, a troop of professional staff including a personal butler, and private chef and skipper, a fully-equipped kitchen, a well-stocked bar, and state-of-the-art sound equipment.

It's the paramount symbol of luxury and wealth. They can go where they want and explore the world in comfort and privacy. They can lounge and suntan on the sundeck and gaze at incredible views. Evenings may see them docking at a beautiful marina and dining at an upmarket waterfront restaurant or they may remain on board and entertain to their heart's content or even indulge in an all-night party. When you have it all and more, like the ultra-rich, sometimes you do party to excess!

Wearing Your Wealth
It's not uncommon for affluent kids to own a collection of luxury goods like designer outfits, cars, electronic gadgets, watches, and jewelry. Of course, many of these luxury items will have been lavish gifts from family and friends but when you have your own hefty allowance it's easy to begin collecting an array of the luxury item that you fancy.

When you have enough jewelry in your collection for a different look for every day of the week, then is there any reason not to wear and display your beloved pieces? Here this rich school kid shows off his posh Rolex watch and two solid gold - probably 24-carat - designer bangles. It's unthinkable! What else would he wear to school? This is his normal everyday wear? Spoilt little rich kid!

A Sweet Sixteen
Do you remember the 2005 reality TV series My Super Sweet 16 which showcased the coming-of-age parties of spoiled rich teens, usually girls, in the United States, Canada, and the United Kingdom? Each episode outlined the arranging, planning, and preparation for the 16th birthday party of a single spoiled rich brat. But can you remember just how lavish and fancy those celebrations were?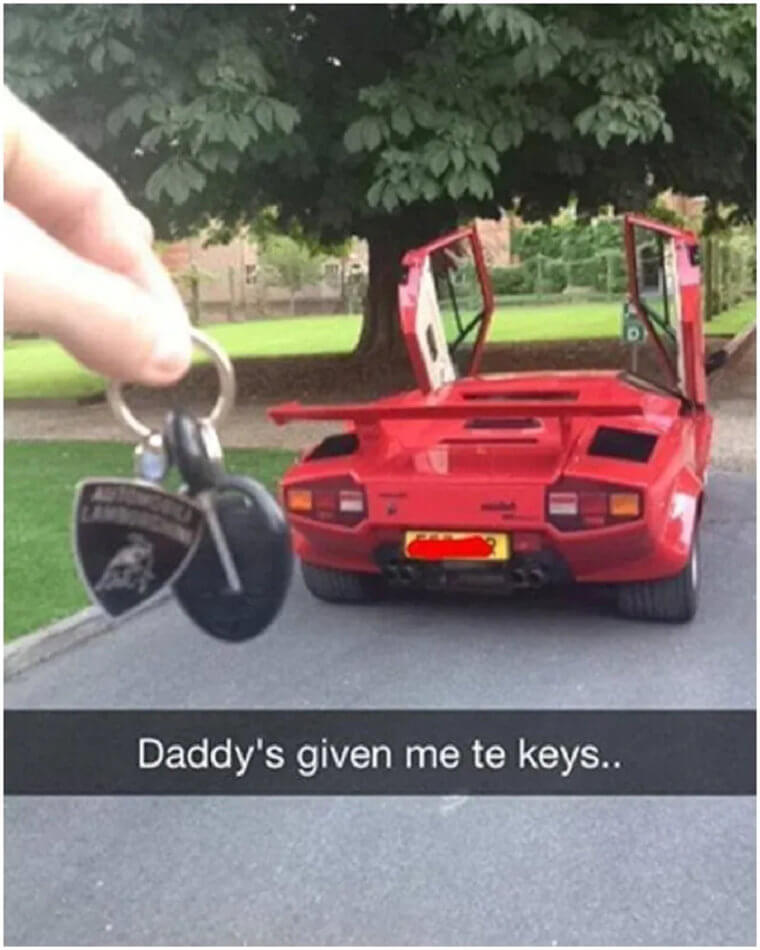 Throughout it all the teens often behaved abominably, disrespecting their parents and throwing tantrums until they got their way. Still, no expense was spared for the spoilt teen. Party planners were hired, celebrity musicians performed and the outfits were over-the-top and opulent. The episode would end with all the partygoers trooping outside to watch the teen receive her birthday present - usually a large, expensive car.  And, it's still happening even today!
Risky Parking
Parking your vehicle across two bays can be risky. There are some councils or car park owners that are issuing fines if people do not park between the white lines that demarcate a parking bay but instead park their vehicles across two bays. It is selfish and inconsiderate to hog two bays but it can also protect your car from being scratched by careless, or jealous, shoppers.

This wealthy lad claims he doesn't verbally brag about his wealth or his ownership of a luxury sports vehicle. Instead he just purposely parks his expensive vehicle across two bays so that he is sure everyone will notice his magnificent automobile even though he knows he is taking a chance and risking getting issued with a fine. Of course, he can afford the fine. It's about risking getting a demerit point!

Being Humble, Really?
Lexus is the luxury vehicle brand of the Toyota Motor Corporation. Its name is a combination of the Latin word "luxus" and the French word "luxe", both of which symbolize elegance and opulence. American Express cards, or Amex cards, are aimed at people with good credit and who are high-income earners who will possibly charge big amounts to their cards each month.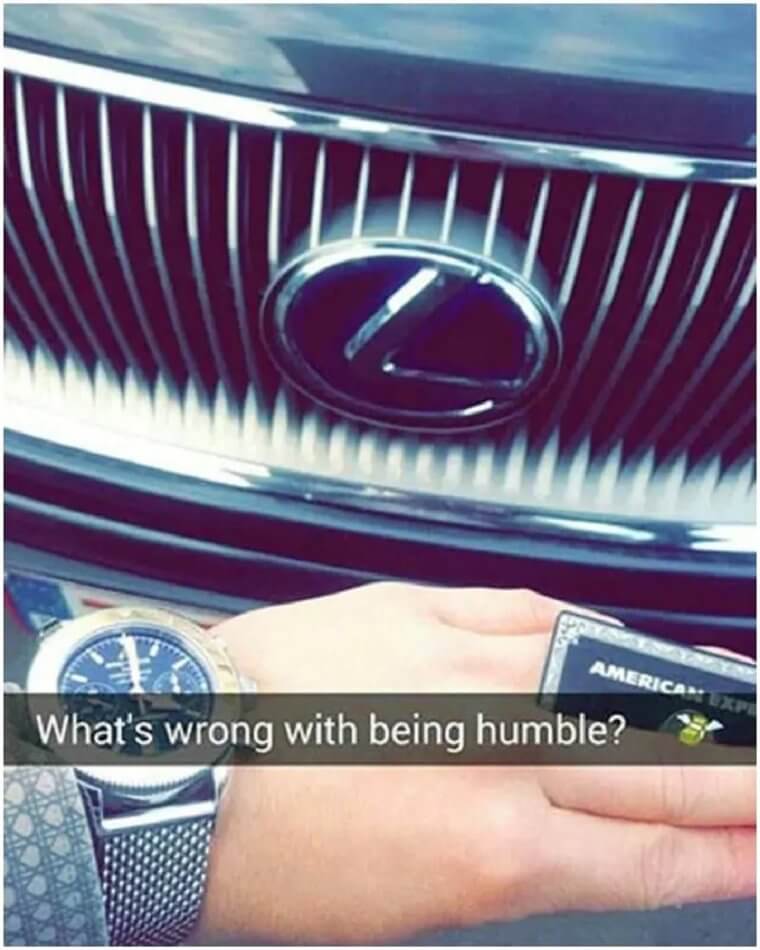 This wealthy kid is fully aware that his upbringing is privileged and that he possesses items that only the well-to-do can afford. He is pretending to be humble but really wants to show off his wealth and the luxury items that he owns. We can't really see the brand of his watch but we're more than sure it is an exclusive high-quality timepiece also displayed to emphasize his wealthy status.

Voss-Ing the Toilet Bowl?
The rich will only drink bottled water, but not the ordinary bottled water that the commoners drink. Oh no! Naturally, they prefer the top luxury expensive design water brands like Bling H20 or Voss. Voss water is naturally pure, contains no sodium, is low in minerals, and comes in iconic, appealing, sleek glass or PET plastic bottles.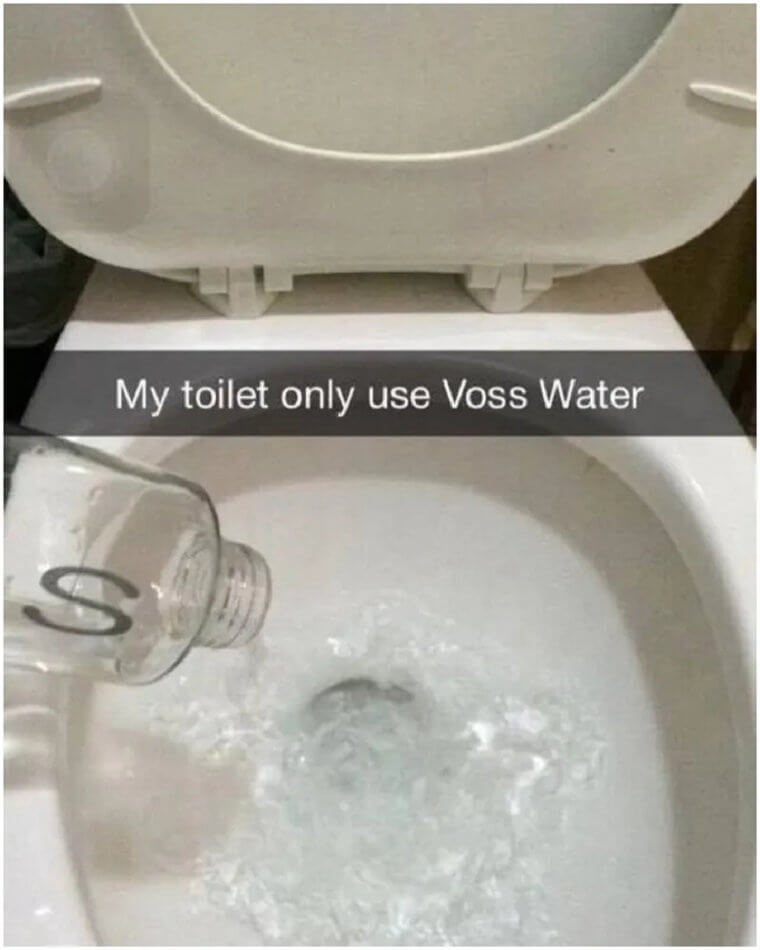 It has a crisp, fresh, clean taste due to its origin in artesian wells in the wilderness of Southern Norway where it is protected from pollutants for years under layers of rock and ice. As it is considered one of the purest bottled waters available using it in the toilet seems somewhat extravagant and pretentious not to mention ridiculously wasteful when it only benefits human drinkers.

No Place Like Home
It makes no difference where you've been, how long you've been away, or what you've been doing, there is just no place like home! Even if the home is a hovel, an apartment, or a tiny house, it is still home. But, if you are of wealthy stock it is more likely to be a luxury penthouse suite or a sprawling megamansion.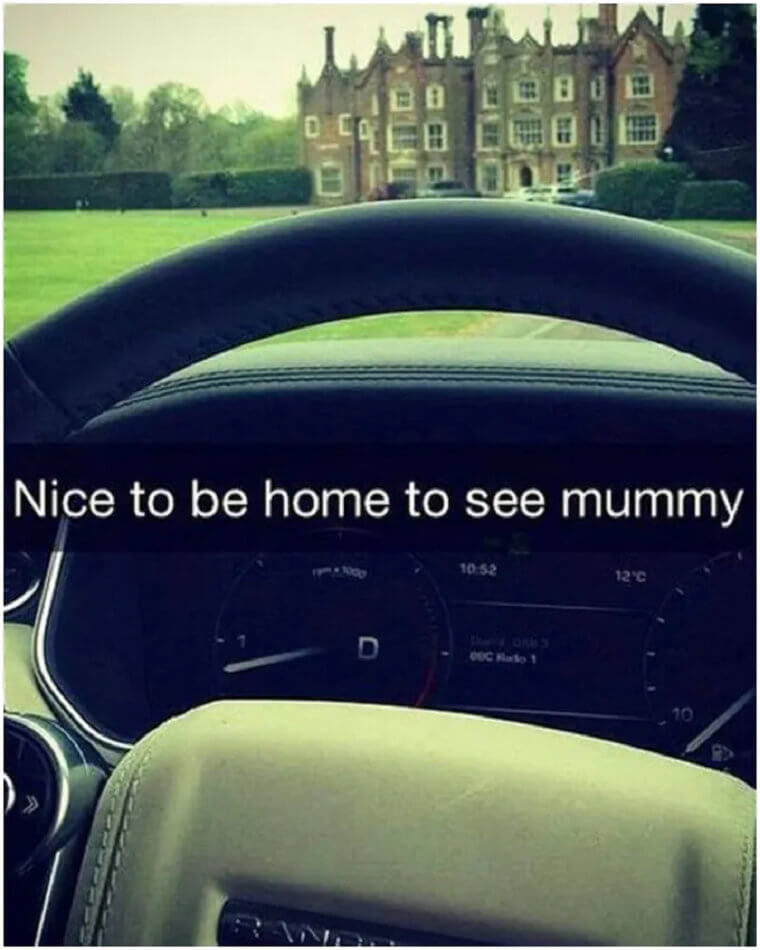 Home is where you feel a sense of belonging and familiarity, where you feel most comfortable, at peace, very secure, and much loved. Upon entering the driveway of his home, a prestigious palatial estate in the English countryside, this posh British youngster posts his immense delight at coming home and seeing his mummy again. Even for the wealthy, there's no place like home! 

The Exclusive Centurion Card
The American Express Centurion card, or Amex Black Card, is a prestigious charge card that only "high-net-worth individuals" are invited to own. Annual spending on all one's open Amex cards must be between $250,000 and $500,000 to qualify for this Centurion card and a massive $10,000 initiation fee and a $5,000 annual fee are mandatory.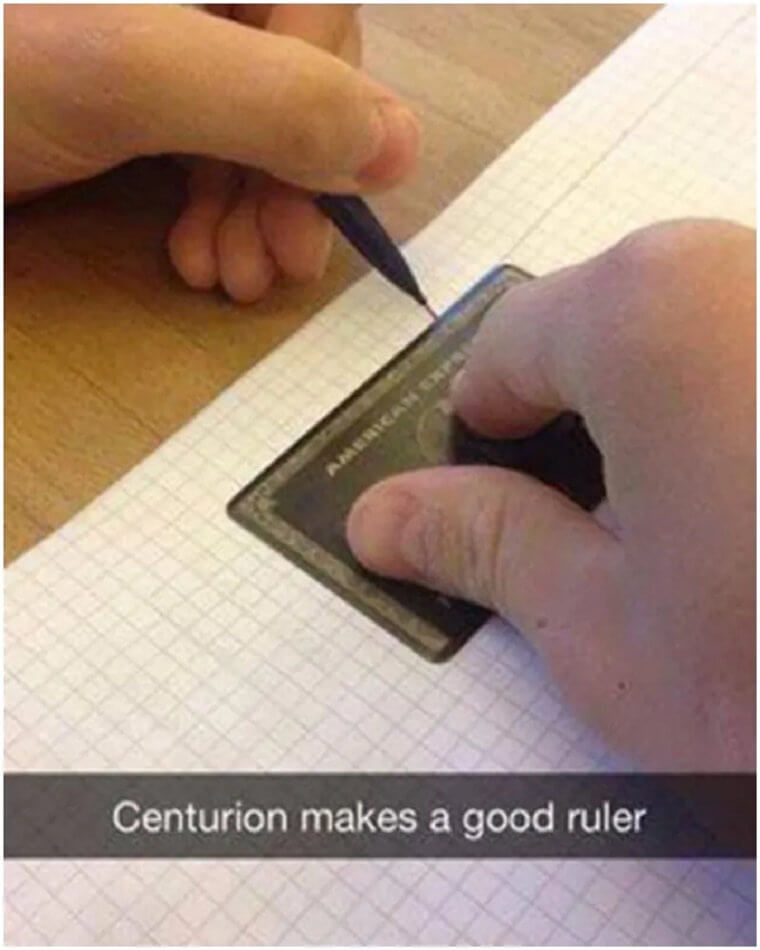 So, clearly, it's not for the commoners! It must be the parents of this indulged kid who belong to such an exclusive club as this. Their wealth must come so easily to him as he shows little respect or regard for the stiff criteria applied to acquiring this or its significance… or so he pretends. He acts like it's just an ordinary everyday item - just a simple ruler.

Car Massager Treatment
Just so that all her followers and friends know this teen is privileged she posts a snapshot of her car massager with its many options with her Ted Baker designer purse also in view. Well! so she owns a premium vehicle with fancy luxury accessories and another luxury essential, and now everyone can see this!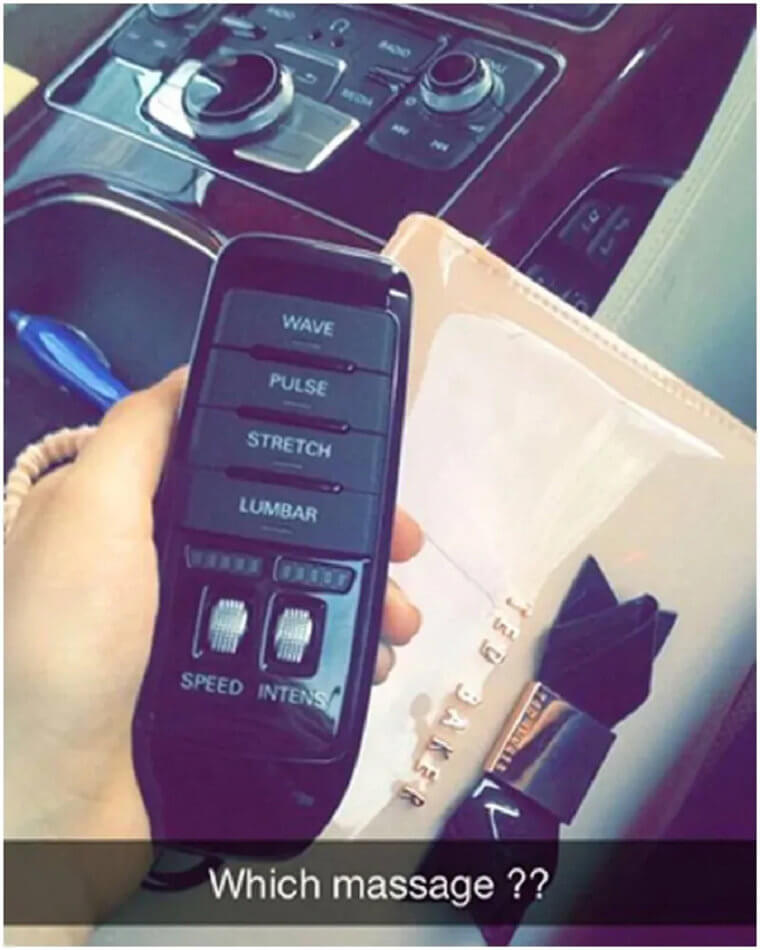 Nobody would realize that her car has a massager, or that she has enjoyed a massage while driving, even if she used the massager and tested each option every day. Is there any point in having waves go up/down her back or getting pulsed or stretched treatment if nobody is aware or cannot see the difference? Well, now they do know, right?

New Bills Only, Please!
This moneyed teen is really rather annoyed that on this occasion he did not get what he wanted so he posted online to express his displeasure. Honestly, all he asked for was that the one-hundred-dollar notes be new bills, and oh dear! look what he got instead.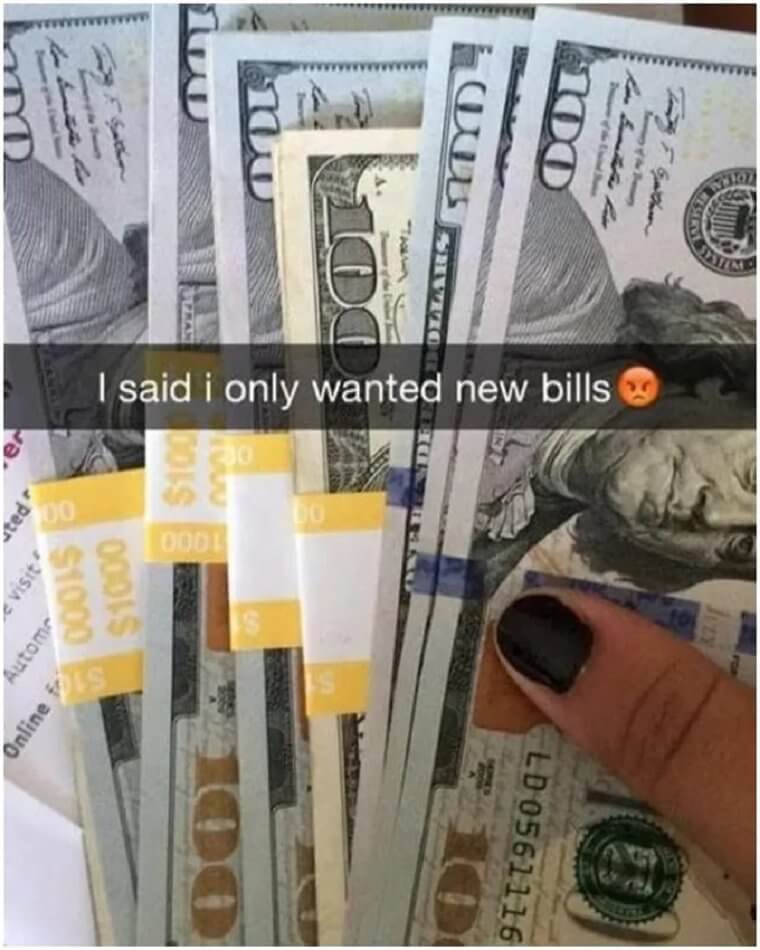 But, we think his real intention was to show off online so his followers could see how much money he had and that this was a wad of one-hundred-dollar bills. Only spoilt brats would share their complaint about something so trivial online when they don't get their own way!

Longest Bar Receipt
Nights out with your friends invariably involve a lot of drinking. Usually, you pay for your own drinks, or you take turns in buying a round of drinks, or else you split the bill. But judging from this bar receipt's length, it was a very big night out with some serious drinking occurring for this group of friends!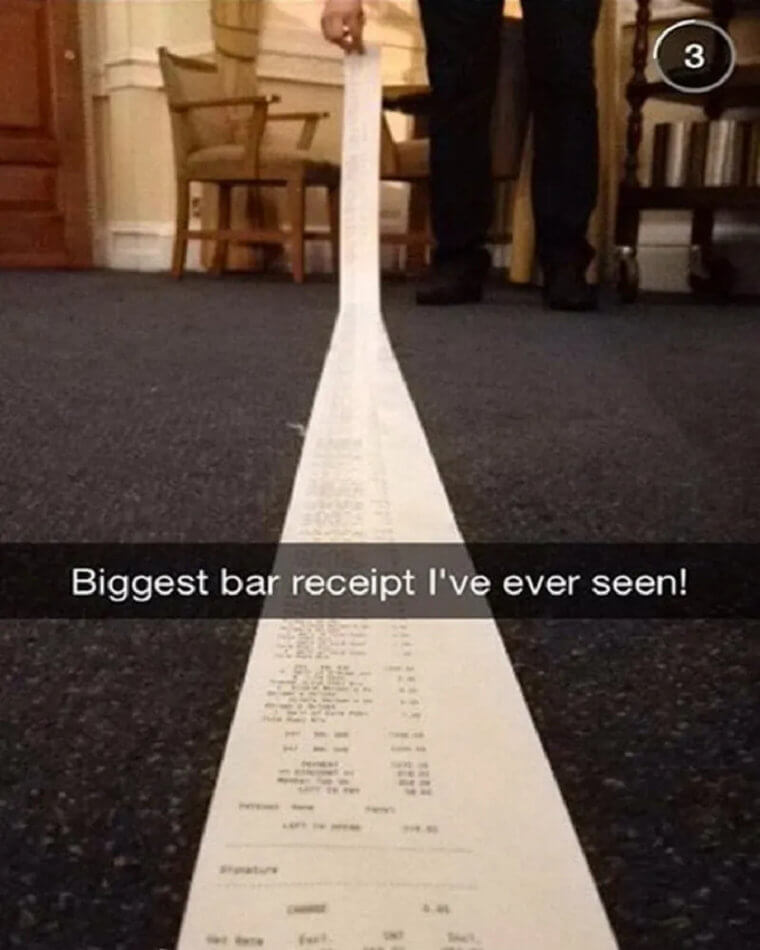 It must have been a great night because this person brought the huge bar bill home to take a photo to boast about online. While it might be the biggest bar receipt he's ever seen, he too must have participated quite handsomely in adding to it! We wonder if the point is that he paid the whole bill himself or just his share!

Only Louis Vuitton
If luxury apparel is your thing then maybe you always wear clothing from a variety of top-notch clothing designers or, perhaps you settle for one fashion designer ultimately, preferring his design lines to other designer brands. That way you are sure everything will always match!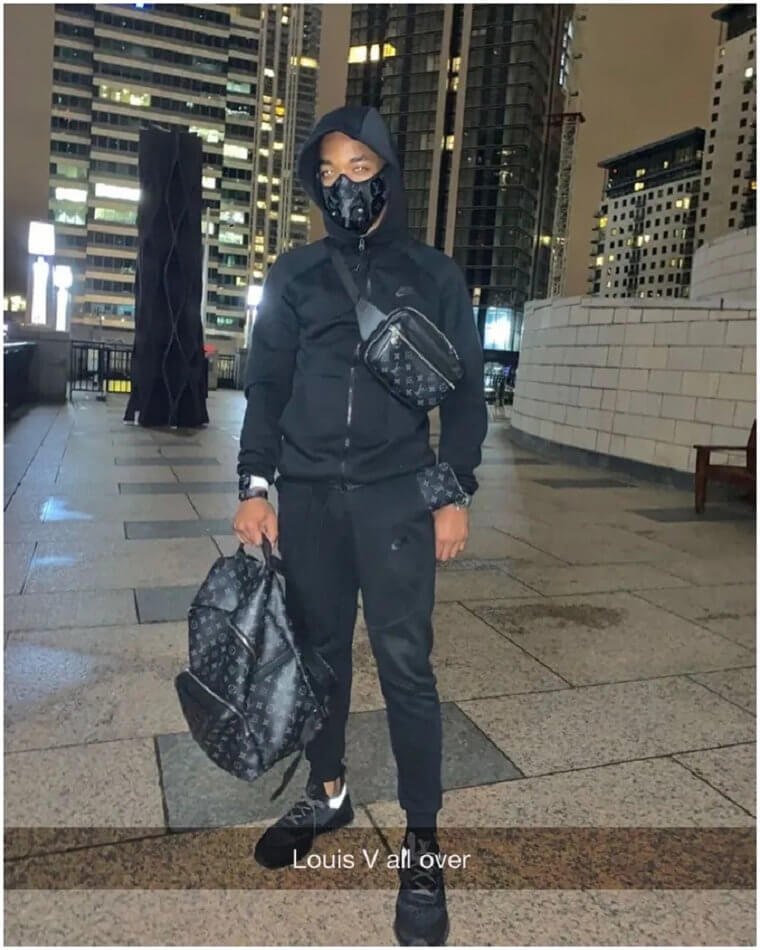 This poster proudly poses in his casual posh designer outfit. He had chosen the all-over look - everything black, and everything Louis Vuitton from his hooded tracksuit, backpack, wallet, and crossbody bum bag, and because this is during the pandemic even a Louis Vuitton face mask! Louis Vuitton forever!

Starry Starry Sky
It's a huge status symbol to own a luxury car. They are spacious, with comfortable seating, and are beautifully fitted with classy deluxe accessories which enhance the pleasure of driving one. Besides nothing advertises your financial wealth better than owning a luxury vehicle.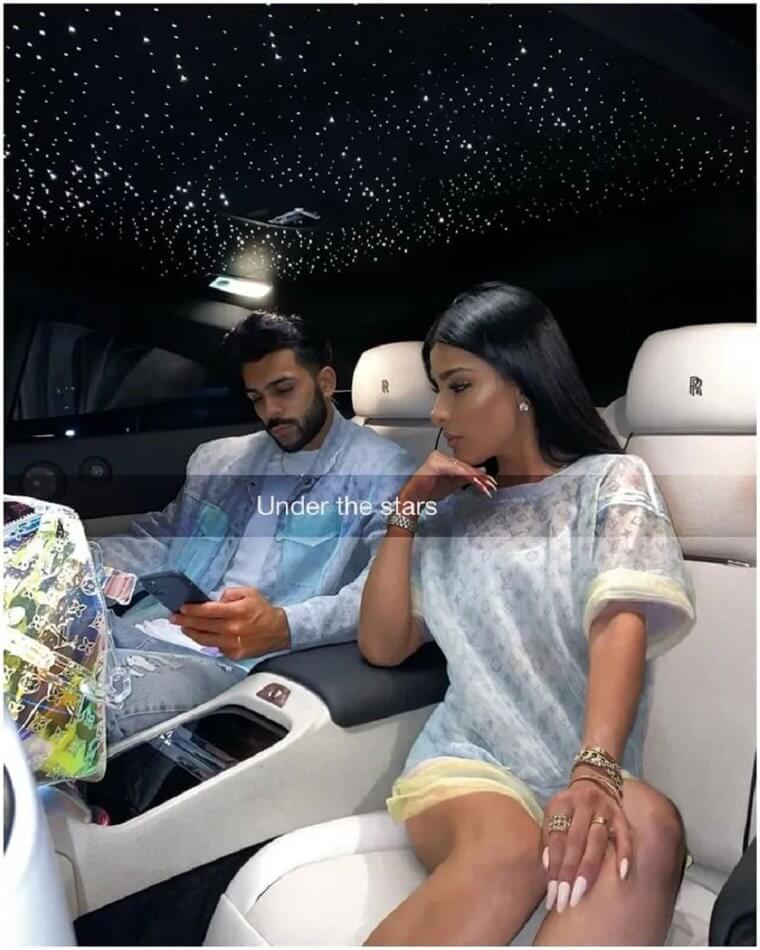 This stylish couple looks quite relaxed but they're only sitting in theirs. It might be raining outside so they will not be able to look at the stars tonight. But, then they don't need to because the interior of this vehicle is fitted with its own romantic starry sky.

Peasants, Move Over
Owning a helicopter is something that very few people ever dream of. But, there are some rich folk who do own their own helicopter. To experience life at this new high is exciting especially if they can fly it themselves. But then, other wealthy people merely own a luxury vehicle, or maybe two!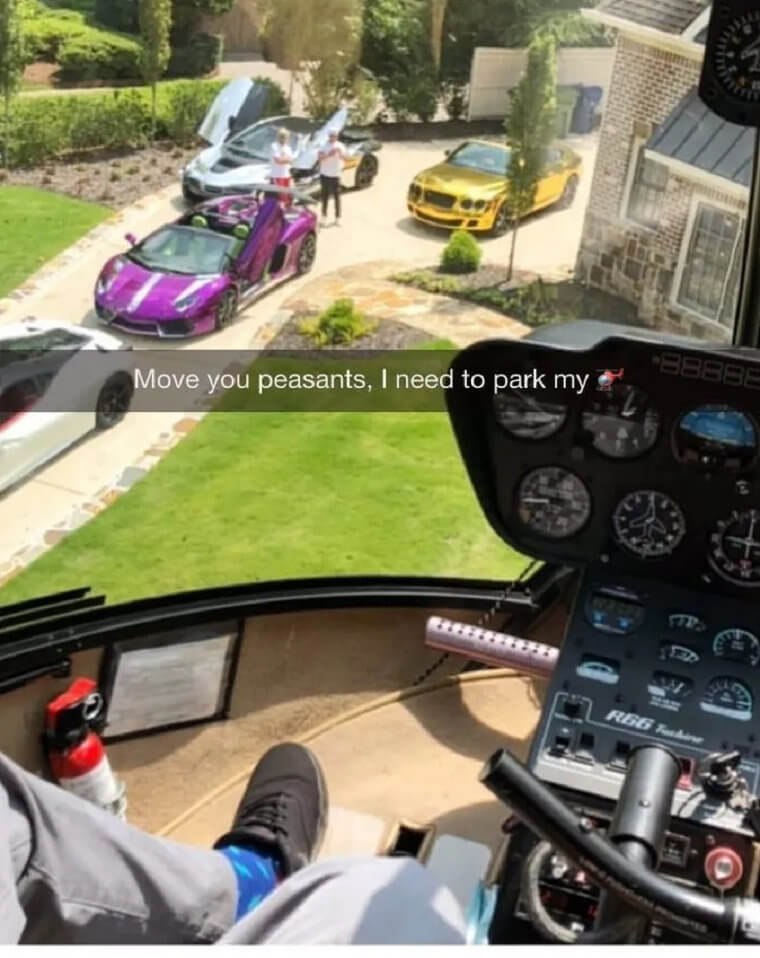 This helicopter pilot thinks a helicopter makes him superior. He is so incensed about not being able to land his helicopter on the driveway that he has the cheek to refer to his fellow affluents as "peasants." How dare they park their Lamborghinis along the driveway and obstruct his landing? He flies a helicopter, they only drive luxury sports cars!

Window to the World
Has this pampered young lady been so closeted and cocooned in this heated apartment that she has only just realized that it's snowing out there? Has she been too busy relaxing and soaking in her large Japanese-style round bathtub to notice or has she really only just spotted the window?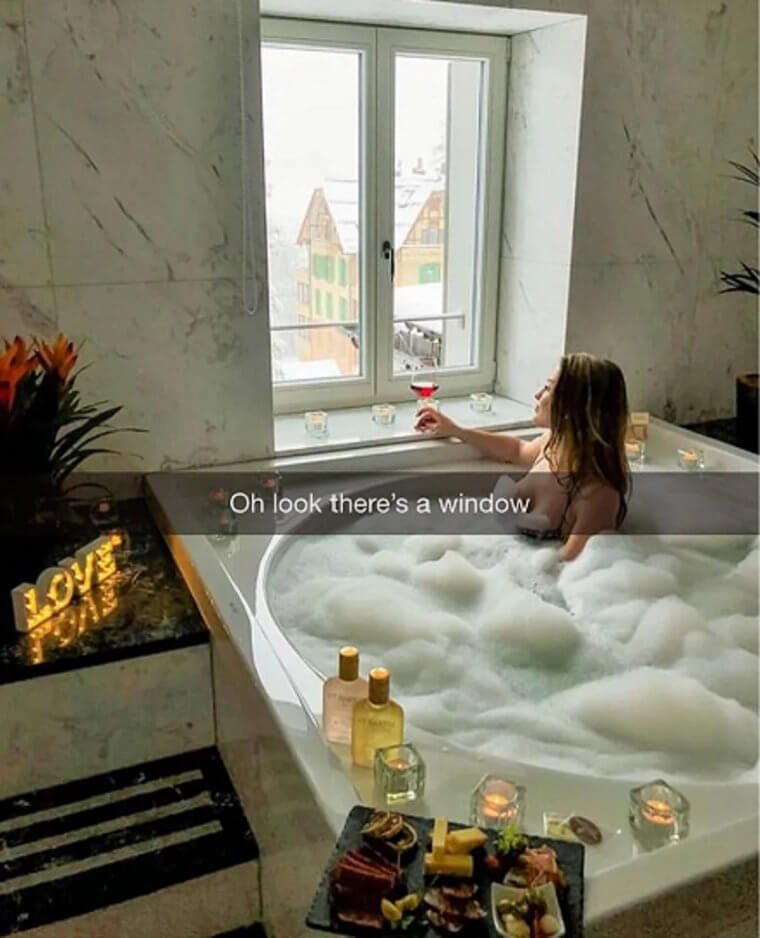 To create the right ambiance lighted designer candles and bottles of expensive perfumed bath oils line the bath foaming with bubbles. While gazing out of the undecorated window she is enjoying a glass of rosé wine with a platter of exotic snacks on hand to enhance her bathing experience. How indulgent!

Seven! Not Four Stories
It's a big disappointment when you know what you expect but you don't get that. You get seriously annoyed especially if all you've ever known has been luxury. Think designer clothing, deluxe cozy bedding, a private chef to prepare gourmet meals, and plenty of private travel.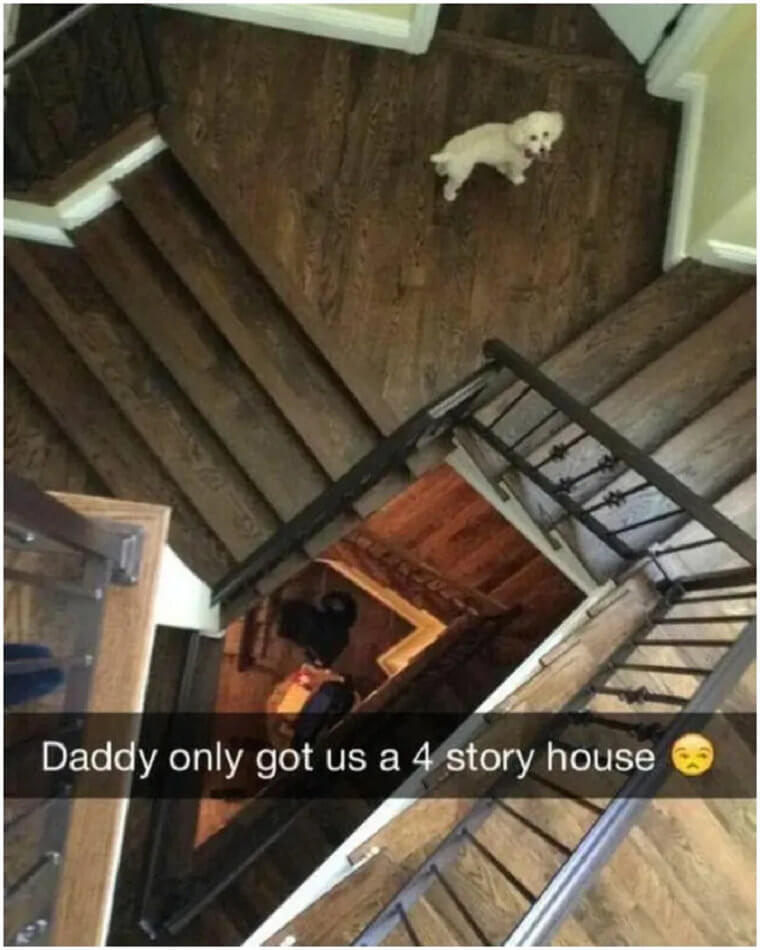 If you're an ungracious, spoilt child then you take to Snapchat to complain about how your wealthy daddy let your family and their high standards down by only buying a house with four stories when you expected seven. It's sad especially as some people don't even have a house to live in!

Poor Little Tiger!
When Tiger King: Murder, Mayhem, and Madness was released on Netflix during the lockdown on March 20, 2020, how we all raved about it! While we posted about this American true crime documentary about the lives and turmoils of big cat owners and discussed it at length, we learned how cruel it is to keep baby tigers as pets.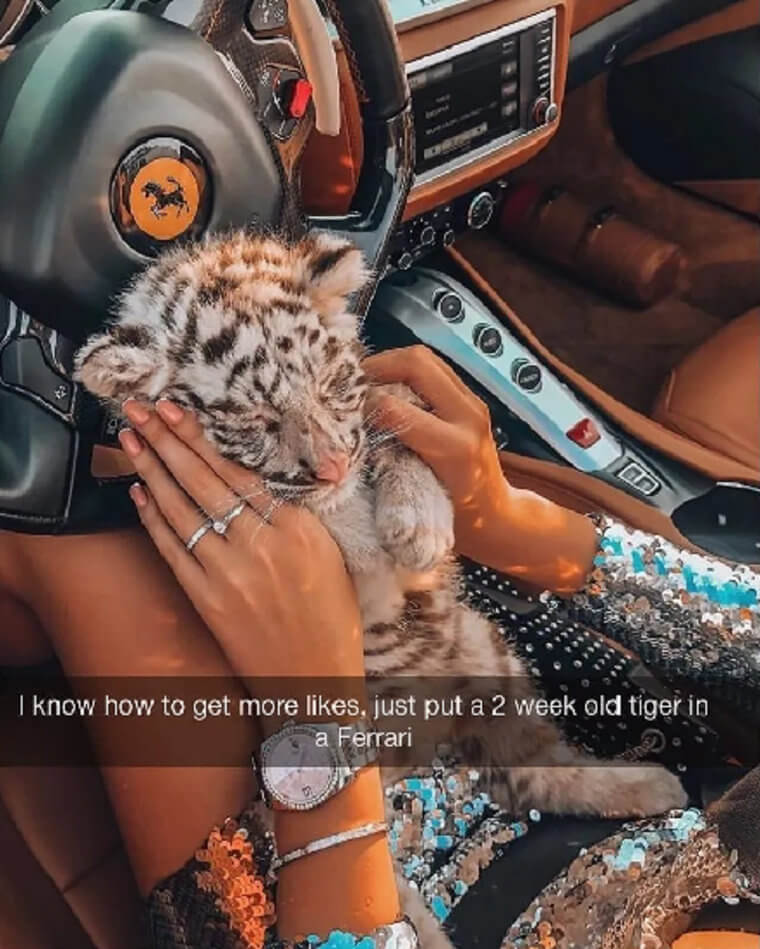 Clearly, this wealthy teenager has not watched the series, or else she misunderstood its message. She posts a snapshot of herself holding a two-week-old tiger cub on her lap - and in her Ferrari of course - just so that she can get more likes. How shallow is that goal and that achievement? How cruel! That poor little thing must be quite terrified!

What a Soft Shoe!
If you want everyone to know the classy type and type of shoes you wear then why not post a pic of your special fancy brand of shoes on Snapchat? This poster wears Prada real leather slip-on shoes in case you haven't noticed!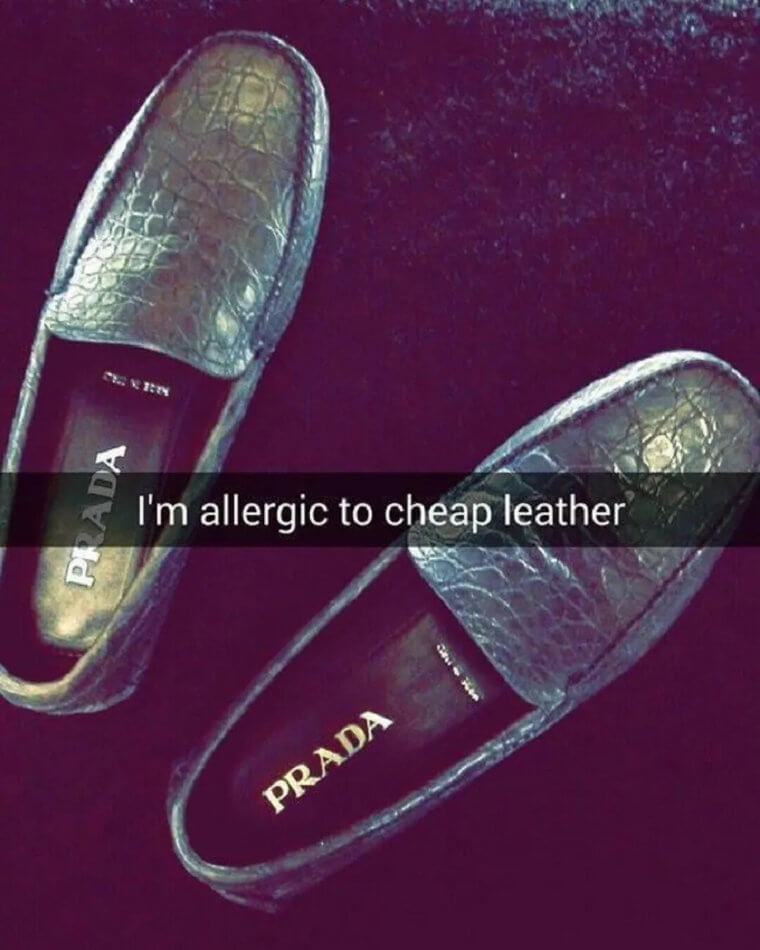 He pretends that he has special needs to explain what he wears on his feet. It's supposedly because he has an allergy to cheap leather that's why nothing less than exclusive designer leather shoes will do! Oh really! As if we believe this show-off!

Put the Pedal to the Metal
Well, he is driving a Lamborghini! It has the power so it can do the speed and he is intimating that his driving skills are excellent and up to it! So he posts that he's thinking that he can reach top speed while racing along the freeway and nobody will catch him!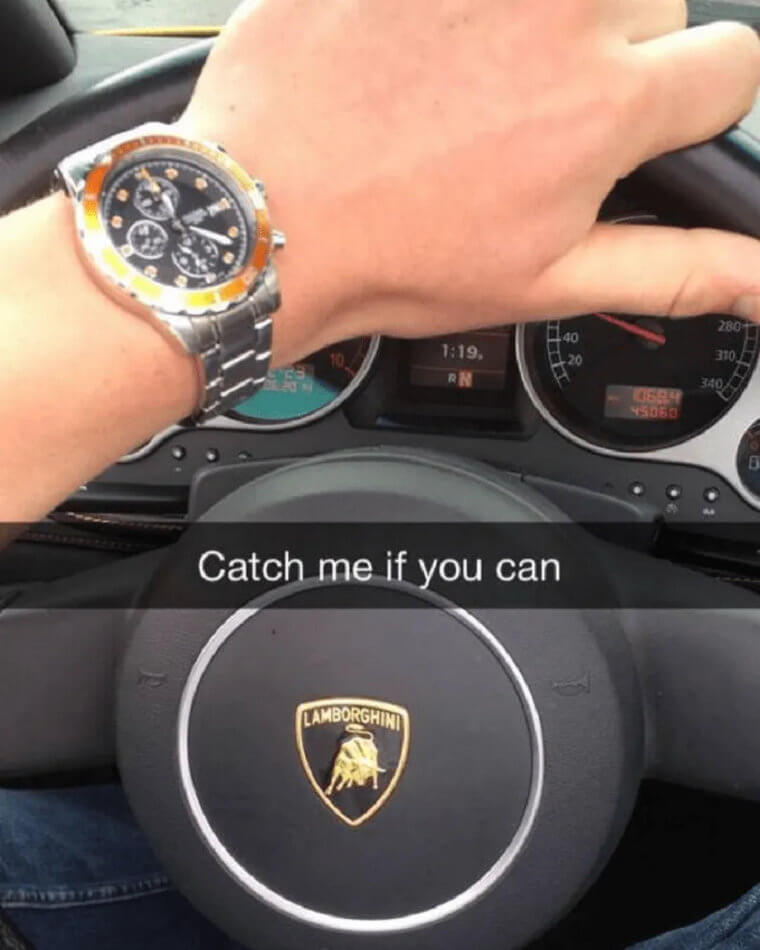 Bad news! This is not an F1 circuit where you can drive recklessly or without consequences. There are speed limits and road regulations. Has he gone crazy and lost his sense of reality after watching too many of The Fast and Furious movie series?  No! He's just bragging about having an exclusive high-performance speedster!

On the Edge of One's Seat
There's nothing more irritating than a desk chair with uneven legs. It wobbles constantly, gets stuck on one side and you almost fall over when you try to right it or get out of the chair. It's a hindrance and stops you from concentrating on your work properly.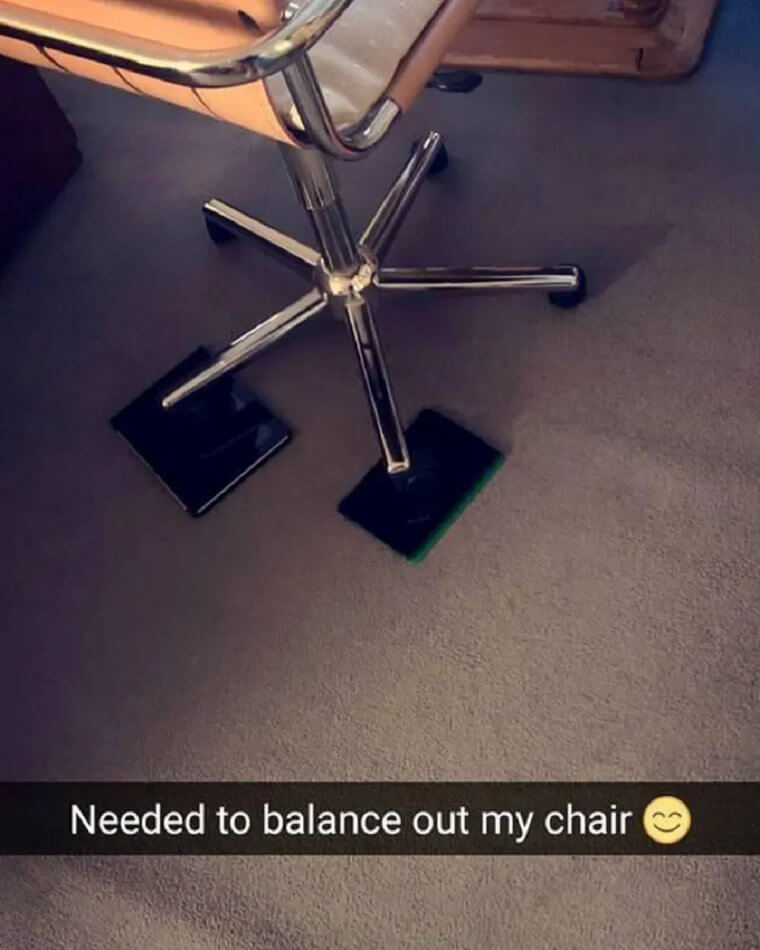 If the chair leg cannot be adjusted then, usually, you try to balance the chair with something close at hand to use as a spacer, like a piece of wood or some folded paper. But not this spoilt brat! He has a much better solution - iPads. He uses not one, but two iPads! As chair leg supports? How extravagant!

Parking at a Premium
Most high school kids yearn for the day when they get their driver's license so that they can drive themselves, and perhaps their friends and siblings, to and from school. Having this license is a big status symbol and signifies independence and adulthood.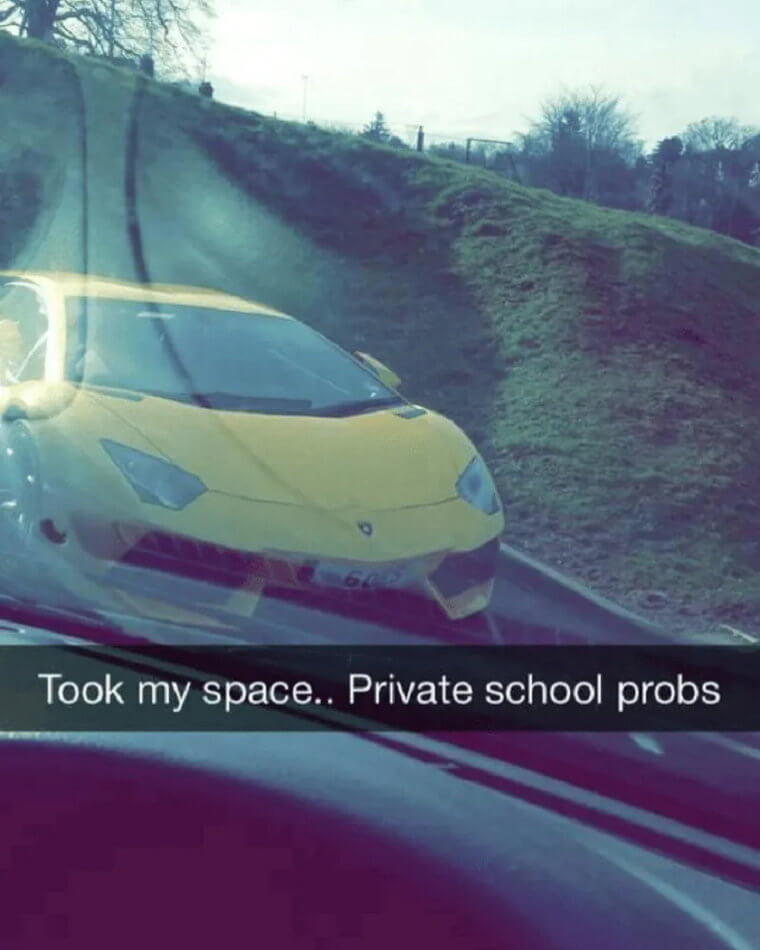 However, if you attend a prestigious private school then you are likely to be one of many students who have their own vehicles. Well, probably fancy sports cars! Parking spaces there will be scarce and much in demand and a daily search for an empty parking spot will become the norm. Ouch!

Gold Door Handles
Swarovski is a well-known brand of high-quality jewelry renowned for its craftsmanship and creativity. While many of us would dearly love to be owners and wearers of this jewelry, many of us are not aware that Swarovski also manufactures finished products such as home decor and lighting.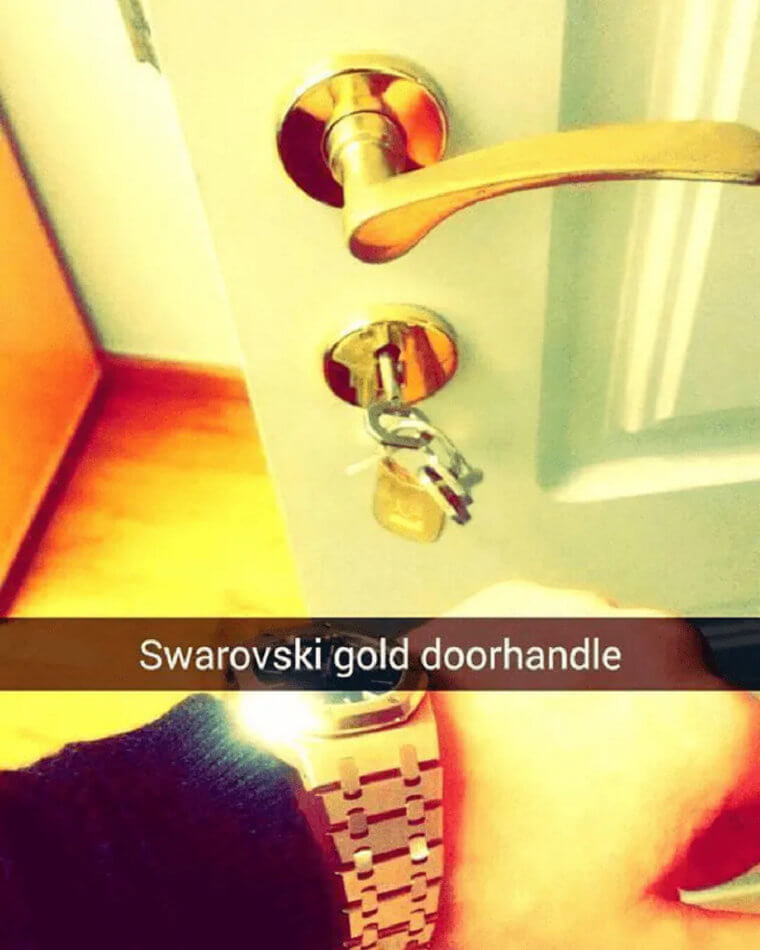 While you might own a Swarovski watch, bracelet, pair of earrings, or pendant, it is only if you are one of the privileged set that you will see other Swarovski decor items displayed around your house and not be surprised. This kid boasts about their door handles - Swarovski gold door handles! Really? How ostentatious!