Finding the love of your life is very difficult. Even after finding your soulmate, it takes time to decide on taking that next big step toward the altar. For the happy couple, the wedding day can be especially stressful and bring out some craziness! So we created a list of examples for you that will make you ask yourselves: "I do or I don't?".
Conditioning and Mocking Guests
You'll be seeing a lot of crazy examples on this list—and spoiler alert—the most common examples are of the brides. We understand that it's their big day, but in most cases, they go overboard with the requests. So we will start the list with such an example. Once you read the screenshot of the conversation, it will all become clear...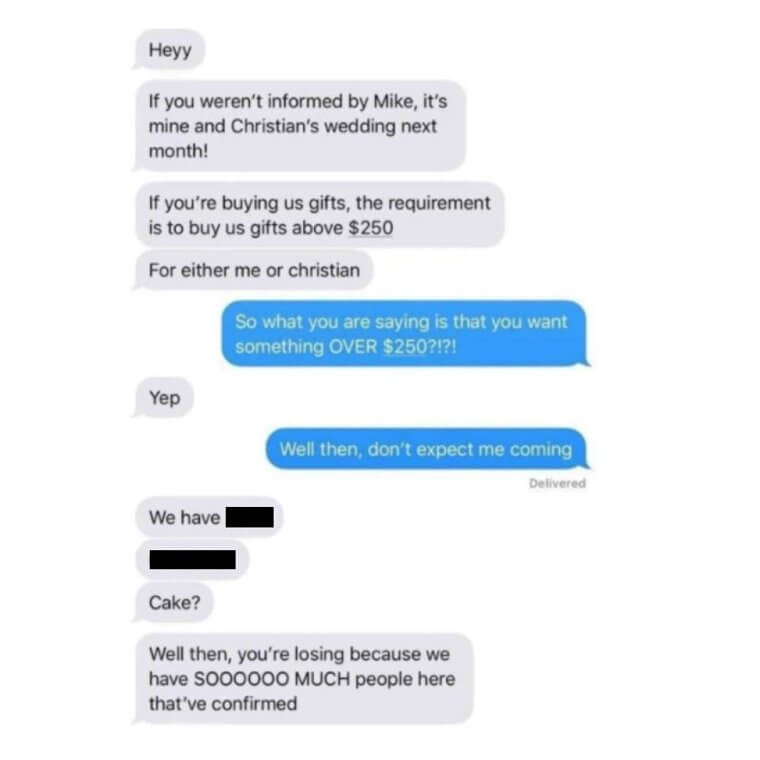 This bride is very demanding. She even determined the value of the gift and passed it on to her guests as an obligation! Isn't this a little more than rude and selfish? But it doesn't end there either. After a guest refused to attend the wedding because of the bride's demand, she couldn't bear it and gave her guest a very snarky reply!
Has Anyone Accepted This Offer?
People often show their true colors in small mistakes. In this request posted by the newlyweds, you will see what greed and insolence look like. Finding a photographer for their wedding is very unrealistic because their list contains very specific requirements of the photographer, which are okay—only in case you are willing to pay them for those qualities.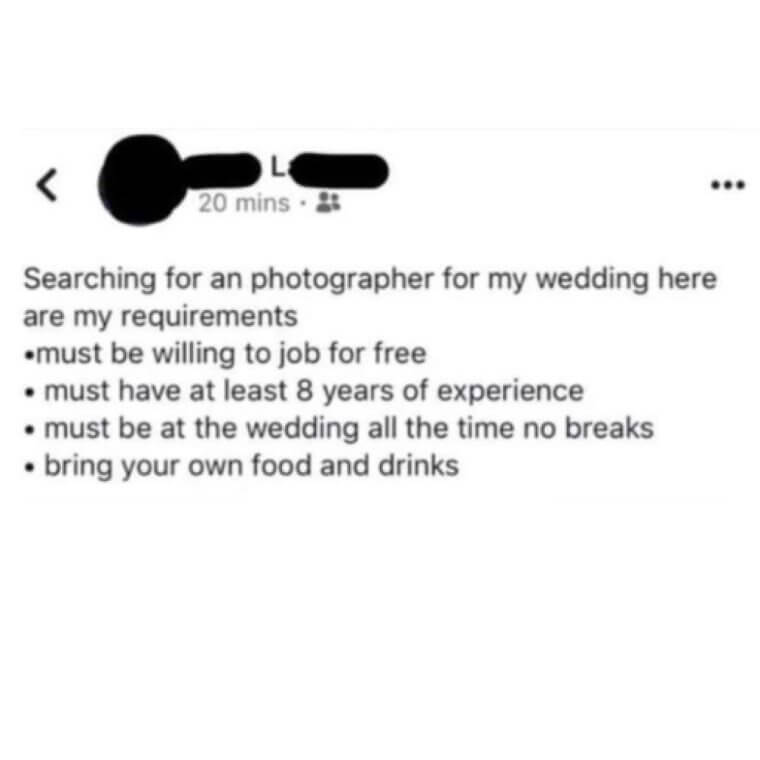 Right off the bat, the couple requests that the photographer volunteer! Their next demand is that the photographer must have eight years of experience in his job. Does this sound normal to you?  They're obviously not looking for a photographer, but a slave. If you were in the photography business, would you accept such an offer?
You Did Not See That Comin'
Unfortunately, you may have experienced cheating or maybe know someone who has. Many have gone through that pain, and we definitely condemn it! We don't know why people do it and for what need, but we can't deny that it happens. In this next screenshot, you can see the problematic situation a cheating story got her in.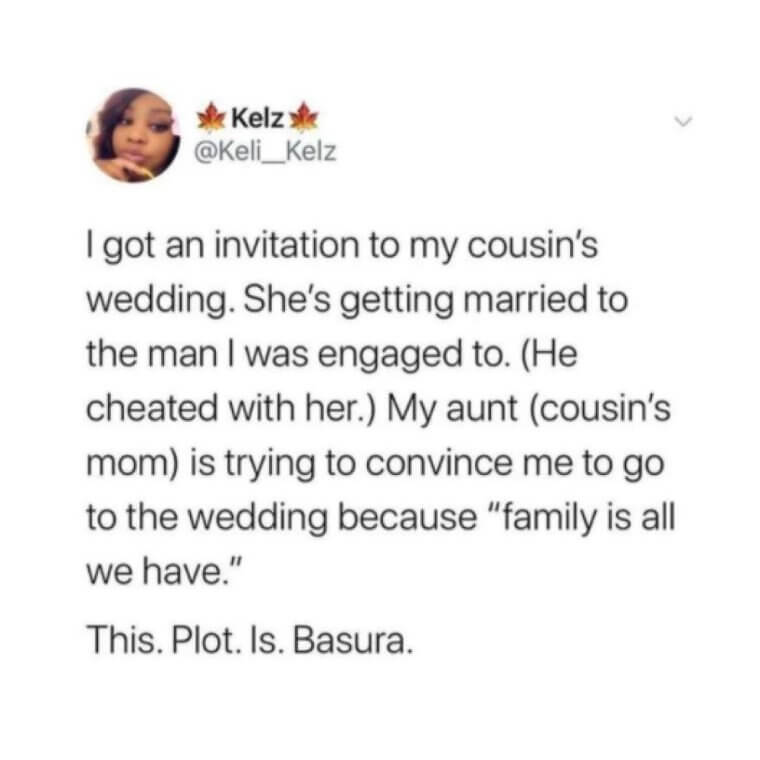 Her ex-boyfriend is marrying her cousin, with whom he cheated on her during their relationship. Being her relative, the girl is invited to the wedding. But she refuses to go and we fully support her! After all that, her aunt (and mother of the bride) tries to persuade her into going to the event. If you were this heartbroken girl, would you go to that wedding?

Choose Your Spouses Wisely
Sadly, this story is similar to the previous one. The girl and the guy were in a relationship for some time. She introduced him to her best friend—a completely normal thing, right? Fast forward some time, the two break up, and her best friend and ex-boyfriend start dating. Just imagine how she felt when she found out about that information.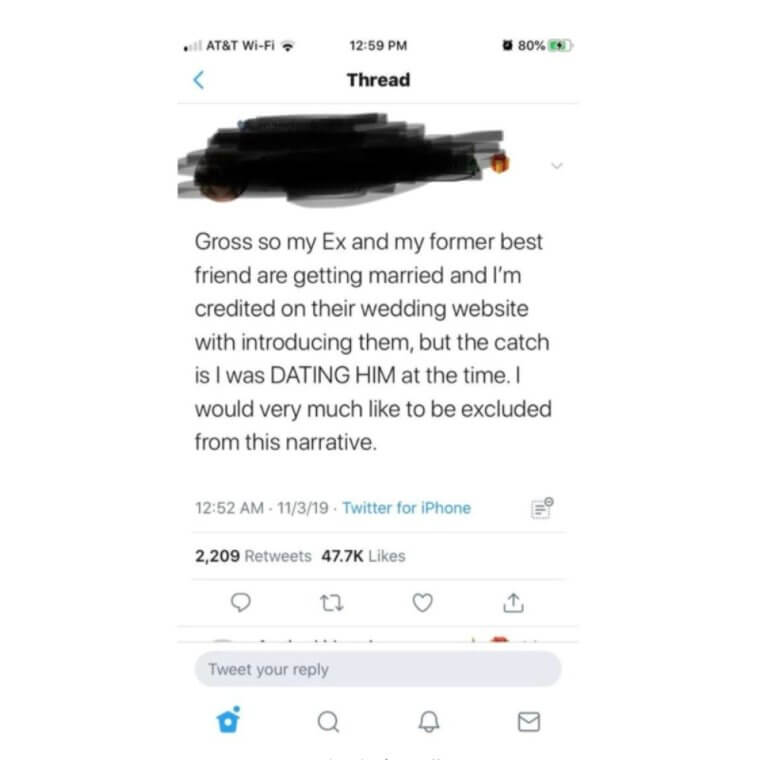 But this story gets even more twisted. The new couple decides to get married and give their mutual friend credit for introducing them to each other. They met while she was dating the groom! We sincerely hope the heartbroken girl didn't go to this wedding and is doing better now. What would you do in her place? Would you be a part of this horrible wedding?

The Perfect Way to Destroy Your Marriage and Someone Else's
Although some of these stories may sound like fiction or scenes from movies, take our word for it - they're all real! Because people tend to get married prematurely and recklessly, those same marriages break up very quickly. The strange part of this story is not that two people are getting divorced but actually how they got married.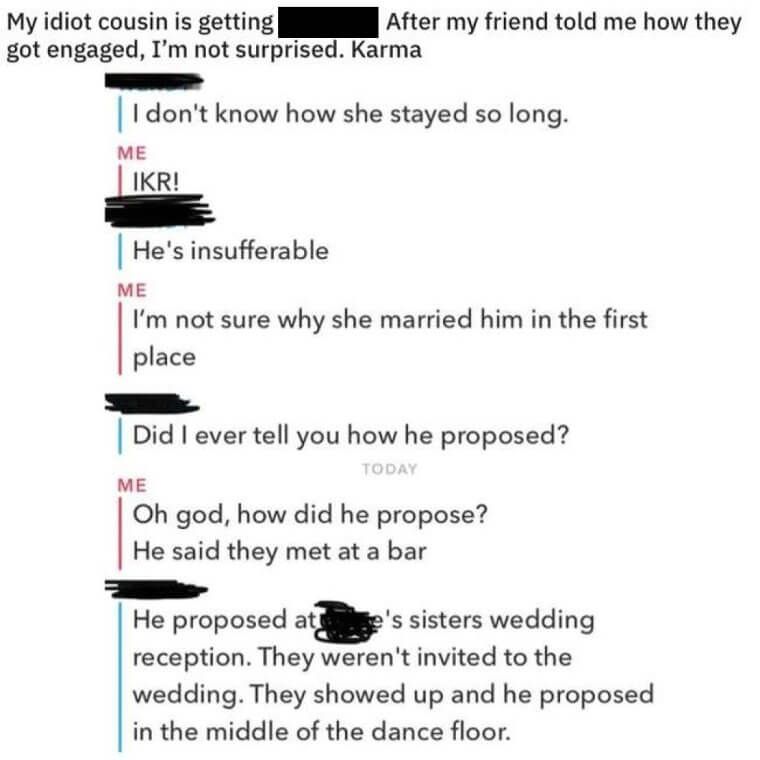 They came to someone's wedding - uninvited, after which the guy pulled out a ring and proposed to his girlfriend in front of everyone. Don't forget this happened at someone else's wedding! Imagine how the bride felt whose wedding was ruined. Based on this screenshot, we see that people believe that karma exists. And that this is the cause of their divorce. What do you think is their divorce karma?

The Wedding Is the Bride's Special Day – Not Yours!
You must have realized by now how strange and insensitive people can sometimes be. To our great regret, no one is safe from these experiences. One good example happened at one of the weddings on this list. In this picture, you can see a woman in a lavish and glamorous dress. She's such a lovely bride, isn't she?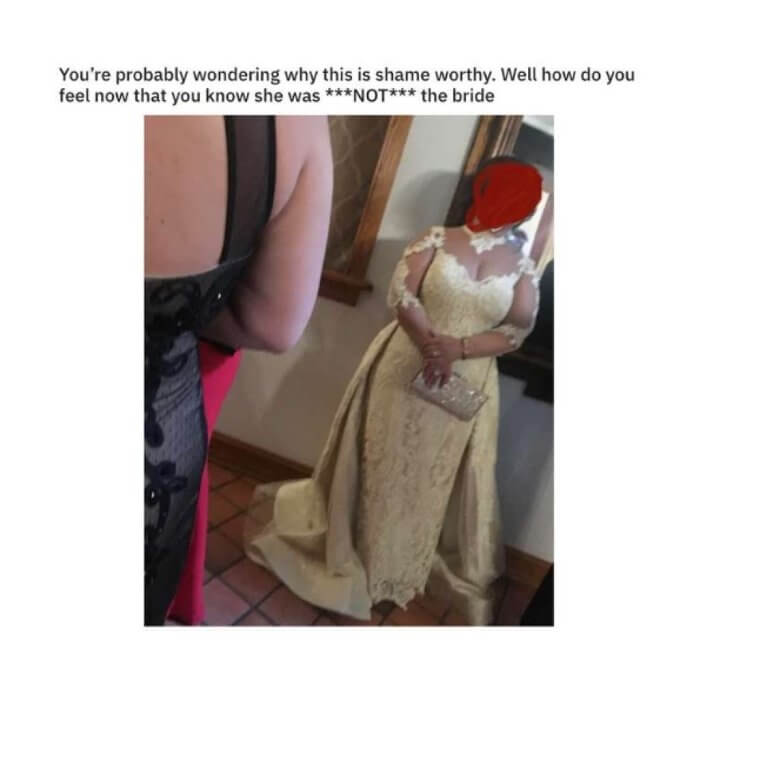 Well, If you thought this was a photo of a bride - you were wrong. This girl is just one of the guests at someone's wedding. Imagine the expression on the bride's face when she saw her guest arriving, dressed like this. In some cultures, doing that is considered bad luck! We hope she didn't ruin the newlyweds' special day by choosing that dress.

One Invitation for the Whole Family Tree
This is one of those examples that made us laugh, but also confused. These newlyweds probably tried to be economical and save some money. Perhaps they even hated sending each individual an invitation. So they made the beautiful invitation they bought look horrible. First of all, we can't refrain from commenting on the handwriting that looks like a child scribbled on the invitation.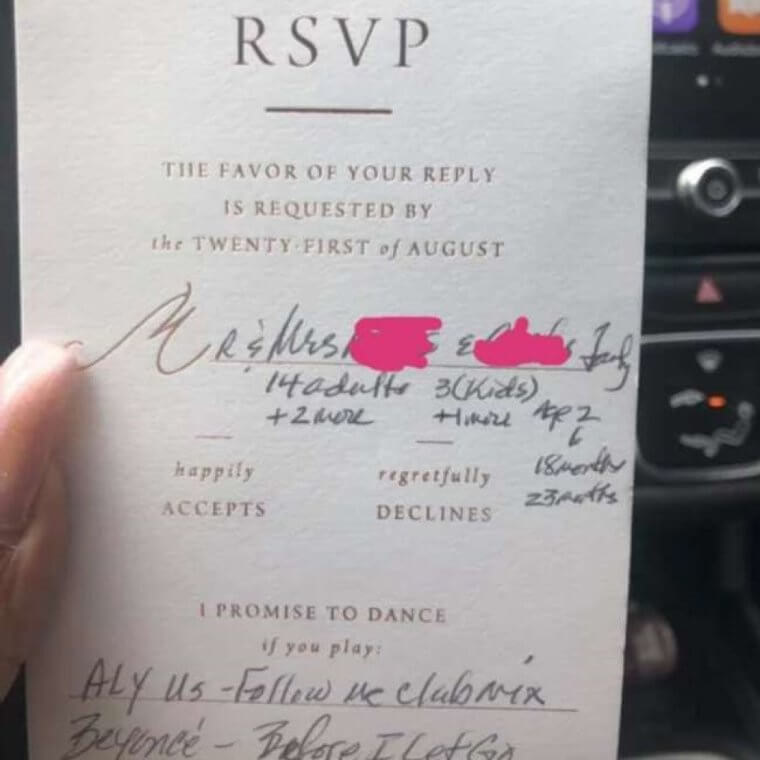 Much worse than that, they invited the entire family tree with only one invitation. They even indicated with numbers how many members from which family should be invited. It seems that the newlyweds were too lazy to send out invitations to everyone for their big day. Would you go to their party with an invitation like this?

Don't Want To Pay? Say No More!
Have you ever been in a situation where people didn't appreciate your work? Or where they wanted you to give services for free? In this case, this photographer was severely disrespected by the newlyweds. Why? They didn't want to pay him for the photography services he did at their wedding. Luckily, the photographer wasn't naive and reciprocated in his own unique way. 

He photoshopped cat heads onto their photos and sent them back. What a great payback for the newlyweds! We are sincerely proud of the creativity of this photographer. We believe he was furious at the disrespect, but he didn't want to argue with them. If you have the same or similar experiences as this photographer, be creative and worthy!

Wedding Spectacle at Its Peak
As we mentioned at the very beginning, it is usually the bride that really takes care of every detail. In most cases, they even exaggerate. At this wedding, the bride certainly got a spectacle! Her wedding will remain deeply etched in the memory of all guests. Which is the bride's goal, right? She can thank the main person responsible—the maid of honor.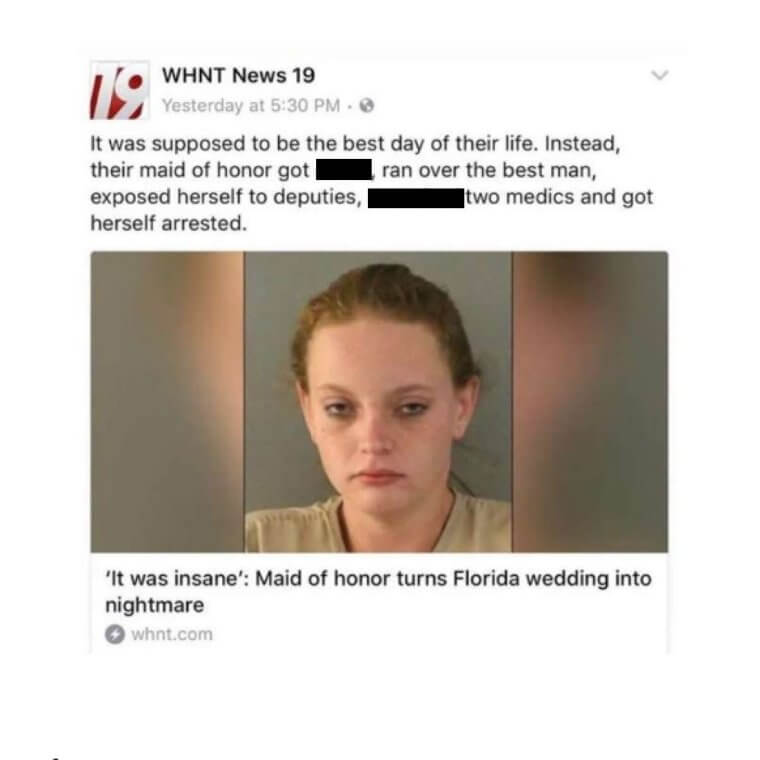 This girl celebrated and drank a little more than she should have. When she reached the peak of her intoxication, she started attacking people and breaking various laws. The maid of honor was eventually detained by the police and taken to the station. Would you ever forget a wedding like this? The "lucky" bride will surely remember this day for a long time!

Impressions From the Wedding: The Fish Also Needed Air
Newlyweds invest large sums of money on their special day. Of course, everyone wants to have as special a day as possible, with the best decorations, cake and so on. In this case, the newlyweds decorated by placing aquariums with goldfish on the tables. Maybe they found this idea on Pinterest, or they think goldfish can bring them luck.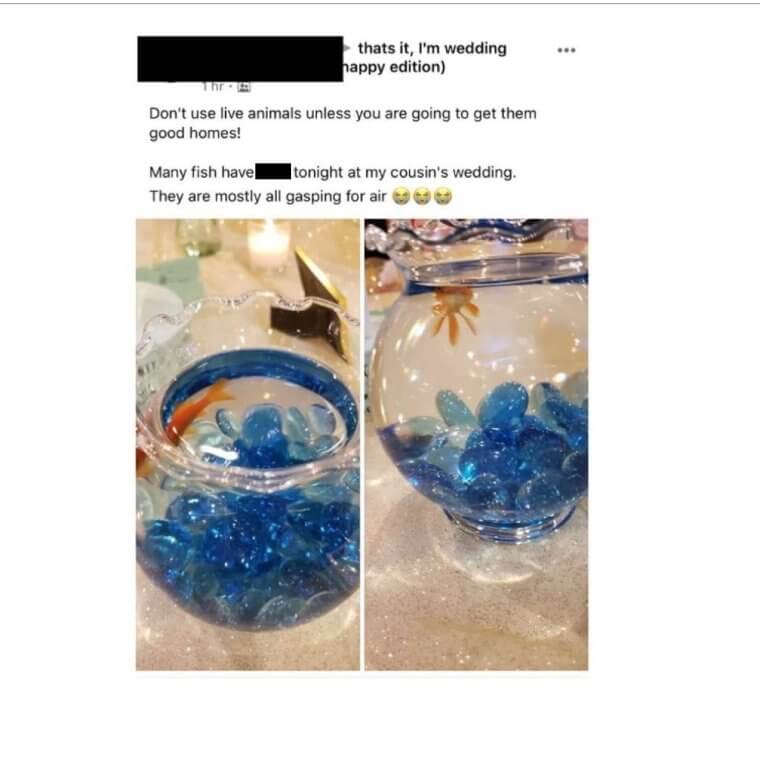 Maybe they are both just big fans of these little animals; we really don't know. But one of the guests at their wedding took a picture of the special decoration and published it online, criticizing the couple for their choice of decor. Wondering why it's wrong? Well, because the poor goldfish were suffocating and trying to get air all the time. 

Armed People Are a Must at This Wedding
In this screenshot, you can see one of the most twisted ideas ever! This bride apparently tried to find answers to different questions she had about her wedding that was coming up. The problem was, that wedding was to take place during the pandemic and lockdown when everyone was forced to shut themselves in the house, and gatherings in public places were forbidden.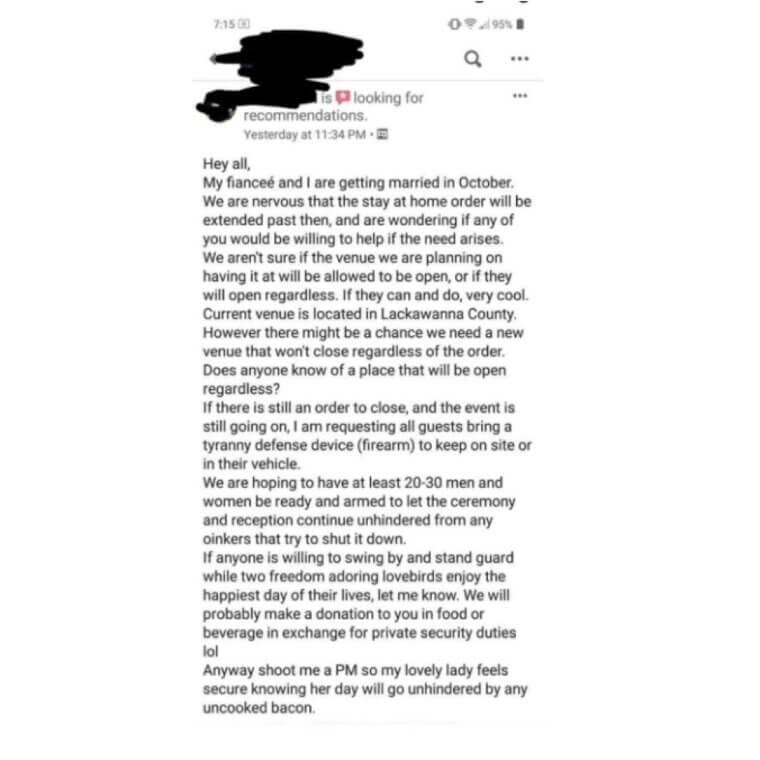 But this bride didn't care about those things at all! She was ready to hold her wedding - at any cost. Even if it meant having armed women and men who would guard her wedding against any "oinkers" that could shut the ceremony down. We're sure she meant the police. And this is not hypothetical; the bride actually asked for it in her speech on the Internet.

Advice You Should Never Listen To
On this list, we sympathize with photographers the most. They seem to be going through the most torture and have no respect from newlyweds. Although everyone wants perfect pictures from their wedding, not everyone wants to pay for them. In this photo, we see someone advising others how to not pay a photographer but look for someone who will do it for free instead.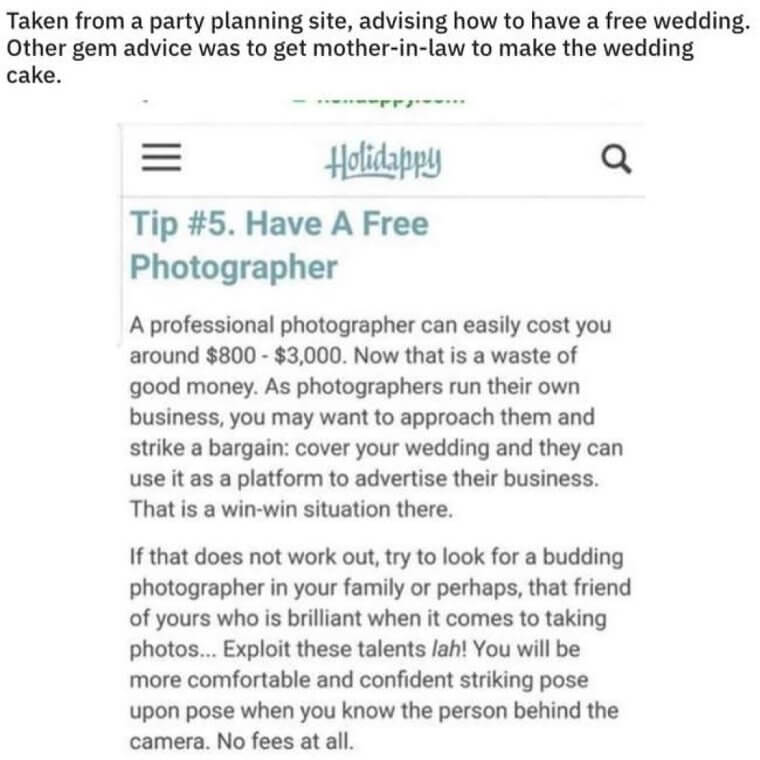 We really don't understand what logic guides people like this to give that type of advice. We would like to see how those people would react if someone asked them to do the profession they do for a living, for free. Would you ever agree to give services for free? How would you react to this type of "advice"?

Will There Be a Wedding or Not?
This future couple really doesn't know what they want. Here, you can see what a toxic relationship looks like. If you're in a similar situation - break up before it's too late! We know that's harsh, but this screenshot will surely explain our attitude. It shows two emails sent by the newlyweds 5 hours apart and only two weeks before the wedding.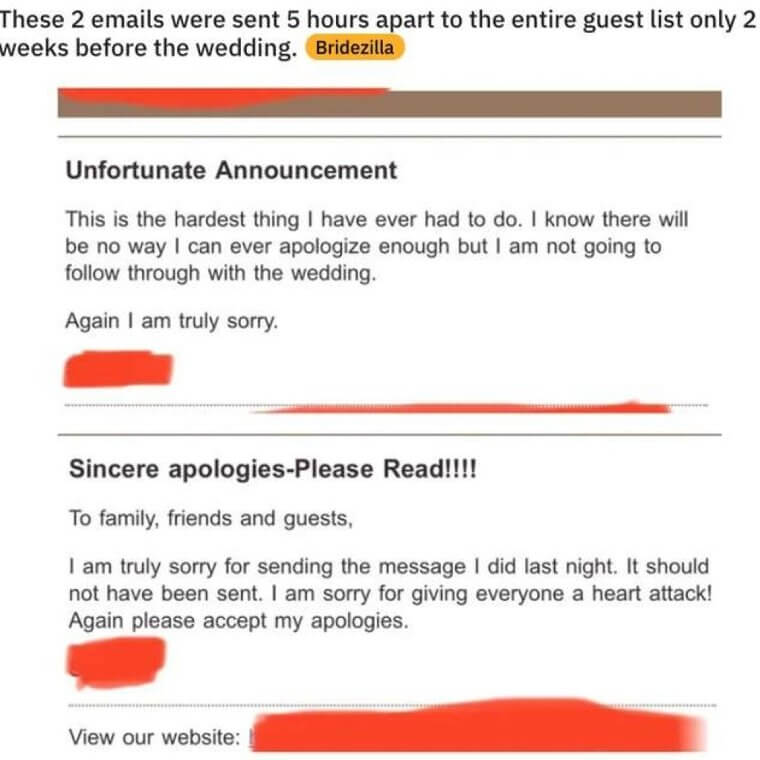 They invited all their guests to the wedding, then canceled their wedding; then, after a few hours, they invited all the guests to the ceremony again. It looks like they had a nasty fight and wanted to break up but eventually decided to stay together. Imagine what their life together will be like. We believe that it is better to break up if you have similar or the same problems.

The Drink Ticket Etiquette
This example is a bit bizarre. The bride tried to control each segment of the wedding but got a little carried away in her planning and overdid it. Since she wanted her wedding to be a gala, she organized many things, including the idea of a Drinking Ticket, meaning that the guests have to pay for their drinks.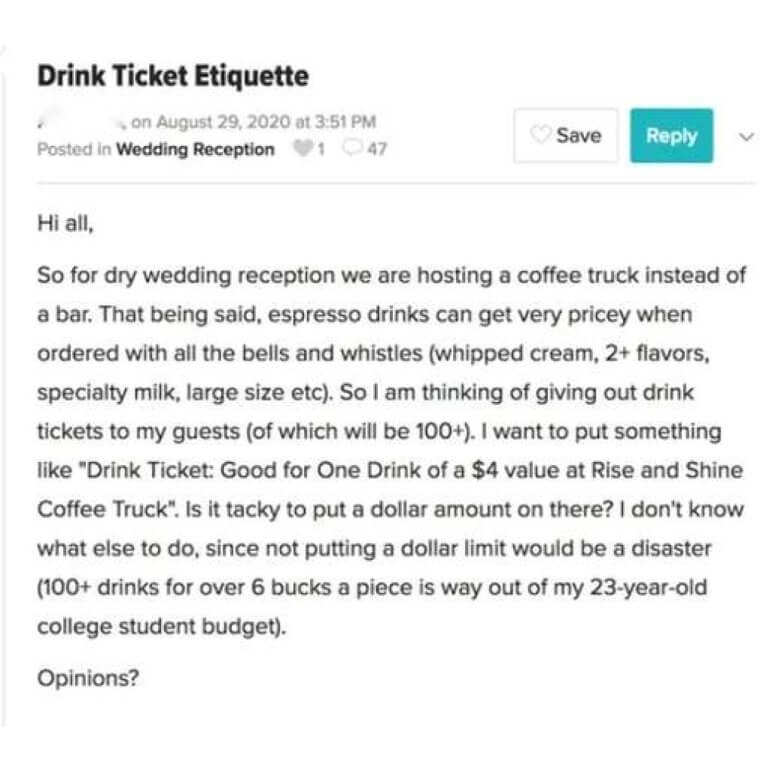 This is a bride who is a college student. Imagine if she has these up-tight attitudes and character now; what could she be like in ten years? We would really hate to be part of her guests because this looks like a pretty frustrating situation. What do you think about these rules at weddings? Is this too much for your taste?

Is Stuff Like This Supposed To Be Funny?
Some people throw over-the-top parties at their weddings. They often use humor as a means of entertainment, which makes their wedding much more interesting. But this is not always the case. Sometimes it's a complete failure! This is one of those examples that went in a completely different direction, as noticed by people on the Internet.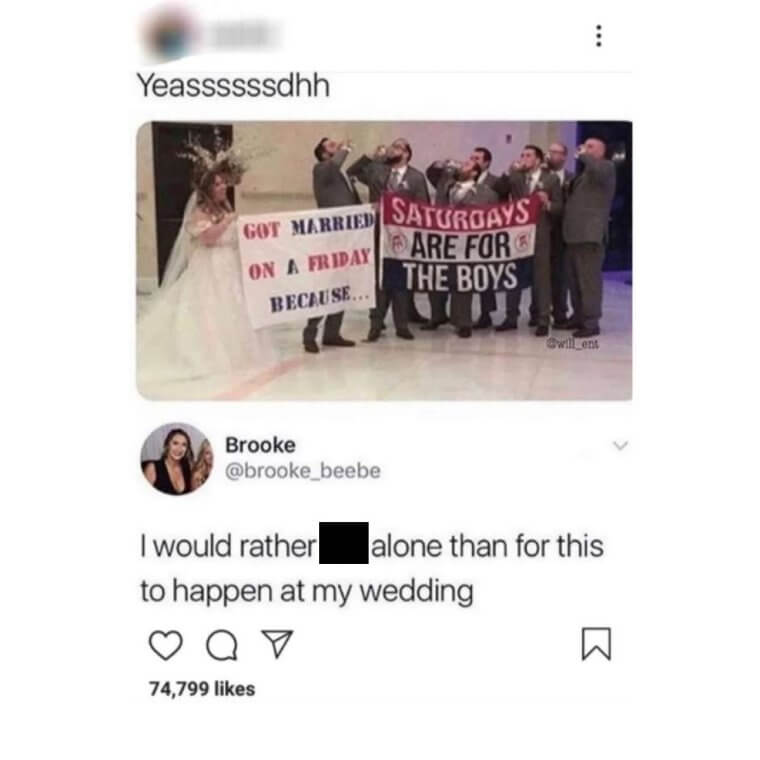 These newlyweds wanted to make a good joke, so they created two banners with the sentences: "Got married on a Friday because [...] Saturdays are for the boys!" They shared their photo online and a woman who saw the post could not refrain from commenting and expressed her complete disgust at this idea because it humiliated the bride. How do you feel about this gesture?

Can This Be Legally Prohibited?
Although little in quantity, the severity of the man's actions in their wedding is far from small. This one male idea is worse than any previous female idea. In addition to the fact that the idea is idiotic, it also disgusted us. Maybe the groom wanted to appear cool and creative in his company, but we think he came off as pretty nasty.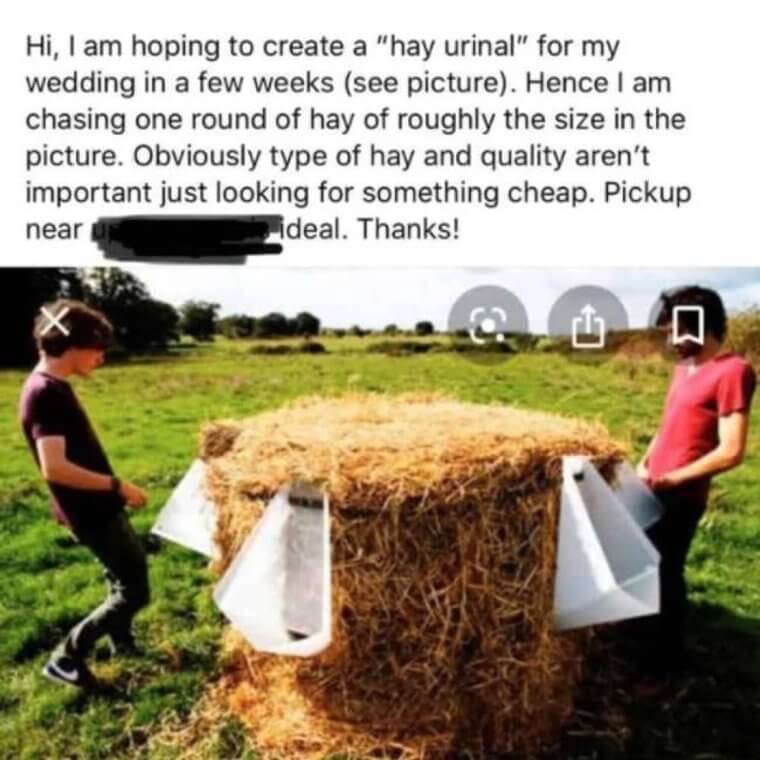 There's no need to describe his idea, we think it is enough to look at the photo, and everything will be clear. Would you apply these ideas to your wedding? If your spouse has the same or similar ideas, we suggest doing everything you can to prevent it from happening. Because as the oath says, "till death do you part" and you'll be going down with him.

What in the World Is Going On Inside Their Heads?
The most exciting moment at weddings for single women is when the bride throws the bouquet. If you don't know what kind of tradition we are talking about—It is a belief that a single girl who catches the bride's bouquet becomes the next woman to marry. Although not always true, it gives an interesting and exciting note to any wedding.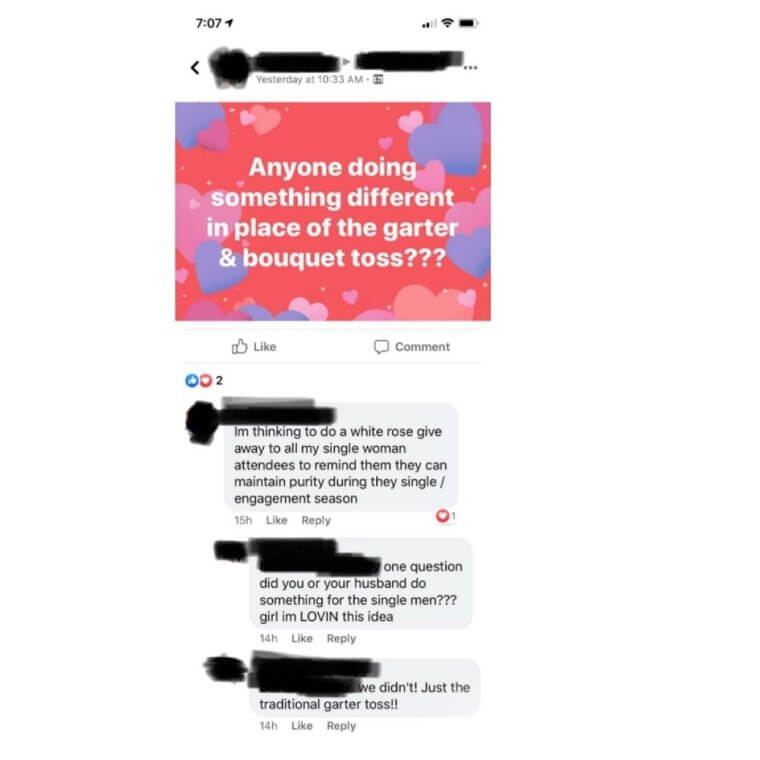 But we don't really understand what this screenshot is about. The conversation developed in the direction that such a tradition should be passed on to men as well. Imagine what that would look like. We believe that some people would find it interesting, while others would find it completely unnecessary. Would you agree to have such customs at your wedding?

We Don't Want You at the Wedding, But We Do Accept Gifts
What a daring (and perhaps a cheeky) way to word the invitations to the wedding! The engaged couple chose to send "sorry" cards to their non-invited acquaintances Instead of "save the date" announcements to let them know that they will not be inviting them to their wedding but not without asking for money to pay for their honeymoon.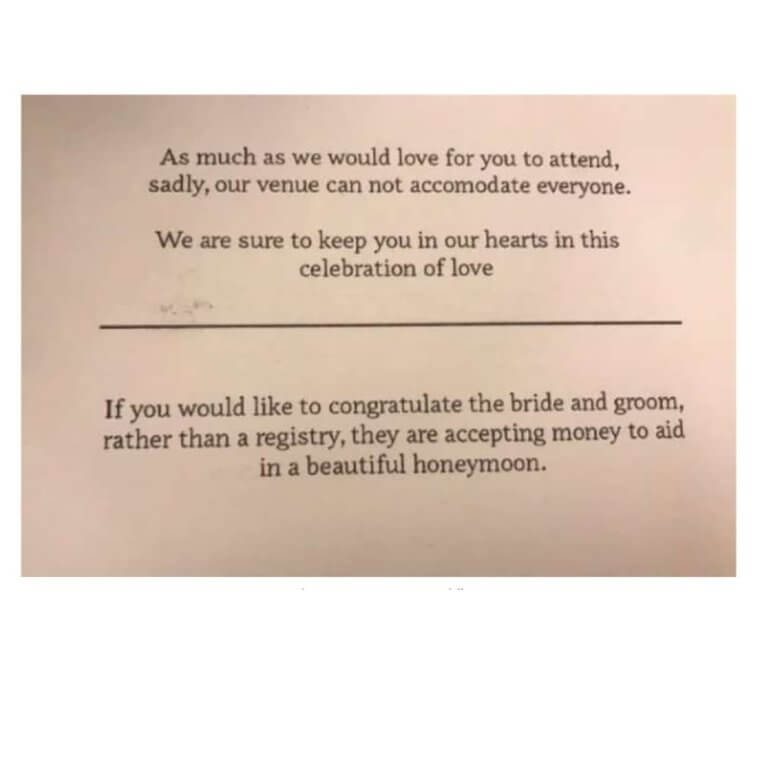 If you cannot accommodate everyone at the venue, why not charge people to attend to make a few extra bucks? Who would have thought that a frugal living could be used to make such a daring statement? Would you have the courage to engage in such behavior? We would experience a significant amount of embarrassment, and as a result, we would never dare to take such a step.

Do You Use a Smoke Bomb To Stop the Wedding?
Ah, weddings! They always have a way of bringing out both the happy and the...not-so-happy sides of people. But some individuals will give anything a shot in the name of a good laugh. Take, for example, this crazy person who asked if they should use smoke bombs to ruin someone's special day!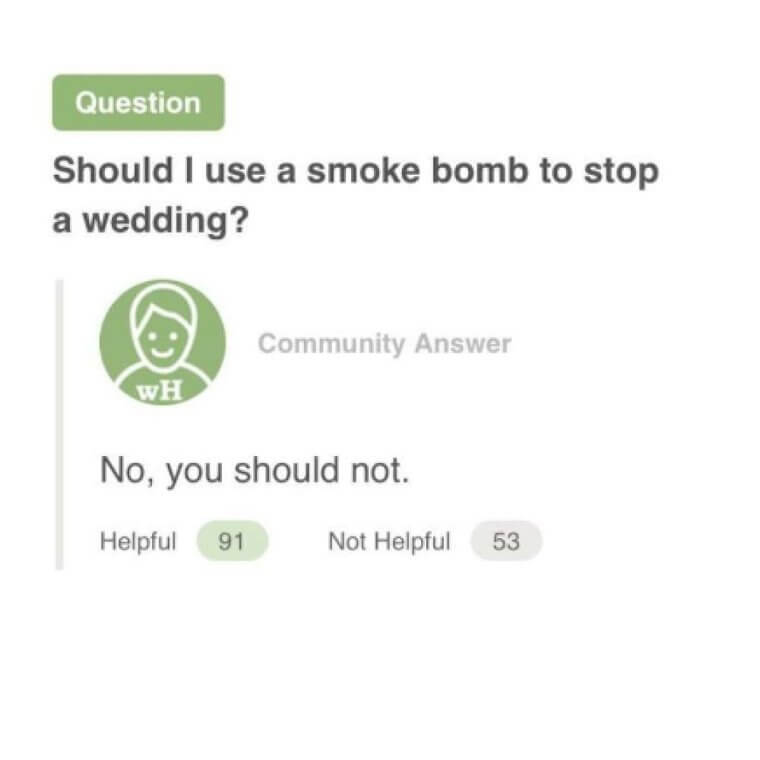 We are relieved that somebody was able to put them in their proper place so that the blushing bride and groom could live happily ever after. Or at least until the following weekend, when they will begin arguing over whose turn to take out the garbage. We are thankful that somebody was able to put them in their proper place and maybe stop them.

What Is More Valuable, Your Best Friend or Your Life?
Weddings are one of the many aspects of our lives that have been drastically altered. That was a direct result of the pandemic's massive and unprecedented impact. There are some couples who opt to postpone their big day. While there are others, who choose to go ahead and get married regardless of the circumstances.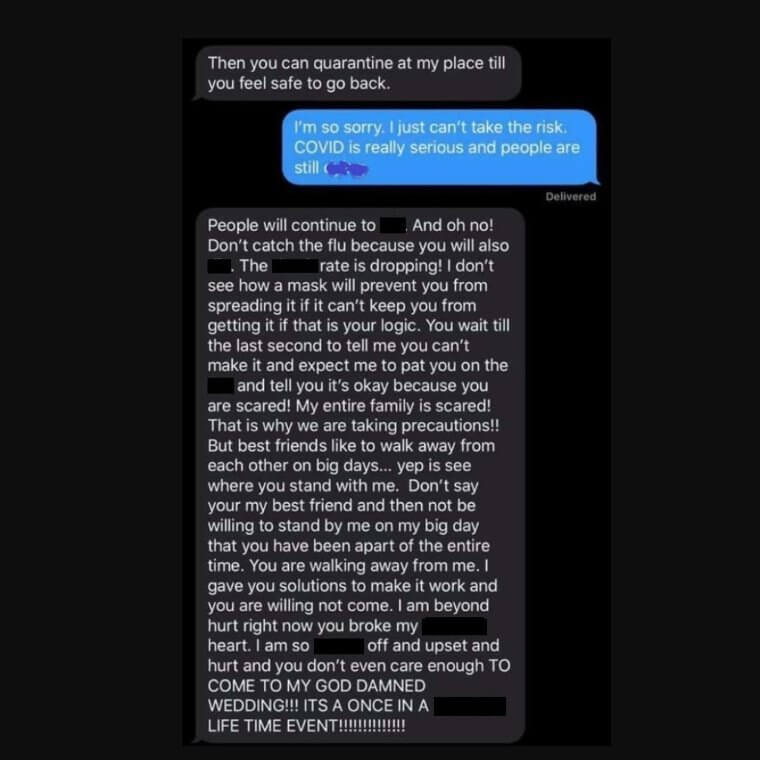 But even if everyone in their immediate circle supports the idea that the wedding should go ahead despite the challenging circumstances. That doesn't mean that tensions won't rise when one of their closest friends decides that they'd rather not put themselves in danger for someone else's wedding and would rather stay at home.

Portable Men's Toilet – Home-Made Edition
Who could have predicted that the online market would be so full of unexpected discoveries? You never know what kind of treasures people are trying to get rid of; it could be anything from antique furniture to urinals made at home. We can only try to imagine the circumstances under which an inquisitive person came across this particular item.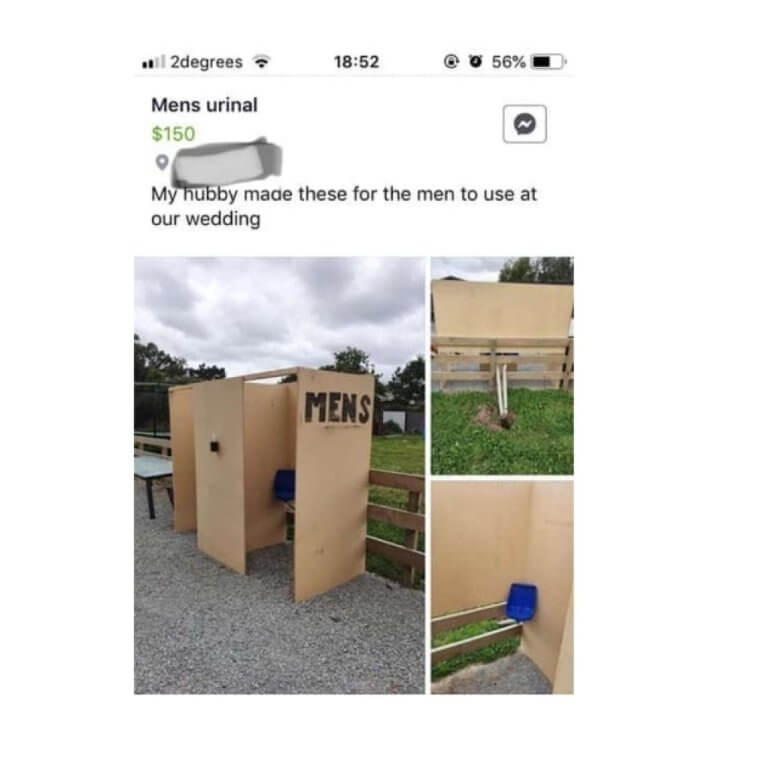 A one-of-a-kind ceramic wedding reception loo that was handcrafted specifically by the groom of someone's wedding! There is no way to know for sure if any courageous buyers had the determination to make it their own. Would you make this for your wedding? And do you think this would find its place in the market?

Thanks for Letting Us Know He Pooped
These two have taken the feeling of butterflies in the stomach to an entirely new level with their love for one another. They made the hilariously embarrassing mistake of writing that he "pooped" the question in the announcement that they had a photoshoot to announce their engagement. As if making a marriage proposal wasn't already nerve-wracking enough!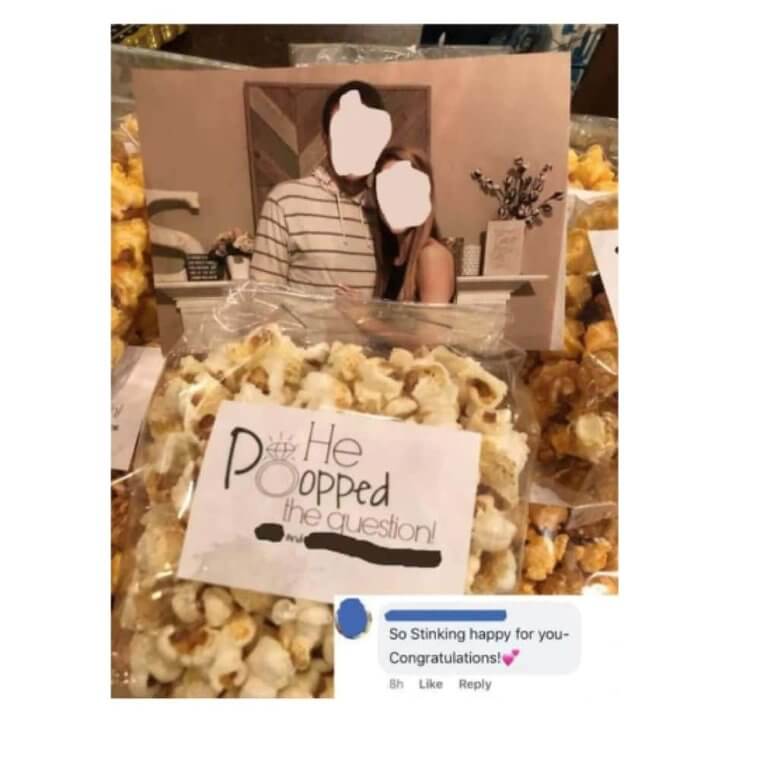 Consequently, when you are getting ready for your big day, you should take care not to misspell anything with an additional O because doing so could ruin a beautiful thing. Or hilariously embarrass yourself and loved ones, as these two did. What do you think of this mistake? Is it funny or embarrassing? 

For Every Product, There Is a Buyer
Whoever said that pandemics can't be trendy was wrong. In spite of the fact that countless big days will inevitably be canceled, it appears that some businesses are still hoping to secure a portion of the wedding market. Enter bridal masks! Last but not least, even in these increasingly socially distant times, married couples and their guests now have the opportunity to shine.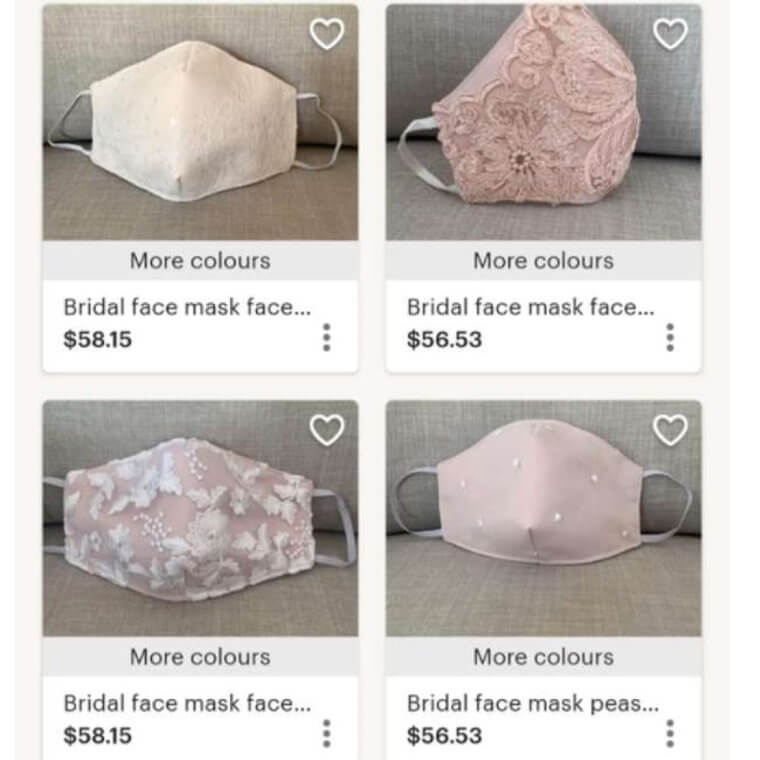 After all, what could make your walk down the aisle more memorable than dazzling masks to hide your face while you're all by yourself?! However, potential purchasers should be aware that these embroidered showstoppers are not cheap, with prices beginning at fifty dollars for a single mask. Fancy face wear is always an option when looking for something that will truly make that one-of-a-kind occasion stand out in people's memories.

Thanos Also Approved This Marriage
Have you ever seen a photo of someone's wedding in which Thanos made an appearance? There was no photo editing going on here; this is actually one of the guests who wanted to get into character while still remaining safe during the Covid-19 event. Who knows if what they have going on is real love or just an unusual commitment to their cosplay?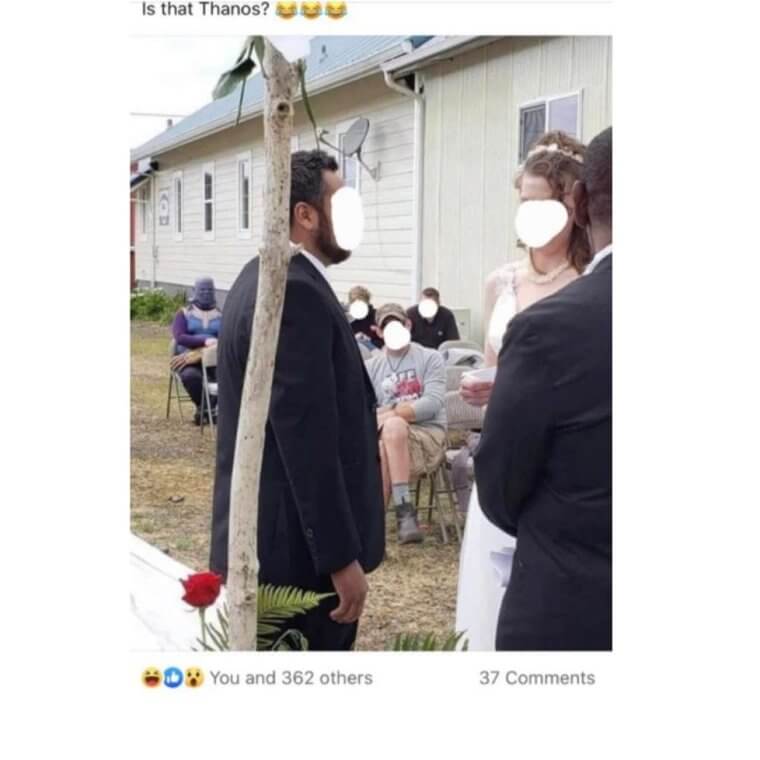 In either case, all of our most marvelous moments have been immortalized in the form of memes. It is our belief that Thanos also gave his blessing to this marriage. What do you make of that? The fact that you did this helped make the wedding more memorable. We can only hope that the newlyweds found the idea humorous and didn't get upset by it.

Is There a Problem? No, But There Are Cats
Everyone adores their animals, but it is necessary to remember that there are other people in the world as well. Consider this soon-to-be-wed lady as an illustration. One of her visitors inquired as to whether or not they could bring their cats as additional guests to the wedding.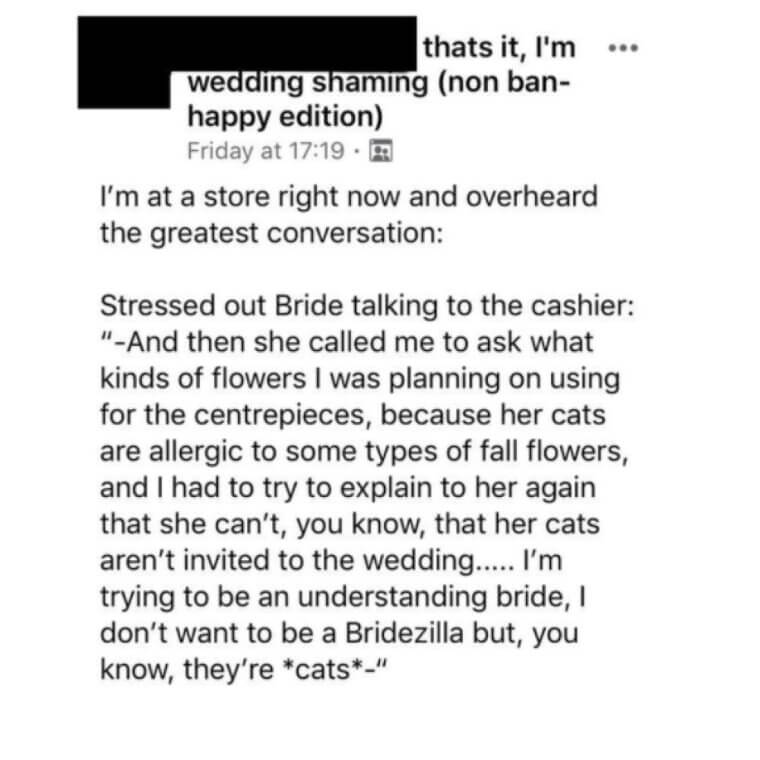 Despite the fact that the request was both hilarious and ridiculous, she made an effort to be understanding of it. When it comes to planning the perfect wedding, it is best to stick with bouquets of flowers rather than furry cats. Additionally, such guests should preferably be removed from the guest list because they can almost certainly only produce unexpected difficulties or problems on the day of your special event.

Is She Overreacting? Nooooo, No Way!
We all know that weddings have the potential to bring out our inner bridezilla, but this story takes things to a whole new level of ridiculousness. At this particular couple's wedding, there was a firm "no children allowed" rule in place. Not even the ones yet to be born!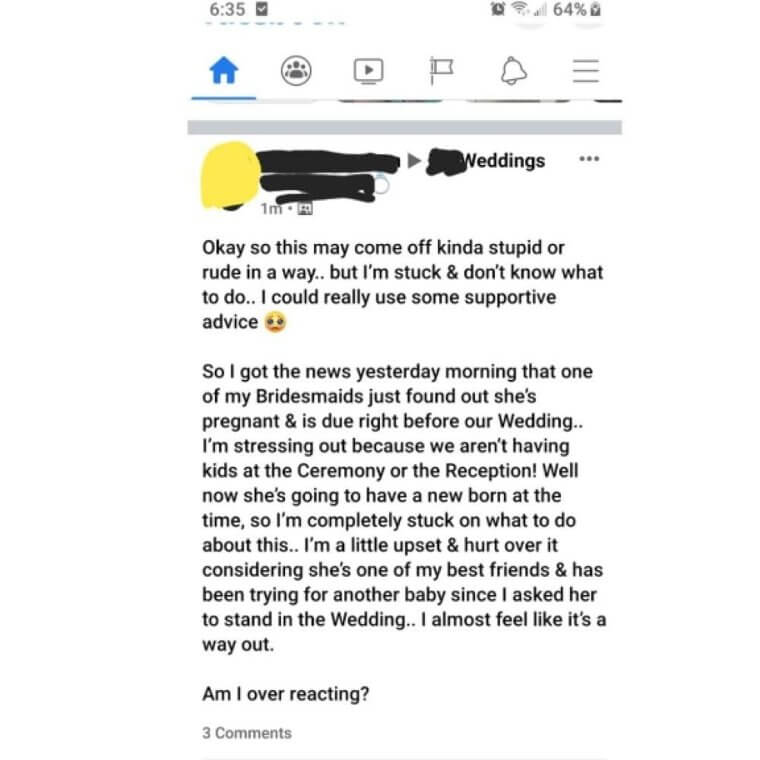 The bride took offense when one of the bridesmaids disclosed that she was expecting her first child and that her due date was right before said nuptials. The bride then took to Facebook to ask if she was overreacting to the situation. Oh, girl, we have a sneaking suspicion that you are. Mama, we don't want there to be any drama on this very special day!

Would You Marry a Woman Like This?
It's not easy to pull off the wedding of your dreams, but it's clear that this bride-to-be is giving herself the wrong kind of challenge to face. She gives up her job and puts pressure on her fiance to secure additional compensation so that they can have a lavish wedding.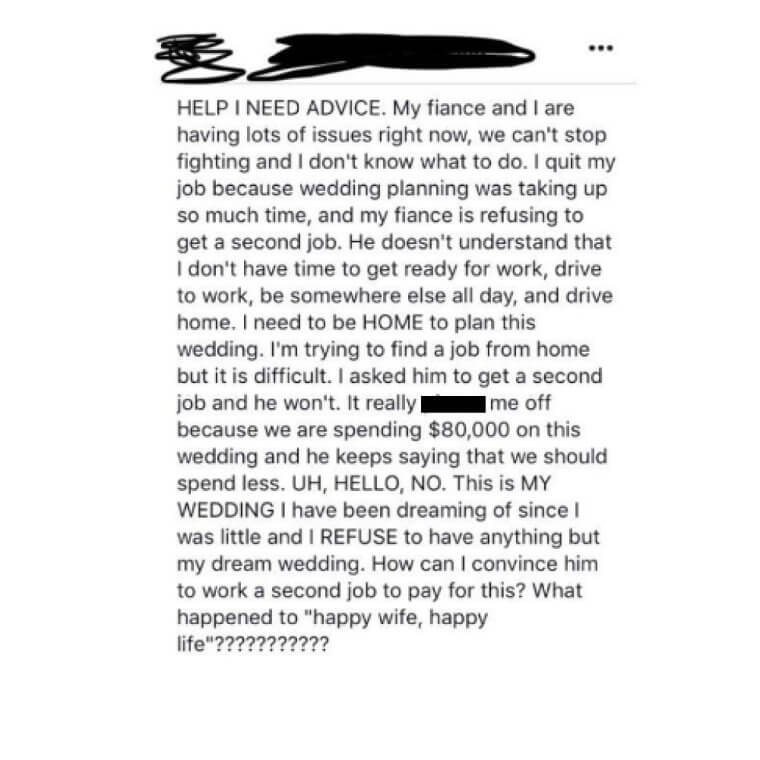 She must have thought that $80,000 was chump change if it "only" required two incomes. Perhaps someone should remind our overzealous friend that marriage is not just expensive glitz; you also must put in hard work. Particularly, if someone else is doing it. It is not a cliche to say that a happy woman will lead to a happy life. #workingforeverythingyouwantinlife

No One Is Irreplaceable!
Regarding the preparations for her wedding, this bride has been working harder than anyone else for the past 44 days (and counting!). The bridal party she had initially chosen was not a good fit for her. Two people have been kicked off the team due to one member's passing away (which was mentioned rather casually, if we may add).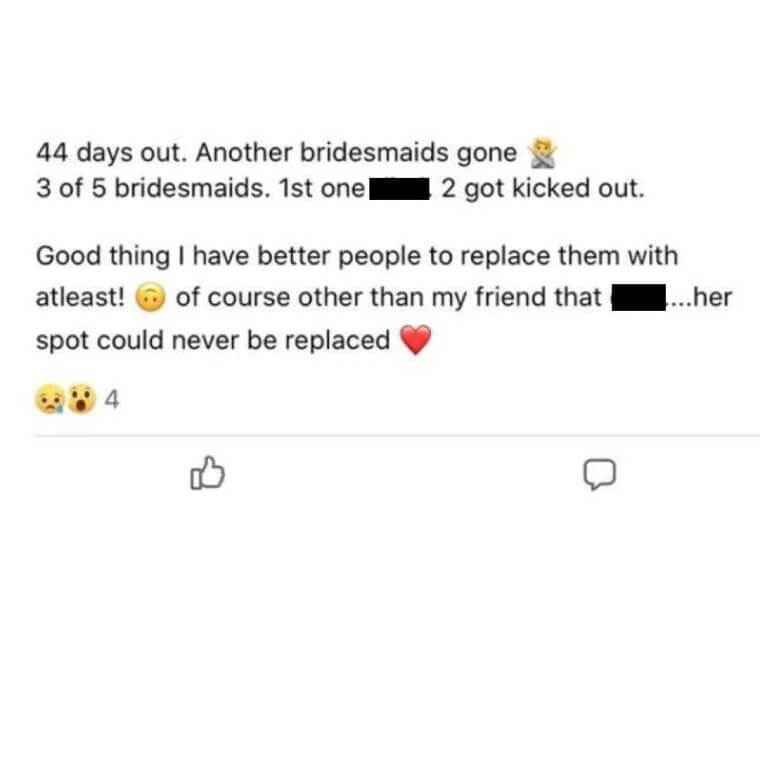 It is possible that replacing them will be more difficult than purchasing new shoes during a sale. In spite of all these challenges, however, our bride is moving forward with dogged persistence in order to find five ideal bridesmaids before the allotted time expires – let's raise a glass in the hope that everything goes according to plan!

This Is Some Twisted Inspiration
Before the big day of their loved one, this wedding party decided to make quite an impressive and unforgettable entrance! We believe that was their goal -  they are winners! The bridesmaids and groomsmen were rounded up like wild prey and dragged into the venue in a manner that was true to the chaotic nature of the situation.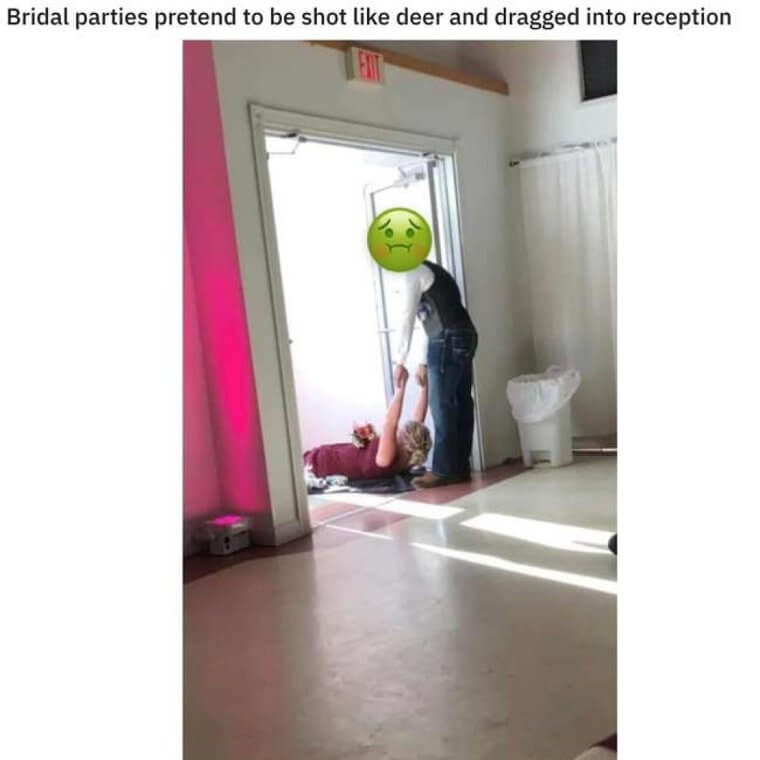 This is not going to be your run-of-the-mill party, but you can be sure that it will be talked about for many years to come! Would you engage in something comparable? Do you have any strange inspirations that you wouldn't be embarrassed to show other people on your special day? If so, we want to hear about them!

Got a Bad Haircut? You Can't Come to the Wedding!
Who would have thought that weddings could bring out the worst in people? When two lifelong best friends see each other again at one of their weddings. The bride takes a look at her BFF and is reminded that she has gained some defects on the tooth since the two of them last saw each other.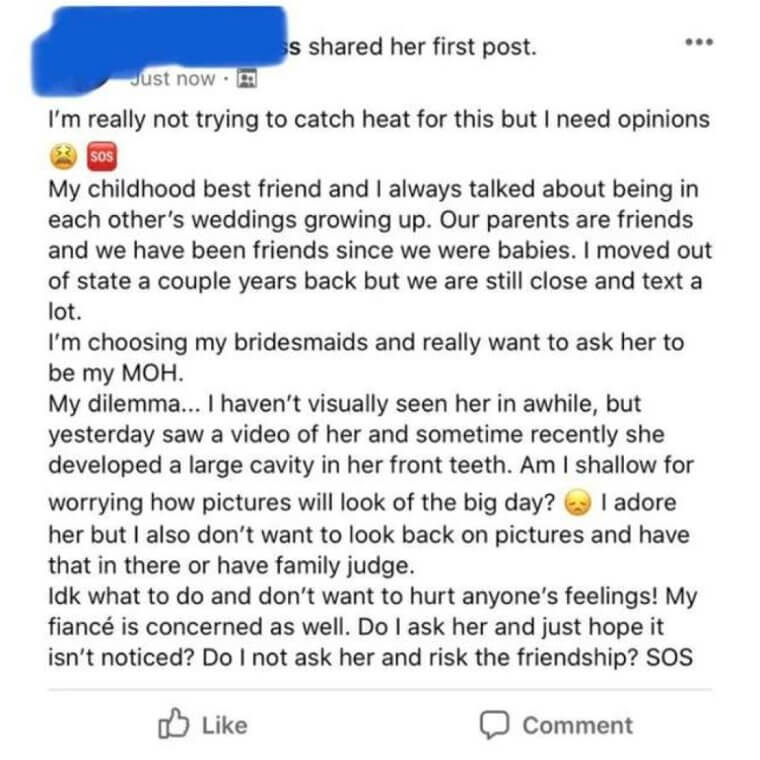 She must have had some sneaky plans up her sleeve to make sure that her bridal photos turned out as beautifully as possible. Isn't this the perfect example of someone who needs to have complete control over everything? We empathize with the childhood friend, who might need to reconsider what type of people she is friends with. What do you think?

Got a Bad Haircut? You Can't Come to the Wedding!
Who would have thought that weddings could bring out the worst in people? When two lifelong best friends see each other again at one of their weddings. The bride takes a look at her BFF and is reminded that she has gained some defects on the tooth since the two of them last saw each other. 

She must have had some sneaky plans up her sleeve to make sure that her bridal photos turned out as beautifully as possible. Isn't this the perfect example of someone who needs to have complete control over everything? We empathize with the childhood friend, who might need to reconsider what type of people she is friends with. What do you think?

Unspeakable Level of Betrayal
This naive couple, trusting their closest and dearest friend to plan the single most important day of their lives, seemed to be caught up in a situation that was straight out of a daytime drama. They had no idea that by sending large sums of money for 'preparations,' they were actually giving an avian fox the ability to fly!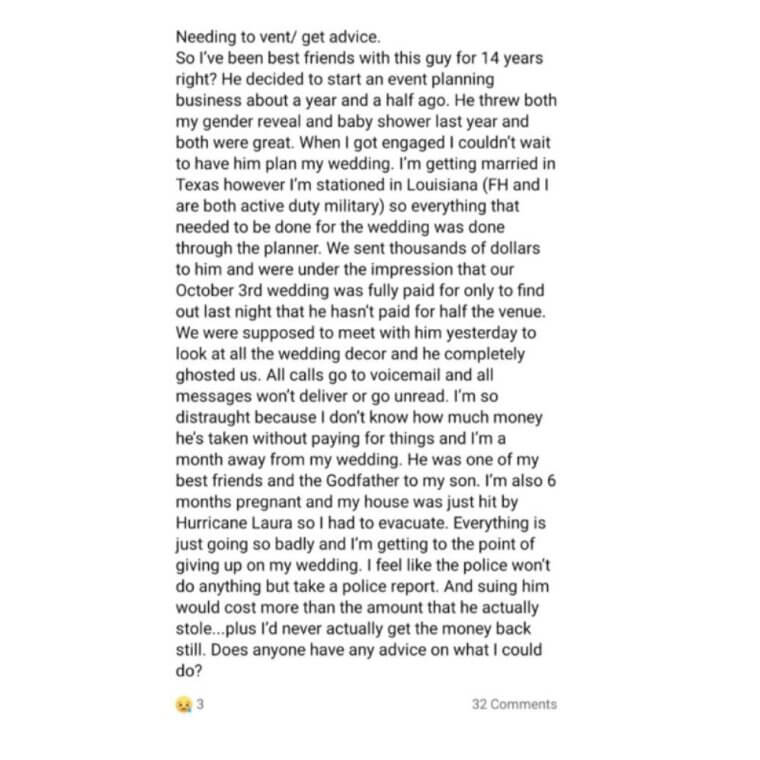 Before you could say "The Devil Wears Prada," he had vanished with all of the money in tow, leaving them in a precarious position with regard to the wedding arrangements. Talk about emotional anguish...and financial anguish, too! If something similar were to occur to us, we do not know how we would make it through or if we would make it through at all.

The Wedding Website Just Gets Weirder
Who would have thought that the pandemic could even turn regular events like weddings into something of a curious spectacle? There has been an increase in the number of unusual requests regarding seating arrangements. Due to brides and grooms all over the world trying to figure out how to make their special day more accommodating.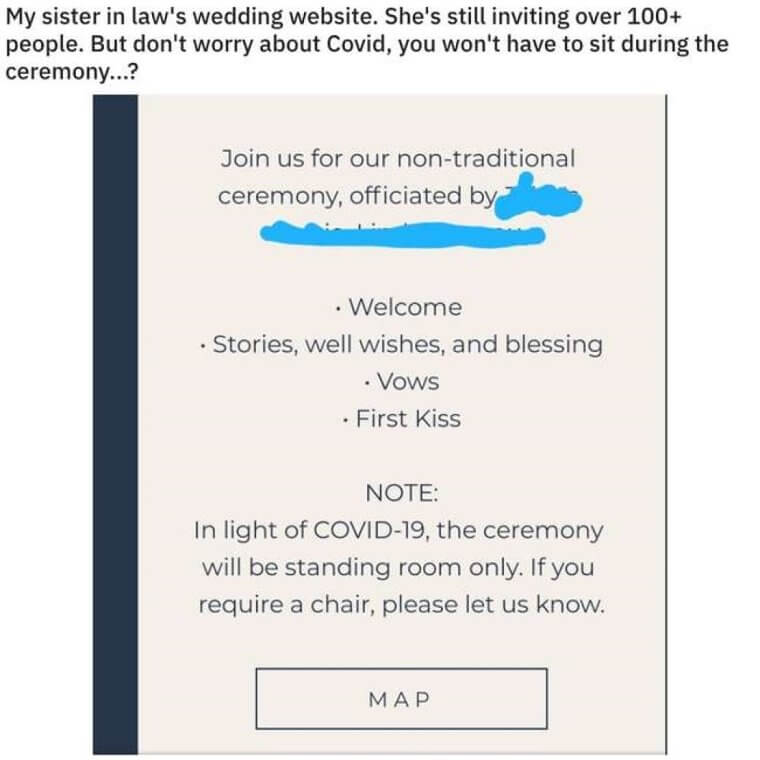 It should come as no surprise that attendees should remain standing throughout the ceremony; however, why is sitting potentially dangerous on this day? We can only speculate, but if you don't get up soon, you might catch COVID-19.  Do you also believe that sitting down is necessary in order to contract the pandemic virus? Is that even remotely how a pandemic happens to work?

At This Wedding, Not Only Joy Spread
This couple was determined to get married in the midst of the pandemic, and they are living proof that love will prevail even in the most extreme of circumstances! Even though COVID threw them a few curveballs along the way, their wedding went off without a hitch, with the exception of one minor detail—the newlyweds caught the disease, right before the honeymoon.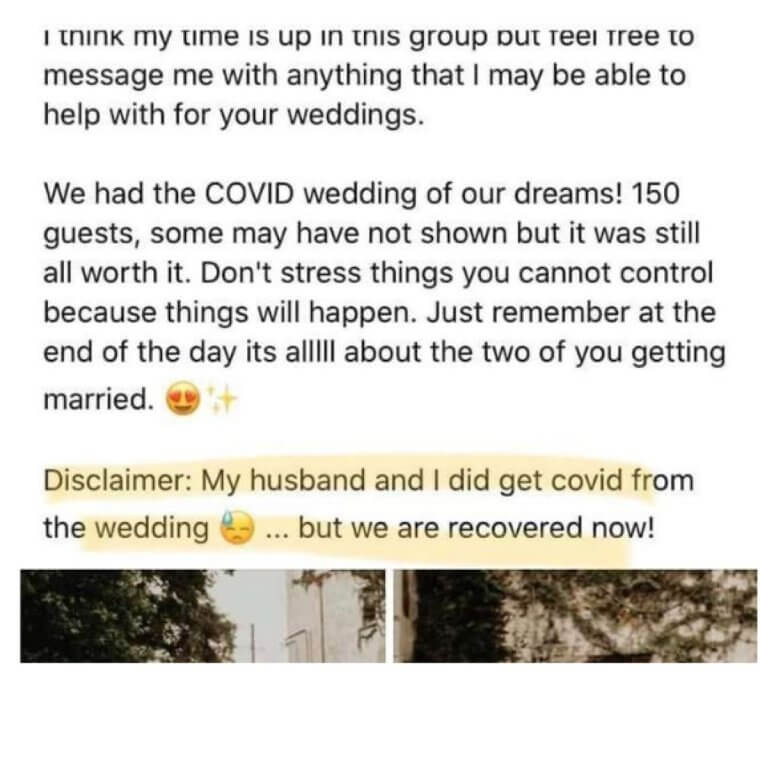 It turns out that catching *love* wasn't what anyone expected to happen! Consequently, they came to the realization that, in addition to the feelings of love and happiness that were contagious throughout that day, a pandemic was also spreading. We hope that everyone is doing well and that there were no serious health concerns for anyone.

Another One of Those People Who Don't Respect the Bride
The big day has finally come, and it's one of the best times in a bride's life. But what happens when a wedding guest shows up looking like she just got off the runway? The unspoken rule is that you shouldn't shine brighter than the show's star unless you are her twin.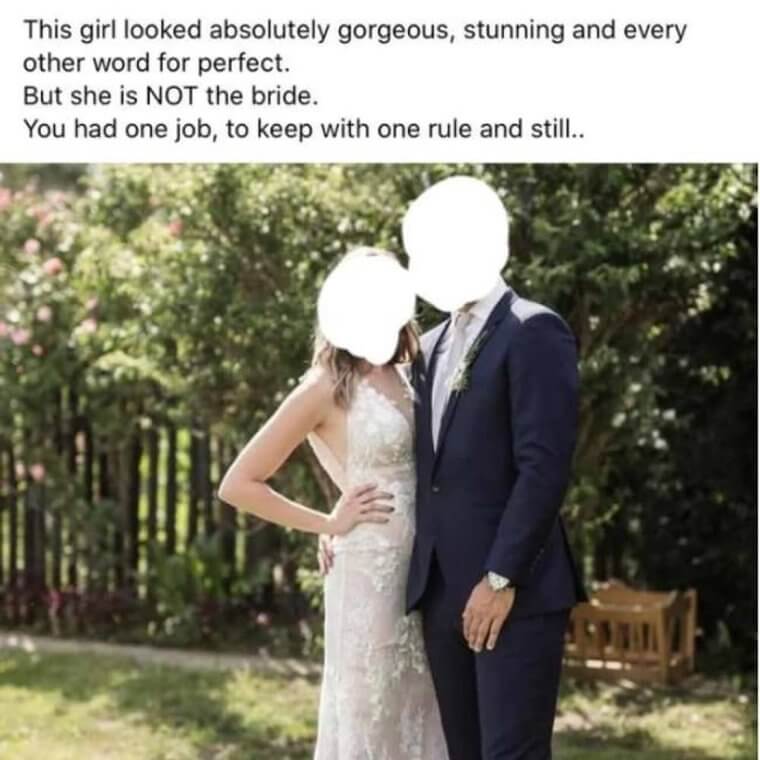 Unfortunately, this woman didn't get the message (oops! ), so everyone was looking at her instead of our beautiful bride-to-be, as they should have been. To avoid any unpleasant surprises at YOUR wedding, we suggest asking your bridesmaids for fashion advice before you choose your final dress. Even better, make an official "No Outshining Allowed" list ahead of time to make sure that everyone looks as beautiful as YOU do!!!

Were They Able To Find Replacements?
When you ask your closest friends to share in the celebration of such an important day with you, you can be sure that drama will ensue. In this one-of-a-kind scenario, the bride and groom were faced with the difficult decision of how to deal with their 'cheating' problem most effectively. Should they expel their cheating best man or his dating-at-the-time maid of honor?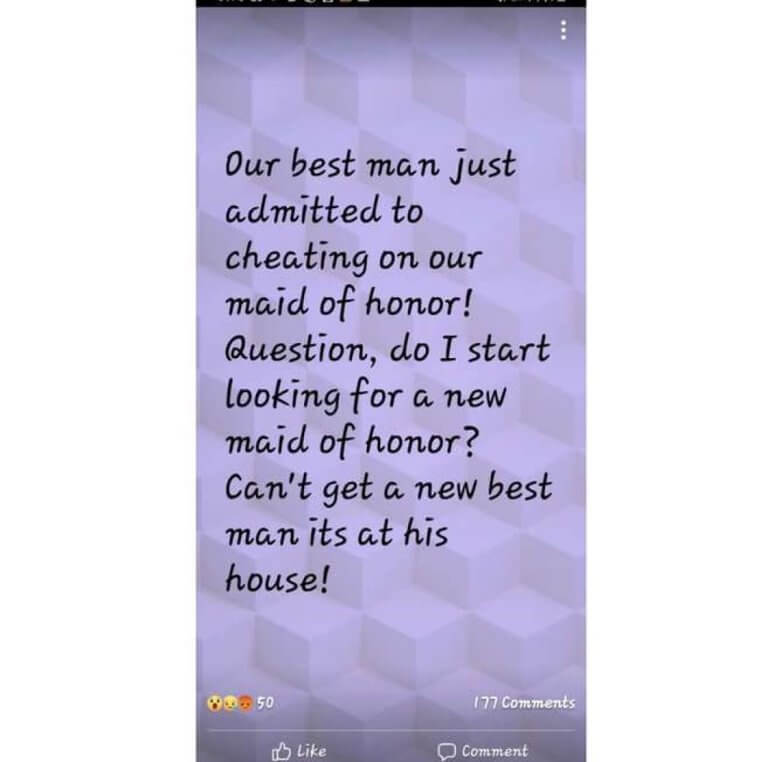 To add insult to injury (or perhaps as a form of revenge), it turned out that the wedding was going to be held at none other than the house that was owned by the lovestruck gentleman; therefore, it was only natural that she went. Talk about cruel punishment, and talk about an unexpected turn in the arrangements for the wedding!

That Doesn't Work for Their Family
The pandemic wedding scene is becoming even more insane with each passing day. The weddings of today are a far cry from the traditional ones, featuring everything from face masks to text-based ultimatums. This particular bride and groom followed the trend set by other couples and people by requiring that their guests attend the reception while wearing face masks.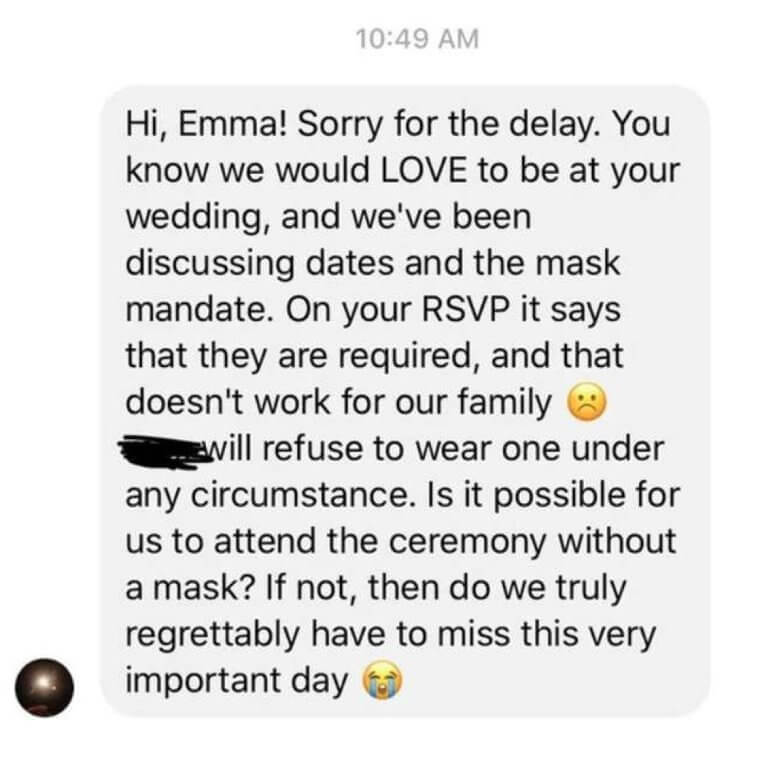 However, this decision was not well received by all of the guests. One of the guests actually had the audacity to demand that they be allowed to go without a mask! What was the reaction of the couple? Okay, We won't bother; just be careful not to get hit by the door on your way out, friends!

The Pandemic Was an Inspiration for Many Things
This pandemic has presented a little bit of a challenge for some couples who are planning to get married, but there is no need to be concerned because love will find a way! One amusing couple decided to put their thinking caps on and came up with an original solution.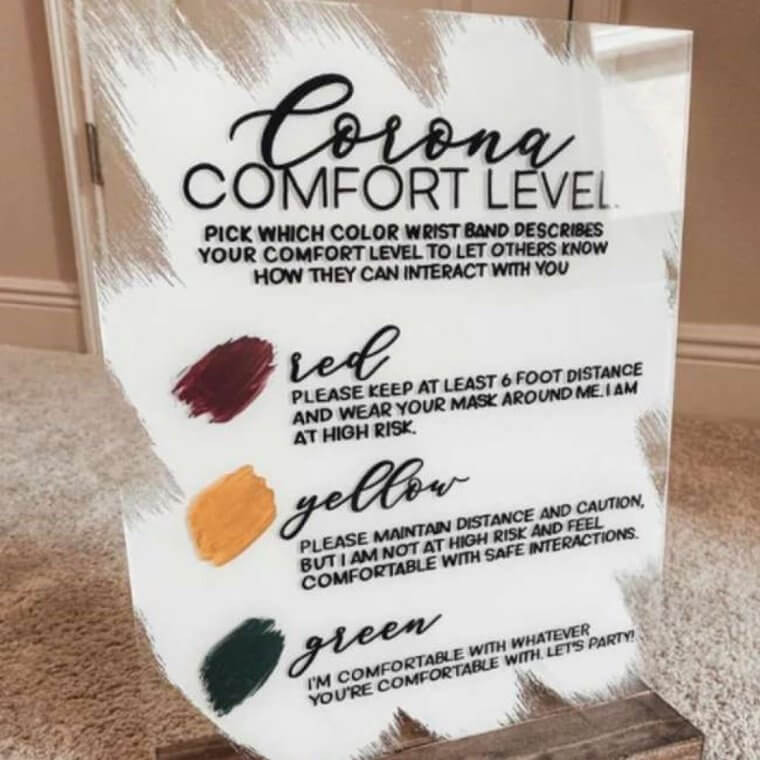 They decided to have wedding wristbands made that guests could wear to indicate their level of comfort with social distancing. Low-risk? High risk? You get to choose who you want to be in your bubble, so there's no need to stress over this special day; what could be better than that?! What do you think of this design? 

A Group of Disrespecters of Other People's Work
This couple wanted to add some extra pizzazz and creativity to their nuptials, so they decided on an uncommon approach: hiring an artist who would paint them live at the wedding. And miraculously enough, there was even someone willing to take the job. Well almost! When it came down to brass tax - that is, cost- these two weren't exactly amenable to what seemed like movie magic – 1000 bucks.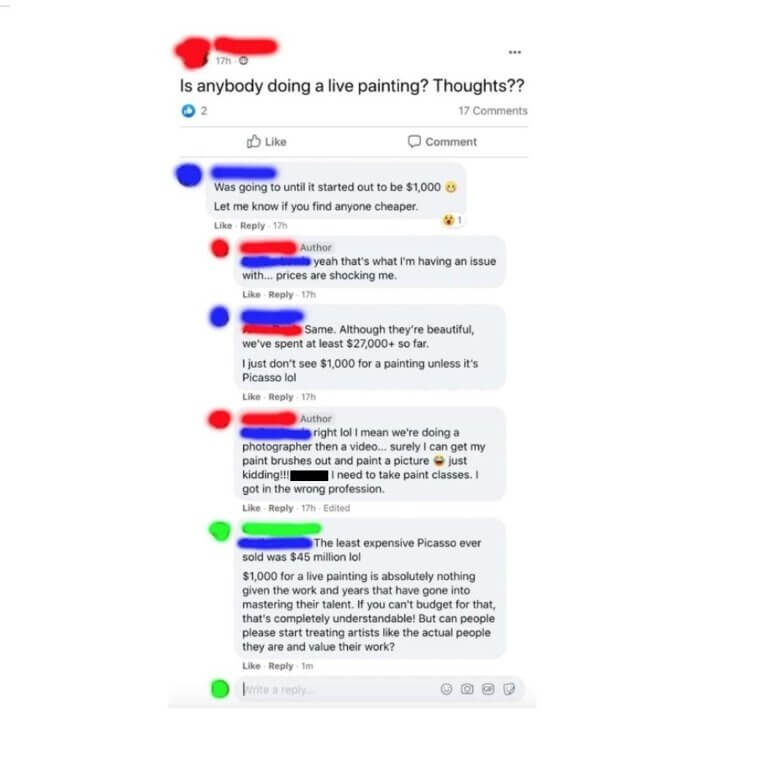 But thankfully, another commenter stepped in as a peacemaker putting everyone back in line; you may not be able 'wedding budget' your way into Van Gogh proportions of artwork talent without coughing up the due compensation required for such a level of hard workmanship. What do you think about their comment discussion?

They Wore Masks – But Only on the Cake!
This happy couple decided to get married and celebrate with a delicious cake even though there have been recent restrictions imposed as a result of Covid-19. The cherry on the cake? Quite literally, yes. Guests had a hilarious time forgetting all of the safety protocols below while the traditional wedding cake figurines were adorned with cute masks.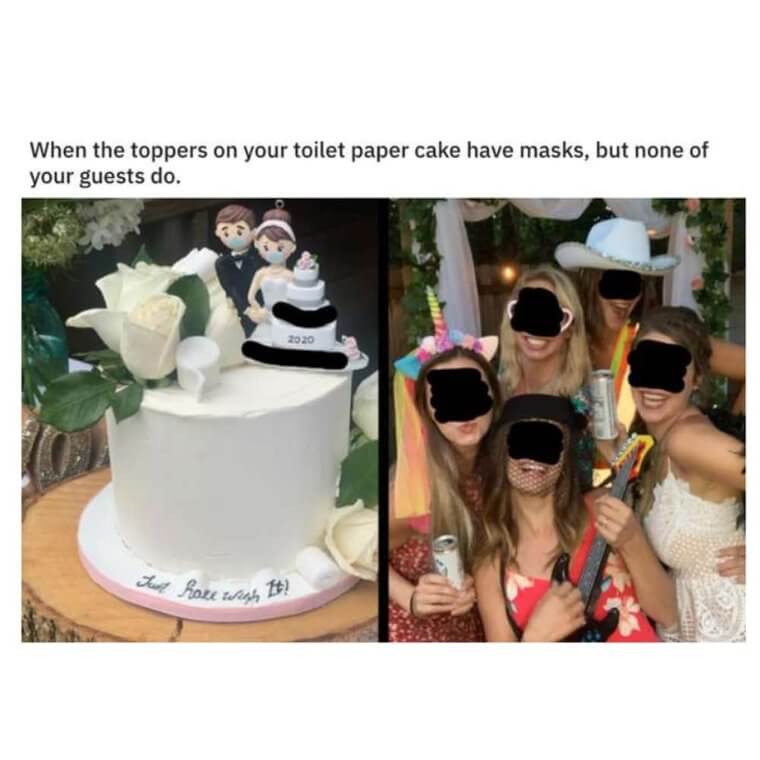 There is no better way to say "I do" than with an open-air wedding where no one is wearing a veil or other face covering. What do you think? Did they follow the pandemic rules? As far as we are concerned, the cake is. But the newlyweds and their guests obviously didn't care about that. We hope that no one was infected after this wedding!

This Bride Expects Too Much
Whoa, talk about biting off more than you can chew! This couple certainly had a tricky dilemma on their hands. Instead of taking the traditional route like using word-of-mouth to politely drop hints that they'd be paying for meals themselves, these two actually took it to Facebook and asked how they should tell guests not to expect meal vouchers at their wedding reception - yikes! 

What is the moral of the story? If splitting costs is your plan when hosting an event or big day, make sure you work out budgeting details beforehand, so nothing gets lost in translation – no one wants any awkward situations getting between them and happily ever afters. What do you think about her approach?