One thing that sets Rod Stewart from the rest is his one-of-a-kind, whiskey-soaked, raspy voice. We can feel all the emotion in his voice with every song he performs. Such qualities helped the singer rise to stardom with his third album, Every Picture Tells A Story, with the help of the song "Maggie May".

Aside from his music, Stewart is also famous for his colorful love life. What is it about the star's romantic adventures that made people follow his every move?
Marrying at an Early Age
You are perhaps no stranger to Rod Stewart's raspy singing voice. Yet, do you know that the 'Atlantic Crossing' star's love life has been as meteoric as his rise to fame? Yes, he currently has eight children with five women. In fact, on one occasion, Rod even confessed that he was bored of sleeping with different women.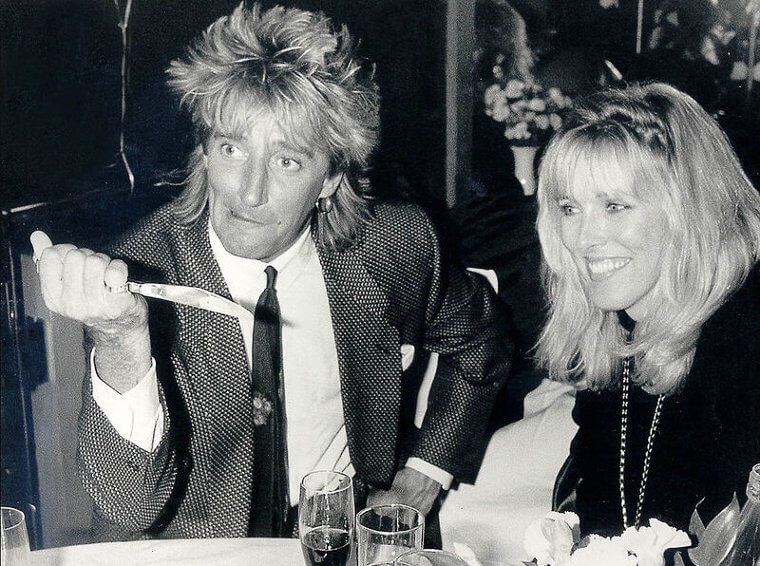 The iconic songster first tied the knot with Alana Stewart in 1979, at the age of 34. Still, his father felt that Rod's marriage was too soon. Maybe, for this reason, the couple got divorced after only five years into their nuptials; who knows?
Partying Soured His First Marriage
We can barely deny that addiction on any level can hurt a healthy relationship, especially that of a married couple. Rod Stewart's case was no different when he was with his first wife, Alana Stewart. At the height of his fame, he invested more time in partying, drinking, and merry-making than with his wife. Naturally, this profligate lifestyle affected their relationship.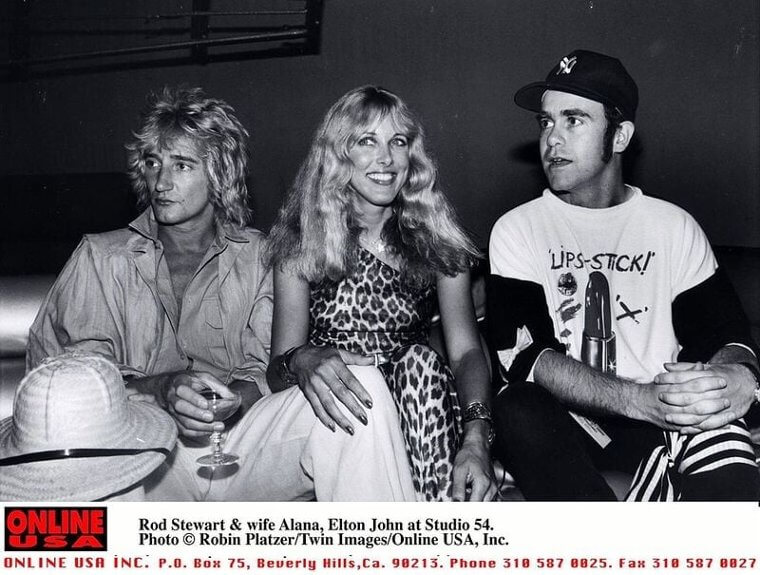 Alana has prolific acting, producing, and authoring career of her own. The pair shares two lovely children, Kimberly and Sean. Yet, they failed to work on their marriage, and after five years of being together, they finally decided to part ways.
Meet Rod's First Lover
No, it is not Alana who first stole Rod Stewart's heart and won his affection. That title is owned by none other than Suzanne Boffey. She was Rod's teenage sweetheart and their romance was so glorious that the songster eternalized it in his popular number, 'Brighton Beach.' Wow!
Yet, Suzanne was not very comfortable with Rob proclaiming his sentiments of love for her in a song. We don't know what caused them to split, but, unfortunately, their only child had to be given up for adoption because of Suzanne's dad. Can you believe Rob's eldest daughter is now nearing her 60s? Sarah Streeter was adopted at the age of 5 and grew up loving Rod Stewart's music, having no clue he was her biological father! The two reconciled in 2007 and are now close.
Nothing Is Worse Than Ignorance
Some negative attitudes creep into an affair when lovers get tired of their partner's expectations. We guess the scenario was no different in Rod Stewart and Suzanne's relationship when the latter disclosed that she was pregnant. On one occasion, she claimed that she was outright ignored by the songster during her pregnancy.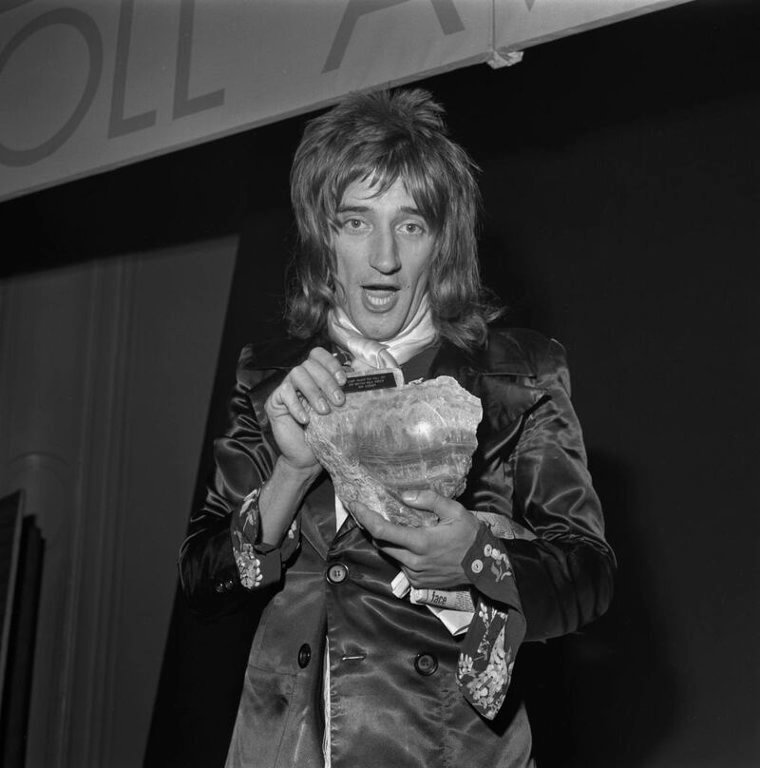 We can't help but wonder how Rod's disregard for his daughter had an awful impact on her life. Of course, neither Suzanne nor their little one deserved this sort of suffering. However, we're only glad that Sarah got to meet her biological dad after almost half a century.
A Lover and a Rockstar Life
Rod Stewart isn't the type to let things dampen his morale. So, while leaving behind his troubled relationship with Suzanne, the star went on to make his dreams as a rockstar come true. Luck was definitely smiling on this one because Rod became quite popular from his shows all over London.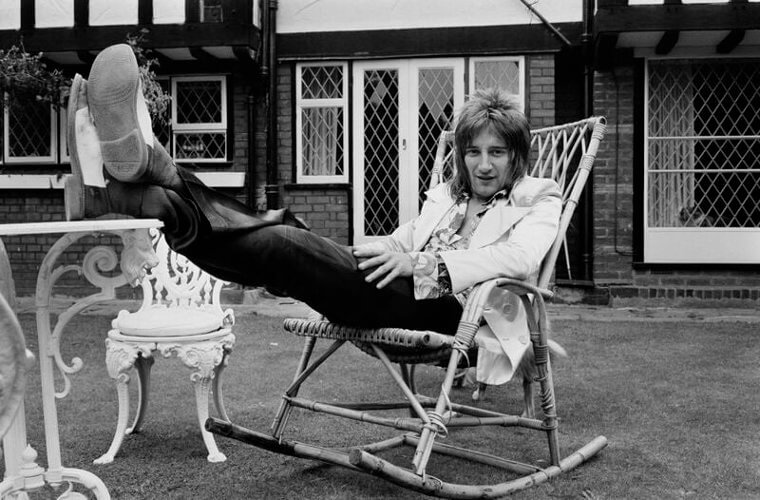 Rod didn't just get famous in London; he got himself a lover, a model named Jenny Rylance. Their relationship spanned two years, between 1965 and 1967. During this period, Rod worked with some major music groups like All Stars and Jeff Beck Group. The celebrity certainly worked hard to be a rock 'n' roll star.
A Short Affair With Dee
Rod had a lot of relationships, some more popular than others, and Dee Harrington was one of the most interesting relationships he had. This is because Dee is known to be the celebrity's first serious girlfriend. When the pair met, Dee revealed that Rod was all over her and was even ready to walk down the aisle with her after three months.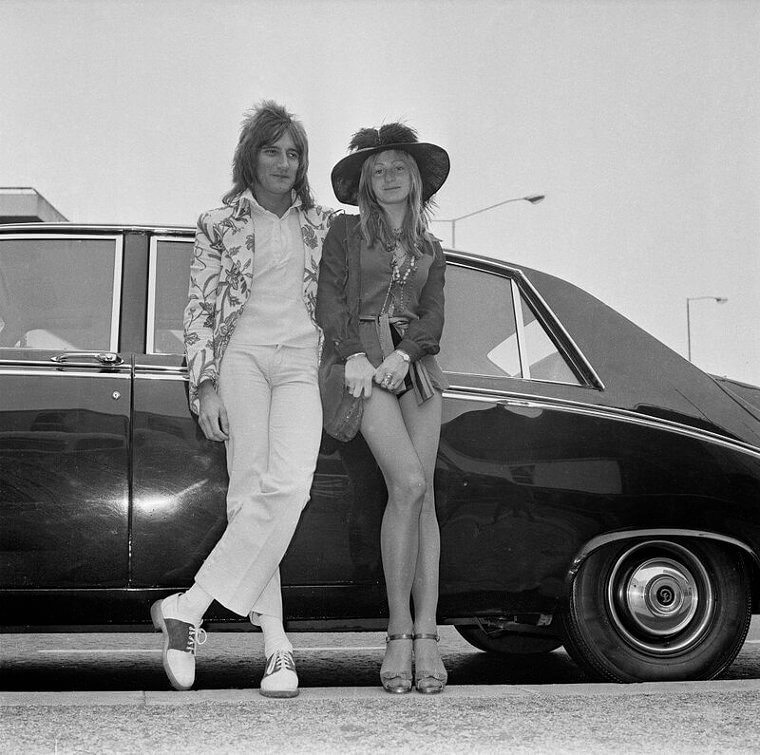 This would have happened if Dee hadn't noticed that Rod was getting obsessed with his public image and was acting out of control as a result. Rod and Dee finally ended the relationship when Dee caught him going out with supermodel Britt Ekland.
He's Got a Thing for Models
Considering the number of models that Rod Stewart has dated, it's safe to say that the rockstar has a thing for them. After Dee ended the relationship with Rod, nothing was stopping him from pursuing a relationship with the beautiful Britt Ekland. This relationship is one of Rod's most serious relationships because it lasted for two years, and it was highly publicized.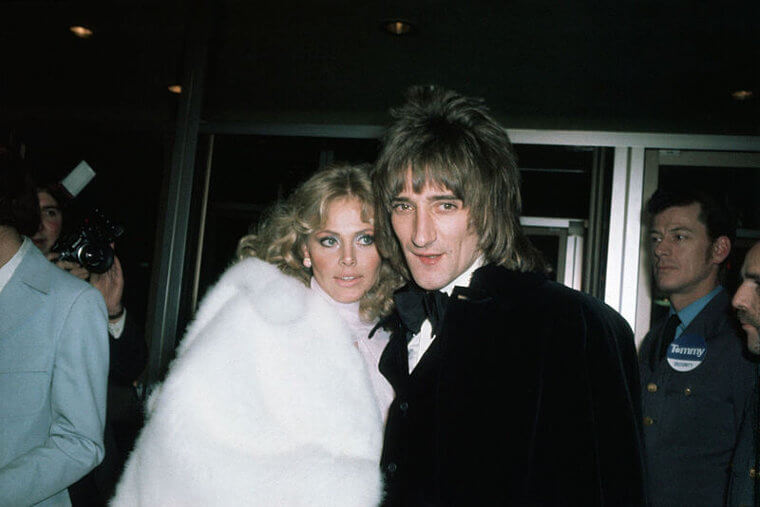 Britt was so in love with Rod that she quit working so she could focus on her lover. Before then, Britt had starred in The Wicker Man and Get Carter, among other movies. The Bond girl fell in love with Rod the instant she was introduced to him in 1975.
Tonight's the Night Hit
To be madly in love with someone is one thing; to let that person you are smitten with be part of something that is yours is another. We saw this incredible dynamic in Rod's and his then-girlfriend Britt Ekland's relationship. The star brought Ekland onto the music video of his hit song "Tonight's the Night (Gonna Be Alright)."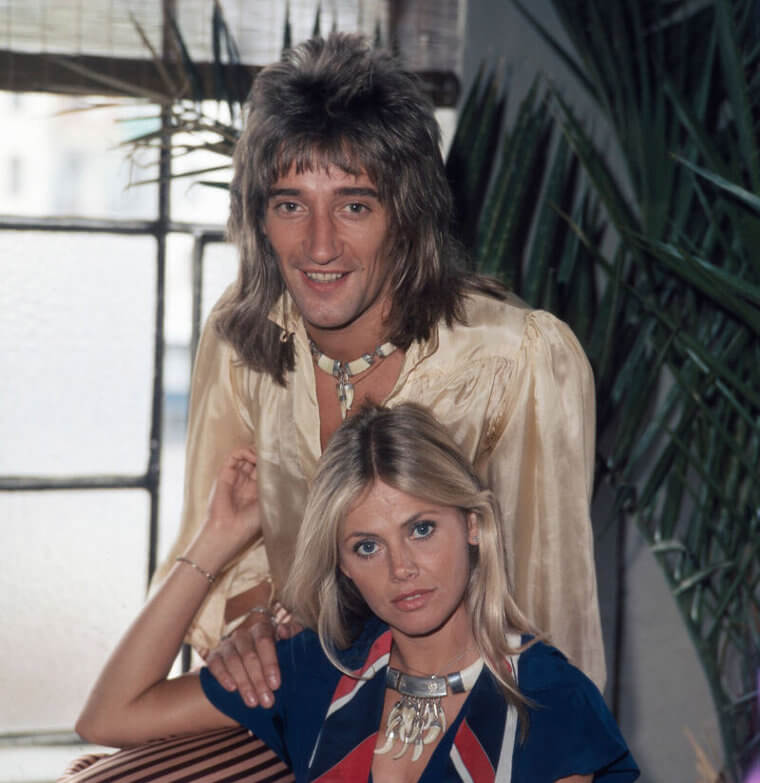 The Swedish actress was a maiden being wooed by her lover in the lead single from Rod's album A Night on the Town. We have zero doubt that the feature played a considerable part in the song's great success despite the pair's breakup after Rod cheated.
Rod's First Marriage Ever
Rod tied the knot with his first wife, Alana, in the late '70s. He was 34 then and must have felt like he needed to settle down and commit to one person—a model that he so loved dearly. Alana, who was previously married to George Hamilton, agreed to marry Rod a few months after they met, and they welcomed their first child that same year.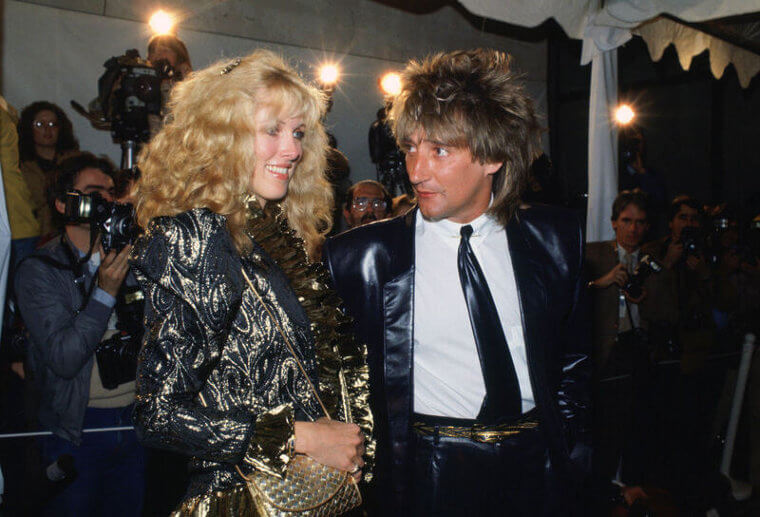 Sadly, the couple split after five years when Rod had an affair with another model, Kelly Emberg, and broke Alana's heart. It seems there was a pattern here, and it was a "modeled" one, yeah?
A Forgiving Heart Is a Healing Heart
Considering how things ended between the musician and Alana, you'd think they don't see eye to eye, but the two are pretty good friends. Thanks to Alana's mature response to the situation, they even spend time together as a family. She refused to make Rod the total villain and herself the innocent victim even though he is the one who cheated, which tells anyone she has long forgiven him and moved on.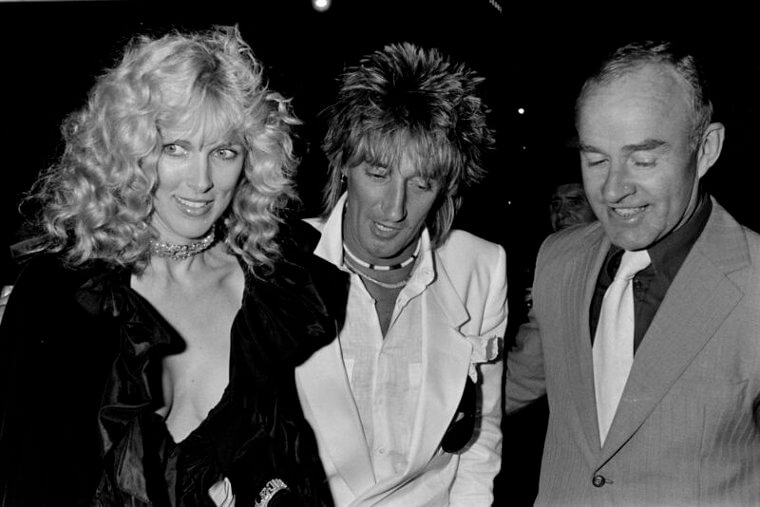 It also looks like their two children became stars like their parents. Their son, Sean, starred in the reality show Sons of Hollywood, and their daughter Kimberly, a model and fashion designer, also starred in the film Black and White.
Another Sour Break-Up
Rod's and Kelly Emberg's affair started a few months before his marriage with Alana ended. Despite that fact and their fifteen-year age gap, it was pretty easy for the Sports Illustrated model to fall for Rod's charm. We bet she knew it wouldn't end well, but love makes you want to try at least, and we get that.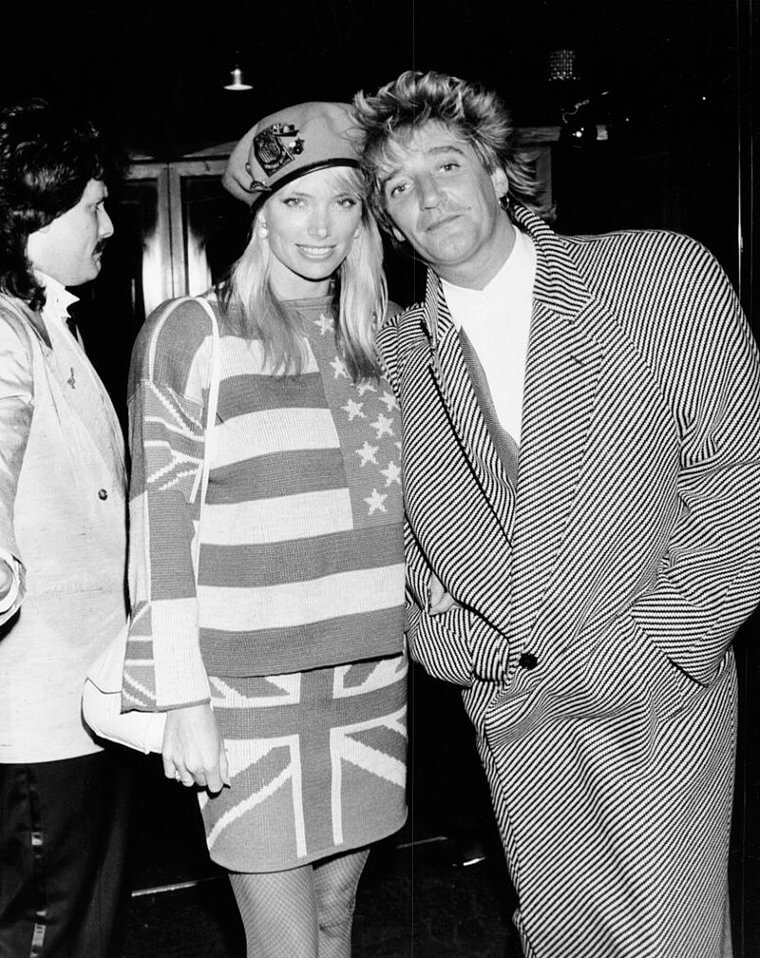 The couple was together for seven years and had a daughter, Ruby, before Rod fell back into his unfaithfulness cycle, which significantly messed up Kelly's happiness and self-confidence. After things turned sour, the good thing is that he acknowledged his terrible treatment of her.
How Did They Get Here?
When you are in an emotionally draining relationship, it could rob you of your sense of self-worth. This was the case for Kelly, who considered breaking up with Rod once she couldn't trust him. The fact that he was always on the road living the rock 'n' roll lifestyle wasn't helping either.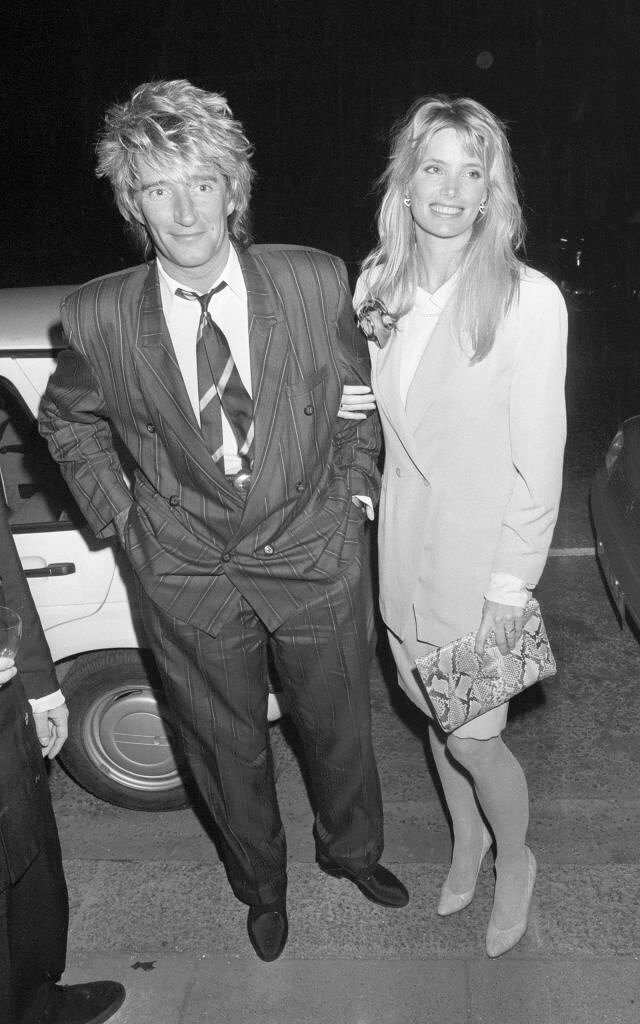 In her mind, she knew he was wrong for her, and this made it hard to be with him. She says she thought about breaking up with him for a year before deciding to do it. This happened after she turned 30, had a good look at her life and situation, and realized Rod didn't want to marry her. The pair have since reconciled and are good friends.

A New Love
Despite their age gap, there was instant chemistry when Rod met Rachel Hunter for the first time in a Los Angeles club. After recognizing the New Zealand model from her aerobics video, the singer copied her dance moves to get her attention. The move proved effective because shortly after, they became a couple.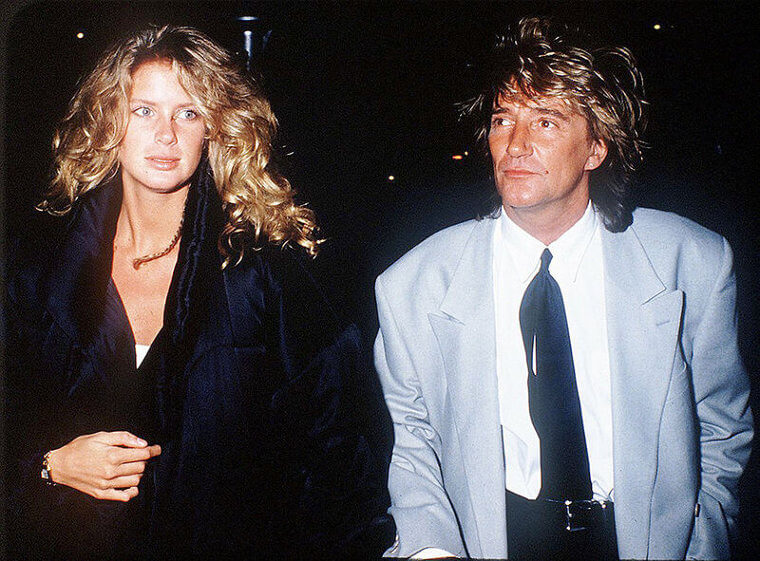 Then, only three months into dating, Stewart popped the question; he later said, "I was entirely faithful ... Rachel was everything I wanted; I became a devoted husband overnight." The couple held their $100K (nothing compared to Rod's net worth of ~$300M) lavish wedding celebration in the city where they met. Two years after tying the knot, Hunter gave birth to the sweethearts' eldest child, Renee. Then, the pair was blessed with son Liam almost two years after their daughter's arrival.

Rachel Had to Leave
Because of their 26-year age gap, some people thought Rod Stewart and Rachel Hunter's marriage would not last. Yet, the couple proved them wrong, staying together for many years – nine to be exact. But a year before celebrating the pair's tenth wedding anniversary, Hunter walked out on the singer in 1999.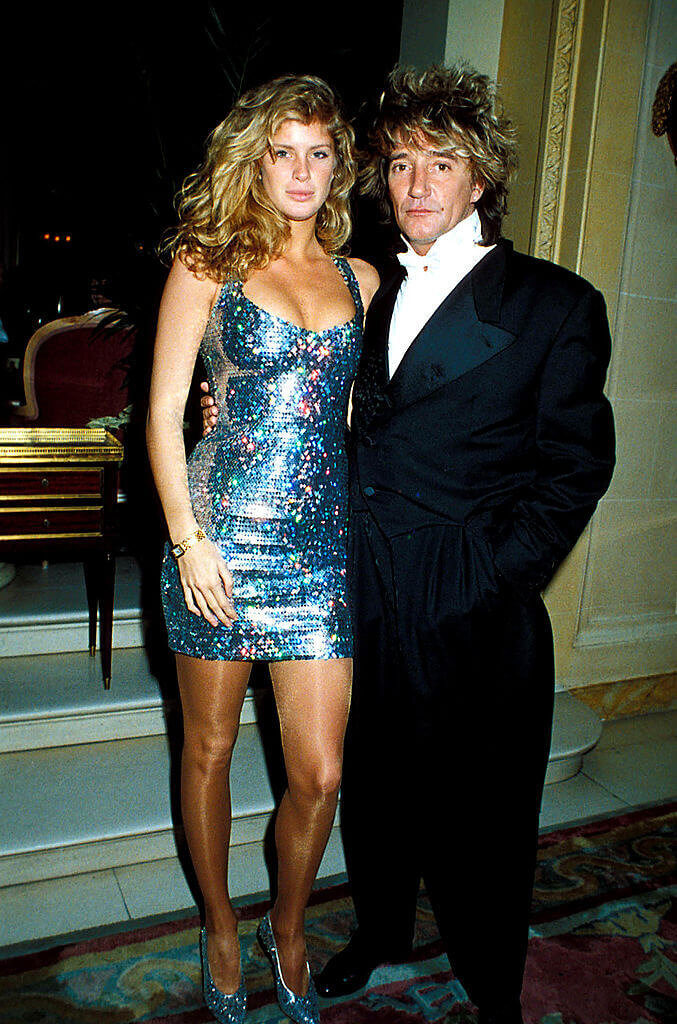 Many people were shocked because nobody saw it coming. As the model will share years later, she did it because she lost her identity. Still, even after leaving, the New Zealand native called the 'Maggie May' singer the "love of her life." Although the split left Stewart broken-hearted, he admitted the age difference played a big part in the demise of their marriage, saying "She was just 21 when we married and a mum a year later. My sister Mary told me she was too young for me as we were walking down the aisle. And she was right."


A Heartbreaking Decision
As Rod put it when speaking about the breakup years later, "I couldn't believe it. I was a rock star. You don't dump a rock star! It knocked me for six. It was a huge shock."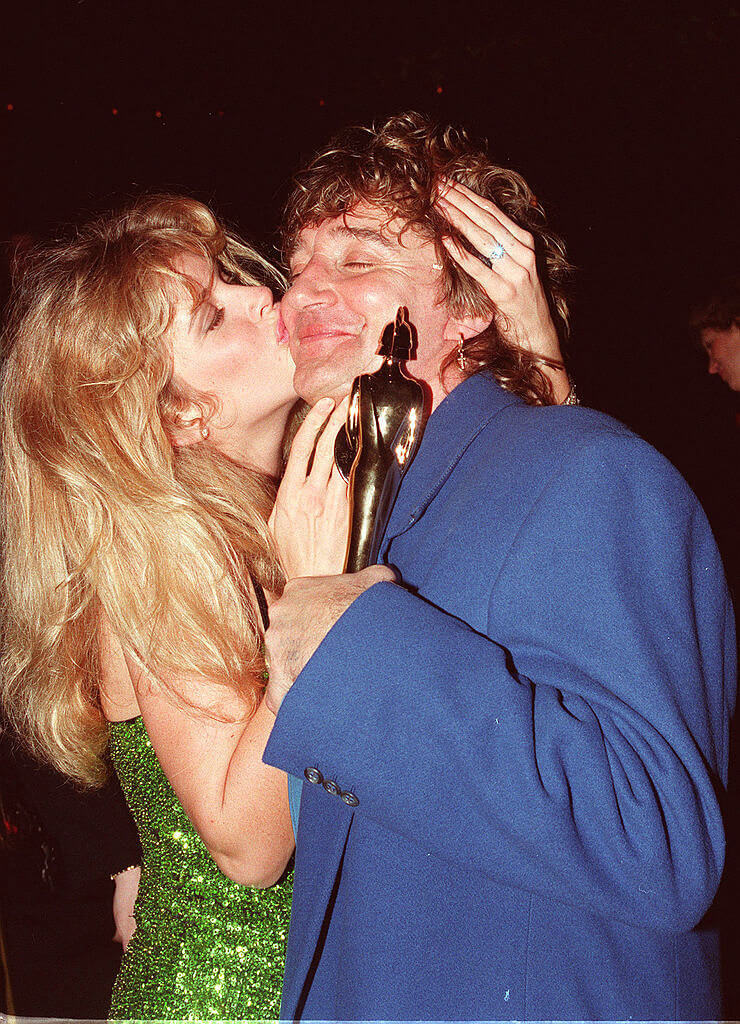 Hunter told Mirror in 2001 that she did not like that she did not have her own set of friends and did not even have a hobby: "To the outside world, I was mother of two beautiful kids, a wife to Rod and a successful model without any financial worries, but, inside, I was in torment...By the time I was 29, I had spent eight years with someone else's group of friends. In the nine years we were together, I'd never done anything for myself. If you'd asked me then what I liked or didn't like, I wouldn't have been able to tell you. I didn't even have a hobby." 

Meeting the Love of His Life
The hurt Rod Stewart felt lost with Rachel Hunter walking out on their marriage lasted for years. Nevertheless, he met the one he calls the "love of his life" just a few days after her second wife left him. Hunter broke the news Monday evening, and he met Penny Lancaster Saturday night. She was a photographer who took photos of the singer while on tour.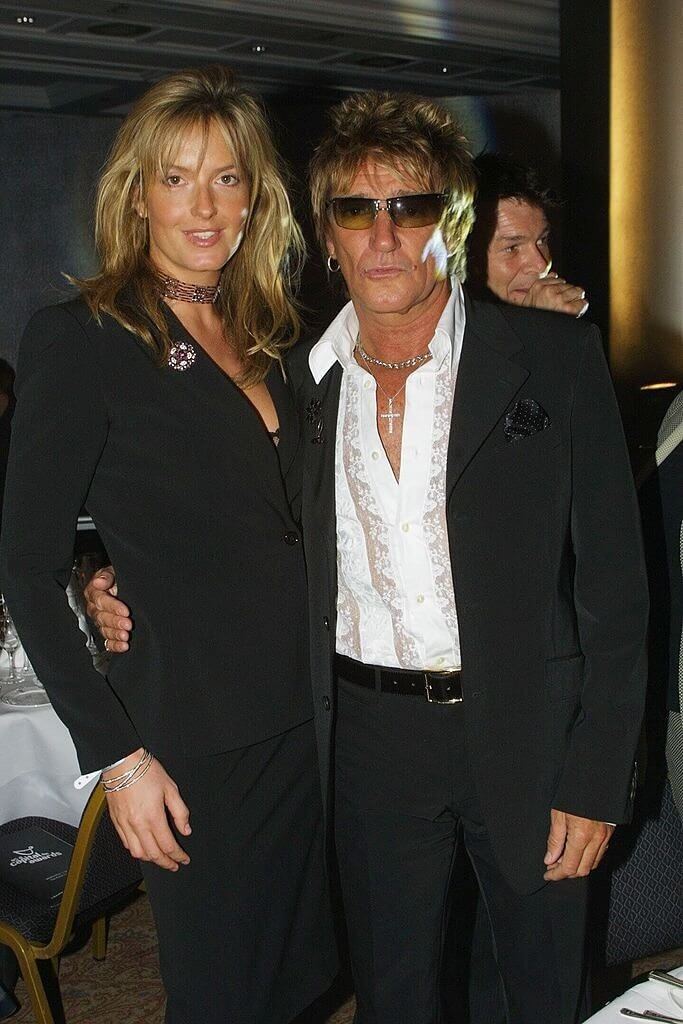 Although the singer felt an instant attraction to Lancaster, his band's bass player thought it was too early to begin a new relationship. Six months after their first encounter, the pair started dating. The couple tied the knot in 2007 after the musician's divorce with Hunter was finalized.

A Chance Encounter Lasting an Eternity
Penny entered into Rod's life while he was still recuperating from his split from his ex-wife. While he was already going through a rough patch in his life, she seemed to be his silver lining. After first spotting her in 1999, the singer instantly fell weak in the knees. Soon the news of their romance broke, and they became one of the hottest couples in tinsel town.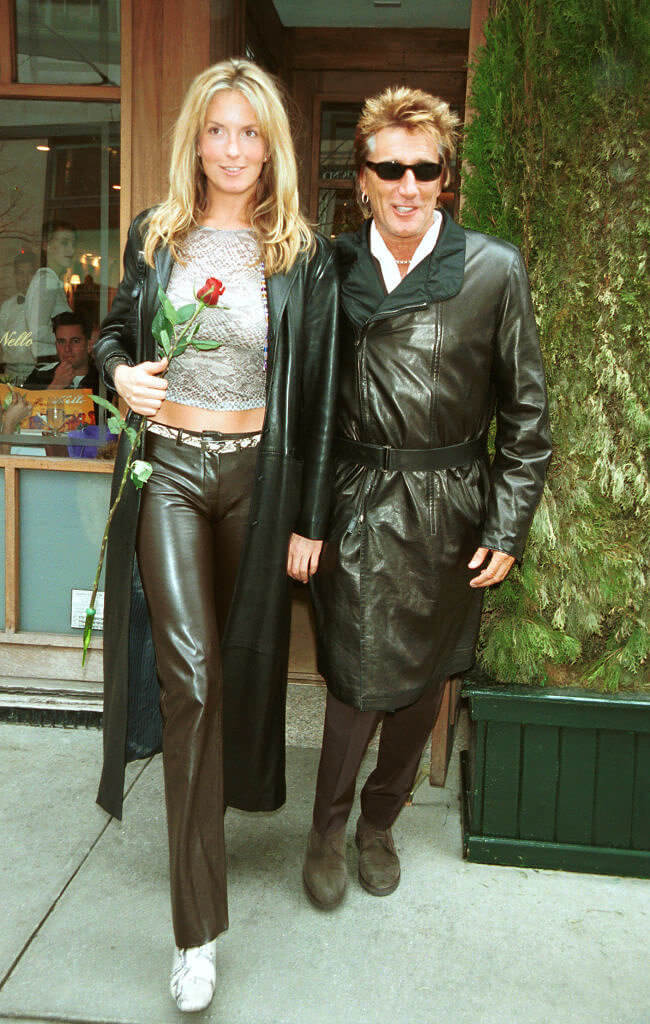 After dating for nearly seven years, Rod and Penny got hitched in 2007 in a lavish ceremony in Italy. While the songwriter did manage to find his happily ever after, it wasn't as smooth sailing as it looked from the outside, but the duo ironed out their differences to be together.

Newest Addition to Rod's Ever-Growing Family
It is no secret Rod that had several relationships before his marriage to Penny, and he was already a father to six children. Yet, undoubtedly for the singer, his search for his one true love ended when he met his current wife. During their seven-year-long courtship, Penny had their first child, Alastair in 2005, and Rod's baby number eight, Aiden, arrived in 2011.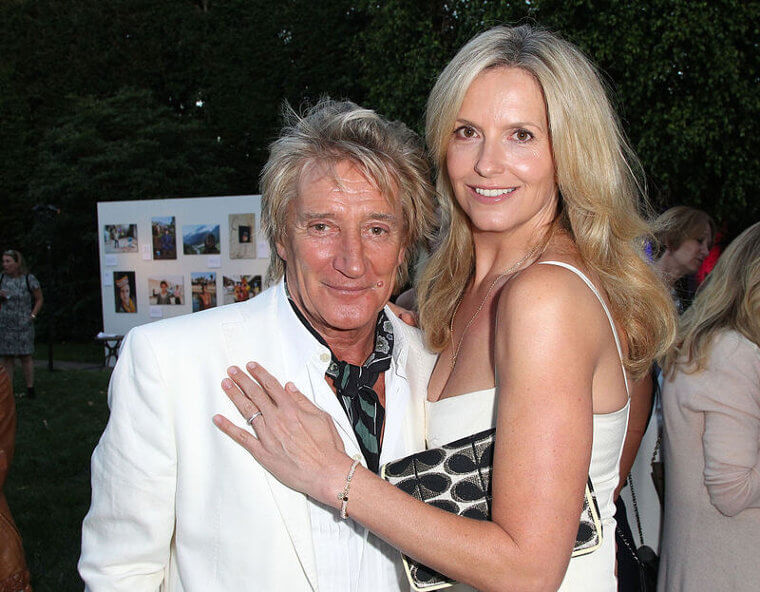 While the couple has seen their fair share of ups and downs throughout their marriage, the bond that Rod and Penny share remains intact to date. This duo has found the secret to a happy married life, which isn't just physical intimacy but little gestures of love that make the most impact.

Eight and Still Counting
We must say fatherhood is a skill that comes naturally to Rod. After all, being a parent to eight kids isn't easy, but he still makes it look like a piece of cake. Apart from being a legendary musician, he has also efficiently raised all of his children. From his eldest daughter to his youngest son, all have individual personalities and lifestyles, and Rod has always made sure to be a part of their lives and has supported them as any doting father would.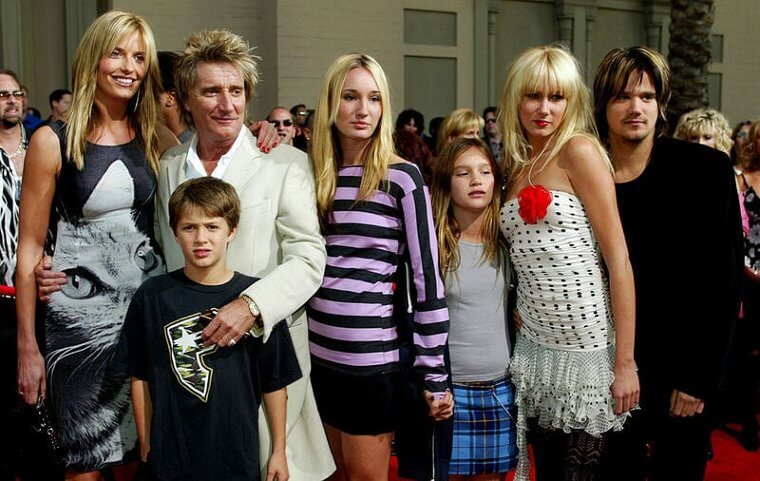 The celebrity has opened up about his struggles while helping them tackle the problems they have faced. In addition, he also made sure to be a part of their lives despite a busy schedule.

A Brief Separation
Like any other marriage, Rod and Penny's marital life had been in troubled waters, and the word on the street was that the two had ended their relationship. It indeed was a piece of disappointing news for the singer's fans as they had always rooted for this adorable couple.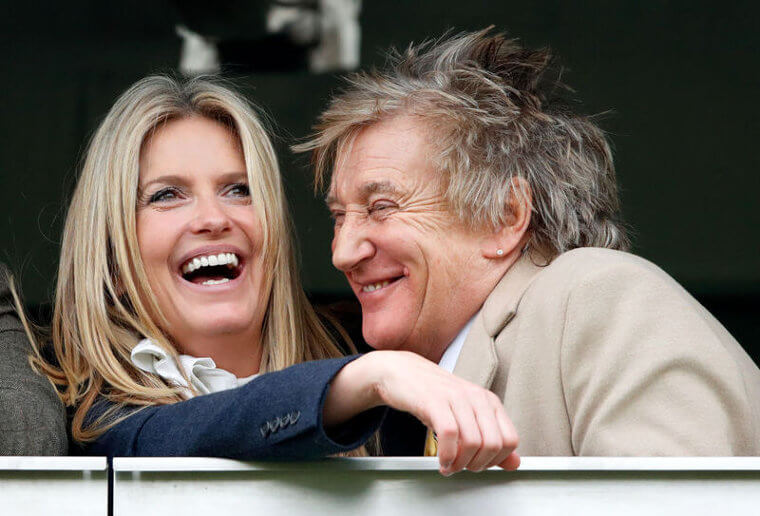 Nonetheless, the good news is it was just a brief separation of two weeks, and the duo are now very much back to being the most romantic couple around. Moreover, the short break inspired Rod, and he covered a song, 'Picture in a Frame', which was about the pain of separation from his lady love, saying "Penny and I broke up for two weeks and the song is about that time. I asked her for a photo of herself in a frame so that I could see her when I went to bed and when I woke up."

Penny Is the Only Woman for Rod
While Rod wasn't opposed to being in an eternal relationship with one woman, he did have several relationships back in the day. Nonetheless, it took the man two failed marriages and a few unsuccessful affairs to finally find the love of his life, Penny Lancaster. And he was old enough to do it, saying "My relationship rule is, 'Don't argue after a glass of wine – leave debating until the morning, I have always loved women, won some, lost some, but it's not about the magic touch, it's about being a better person and a good listener. I met Penny in my 50s and if I had not learned by that point in my life I was never going to."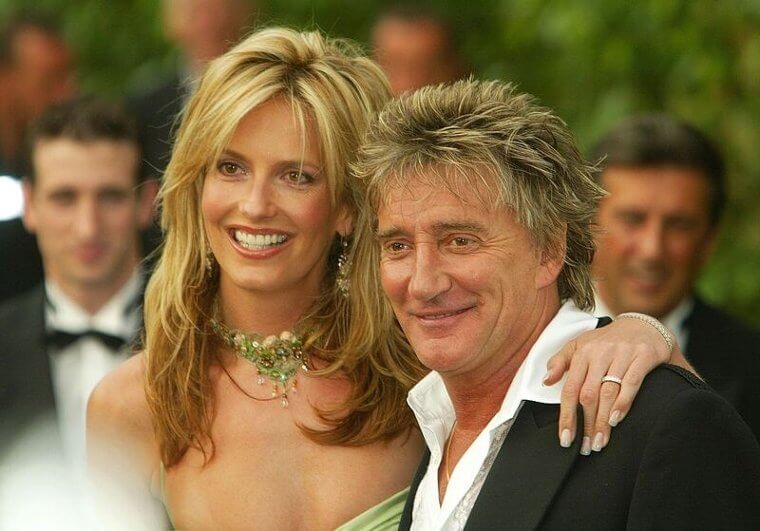 Interestingly, his marriage with his now-wife has lasted for almost two decades, but the singer has had his eyes set on Penny ever since he met her in 1999. So, we can say that Rod's better half has kept him grounded, and we are glad he found his one true love, even if it took a few unsuccessful attempts at romance.
Rock and Roll Is Here to Stay
Perhaps, the best way to describe this musical pairing is off-the-wall legendary. It was quite an unforgettable staging, as Stevie Nicks and Rod Stewart brought their mesmerized audience all across America in sonic overload with their electrifying 2011 Heart and Soul tour. That was just the beginning, though, of the full house nostalgia.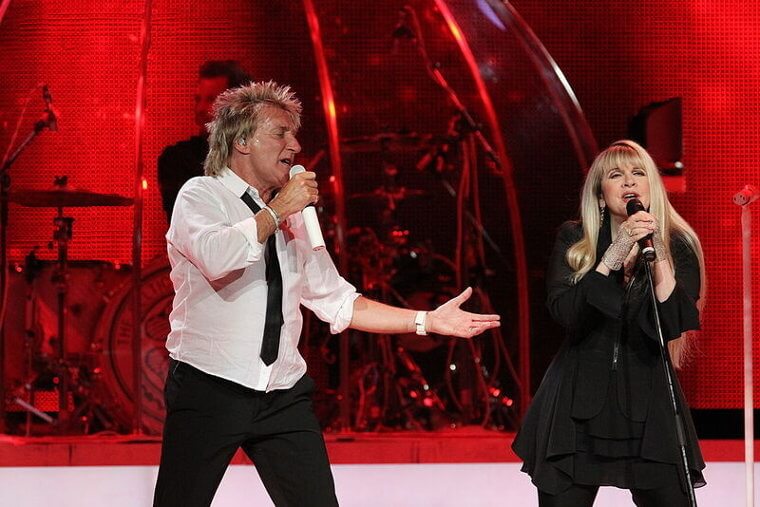 This is what music is all about. Best to say that no one forgot the heavy beat experience, especially Rod "the Mod" Stewart's high-energy performance at Hyde Park. The rock and roll crowd can't seem to get enough of him for all his tomfoolery. When the dust finally settled, the rock legend began his Vegas residency, promising a forthright rock show.
Since You Asked
Once you've waggled through a rockstar lifestyle, you cannot forbear the intoxicating paradigm. No judgment, though, as not everyone would've had the magic junk to repel the worldly amenities with the rockstar title. You betcha; Rod Stewart has the same lingering afterthought, no matter how off-putting it may seem, that rock and roll has its religion.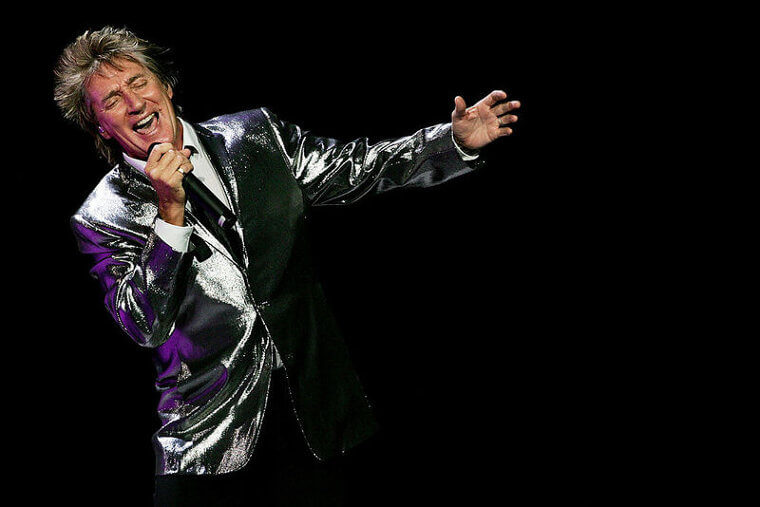 Rod's unvarnished 2012 autobiography was a treat to appease the curious minds. Detailing all of his salacious affairs, prompting that yes, the musician loves cars, practical jokes, models, booze, magic bullets, and football, the book also shares his enigmatic rise to mega-fame, the sideline chicks he kept, and how Rachel Hunter poached his heart.
Want Some Rockstar Trim?
What's rock and roll if not for its crooner's decade-defining flocks. Apparently, there's the long hair rock staple, the outrageous, heavily-sprayed mane, and there's also Rod Stewart's signature hairstyle. As it turns out, the 'Maggie May' singer has a knack for lazy, unkempt coiffure, just like his musical heroes David Ruffin and Bobby Womack.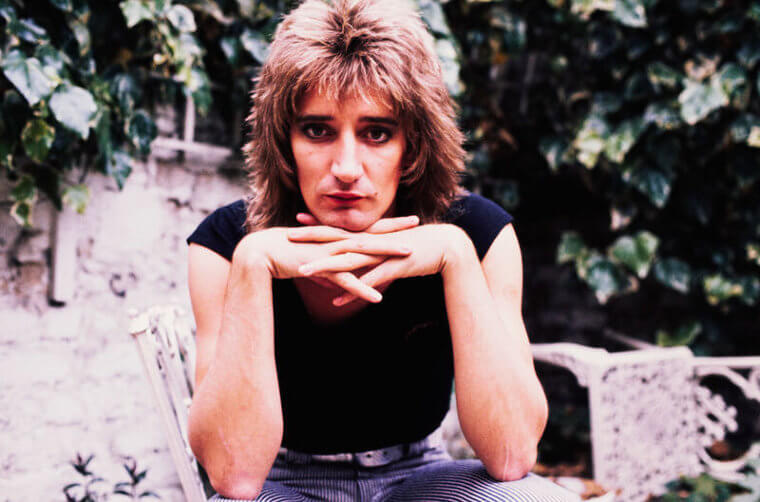 Let us get you on a secret: Rod's haircut maneuver involves mayonnaise. You heard that right. The styling also requires an eccentric base dressing of egg and oil for the spiked hair to stand on end. Guess the swinging '60s of London's punk and mod scene couldn't be more appetite-inducing; true or not, Rod perfectly rocks the cut without looking square.
You Know What It Is: Magic
Though rockstars love to chase skirts, and gorgeous skirts at that too, they don't somehow find what they're looking for. Not trying to sound sappy, but everyone wants that sparkly magic that comes with the fall. So, despite his climatic love affairs, Rod Stewart spilled during his 2021 interview that his astonishing romances never measured up to the right one he's longing for.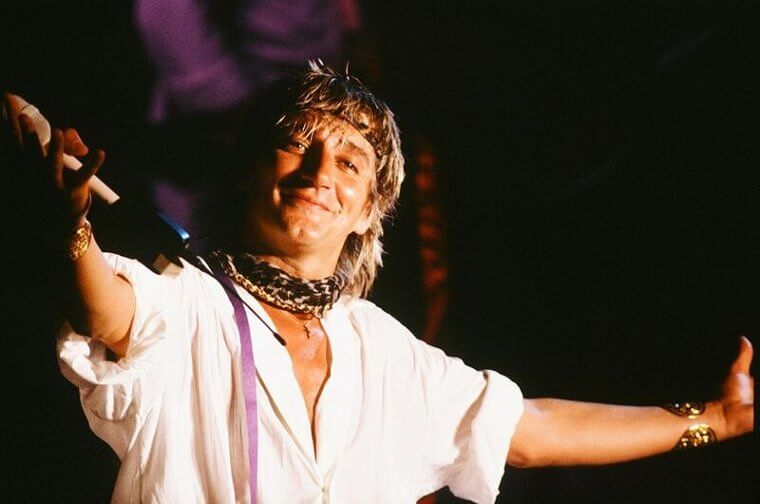 From 'Bond Girl' to supermodels, these are the type of women Rod loves to dally. Yet, he never even remembered some of their names, ouch. Not until he met the love of his life, Penny Lancaster, who he dated six months after his divorce from Rachel. Guess the third time is the charm.
What's Intimacy Got to Do With It?
Having rockstar status doesn't really guarantee a fairytale romance. If anything, it reduces intimacy to one-night stands and awkward conversation. Even Rod Stewart confessed that the score felt unrewarding and jaded due to the line of beautiful women at his beck and call. Oh sure, genuine attachment is further than skin-deep.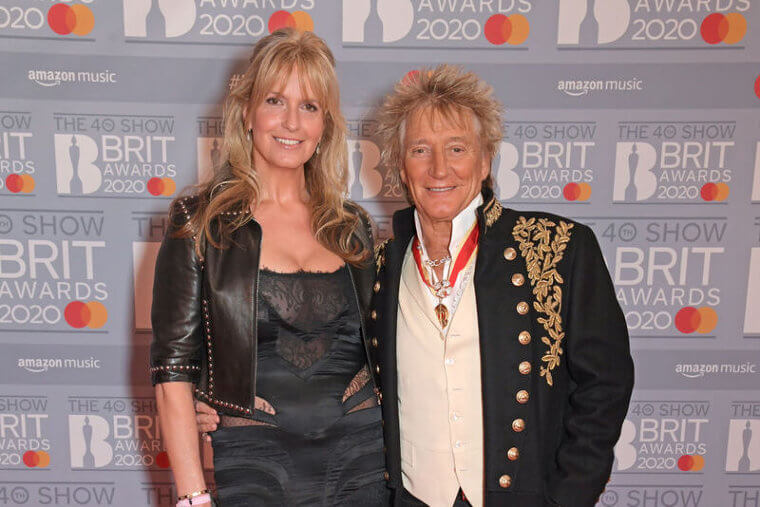 How ironic is it when you almost have everything yet still find it unsatisfying? Years of living like a Casanova made the man out of Rod, at least made him seek out that right person who might see beyond his rockstar persona. He found it, alas, careening right to his arms after three times down the aisle. All the worth, though, as Penny Lancaster is the one.
Not-So-Good Album Reviews
Despite the album being one of Rod's most intimate and honest to date, turns out not everyone thought so. His critics especially had a lot to say. One critic described him as being in a decidedly looser frame of mind compared to when he released one of his previous albums Time.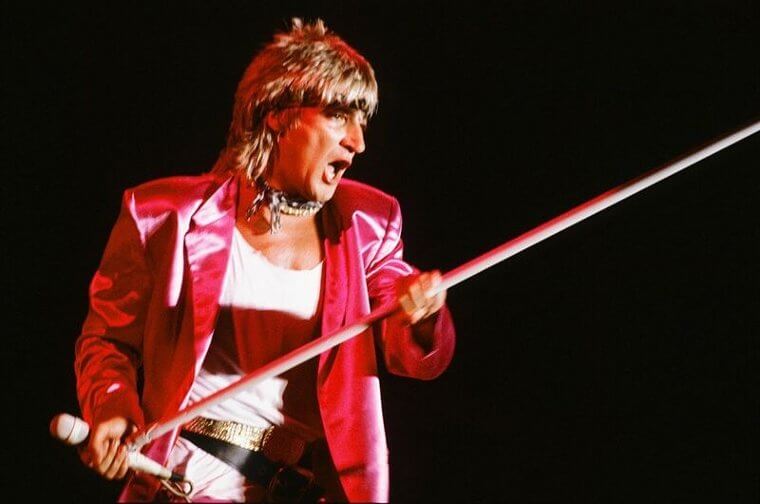 American Songwriter magazine said "a few moments almost save this from moving into the "better luck next time" pile," meaning it wasn't all that bad, but could have been better. Classic Rock Magazine described Rod as "always being a master interpreter of other people's material" and called the opening track an atmospheric ballad.
In the Heat of the Moment
When it comes to Rod's career and love life, things seem to sail smoothly for him. So while he continues to reach new heights thanks to his work, there are times when everything isn't just perfect. An unpleasant incident in 2019 did create a lot of stir, and given how famous the singer is, things escalated instantly.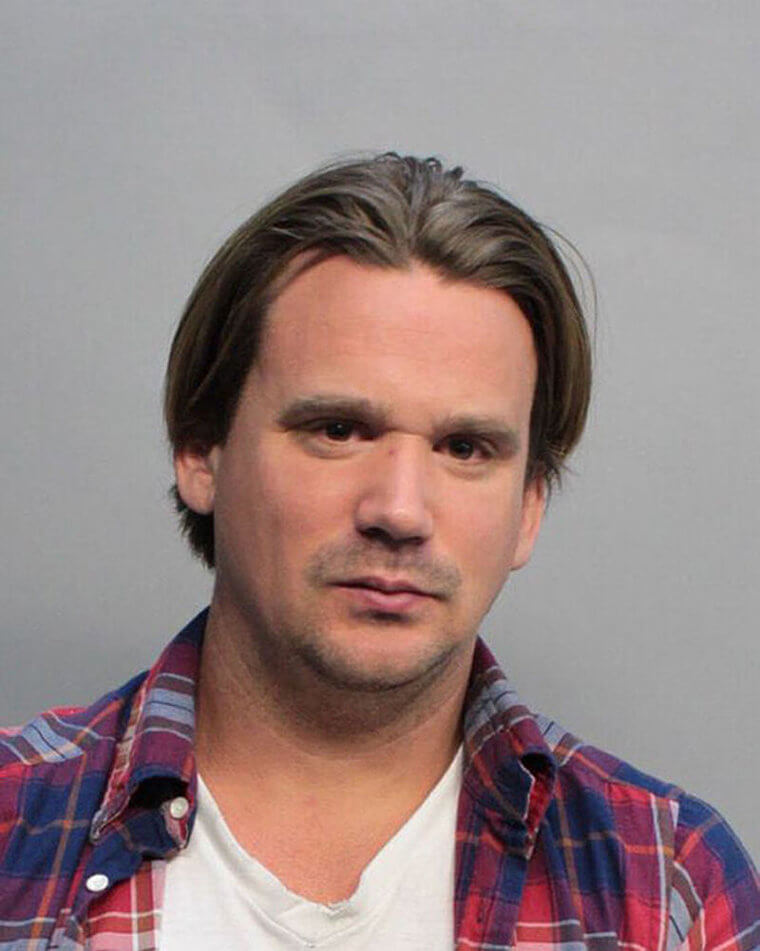 Rod and his son Sean apparently got belligerent when members of their family were denied entry to a private event in Palm Beach. Apparently, Sean pushed a security guard and Rod followed up by punching him in the ribs. Also, of course, success tends to cloud your judgment when you are a renowned personality. Nonetheless, it is commendable that Rod was apologetic for his behavior and did not use his status to get out of it.
Time to Start Afresh
Fortunately, Rod did not have to pay a hefty price for the alleged incident that occurred in 2019. Nonetheless, the singer still decided to plead guilty to misdemeanor battery as he did not want to keep the already overburdened courts occupied by a high-profile matter.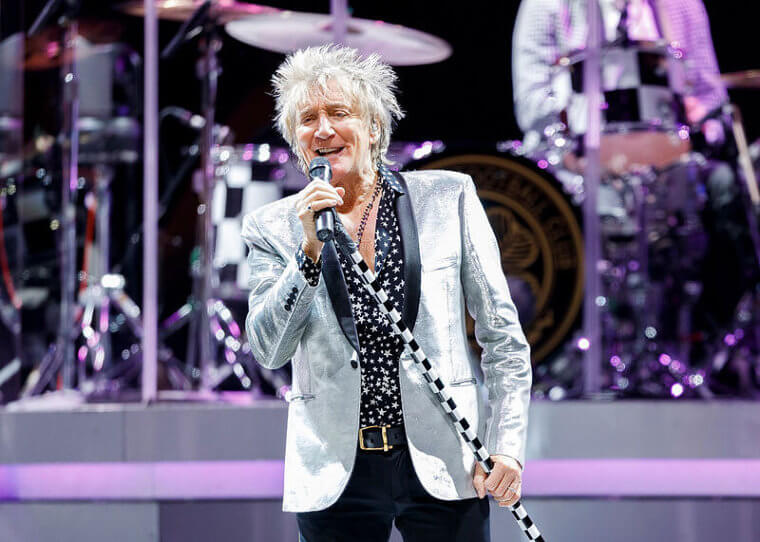 More good news for Rod's fans is that he will not have to face any conviction for the said incident as the jury had acquitted him due to lack of evidence. Unfortunately, this did impact his reputation, but we believe the rockstar will bounce back from it soon and will once again rule over the hearts of the audience.
Great Honor
Rod is among the greatest rock and pop stars in the world, and it isn't strange that his motherland, Britain, would seek to honor him for his work. The star was awarded the Commander of the Order of the British Empire (CBE) title in 2005, and in 2016, he was knighted at Buckingham Palace.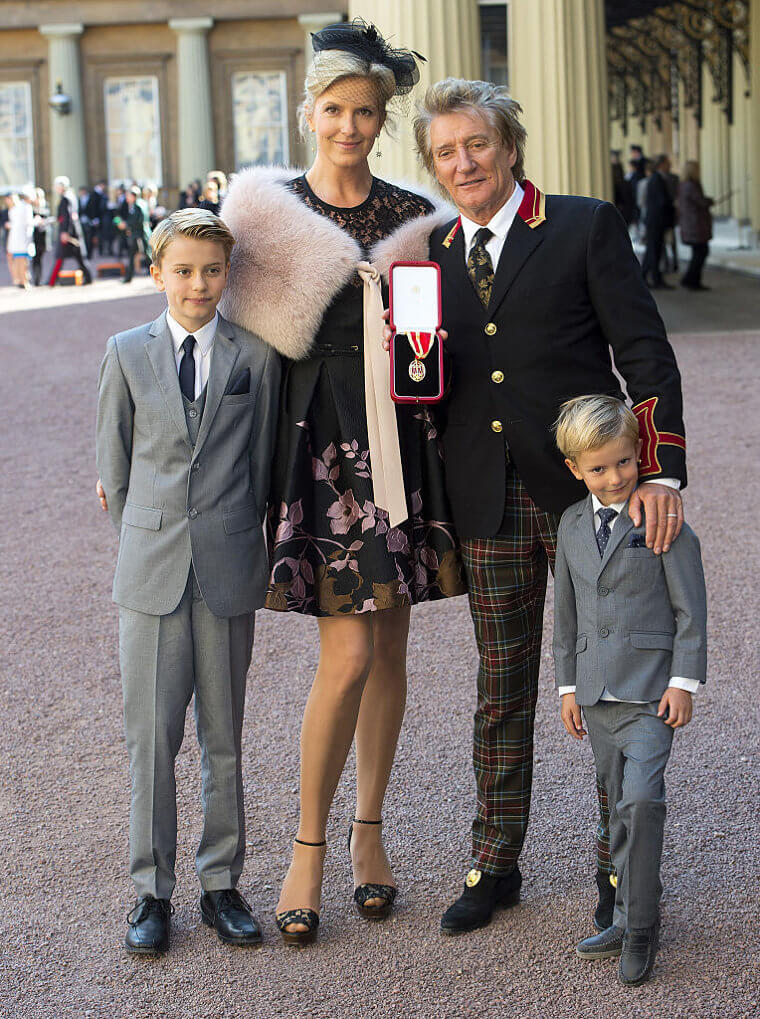 Having received one of the highest awards in Britain, Rod described the feeling as being "on cloud nine." The star interacted with Prince William, who congratulated him on his stellar career, and for the ceremony, he was accompanied by Penny and their two children, Aiden and Alastair.
Rod and Elton's Feud
Sometimes friends come to loggerheads regardless of their social status, and Rod Stewart and Elton John are not different. The two acclaimed singers and "frenemies" started feuding apparently after Rod covered Elton's "Country Comfort" and changed the lyrics all around. The dispute got so bad that they hung their dirty laundry out in public; Elton had a blimp advertising Rod's tour shot down in the '80s.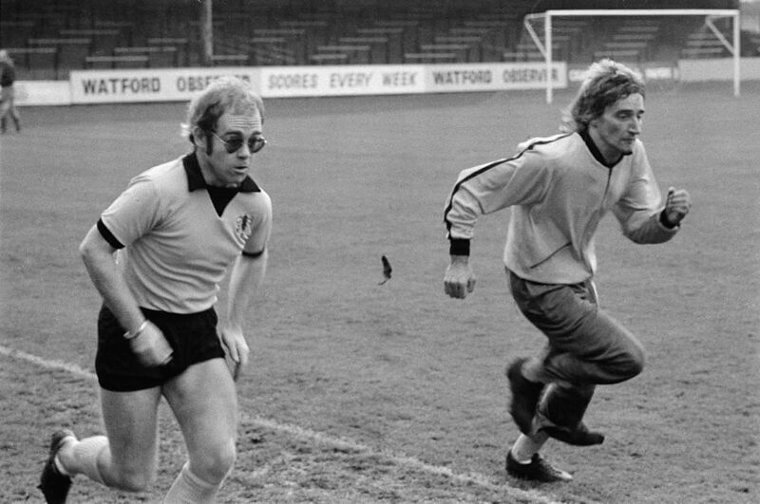 After falling out again in 2018 when Rod said that Elton's upcoming tour "stinks of grabbing money", Elton took a swipe at the star in his autobiography Candle In The Wind. He claimed that he'd never take advice on rock and roll and the music business from "someone who'd spent most of the last decade crooning his way through the Great American Songbook and Have Yourself A Merry Little Christmas."
A Chance at Reconciliation
After the long-running dispute that has been mainly fought in the press, Rod claimed in 2021 that he and Elton had put the spat behind them and were on good terms. Yet, the star later revealed that their relationship was quite complicated, and owing to the past punches they threw at each other, they had reached a point of no return.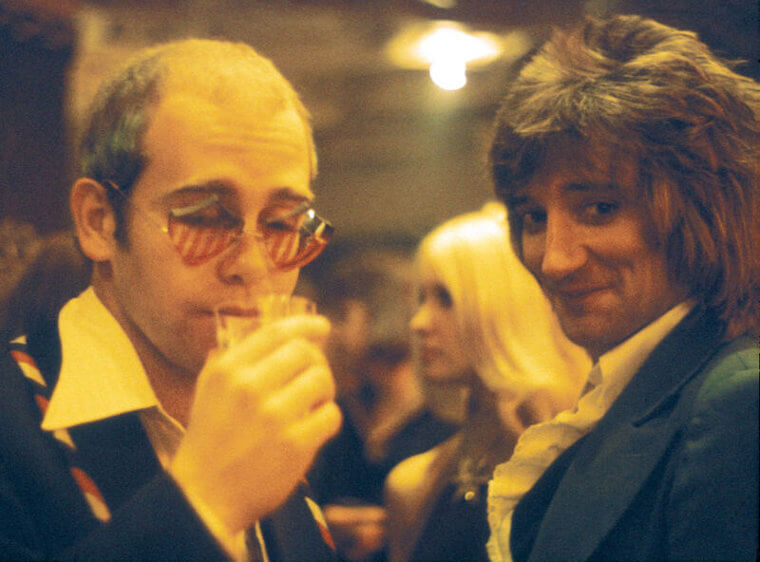 When asked if there was any possibility of him working with Elton, Rod "No chance. Scotland have got more chance of winning the World Cup than that ever happening." Unfortunately, it seems the hostility between the two cannot be resolved, and since they only do their speaking through the press, we don't see the feud ending anytime soon.
The Media's Context Is Different
Concerning the feud, Rod went on to say that if he were to comment on his relationship with Elton, the media would pick it up and report it in a way that regenerates the feud. The record producer also commented that he no longer has Elton's number, such as the distance between them.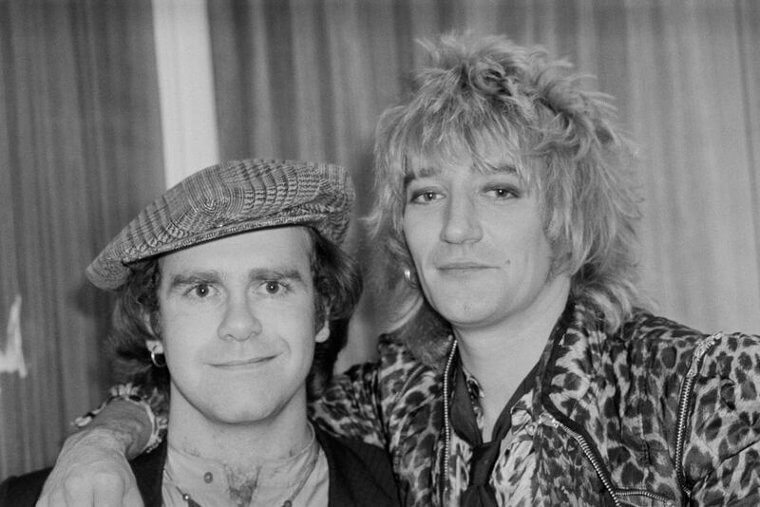 Stewart didn't stop at that, though; he went on to say that he believes the two massively adore each other and that they had grown apart as lovers do: "We've always been fierce enemies, as you know, through the years, but it's always been at a playful level. But we had the worst row, like a married couple. It went on forever." Considering his relationship history and the string of partners he's had, we do not doubt Rod knows exactly what he is talking about.
A Bit of Regret
It seems old age has made Rod a bit softer and wiser, as he says he regrets the things he said to Elton at the peak of their quarrel. The singer claimed he had been super competitive with Elton during his career but acknowledged that he crossed the line in 2018: "I was a bit spiteful when he announced his tour. I regret it, I really do regret it. So we're mates again now. I do love him."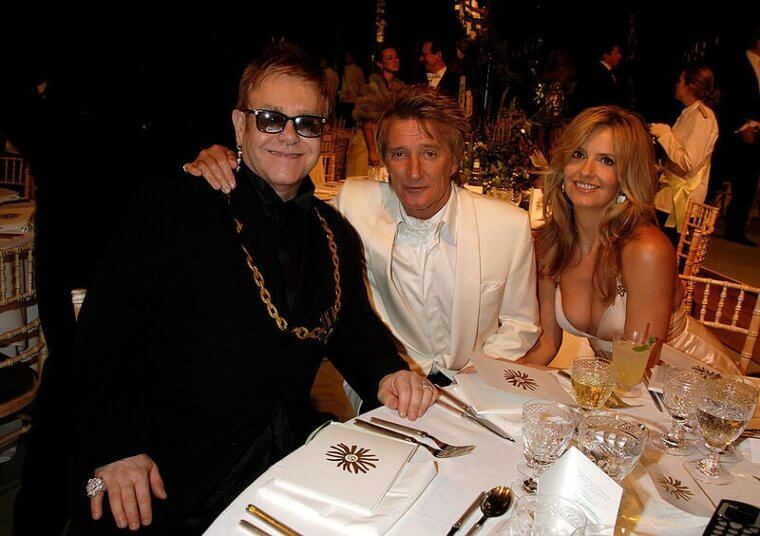 Stewart told the media that he regrets his actions and words because he said he taught his children how to apologize and what better way than to lead by example? Rod said he lent Elton an olive branch by inviting him for a football game with his friends and whether Elton responded to the email is something we may never know since Rod didn't mention it.
Once a Rockstar, Always a Rockstar
Rod Stewart has made it his life's mission to entertain us with his rocking on-stage performances, and he wants to do it live in the summer of 2022. He dropped the exciting news early in the year, driving his fans into a frenzy - a treat for those who have waited for four long years. To think the man is only three years shy of 80 but has the enthusiasm of a young performer, he'll always be a rockstar.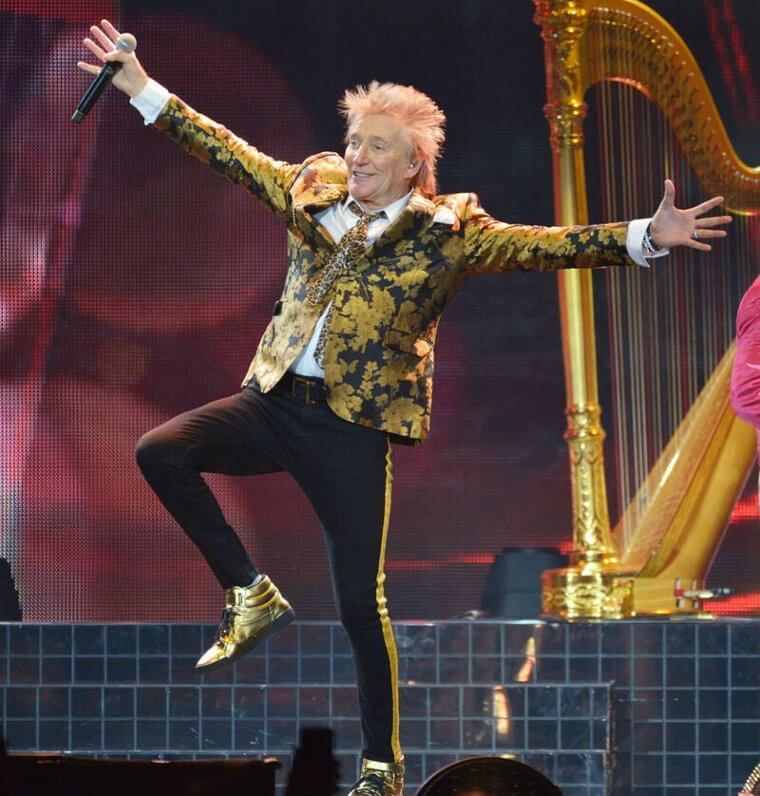 To everyone's utter surprise, Rod added 19 more venues to take it to a grand 38 of the cities with promises of performing to some of his old favorites. We can already see his high-octave performances remaining in our memory forever.
A Philanthropist With a Golden Heart
It comes as no surprise that Rod Stewart has his pulse on the volatile situation in Ukraine and has been helping those in need. He has always been a kind-hearted and generous soul, ready with cash in hand for the needy. The news of him paying the cab drivers to help transport the refugees to the UK is heartwarming.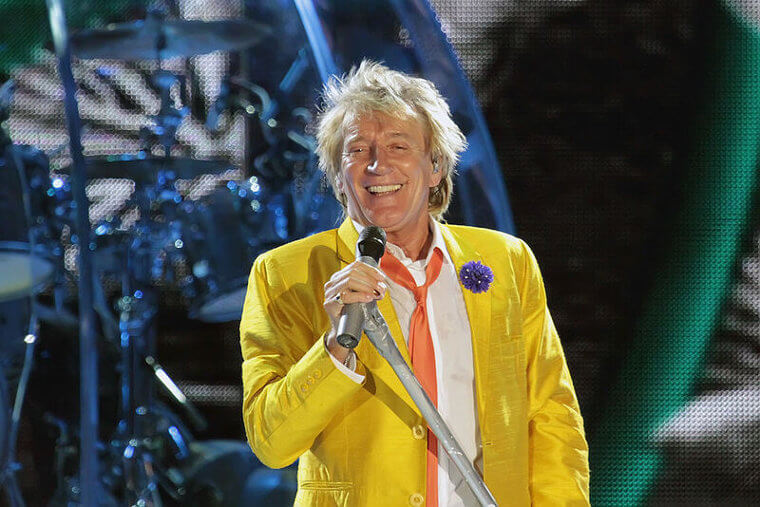 When Penny narrated the story to Chris Evans on a Breakfast Show, it moved him to tears. The audience and he just then heard Rod's message lending support to a security firm delivering supplies to the Ukrainians. The rockstar is a thorough philanthropist who is always helping out wherever he can.

Healing the World Through Music
There are millions of people with the means to help others, but how many have the heart to do it regularly. Rod Stewart is a man who embodies generosity in everything he does. During the pandemic, he raised money by auctioning off some of his collectibles, including a Cartier watch and a signed Celtic top, and donated them to NHS.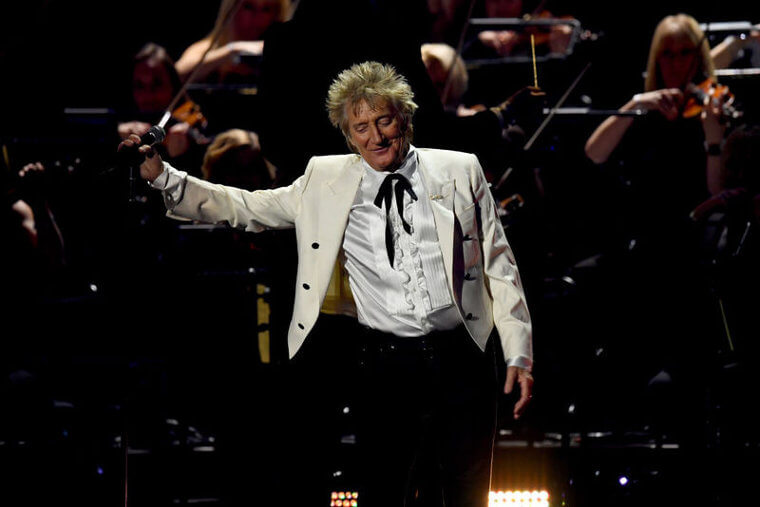 Rod has a history of writing songs and performing to raise money to support causes dear to his heart. He works with several charitable organizations and has donated a large amount of cash to help raise awareness about the unfairness of the medical cuts incorporated in the disability allowances in the country.

A Star Who Believes in Paying It Forward
Rod Stewart has maintained his hunger for both life and music despite his age, making him a quintessential star. When you look at his vigor for life and passion for music, you will not believe that he will be eighty in a few years. Let's not let the wild side of his past overshadow the legend and a gentleman he has become in the later years.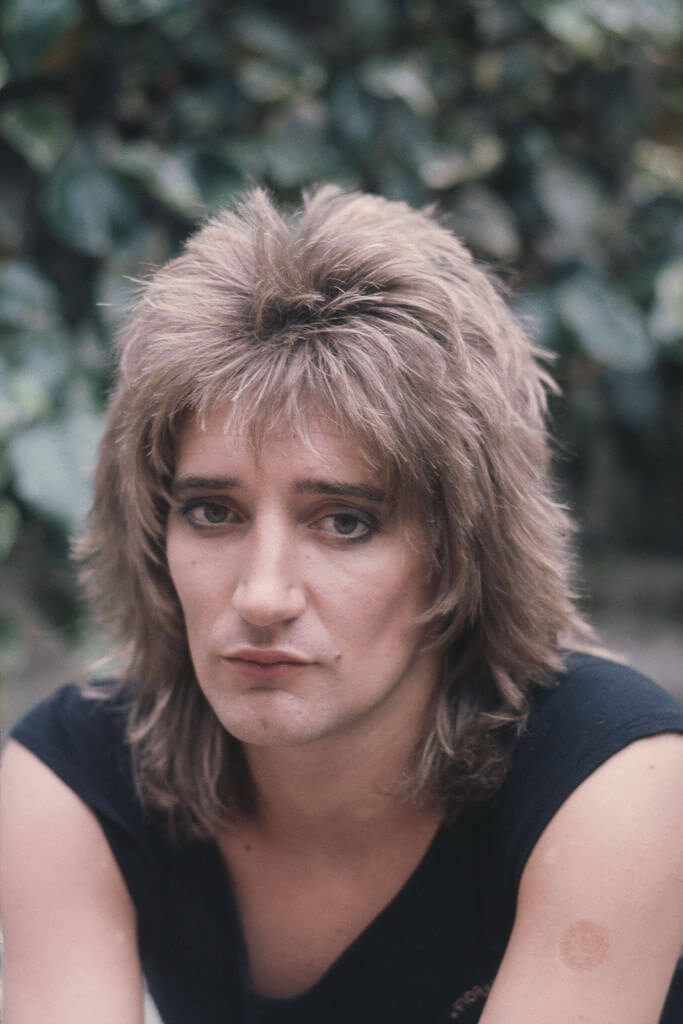 His ingenious music legacy aside, Rod has changed things to lead a better life. He is in a stable and happy relationship, shares a deep bond with his children, and most importantly, gives back to society with an open heart. No wonder the star is an inspiration for many.