There's a tendency for members of the same clan to appear identical, as is the case of the royal family. Over the years, we all had to ponder carefully at the likeness between these aristocratic parents and their offspring—the resemblances are genuinely uncanny.

Well, check out these fantastic royal lookalikes in our collection, from the moment the Duke of Cambridge mistakenly thought a portrait of himself was of his daughter, Princess Charlotte, to startlingly identical expressions. Let's feast our eyes and determine which of these monarchs look like two peas in a pod.
 
Princess Diana and Prince William
Most people would agree with the fact that Princess Diana and Prince William have a striking resemblance to one another. The beautiful royal's eldest son has been blessed in the looks department as he possesses his mother's infectious grin, stunning beautiful blue eyes, and distinctive oval face shape—he's one handsome prince indeed.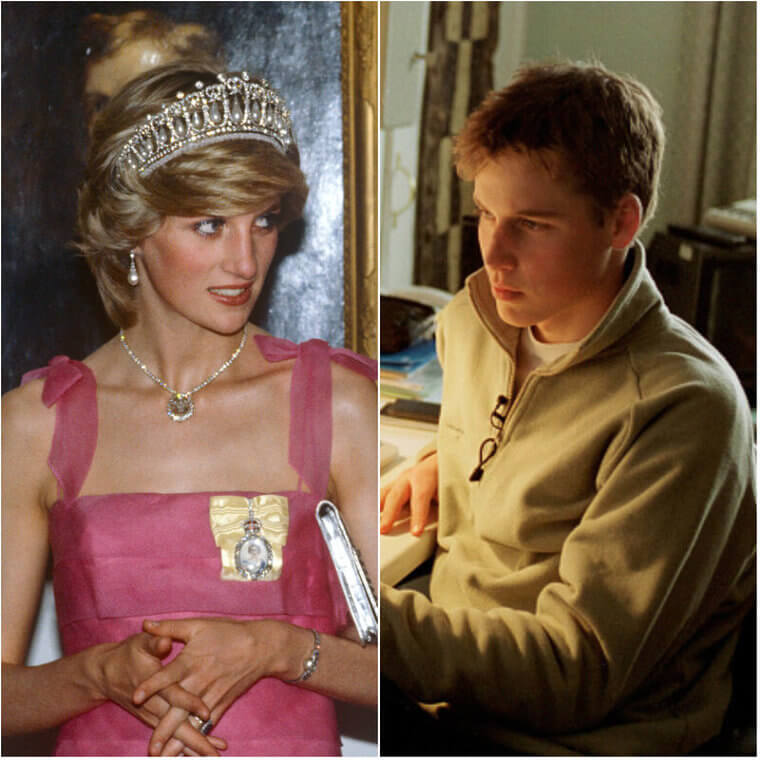 Interestingly, there is more to them than meets the eye. Throughout her life, the late Princess of Wales was noted for her dedication to charitable causes and organizations. By donating to organizations like the African Wildlife Foundation and Heads Together, Prince William is following in his mum's charitable footsteps.
Sarah Ferguson and Princess Beatrice
In addition to their big eyes and layered hair, Sarah Ferguson and her daughter, Princess Beatrice, both possess a soft yet charming smile that has dazzled many followers worldwide. Good looks aside, the dynamic duo share a sweet mother-daughter bond unlike any other.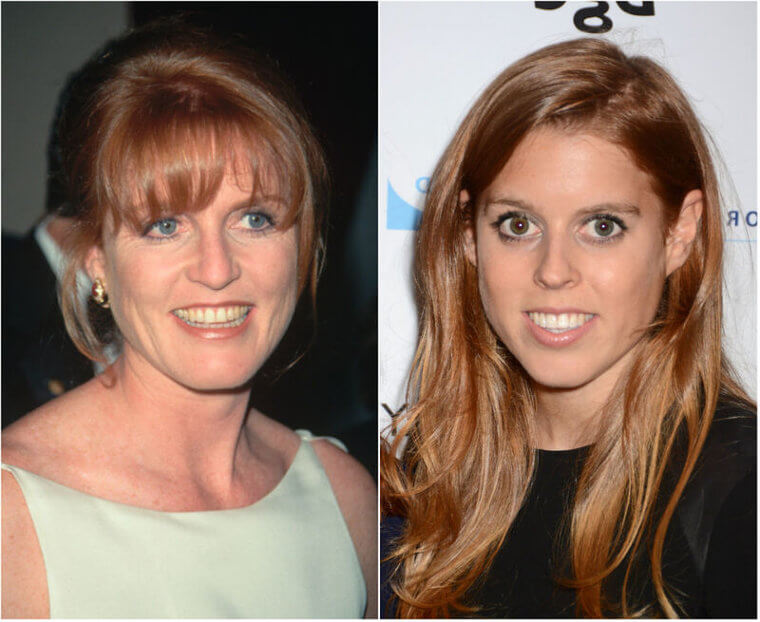 Unlike other monarchs, Sarah and Princess Beatrice are regularly spotted on the red carpet or at royal events supporting each other. Perhaps, their best moment was during Princess Beatrice's wedding to Edoardo Mapelli Mozzi in 2020. The Duchess of York couldn't help but show how proud she was of her lovely Beatrice walking down the aisle.
 
Marie-Chantal and Princess Maria-Olympia of Greece
Let's all admit that it's nearly impossible to tell who's who in this photo. Princess Maria-Olympia looks so much like her mother, Marie-Chantal, and it's because she doesn't appear her age. Most of the time, it's not uncommon to see the mother and daughter posing for photos together in their most fashionable ensembles.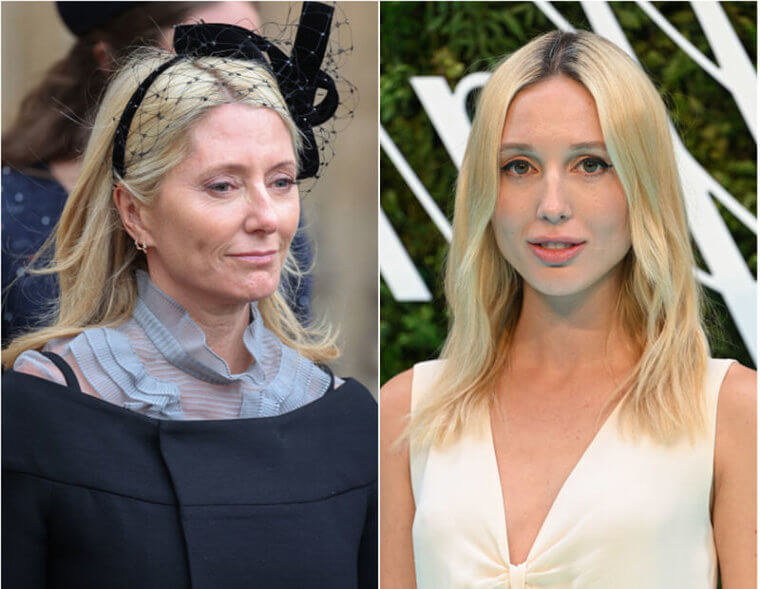 According to reports, Marie will inherit her billionaire father's fortune, and she typically gets VIP treatment wherever she goes. The blonde stunner sits front and center during Paris Haute Couture Fashion Week every year, so it's also not surprising that she frequently brings her kid along to these events. What a terrific tandem, indeed!
Sylvana Tomaselli and Lady Amelia Windsor
We were taken aback when we compared Lady Amelia Windsor to a portrait of her mother, Sylvana Tomaselli. These royals have a lot in common, from their big lips to their wide eyes and cheekbones.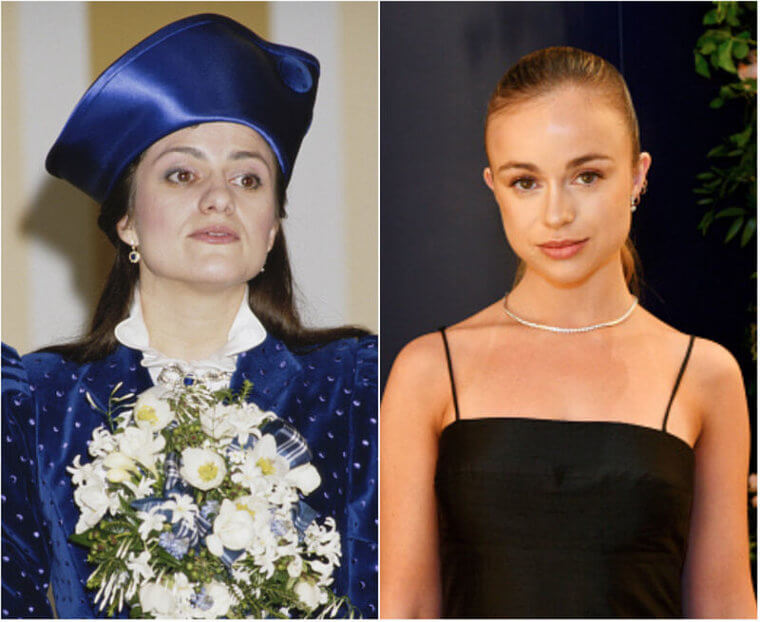 Some folks might be unfamiliar with her, but Lady Amelia Windsor, the third cousin of Prince Harry and Prince William, is the granddaughter of the Duke of Kent. Additionally, she's a regular on Fashion Week's front row and was even named to Vanity Fair's International Best Dressed List in 2017 for her impeccable style. Suffice to say; she's undoubtedly out to make her mom proud with her accomplishments!
Princess Diana and Lady Kitty Spencer
Lady Kitty Spencer, Princess Diana's niece, recently attracted the attention of the internet due to her striking resemblance to her aunt. Their similarities are so remarkable that her followers on social media have started calling her "the younger version of Princess Diana".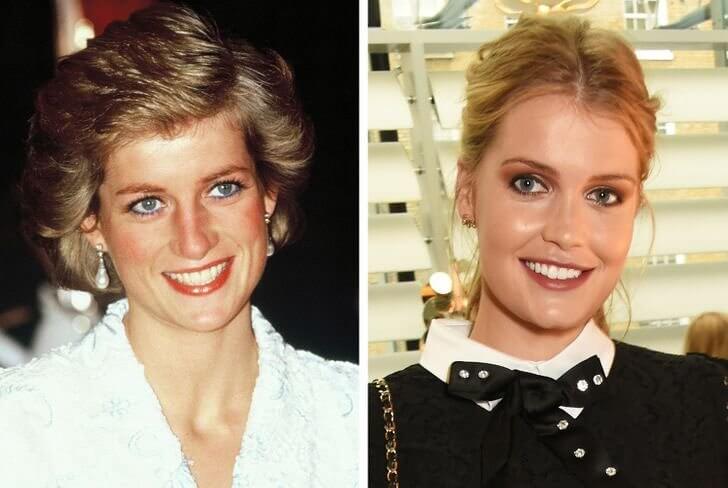 Lady Kitty Spencer is a famous British model and influencer. She is known for her amazing sense of style, and her mindblowing resemblance to her famous aunt. Although Kitty was only 6 years old when Diana passed away, she mentioned that she remembers her well and is grateful to have those happy memories of the brief moments she spent with her aunt. 
Princess Caroline and Charlotte Casiraghi
There's no denying that Princess Caroline of Hanover's daughter, Charlotte Casiraghi, looks just like her. One glance would make one conclude that these Monegasque royals are probably identical twins, right down to their dark hair, thick brows, and prominent cheekbones. In addition to sharing royal bloodlines, the duo also has a similar sense of style.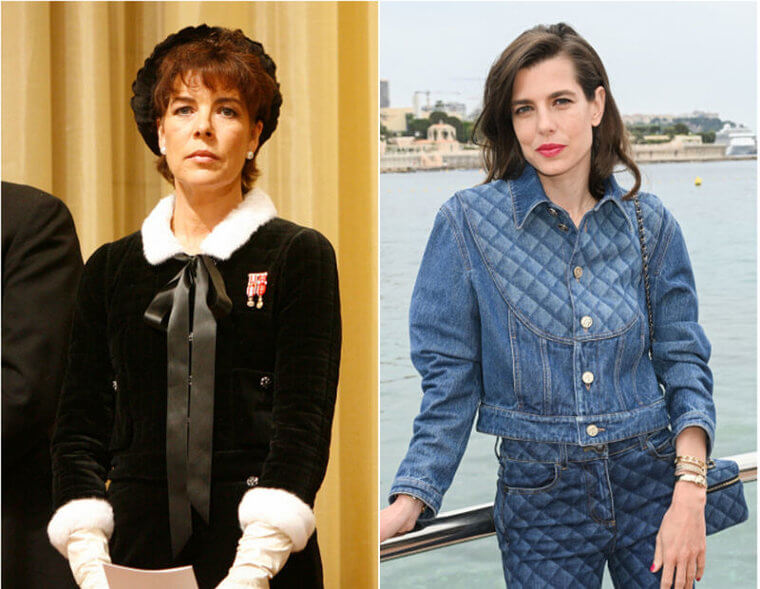 In the 1980s and 1990s, Princess Caroline had some of the most memorable fashion moments of her life, and it appears her daughter Charlotte is following in her stylish footsteps. As Grace Kelly's direct descendants, it's no wonder that these two looks impeccably dressed wherever they go.
Queen Silvia and Princess Victoria Of Sweden
When we speak of the royals looking like their parents, how can we not mention Princess Victoria of Sweden, who resembles her mother, Queen Silvia, in so many ways? From their stance at public events and shapely brows to the matching smiles, their similarities are there for all to see.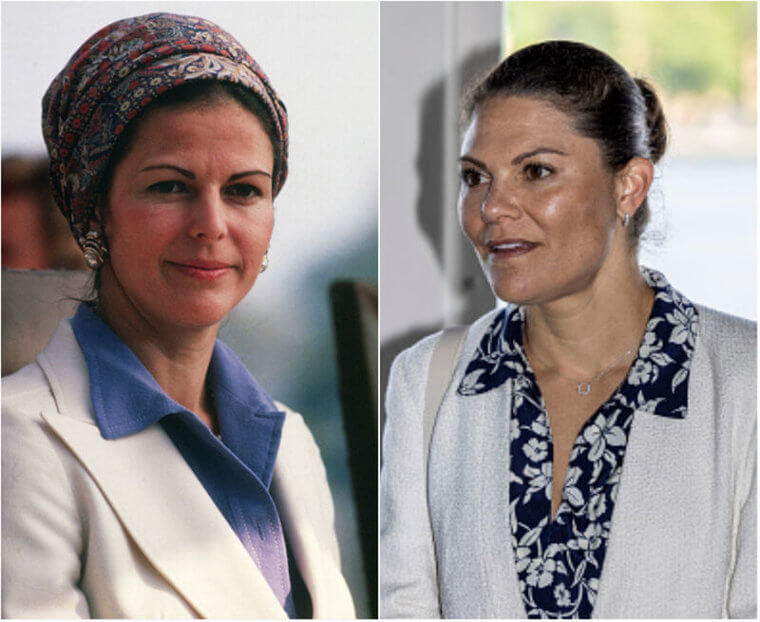 Even in terms of interests, Crown Princess Victoria has taken after her mom; both belief in giving back to society. While the Queen established 'The World Childhood Foundation' in 1999 to protect the right of children to lead a safe and healthy life, her daughter followed suit in 2016 by becoming one of the 16 Sustainable Development Goals Advocates appointed by the United Nations.

Queen Silvia and Princess Madeleine Of Sweden
Lucky is the mother with two daughters who not only look like her but have embraced her sense of duty and responsibility towards society as royals. The second daughter of Queen Silvia, Princess Madeleine, is the spitting image of her mother. Their high cheekbones and pointed noses give their relationship away to the onlookers.
Looking at the Queen's retro picture will have us wondering if it was indeed a faded image of Madeleine. She's often seen by her mother's side supporting her various charities. They share a similar sense of fashion, and their shared interests, including all their philanthropic endeavors, have only brought them closer.

Princess Charlotte and Lady Kitty Spencer
The resemblance between Princess Charlotte, Prince William and Kate Middleton's daughter, and Lady Kitty Spencer, Princess Diana's niece, is uncanny. 
Even though Kitty is a little bit blonder than Charlotte, they have identical features!
Stefano Casiraghi and Andrea Casiraghi
As the eldest grandchild of the gorgeous movie icon of the Golden Age of Hollywood, Grace Kelly, he is blessed with good looks passed down to him for generations. Still, it's uncanny how he is the carbon copy of his late father, Stefano Casiraghi, a powerboat racer who passed away due to a racing accident in 1990 while defending a World Powerboat Championship title.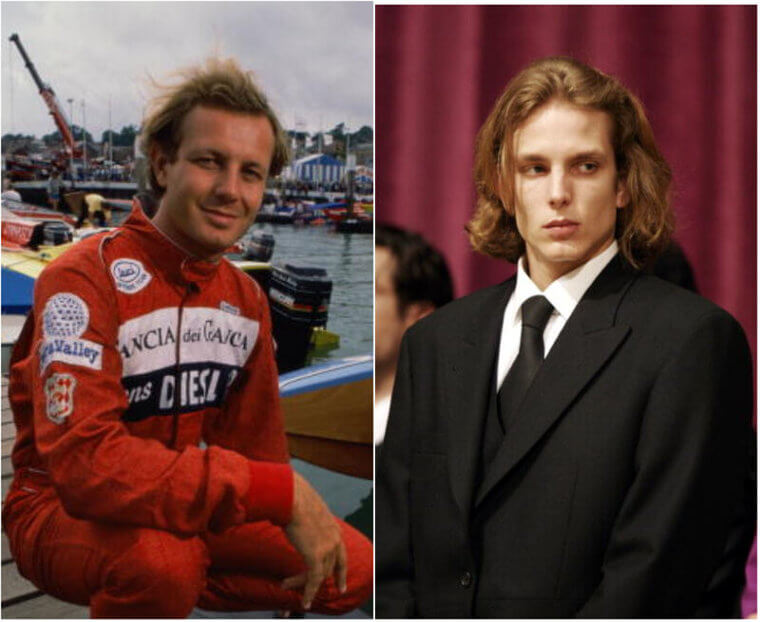 The senior's vintage photos clearly show that the duo has similar features right down to the shape of their faces. We can only presume that Stefano would have loved seeing his young son grow up to resemble him so much if he were alive.
Princess Anne and Zara Tindall
When you place a vintage photo of Princess Anne next to the recent picture of her daughter Zara Tindall, you'll be unable to tell the difference. Their similarities don't end with their matching physical features; their shared interest in horses has made them accomplished equestrians. From the eye color to their arched brows and jawlines, we'll be convinced we see doubles.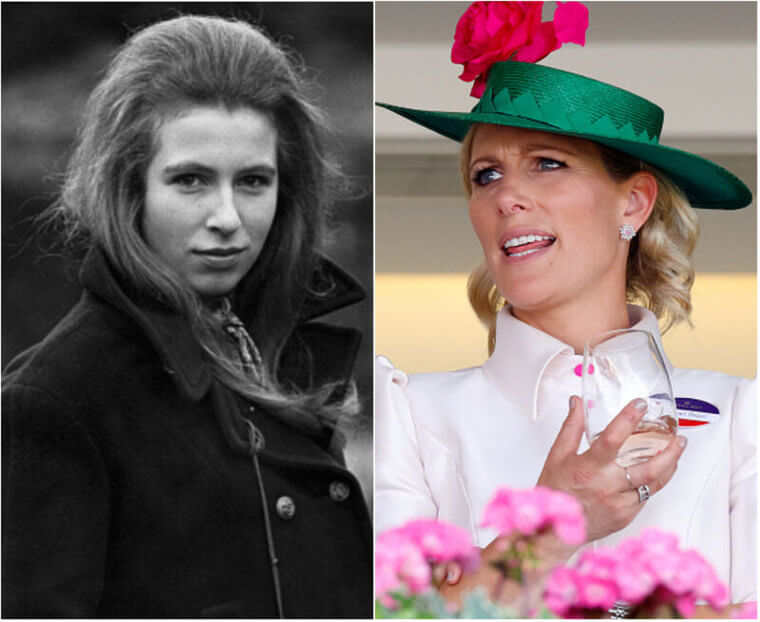 While Princess Anne won three Championship medals during her career in sports, her daughter has collected team gold medals and an individual one. In 2012, Zara received her silver medal for a team event from none other than her mother. What a proud moment it would have been for the Princess as a mother!
Princess Stephanie Of Monaco and Pauline Ducruet
In as much as Princess Stephanie and her sister, Princess Caroline, have a lot in common, we cannot ignore the similarities between the royalty and her daughter Pauline Ducruet. We bet if we showed you a picture of a young Stephanie and Pauline, you would think they're twins.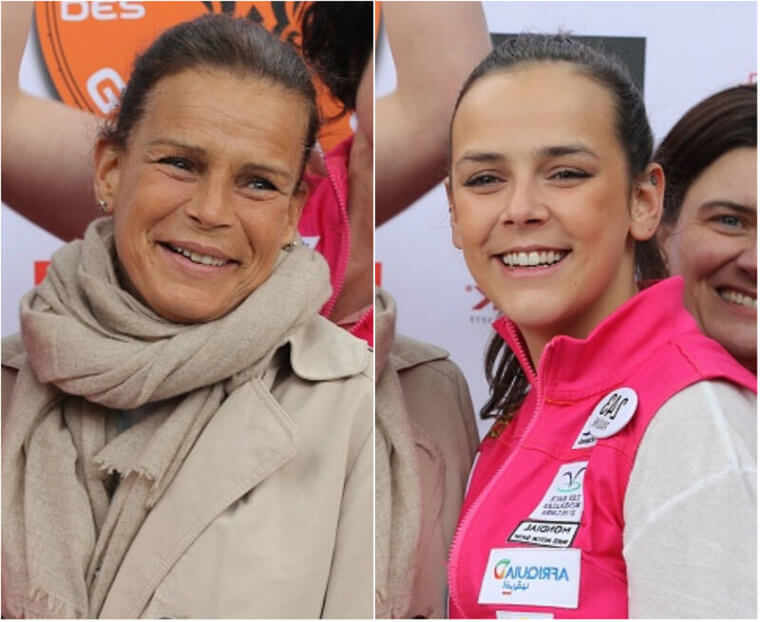 Apart from her interest in fashion which saw Pauline enroll in Instituto Marangoni in Paris, she has stunning brunette locks, fluffy brows, and pursed lips, just like her mom. As a budding fashion enthusiast, the Monegasque royal landed internships at 'Louis Vuitton' and 'Vogue,' and after that, she launched her fashion label, 'Alter Designs.'

Prince William and Prince George
Prince William and his son, Prince George, share a most striking resemblance in their physical appearance. Both have fair skin, blue eyes, and sandy blonde hair. Their facial features are also quite similar, with strong jawlines, high cheekbones, and a straight nose. There's no denying that Prince George inherited his father's signature grin, which shows off his upper teeth and dimples on both sides of his mouth. The two also share a similar physique, with tall and lean frames.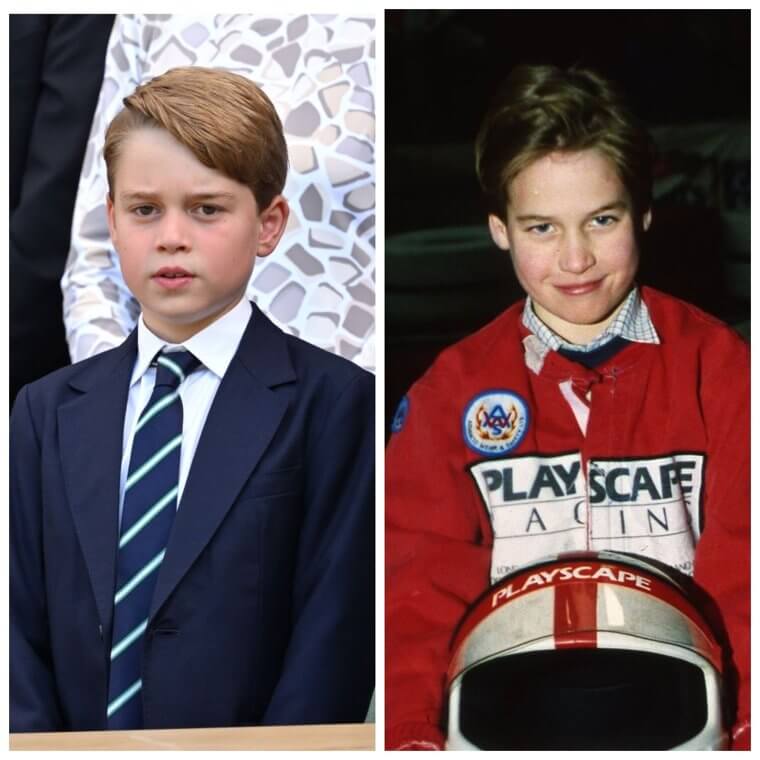 However, there are also some differences between the father-son duo. Prince George has a rounder face and a softer, more youthful appearance than his father. In contrast, Prince William has a more angular face and a slightly more mature look. Overall, it's clear that Prince George takes after his father in many ways, both physically and in terms of his royal duties and responsibilities.
Princess Michael Of Kent and Lady Gabriella Windsor
Comparing a recent image of Lady Gabriella Windsor and an old picture of her mum Princess Michael of Kent, it's hard to ignore the uncanny resemblance between them. Just look at their striking smiles! The mother-daughter pair share a lot of attributes, not just physical, but their fashion tastes too.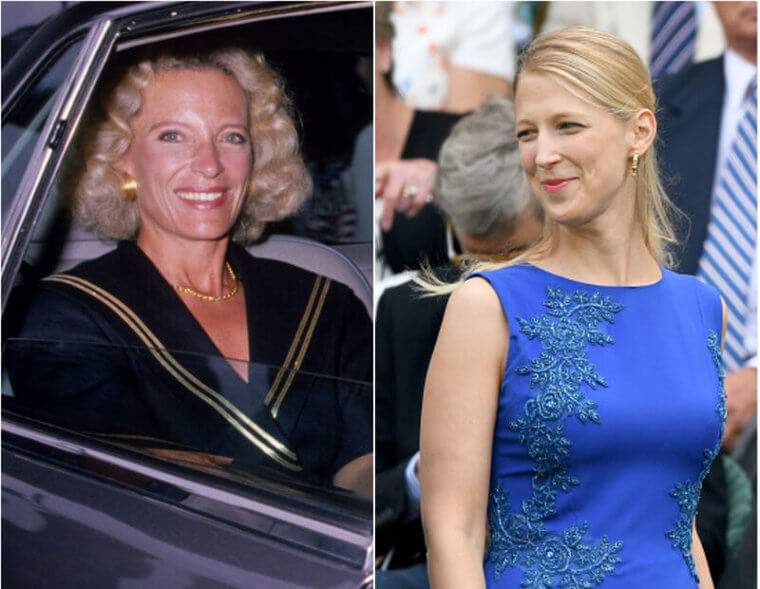 Comparing a recent image of Lady Gabriella Windsor and an old picture of her mum Princess Michael of Kent, it's hard to ignore the uncanny resemblance between them. Just look at their striking smiles! The mother-daughter pair share a lot of attributes, not just physical, but their fashion tastes too.
Queen Rania Of Jordan and Princess Iman
Queen Rania is rightfully considered one of the most stylish royals in the world, and it looks like her daughter Princess Iman has inherited the fashionista bug. The princess takes more than the fashion taste from her iconic mum; they share the curly tresses, stunning smile, and prominent brows.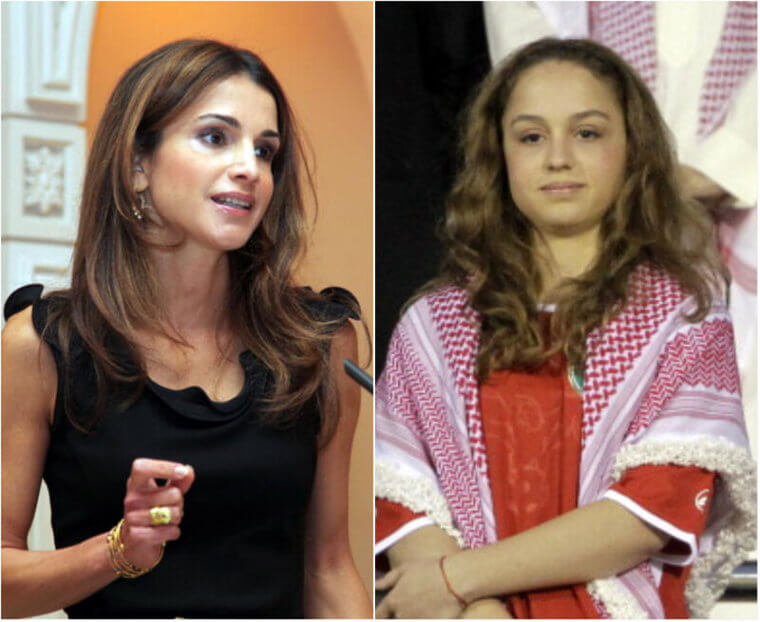 The famous mother-daughter duo has been spotted sitting side by side on the front row of fashion shows, and they undoubtedly enjoy being in the vogue world. One unforgettable fashion moment by Queen Rania of Jordan was when she appeared at the Met Gala in 2016, wearing an elegant Valentino dress.
Carole Middleton and Kate Middleton
Kate Middleton is famous for her impeccable sense of style, and it's easy to see she inherited it from her mother, Carole Middleton. They share similar tastes in fashion, with the mom often making appearances at events wearing the same outfit and fascinators as her daughter previously wore.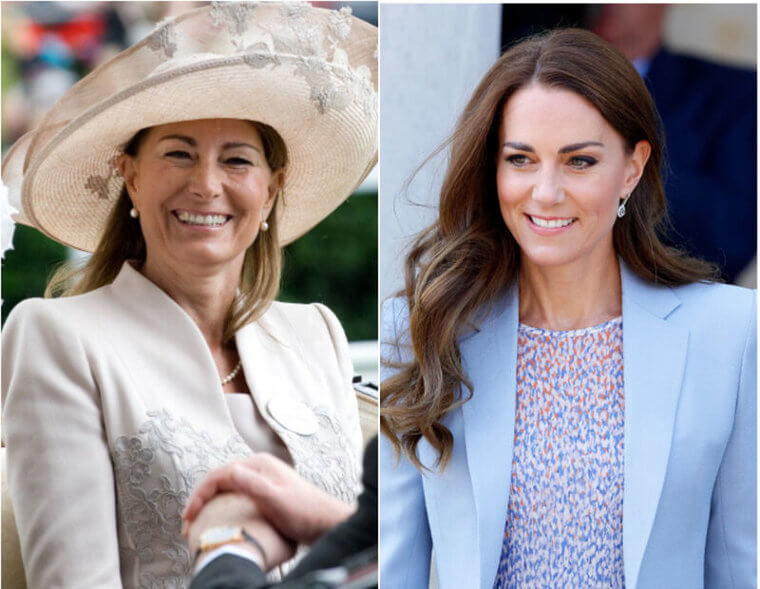 The mother-daughter duo can pass for siblings as they look so much alike. They both share a soft and gentle demeanor and have a close bond that's evident in the photos. We especially love the way their hairstyles match most of the time. Their good genes have passed down to Kate's three kids - Princess Charlotte, Prince George, and the younger one, Prince Louis.

Stefano Casiraghi and Pierre Casiraghi
They say like father like son, and the Casiraghi's embody this saying too well. Aside from sharing a name, Pierre and Stefano Casiraghi are like two peas in a pod. Had they not been famous royals, this dynamic duo of father and son would probably pass for brothers.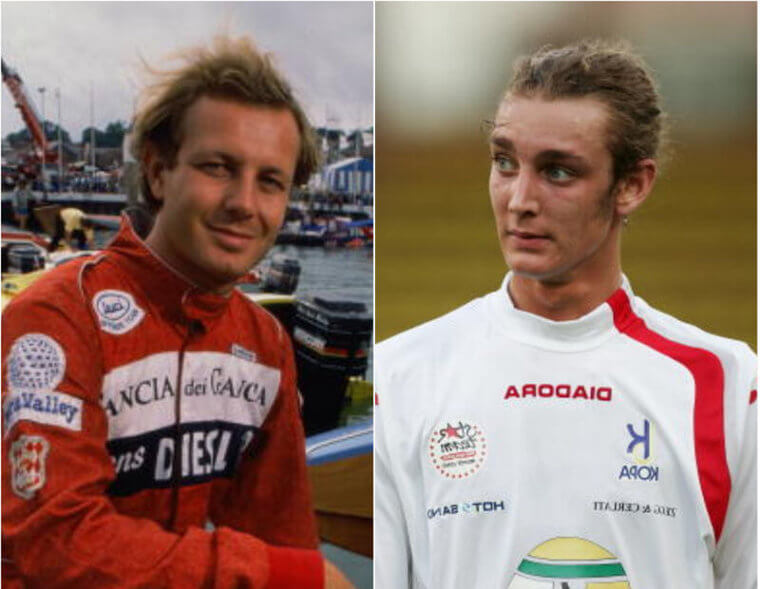 Stefano Jr. takes a lot from his dad, from his elegant dress codes to his charming smile. Like his father, the prince has fantastic taste in women as he married in 2008 to the amazing Beatrice Borromeo, an accomplished journalist. Whoever said the apple doesn't fall far from the tree looked into Stefano and Pierre.
Sarah Ferguson and Princess Eugenie
Looking at Sarah Ferguson's younger photos might have you confused, thinking that was her daughter seen through a vintage filter. From their hair to their round eyes, this pair needs no DNA test to confirm kinship.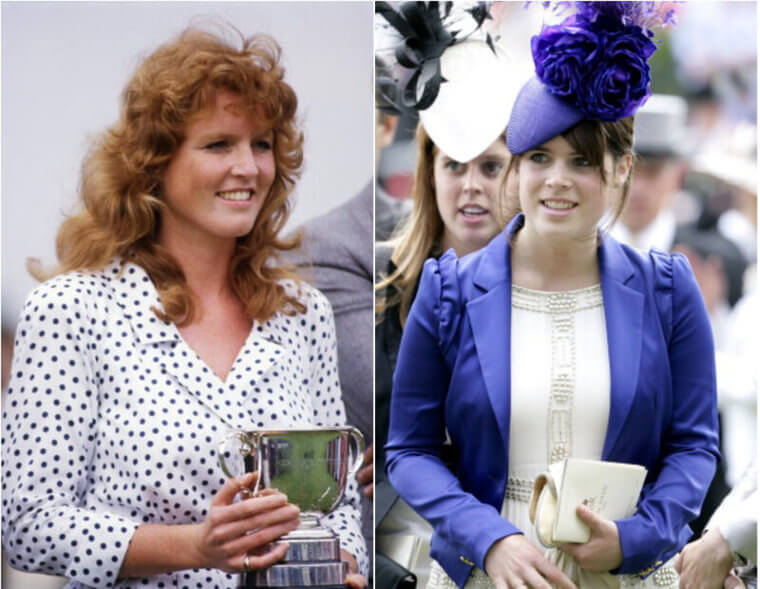 Interestingly, mum and daughter have a close bond such that they are rarely seen together. It's hard to pinpoint a day when Sarah or Beatrice was seen in public without the other somewhere nearby. From shopping sprees to red carpet showcases, where Sarah goes, Beatrice is in tow. So we wouldn't be surprised if, at some point, they play pranks on some people claiming to be siblings.
Juan Carlos I and King Felipe VI Of Spain
Juan Carlos, I might be enjoying his sunset years quietly right now, but back in the day, our sound man gave any sleepless nights. The fine gentleman was probably one of the most attractive men in Spain, and his son is proof of this.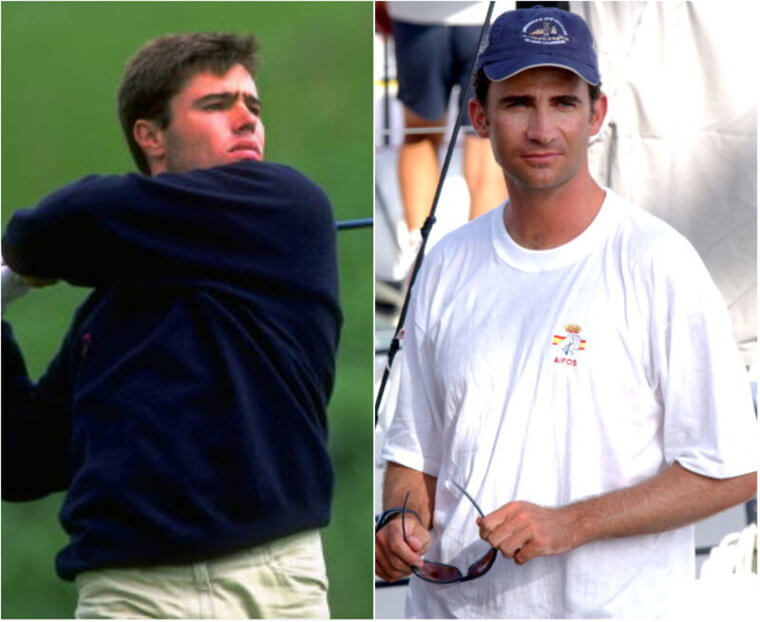 King Felipe borrowed a lot of his father's looks and charm. His role as the king has also seen him follow some of the fundamental principles his old man upheld. When father and son are paired together, it feels like looking through a time machine. The former king looks like an old version of the current king, and we can't wait to see how this turns out.
Prince Philip and Prince Edward
Some people may not know this, but aside from looking like his youngest son, Prince Philip shares a special connection with him. As it happened, out of all the royal kids, it was during Prince Edward's birth that the late Duke of Edinburgh was present. He wasn't only in attendance; he was in the room, holding Queen Elizabeth's hand.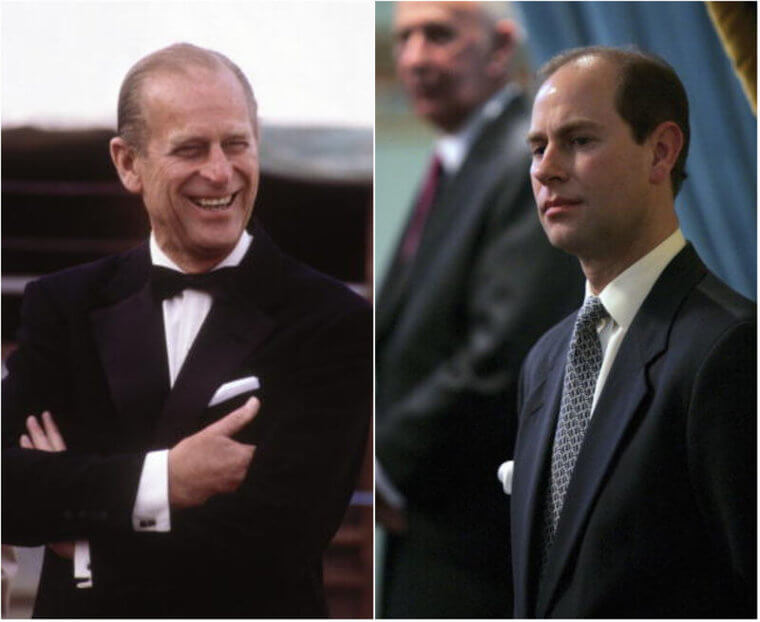 Perhaps it was one of the reasons their youngest became Philip's favorite child. It has been said that the late prince had a soft spot for Edward; he was the most sympathetic towards his son when he had to leave the Royal Marines in 1987. Royal insiders also said Edward would soon take his father's 'Duke of Edinburgh' title.

Queen Máxima Of The Netherlands and Catharina-Amalia
Every family has lookalikes. So, the likeness between the Queen of the Netherlands, Maxima, and her beautiful daughter Catharina-Amalia is not surprising. You would be amazed to find that the Princess of Orange has inherited many of her famous mommy's exquisite facial features. These include the queen's beautiful eyes, blonde hair, and elegant smile.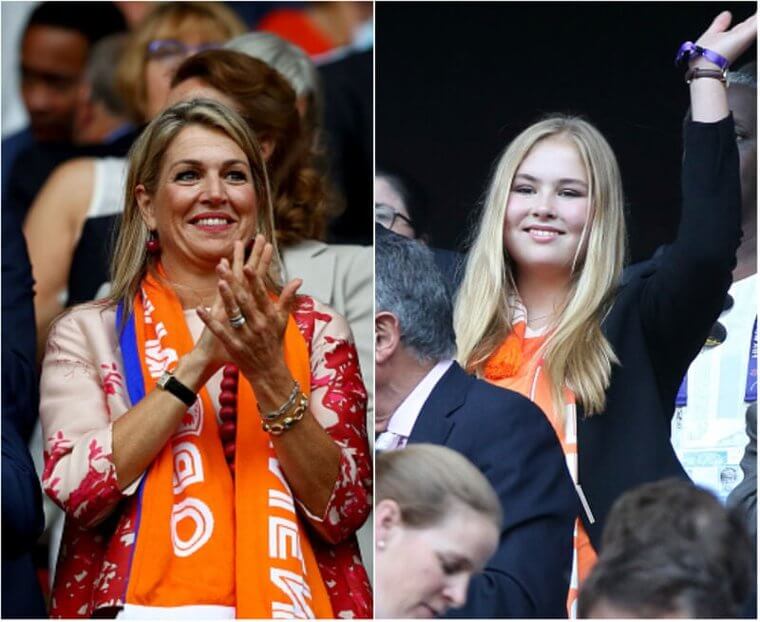 Catharina-Amalia is currently a student at the University of Amsterdam and is the heir apparent to the throne. The fans are delighted to see the royal couple's eldest daughter grow up as glamorous as Queen Maxima. Yet, only time will tell if she follows the footsteps of her mother to greatness.
Prince Charles of Wales and Prince Harry of Sussex
If you happen to chance by the vintage photos of Charles, the Prince of Wales, you would be startled to discover the incredible similarities in his appearance with that of his son, Prince Harry. The Duke of Sussex's beard is quite a trademark now, and it's safe to say that his great father once sported the same kind of beard.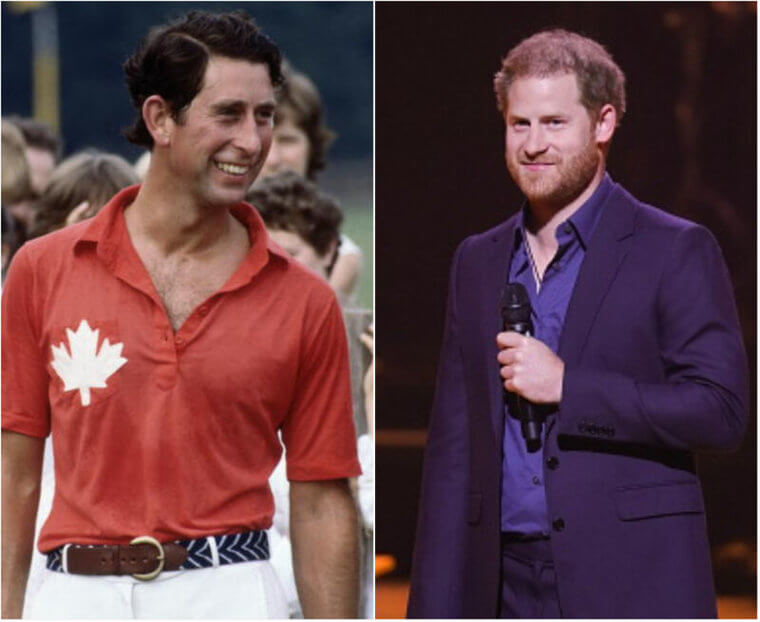 Besides, the dad-son duo has similar eyebrows. They also share characteristically big ears, just like many other male members of their family. All thanks to the pictures of Prince Charles from 1976 that went viral, we now know that Prince Harry is truly the spitting image of his father!

Prince William of Cambridge and Princess Charlotte of Cambridge
A quick look at Princess Charlotte of Cambridge is enough to make one realize that the adorable royal is undoubtedly taking after her father, Prince William! Recently, fans got a peek at one of the Duke of Cambridge's childhood photographs and were surprised to find the resemblances with his lovely daughter.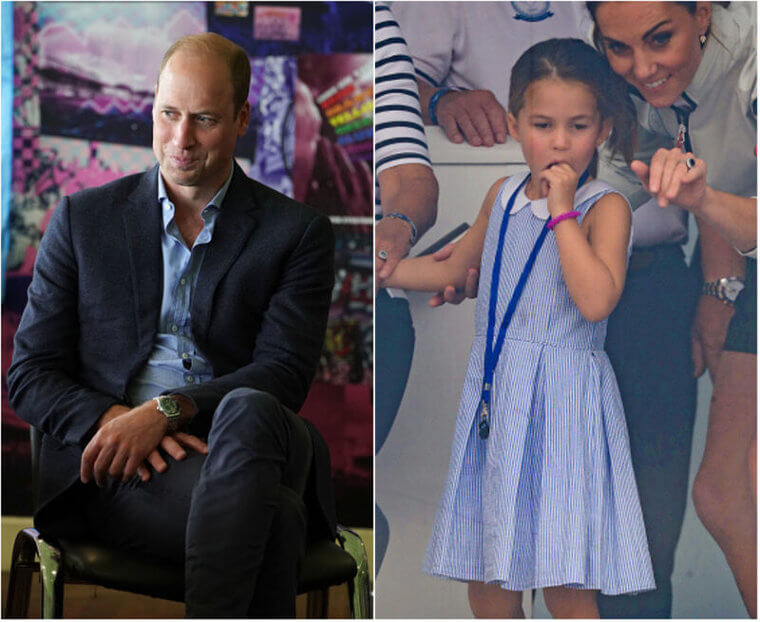 Although Charlotte inherited her mommy's brunette locks, she looks no different from what Prince William did at the same age. Both of them share similar facial features, the same smile, and a glimmer in their eyes. With such likeness in appearance, it was not unnatural for William to mistake his childhood picture to be of his daughter's.
Queen Elizabeth II and Princess Anne
Princess Anne has often been likened to her mother Queen Elizabeth II. Snapshots of the royal with her mommy hint at the strong resemblances that they share. Both the mother and daughter have striking facial features, including petite blue eyes, wide foreheads, and narrow lips.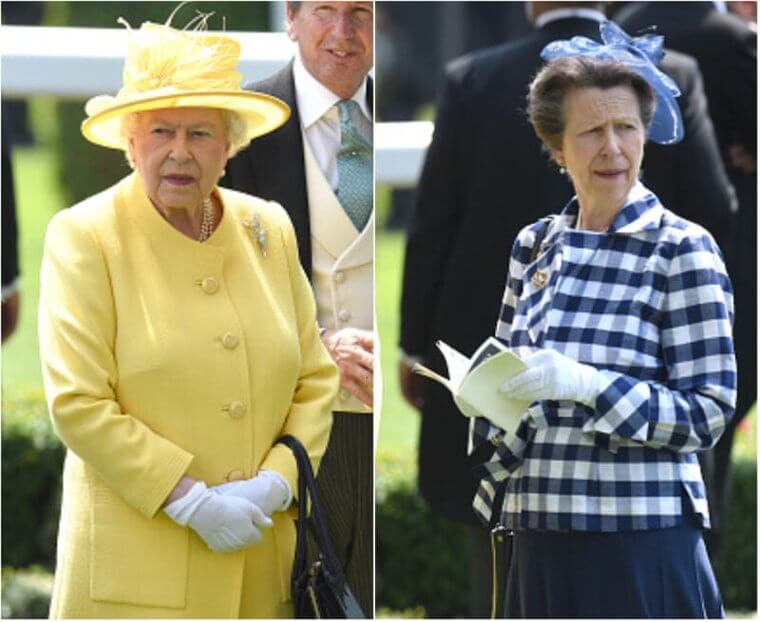 Their incredible sameness in appearance was starting to become distinct when Princess Anne was getting older. The wrinkles near her eyes and smile lines made her look exactly like the Queen. However, apart from looks, she has also inherited her mom's staunch sense of responsibility and devotion to her duties. Now, that's truly an inspiration.
The Most Eligible Bachelor and Bachelorettes: Single Royals to Know About Now That Prince Harry Is Off the Market
Many women and men dream of the possibility of marrying a royal one day. With Prince Harry's marriage to Meghan Markle, there's one less bachelor on the market. It's a bittersweet truth to swallow. While Prince Harry's fans will have to stop imagining their future life as his wife, they can move on to watching his love for Meghan Markle grow.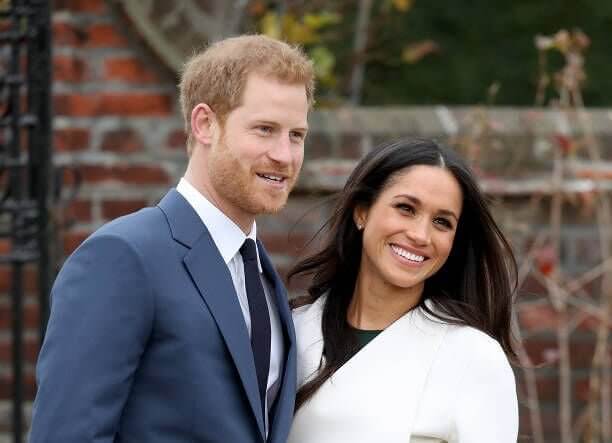 Although Prince Harry is off the table, there is no need to panic for anyone dreaming of marrying a royal. The royal pool is large and there are monarchies around the world with singles ready to mingle. While these royals may not be as popular as the British princes, their riches are just as impressive.

These royals don't just have the desired look and style, but they have social media accounts that let us all in on the lives they lead. Check out this list of eligible single royals around the world.

 
Add These Royals to Your List of People You Should Know: Crown Prince Hussein Bin Abdullah of Jordan
Prince Hussein comes from the royal line of the Hashemite family and is the 28-year-old son of King Abdullah II and Queen Rania of Jordan. This prince graduated from Georgetown University with a degree in international history and holds the post of the second lieutenant in the Jordanian Armed Forces.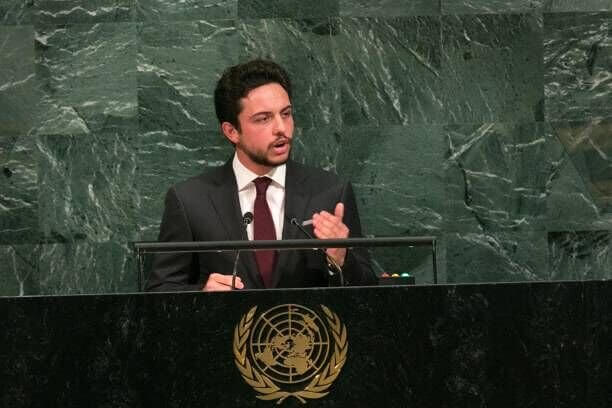 He heads the Crown Prince Foundation, an organization that runs a technical university and various humanitarian and scientific projects. At the age of 21 in 2015, Prince Hussein became the youngest person to chair a UN Security Council session. Prince Hussein's Instagram has over 3.2 million followers who enjoy viewing photos of his hobbies such as football, guitar, reading, and riding motorcycles.

Princess Sirivannavari Nariratana of Thailand
Princess Sirivannavari Nariratana is the only daughter of Crown Prince Maha Vajiralongkorn and his first wife, Soamsawali Kitiyakara. She was born on 5 December 1987 at Bhumibol Adulyadej Hospital in Bangkok.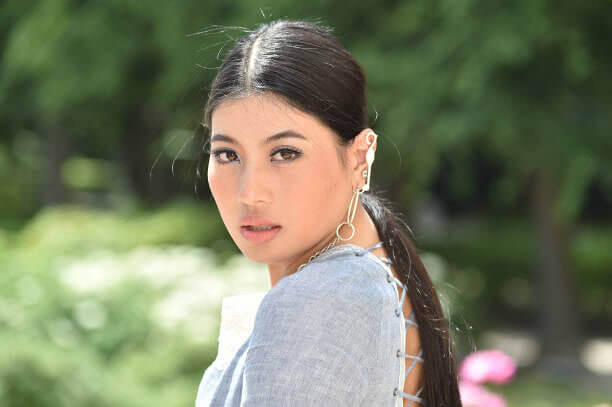 The princess has three brothers and one sister. Princess Sirivannavari is a fashion designer and has her label, Sirivannavari. She is also a member of the Thai National Volleyball team.
Prince Mateen of Brunei
Prince Mateen is the fourth son and 10th child of Sultan Hassanal Bolkiah and is sixth in line to the royal throne. His family's fortune is estimated to be $20 billion. Prince Mateen graduated from the University of London in 2016 with a Master of Arts in International Studies and Diplomacy.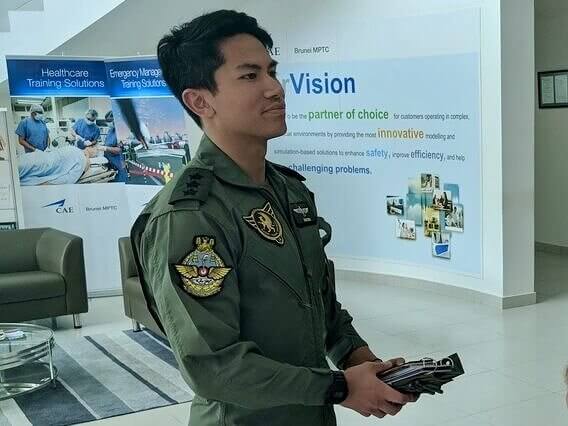 If you follow Prince Mateen on Instagram, you'll see that he is a fan of big cats, can pull off a suit, knows his way on a horse, appreciates attractive food, and keeps his eyebrows nice and sleek!
Princess Elisabeth of Thurn and Taxis
Princess Elisabeth Margarete Maria Anna Beatriz Prinzessin von Thurn und Taxis goes by the professional name of Elisabeth von Thurn und Taxis, but is also known for her nickname, TNT.
She is an established German journalist and writes in the art, fashion, and travel genres. Princess Elisabeth has liturgical skills and has written a liturgical volume on faith and even held a regular column in Vatican magazine. Now based in London, Princess Elisabeth has worked for Vogue magazine since 2012 as a style editor-at-large.
Princess Talita Natasha Von Fürstenberg
As the granddaughter of fashion designers Diane von Fürstenberg and Prince Egon von Fürstenberg, Princess Talita Natasha von Fürstenberg is an American socialite, aspiring fashion designer, and stunning model.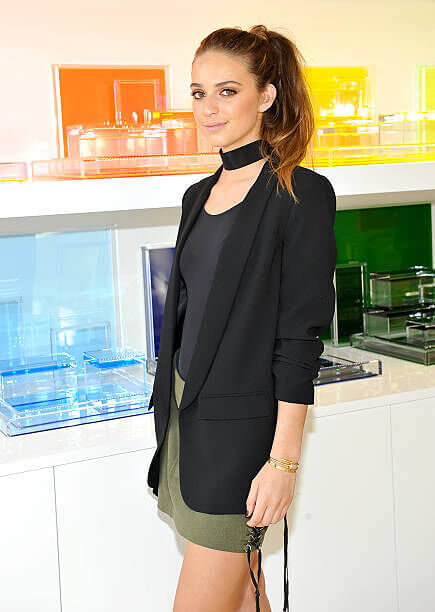 After graduating from high school in Los Angeles, California, she attended New York University where she is studying fashion business and marketing. She has been featured in various fashion magazines including Vanity Fair and Tatler Magazine. Clearly off to a great start at only 23 years-old!

Iman Pahlavi - Princess of Iran
Born in suburban Washington D.C. in 1993, Princess Iman is the daughter of Rez Pahlavi, the last apparent heir to the defunct throne of the Imperial State of Iran and the head of Iran's royal family who was exiled in January 1979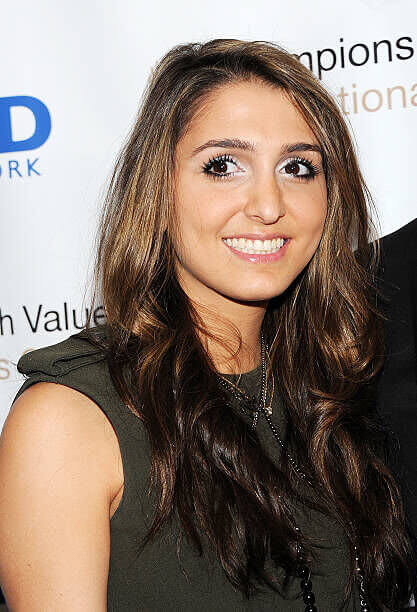 Princess Iman majored in psychology and communications at the University of Michigan and currently works as a model in New York. This single princess is fluent in both Persian and English.
Edward Windsor, Lord Downpatrick
Edward Windsor, Lord Downpatrick is the youngest son of the Duke and Duchess of Kent. He is a lord because his father is a duke. Dukes are the highest-ranking members of the British nobility. The Duke of Kent is also a member of the Royal Family because he is the Queen's cousin. Lord Downpatrick was born on 26 March 1999, at St Mary's Hospital in Paddington, London.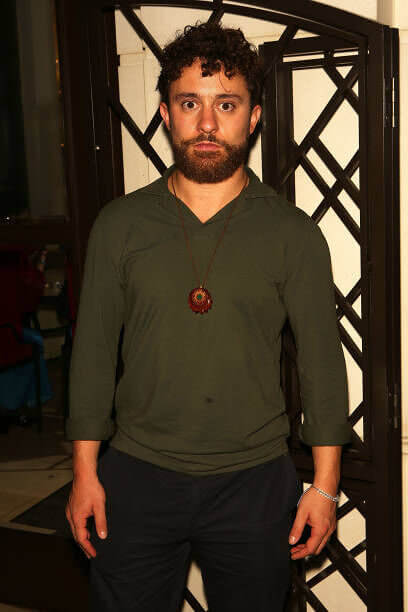 He has an older brother, George Windsor, and an older sister, Lady Helen Taylor. His parents divorced in 1996, and his father married the actress Kirsty Young in 2006. Lord Downpatrick was educated at Wetherby School in London and at Eton College. He is currently studying for a BA in art history at the University of Edinburgh. Lord Downpatrick is not currently in line for the throne, but he is a royal prince and will one day be a royal duke himself. He is currently 13th in line to the throne.
Lady Amelia Sophia Theodora Mary Margaret Windsor
Lady Amelia is the granddaughter of Prince Edward, The Duke of Kent, and 43rd in line to the British throne. The 26-year-old has made a name for herself as a result of her fashion sense and natural beauty.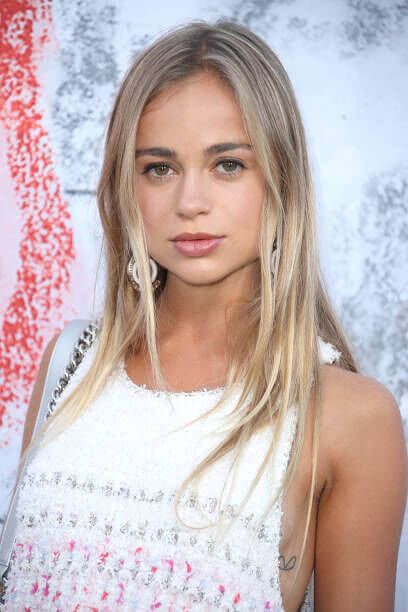 She is called 'Mel' by family and friends and flew under the radar until 2016 when Tattler Magazine named her the most beautiful member of Britain's royal family. She is arguably the most stylish and beautiful member of the royal family!
Prince Nikolai of Denmark
What an eligible bachelor! Prince Nikolai of Denmark is the eldest son of Prince Joachim and his first wife, Alexandra, Countess of Frederiksborg, and currently seventh in line of the succession to the Danish throne.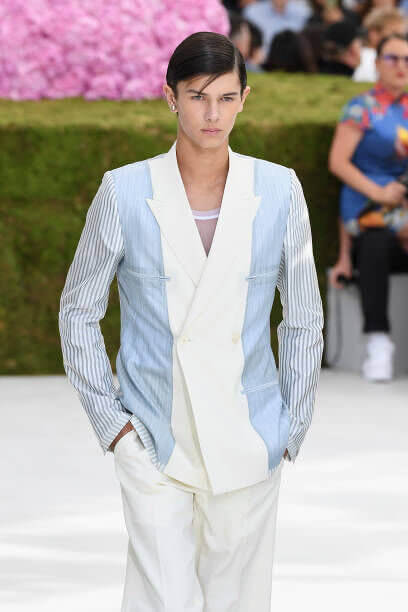 Already at 22, Nikolai attended Copenhagen Business School where he studied Business Administration and Service Management, and also signed with a modeling agency, making his runway debut in 2018 at Burberry's London Fashion Week show.
Princess Iman Bint Abdullah
This Jordanian princess is the first daughter and second child of King Abdullah II and Queen Rania of Jordan. As the 42nd-generation direct descendant of the Islamic prophet Muhammad, this 25 year-old holds a lot of weight on her shoulders!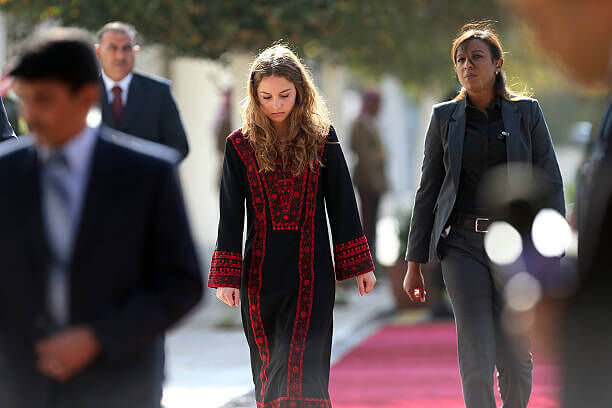 She attended the International Academy Amman and graduated with the award of the top female athlete in her class.
Noor Pahlavi - Princess of Iran
This Persian beauty is the sister of Iman, and graduated from Georgetown University in 2014 in Washington, D.C with a B.A. in Psychology.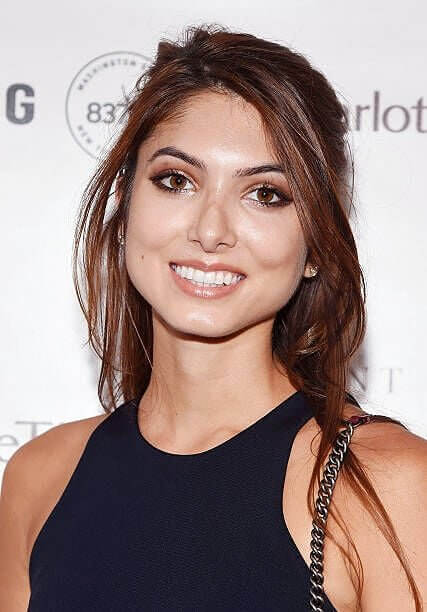 She currently lives and works in New York. Her father is Reza Pahlavi, whose family was thrown from Iran during the revolution. Noor is also a human rights activist and works to improve the lives of women, LGBTQ+ and other minorities in Iran.
Prince Constantine-Alexios of Greece and Denmark
At just 23-year-old, Prince Constantine-Alexios is the youngest royal on the singles list. The eldest son of Pavlos, Crown Prince of Greece, and Marie-Chantal, Crown Princess of Greece, this prince is second in line, after his father, to the now-defunct thrown of Greece. He studied at Georgetown University in Washington D.C. and is known for his artistic skills in both painting and sculpting. He has also been modeling for Dior and is interested in hunting, music, and photography.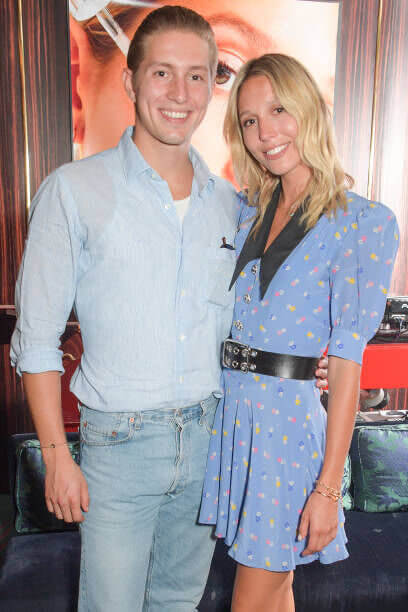 Prince Constantine-Alexios is one of five children and plays brother to 25-year-old Princess Maria-Olympia, 21-year-old Prince Achileas-Andreas, 16-year-old Prince Odysseas-Kimon, and 13-year-old Prince Aristidis-Stavros. His siblings are sure to be on the royal singles list in the future!
Princess Maria-Olympia of Greece and Demark
Princess Maria-Olympia of Greece and Denmark is the eldest child of Crown Prince Pavlos and Crown Princess Marie-Chantal of Greece. She is a member of the Greek royal family and the Danish royal family. She is second in the line of succession to the Greek throne and the Danish throne, after her father. was born on 25 July 1996 in New York.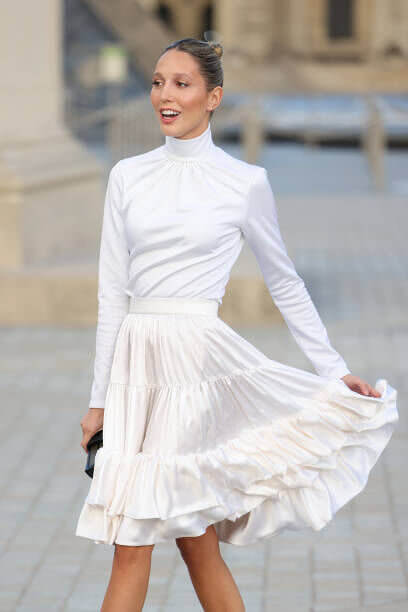 She has three siblings: Princess Constantin-Alexia, Princess Achileas-Andreas, and Prince Odysseus-Kimon. She was baptized into the Greek Orthodox Church on 6 January 1996. Princess Maria-Olympia was educated at a boarding school in England. In September 2013, she enrolled at Georgetown University in Washington, D.C., where she is studying international history.
Prince Albert of Thurn and Taxis
Prince Albert Maria Lamoral Miguel Johannes Gabriel of Thurn and Taxis is is the 12th Prince of Thurn and Taxis. Prince Albert drives race cars while maintaining his balance as a businessman and German aristocrat.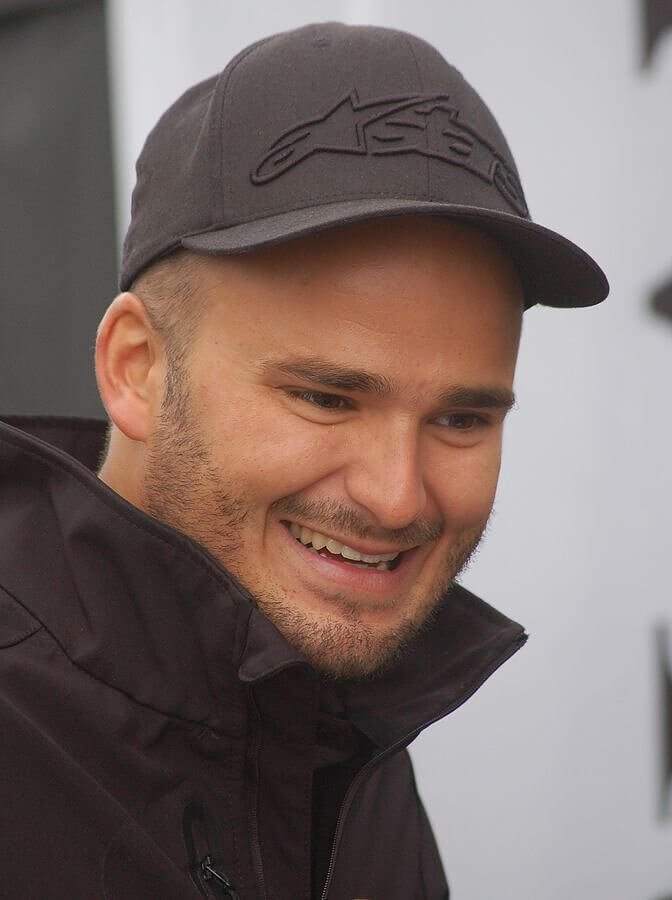 Prince Albert's father died in 1990 and since then he has often found himself on the 'World's Youngest Billionaires' list. Forbes Magazine ranked Prince Albert 11th on the 2008 List of The 20 Hottest Young Royals.

Pauline Grace Maguy Ducruet of Monaco
Niece of Prince Albert II of Monaco and second child of Princess Stephanie of Monaco, Ducruet is currently 16th in the line of succession to the Monegasque throne.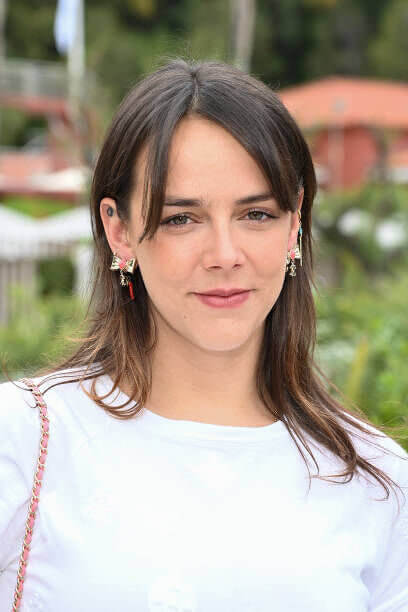 She studied fashion design and is also a competitive diver, representing Monaco at the World Junior Diving Championships in 2010 and in the 2010 Summer Youth Olympics. A stylist and an athlete!
Princess Tsuguko of Takamado
Princess Tsuguko is the eldest daughter of Norihito, Prince Takamado, and Hisako, Princess Takamado. The 36-year-old princess started working with the Japan Committee for UNICEF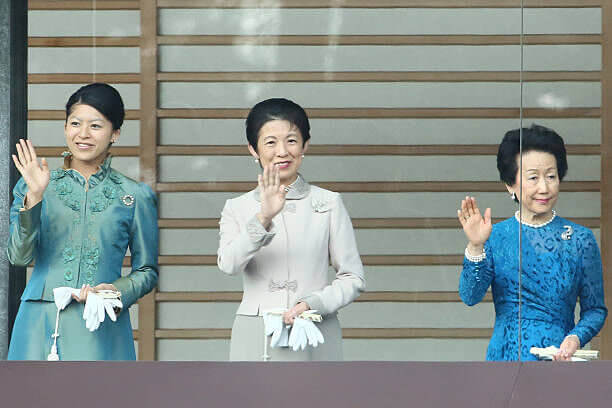 She was also ranked 15th on Forbes "20 Hottest Young Royals" in 2008. She graduated from Gakushuin University in 2008 with a Bachelor of Arts degree in literature.
Prince Wenzeslaus of Liechtenstein
Prince Wenzeslaus is often referred to as 'Vince the Prince' and was born on May 12, 1974. And as U2 sings 'he still hasn't found what he's looking for' Which is a legal partner if you still haven't figured it out.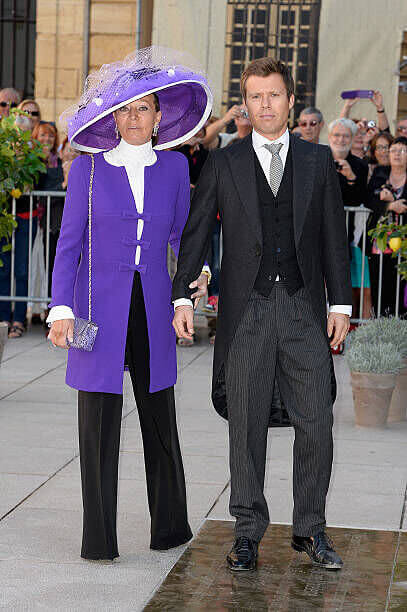 Liechtenstein is a German-speaking, mountainous microstate in Central Europe. The principality is a constitutional monarchy headed by the Prince of Liechtenstein. Liechtenstein is bordered by Switzerland to the west and south and Austria to the east and north. It has an area of just over 160 square kilometers and a population of 37,000. The capital is Vaduz.

Lady Marina Charlotte Windsor
Lady Marina is the older sister of beautiful Lady Amelia and holds a popular place in royal high society. She too is a royal fashion figure with many admirers.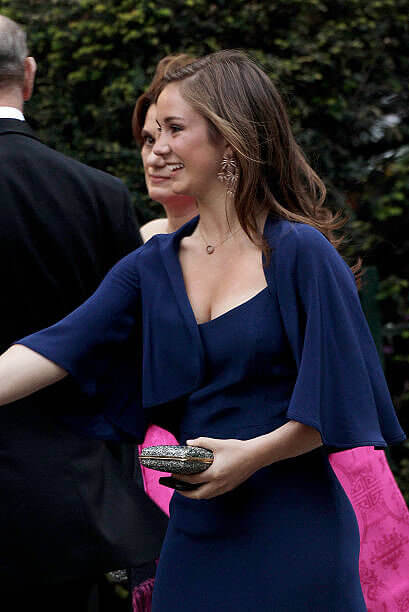 She is a great-great-granddaughter of King George V himself, and a second cousin once removed of Charles, Prince of Wales. She was ousted from the line of succession to the British throne back in 2008 because she decided to confirm into the Roman Catholic Church.
Prince Sébastien of Luxembourg
Prince Sebastien of Luxembourg was born on April 16, 1992 and is the fifth and youngest child of Grand Duke Henri and Grand Duchess Maria Teresa. He is seventh in the line of succession following his elder siblings and their children.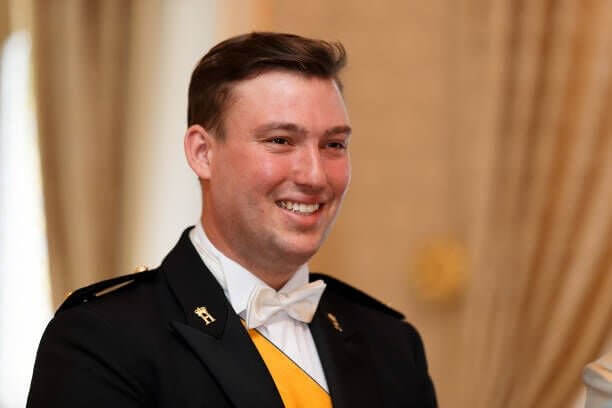 Prince Sebastian took the oath as an officer of the Luxembourg Army on September 4, 2017 after graduating from the 44-week officer training course at the Royal Military Academy of Sandhurst and qualifying as an Officer Cade.
Princess Iman Bint Al Hussein
Princess Iman bint Al Hussein is the second child and only daughter of King Hussein of Jordan and his second wife, Queen Noor. Princess Iman was born on April 27,1983 in Amman. She is the half-sister of King Abdullah II. Princess Iman attended bilingual schools in Jordan and England. In 2001, she graduated from Delfin English School in England.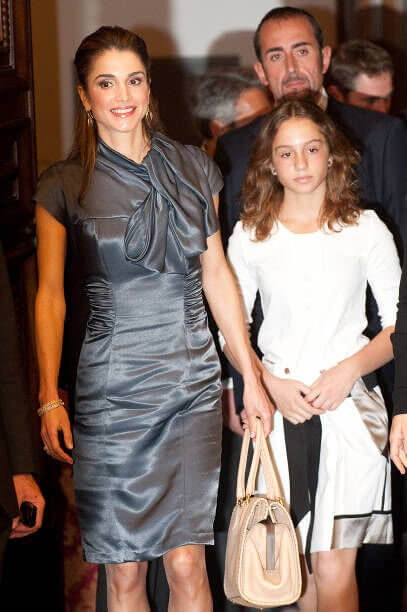 After high school graduation, she worked for a Jordan-based investment bank. In 2005, the Princess graduated from Georgetown University's School of Foreign Service. She is currently working on her Masters degree in Public Administration at Columbia University.
Princess Alexandra of Luxemburg
Princess Alexandra is the fourth child of Grand Duke Henri and Duchess Maria Teresa, and their only daughter! She was born on February 16, 1991 and participates in engagements such as visiting schools for students with disabilities.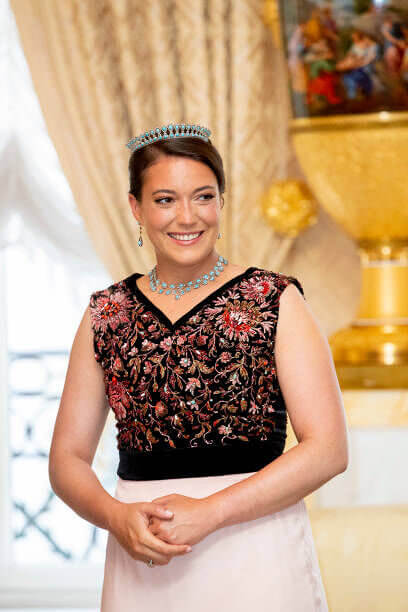 She is also interested in politics, religion, literature, and travel, and currently lives in Paris and Luxembourg. She is a sweet, smart, and classy single royal.
Princess Alexandra of Hanover
Born in 1999, Princess Alexandra is the fourth child of Princess Caroline of Monaco and third of Ernst August, Prince of Hanover and 13th in the line of succession to the Monegasque throne.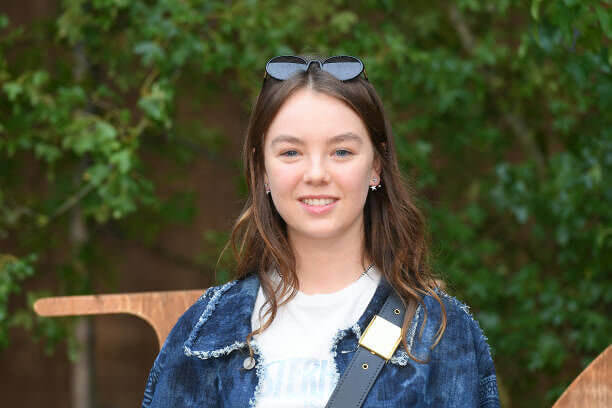 She is a very passionate and accomplished figure skater after receiving ice skates as a Christmas present at ten years old.