Safaris can be exciting and educational but more often than not, it's human error that leads to the following gruesome tales. Here are times when safaris went wrong.
No Photographs, Please
In 2018, a 22-year old woman was killed by a lion in a game reserve outside Pretoria in South Africa. The victim wasn't even staying at the camp, she was staying with a friend and, before the incident, had planned to interview the camp's manager at a later date.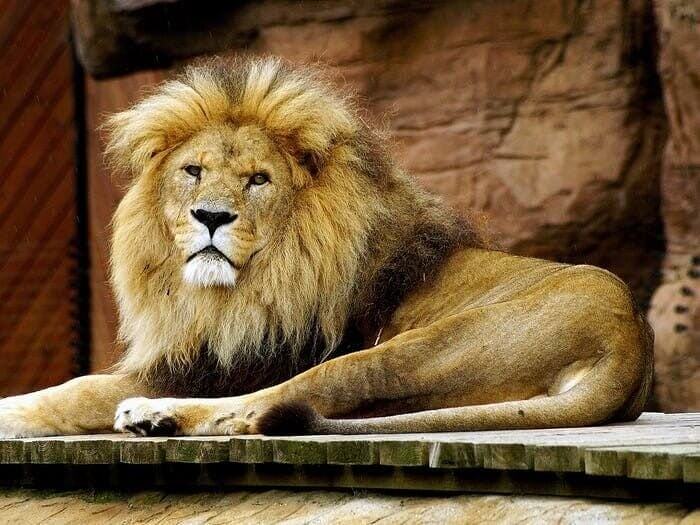 That interview would never happen. The young woman was taking photographs outside of a fenced area at the camp, while a lion was charging after an antelope. Her intrusion caught the eye of the beast, and it turned its attention to her, and she was sadly mauled to death.
Child Killed by Hyenas
In July of 2000, the Moremi Wildlife Reserve in Botswana was the location of a family vacation gone very wrong. Mark Garrity Shea, 11, known to loved ones as "Garrit", was asleep in his tent, seven yards away from his mother's tent when he was attacked and dragged into the scrubs nearby by Hyenas.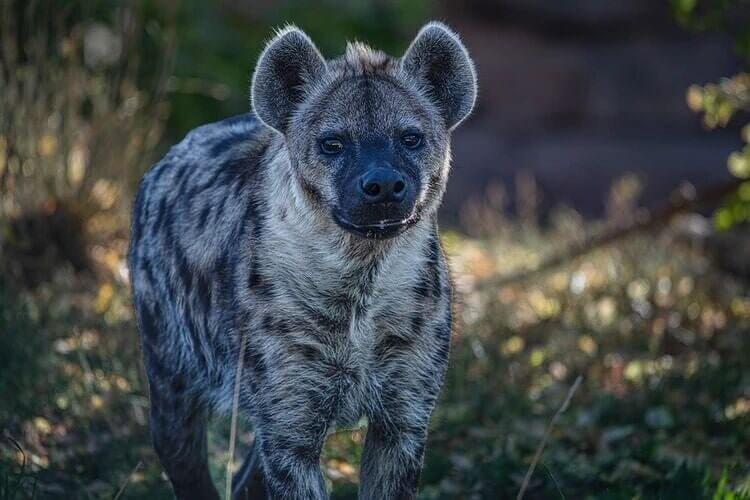 The mother and son were with a group, who had clocked the hyenas while they were dining that same night. Garrit's cries were heard and wildlife guide, Matthew Montague, arrived too late to save the young boy's life, yet still had to protect the body from the approaching nocturnal predators that had smelled the kill. Fortunately for Montague, backup eventually arrived, saving him from becoming an additional victim.
Hippopotamus Kills 75-Year-Old Grandmother
Hippopotami are considered one of the most dangerous animals in the world. They're huge, have incredibly sharp teeth, and are capable of outrunning a human in a foot race. They alone are responsible for around 500 human deaths per year.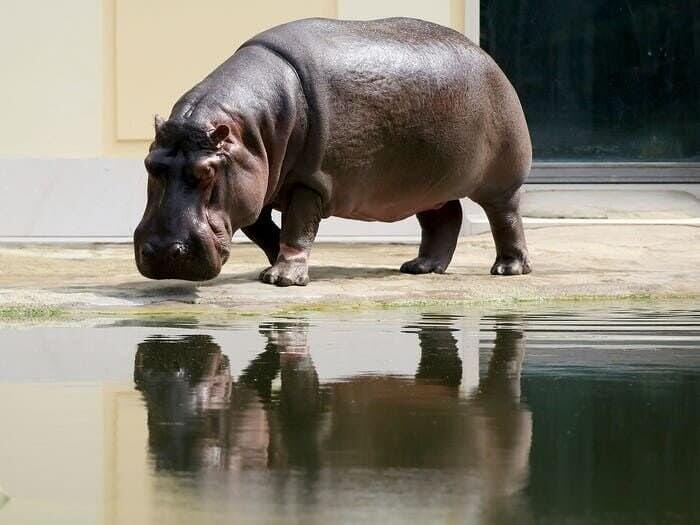 In 2017, Carol Sue Kirken was one of those sadly killed by one of these deceptively dangerous beasts. The 75-year-old businesswoman was on a family vacation in Tanzania when the incident occurred, observing the hippo at the time with her son, Robert. The official details of her death are unclear, but The Daily Mail reported that she died quickly in the arms of Robert.
Former UC San Diego Dean Thomas McAfee's Death
In August 2013, Dr. Thomas McAfee had been due to start work as the CEO of the Keck Medicine of USC Medical Foundation. Before starting this new stage of his life, McAfee had been enticed by the idea of a "luxury African safari vacation".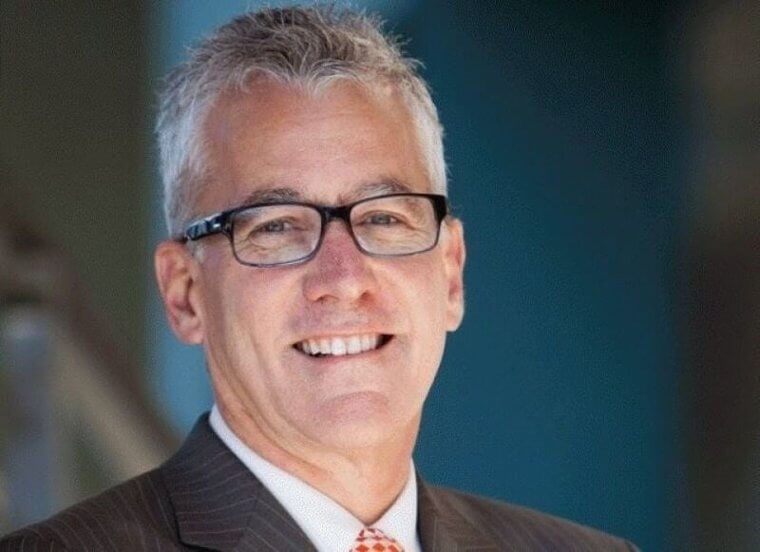 The activities at the resort didn't quite match up with what the brochure suggested, and Dr. McAfee was sadly killed by a herd of elephants while on a walking tour at Tarangire National Park in Africa. Details were not released to the public, but the news certainly caused many to start asking questions regarding safety at tourist attractions such as this.
Heroic Tour Guide Sacrifices
Sometimes you do everything right and take every precaution, and it's still not going to be enough when in the merciless maw of nature. In 2015, 40-year-old professional tour guide, Quinne Swales, was killed in Zimbabwe's Hwange National Park. Swales was leading a group of six tourists when they stumbled upon a pride of lions. The male lion got up and began approaching the group of tasty-looking tourists.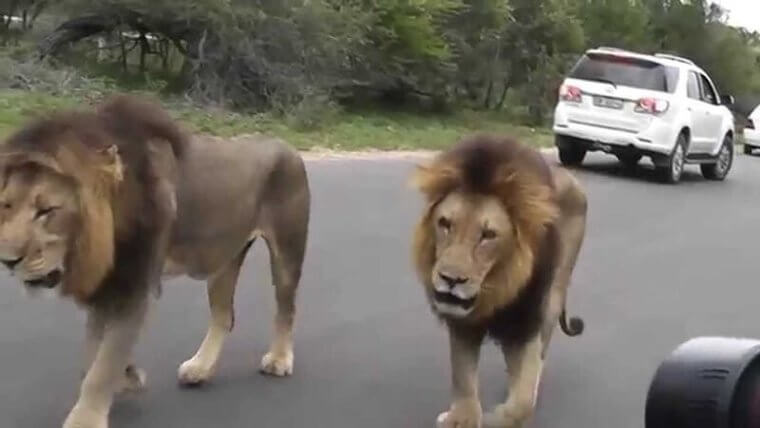 Swales instructed the group to stay behind him and he confronted a charging lion. Thanks to the heroic sacrifice made by Mr. Swales, his group escaped the encounter unharmed and lived to tell of his bravery. Shelley Cox, of African Bush Camps, said that "Quinn's actions in successfully protecting the lives of his guests is heroic and reminiscent of his outstanding guiding skills, experience, and training."
Woman Killed and Second Critically Injured
More often than not, the writing's on the wall with regards to keeping safe in safari parks, wildlife parks, and the like. In 2016, two women were attacked by tigers in the Badaling Wildlife Park in Beijing, after they decided to leave the safety of their vehicle.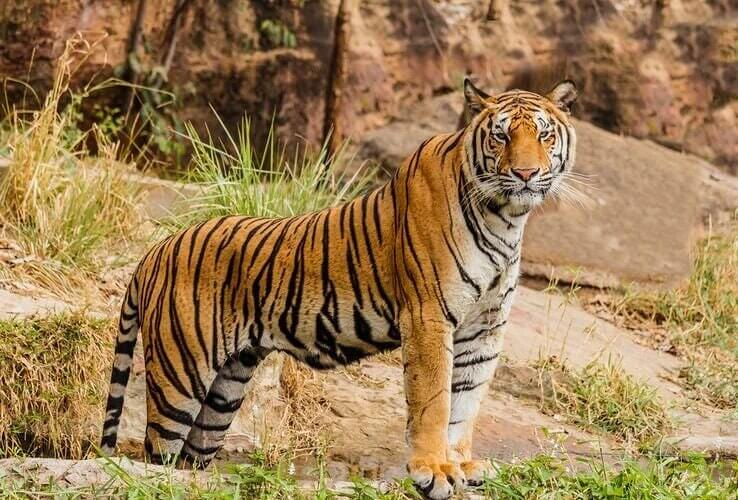 NBC News received and reported the story at the time, and showed the shocking footage. The video showed the first woman leaving her car and being attacked by a tiger. A second woman then attempted to rescue the first, but she was dragged off and killed by yet another tiger. Park workers responded hastily, but they were too late to prevent the critical damage already caused.
Newlywed Watches Husband Trampled to Death
In 2006, a British man on his honeymoon was tragically killed in front of his newlywed wife on an early morning walking safari tour at the Masai Mara game reserve in Kenya. They were out walking with an escort, 200 miles from their camp at the time, and it remains unclear what caused the accident.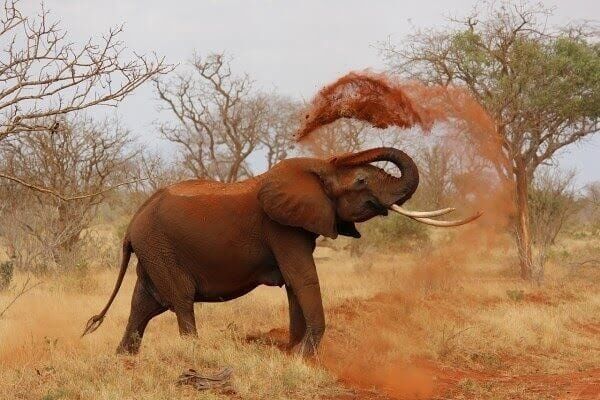 Patrick Smith, a 34-year-old IT worker from London was with his wife, Julie, when the animal charged and trampled Mr. Smith. Although humans are occasionally killed by elephants, there is usually a reason for it; encroaching on their land, for example. It is understood that the group did everything right, and took all the right precautions.
A Former Game of Thrones Editor Dies
In 2015, Katherine Chappell, a 29-year-old graphics effects creator momentarily lowered her guard in a South African lion park and fell prey to one of the local predators. This cost the young woman her life.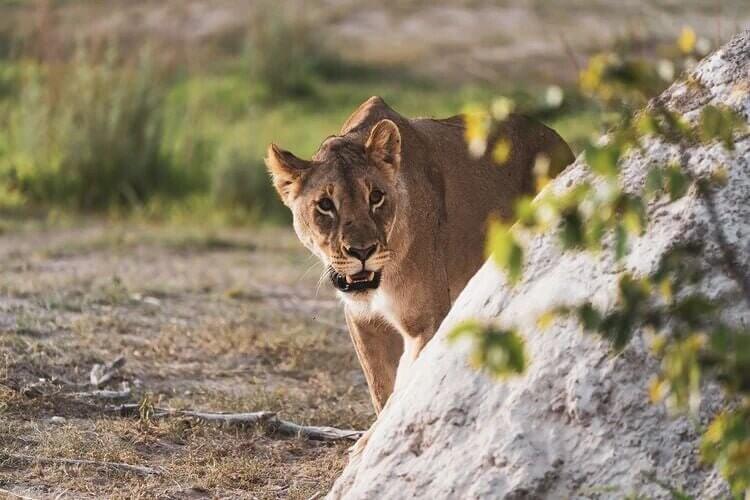 According to The Express, witnesses reported that while Chappell was taking photographs, she had her windows down in her vehicle. This recipe spelled disaster, and she was attacked and grabbed by a lioness while her back was turned to one of the many open windows.
They Seem Nice Animals
Giraffe attack is something you don't usually hear, but Katy Williams, 35, and her son Finn, 3, were almost killed by an attack by the tall animal. It happened near their home which is on the Blyde Wildlife Estate in South Africa. They were lucky that husband Sam was just returning from work and saw his son and wife under attack.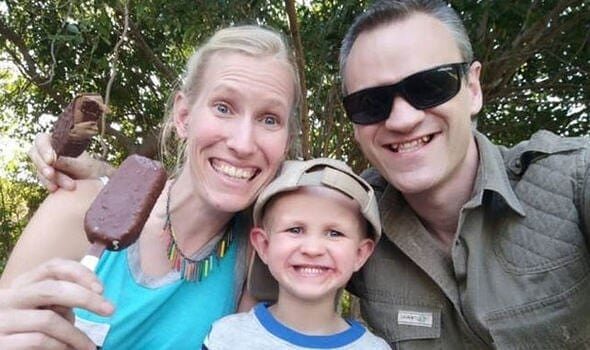 He knew a little about giraffes so he was able to scare the giraffe away quickly and get his family the help they needed. The giraffe had a two-month-old calf with it, so it'\s believed that the attack happened because the mother-Giraffe felt threatened.

Gorilla Charges at and Injures Woman
In March 2016, Gemma Cosgriff, a newlywed, got more than she bargained for when she and her brand new husband were visiting Volcanoes National Park in Rwanda on their honeymoon. The woman's husband was coincidently filming the events as they transpired, and managed to catch the whole thing on tape.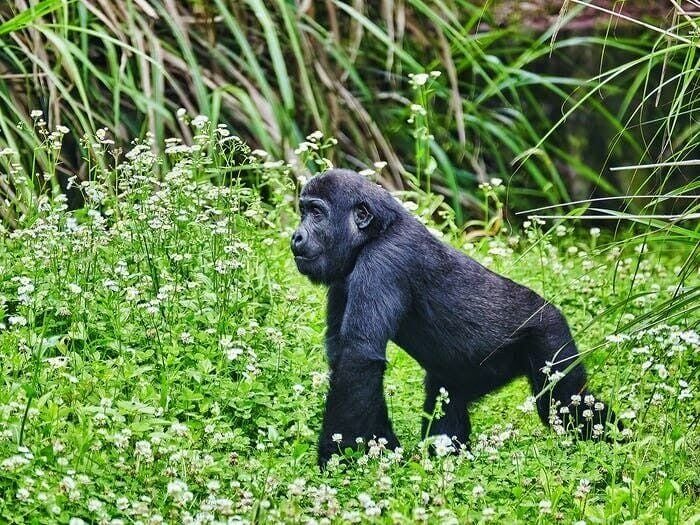 As the Cosgriffs were enjoying nature, the gorilla charged Mrs. Cosgriff, knocked her over, and continued on its way. The Mirror reported that despite the encounter being quite terrifying, she was not seriously injured and that the creature's soft hands cushioned the blow to her chest. She also regrets wearing the bright pink jacket.
Zambian Elephants Trample Two Tourists to Death
In 2017, two friends were visiting the Maramba River Lodge in Livingstone, Zambia, and were trampled to death by elephants. Sabine Goossens, 57, had been living in Africa for 10 years at this point, and she invited her friend, Wim Van Griensven, 64, to visit.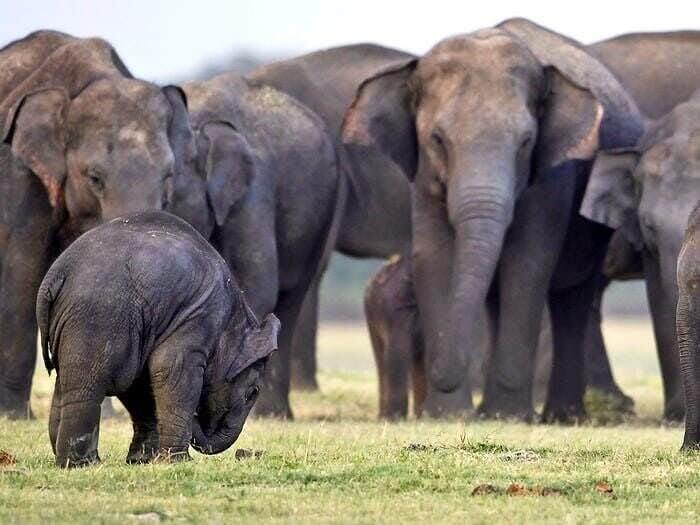 Danny Mwale, a spokesperson for the Zambia Police Service told The Express that the Netherlands and Belgium nationals had been killed after coming too close to the wildlife in attempts to take photos. Reports also indicate that Griensven died in an attempt to save Goossens from a charging elephant.
British Teacher Injured in Car Vs. Elephant Conflict
In December of 2013, Sarah Brooks, a British teacher, was injured after a male elephant assaulted her car and flipped it over several times with its tusks. The incident took place at the Kruger National Park in South Africa. One of the vehicles following Brooks' managed to capture the event on film, which showed the animal squaring up to the car moments before.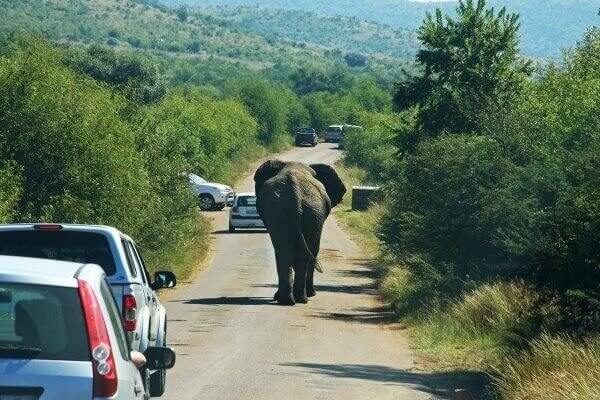 Kruger's general manager, William Mabasa, reported that the woman suffered being stabbed in the thigh by a tusk, but had no other serious injuries. Brooks was admitted to the hospital and later discharged. Sadly, this was not the first time that the elephant had behaved aggressively towards tourists.
Stampeding Buffalo Crash Into Car
A new challenger has appeared! It's not just big cats, hippos, and elephants you need to watch out for in the wilds. Here to prove this point is the mighty cape buffalo, hailing from South Africa's Kruger National Park, and telling the tale of their newsworthy stampede.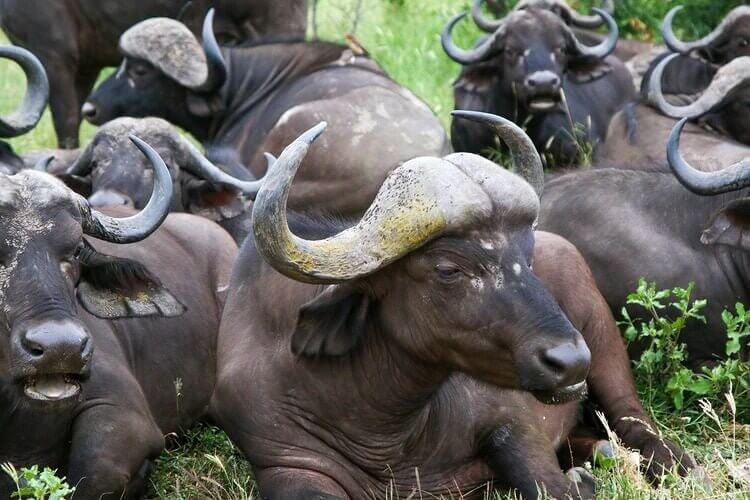 In May of 2016, the herd of buffalo was observed heading towards a watering hole and spotting lions lying in wait for them. This caused the horned beasts to turn around and cancel their plans for a nice, quiet drink. While the buffalo were running for their lives, they stampeded and crashed into a white sedan, almost tipping it over. Amazingly, no one was hurt.
The Power of an Apology
In 2014, a young Zimbabwean couple was at the mercy of a herd of elephants after being gored and trampled. Hayley Simleit, 28, and Dylan Taylor, 27, helped run a safari lodge in Chirundu, western Zimbabwe, and were attacked after stumbling upon a young bull elephant. The animal grounded Ms. Simleit and approached her to gore her. Taylor jumped on the elephant's head to protect his fiancé and was gored in the neck for his trouble, also fracturing six ribs.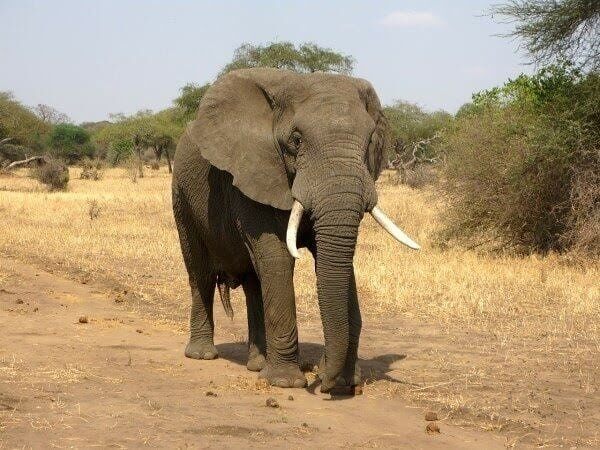 Expecting death, and with no other course of action, it was then that Taylor repeated the word "sorry", over and over. This caused the rest of the herd to appear, and the mood to drastically change. Their lives were spared by the 12 elephants as they tossed the injured young man onto an anthill, where a waiting vehicle saw them.
Rhino Gores Woman
Alex Richter, a game park owner, reportedly encouraged a group of visitors to get out of their vehicle and pose for photographs close to two white rhinos. He assured them that it was safe, and even used food to lure the 4,000-5,000 pound creatures towards them. "Stand just a little bit closer" was one of the last things said to 24-year-old Chantal Beyer before she was then gored from behind.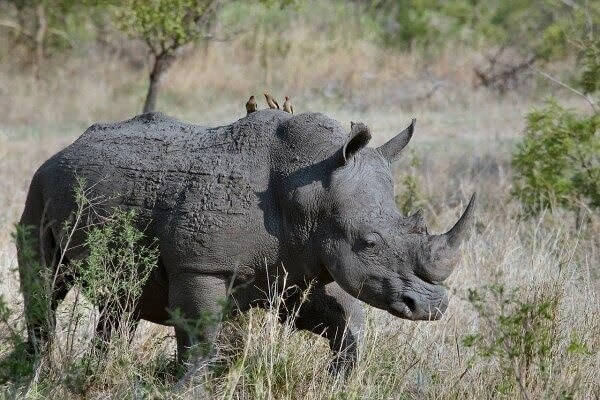 Standing mere feet away from her husband, the woman had her chest penetrated from behind by the rhino's horn, causing broken ribs and a collapsed lung. Fortunately for the young commerce student from Johannesburg, her vital organs were missed, and she was taken to hospital and made a full recovery.
Tourists Trapped in Car
When a bull elephant is in musth, its testosterone levels can reach up to 60 times greater than usual. During this time, they can become unpredictable and potentially dangerous, and it should go without saying that it's best to avoid them. In 2014, at the Pilanesburg National Park in South Africa, a nearby couple that was in their VW Polo was in for a surprise.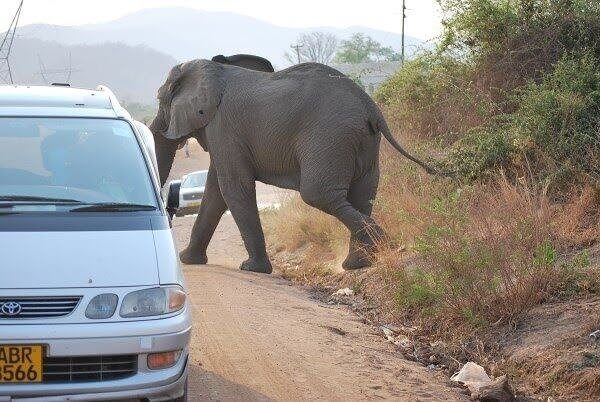 A passing bull elephant saw the vehicle and took a shine to it. Armand Grobler, a 21-year-old field guide and lodge manager caught the act on tape. The couple inside the car, however, could do nothing but wait until the elephant had finished. By the time the tusked love machine had gotten tired and wandered off for a nap, the car was left with four blown tires and a broken chassis.
Don't Let Your Guard Down
In 2013, an unnamed man tried to flag down drivers on a road in Kariba, a popular African safari destination. His urgent efforts were ignored though, or rather, they were avoided. The problem the gentleman had here was that he was in the middle of the African bush, wearing nothing but a condom. There's no surprise that people weren't keen on pulling over to hear what he had to say.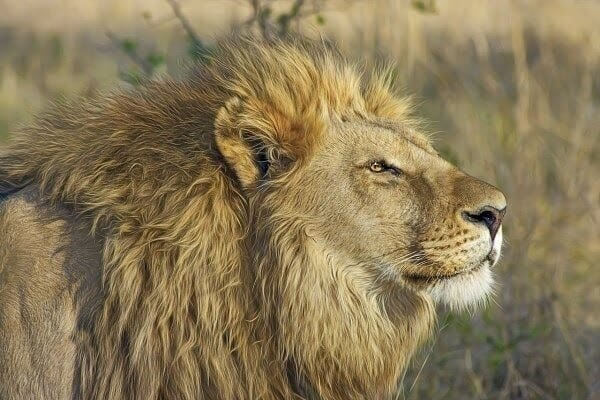 The bigger problem at hand though, was that minutes before this, a woman named Sharai Mawera had been engaging in a certain activity with the man when a lion's mighty roar was heard. The man instinctively stopped what he was doing and ran for his life. Unfortunately, the lady (also known as "Mai Desire") didn't make it to the roadside and had been killed before the police could arrive.
You Haven't Seen Me!
What would you do if you were an impala at a wildlife park being chased by two cheetahs? This clever little creature had the right idea and made a fantastic escape from death in 2013. A tourist car was parked along the track at Kruger National Park in South Africa when the tourists saw a pair of Cheetahs chasing a herd of impala.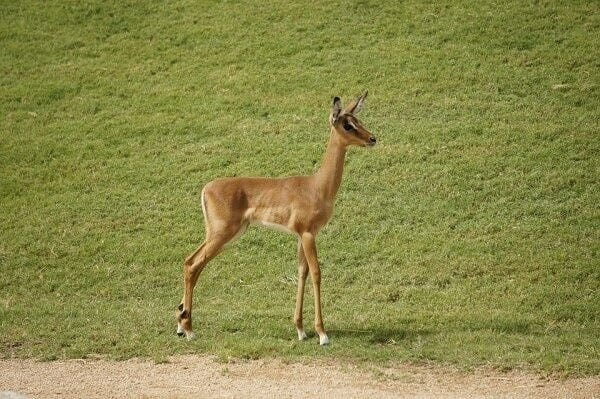 The hunters managed to separate one of the critters away from the rest and it appeared that they would soon have their meal. Amazingly, as captured by 20-year-old Samantha Pittendrigh, the targeted impala set its sights on the open window of a nearby Toyota Prado and leaped inside to safety. Once the Cheetahs were at a safe distance, the creature was let out and it was seen merrily skipping away.
Four British Couples Sue South African Wildlife Reserve
In 2009, Richard Cornish went on his honeymoon with his wife, Sandy, and several other couples. By the end of the trip, Cornish spent a month in hospital recovering from internal bleeding, and the rest of the group was treated for post-traumatic stress disorder. Two of those individuals were company directors, who reported a significant loss of earnings after the ordeal. They collectively sued the privately run Sanbona Wildlife Reserve for $1,000,000!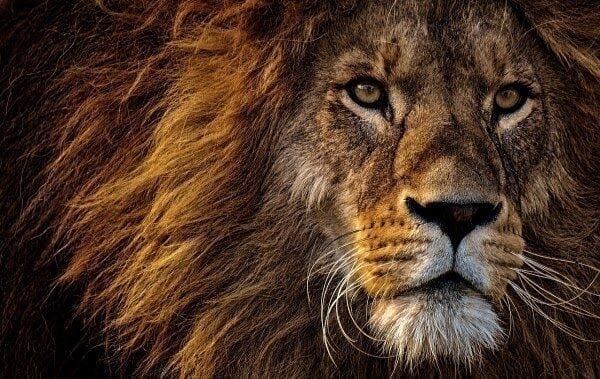 Reportedly, an inexperienced tour guide rolled the open-sided vehicle in an attempt to get away from an agitated lion. This caused them to be tipped out of the vehicle, with nothing other than a dry powder fire extinguisher to defend themselves with. Fortunately, they were able to hold the circling predators at bay for 40 minutes before another game vehicle appeared and saved them.
Keep Your Hands Inside the Vehicle at All Times
Writer, Glenys Newton, once shared a terrifying experience from her childhood with The Guardian newspaper. Then five years old, Newton was visiting Longleat Safari Park in the UK with her family. Newton said that their group had found themselves alongside a lion, and the then five-year-old decided to roll down her window and pat the lion on its giant head.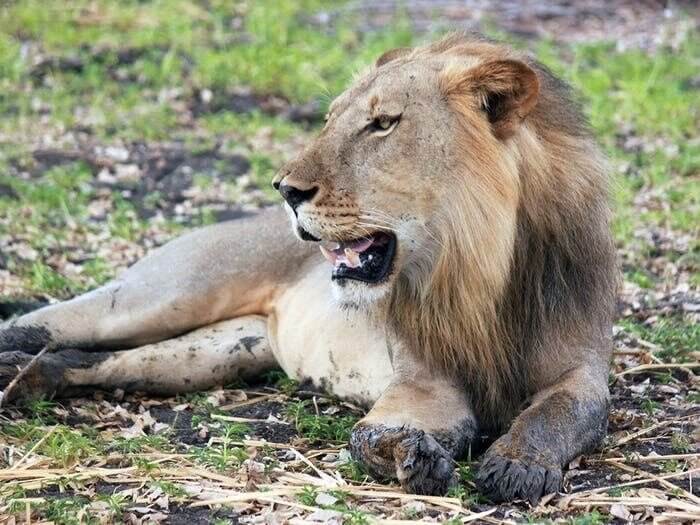 Fortunately, the lion took enough time to respond so that Newton could close her window and avoid harm. The lion did, however, let out a mighty roar, calling other lions to appear and jump on the vehicle. Newton and her family were very lucky on this day, escaping the event with only a flat tire and scratches to their vehicle.
A Six Ton Charge
In August of 2009. A billionaire CEO, Tom Siebel, was enjoying a guided walking tour in Tanzania. As his group approached a watering hole, they spotted something, and the trip's enjoyment levels were about to take a hard fall in the mud.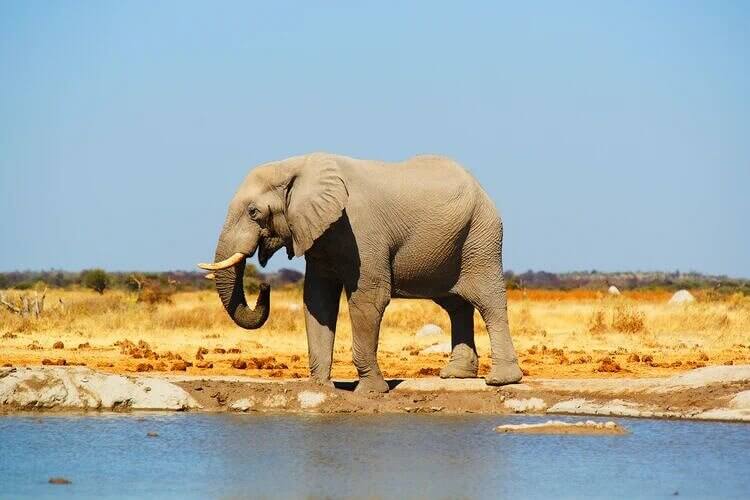 A nearby elephant, weighing a whopping six tons saw the visitors and decided to charge them. The animal attacked Siebel with enough force that the iPhone in his pocket exploded into 200 pieces and his leg was instantly shattered. Forbes reported that Seibel underwent 16 surgeries after the collision and that he's lucky to have survived an attack such as this.
Leopard Attacks Open-Sided Jeep
In 2015, Curtis Plumb, a safari guide for the Kruger National Park in South Africa, was attacked while leading a tour. Driving along a regular route in the park, Plumb saw a leopard and stopped the vehicle so the group could observe it. Soon after, the cat turned its attention to the half-open tin of food, A.K.A., a sideless 4x4 jeep, and attacked Plumb.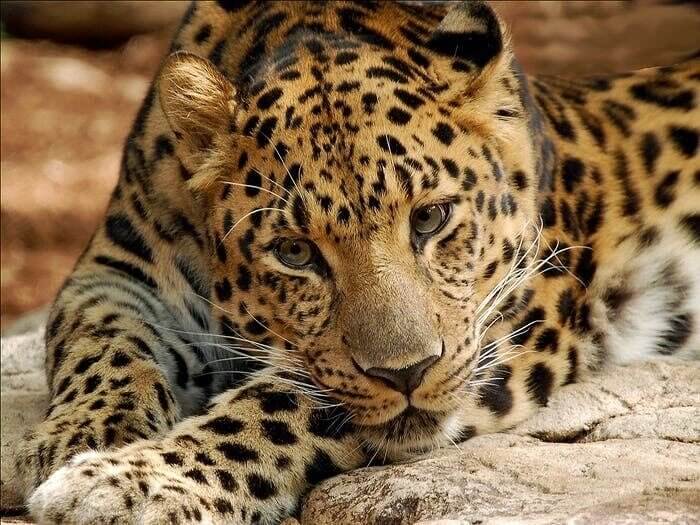 Tourists in the vehicle attempted to help Plumb fight off the predator by hitting it with their bags and cameras, but it persisted. Eventually, other vehicles were involved, and eventually, Plumb managed to get the killer cat off of himself. The guide was fortunate enough to survive this ordeal, despite suffering horrible injuries. At least he has a good story for his next group of tourists.
Wedding Day Wolf Attack
It was a perfectly planned wedding day in Russia in March 1911. The wedding banquet had been arranged in the town of Tashkent, 20 snow-covered miles from the ceremony which took place in the small village of Obstipoff. The entire party was to be transported by horse-drawn sleighs between the two events of the day. A beautifully romantic--if perhaps chilly--way to complete the bride and groom's perfect celebration. Only on this occasion, they would soon wish more secure transportation had been chosen. It wasn't, as you might have feared, sleigh way robbery which the party fell victim to, but something far more destructive.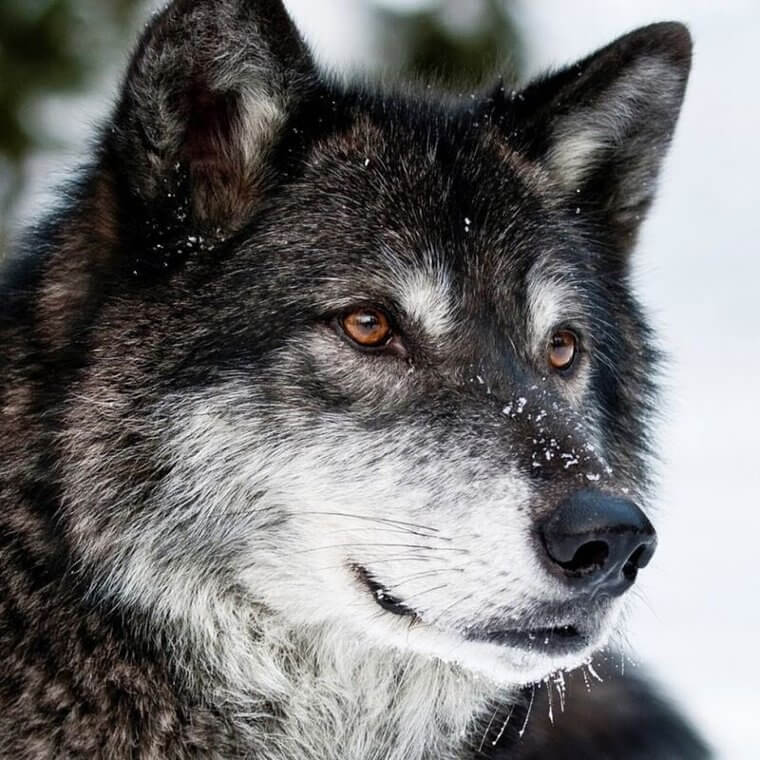 A huge pack of wolves descended on the convoy in the countryside a little before their final destination and the animals had no interest in taking prisoners. Working their way from the rear, they attacked, tore apart, and ate every member of the group, including families with children, until only the bridal sleigh remained. The two men escorting the happy couple made the quick decision to lighten their load by throwing the bride to the wolves. When the groom protested, he was sacrificed too. The final two men survived, but at what cost?

Man Versus Shark
It was 2001 and the Arbogast and Flosenzier families were spending the day on the long beach of western Florida's Santa Rosa Island. Jessie Arbogast, aged 8, and his young cousin were swimming in the blue sea while their parents watched from the shore. Suddenly, the postcard tranquillity was pierced with blood-curdling screams - it was Jessie. Vance Flosenzier, Jessie's uncle, was the first to react. He splashed into the waters where he found his nephew with the jaws of a bull shark clamped around his arm. Vance instinctively grabbed the shark and dragged it away.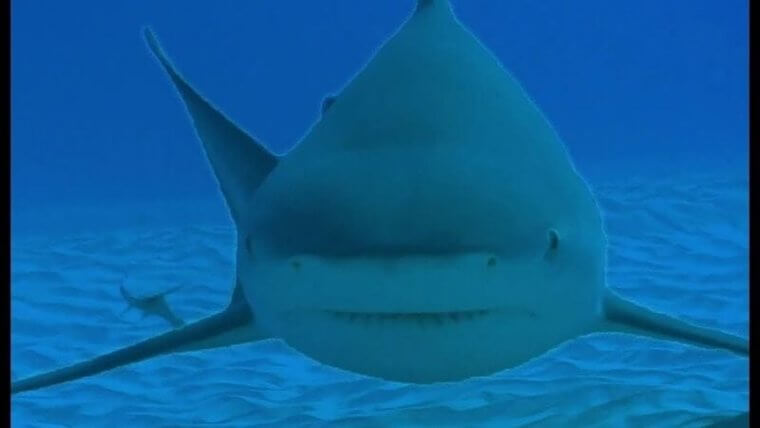 Horrifyingly, the young boy's arm ripped off in its mouth. The children were carried to safety by Vance's wife but the man knew he couldn't follow. "He knew he couldn't let the shark go," his wife recalled, telling the story afterward. "There were other kids still in danger." Eventually, Vance managed to pull the shark ashore, where rangers shot it dead and retrieved Jessie's arm which was still clamped between the beast's teeth. The quick thinking of Vance meant that Jessie's limb could be reattached. He was still left with permanent brain damage but survived the attack thanks to his uncle.

In the Face of Unbeatable Odds
"All that remained to tell of this grim northland tragedy were the trapper's bones." That's how the Calgary Daily Herald reported the death of Ben Cochrane, a Manitoba trapper in 1922. Ben had been working alone so, with nobody left alive to tell the tale, investigators had to piece together his final moments from the grim evidence they discovered at the scene. The man had been working on a riverside in Manigotagan, a tiny settlement in the mid-Canadian province, when he found himself face to face with a pack of timber wolves.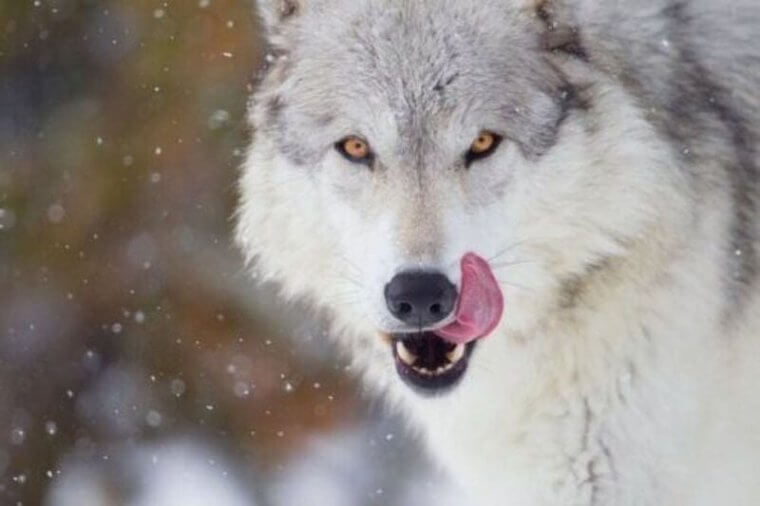 The trapper's body had been ripped apart and scattered about the land, as were his clothes. Also found were 11 wolf carcasses. Seven had been shot while four were laid on the ground with their skulls smashed in. It seems that Ben Cochrane had battled frantically for his life, unloading his rifle into the pack until all the bullets were gone, and then turning the weapon around to use as a club. He wasn't successful and eventually succumbed to the determination of the ferocious animals, but he certainly put up a fight.

Osama the Lion
In the world of serial killer animals, few amass a tally quite like Osama did in Tanzania. Operating between 2002 and 2004, the man-eater, named after the now-deceased terrorist leader Osama Bin Laden, took 35 human lives in a series of attacks. Using a technique it is believed was taught to him by his mother, who had been known for her own attacks, Osama opted for a more surprising tactic than hunting prey on the open plains. Using his brain and his bulk together, Osama realized he was stronger than the mud walls or thatched roofs that made up the homes of the local villagers.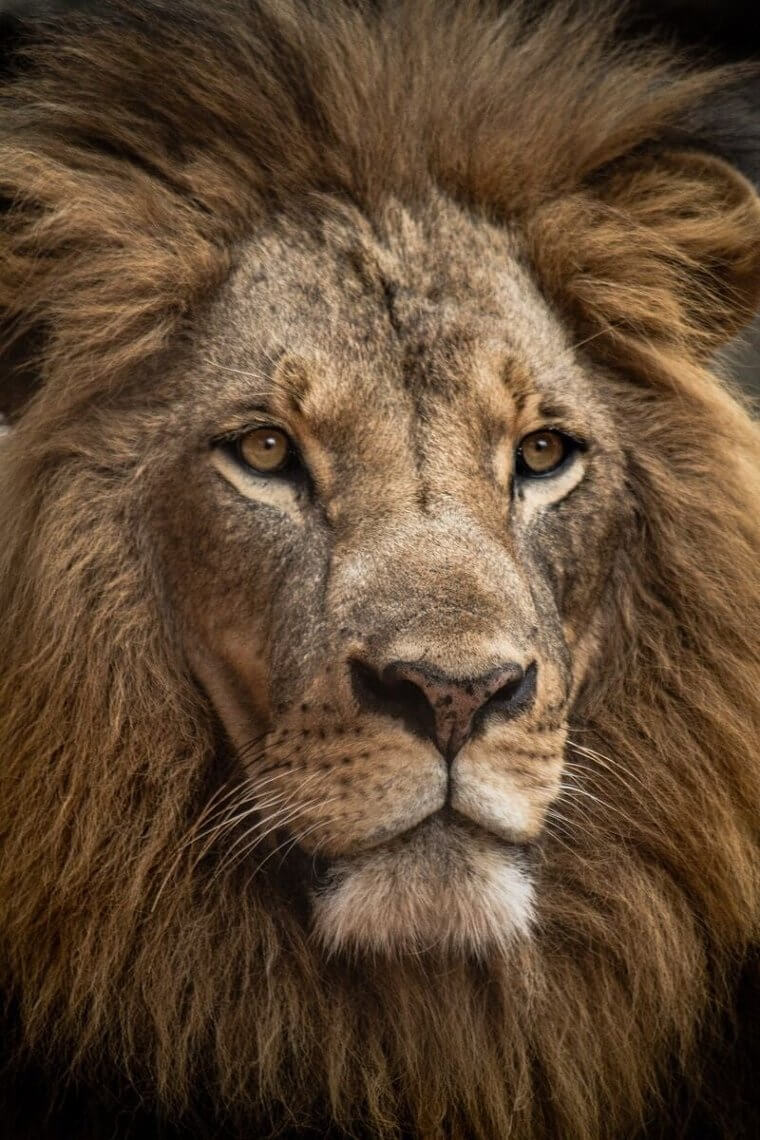 He would simply jump or barge his way in, grab his victims as they rested, and drag them away to their death. He became a wanted animal, with posters plastered around the area like an image from a wild west movie. It was discovered later that Osama had a cracked tooth and a large abscess which would have been causing him significant pain when he ate, making soft-bodied humans a more desirable meal than thicker-skinned alternatives. Eventually, Osama met his end in 2004, at the hands of game scouts.
Ed and the Cougar
The idea of moving to a log cabin in the wilderness far away from other people can be appealing for many of us, especially as we get older. The problem is, that's where the really dangerous animals live. In 1951, Ed McLean was reminded of this in the harshest of terms. He was living alone in the Canadian countryside, six miles from the nearest neighbor, when a cougar came to visit. Ed spotted the powerful animal, ceased chopping wood, and took himself inside thinking that would be the end of it.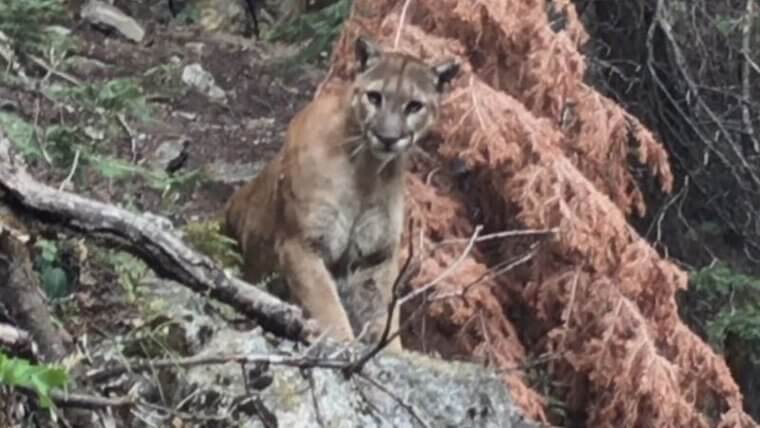 The cougar was willing to wait. Ed looked out after dark to see the big cat still there watching. He extinguished his lamp, believing that might be what had his stalker's attention, not realizing that was the cue it had been waiting for. The cat leaped through a window and wrapped its teeth around Ed's arm. Ed managed to grab a knife and kill the cat but was still faced with the need for urgent medical help. He rowed across a lake for two hours to the next cabin, but it was unoccupied. He lay outside, bleeding and fading away for eight hours before he was discovered and saved.

The Hungry Hungry Hippo
Even a known animal can turn, as Paul Templar discovered on the Zambezi River. Aged 27, he'd been guiding tourists down the river in kayaks for several years. He knew the two-tonne bull hippopotamus who would occasionally take out his bad mood with lackluster swipes at passers-by and had taken to avoiding spots he was likely to be. On the day of the incident, Paul was on the river with three apprentice guides and their guests. There was no warning when the hippo suddenly surfaced underneath one of the boats, captained by an apprentice named Evans.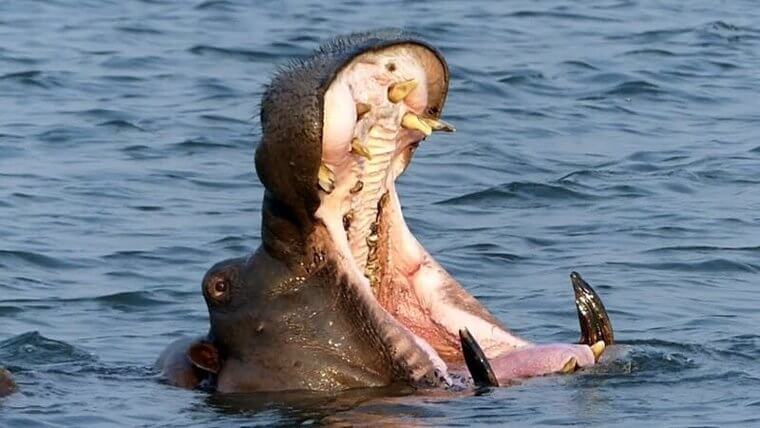 Evans was tossed into the water while his terrified guests found themselves stranded on the hippo's back. The remaining guides managed to get the guests to safety while Paul attempted to rescue his colleague. The two men were about to clasp hands when Paul's world went dark. He was inside the hippo's mouth. How long this incident lasted is unclear. "Time passes very slowly when you're in a hippo's mouth," Paul said afterward. When it was over, Paul was covered in 40 puncture wounds and would eventually lose an arm. Evans, sadly, perished. His body was found downriver two days later.

Outnumbered
In the frozen northeast of Russia, closer to Alaska than to Moscow, sits the tiny Siberian town of Verkhoyansk. The human population of the town is less than 1,300; the wolf population that surrounds it is over 3,000 and when wolves hunt they do so in packs. Verkhoyansk hit crisis point one year when a vast pack of hundreds began to prowl the settlement. First, they went for the horses, slaughtering 30 in four days, and the town knew they would have to react.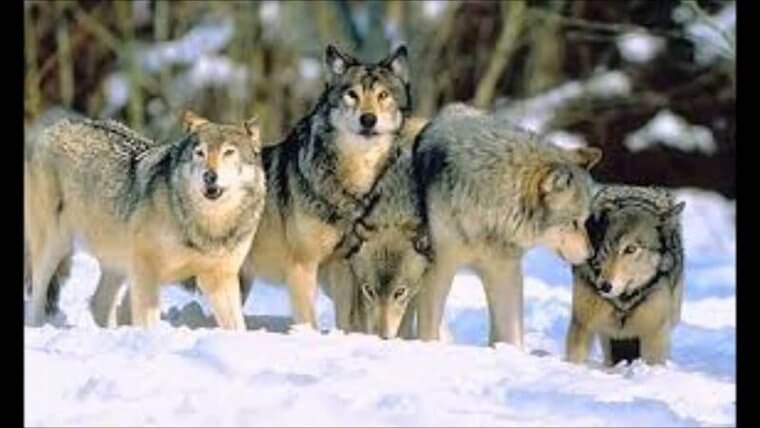 The governor immediately declared a state of emergency and offered hunters around $300 for every dead wolf, with a huge prize for whoever could kill the most. Teams answered the call, with many taking their guns out on snowmobiles in search of their foe. Others took a different approach, rising to skies in helicopters and hunting from above. 700 wolves were killed before the hunt was over and, in return, the animals had devastated the local horse population with over 300 dead. The town and the humans survived...this time.

Parisian Wolves
You don't need to live in a tiny outpost in the middle of the frozen tundra to be concerned about wolves...or at least you didn't in 1450. By that winter, the citizens of France's capital had hunted the surrounding forests to such an extent that no food remained for the wolves which still made home amidst the trees. The creatures needed to improvise, and they did it in the most obvious of ways. If the humans were going to eat all their food, they were left with no choice but to return the favor.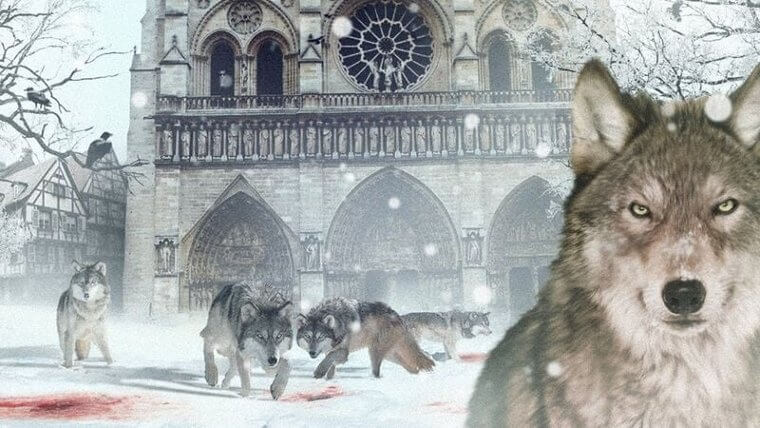 At the time, France had been at war for more than a century and the protective walls around Paris were badly damaged, so the wolves had no trouble finding their way onto the streets of the city. Pets and livestock were taken at first until one particular pack took things further. A bob-tailed red wolf led its murderous cohorts on a guerilla campaign against the weak of Parisian society, killing and eating over 40 people--mostly women and children. The human slaughter ended when citizens corralled the predators in the square outside Notre Dame Cathedral and stoned them to death in its shadow.

Grandma Versus Grizzly
"You accept what's happening and say, 'you're the big guy,'" was the unbelievably calm response of Sue Aikens when she was attacked by a grizzly bear in 2007. She was living alone at the Kavik River Camp, 500 miles from civilization, in deepest Alaska. One winter morning, she went down to the water only to find a huge bear was waiting beneath the surface to attack. The predator leaped from the icy waters and pinned Sue onto her back before clamping its teeth into her head. Sue knew she had to stay completely still if she had any chance of the bear releasing her.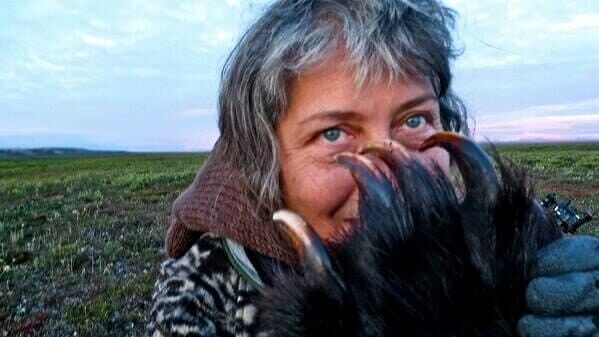 As soon as it did, she scrambled for the camp where she had to, "sew [her] own head together." As soon as she'd stemmed the bleeding, the adrenaline still coursing through her, Sue grabbed her gun and returned to shoot the bear. Once the animal was dead, Sue collapsed where she stood. Her hips had been dislocated in the attack. For ten days, the old woman and the bear corpse lay together in the mud before a pilot spotted the scene from above. Unbelievably, Sue Aikens survived.
The USS Indianapolis
1,196 men set sail from the U.S. Pacific territory of Guam on July 28, 1945, aboard the USS Indianapolis bound for Japan. Just 317 of them would survive the voyage. The ship was torpedoed on July 30, shortly after midnight, causing an explosion that would tear the huge metal vessel in two and send its crew scurrying for the lifeboats. Many perished in the blast but, for the survivors, the ordeal was only just beginning. The tale is relayed by Quint in 1975's seminal shark movie, Jaws. Quint spoke as a survivor of the disaster and the reality was every bit as traumatic as the dramatic scene suggests.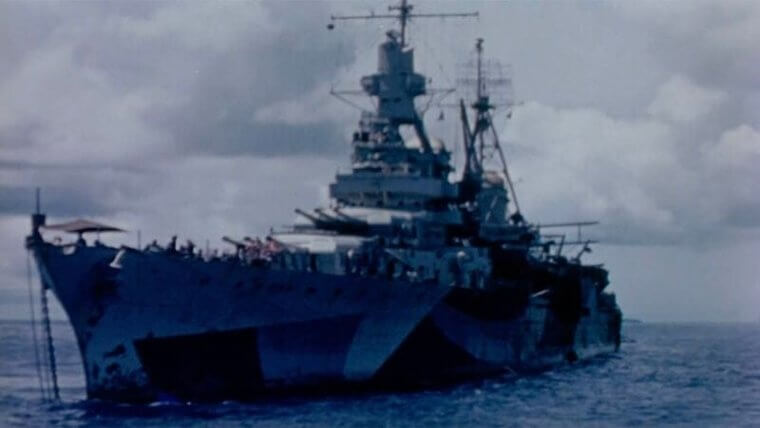 The water pooled with blood and sharks circled the area immediately. They fed on the dead at first, then they moved onto the dying. The crew separated out the wounded as the smell of their blood was drawing the fish towards those who were still healthy. For four days the men floated in light and dark, the time measured out by the splashes of exhausted men falling into the ocean and the screams of those taken by sharks. Finally, a pilot passing overhead saw the scene and alerted rescue boats.
"The Ghost" and "The Darkness"
Building railways has always been a dangerous occupation, with high casualty rates in many parts of the world throughout the 19th and 20th centuries--and that's without the threat of workers being picked off by man-eating beasts. In Tsavo, Kenya in 1898, a pair of male lions developed a taste for human flesh and a killer partnership. The construction workers of a bridge over the Tsavo river would become the focus of the animals' attacks. Their main tactic was to drag men from their tents in the night, but they were not averse to picking off targets in daylight if they wandered too far from the group.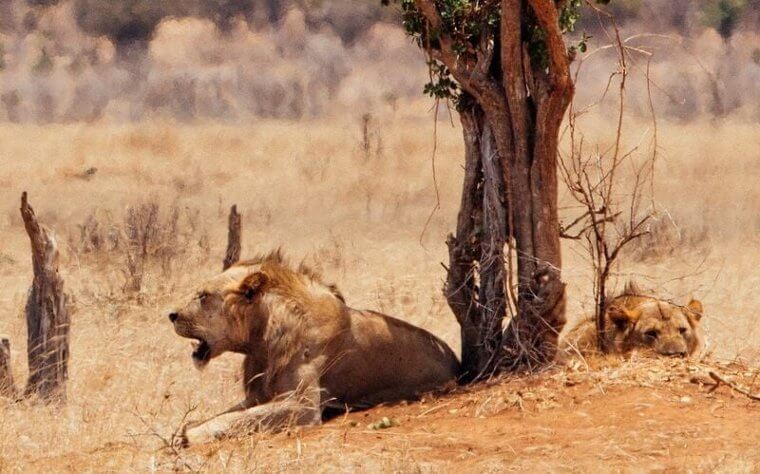 Initially, victims were thought to have disappeared without a trace, contributing to a myth these were supernatural killers. This belief led to them being named The Ghost and The Darkness. Later a cave was discovered, littered with bones and rotting human remains. From the start of the attacks to the death of the duo at the hands of Lt. Col. John Henry Patterson, it is estimated that up to 134 men were slaughtered, one by one. The lion's bodies now rest as display items in The Chicago Field Museum.
The Bloodthirsty Bear
It reads like a monster movie, and the final scene sees a mob of 60 hunters finally confronting the murderous beast and putting an end to its blood-soaked rampage. Kesagake was the name given to the 749-pound Ussuri brown bear which terrorized the Japanese village of Sankebetsu in 1915. The first victims were a babysitter and an infant. The baby was killed quickly, but the sitter was taken away to be consumed at a more leisurely pace. Hunters managed to find and shoot the bear but were only able to wound it.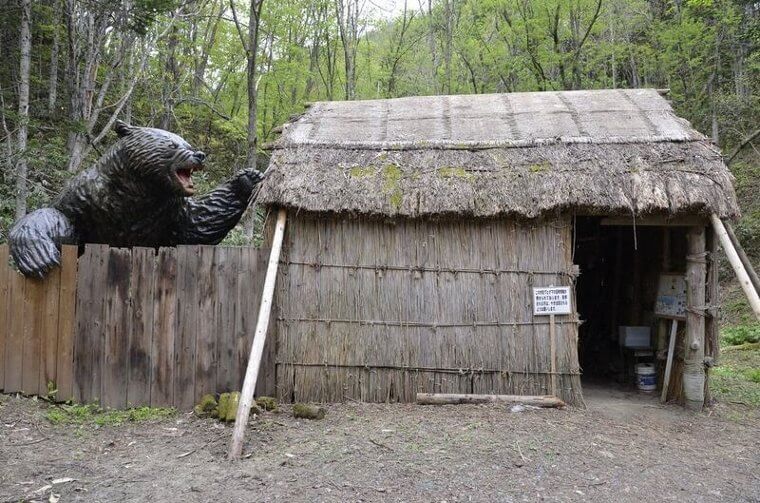 The injured bear spun into a rage and attacked, murdering six more people in quick succession. One of the victims, a pregnant woman, is said to have pleaded with the bear for mercy. Local guardsmen ran in fear and an elite hunting party had to be hired. Dozens of men worked under their legendary leader, Yamamoto Heikichi, to track and terminate the bear, but still needed several days before they would succeed. When the beast's belly was cut open, remains of his human meals were found inside.
The Aberdare Marauder
The villages around Aberdare Forest, Kenya, suffered a traumatic time in the 1940s at the feet of one particularly belligerent elephant. After the marauding menace was killed, examiners found a bullet wedged into the sensitive area beneath its tusks. They concluded that the animal would have been in significant pain from the embedded item and theorized it might have been this that drove it to rage and to direct that anger at the creatures who put it there.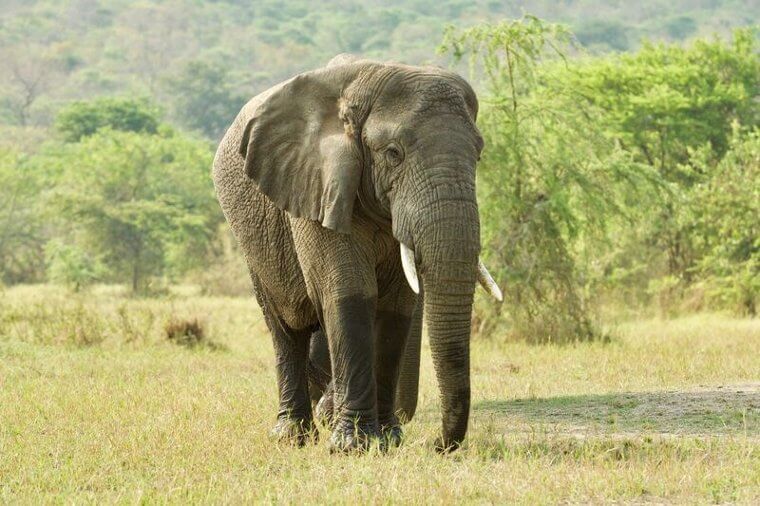 As smart as he was strong, the bull elephant would never attack a village twice, a factor that helped him evade retaliation for a long time. The enormous beast has been credited with one confirmed kill, a villager whom he pinned down with one of his massive feet and tore apart with his trunk. Judging by the frequency and ferocity of the attacks, however, it is believed that there must have been more. A tracker and marksman named J. A. Hunter finally killed the beast, having to react quickly to fell the elephant with two shots when he himself was charged upon.
The Real-Life Jaws
In the summer of 1916, a great white shark was captured and killed off the coast of New York by Michael Schleisser. Hunting sharks wasn't Schleisser's usual occupation, as he made a living more inland as a lion tamer, but this particular shark needed to be caught. The animal's first known kill had been on July 1 of that year, when 25-year-old Charles Vansant was found bleeding to death in the waters outside his New Jersey hotel. On July 6, Charles Bruder was bitten in half while swimming along the same shore.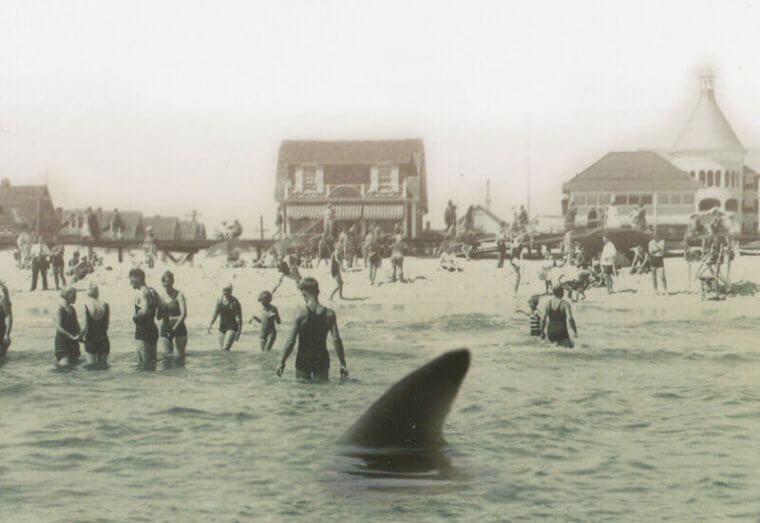 The final three victims came in quick succession. The first, ten-year-old Lester Stilwell, was eaten alive while swimming with friends. Local tailor, Watson Fisher, was attacked while searching for the boy's body. He bled to death from his wounds. Less than an hour later, 14-year-old Joseph Dunn was bitten before being dragged to safety. Dunn would be the only survivor of an attack. While people at the time were skeptical of a shark's ability or inclination to kill people, when the captured eight-foot 325-pound shark was cut open, human remains spilled out from its insides.
Gustave: Scourge of the Nile
Every inch the movie villain--at a reported 20-feet from teeth to tail, that's a lot of villain--Gustave has been terrorizing the Nile for decades. He sports one scarred eye from a bullet wound, received during one of many unsuccessful attempts to bring his murderous days to an end, and he stalks the waters of the great river in the war-torn Republic of Burundi. This perfect killing machine is thought to be in his 50s or 60s, middle-aged for a crocodile, so there are plenty of years left in him...and his taste for humans doesn't seem to wane.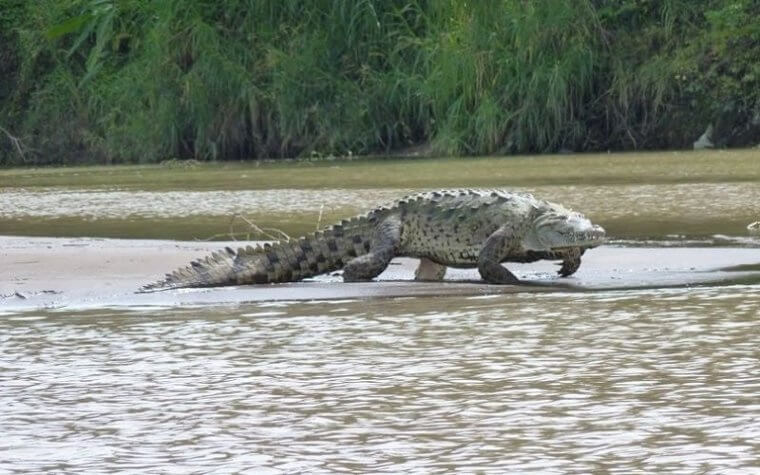 Thought to have killed over 300 people, Gustave's attacks come in waves. After he has satisfied himself in one location, he'll move on to another, meaning locals have no idea where he'll strike next. The most sinister part of Gustave's activity is that he seems to be doing it for sport rather than hunger. Victims are often left uneaten, sometimes they are simply drowned and left to float at the shallow edges of the river. Gustave just keeps killing, and growing, and striking terror into those who live and work along Africa's most famous waterway.
Tilikum: The Captive Killer
Since he was two years old, taken off the coast of Iceland in 1983, Tilikum lived in captivity, where he was displayed for the entertainment of crowds. In the three decades before his death from a bacterial infection in January 2017, Tilikum killed three times. The first and most callous kill was in 1991. Keltie Byrne, a 20-year-old marine biology student, and trainer at Sealand of the Pacific, was in the tank with Tilikum and two other orcas for a show. Without warning, the creatures turned on Byrne and drowned her in front of the crowd.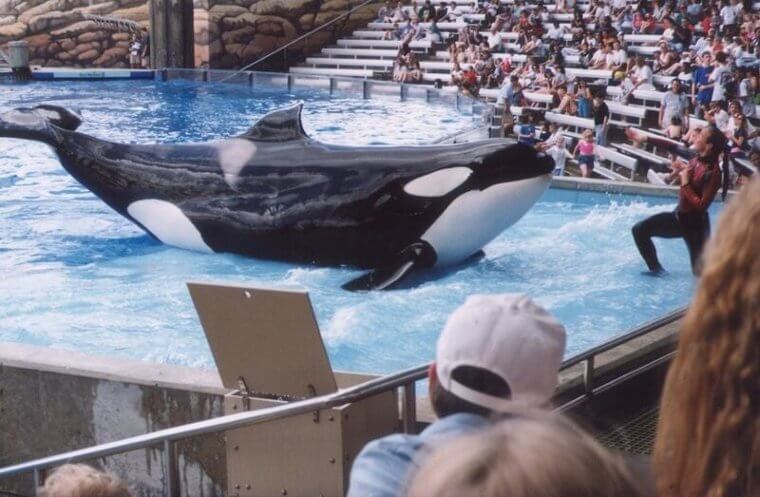 They actively prevented her from getting out of the water, blocking attempts to rescue her and dragging her back in when she reached the side of the pool. They then guarded her body so it could not be retrieved for several hours. Eight years later, at Seaworld, Orlando, the naked body of Daniel P. Dukes was found on Tilikum's back after he had snuck into the park and entered the enclosure. Finally, in February 2010, experienced trainer Dawn Brancheau met a brutal end when Tilikum dragged her into the water and attacked her, severing her spine and tearing her scalp and arm from her body.
The Kebbi Cobra
Snakes, while many can be extremely deadly, will generally only kill for two reasons: to eat and in self-defense. As humans are too big to be consumed by most snakes, particularly the venomous varieties such as cobras, bites are usually only doled out to them in the interest of self-preservation. That doesn't mean there aren't exceptions to the rule, however. One particular cobra in Birnin Kudu, the capital of Kebbi in Nigeria, developed a much more aggressive habit in 1999.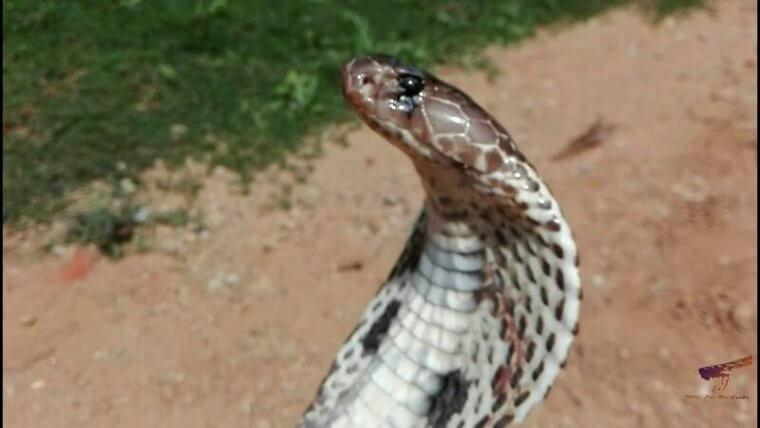 The snake was never captured, so there has been no way to investigate what may have caused this unusual behavior, but, whatever the reason, 18 people were killed in a ten-day spree. Initially, the snake tucked itself away in patches of tall grass before striking out as its victims passed. It would then retreat, ready to attack again in a short time. With other victims, the creature was much bolder. On some occasions, it was seen actually chasing its terrified victim as they tried to elude its venomous reach.
Osama Bin Laden: The Rogue Elephant
Assam, a state in northeast India, sits on what is known as the "Elephant Corridor", so villagers are used to seeing wild elephants. Most are docile and run in herds, more interested in staying away from humans than causing any danger to them. Occasionally though, an elephant will go "rogue" and become isolated from the group, causing them to be much more unpredictable. One, in particular, became known as Osama Bin Laden after it went on a six-month killing spree, trampling 14 people to death.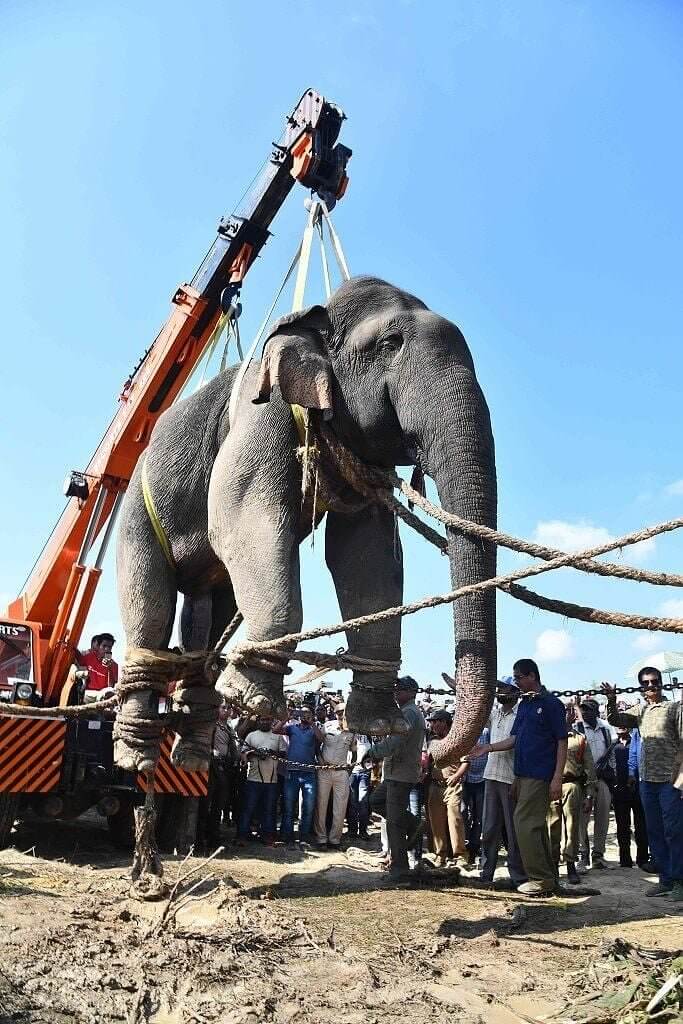 After the final murder of a woman on December 13, 2006, a shoot to kill order was issued against the elephant. The hunt required a huge collaborative effort, with villagers using noise and fire to push the elephant towards a previously laid trap where professional hunters, including Dwipen Phukan, were waiting. The giant beast charged on the hunters but was eventually felled from multiple shots. Some observers sowed doubt over whether it was the right elephant that had been killed, but the tramplings did stop...for the time being at least.
Devilishly Cunning Panther
Leopards are one of the most elusive creatures in the wild, which makes them perfectly designed to be serial killers. One such cat in India's Central Provinces in the early 1900s appeared to have studied the manual in depth. The leopard would attack, seemingly at random, traveling up to 30 miles before it would attack again. During its time as an active killer, it was believed to claim a victim every two to three days, amassing a final body count in excess of 150. It also outwitted a British hunter, assigned the task of tracking and killing the menace, in a tense stand-off.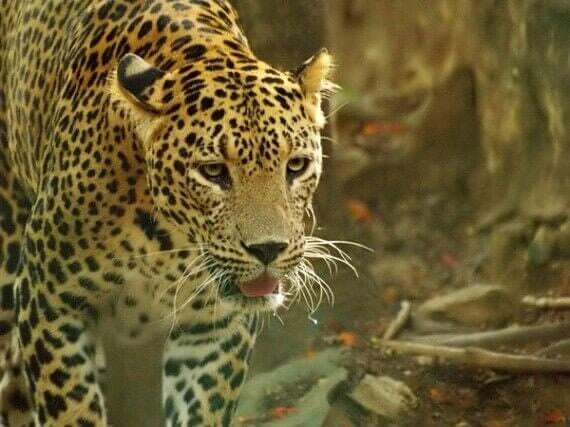 The hunter only found the cat in the first place by chancing upon a report of a recent victim and hiding near the unremoved body in hope of the killer's return. The leopard did emerge, but soon turned the tables and began hunting the hunter. Several days and a number of close encounters passed, but neither was able to claim victory over the other. Some time later, and after many more victims, a gas-propelled shell from a pipe at close range was used to finally bring the cat, and its massacre, to an end.