Sarah Ferguson married into the Royal family and pushed the boundaries at every turn. Even after her marriage to Prince Andrew failed, the Duchess of York remained close to her husband and his family.
Ferguson didn't just challenge the Royal family, she also brought scandal to their doorstep. As a family that prides itself on integrity and poise, you can see why this was a problem. So, here are 30 facts about Ferguson and the life that she lived.
 
Her Parents Were Well Off
On October 15, 1959, the world welcomed Sarah Margaret Ferguson. With her flaming red hair, her parents Major Ronald Ferguson and Susan Mary Wright instantly fell in love with her. Living in London, the small family of four enjoyed living a lush life full of privileges that many can only dream of.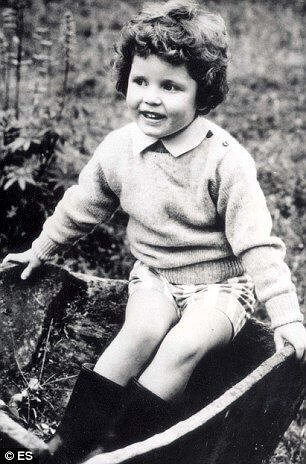 Being well off not only meant that Sarah never went without, but also that she got the best of everything. Growing up, she enjoyed private school, horseback riding lessons, and a friend group full of influential people, including the Royal family.
She Was Left Behind
For a while, the Fergusons were a happy little family who enjoyed each other's company. However, when Sarah turned 16 all of that changed. Her parents were getting a divorce and her mother was running off with her new lover. This news is devastating at any age, but in the middle of your teen years is even worse.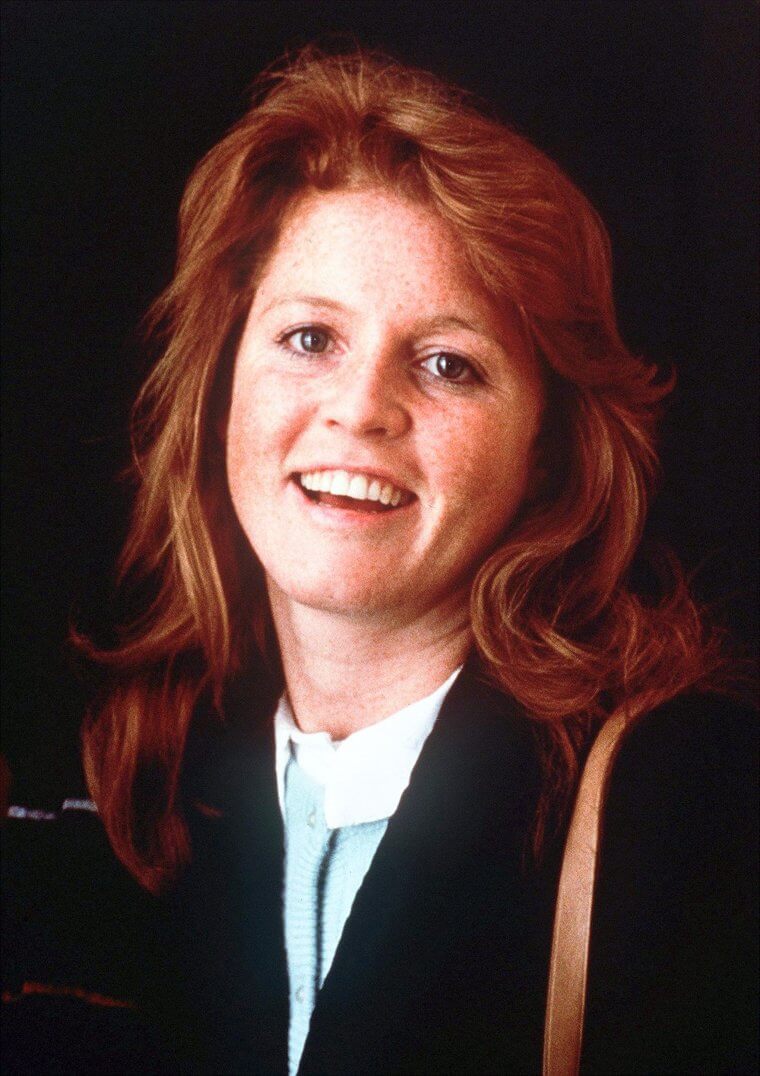 Leaving her children behind, Susan remarried and settled in South America. After some time, Sarah's father also remarried and gave her three more siblings. In high-end sight, her mother leaving may have had something to do with the type of mother that Sarah became.
She Dealt With Some Significant Changes
For many teens, home is their safe place but for Sarah, that was school. When she was there, it was as if nothing else mattered, especially the drama going on at home. Her friends at Daneshill School called her Fergie and often described her as a "courageous, bubbly and outgoing little girl."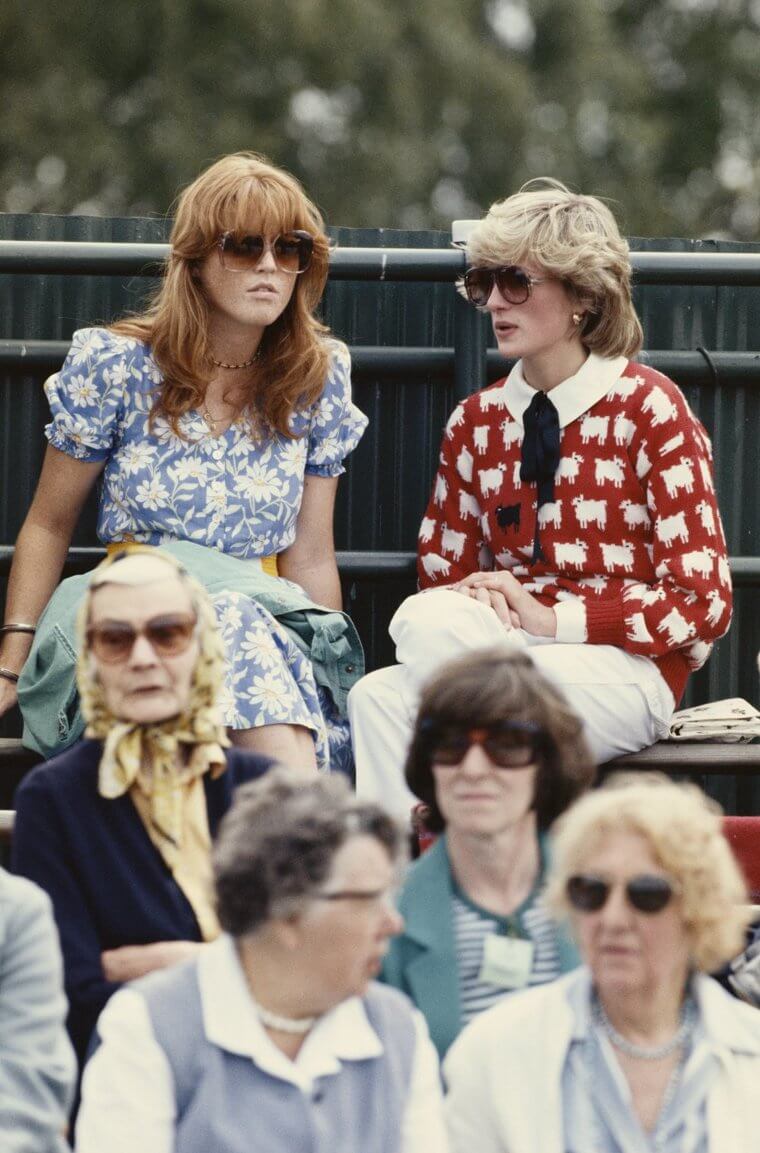 After her time at Daneshill, Sarah continued her schooling career at Hurst Lodge School in Ascot. What she lacked in academics, Sarah more than made up for in sporting ability. With talents in swimming and tennis, she fit right in with the Royals.
She Knew What She Wanted
School isn't for everyone, and it most certainly wasn't for Sarah. She had no desire to sit and study for hours but that didn't that she lacked ambition. In fact, it was quite the opposite. She knew exactly what he wanted to do and went after it.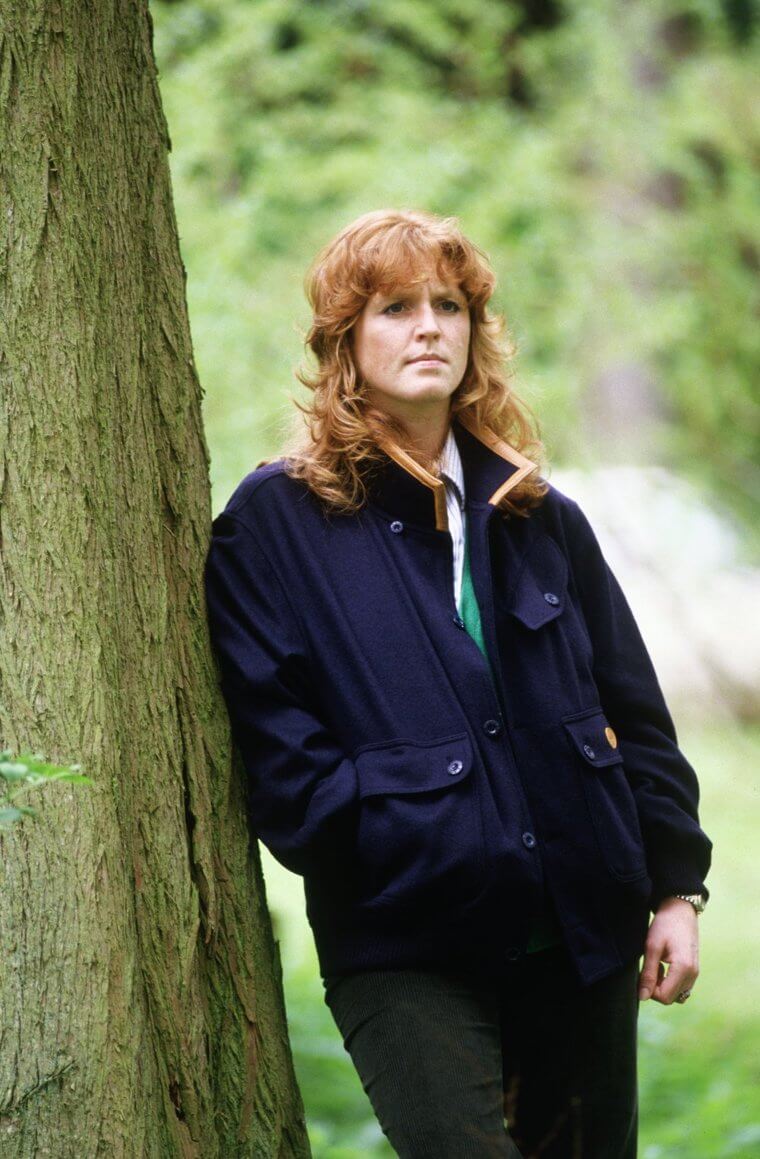 After finishing up her studies at Queen's Secretarial College, Sarah tackled the workforce immediately. She was more of a "do" kind of person and set to work applying for jobs. Sarah managed to land jobs at an art gallery, two public relations firms in London, and then a publishing company. It's safe to say that she was busy, but never too busy to be there for her friends.

She Saw Fergie as a Sister Figure
Sarah's mother left her during a time when she needed her most. So, Sarah made it her life's mission to be there for anyone that needed her. That included her 19-year-old friend, Diana. Despite being two years younger, the two had a close relationship and viewed one another as sisters.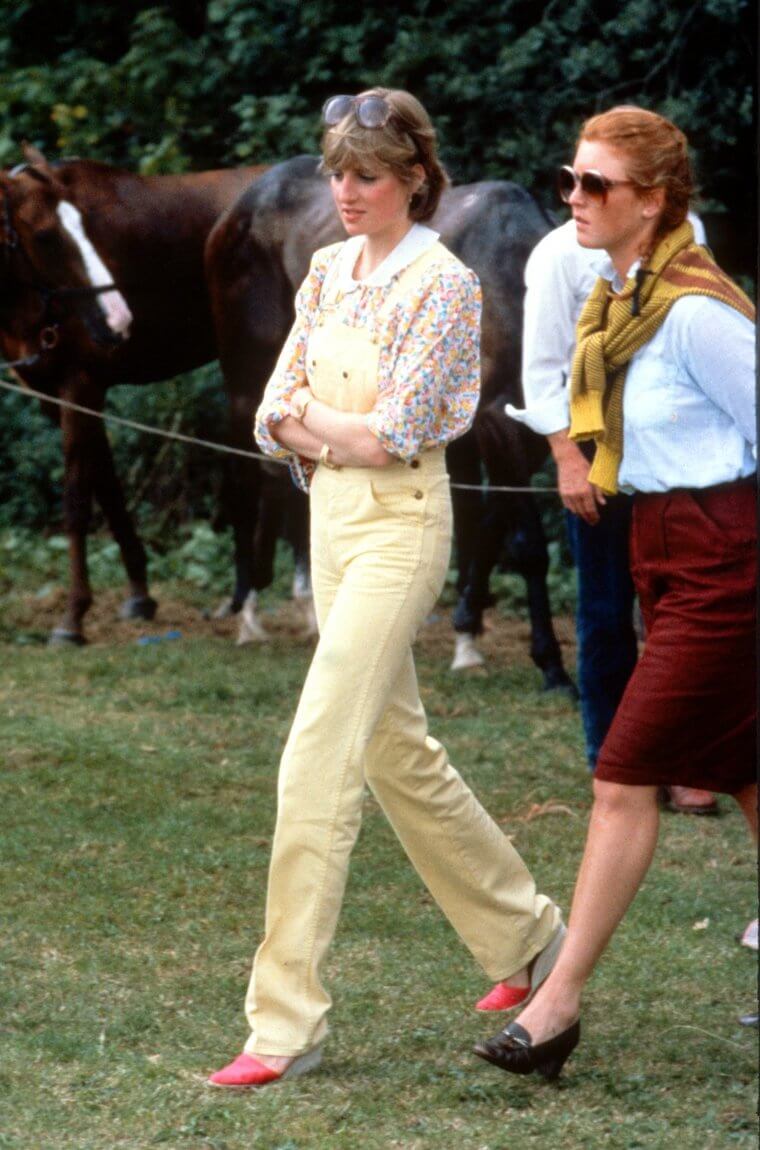 At only 19 years old, Diana was preparing to marry Prince Charles of Wales. As you can imagine, it was a very stressful time for her. Sarah tried to ease that stress by sharing lunch with her every week until the wedding. According to Sarah, "She was two years younger than I, and I strove to support and protect her as I would a younger sister—as I still do today, as a best friend."

The Duchess Was Living Her Best Life
It seemed that after she got married, both Diana's last name and freedom had been taken. From a distance, she watched as Sarah lived her life coming and going as she pleased. We're sure that Sarah had never been happier to be on her own than in that moment.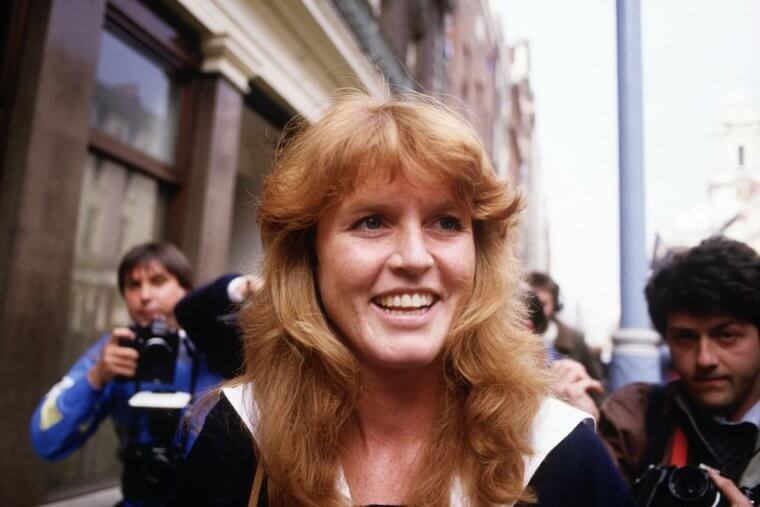 Between that time and when she settled down with Prince Andrew, Sarah had two serious relationships. The first was with a stockbroker named Kim Smith-Bingham and the second with a motor racing manager named Paddy McNally. After living with each of the men, she soon realized that they weren't meant to be.
A Romantic Connection Began to Spark
Sarah and Princess Diana had chosen different life paths. Diana had chosen to settle down, while Sarah had chosen to live her life and see what happened. Despite their difference in lifestyle, the two young women remained close. So, when Princess Diana convinced the Queen to invite Sarah over during 1985s Ascot week, both young women were thrilled.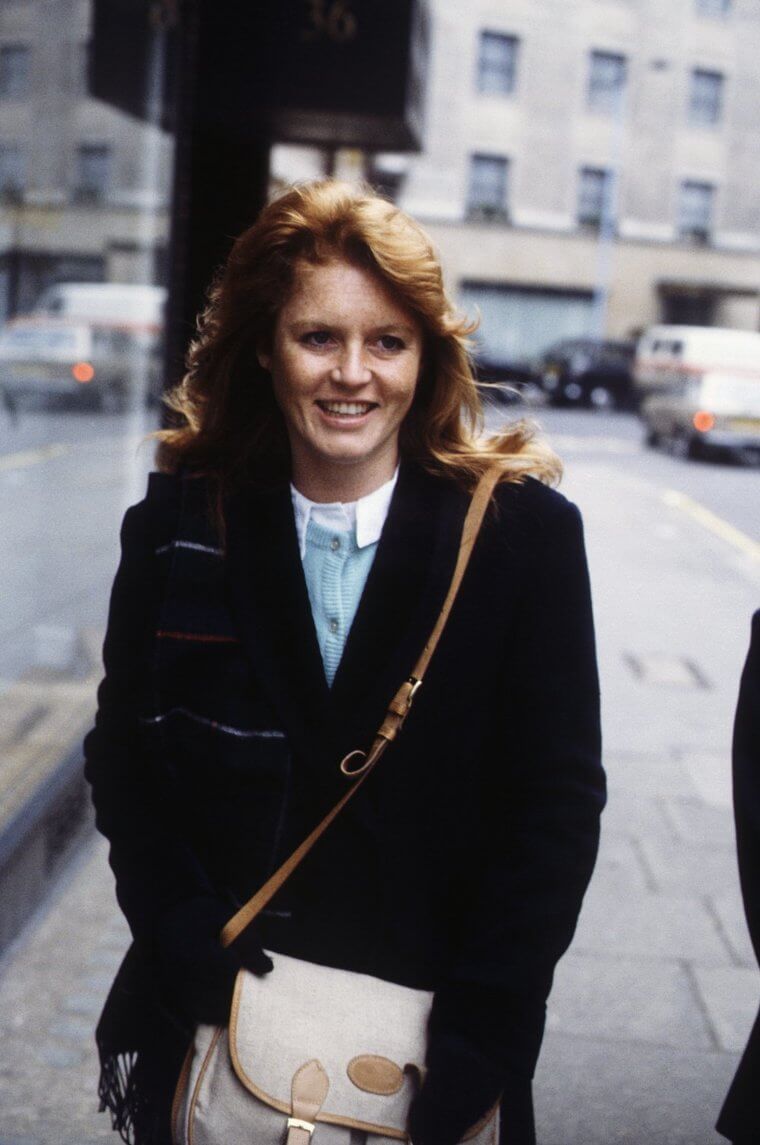 The day finally came and everyone was seated for dinner. Sarah found herself next to Prince Andrew and soon realized that she wouldn't have wanted it any other way. Despite having met previously, it was the first time that Andrew and Sarah discovered that they had a genuine connection.
They Wanted to Be Together Forever
The relationship between Prince Andrew and Sarah continued to grow from strength to strength. Soon, it was clear to both of them that this is what they wanted the rest of their lives to look like. Without even having dated a year, the Prince got down on one knee and asked Sarah to be his wife and join the Royal family.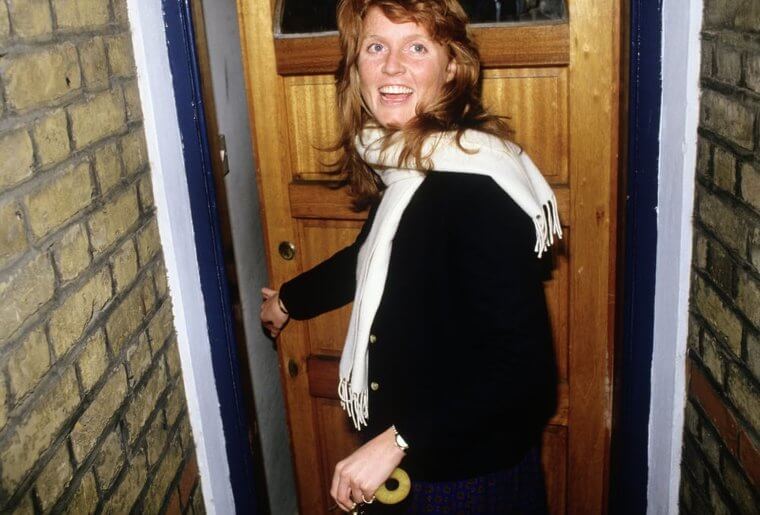 The Prince had designed her engagement ring himself, choosing a ruby in the center to compliment her hair. Entering into a royal family is daunting, to say the least, but it was something that Princess Diana was all too familiar with. Having been a member of the Royal family for five years already, Sarah simply followed Princess Diana's lead. In her book My Story, Sarah recalls looking over at the Princess in confusion and the Princess whispering  "Just keep smiling."

It Was a First for the Royal Family
Before marrying into a royal family, Sarah lived a pretty normal life. While she was better off than some, she didn't have strict rules that she had to adhere to. She believed that it was the way that life was meant to be lived. No amount of royal blood was going to change that, a point that she proved by throwing a bachelorette party before her wedding.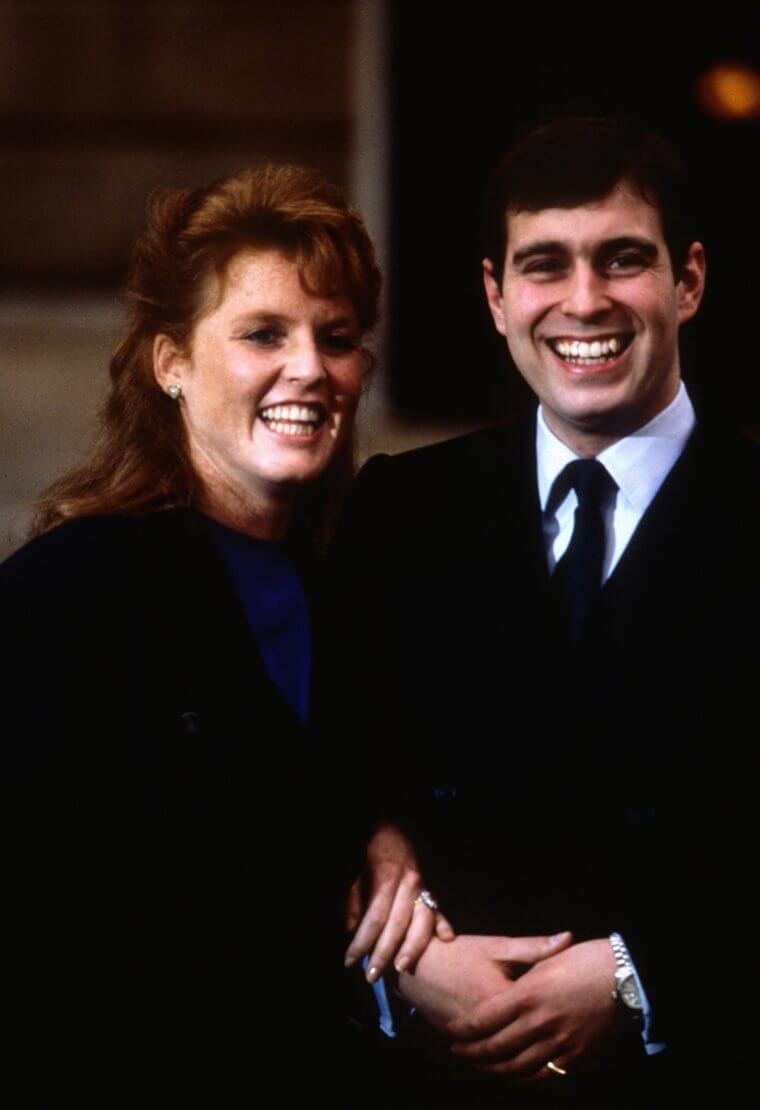 Before she was even a member of the family, Sarah was making waves. She was the first female member of the royal family to have a bachelorette party. Sarah may have been 27 years old when she got engaged, but she most certainly wasn't ready to stop living her life. Together, her friends and Princess Diana caused chaos outside Buckingham Palace when they rocked up dressed in police uniforms. They were ready to celebrate and no one was going to stop them.

A Massive Televised Event
Were you one of the people who watched Prince William and Duchess Kate Middleton or Prince Harry and Duchess Meghan Markle's weddings? If you were, then you'd know what a big deal they are! Not only do thousands of people gather along the streets but it's even televised. There's nothing small about a royal wedding.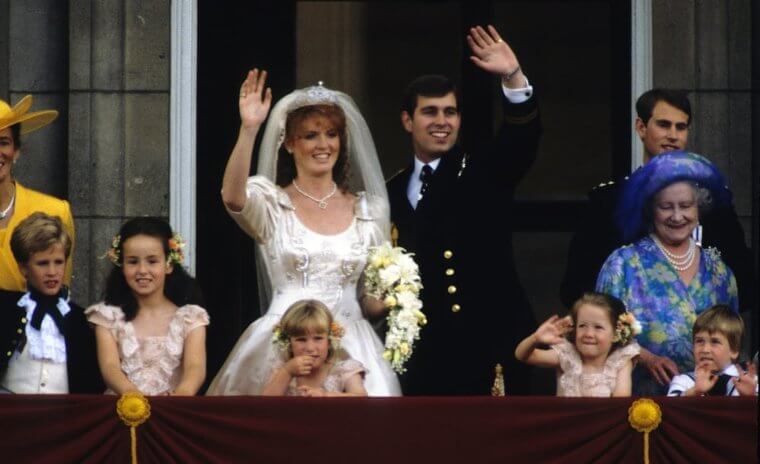 However, would you believe us if we told you that the weddings were even bigger and more dramatic in the past? Well, believe it because it's true! Sarah and Prince Andrew tied the knot in 1986 at  London's Westminster Abbey. Not only was it also televised, but over a billion people watched it all over the globe.

She Was Fearless and Did Everything
Throughout her life, Sarah had said and done exactly what she wanted, when she wanted. Surprisingly, it was something that the Royal family loved about her. Sarah was the type of person who set goals and chased them. Some examples would be getting her pilot's license and taking up carriage racing.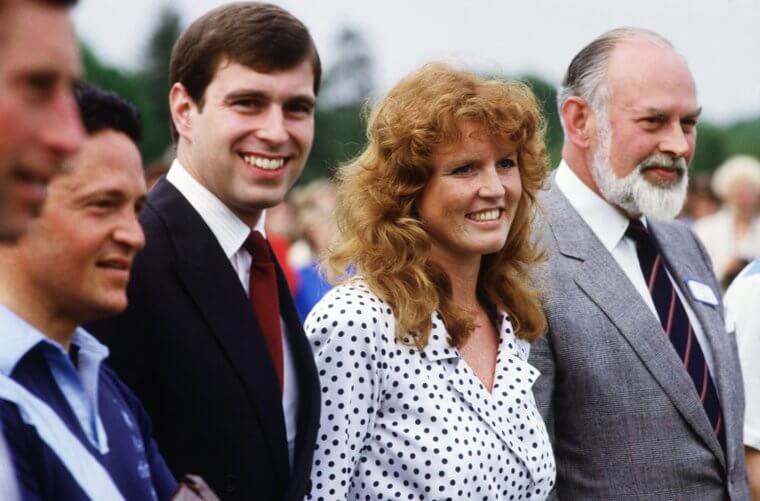 It's safe to say that she was a hit with everyone. According to Princess Diana, Sarah "wooed everybody in this family and did it so well. She left me looking like dirt." Her own husband even said, "I wish you would be like Fergie—all jolly." We mean, isn't that something that you keep to yourself?

Andrew Showed Possessiveness Over Sarah
The late rock star and actor Meat Loaf, claimed in 2003 that he was nearly pushed into a moat by Prince Andrew due to the "attention" he received from Sarah. Meat Loaf took part in the "It's a Royal Knockout" charity tournament in 1987, where members of the royal family and well-known figures competed on teams to raise money for charity. In a 2003 interview, Meat Loaf remarked catching the eye of Sarah.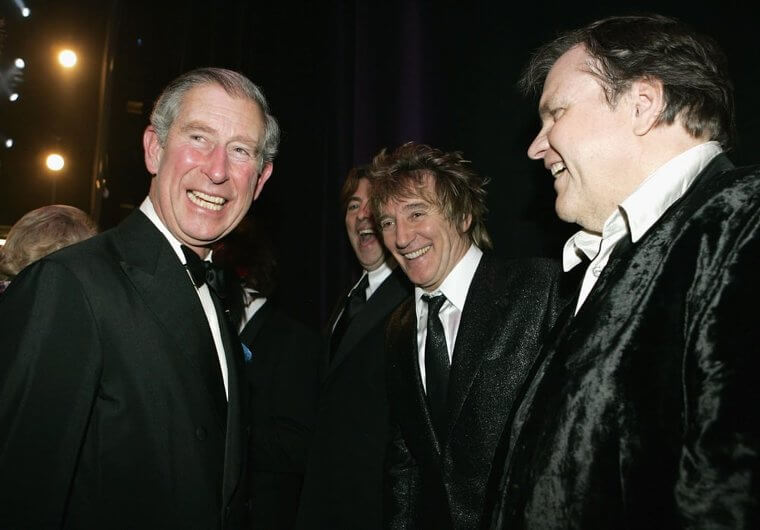 "It was great fun. I had a great time." He also joked, "The Queen hates me."  I think Andrew got a little...jealous. He tried to push me in the water," he added. "So I turned around, and I grabbed him and he goes, 'You can't touch me. I'm royal.' I said, 'Well, you try to push me in the moat, Jack, I don't give a shit who you are — you're goin' in the moat,'" he said.

She Became Incredibly Lonely
When looking at the Royals, the words that come to mind are luxury and glamor. However, any member of a royal family will tell you that it's most certainly not the case. While they have glamorous things, the lives that they lead are far from it.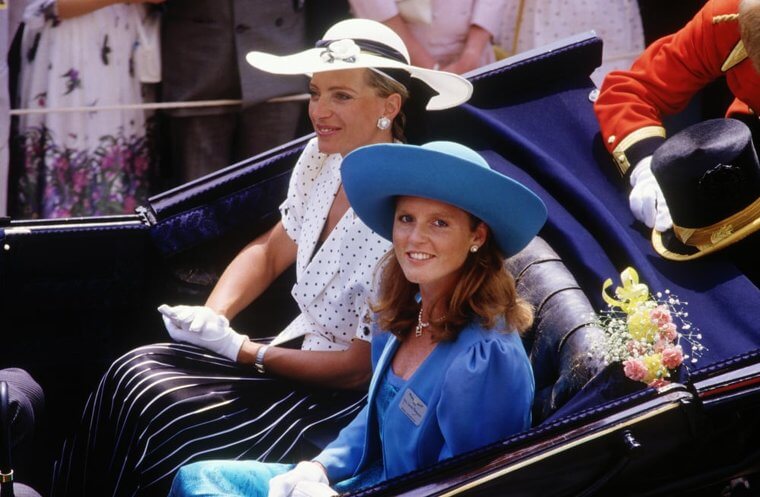 While it's difficult to adjust for many, it was even harder for Sarah. With the Prince being an active officer in the navy, she was often left alone for long periods of time. She had Princess Diana and the rest of the Royal family, however, none of them were her husband. If only that were the hardest part of being a duchess.

Being a Public Figure Had Its Drawbacks
Sarah's new title came with a number of new responsibilities and a whole lifestyle change. Being the Duchess meant that she was a public figure and had to be presentable at all times. However, that also meant that she could become a target at any point in time.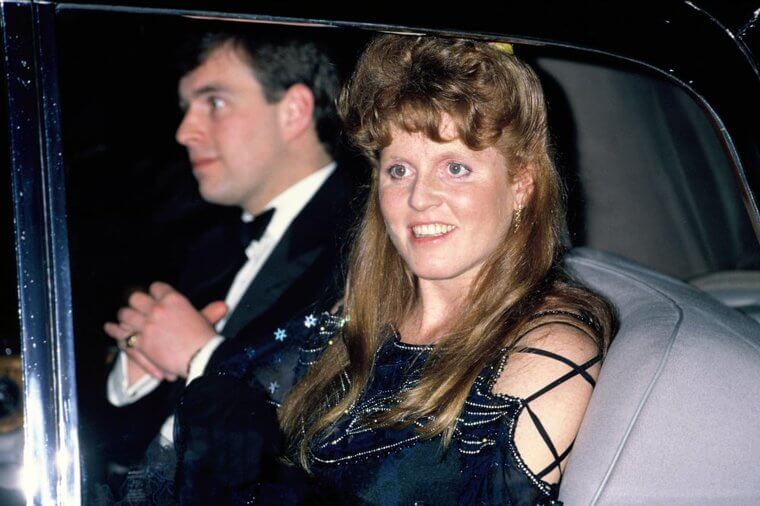 An example of this took place in 1988 during her visit to New York City. After the Duchess returned to her hotel after a fundraising event, a man jumped out and attacked her. Luckily, her guards took action and Sarah was left unharmed. As for the man, well he was arrested and charged for attempted assault on the duchess and a federal agent.

The Damage Was Done
Constantly being a target wasn't the only drawback of being a public figure. Among many others, being surveilled at all times was another. Not only after the New York City incident, but the Duchess and her husband also took a trip to California.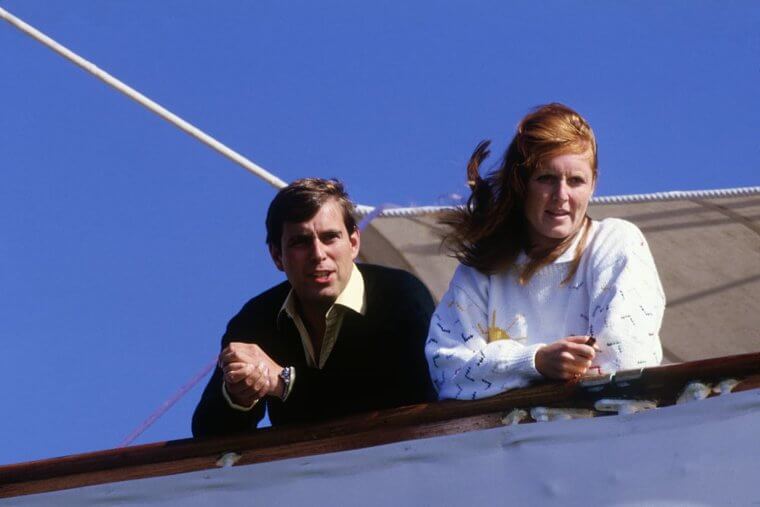 The details of their trip are unclear, however, a description of what they did said it all. According to British newspapers," the young couple were brash, vulgar, excessive, weak-humored exhibition by two royals." That description alone was enough to turn the people against her and no amount of explaining could change that. To the Duchess, she didn't need them…she had Princess Diana and that was all that mattered.

Making Things a Tad Easier
The Duchess of York and the Princess of Wales were as thick as thieves. Together, they were determined to change the rules of being royal by allowing room for some freedom and fun. Sarah and Diana were always pushing boundaries and had fun doing it. Through their actions, they were able to prove that royals were humans, just like everyone else.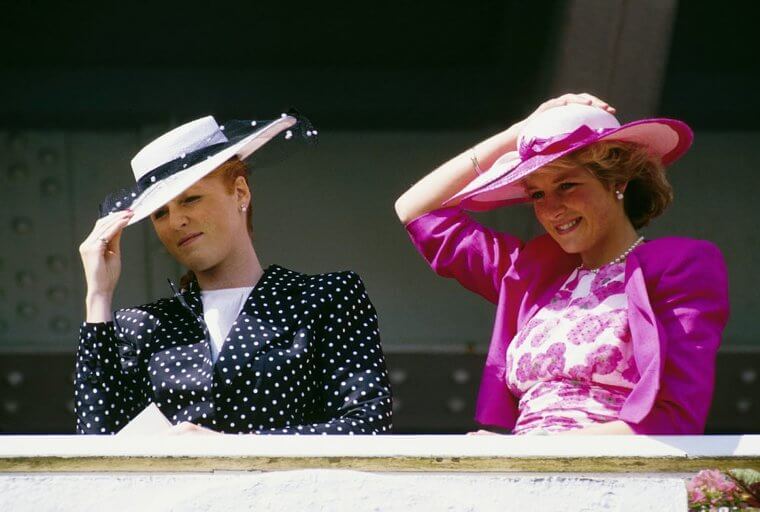 As we're sure you can imagine, this kind of attitude didn't go over well with the older royals. However, looking back, it has certainly made life for the younger royals slightly easier.
The Duke and Duchess Started Their Family
The Duchess of York may have started pushing the elderly's buttons, but she was also starting something new and exciting as well. She was starting a family and giving them a new member of the Royal family. Sarah and Andrew welcomed their first daughter, Princess Beatrice, on August 8, 1988.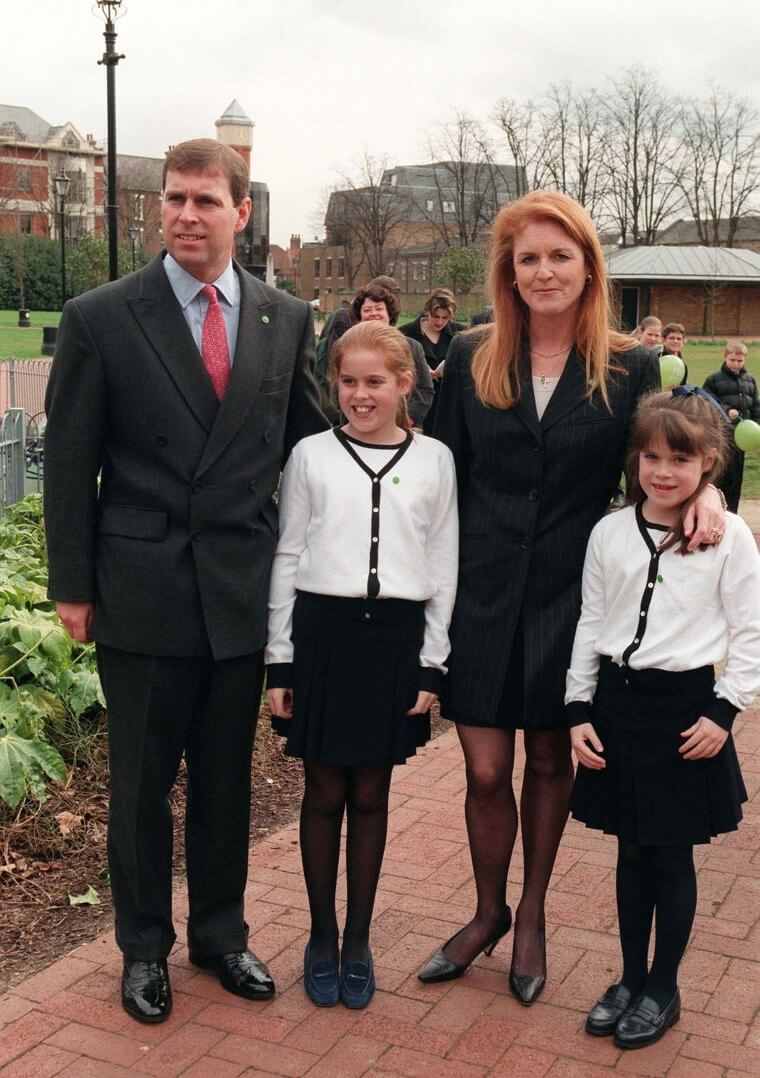 Just two years later, the royal family welcomed the couple's second daughter, Princess Eugenie on March 23, 1990. Together, Sarah felt that her little family of four could tackle anything that came their way, and she was right. What she didn't know was that their first test was coming up sooner than expected.
The Duchess Was Not to Be Deterred
Sarah was a woman who was confident in herself, as well as her abilities. However, her pregnancy with Princess Eugenie didn't make it so easy. She had picked up a lot of weight during her pregnancy and she knew it. Despite it being normal and part of a beautiful process, Sarah couldn't help but feel a little bit insecure.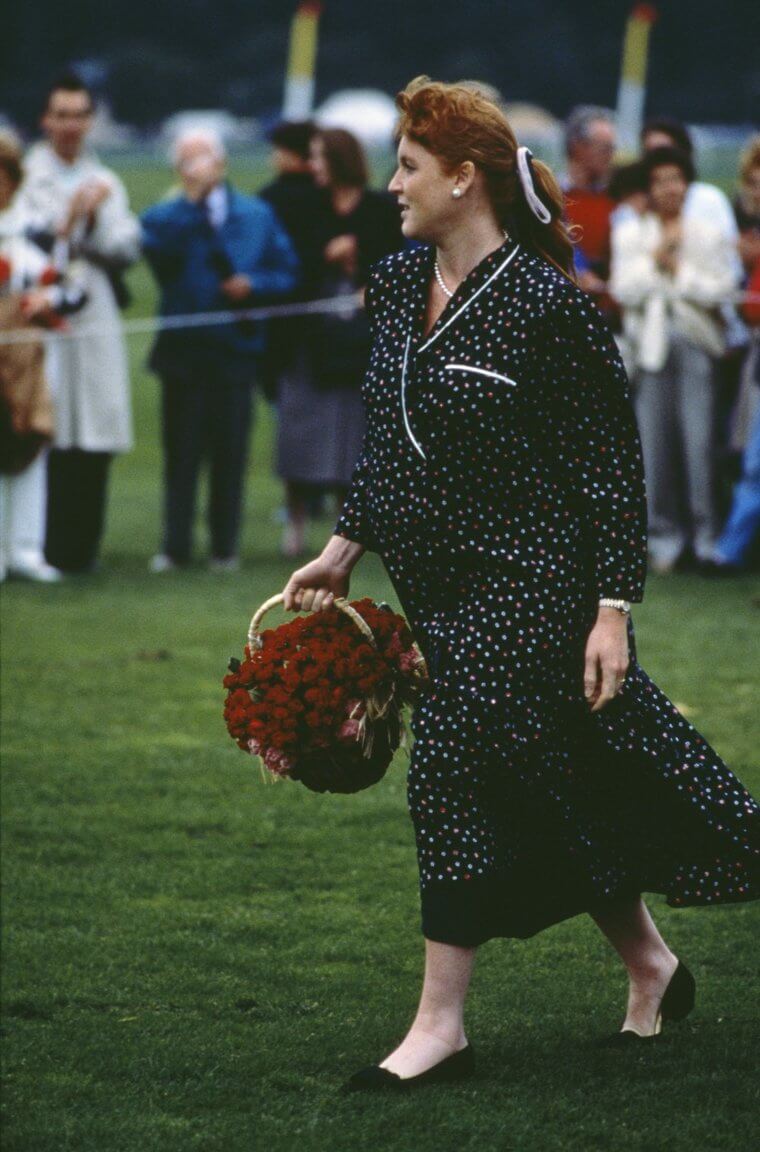 What didn't help was the new nickname that the press had given. From that point on, she was no longer the Duchess of York, but the Duchess of Pork. If the nickname had hurt the Duchess, she never showed it. Instead, she made even more public appearances by becoming the Weight Watcher's second-ever spokesperson.
She Was More Than a Royal Wife
Sarah was both a Duchess and a mother, two roles that she loved fulfilling. However, she was never one to be complacent. She was always trying new things and doing things that would challenge her as a person. That's exactly how she found her passion for writing.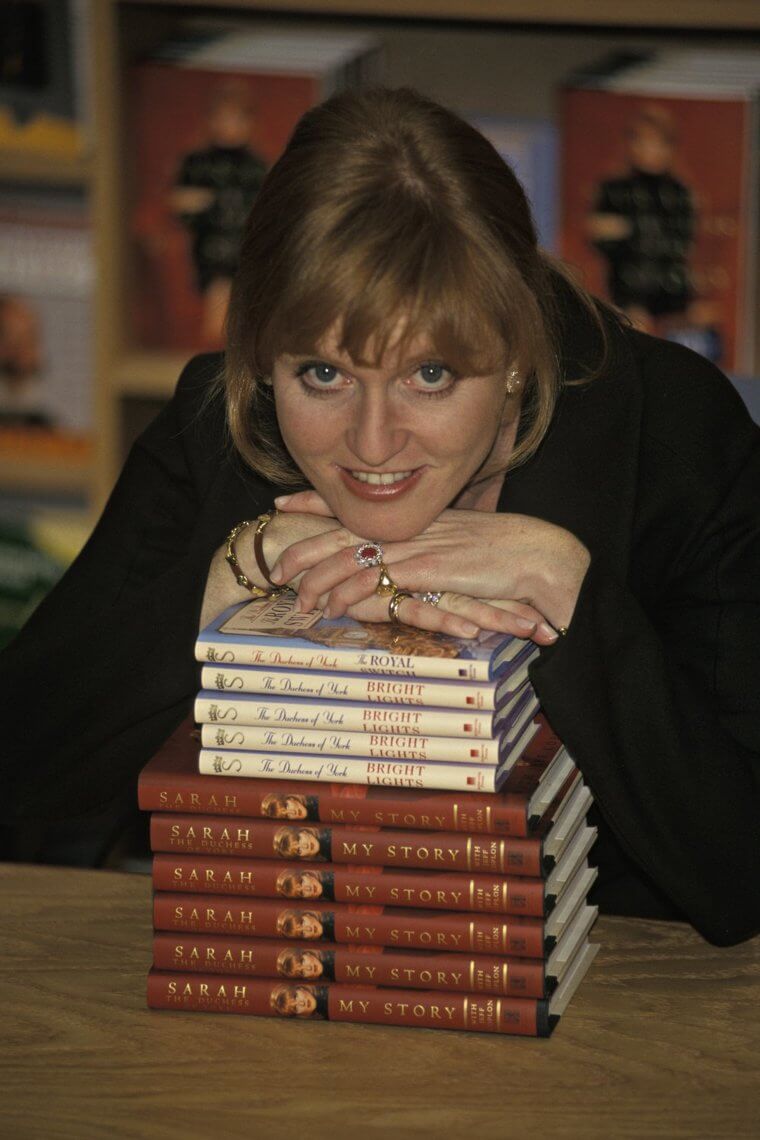 As it turns out, the Duchess didn't just have a passion for writing children's books, she was really good at it! One of her greatest published successes was the series about Budgie The Helicopter. She was so talented that her work even inspired the creation of an animated series.
They Leaned on One Another for Support
Divorce is a terrible thing for anyone to go through. However, to the royal family, the concept didn't exist. When Sarah was the Duchess, divorce was considered off-limits. However, as her marriage progressed, she thought about it more and more, and she wasn't the only one. Both she and Princess Diana were unhappy in their marriages and would often dream about leaving their husbands.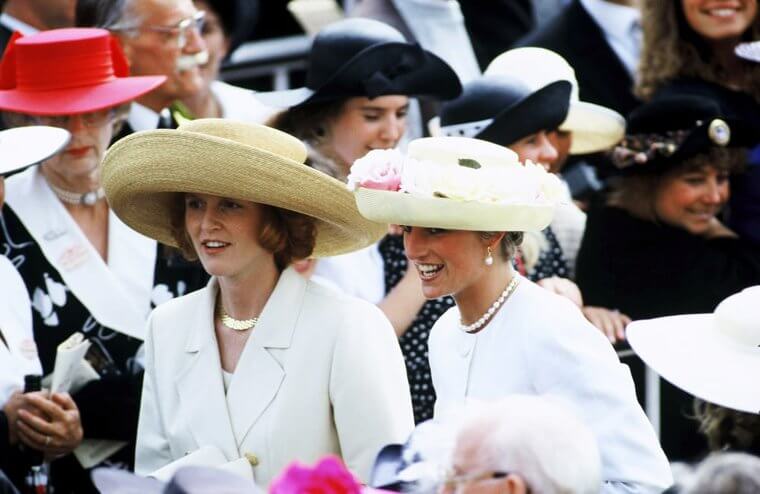 According to the Duchess, "It was the year we first put words to the unspeakable idea that had been nudging us in the ribs for some time: that one or both of us might leave the royal family. We burned the phone wires into the night, trading secrets and jokes that no-one else would understand."
Their Marriage Imploded in Front of the World
Just one year after uttering the word "divorced," Sarah and Prince Andrew found themselves in the middle of it. Rumors had been circulating about extramarital affairs for quite some time…and they weren't one-sided. While it was suspected that both parties were having sexual relations with other people, Sarah was the only one who got caught.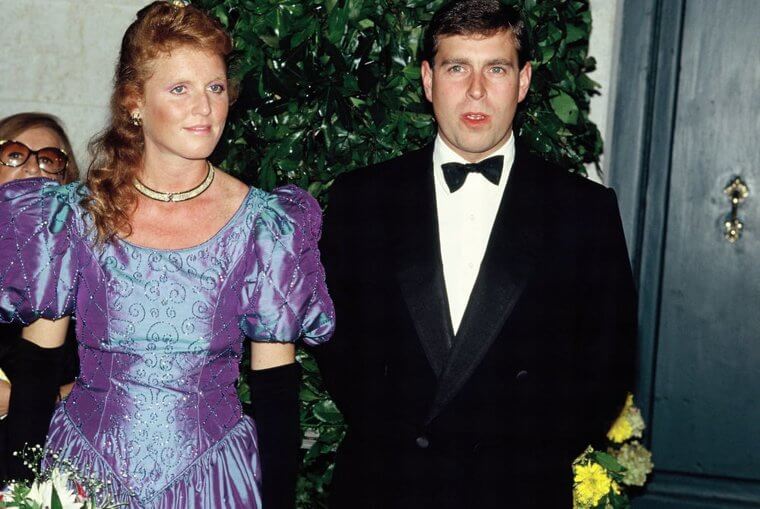 By caught we mean that she was photographed topless with oil tycoon, John Bryan, sucking her toes. Whoever took those photos knew what had to be done…they had to be published. Not only did the Royal family get a shock, but they found out at the same time as the rest of the world. As you can imagine, Sarah's marriage didn't last too much longer.
They Turned Their Back on the Duchess
After the photographs of the topless Duchess were released, her husband wasn't the only one to turn his back on her. The rest of the Royal family followed suit not long after. If she had simply embarrassed the family, they may have been able to move past it. However, divorcing her husband was a step too far for the family.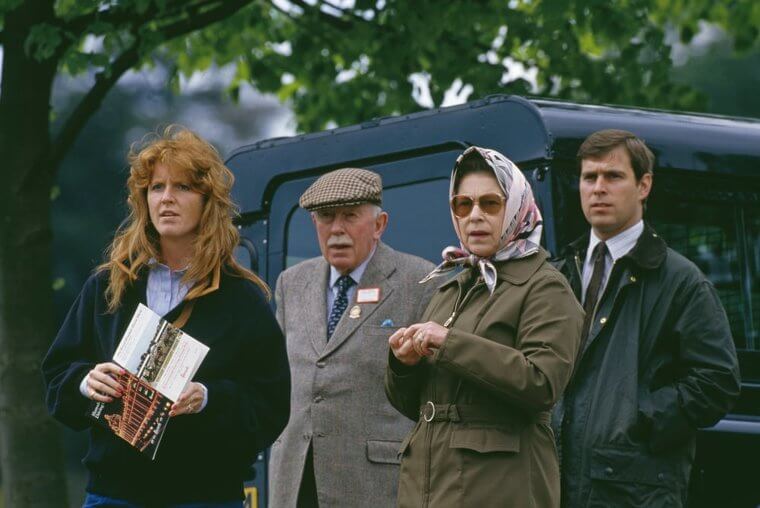 Not only was Sarah forbidden from representing the Queen in public places, but the Queen refused to pay her debts. After being stuck in a boring marriage, we can only imagine what that figure came to! Sarah had lost almost everything but decided to use it for something good. That's when she started her charity called Children in Crisis. Not only did it help children in poverty receive an education, but it saved Sarah.
Pulling the Plug on Their Marriage
The year 1996 wasn't a great one for the royals. Not only was it the year that Sarah divorced Prince Andrew, but it was the year that Princess Diana divorced Prince Charles as well. Both women had gone from speaking about it to making it happen, and the royals weren't happy. While Princess Diana got to keep her title, Sarah was stripped of hers.
However, she did receive £3 million and £15,000 a year as a divorce settlement. Her marriage was over and she was finally free. Then why did she still live at the Royal Lodge? Well, since her daughters were still young the royals decided it best for her to stay…in separate quarters of course. However, since then, her relationship with Andrew has continued positively, and the two even still live together at the Royal Lodge in Windsor.
You Can't Have It Both Ways
Although she's not a royal anymore, Sarah's relationship with the royal family is actually a friendly one...in private. When speaking about Charles's coronation in 2023, she confessed that while she was actually "close" with him and Camilla in private, she wouldn't be attending the state-occasion ceremony as, as a divorcee, "you can't have it both ways."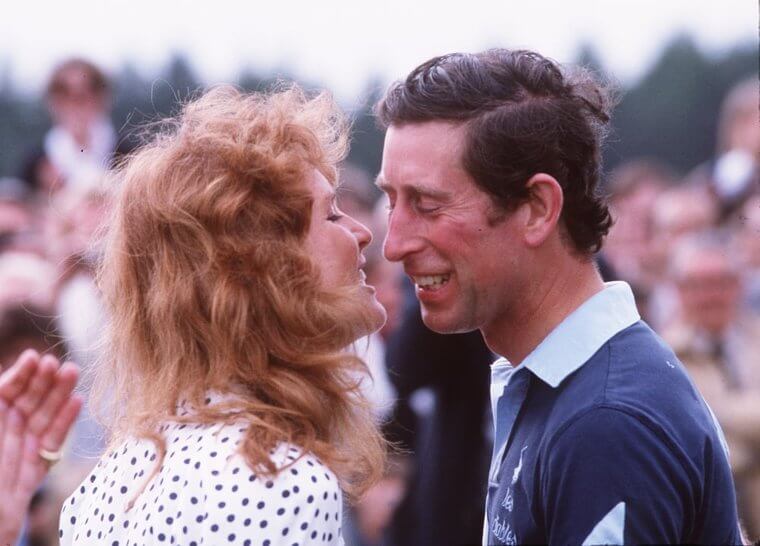 She continued, "You musn't sit on the fence - you're either in or you're out. I think that the great thing about this moment in time is the unity of family - I think that Charles and Camilla are doing an exceptional job at unifying the family...I'm not there at the state occasion, but in private I can be there. And that's a lovely feeling to be part of the family - it really is."
Overcoming Obstacles
Also in 2023, it emerged that Fergie had been diagnosed - and treated for - early-stage breast cancer after undergoing a routine mammogram. Said her representatives, the diagnosis "underlines the importance of regular screening," as Fergie was entirely "symptom-free" before the procedure.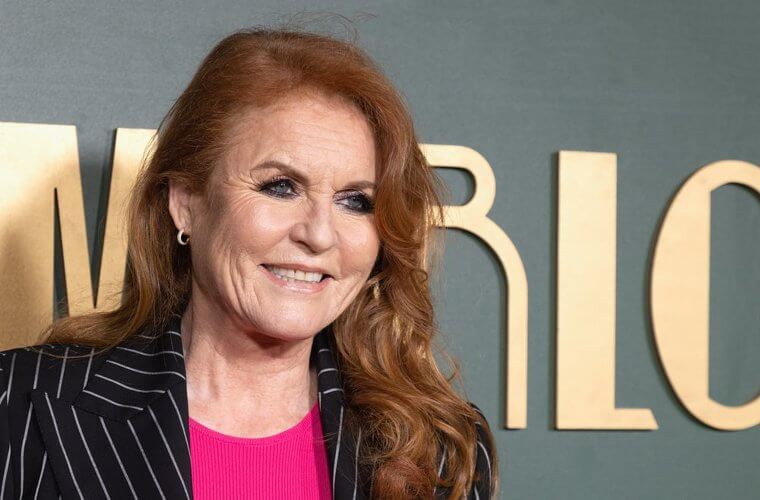 After expressing "immense gratitude" to the staff of the central London hospital where she underwent successful surgery, the Duchess of York was released on June 26th.
She Set the World Into a Frenzy
While Sarah kept herself busy writing children's books, it seemed that she had been working on something of her own as well. After divorcing her husband, she felt that it was the perfect opportunity to publish it. Her book was called My Story and detailed what it was like being in her shoes.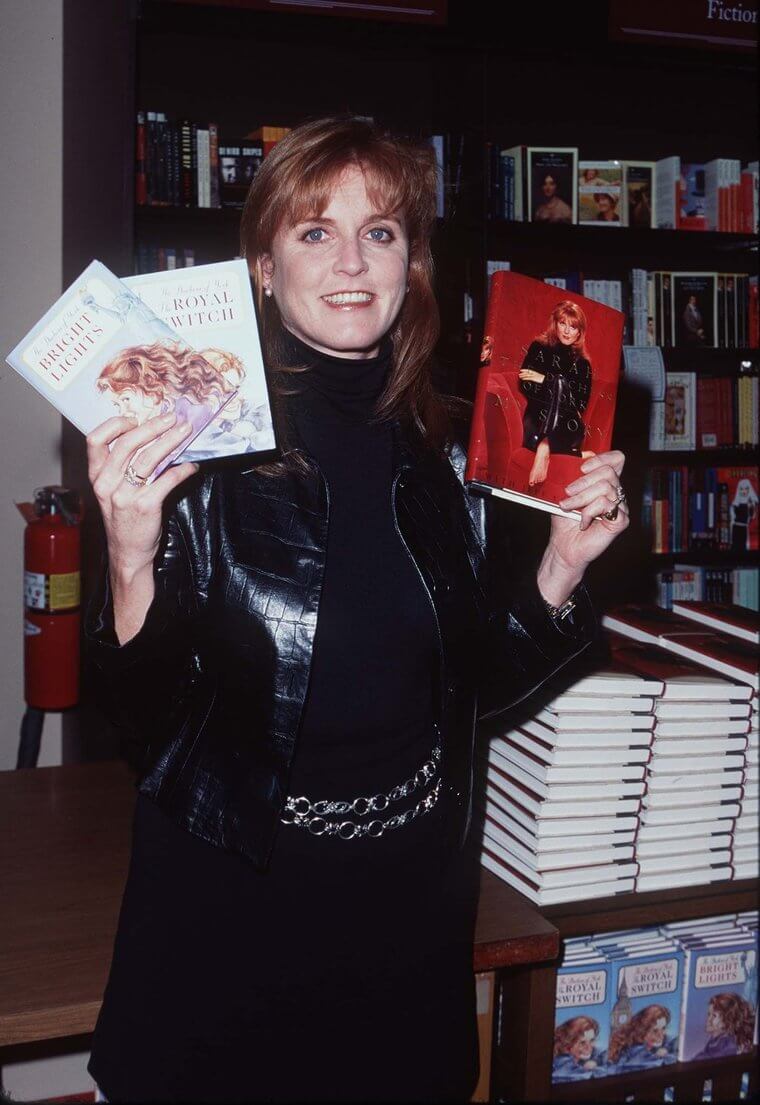 As you can imagine, she threw shade at a lot of royal family members. However, no one expected her to bad mouth her one friend on the inside…Princess Diana. Unfortunately, the Princess took great offense and the two never spoke again. Despite losing one of her closest friends, the rest of Sarah's life was going great. She was running with some of Hollywood's most elite and even appearing on television shows.

It Was Truly a Tragedy
A year had passed and still, no words had been shared between Sarah and Princess Diana. It was a long time to go without speaking, but Sarah was sure that the Princess would come around. After all, they weren't just friends, they were like sisters. The problem was that they didn't have as much time as Sarah thought.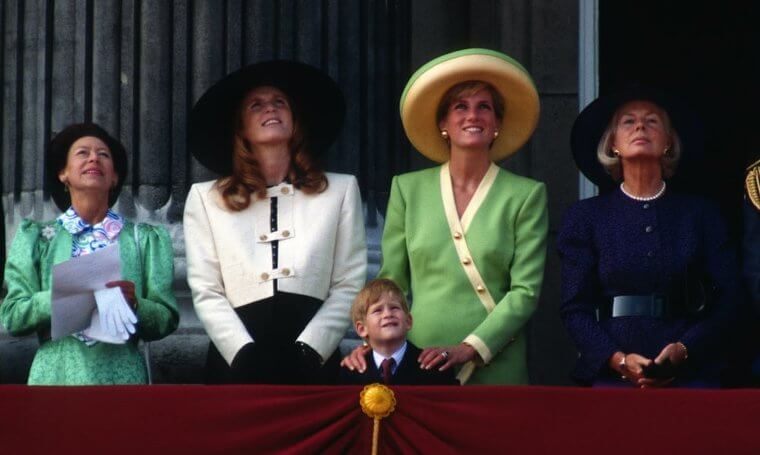 On August 31, 1997, Sarah received news that shattered her world. On her way back to London, the Princess had been in a terrible car accident and didn't survive. Losing her best friend was one thing, but not being able to make amends is something that will haunt her for the rest of her life. Sarah told Harper's Bazaar that "Because we were like siblings… we rowed. And the saddest thing, at the end, we hadn't spoken for a year."

Getting Closure
However, a long time has passed since Princess Diana's death, and what's left in Sarh Ferguson's mind is only fond memories with whom she used to call her sister.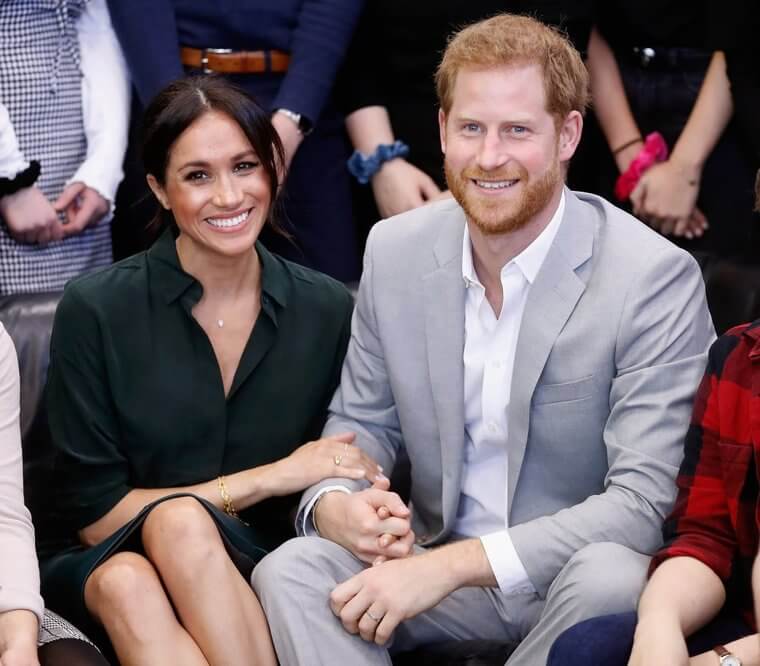 In December 2021, she appeared in an Italian talk show called Porta a Porta, and, when asked about what Diana would think about Prince Harry and Meghan Markle, Ferguson replied: "The most important thing—and I know Diana, if she were here, would say that—is they are happy ... And she makes him happy."
The Hardest Worker in the Room
In the midst of suffering the loss of her best friend, Sarah was also trying to figure out who she was outside of the royal family. Despite always pushing the boundaries, there were many things about herself that she had suppressed in order to fit in. So, she decided to write a self-help book about it.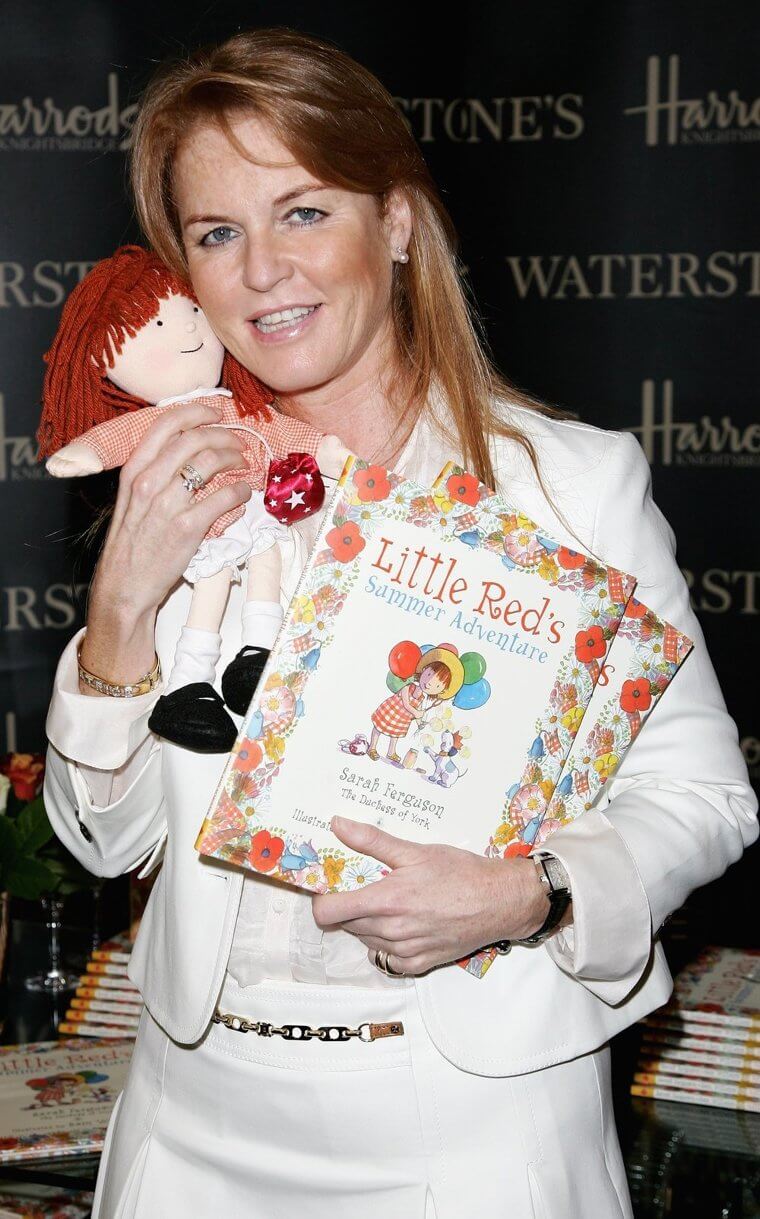 It was called Reinventing Yourself With The Duchess Of York and was followed up by a children's book called Little Red. The more she wrote, the better her books became, and boy did they keep coming!
Fearlessly Protective of Her Daughters
Over the years, Sarah's relationships with the royals have wavered. However, the relationship that has remained strong and constant is the one with her daughters. To Sarah, they're not just her children, but her best friends as well.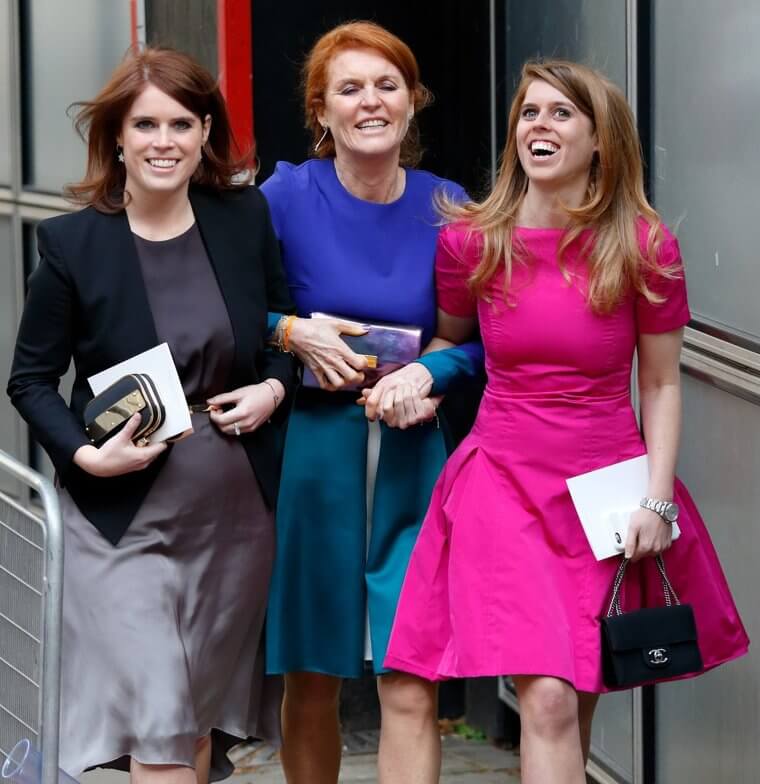 Apparently, her children feel the same way. According to Princess Beatrice, her mother "leads by example and her behavior is one that I'd really like to follow," while Princess Eugenie said that she can't make tough decisions without Sarah's guidance. As you can imagine, Sarah is next level protective, not only of her children but of the entire York family.
Her Finances Had Been Under Strain
After her divorce, Sarah had worked hard to once again prove herself to the family. Slowly but surely, it was working and her relationships were getting better with each passing day. Unfortunately, she had a problem that would ruin all of her hard work…and it was her spending. Despite having worked hard to bring in an income, Sarah found herself in £4 million of debt.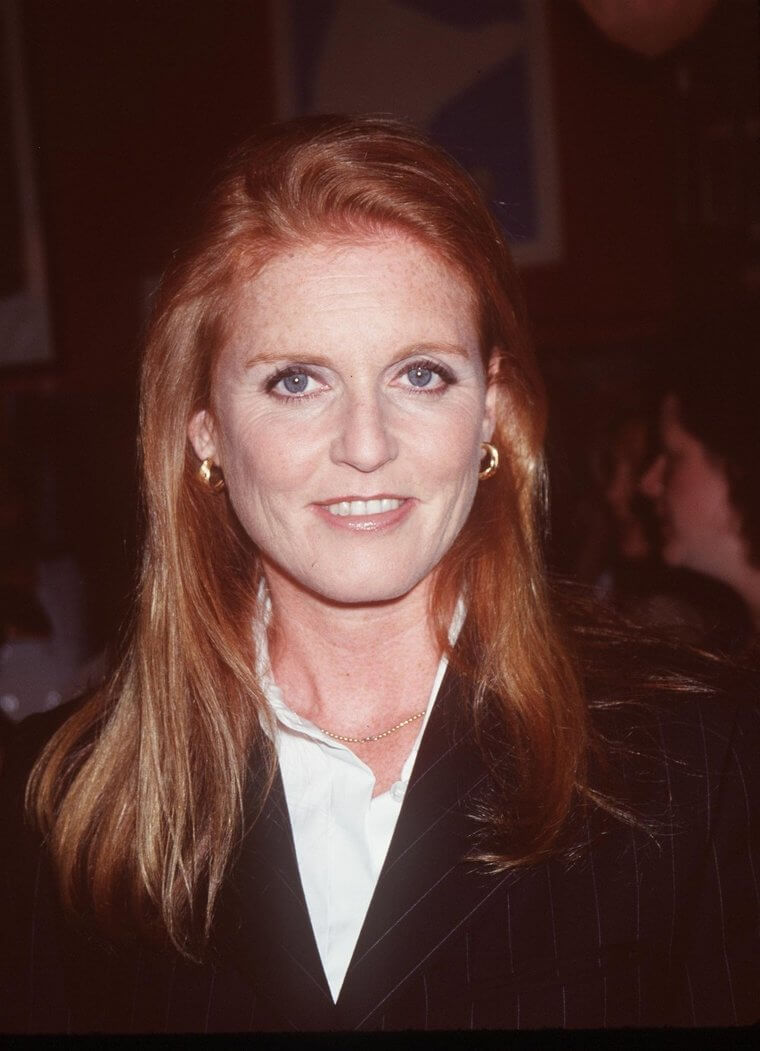 Unfortunately, her debt wasn't a secret and an undercover journalist saw if they could catch her out. They offered her $500,000 for access to the Royal family and gave her $40,000 in cash as the down payment. Sarah foolishly accepted the money and ruined any chance of reconciliation with the royals. No apology would ever be enough and Prince William proved this when he didn't invite her to his wedding.
She Went A Bit Overboard
After her debt scandal in 2010, Sarah has been surprisingly quiet. Unfortunately, everyone who said that out loud spoke too soon! When Princess Eugenie announced her engagement to Jack Brooksbank, the press went crazy…and so did Sarah apparently!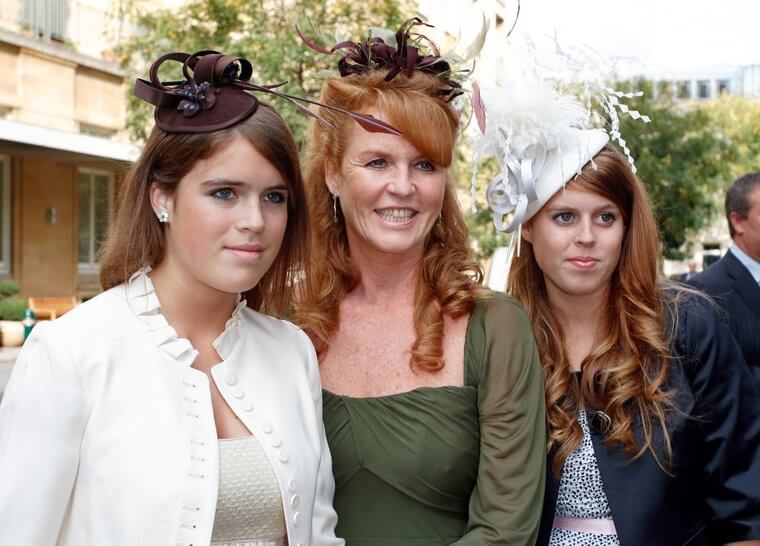 During this time, Sarah took to social media and shared her excitement with the rest of the world. Unfortunately, her excitement translated into crazy. Leading up to their wedding, the bride and groom were supposed to be interviewed by the BBC. However, when the Royals heard that Sarah would be attending, they quickly canceled.
Able to Roll With the Punches
It's safe to say that over the years Sarah has provided the world with entertainment and the Royals with embarrassment. However, no matter what she's going through, Sarah manages to keep her head held high. Her daughters consider Sarah to be their best friend and "probably one of the most misunderstood women in the world."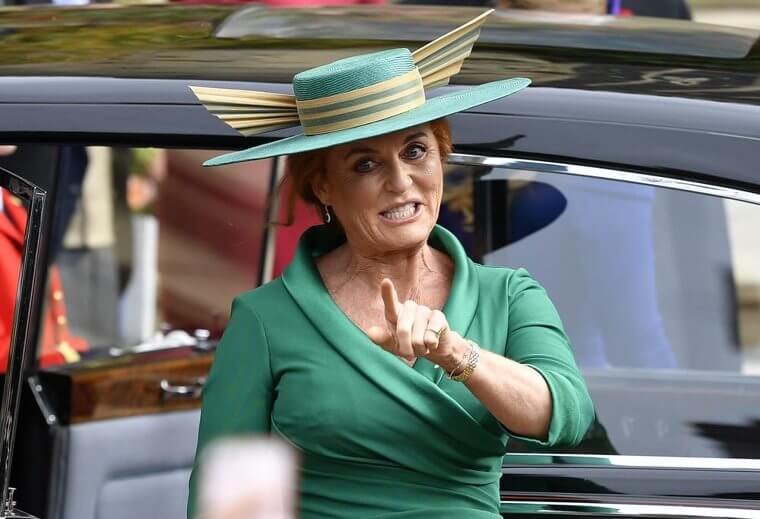 During the stressful times, Sarah managed to find joy in it. From her mother, Sarah had learned that "When you feel bad about yourself, go out there and do something for somebody else." According to Princess Beatrice, it was a motto that her family lived by and one that kept them close, no matter what challenges they faced.
The Queen Has Passed
By now, you must have understood that Sarah Ferguson and Queen Elizabeth II's relationship was far from perfect, so, when Her Majesty passed away on September 8, 2022, everybody was wondering if they would be seeing Ferguson in the official events following the unfortunate announcement.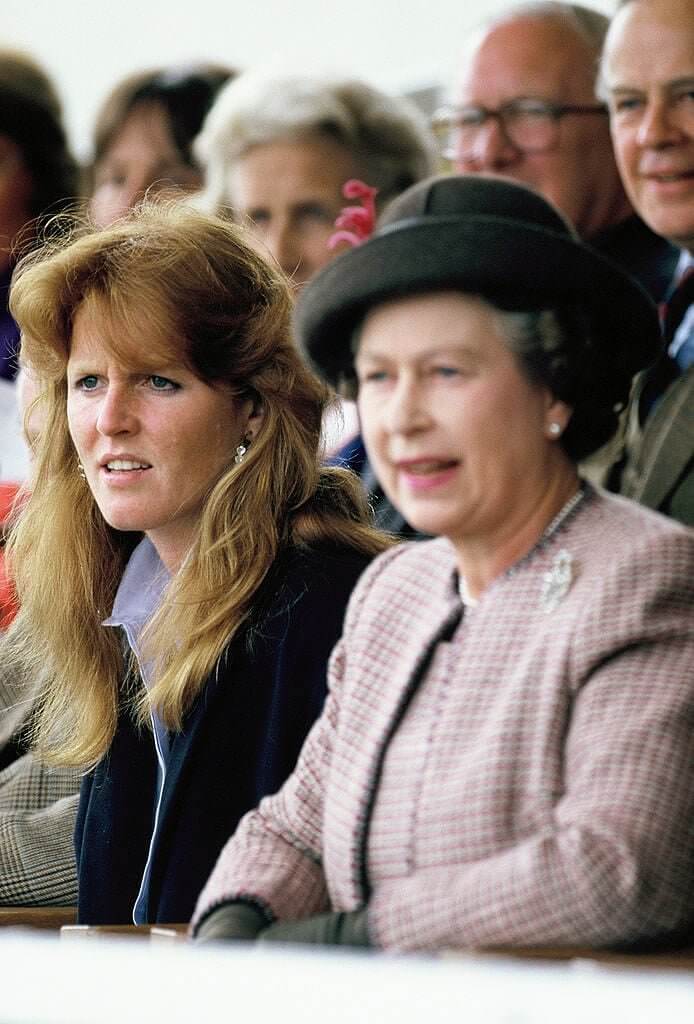 Sarah honored the Queen on Instagram following her death: "I am heartbroken by the passing of Her Majesty the Queen. She leaves behind an extraordinary legacy: the most fantastic example of duty and service and steadfastness, and a constant steadying presence as our head of state for more than 70 years. She has given her whole life selflessly to the people of the UK and the Commonwealth."
However, she wasn't seen with her daughters in Balmoral, but she was seen at Winsdor visiting floral tributes left for Queen Elizabeth accompanied by her husband on September, 16. 
 
The Royal Rules Broken By Princess Diana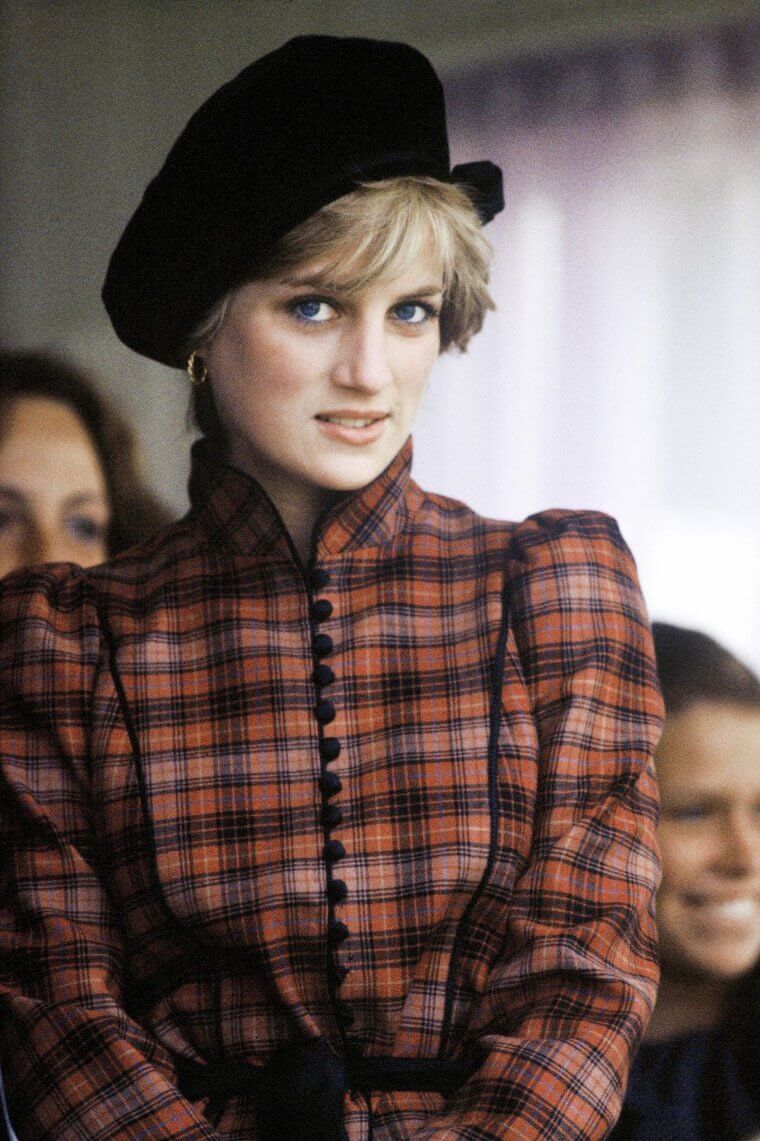 Princess Diana captivated the world in her time. From her humanitarian work to her exquisite sense of fashion, she held everyone's attention. Her defiance of many royal rules fascinated the world. She blazed her own trail and created a new precedent for generations of royals to come, especially Kate and Meghan. Here are the rules that Princess Diana broke in such a graceful way that only she could.
Getting Involved
Before Princess Diana, royal mothers were not known to be hands-on parents. In fact, most of them parented from a distance. When Princess Diana became a mother, she made it clear from the very beginning that she loved her children more than anything. When she began setting her schedule around her sons, reportedly, Queen Elizabeth II was not happy.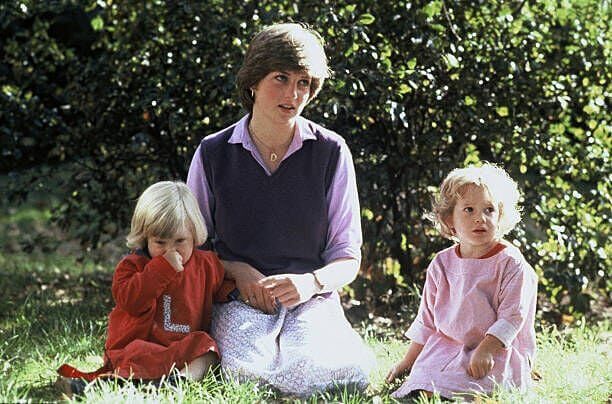 Until then, royal mothers would rely on nannies to take care of their children when their royal duties came first. Princess Diana is also most likely the first royal mother to breastfeed. We know that Queen Victoria found breastfeeding disgusting, so other royal mothers likely followed suit. Diana, who did in fact breastfeed, was open about it and removed the stigma around it for future royal mothers.
Breaking Traditions
The royal family has always been known for their rigid traditions that covered everything from the royal family's everyday lives to intricate royal ceremonies. But, when it came to Princess Diana, she wasn't afraid to break tradition. Not only did Princess Diana break tradition, but she also went far beyond it.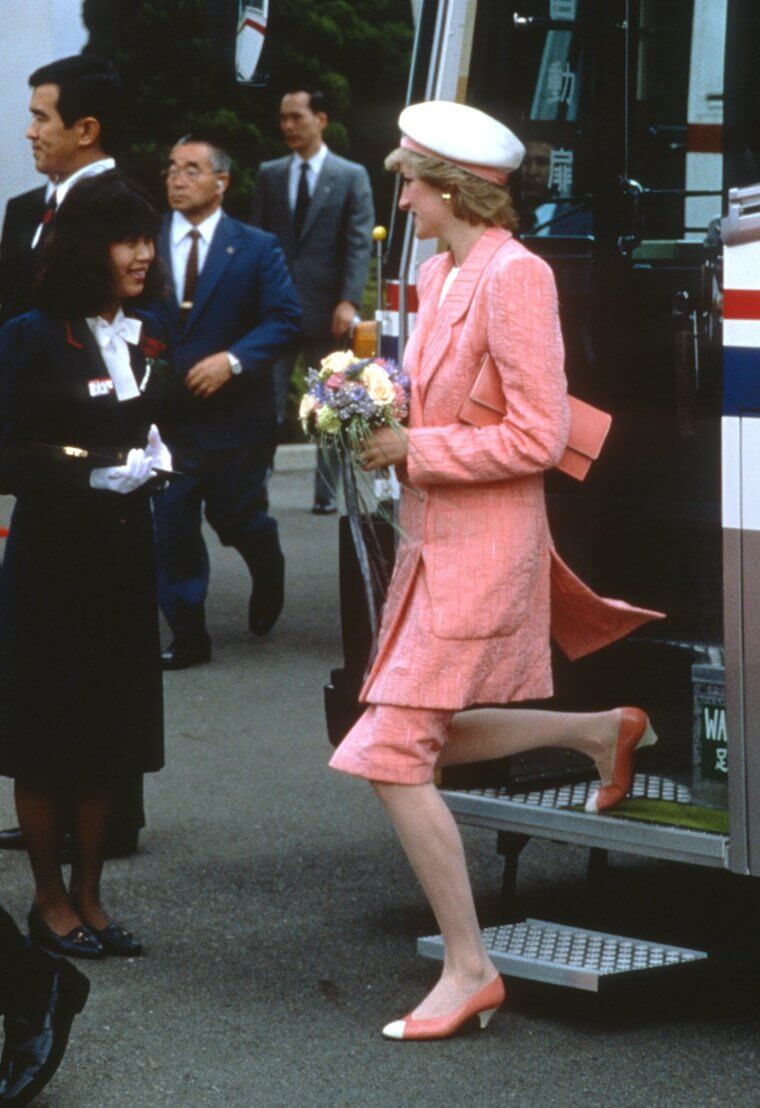 She was often seen taking her sons out and about as if they were everyday people to give them as much of a normal life as possible. Princess Diana dressed her sons in jeans and t-shirts, took them places on public transportation, and even waited in line with them, and everyone else, at Disneyland and McDonald's. Prince William later described his mother's actions as giving them a "real life outside of the Palace walls."
Brand New Jewelry
According to tradition, family relics would be used as the main stones when the engagement rings of future royal wives were custom-made. For instance, the diamond tiara of Prince Philip's mother was used to make Queen Elizabeth II's engagement ring.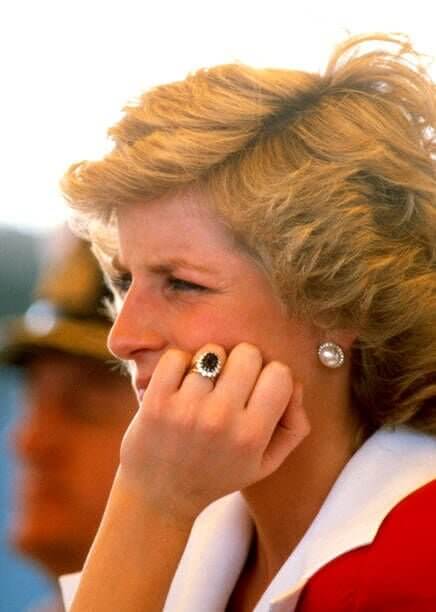 However, when it came to her own engagement ring, 20-year-old Lady Diana Spencer picked it out of a Garrard jewelry catalog in 1981. Since it was available to the public, this caused a big stir surrounding the 12-carat sapphire ring. The beautiful sapphire ring was surrounded by 14 solitaire diamonds. It was eventually passed down to her oldest son, William, then subsequently to Kate Middleton when Prince William proposed to her in 2010.
Itty-Bitty Bikini
Royals are required to dress a certain way as they represent the family wherever they go. But Princess Diana often wore bikinis during her vacations. With the paparazzi and all of the British public's eyes on her, she was often criticized for it—especially by conservative groups. But Diana couldn't be made to do something she didn't want to.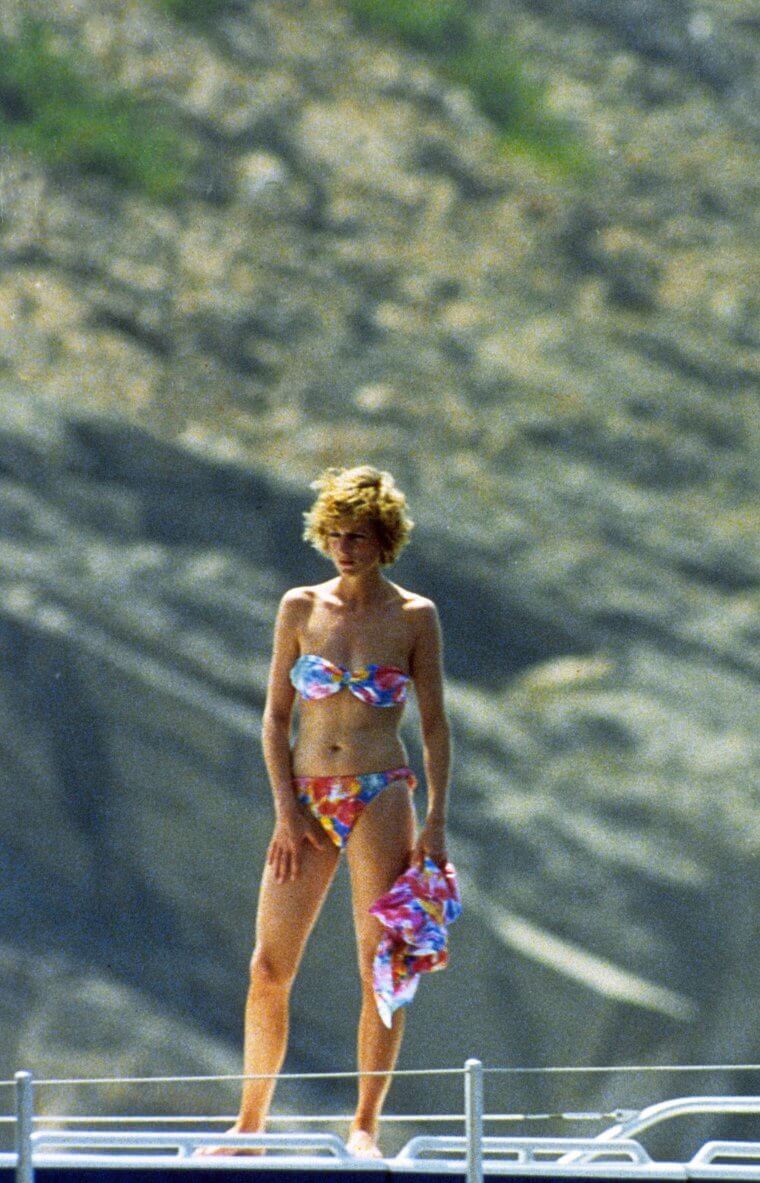 She paved the way for future princesses, like Kate Middleton, who was also caught in a bikini on a yacht by paparazzi. Like her late in-law, she was prone to some criticism herself. Fortunately, the elegance was also passed on between generations, as she royally played it off, like Diana.
Working Class
Before Prince Charles and Princess Diana go engaged in 1981, no royal woman had held a paying job. At the time, Princess Diana was working at a school in the Pimlico district of London as a part-time kindergarten teacher. That made her the very first royal woman to work a paying job.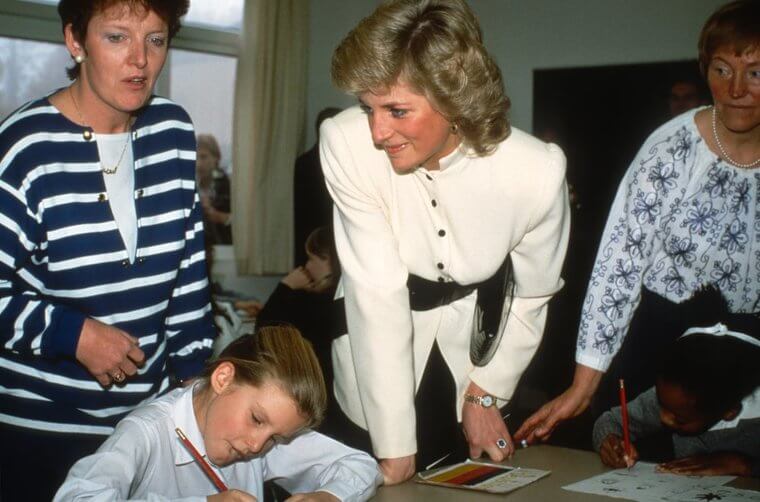 Not to mention, at the time of her engagement, she and three roommates were sharing an apartment. Princess Diana was very good with children and she obviously loved working with them. However, many people said that it was ironic that she educated children as she failed her O-level exams twice. The O-level exams are what students take when they want to go on to college.
Rewriting Marriage Vows
In English royal weddings, it was traditional to read from a liturgy from the Church of England's Anglican Book of Common Prayer. Part of the vows read aloud included "to love cherish, and to obey, till death us do part," which had been written in there since 1662. However, when Prince Charles and Princess Diana were married, this tradition was thrown out the window.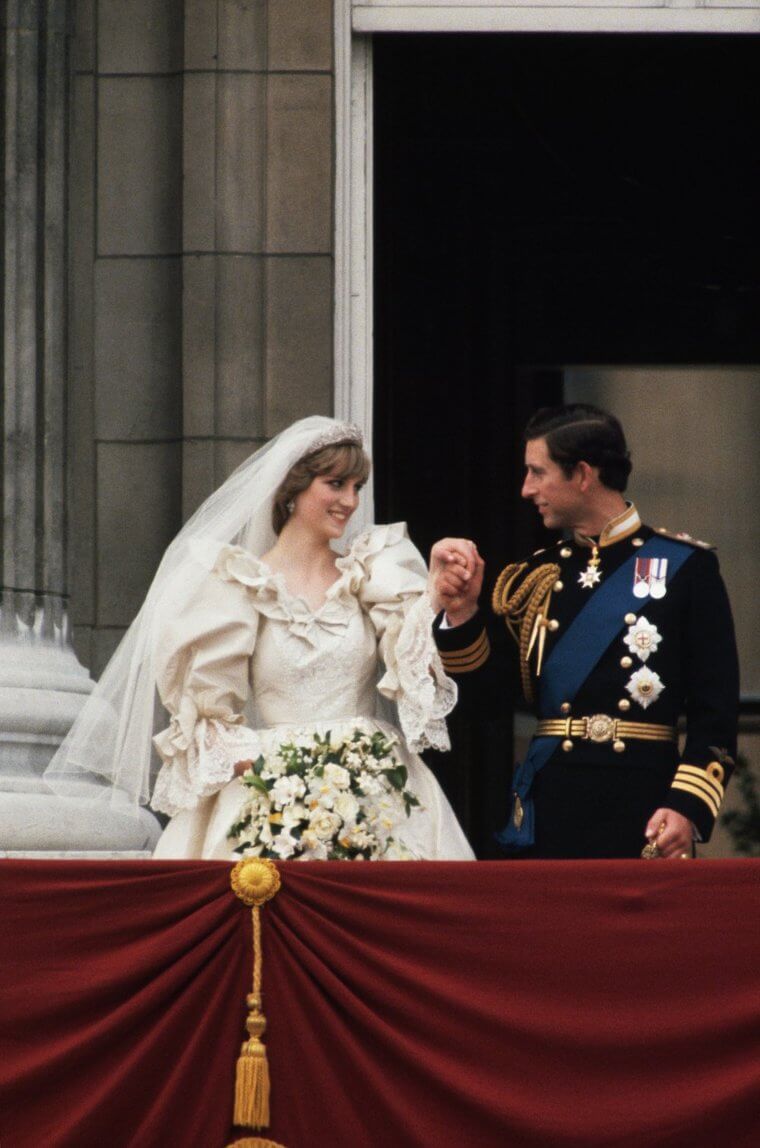 Princess Diana changed the vows by excluding the word "obey". In doing so, she made a big statement about the traditional roles and expectations of husbands and wives. At the time, it set off a firestorm of controversy and backlash. However, she created a brand new tradition that is more welcome in modern times. In fact, both Kate Middleton and Meghan Markle followed in her footsteps and omitted the same word from their own vows.
Trailblazer Even in Childbirth
When it was time for a royal mother to give birth, they usually did so at home with all the same equipment used in hospital births. When it was time for Princess Diana to give birth to both Prince William and Prince Harry, she decided to do so at St. Mary's Hospital. She created a new normal for royal mothers by doing so, including the new tradition of debuting the newborns on the steps of the hospital.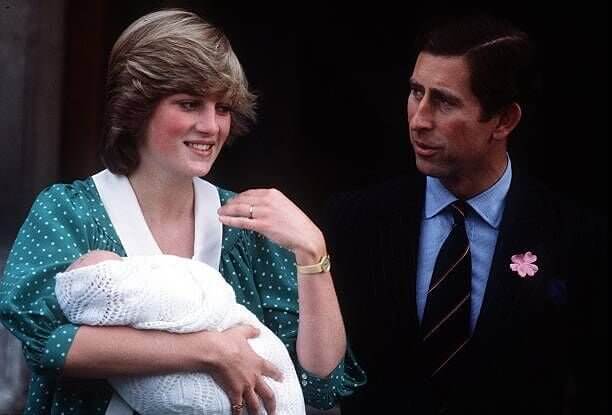 A hospital delivery soon became the precedent for royal mothers as Kate Middleton and Meghan Markle followed suit. Kate Middleton, The Duchess of Cambridge, gave birth to all three of their children in the private Lindo Wing of St. Mary's Hospital, the same one Princess Diana gave birth in. Kate and William also debuted their three children on the same steps William was debuted. And while Meghan Markle gave birth in a hospital too, it was the Portland Hospital in London.
Bringing Her Kids Along
Members of the royal family often have to travel the world for various obligations and usually, they would leave their children at home with a nanny while they did so. Princess Diana was the first to throw this tradition out. Even Prince Charles was left behind with his grandparents when he was just two years old so Queen Elizabeth II could spend Christmas in Malta with Prince Philip.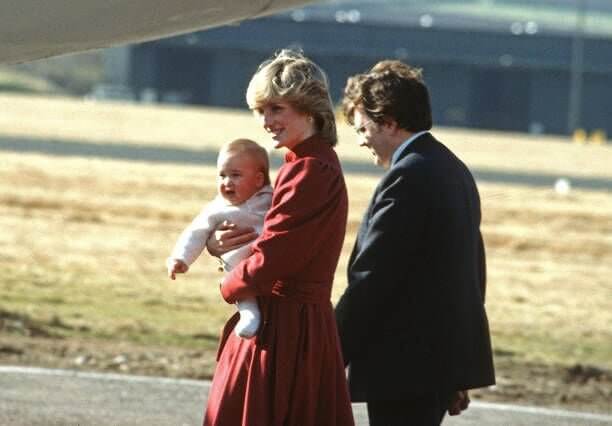 When it came time for Princess Diana to travel abroad, she chose to bring them along. It was a more modern approach than what the royal family was used to. In fact, Prince William went with his parents to Australia and New Zealand on a six-week tour when he was just nine months old.
From Private to Public
The children of royal families have traditionally been taught by private tutors and governesses at Buckingham Palace. When it was time for Prince William to start attending school, Princess Diana was quick to break this tradition. She enrolled Prince William at Jane Mynors' nursery school, making him the first future monarch to go to public school when he was just three years old.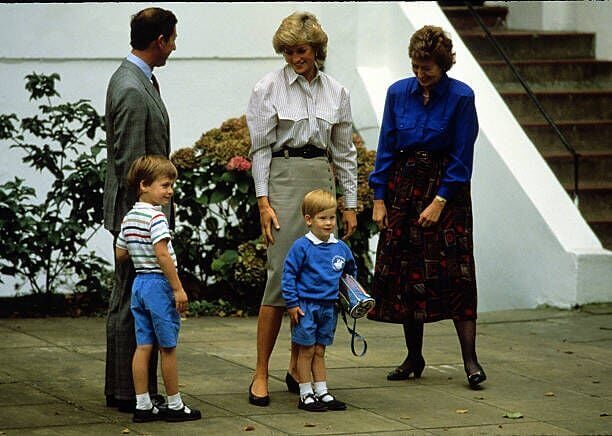 Like with many of the other rules she broke, Princess Diana wanted to give her sons a normal life and keep them grounded, so she sent them to school with "commoners." As with many of the new traditions Princess Diana started, Prince William and Kate Middleton have followed in her footsteps and enrolled their firstborn son in public school. Prince George started going to Westacre Montessori nursery school in 2016.
A Princess For the People
Princess Diana was beloved by everyone. She was known for being warm and friendly, something not always associated with a member of the royal family. Her friendly attitude towards the public is what made her known as "the people's princess." She quite famously said that she was following her heart, not her head.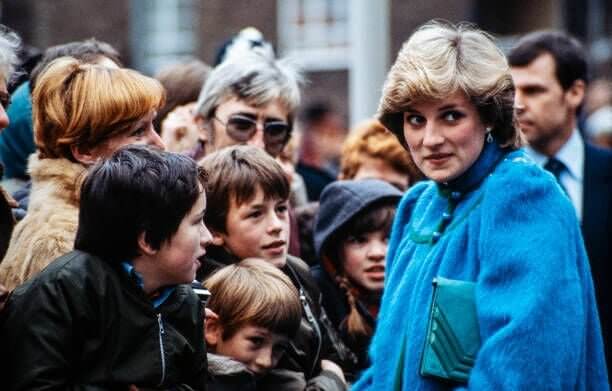 She thought someone should be close to the people so they could love them and express that love. How did she create such a bond with the public with such a high-profile life? She made the effort. Princess Diana once told the author of "Diana" that she could pick up a TV program anywhere she went and make conversation regarding its content. She said everyone watches it and it was able to put her on the same level as everyone else.