Today, we've compiled some scary vintage photos to send shivers down your spine. From hair-raising circus freaks, killer clowns, and gruesome messages left by serial killers to spooky, ghostly apparitions. We'll travel from ancient folklore tales of witches and demons through creepy crypts to shocking Victorian science experiments and early robots. Then, we'll encounter the first modern-day UFOs and nuclear accidents. Along the way, we'll discover the background behind these scary photos, and we'll even debunk a few of the fakes. So, get ready to feel those shivers in 3… 2… 1…
Lionel the Lion-Faced Boy
Ladies and gentlemen, roll up, roll up, as we introduce you to Lionel the Lion-faced Boy. Stephan Bibrowski was born in Poland in 1890, with an inch of hair covering his tiny body. The incredibly rare phenomenon was due to a condition called hypertrichosis.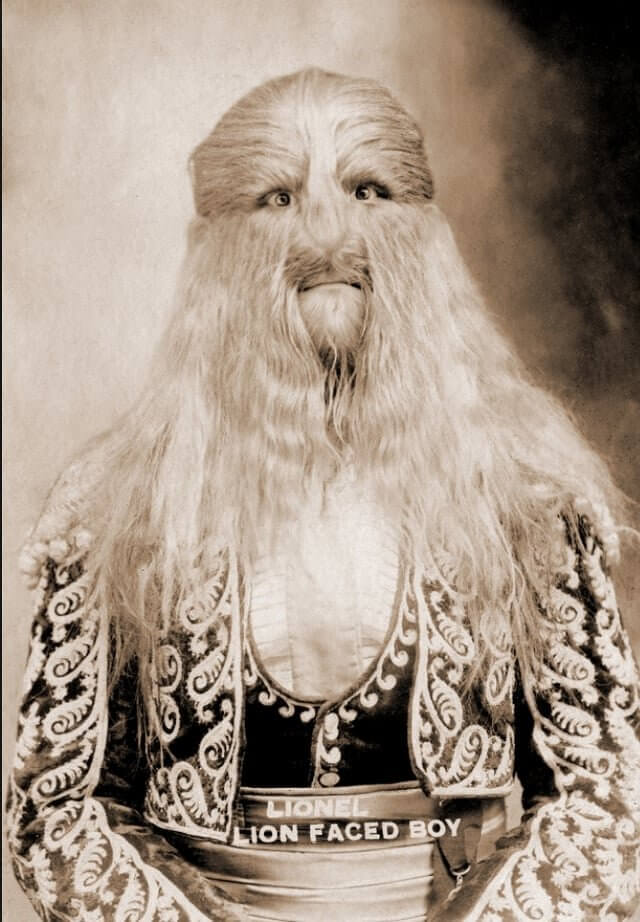 His mother gave poor Lionel to the circus when he was four years old, and he went on to become a famous sideshow performer in Europe and America with ​​Barnum and Bailey Circus. The hair on his face grew down to his chest, and he would perform gymnastics and surprise circus-goers by talking to them in a gentle voice, sharply contrasting his freakish appearance. In 1920, Stephan emigrated to New York, where he became a popular fixture at the Coney Island Fair. Later in the same decade, Stephan moved to Germany, where he died from a heart attack in Berlin in 1932. He was 41 years old. 

A Patient Receiving Experimental Electro Shock Therapy
This 1856 photo documents a patient undergoing experimental electric shock therapy, probably for insanity. Now, if the 1850s sounds a little early for such experiments, the first recorded use of electric shock therapy for insanity was by Italian physician Giovanni Aldini in 1823. However, that's not all he did with electricity.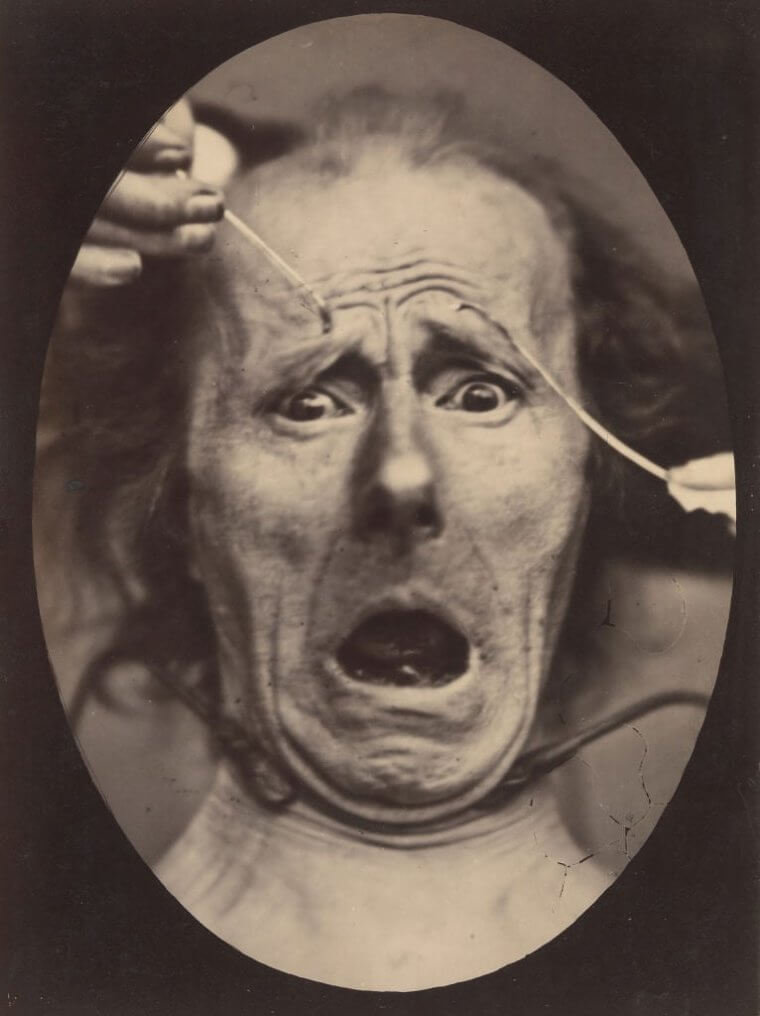 Twenty years earlier, in London, Aldini used electro-stimulation to reanimate the corpse of executed criminal George Forster. The Newgate Calendar newspaper wrote, "On the first application of the process to the face, the jaws of the deceased criminal began to quiver, and the adjoining muscles were horribly contorted, and one eye was actually opened. In the subsequent part of the process, the right hand was raised and clenched, and the legs and thighs were set in motion." The macabre event is believed to have prompted then-five-year-old Mary Shelley to go on to create Frankenstein's monster. 

Psychic Medium Eva Carrière Conjuring Ectoplasm
This photo was taken on May 17th, 1912, just one month after the Titanic sank. The photographer was German parapsychological researcher Albert von Schrenck-Notzing M.D., and his subject was the famed psychic medium Marthe Béraud, aka Eva C. or Eva Carrière. Here, she conjures a luminous apparition between her hands.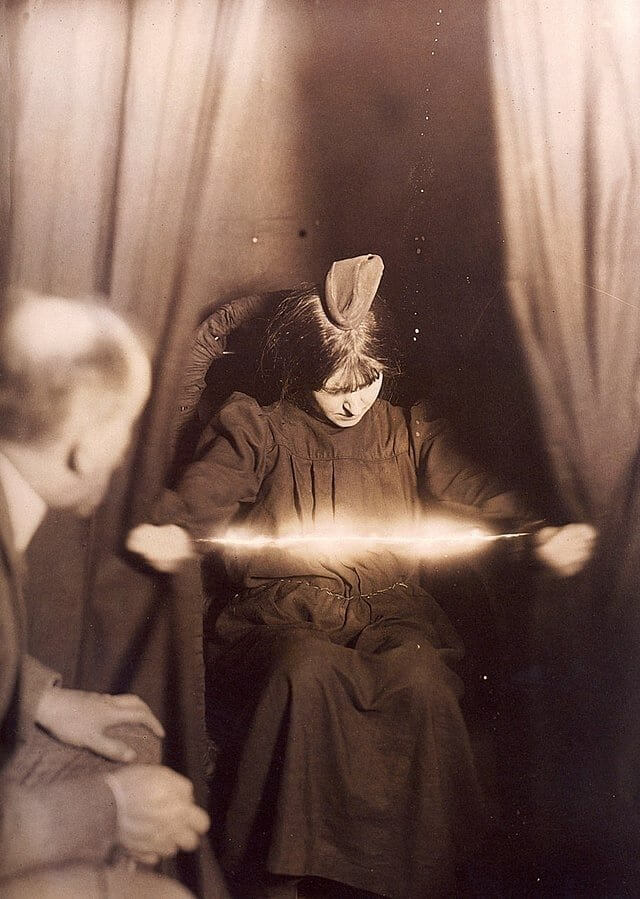 As for that thing on her head, it's not a crazy Edwardian hat; it's supposedly ectoplasm that she could manifest from every orifice. Béraud also claimed she could conjure spirits of the dead like Bien Boa, a 300-year-old Brahmin Hindu. Unsurprisingly, she was later unmasked as a fraudster. Her ectoplasm was chewed up bits of paper pulp, this photo was almost certainly achieved post-production, and Bien Boa was an Arabian man who dressed up in a cloak, helmet, and beard and entered the room via a trapdoor. Other spirits she conjured were made of cardboard with cut-out faces from newspapers.

Santa's Really, Really, Naughty List
This poor little girl is being visited by Krampus. Who is it? Well, you know how Santa Claus has his good list and naughty list? In Germany and Austria, things get a little more torturous if you've behaved badly. Naughty kids are visited by Krampus, St. Nicolas' evil twin, who takes the form of a cloven-hoofed demon from Austro-Bavarian folklore.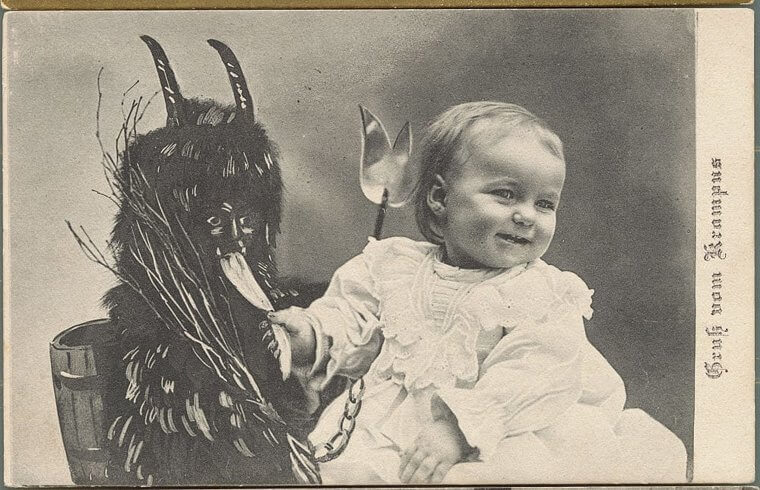 On the night of December 5th, well-behaved Alpine-dwelling children would receive chocolate, oranges, dried fruit, and nuts from St Nicholas. However, the terrifying Krampus would scare children before literally kidnapping the naughty kids, stuffing them into his rucksack, dragging them to his cave, and thrashing them with birch tree branches. The idea of scaring the bejeesus out of kids on Krampusnacht dates back to the 6th or 7th century, but written records only date from the 16th century.

Amazonian Shrunken Heads
While headhunting occurred all over the world, the practice of head shrinking has only been documented in one very specific region. That region is the northwestern Amazon rainforest. There, Jivaroan or Xebaroe tribespeople––made up of the Shuar, Achuar, Huambisa, and Aguaruna tribes from northern Peru and western Ecuador––removed the skin from enemies' heads and then boiled them in hot water.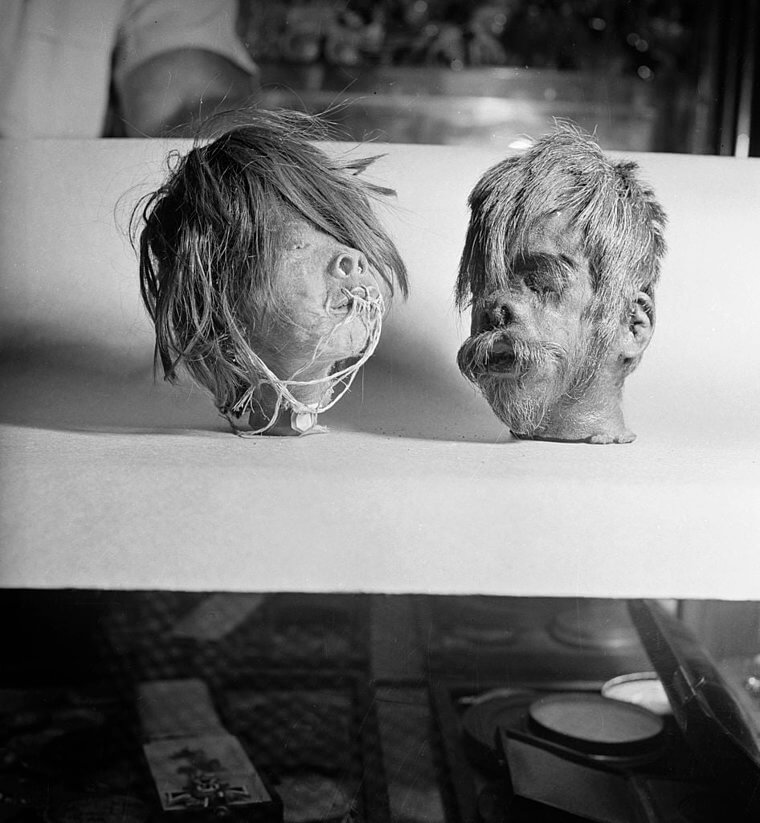 After boiling, the head would be sewn shut, pressed dry, and smoked to shrink and dry it even more. The shrunken heads, or tzantza, were displayed in prominent locations as battle trophies or given as gifts to other leaders. Tzantzas might make stomachs churn today, but they were a popular item among 19th-century anthropologists, collectors, and museum and circus-goers. 

Silent Killer Clown
No, this isn't Chicago serial killer John Wayne Gacy or Pennywise the Clown from Stephen King's It; it's a friendly neighborhood clown called 'He' from the MGM silent movie He Who Gets Slapped (1924).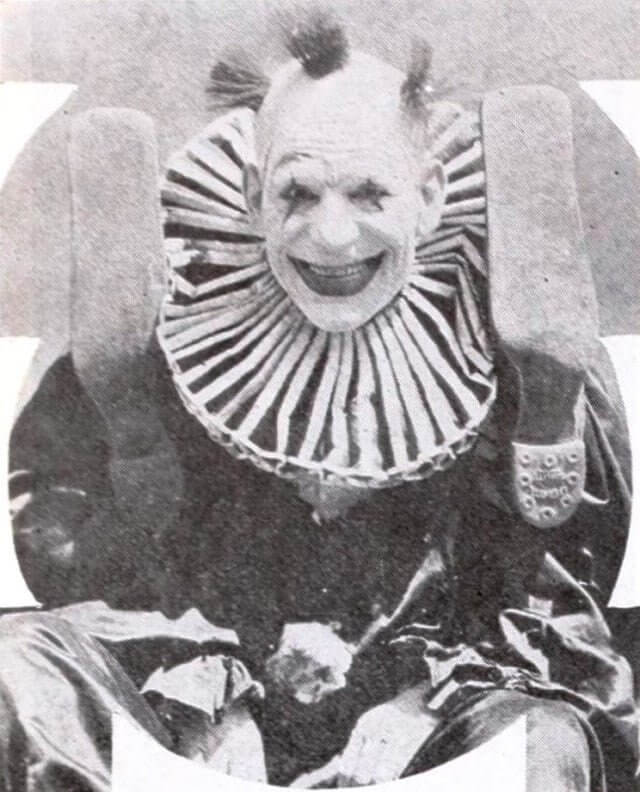 But far from being the crazed killer we associate with clowns today, He was a kind-hearted soul who put a smile on the face of everyone he met, despite his Pagliacci-like miserable situation. He was played by Lon Chaney, known as the "Man of a Thousand Faces" due to his mastery of makeup and character transformations. The silent-era actor also appeared in The Hunchback of Notre Dame (1923) and The Phantom of the Opera (1925). His son, the imaginatively named Lon Chaney Jr., played The Wolf Man, Dracula, Frankenstein's monster, and The Mummy.

Ghostly Apparition
This photograph of a spooky specter floating above a sleeping infant in a crib comes from 1860. But don't worry, it's not a real snapshot of a ghost; the image was almost certainly achieved by using double-exposure photography. As we'll see, most Victorian-era pictures of ghosts were performed using this simple but sneaky photography trick.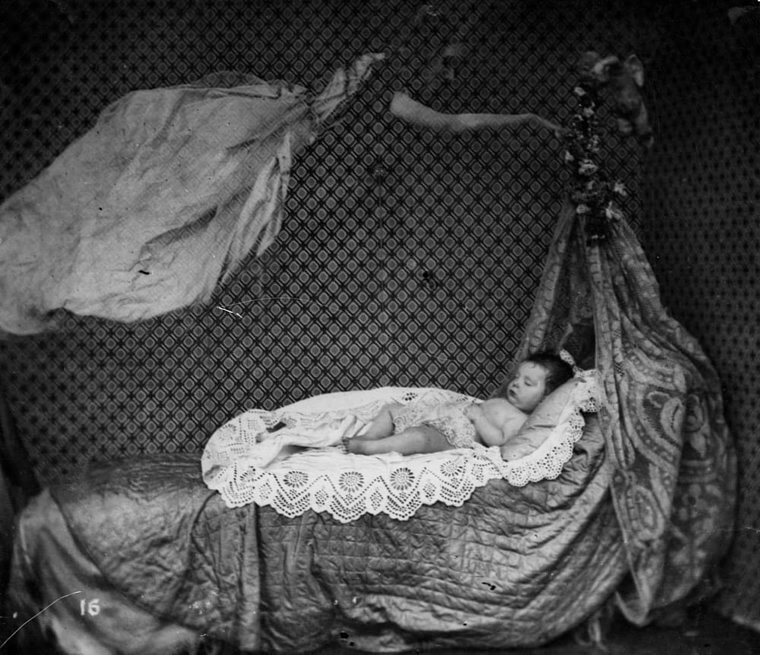 But this phenomenon wasn't limited to photography. A similar technique using lights and angled glass under stages could project ghostly apparitions onto stages, freaking audience members out. Imagine going to see Hamlet or Macbeth in the 1870s and the ghost of Hamlet's father or the ghost of Banquo floating above the stage. It would be enough to make you drop your rat-flavored popcorn! 
Visited by the Angel of Death
This 1863 photo is another one of those double-exposure camera tricks. It shows the Angel of Death paying a visit to a fine and dandy gentleman. Unfortunately, the well-dressed man has presumably put on his best suit as he's about to use that gun to take his own life.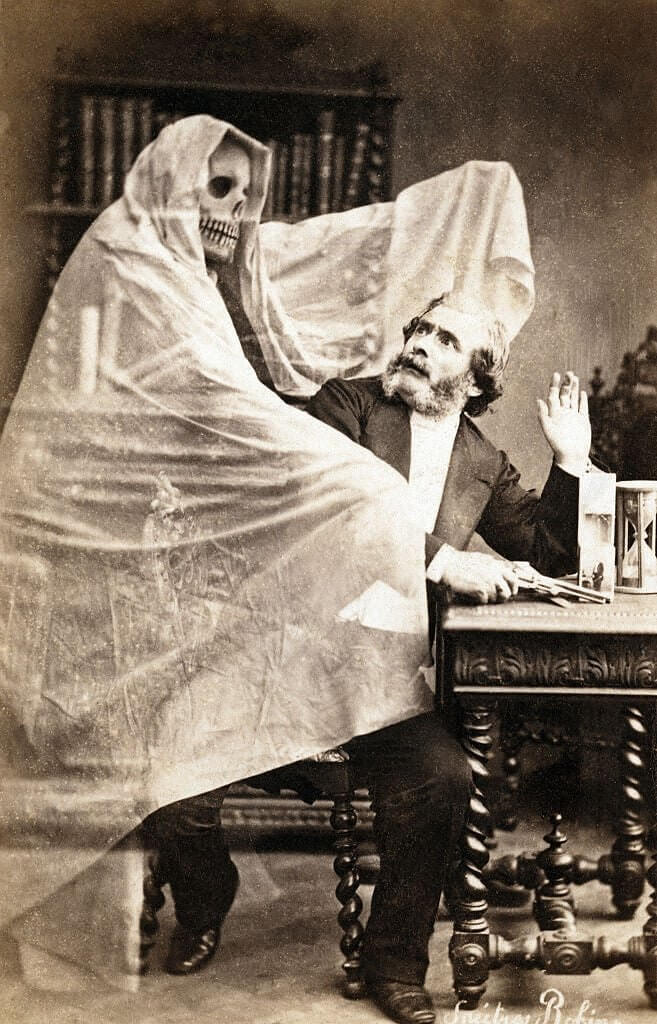 Although, the gentleman might have had an Ebeneezer Scrooge-like change of heart after getting the shock of his seeing the Grim Reaper. It's not the most convincing of scenes, as it would have been almost as realistic if the man in the sheet wearing a skull mask was just standing next to him in the room. Which, of course, he is… but at a different time. In this case, the apparition is transparent enough to add a more spooky vibe. 

A Blown-Away Face
This picture was taken by Ernst Friedrich, a German anarcho-pacifist who was known for his propaganda against war. His collection of pictures War against War! shows shocking images of soldiers physically injured during combat.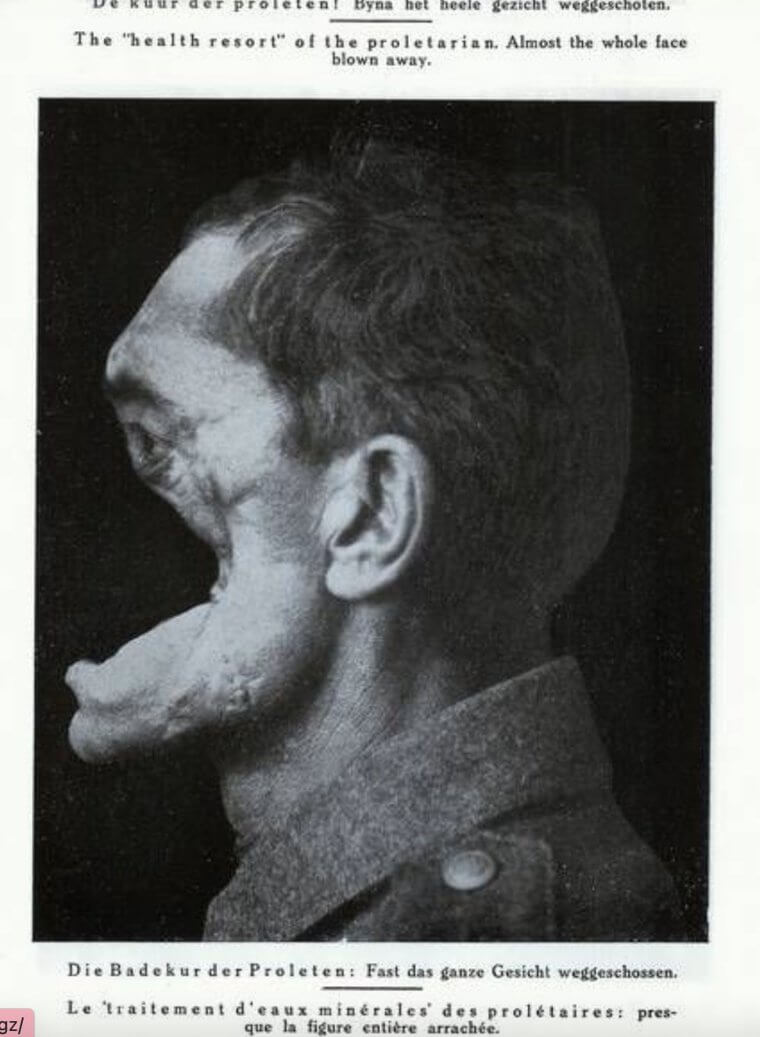 On this picture titled "The 'health resort' of the proletarian. Almost the whole face blown away," you can see the profile of a soldier's face completely destroyed even after he underwent reconstructive surgery.
I, Robot Girl
Robots, cyborgs, androids, and artificial intelligence are not new concepts. The idea of statues coming to life goes back to Pygmalion, whose statue of Galatea came to life in Greek times. Also, your local cathedral or grandmother's cuckoo clock will have a clockwork automaton bell ringer to let you know what time it is.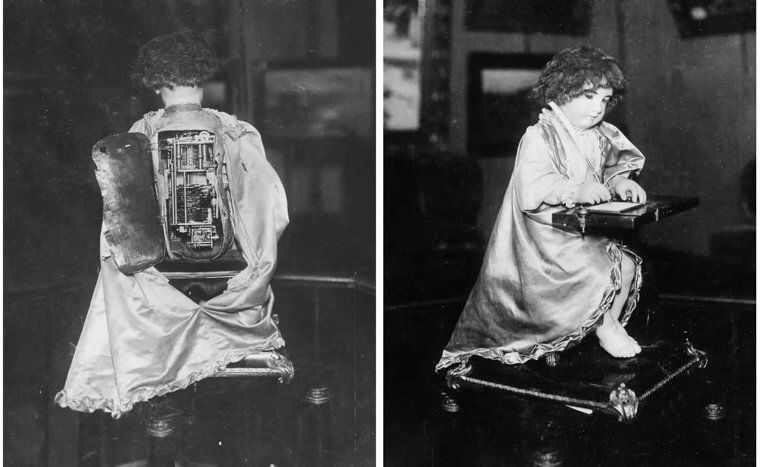 In 1770, Hungarian inventor Wolfgang von Kempelen created a chess-playing automaton called The Turk, which beat Napoleon Bonaparte and Benjamin Franklin… until it was revealed that a man in a box underneath the 'robot' was actually making the moves. But by the 19th century, real inventors in France had the technology to create this terrifying living doll. Going by the photographs, a complex system of wires and mini-pulleys allowed her to write creepy messages. What's the French for "Stop me before I kill again"?
The Original Flying Saucers
Though accounts of unidentified flying objects in the skies have been recorded for thousands of years––like the Bible's story of Ezekiel's wheels––the UFO phenomenon didn't enter the modern-day psyche until the early 1950s. These four lights glowing in the sky were photographed at 09:35 on July 15th, 1952, in Salem, Massachusetts. The snapshot became one of the earliest UFO pictures.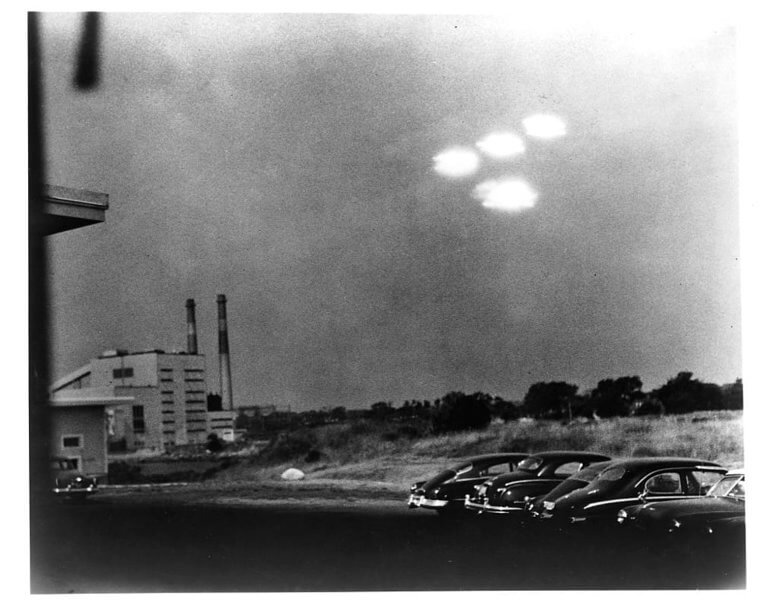 However, if you're thinking these lights are alien visitors, there's a much more mundane explanation for these UFOs. Just outside of Salem, Massachusetts lies Pease Air Force Base. The base opened in 1951 and served as a strategic air command base during the Cold War. In July 1952, the base would have been home to many jet fighters and bombers, which is probably what observers photographed in the sky.
The Lip Stick Killer
William Heirens was one of America's first well-known serial killers. His first victim was Josephine Ross in Chicago in June 1945. Police and the media gave the 16-year-old murderer the moniker "The Lipstick Killer" after he scrawled this notorious message in his victim's lipstick on the wall of the grisly crime scene at his second murder, that of Frances Brown in December 1945.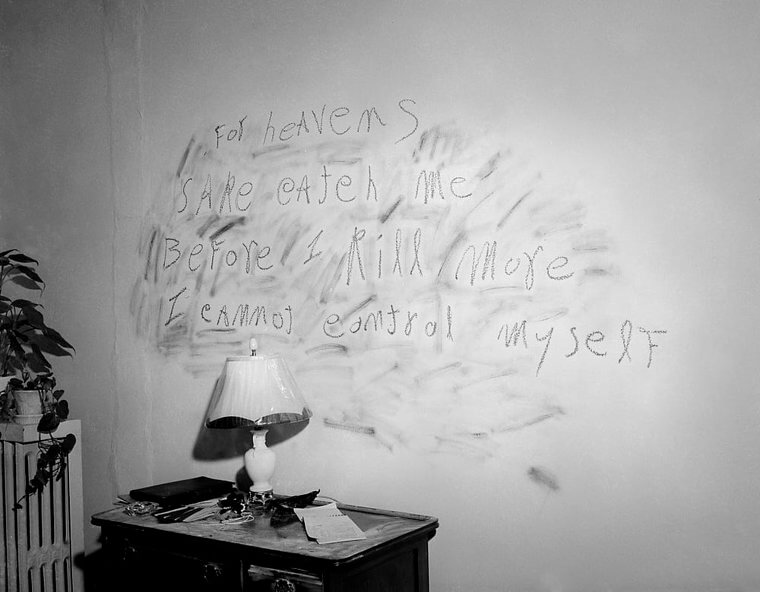 Heirens went on to kill six-year-old Suzanne Degnan in January 1946. Police arrested Heirens for attempted burglary on June 26th, 1946. He confessed to the three murders but claimed that his alter-ego, George Murman–whom William had first met when he was 13–made him kill. The Lip Stick Killer's story was immortalized in Fritz Lang's film While the City Sleeps (1956). William George Heirens died in 2012, having spent 65 years in prison, making him Illionis' longest-serving prisoner. 

The Creepy Capuchin Crypt
The Capuchin Crypt in Rome lies beneath the Church of Santa Maria della Concezione dei Cappuccini on the Via Veneto near Piazza Barberini. The 17th-century ossuary contains the bones of 4,000 monks buried between 1500 and 1870. The crypt contains skeletons, skulls, and monks' robes arranged in highly decorative patterns such as crosses, hearts, and stars to create this macabre display. It's a memento mori––a "silent reminder of the swift passage of life on Earth and our own mortality."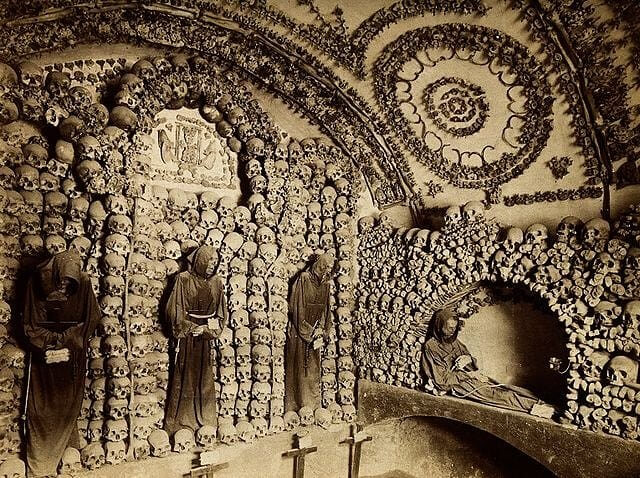 Ossuaries are not uncommon in Roman Catholic-practicing countries, especially Latin countries. In 1775, the Marquis de Sade visited the Capuchin Crypt and journaled, "I have never seen anything more striking." By the early 1900s, the Capuchin Crypt had become a popular tourist attraction, and you can still visit it today… if you have the cojones.  

The Lonely Chernobyl
This color photo shows a scientist in the radioactive darkness of Chernobyl, which was the closest thing we'll get to hell on earth. At 01:23:58 on April 26th, 1986, Ukraine's Vladimir Ilyich Lenin Nuclear Power Plant number four RBMK-type reactor reached critical mass and exploded during a safety test.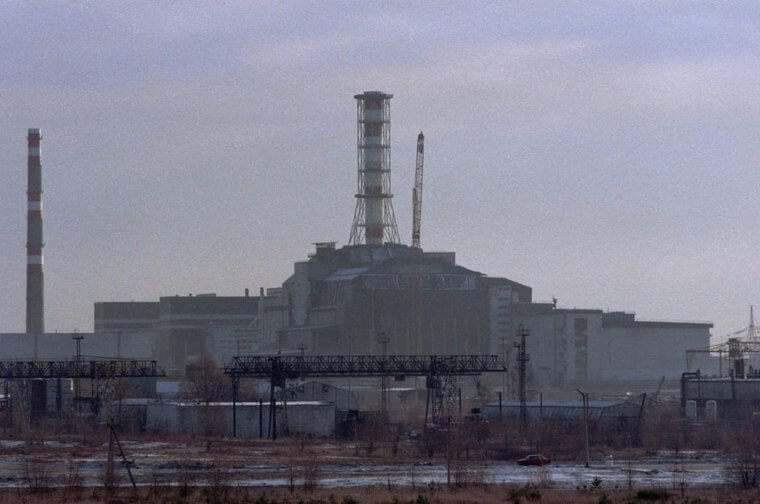 At first, the Soviets tried to cover up the terrible nuclear disaster, but eventually, a clean-up operation saw half a million people drafted in to clean up the radioactive fallout. Wearing little more than a plastic bag and a surgical mask, this man (and the photographer) gambled their lives to brave the highly radioactive reactor core. Ninety thousand people are believed to have died from radioactive poisoning over the decades. Today, 150,000 square kilometers of Ukraine, Belarus, and Russia remain contaminated. To find out more about the world's worst nuclear accident, watch Craig Mazin's incredible miniseries Chernobyl. 
The Wicked Witch of the West
This photograph shows a real witch flying through the skies on her broomstick. Okay, not really, it's a young girl dressed as a witch hanging in midair on a broomstick against a backdrop in a photographic studio circa 1900. How do we know it's after the turn of the last century?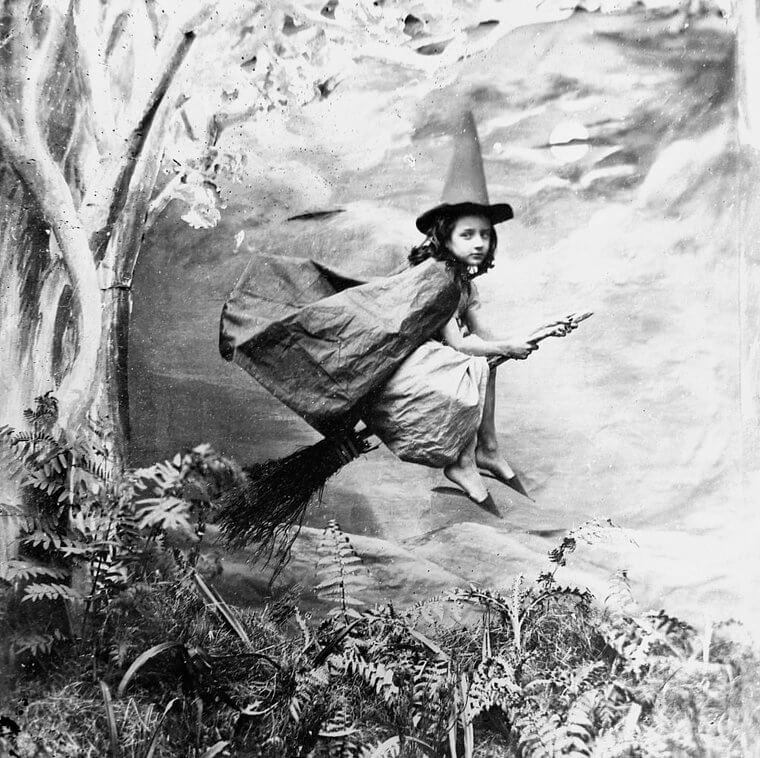 Well, she probably took her inspiration from L. Frank Baum's book, The Wonderful Wizard of Oz, which was released that year. If you're wondering why witches ride broomsticks, one theory suggests psychedelics. Witches were persecuted wise women, versed with deep knowledge of plant-based medicines, healing herbs, and hallucinogens, which often give the feeling of flying. Instead of eating their trippy plants, the quickest way for them to take effect was for witches to rub the plants on broom handles, which they would then rub on their nether regions! And that, folks, is why witches ride broomsticks. Maybe. 
Deadly, Dripping Doll Heads
This scary photo of dripping doll heads in a toy factory comes from around 1900. Dolls are already the stuff of nightmares, so how do you make them even more spooky? That's right, by showing their decapitated melting heads being pulled out of a vat of paint.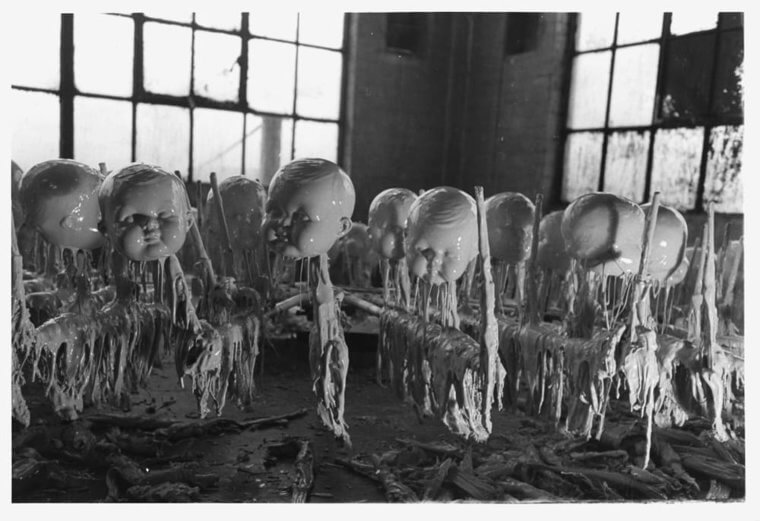 The only way this photograph could get any worse is if you could hear the dolls screaming as their haunting cherubic faces were impaled on those spikes. Who owns this toy factory, anyway? Vlad the Impaler? Once that delicious but deadly lead paint was dried, the heads would be attached to equally pale, lifeless doll bodies. Then, trucks would drive far and wide, delivering these nightmarish death babies for every child across the nation to snuggle up with before dying of lead poisoning a week later. Happy Christmas, Victorian kids! 
The Skellington Scarecrow
Jeepers Creepers! Because the thought of scarecrows coming to life wasn't frightening enough already, this Depression-era farmer thought he'd dress his bird-scaring buddy up as a skeleton… possibly for Halloween.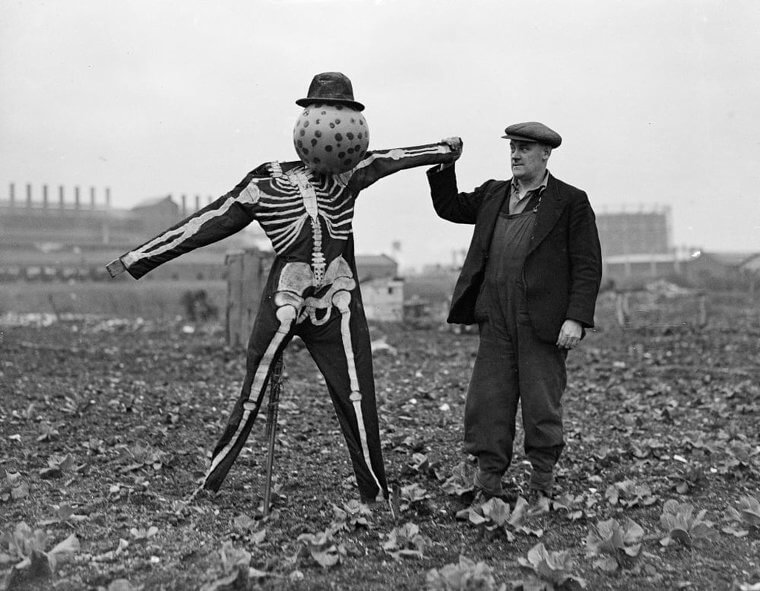 The farmer didn't even need a scarecrow because those factories about a quarter mile away in the background should be enough to stop birds from eating any of those polluted crops. We're guessing those factories are where those creepy dolls were made. Did you know that this skeletal scarecrow won an award? How can we be sure? Well, because he was outstanding in his field! 
Ghost Caught on Film During a 1920 Wake
These poor folk just wanted to say goodbye to their dearly departed friend when this apparition of an unwanted visitor appeared at his wake.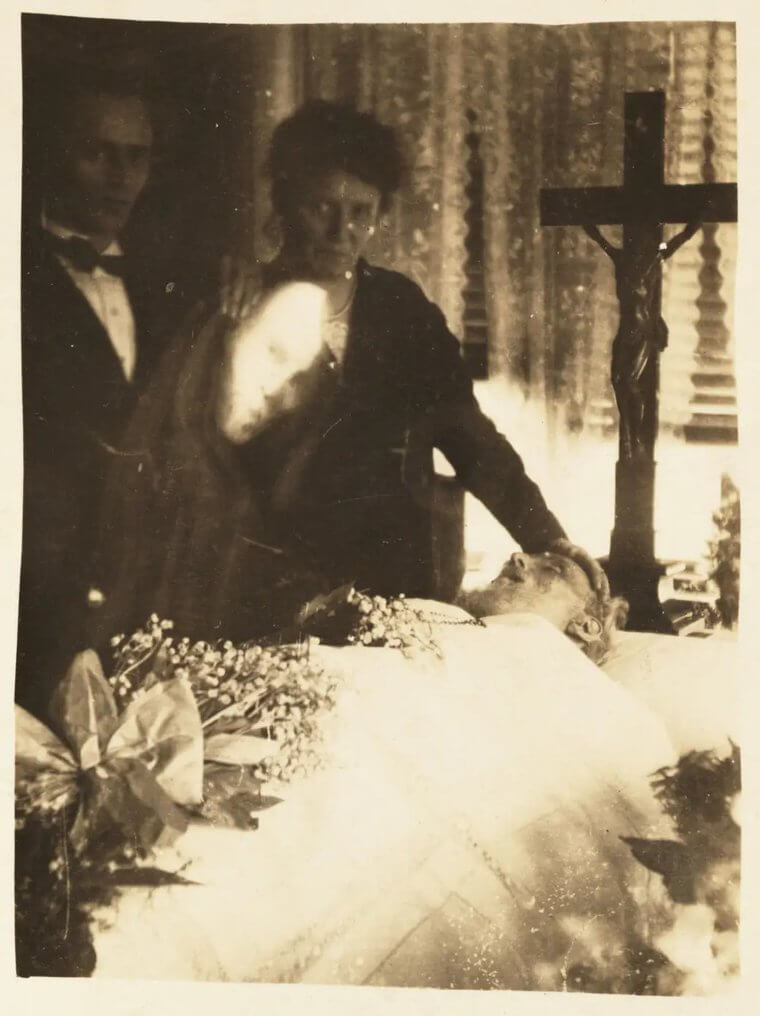 While it's impossible to know the truth behind this image from around 1920 being caught on film, it's most likely an illusion caused by double exposure, camera trickery, or a plain old reflection of some cheeky chappie in another part of the room. Photography was still incredibly basic in the early twentieth century, so accidental double exposures and other technical errors often occurred. But instead of admitting they messed up, photographers made a pretty penny from saying their mistakes (or trickery) were spirits appearing from the other side. 
Did You Pack The Dummy, Dummy?
This remarkable photograph shows a pair of very well-dressed vaudevillian entertainers unpacking their ventriloquist dummy. The 1925 photo wouldn't be half as eerie if the poor dummy's head weren't dismembered in his box as he traveled from show to show and town to town.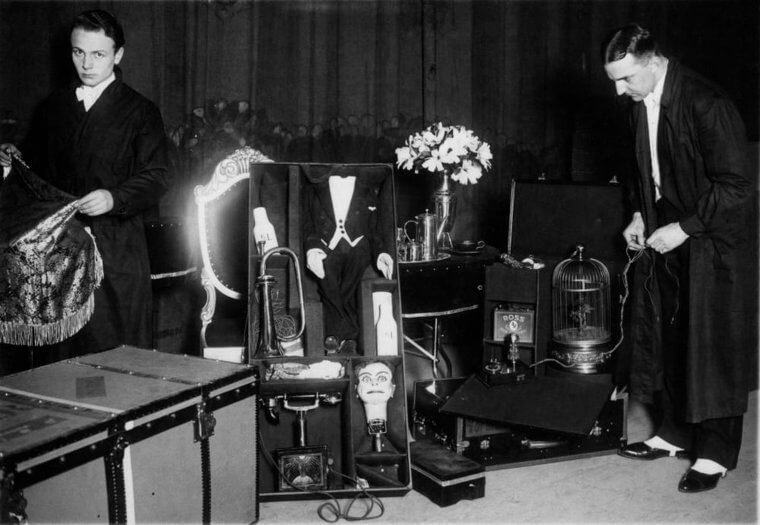 There's definitely something unnerving about these traditional-looking ventriloquist dummies, probably down to the fact that we can't believe they don't have minds of their own. If you're wondering why someone hasn't made a film about an out-of-control ventriloquist dummy, they have. Before playing Hannibal Lecter, Sir Anthony Hopkins played ventriloquist Charles "Corky" Withers in the film Magic (1978). His sidekick was a foul-mouthed dummy named Fats, who Corky couldn't control. 
The Smoking Skeleton
What is it with skeletons and skulls smoking pipes? Are they trying to tell us something about smoking being bad for your health? This skeleton is sitting down in the garden, enjoying smoking his cherry tobacco.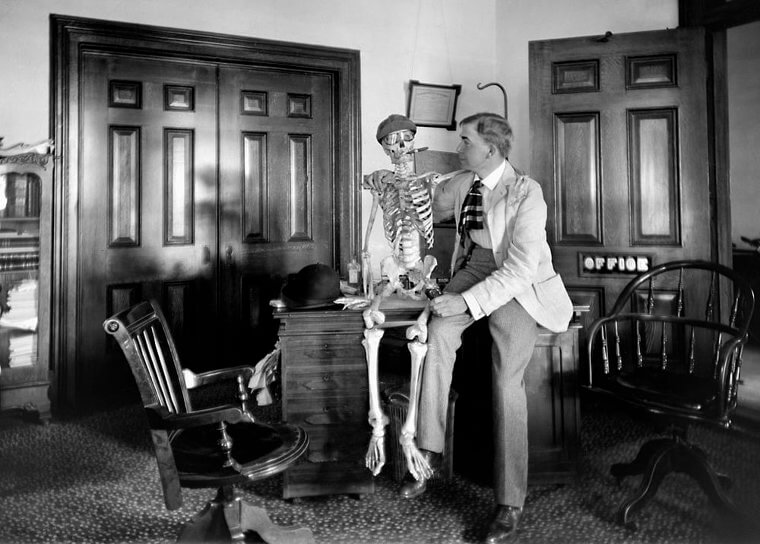 The photo is from 1910, and the human dude on the left (okay, we realize they're both human) is probably a doctor or a professor. At least, we hope he is because if he's not, that makes him a grave robber. The only way this picture could have been improved is if the two figures were playing a game of chess, like Max Von Sydow's knight playing chess with the Angel of Death in Ingmar Bergman's The Seventh Seal (1957). Or Battleships, like in Bill and Ted's Bogus Journey (1991).
The Night The Amityville Horror Began
This is a photo of the real-life crime scene taken on the night of November 13th, 1974. Police are in attendance because Ronald DeFeo Jr. shot and killed six family members at 112 Ocean Avenue on the south shore of Long Island, New York. But that's not where The Amityville Horror story ends––it's where it begins.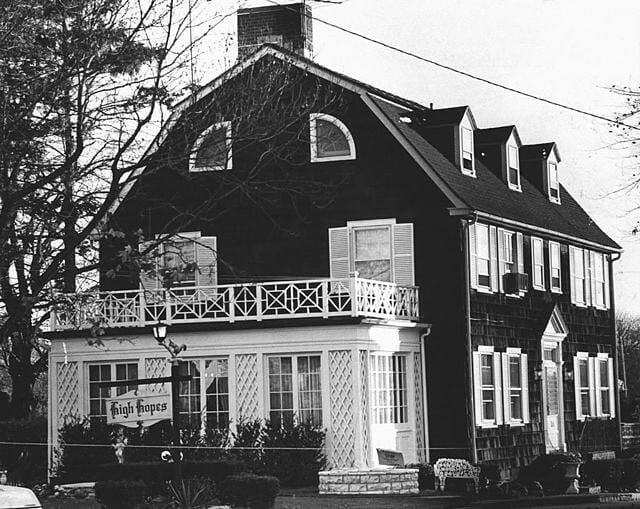 A year later, in December 1975, George, Kathy Lutz, and their three children moved into the large Dutch Colonial house. Within a month, the Lutz family had fled their new home in terror, claiming to have been terrorized by paranormal phenomena like blood dripping down the walls and poltergeist activity. Jay Anson turned the Lutz's story into a book that spawned the famous horror movie, The Amityville Horror (1979). The whole paranormal angle turned out to be a hoax, but Ronald DeFeo Jr. murdering his family was real. 
Bizarre Examples of Victorian Etiquette
The Victorian era occurred in the United Kingdom from 1837 until 1901. From swallowing tapeworm larvae to wearing used cadaver teeth, Victorian etiquette practices could be quite bizarre. Explore these outlandish customs from that period and others from the past.

They Used to Sleep With Raw Meat Strapped to Their Heads
It was common practice in the Victorian era to apply a piece of human flesh to one's own skin with the expectation that the "youthful" qualities of the donor's flesh would be absorbed into one's own. It was believed that one could reduce the appearance of wrinkles caused by harsh methods of removing freckles (such as soaking one's skin in carbolic acid) by sleeping with raw steak on one's face or by smearing "any animal fat on the skin — sheep's fat, veal, or lard."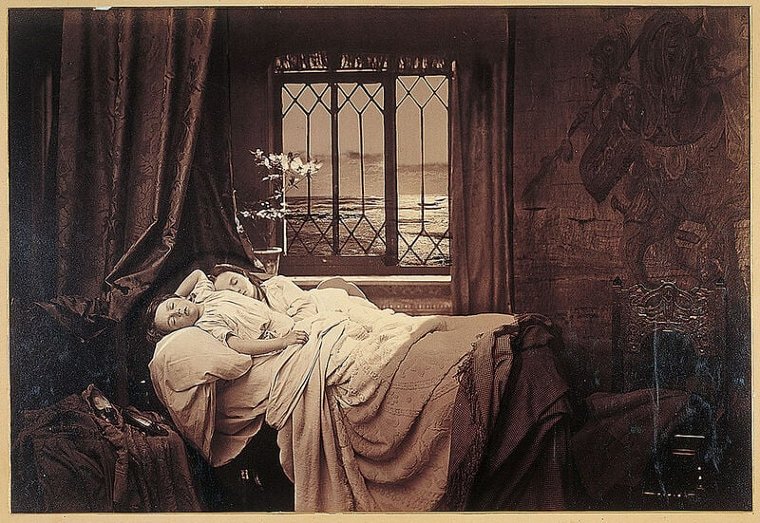 After all, a well-mannered lady should always strive for a snow-white complexion (tans were considered low-class and were a sign that one worked outside like a common peasant), and if it required the sacrifice of a lamb in order to keep said whiteness, then so be it.
You Should Never Marry Someone Who Has the Same Eye and Hair Color
In the Victorian era, dating was somewhat analogous to the aesthetics of interior decorating, with the exception that it was done backward. When it came to your significant other, it was essential to making sure that your hair, eyes, and complexion contrasted with one another, especially for people with red hair.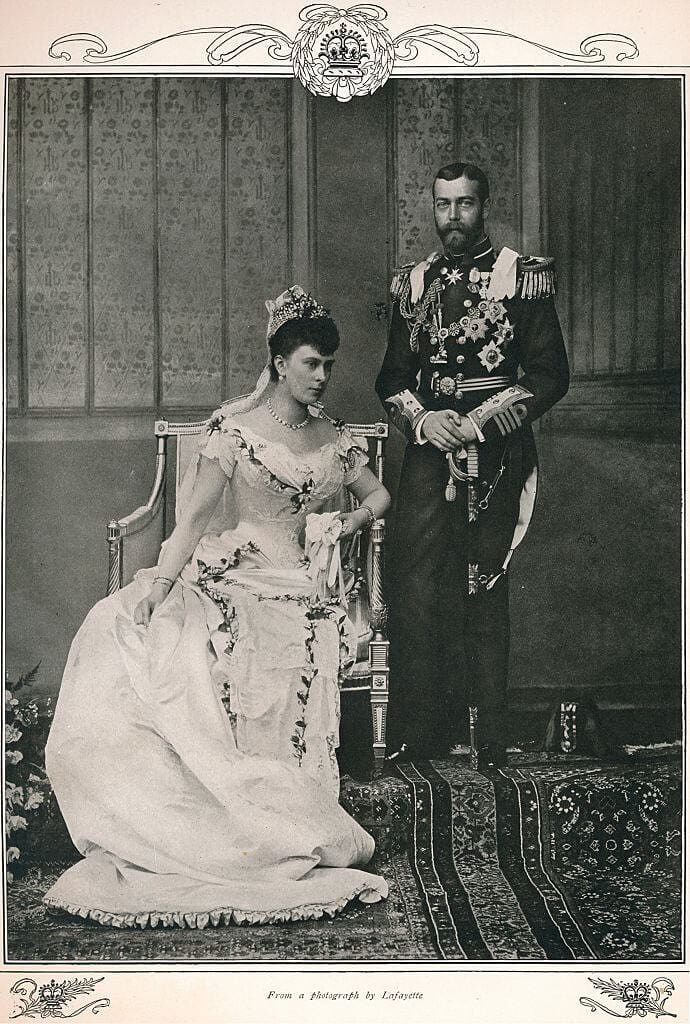 One example from the guides of the time is as follows: "People who had red hair and a flushed complexion were considered to have an excitable and hot-tempered personality, so they were encouraged to marry someone with a different temperament, such as someone with jet-black or brown hair... and people were told to never marry someone with the same eye color as they have." Yeah, you'd never see two Victorian redheads getting married, as that was so out of the question.
They Wore Hair From Dead Husbands as Jewelry
In the Victorian era, a fashion-conscious mourning woman was always ready to cut off a lock of her late husband's tresses to wear as a piece of jewelry. This practice was commonplace during the time period. Even though heavy black veils and shrouds were required to wear during the first stages of mourning, one could eventually "graduate" into wearing sentimental keepsakes after moving through the stages.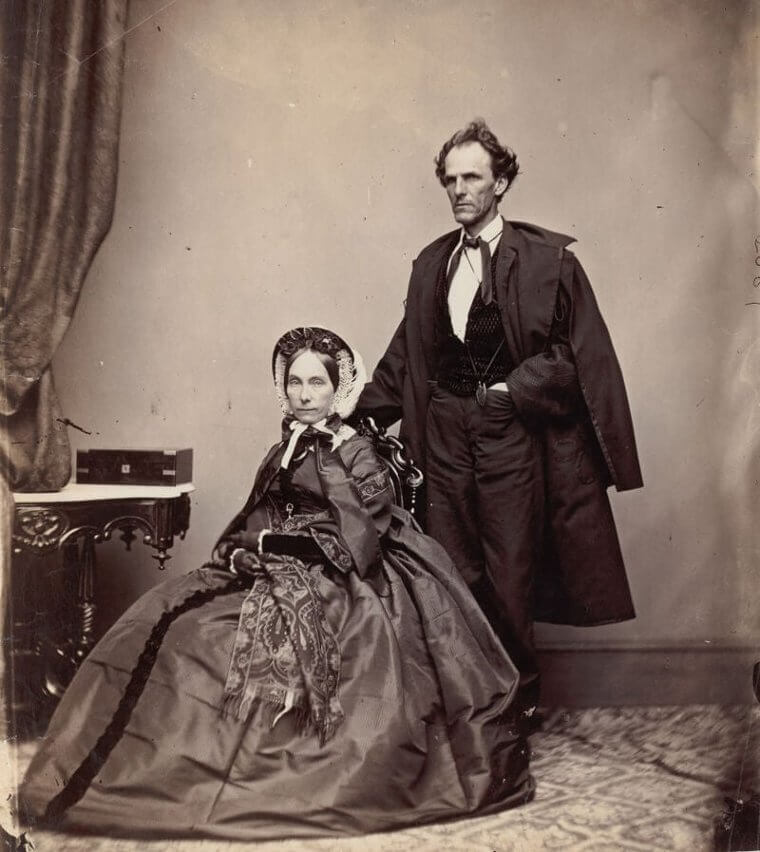 Hair jewelry eventually became a commonplace accessory. Originally, "wreaths made from the hair" of the deceased were "objects of mourning, while wreaths made from the hair of multiple people... were more like sentimental family trees." It was a custom that was quite sentimental and romantic, and it wasn't all that dissimilar to the modern trend of getting tattoos made with the ashes of deceased loved ones mixed in with the ink.
Would You Poison Yourself to Stay Pretty? Victorian Women Did!
Respectable Victorian women "discreetly" ingested their beauty regimens in order to save time, contrary to the widespread belief that they eschewed cosmetics. National Geographic indicates that "in the late 19th century, U.S. newspapers advertised tins of wafers that, if eaten, promised to remove freckles, pimples, and other facial marks. These products contained poison, but that wasn't a secret — it was right on the label, which read 'Arsenic Complexion Wafers.'"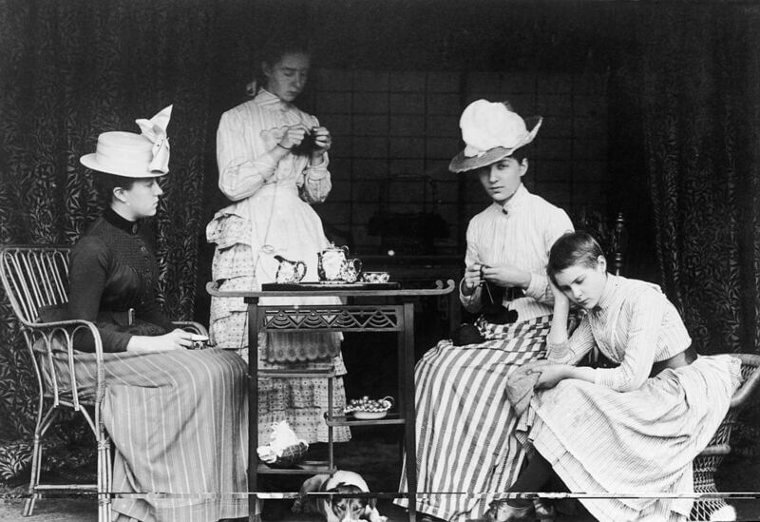 The long-term effects of 'Arsenic Complexion Wafers' and its skin counterpart (foundation made of lead) did make a person prettier for a moment, but long term-effects were often described as "unusual skin discoloration, hair loss, and rotted teeth." The takeaway here is that while dressing up like a vampire is cool, trying to look like a corpse is not.
Breastfeeding Mothers Used to Wear Nipple Shields
Back in the Victorian days, wet nurses had the job of breastfeeding children in upper-class households. On some occasions, the biological mothers would breastfeed too, but never without the help of a proper and discreet nipple shield. According to a source, the nipple shield was "made from a variety of materials in the 18th and 19th centuries, wood, ivory, and silver [being] the most common... the dangers of lead poisoning were well known when these were manufactured in the mid-19th century." They came with the assurance that they wouldn't be harmful to the infant.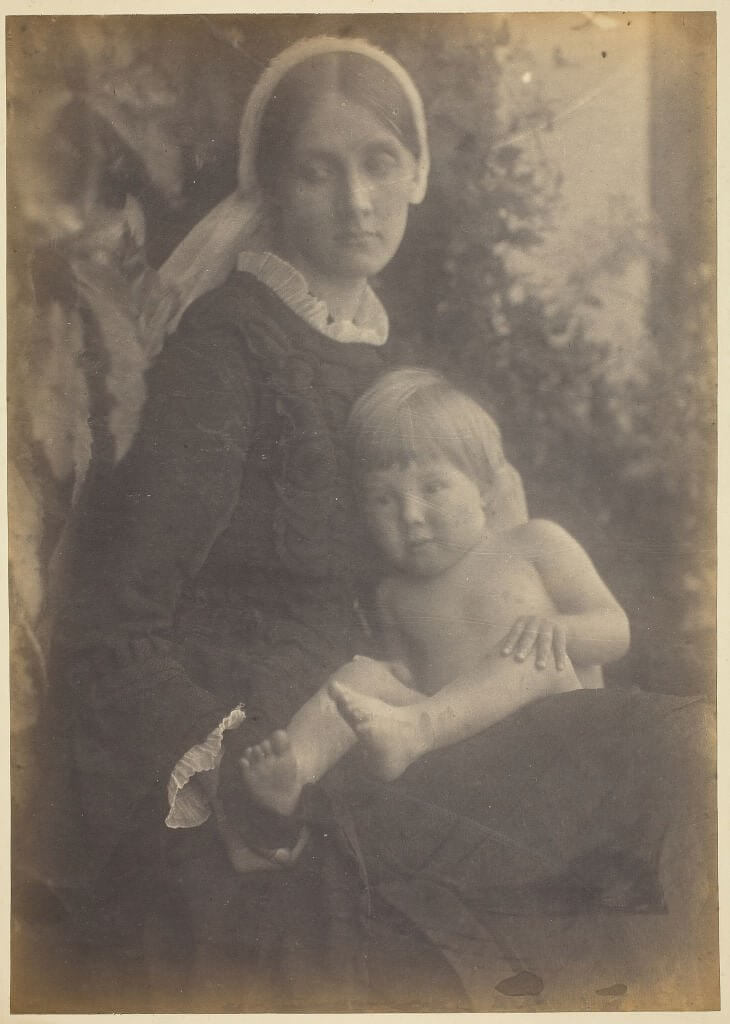 Many infants were affected by lead poisoning. But nothing surpasses the ludicrously bizarre wording of an advertisement from 1892, which claimed that these shields were "easy to wear, holding on like limpets. Sore nipples heal whilst reposing in the bath of milk secreted within the shields." "Reposing in a bath" sounds like a luxurious advertisement, but seriously, what's not to like about breast milk?
They Used to Make Dentures From Cadaver Teeth
Having a charming smile is a sign of civility, but so too is a person's ability to think outside the box and come up with novel solutions. Harvesting perfectly beautiful (and useful) pearly whites from a cadaver is the ultimate resourcefulness. Dentures made from a deceased person's teeth were a common sight in Victorian society, as apparently, no well-mannered Victorian would have been caught toothless.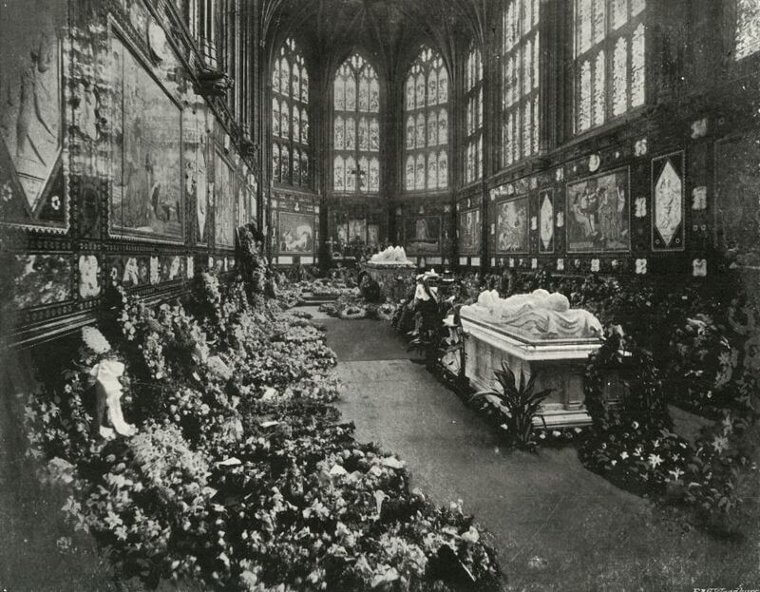 These secondhand dentures definitely had their drawbacks, especially because they came from questionable hosts: "Teeth were frequently acquired from executed criminals, exhumed bodies, dentists' patients, and even animals, and were consequently often rotten, worn down, or loaded with syphilis. The prospect of an overabundance of young, healthy teeth to be readily pillaged from the battlefield must have been a dentist's dream." Probably a dentist's fantasy, but a nightmare for the average person.
Maintaining a Fashionably Slim Shape With the Help of Tapeworm Larvae
Voluptuous women were widely praised in the Victorian period, but even the well-educated and fashion-conscious lady made a modestly "respectable" effort to lose weight. There's no better way to lose weight than by allowing a giant tapeworm to consume your fat. Another benefit of larvae was that they helped women learn proper table manners, because "a woman would never rise hungry, yet she would continue losing weight."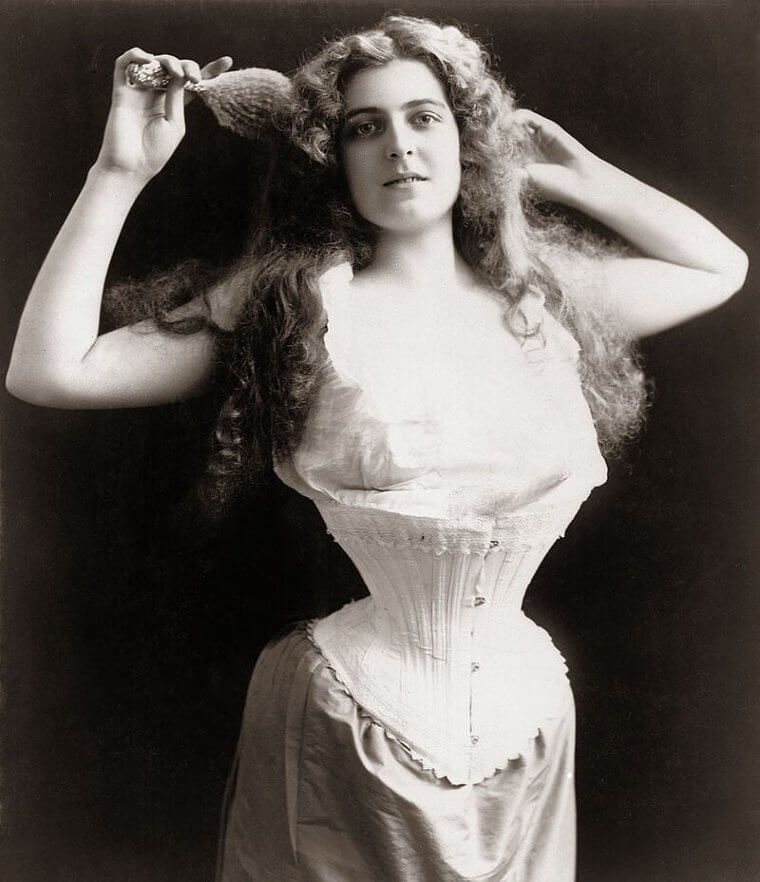 It's a great way to get people excited about going to the gym. As a reminder of the dangers of using Lovecraftian monsters in one's system, the following quote should be enough: "You take a pill containing a tapeworm egg. Once hatched, the parasite grows inside of the host, ingesting part of whatever the host eats. In theory, this enables the dieter to simultaneously lose weight and eat without worrying about calorie intake."
How to Use Special Sex Techniques to Have Lovely Children
Even in the Victorian era, sex without lust and passion, and marriage without love were not just frowned upon because they were likely to result in emotional unhappiness but also because they were considered to produce ugly kids. According to an article published in the Daily Mail, "Crucially, any union without true love... would bring forth 'ill-looking, sour and spiritless offspring,' while those hoping for good-looking children should remember that sex must not be 'faintly or drowsily performed.'"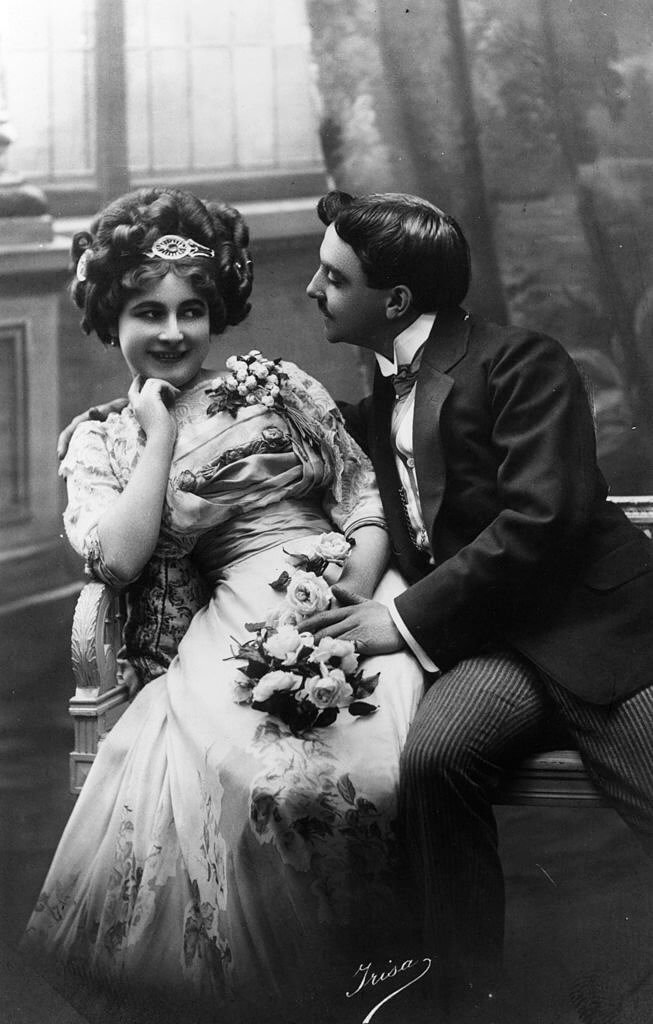 A child "that was begat upon a set of stairs is most likely to be born with a crooked back, and given in no small way to the fault of staring," which is another reason why making love on the stairs was a bad idea for Victorians. The moral of the story is that you need to approach parenting with verve and élan if you want your children to look like catalog models and not stare at anyone for more than five seconds at a time.

A Ban on Laughing and Smiling Was Placed in the Late 1800s
People who were considered polite in the late 1800s were instructed to keep their laughter to a minimum, and they were discouraged from smiling for an extended period of time.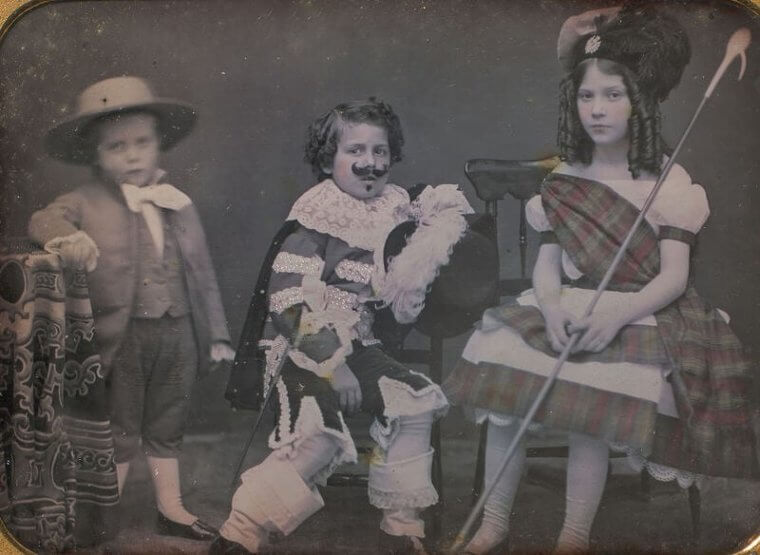 Poor Buddy the Elf would have been excluded from society in a matter of seconds if he had been found out. The worst part is that you would have been expected to contain your laughter when you started giggling about all of those ridiculous rules put in place during that period.
Inappropriate Kissing and Touching Was Avoided at All Costs
Gentlemanly behavior during the Victorian era was comparable to that of mailroom etiquette in more or less all respects. Single women, for instance, "were never to indulge in behavior with a man [that] might lead to being 'kissed or handled in any way.'"
This included stringent inspection rules, similar to many of the requirements that are associated with the following shipping procedures: "If a man wanted to admire a necklace, the woman had to remove it and hand it over for inspection. Under no circumstances was the item to be inspected while she wore it."
They Used Fainting as a Way to Express Themselves
The practice of collapsing in a fit of hysteria whenever someone received unfavorable news, was embroiled in a moral scandal, or was confronted with anything else that was thought to be too scandalous to discuss was, in a sense, way ahead of its time in the Victorian era. One hundred years later, groups of adolescents would be doing the same thing over famous people like the Beatles, Charles Manson, Elvis, and other celebrities.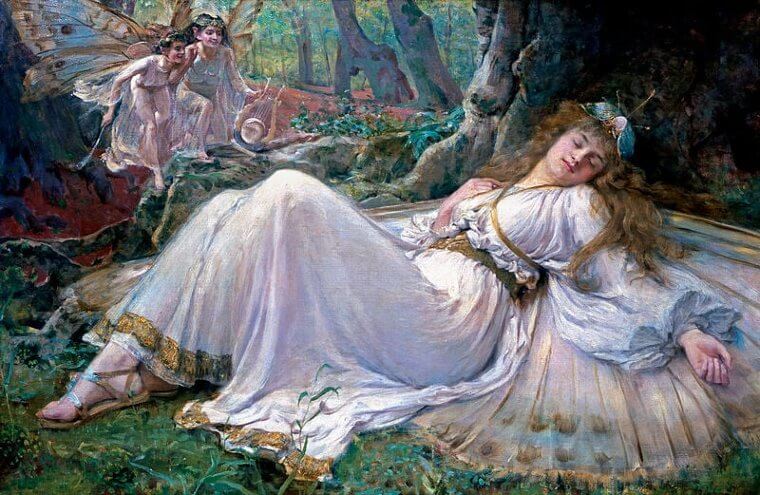 However, if you believe certain theories, there was significantly more to it than that. It wasn't so much that people were overwhelmed as they were trying to express themselves in a manner that was socially acceptable when they passed out.
Men Couldn't Accept a Store-Bought Gift From Victorian Women
Courting couples in Victorian society were expected to adhere to stringent etiquette rules regarding the giving and receiving of gifts from one another. It was improper for a woman to give a man a gift until he had first presented her with a present.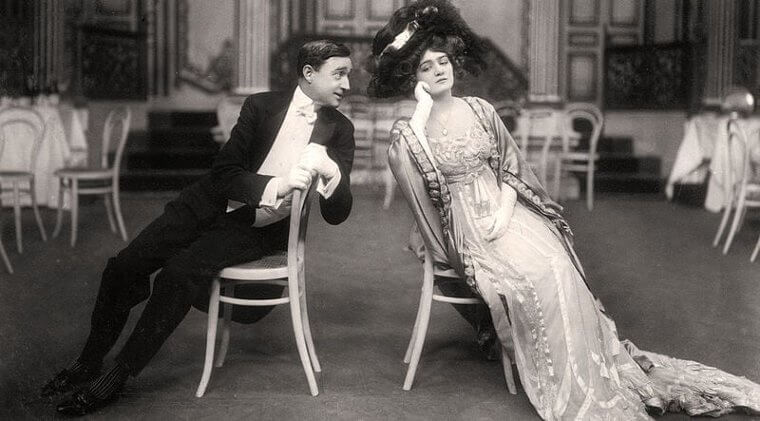 When it came to selecting a present, men had relatively few options available to them; flowers, books, and candy were all acceptable choices. After a woman had been given a gift, she was allowed to give a gift in return; however, the second gift needed to be modest in cost and would typically be handcrafted.

In the 19th Century, the Way a Woman Walked Conveyed Her Personality
During the 19th century, Emily Thornwell was widely respected as a prominent figure in the field of social counseling for young women. And she had some pretty stringent requirements for the appropriate way to walk in public.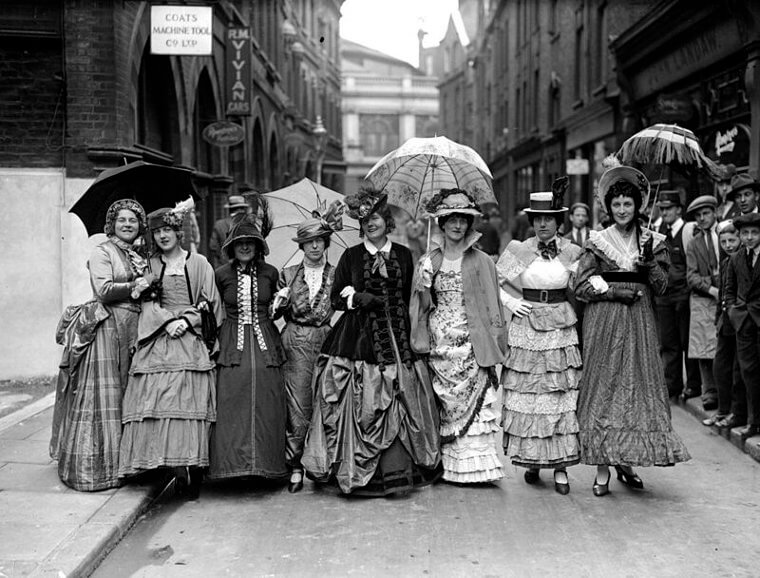 Among many rules, the requirement included the following: "A lady ought to adopt a modest and measured gait; too great hurry injures the grace which ought to characterize her." Clearly, women were allowed to take their time.
In the 1890s, Your Umbrella Choice Said a Great Deal About You
In 1894, Robert Louis Stevenson wrote an entire essay titled "The Philosophy of Umbrellas" about the proper way to behave when using an umbrella because he felt so strongly about the topic. He began by noting that umbrellas had become an indicator of one's social position.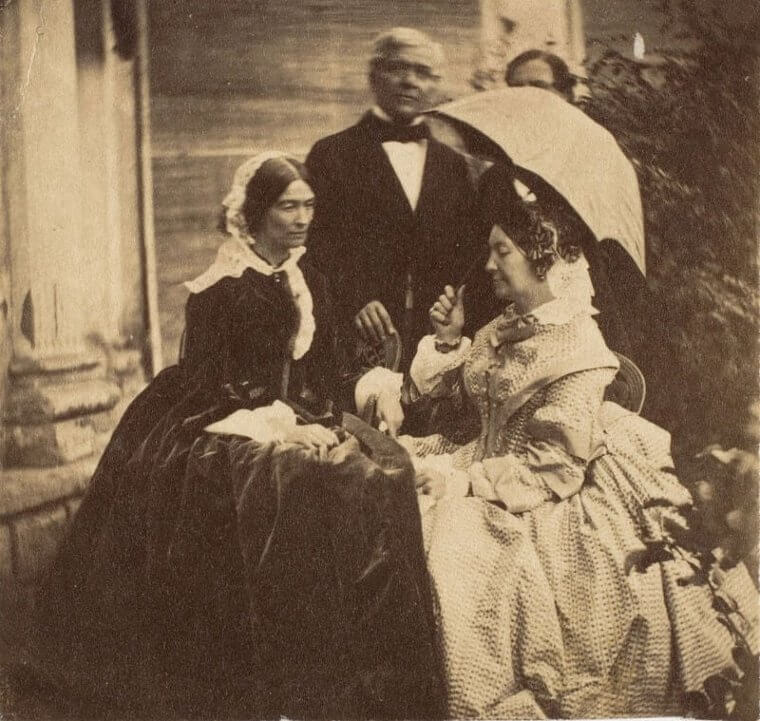 In his discussion, Robert Louis Stevenson stated that silk umbrellas were for hypocrites and gingham umbrellas were for those who were "decent and reputable." This is something you should think about the next time you find yourself caught in a downpour and need to dash into the nearest store to pick up an umbrella. Or maybe you don't – it's not like you live in the 1890s.
In the 1940s, Saying "She Can Hold Her Liquor" Wasn't Considered a Compliment
The first half of the twentieth century would not have been a good time for a lot of people to live in, especially women. The fact that Vogue's 1948 Book of Etiquette states,"' She can certainly hold her liquor' is not a compliment" only confirms those suspicions.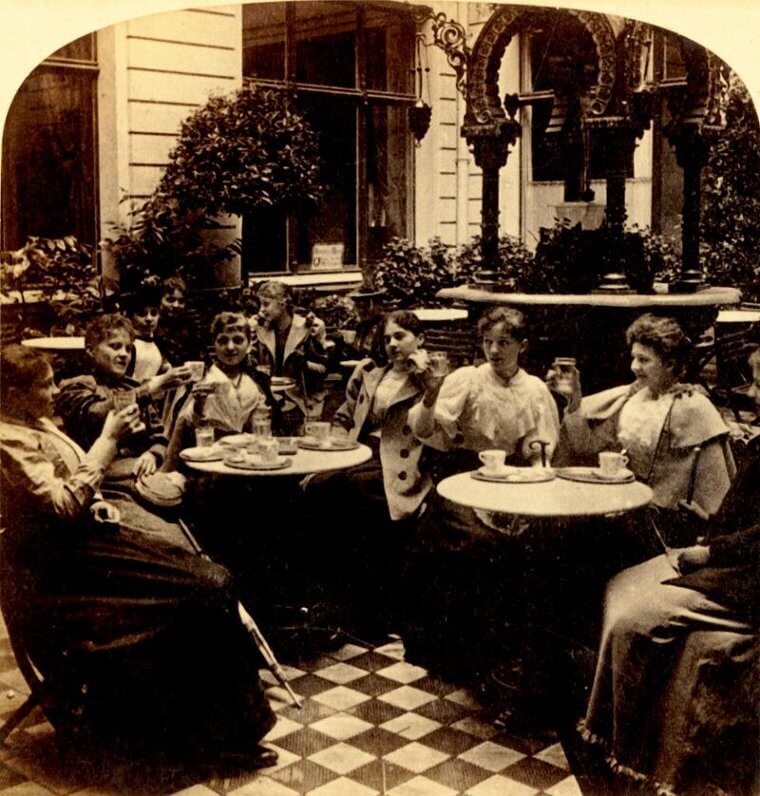 In addition to many rules (some even wildly strict) that women had to adhere to, the book made it abundantly clear that ladylike women should not be praised for their ability to hold alcohol (or as a measure of their strength).
In the 1950s, Single Women Were Told To Avoid "The Appearance Of Evil"
What type of behavior could possibly be classified as evil? Don't be concerned; The Amy Vanderbilt Complete Book of Etiquette, which first appeared in print in 1952, was written specifically with the intention of elucidating topics of this nature for female readers.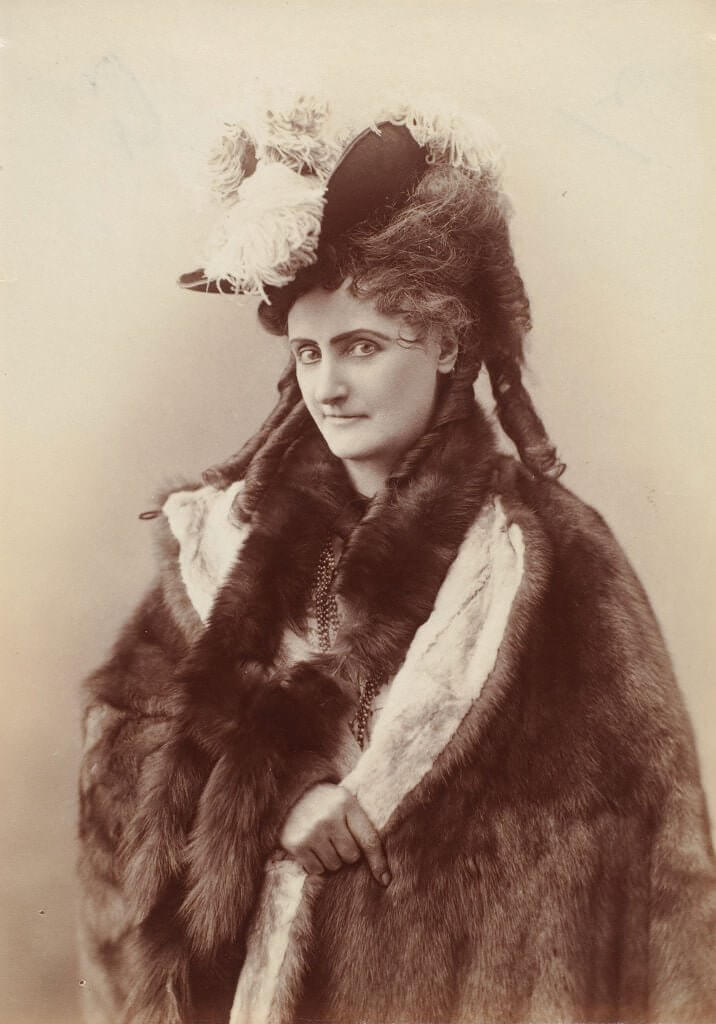 The following are its fundamental guidelines for successful dating: "A girl not out of her teens would do better to avoid [dinner at a bachelor's] unless others, considerably more mature than she, are present. A career girl, from her twenties onward, can accept such an invitation but should not stay beyond ten or ten-thirty."
Dinner Parties in the 1890s Were Notoriously Taboo When It Came to Certain Topics
Home Chat published Etiquette of Dinners in 1895, which was written by Lady Constance Howard. Not only should the topics of politics and religion be avoided at all costs during the conversation, but many other benign topics.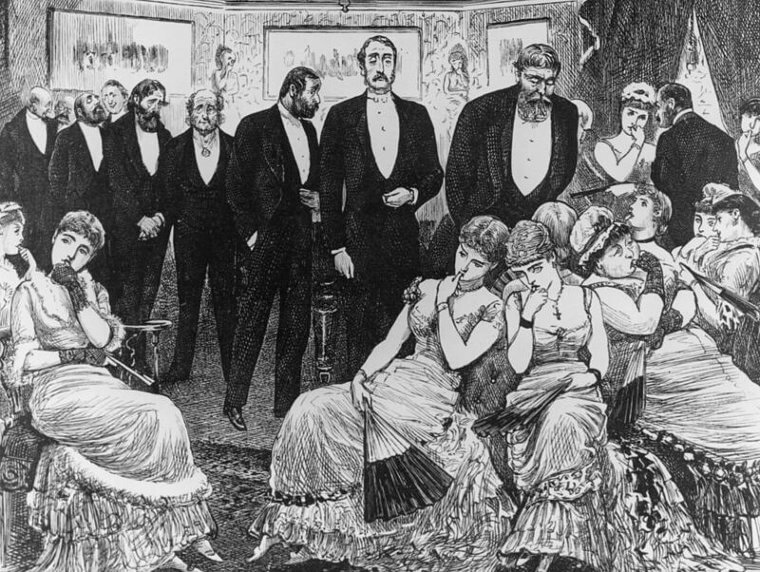 According to Lady Constance Howard, "the hostess who possesses tact will not discuss music or painting with persons who have no taste for either."

Do Not Show Up Unannounced Unless Absolutely Necessary
A well-mannered Victorian would never dream of unexpectedly visiting friends. A ritual centered on the exchange of small cards known as 'visiting cards' or 'calling cards' governed social visits. In the upper echelons of society, the etiquette of 'calling' was firmly established by the beginning of the 19th century.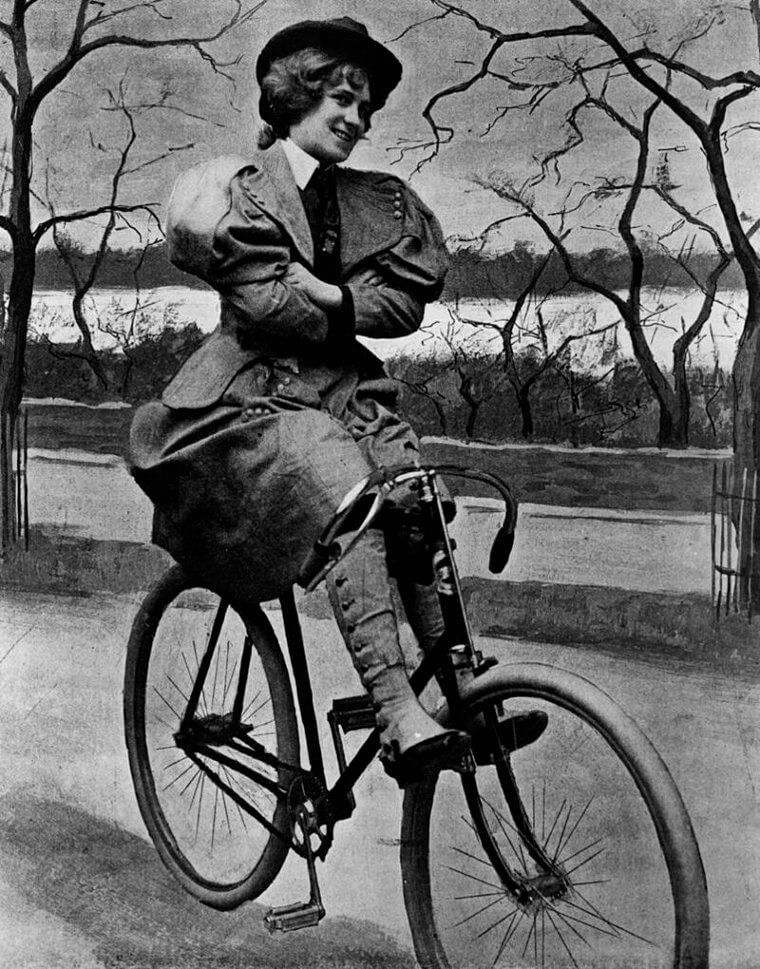 The footmen of the elite classes would deliver a calling card to the servants of those they wished to visit. Contravening Victorian etiquette regarding the sending and receiving of calling cards was social suicide. In most social circles, it's considered impolite to show up unannounced on someone's doorstep, although we don't advocate a return to this rather time-consuming custom. Always call or text ahead of time to determine whether or not it's convenient for you to visit.

Wear What You Have To, but Dress for the Occasion
The Victorian ladies had a dress for every occasion and would alter their attire multiple times a day to adhere to protocol. There were very strict rules regarding what could be worn when, and morning, afternoon, and evening attire was segregated accordingly. According to The Ladies' Book of Etiquette and Manual of Politeness, published in 1872, "It is in as bad taste to receive your morning calls in an elaborate evening dress as it would be to attend a ball in your morning wrapper."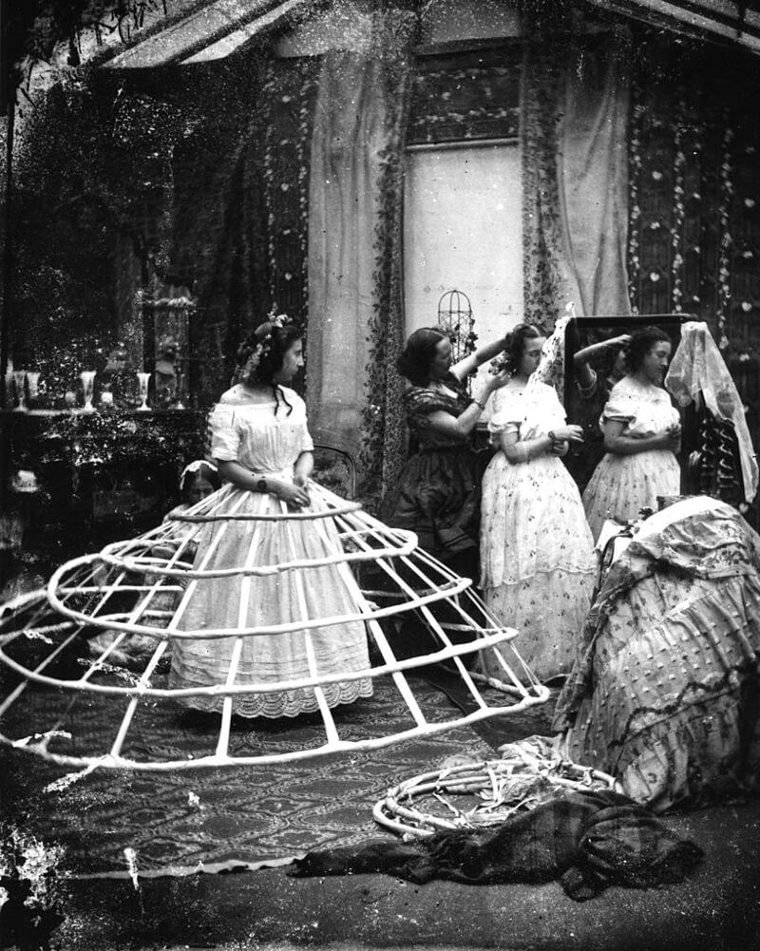 Outside, hats and gloves were required at all times and were essential to present a respectable appearance. Today, dress codes are thankfully more relaxed, but it's still important to know what is appropriate for various occasions. Arriving at an event and realizing you are not appropriately dressed can be embarrassing and awkward. Whether you are attending a job interview, cocktail party, or wedding, dressing appropriately will help you make a favorable impression.
Your Table Manners Should Be Impeccable
The Victorians adhered to strict table manners, and dining was often elaborate and complicated. There were rules regarding place settings, seating arrangements, and general table conduct. Before eating, a cloth napkin was placed loosely on the lap, elbows were kept off the table, and open-mouthed chewing was strictly forbidden.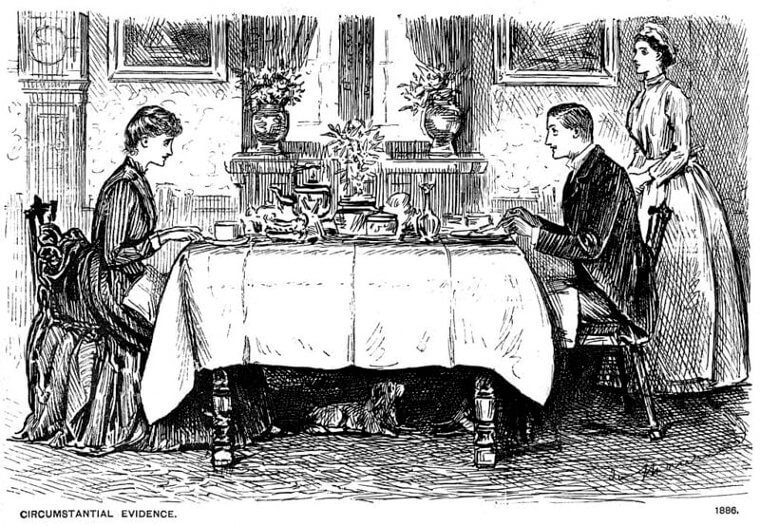 Many of the dining etiquette rules established at the time are still applicable today. Even though not every meal is a formal affair, it's essential to acquire basic table manners from an early age. Holding your cutlery properly, refraining from speaking with your mouth full, and remembering to say "please" and "thank you" are not outdated practices.

Try To Be the Best Person You Can Be
In the Victorian era, there was a great emphasis on self-improvement and upward mobility. In the final quarter of the 19th century, the middle classes began to increase in size, influence, and self-assurance. Men began to be defined by their occupations rather than their family history, and the concept of climbing the social ladder through hard work began to gain traction. Samuel Smiles published the very first self-help book in 1859.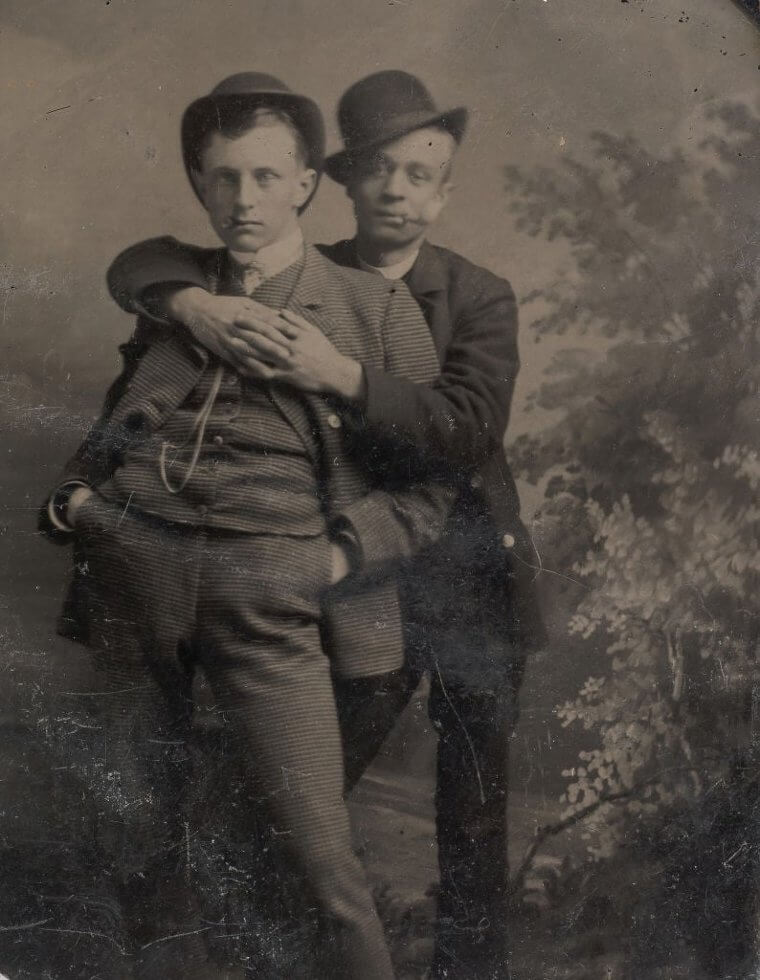 The book, titled Self-Help, extolled the merits of characteristics such as application and perseverance. After climbing the social ladder, men could consult books such as How to Behave and Hints from a Gentleman for advice on how to blend in with their new friends. Today, if you want to advance in your chosen field, it's essential to invest in yourself by acquiring the skills and knowledge that enable you to be your best self.
Be a Good and Polite Conversationalist
The Victorians understood that listening well was essential to mastering the art of conversation. They focused their full attention on the person they were speaking with and demonstrated a genuine interest in the topic at hand. Victorians were encouraged to always remain calm, collected, and confident, and to respect the opinions of others.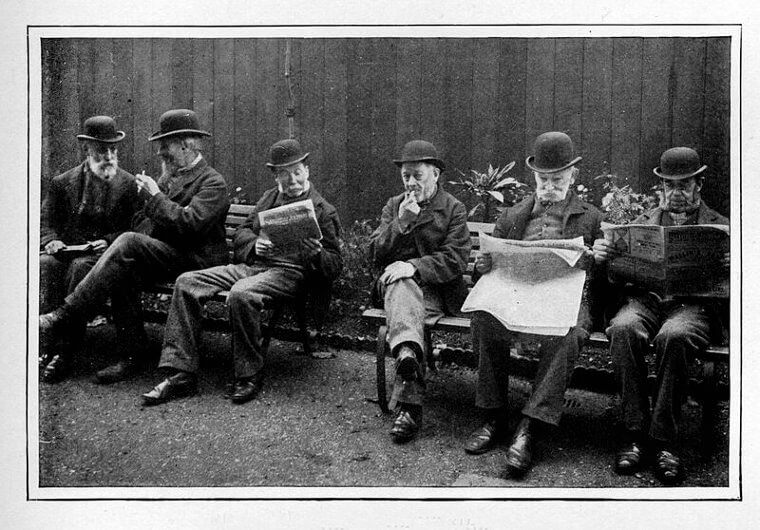 They refrained from speaking too much about themselves and from saying anything in public that could be offensive to others. If smartphones had existed 150 years ago, you can rest assured that the well-mannered Victorian would not have allowed them to interfere with a heart-to-heart conversation. We may have the technology to instantly communicate with someone on the other side of the globe, but when it comes to good manners, we could all learn a thing or two from the Victorians.

They Ate Cornflakes as an "Anti-Masturbatory Morning Meal"
In the 19th century, cornflakes (and not just any brand, but Kellogg's Corn Flakes) were a must-have food item for curbing sexual desire. Indeed, John Harvey Kellogg described his famously nourishing breakfast cereal as a "healthy, ready-to-eat anti-masturbatory morning meal," which meant that any well-mannered gentleman was expected to consume it.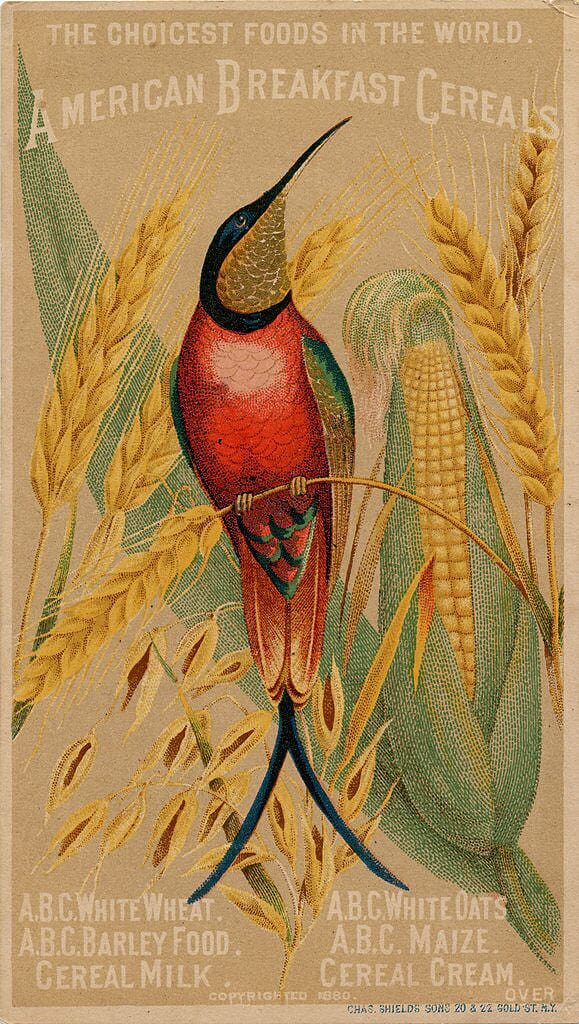 According to the theory, lascivious foods bred lascivious behavior. You may ask, "What exactly is a lascivious food?" Basically, anything too rich, spicy, or flavorful (see: delicious) was off-limits, which meant curries and French sauces were not permitted. Kellogg's recommendation that young women apply carbolic acid to their clitorises to "burn off" desire was similarly problematic.