Are you a fan of puzzles? If not the type where you hunt for the missing middle piece to complete the image on the box, then perhaps the type of puzzle that leaves your head spinning as you try to solve a riddle. These thought-provoking mysteries can keep you entertained for hours and have led to the invention of escape rooms, murder mystery parties, treasure hunts, and trivia nights. 

Yet none of these fun challenges can compare with the obsessive group of people who are on the trail to find hidden treasures, as outlined in the coveted book called The Secret. If you enjoy the challenge of a puzzle — and the exhilaration of solving one — then stay tuned to learn more about the mysterious and legendary book.
What Is The Secret?
Publishing companies are quick to brand a book with engaging and captivating titles to encourage readers to pick them off the shelf. With this in mind, you may have heard of the famous 2006 book called The Secret by Rhonda Byrne. However, that's not The Secret that we're going to dive into here. Instead, we shine the light on the 1982 puzzle book by author Byron Preiss.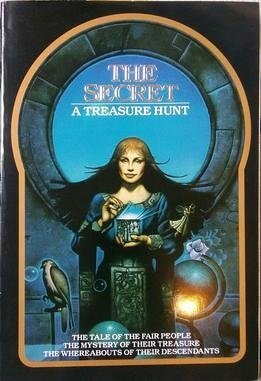 As you turn the pages, you'll find that the book features a dozen short poems alongside a dozen elaborate paintings by legendary fantasy illustrator John Jude Palencar. The book's basic concept revolves around a treasure hunt initiated by the author, encouraging readers to search for 12 treasure boxes buried at various secret locations across North America. While decades have passed, only three of the boxes have been found…

Byron Preiss Becomes a Puzzle Legend
The 1982 puzzle book remains an obsessive challenge by many today, but where did Byron Preiss get the idea for the prolific puzzle? It all started when he read the popular 1979 armchair treasure book Masquerade, which inspired him to create his own treasure hunt for elite followers. But rather than hide one treasure, he scattered a dozen across the United States and Canada.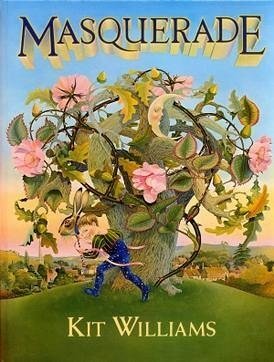 As you flip the pages, you'll experience a fantastical world, including fairies, goblins, and other imaginary creatures armed with desirable treasures. These valuables include rare stones and gems, inviting problem-solving individuals to get to the bottom of the puzzles, find the hidden key, and claim these treasures for themselves.

How Do the Puzzles Work?
While some puzzles rely on the reader to link numbers, others demand a literary mind. However, The Secret works differently by pairing an out-of-worldly painting and cryptic verse to guide puzzle solvers to a unique North-American city. So, how did Byron manage to hide these treasure troves?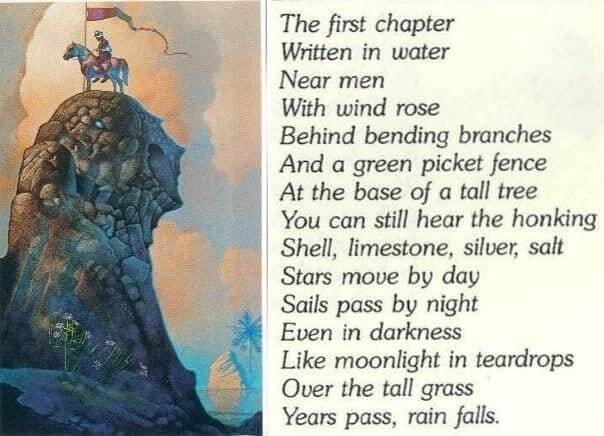 As the story goes, Byron disguised himself as a construction worker to blend into the environment. He ventured into local parks, dug a hole, and buried ceramic casques encased in plexiglass boxes. Once retrieved by a lucky riddler, the key is exchanged for a valuable tool — along with bragging rights.

The Book Builds Up the Appeal
As more people learned about The Secret, the demand and fervor for the treasures increased. However, only three boxes have been uncovered since the beginning, which paints a fascinating picture — the riddles are not as easy to solve as you'd predict! Even so, enthusiasts continue to pour their hearts and souls into solving the puzzles.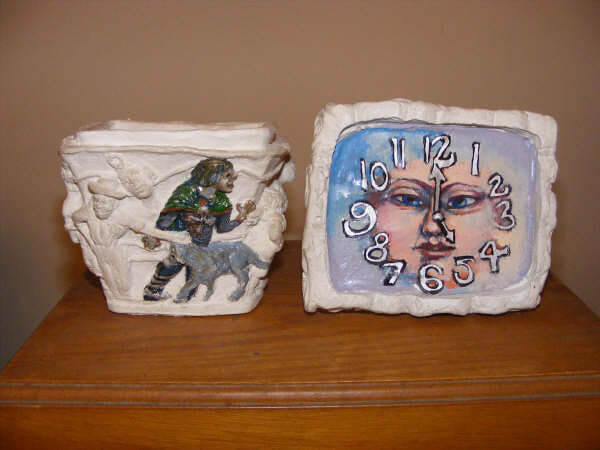 The book says, "The jewels collectively are worth over ten thousand dollars. The treasure casques themselves are of incalculable value, never having been owned by man or woman." With these high stakes in mind, it's no wonder that people continue pouring their efforts into the 12 cryptic images and puzzling verses. Yet, while the riddles were complex, the instructions are fairly straightforward.

Is Byron Preiss Smarter Than He Expected?
In theory, the puzzles are not that complicated. Readers simply need to wrack their brains to decipher the verses and link them to the elaborate paintings. Follow the clues to the location of the buried key, and reap the rewards of treasured jewels. Sounds easy, right?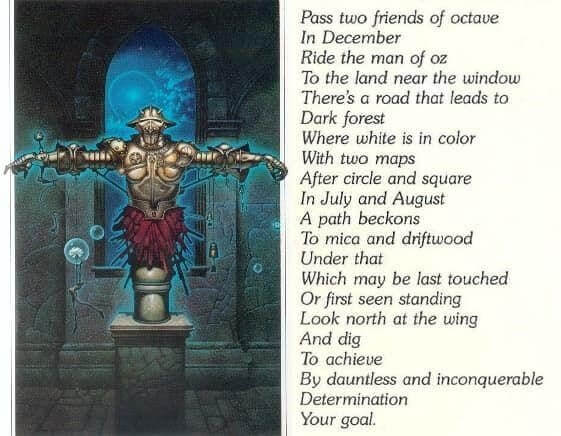 While more than four decades have passed since Byron Preiss published the book, only three of the 12 boxes have been found — which is not an impressive conversion rate. It's possible that Byron is much smarter than he gave himself credit for and that the puzzles are not as easy as he anticipated. Even so, a few treasure hunters continue to work on all remaining riddles. Luckily, a couple of puzzles have been solved to prove that they exist…

It Didn't Take Long To Crack the First Code
In 1983, a group of young students in Chicago put their minds together to crack the first riddle. Within a year of the book being published, the group managed to match image number five with verse 12, which led them to Grant Park in Chicago, Illinois. It was the first of the 12 riddles to be solved.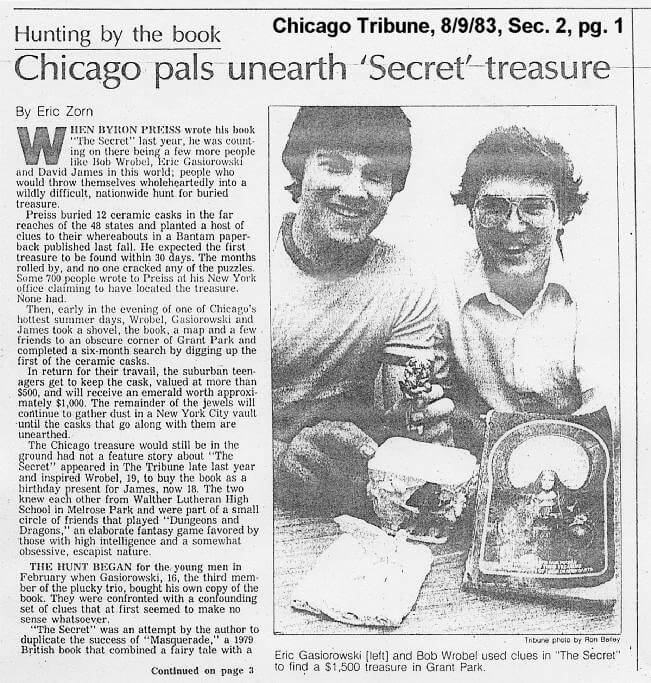 The painting, titled Castlehat, featured a bowman and a reference to "L" as a starting point, also featuring two intersecting lines of trees that pinpointed the exact location under a unique fence design. Once unburied, the three suburban teenagers sent the key to the author and were rewarded with an emerald treasure worth $1,500 (which is equivalent to approximately $4,500 today)!

The Second Casque Is (Finally) Found
It may have taken more than two decades for the next treasure box to be found, but eventually, it was uncovered in Cleveland, Ohio. Brian Zinn and Andy Abrams were inspired by the shape of Ohio's rivers and connected verse 4 and painting 4. The link pinpointed the location to be the Greek Cultural Gardens.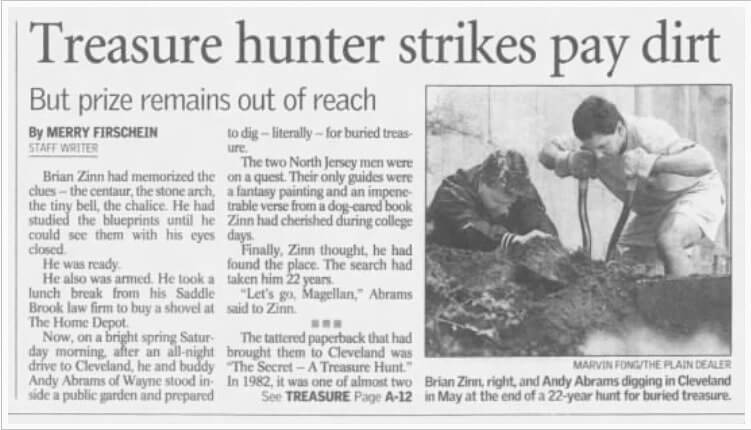 After unearthing the casque, the pair found the key and exchanged their well-deserved find for a precious gem. Andy offered tips and insights for future hunters, speaking to the media, saying, "These casques were buried before the internet.  The author was extremely bright, but I believe he wanted people to find them.  The fact that only two have been located in 40 years is outrageous and improbable.  Don't make the hunt harder than it is."

A Tragedy Occurs, Making Future Challenges More Difficult
Moments of solving the riddle were few and far between, and Byron was getting older with each passing year. Then in 2005, a tragedy occurred when the author was killed in a car accident. Not only did his death mean the loss of a legend, but also the loss of answers…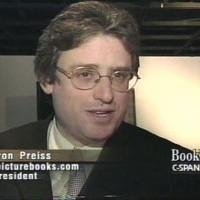 Many people believe that Byron Preiss took the locations of the remaining ten boxes to his grave. However, he was wise enough to leave the responsibility of the game (and its prizes) to his family. So, what was still up for grabs?

Treasures Scattered Across America
As you may have deduced from the two riddles that have been sold, treasure hunters uncover a ceramic casque (which is valuable in its own right) that hides a key. The key is then sent to the author (or his relatives) and exchanged for a valuable gem or stone.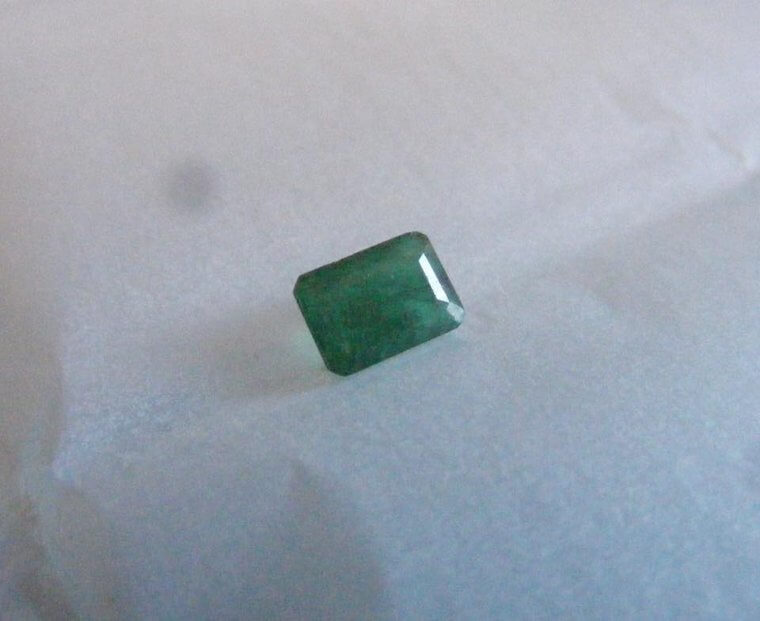 The book says, "Every treasure casque is buried underground, at a depth of no more than three to three and one-half feet. The casques are protected by lustrous transparent boxes and are sealed." Even with Byron's passing, people continue to hunt for the treasures…

A Golden Nugget Among Empty Claims
Over the years, many people have claimed to have solved a riddle or unburied a box. Josh Gates, the host of Expedition Unknown, says that he has received thousands of messages from people professing that they have solved The Secret — but none could prove it. Until one day, a fan sent through a photograph that gave Josh chills.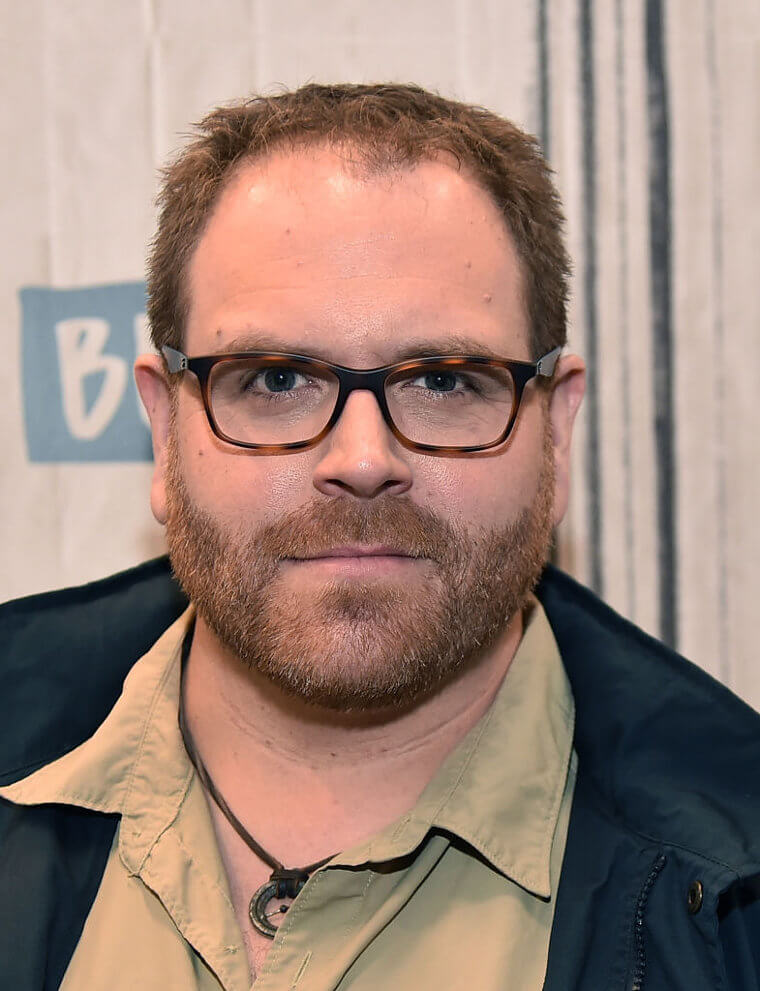 One day in 2019, Josh received a photograph of a broken corner of a ceramic clock face. Josh prides himself on being one of the few people ever to see one of the puzzle boxes in person, and there was no denying the photograph represented one of them. Josh didn't hesitate to jump on a plane and join the investigation.

Josh Gates Raises the Stakes
After learning that the third riddle was on the verge of being solved, Josh Gates rushed to the location and hunted for the fan (and their knowledge). Could they have cracked a code that had remained a puzzle for nearly 40 years?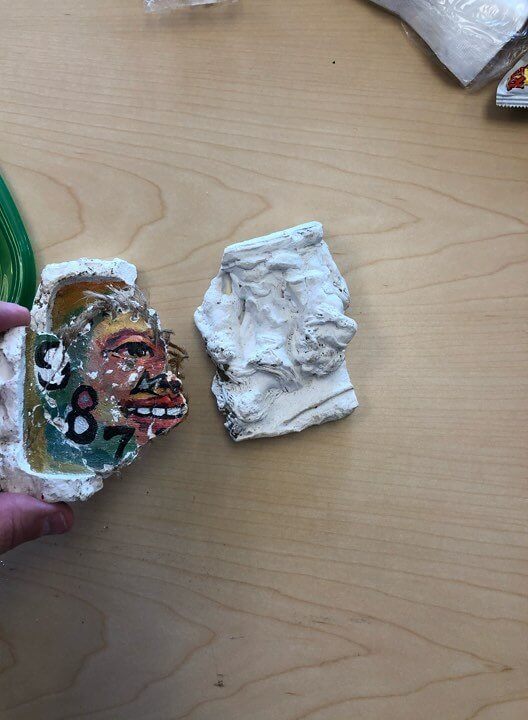 Josh took his production crew and prepared to make a big reveal during a special Expedition Unknown season finale event. After following the story for years, the location of the third box may be at the very end of his fingertips. If the Discovery trailer is anything to go by, then Josh claiming, "You're going down in history books here," is a positive sign of what's to come…

The Discovery of the Third Coveted Puzzle Box
Unlike the other puzzle solvers who went into great detail about how they connected the dots, the third success story is slightly more cryptic. All that we know was featured on Expedition Unknown, which tells us the bones of the story and reveals the excitement of the hunt.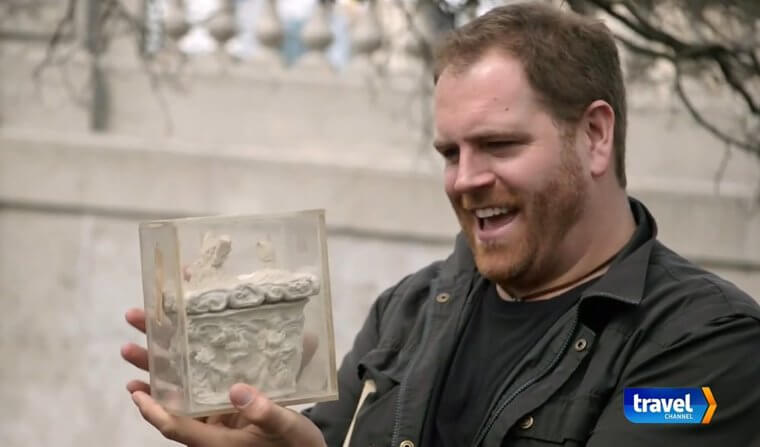 As Josh Gates worked to uncover the mystery, the audience learned that the third box was buried in Boston, Massachusetts. Verse three was matched with painting number 11 to lead treasure hunters to the North End Baseball Field. So, after three successful discoveries — that leaves nine left to find.

Where Are the Possible Future Locations?
Just because the boxes haven't been found doesn't mean people aren't working on finding the locations. Luckily, the book has a few guidelines to help people narrow down the possibilities. For example, treasures are not built in life-threatening locations, such as a dangerous highway embankment, contained area, or activity track. It further explains that no casques are buried in cemeteries, public or private flower beds, or property owned by contributors to the book, their families, or their friends.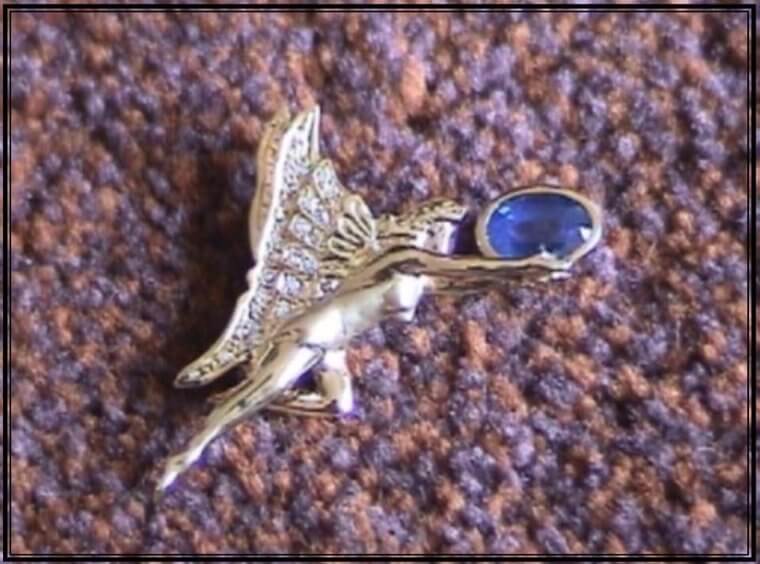 As Andy Abrams said, "In some cases, landscapes have changed, and burial sites have been revamped or reconstructed, like the children's zoo in Houston, so that some of the casques may have been lost forever.  In other cases, natural disasters — such as Hurricane Katrina in New Orleans or other hurricanes that have altered the coastline in Roanoke, NC — may have destroyed the chance to recover certain casques entirely."

Are You Willing To Tackle the Challenge?
The Secret treasure hunt began in 1982, and despite decades passing by, only three casques have been uncovered. The author and creator of the riveting challenge have passed away, but his legend and alluring status continue to live on as people still hunt for the nine remaining casques.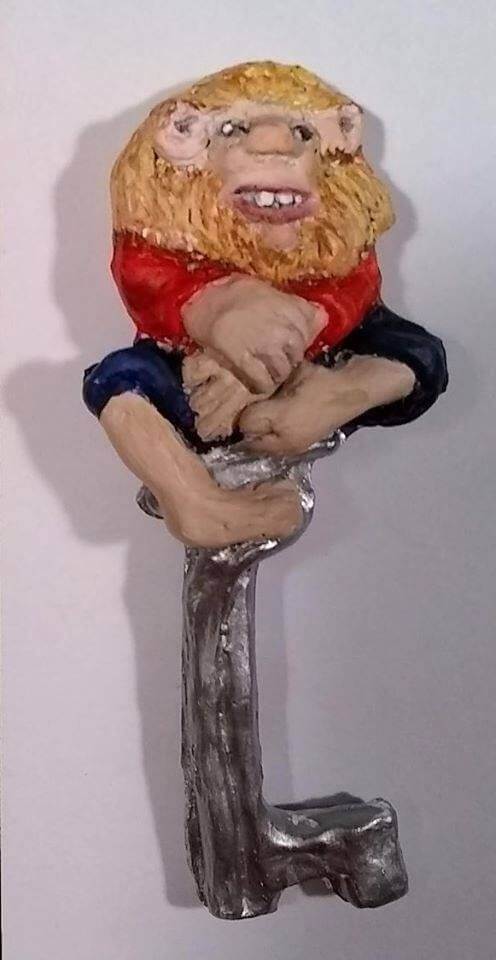 Some likely locations include San Francisco in California, Charleston in South Carolina, and New Orleans in Louisiana.  A thriving community of puzzle hunters has tried to connect verses and images, and The Secret continues to captivate people today. If you consider yourself an expert at riddles, perhaps you may earn a treasure (or two) yourself!

Times When People Found Treasure Where You Would Never Expect It to Be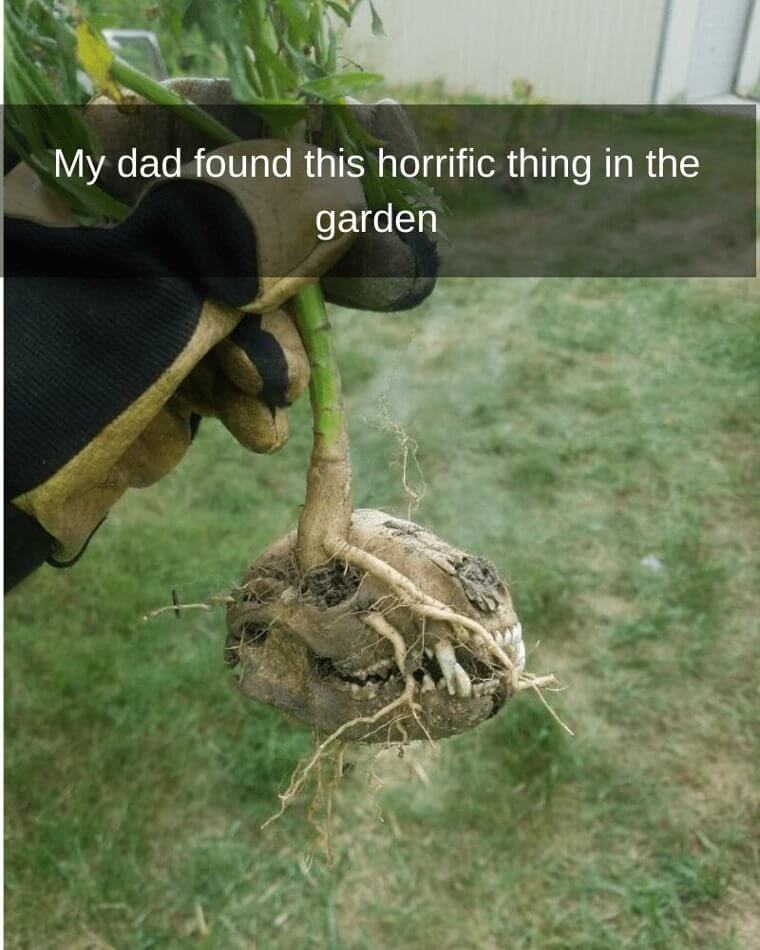 Skull Gardens
When you tinker in your garden, you might want to pray you don't come across this little treasure. It's beyond creepy, and it's likely to give your grandad a heart attack if he's the one who happens upon it.
But it's not that sinister or evil, all things considered. Animals die, and they sometimes die in the garden. Over time, a plant will grow its way around it. That's the way of the world. this looks like it may be some canine that met its end in the garden. Still creepy, though.  

Bog Treasures
This good samaritan found many valuable goodies when he went scuba diving in the bog. It's an odd context to find valuables, but not implausible. Among the treasures was a wedding ring worth $5000. In such a circumstance, no one would blame the diver for cashing in on the find.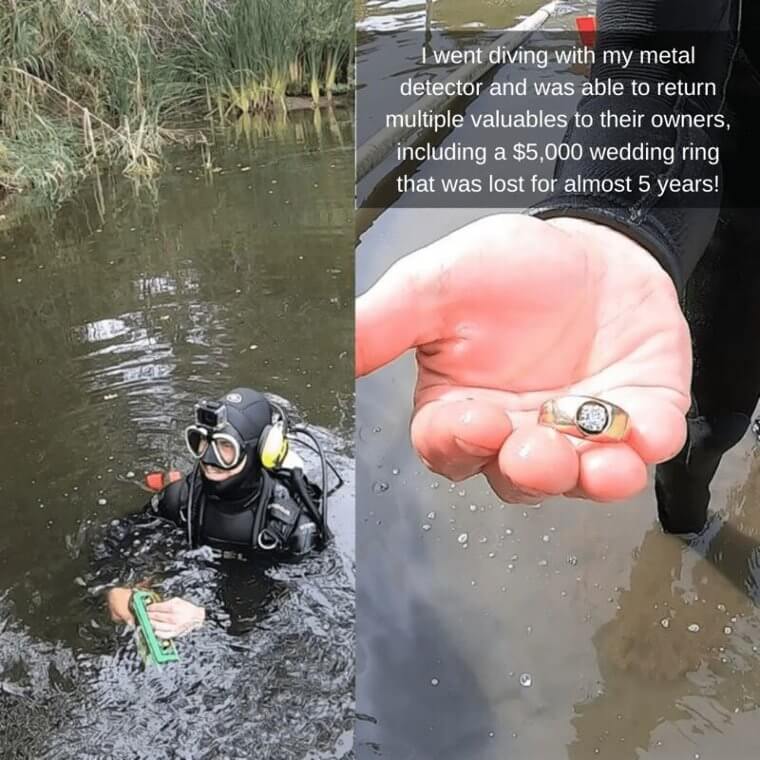 But there are still good people in the world. This diver decided he'd do his best to return the treasures to their respective owners. According to reports, he was largely successful - our hero.
Precious Stones
What's better than hard work? Blind luck. That's what this incident is all about. When digging for precious stones and the like, your chances are small, to begin with. But just when you think it's all a waste of time, you might get lucky.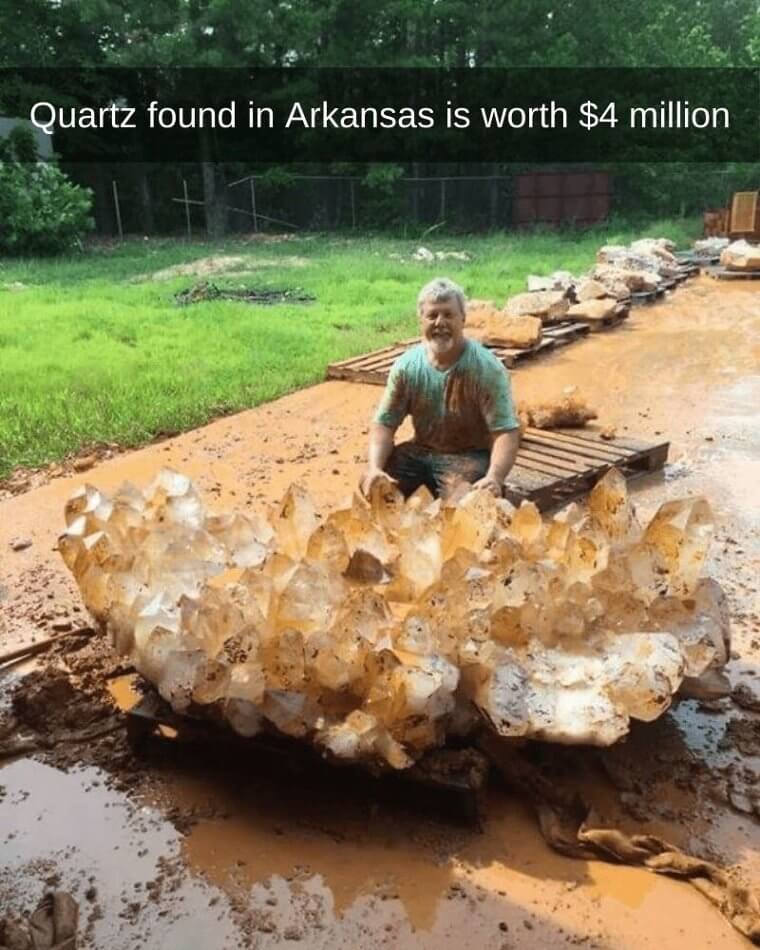 This chap kept going just long enough to discover a large piece of quartz. As it happens, it was REALLY large and was valued at a little over $4 million. Talk about a jackpot!
The People Under the Stairs
Let's blow your mind: Does your home have a secret room? How would you know if it did? These fine folks bought a new home and lived in it for a while before discovering that there was a hidden annexure in the house.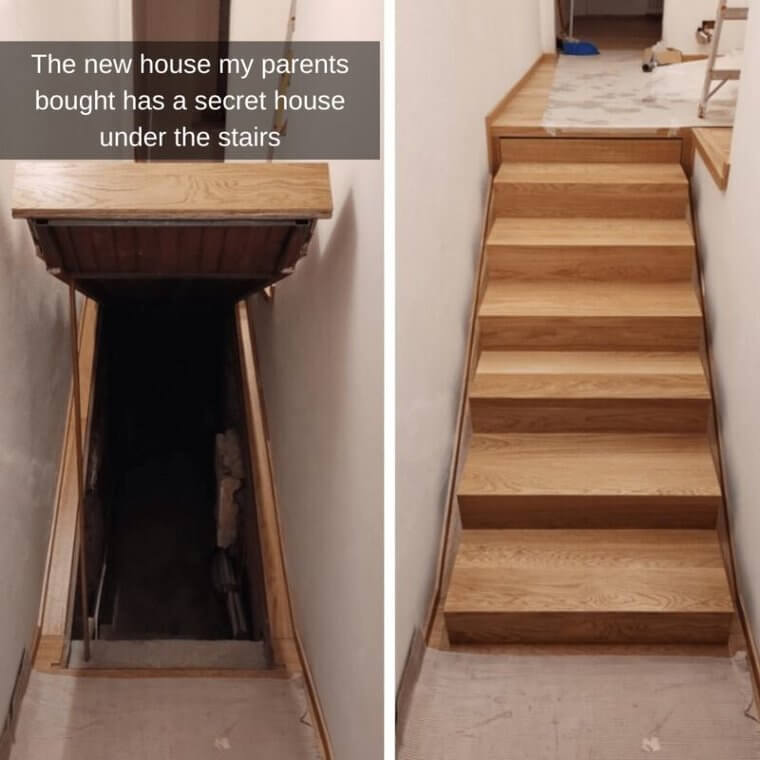 Cunningly hidden under the stairs, the secret room will undoubtedly be used for nefarious purposes. Or perhaps we're thinking the worst here. Maybe it will be used for something innocent like storage. It seems a waste, though.
Blues Traveler
Some items are just exceptional for where they've been and the history they've been a part of. In many cases, there's a romance attached to musical instruments in particular. When those instruments display their travel history, it makes for a fine collector's item.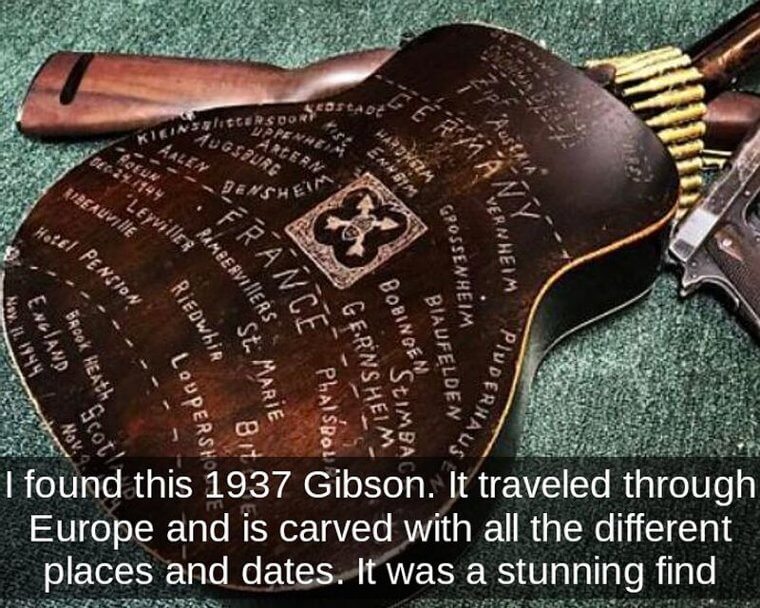 A 1937 Gibson guitar is a good find for an instrument collector. But this one was extra special because, throughout its life, people had inscribed it with places and dates it had been. Seems a shame to want to put it in a display case now. Beautiful.
Trash Nets
Innovation, when truly thoughtful, is worth its weight in gold. Or its weight in the trash, as this example, demonstrates. In the Netherlands, there is a massive culture of bicycling. Someone was bothered by the notion of having to stop every time they needed to discard trash.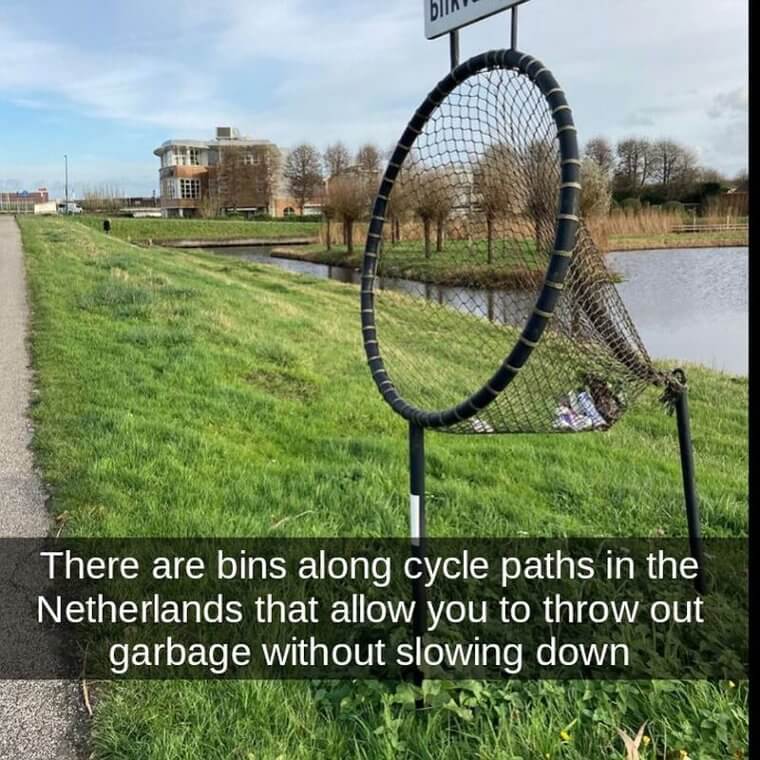 So they got inventive and designed a method for disposing of trash without slowing down and getting off your bike. In some places in the Netherlands now, you'll find these funky nets standing ready to catch your garbage as you cycle by.
Elementary, My Dear Currency
Novelty coins are treasured by collectors, who go to great lengths to keep their collections safe. Rare coins are therefore hard to come by in general public spaces. They are somehow even better when they celebrate popular culture touchstones.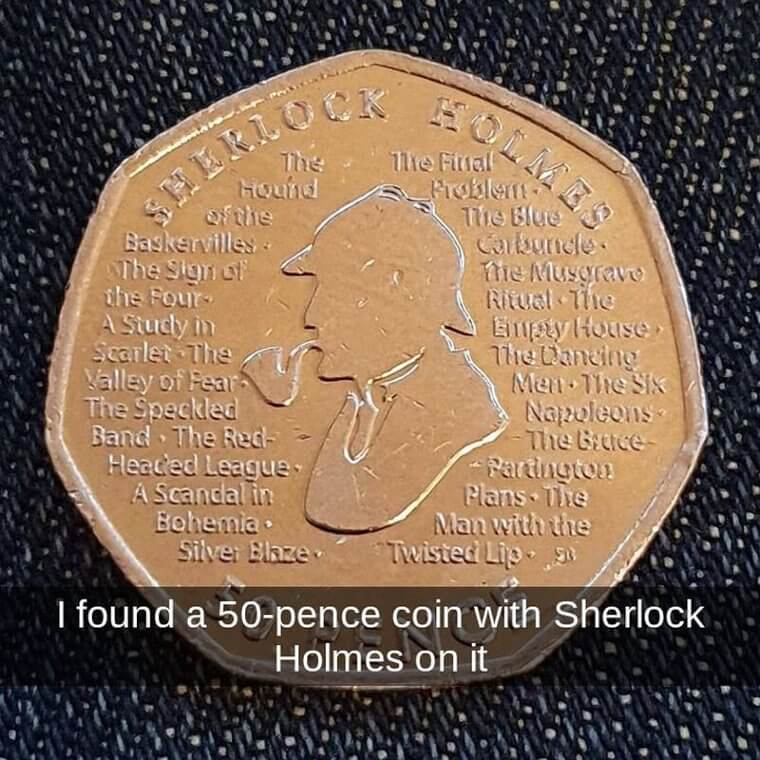 It must surely be a thrill when a coin collector finds something as interesting and rare as this. It's a tribute to Sir Arthur Conan Doyle's famous fictitious detective and probably worth a lot more than its 50p face value.

The Van Gogh Tree
Dutch artist Vincent Van Gogh's paintings are highly treasured. They display the maestro's unique techniques and talent and often sell for millions of dollars. What a surprise it must be to find those amazing patterns in nature. 

This tree was discovered to contain all the wonderful swirls and patterns of a Van Gogh painting. The oak was no doubt photographed many times since its discovery, but it's unclear whether pieces of it might sell for as much as a Van Gogh original.
Painting in the Woods
Sometimes, you want to go for a walk in your nearby forest. You enjoy nature, and the fresh air invigorates the senses so that few other things can. So what happens if you happen to be meandering along with one of those trails and you happen across this scene?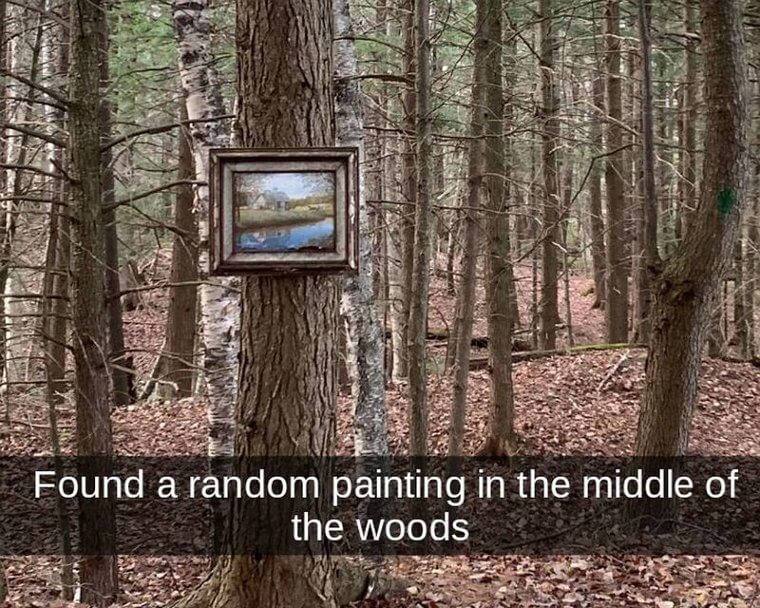 This is a painting. It is mounted on a tree in the woods. The imagination runs wild: Why is this painting here? Who put it here? What does it all mean? The possibilities are so endless that we're not even going to try to explore them.
Vintage Revelations
If your grandparents' house happens to have lots of old books lying around, you may be rewarded for being curious. Take a few moments (or days) to flip through those ancient times, and you may find some unexpected treasures.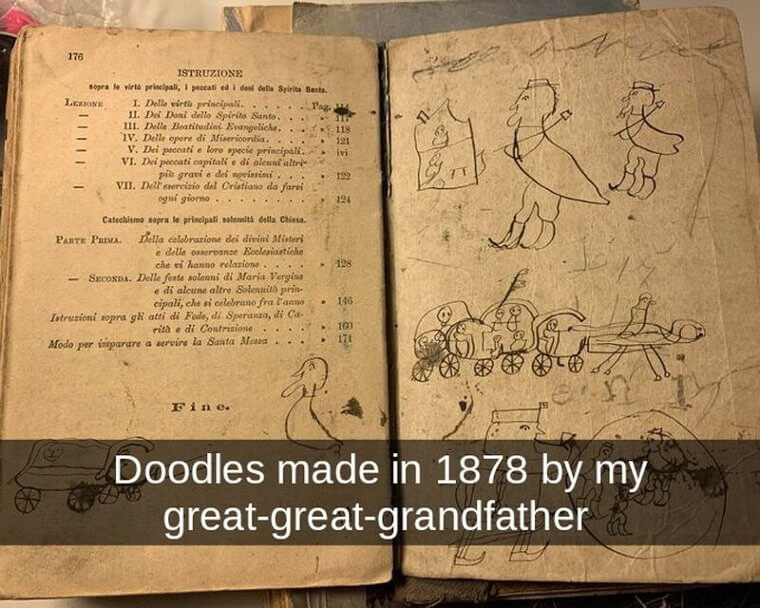 This curious Nellie found a lot of scribblings made by an ancestor. This is undoubtedly a fascinating window into a previous era, not to mention a life. It's also genuinely astonishing to think this book is still in your family's possession.
The View From Above
You may be used to walking around town and recognizing the buildings you regularly pass. The chances are that you're not as familiar with what the city looks like from above. In this case, you'd be in for a treat.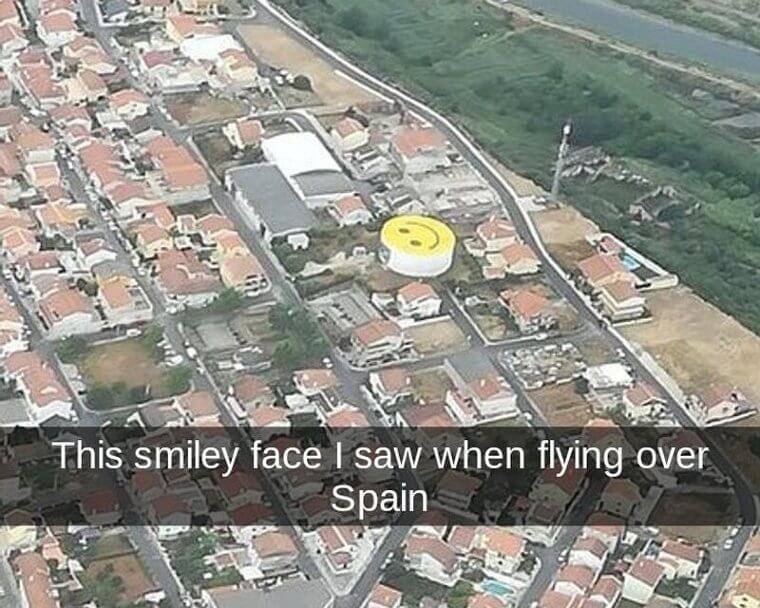 This town in Spain has a unique quality. Someone decided to decorate their roof in a way that would give anyone overhead a lift for the day. Yes, that's a smiley face, and now you're smiling, too. We wish more buildings would be decorated in such ways.
Back To The 50s
For some people, uncovering a box of old magazines is genuinely a glorious find. What could be more interesting than finding out what was on people's minds all those years ago? It becomes a window into the past and possibly offers insight into the present and future.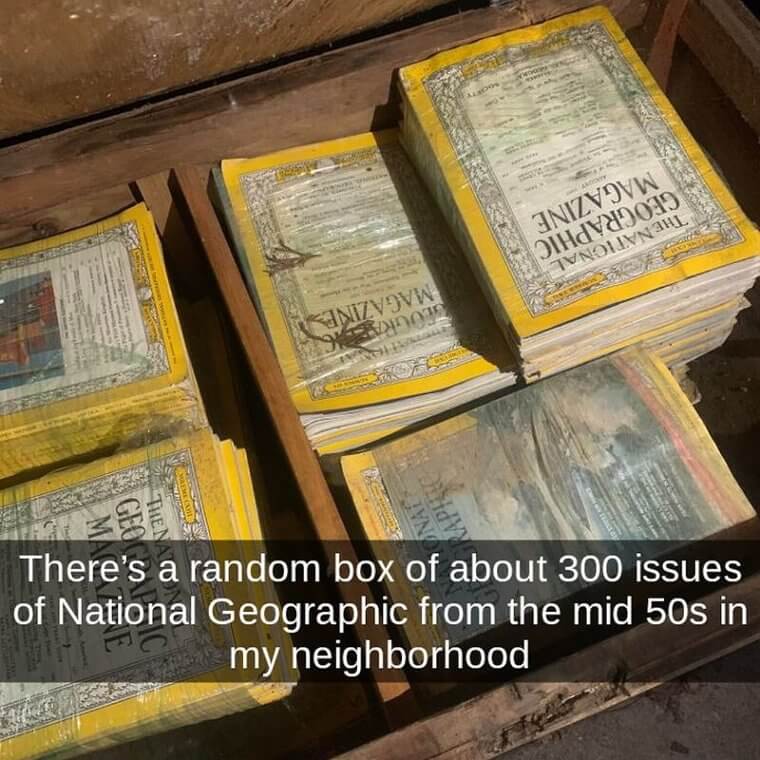 This "random" box of national geographic books from the 50s can also reveal much about our current state. For example, the nature articles back then may have been far more optimistic than those of the modern age. At least, you might be able to show your kids what the world used to look like.


Out of Place
These people were walking the dogs when they came across an odd object on their path. They found a sea urchin, which in itself was unusual and exciting. But what blew their minds was how they could see it in the first place.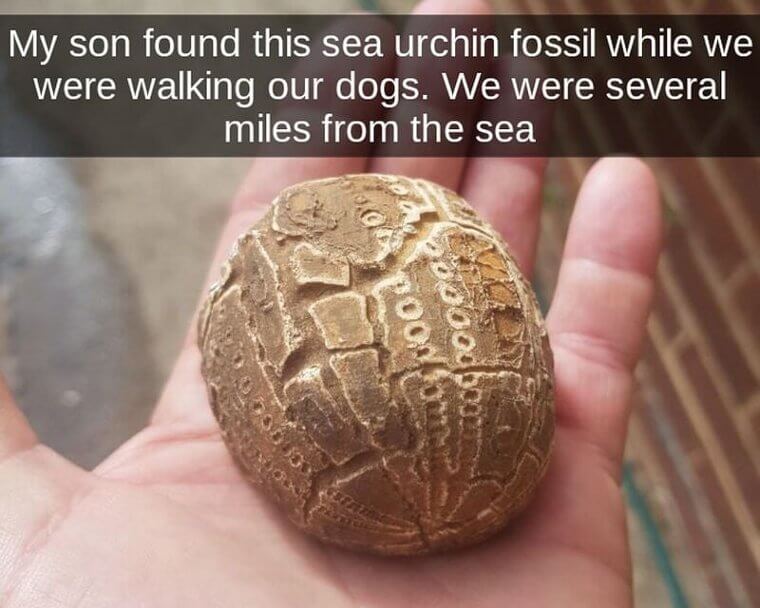 You see, they happened to be several miles from the ocean. So the questions begin to circulate: How did it get there? It's entirely possible that someone brought it and dropped it there… but perhaps this is an opportunity to let your imagination run wild.
Fashionable Web
You just need to look around you to observe the wonders of nature. Just walking outside on a random day can present visual gifts like this. One morning, this was the scene when this person went out and discovered spider webs all around their garden decorations.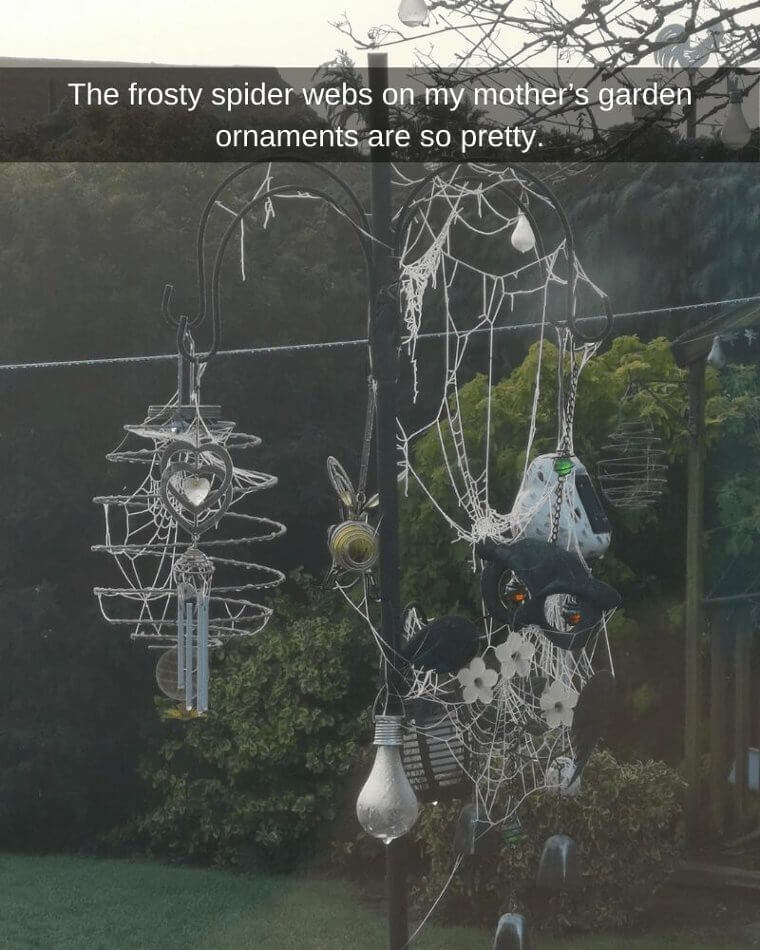 Of course, the wintry setting added its charm, highlighting the gorgeous patterns of the webs against the sunlight. They look so surreal, anyone would be forgiven for thinking they were Halloween decorations. But the frost upon the webs is just too beautiful to not preserve in pictures.
Time Traveling Cat
We see a cat sitting in front of cross-stitch in this picture. The cross-stitch in question is of a cat. It's a cute picture because it looks like the cat is showing off a cross-stitch of itself. But there's a bizarre aspect to this image.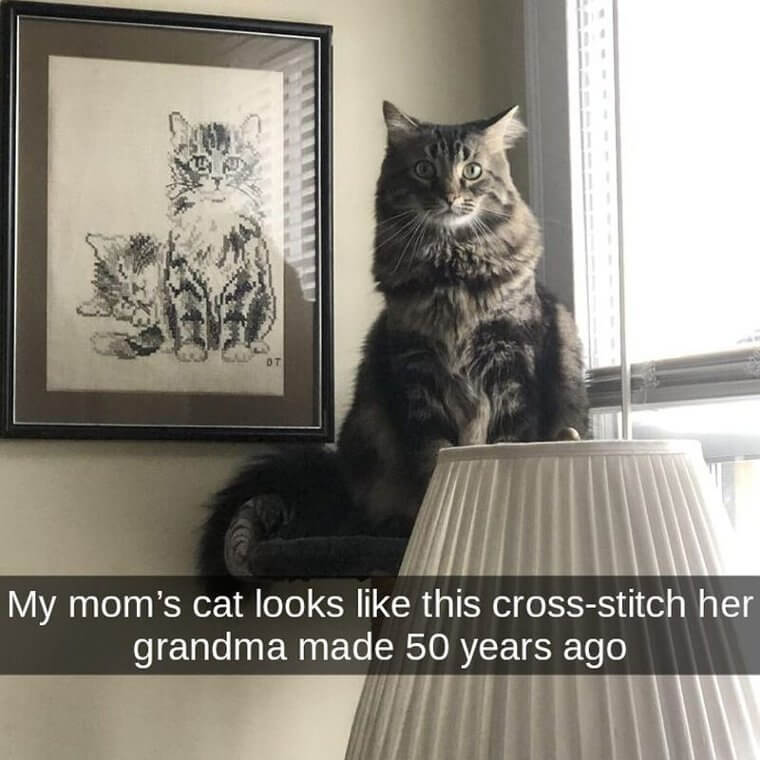 This person's grandma made the cross stitch in question some 50 years ago. It's an amazing coincidence that the cat that lives in the house today looks exactly like the one their grandma had in mind. Unless, of course, this is a time-traveling cat.
Tankard of Destiny
One day, while moving, this person happened across an old tankard in a box. They subsequently discovered that the tankard used to belong to an ancestor. As best as anyone could trace, they dated the mug back to 1753. 
Wow! What a family treasure to uncover. Back in those days, a tankard was used for drinking - in most cases, ale or beer. This one looks silver, which was common for the time. If indeed it belonged to his great-great-great grandma (by whichever degree), it's a piece of family history worth preserving. 
Canadian Invasion Iminent
A funny incident happened on the way to the pub in Filton. It was while they were painting the center lines in the street, based on the evidence presented. A maple leaf found its way into the road as the paint vehicle was going by, and the result was hilarious.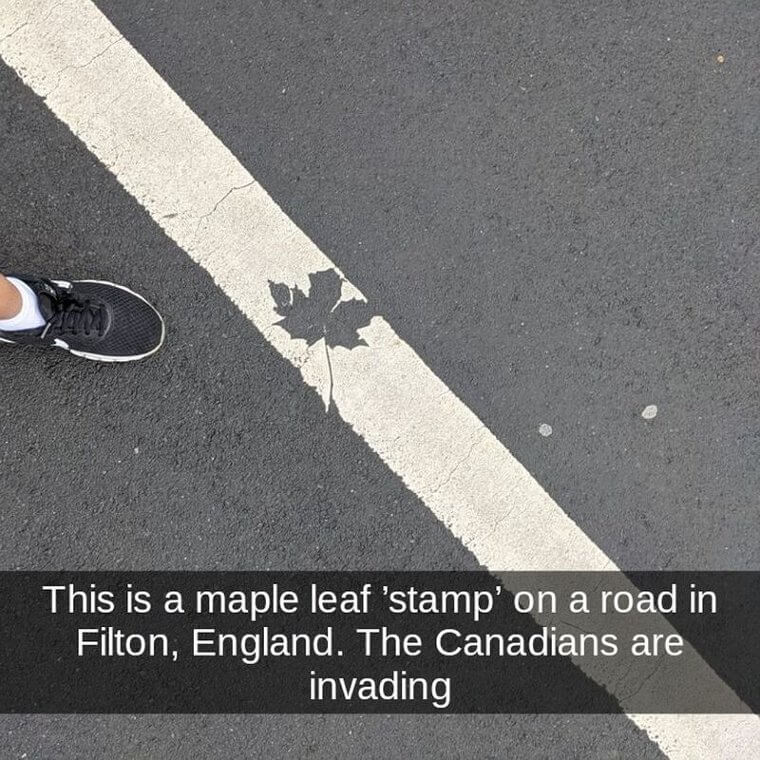 While it's undoubtedly a source for a chuckle every time you drive past, yan imaginative kid might make up a great mostly about it. Maybe the Canadians are secretly among us, spreading their maple leaves. Perhaps we should consider patterning all our road markings. That would certainly make things a little prettier.
Old Crayons
It's estimated that the crayon as we know it now was first produced in the early 1900s. Crayola crayons, in particular, date to 1903, when the first box of those crayons was issued for use by "young artists."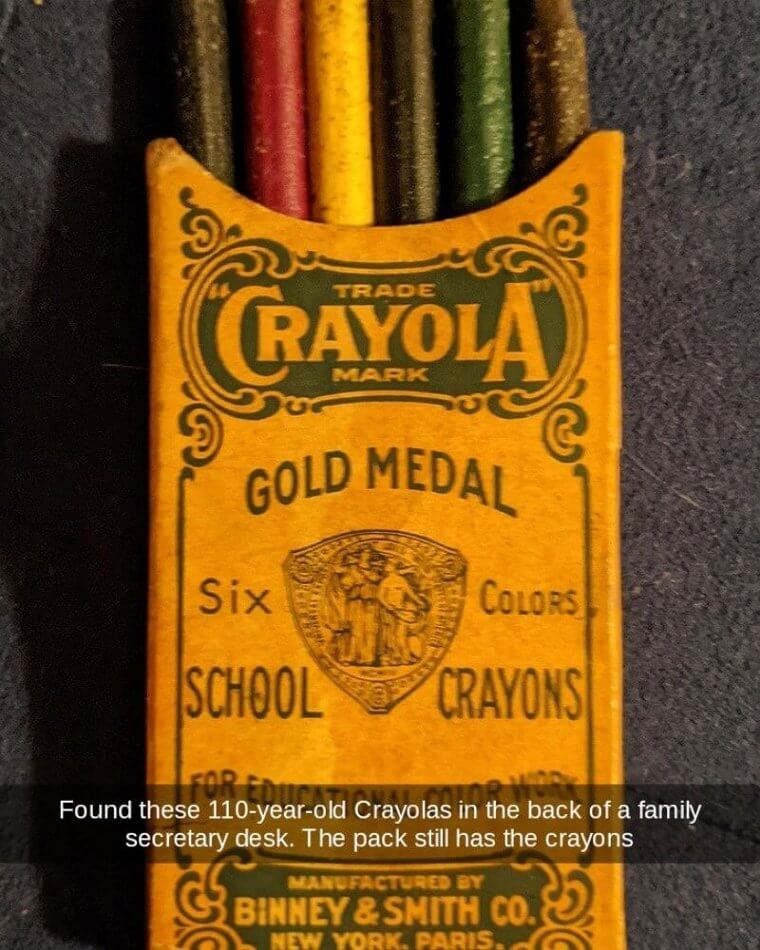 What's remarkable about the vintage box of crayons found by this lucky bug is that they were still in perfect shape. Perhaps it's a testament to their durability and quality; maybe they were simply stored in a cool, dry place, as recommended. Nonetheless - the question now is whether one uses them or preserves them.
The Mini Globe
Leave something out in the wild of nature long enough, and nature will find a way to put it to use. That's the principle on display here. A simple glass ball had been left on a beach for a while when a casual stroller found it and took a closer look.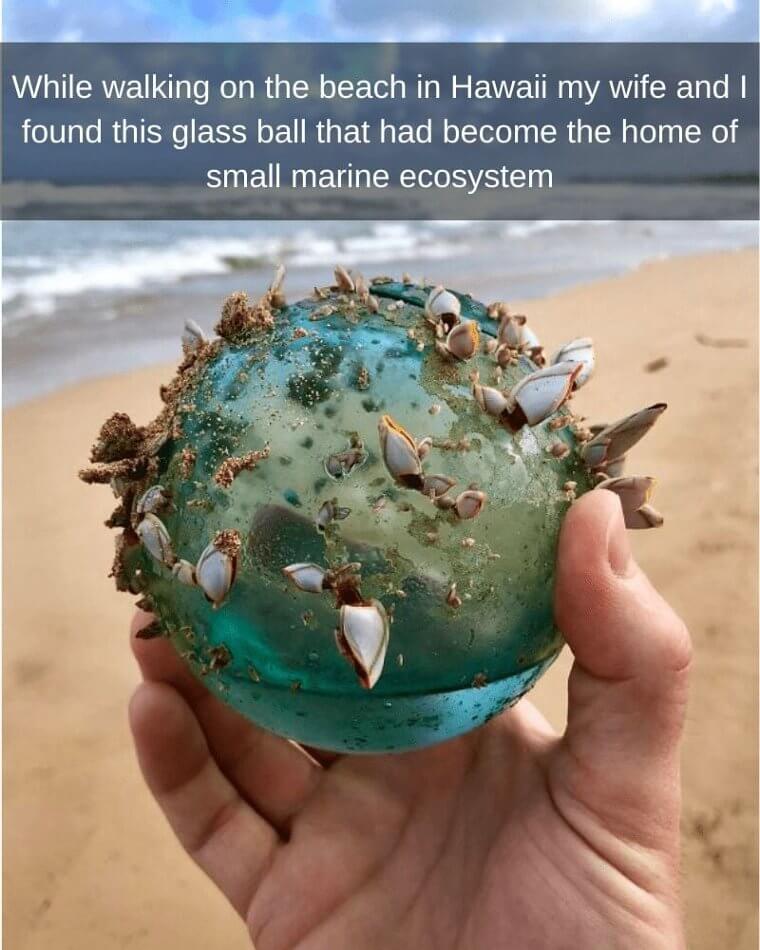 True to the principle mentioned above, lots of marine life had attached itself in one way or another. Within and without, sea snails, plankton, and other life had contributed to what looks like a cute little mini planet, complete with a blue water-based ecosystem.
Words From Another Era
Imagine tapping into someone's thoughts from 80 years ago. What would someone living through the 1940s be documenting in their journal? What would their thoughts be on world events like World War II, dating, and work?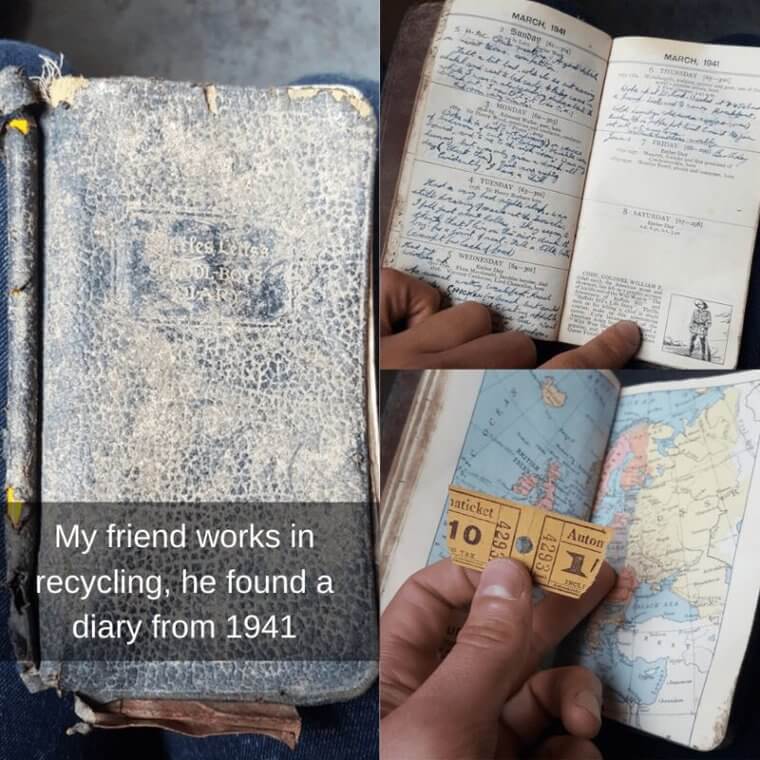 It would be hard to resist paging through such a diary, as this person discovered when they found a journal from the 1940s. Weirdly, they found it in a recycling project, which means that someone had discarded it. One person's recycling could well be another person's treasure.

Does a Bear Live in the Woods?
By "bear," we mean a famous one named Winnie. It's entirely possible that this person stumbled upon the secret entrance to a very renowned home. In which case, this is the Hundred Acre Wood! There are w few other possibilities.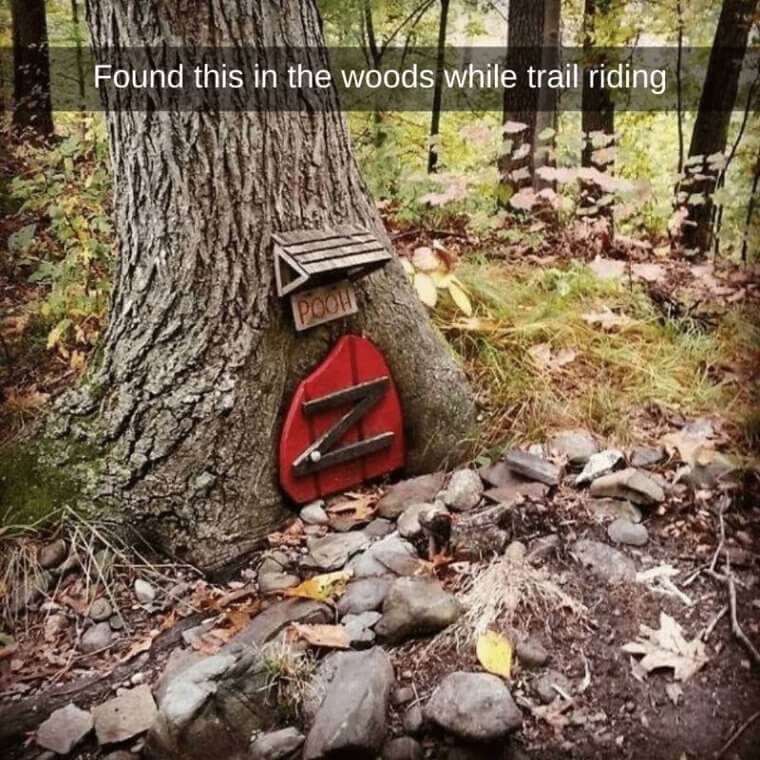 Maybe this person just stumbled across a loving parent's attempt to amuse their kids. Maybe this is just a bit of fun by a local A.A. Milne fan. Perhaps this trail rider sampled some mushrooms they had found along the path earlier.
Message in a Bottle
Yes, the phrase is so common that it's practically a cliche. But history tells us that it used to be a thing, especially in the early days of ocean travel. It would be surprising to find one of these today, and when you do, it is.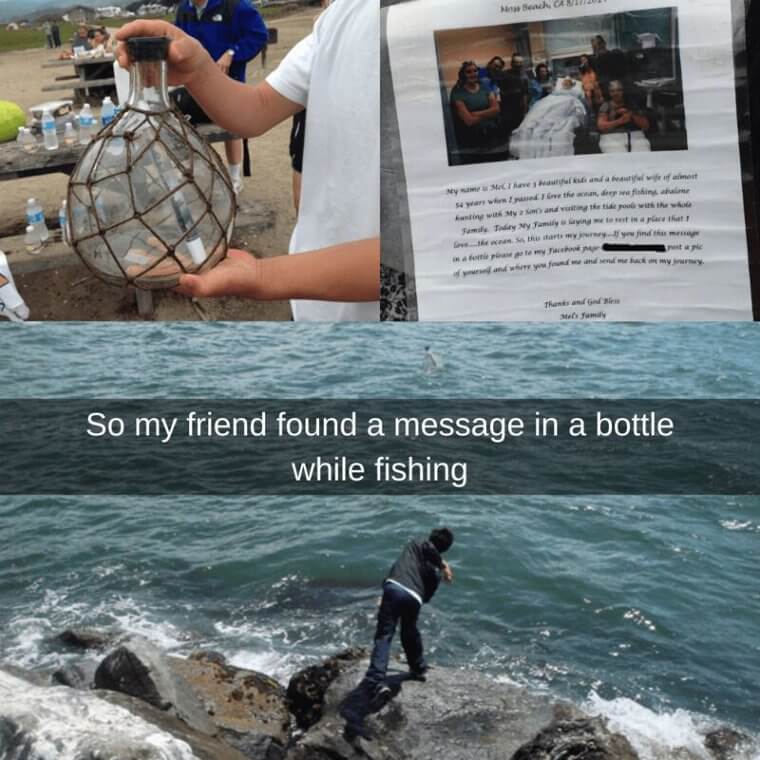 In this case, it seems more like an act done out of pure interest. The message contained within the bottle was neatly typed and included a picture. Perhaps this person just wanted to see where the bottle would end up.
Hutch Hutch Hota Hai!
The phrase and title of a hit Bollywood film Kuch Kuch Hota Hai! It translates to "something happens." The phrase is applicable when you discover an entire hutch of newborn rabbits in your garden.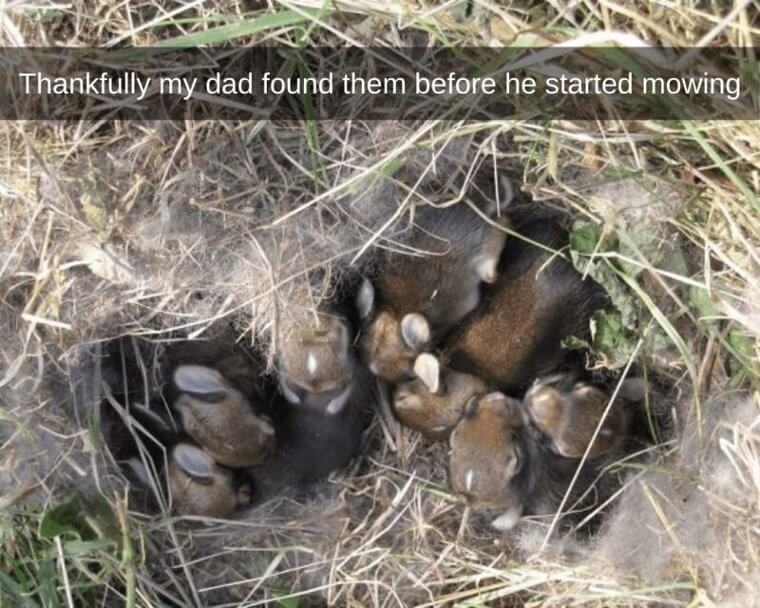 The discovery may come with many complications - like whether you should leave them alone or risk letting your dogs and cats find them? Perhaps you should have them removed before anything happens to them. But, most importantly,  can you resist the cuteness?
One Green Bottle
Much like the glass orb mentioned previously on this list, this bottle displayed what nature can do when given a chance. It seems that someone had dropped the bottle along a trail at one point. Over time, nature took its course.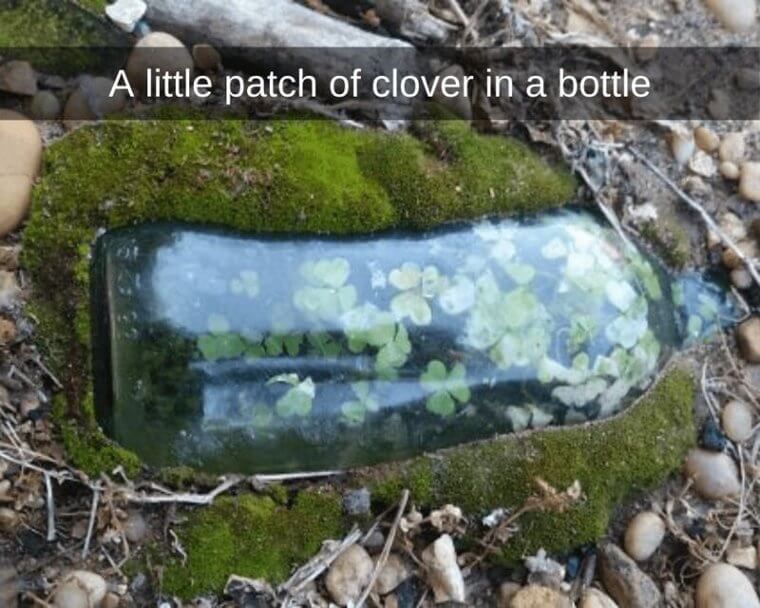 When this hiker discovered the bottle sometime later, they were delighted to see a bunch of clovers had started growing inside it. Consider it a bottle of luck, if you will. Regardless, it's a beautiful case of natural beauty surrounding a manufactured item.
Squid Game
This discovery feels like it would be a rare find (more unlikely than others on this list). But it would be so much more rewarding, especially for a kid who develops an interest in biological science - or science fiction.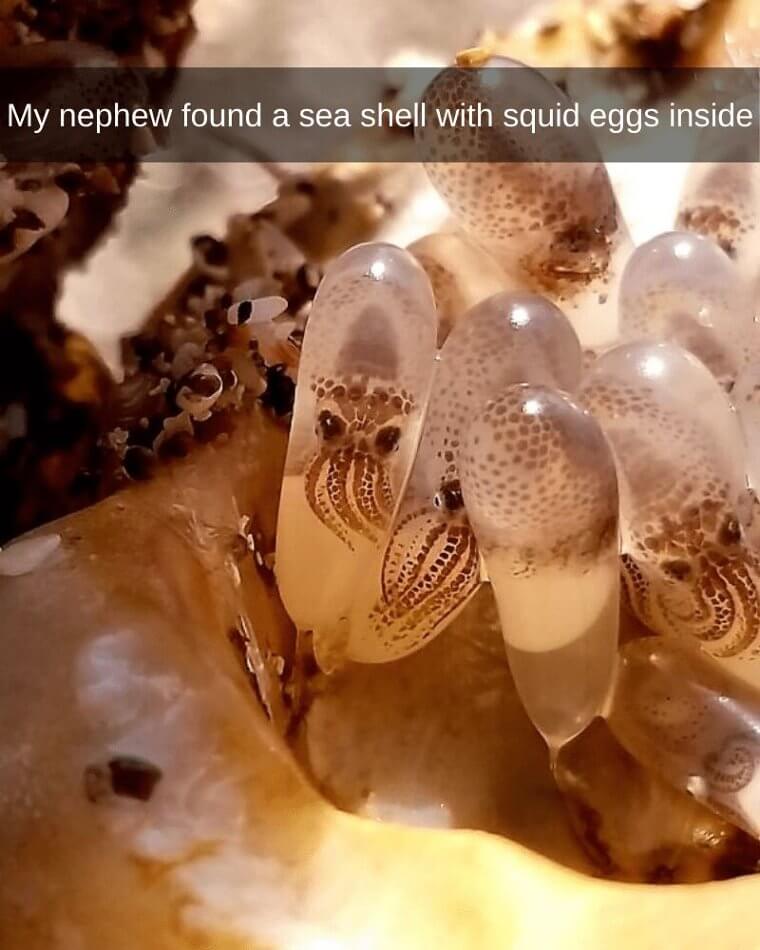 We had no idea that a baby squid was so adorable. Look at those "faces"! They resemble awkward aliens discovering humans for the first time. Kudos to the nephew who found these and had the good sense to see their beauty.
Money Pit
It's perfectly reasonable to assume that many old treasures lie in wait under ancient cities, especially in Europe. A construction project in any part of an old city might well uncover odds and ends perfect for life in a museum.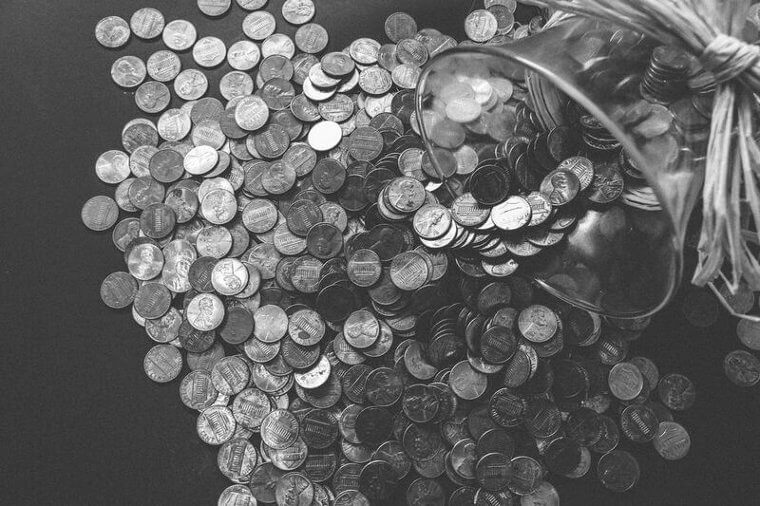 These coins are said to date back to the fourth century. They were discovered in old water pipes. Perhaps this is the natural result of people throwing coins in fountains, as many do in European cities.
Rock and Rolled
Stones, rocks, and pebbles are plentiful and hardly a thing of curious interest. But when you happen across a pebble like this, you need to give it more than just a second glance. Look at it! It's geometrically perfect!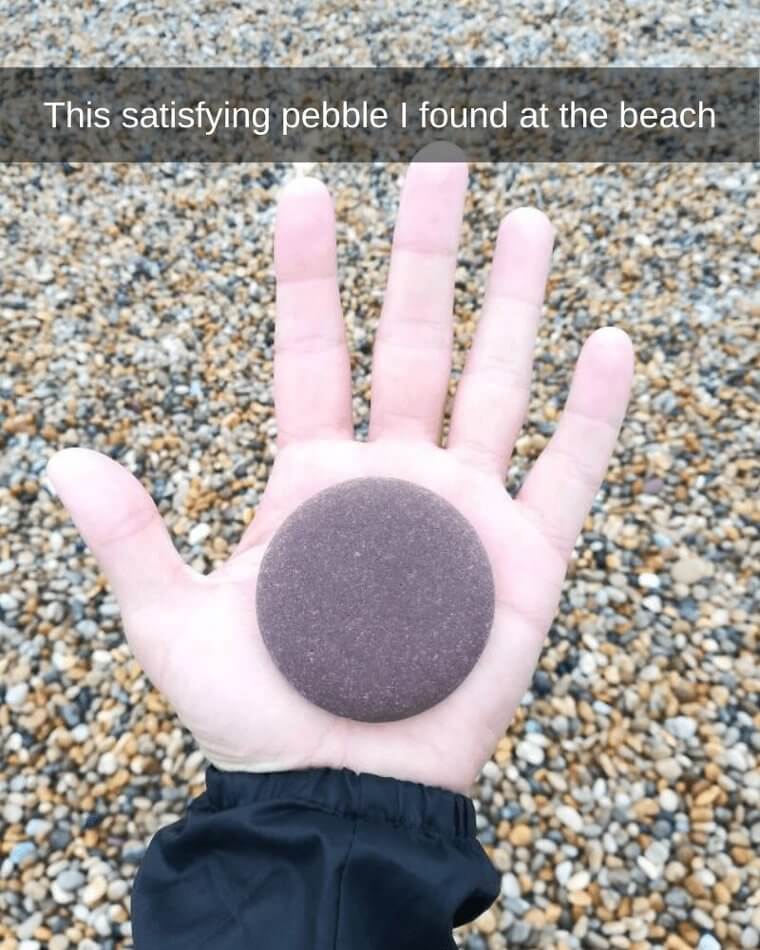 Nature is indeed remarkable. Even with that knowledge, discovering something this amazing is well worth a photo, a social media post, and even a permanent spot on the mantle back home. The poster called it "satisfying" - ironically, that feels like an unsatisfactory way to describe this kind of perfection.
Bird In a Tea
If anyone knows what tea brand attaches little origami birds to their teabags… please let everyone know. This is a tea company that values tea for what it is - one of nature's great gifts to humankind.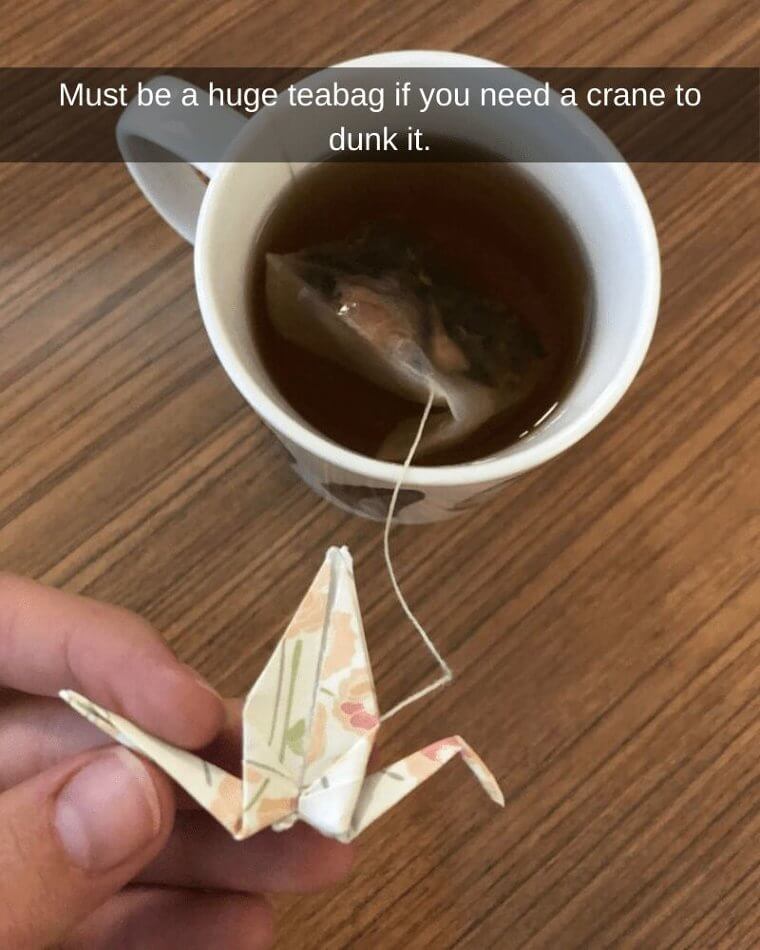 It seems elaborate, sure, but it's also one thing that makes you appreciate the love and care that went into such a small thing - a cup of tea. Few things will enrich your life if sipping on this cup of joy doesn't.
The Light Fantastic
It may just be a trick of the light, but it makes you stop for a moment and appreciate the beauty all around you. This door looks like it's enchanted. Does it make you want to go in?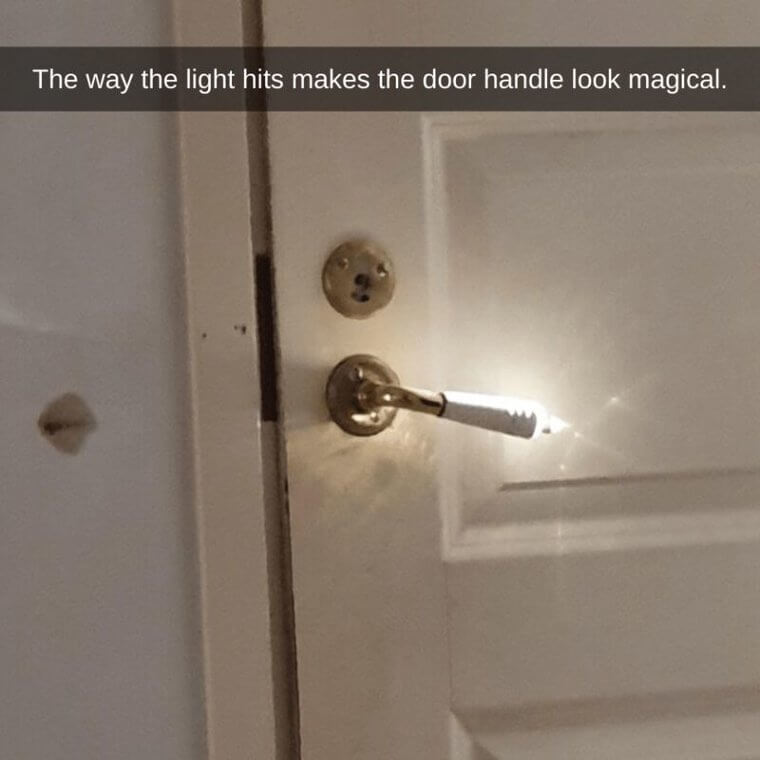 The discovery of such a fantastic little scene makes us want to look more closely at other everyday things. There are likely more little miracles of beauty that only need to be looked for to be seen.
There's An App For That
This is a novel item found by chance. An enamel pin that is designed to look like a vintage-era app. Specifically, it's made to look like Windows 95's Paint tool, which, for the benefit of younger readers, was a thing your dad knows about.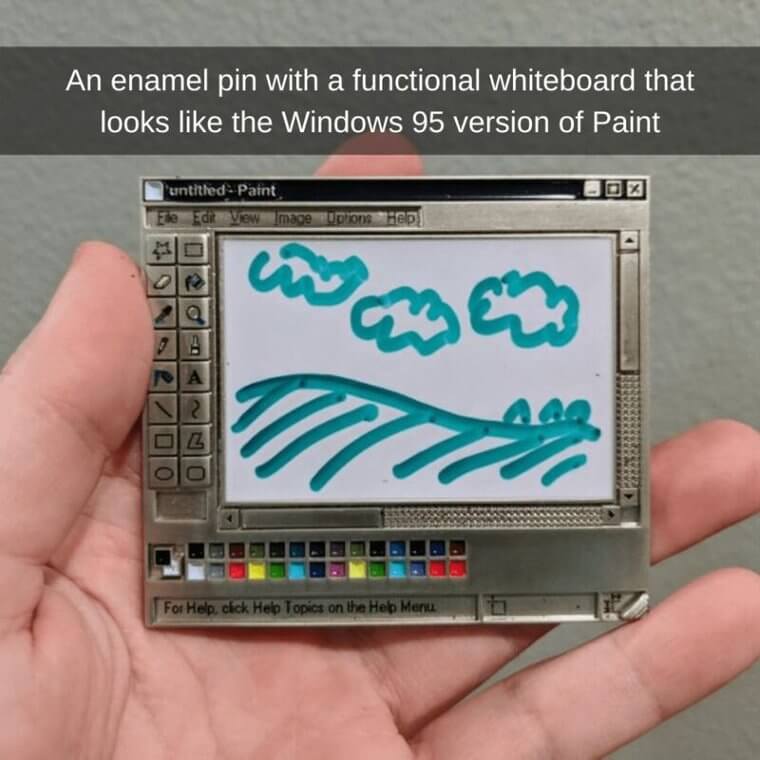 Perhaps it's a bit of fun for older computer users, mostly. But it's nonetheless a fun find and probably quite a good conversation starter. The kicker is a little whiteboard that allows you to draw whatever you like on it.
Iconic Re-Enactment
A truck driver was such a fan of the classic Pixar film Toy Story that they decided to attach a couple of figures from the movie to their bumper. Fans of the film will recognize the scene, of course.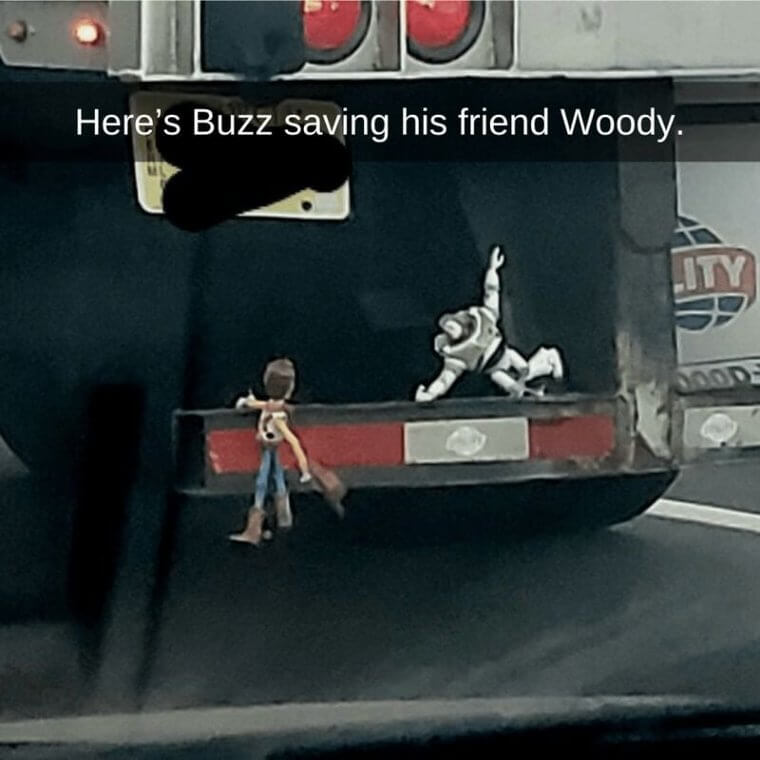 As Buzz and Woody are out there, helping each other keep up with the pursuit, it's impossible to want to snap a pic. Thanks to this truck driver for brightening up our day with a fond memory from childhood.