In 2013, a new athlete burst onto the international gymnastics scene and wowed spectators around the world. Many years later and she's still taking people's breath away with her unrivaled abilities. But more recently her name has appeared in headlines - and it hasn't been very flattering. Now the most decorated athlete in American gymnastics history, she has overcome adversity and abuse to consistently break new ground in an incredibly demanding and competitive sport. After quitting all competitions during her second Olympic Games in Tokyo 2020, it is time to uncover the dramatic highs and lows in Simone Biles' career so far. Find out what Simone has been hiding from the public until now...
It All Started Thanks to a Field Trip
Simone Biles is one of four children who were taken into foster care at a young age when their mother struggled with addiction. The two older siblings were eventually adopted by their aunt and uncle, while Simone and her younger sister, Adria, were adopted by their grandparents.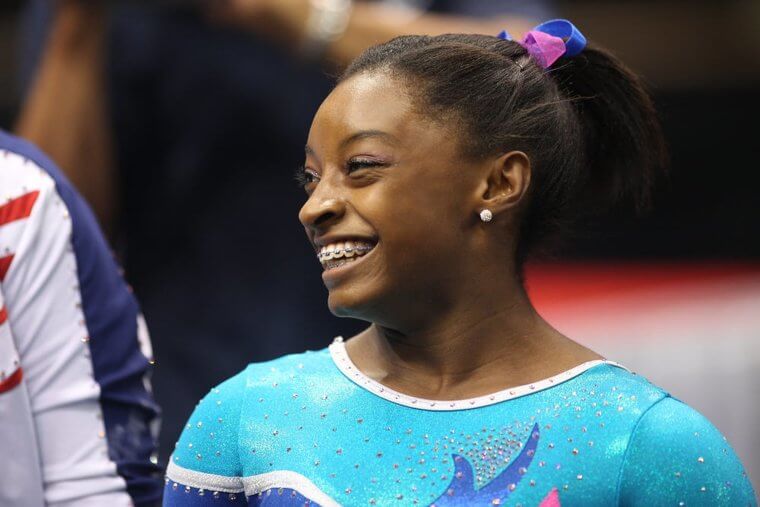 It was while in the care of her grandparents that Simone Biles was taken on a daycare field trip to a local gym. There, the six-year-old saw older girls doing gymnastic routines and immediately wanted to join in. She was fearless and was quickly teaching herself to do backflips off mailboxes. Soon after the gym visit, she began training.

Learning Together
About a year after she began training, Simone Biles was noticed by a coach named Aimee Boorman. Even though the gymnastics coach had never trained an elite athlete before, she was so impressed by what she saw as Biles' natural talent that she couldn't let the opportunity pass.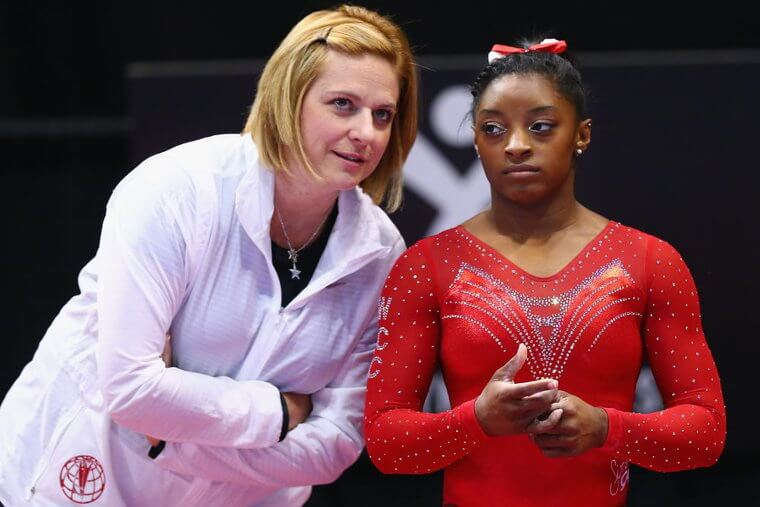 The pair began working together when Biles was eight years old and remained together until 2017. Biles never worried about her coach's lack of experience, in fact, she was grateful for it. "It was a learning process together," she told NBC when describing how they had worked so well from the start.
Competitive Debut
Simone Biles made her senior competitive debut at the age of 16 in the 2013 American Cup as a replacement to cover injuries. Just over six months later she earned her first World Championship gold medal and her second.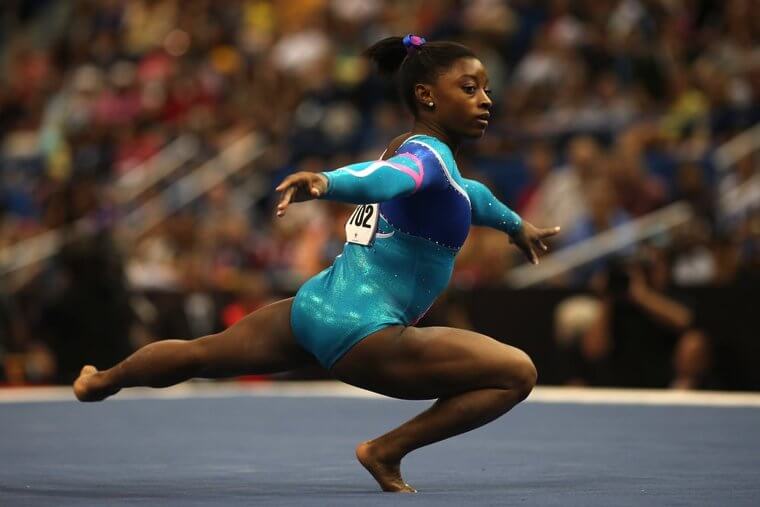 In Antwerp, Belgium, Biles became the first African-American to win the all-around gold medal. She also took a second gold in the floor exercise, silver in the vault, and bronze for the balance beam. The US squad took the team gold too. The phenomenal career of Simone Biles began to take shape.
Bee Attack
In 2014, the World Championships was moved to the Chinese city of Nanning, and Simone Biles' place on the squad was secure. Again, the USA took the team gold in gymnastics. Biles also replicated her 2013 success by taking the all-around and floor exercise golds and silver in the vault, but this time she added a new gold to her tally when she upgraded her performance on the balance beam.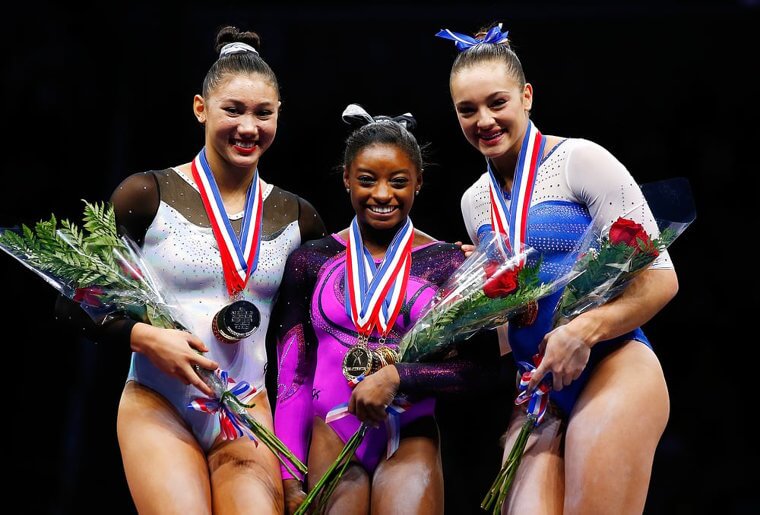 Not everything went smoothly for Biles that year, however. When on the podium receiving one of her gold medals, one of the other medalists spotted a bee in Biles' bouquet. The young athlete immediately jumped off the podium in an attempt to elude the fearsome flying beast.
Notable Firsts
In 2015, Team USA came to Glasgow in Scotland and took their third World Championship team gold in a row. Biles also traveled in hope of becoming the first female athlete ever to win three consecutive all-around golds. Despite an under-par performance in the final, in which she had issues on both the vault and the balance beam, she achieved that goal.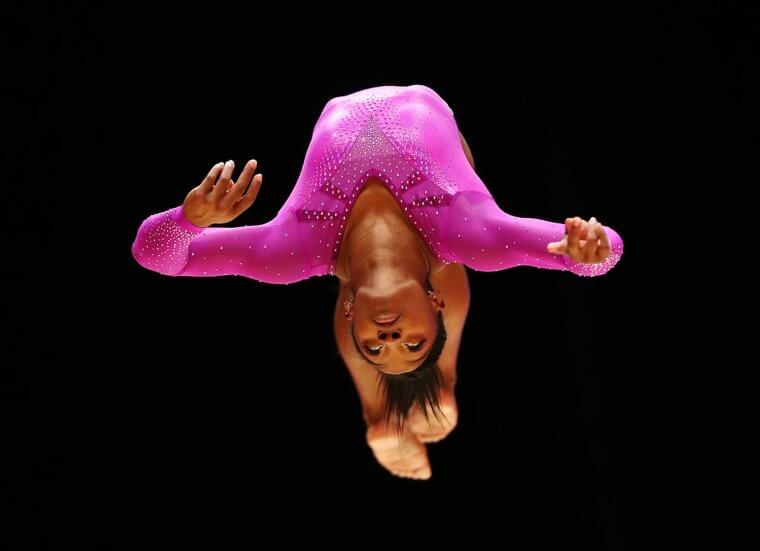 Biles also added new golds to her collection for floor exercise and balance beam events, and this time took gold in the vault. There was another gymnastics first Biles claimed to have taken at the event too. In her vault final, she leaped hard and found herself landing out of bounds, something she argued had never been done before.
A Gold Standard Olympian
After three years of senior competition, and more than a decade of training, Simone Biles was selected for Team USA at her first Olympic Games. The tiny athlete was one of 264 men and 291 women who made their way to Rio hopeful of coming home with one of the greatest honors in athletics, an Olympic medal.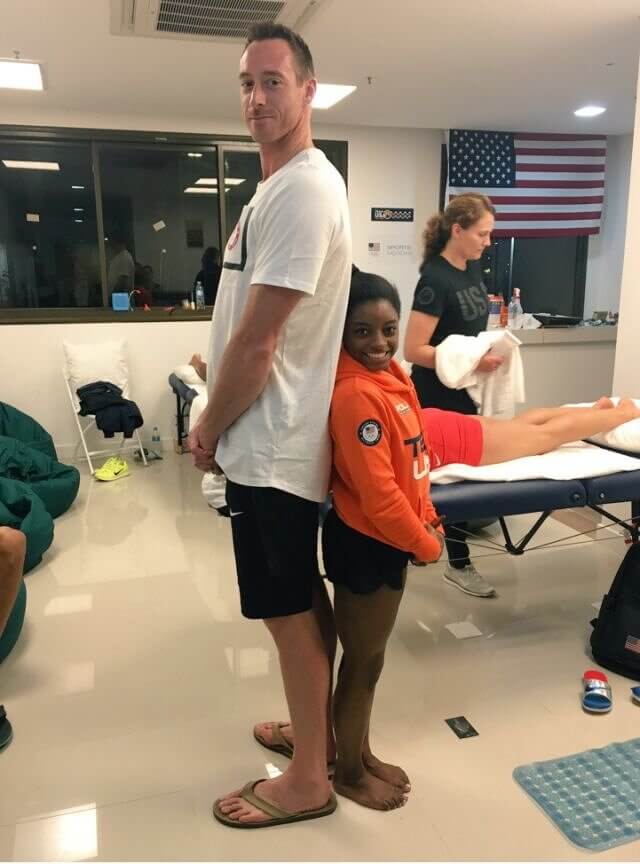 Standing at just four feet nine inches, Biles was the shortest athlete in USA colors, but that didn't stop her from making a huge impact. When Biles flew home she was carrying four gold medals - all-around, floor exercise, vault, and one for the team competition. She also had a bronze for her balance beam performance. More than that, at the age of just 19, Simone Biles was now an Olympic legend in her field.
G. O. A. T.
By the end of 2016, Simone Biles had won 14 World Championship and five Olympic medals, 14 out of the total 19 were gold. That made her the most decorated female gymnast in America, even without the 9 golds, one silver, and one bronze she's added since. Biles wasn't afraid to call herself the best either, as she told USA Today in 2019.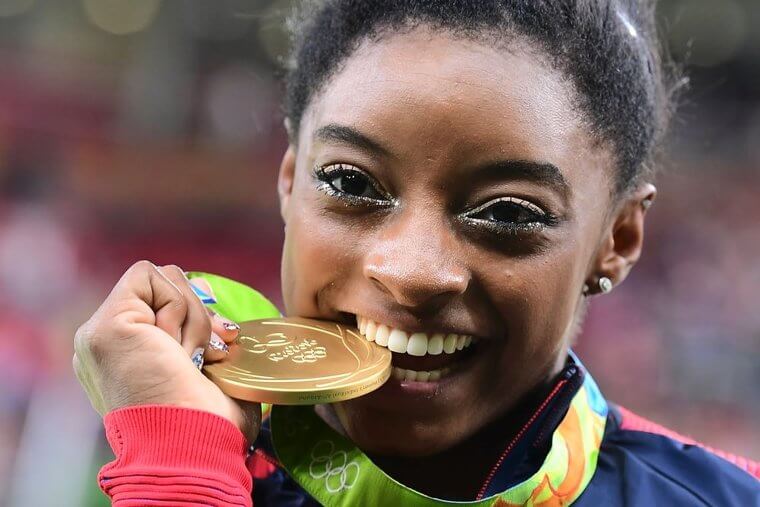 "It's important to teach our female youth that it's OK to say, 'Yes, I am good at this,' and you don't hold back," she explained. "You only see the men doing it. And they're praised for it and the women are looked down upon for it. But I feel like it's good [to do] because once you realize you're confident and good at it, then you're even better at what you do."
Floor Vs Beam
When Simone Biles "only" took the bronze medal for the balance beam at the Rio Olympics in 2016, it knocked her confidence in the event. "I have this love-hate relationship with the beam. I've always told myself, 'If you hate beam, the beam will hate you," she explained to USA Today. Conversely, Biles is so far ahead of the pack in the floor exercise she's become untouchable.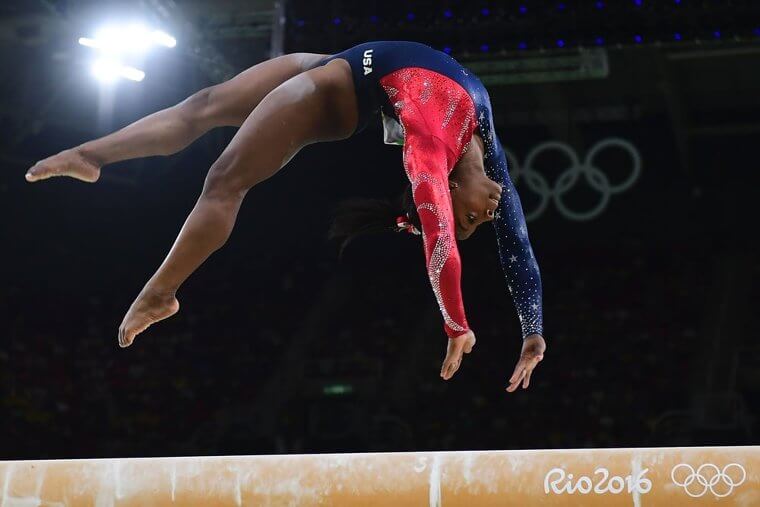 Traditionally, gymnasts perform their most difficult move in their first tumbling pass, with an easier move in each subsequent pass. The difficulty level Simone achieves in her third pass is higher than most athletes attempt in their first. Or, as Vox explained it, "Biles can perform everyone else's hardest tumbling pass after she's completed two even more difficult ones."
Hitched!
Simone Biles has had notable developments in her personal life. In 2020, she announced her relationship with NFL player Jonathan Owens, capturing the attention of fans and media alike. The couple has since shared glimpses of their affectionate bond through social media posts, showcasing their adventures and support for each other. In August 2021, Biles excitedly revealed her engagement to Owens, marking a significant milestone in their relationship.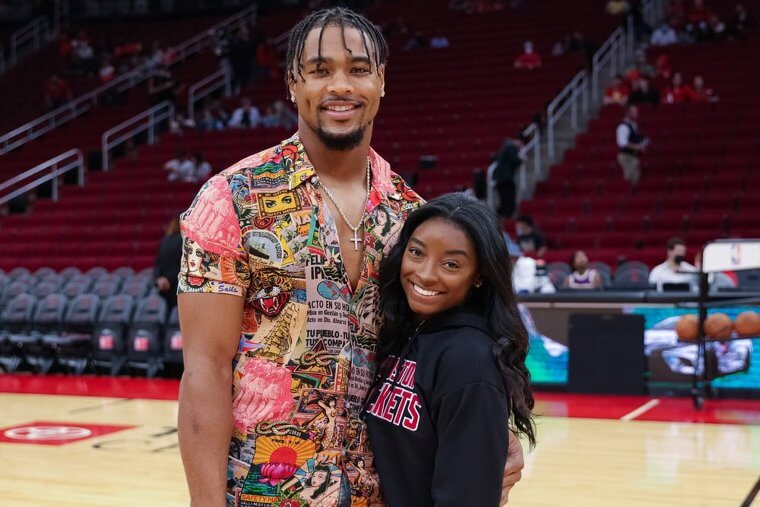 In May of 2023, they officially tied the knot! After a 15-month engagement the two got married and we are just so happy for them. Who knows what will come next from two pro athletes!
ADHD
After the Rio Olympics, Russian hackers released private medical information about several athletes which they had taken from the World Anti-Doping Agency's files. It revealed Simone Biles had tested positive for Ritalin, a drug commonly used to treat ADHD.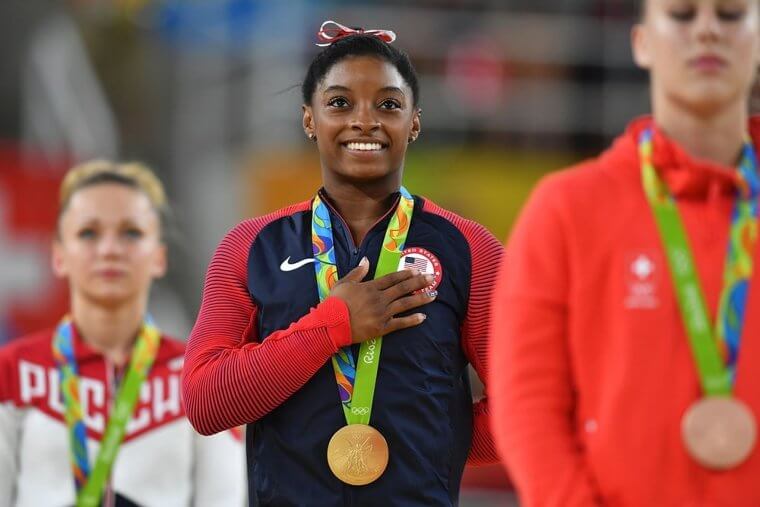 Biles reacted on social media and confirmed her diagnosis. "Having ADHD, and taking medicine for it, is nothing to be ashamed of," she tweeted. "[and] nothing that I'm afraid to let people know," Biles revealed later in an interview with Understood that she has never seen having ADHD as a disadvantage, in fact, quite the opposite. "If you start to think of it as a superpower," she said. "Then that's kind of cool."
Happiness Is Pizza Shaped
Being an Olympic athlete is all about discipline and sacrifice, right? Hours of endless practice, a punishing fitness routine, and a strictly controlled diet. Of course, Simone Biles does all of that and has throughout her career, but she knows how to treat herself too. In 2016 she told ABC News about her after-competition routine.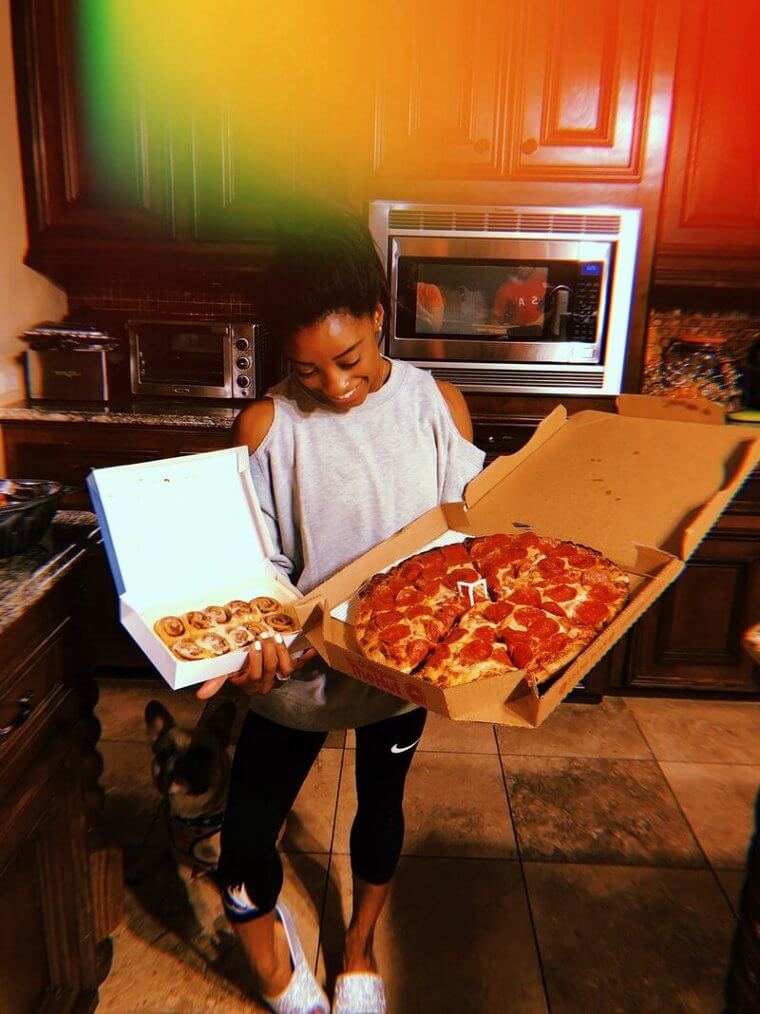 "It doesn't even matter if I don't win a self-gold," she said. "After every meet I have pizza." Biles' pizza of choice is pepperoni with stuffed crust. She also showed her full feelings for the meal in an Instagram post in which she showed a hot fresh pepperoni pizza, simply captioned "happiness". Frankly, after all that hard work, it's the least she deserves.
A Story to Tell
After her four Olympic golds in 2016, Simone Biles gave herself a year away from competing. Gymnastics had been her entire life for fourteen years and it was time to take a break. Though she was still a teenager, Biles used the latter half of 2016 to write her autobiography.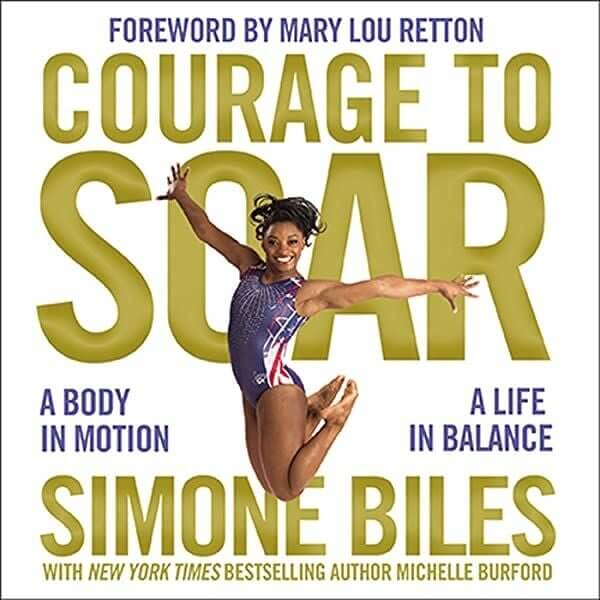 "I want people to reach for their dreams and there are so many people who have inspired me with their love and encouragement along the way and I want to pass on that inspiration to readers," said Simone of her decision. The book, Courage to Soar: A Body in Motion, A Life in Balance, was co-written with journalist Michelle Burford. It went to the top of The New York Times young adult best-seller list in January 2017. That year Simone also competed on ABC's Dancing With the Stars.
#MeToo
"Most of you know me as a happy, giggly, and energetic girl, but lately I've felt a bit broken and the more I try to shut off the voice in my head the louder it screams." This was the beginning of a statement Simone Biles posted on Twitter on Jan 15, 2018. "I am not afraid to tell my story anymore," she continued.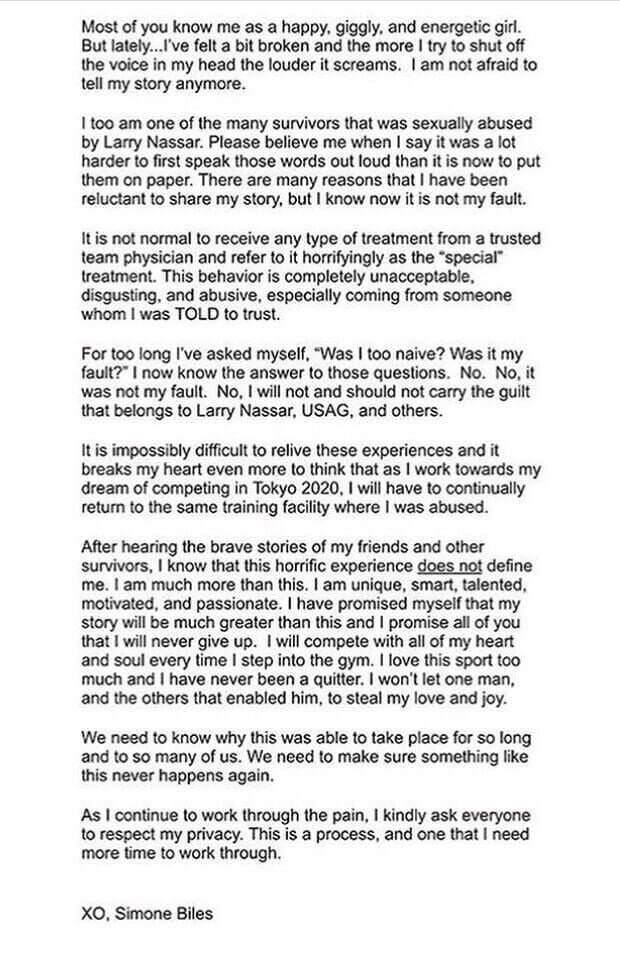 "I too am one of the many survivors that were sexually abused by Larry Nassar. There are many reasons that I have been reluctant to share my story, but I know now it is not my fault." The world of gymnastics was shaken when Team USA physician, Larry Nassar, was accused of sexually abusing more than 140 women and girls under the guise of medical procedures. Biles was one of the highest-profile athletes to step forward and tell her story.
Back On the Mats
In 2018, Simone Biles returned to competitive gymnastics and earned herself a place back in the World Championships team, this time traveling to Doha, Qatar. While chasing her fourth gold in the all-around final, Biles fell on both the beam and her vault, but still won the competition on points due to performing at a difficulty level far higher than the other athletes. She left Doha with her fourth all-around gold and her fourth-floor exercise gold.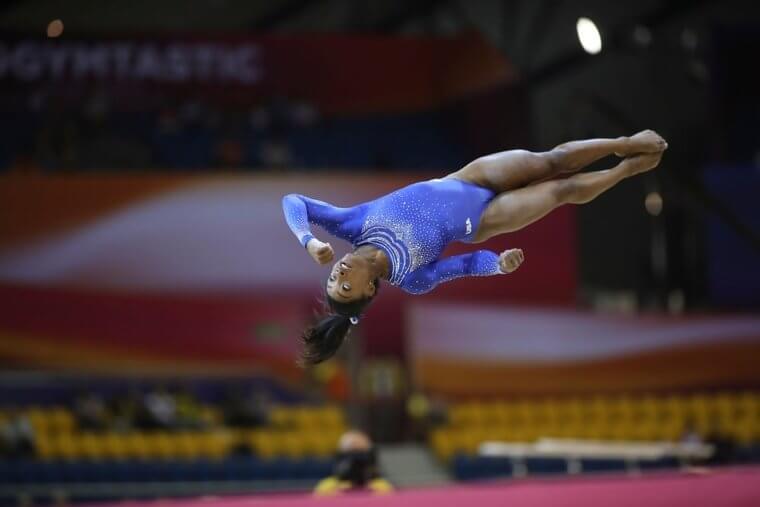 The USA also took the team gold again. The 2018 competition gave Biles another significant achievement when she won gold in the vault for the first time, making her the first U.S. gymnast to win gold in all four events. She also took bronze on the balance beam that year.
Too Dangerous
In the build-up to the 2019 World Championships, the International Gymnastics Federation (IGF) clashed with Simone Biles because she was, believe it or not, too good. Every move a gymnast performs is assigned a difficulty ranking which affects how scores are multiplied. Biles submitted two new skills she intended to perform. The first was triple-twisting, double somersault in the floor exercise, which was assigned a J level difficulty, the highest possible level.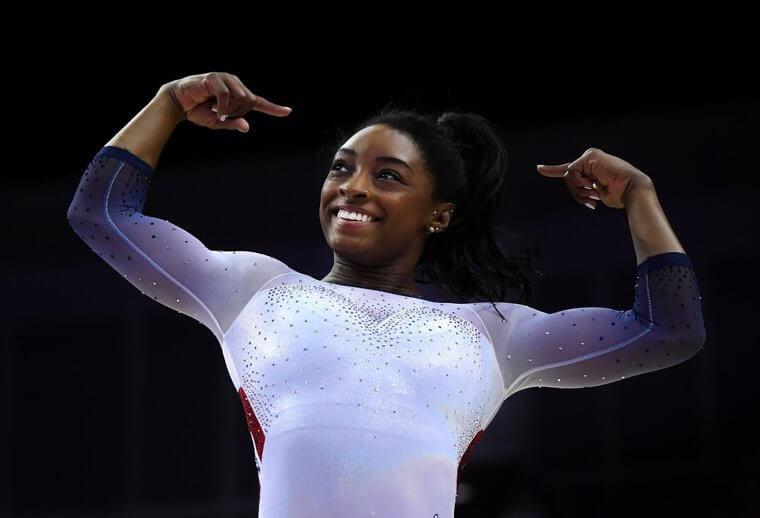 The second skill was a double-twisting, double somersault balance beam dismount. This was only ranked as H, not because it was any less difficult, but because the IGF felt it would be too dangerous for lesser athletes to attempt so needed to minimize the incentive for them to try. "Am I in a league of my own? Yes," Biles said to NBC in reaction. "But that doesn't mean you can't credit me for what I'm doing."
A Clean Sweep
Despite the IGF undermining the difficulty level of her new skills, Simone Biles traveled to Stuttgart, Germany, for her fifth World Championships in 2019. She had a point to prove and she did not hold back. As was by now traditional. Biles won the all-around gold and the floor exercise gold, and the U.S. athletes won another team gold.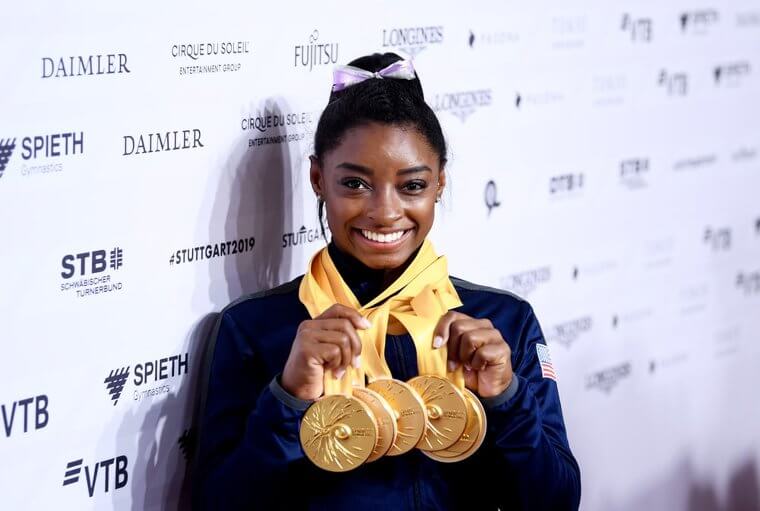 For the first time, however, Biles also won gold in both the vault and the balance beam, making it the first major championship in which she won four individual golds alongside her team medal.
Criminal Charges Against Her Brother
The darkness in Simone's life sadly didn't end after her experience with Larry Nassar. After criminal charges were brought against, Tevin Biles-Thomas, for a Cleveland shooting with three casualties, Simone was left devasted. The disbelief that her own brother could be capable of such a thing was shocking.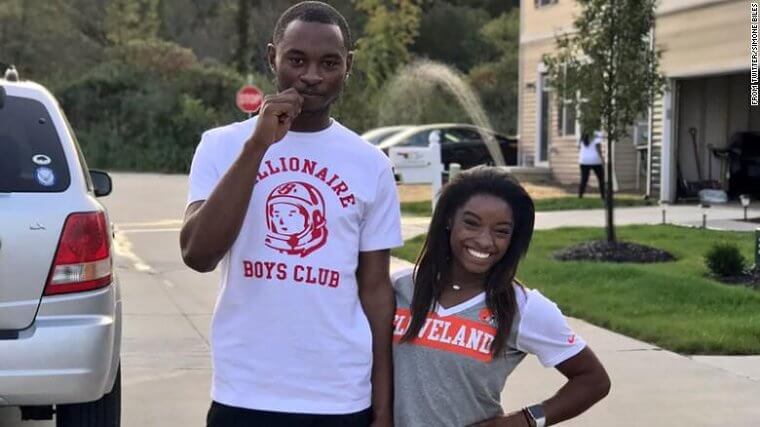 However, the judge granted an acquittal by the defense for lack of evidence, and Tevin was released. 
Actions Speak Louder Than Checks
At the start of 2020, USA Gymnastics unveiled a plan to offer a $215 million settlement package to the victims of Larry Nassar, who himself was now facing life in jail. The payout would go to survivors of Nassar's abuse based on the perceived severity of what they endured, which would mean some athletes would receive more than $1 million. Simon Biles and her teammate Aly Raisman reacted angrily to the announcement.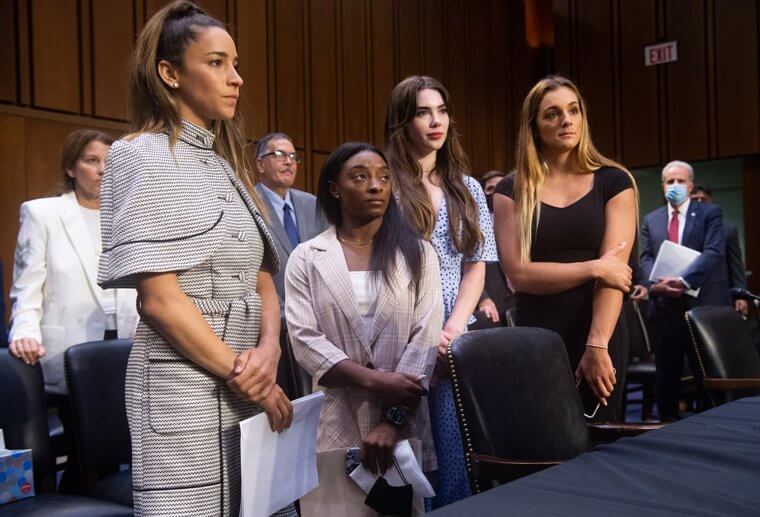 "Still want answers from USAG and USOPC," Biles tweeted "Wish they BOTH wanted an independent investigation as much as the survivors and I do." Raisman added, "The problem is USAG & [USOPC] don't want anyone to know. This is a massive cover-up." The athletes wanted action and real change in the organization to make sure future athletes were protected from the horrors they had suffered, not just a payout to stop the conversation.
Need to Protect Our Daughters
"They haven't ensured us that it's never going to happen again," Simone Biles said to 60 Minutes when asked how she felt about USA Gymnastics' response to the Larry Nassar abuses. When asked if, should Biles have a daughter, would she allow her to join the USAG program, the record-breaking athlete was unequivocal. "No," she said. "Because I don't feel comfortable enough, because they haven't taken accountability for their actions and what they've done."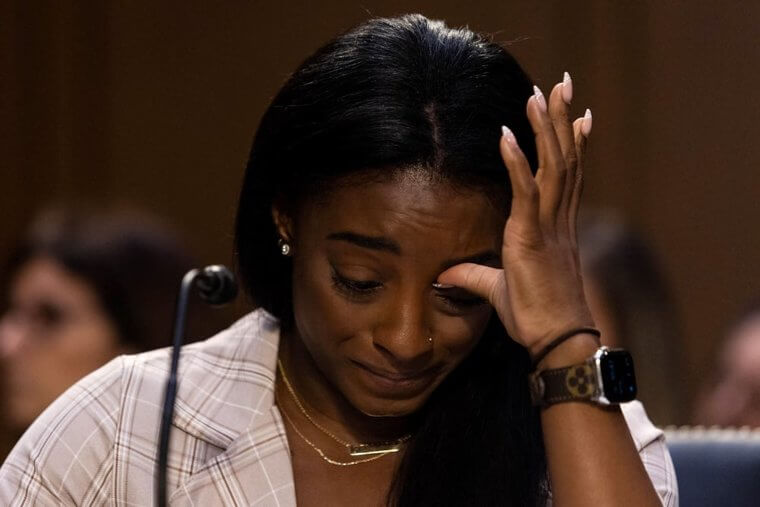 Nassar himself was sentenced to a maximum of 300 years in prison, but Biles did not consider that to be the end of things. "It's far from over," she said to CBS. "There's still a lot of questions that still need to be answered." Biles has consistently called for an independent investigation into everything which happened during Nassar's tenure.
Vogue
In 2020, international competition in all sports was disrupted by the Covid-19 pandemic with many events being canceled or postponed. This didn't stop Vogue magazine from making Simone Biles their cover star in August, a time she should have been celebrating her new Olympic achievements. Vogue paired Biles with world-famous photographer Annie Leibovitz. Some commentators criticized Vogue for not hiring a black photographer and for poor lighting of Bile's skin tones. Others celebrated the powerful images Leibovitz and Biles created.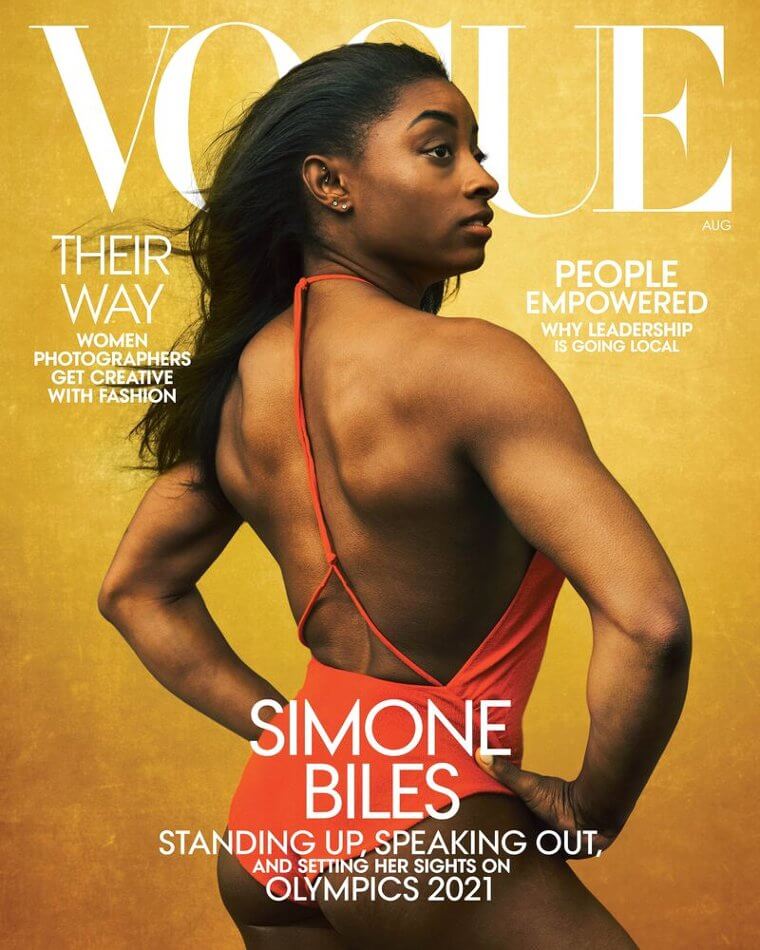 None of this should take away from the central message Biles wanted to communicate. "Growing up, I didn't see very many Black gymnasts," she told her interviewer. "So whenever I did, I felt really inspired to go out there and want to be as good as them. I remember watching Gabby Douglas win the 2012 Olympics, and I was like, 'If she can do it, I can do it.'"
Still Pushing Boundaries
As Simone Biles built up to the rescheduled Tokyo Olympics, which began in July 2021, she was still breaking new ground with exciting and dangerous new skills. At the U.S. Classic in May, Biles debuted a Yurchenko double pike vault, something no female athlete has ever completed before.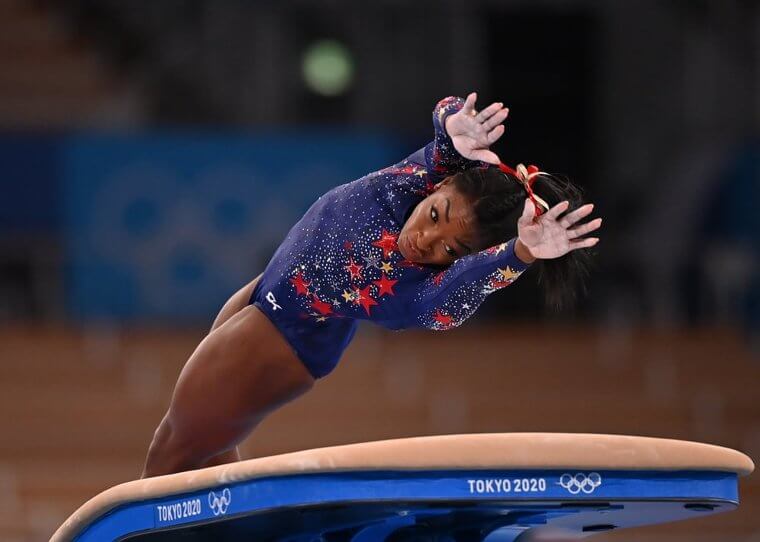 The skill involves roundoff onto the springboard, a back handspring onto the vaulting table, and a piked double backflip. With a preliminary assigned value of 6.6, the move became the highest valued vault in women's gymnastics. Biles competed at the Classic in a striking new white GK Elite leotard featuring a silver rhinestone goat's head emblazoned on the back. Perfect for the gymnast who is, without doubt, the G.O.A.T. (Greatest Of All Time).
A Whole Life to Lead
As early as 2019, Simone Biles had admitted her career was taking its toll on her body. "Pain is just something I live with and that is pretty odd for my age, right?" she told the Daily Mail. "It feels weird if I'm not in pain." This is one factor in the record-breaking competitor's indicated intentions to retire after the Tokyo Olympics.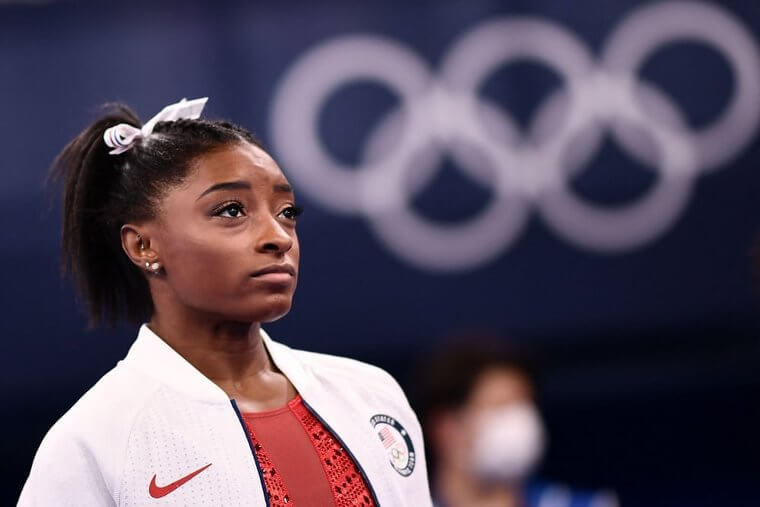 When she does retire, Biles doesn't intend to put her feet up entirely. "Gymnastics is just one part of my life, and I'm having as much fun with it as possible," she said in an interview with Us Weekly. "At some point, I'll have to go get a real job." 
Tokyo 2020
Expectations were high from Biles for the Tokyo 2020 Olympic Games. Despite a shaky performance in the gymnastics preliminary events, Biles managed to bring the American women team to the team finals and herself to the individuals' finals. And that's when pressure took its toll. After a bad jump in the vault, Biles left the stadium and soon announced she is quitting the team competition. Later, she also announced she would be quitting all individual finals.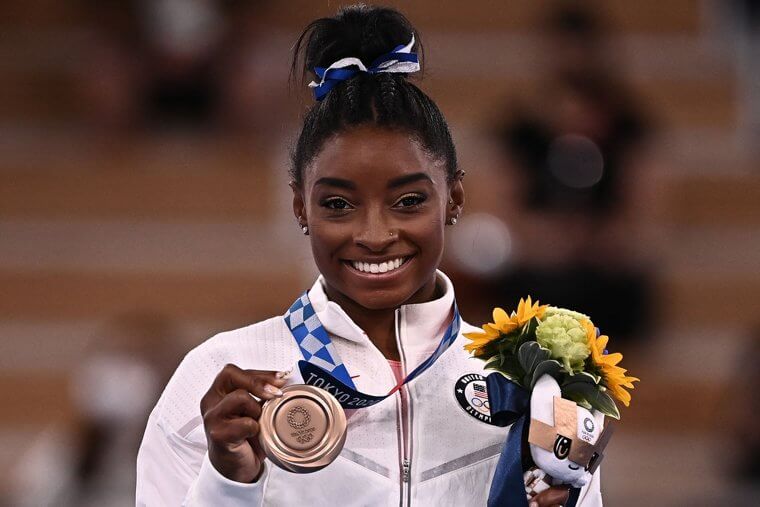 Speculation soon spiraled about what happened to the champion, and Biles was quick to answer it was due to her mental health compromising her general health. "For anyone saying I quit, I didn't quit, my mind and body are simply not in sync as you can see here," Biles wrote. "I don't think you realize how dangerous this is on a hard/competition surface."
Biles remained in Tokyo to cheer her teammates throughout the rest of the competition.

25 of the Most High-Flying Moments of Inspiration Throughout Olympic History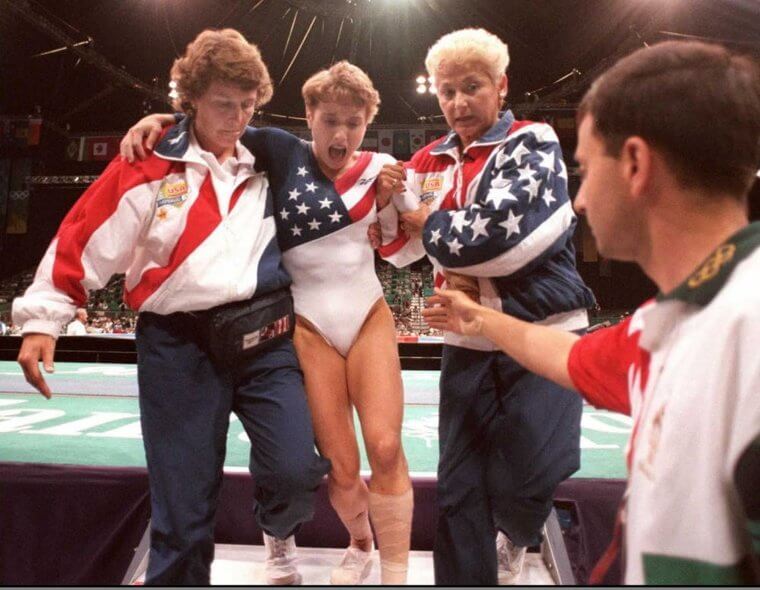 For every professional and amateur athlete, the opportunity to represent your country on the biggest stage is the ultimate goal, especially if you can cap it off with a gold medal. While not all Olympic stories end with a place on the podium, the following twenty-five stories could all find their way to a Hollywood screen (as the Jamaican bobsled team did) as the passion, determination, and dedication of these athletes have created iconic moments in sports history. For an event rich in triumph and battles with adversity from athletes hailing from all over the world, whether they tell stories of championship success, setting a record, or of personal achievement, it is nearly impossible not to feel inspired by the following stories that have impacted history. 
Hermann Maier
The man nicknamed the "Hermann-ator" was one of the greatest skiers of his era. However, despite Hermann Maier's talent and skill, natural forces would win the battle during the downhill competition at the 1998 Nagano Olympic Games.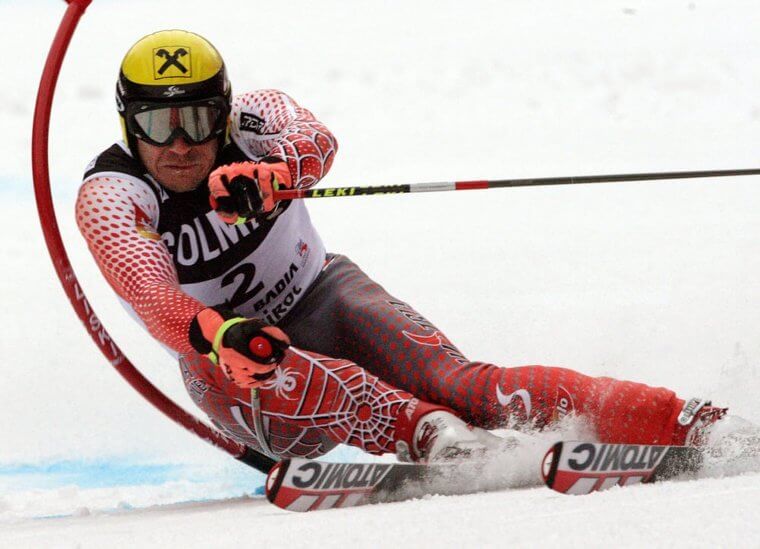 Victim of a devastating wipeout that resulted in a horrific crash, Maier would somehow manage to return to health, or at least healthy enough, to return to the slopes just a few days later. Proving yet again he was the best skier in the world, Maier would place first in both the super-G and giant slalom events, adding two more gold medals to Austria's tally. Years later, after a life-threatening motorcycle accident resulting in extensive reconstructive surgery, Maier would shock the skiing world again by winning a silver and bronze medal at the 2006 Turin Games.
Joannie Rochette
Since the very first Olympic Games, there has been an emotional feel-good story woven into at least one event; the 2010 Vancouver Olympic Games were no different.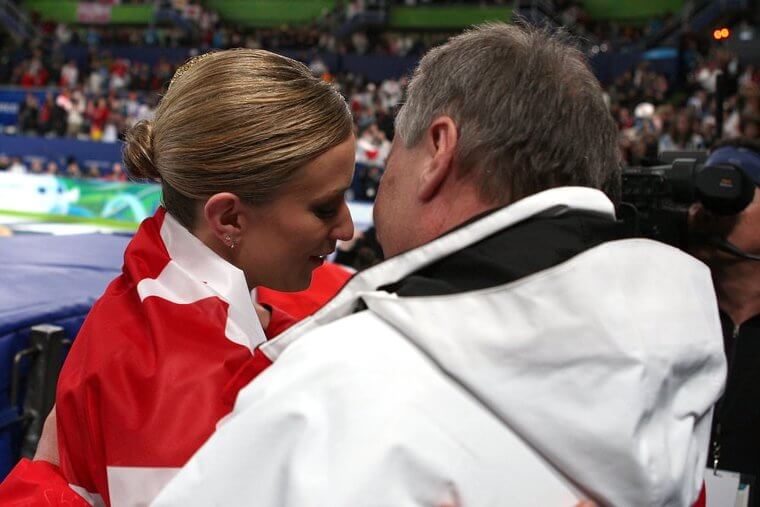 From team victories to individual triumphs, the event was filled with heartwarming moments. For Canadian figure skater Joannie Rochette, her moment would be in honor of her mother. Taking to the ice just four days after her mother passed away as a result of a sudden heart attack, Rochette not only managed to summon up enough courage and energy to perform, but in doing so, she captured both the hearts of a nation and a bronze medal, which she dedicated to her late mother.
Eric Moussambani
He may have been blown out of the water by the competition, but none of that mattered when you look at the big picture for swimmer Eric Moussambani.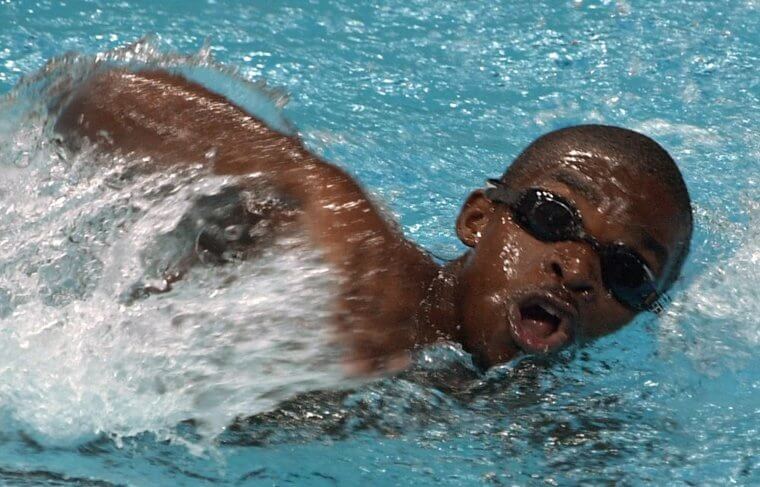 Hailing from Equitorial Guinea, Moussambani qualified for the 2000 Summer Olympics by way of a wildcard entry specifically for athletes who resided in developing countries that had little to no access to the same training facilities as their opponents. Competing in the 100-meter freestyle, Moussambani received praise from his opponents and fans around the world as just months after taking up the sport, it would be the first time he would ever compete in an official Olympic-sized pool.
Lawrence Lemieux
While Mario may be the most famous Lemieux in Canada, he isn't the only national sports hero with that surname. As part of the sailing competition in the 1988 South Korea Olympic Games, Lawrence Lemieux had every intent on winning the race but mother nature seemed to have a different plan in mind.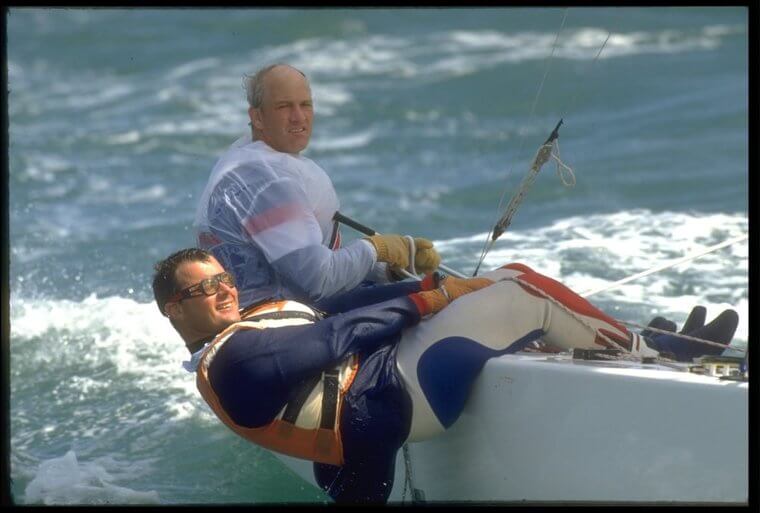 When hazardous winds capsized a competitor's vessel, Lemieux put his fellow racer's safety before his own personal goals and after abandoning the race, disqualified himself in an effort to save the two injured sailors. Although he was officially out of the race, Lemieux continued the race and unofficially finished 21st out of 32 racers, despite the delay. Instead of walking away with a silver medal, which he was on pace to receive, Lawrence was awarded an honorary medal for his heroic and selfless act.
Jonny Moseley
After failing to qualify for the 1994 Winter Olympics, US skier Jonny Moseley earned his spot with the national team and a trip to Nagano, Japan after winning the first two World Cup events in 1998.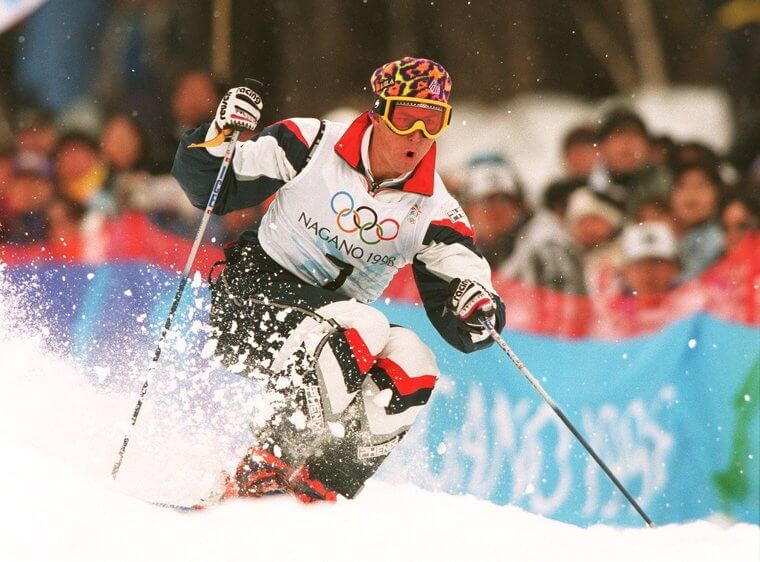 At just twenty-three years old, Moseley would not only dominate the competition, but also the bumpy white terrain en route to a gold medal. However, Moseley wouldn't just be remembered for standing on top of the podium as his signature trick, a 360 mute grab, would become his claim to fame. With a championship in hand, Moseley would also challenge and convince the U.S. Freestyle Team and International Skiing Federation to allow athletes to compete in events like the X-Games.
Torvill and Dean
For some sports fans, watching ice dancing is the equivalent of watching grass grow. However, a pair of British skaters set out to change that narrative during the 1984 Winter Olympics in Sarajevo.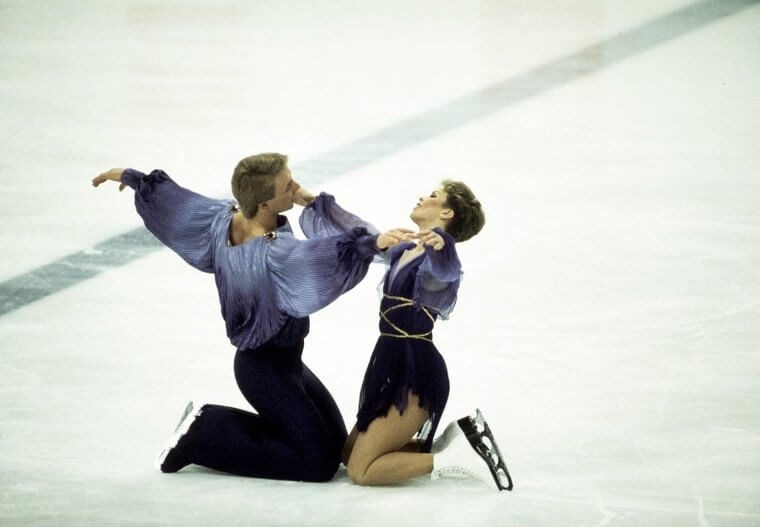 Throughout their performances, including one inspired by Maurice Ravel's "Bolero," Jayne Torvill and Christoper Dean stunned their audience with an imaginative and creative routine.  The duo would become the first team (or even individuals) to capture a dozen perfect 6.0 and six 5.9 scores that also included every judge scoring a perfect 6.0 for artistic impression. Obviously, with those scores, the pair would walk away with a gold medal and change both the way people viewed, and skaters performed, their ice dancing routines.
Rulon Gardner
It was a battle of David verse Goliath with Russian Greco-Roman wrestler Alexander Karelin playing the role of the undefeatable giant and American Rulon Gardner playing the role of the underdog.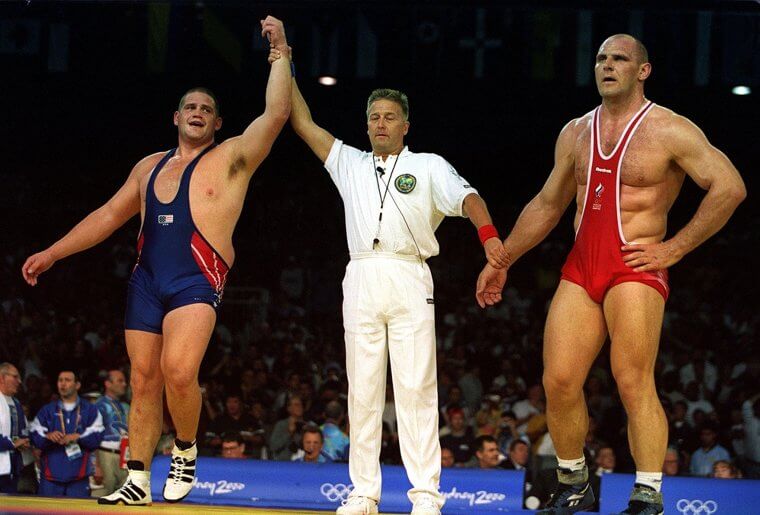 Coming into the 2000 Summer Olympics in Sydney, Karelin was a three-time defending Olympic gold medalist who hadn't lost a match in over 13 years and did not have a point against him in six years. In what would be one of the greatest upsets in Olympic history (not just wrestling, but the entire Olympics), Gardner not only claimed an elusive point against his foe but would ultimately force an overtime period, and to the shock of Karelin, the chants of the pro-USA crowd, and even himself, claim victory and a gold medal.
Shaun White
He may have already had the 2010 Olympic Snowboarding Halfpipe gold medal in his back pocket, but that didn't stop American Shaun White from taking another run during the Vancouver Winter Games.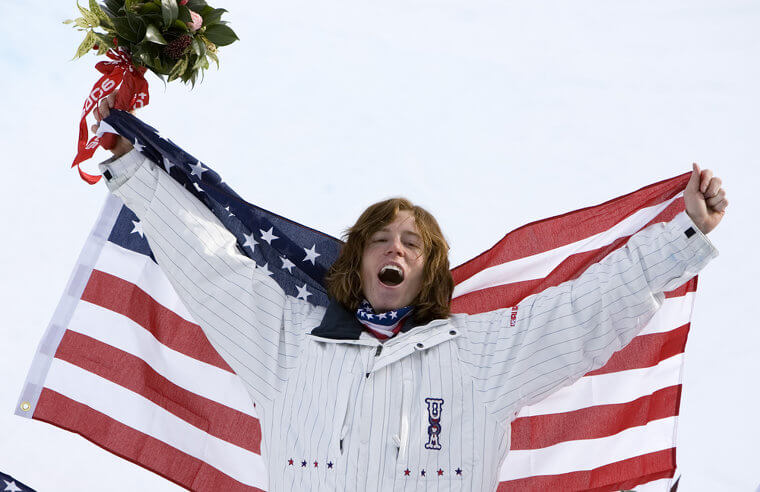 As an encore to his gold medal performance, White would pull off the world's first Double McTwist 1260, one of the most difficult tricks in snowboarding and one that he would nickname the Tomahawk. Four years after winning the gold medal at the 2006 Turin Games, White would set the bar and highlight the level of talent, the popularity, and the growth of the sport since it was first introduced to the Olympic Games.
Dan Jansen
It would be his third and final appearance at the Olympic Games and a decade in the making, but for anyone who is searching for the definition of commitment or perseverance, look no further than the resume belonging to American speed skater Dan Jansen.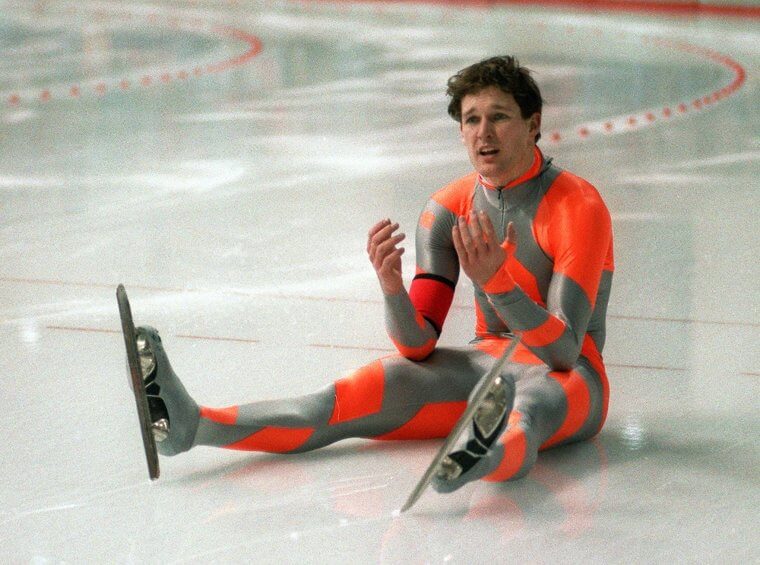 After struggling both physically and emotionally in the 1988 Olympics, competing just one day after his sister died, Jansen would be presented with the US Olympic Spirit award. Four years later in Albertville, Jansen would come up short yet again. In 1994, Jansen's dreams would come true, winning the 1000m event and setting a world record in the process. In honor of his achievement, Jansen would represent the USA as the flag bearer during the closing ceremonies.
Vasily Alexeev
With a World Championship and an Olympic gold medal already on his resume, Russian weightlifter Vasily Alexeev was also the proud owner of over 160 combined world and Soviet records.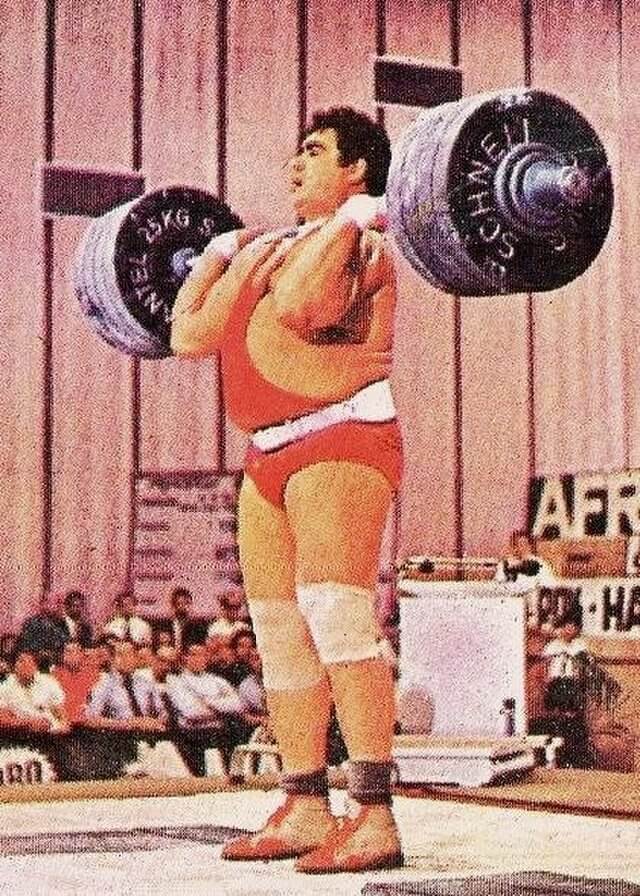 Looking to add to his legacy, Alexeev took part in the 1976 Montreal Olympic Games. After easily defeating East Germany's representative, Gerd Bonk, Alexeev put on a show for the crowd, lifting 562 pounds over his head in his final clean and jerk attempt. With records smashed and as one of the most respected Olympians in history, Alexeev would go on to become the coach for the Unified Team at the 1992 Olympics, where they would win ten medals including five gold.

Korean Unification Flag
During the 2000 Sydney Olympics, North and South Korea buried the hatchet after years of instability following the Korean war.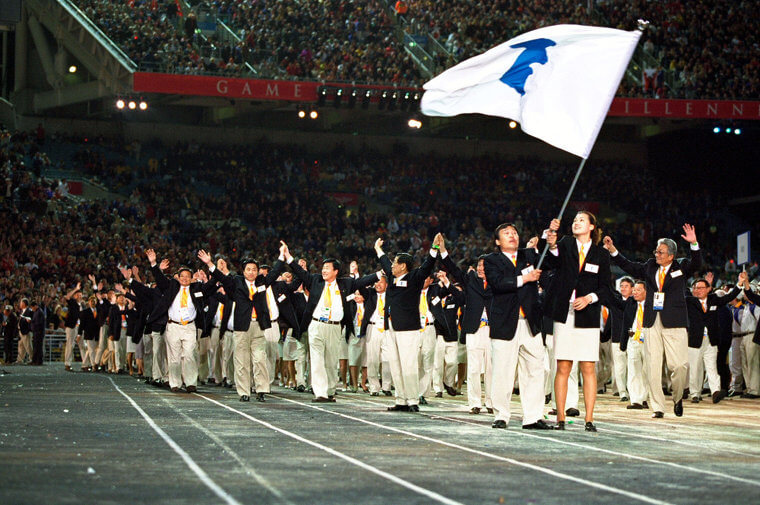 With both parties marching together in unison during the Opening Ceremonies, including matching uniforms and a unified flag that depicted Korea as a whole and carried by an athlete from each area, it was another step forward in mending the hostilities between the two countries. Although they would walk together, the two competed in events under a separate identity despite fears that the 50 (approximate) North Korean athletes would be seriously overshadowed by 400 (approximate) South Korean representatives.
Michael Johnson
Throughout his illustrious career, American sprinter Michael Johnson would win four Olympic gold medals and eight World Championships.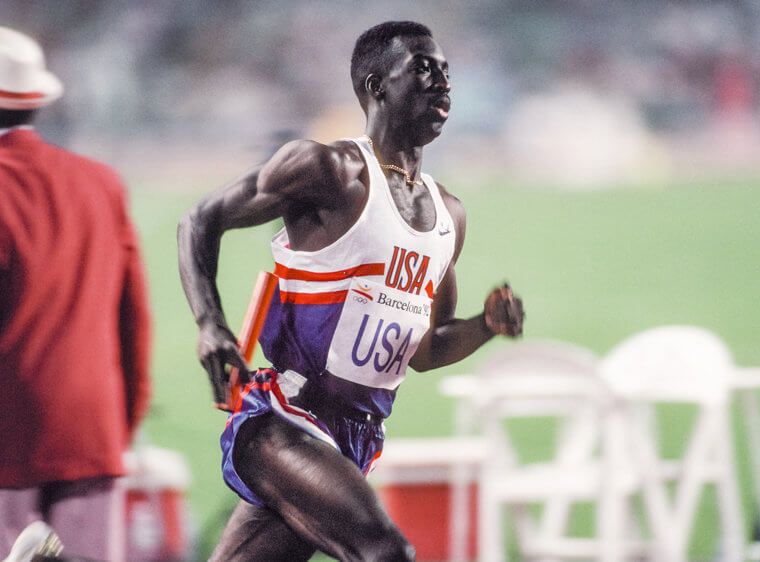 After falling ill during the 1992 Summer Olympics, Johnson would struggle in his preferred event, the 200 meters, but would win gold as part of the 4 x 400 relay. Four years later, Johnson would make up for his loss during the Olympic Games in Atlanta by winning gold in both the 200 and 400-meter events. While wearing a pair of gold-colored Nike shoes, Johnson set an Olympic record for the 400-meter race with a time of 43.49 seconds and then days later would set the 200-meter world record with a time of 19.32 seconds, becoming the first man to not only win both races at the same Olympic Games but setting records in the process.

Mary Lou Retton
Imagine standing less than 5 feet tall, weighing less than 100 pounds, and being just sixteen years old with an entire country watching you dominate the Olympic Games. That was the case for Mary Lou Retton in 1984 as she captured a gold, two silver, and two bronze medals in the Summer Games in Los Angeles.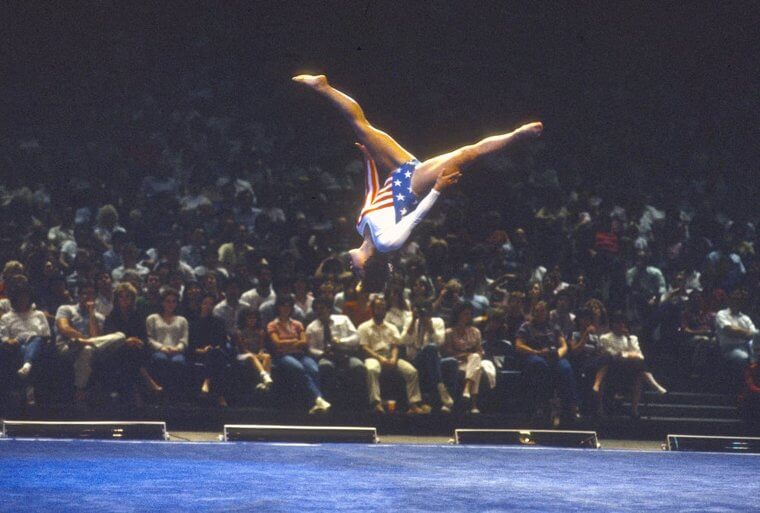 With the help of two perfect ten scores in the vault and floor exercise, Retton captured the United States' first all-around gold medal by just .05 points. After sticking a perfect landing on the vault that sent the 9,000 fans into a frenzy, Retton finished the event by completing two unblemished performances on the vault to become America's sweetheart.
Michael Phelps
Not since Mark Spitz, who captured a record seven medals at the infamous 1972 Olympics in Munich, has there been a more dominant performance at an Olympic Games.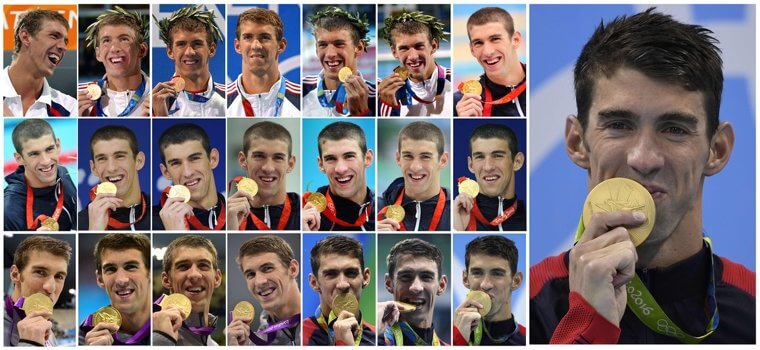 Nearly four decades later, Michael Phelps would break the record, winning eight gold medals and dominating the 2008 Olympics in Beijing. During the 2008 competition, Phelps set new world records in seven of the eight events he participated in and an Olympic record in the remaining competition. With a record total of 28 medals over the course of five Olympic appearances, Phelps is not only the greatest swimmer of all time, but also the most decorated Olympian of all time.