We've all sent funny texts or messages to friends and family at some point in our lives, or even left out funny notes for friends and colleagues to see. However, some people seem to have taken this to a whole new level as they posted the most hilarious and mind-blowing notes ever seen on the internet.

Some were typed in bold letters for all to see, marking the serious (yet still hilarious) nature of the message. Others are handwritten and give off a more personal feel. No matter which fonts they come in, the fact remains that we couldn't help but share these hilarious notes with you.
Somebody Needed to Speak up!
The sight of other people's unflushed "business" when you go to use the restroom is extremely disturbing. Not only leaves you irritated and but it can be so disgusting that you'll end up losing your lunch if you're unlucky enough. Sometimes we need to create ways of ensuring people do the needful after visiting the restroom.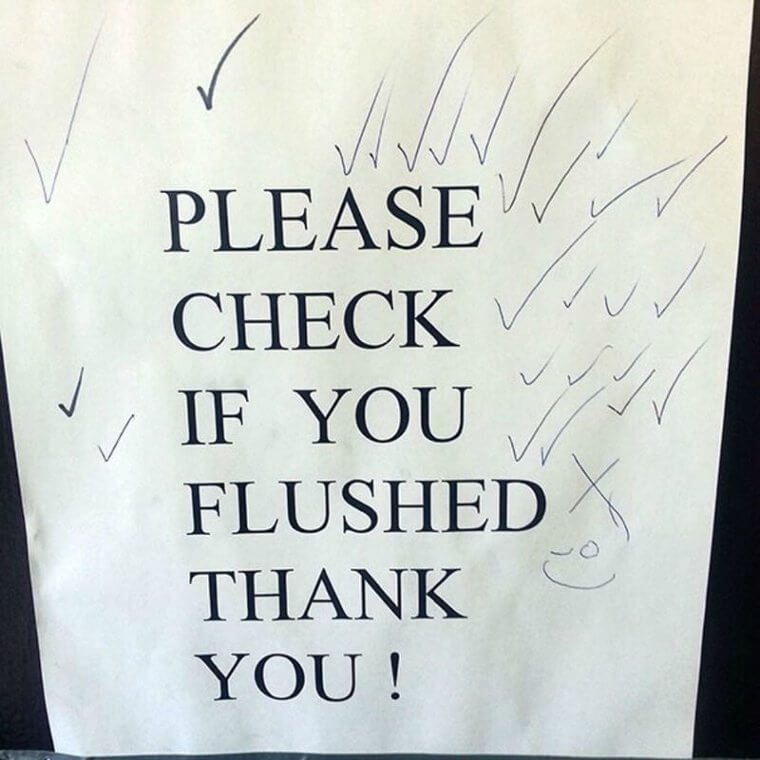 This stranger, probably fed up with what was going on, took matters into his hands to ensure everyone at his office remembered "their duties." His co-workers either took this note quite literally or decided to show their support by complying and checking where necessary. All except one - that is...
Enjoy Your Close Call... This Time!
What do you expect would be the reaction of a stranger when you park your car at their reserved parking space? One may expect a polite warning or two, assuming that it was a mistake or no reaction at all.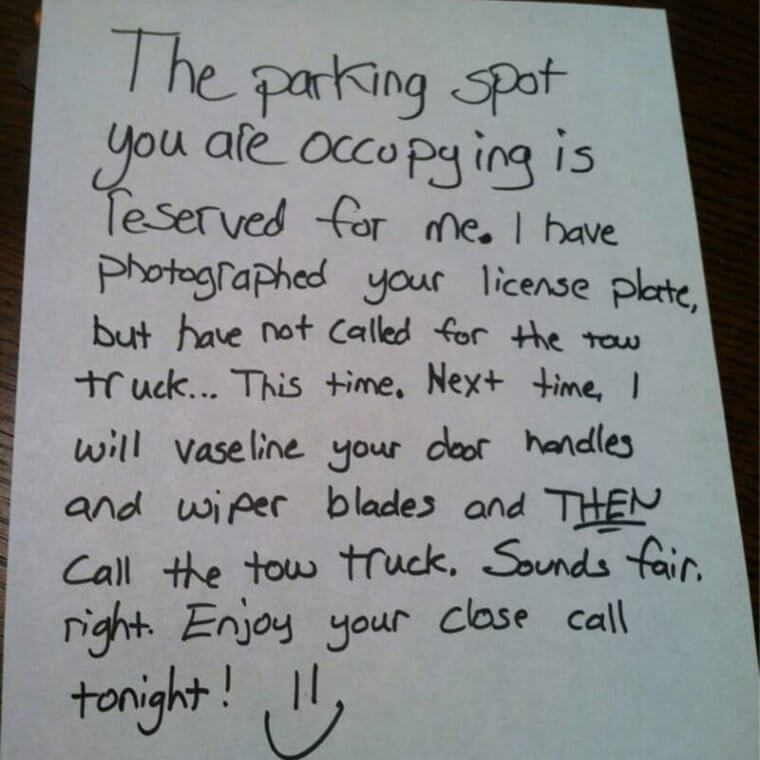 This strangers' note threatened revenge using vaseline and the tow truck. This reaction seems quite scary and a bit over the top if you ask me.
The Best Tip Ever!
After receiving excellent service from a waiter, it is common courtesy to leave a tip showing your gratitude. Not all services are quite as enjoyable as we want and sometimes we have to leave complaints in place of tips.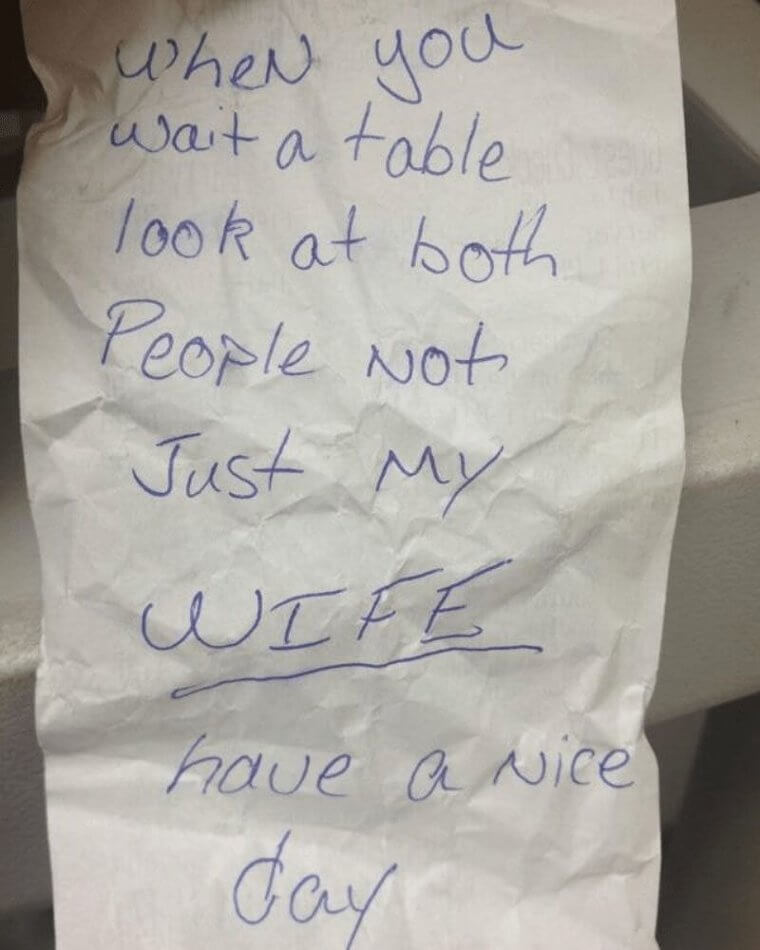 After receiving poor service, this customer decided to leave his waiter a literal tip. Everyone would agree with this customer who found it odd that only his wife seemed to interest the waiter when two people were sitting at the table.
Mind Your Fonts Please
Well, we have ourselves a font war. Someone was disappointed with the first note's font and decided to give a reply, because why have one note when you can have two?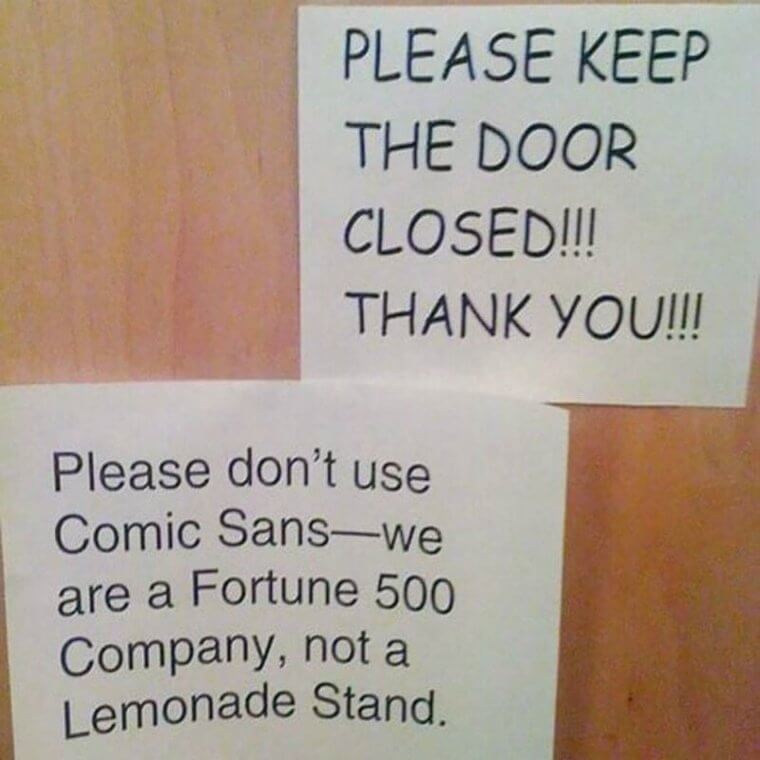 While keeping the door closed is a very important matter for our first note writer, judging by the use of six exclamation marks, the other seems more concerned about the Fortune 500 company's reputation. The company should not be associated with the Comic Sans font in any way and advised a more mature font.

Just Some Icy Advice
This stranger saw the need to inform another stranger of how bad their parking is and needed to leave them a piece of advice for next time. With no pen or paper at hand, this person found a creative way to leave a note.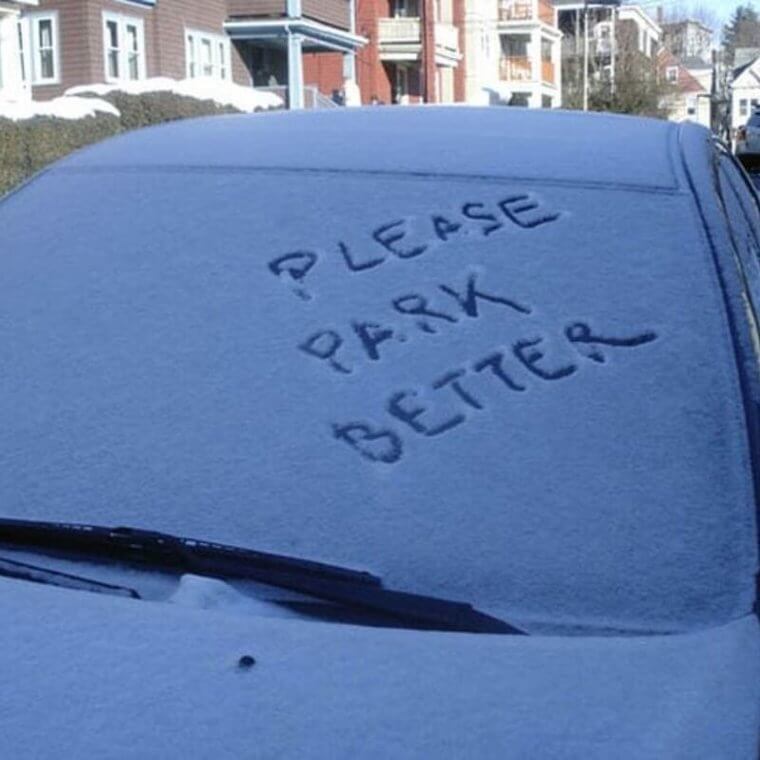 Writing on the issue itself, the snow came in very useful in sending this important message to the car owner. People need to be told that the way they park is either dangerous or selfish and that they can do better.
Try Singing to Avoid an Incident
"Knock Before Entering" is one of the most common warnings we use to prevent people from entering your workspace unannounced and potentially startling you. However, it seems this note-maker is more easily startled than most and prefers a more unorthodox form of way of being alerted of a visitor.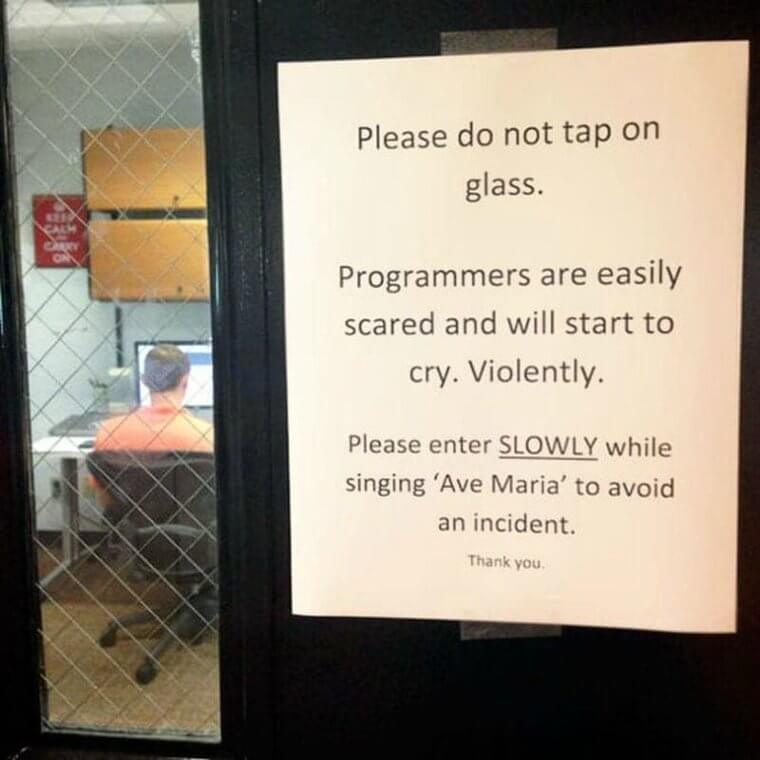 New employees must have certainly found this note weird, but honestly, programmers aren't known for being the most socially adept of people. Here, the workers behind the door respond badly to taps on the glass, so calming Latin music is the advisable way of alerting them of your presence.
Someone's Got a Secret Admirer
A compliment on your looks from a stranger can be a great improvement to your day and a boost to your esteem. This was a lucky day for this lady who returned to her car to find this lovely note.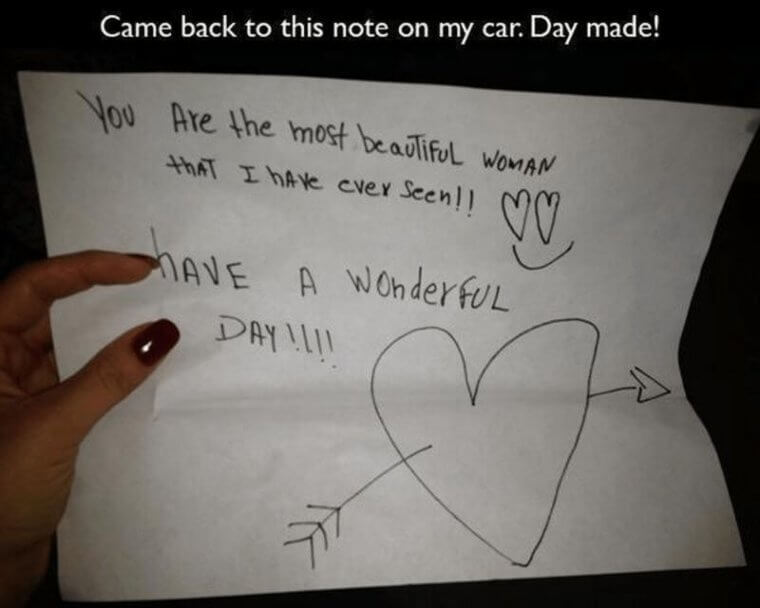 Though this lady is happily married with kids, she sure felt happy with the beautiful note. It must be nice to know that she is still found not just attractive, but probably the most beautiful lady the stranger had met.
I'm Sorry, But…
This note writer seems to be very sincere with their apology. Someone had hit another vehicle, causing a scratch on the back left panel of the vehicle. The culprit decides to leave a note explaining the details of the incident.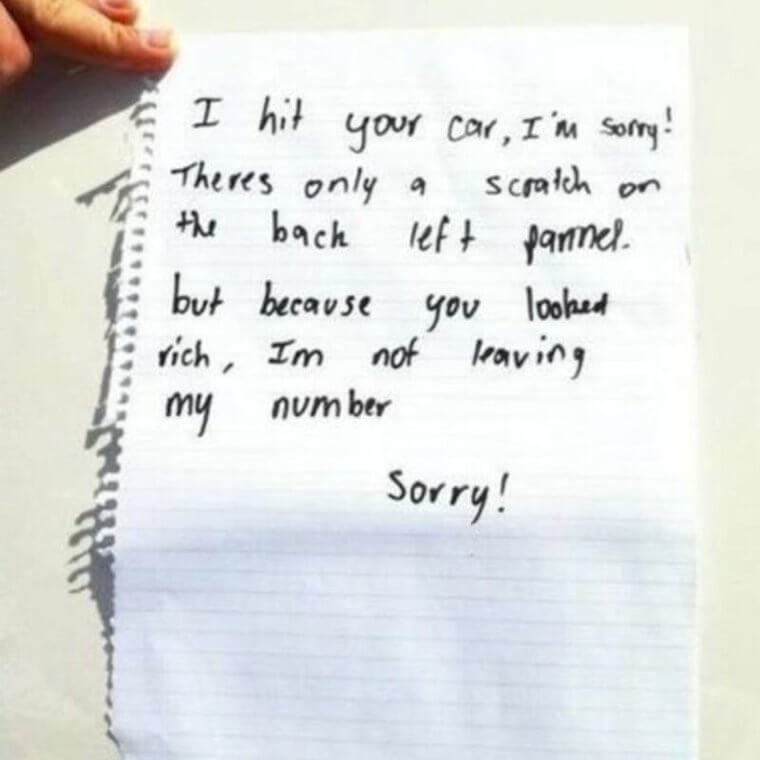 In such a situation, people leave their contact details for the other, in case there is a need for them to compensate them for damages. This stranger saw no need to do that as the other driver seemed wealthy enough to cover the damages. As impolite as it may seem, it is hard to argue with the logic there.

Just One Note Was Not Enough
It started with a simple note informing visitors not to let out the cats. This note didn't seem to have the effect the writer wanted and they, therefore, decided to add one more because one didn't warn visitors enough to keep the cats indoors.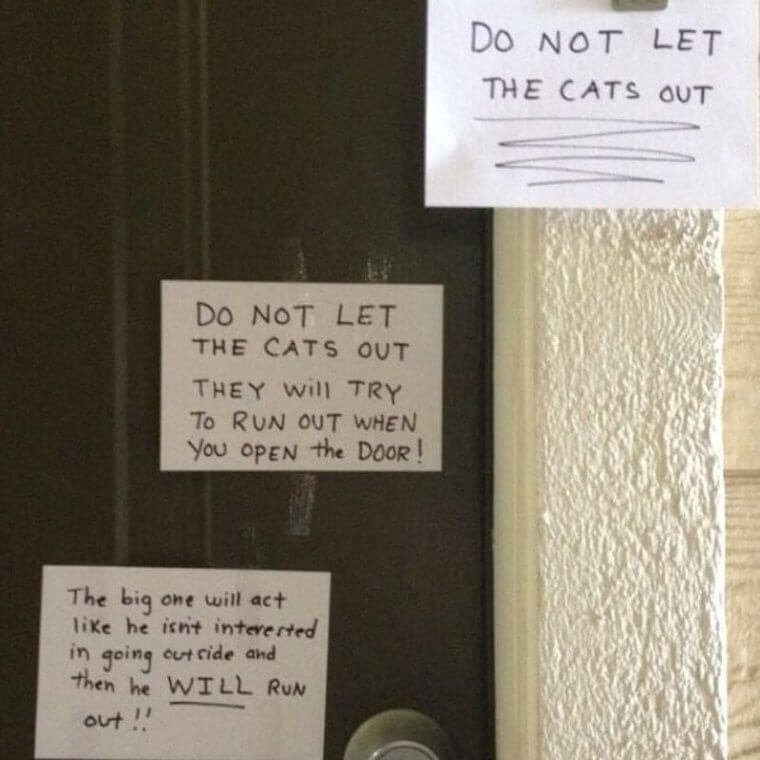 The second note informed the guests that these cats will run if the door is opened. This wasn't enough, as the biggest cat turned out to be quite the trickster, and therefore could not be trusted, meaning the writer had to add a third note. Who knew cats could be so troublesome!
Too Much Information?
Anonymous notes in public bathrooms probably aren't something you see every day, especially since you just want to do your business and be gone. This individual however thought it would be wise to warn the next user of the state of the restroom.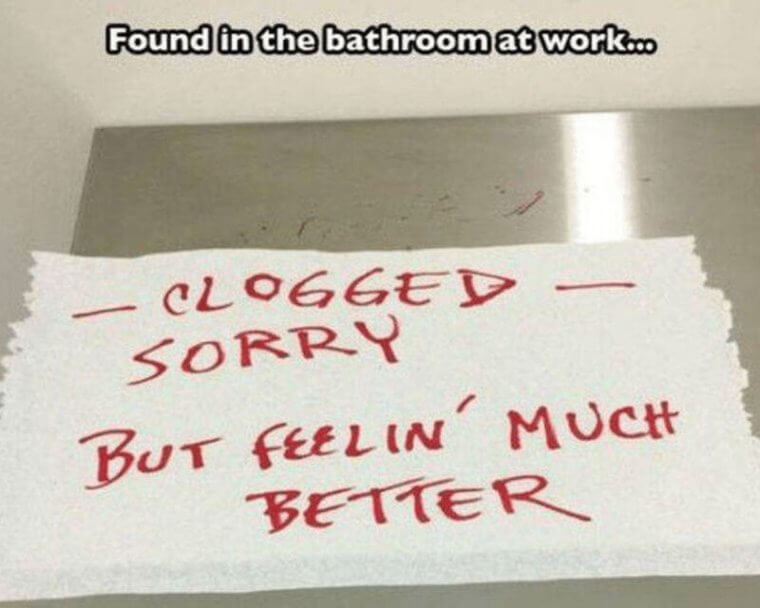 These notes bold red letters warned of the impending danger waiting just behind the door, a clogged toilet. Other restroom users must have appreciated the biohazard warning and would have done their best to avoid that stall. Like they say, not all heroes wear capes and we're sure glad they were feeling better in the end.
Don't Leave Your Door Opened Stranger!
Dear readers, we hope you have learned just as the owner of this vehicle has. You probably shouldn't leave your car door opened as you don't know which stranger will want to leave part of them all over your car furniture.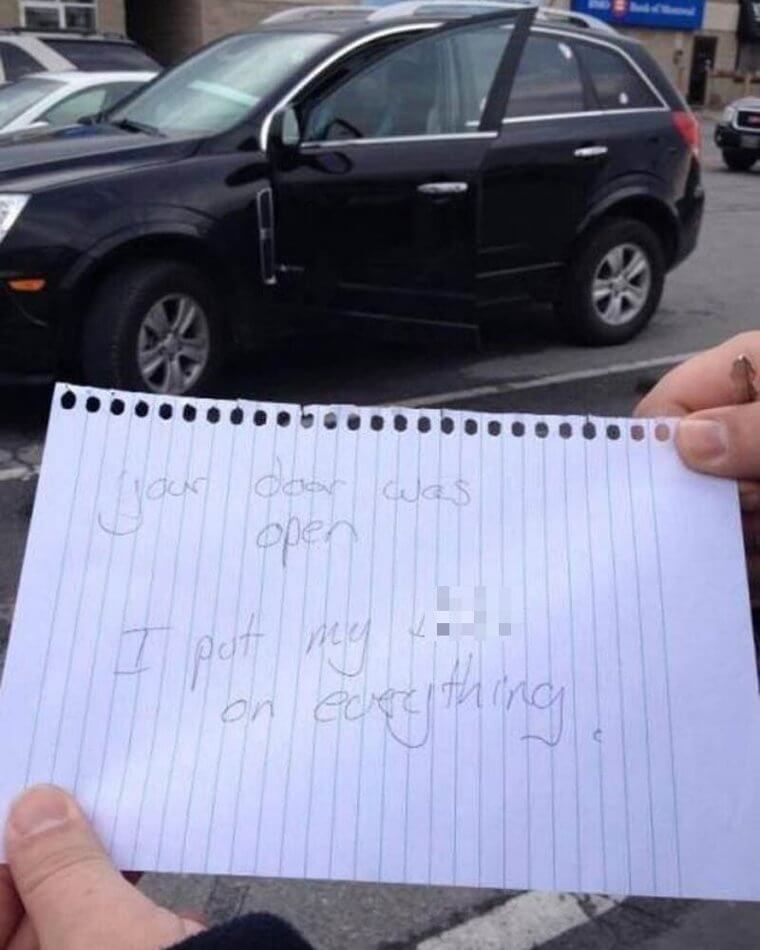 This stranger wrote a note to inform this car owner of his deeds and left the other an important tip, not to leave his car door open. The keyword is blurred out, so we advise that you use your imagination.
Save Your Words
"I quit" was the two-word resignation letter this individual submitted to inform their employer that they would no longer be a member of the company. To resign an employee is usually required by his employer to submit a resignation letter. Resignation letters can come in all forms and sizes but it's obvious that this individual did not really enjoy working here.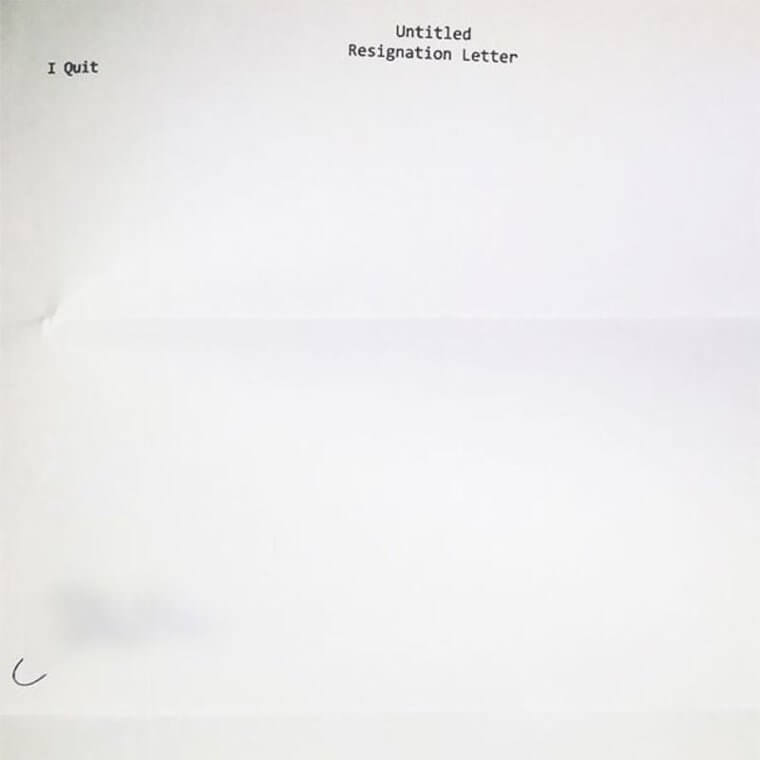 Lack of time or a desire to save as many words as possible may have also contributed to this two-worded letter. A name or date would have added more volume, but what is the need for an unnecessarily long note when you just want to quit.
I Know Right?
The writer of this note didn't want to leave out any details about the accident with the other's mailbox. His wife had hit the stranger's mailbox trying to avoid a squirrel and he left a fun note for the receiver.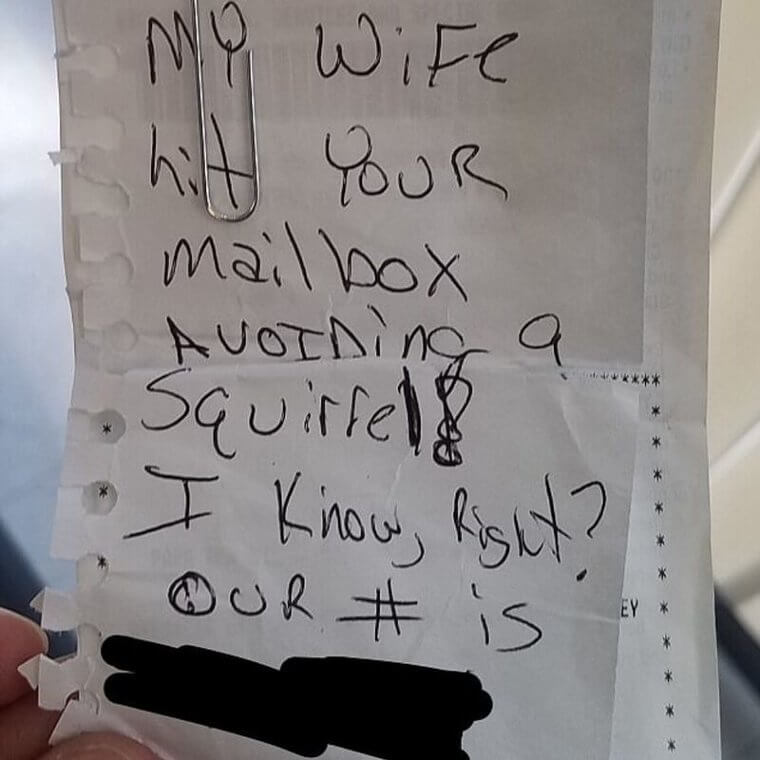 Leaving your phone number and details is the normal reaction in such a situation, which is exactly what this obviously polite neighbor decided to do. With a sweet squirrel involved this mailbox owner sure must understand the cause of the property damage.
A Note From Carly Rae
The lyrics: " Hey I just met you and this is crazy" from the hit song  "Call Me Maybe" by pop-star Carly Rae Jepson, which was released in 2012, has been used in several jokes all over the internet. However, this next person thought it would look pretty clever in a note as well.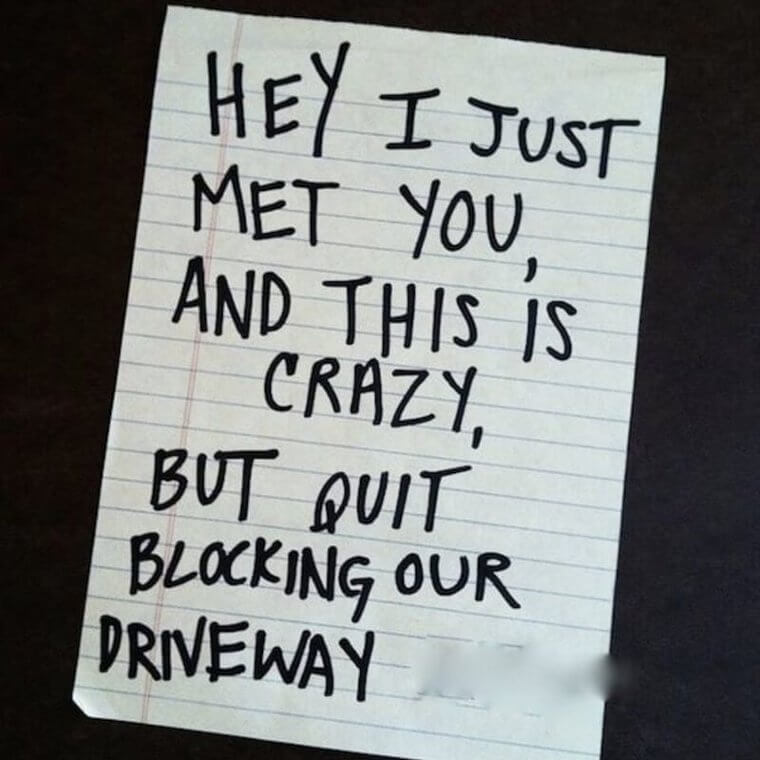 These lyrics have been switched by lots of people to suit their own needs, making the lines from the song come out in a variety of very interesting ways. Here it was used to let some other people know they are doing something wrong like blocking their neighbor's driveway.
Bad Horse! Bad Horse!
While some strangers leave detailed notes with unnecessary information, this Stan saw no need for extra details in this situation as the car owner only needed to know that a horse, strangely named "Tic-tac", had urinated on the car, and Stan and his horse apologized.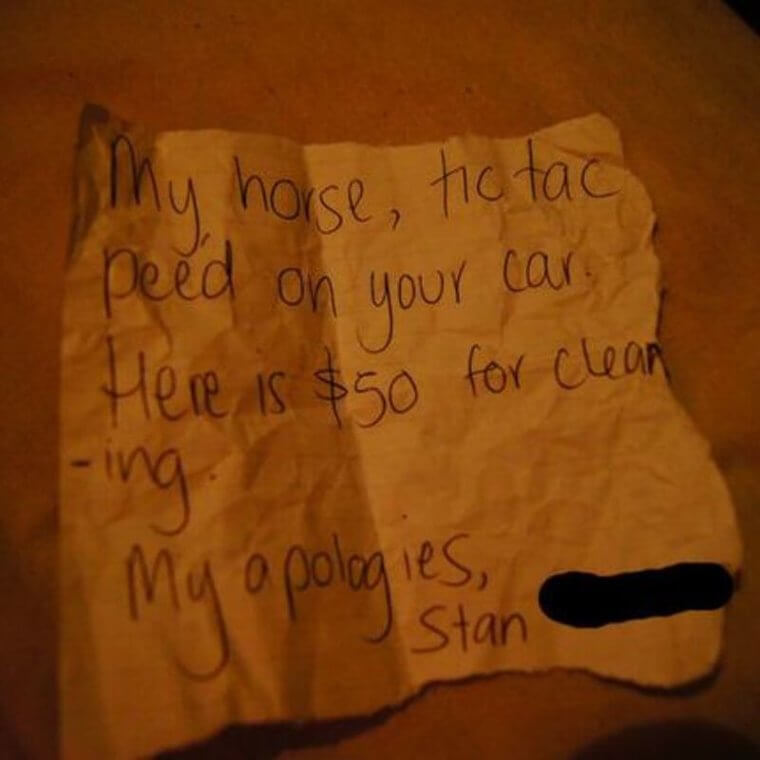 Stan must have wisely presumed that it was better the owner did not have the details on how a horse turned his vehicle into a public bathroom and decided to pee on it. However, Stan dutifully left $50 to contribute towards the washing of the car, which in my opinion is quite a thoughtful gesture.
Can't Help Ourselves
A workplace brings different people with an even wider range of different habits together. While a lot of times co-workers could act like strangers, other times they could be friendly, kind, and even share an inside joke or two. Still, you might find some of their habits intolerable.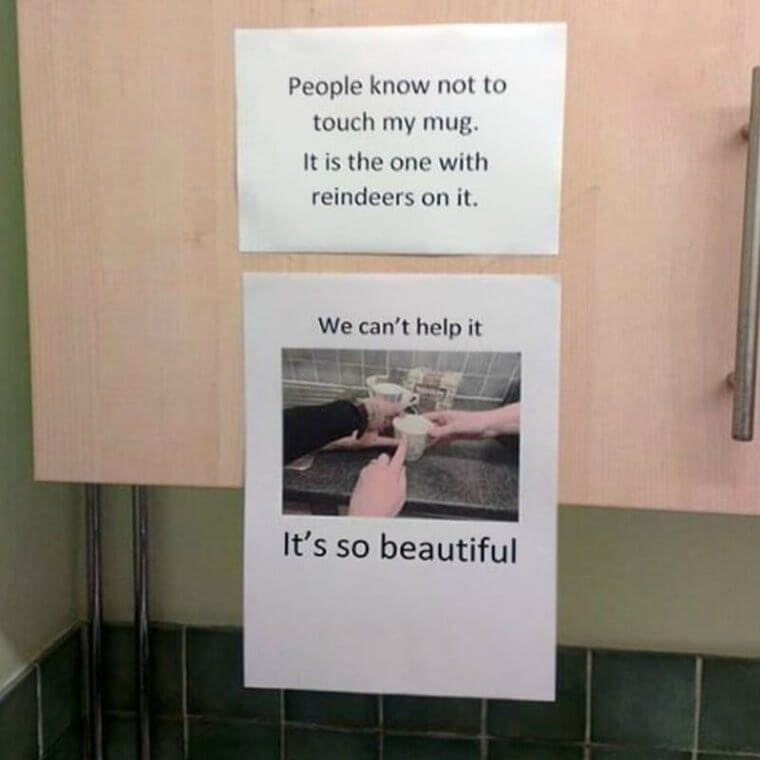 This office worker left a rather threatening note for his co-workers stating: "people know not to touch my mug". The co-workers, unfazed by this threat, posted their own note, doing the exact thing they were warned against! The note is hilarious, though probably not to the mug owner.

No! My Watch Hasn't Begun Yet…
This is a note we hope will resonate with a lot of our readers as a lot of people enjoy discussing shows in the office, usually to the ire of that one person who isn't watching the series. Clearly, this person doesn't enjoy the Game of Thrones discussions going about the office and would prefer not to be left out.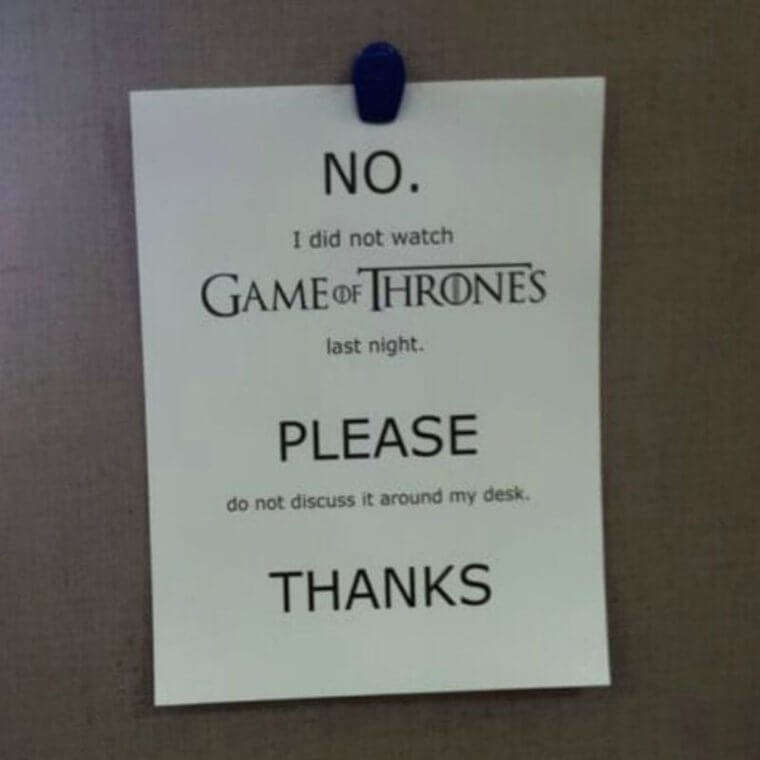 Game of Thrones was really one of the best television series of the 21st century. The political intrigue, forbidden romance, and gory viola made sure that there was a bit of something for everyone. Everyone except our note writer that is.
The Guy in Blue Shirt
Someone's got themselves an admirer, and this admirer is not quite good with their pickup lines. Getting a note from an anonymous person in class without knowing who sent it or has the hots for you can be frustrating.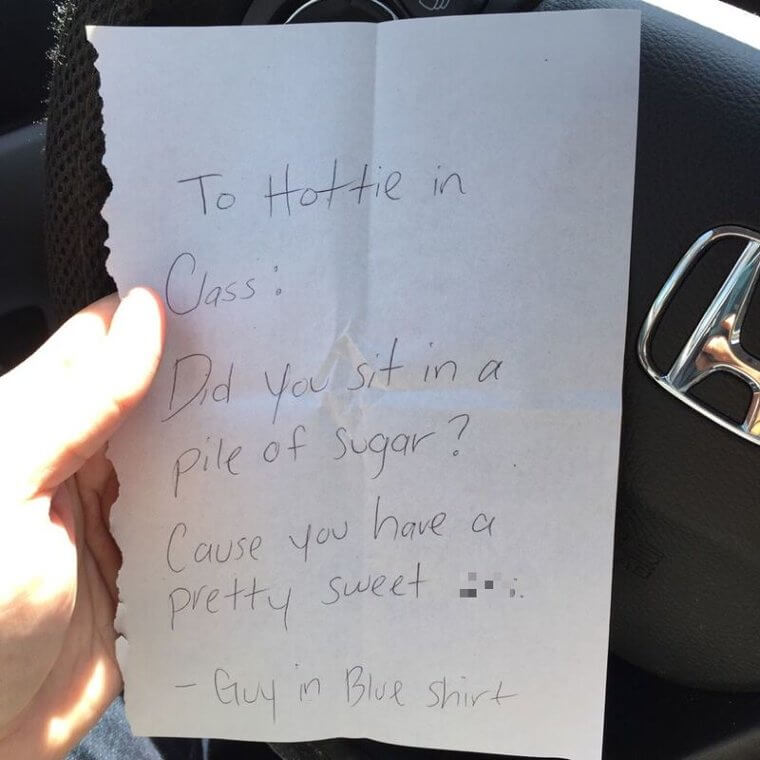 "The guy in the blue shirt" was the secret admirer with cheesy pickup lines that would come from the likes of Barney Stinson from the show 'How I Met Your Mother.' Just in case this sugar-coated "hottie in class" decided to go search for their admirer, just search for the guy in the blue shirt. Easy!
Something To Puzzle Over
This next story is more heartfelt than hilarious, but still shows the depth of human creativity. It seems that our note receiver had gone to the bar one night and poured out their heart to someone, probably a stranger, complaining about life, how they had nothing figured out and how they needed some sort of direction in life. Then the kind stranger gave their view.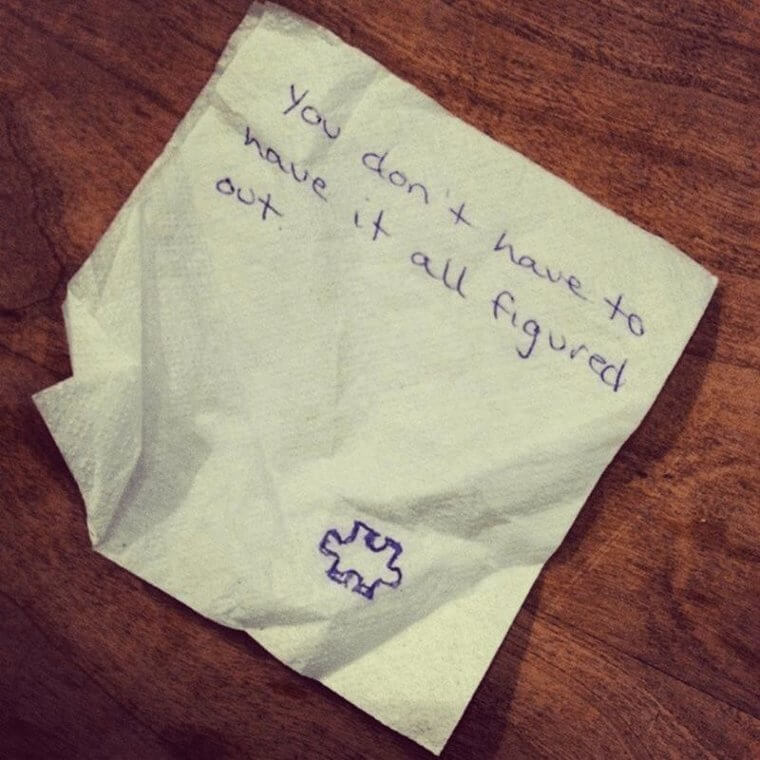 Waking up disoriented and probably hungover, our note reader found something puzzling waiting for them on a napkin. This note could be the reason the person felt better about their lives even though it was from a total stranger. Everyone needs some form of encouragement in their life even one from a stranger at the bar, signed "missing puzzle".
Neighbors To The Rescue
Taking a first look at this notice, the font used to pass this "very important" message seemed somewhat out of place. For such an important message, the font seemed too casual, as it looked just like the pamphlet one might receive during a holiday play.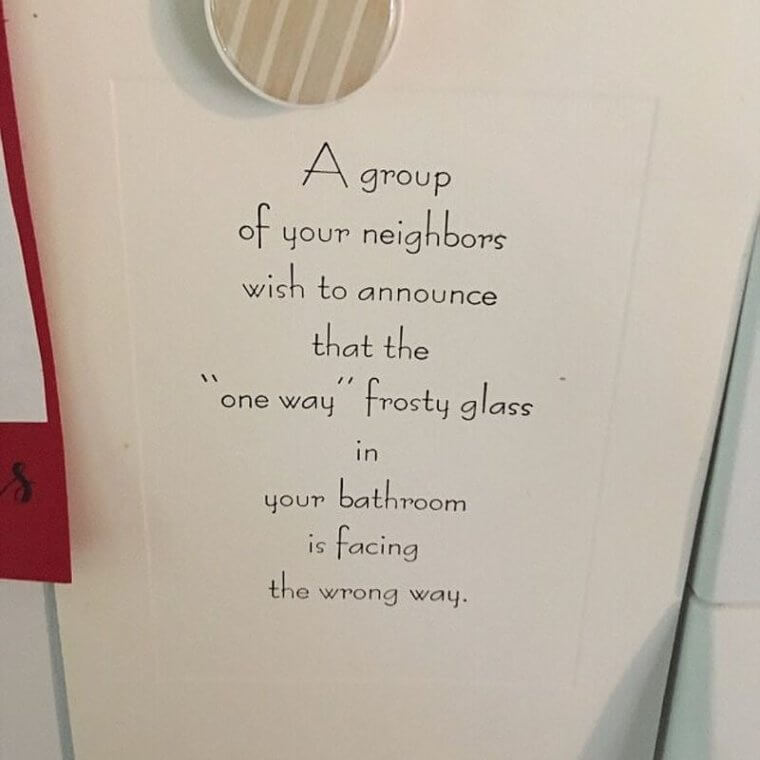 A group of concerned neighbors used this medium to alert their neighbors that their frosted bathroom glass was fixed wrongly and they were getting more than they wanted. Hopefully, their neighbor corrected that mistake as soon as possible.
I'm Not In Love With You... Sorry
This next note might have different effects on its different readers. While it may seem hilarious to us, it would definitely be disappointing for the person on the receiving end who might have thought they had a secret admirer.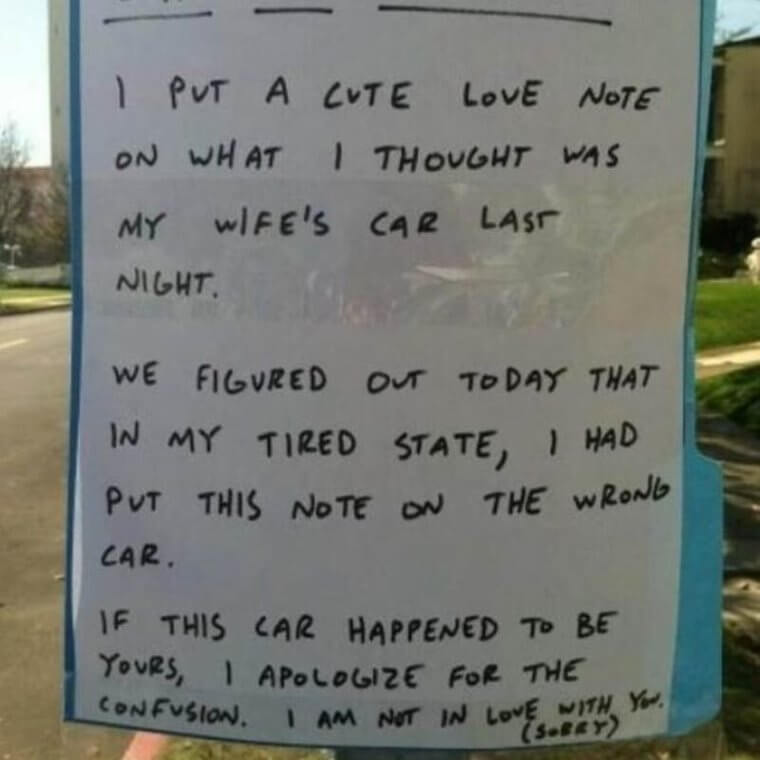 This note was left on a street light and addressed to everyone, as this romantic husband attempting to put a love note on his wife's car, left it on a different car. "I'm not in love with you" he ended as he signed out.

Take My Drawings and a 2 Week Notice
This is a funny way to send in your employer your resignation notice. Though we have no idea why this person felt the need to draw a cartoon dinosaur and submit it as their notice of resignation, we can only assume it's some sort of inside-office joke. Either that or the writer is an 8-year-old.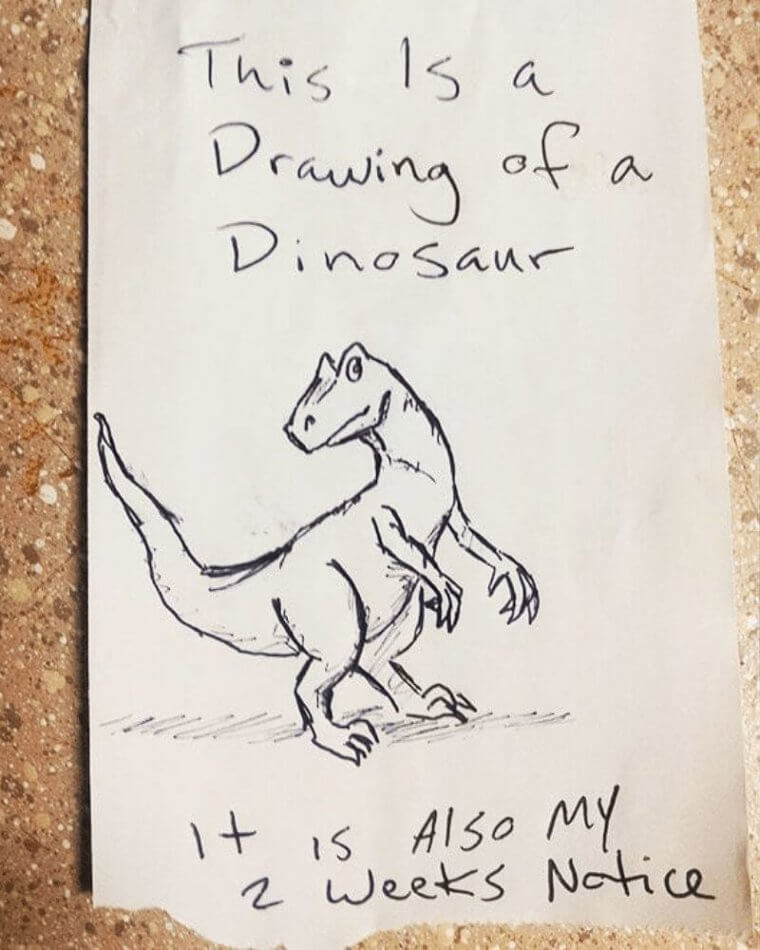 This worker might have used this dinosaur to signify how they had worked for millions of years in this company and it was time for their "era" to pass like the era of the dinosaurs. We can't say for sure, but still, this is one fun way to resign.

How Not To Get A Parking Ticket
While there are people who take responsibility for their actions and try not to get into trouble, there are opposites who find every possible excuse to bend the rules to favor themselves and try to explain their way out of the consequences. Our note writer belongs obviously to the second category.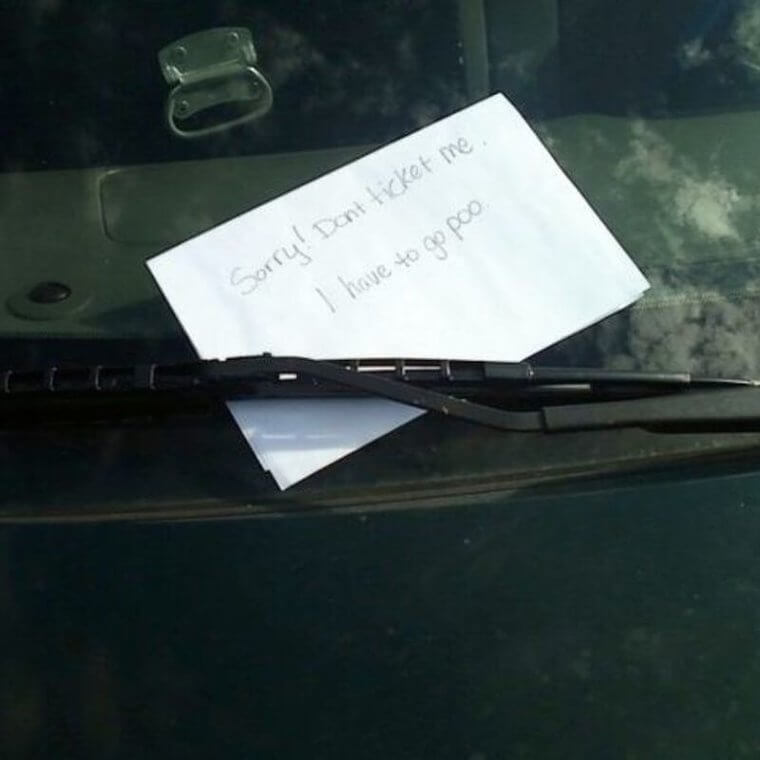 We agree that the bathroom business could be a very urgent matter, however, it doesn't exempt you from getting a parking ticket. This individual must think he found the best excuse to avoid getting a traffic ticket. I'm sure the officer-on-duty had a good laugh while giving him the ticket while the car owner handled his own "duty".

Let's Play A Game
This traffic offender found an entertaining way to keep the traffic warden from giving them more tickets. The car owner decided to use Billy the ventriloquist in the horror movie "Saw" to communicate with the traffic warden.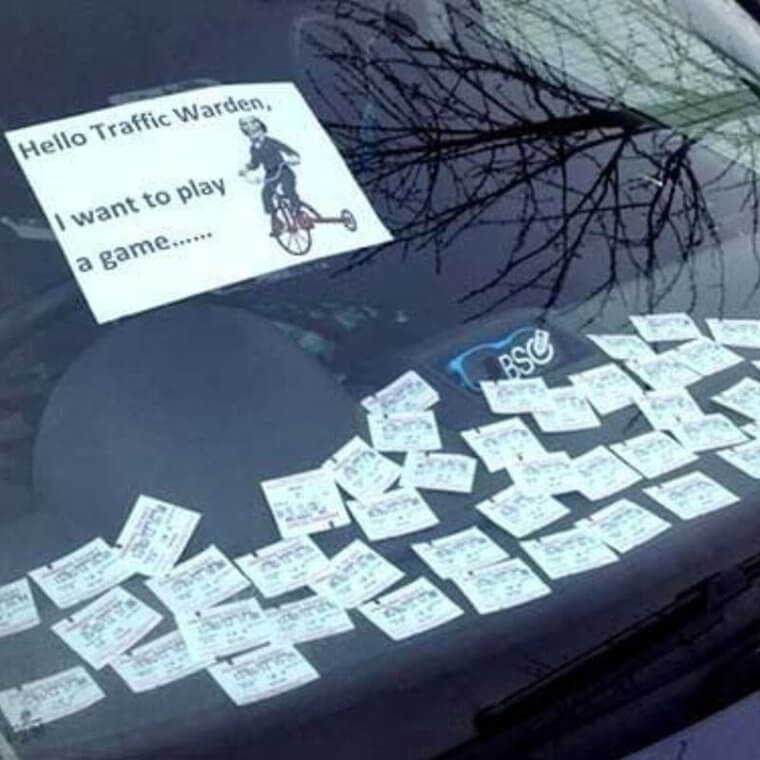 John Kramer/Jigsaw in the movie used Billy the puppet - a tricycle riding ventriloquist's dummy to communicate with his test subject.  The car owner also left out old tickets on his dashboard, this may be the game's goal is finding the real parking ticket or maybe they are all real and it's a subtle warning.
Learn To Share
There's nothing more annoying than a person who parks their car right in the middle of an assigned area in the parking lot. The lines painted in these parking lots were made to show the car owners where to park.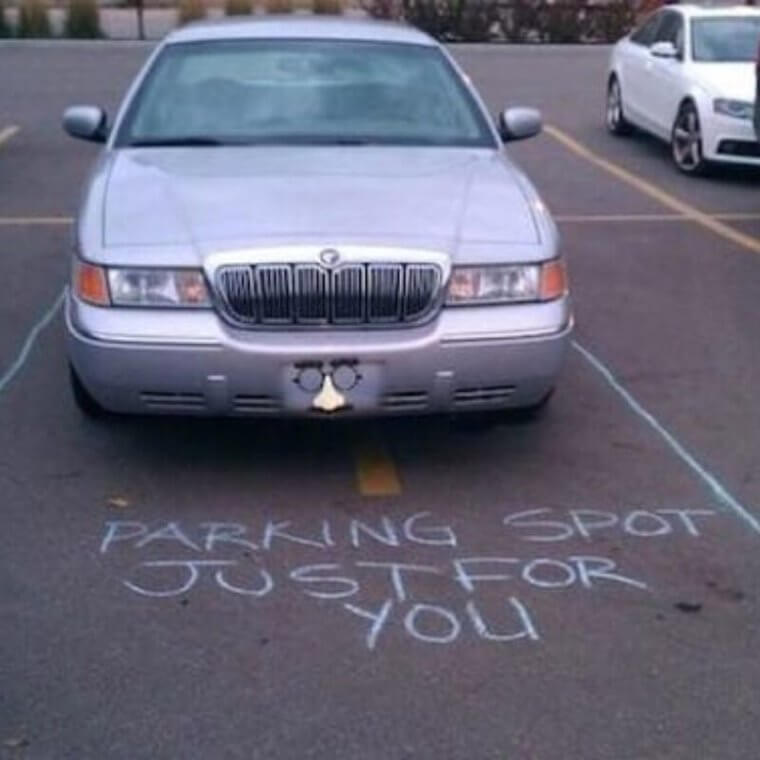 The reason for this design is to allow the maximum number of cars to accommodate an allocated area. Some drivers seem to neglect this and park their cars right in the middle. This Samaritan decided to help this selfish driver.
Really?
Notes left for fellow workers have always seemed to be hilarious, and the best are these post-it notes with 'really?' written on them. This person had pasted one post-it note on a dirty cup in the office chastising the culprit.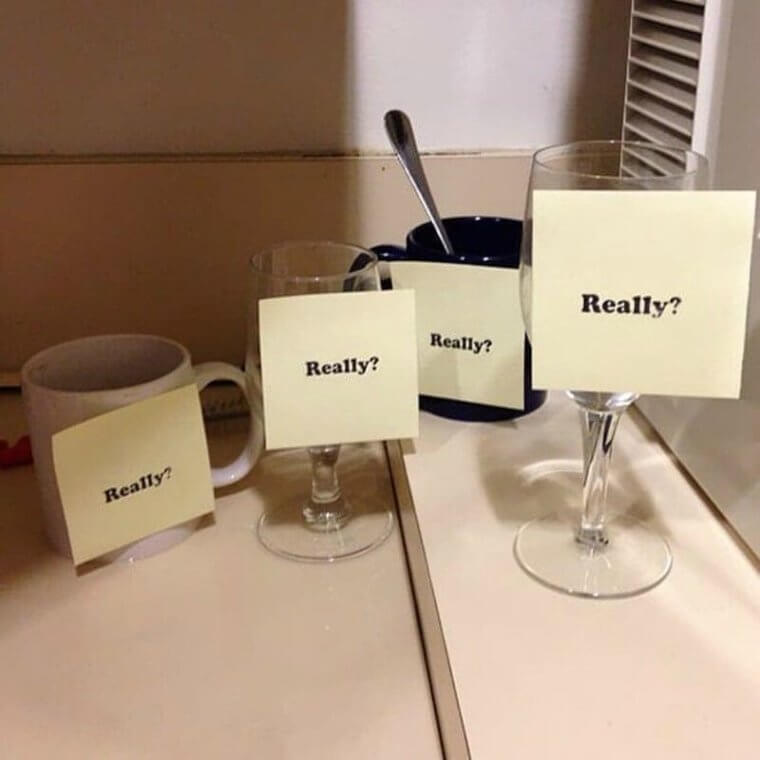 The co-workers decided to join in and attached their notes to other cups. We don't know where they find these wonderful stickers, either the first person made a huge stack of them for future use, or the others made duplicates.
I Quit!!!
Having a co-worker mistreat you at work and your employer acting complacent in dealing with such employees for selfish reasons is enough reason to quit. Sometimes we just have to stop cooing with the bad treatment at work and quit.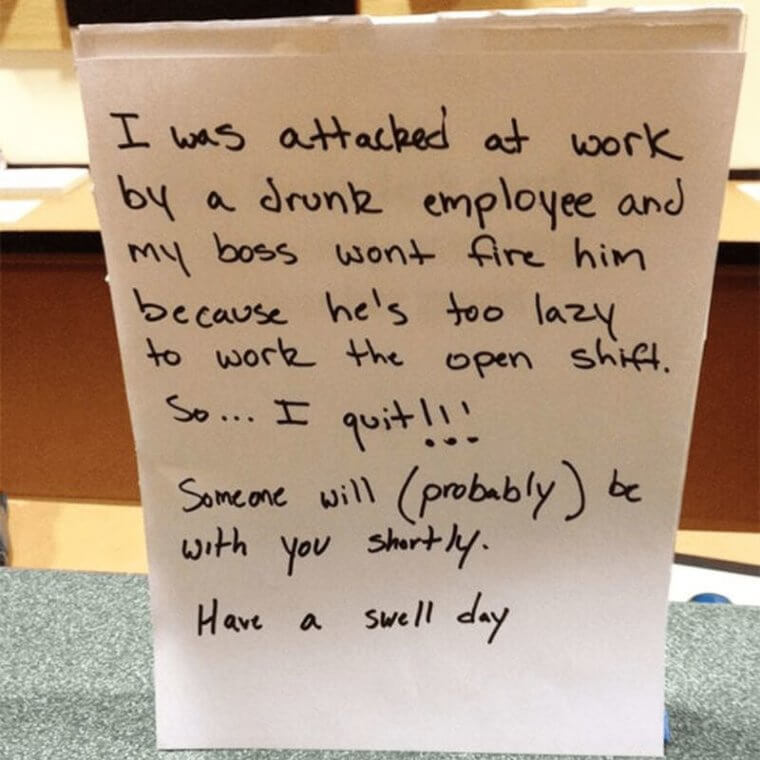 This employee was done, and couldn't take it anymore. He was kind enough to inform the next customer that he would be quitting and not available to attend to them and that someone would be with them shortly (probably).

Nothing Could Prepare You for This…
The resignation letters are getting more and more creative and hilarious. Alex, the giver of this notice, scores extra points for creativity. Part-time workers are expected to give a two weeks notice to their employer when they decide to leave and this was Alexs' notice.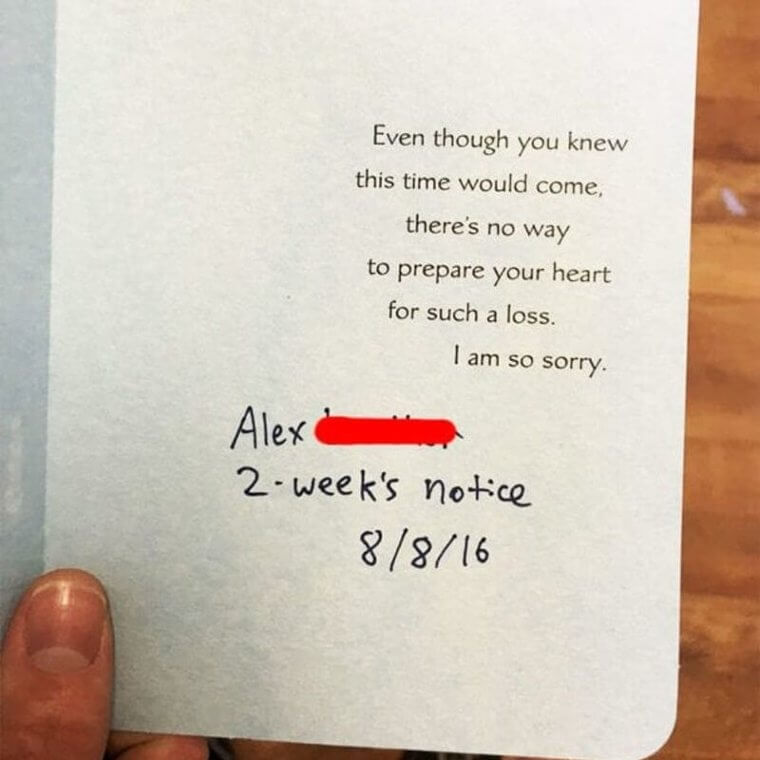 By the time these workers decide to stop working the interest in the job is gone and they just want to leave and are unbothered by what their resignation letter says. A sympathy card resignation letter is very unexpected from anyone.
The Eavesdropper
This lovely note with beautiful encouraging words is what everyone needs at a point in their lives. This stranger, knowing they'll have to confess to their eavesdropping on another's conversation, decided to leave an encouraging note for this other stranger.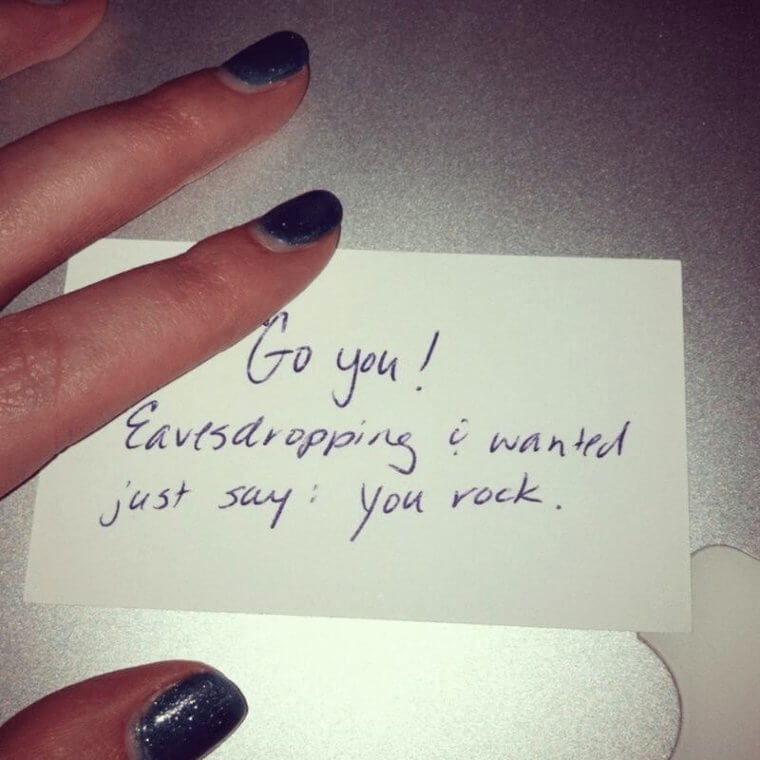 If this doesn't make this young lady feel better, it would be hard to find what will. We all wish someone would be this nice to leave nice encouraging words for us when they overhear us venting out our problems.
You're Ruining My Life!
The different states in the USA have their rules guiding parking. In some areas, people suffering from physical disabilities are expected to apply for stickers that would be displayed on their cars to allow them to park close to buildings.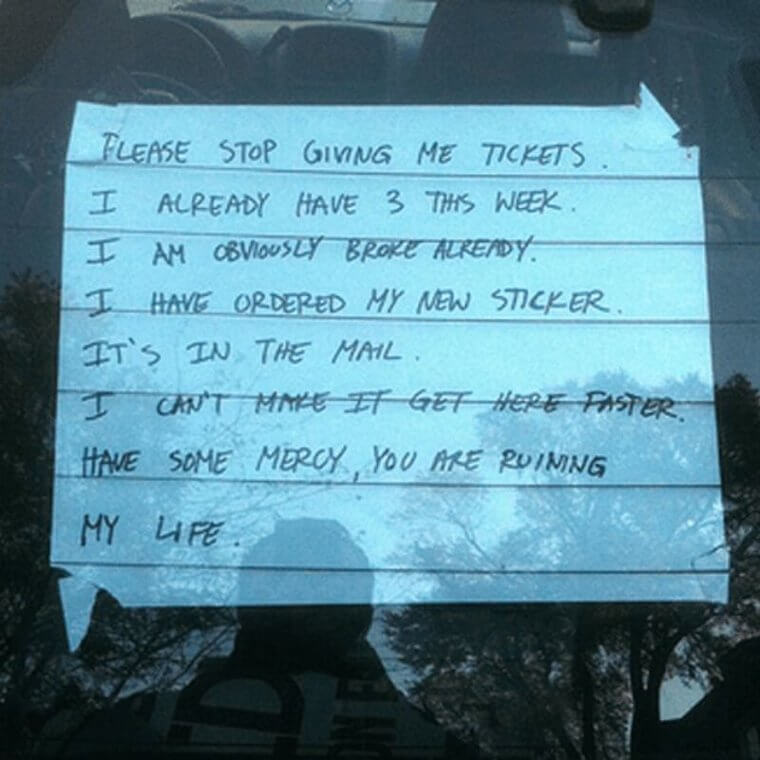 This note has a pleading tone as the car owner is waiting for their sticker which is still in the mail and they are tired of the constant tickets they get. We just hope this warden is nice enough to let it go.
When You Hafta Resign
Just when we think we have seen all the funny resignation letters, Tom hits us with this letter expressly informing his employer that he would be resigning. You can even hear how he sounds with his use of extra words.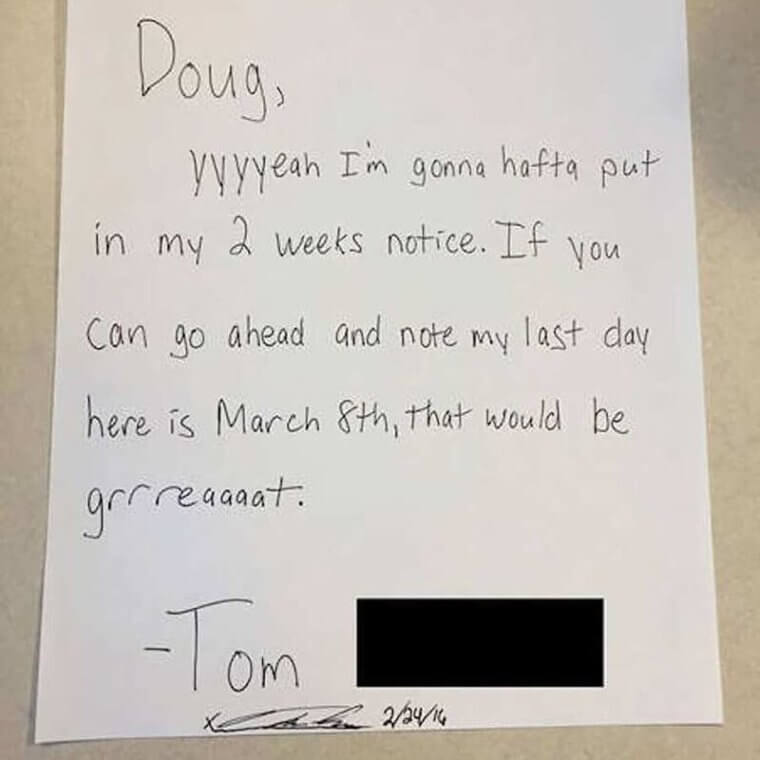 Tom is either nervous about resigning and has transferred this to his letter, or is just tired of working here, and doesn't care about what Doug thinks of the letter. Starting the letter with "yyyeah" seems Doug saw it coming.

The Doorknob Thief
Imagine returning home one day after a long day, only to realize that your doorknob is missing and you can't enter your home. That is what happened to this individual one day when their neighbor decided to take their doorknob.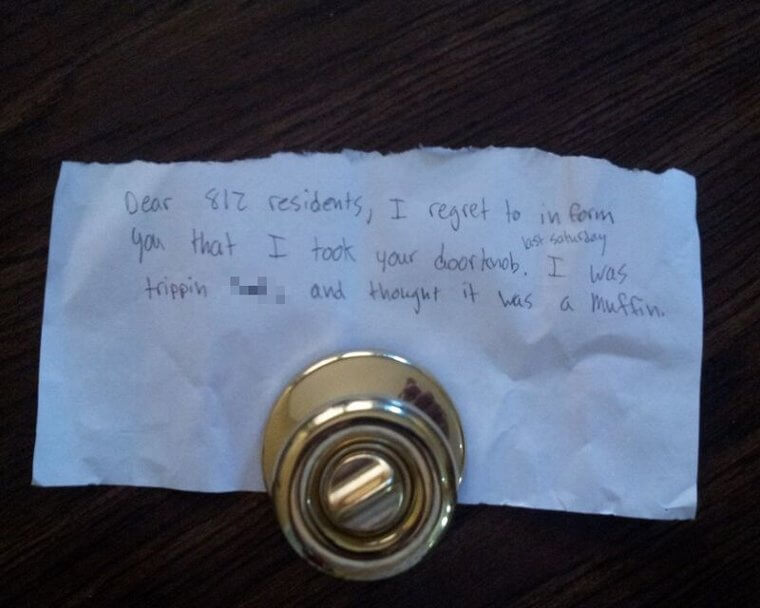 Fortunately, this neighbor decided to return the doorknob and left a note explaining why they took it in the first instance. This neighbor had chewed off the other's doorknob in a drug-fueled episode thinking it was a muffin! Anyways they seemed to honestly regret it.
For The Love Of Books
This is certainly one of the loveliest notes on the list. Sometimes it's hard to find someone who appreciates the same genre of literature as you do, and when you do, you just have to be friends with them. The bond created over a shared liver for books is almost unbreakable.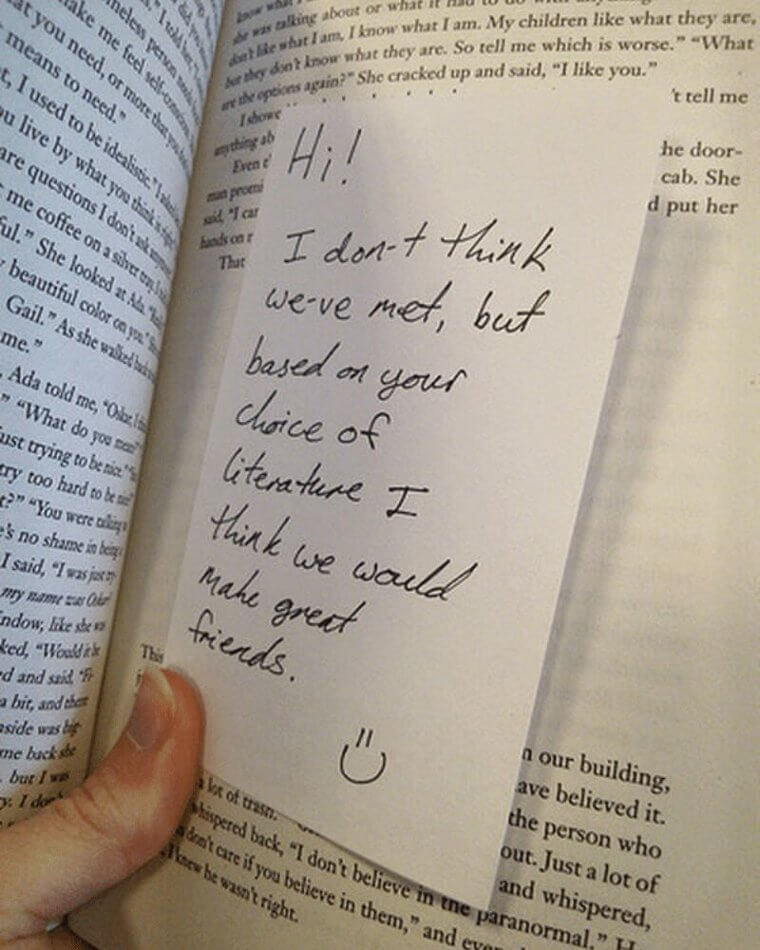 If you're a bibliophile, an awesome place to find your soulmate would be the library, and there's nothing more amazing than finding a fellow bookworm enjoying your favorite book. The receiver of this note must have felt the need to run looking for their new best friend after reading the message.
It Had To Be Said
Some employees find it hard to speak up for themselves when being mistreated at their workplace, so it's nice to see when employees take up courage and leave angry notes for their employees not minding the cost.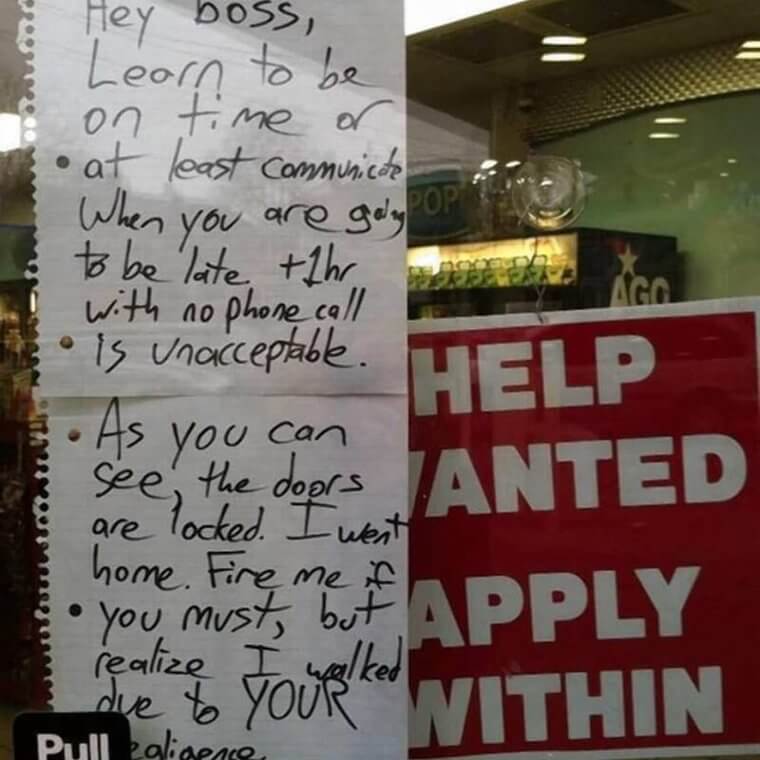 This employee was tired of their boss's negligence and locked the door of their workplace, as the boss as usual was late and didn't bother with a phone call. They left the boss a note sewing their feelings not minding the repercussions.
Just Kidding
Don't we just all love pranks? That is what makes this cute little yellow rectangular card so adorable and hilarious. This stranger placed a yellow card on another car pretending to be a parking ticket.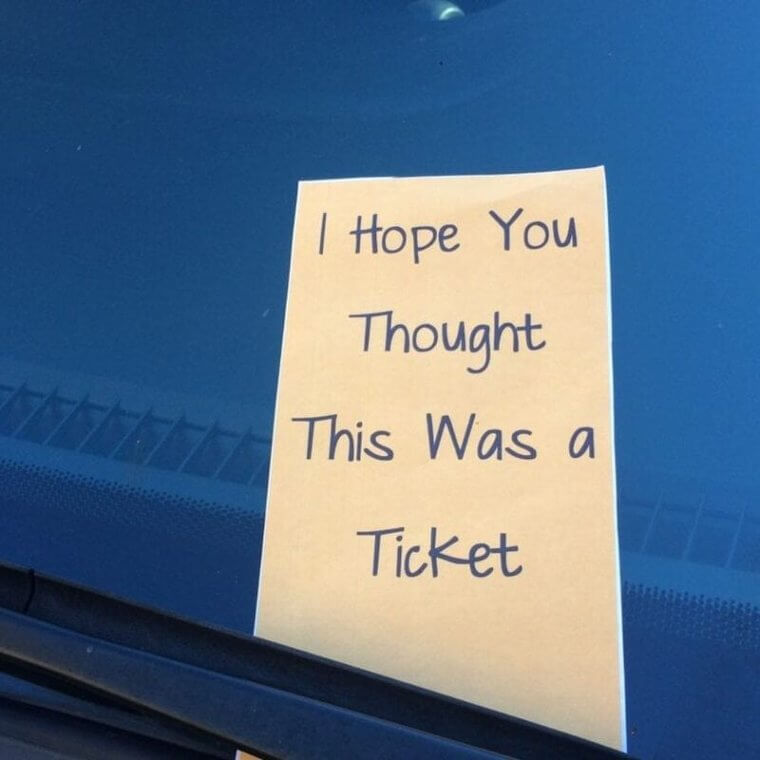 It was just a prank note, and we hope it was as effective as the stranger intended. The receiver should do well to repurpose and place it on another car. This little yellow card with its nice message may be what makes someone's day more fun.

Just Having A Great Day
Not everyone is having a great day, and instead of making it harder for them, we should all try to make someone's day better. This stranger decided to make this persons' day by paying their ticket fee.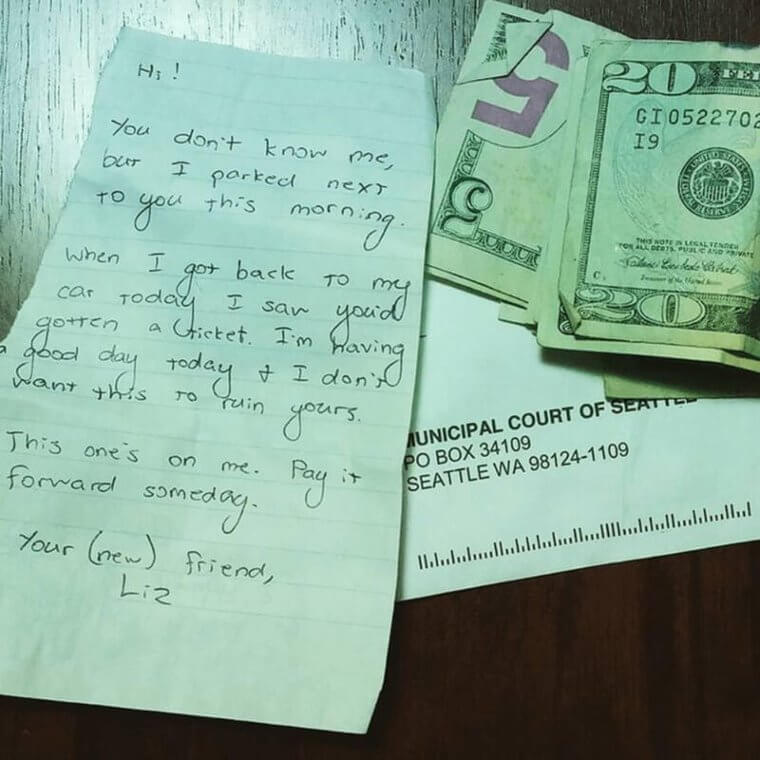 They also left a cute note explaining that they were having a great day and wouldn't want the ticket to ruin another person's day. Liz also trusted her new friend to pay it forward, which is quite trusting for someone you don't know.