While it's not really a written requirement, being tall, dark, and handsome sure doesn't hurt when you're a famous actor in Hollywood. This list contains many of the tallest men you'll find in the movies and TV shows that we all love to watch. Some of them use their height to their advantage in their roles, and for others, it's simply part of the package. If you've ever wondered how tall The Rock is, or if Jason Momoa is taller than Jason Segel - we have the answers! Read on to learn more about these talented men and their heights.
Tom Selleck (6 Feet 4 Inches)
It's a stereotype, but it's still often thought that tall people should be really good at basketball, and it's simply not true. Well, not in all cases at least. But for 6'4" Tom Selleck, college basketball was his ideal sport. This was before he entered Hollywood, of course.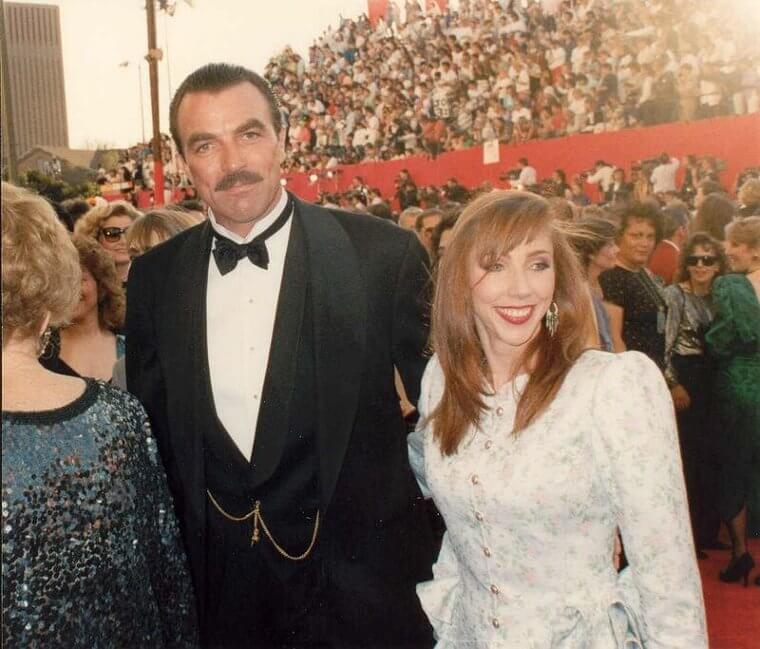 As an actor, Selleck's height seemed to simply help him steal the limelight in whatever role he played. We all remember him being our favorite doctor in the series Friends. He's also very well known for his role in Magnum P.I., of course, and who could forget him in Three Men and a Baby?
Chris Hemsworth (6 Feet 3 Inches)
We think it's safe to say that if superheroes were real, they would need to be quite tall people, as well as strong. And if that were the case, we think Chris Hemsworth would make the ideal superhero. He already does such a good job in his role as Thor in many Marvel movies.
The Australian actor is 6'3" and very well-built, which is most likely why Marvel has used him for so many of their superhero movies, like Avengers. But Hemsworth has also worked on branching out, taking roles in a Men in Black movie and Snow White and the Huntsman, so show the diversity in his skills.

Ross Butler (6 Feet 3 Inches)
30-year-old Ross Butler has been working away at creating a reputation in Hollywood since his teens and most of us now know the 6'3" actor as Zach from 13 Reasons Why. He's had other important roles too, though.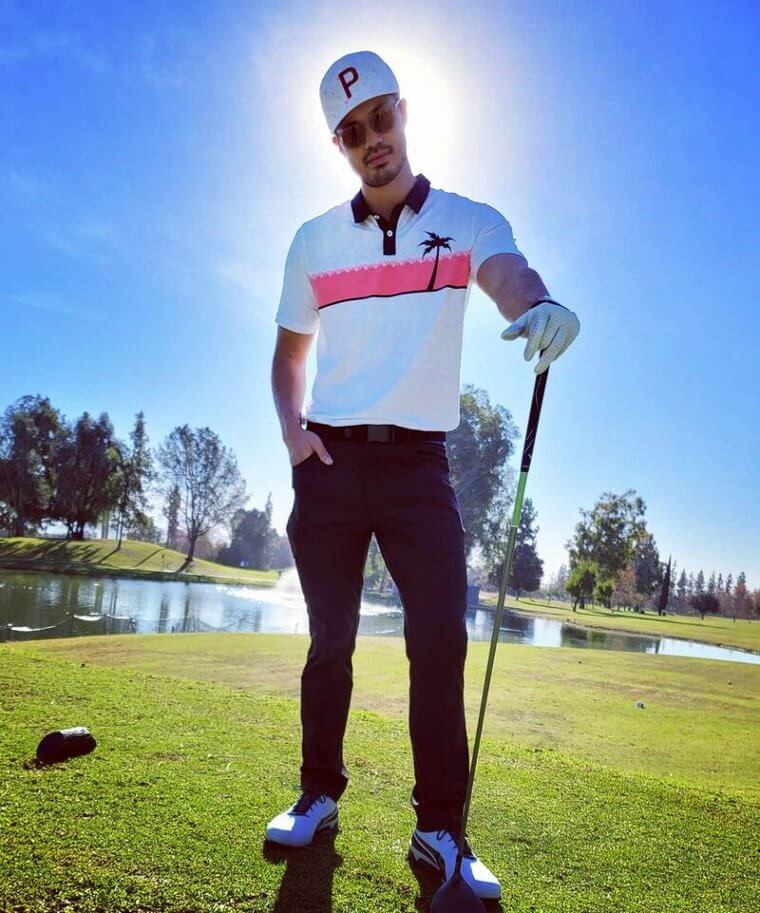 Butler seems to be a pro at TV shows, grabbing roles in Riverdale, Teen Wolf, and K.C. Underground. He's also appeared in movies such as To All The Boys: P.S. I Still Love You, Shazam!, and Teen Beach 2. We're pretty sure that you'll continue to see more of this tall guy on your screens in the future.
Chevy Chase (6 Feet 4 Inches)
Perhaps the only co-star on Community who didn't have to strain their necks to look Joel McHale in the eyes is Chevy Chase. The comedian, actor, screenwriter, and producer is just a little shorter than McHale, coming in at 6 ft 4 in. Although the actor has complained, "A lot of people think I'm shorter than I am, and that has always bothered me. Most people think I'm around 5'10''."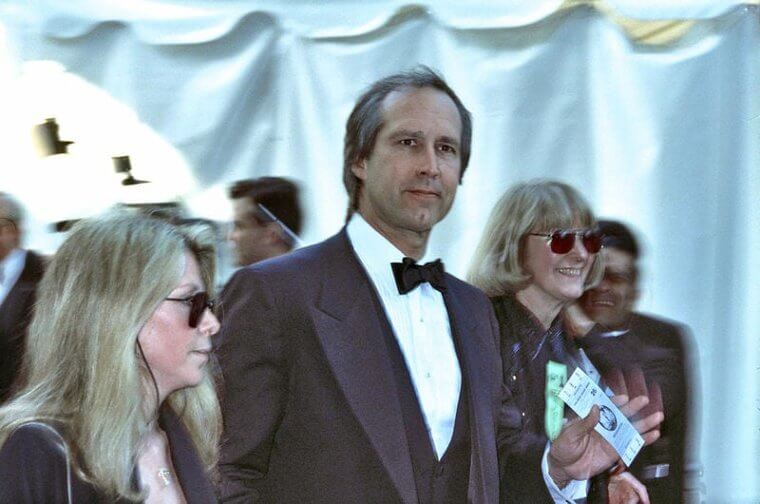 The 77-year-old was a big name in TV comedy in the 80s, he had all of the boomers and Gen Xes laughing with him in films like Caddyshack, Nation Lampoon's Vacation, and Fletch. Unfortunately, Chase had struggles with prescription drug addiction, and this put a dent in his work in Hollywood the last few years.
Joel McHale (6 Feet 4 Inches)
If you've watched even a single episode of the TV show Community, you would have seen that actor Joel McHale is significantly taller than his co-stars. The comedian-actor is an impressive 6 ft 4 in tall. It may not sound extreme when you first think of it, but for context, his wife, Sarah Williams, is only 5 ft 6 in.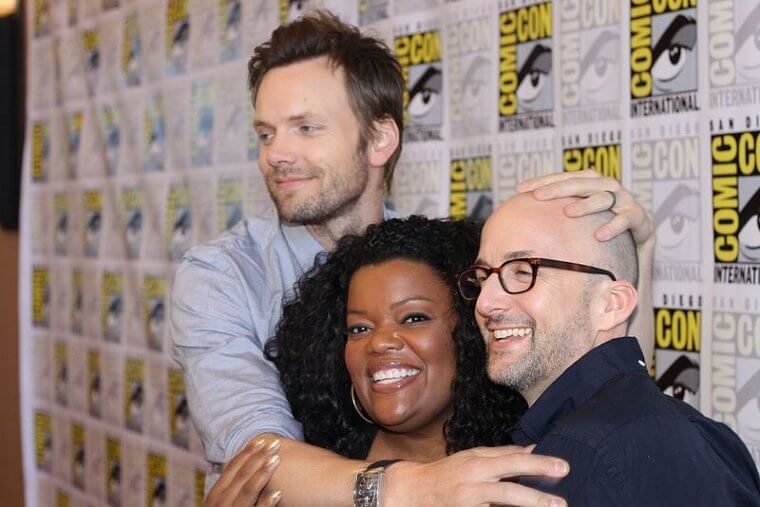 His height was also very obvious when McHales stood next to most of his guests on The Joel McHale Show with Joel McHale. Joel is a hard-working actor in Hollywood and has appeared in numerous TV shows and movies. He was in Spy Kids: All the Time in the World, Ted, Will & Grace, and X-Files.
Dwayne Johnson (6 Feet 5 Inches)
Big, bald, and bear-like, ex-professional wrestler Dwayne Johnson is one of the biggest actors in Hollywood now, in more ways than one. Not only is he 6 ft 5 in tall, with chest and arm muscles bigger than we've seen in a while, but his acting career has also really taken off. He looks intimidating, but judging from his fun and friendly characters, we think he'd be a fun guy to hang out with.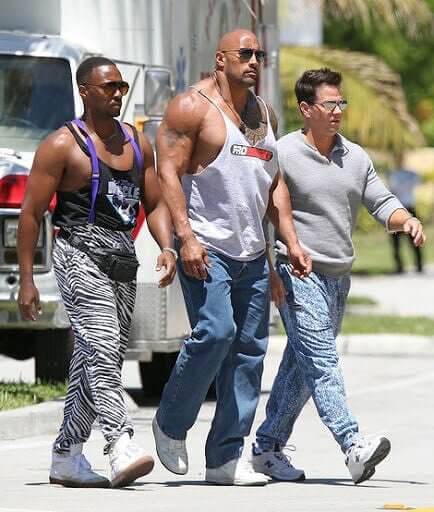 Johnson, or 'The Rock' as he's known thanks to his wrestling days, has acted in a few movies. These include Jumanji, Baywatch, Journey 2, and multiple Fast & Furious movies. In some of his movies he plays big, tough guys, often ready to save the world, or at least the people near him. But he's also showed a softer side when he starred in Tooth Fairy, which is as cute as it sounds.
Dave Bautista (6 Feet 6 Inches)
Professional wrestler Dave Bautista was introduced by the WWE as a 6 ft 6 in, 290 lb wrestler, and made quite a successful wrestling career out of his size and skills. Although rumors say that Bautista is actually only 6 ft 2 in, there's no doubt he's on the larger side of life. The former wrestler was also a bodybuilder and mixed martial artist before he retired.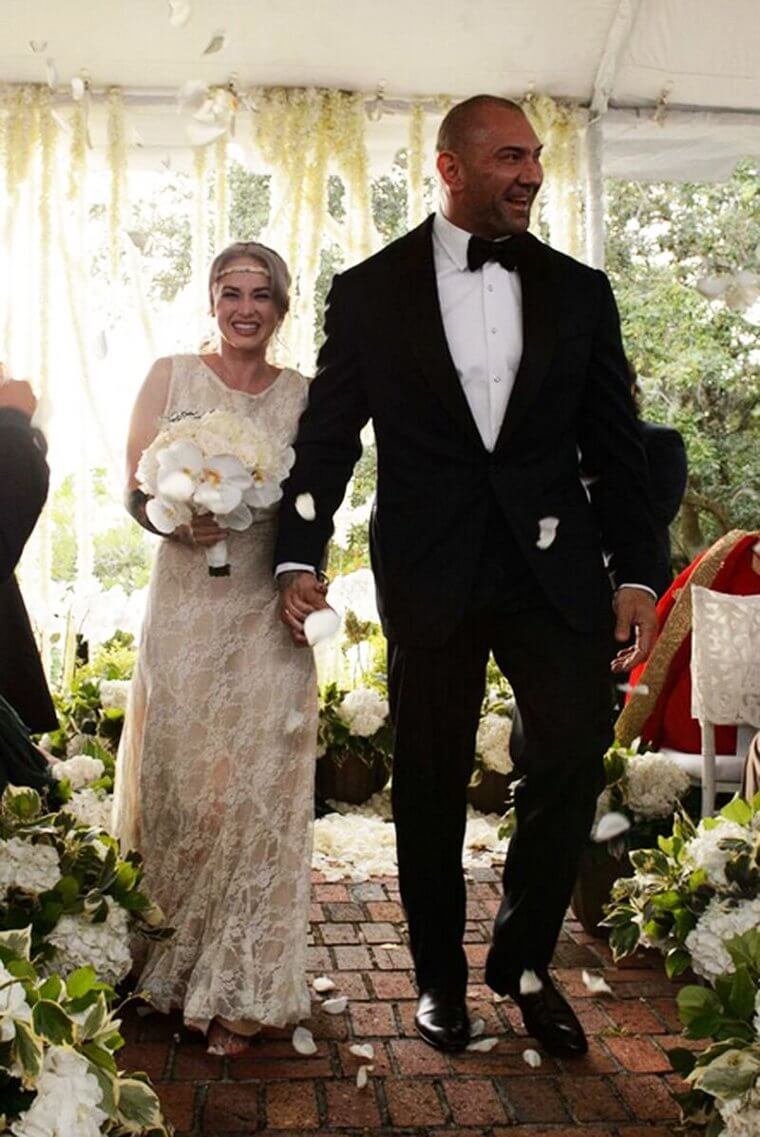 These days Bautista uses his large size and somewhat menacing look in his new career - acting. He's acted in movies such as both of the Guardians of the Galaxy movies (where he plays Drax the Destroyer) and two of the Avengers movies. He's not slowing down, though, and has new movies lined up already. So whether or not he's 4 inches shorter than we've been told, his career is not affected by that.
Joe Manganiello (6 Feet 5 Inches)
You may recognize this handsome face from the HBO original show True Blood. Joe Manganiello brought his tall and athletic physique to the role of Alcide the werewolf. Manganiello stands at 6 ft 5 in and his stature is quite impressive, not to mention the chiseled face atop his treelike build. And for interests' sake, he has to seek out a massive size 13 shoe in the stores.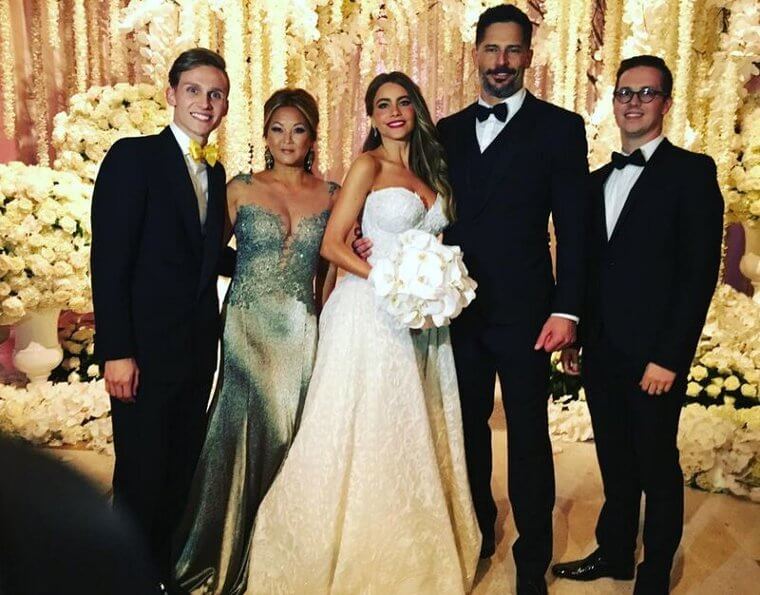 When he was done being a good-looking werewolf, he went on to play in the movie Magic Mike. He's also appeared as Flash Thompson in one of the Spider-Man movies. And when he's not showing off his looks and skills in front of the camera, he's behind it, producing and directing.
Vince Vaughn (6 Feet 5 Inches)
Vince Vaughn may be getting older, entering his 50s, but he doesn't seem to be losing much of his 6 ft 5 in height. The actor's height and sense of humor are two of his most distinctive features, noticeable whenever he walks into a room.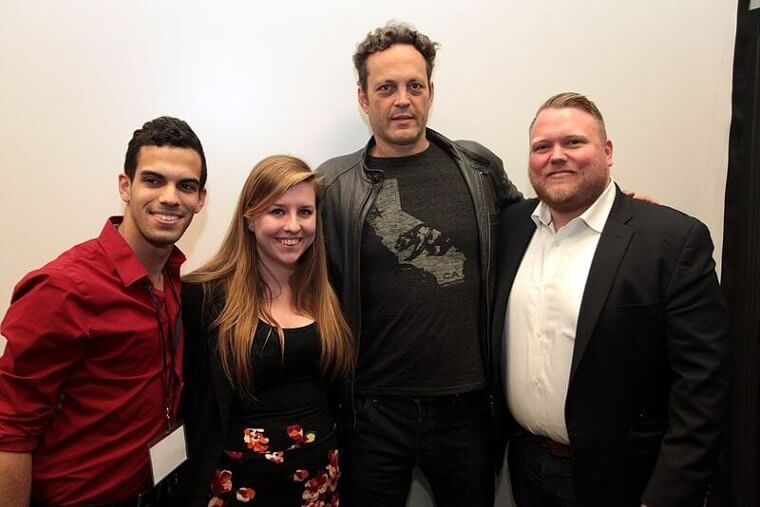 You'd recognize Vaughn from one of the many roles on his resume. These include movies like Wedding Crashers, Swingers, and The Break Up which he starred in opposite Jennifer Aniston. He's also done work on the other side of the camera, he's worked as a producer, comedian, and even a screenwriter. He's also quite the activist.
Will Ferrell (6 Feet 3 Inches)
This is one special case where the height of an actor/comedian is actually used to enhance or make a role even more believable. When Will Ferrell (6'3") played in the film Elf, he was an oversized elf because he was 'adopted'. Seeing such a large man work and act around the smaller elves made the movie funnier and more adorable.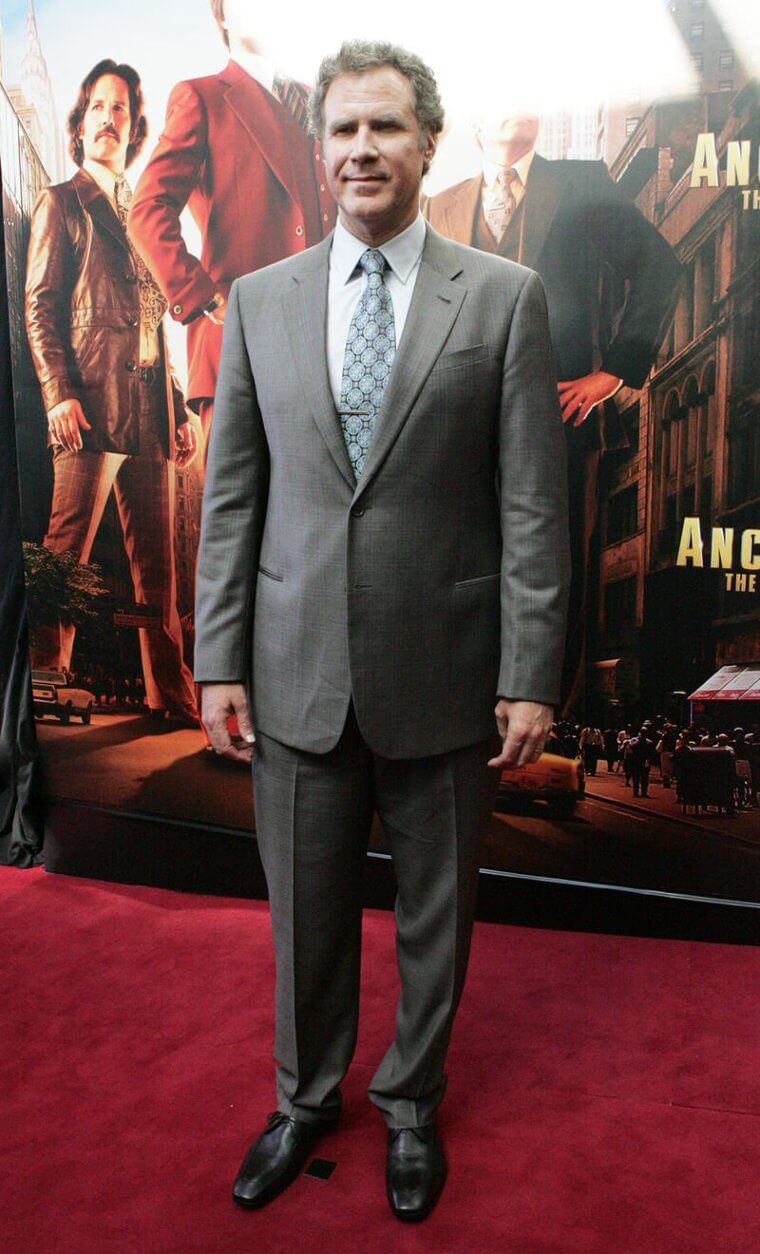 Ferrell is a gifted comedian, able to bring humor to whatever he does, and he's made a roaring career out of doing just that. This comes through in his movies like The Anchorman, Step Brothers, and Daddy's Home.
John Corbett (6 Feet 5 Inches)
Whenever Hollywood producers are looking for a tall, handsome love interest, John Corbett is often a popular choice. The actor's height measures 6 ft 5 in, and his warm smile and kind eyes make him a great love interest actor. This is also what made his role as Aidan Shaw in Sex and the City perfect for him.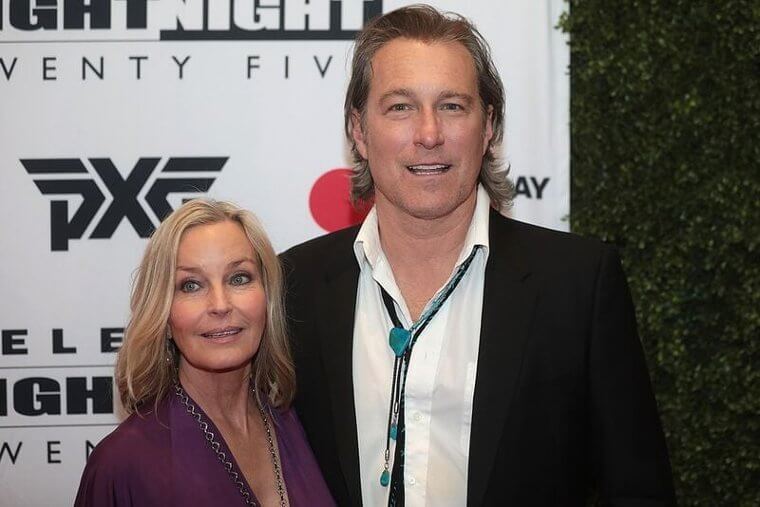 Also on his list of past movies is Raising Helen, My Big Fat Greek Wedding, and his most well-known role in Northern Exposure. Corbett is also a country music singer and has been in a relationship with actress Bo Derek for nearly 20 years.

Tyler Perry (6 Feet 5 Inches)
If you were someone who watched the Madea movies and wondered how this elderly lady was so tall, there's a simple explanation. It's because underneath the dress and wig was actually a 6'5" man named Tyler Perry. The actor is extremely talented, having created and portrayed the loveable character Madea.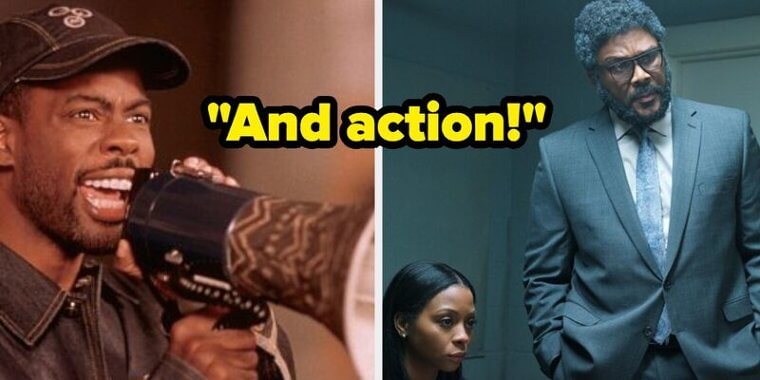 Perry is very good at transforming his large build into many different characters. He's also acted in a list of other films, and in some of them, he even plays himself - or at least plays a man who looks like himself. Behind the tall actor's fascinating skills, his other talents include screenwriting, directing, songwriting, and producing. He's also an author, entrepreneur, and philanthropist.

Tim Robbins (6 Feet 5 Inches)
Although his height is not what he's best known for, award-winning actor Tim Robbins is, indeed, one of the tallest men in Hollywood. He stands at 6'5", much taller than a number of his co-stars, but most people know him for his role in the movie Shawshank Redemption.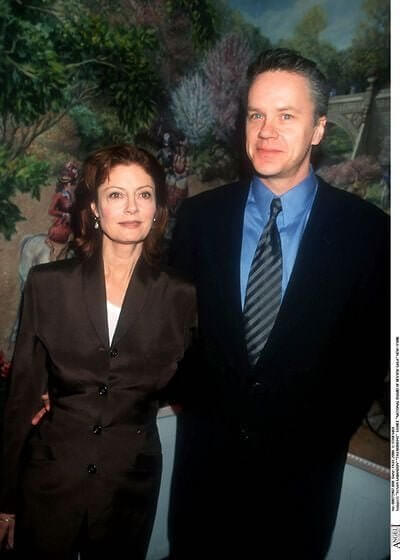 Robbins' height isn't always a part of his roles, but we're sure it didn't count against him either - especially when he played opposite taller actresses like Julia Roberts. Some of Robbins' other roles were in Top Gun, Dead Man Walking, Nothing to Lose, and Green Lantern.
Howard Stern (6 Feet 5 Inches)
If you were at a celeb party, you'd know if Howard Stern was there almost immediately. The 6'5" celeb personality's curly head of black hair would undoubtedly be poking out of the crowd. And although his height is of great significance, most of his fans wouldn't see how tall he is thanks to his usual day job.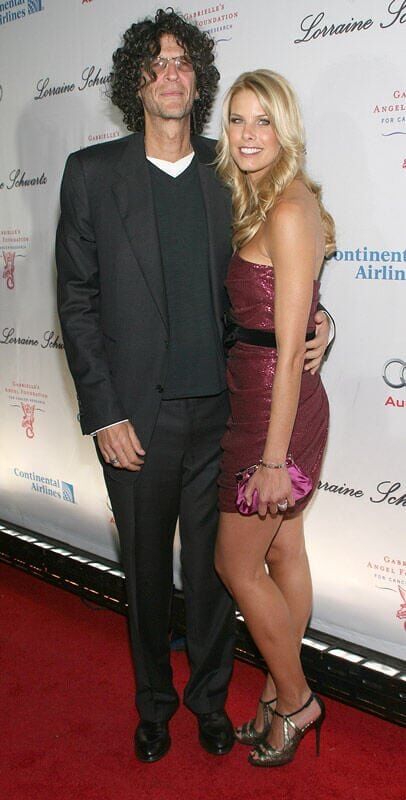 Stern is best known for his radio show, The Howard Stern Show, where he spent most of his time seated, speaking into a microphone. He's also appeared on America's Got Talent and a shortlist of other, lesser-known movies.
RuPaul (6 Feet 4 Inches)
It may not be obvious from the start, but even when RuPaul isn't wearing stiletto heels, the drag master is 6 ft 4 in. So you can just imagine how tall the star is when he's dressed up fully in drag, heels and all.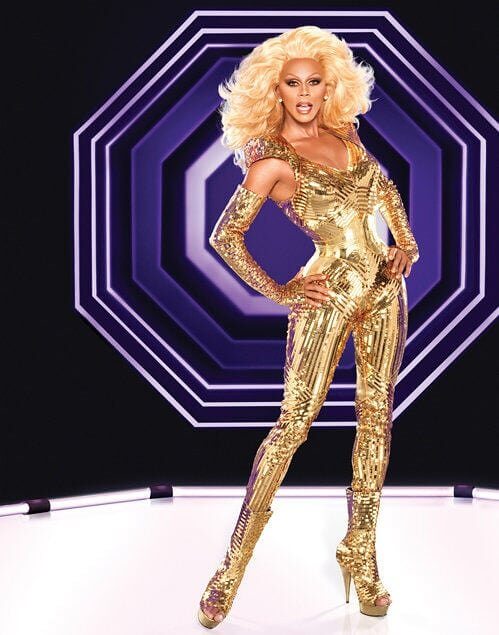 The actor, singer, TV personality, and model has moved up the ladder of stardom quite well in the last few years. He now even has his own competition show, RuPaul's Drag Race. Even though he's entering his 60s, he still looks absolutely fabulous. Oh, and in case it's been keeping you up at night, his full name is RuPaul Andre Charles.
Clint Eastwood (6 Feet 4 Inches)
Being in his 90s already, Clint Eastwood seems to have been in Hollywood forever. The seasoned actor began on the Western TV series Rawhide, where he played a very tall cowboy. Eastwood is an intense 6 ft 4 in tall, fitting in perfectly with the rest of our tall Hollywood hunks.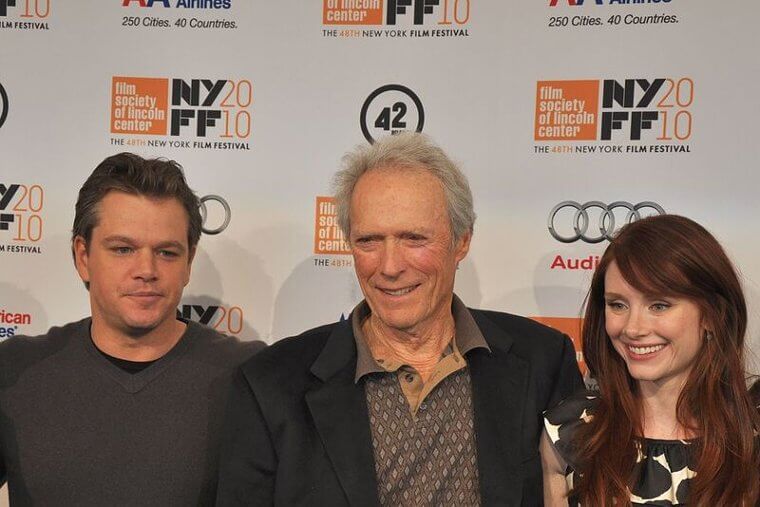 Eastwood has spent around 60 years in Hollywood, during this time he's appeared in 60 movies and numerous TV shows. Some of his most well-known films include Dirty Harry, Unforgiven, and Gran Torino. He's also directed and produced many films. It's interesting to note that only one of Eastwood's sons, Kyle, inherited his father's height.
Bill Skarsgard (6 Feet 4 Inches)
We told you this family was made up of tall and talented humans. This Skarsgård brother, however, will not be loved by all - since he played Pennywise the Dancing Clown in the horror film It, originally written by Stephen King. A menacing clown is bad enough, but one that's so tall seems worse.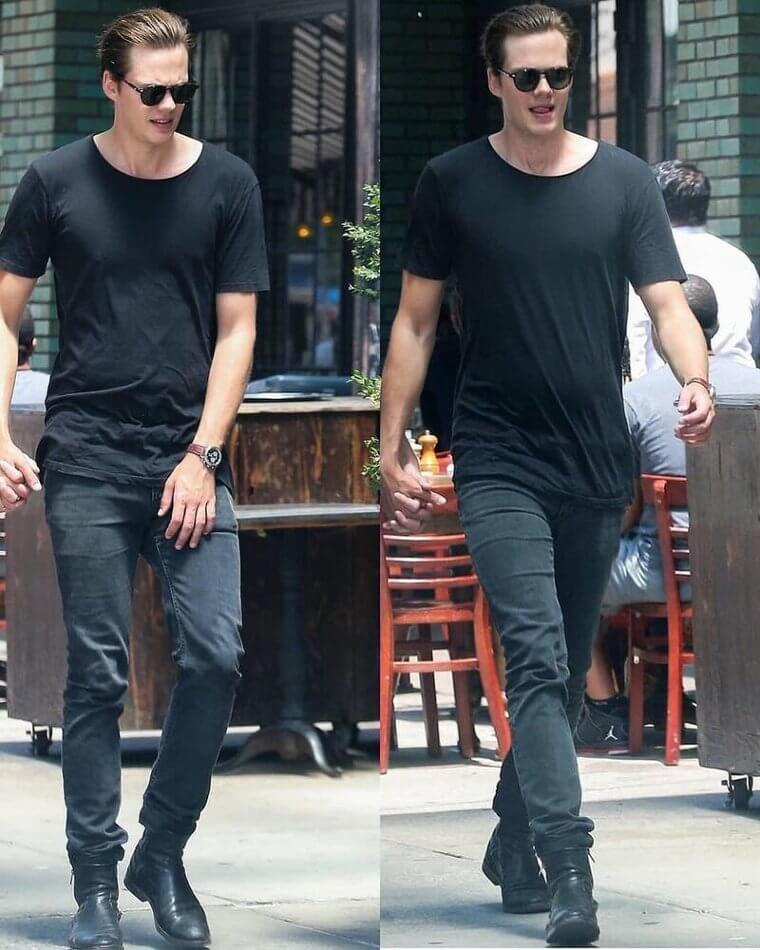 When he's not terrorizing audiences, Bill has played in Deadpool 2 and The Divergent Series: Allegiant. He also managed to show us his funnier side in the comedy, Simple Simon. The 30-year-old actor has definitely followed in the steps of his older siblings and made a name for himself in Hollywood. 
Jason Momoa (6 Feet 4 Inches)
Jason Momoa grabbed the attention of many ladies when he appeared in Aquaman. The actor stole the show with his drool-worthy looks, long hair, and impressive muscles. But his part of his appeal and strong look also comes from his stature and 6'4" height.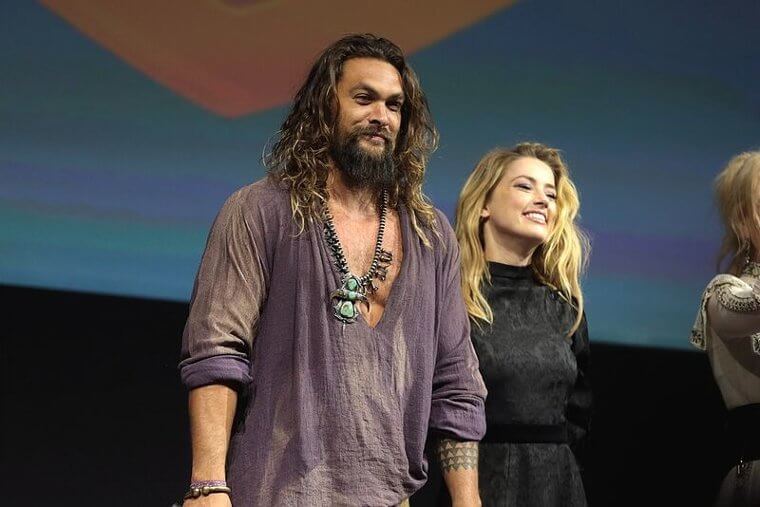 Besides his successful role in Aquaman, Momoa also had a role in the original Baywatch, Game of Thrones, Justice League, and Batman vs Superman. And more recently he can be found in the Netflix series Braven. Momoa has many ethnicities in his blood, but interestingly he has both Hawaiian and Native American mixed in his heritage.

Ben Affleck (6 Feet 4 Inches)
When Ben Affleck was given the role of Batman in the movie of the same name, his 6'4" height was likely a big help in his role. The actor has spent many years in Hollywood and moves in circles with many other fabulous and famous people. He's also had his share of hardships in his life.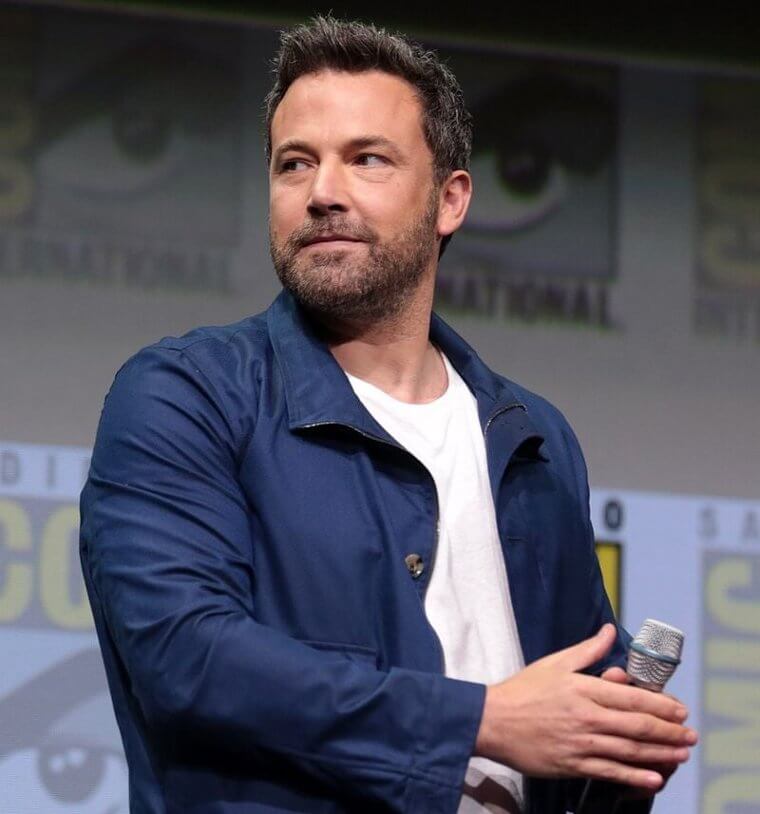 Affleck was married to Jennifer Garner for what seemed like forever until the couple got divorced. Ben has been open about his struggles with alcoholism as well, but that never stopped him from having a long and successful career both in front and behind the screen. Some other movies you can watch his height in action are Gone Girl, Good Will Hunting, and Pearl Harbor.

Brad Garrett (6 Feet 8.5 Inches)
Best known for his role in Everybody Loves Raymond, where he plays Ray's older brother, Brad Garrett has been making a name for himself ever since. He's been in TV shows and movies like 'Til Death, Single Parents, and Seinfield. Before he was an on-screen actor, Garrett was a stand-up comedian, and we're pretty sure people noticed when he stood up.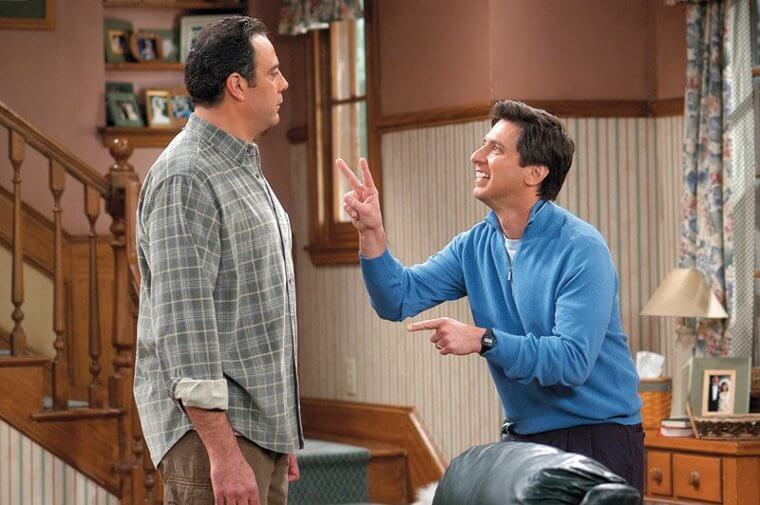 The actor towers over the rest of humanity at 6 ft 8.5 in, making him one of the tallest men in Hollywood, and the tallest on our list. His deep voice is also incredibly recognizable and has been a money-maker for him, since he's been asked to voice characters in animation films like A Bug's Life, Tangled, and Finding Nemo. Garrett's height and voice have typically worked in his favor, becoming distinctive features that audiences knew and loved.

Alexander Skarsgård (6 Feet 4 Inches)
Another tall, good-looking vampire from True Blood, Alexander Skarsgård is 6'4" and as gorgeous as the rest of his acting family. There are a total of nine siblings, and acting seems to run deep in the family blood. In fact, Alexander began his acting career at the tender age of seven.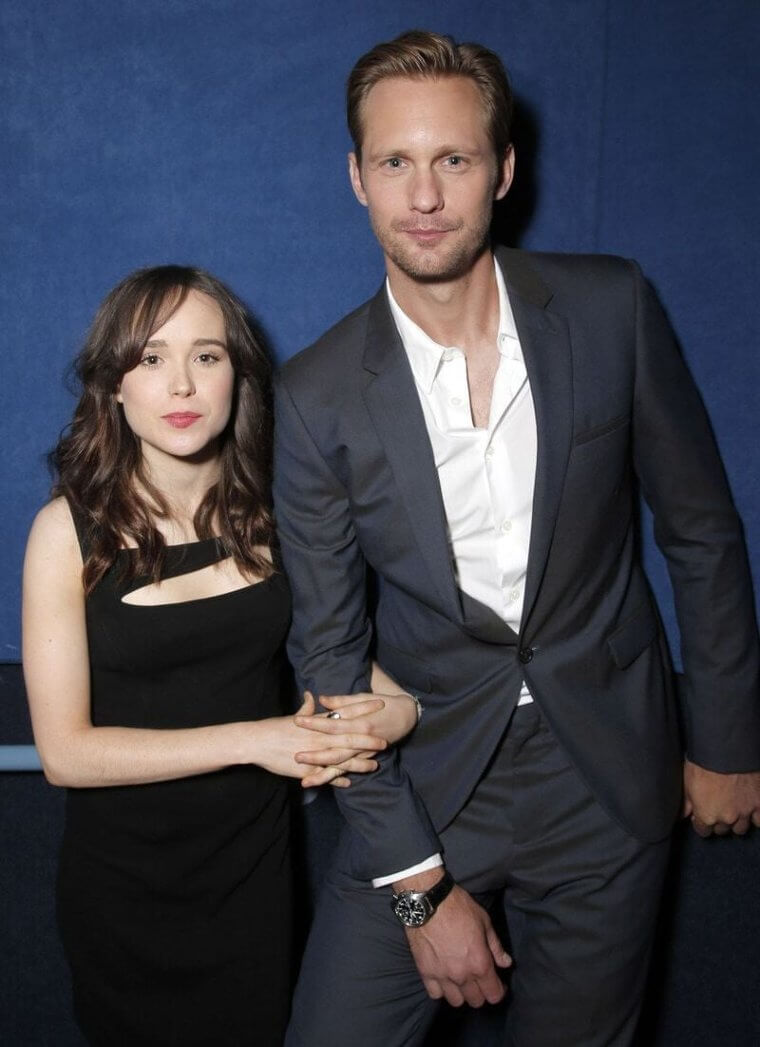 Besides his vampire role, Skarsgård also appeared in Zoolander 2, Generation Kill, and The Legend of Tarzan. While his height is not the most important feature for most of his roles, it definitely defined his powerful yet still somehow gentle look. For a recent look at the actor, watch his most recent film, Godzilla vs. Kong.

John Lithgow (6 Feet 4 Inches)
Do you remember the extremely tall and slightly strange father in 3rd Rock from the Sun? John Lithgow may have portrayed a very believable extraterrestrial being in the hit TV show - for which he received many awards - but his real height of 6'4" is actually very human.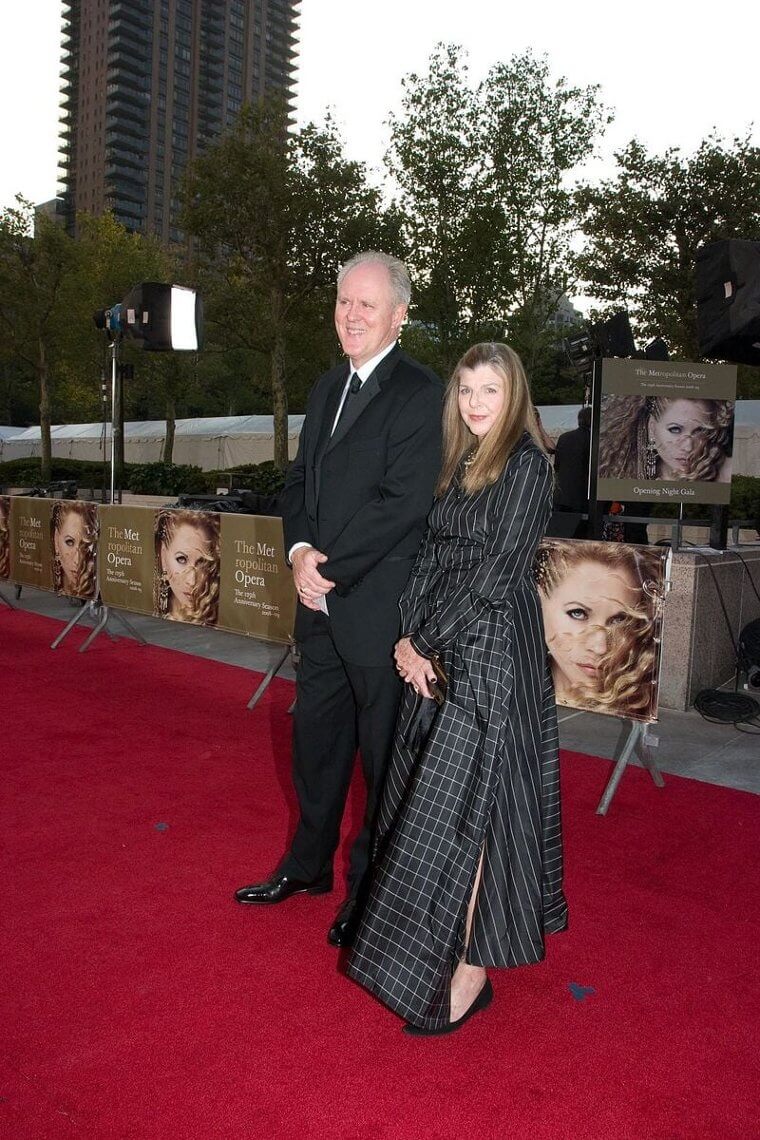 Besides his acting, Lithgow is also a poet, author, and singer. He's clearly very skilled in what he does and has had a range of roles in TV shows and films. You may have seen him in Pet Sematary, Daddy's Home 2, or The Crown. Or perhaps heard him in Shrek? Did you know, Lithgow is Brad Pitt's uncle?!

Jason Segel (6 Feet 4 Inches)
Fans of How I Met Your Mother will have no trouble believing that Jason Segel measures in at 6'4". In fact, Segel's character Marshall completely towers over his soulmate, the much shorter Lily (played by Alyson Hannigan who is only 5'5"). But despite his size, Jason is somewhat just like a big teddy bear.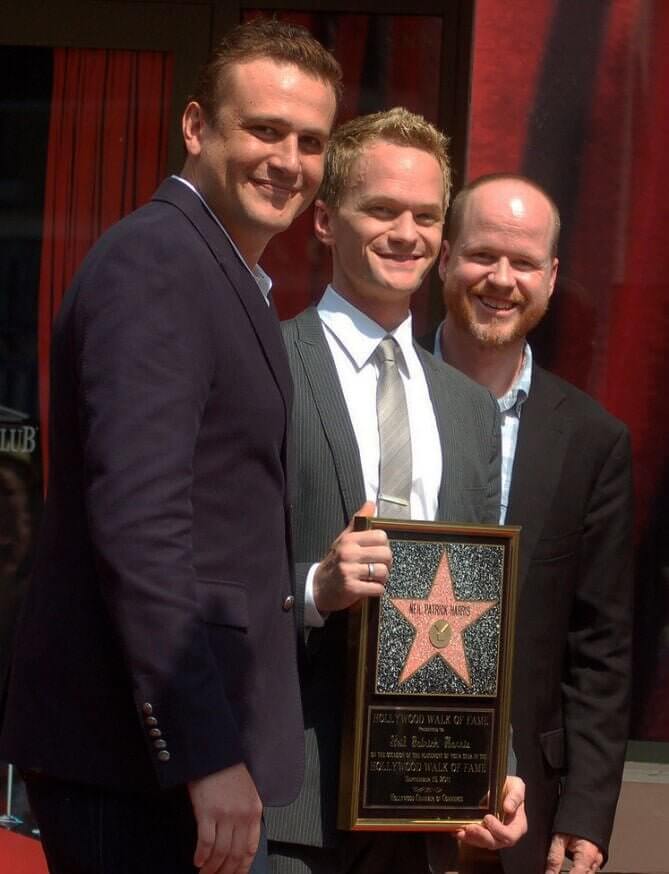 Segel's talent list is almost as tall as he is. He wrote and starred in Forgetting Sarah Marshall, he played in Sex Tape and The Five Year Engagement and has had roles in many of the funniest comedy movies that Hollywood has given us. But he's not just an actor and screenwriter, he's a producer, singer-songwriter, comedian, and producer.

Conan O'Brien (6 Feet 4 Inches)
Intelligent, funny, 100% Irish, and 6'4", Conan O'Brien really does have a lot going for him. This tall celeb holds the titles of TV show host, comedian, writer, podcaster, and producer - he's a very busy man. Most people know the man from his late-night talk show Late Night with Conan O'Brien.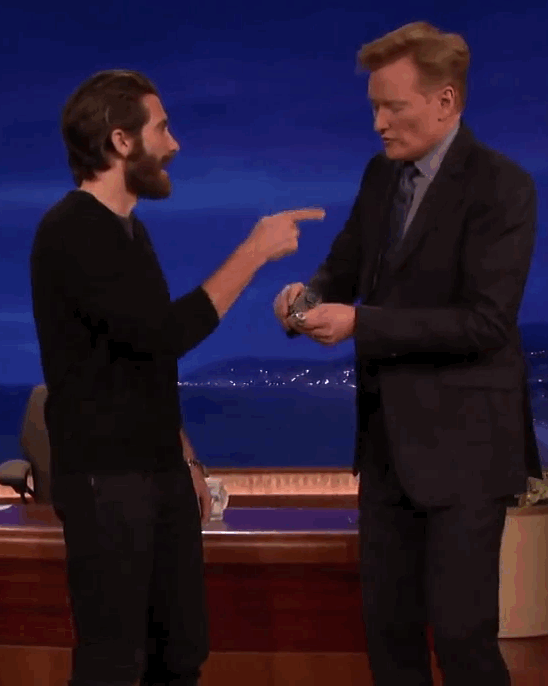 There have been reports from the media that Conan is anywhere between 6'5" and 6'8", the funny man cleared it up, saying "I'm not radioactive. I'm not growing out of control. I'm 6'4''." And in case it makes any difference whatsoever, Conan is as tall as 1.5 hobbits or 6.33 Smurfs.
Josh Duhamel (6 Feet 4 Inches)
Josh Duhamel, being 6'4" use to take full advantage of his height in his early career when he worked as a fashion model. But he then moved to Hollywood and found his spot in front of the screen. His first job was the popular soapie All My Children.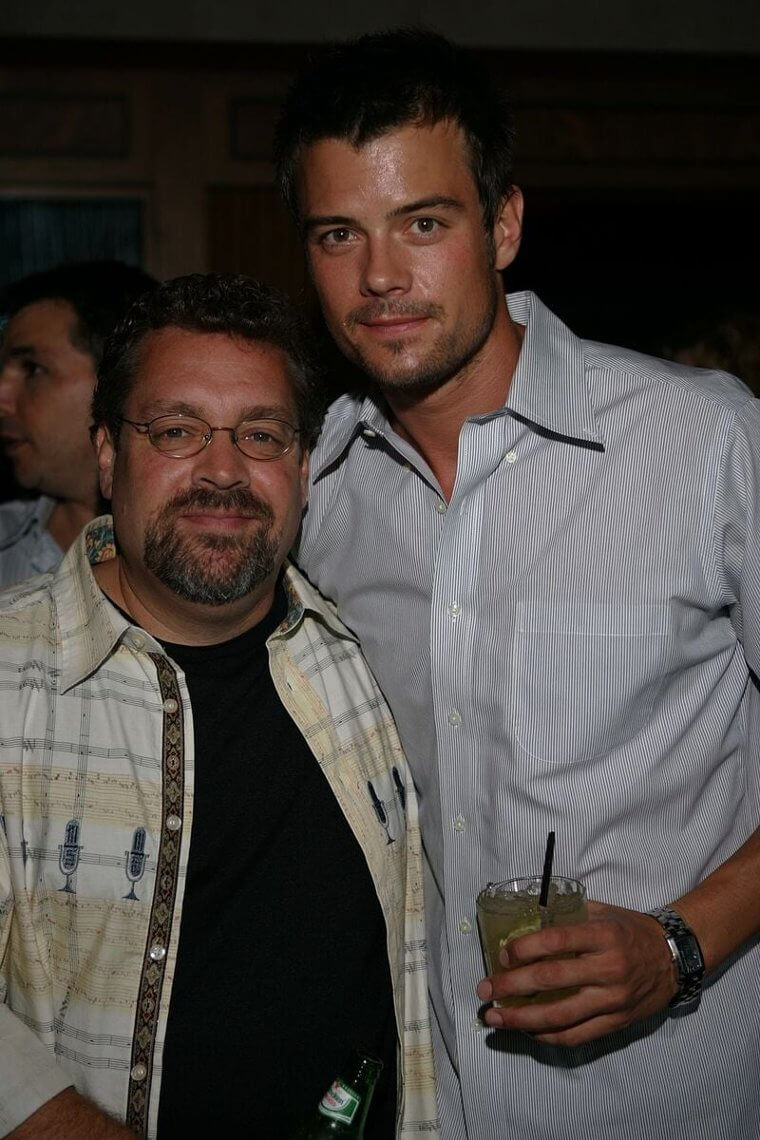 Duhamel eventually found his feet in the movie scene, securing roles in movies like Win a Date with Tad Hamilton, Transformers, and Life as We Know It - in which he still managed to tower over his 5'9" co-star Katherine Heigl. Duhamel is also known for being the love interest of Fergie, from the Black Eyed Peas. Fergie is much shorter, at only 5'"4.

Bob Saget (6 Feet 4 Inches)
We're not sure if Bob Saget could ever be anything more to us than the safe and loving dad, Danny Tanner on the sitcom Full House. And if you've seen the Netflix sequel, Fuller House, you'll probably see how Saget's height is noticeable next to his now-grown TV daughters.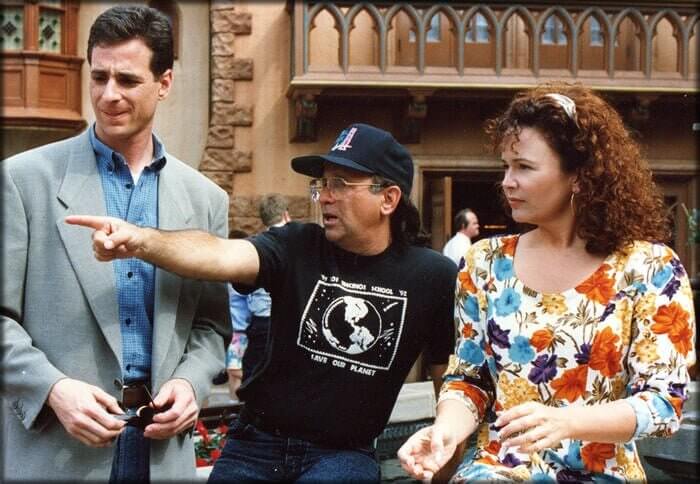 The actor stood at 6'4" and was a fixture on TV for 30 years. When he was done with his role in Fullhouse, Saget went on to play in several other movies and TV shows. He even lent his voice to shows like How I Met Your Mother and the Casper film. Sadly, he passed away at age 65 in January of 2022.

Armie Hammer (6 Feet 5 Inches)
Another towering American actor is 34-year-old Armand Douglas Hammer. This hunk comes from a strong bloodline, being the great-grandson of oil tycoon Armand Hammer. His father, Michael Armand Hammer, is a successful businessman who is also 6 ft 5 in tall.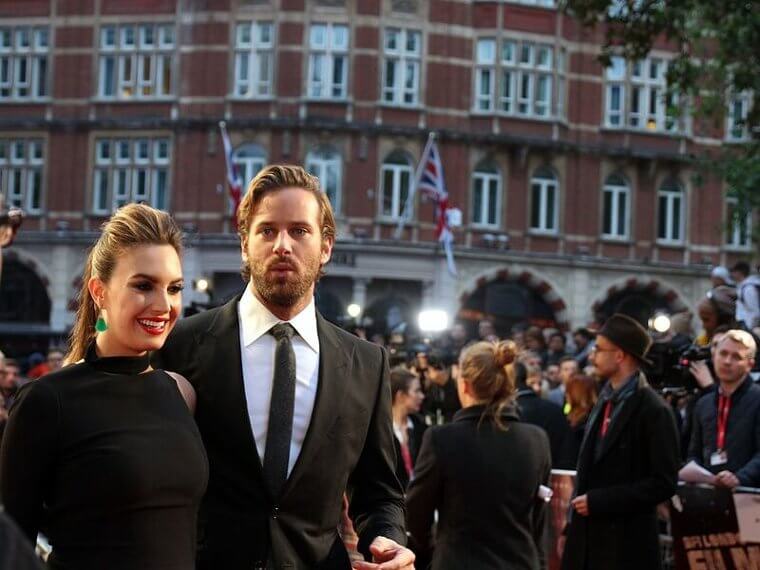 While his family was more business-orientated, younger Hammer offered his looks and stature to Hollywood instead. Armie started out in Hollywood by appearing in a few guest roles on TV shows until he finally scored a role as both Winklevoss twins in The Social Network. Since then he's gone on to appear in Mirror Mirror, based on Sex, Rebecca, and Flicka.
Sacha Baron Cohen (6 Feet 3 Inches)
British comedian and actor, Sacha Baron Cohen is a hilarious man, able to transform into outlandish characters. He has played in a few movies, namely The Dictator, Sweeney Todd, and Hugo. But he's most well-known for his acting in the films Borat and Bruno.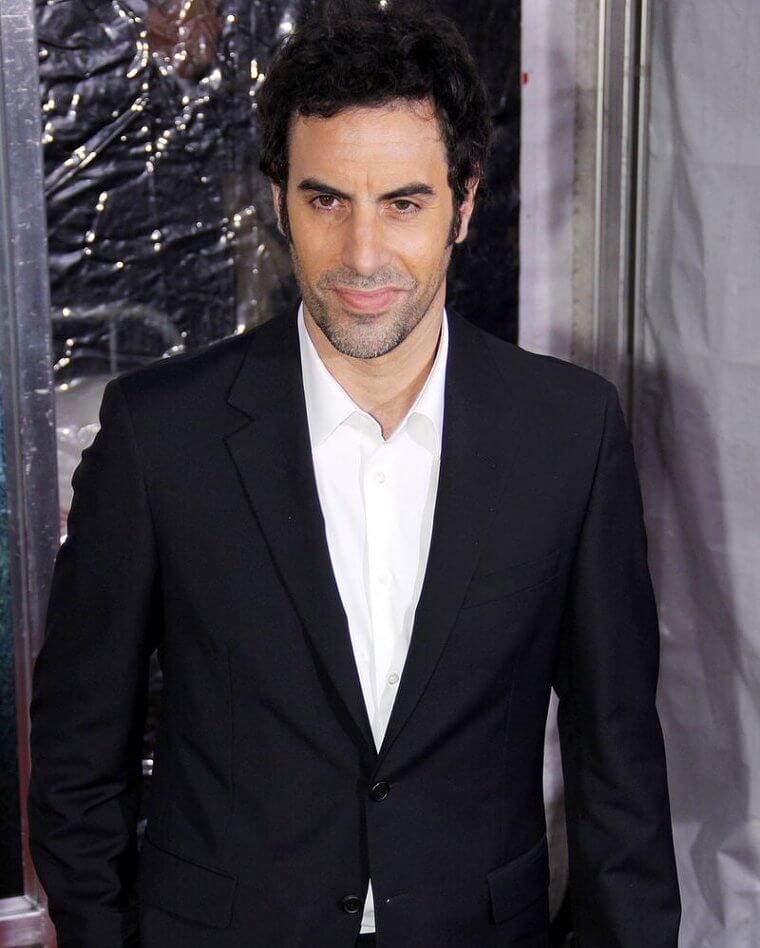 And if you're not convinced that this actor is a full 6'3", search for an image with him on the red carpet beside his wife, Isla Fisher (5'3"). The contrast makes his height even more apparent as he looms a full foot taller than his stunning bride.
Hugh Jackman (6 Feet 3 Inches)
Chris Hemsworth may be holding on to his role as Thor, but the Guinness World Record for "longest career as a live-action Marvel superhero" actually goes to 6'3" Hugh Jackman, who played Wolverine in the X-Men movies.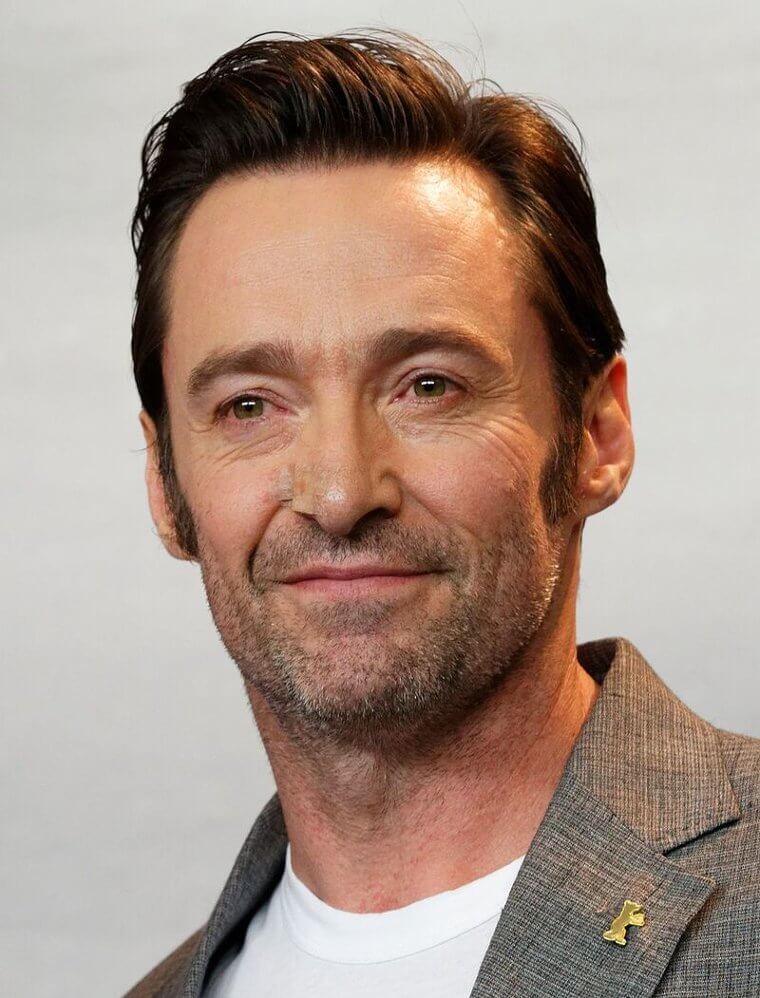 Although the cartoons portray Wolverine as much smaller and shorter than Jackman is, he played the part so well that this has never been brought up as an issue. Hugh has a list of other movies that he's played in, like The Greatest Showman, Les Miserables, and Australia, but we will forever know him as the clawed Wolverine.
Jeff Goldblum (6 Feet 4 Inches)
Well-loved and widely talented, Jeff Goldblum measures in at 6 ft 4 in, quite the 'tall guy' (which is also the name of a movie he acted in, ironically). The nearly 70-year-old actor has spent the last 34 years adorning screens with his familiar face and brilliant acting skills.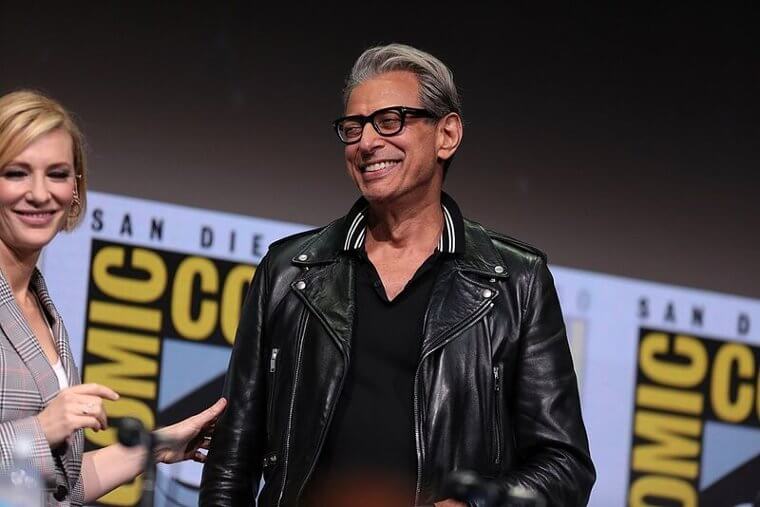 Goldblum has had so many blockbuster roles in his decades of being in the biz, that his face is recognizable by almost everyone. And in nearly every one of his roles, he towers over everyone else acting beside him. If you haven't noticed, try rewatching his movies like Into the Night, Jurassic Park, and The Fly. 
Liam Neeson (6 Feet 4 Inches)
Liam Neeson is the sort of person you want to be there when you're in trouble. It may be just because of the characters he's played, or perhaps it's because he just towers over the average person thanks to his height of 6'4". Either way, he looks like he'd make for great backup in a tricky situation.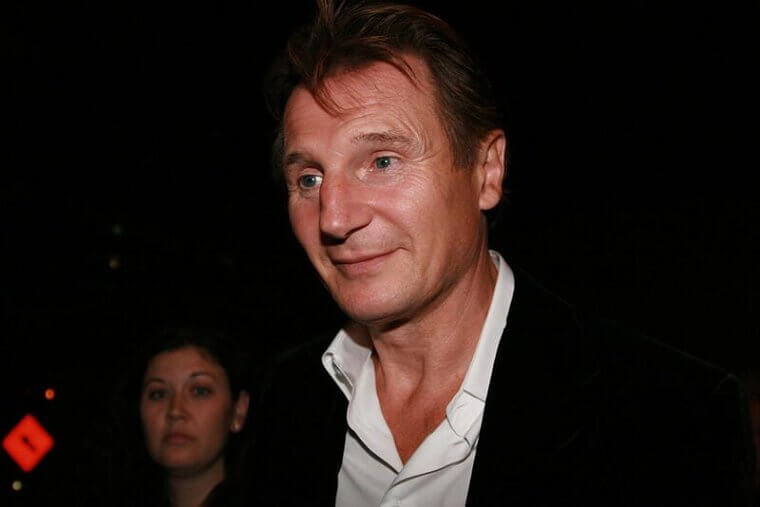 And these are the types of characters that Neeson plays as well, such as his role in Taken. He also played in Unknown, Batman Begins, and then also Love Actually for a chick flick change of pace. The actor is almost 70 years old, but he looks just as dashing as he did decades ago.
John Mayer (6 Feet 3 Inches)
He's expressed that he's not fond of people pointing out he's tall - at 6'3" - but John Mayer is tall, whether he wants to hear it or not. It may not be as obvious on stage, which is where the American singer is naturally found, but once you see him in the wild (aka in Hollywood streets) you notice how much closer he is to the clouds.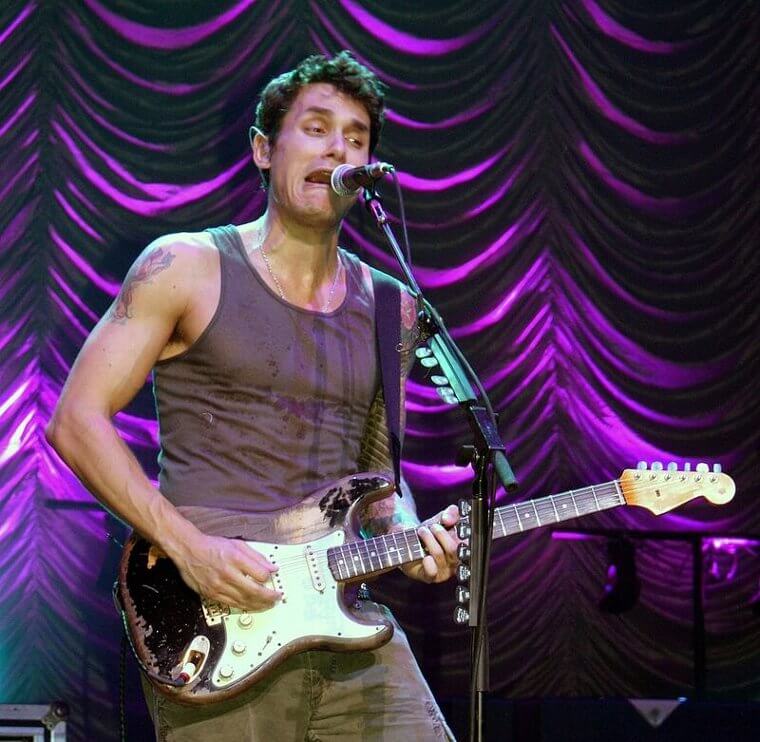 Mayer is a songwriter, guitarist, and record producer, and ex-boyfriend of quite a few celebs as well. The musician has had relationships with Jennifer Aniston, Taylor Swift, and Katy Perry, but his relationships just don't seem to last. At least he gets good music out of them, though.
Adam Driver (6 Feet 2 Inches)
Dark features, a mysterious face, and a height of 6'2" tall all seemed to play in Adam Driver's favor when he was given the part of Kylo Ren in the Star Wars trilogy. Driver's acting combined with his stature - and some very good role matching - has landed the actor a good few awards and nominations.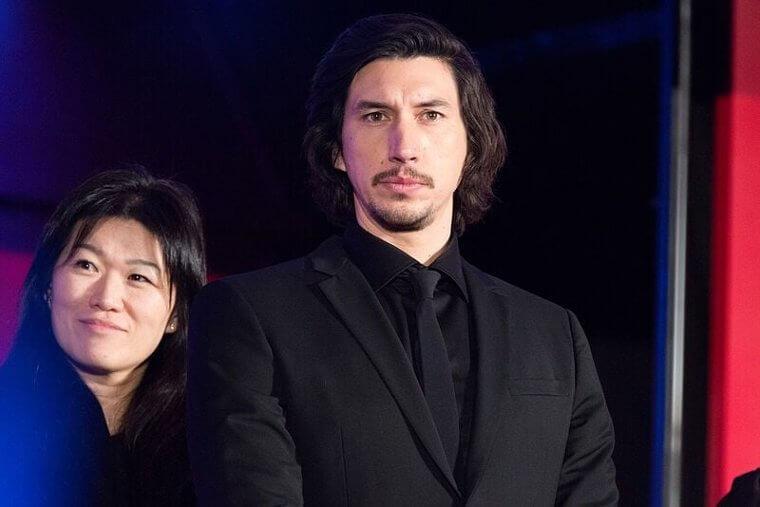 While many of his movies are deeper, more thought-provoking pieces, this hasn't stopped Driver from receiving the recognition he deserves for his talent in front of the camera. We first saw him in the HBO series Girls, and his most recent was the magnificent Marriage Story.