Have you ever heard that fashion trends tend to reappear in cycles? We see fashion changes all the time, with each season and each year bringing in its new trends, palettes, and frills. This can be a big win if you are busy looking for that eye-catching prom dress that happens to be living right in your mom's cupboard! Here are some of the rocking outfits that daughters have sourced straight from their mom's wardrobes.
The Nineties Little Black Number
When we think of prom night, we often think of gowns and glamour, but there's nothing quite like a little black dress to say simple and stylish! Searching for the perfect prom dress can be a stressful and expensive affair, which makes finding this timeless piece stashed away in your mom's cupboard an absolute breeze.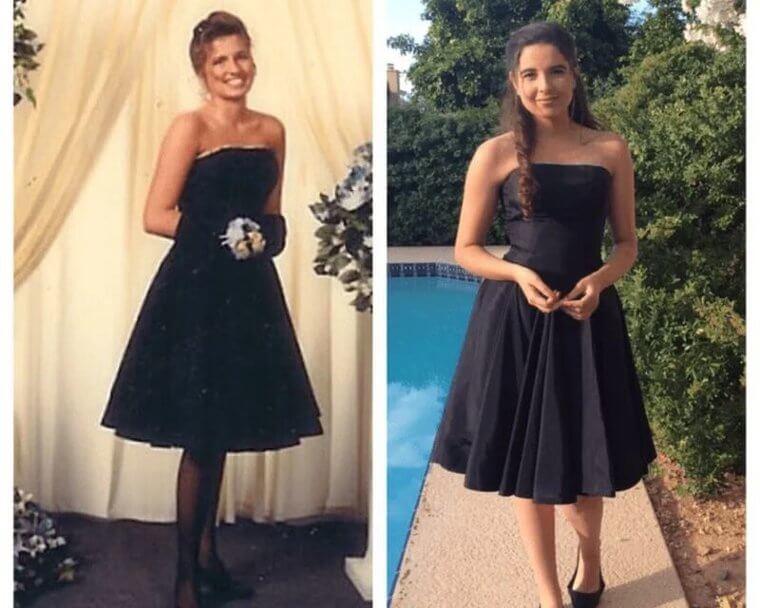 The stylish cut gives an elegant and sleek feel, while the bare shoulders add that extra bit of saucy for the perfect prom night. Keeping it classy with the knee-high length and stunning snug fit, this one's a no-brainer for any prom-ready queen!
Straight Out of 1989 but Still Divine
With a classic cut and intricate design, this vintage dress got another chance to shine. This locked away number boasts stunning mesh fabric and dazzling beads around the neckline and a stylish cut. We agreed with this mother-daughter duo when it comes to fashion.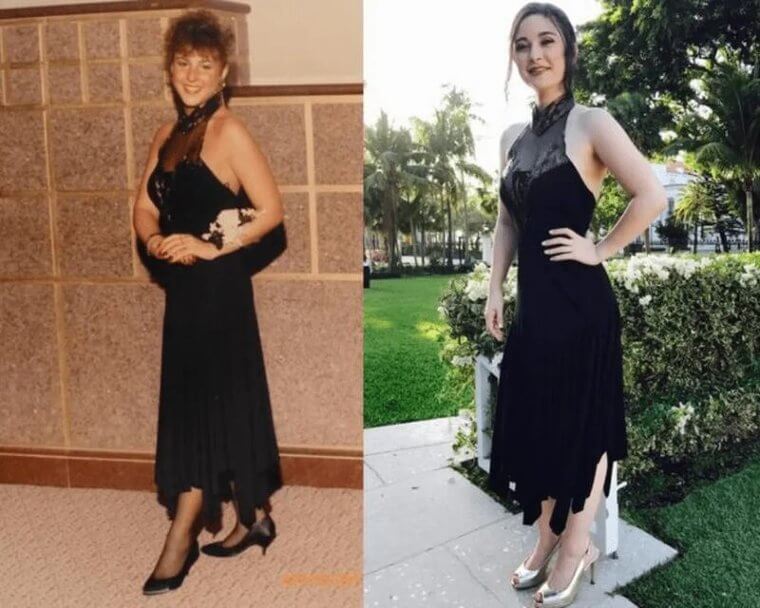 According to this teen on her prom night, "1989 is like, super in right now." We couldn't agree more. With the sleek style and tied-back hair, it's no wonder this daughter looked no further than her mom's cupboard.
Keeping It Classy in Peach
Something different and unique for prom night? We bet all eyes were on this neutral peach delight after 26 years of being packed away in mom's cupboard. With the subtle sparkles and the classic cut, it's no wonder this teen chose to look no further for her prom night.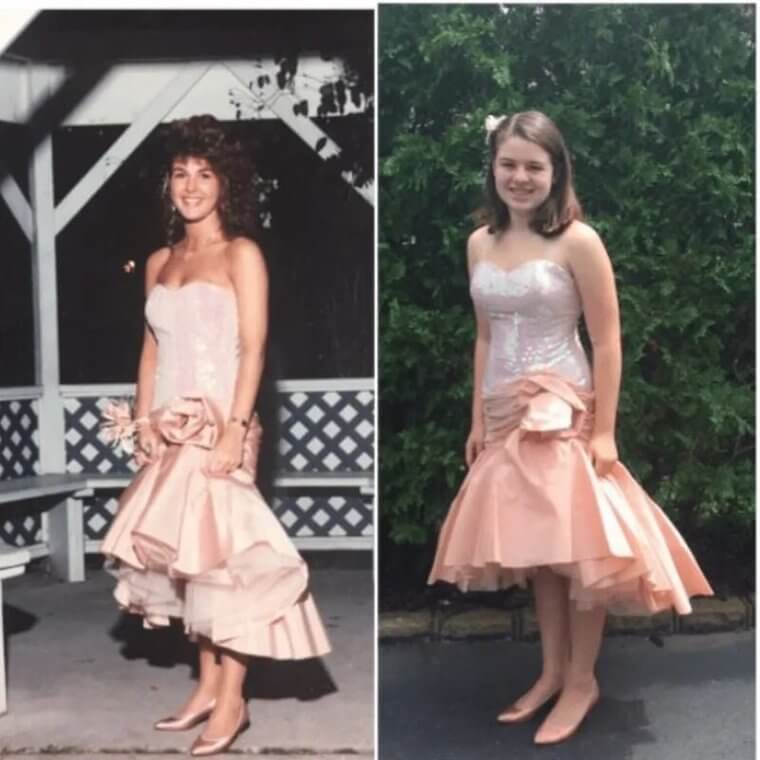 This one may not be for everyone, but topped off with the very same peachy shoes as her mom wore so many years before, and completed with a laid-back hairdo to let the dress shine, we think she nailed it!
Two Ladies in Red Rocking the Prom
Making a comeback after 25 years, this red number would have had all eyes on this beauty on prom night! This mom-and-daughter pair know how to stand out from the crowd, and with an ageless red dress like this, why wouldn't you?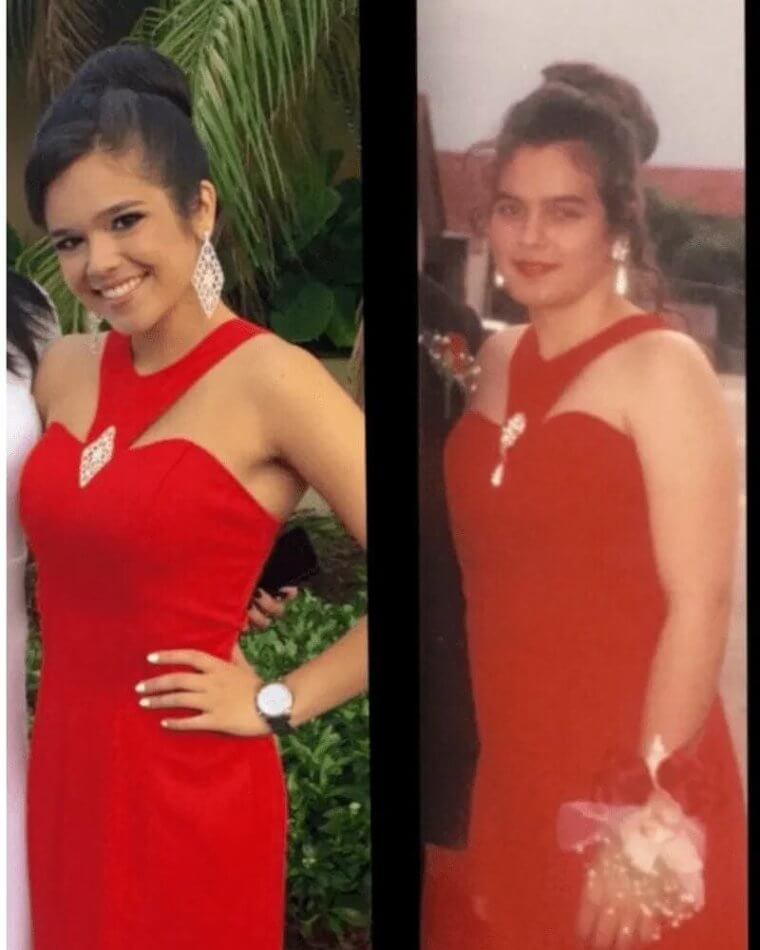 The stylish neckline draws your attention to the sparkling finishes, and we have got to mention how well the earrings match the beading. This one is a timeless classic that could probably get away with living in mom's closet for another 25 years!
The Beautiful Blue Sequin Dress
We'll give it to this mom-daughter duo for the eye-catching color and sparkling sequin style! With an intricate neckline that would catch everyone's attention at the prom, combined with the gorgeous makeup and accessories, we can't decide who wore it best. 
The fact that this dress is still fully sequined and ready to shine after so many years makes it a no-brainer that this teen chose to wear this mermaid sequin dream to her prom. With a beautiful blue gown and a bold smile, this one is ready to shine!

Sparkling Into the Night
This one goes out to Aiden Whittemore, who shared this glorious photo of her wearing her mom's prom dress from '96. The classic low cut and vertical stripes are not only glamorous and stylish but leave no need for overdoing accessories.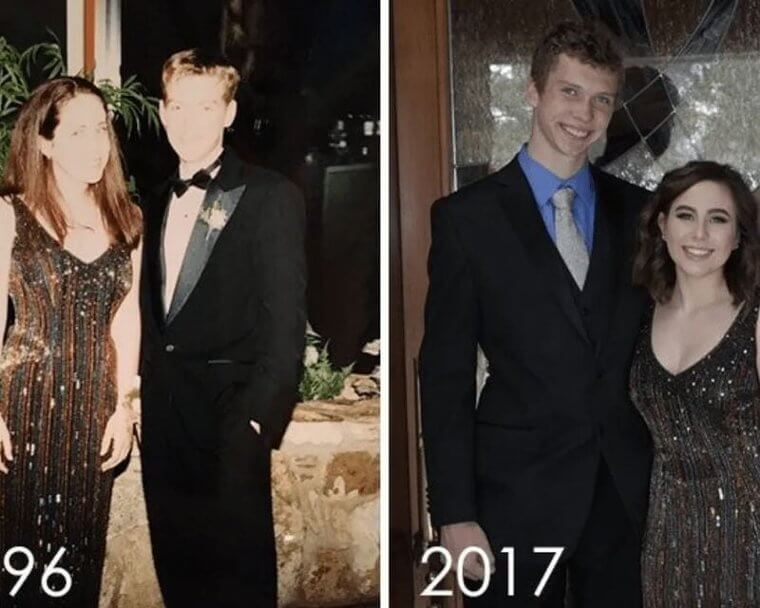 Appreciating her mom's sense of style and going for a bold look at her prom, she must have been glowing at her prom. Who knew that beadwork could remain so untouched after all those years?
The Jazzed up Vintage Number
This prom-ready daughter shared her beautiful altercations of her mom's timeless black dress posted with the caption "Saved money on prom by going vintage – I wore my momma's prom dress!"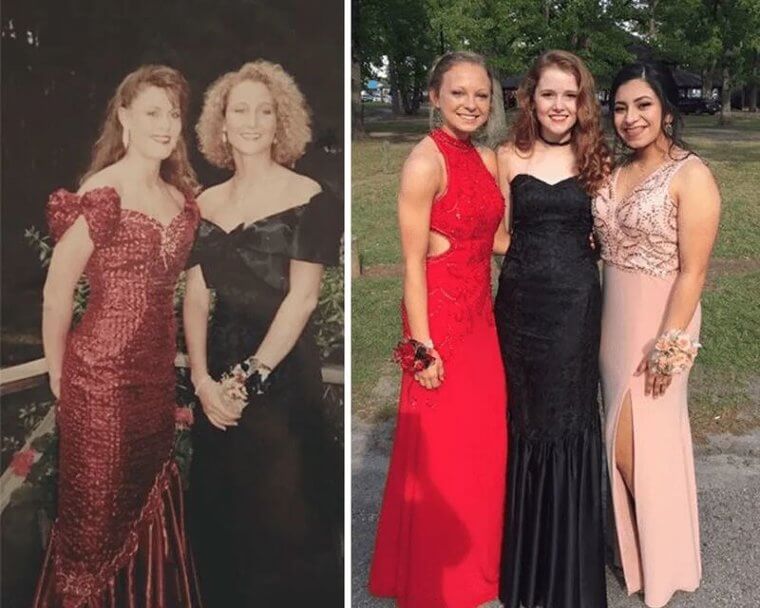 We can see what all the excitement was about on this one! There's more to vintage clothing than we may think, as this vintage dress was spiced up with the altered style top-piece and the perfectly placed choker chain. A simple and elegant change that will turn heads on prom night for sure!
Sleeking It Back to the '70s
There was nothing quite like the '70s fashion, and this daughter got to bask in that glory when she found this fashionable piece right in her mom's cupboard. With the gorgeous elegant neckline and stylish sleek look, it's no wonder they decided to recreate this photograph.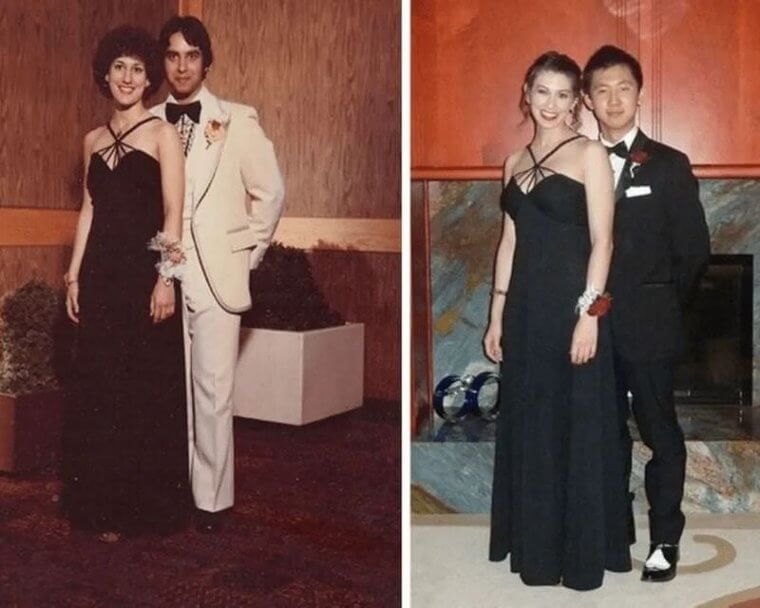 Although the '70s suit may have got a few sideways glances today, the black dress is stylish and sleek. We love the way she kept it classy and sleek with the tied-back hair to bring out the stunning neckline.
A Mother-Daughter Prom Tradition
This mom and daughter duo shared this stunning prom photo stating that they have started a tradition, and why wouldn't you when you find a classic like this!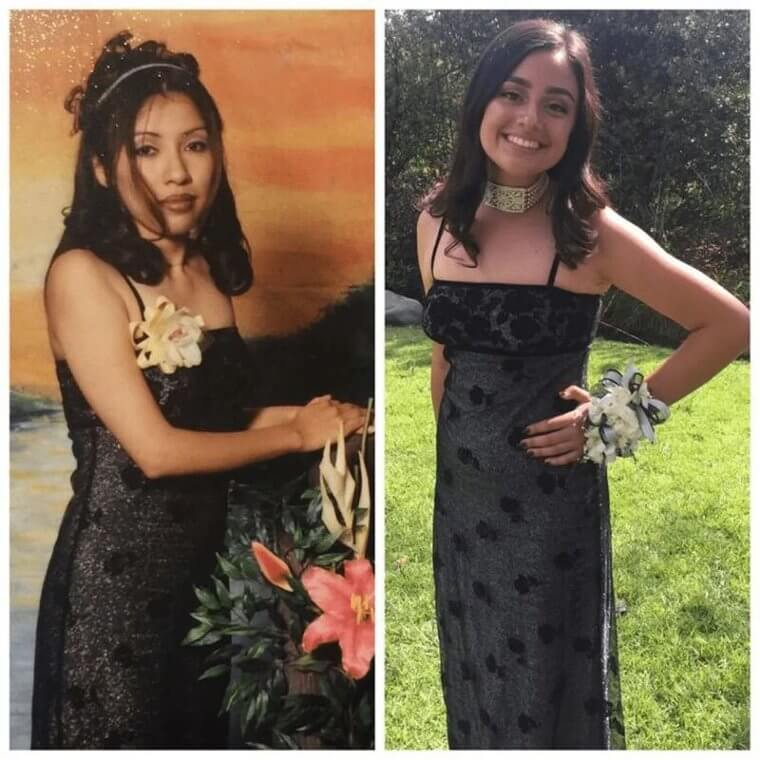 The glory of this one is all in the details, with the simple cut and eye-catching embroidered details that make the fabric layer stand out and look stylish and sleek. We love how they spiced up the outfit with some big bright flowers and stunning curls!

The Ruby-Red Vintage Mermaid Dress
It's no wonder that this gem stood out when this teen started thinking about her prom night! This stunning red dress with a slender fit stands the test of time.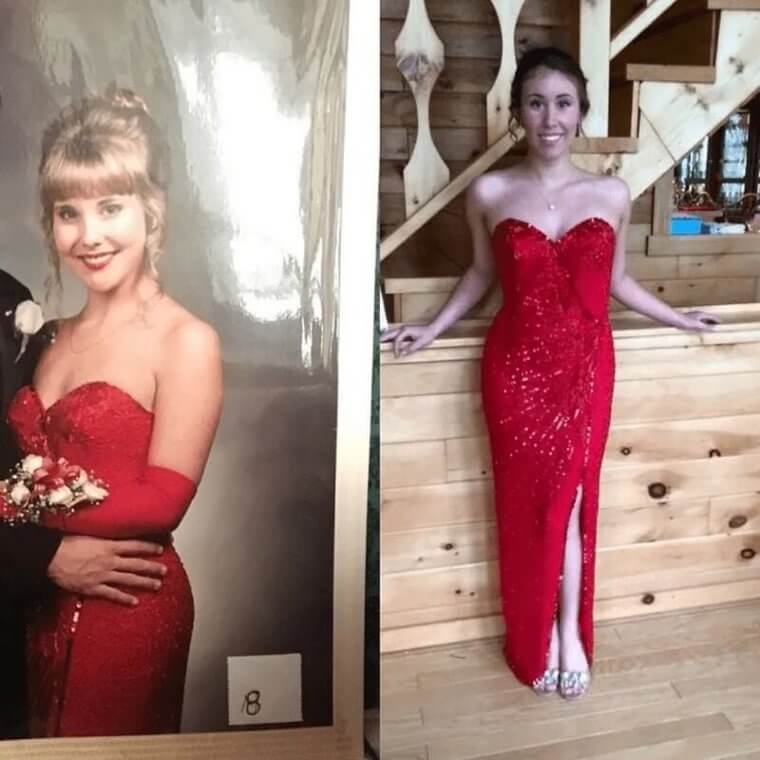 The gorgeous style hugs them both perfectly and brings out their naturally glowing smiles. The sleek slit in the dress makes it both sexy and glamourous, and the low-cut neckline without too many accessories is the perfect finish.
When Mom's Dress Saves the Day
This proud mom shared this collage after her daughter went to prom in her old sparkly purple dress. Apparently, the daughter had ordered a dress online and when it arrived, it wasn't at all what she had expected.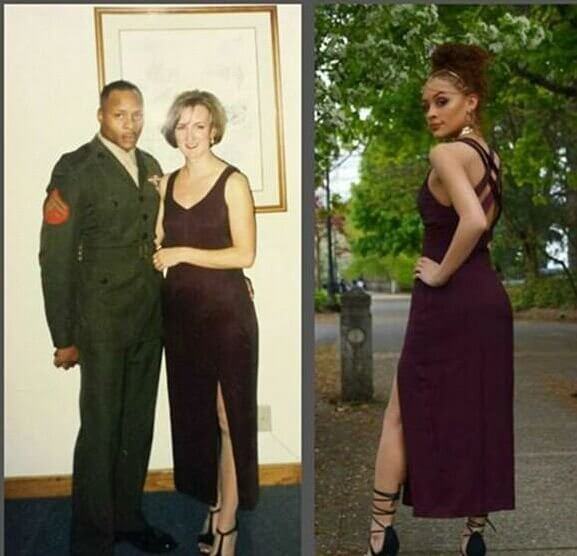 So, she took a trip to her mother's closet and found this old gem! As you can see, this daughter-mother duo rocked this daring purple dress - just a couple decades apart.
Every Girl Needs an LBD
This mother-daughter duo knows better than anyone just how timeless an LBD is. Now, if you're not familiar with the lingo, an LBD is a little black dress. LBDs are effortless, classy, and of course, glamorous.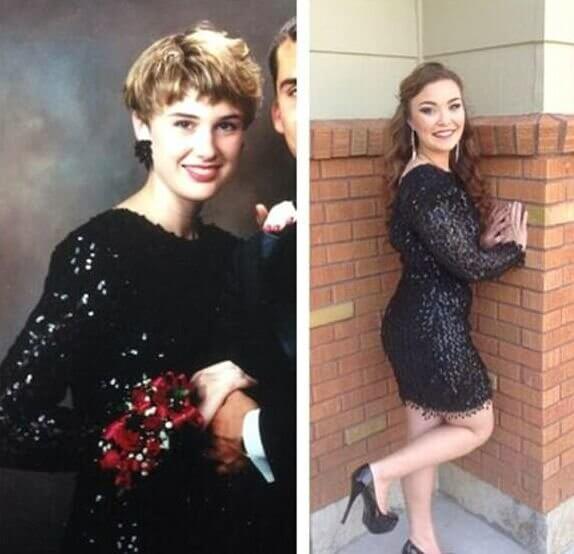 So, it's no wonder why this daughter took out her mother's sparkly black dress for her prom, 24 years after her mom wore it! And as Karl Lagerfeld famously said, "One is never over-dressed or underdressed with a Little Black Dress." 

Showing Her Mom Some Love
Not only did she want to wear her mom's old dress, but she wanted to reenact the exact pose and picture taken in the dress all those years ago. We can only imagine how special it was for her parents to see this wonderful image.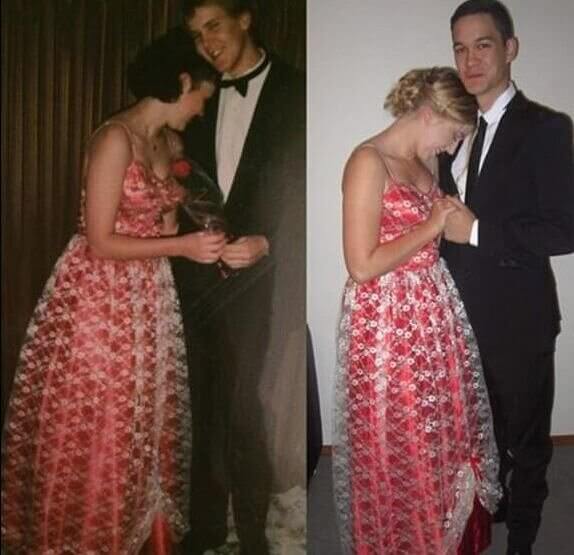 The delightful pink dress was first modeled in 1987 by her mother, and kept inside a closet up until 2017 when she wore it. A picture is worth a thousand words, and these two certainly tell us a lot!

The One That Lasted Generations
Now this one is one we found particularly impressive for standing the test of time. These photos show the tale of a timeless piece that managed to make it through multiple generations.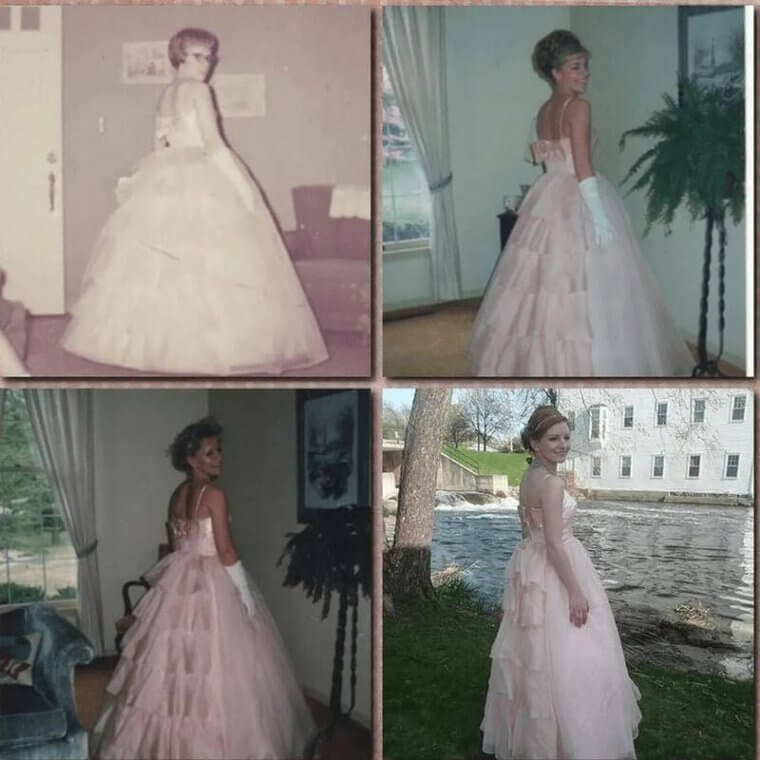 We love the way the sleeves have lasted generations too, and the dress appears unchanged from its first appearance in a very different time on this Earth! With a classic layered style and a gorgeous pink hue, this fashion trend shared through three generations is most impressive. How lucky that they all fit into the same dress?!
Wear It Like Wednesday
This beautiful old patterned style is both fashionable looking and elegant. It makes us think of the sleek black style of Wednesday Addams, minus the sleeves, from The Addams Family (another blast from the past). It looks smart and stylish with the high neckline and bare shoulders, and a long and slender fit that carries through the years.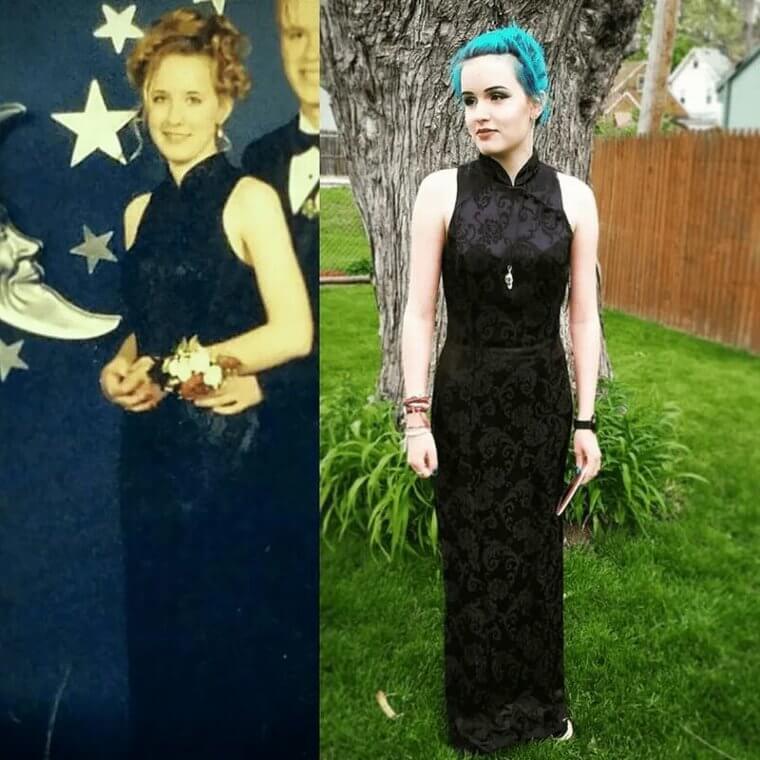 This collared gown was first worn in 1996 and once again brought back to life in 2016. The lacework and pattern make the dress elegant and sleek, and we just love how the daughter made it her own with her turquoise blue locks! The simple necklace really tops it all off. 
Vintage and Pink With a Purpose
This pink flowery gown was a hand-me-down vintage that was just waiting to be worn. And this daughter decided that the prom would make the perfect occasion! We can only imagine how she stood out from the crowd with the floral finish and rosy pink shade with the off-shoulder cut.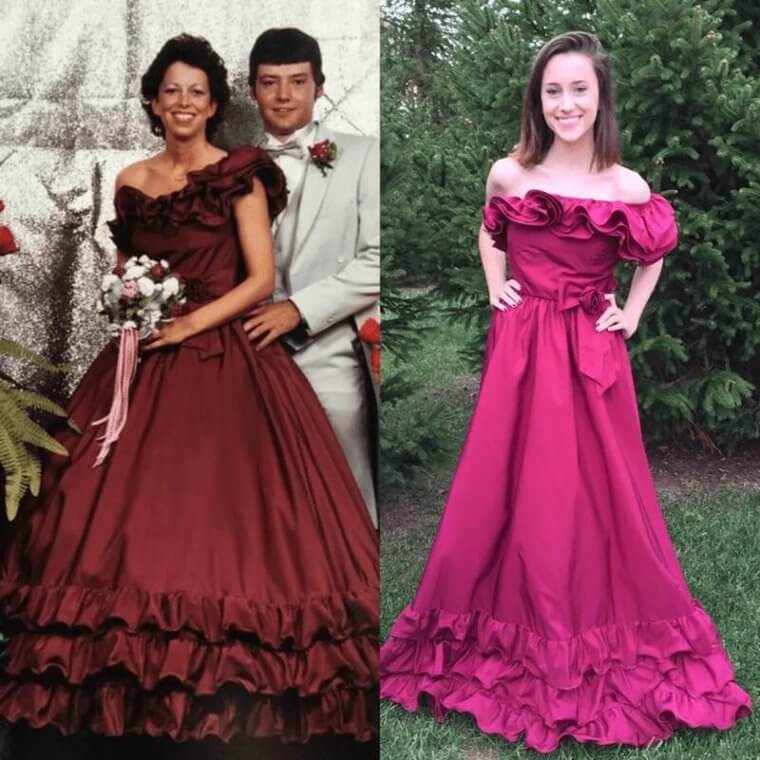 You can see its vintage from the way the shade appears to be a brighter and bolder shade of pink with the way cameras have changed over time, but we can't decide who wore this vintage hand-me-down better!
The Spiced up Vintage Gown
First worn in 1987 and making a comeback in 2017, this vintage gown went through a few changes in its years, and made its debut as a gorgeous long lengthed elegant beauty for prom!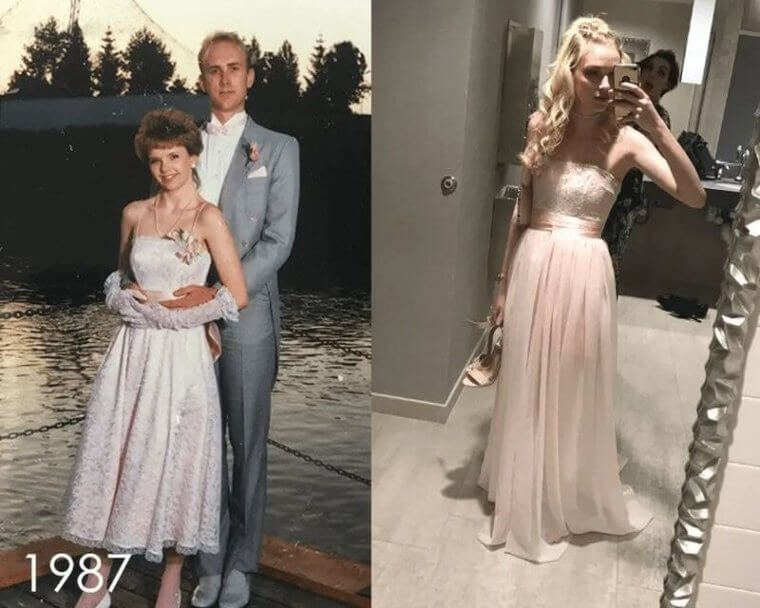 The gorgeous sheer material gives the vintage dress a modern edge. It perfectly tops off the stunning ribbon lace and brings our focus to the intricate lacy details around the chest. We agree with the mom's facial expression with the changes in this vintage beauty. WOW!

I Wore My Mama's Dress to Prom
We would be just as proud as this daughter who boasted about wearing her mama's dress to prom. One of the styles that have never gone out of style, you can't go wrong with a little black dress to wow the crowds.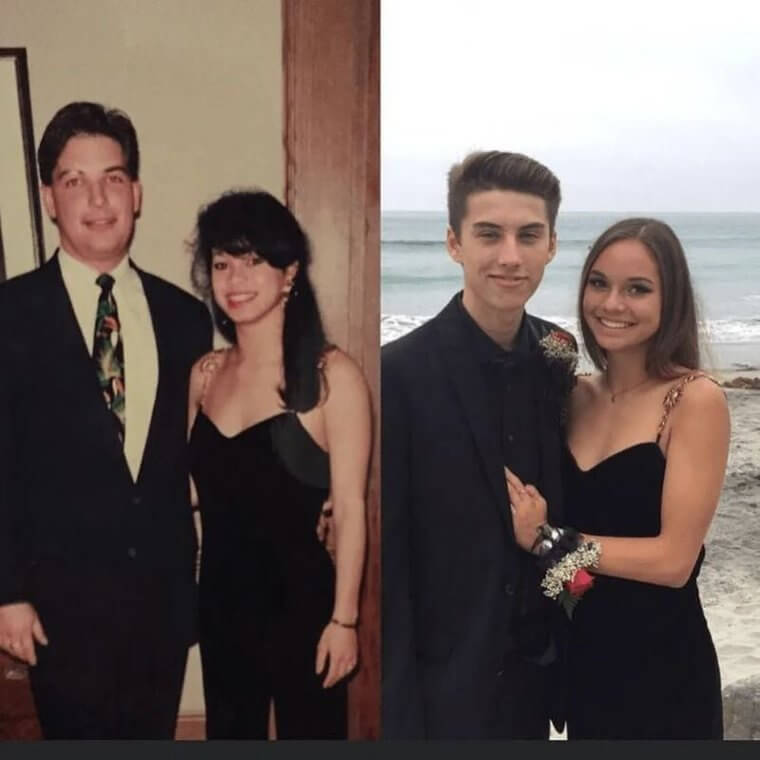 We just love the beautiful golden straps that add to the elegance and natural beauty of this dress. It is sleek and flattering with a slit up the skirt which we often still see in modern fashion. Maybe mom's fashion sense was before her time? Whatever the reason is, you can't go wrong with a vintage little black dress.
The Simple Timeless Design
This long black vintage gown stood the test of time for a reason! It's a classic, classy and gorgeous gown that anyone could appreciate through the ages. The gorgeous high neckline makes the sequins stand out and sparkle as they should!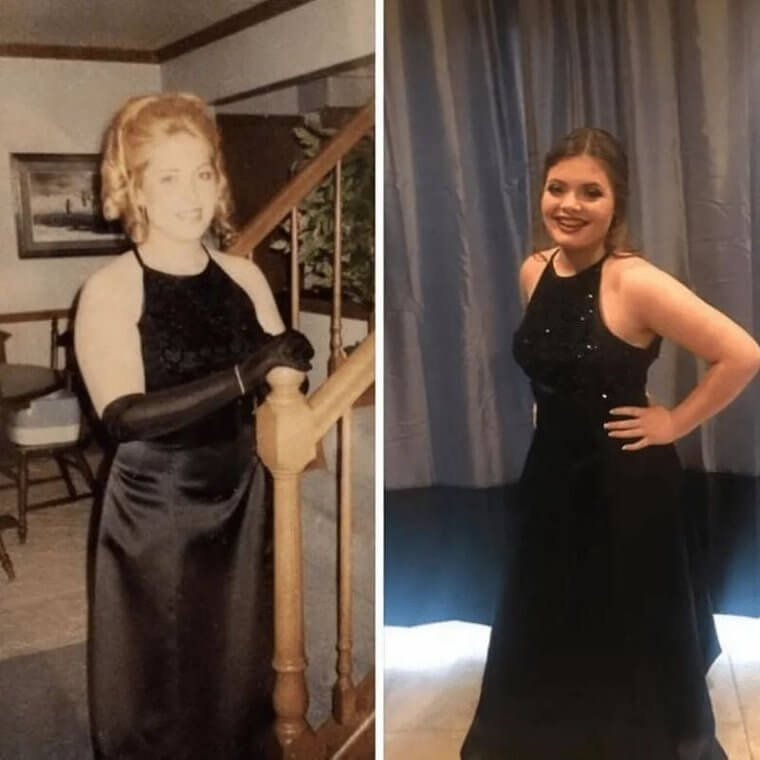 We agreed with this mom when she posted this picture with the caption "My daughter's prom was this past weekend and she wore my prom dress from 20 years ago as well – black dresses are never out of style."
Keeping It Funky From the '80s
This mom and daughter duo had a thing for funky and we think they both rocked it! This artistic and creative vintage number found its way back to make an appearance at her daughter's prom years later and it's still looking funky and fresh.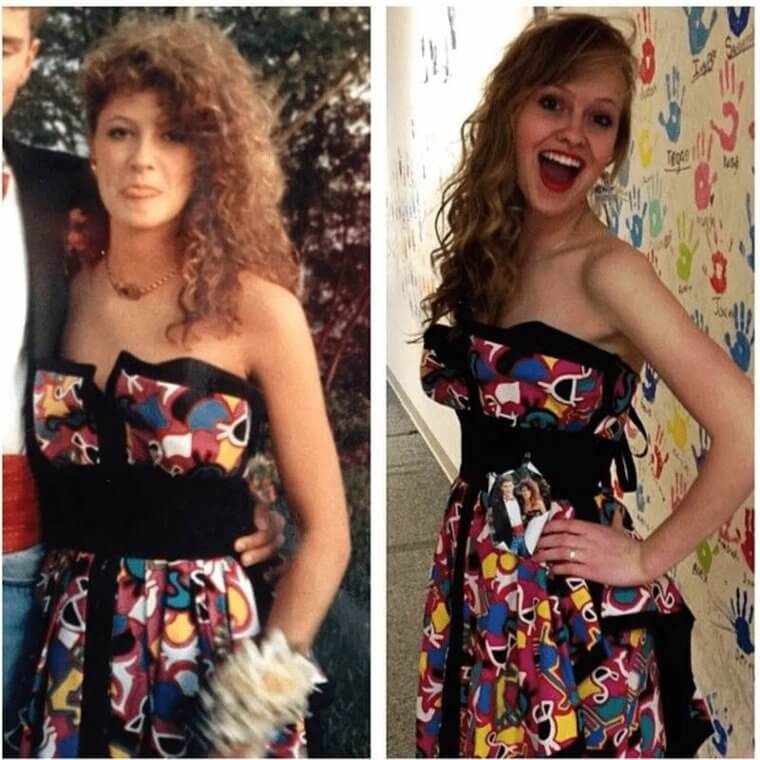 The bold patterns with the black outline and waistline make this vintage number the perfect mix between stylish and playful, and we just love how this daughter simplified her accessories to allow the dress to be the star of the show. 
Vintaging Through the Decades
This one comes from a generational set of images in which mom and daughter shared several dresses 24 years apart. You've got to give it to them for saving that extra cash on those prom dresses! You couldn't even tell that it is the same dress from another generation.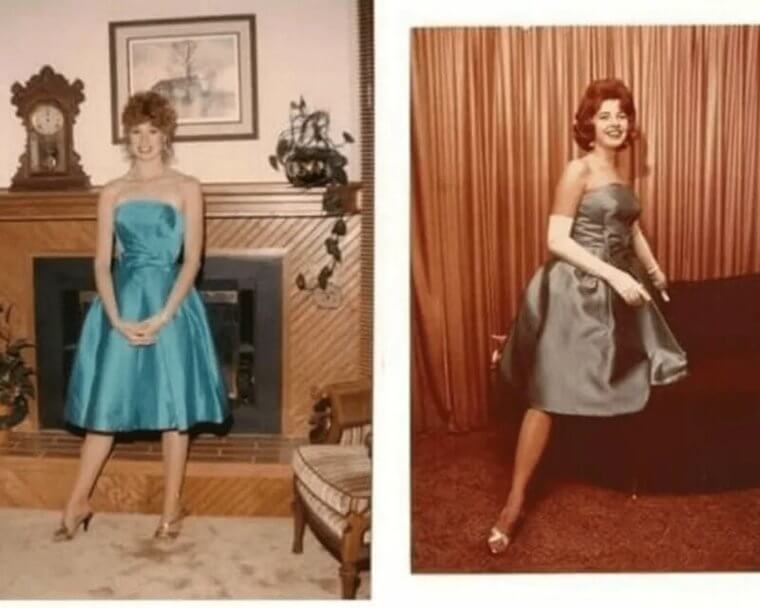 The classic boob-tube cut with the bowtie around the waist makes this one gorgeous and adorable. With a stunning shade of blue that old photographs picture as grey, this vintage style is straight out of the '50s and still stylish enough for prom!
Making a Statement With Sequins
Another gorgeous black little dress, but this one stands out to the crowd with the gorgeous long elegant sleeves and the sparkly sequins all over. This mom and daughter definitely made a statement with sequins at their proms!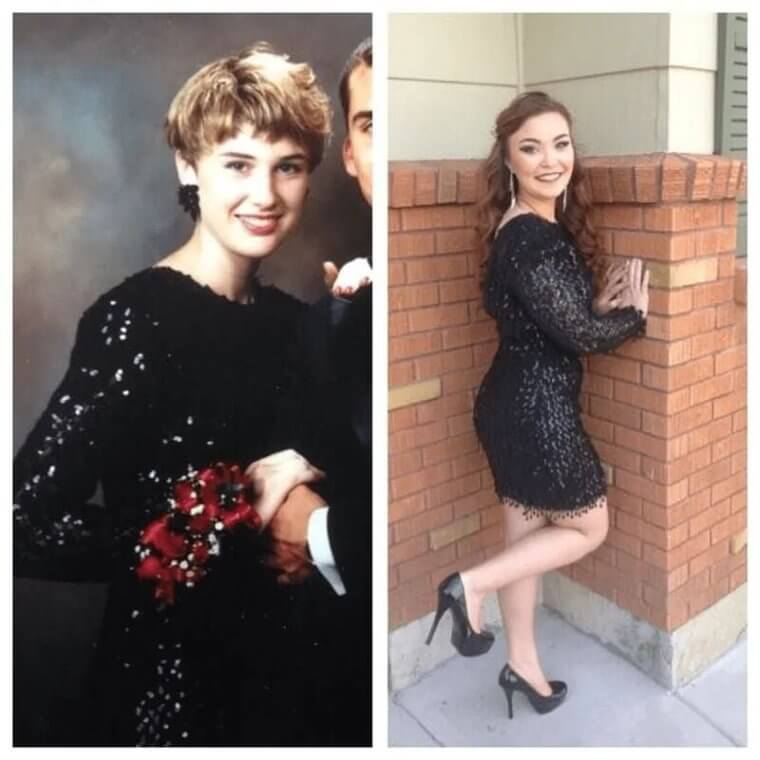 We love how you can see the length of this little number in the daughter's prom picture, and how she dazzled the outfit even more with the dangly earrings and gorgeous curls. It's no wonder this one stayed on the shelves for all those years. 

Recapturing the Prom Dress Moment
This lovely family portrait shows a picture of the mom wearing her dazzling blue gown in 2003 with her husband, and her daughter rocking the same gown with her dad reenacting the same pose at her prom in 2016.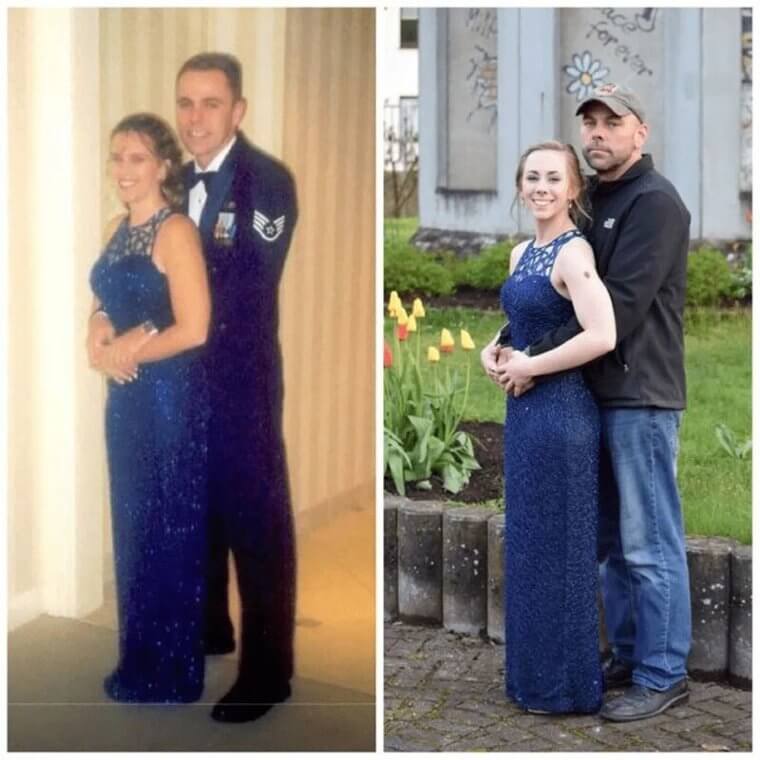 He didn't quite dress up to match the occasion, but we love the sentiment of this vintage beauty. The gorgeous neckline and sleek style make it a no-brainer when it comes to rocking your mom's vintage dress at your prom! With the bonus that dad gets to bask in the glory once again. 
Catching the Eye With Contrast
Sometimes all it takes to catch the eye is a spot of contrast, and this vintage beauty does exactly that! The stunning white lace stands out on this dark red gown and escalates the beauty of this piece.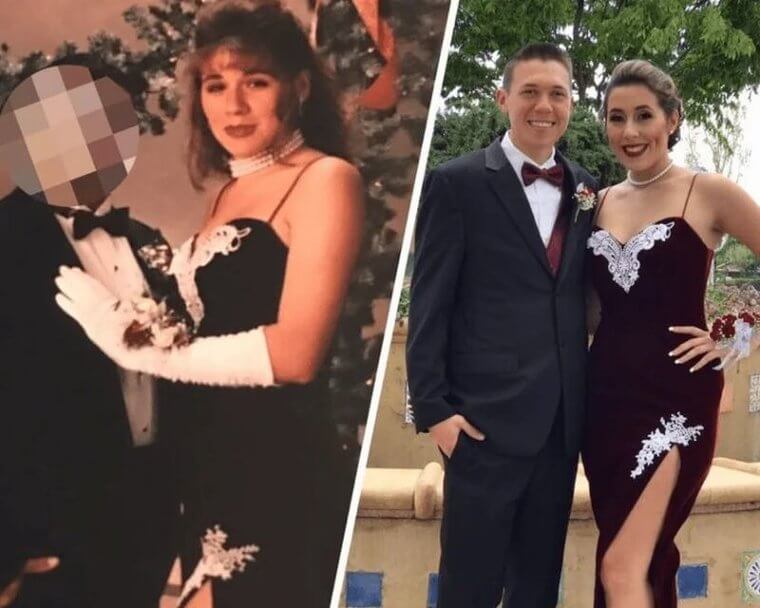 The white lace is placed perfectly at the height of the stylish leg slit and along the bust of this ruby gem. We love the way the mom and daughter both rocked the stylish white on their arms too with a stunning floral finish. 
Wedding Dress to Vintage Prom Gown
This teen couldn't keep her eye off the gorgeous vintage red dress in her mom's wardrobe, but this vintage dress wasn't originally a prom dress at all, it was her wedding dress. We love that it got another chance to steal the show!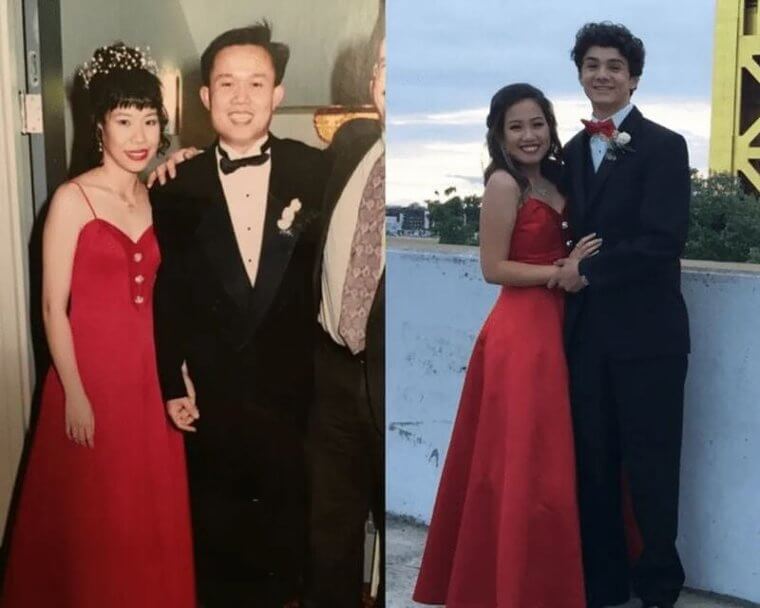 The dress looks just as red and shiny as the wedding day, and we can't decide who wore it best, but we can see that the dress brings with it a big, happy smile. The color may seem different for a wedding dress, which is a testament to the time it was worn. Red dresses were once a common choice for wedding dresses!
Loving a Touch of Lace
This vintage style seems to be a popular one! The beautiful intricate neckline and the long sleek style with the leg slit have managed to stand the test of time, and moms and daughters are rocking their shared fashion sense!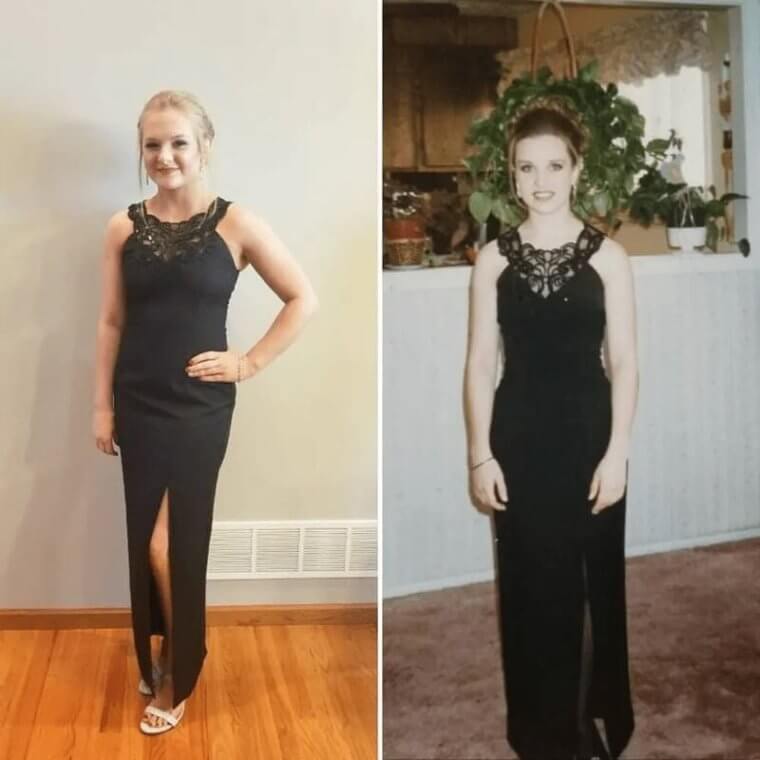 The proud mom posted this photo with the caption ​​"Who knew my only daughter would wear MY prom dress 22 years later! She looked absolutely beautiful!", and we've got to agree, the dress is stunning and they both wore it well. 

Sentimental and Vintage for the Prom
This vintage dress wasn't simply a purchase for this mother's prom but was made with love by her mother. We just love a sentimental piece and gesture like this. Perfectly fitting both mother and daughter, this sentimental vintage prom dress was made to be!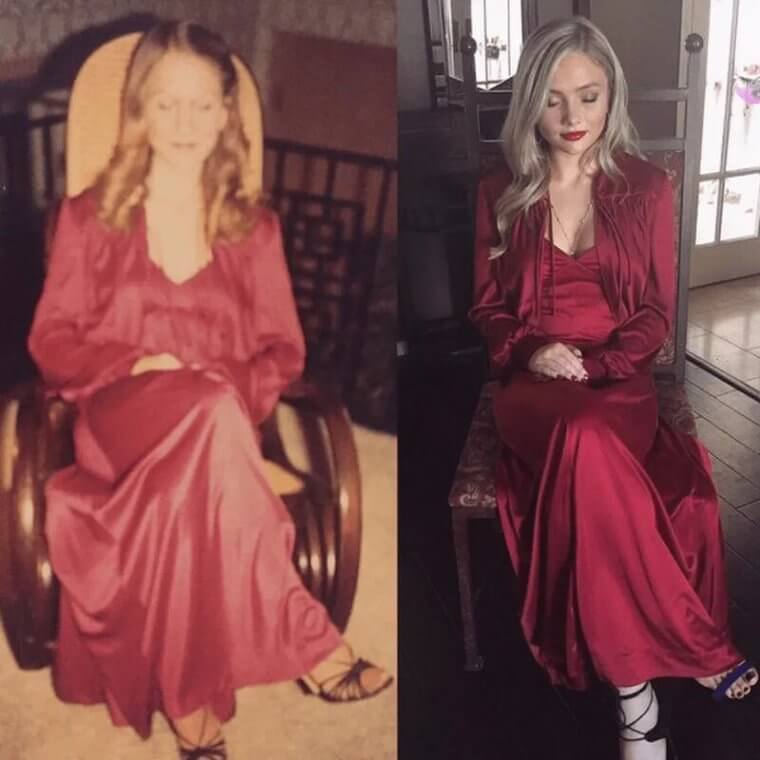 With a stunning and elegant shade of red, we do not doubt that this daughter wowed her classmates with this gorgeous gown. From a prom in the '80s to one in 2016, this grandmother sure has something to be proud of with this masterpiece. 
Picture Perfect Prom Memory
This mother didn't quite get to see her daughter rocking her vintage prom dress, but she did manage to reenact the perfect prom memory with her daughter wearing her dress in the same spot hers was taken. We love how they managed to get the picture in the same spot as so many years before!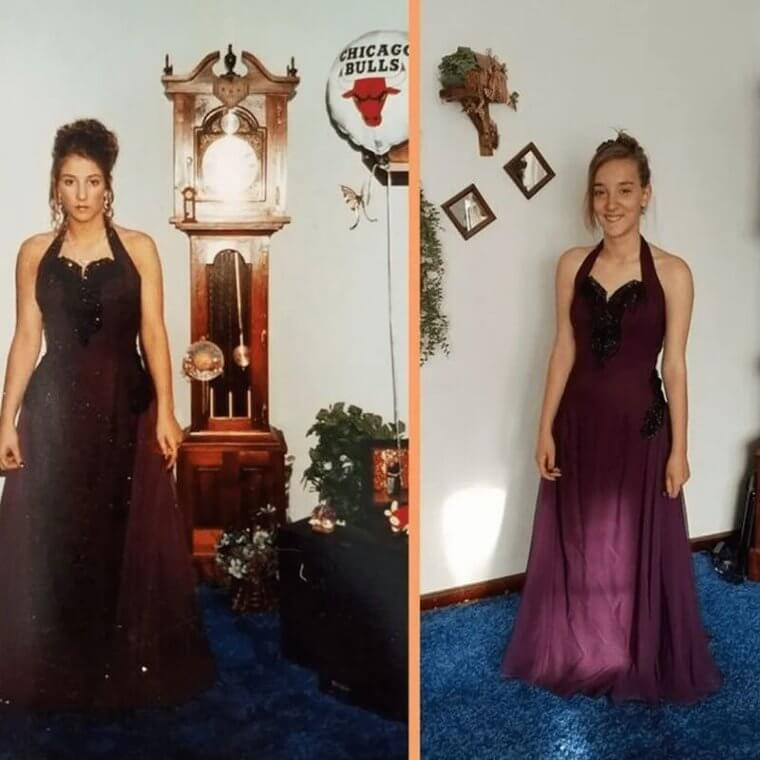 The proud mother shared the picture saying "She didn't wear it to prom but I at least got her to try it on and stand in the same spot the morning of her prom day at my parents' house…20 years later."
Rocking It in White
Who says that prom dresses should be any certain color? Certainly not this mother-daughter duo who absolutely rocked the same stunning white gown on their prom nights. The gorgeous white is classy and really stands out from the crowd.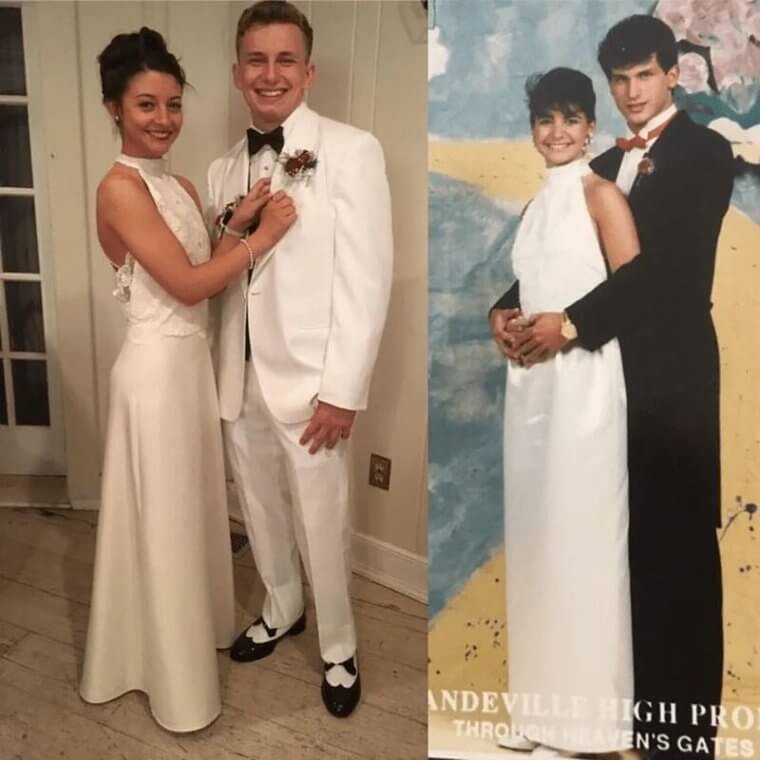 The style is simply breathtaking and the way the length of the dress falls so elegantly is enough to make you believe that your prom is your wedding too. The choker neckline and open back make this beauty up there with the teens who rocked wearing their mom's vintage dresses to prom! The prom date couldn't let this daughter be the only one shining bright!
Pink Princess Prom Dress
Opting for a fun and bright-colored dress, this teen took to wearing her mom's senior military ball dress to her prom, without even having to make any altercations!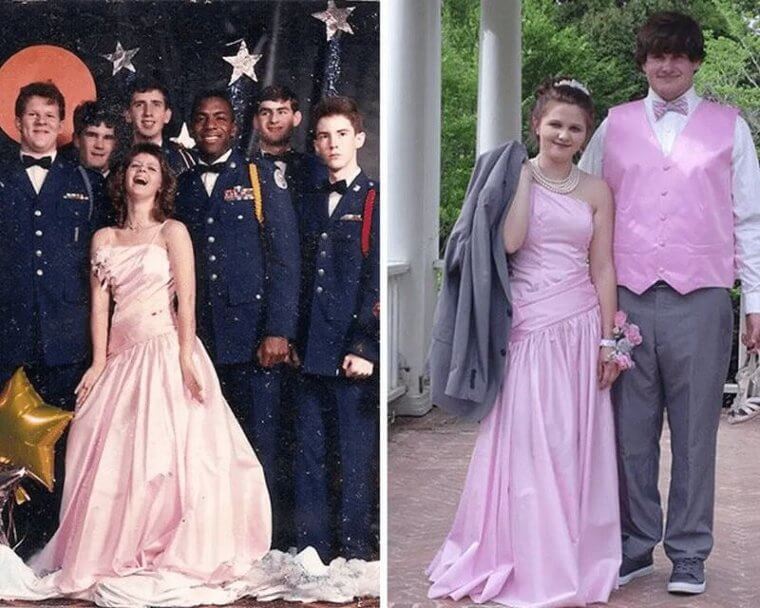 The soft pink in a silky fabric stands out perfectly for her prom night, and her partner came to the pink party with this one too! The mother delightedly posted that "Some may recognize the dress Roxanne wore to prom. I wore the dress in 1988 to my senior military ball. I am sure we have a few pictures at my mom's of me in the dress but this is the one I have. We had no alterations to the dress."

The Gorgeous Green Prom Gown
This lovely vintage prom dress retake was shared by a proud sister who said "My little sister decided to wear my mom's prom dress for her prom this year and it's making me so emotional."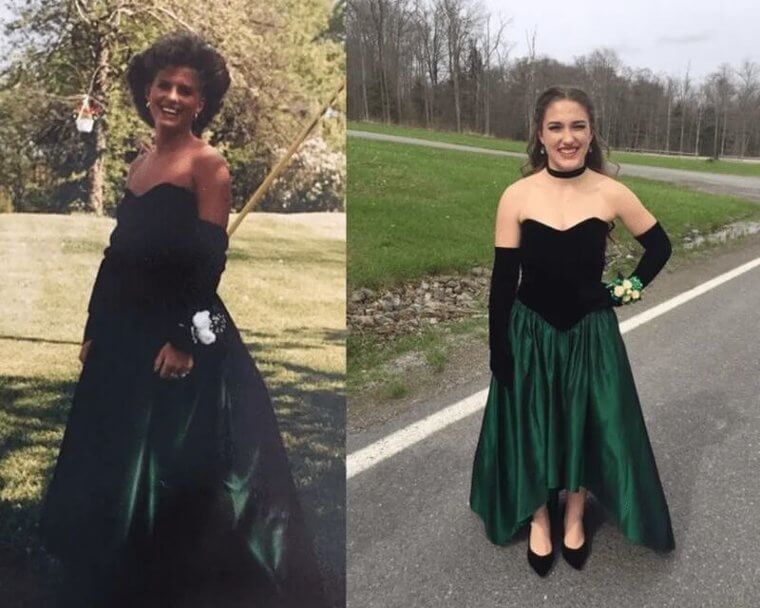 We love how the newer camera really catches that gorgeous emerald shade of green and how it is perfectly contrasted with the black bodice. How sweet that this daughter also chose to wear the same black elbow-length gloves to match their outfits. 
Something a Little Different
This mom must have had bold and classic taste back in the day because this gorgeous outfit was just waiting to be worn! There was no need to look any further when this daughter found her mom's gown hanging in her closet.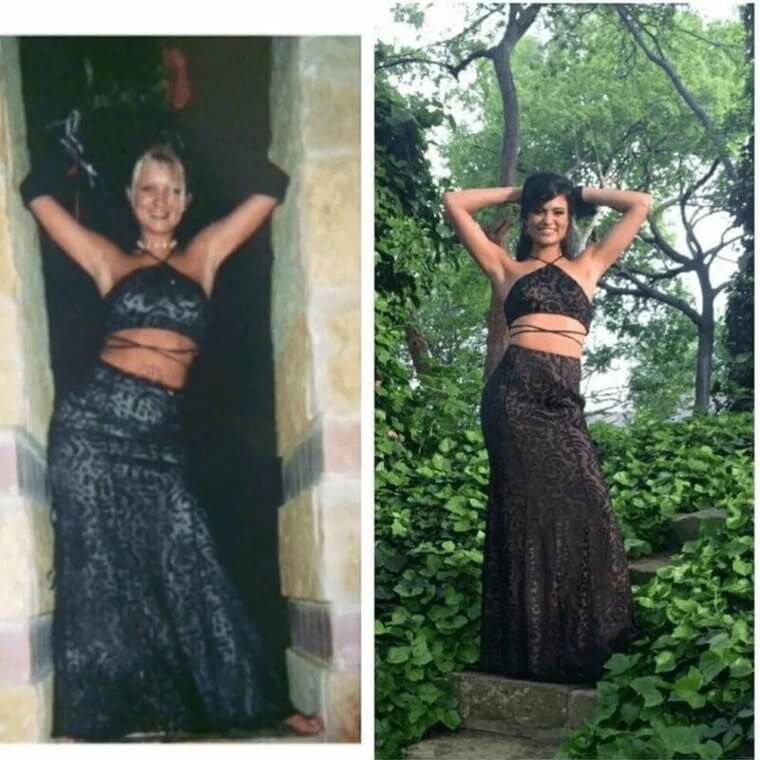 With the same pose and the stunning patterned dress, these two really rocked this dress! The crop-top style seems like the dress could have been made in the future, and transported back into the past for this occasion. We love the black sash around the midriff that gives it that final touch. 
Who Wore It Best?
These stunning gowns were worn 17 years apart and the photo was posted by a proud mom with the caption "Who wore it better??? Love that my baby is wearing my 17-year-old dress." We'd love to see a better shot of the dress on the mother to make the vote.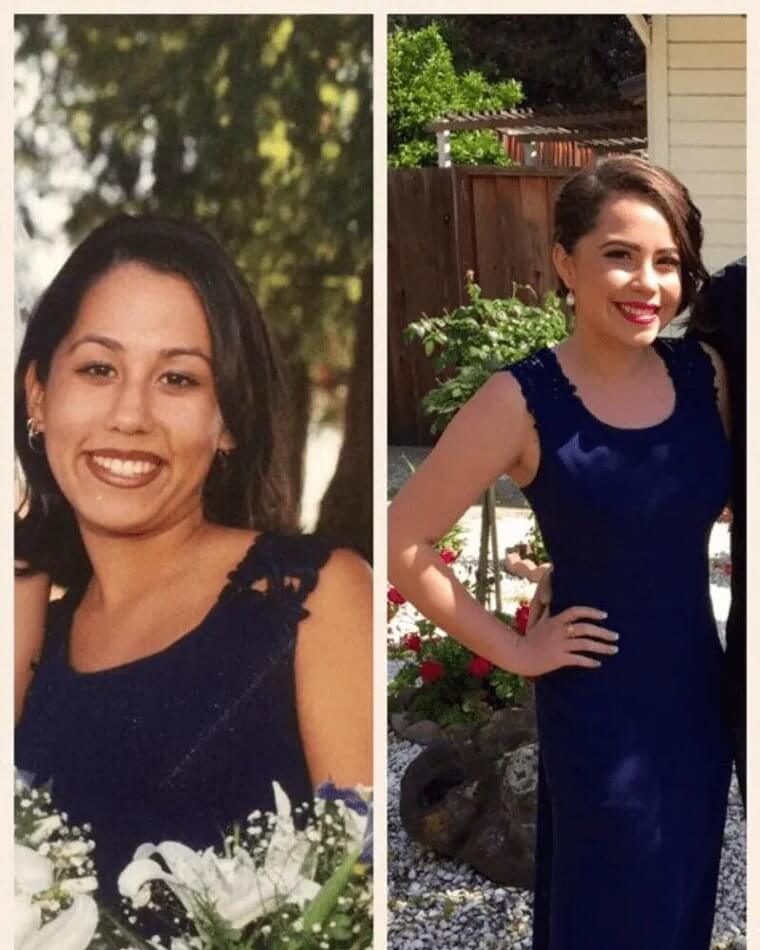 The deep blue color is mesmerizing and it's no wonder this daughter looked no further than her very own mother's closet for her prom night. The red lipstick adds that final touch! 
Polka Dot Prom Dress
Polka dots have made timeless reappearances throughout fashion history, and this mother and daughter showed their love for the pattern in sharing this vintage polka-dotted prom dress.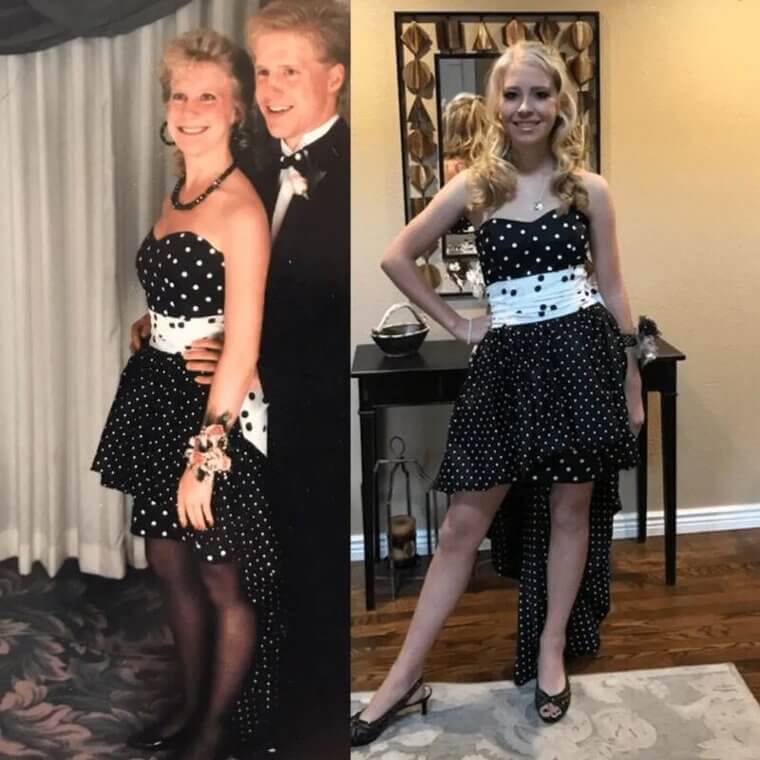 The dress still looks good as new, and the contrasting white sash makes those dots pop! No doubt that this daughter had eyes on her prom night. Her mom rejoiced, saying, "Estee went to prom tonight wearing my senior prom dress from 1991! Beautiful girls, awesome dress!"

The Never Out of Style Long Black Gown
The long black dress with the leg slit seems to be a popular one for making it through the generations! This classic piece is flattering, elegant, and stylish at any time in fashion history.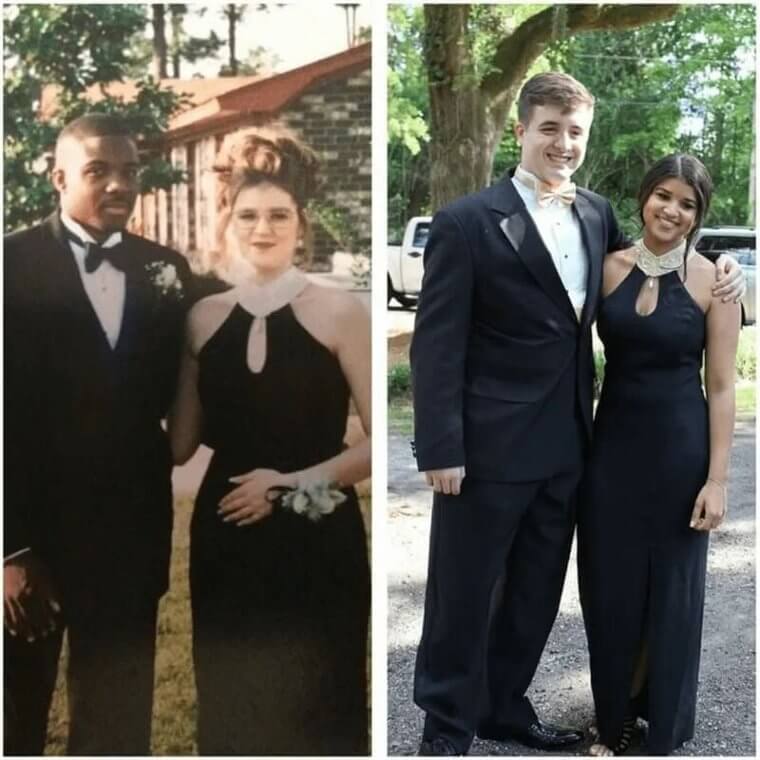 The gorgeous gold around the neck adds those final glamorous touches, and we love the style with the cut below the collar. Some generations prove that you don't need to spend all the bucks to look glamorous at the prom when you have all the glamour you need tucked away in your mom's cupboard. 
Dad's Gotta Boast Too
This strikingly beautiful red dress was worn by mother and daughter 20 years apart, but this time it was the dad doing the sharing and boasting on social media. ​​He captioned the post, "My wife and I 1997 prom, our daughter's 2017 prom same dress!"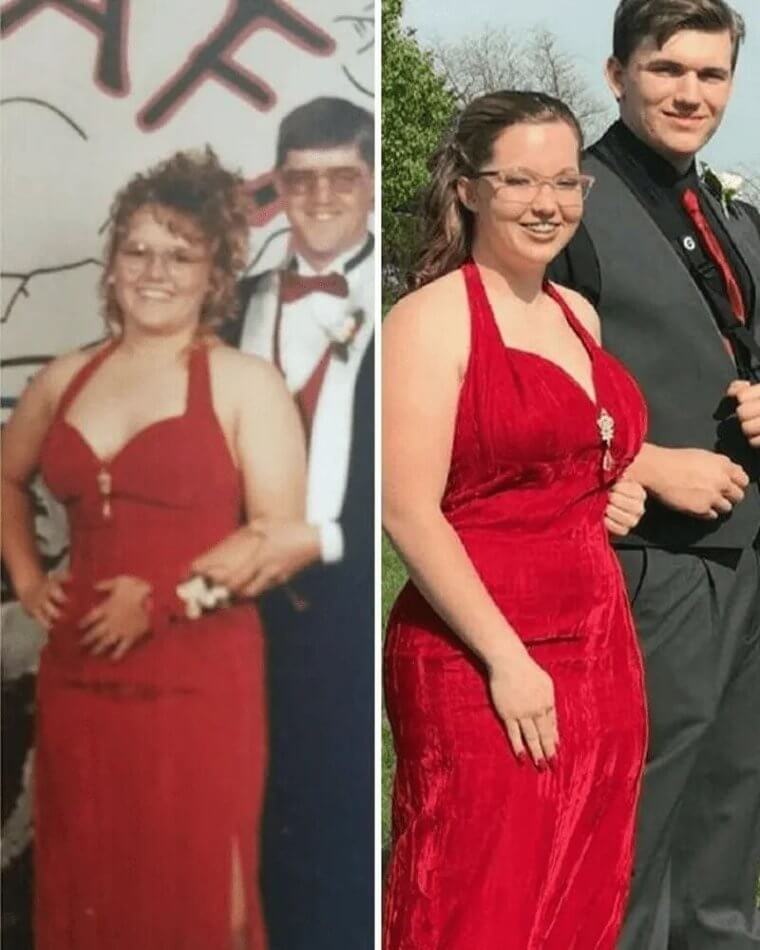 The dress still appears to be as red and bright as the first day it was worn (never mind the old blurry photographs). With a beautiful halter neck cut and the gem to top it all off, this ruby red dress stuck around for a reason.
Shining Like the Night Sky
Another gorgeous black dress made it onto our list of teens who rocked their mom's vintage dresses to prom. This one is a little different, with the ankle-length cut and the plunging neckline, not to mention the starry night sparkles.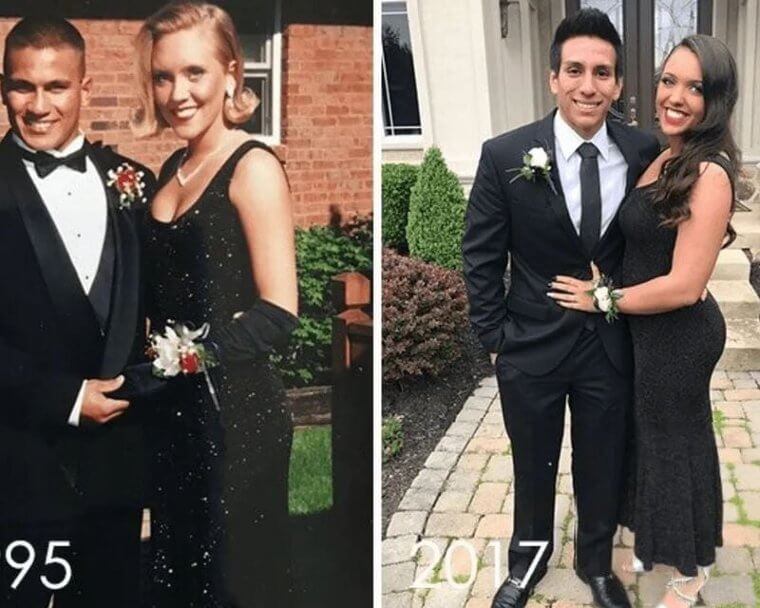 Another classic and timeless piece that was first worn in '95 and brought back to life to rock another prom in 2017. Can you see how the '95 photo even managed to perfectly capture the intricate beading?! We can see why this elegant dress is a keeper. 
A Good Dress Never Goes Out of Style
This mom and daughter went bold with the gorgeous blue and sparkles and they are both absolutely killing it! Just goes to show that a good dress never really does go out of style.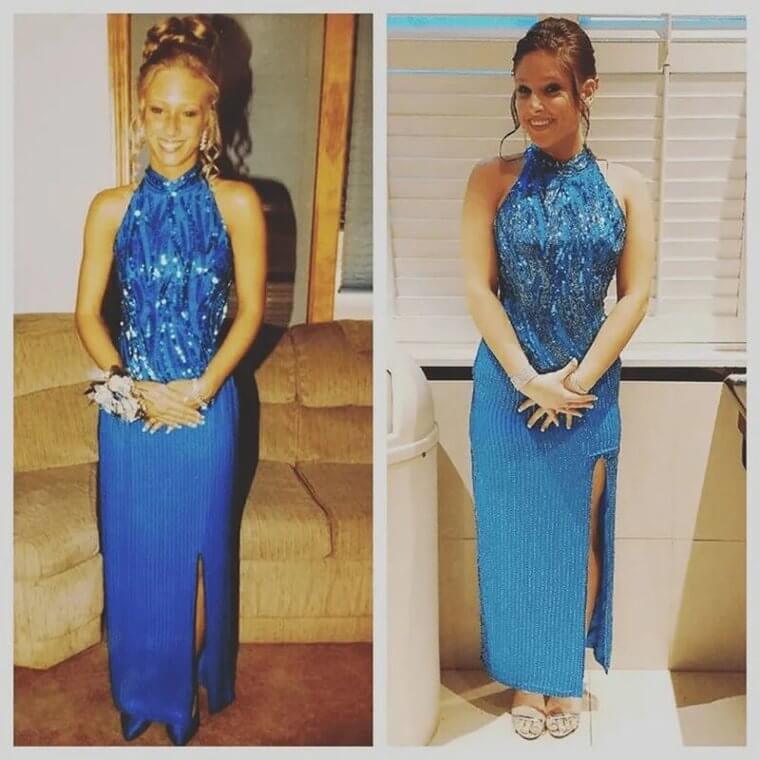 The first picture captures the intricacy of the beadwork on the front of the dress and we love how the sparkles go all the way up to a high neckline. The cut is truly flattering for them both and the only altercation made was a little extra length on the leg slit. They both look gorgeous!