From the Seven Mile Bridge floating in water in Florida to the rollercoaster-like Eshima Ohashi Bridge in Japan, there are many dangerous bridges all over the world. Some of them were constructed with natural materials by locals without too much planning, and others were designed by some of the best engineers in the world. You're about to see some very freaky and not to mention dangerous bridges and you're probably gonna wish that you'll never need to even visit, let alone cross, any of them.
The Rainbow Bridge, Texas
Situated upstream from Sabine Lake in Southeast Texas, the Rainbow Bridge is a bridge that gracefully spans the Neches River. This architectural marvel facilitates the seamless connection of Port Arthur in Jefferson County on the southwest bank of the river with State Highway 87 and State Highway 73.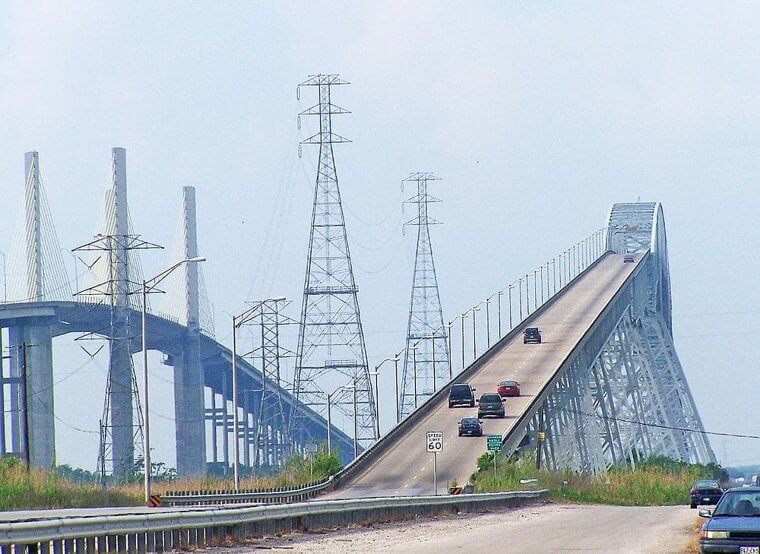 To address the apprehensions expressed by Beaumont, the city upstream, regarding potential hindrance to ship navigation, the Rainbow Bridge was constructed with a spacious 680-foot (210 m) main span. Furthermore, it boasts an impressive vertical clearance of 177 ft (54 m), specifically designed to accommodate the passage of the USS Patoka, the tallest ship in the U.S. Navy at the time (although, it is worth noting that the Patoka never actually traversed beneath the bridge).

Ruyi Bridge, China
Comprising three distinct bridges, the Ruyi Bridge in Taizhou, Zhejiang China, stands as a remarkable pedestrian footbridge constructed to span the Shenxianju Valley. Notably, this architectural marvel boasts a unique glass-bottomed walkway, providing visitors with a thrilling experience.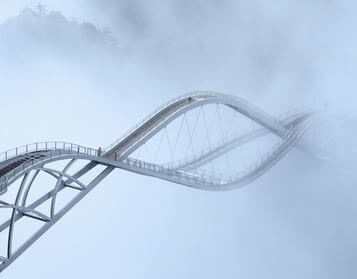 Its captivating design showcases elegantly curved walkways that imitate the shape of a traditional Chinese ruyi, adding a touch of cultural allure to the bridge's aesthetics.
Eshima Ohashi Bridge, Japan
If you like rollercoasters, you might like this Japanese bridge. It has a gradient of 6.1% and a height of 144 feet and it isn't as steep as it appears. However, it still looks like something only a daredevil would dare cross.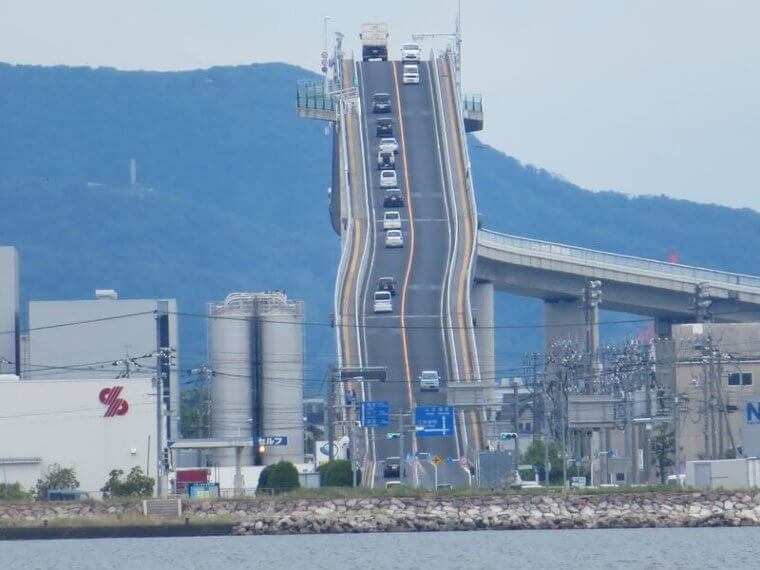 The bridge was under construction from 1997 to 2004 and it's the third-largest bridge in the world. It's also the largest rigid-frame bridge in Japan. But this is nothing to this next frodge that Floridians have to cross over!
Seven Mile Bridge, Florida
This bridge is located in the Florida Keys where it connects Knight's Key in the Middle Keys to Little Duck Key in the Lower Keys. It's actually the second seven-mile bridge since the first one had to be taken down. This happened because, since it was positioned directly in the water, it prevented boats from passing, though.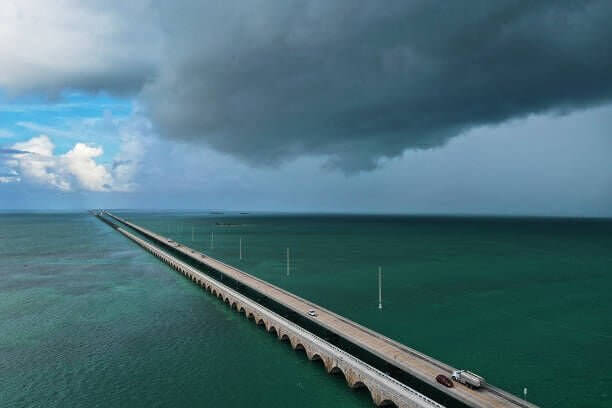 This bridge was one of the largest ones in the world when it was first constructed. It has even won eight awards, including the Exceptional Award for Cost Savings Innovation from the Federal Highway Administration. It might not look scary, but just imagine finding yourself on there during a hurricane.
Royal Gorge Bridge, Colorado
This bridge is historically significant as it was constructed in 1929, with stabilizing wind cables added only 50 years later. It's located 955 feet above the Arkansas River and to this day it's the highest bridge in the United States. It was even the highest bridge in the entire world until it was surpassed by the Liuguanghe Bridge in China.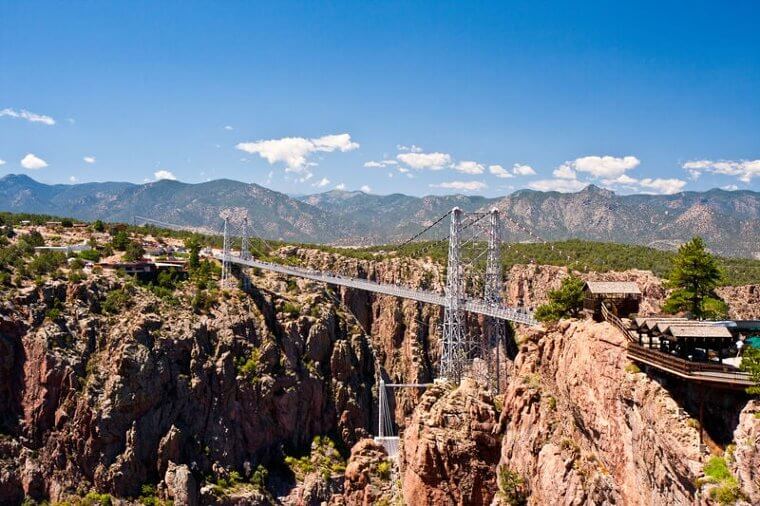 The bridge is located near Canon City, Colorado within a 360-acre amusement park called Royal Gorge Bridge & Park and it's a tourist attraction. Some visitors can even ride a cabal car if they choose to do so. It might take a lot of bravery, but it definitely gives you an amazing view.
Bridge Off The Cliffs Of Huangshan
China. The place to find scary bridges. Here you can see the stairway-bridge on the cliffs of Yellow Mountain. And yes, this was built especially for tourists. Like they knew what was missing for a full experience.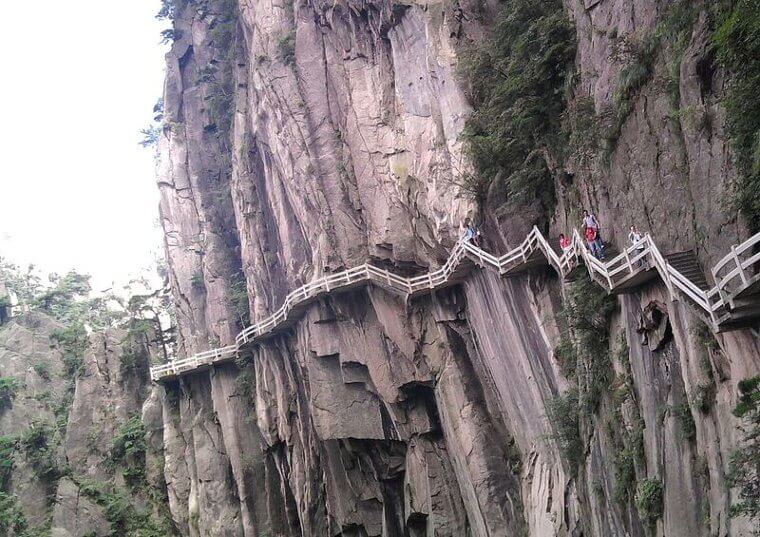 The Huangshan mountain range is very famous in China, you might have encountered many Chinese paintings having mountains in them - they are usually paintings of the Huangshan mountain ranges. They are famous for their scenery, sunsets, their granite peaks, unique pine trees, hot springs and more. 

Monkey Bridges, Vietnam
It's obvious that this bridge, which crosses over the Mekong Delta, isn't one of your modern-day bridges. So-called monkey bridges are very common in Vietnam and they're handmade from just one bamboo log. Even though it doesn't look very safe and sturdy, locals use it very often. It gets its silly name because of the way people have to move while crossing it, however, the bridge itself is a traditional symbol in Vietnam.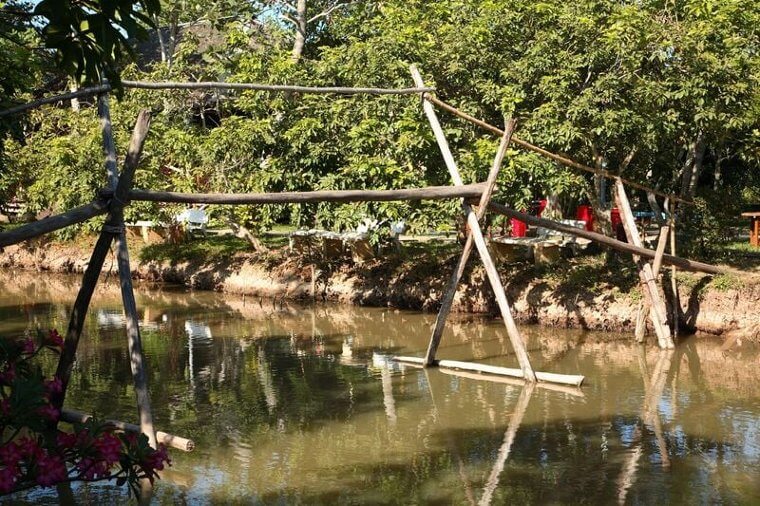 It's probably better to avoid crossing this bridge unless you're a local and have been doing it your entire life. However, even though it's dangerous for other people to cross it, locals who use it all the time can do so even while carrying much weight.
Taman Negara Canopy Walkway – Malaysia
The Taman Negra Canopy Walkway stretches over 1,700 feet and it's known as the longest canopy walkway. It's also dangerously high, hanging at 130 feet above the ground.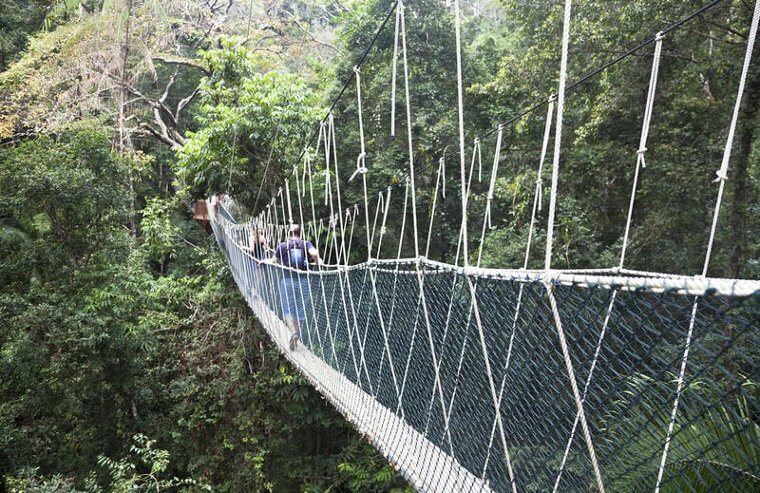 This bridge is a Malaysian tourist attraction, but only the bravest ones dare to cross it. It's also advisable not to look down while you're on it.
Musou Tsuribashi Bridge – Japan
The Musou Tsuribashi Bridge was built in the 1950s and it's known as the "scariest suspension bridge" in Japan, probably because it hadn't been maintained in over fifty years.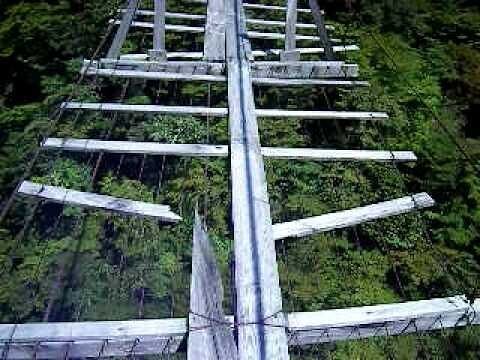 The bridge is located in the Southern Japanese Alps by the name Musou Tsuribashi, pretty much in the middle of nowhere. It's constructed completely out of wire and some wooden planks. For anyone who has a daring wish to cross it, they can use the narrow passage and not look down.
Trift Bridge – Switzerland
Nobody could deny the beauty of this bridge, not even the people who are afraid of heights. It's located in the Swiss Alps near Gadmen, and it stands 328 feet above sea level and 558 feet over the glaciers of Switzerland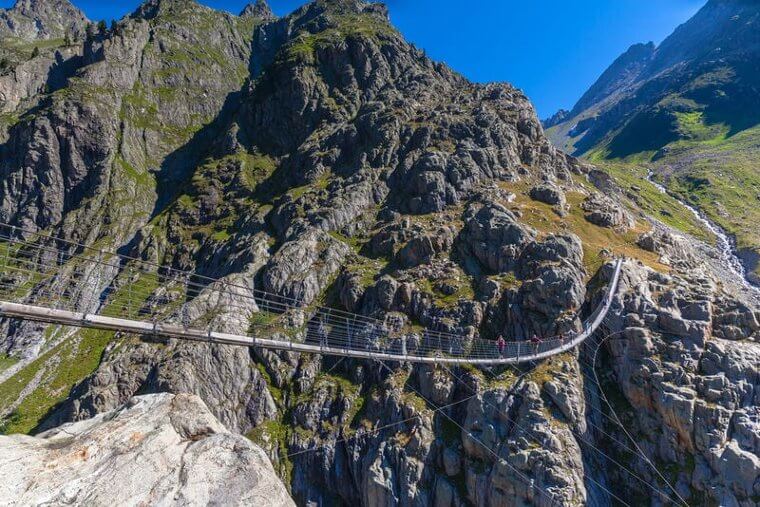 When the bridge was first built in 2004 it had some problems due to strong winds, but those were solved in 2009 by adding stabilizing cables.

Suspension Glass Bridge – China
This glass bridge is in the Shiniuzhai National Geological Park of China and is 1,410 feet long. It was made to connect two mountains, it cost a whopping $3.4 million and the construction was completed in 2015. It was designed by Haim Dotan, an Israeli architect and it even set some world records for its construction and architecture.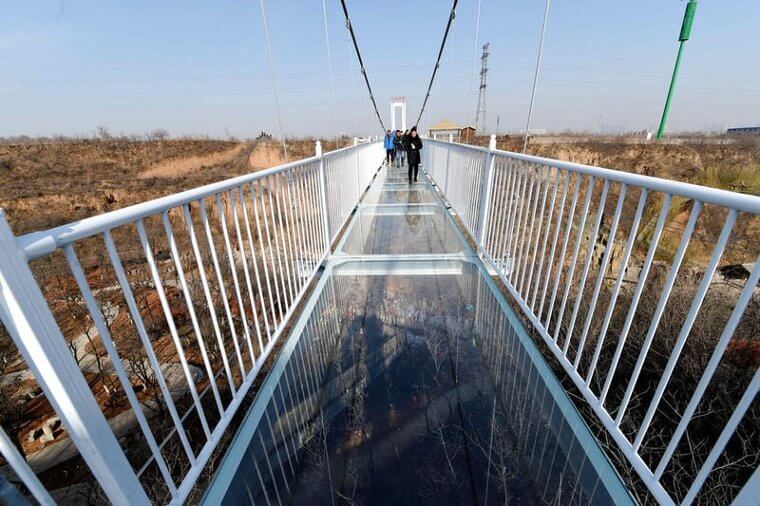 When the bridge was first opened, it had to be closed for a short while because the maximum of 8,000 visitors per day had been exceeded by 10 times. Glass bridges have become very popular in China, mostly because of their beauty, however, the 984-foot drop definitely might scare some people off.

Hussaini Hanging Bridge, Pakistan
Just by taking one look at this bridge, you'll understand why it's considered to be one of the most dangerous bridges in the world. It crosses over Borit Lake in the Upper Hunza and is only one of plenty of other dangerous rope bridges in North Pakistan.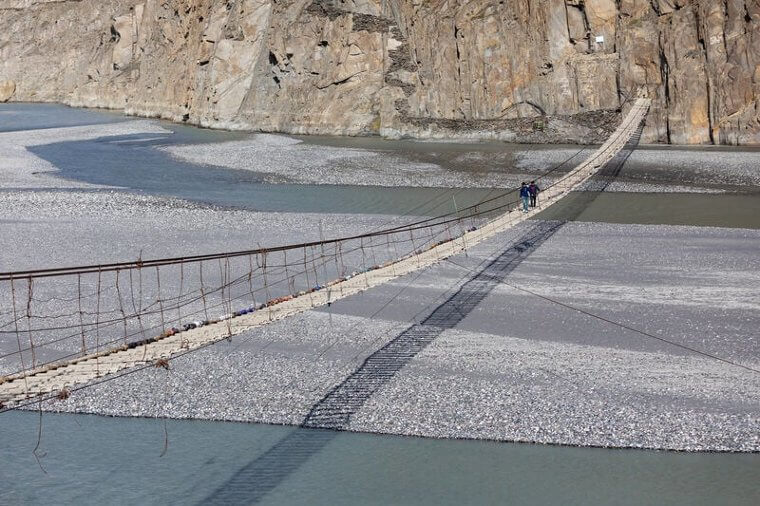 If you slipped and fell through one of the many gaps of this rickety and swinging bridge you would immediately fall into the Hunza River. It's also poorly maintained and as you walk across it, strong winds shake you and could easily make you lose your balance. On top of all that, there are still some ragged and tattered remains of the old bridge just hanging next to the new one. This bridge is also some sort of a tourist attraction, as hikers sometimes shuffle their way across it, testing their courage.
Deception Pass Bridge, Washington State
This creepy-looking bridge is located 180 feet above the water and crossing it doesn't look like a walk in the park. These two bridges connect Fidalgo Island and Whidbey Island. Before they were constructed, you could only reach these two islands by ferry. Back in the early 1900s, locals would take their horse-and-buggy using a ferry to cross from one island to another. However, the ferries were not scheduled and people had to call them. To do so, they had to use a drumstick to bang a saw and then just wait for a ferry to show up.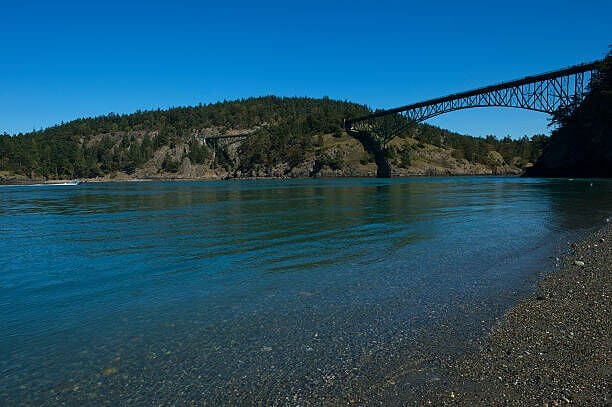 Even though the bridge is incredibly beautiful, it still seems that the ferries would probably be a safer travel option.

Walkway Bridge – Bandung, Indonesia
Why does anybody ever even cross this bridge? Can this even be considered a bridge, considering it's barely hanging short planks?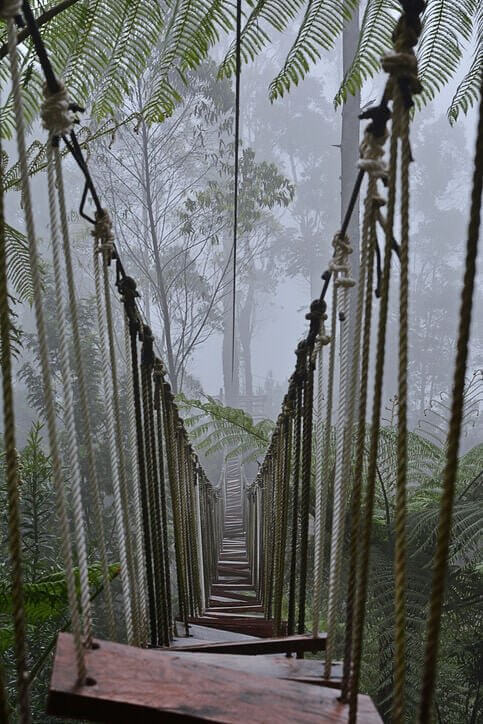 When crossing this bridge, balance is key. The main problem of this bridge is the view you get while crossing it. It's so amazing that it can easily catch you off guard and not balanced, and off you go.
Lake Pontchartrain Causeway, Louisiana
We have reached the longest bridge in the world and also one of the scariest ones. It's located over the Pontchartrain Causeway and it sits only 16 feet above its waters. There are two bridges and the longer one is 23.83 miles long. Ever since 1969, it has been the longest bridge over water in the world.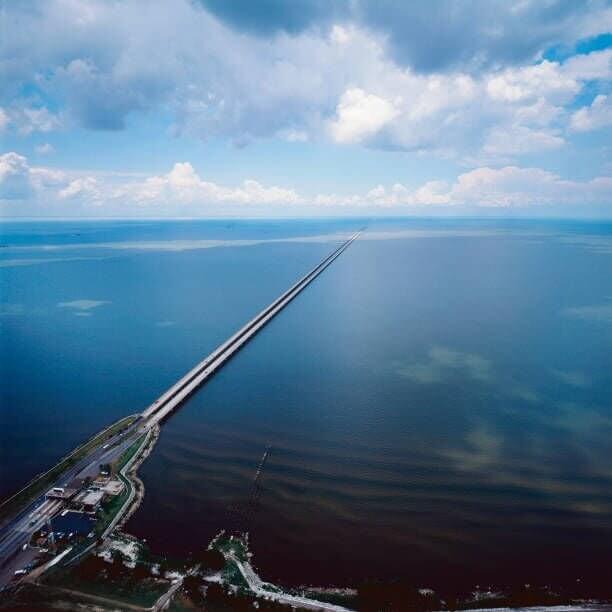 The construction helped many surrounding North Shore communities assisting their economy by cutting down the drive time into New Orleans by 50 minutes. Of course, these communities are now much better connected to the city.
Canopy Walk, Ghana
This bridge hangs 40 feet up in the air and it sure would make a rainforest walk much more interesting. Even though it's scary, it's still an amazing and beautiful way to get in touch with the surrounding nature. The bridge was constructed by a couple of people from Canada but it's actually located in the Kakum National Park in Ghana. It has an appealing design in order to attract more tourists to the national park.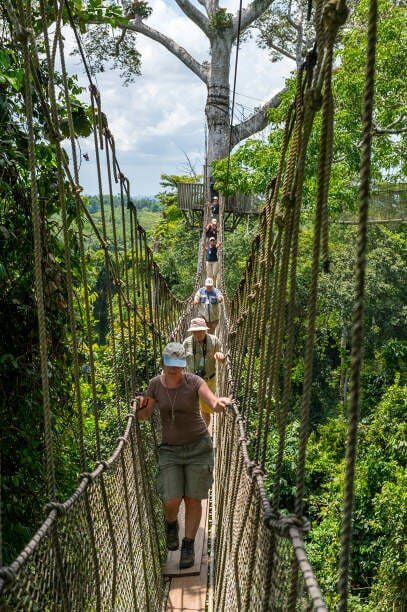 It actually consists of seven bridges that are suspended 130 feet above the ground. Even though they look like old-fashioned rope bridges, they're much sturdier. It includes rope but it's also made of wooden planks, aluminum and it comes with safety netting as well.
Langkawi Sky Bridge, Malaysia
This unusual bridge is 400 feet above the ground. What's weird about it is that it had been closed several times and its reopening was rescheduled several times as well due to maintenance purposes.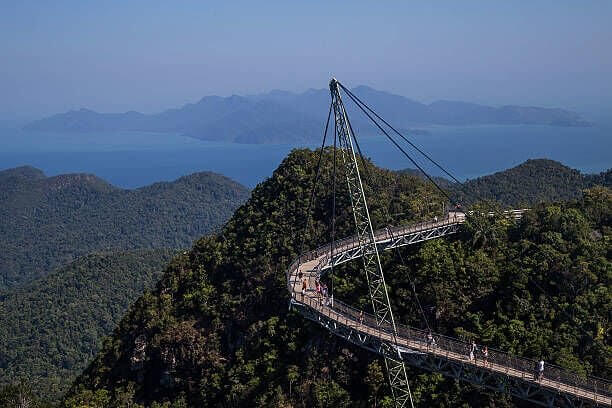 The bridge was reopened but it was closed for a whole two years. Some natives say that it was closed because it could potentially collapse.
Mount Titlis, Switzerland
Wouldn't it be terrifying to walk across a bridge that is suspended almost 10,000 feet above the ground? It sure would, but at least you would have a breathtaking view of the Swiss Alps while doing so. This bridge was opened in December 2012 and it's the highest elevation suspension bridge in Europe.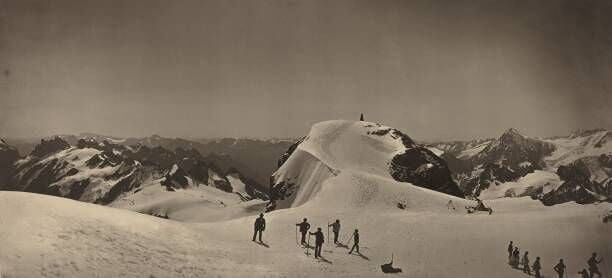 However, the bridge is completely safe and countless visitors cross it every year, so there's no need to worry.
Puente De Ojuela, Mexico
This bridge was once used by the mining town located below. Now it's used only by pedestrians since it would be too risky for a car to pass over the bridge.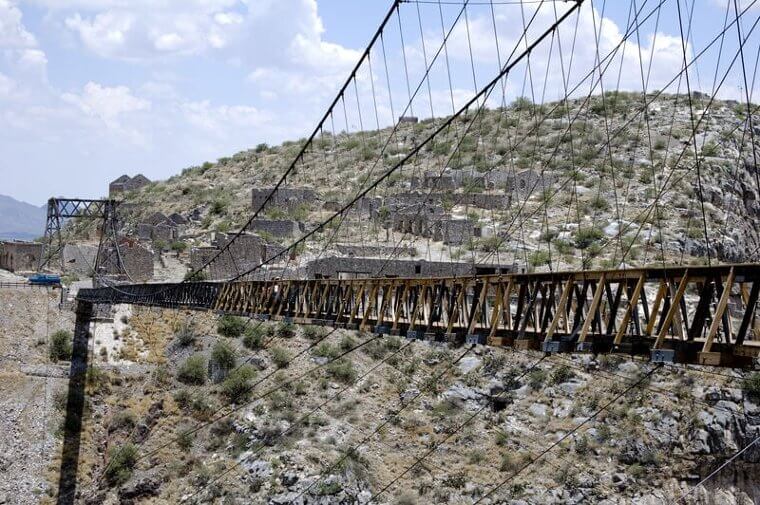 The bridge was constructed in 1989 and it became a tourist attraction in 1991. Tourists find this bridge interesting because it has a reputation as one of the most dangerous ones in the world.
Quepos Bridge, Costa Rica
This bridge has some unusual nicknames such as "Bridge of Death," and "Oh My God bridge" so it's easy to say that it should be crossed at one's own risk. It was constructed from 1930-1940 by the Bananera Company and its purpose was to be a path for the train that moved bananas to the port of Quepos.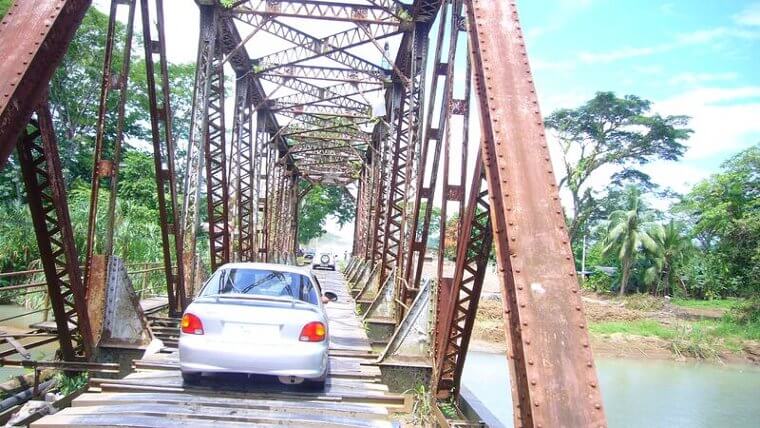 Even though it looks like it couldn't even support a car, trucks cross the bridge every day. However, the bridge is very narrow so vehicles can only travel in one direction. The planks don't even run across the entire bridge and they clank loudly when any car or truck passes. Some renovation is probably long overdue.
Sunshine Skyway Bridge, Florida
This bridge crosses Tampa Bay, it's an impressive 21,877 feet long and it's known by locals as the Sunshine Skyway Bridge.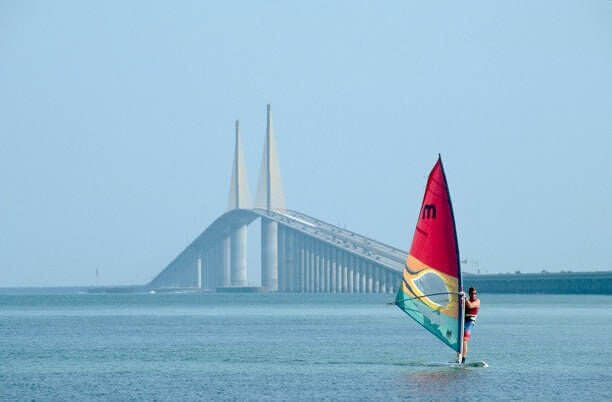 In 1980, a huge ship ran into a pier, killed 35 people, and destroyed the bridge. The bridge was re-built in 1987. Sadly, over 200 people have committed suicide jumping off this bridge.

U Bein Bridge, Myanmar
Don't be fooled into thinking this bridge is under renovation, this is how it's always looked since it was constructed in 1850. It's almost a mile long, it's located in Myanmar and it crosses Taungthaman Lake.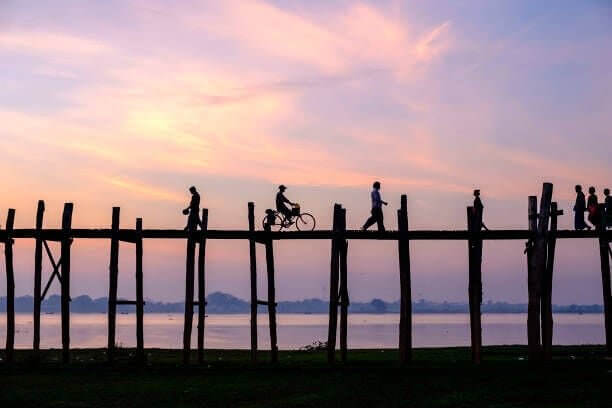 U Bein Bridge is said to be the oldest teakwood bridge in the world. Because of the interesting way its long pillars stick out of the water, the bridge became a popular tourist attraction. Since it has such heavy traffic, various souvenir sellers use the bridge to offer their goods to passersby.
Storseisundet Bridge, Norway
Even though the mountain backdrop makes this view amazing, the path itself looks nauseating. This bridge is often called "The road to nowhere".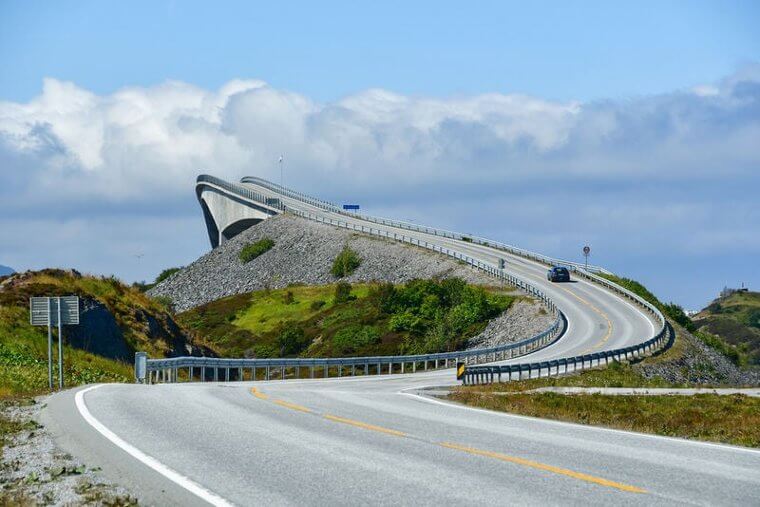 This bridge is one of Norway's national tourist routes and countless people visit it annually. However, don't visit this bridge if you get motion sickness easily.
Carrick-A-Rede Rope Bridge, Northern Ireland
This bridge is located 100 feet above sharp rocks and water and is 66 feet long. Many people who cross this bridge in order to reach the beautiful island located on the other side, are usually too scared to cross it again so they take a ferry back.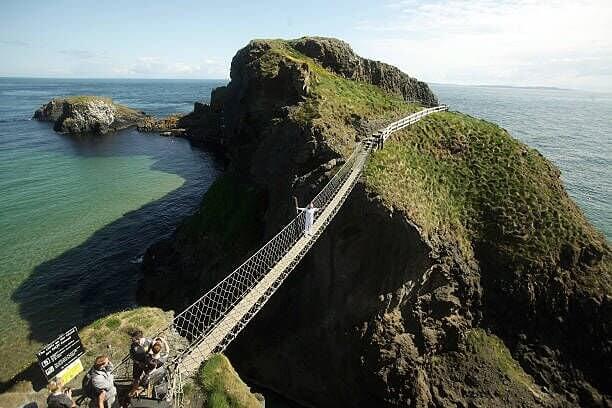 It also turns out that this bridge has a crossing toll. Maybe you can't get scared for free in Ireland.
Sidu River Bridge, China
As for the highest bridge in the world, the Sidu River Bridge in China takes the prize. This bridge was constructed in 2009 and it cost $100 Million. This steel masterpiece stands 1,600 feet above the canyon floor and 5,000 feet across the river valley. So, it really would be best not to look down.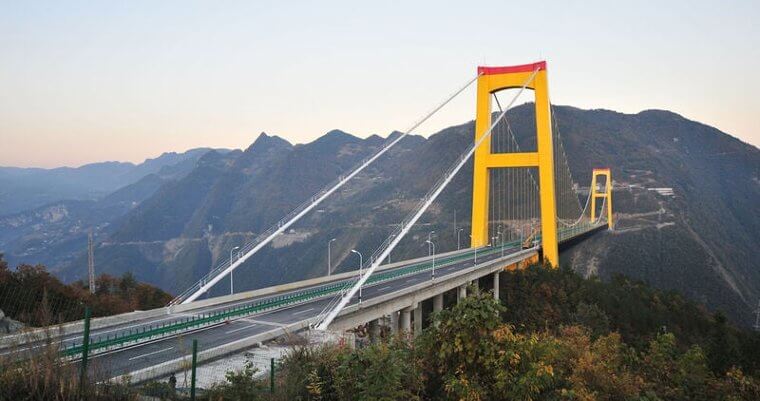 This bridge connects two separate parts of China that were separated before it was constructed, completely inaccessible because of the rocky terrain. Its main purpose was to be an ongoing highway expansion project and anyone who crosses it is rewarded with a staggering view. The best news is that they say that the bridge is one of the sturdiest in the world.

Mekong River Crossing – China
One of the largest rivers in Southeast Asia, the Mekong river, is so huge that it stretches across six countries: Vietnam, China, Cambodia, Burma, Thailand, and Laos. This river can be both calm and raging, depending on various factors.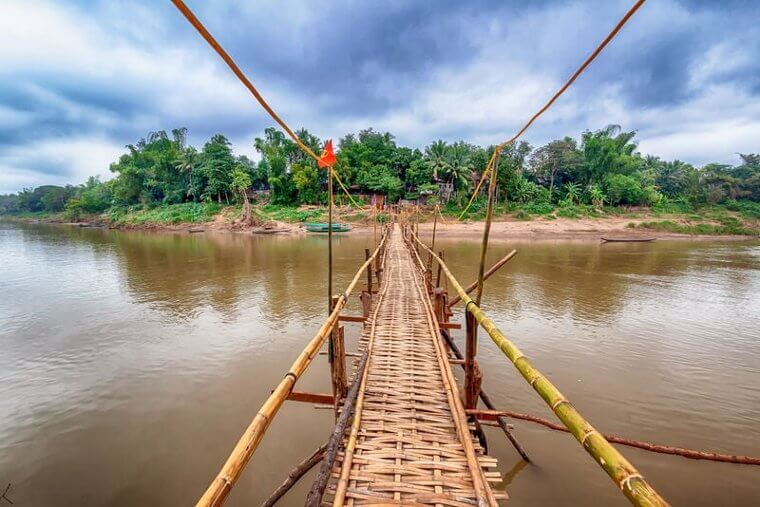 Here we can see a man crossing the river on some wires. Considering how choppy those waters look, we can only hope that man is an expert slack-liner.
Daedunsan Mountain Suspension Bridge – South Korea
This bridge, which is known for the magnificent rock peaks and lush trees that surround it, is a part of Daedunsan Provincial Park and is 164 feet long.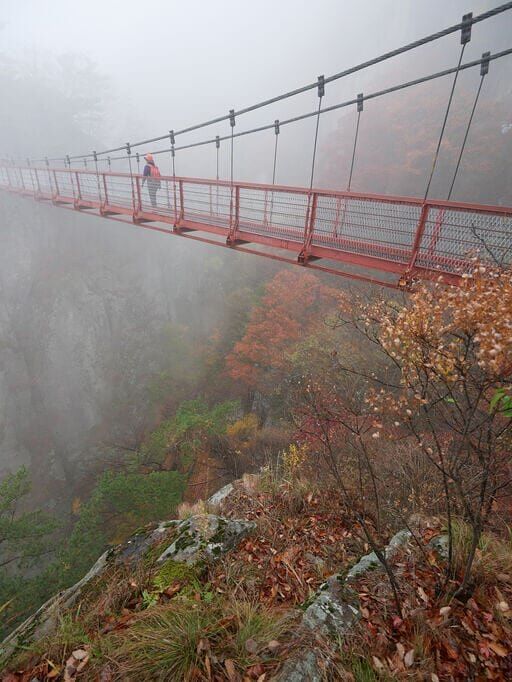 It's an absolutely stunning setting, and if you happen to cross the bridge during fall, you'll be able to see a seemingly endless number of orange and red leaves. We do suggest bringing a camera, but just be very careful not to drop it.
Iya Kazurabashi Bridge – Japan
the Iya Kazurabashi vine bridge located in the Iya Valley dates back to the 12th century and it hangs over the Iya-gawa river in Tokushima, Japan. When you take a look at all those people holding on for dear life you have to wonder how scared they must be.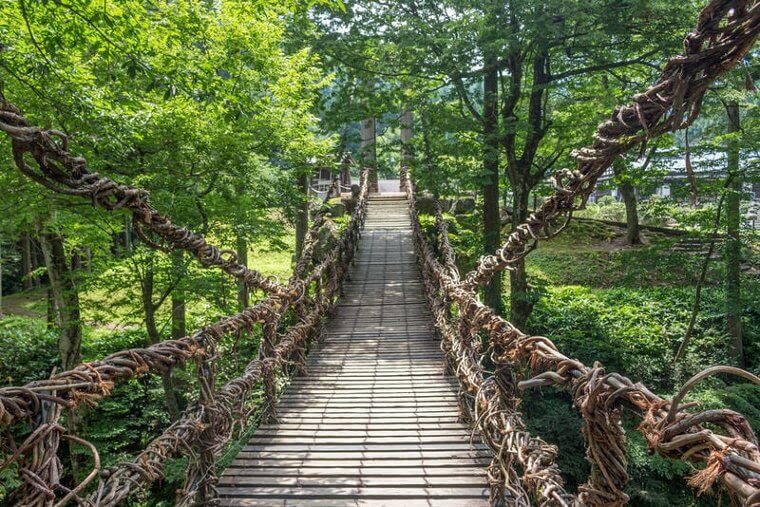 It's constructed out of mountain vines and wooden planks and even though it's historically significant, it's best to be very careful while crossing it.

Hanging Bridge Of Ghasa – Nepal
In Nepal, it's perfectly normal for a crossing to be used by both humans and animals, and the bridge of Ghasa is no exception. Even though some question the bridge's stability under rough climate conditions, it's been in use for decades.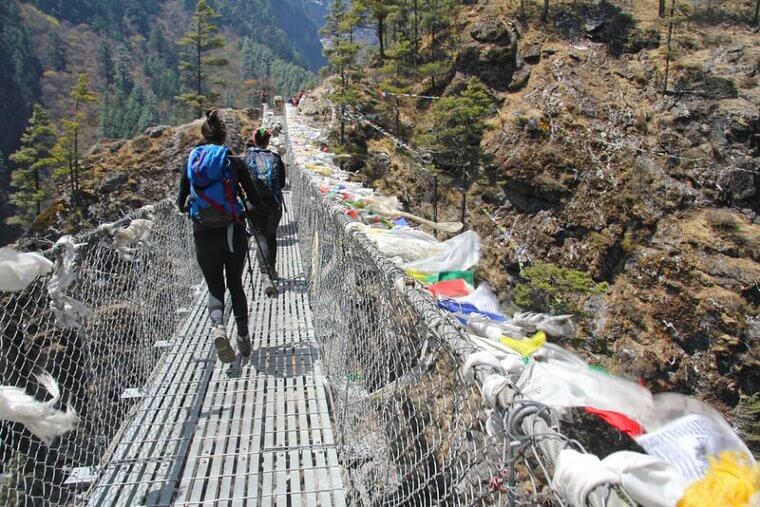 Donkeys and cattle cross this bridge which is suspended very high above the river valley on a daily basis. At least there are ride rails for those who aren't too scared to cross the bridge.
Q'eswachaka Bridge – Peru
This bridge was made out of woven grass by the Incas. It was standing strong for over 500 years, but, unfortunately, the renovations that take place in June of every year didn't happen due to the worldwide situation and the bridge collapsed around the end of March 2021.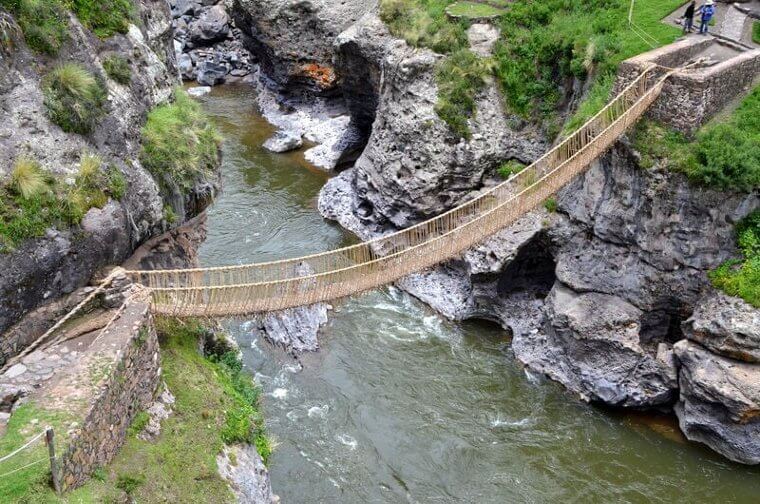 The bridge was built by a large team of people. Small thin ropes were first braided by the women, and then those ropes were braided into large support cables by the men. This bridge is also historically significant as it's the last known structure from Incan engineering.
Capilano Suspension Bridge – Canada
The Capilano Suspension Bridge sits 320 feet above the Capilano River in North Vancouver. It's 460 feet long and approximately 800,000 people visit it annually. All of these lucky people get a chance to see a magnificent view of the rainforest, just as long as they're not scared of the fact that the bridge is so high above the water.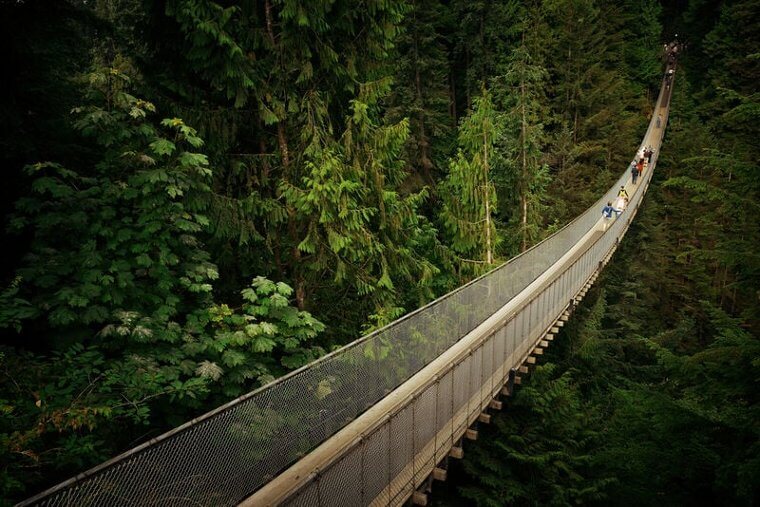 It was originally built by Scottish civil engineer George Grant Mackay in 1889. It was sold two times, but it was ultimately bought by Henri Auveneau who purchased and renovated the bridge in the mid-1950s. An interesting fun fact for TV show lovers, the bridge was used as a setting in Psych, MacGyver, The Crow: Stairway to Heaven, and Sliders.
Ai Petri Bridge – Ukraine
The Ai Petri Bridge is located high up in the mountains of Ukraine, over a 4,200 feet deep canyon. It connects two Crimean Mountains peaks.
Anyone who crosses this bridge should probably be careful, as it often shakes due to a lot of wind it gets because of the area it's in. If you're brave enough to cross a bridge over a large canyon, just be careful.
Plank Road in the Sky – China
This might stretch the meaning of the word "bridge" a bit too far, as it's nothing more but wooden planks along the edge of Mount Hua in China. It stands at 7,000 feet above the ground.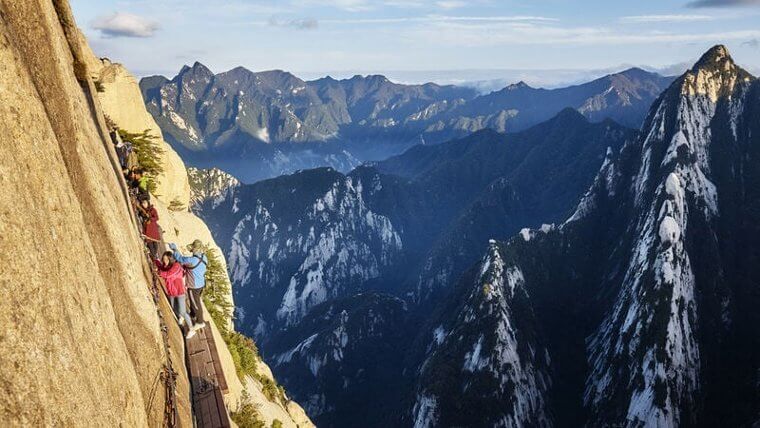 In order to cross this bridge, you would need to connect a harness to a rope that's tied around the mountain and hold onto the chain as you walk along the plank. If you happen to run into someone else on the bridge, you would have to unclip your harness while you go around the person, then clip it back. That truly sounds terrifying, but at least you're rewarded with a once-in-a-lifetime view.

Kawarau Bridge – New Zealand
This bridge stands 141 feet above the Kawarau River near Queenstown in New Zealand. The bridge is mostly used by bungee jumpers, due to the amazing scenery surrounding it.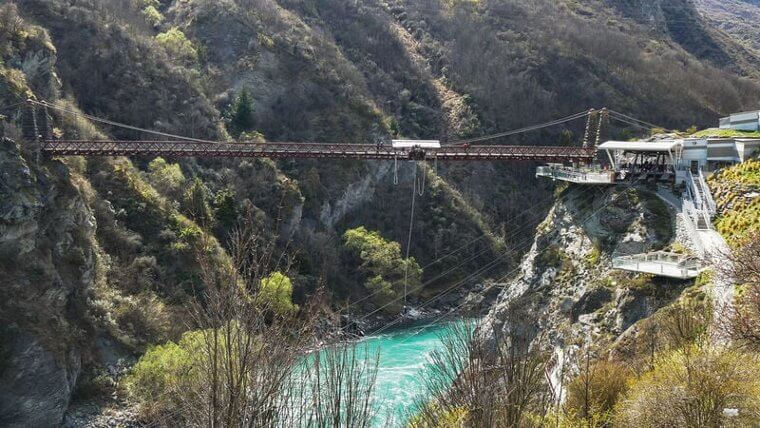 As it's a part of the Queenstown Trail, it's also used by bikers, runners, and walkers who are just passing through.
Millau Viaduct – France
The Millau Viaduct bridge stands at 1,125 feet above its base and is considered the tallest bridge in the world, as well as the largest cable-stayed bridge in Europe. It's over 8,000 feet long and 105 feet wide and it's located in Southern France, over the Gorge Valley.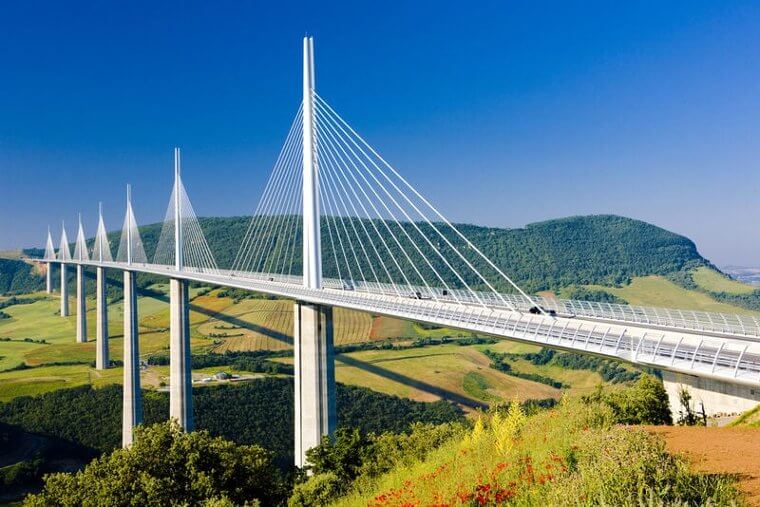 Its construction lasted from 2001 to 2004. Since winds can get a speed of up to 94 mph, the side screens which reduce the wind effect by 50% were installed. the International Association for Bridge and Structural Engineering gave this bridge the Outstanding Structure Award in 2006.
Moses Bridge, Netherlands
This so-called sunken bridge was once a moat that guarded a Dutch fortress. It completely disappears into the landscape so it's not only historically significant but also beautiful.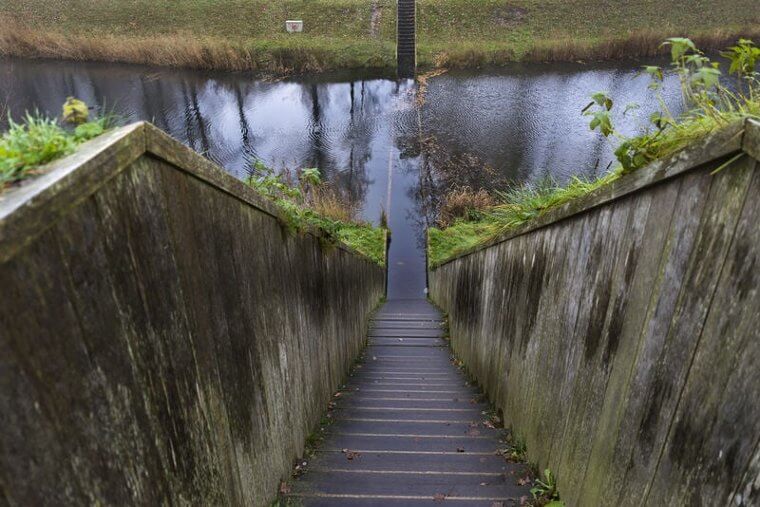 The entrance to the fort is very discreet and visitors can use it without ruining the moat's presence. It's constructed out of completely waterproof wood. It's even made in such a way that the bridge parts the water so it looks like Moses himself parted it.

Henderson Waves – Singapore
This pedestrian bridge is located in Singapore was constructed in 2008 and it stands 118 feet above the ground. Its wave-like curvy shape is truly fascinating.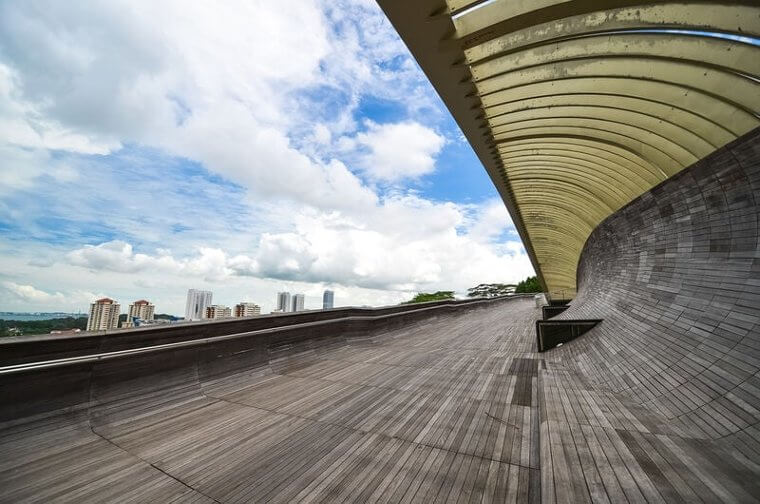 The bridge is a very popular tourist spot located between two parks and is 900 feet long. People who enjoy scenic views of the island should definitely consider visiting the bridge.
Mur Island Bridge – Austria
The Mur Island Bridge is a pedestrian bridge in Australia that connects two ends of the city of Graz. It was built to connect the city's contemporary and natural architecture.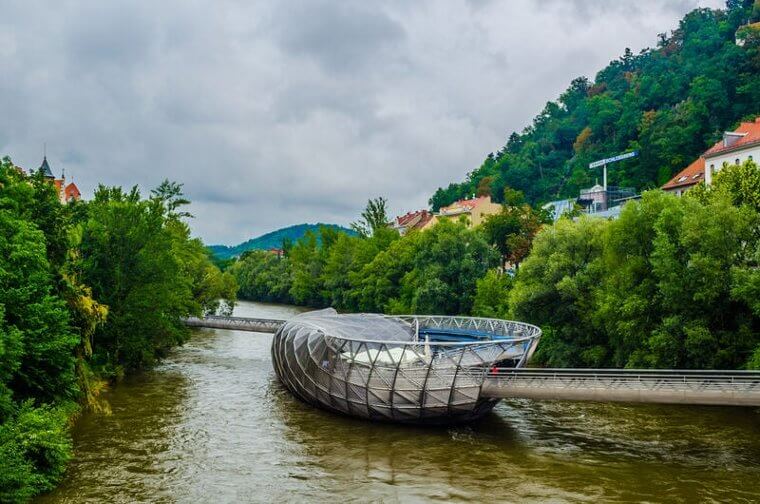 When the bridge was constructed in 2003 it was meant to be a temporary honor to the fact Graz was named Europe's capital of culture. However, the bridge became an instant hit among locals and tourists alike, the city decided to keep the bridge.
Rakotzbrücke Devil's Bridge – Germany
This arched bridge is called Rakotzbrücke Devil's Bridge and it's located in the Kromlauer Park in Germany. When it's reflected in the water below it, it creates a circled image.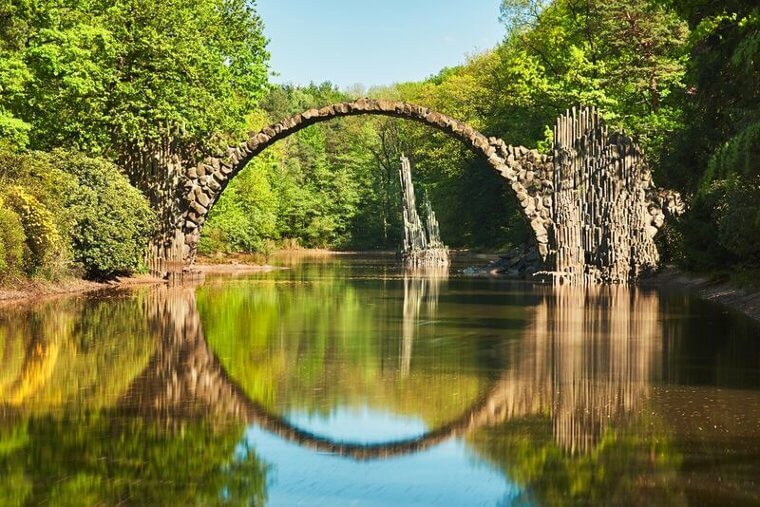 As is with many bridges across Europe, this one was nicknamed the "Devil's Bridge", as people believe only Satan himself could make such a beautiful and yet dangerous bridge.
Confederation Bridge – New Brunswick
The Confederation Bridge in New Brunswick is one of Canada's most amazing constructions. It is the longest bridge in the world to cross over ice-covered water.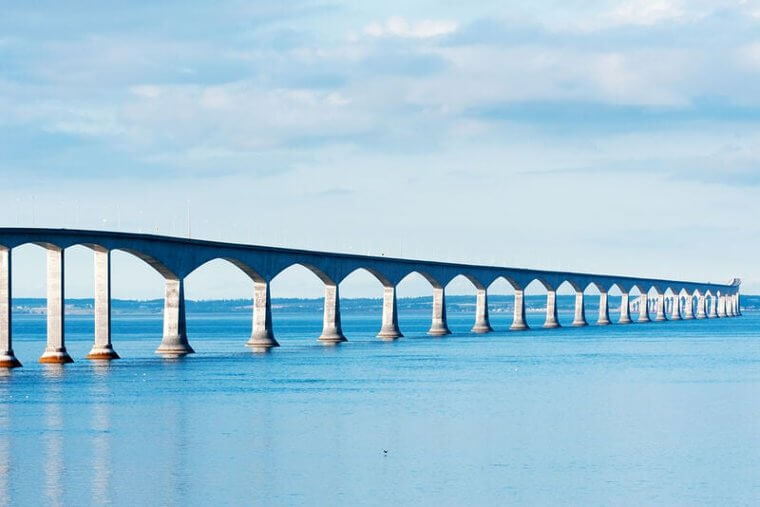 It took four years to complete this bridge, it cost 1.3 billion dollars and it was built by five thousand workers. Now that's impressive.
Carioca Aqueduct – Rio De Janeiro
This bridge is another aqueduct on our list and it's located in Brazil, at the seaside of Rio de Janeiro above the Carioca River. The construction of the bridge began in 1723 and its purpose was to supply fresh water to the people of Rio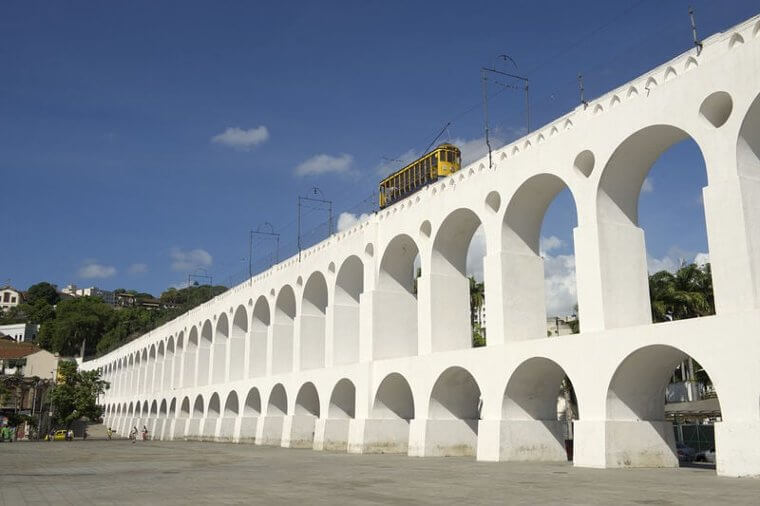 It has 42 stories of monumental arches and reaches a height of 57.7 feet. Nowadays, a popular tram crosses through it that connects a neighborhood, Santa Teresa with the city center. It truly is a wonderful example of brilliant colonial architecture.