During the period where television was still a new and exciting lifestyle addition, the 1950s and 60s saw great popularity in television series, with fans dedicating their time to follow their most loved shows, characters, and actors of the time. This era also saw the rise of Western-style shows and movies in American culture, as there was nothing more attractive than the rugged, brave cowboy. This is one of the many reasons why the American Western televisions series The Rifleman has such raging success.
The Rifleman Story
The show included a host of talented actors in the cast, starring Chuck Connors as the widowed ranch owner Lucas McCain and a young Johnny Crawford as his son, Mark. Set in a small town in New Mexico territory, the show was a depicting of the hard and dangerous life of ranch life during the 1870s and 80s. The show aired for a successful five seasons - which is a long-running television series of the time, and still warms fans' hearts and brings on nostalgia for the older generations who grew up watching The Rifleman.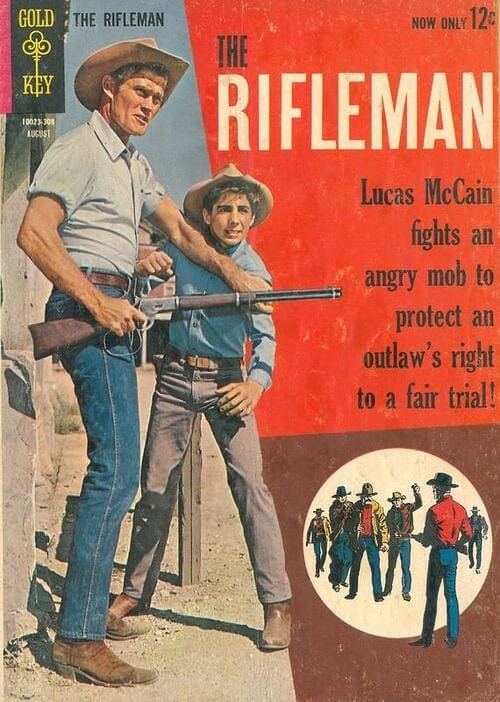 Whether you know this series, or have not yet delved into the world of guns, horses, and homestead romance, you'll find this collection of facts interesting. From what happened on and off-air to little-known facts about the cast and creators, this is a comprehensive insider's look at the world of The Rifleman.

We Nearly Had a Different Star…
Could you picture another face playing the role of Lucas McCain? It's hard to imagine. Though this almost happened when Chuck Connors first turned down this part as he was offered a lower salary than he wanted. This lead to the creators considering filling the role with actors such as John Anderson or James Whitmore, until…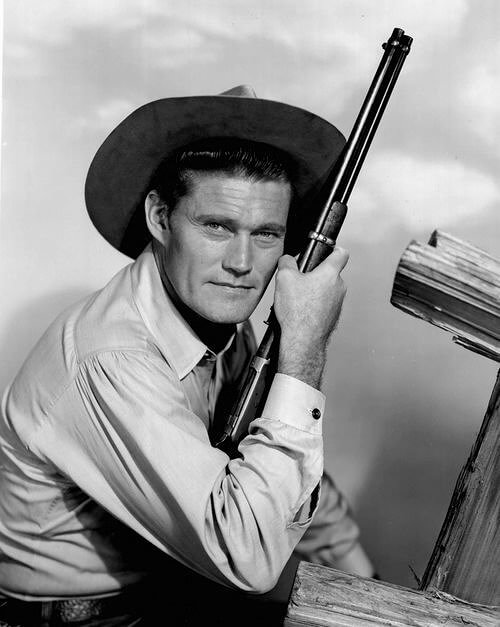 Then They Realised They Needed Him
Chuck Connors starred in the Disney box office hit Old Yeller in 1957. His great acting on screen, coupled with charisma and confidence revealed just how valuable this actor really was. The main reason for the producers later changing their minds and deciding to offer more money to Connors was that they saw how well he worked with the kids. The child actors Tommy Kirk and Kevin Corcoran starred alongside Connors in a natural and comfortable way, showing the producers that Connors was surely fit to play the role of a father.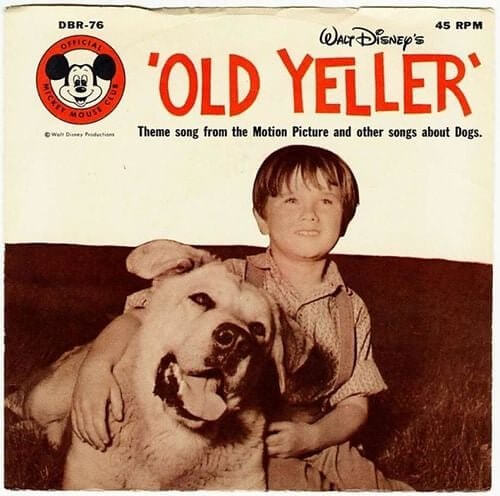 Not So Accurate
The Rifleman was set to be taking place in the 1870s and 1880s, according to all of the backend information of the historical references and show notes. The model that McCain carried in the show was the modified 1892 Winchester rifle with a large ring lever - allowing him to do the memorable handgun spinning. So since that model of rifle wasn't actually made yet (considering when the show was taking place) this left some gun and history fans a little annoyed at the inaccuracy.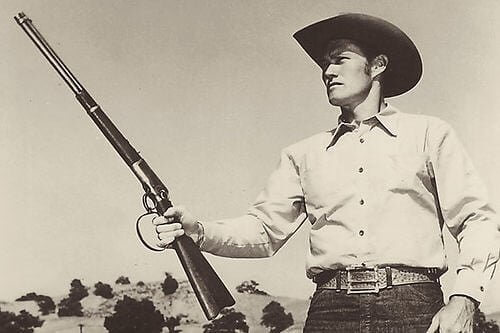 The Creation
The popular Western show Gunsmoke almost took the storyline of the pilot of The Rifleman when the director and writer Sam Peckinpah actually wrote the script for that pilot for the other show three years earlier. Though (thankfully) it was turned down, though not thrown out, as Peckinpah decided to change some of the script, including the lead character's name from John McCain to Lucas McCain, as well as creating a son character for the show.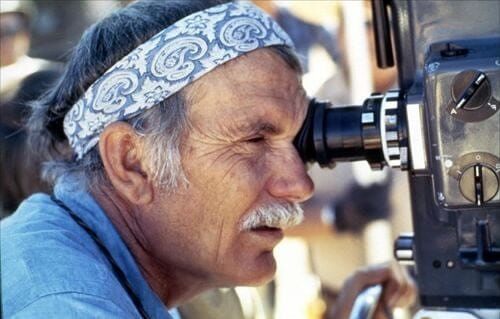 And Some Tweaks
It took some more changes to the script and story until The Rifleman was finally put to full production, with producer Arnold Laven wanting to add some emotional drama to the story. This is how it came to be that the main character was a single-parent widower, which turned out to be a wise decision for the show. On the TV Guide's list of the '50 Greatest TV Dads of All Time', published in June 2004, Lucas McCain ranked #32 for his strong, yet soft, character.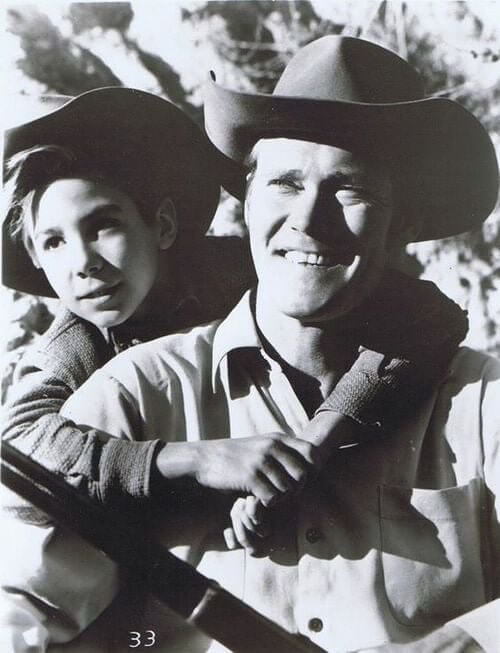 Love for Lucas
What's a television show with a main man without any leading love interest? In order to keep all genders and generations happy, this show offered more than just gunfights and action, there was always some kind of romance plot happening, with many actresses stepping in to be featured as love interests of Connors character, Lucas. Amanda Ames, Julie Adams, Patricia Barry, Patricia Blair, Ellen Corby, Katherine Bard, Joan Taylor, and Sherry Jackson aren't even the whole list! Through all of these roles played, it seemed that the one that stuck with fans, and Lucas the most was that played by Joan Taylor. See the next fact for more on her character…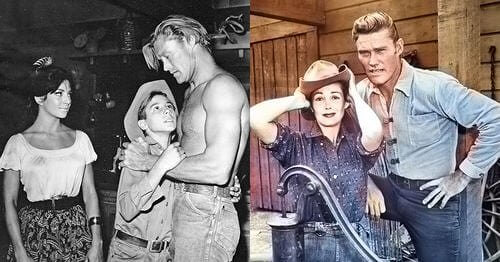 Coming to a Close
There are many speculations as to why The Rifleman came to an end after 5 (mostly) successful seasons. Some attribute it to the aging actor Johnny Crawford changing the dynamic between the father and son, as a cute, young kid always tends to win some more hearts over a pre-teen. This may have led to the drop in ratings, which could have very well been the reason for canceling the show. Crawford states about the show's ending: "You know, I never did know exactly why and I wasn't too concerned at the time, because after having done it for five years, I was anxious to do something else. I felt personally that the show was getting a little stale and that the scripts were not as good as they had been. The first season, I still think, was our best, and that was our best season in the ratings."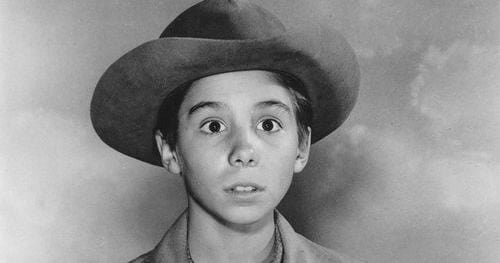 Settling Down
One of these love interests for Lucas in the show was the character of Milly Scott, one of the storekeepers in the town. In order for plot development and to give the dynamic a more feminine vibe, the producers wanted to show that Lucas could settle down. This small-time businesswoman was written as an independent and strong woman, purchasing the local general store with her own inheritance. The spark between the two characters was a favorite plot point for fans.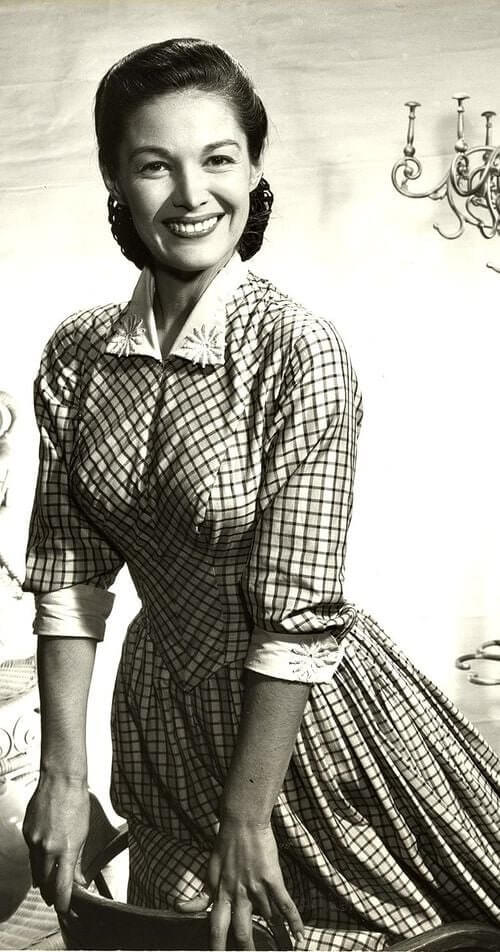 An Impressive Character
It's fair to say that the character of Lucas McCain wasn't any average western gunslinger. The lead was made to seem incredibly impressive to audiences with his 99.99 percent accuracy of shooting in hitting his target. Of course, it's not meant to mimic real-life - though we wonder how many real-life cowboys could shoot this accuracy with both hands, as the show regularly shows McCain swapping hands as he shot, never missing the mark.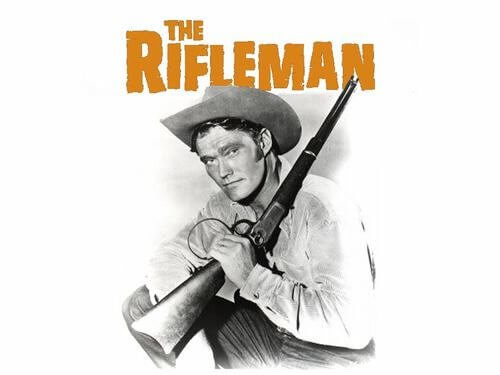 An Unexpected Habit
Many people may not have been able to guess that Chuck Connors was actually a heavy smoker, as his character Lucas McClain was only seen smoking a cigarette just once on the show. Though smoking wasn't viewed as negative as it is today back in the 1950s, it's interesting to see how the producers didn't make this a character trait when Connors himself smoked up to 60 cigarettes per day, leading to his eventual death at age 71 from lung cancer.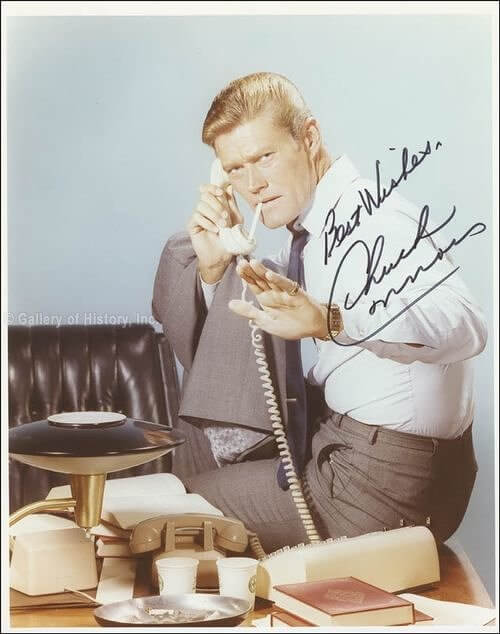 Precious Props?
Claiming to have a valuable piece of history as part of the show's props, Arnold Laven, The Rifleman's producer said in one interview that Connors used the same famous rifle in the show as John Wayne used in the western legendary film Stagecoach. The opening credits that came with each weekly episode featured 12 shots being fired with the rifle, which was supposedly an 1892 .44-40 Winchester model rifle. This claim confused some people, however…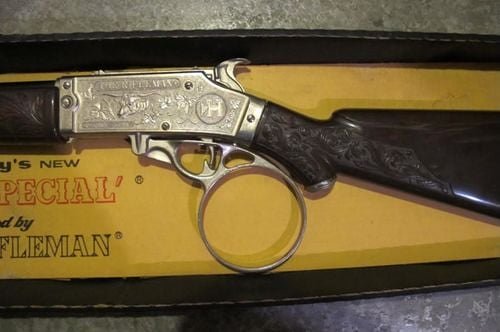 Success After Appearance
During the show, the character of Lucas McCain had a plainsman friend played by Michael Ansara. Though he only appeared in two episodes of The Rifleman, perhaps his talent was noticed from this role, as he then went on to be given his very own show. In 1959, Ansara starred in Law of the Plainsman.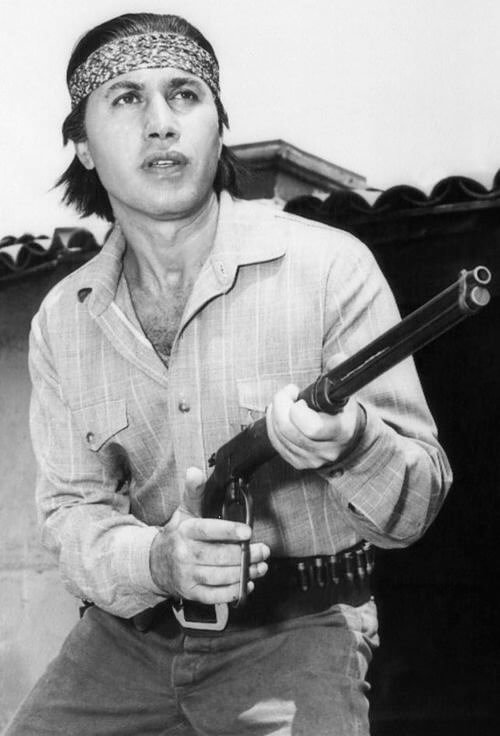 A Groundbreaking Family
Though it's completely normal now to see all sorts of families on television and film, back in the day of The Rifleman, it was actually quite rare to not show a regular family of mom, dad, and children. So rare that Lucas McCain's character was actually the first widowed single parent on American television. The powerful and well-thought scripts and dialogue between the father-son on-screen duo can be credited to Sam Peckinpah, who depicted this Lucas and Mark as a realistic and interesting image of father and son.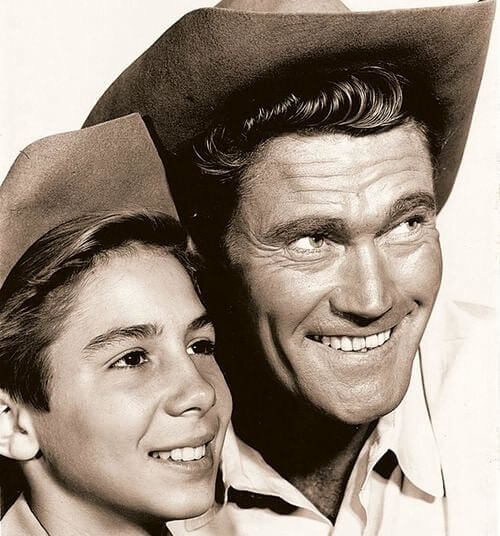 Off-Screen, On The Court
Growing up in Brooklyn, Chuck Connors, who played a strong and masculine lead role of Lucas McCain has his humble beginnings as athletic talent. He played as a member of the first Boston Celtics team way back in 1946, remembered for being the first professional basketball shattering the backboard during a game. His sports career took off from there to lead him to other athletic successes….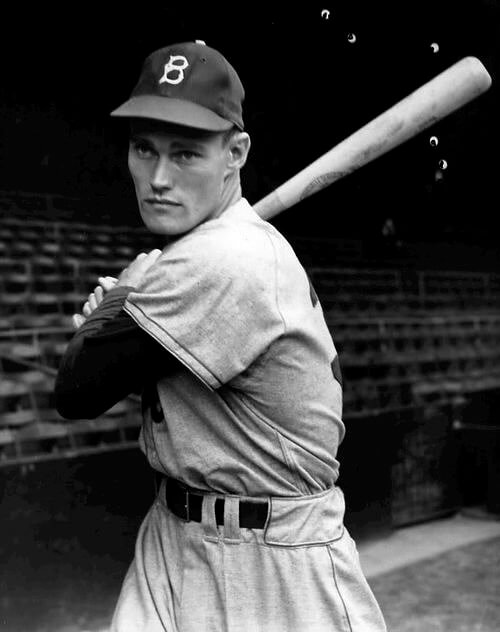 An Impressive Sporting Career
Connors childhood hero the Brooklyn Dodgers later accepted him into the team, making his young boy dreams come true. Later, he then moved to play first base in the Chicago Cubs in 1951. After that, he went on to the Chicago Bears. It actually makes sense that he was so great at playing a character that had an excellent shot, as this hand-eye coordination was clearly a talent since birth!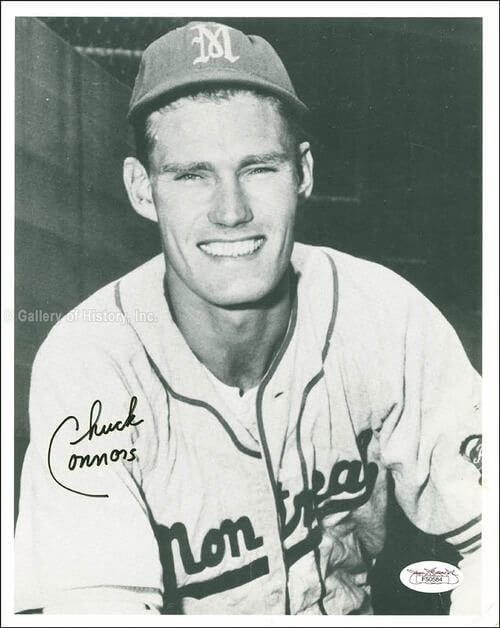 Playing Double
Who else remembered Dennis Hopper in Easy Rider? His rise to fame to play that motorcycle rider may have been bred from his appearance in the premiere episode of the Rifleman, titled 'The Sharpshooter.' Later he also came back to have a small unrelated role to the first one in the episode 'Three Legged Terror' where he may not even be recognized by fans due to these double-different roles.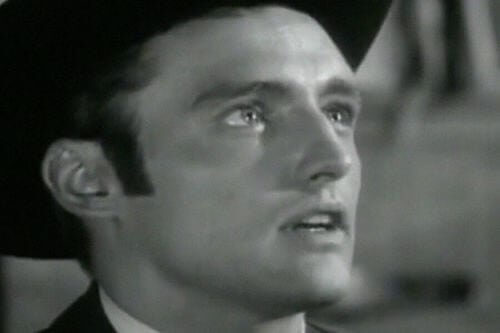 Double Up Again
Though every single little boy of the time would have loved pretending to be a western cowboy, it was actually quite difficult to find grown men actors during that time to play the TV western roles. Paul Fix, one of the smaller role actors in The Rifleman played the role of Marshal Micah Torrance, though also played again in the episode 'The Sharpshooter' as a doctor at one point, unrelated to the first role.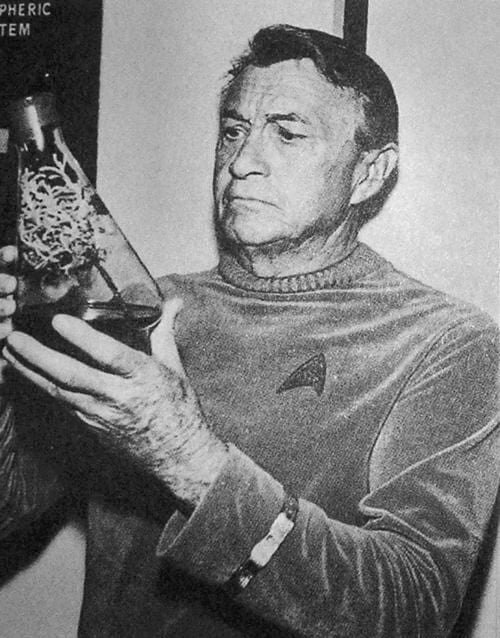 Onward To A Different Space
This same actor, Paul Fix, was recognized for his talent and was picked up by the Star Trek producers to play in the pilot episode 'Where No Man Has Gone Before' as the character Dr. Mark Piper. This character was then replaced by another actor, DeForest Kelley, though the way that they aired the episodes meant that the pilot was shown as number 3.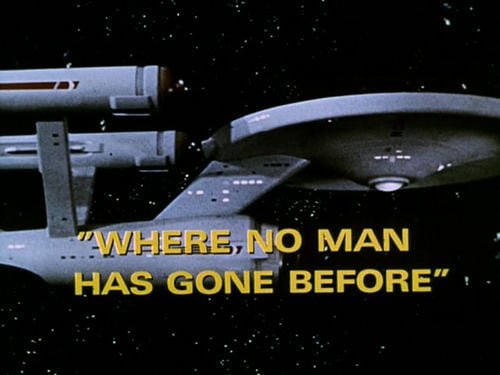 Famous Appearances
Sammy Davis Jr. graced fans by guest-starring in two episodes of The Rifleman. This famous Rat Pack member and entertainer played a more bizarre role considering how loved he was as a person, by acting as the nasty Tip Corey, and later another cowboy names Wade Randall. The two episodes he can be seen in were 'Two Ounces of Tin' and 'The Most Amazing Man.'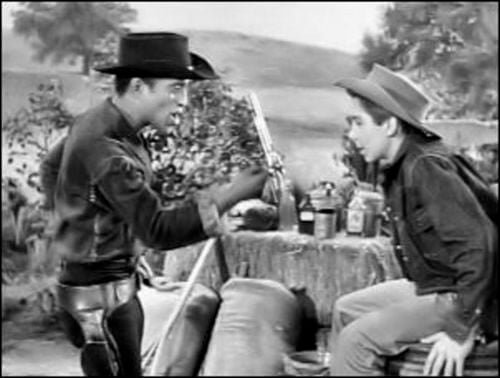 Happy Families
Back to the point about playing an unconventional family, this idea was a successful portrayal different from what was usually seen, and later became a theme that other shows picked up and used. The Bachelor Father, starring John Forsyth was another 1950s show that featured a single dad. Later, in the 1960s and 70s, Diahann Carroll also played another single parent in the show Julia. The relationship between father and son that audiences loved in The Rifleman, was taken to the screen in these other successful shows.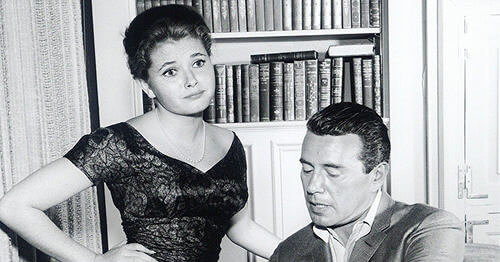 Drawing From Experience
Audiences may be surprised that one of the creators of this popular classic show actually grew up on a ranch himself. The physical and mental toughness required to live and work in nature and with animals gave Sam Peckinpah an upper hand when crafting the stories and characters. Though he felt The Rifleman after the first season, it was because he was so inspired to keep creating that he moved on to films, writing scripts for The Wild Bunch and Straw Dogs.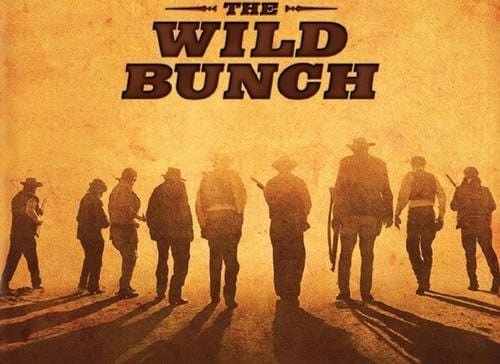 Starting Young
When he landed the Rifleman role of the beloved son of Lucas, Johnny Crawford was just 12 years old. He began as one of the original members of the Disney Club Mouseketeers, but after the first year, he was cut due to his growing age. He was a successful child actor not only in The Rifleman but also stated in Little Boy Lost and The Lone Ranger, among others. His path began to open up even more with later roles and successes…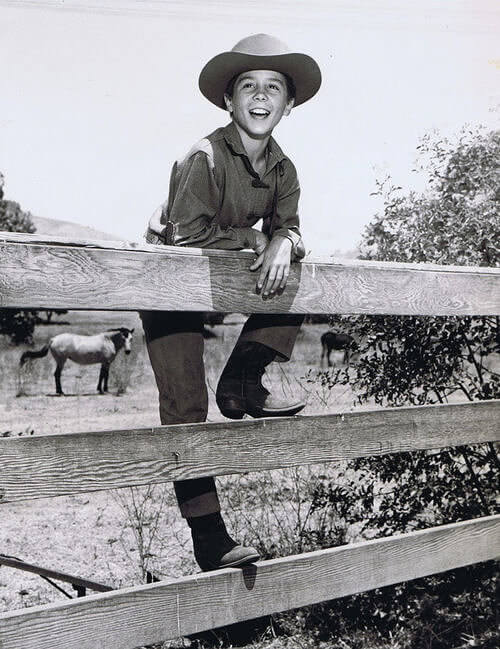 On To Play A Different Tune
When Crawford grew up a little more, he became a teen idol like many of the 1950s televisions stars. His boyish good looks and amazing voice sent him off to start a singing career after acting. In the 1960s, he sang 5 of the top 40 hit songs, with one of the most well-known titles being 'Cindy's Birthday.' That song actually was number 8 in the 1962 Billboards Hot 100 list. Not bad for a rancher's son!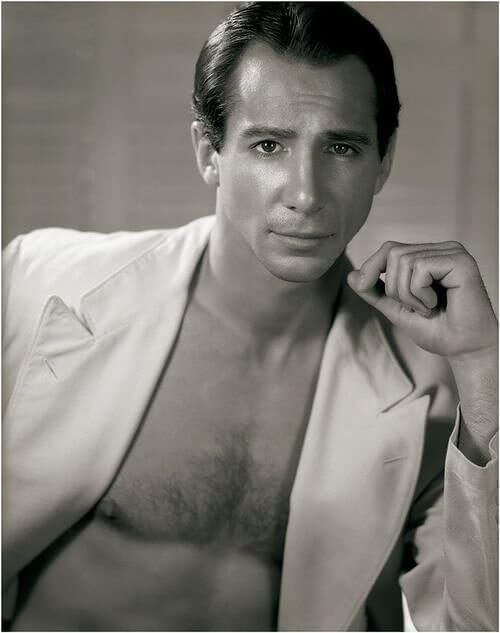 Serving His Country
Later on in life, Johnny Crawford decided to serve his country by enlisting in the U.S Army. He was with the military for two years from 1965, even becoming a sergeant. A little known fact is that from his experience working in television on camera, he was able to offer some valuable advice for the direction of the Army's training videos. Later on, he returned to his soldier style by playing a soldier in an episode of Hawaii Five-O.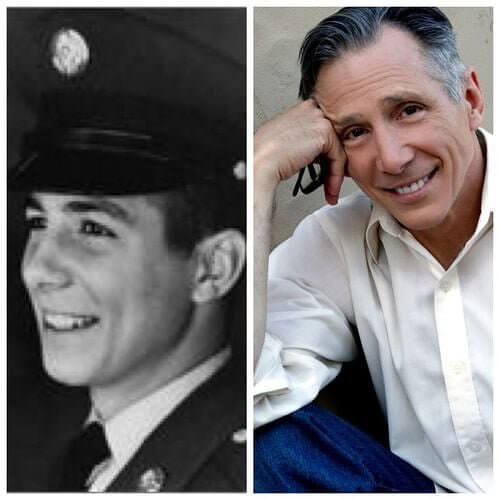 Below the Surface
Like all successful movies or television shows, a deeper, meaningful message is what keeps the audience returning each week to watch. Giving us all a feeling of having a common thread and ideal of morality and compassion for the characters and their stories. Beyond the horseback chases and gunfights, The Rifleman played with the deeper theme of forgiveness as a life lesson. The episode 'The Marshall' communicated the importance of second chances. 'The Sheridan Story' episode was themed around apologies and asking for forgiveness. Can you think of any other points where The Rifleman sought to communicate a deeper message?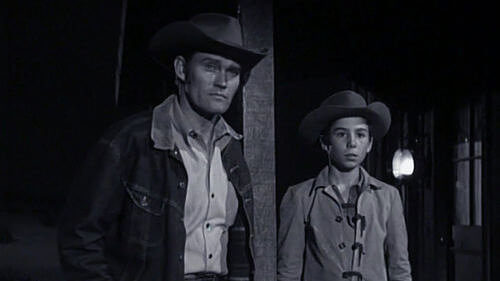 A Sad Backstory
The story behind the widowing of Lucas McCain's character revolves around Mark's mother dying of Small Pox in the 1870s. This rampant disease was very well known at the time, almost like cancer is generally widely known today. Looking back to the history of this terrible disease, it has been found that even mummies in ancient Egypt had signs of dying from smallpox. Especially in the era the show was set, smallpox was spreading around America with many other serious conditions like Yellow and Scarlet fever, as well as Typhus. There may even have been many families watching the show that could relate to their own history of having relatives contract this condition.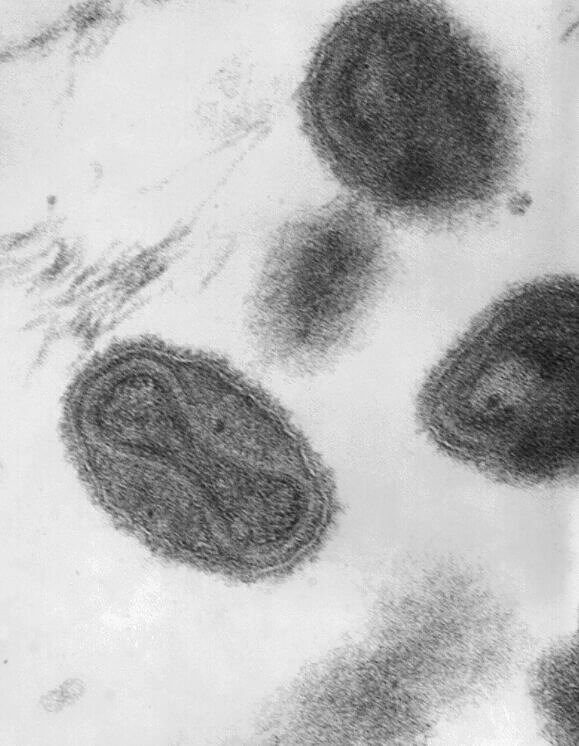 Many Ranches
Where would you guess this show was filmed? The impressive set did well at portraying the town of North Fork, a New Mexican Territory western town. Though many fans would be totally surprised to learn that most filming of The Rifleman took place in Los Angeles. Other locations that were used to film were ranches such as Iverson Ranch in Chatsworth, Corriganville Movie Ranch, Malibu Creek State Park, and Paramount Ranch in the Santa Monica Mountains. Also interesting is that that last location was actually a public recreation spot, meaning that hikers can even go and visit the structures of the old western town in Agoura.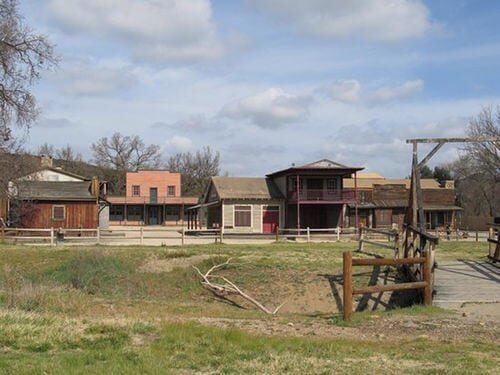 Early Success
Straight from the start, The Rifleman became a favorite TV show of the time, ranking #4 in American television shows during its first season from 1958-1959. Out of the 43,950,000 households that owned a television in America, 14,600,000 were the number of viewers for this series. That's not bad stats! As the seasons continued, however, The Rifleman lost its place in the top 30 from 1962-1963.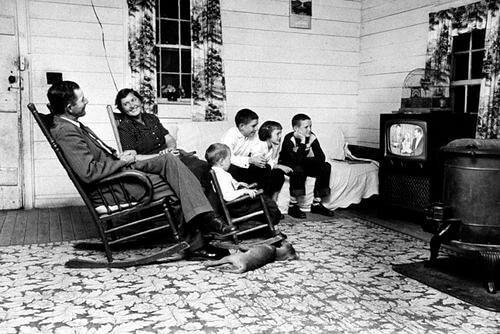 Supporting With Stunts
Many supporting actors appeared in the series numerous times, but none more than stuntman Archie Butler (excluding the core cast). Butler doubled for Paul Fix, as well as performing most of the stunts, which were a little more dangerous on horseback. He had an extensive rodeo background to draw from and was also a stuntman for Hollywood films of the 1950s and 60s as well. He also acted in Bonanza, Westward the Women, and also Across the Wild Missouri. A versatile actor indeed!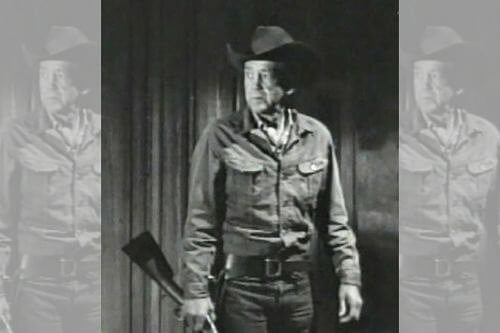 Father-Son to Friends
The strong relationship on screen in the father-son duo was not really an accurate representation of the real-life dynamic between Chuck Connors and Johnny Crawford. When asked whether Connors was a father figure off-screen for Johnny, he stated "I had great respect for him and I loved working with him but he was very different off-screen. He was incorrigible; a practical joker. It was fun all the time but he wasn't a good influence on me aside from his acting. He used a lot of four-letter words and he was very imposing. He loved intimidating people. I got a kick out of him."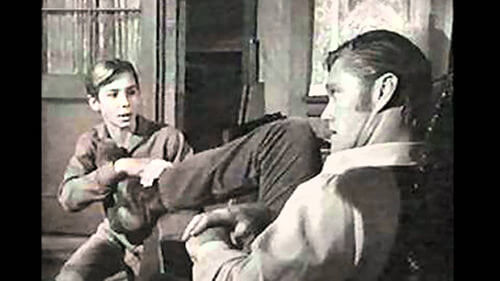 A Musical Talent
As stated previously, Johnny went on to have a varied and successful career in music as the iconic heartthrob when he reached his teens. He made the top 40 list five different times with the following hits during 1962 and 1963: '"Rumors," "Your Nose Is Gonna Grow," "Cindy's Birthday," and "Proud." The cast who all worked with him as a boy would have been very proud of the adult he grew up to be.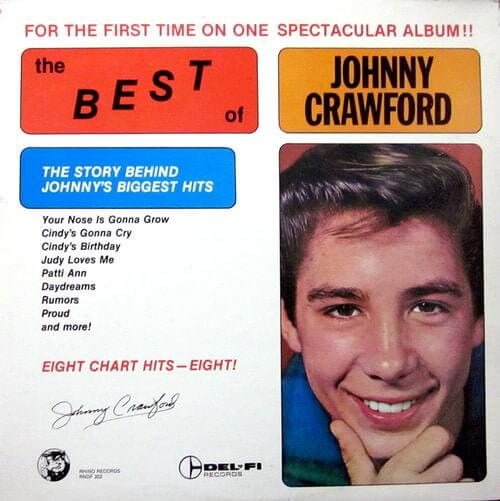 Kevin, Not Chuck
Throughout this article, you've been reading that the lead character was played by Chuck Connors, though this isn't actually his real name! He was actually formally named Kevin Joseph Conners. Born in 9121, when he was growing up in Brooklyn, New York, he was struggling with his family through The Great Depression. Along with his parents and sister, Gloria, they managed to make it through without experiencing the extreme poverty that many others did. He was inspired by his sports coach John Flynn to work hard for what you want, which may have been the thing that lead him to sporting success, and later his acting ability.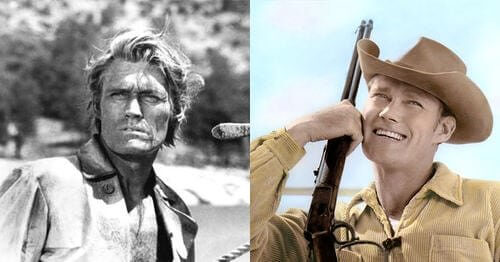 Onward and Upward
It can actually be quite common for television actors to only stay with TV roles, or only be really successful in one series, unable to make a name for themselves outside of their roles. Though this wasn't the case for Conners. He starred in many other television series, as well as films, throughout his long career. He practiced and gained the experience needed to make it through Hollywood with his hard-working spirit and found his first film role in the movie Pat and Mike (1952). His other accolades include Trouble Along The Way, Old Yeller, The Hired Gun, The Big Country, Move Over Darling, South Sea Woman, and Airplane II: The Sequel.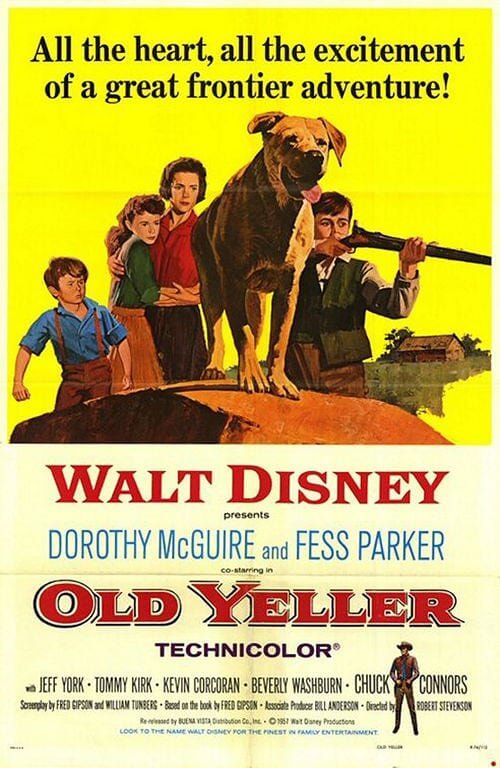 Not Just Film Success
Though he did star in those many films, Connors still stayed active in a range of television series being cast in many other shows besides The Rifleman. He is also known for the role of Sylvester J. Superman in The Adventures of Superman, he was in Crossroads playing Lou Brissie and he also was featured in Tales of Well Fargo, Hey, Jeannie!, The Loretta Young Show, Dear Phoebe, and Here's Lucy!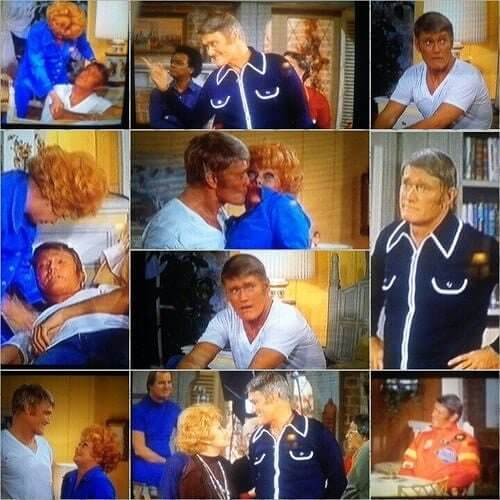 Bring on the Stars
When regular fans see many guest stars on a series, it's always an interesting and entertaining shift in the normal rhythm of episodes. The Rifleman did this many times in order to please viewers and boost ratings. Because of Connors's history in professional sports, he was able to bring in many athletes of the era such as Don Drysdale and Duke Snider. As mentioned earlier, Sammy David Jr. also appeared including hundreds of other appearances of various celebrities including Warren Oates, Robert Vaughn, Richard Anderson, and Buddy Hackett.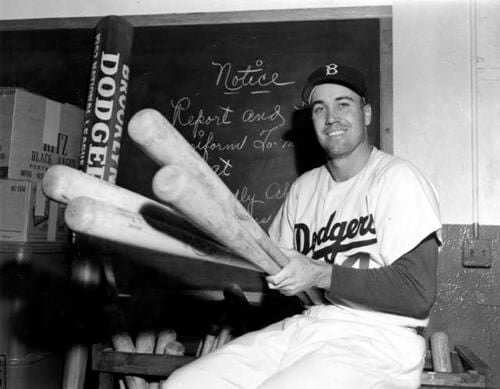 Learning From the Past
There are always lessons we learn from our past that help shape who we are today. Connors attributes so much of his acting success to the skills and character building he learned in his time in professional sports. This quote sums it up perfectly:
"I owe baseball all that I have and much of what I hope to have. Baseball made my entrance to the film industry immeasurably easier than I could have made it alone. To the greatest game in the world, I shall be eternally in debt." – Chuck Connors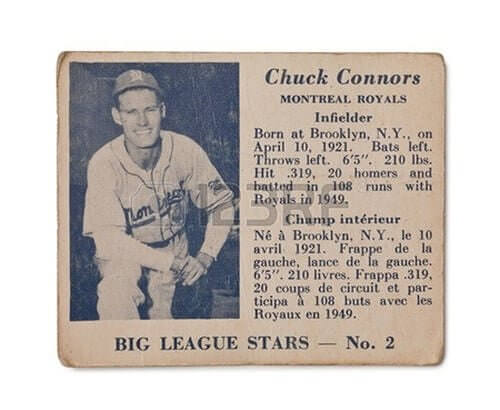 Collecting From the Era
All successful TV and film's love to find ways to make even more profits in different ways. Of course! Show business is still business. The Rifleman stays alive in the resurgence of viewers taking more interest in Western-style series, with DVD remakes of the series collection, as well as a range of accessories, apparel, books, prints, and stationary just to name a few of the merchandise of the show. Especially when it comes to the very early, original merchandise, fans can find collectibles and rare items all online from various places that are worth great value today.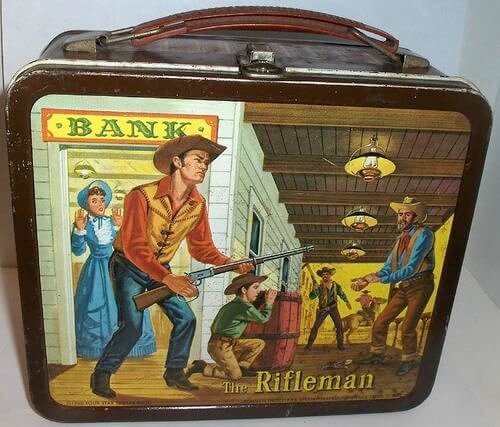 High Achiever
Johnny Crawford seems to be an all-around overachiever, much like his on-screen father, Chuck Connors. Before Crawford made a name for himself as a musician after the show, he received a nomination for an Emmy in his role as Mark McCain on The Rifleman, at just 13 years old! It was a close call, but Dennis Weaver managed to take the Emmy in his role in Gunsmoke. The achievement here though was simply being nominated at such as young age.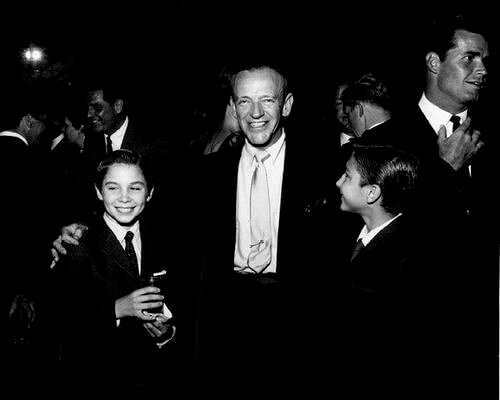 A Sad End
As mentioned early in the article, Connors was a very heavy smoker, despite his character only ever seem smoking once in the entirety of the show. This lead to ill health in later life, as he was reported to be having about 3 packs of cigarettes a day until he was in his 50s. By the time he spent decades attempting to quit, it was too late as his body had already experienced the negative effects of contracting pneumonia due to lung cancer, and dying in 1992 from this.