Apple Martin - Granddaughter of Blythe Danner
It's clear that Blythe Danner passed on some strong genes, from her beloved daughter Gwyneth Paltrow who starred in many blockbusters including Iron Man as Ms. Potts, to her granddaughter Apple Martin. Both Gwyneth and Apple have Blythe's stunning golden locks and doe eyes.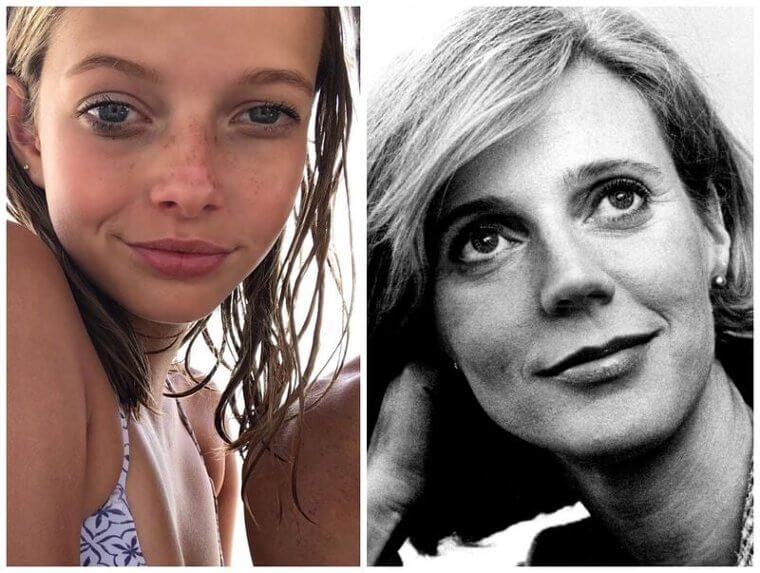 Blythe turned 75 in 2018 clearly has no intentions of retiring from the entertain biz anytime soon. Danner has appeared in four movies and has resumed her role as Will's mother in the reboot of Will and Grace. Apple maybe the daughter of Gwyneth Paltrow and the lead singer of Coldplay Chris Martin, but she shares the same beautiful traits of her grandmother Blythe.
Grace Van Dien - Granddaughter of Chris Mitchum
Grace Van Dien is an American actress born into a family with a rich history in film. At only 21, she has appeared in movies such as Charlie Says, The Village, and Greenhouse Academy.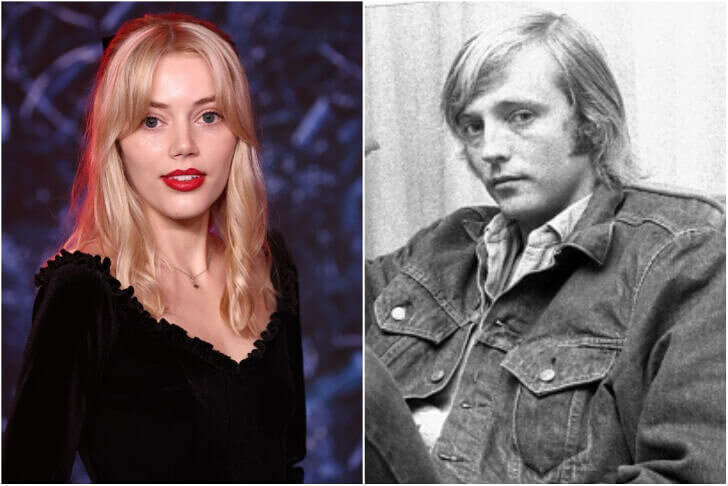 She also happens to be the granddaughter of the Chris Mitchum and the great-granddaughter of Robert Mitchum. Chris appeared over 60 movies both in the United States and in 13 other countries. He has worked with legends like John Wayne in the movies Big Jake and Chisum. He has also received a number of awards and notations.
Emma Ferrer - Granddaughter of Audrey Hepburn
There is no doubt that Audrey Hepburn was one of the most recognizable faces in Hollywood. It's remarkable that Hepburn's traits passing through her son Sean Hepburn and onto her granddaughter Emma.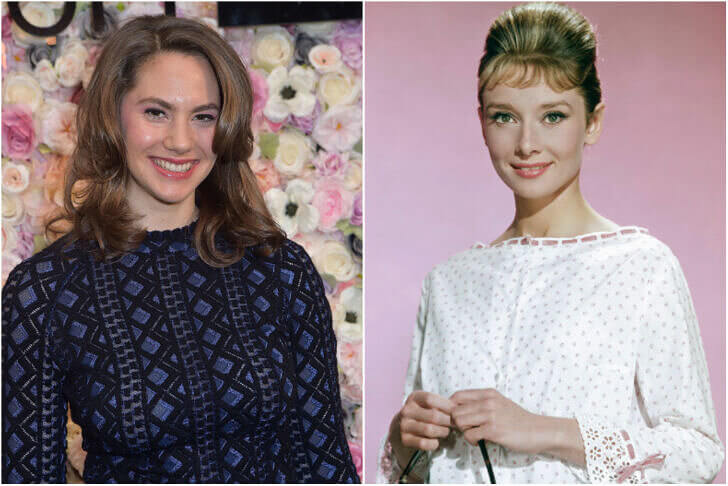 Not surprisingly, Emma has made her own path as a model and has posed for Harper's Bazaar back in 2014. She also has contributed with UNICEF to celebrate her grandmother's life and career. Although Hepburn passed away in 1993, she sealed her name in history with her stunning looks and amazing acting abilities in movies like Breakfast at Tiffany's, My Fair Lady, and many other golden age films.
Ethan Peck - Grandson of Gregory Peck
The resemblance between legendary Gregory Peck and his grandson Ethan Peck is uncanny. It's almost as if Ethan is his grandfather's doppelganger, or maybe it's just good genes. Gregory Peck is well known in Hollywood for his roles in movies like Roman Holiday and To Kill a Mockingbird, not to mention his lifelong support for progressive causes and charities. As for Ethan, he followed his grandfather's footsteps and has appeared in movies like 10 Things I Hate About you as well as Passport to Paris.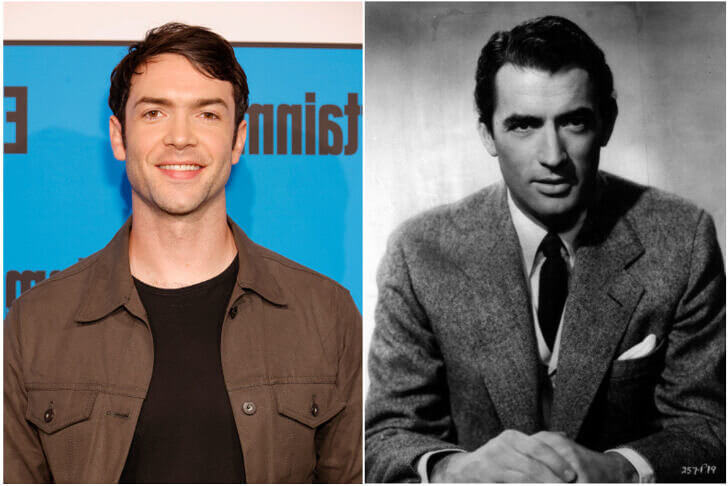 Unfortunately, Gregory passed away in 2003 but that hasn't stop him from continuing on. His voice was used for the narration of Joseph Smith: American Prophet that released in 2017. As for Ethan, expect to see him in Penny Dreadful: City of Angels which will be released in 2019.
Zoe Kravitz - Granddaughter of Roxie Roker
Zoe Kravitz is the daughter of the famous singer Lenny Kravitz and seems just as eccentric as her father. Lenny's mother was none other than Roxie Albertha Roker who happened to be a Bahamian actress. Roxie won several awards during her career and was nominated for her stellar roles and many talents.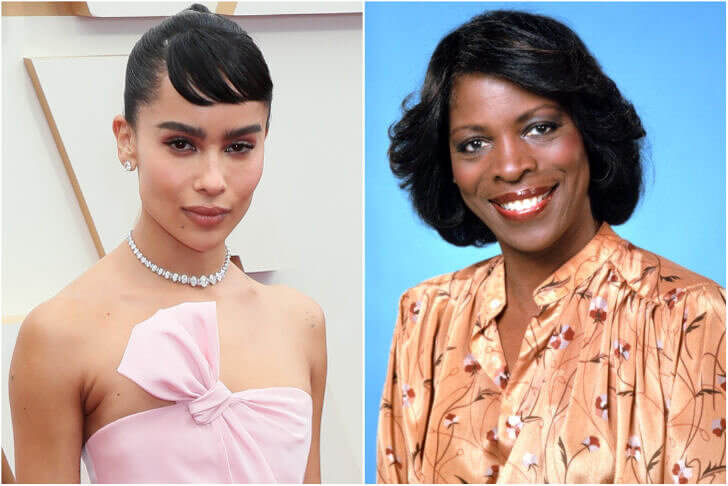 As for Zoe, it's clear that there is no shortage of looks or talent. Her father being a musician and her mother Lisa Bonet, an actress best known for her role on  The Bill Cosby Show. Today, Zoe has appeared in several films including blockbusters like The Divergent series, The Crimes of Grindelwald, and many others. It's clear that this star will continue to rise. 
Chris Pine - Grandson of Anne Gwynne
The Star Trek actor, Chris Pine is a third-generation Hollywood star. Chris Pine's parents were actors while his grandmother was a World War II pin-up girl as well as an actress in many horror flicks of the 1940s. Anne Gwynne passed down her lush lips and hooded eyes down to her grandson. Unfortunately, Gwynne passed away in 2003 at the age of 84.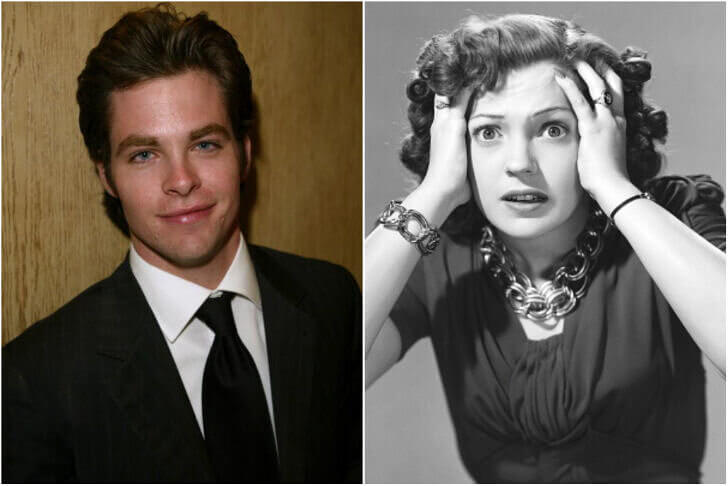 Pine's mother, Gwynne Gilford appeared in many sci-fi flicks including Beware! The Blob, Masters of the Universe, Fade to Black, and several others. His father, on the other hand, was best known for his role in CHiPs, the television series.
Dree Hemingway - Granddaughter of Ernest Hemingway
The astonishing and well-known writer Ernest Hemingway gave the world some of the best literature of our day. He also earned a Nobel Prize for his works. The author of Farewell to Arms passed on his genetics to his great-granddaughter Dree Hemingway.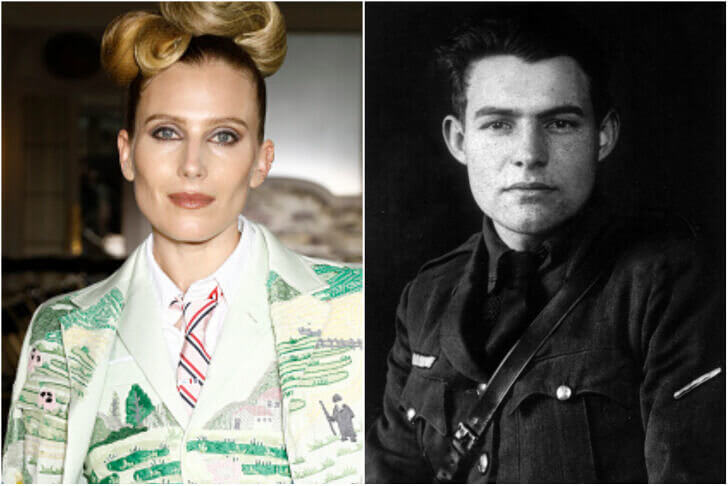 While Dree may not have the same success as her great-grandfather, she has managed to blaze her own path with modeling. Her beauty has graced the runways across the world and worked with brands like Calvin Klein. Although Hemingway was associated with his work with the pen, he also was a soldier and a sportsman.

Amba Isis Jackson - Granddaughter of Mick Jagger
Amba is the daughter of Jade Jagger and Piers Jackson who happens to also be related to by blood to the iconic singer of The Rolling Stones Mick Jagger. Amba, while very private about her personal affairs is in a serious relationship with Frankie Lagrange. According to Amba, she wishes to marry Frankie despite the fact she is only 16.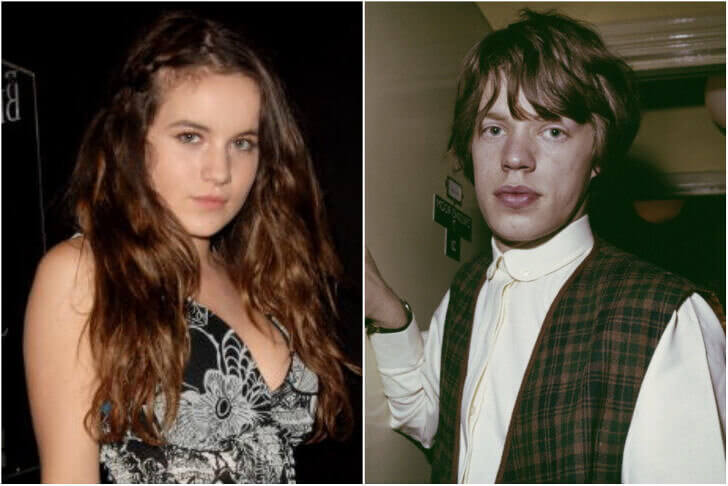 As for her mother, Jade, she is well-known for her jewerly and home designs along with some modeling work. Jade was married to Amba's father from 1990 until 1999. And while the United States may not know much about this legendary family, they are famous in the UK.

Billie Lourd - Granddaughter of Debbie Reynolds
Debbie Reynolds was an acclaimed actress and loving mother. She passed away the day after her daughter Carrie Fisher died. Reynolds' wholesome looks was just one of the genes she passed down to her granddaughter Billie Lourd.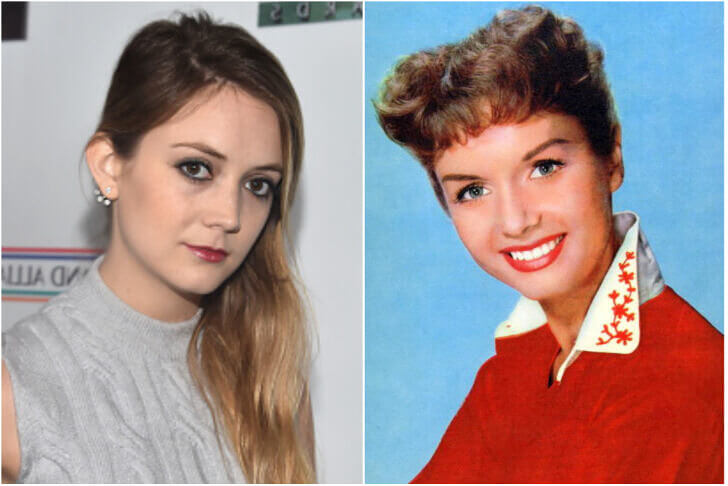 Billie also happened to get her mother and grandmother's talent and itch for acting. She has appeared in shows like Scream Queens, and American Horror Story. Billie's mother Carrie best known as Princess Leia doesn't need any introduction. Her passing rocked not only Hollywood but her fans as well in 2016.
Katie Cassidy - Granddaughter of Jack Cassidy
Jack Cassidy began on Broadway and quickly earned roles on various television shows during the 60s and 70s. He passed away in 1976 from a fire that broke out in his apartment.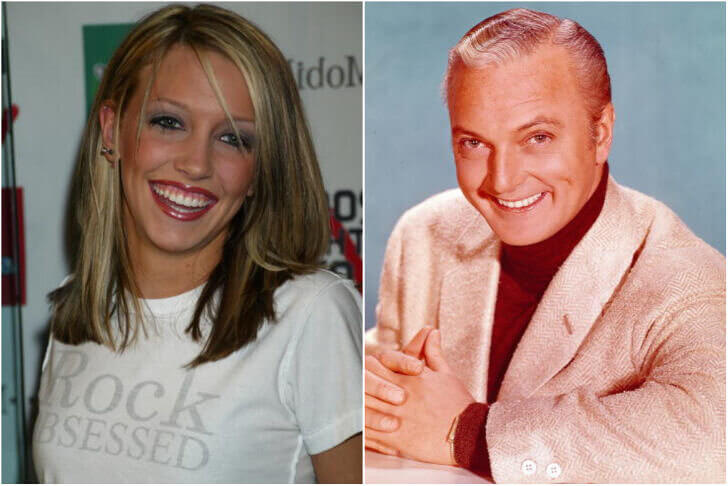 His granddaughter, Katie though clearly was given all of Jack's best qualities. Her stunning eyes and gorgeous smile has starred in television hits like Supernatural, and Arrow.
Drew Barrymore - Granddaughter of John Barrymore
Drew Barrymore is the last surviving member of the Barrymore line. Her looks and stunning acting skills have been passed down from her grandfather John. John was a famous actor back in the 20s and 30s.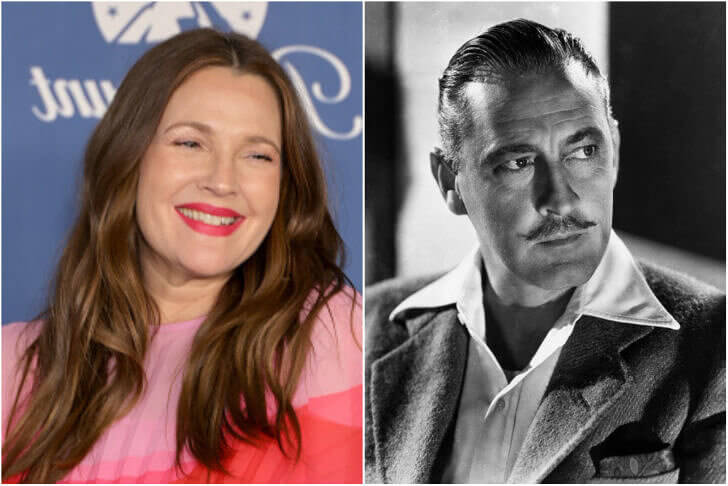 However, Drew Barrymore got more than just her looks from her heritage. It seems that even her bout with drinking in her younger years was associated with her father and grandfather, both of which died of complications due to alcohol. Luckily though, Drew has overcome those demons and is still successful thanks to her completing alcohol rehab at the tender age of 14. There is no doubt that she will continue to outshine the rest of her family.
Oliver Elfman - Grandson of Peter Fonda
Jane Fonda isn't the only one with a twin running around. Her brother Peter Fonda who is also a famous actor passed on his eyes and smile down to his grandson Oliver Elfman.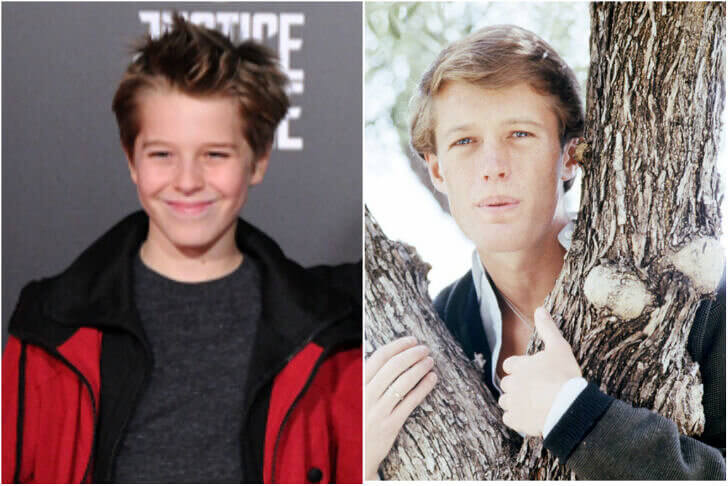 Oliver is the one and only child of Peter's daughter Bridget Fonda. She too is an actress and is well known for such roles as Lake Placid, Single White Female, and Point of No Return, along with many others. It's no surprise that Oliver's father is also works in Hollywood as a film composer and has worked with Tim Burton to produce the soundtrack for The Nightmare Before Christmas as well as Edward Scissorhands.
Anjelica Huston - Granddaughter of Walter Huston
Anjelica Huston has played in several blockbuster movies including Ever After alongside Drew Barrymore. She is elegant and her slim figure made her the perfect cast for Morticia in The Addam's Family flicks. Of course, her success and talent come from her well-known father John Huston. John played in several movies such as Chinatown and many others.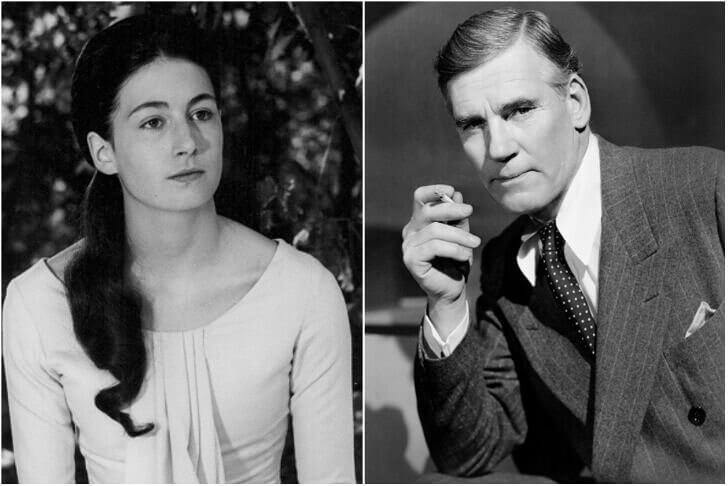 Many don't know that Anjelica is also related to Walter Huston, the Canadian actor from the 30s and 40s. His genetics have passed to Anjelica which gives her the high cheek bones and lips. Unfortunately, Walter passed away in 1950, but he did win an Oscar for his role in Treasure of the Sierra Madre.
Jason Ritter - Grandson of Tex Ritter
The actor Jason Ritter gets his good looks and personality from his well famous father John Ritter. But if you look more closely, you'll find that Jason resembles his grandfather, Tex Ritter more than his dad.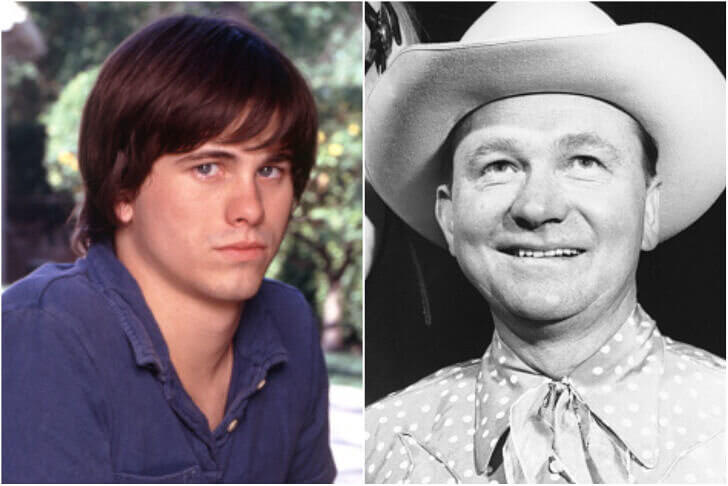 Tex Ritter was a popular musician back in the 30s through the 60s for his western songs and movies. But Tex was more than just a pretty face, he helped to establish the United Cerebral Palsy organization after his son Thomas. Thomas, unfortunately, was diagnosed with the disease that sparked the organization. Tex passed away in 1974. But his grandson, Jason continues to dawn the silver screen with roles in Parenthood, Kevin (Probably) Saves the World, as well as Gravity Falls.

Sean Flynn - Grandson of Errol Flynn
Errol Flynn happened to be one of the most famous actors of his time. Although today, not many people know of him. He however starred in movies like The Adventures of Robin Hood, The Charge of the Light Brigade, and Captain Blood along with several others. Flynn senior typically appeared as a swashbuckling hero in the 30s and 40s.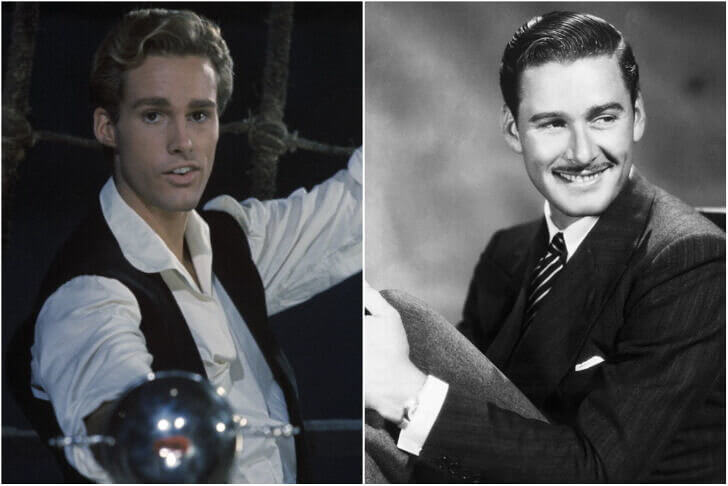 Unfortunately, Errol Flynn passed away at a young age of 50 and was practically broke at the time. His grandson, Sean won't let people forget where he comes from. After all, he is a spitting image of his late-grandfather Errol and is building a name for himself. He has starred in shows like Zoey 101, and continues to shine.

Alexa Davalos - Granddaughter of Richard Davalos
Alexa is an American actress and granddaughter of Richard Davalos. Her mother, Elyssa Davalos is also in the industry. At 17, Alexa got into modeling and kept the money coming in while she supported herself and lived independently outside of the home.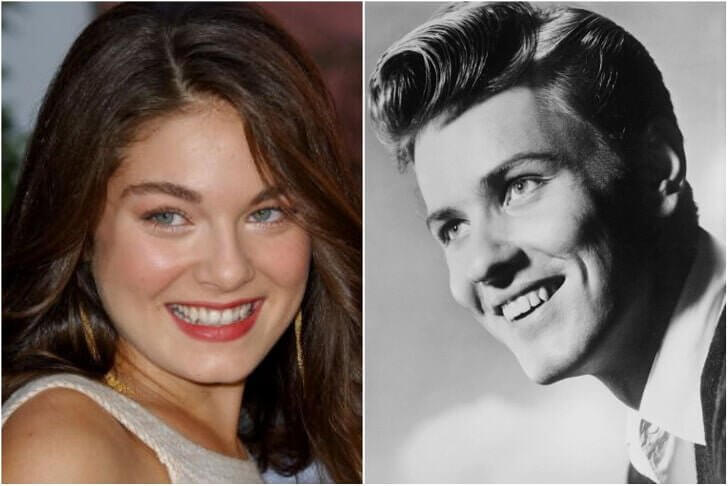 Soon she started working in theater and it was then she found her love of acting. She has appeared in movies and television shows. You may recognize her from the blockbuster remake of Clash of the Titans as Princess Andromeda or her role in the hit show The Man in the High Castle and Mob City.
Rose Kennedy Schlossberg - Granddaughter of Jacqueline Kennedy Onassis
Jacqueline Kennedy was not only the First Lady of the United States, but she set the style for the time. She passed away in 1994, but she passed her good looks and style down to her granddaughter Rose.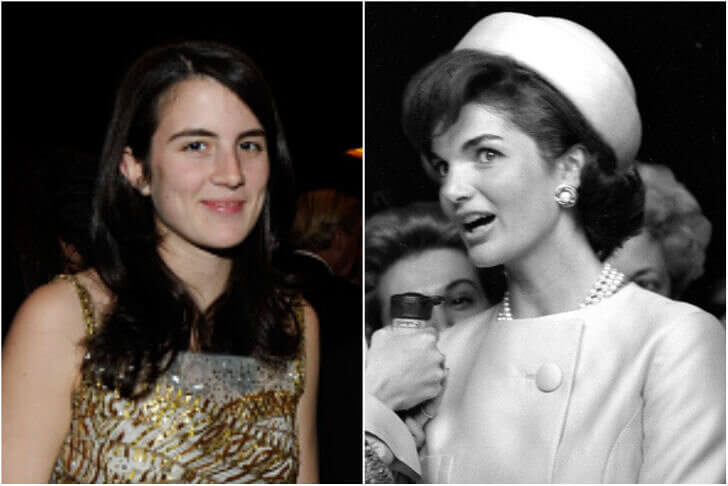 Rose graduated from Harvard and is now breaking into Hollywood with a bang. She has co-launched a YouTube series entitled End Times Girls Club that began back in 2013.
Charlotte Casiraghi - Granddaughter of Grace Kelly
One of the more prominent leading ladies in the 50s, Grace Kelly had style and happened to become a princess. Kelly married Prince Rainer III of a tiny nation in the Mediterranean back in 1956. Once married she dedicated her life to her family.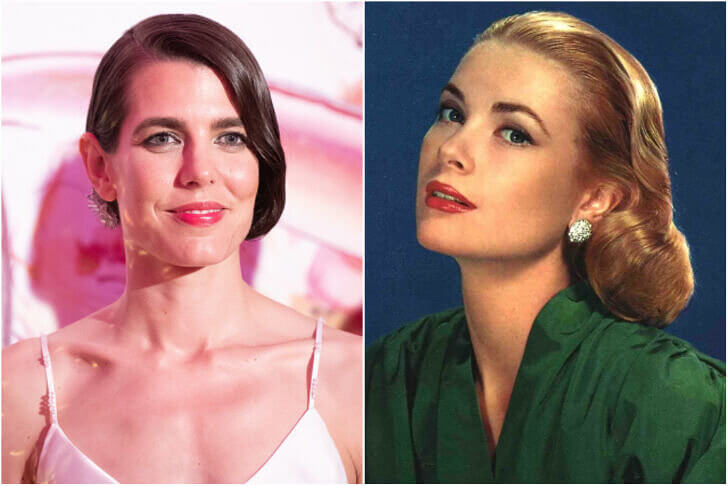 Charlotte, Princess Grace's granddaughter clearly has the style of the late actress as well as her beauty. Of course she also has her father's legacy to fall back on as well which includes the exclusive and legendary Monte Carlo casino. Ms. Charlotte is also eleventh in line for the throne of Monaco.
Alia Shawkat - Granddaughter of Paul Burke
Alia Shawkat is known for playing in the beloved sitcom Arrested Development as Maeby Funke. But aside from her role, she is also the granddaughter of Paul Burke.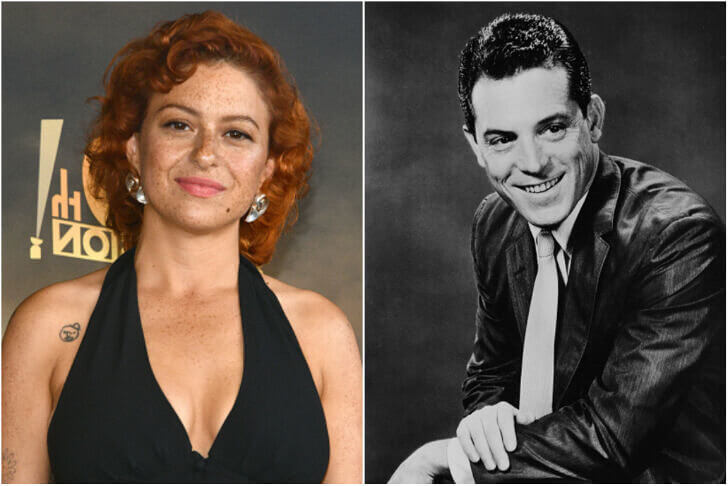 Paul Burke has appeared in many television shows and movies such as The Thomas Crown Affair, and Valley of the Dolls. Unfortunately, Burke passed away from leukemia in 2009. As for Alia, she continues on and has appeared in other flicks like Animals, and lent her voice to the film Summer Camp Island. According to some, she is attracted to both women and men.
Bridget Fonda - Granddaughter of Henry Fonda
The name Fonda is very well-known and their genes are strong. Take for instance Bridget Fonda. She has been nominated for Golden Globes and Emmy's. She clearly has the same eyes as her late grandfather Henry and jaw line.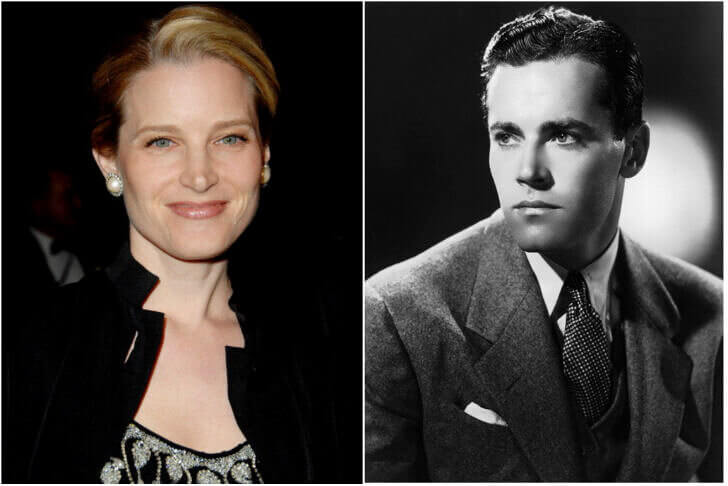 Bridget Fonda is the daughter of Peter Fonda and the niece to Jane Fonda. With such strong genes it won't be surprising what comes from their kids when they get older.
Princess Charlotte - Granddaughter of Princess Diana
Princess Charlotte is the daughter of Prince William and Duchess Kate Middleton. Prince William is the son of the late Princess Diana who was known around the world not only for her station, but for humanitarian efforts.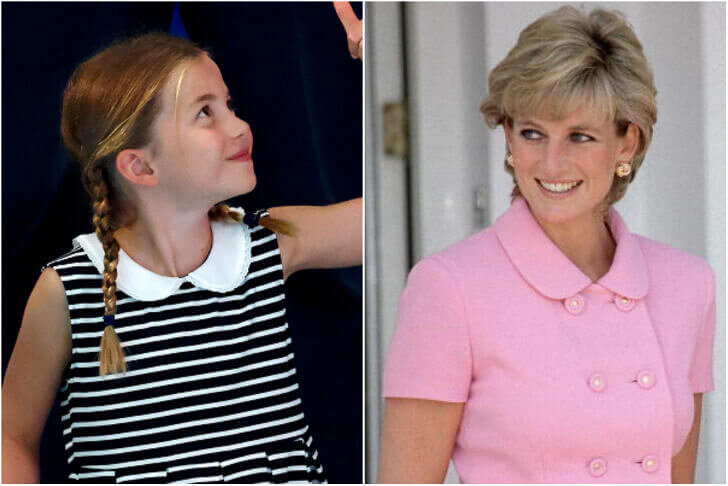 Princess Charlotte clearly has been given her grandmother's stunning looks. As she has grown, it's also clear that she shows the same kindness and generous as her grandmother.
Zoe Kazan - Granddaughter of Elia Kazan
Born from a well-known Hollywood family, Zoe Kazan starred in the hit movie The Big Sick. Her father, Nicholas Kazan is a screenwriter and her grandfather was the acclaimed director Elia Kazan.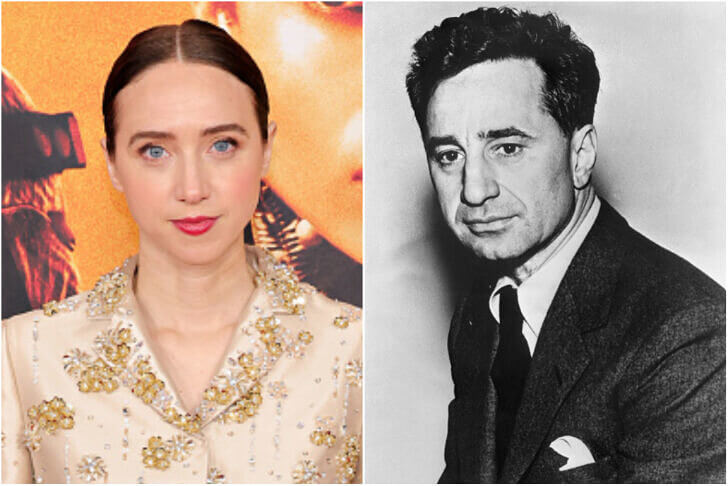 While it's clear that Zoe inherited her grandfather's nose and eyes, she hasn't gotten her grandfather's reputation in the business. Elia controversially testified during the 1950s against Senator Joseph McCarthey for his anti-communist viewpoints and witch hunts. The criticism for Kazan continued well after Elia retired from the business. Elia eventually earned a Lifetime Achievement Award during the 1999 Academy Awards, but the award was not taken well by the people as they protested with picket signs during the event.

Sarah Sutherland - Granddaughter of Donald Sutherland
Sarah Sutherland, best known for her role as Catherine Meyer on the acclaimed show Veep comes from a well-established family. Her father, Kiefer Sutherland is an actor and has been on the big and small screen throughout his career. Kiefer played in the occult classic Lost Boys, and the original Flatliners now is the star of the hit series 24.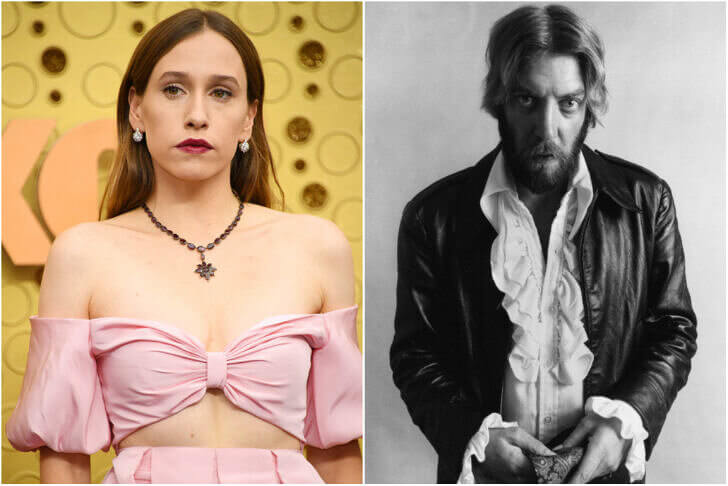 Donald Sutherland, father to Kiefer has also been in several hit movies including The Hunger Games as President Snow. But it doesn't take much to see the resemblance between Donald and Sarah.
Tayla Lynn - Granddaughter of Loretta Lynn
Tayla Lynn started her career singing alongside her grandmother Loretta Lynn. Of course, her father, Ernie was the guitarist for Loretta. With so much music flowing through the house, it's not surprising that Tayla Lynn would follow in the footsteps of her grandmother.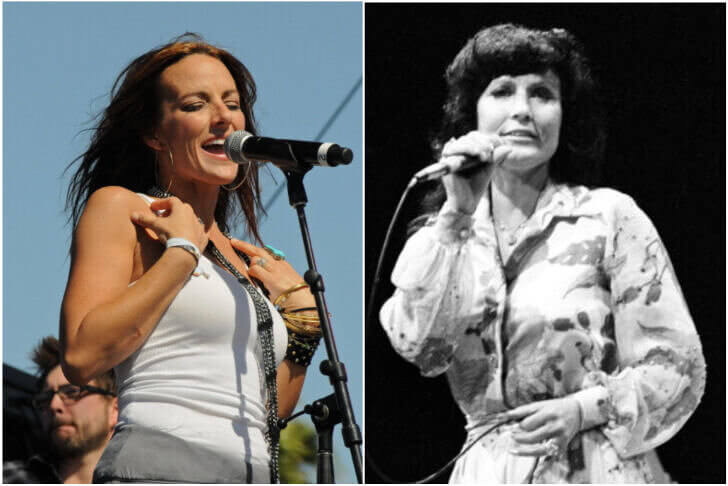 While on tour with Loretta, Tayla landed a gig with Stealing Angels. However, in 2016 Tayla finally signed with London Tone Music and has two sons.
Riley Keough - Granddaughter of Priscilla Presley
Danielle Riley Keough is the oldest grandchild of the famous Elvis and Priscilla Presley. Riley is the daughter of Lisa Marie and Danny Keough who happened to get the best of the genes that her family has to offer.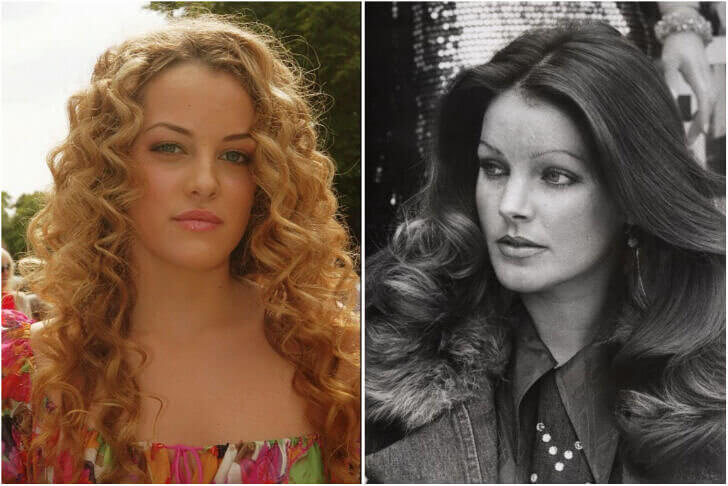 Riley is not only a model, but an actress and a producer. You may have seen her in Logan Lucky, and Magic Mike. But movies aren't her only success, she has also appeared in The Girlfriend Experience television show along with many other appearances. While her career is far from over, this thirty-year-old is blazing her own trail.
Hutch Dano - Grandson of Royal Dano
Hutch Dano is best known for his role in Zeke and Luther, the Disney television show. He is also the grandson of Royal Dano and son to Rick Dano. Hutch has a net worth of over $1 million.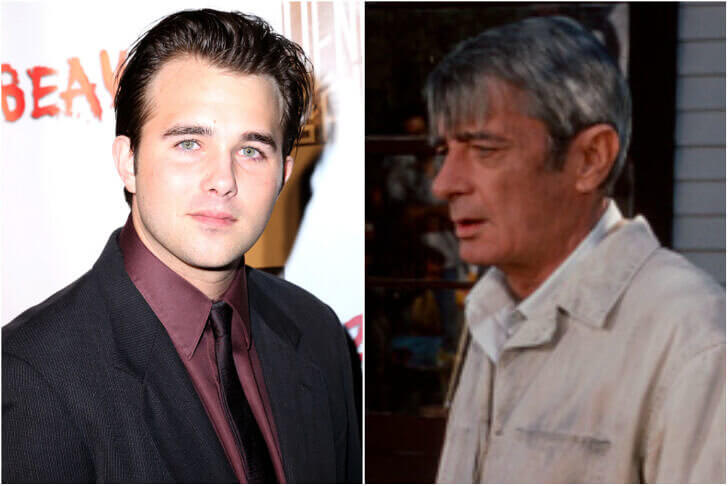 Hutch watched Great Moments with Mr. Lincoln presented at Disneyland in order to hear his grandfather's voice playing the part of President Abraham Lincoln. According to Hutch, it was his grandfather's inspiration that drove him to acting despite the fact that his grandfather passed away in 1994 when Hutch was only two years old.
Pablo Dylan - Grandson of Bob Dylan
Pablo Dylan is a spitting image of his grandfather Bob Dylan. Along with the looks, it seems that Pablo inherited his grandfather's talent of music as well.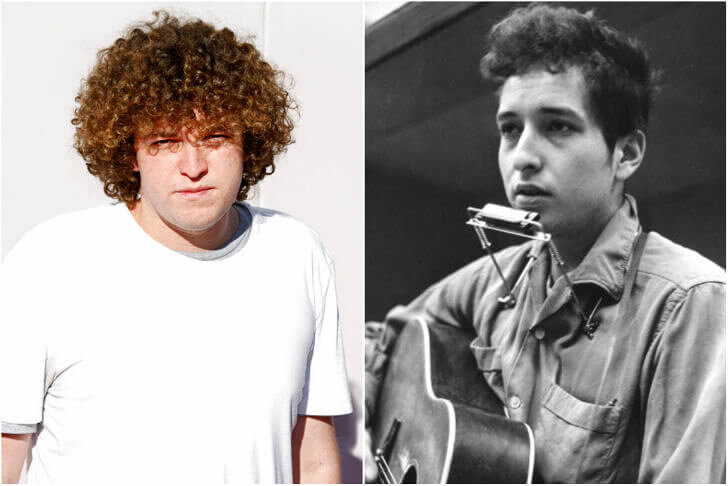 Edgar Cooper Endicott - Grandson of Joan Rivers
Edgar Cooper Endicott keeps his personal life quiet, but the truth is his grandmother is none other than outspoken Joan Rivers. Edgar's mother is Melissa Rivers who married John Endicott back in 1998. The wedding came in at a whopping $3 million with the marriage only lasting for five years.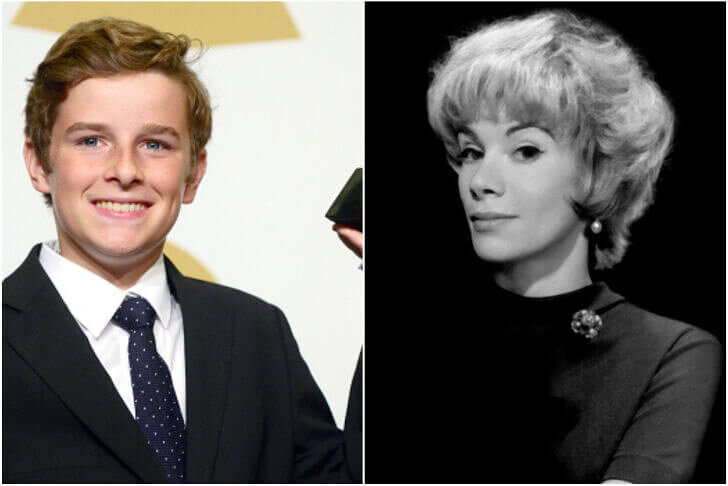 You can see that Edgar shares his grandmother's nose and stunning smile. Although keeps a low profile, there's no doubt he will be one to watch in the coming years.
Princes William and Harry - Grandsons of Queen Elizabeth
The world has been admiring the lives of Prince William and Henry since the day they were born. Their mother was none other than the Princess of Wales, Diana.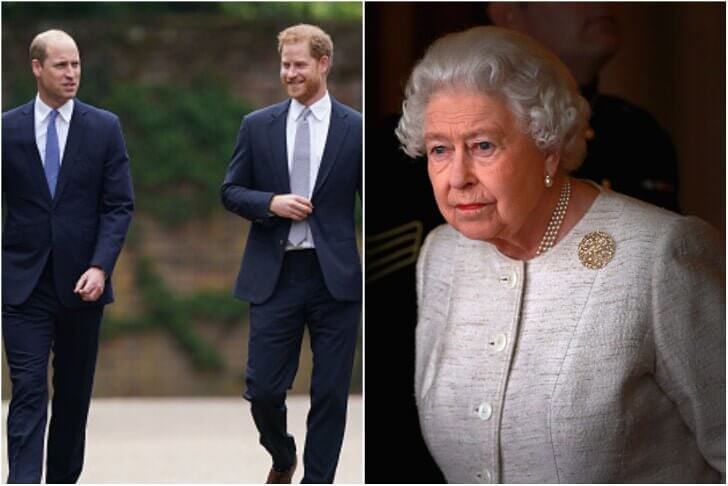 In 1997 they, along with the rest of world was stunned by the death of Princess Diana. The loss of their mother was hard for both boys, but they continued on. Both now have grown into their own and have married. Prince William is the second in line to the throne after his father.

Sophie Dahl - Granddaughter of Roald Dahl
Sophie Dahl is one of the most sought after models despite her size 14 where most think size 10 is extreme. She faces many challenges in her career, including finding clothes for her photoshoots.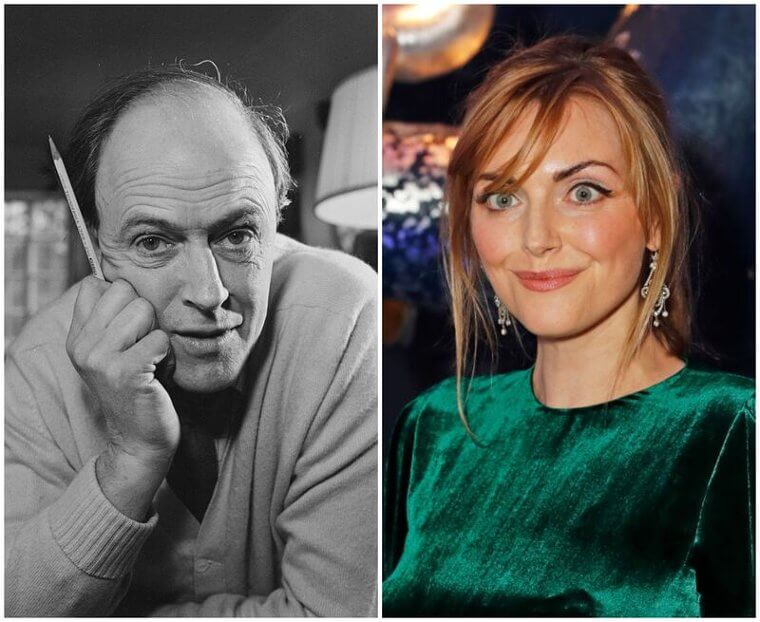 Sophie's grandfather however is known for his whimsical children's stories. Sophie believe it or not was Roald's inspiration for the character of the same name from his book BFG.
Alyson Le Borges - Granddaughter of Alain Delon
It's clear by Alyson's good looks and gorgeous features that she got her traits from her grandfather Alain Delon. Alain Delon was a French actor and known as a "pretty boy" during his career.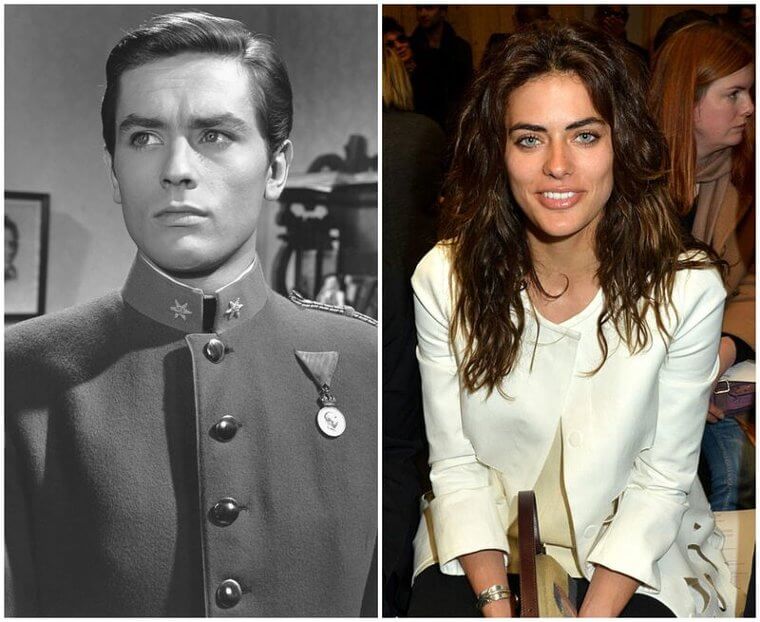 Alyson has followed in her grandfather's footsteps and has become an actress and a model. She has starred in the French movie, The Blue Island. Although her acting career is just beginning, it's clear she will show the world her natural abilities and talents.
Mahogany Lox - Granddaughter of Berry Gordy Jr.
Berry Gordy Jr was a songwriter, and a co-founder of the infamous Motown Records Label. He also produced music during his career. Motown Records Label began in 1959 and represented many famous musical talents like Michael Jackson and Marvin Gaye.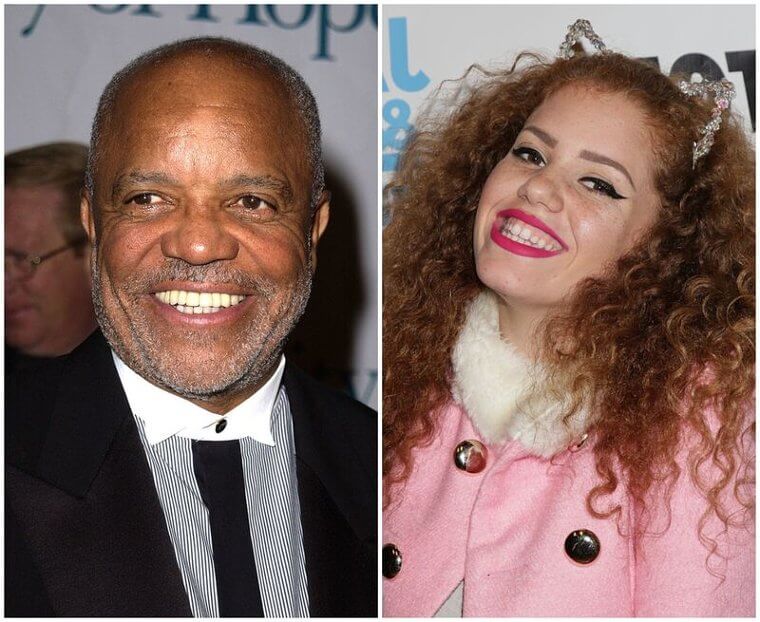 Mahogany is blazing her own trail in the music industry. She makes her money as a musician and is a celebrity on social media. With millions of followers on YouTube and Vine exceeds a million.
Elettra Rossellini Wiedemann - Granddaughter of Ingrid Bergman
Elettra was a famous model who gets her looks from none other than Ingrid Bergman. Later she changed her focus from modeling to writing and has contributed many articles for acclaimed websites as well as magazines.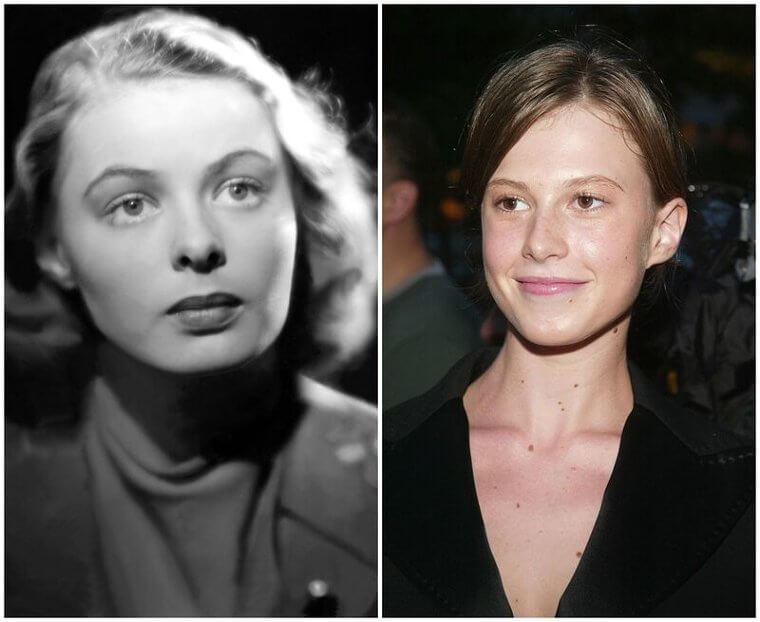 Elettra happens to also be the manager and founder of Impatient Foodie, a website dedicated to healthy recipes for those without much time for preparation. Although Elettra has the looks to break into acting, she never pursued the career.

Sky Blu - Grandson of Berry Gordy Jr.
Mahogany wasn't the only grandchild of Berry Gordy Jr. In fact she has a brother, Skylar Austen Gordy who also works in the music industry.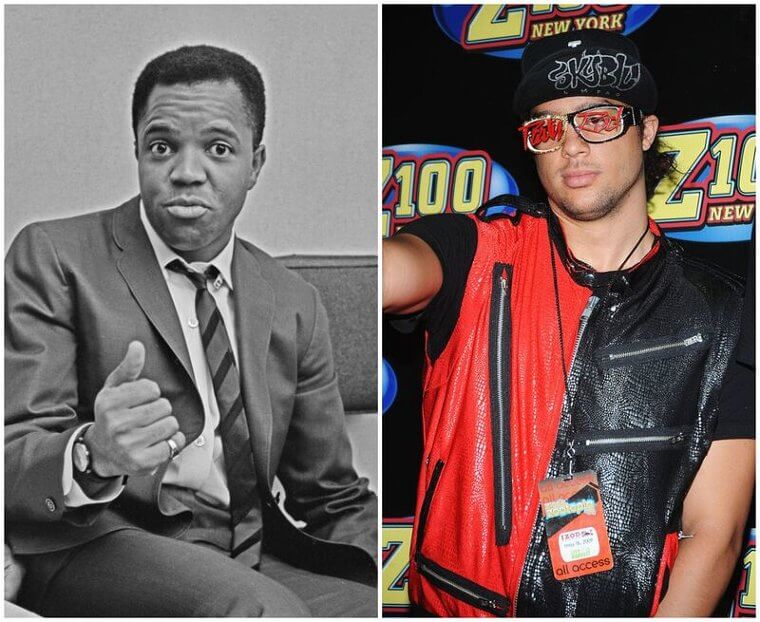 Sky performs alongside his uncle Redfoo and together they are LMFAO. Their music is making headway in the electronic dance genre with hits like Party Rock Anthem and Sorry for the Party Rocking. It's clear that he shows no signs of slowing down and we can expect great things from him.
Tony Goldwyn - Grandson of Samuel Goldwyn
Samuel Goldwyn is a big name with Paramount Pictures even before he became a household name. He started well before Paramount became the giant film industry it is today.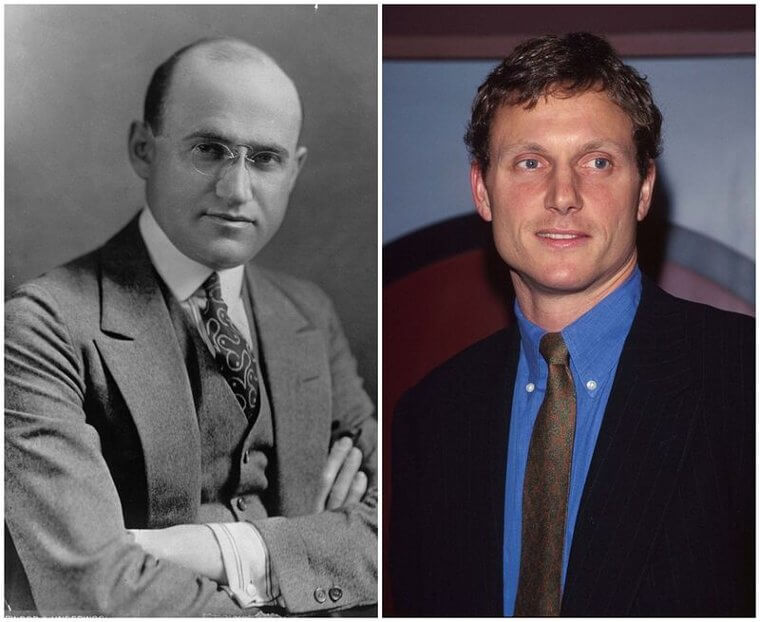 Today, Samuel Goldwyn's grandson, Tony Goldwyn is a well-known actor and his roles keep growing. He has acted in both television series and movies. Many people best recognize him for his role in the hit movie Ghost. But he has big shoes to fill seeing as his grandfather is literally a part of Hollywood history.
Jenna Bush-Hager - Granddaughter of George H. W. Bush
Jenna Bush is a twin of the 41st President of the United States, George H.W. Bush. She is quickly gaining popularity as a reputable journalist and reporter. But she first started as a teacher.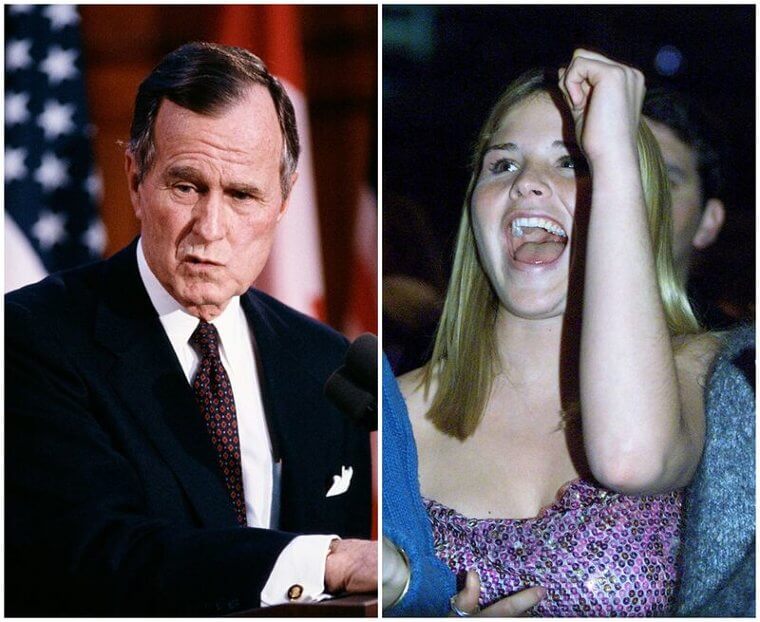 She is clearly an ambitious woman who sets her mind to something will accomplish it. Of course the go-getter' trait was clearly passed down from her grandfather and father George W. Bush who was also a President of the United States.
Arabella Churchill - Granddaughter of Winston Churchill
Winston Churchill is more than just a historical figure, he was a WWII hero. Winston served in the arm forces for the United Kingdom following the resignation of Neville Chamberlain. He also inspired the people of Britain both on the field and off up until 1945.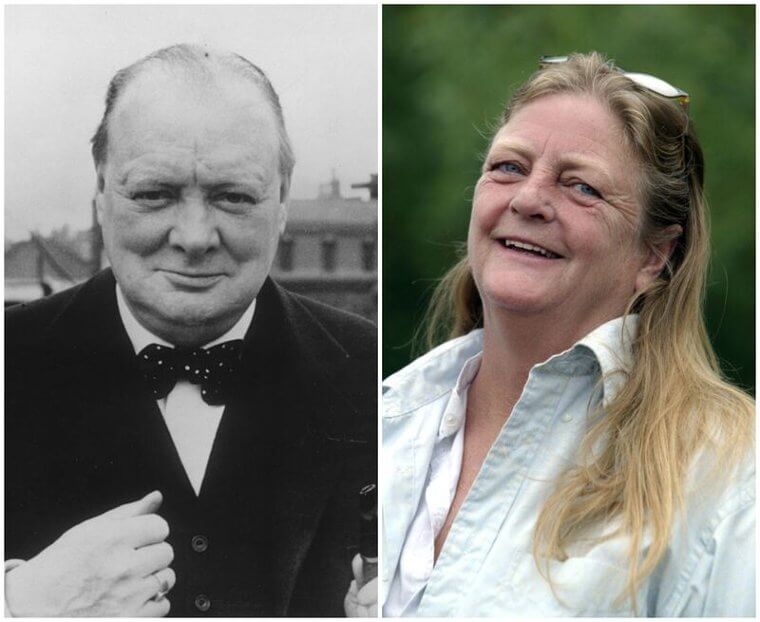 Arabella continues her grandfather's legacy today. Her passion for philanthropic undertakings has helped her keep her grandfather's presence alive. Aside from her work with Children's World Charity, which she founded, she also has interests in music and theater.

Ever Carradine - Granddaughter of John Carradine
John Carradine was a famous actor in the 1940s and appeared in hit films like The Grapes of Wrath and Stagecoach. He mostly appeared in Western films with a few horror roles thrown in. John continued to work well into the 1990s. Unfortunately, in 1988 he passed away at the age of 88.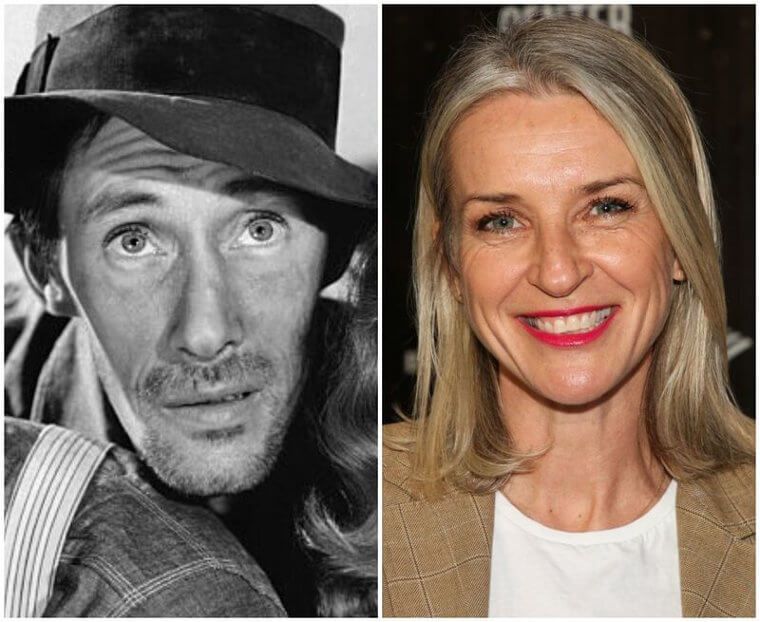 Ever Carradine is John Carradine's granddaughter and she is following in her grandfather's footsteps. She began her career in the 90s and landed several roles in television series and on the big screen. Today you may recognize her from the critically acclaimed show The Handmaid's Tale as "Naomi."
Ali Astin - Granddaughter of Patty Duke
Many people know Patty Duke as the actress who portrayed Helen Keller in the film The Miracle Worker. The role earned her an Oscar. By the time she was 16, she had her very own show The Patty Duke Show. She continued working well into 2015. Patty Duke however passed away a year later in 2016.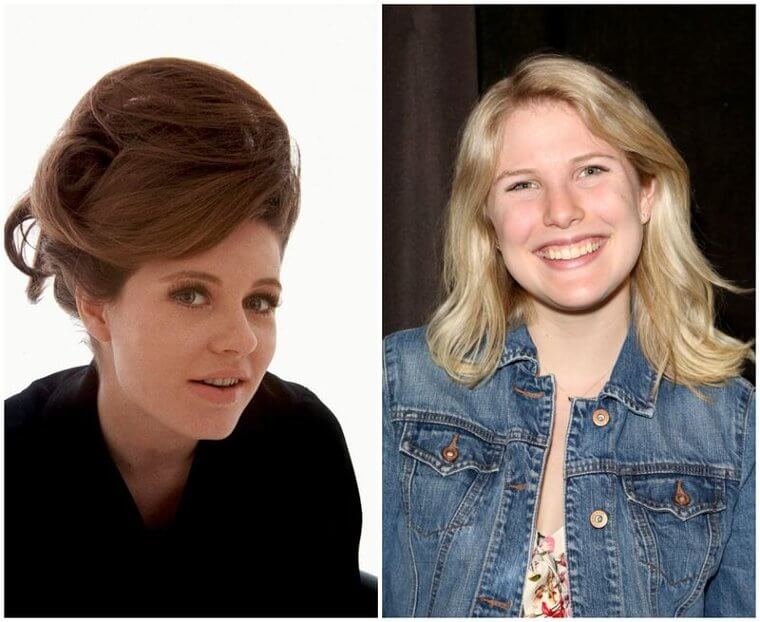 Ali Astin, Patty Duke's granddaughter started her career in Hollywood working with her father Sean Astin in the blockbuster hit The Lord of the Rings: Return of the King. She was six years old at the time of filming. But years later, she is still acting and has appeared in movies like Bad Kids of Crestview Academy.

Abby Elliott - Granddaughter of Bob Elliott
Bob Elliot was a comedian back in the 1950s alongside Ray Goulding. Together they made up the Bob and Ray comedy act. He appeared in many flicks and shows including Saturday Night Live, King of the Hill, and Get a Life. His career of making people laugh led him to a long and successful life. He passed away in 2016.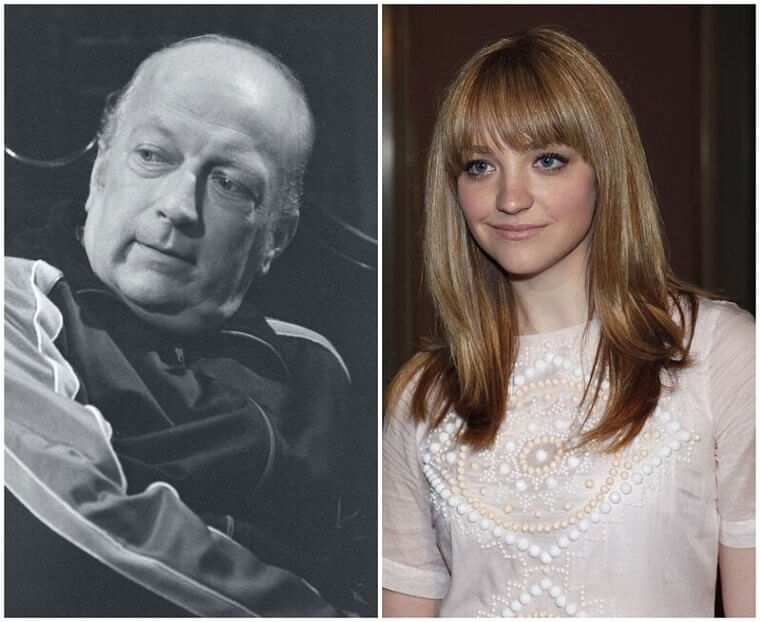 Abby Elliot has paid her respects to her grandfather by appearing in several Saturday Night Live episodes. She remained on the show for four years before finding work elsewhere. She has continued to shine on the silver screen and in television shows. 
Kate Mara - Granddaughter of Wellington Mara
You may recognize Kate Mara as none other than Sue Storm from the remake of Fantastic Four. However, maybe the name is something that sounds familiar since she is after all Wellington Mara's granddaughter.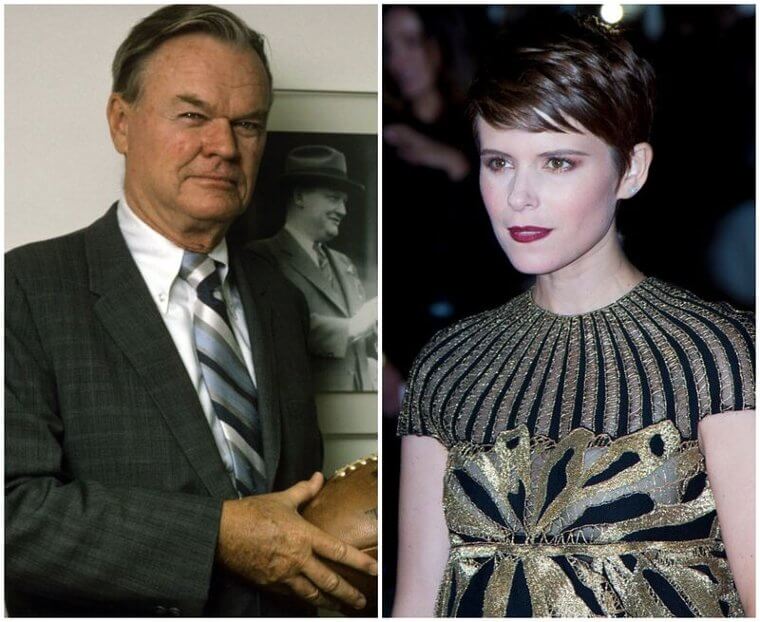 Wellington is a big name in NFL history. He did after all, co-found the New York Giants. Although Kate isn't a big sports fan, she is an actress and has been in some awesome series like House of Cards, American Horror Story, Chappaquiddick, and 24. Since her debut back in 1999 she continues to shine.
Jason Patric - Grandson of Jackie Gleason
Jason Patric happens to be the son of Jason Miller whose father was Jackie Gleason. Although he plays down his relationship he had with his grandfather, Mr. Patric does carry his grandfather's walking stick.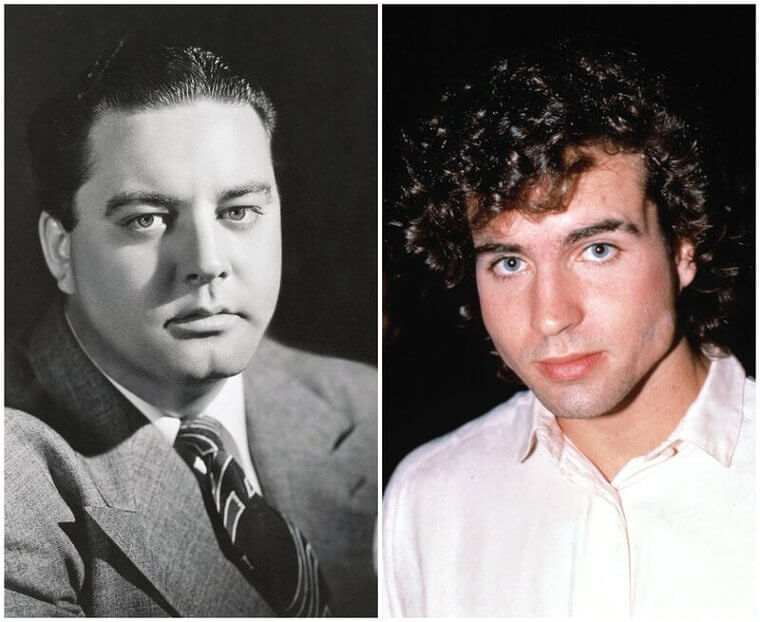 Jackie Gleason passed away in 1987 and Jason Patric states he wasn't very close to his grandfather, he has stated that Gleason was a quiet man who often appeared lonely. Of course, Jason is proud of his heritage, and the piece of history he kept with his grandfather's walking stick.
Charlotte Ritchie - Granddaughter of Richard Burton
Charlotte Ritchie is the daughter of Kate Burton and granddaughter of Richard Burton. She is well-known actress and has been in many television series along with some movies. Her brother, Luke Ritchie is a musician and songwriter.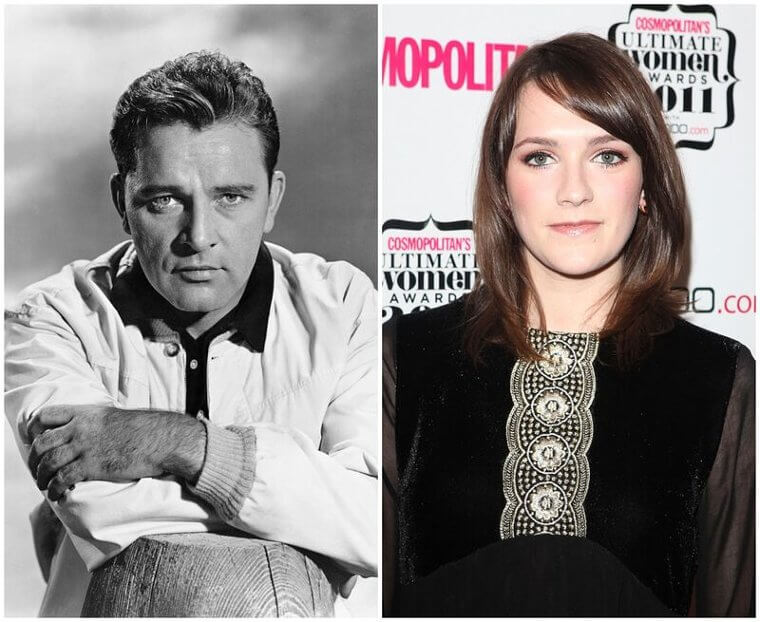 Richard Burton was best known for his Shakespearean acting and baritone voice in the 1950s. However, it has been revealed that Charlotte Ritchie isn't related to Richard Burton or even Kate Burton. The rumors started long ago, but some people won't let it go.
Max Irons - Grandson of Cyril Cusack
Max Irons is the son of actors Sinead Cusack and Jeremy Irons. Despite his father's trying to keep him out of the acting biz, Max has appeared in movies like Riding Hood, The Riot Club, and The Host.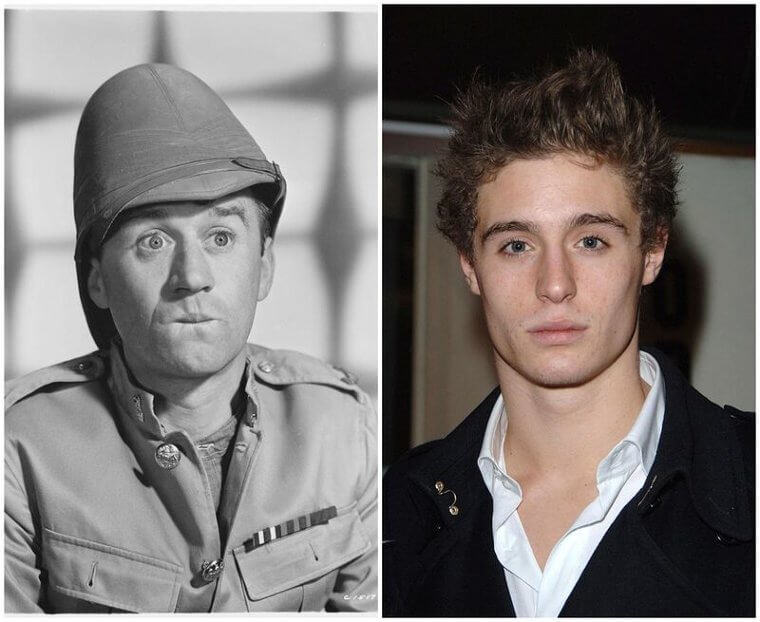 It turns out Max has issues with dyslexia, a trait that makes he read things backwards, hasn't stopped him from pursuing his goals of being an actor. Like Brad Pitt, Max Irons started off low on the totem pole and worked as a barman before his career in films took off.

Rooney Mara - Granddaughter of Wellington Mara
Rooney Mara is also Wellington Mara's granddaughter. You might recognize her from the film The Girl With a Dragon Tattoo along with The Social Network.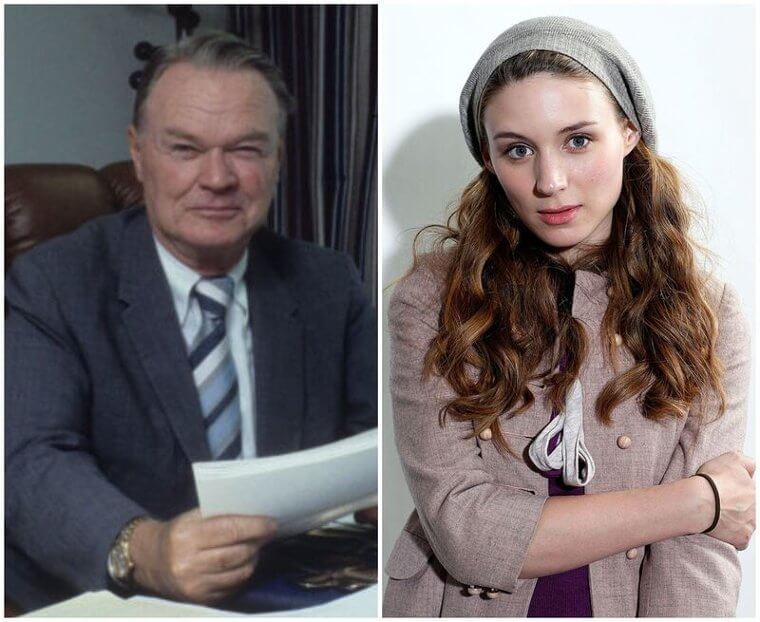 Like her sister, Rooney does charity work too. Her big project is working with Uweza Foundation that supports and empowers children and family programs in Kibera, Africa.