Timothy Treadwell loved grizzly bears. He found that it was his mission in life to live with them, understand them, and educate the world about them. That's what led him to live among them for 13 summers in the Alaskan wilderness, recording all of his interactions on his trusty video camera.

However, what Treadwell didn't know was that his love for these grizzly bears would eventually lead to the demise of himself as well as his girlfriend, Amie Huguenard, in October of 2003. What investigators later discovered was that his handy video camera had captured the entire incident that led to the end of their lives. Here's the tragic story of a man who went from savior to food.
Early Years
Timothy Treadwell, also known as the "Grizzly Man", was born in 1957 in New York as Timothy Dexter. His family life wasn't ideal and after he graduated high school, he moved to Long Beach, California, where he changed his name, began auditioning for sitcoms, and went to college on a swimming scholarship.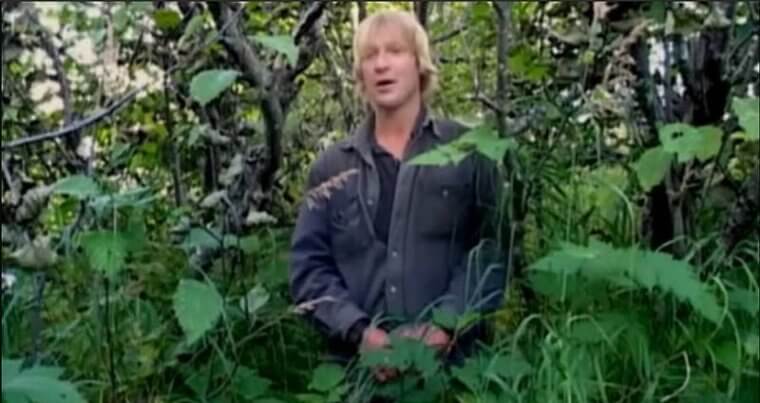 However, during college, the party life got the best of Treadwell and he lost his scholarship. He became a cocktail waiter and continued to dabble with alcohol and drugs. In the late 1980s, he overdosed on heroin and cocaine.
Rough Patch
When he overdosed on heroin and cocaine, Treadwell was saved by a Vietnam veteran named Terry. Terry later became a good friend to Treadwell and once he was discharged from the hospital, it was Terry that encouraged him to follow his passion.

Treadwell loved animals, especially bears, and Terry helped him realize that spending some time in nature might be good for him after everything he had just gone through. This led Treadwell to Alaska where he got involved with environmentalism and documentary filmmaking.
Off to Alaska
Soon after his overdose in the late 1980s, Treadwell began spending his summers camping in Katmai National Park in Alaska which is known for its grizzly bear population.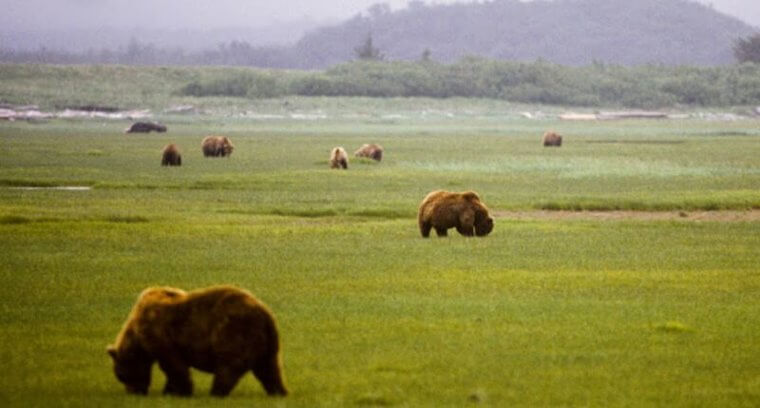 At the beginning of the summer, Treadwell camped in a grassy area on the Hallo Bay known as the "Big Green". This was a great area for spotting bears as they meandered along the coast because the grass was low and the area had clear visibility for a long distance. Treadwell referred to this area as "Grizzly Sanctuary."
Where the Grizzlies Live
Then, in the late summer, Treadwell would move south and camp at Kaflia Bay. This area had thick, dense woods and brush, and was full of intersecting grizzly trails, making it a great place for hiding. Treadwell nicknamed this area "Grizzly Maze" and this is where he would come whenever he wanted to have closer contact with the bears.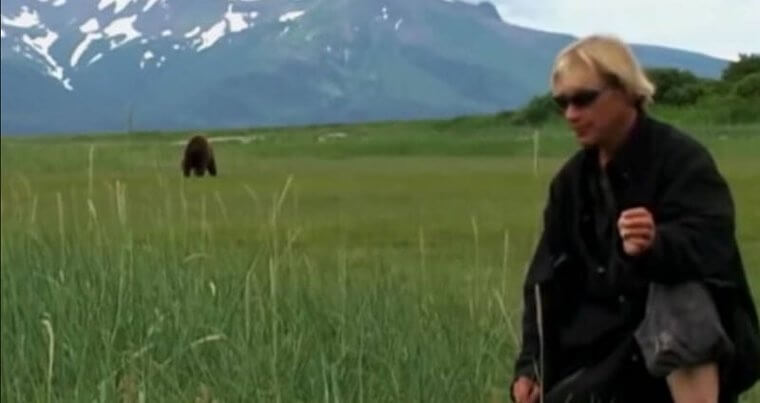 For 13 summers in a row, Treadwell would repeat the pattern of camping in "Grizzly Sanctuary" in the early summer and "Grizzly Maze" in the late summer, all the while filming his adventures. During the winter months, he would go back to California where he continued to work as a bartender and remained sober.
Hanging With the Grizzlies
During his summers camping in Katmai National Park, Treadwell would film all the ways he interacted with the grizzly bears on his video camera. He would walk on all fours with them, sing to them, read to them, and even give them names like Squiggle, Mr. Chocolate, and Thumper.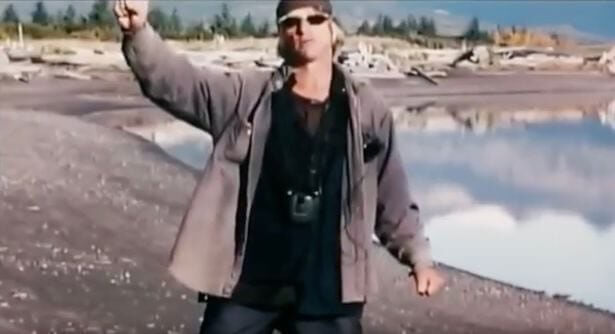 At times, Treadwell would even touch the grizzly bears and play with the bear cubs. He continued to document his encounters and fill notebooks with his observations, feeling that some of the bears actually enjoyed his company.

One of the Bears
Despite the wild and dangerous nature of grizzly bears, Treadwell had a variety of heartwarming encounters with the bears of Katmai National Park, all of them captured on his trusty video camera.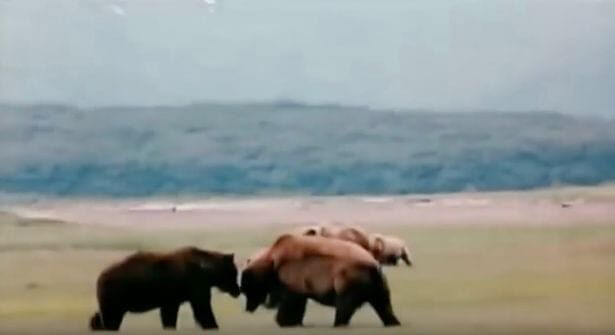 On one occasion, a wounded bear sought refuge near his campsite as he healed. Treadwell named this bear Mickey and he hung around for weeks until he was fully recovered. And bear cubs would often be left alone near his tent as their mothers went off to forage, as if Treadwell was their babysitter. On a separate occasion, a bear licked Treadwell's fingers and he took it as an invitation to plant a kiss right on the bear's nose. The bear accepted the kiss without as much as a huff.

In the Off-Season
During the winter months when he would return to California, Treadwell began working on writing a book with the help of Jewel Palovak, his girlfriend at the time. He published Among Grizzlies: Living With Wild Bears in Alaska in 1997.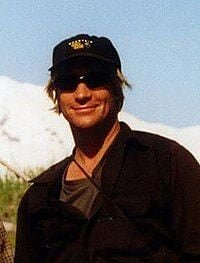 The book detailed all of Treadwell's experiences with the grizzly bears in Katmai National Park and served as a way to educate people about his favorite animals while also funding his camping expeditions in Alaska. He and Palovak also started Grizzly People, a non-profit organization with the same mission.
People Worried
While Treadwell's heart was in the right place, there were some people who were less than pleased with the work that he was doing. Mainly, the park rangers and National Park Service officials at Katmai National Park.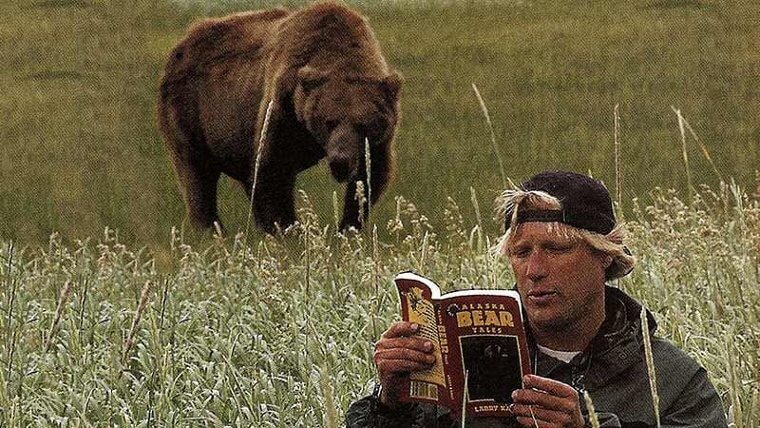 In fact, park rangers thought that he was disrupting the natural order of things and even warned Treadwell several times that his behavior would eventually lead to his death if he wasn't careful. Grizzly bears are known for being aggressive. They can weigh over 1,000 pounds and, when on their hind legs, they are much, much taller than a human.
Hot Water
As the years went on and Treadwell's unconventional and defiant camping continued, the park rangers began to crack down. From 1994 to 2003, Katmai National Park rangers issued Treadwell several citations for park violations.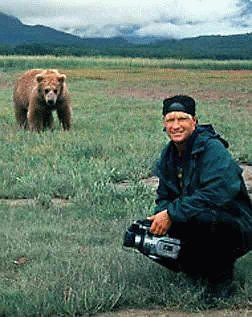 Those violations included improper food storage, wildlife harassment, improper use of a portable generator, altercations with visitors and licensed guides, guiding tourists without a license, and even disregarding the rule they implemented and named after his habits. The Treadwell Rule stated that campers must move their camps at least one mile every five days to keep bears from getting too comfortable around humans.
Not Everything Went Smooth
Despite the warnings and citations from the park rangers, Treadwell continued pursuing an intimate relationship with the grizzly bears of Katmai National Park. However, not every encounter he had was a pleasant one.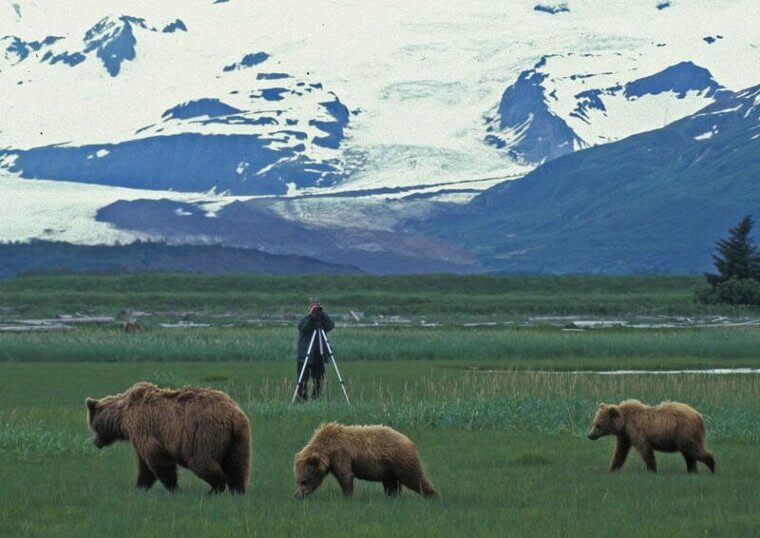 Once in the mid-90s, a bear-viewing guide witnessed an older male bear lose his temper with Treadwell for interfering while he was courting a female bear and just stopped short of attacking him. Another time, Treadwell had to call for air service to be flown out of the area when an angry bear trashed his camp.

Getting Obsessive
By the end of the '90s, Treadwell's family and friends noticed that he was becoming increasingly withdrawn from them as well as the modern world. His mind seemed to always be with the grizzly bears in Alaska.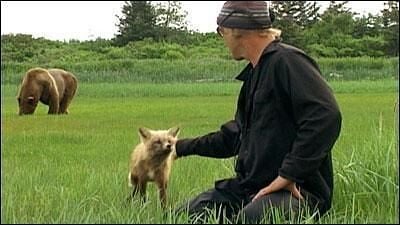 Many would even call Treadwell's love for the bears borderline obsessive. Even Treadwell himself admitted that he felt more comfortable around the bears in nature than in society with humans. However, that didn't stop him from continuing his work educating the world about grizzly bears.
A New Love
In 1996, Treadwell was giving a lecture at the University of Colorado when he met Amie Huguenard. Huguenard was in her early 30s and worked as a surgical physician's assistant. She was immediately attracted to his enthusiasm and passion for the grizzly bears.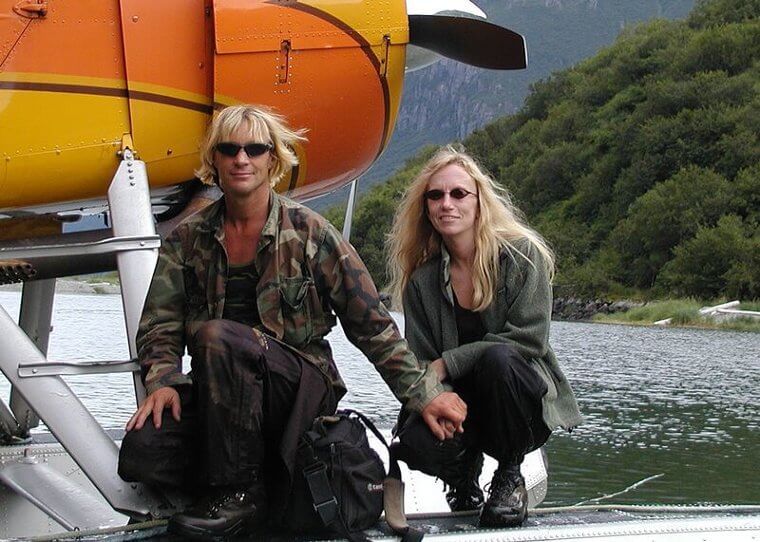 She began writing to Treadwell and the two immediately hit it off. By 2000, the pair had begun dating and Huguenard started spending several weeks camping with Treadwell in Alaska every summer. On January 31, 2003, Huguenard quit her job in Colorado and moved to Malibu to start a new life with Treadwell.
Final Trip
On September 29, 2003, Treadwell and Huguenard were dropped off nearly "Grizzly Maze" by air taxi pilot, Willy Fulton. Huguenard had traveled back to California for a few weeks after camping with Treadwell earlier in the summer, before rejoining him for the rest of his stay.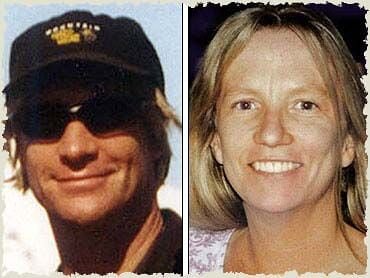 Treadwell wrote in his diary around this time that Huguenard thought he was "hellbent on destruction" and that she said that would be the last year she camped with him in Alaska. She was looking forward to leaving him and getting back to Malibu to start a new job.
Later Than Normal
By this point in the season, Treadwell and Huguenard were staying a bit longer than normal. Treadwell usually packed up by late summer, but he decided to extend their trip by a week in order to locate one of his favorite female bears that he hadn't yet seen.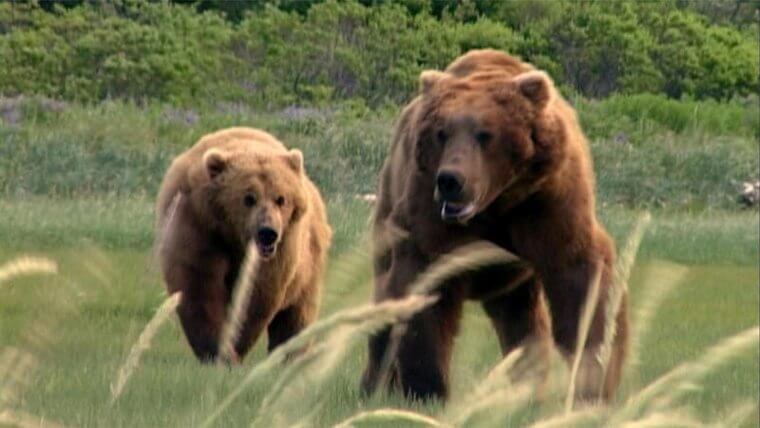 This meant staying in Katmai National Park during the month of October, a time when bears store up on food for the winter, gaining fat and preparing for hibernation. Because of this, this is a time of year when the bears are generally more aggressive. Despite their heightened aggression, Treadwell did not carry a gun due to park rules and even refused to carry bear repellent spray after feeling guilty after the one time he had to use it.
Everything Was Normal
On the afternoon of October 5, 2003, Treadwell and Huguenard placed a phone call via satellite phone to Fulton, their air taxi pilot, to coordinate their departure the following day. They also called Palovak who was heading up the Grizzly People program back in Malibu.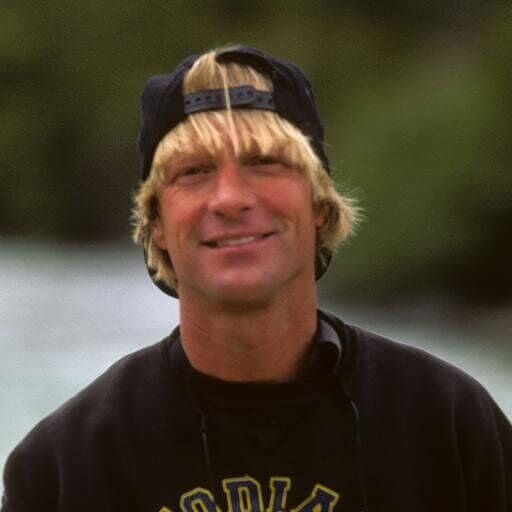 Neither Fulton nor Palovak were aware of any problems at their camp, if there even were any, and both stated that the couple appeared to be in good spirits, especially since they located the female bear they had been looking for. The business conducted over the phone went smoothly.
No One's Around
24 hours later, Fulton arrived at Kaflia Lake, the predetermined location to pick up Treadwell and Huguenard. However, the couple was nowhere to be seen.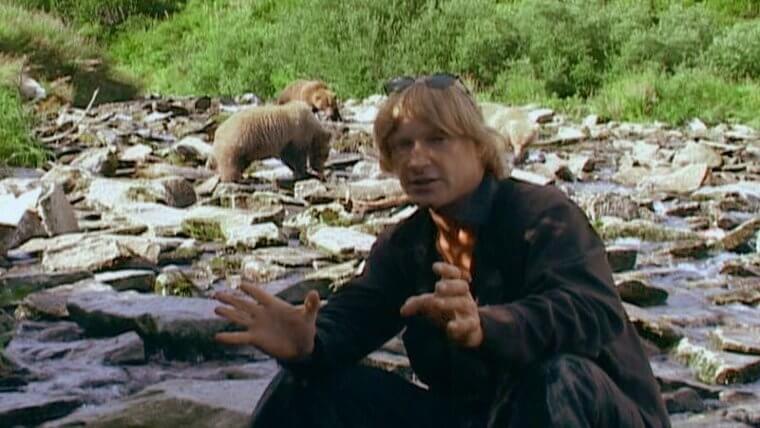 Fulton landed the plane and hiked up the trail to their campsite. He called out for Treadwell and Huguenard but received no answer. He already had a bad feeling but when he found what appeared to be their abandoned campsite and a nearby grizzly bear acting like it was guarding something, he knew something was wrong. Fulton went back to his plane where he alerted park rangers to the problem.
Finally Found
Several hours later, park rangers arrived at the campsite to search the area. As they searched the area, they were stalked by a large bear that soon started to charge the rangers. Unfortunately, the rangers had to shoot and kill the bear in self-defense.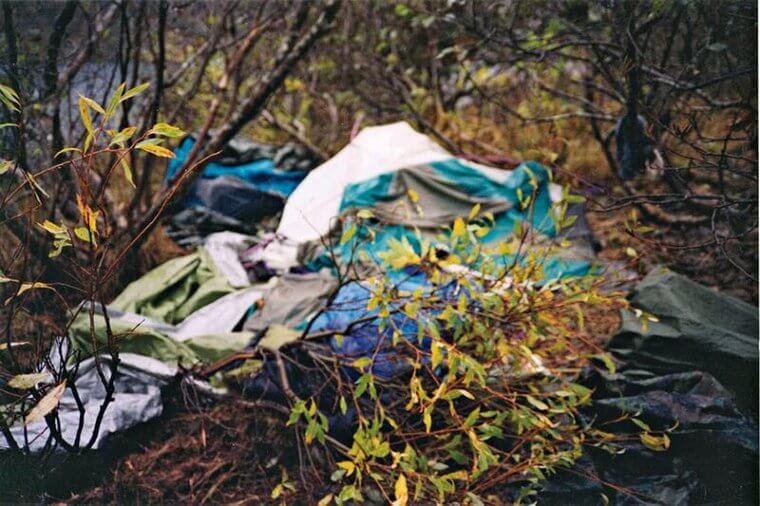 Once the area was clear and safe, the remains of Treadwell and Huguenard were found. Treadwell's right forearm, hand, part of his spine, and mangled head were just a short distance from the camp. His watch was even still attached to his arm and still ticking. Huguenard's remains were found partially buried under a mound of twigs and dirt close to their tents.
Still in Danger
Treadwell and Huguenard's campsite had been ransacked and their tents had been torn apart. However, there was no evidence that led investigators to believe that they had been attacked in or near their tents.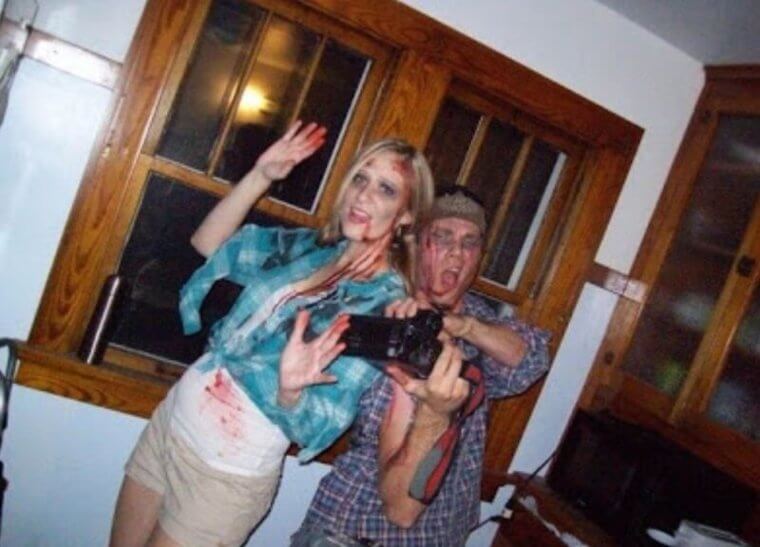 As they began to remove Treadwell and Huguenard's remains, another younger bear began to charge the rangers. Unfortunately, the bear did not respond to warning shots and it was shot and killed, as well. Necropsies performed on the bears shot at the campsite confirmed that human body parts were in their stomachs. Treadwell and Huguenard had been eaten by bears. In the 85 year history of the Katmai National Park, theirs were the first known deaths caused by bears.
Looking for Evidence
Once the human remains, as well as the bears, were removed from the campsite, the park rangers got to work trying to understand what exactly had happened to lead to Treadwell and Huguenard's deaths.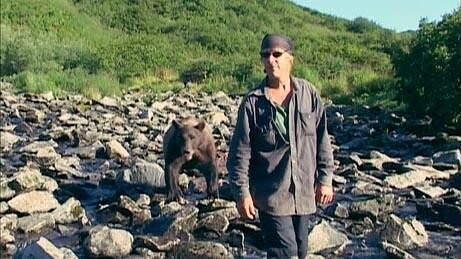 They started by searching their campsite for evidence. There, amongst their belongings, rangers found Treadwell's trusty video camera on which he recorded all of his encounters with the grizzly bears. Could he have captured some of his final moments on film? There was a six-minute tape inside of the camera but, at first, it appeared to be blank.
The Camera Knows All
However, upon further investigation, the tape was not blank. It was just simply a dark video that had been captured.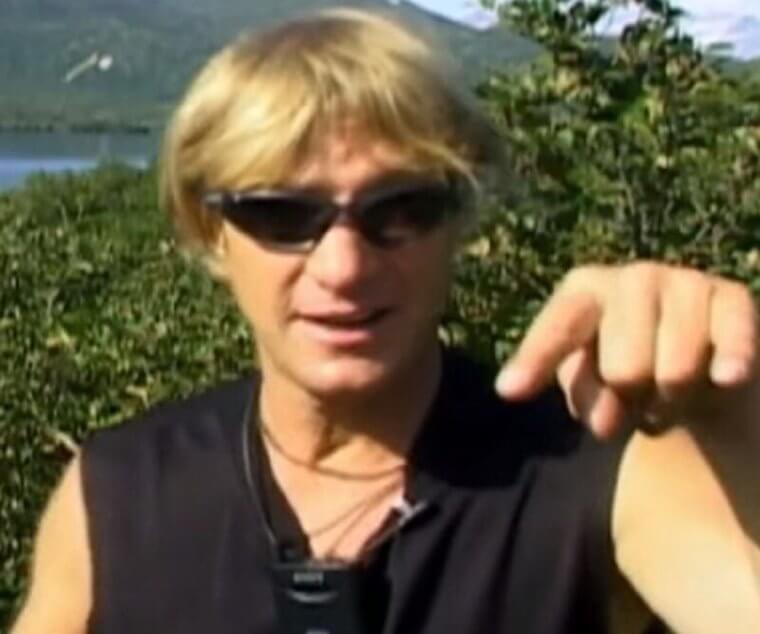 It was as if the camera had been in a bag or that the lens cap had been left on as it recorded Treadwell and Huguenard's final moments. The audio was crystal clear and ran for a continuous six minutes as it captured the audio of the attack that ended their lives. On the tape, Treadwell and Huguenard could be heard screaming as they were eaten alive.

The Beginning of the End
It appears that the camera was turned on just before the attack began, or maybe as it started happening. Treadwell was attacked first. On the tape's audio, you can hear him yell, "Come out here! I'm being killed."
Then, the tent's zipper is heard before Huguenard yells back, "Play dead!" There was nothing she could do to fend off a grizzly bear without putting herself in danger, too. She can be heard yelling, "Play dead!" again. Then, it sounds as if the bear leaves.
False Hope
Then, on the audiotape, Treadwell and Huguenard can be heard talking in the distance, probably discussing if the bear was really gone. Maybe she even tried to tend to his wounds as she was a former surgical physician's assistant.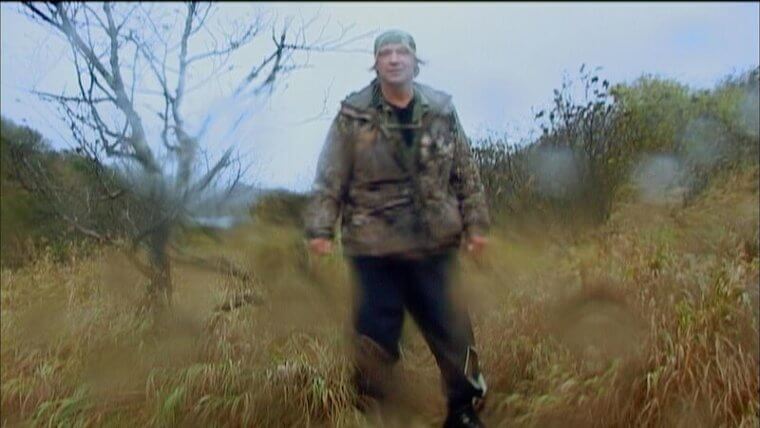 However, the bear can be heard returning to the scene as Huguenard flees and Treadwell begins to scream again. Huguenard tells him to, "Fight back!" as it sounds like she starts throwing objects at the bear, trying to fend it off. The audio ends with Huguenard screaming as she is killed, while soft dragging sounds and Treadwell's screams fade into the distance.
A Disturbing Conclusion
Overall, Treadwell's screams can be heard over two-thirds of the six-minute tape. Huguenard's sharp, high-pitched screams can be heard in the last few minutes before the tape shuts off. And, as for the bear, it is eerily quiet for the entire attack.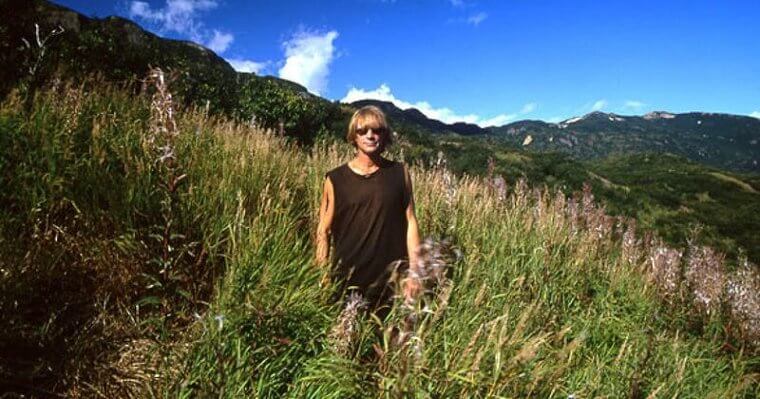 After discovering the disturbing tape, the park rangers did everything in their power to keep it from the public. Several filmmakers have tried to get their hands on it, but the park rangers continue to refuse to hand it over.
In Memoriam
Park rangers at Katmai National Park continue to remind people that Treadwell and Huguenard's demise was an isolated, rare incident and that people are not in any danger when visiting the park.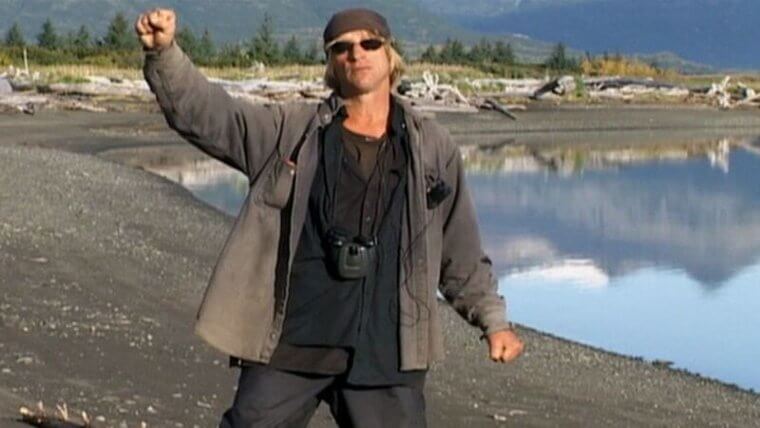 Gary Porter, a bear-viewing guide, believes that because of all the time he spent with the bears, many of the bears forgot he was human and didn't realize that he couldn't handle the same kind of contact their fellow bears could shrug off. As for Treadwell's organization, Grizzly People, Palovak continues to run the group and stays committed to preserving his legacy.

19 Shocking Tales of When Animals Kill!
There's no denying that, where humans and animals co-exist, it's the humans who are usually the most threatening and dangerous. Sometimes, however, animals will strike back and unleash the full force of their awesome attacking power. Often it's in self-defense, sometimes in hunger, but occasionally wild creatures will kill, seemingly, for the sheer thrill of it.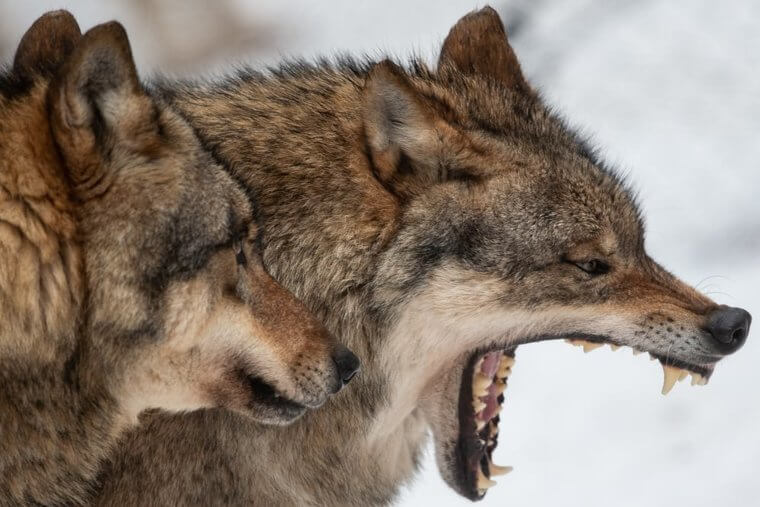 Whether it's marauding packs or solo killers, the past centuries are littered with examples of when nature has bitten and men, women, and children have suffered horrific consequences. Some attacks have been sporadic, some have been organized. Some creatures have lashed out in the heat of the moment, some have stalked their human prey carefully and systematically over many years and across huge geographical areas. One thing is certain: in the delicate relationship between man and beast, nothing is predictable and nobody is ever completely safe. Here are 19 shocking examples of when animals kill!
Wedding Day Wolf Attack
It was a perfectly planned wedding day in Russia in March 1911. The wedding banquet had been arranged in the town of Tashkent, 20 snow-covered miles from the ceremony which took place in the small village of Obstipoff. The entire party was to be transported by horse-drawn sleighs between the two events of the day. A beautifully romantic--if perhaps chilly--way to complete the bride and groom's perfect celebration. Only on this occasion, they would soon wish more secure transportation had been chosen. It wasn't, as you might have feared, sleigh way robbery which the party fell victim to, but something far more destructive.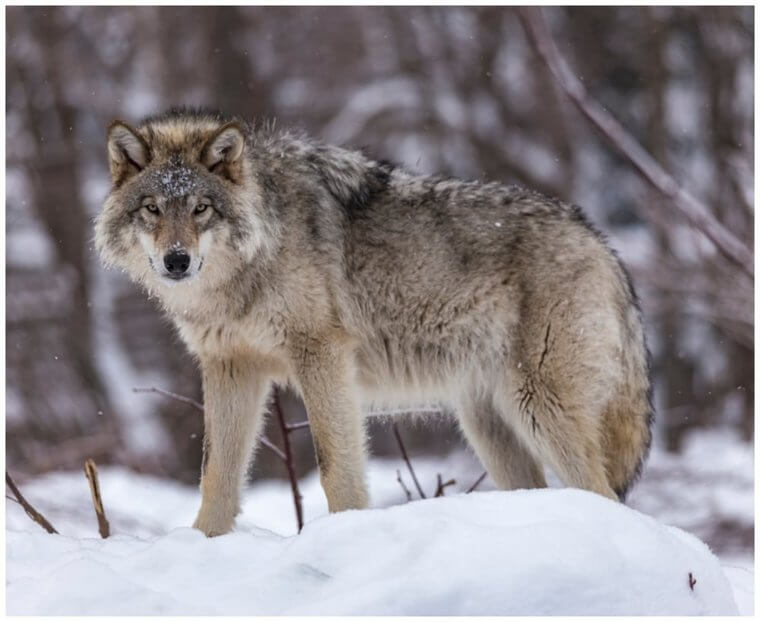 A huge pack of wolves descended on the convoy in the countryside a little before their final destination and the animals had no interest in taking prisoners. Working their way from the rear, they attacked, tore apart, and ate every member of the group, including families with children, until only the bridal sleigh remained. The two men escorting the happy couple made the quick decision to lighten their load by throwing the bride to the wolves. When the groom protested, he was sacrificed too. The final two men survived, but at what cost?

Man Versus Shark
It was 2001 and the Arbogast and Flosenzier families were spending the day on the long beach of western Florida's Santa Rosa Island. Jessie Arbogast, aged 8, and his young cousin were swimming in the blue sea while their parents watched from the shore. Suddenly, the postcard tranquillity was pierced with blood-curdling screams - it was Jessie. Vance Flosenzier, Jessie's uncle, was the first to react. He splashed into the waters where he found his nephew with the jaws of a bull shark clamped around his arm. Vance instinctively grabbed the shark and dragged it away.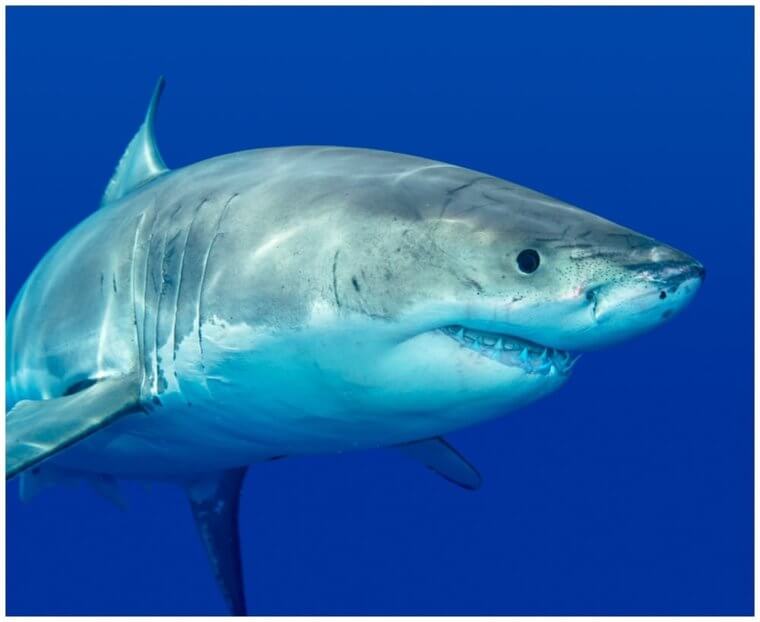 Horrifyingly, the young boy's arm ripped off in its mouth. The children were carried to safety by Vance's wife but the man knew he couldn't follow. "He knew he couldn't let the shark go," his wife recalled, telling the story afterward. "There were other kids still in danger." Eventually, Vance managed to pull the shark ashore, where rangers shot it dead and retrieved Jessie's arm which was still clamped between the beast's teeth. The quick thinking of Vance meant that Jessie's limb could be reattached. He was still left with permanent brain damage but survived the attack thanks to his uncle.

In the Face of Unbeatable Odds
"All that remained to tell of this grim northland tragedy were the trapper's bones." That's how the Calgary Daily Herald reported the death of Ben Cochrane, a Manitoba trapper in 1922. Ben had been working alone so, with nobody left alive to tell the tale, investigators had to piece together his final moments from the grim evidence they discovered at the scene. The man had been working on a riverside in Manigotagan, a tiny settlement in the mid-Canadian province, when he found himself face to face with a pack of timber wolves.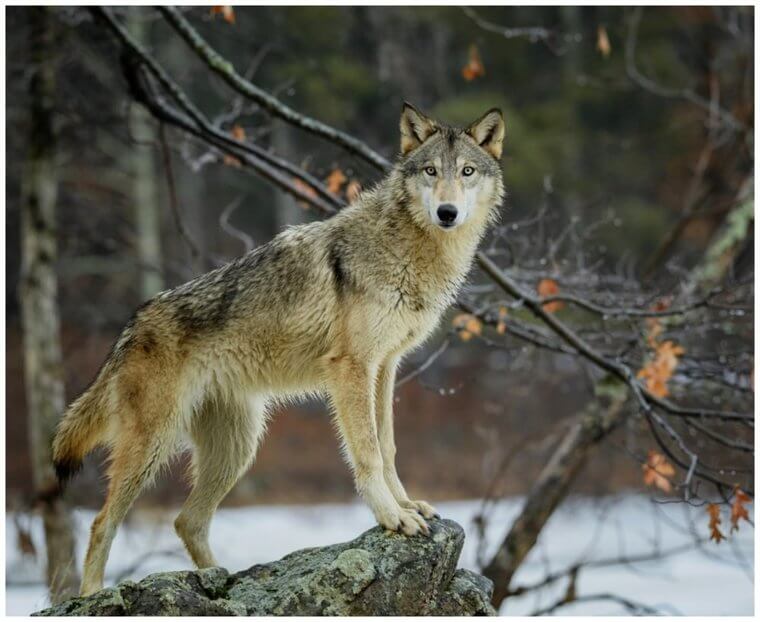 The trapper's body had been ripped apart and scattered about the land, as were his clothes. Also found were 11 wolf carcasses. Seven had been shot while four were laid on the ground with their skulls smashed in. It seems that Ben Cochrane had battled frantically for his life, unloading his rifle into the pack until all the bullets were gone, and then turning the weapon around to use as a club. He wasn't successful and eventually succumbed to the determination of the ferocious animals, but he certainly put up a fight.

Osama the Lion
In the world of serial killer animals, few amass a tally quite like Osama did in Tanzania. Operating between 2002 and 2004, the man-eater, named after the now-deceased terrorist leader Osama Bin Laden, took 35 human lives in a series of attacks. Using a technique it is believed was taught to him by his mother, who had been known for her own attacks, Osama opted for a more surprising tactic than hunting prey on the open plains. Using his brain and his bulk together, Osama realized he was stronger than the mud walls or thatched roofs that made up the homes of the local villagers.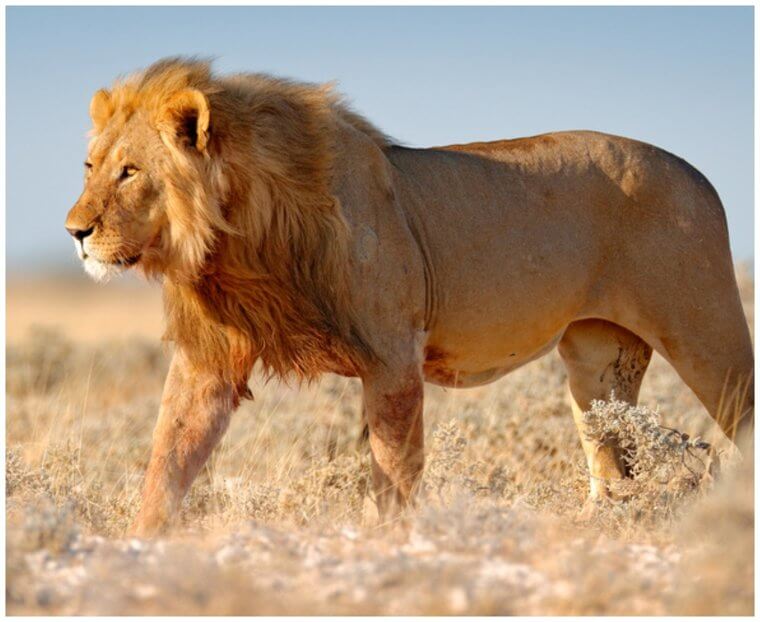 He would simply jump or barge his way in, grab his victims as they rested, and drag them away to their death. He became a wanted animal, with posters plastered around the area like an image from a wild west movie. It was discovered later that Osama had a cracked tooth and a large abscess which would have been causing him significant pain when he ate, making soft-bodied humans a more desirable meal than thicker-skinned alternatives. Eventually, Osama met his end in 2004, at the hands of game scouts.

Ed and the Cougar
The idea of moving to a log cabin in the wilderness far away from other people can be appealing for many of us, especially as we get older. The problem is, that's where the really dangerous animals live. In 1951, Ed McLean was reminded of this in the harshest of terms. He was living alone in the Canadian countryside, six miles from the nearest neighbor, when a cougar came to visit. Ed spotted the powerful animal, ceased chopping wood, and took himself inside thinking that would be the end of it.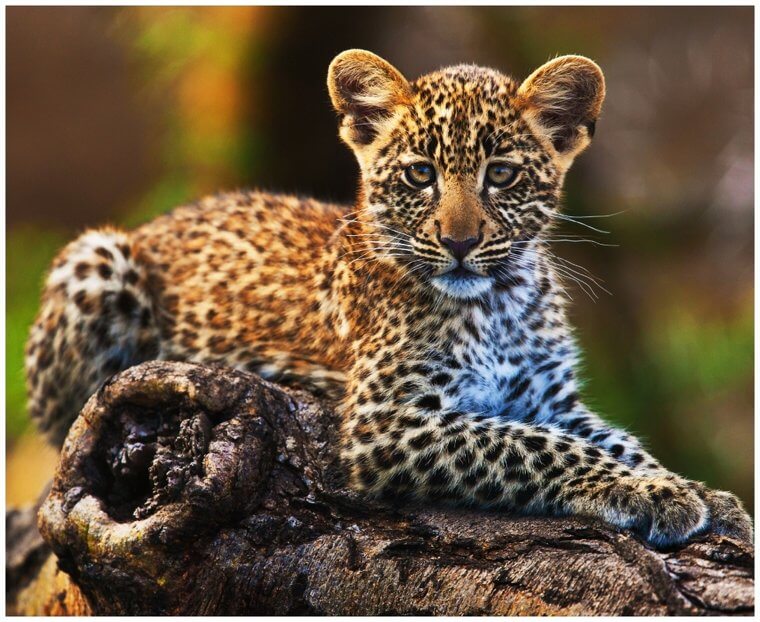 The cougar was willing to wait. Ed looked out after dark to see the big cat still there watching. He extinguished his lamp, believing that might be what had his stalker's attention, not realizing that was the cue it had been waiting for. The cat leaped through a window and wrapped its teeth around Ed's arm. Ed managed to grab a knife and kill the cat but was still faced with the need for urgent medical help. He rowed across a lake for two hours to the next cabin, but it was unoccupied. He lay outside, bleeding and fading away for eight hours before he was discovered and saved.
The Hungry Hungry Hippo
Even a known animal can turn, as Paul Templar discovered on the Zambezi River. Aged 27, he'd been guiding tourists down the river in kayaks for several years. He knew the two-tonne bull hippopotamus who would occasionally take out his bad mood with lackluster swipes at passers-by and had taken to avoiding spots he was likely to be. On the day of the incident, Paul was on the river with three apprentice guides and their guests. There was no warning when the hippo suddenly surfaced underneath one of the boats, captained by an apprentice named Evans.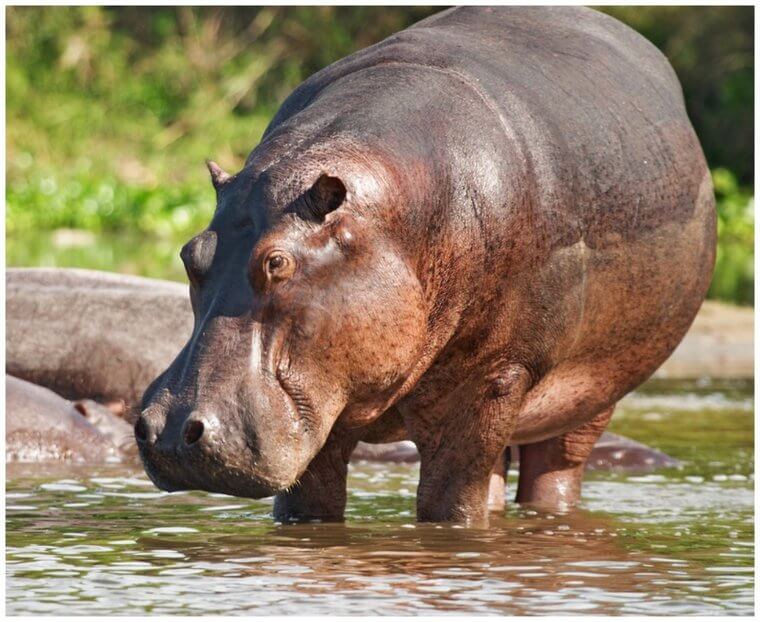 Evans was tossed into the water while his terrified guests found themselves stranded on the hippo's back. The remaining guides managed to get the guests to safety while Paul attempted to rescue his colleague. The two men were about to clasp hands when Paul's world went dark. He was inside the hippo's mouth. How long this incident lasted is unclear. "Time passes very slowly when you're in a hippo's mouth," Paul said afterward. When it was over, Paul was covered in 40 puncture wounds and would eventually lose an arm. Evans, sadly, perished. His body was found downriver two days later.

Outnumbered
In the frozen north-east of Russia, closer to Alaska than to Moscow, sits the tiny Siberian town of Verkhoyansk. The human population of the town is less than 1,300; the wolf population that surrounds it is over 3,000 and when wolves hunt they do so in packs. Verkhoyansk hit crisis point one year when a vast pack of hundreds began to prowl the settlement. First, they went for the horses, slaughtering 30 in four days, and the town knew they would have to react.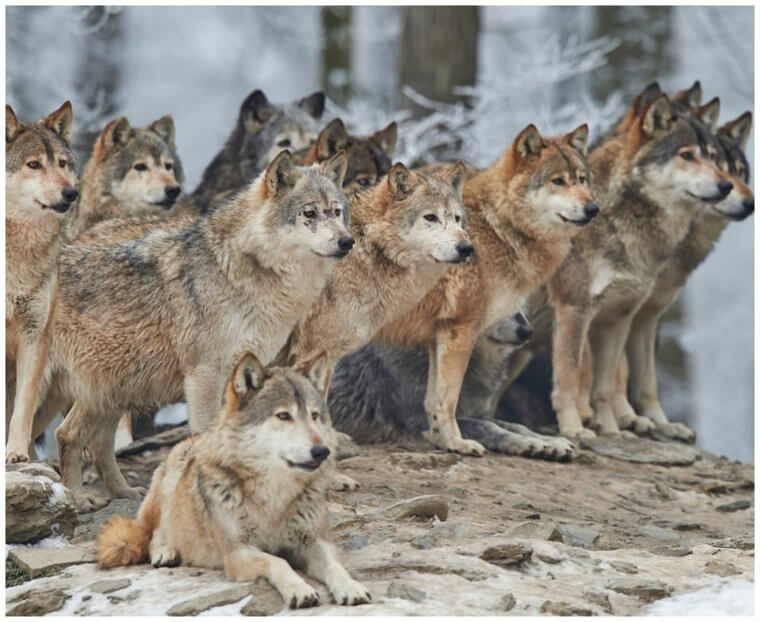 The governor immediately declared a state of emergency and offered hunters around $300 for every dead wolf, with a huge prize for whoever could kill the most. Teams answered the call, with many taking their guns out on snowmobiles in search of their foe. Others took a different approach, rising to skies in helicopters and hunting from above. 700 wolves were killed before the hunt was over and, in return, the animals had devastated the local horse population with over 300 dead. The town and the humans survived...this time.

Parisian Wolves
You don't need to live in a tiny outpost in the middle of the frozen tundra to be concerned about wolves...or at least you didn't in 1450. By that winter, the citizens of France's capital had hunted the surrounding forests to such an extent that no food remained for the wolves which still made home amidst the trees. The creatures needed to improvise, and they did it in the most obvious of ways. If the humans were going to eat all their food, they were left with no choice but to return the favor.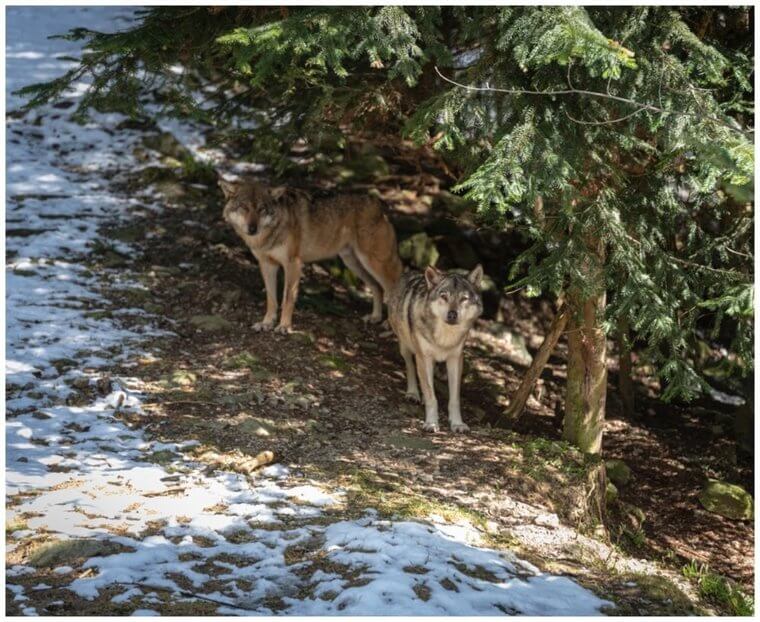 At the time, France had been at war for more than a century and the protective walls around Paris were badly damaged, so the wolves had no trouble finding their way onto the streets of the city. Pets and livestock were taken at first until one particular pack took things further. A bob-tailed red wolf led its murderous cohorts on a guerilla campaign against the weak of Parisian society, killing and eating over 40 people--mostly women and children. The human slaughter ended when citizens corralled the predators in the square outside Notre Dame Cathedral and stoned them to death in its shadow.

Grandma Versus Grizzly
"You accept what's happening and say, 'you're the big guy,'" was the unbelievable calm response of Sue Aikens when she was attacked by a grizzly bear in 2007. She was living alone at the Kavik River Camp, 500 miles from civilization, in deepest Alaska. One winter morning, she went down to the water only to find a huge bear was waiting beneath the surface to attack. The predator leaped from the icy waters and pinned Sue onto her back before clamping its teeth into her head. Sue knew she had to stay completely still if she had any chance of the bear releasing her.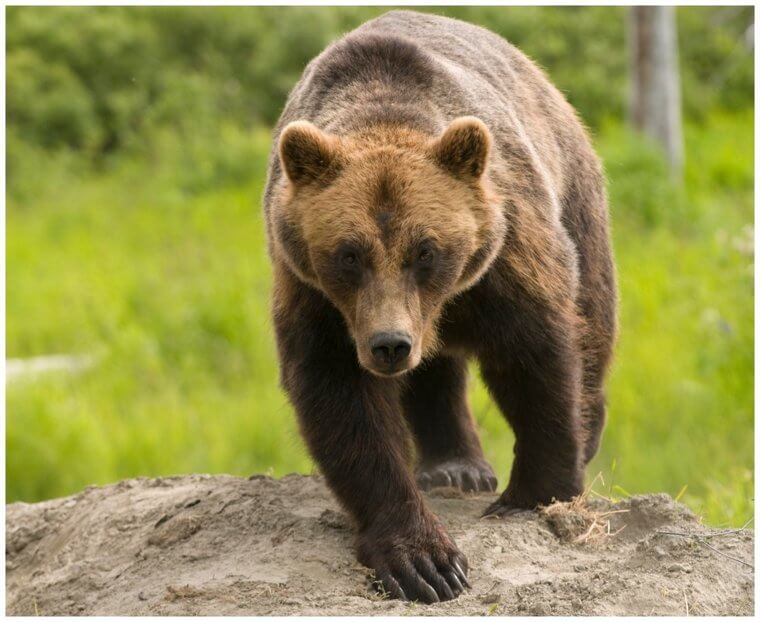 As soon as it did, she scrambled for the camp where she had to, "sew [her] own head together." As soon as she'd stemmed the bleeding, the adrenaline still coursing through her, Sue grabbed her gun and returned to shoot the bear. Once the animal was dead, Sue collapsed where she stood. Her hips had been dislocated in the attack. For ten days, the old woman and the bear corpse lay together in the mud before a pilot spotted the scene from above. Unbelievably, Sue Aikens survived.

The USS Indianapolis
1,196 men set sail from the U.S. Pacific territory of Guam on July 28, 1945, aboard the USS Indianapolis bound for Japan. Just 317 of them would survive the voyage. The ship was torpedoed on July 30, shortly after midnight, causing an explosion that would tear the huge metal vessel in two and send its crew scurrying for the lifeboats. Many perished in the blast but, for the survivors, the ordeal was only just beginning. The tale is relayed by Quint in 1975's seminal shark movie, Jaws. Quint spoke as a survivor of the disaster and the reality was every bit as traumatic as the dramatic scene suggests.
The water pooled with blood and sharks circled the area immediately. They fed on the dead at first, then they moved onto the dying. The crew separated out the wounded as the smell of their blood was drawing the fish towards those who were still healthy. For four days the men floated in light and dark, the time measured out by the splashes of exhausted men falling into the ocean and the screams of those taken by sharks. Finally, a pilot passing overhead saw the scene and alerted rescue boats.
"The Ghost" and "The Darkness"
Building railways has always been a dangerous occupation, with high casualty rates in many parts of the world throughout the 19th and 20th centuries--and that's without the threat of workers being picked off by man-eating beasts. In Tsavo, Kenya in 1898, a pair of male lions developed a taste for human flesh and a killer partnership. The construction workers of a bridge over the Tsavo river would become the focus of the animals' attacks. Their main tactic was to drag men from their tents in the night, but they were not averse to picking off targets in daylight if they wandered too far from the group.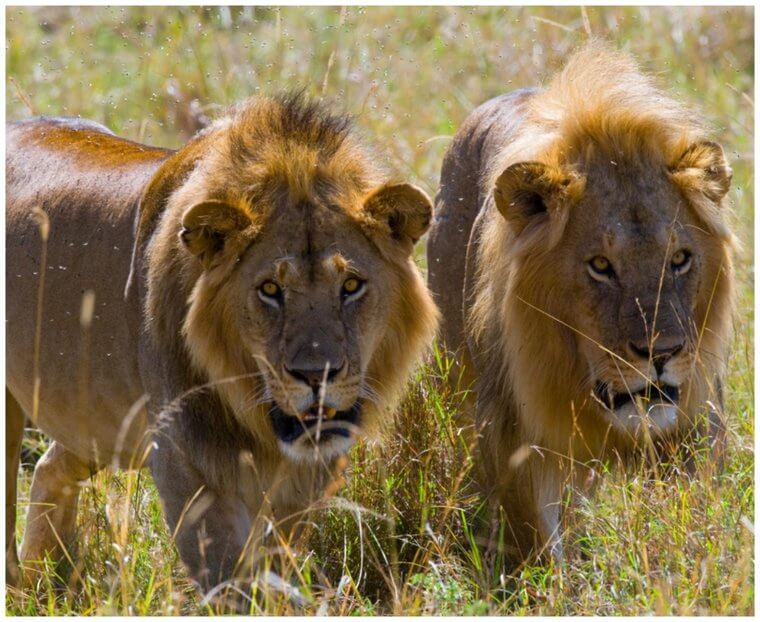 Initially, victims were thought to have disappeared without a trace, contributing to a myth these were supernatural killers. This belief led to them being named The Ghost and The Darkness. Later a cave was discovered, littered with bones and rotting human remains. From the start of the attacks to the death of the duo at the hands of Lt. Col. John Henry Patterson, it is estimated that up to 134 men were slaughtered, one by one. The lion's bodies now rest as display items in The Chicago Field Museum.
The Bloodthirsty Bear
It reads like a monster movie, and the final scene sees a mob of 60 hunters finally confronting the murderous beast and putting an end to its blood-soaked rampage. Kesagake was the name given to the 749-pound Ussuri brown bear which terrorized the Japanese village of Sankebetsu in 1915. The first victims were a babysitter and an infant. The baby was killed quickly, but the sitter was taken away to be consumed at a more leisurely pace. Hunters managed to find and shoot the bear but were only able to wound it.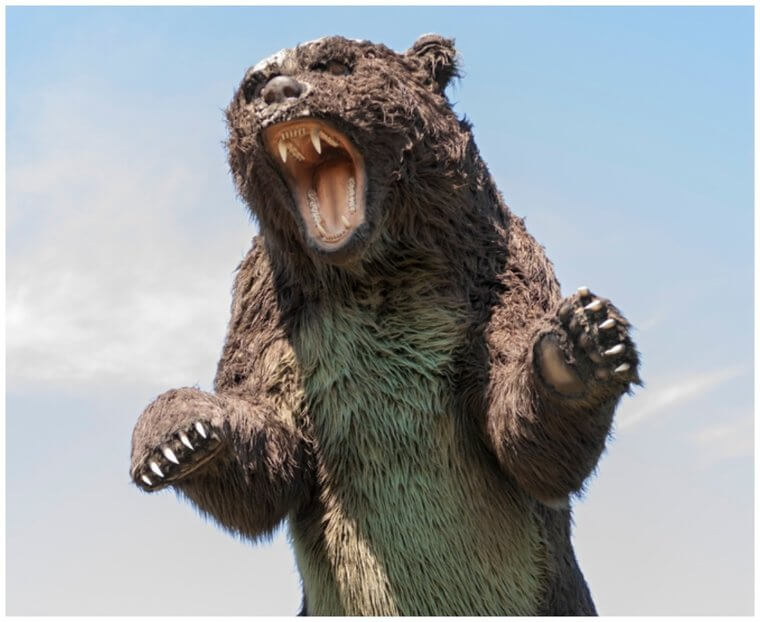 The injured bear spun into a rage and attacked, murdering six more people in quick succession. One of the victims, a pregnant woman, is said to have pleaded with the bear for mercy. Local guardsmen ran in fear and an elite hunting party had to be hired. Dozens of men worked under their legendary leader, Yamamoto Heikichi, to track and terminate the bear, but still needed several days before they would succeed. When the beast's belly was cut open, remains of his human meals were found inside.
The Aberdare Marauder
The villages around Aberdare Forest, Kenya, suffered a traumatic time in the 1940s at the feet of one particularly belligerent elephant. After the marauding menace was killed, examiners found a bullet wedged into the sensitive area beneath its tusks. They concluded that the animal would have been in significant pain from the embedded item and theorized it might have been this which drove it to rage and to direct that anger at the creatures who put it there.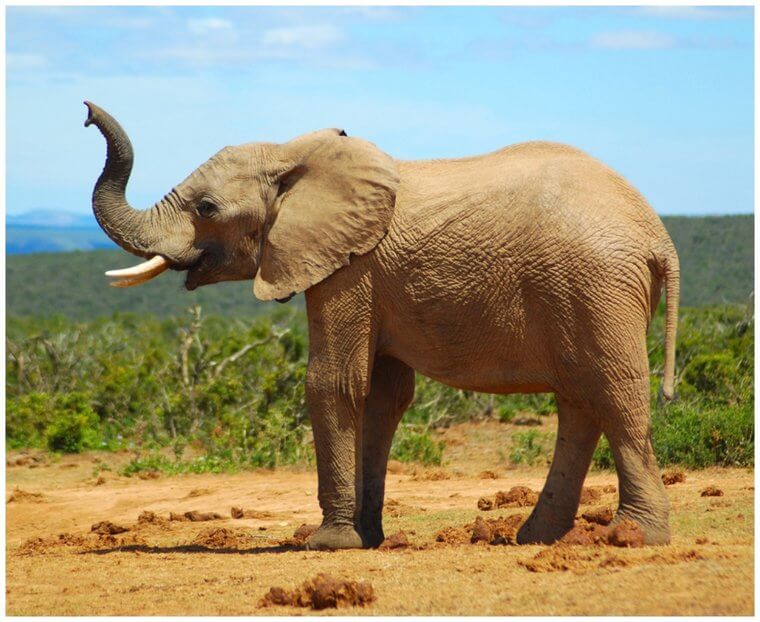 As smart as he was strong, the bull elephant would never attack a village twice, a factor that helped him evade retaliation for a long time. The enormous beast has been credited with one confirmed kill, a villager whom he pinned down with one of his massive feet and tore apart with his trunk. Judging by the frequency and ferocity of the attacks, however, it is believed that there must have been more. A tracker and marksman named J. A. Hunter finally killed the beast, having to react quickly to fell the elephant with two shots when he himself was charged upon.
The Real-Life Jaws
In the summer of 1916, a great white shark was captured and killed off the coast of New York by Michael Schleisser. Hunting sharks wasn't Schleisser's usual occupation, as he made a living more inland as a lion tamer, but this particular shark needed to be caught. The animal's first known kill had been on July 1 of that year, when 25-year-old Charles Vansant was found bleeding to death in the waters outside his New Jersey hotel. On July 6, Charles Bruder was bitten in half while swimming along the same shore.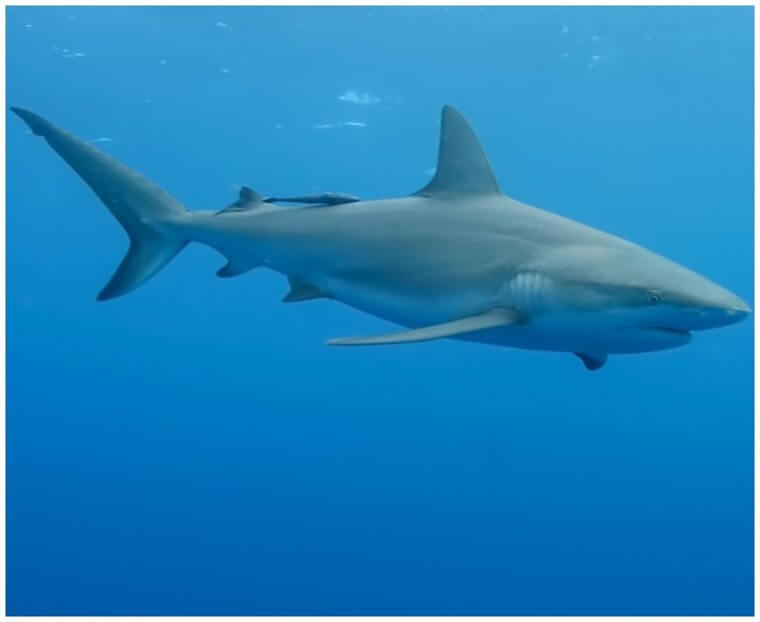 The final three victims came in quick succession. The first, ten-year-old Lester Stilwell, was eaten alive while swimming with friends. Local tailor, Watson Fisher, was attacked while searching for the boy's body. He bled to death from his wounds. Less than an hour later, 14-year-old Joseph Dunn was bitten before being dragged to safety. Dunn would be the only survivor of an attack. While people at the time were skeptical of a shark's ability or inclination to kill people, when the captured eight-foot 325-pound shark was cut open, human remains spilled out from its insides.
Gustave: Scourge of the Nile
Every inch the movie villain--at a reported 20-feet from teeth to tail, that's a lot of villain--Gustave has been terrorizing the Nile for decades. He sports one scarred eye from a bullet wound, received during one of many unsuccessful attempts to bring his murderous days to an end, and he stalks the waters of the great river in the war-torn Republic of Burundi. This perfect killing machine is thought to be in his 50s or 60s, middle-aged for a crocodile, so there are plenty of years left in him...and his taste for humans doesn't seem to wane.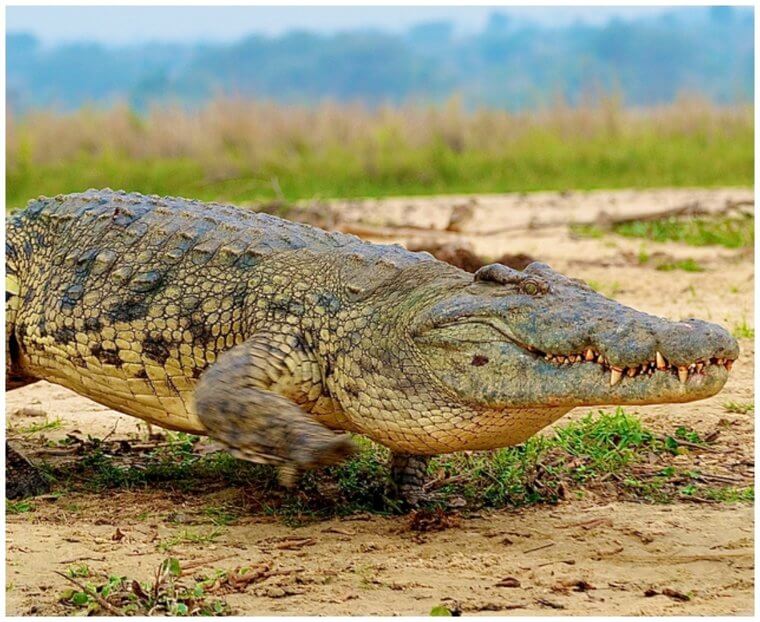 Thought to have killed over 300 people, Gustave's attacks come in waves. After he has satisfied himself in one location, he'll move on to another, meaning locals have no idea where he'll strike next. The most sinister part of Gustave's activity is that he seems to be doing it for sport rather than hunger. Victims are often left uneaten, sometimes they are simply drowned and left to float at the shallow edges of the river. Gustave just keeps killing, and growing, and striking terror into those who live and work along Africa's most famous waterway.
Tilikum: The Captive Killer
Since he was two years old, taken off the coast of Iceland in 1983, Tilikum lived in captivity, where he was displayed for the entertainment of crowds. In the three decades before his death from a bacterial infection in January 2017, Tilikum killed three times. The first and most callous kill was in 1991. Keltie Byrne, a 20-year-old marine biology student and trainer at Sealand of the Pacific, was in the tank with Tilikum and two other orcas for a show. Without warning, the creatures turned on Byrne and drowned her in front of the crowd.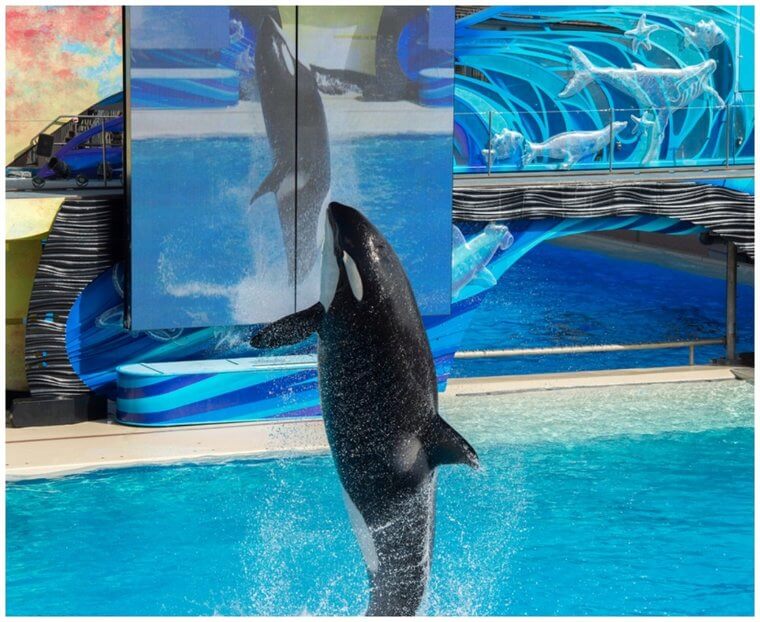 They actively prevented her from getting out of the water, blocking attempts to rescue her and dragging her back in when she reached the side of the pool. They then guarded her body so it could not be retrieved for several hours. Eight years later, at Seaworld, Orlando, the naked body of Daniel P. Dukes was found on Tilikum's back after he had snuck into the park and entered the enclosure. Finally, in February 2010, experienced trainer Dawn Brancheau met a brutal end when Tilikum dragged her into the water and attacked her, severing her spine and tearing her scalp and arm from her body.