Step into a world of cultural diversity as we unveil unique wedding attire and traditions from diverse corners of the world. From the vibrant elegance of Indian ceremonies to the cultural richness of Kenyan unions, our article explores unconventional wedding dresses and their global significance.
Pakistan
A Pakistani wedding is made up of a series of events with the bride wearing different attire for each. Because the country is made up of several ethnic communities, the style and design of the ceremony gown will differ from region to region. Even so, they all have one thing in common, color!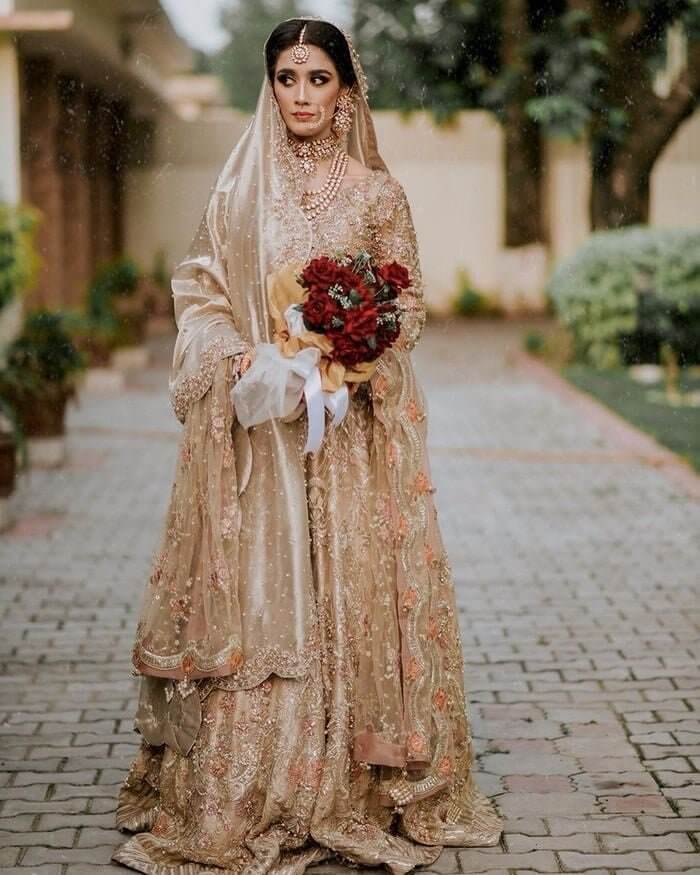 While past generations wore simple dresses which they passed down to their sisters or daughters, today, Pakistani women are choosing designer ensembles that are just plain fabulous. Brides often wear hues of gold, yellow, purple, pink, or red, depending on their preference and skin tone. The outfit includes flowy pants called salwar and an elaborately embroidered tunic called a gharara. The ensemble is then decorated with jeweled accents from head to toe. Simply stunning!
Malaysia
Malaysia is also made up of different ethnicities with varying religious beliefs. Even so, their weddings are usually a grand affair full of color and fascinating traditions. When a couple in love wants to take the plunge, there are three stages to the event. First is the Merisik, or asking for the hand of the bride, then the Akad Nikah, or wedding ceremony, and last is Bersanding, the wedding reception.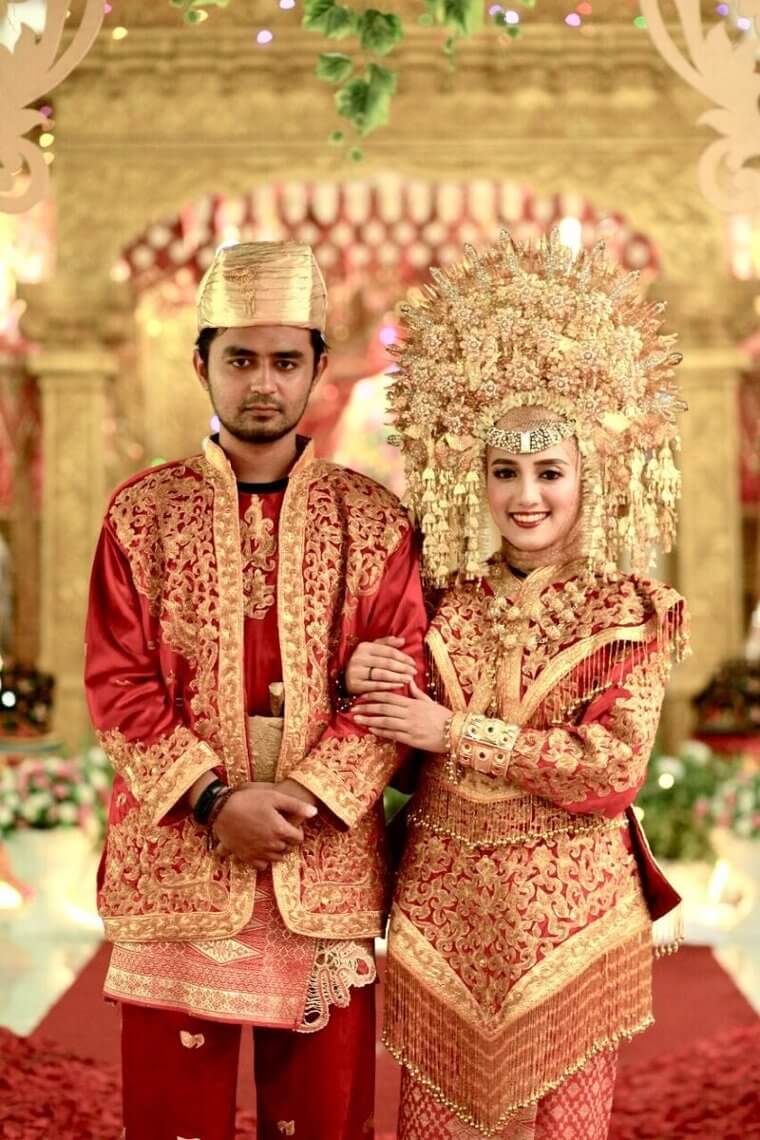 The highlight of the bridal attire in Malaysia is the crown, which symbolically illustrates the woman's importance in the sacred ceremony. Depending on their religion, some brides wear a tudung or hijab to cover their hair for modesty. The wedding gown includes an intricately laced long-sleeved blouse with a complimentary sarong made from delicately embroidered fabric. And last but not least, the entire ensemble is accessorized with jewels.
Nigeria
Like numerous other cultures throughout the globe, Nigerian weddings celebrate the joining of two families as well as the love between the happy couple. The festivities are filled with bright, beautiful colors, stunning decor, unique attire, and, best of all, a feast fit for a king.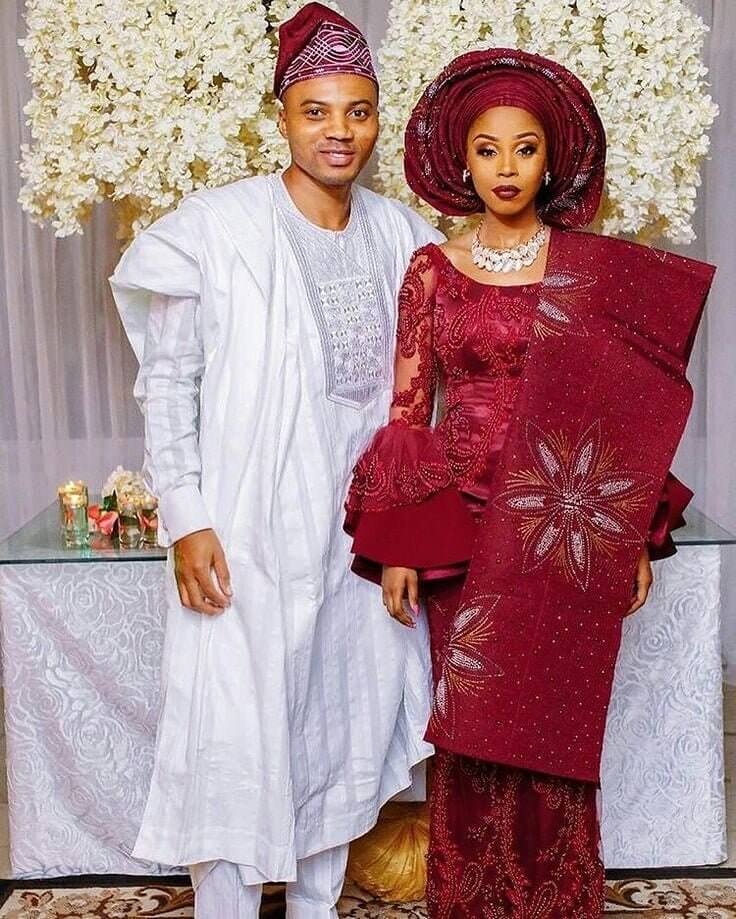 While each ethnic culture in Nigeria has its own special traditions when it comes to marriage, the marital practices of the Yoruba tribe are possibly the most well-known. A Yoruba bride's ensemble includes five separate pieces; a long-sleeved blouse made of lace, a wrap around the waist, a sash, a scarf, and a veil. The fabric for the majority of these pieces is referred to as Aso Oke, a carefully woven material used to demonstrate superior taste. Again, this is another culture that embraces color to celebrate the milestone of marriage.
Philippines
Traditionally, Filipino weddings also celebrate the merging of two families through marriage rather than just the union of the bride and groom. To pay tribute to their heritage and their strong family bond, the festivities include traditional attire such as the Barong and Filipiniana and longstanding customs like the Tinikiling folk dance.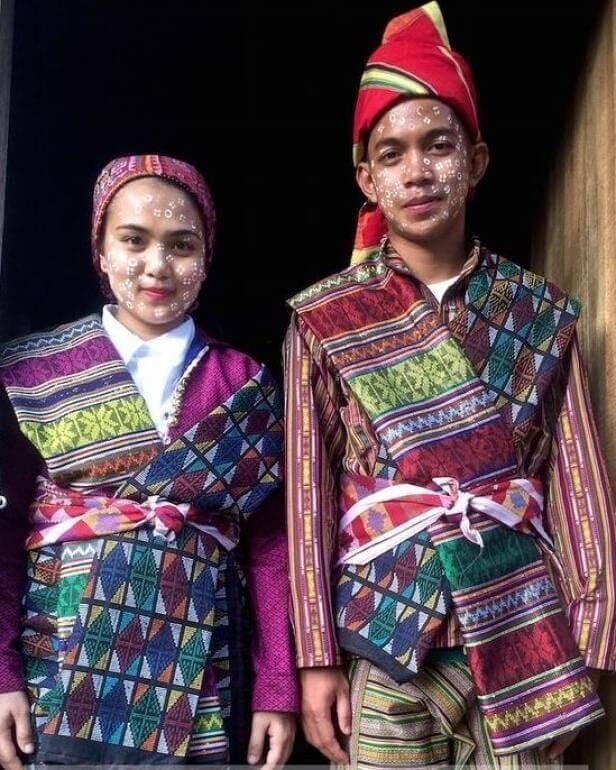 Depending on the area of the Philippines, weddings can mimic the typical western style of the United States, the traditional Filipino style of their ancestors, or an impressive fusion of both. For the Yakan women located in the south, their wedding attire is more traditional, with geometrical shapes woven into the fabric of the dress, pants, and headdress. Instead of jewels, the bride and groom's faces are decorated with diamonds and circles made from a bamboo and flour concoction.
Korea
Though Western wedding influences have made their way to Korea over the last few decades, their ceremonies remain a colorful and traditional affair full of symbolic rites and respectful practices. The color scheme of the venue and the attire are symbolic of the "Taeguk," or "Eum-yang," also known as yin and yang. Typically the bride and groom will wear opposite yet complementary colors to symbolize their union.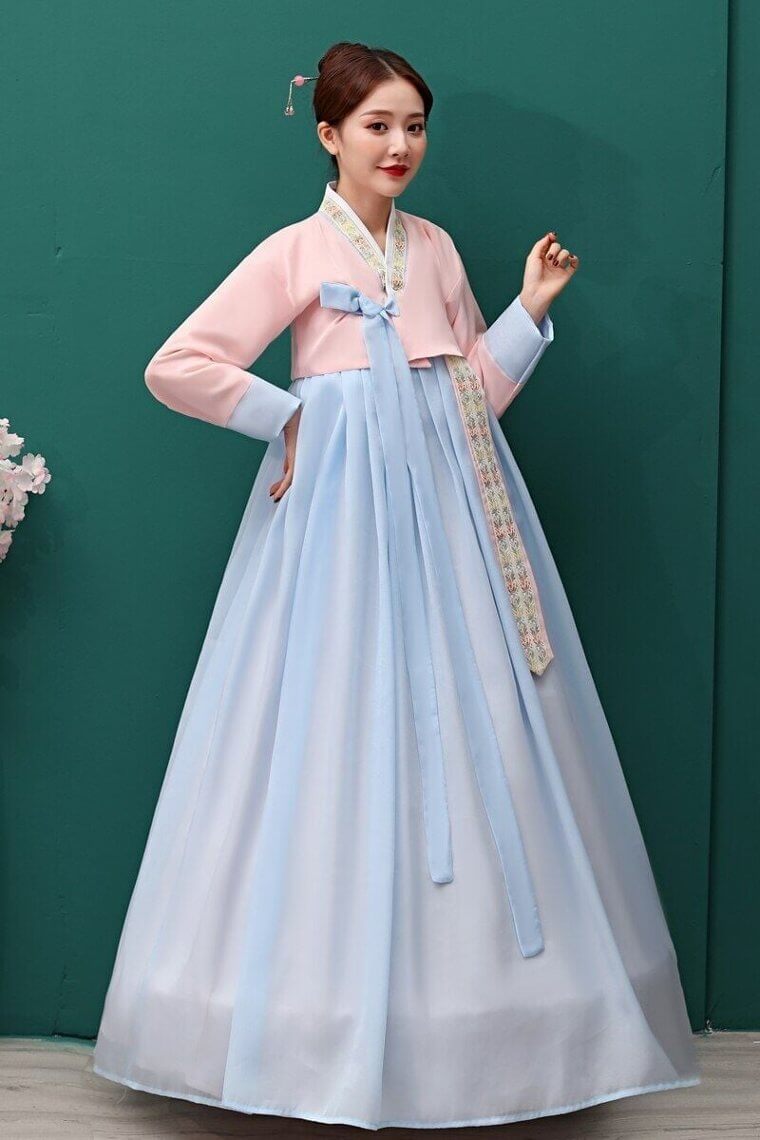 As for the bride's attire, she has three traditional routes from which to choose. The hanbok is a full-length, traditional gown made from silk. For a more formal look, she may combine a Wonsom, a delicately embroidered blouse, or a Jeogori, a long-sleeved cropped blouse, with a full-length skirt called a Chima. No matter what style they choose, the most popular colors for Korean brides are a combination of purple and pink.
Mongolia
Though some choose the modern wedding route in Mongolia, the traditional ceremony sounds like a lot more fun. In the countryside, the festivities last for three to four days and include singing, dancing, joke-telling, as well as lots of hearty meals and libations. There are no wedding vows involved, instead, the groom's father wishes the couple his heartfelt congratulations while the bride's papa gives a speech full of marital advice.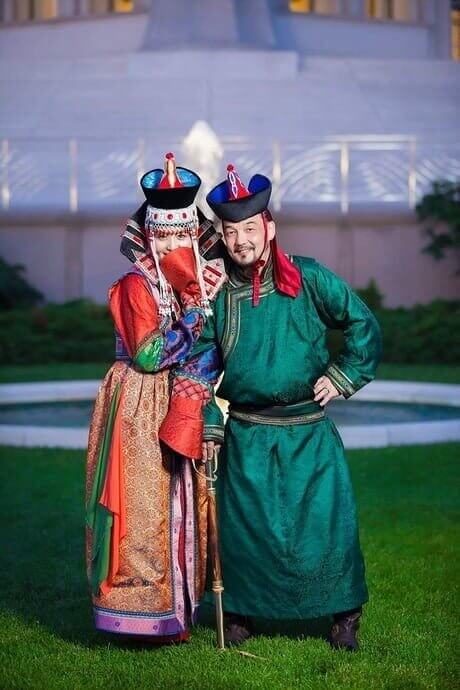 Both the bride and groom dress in traditional clothing referred to as Del. Made from cotton with intricate silk patterns, the groom chooses darker shades of fabric while the bride stands out in lighter and more noticeable vibrant colors.
India
While Indian weddings are famous for their vibrant colors, elaborate dancing, and delicious food, when it boils down to it, the bride is the star of the show. Like a Bollywood sensation, the glamour she exudes captures every guest's focus throughout the duration of the festivities.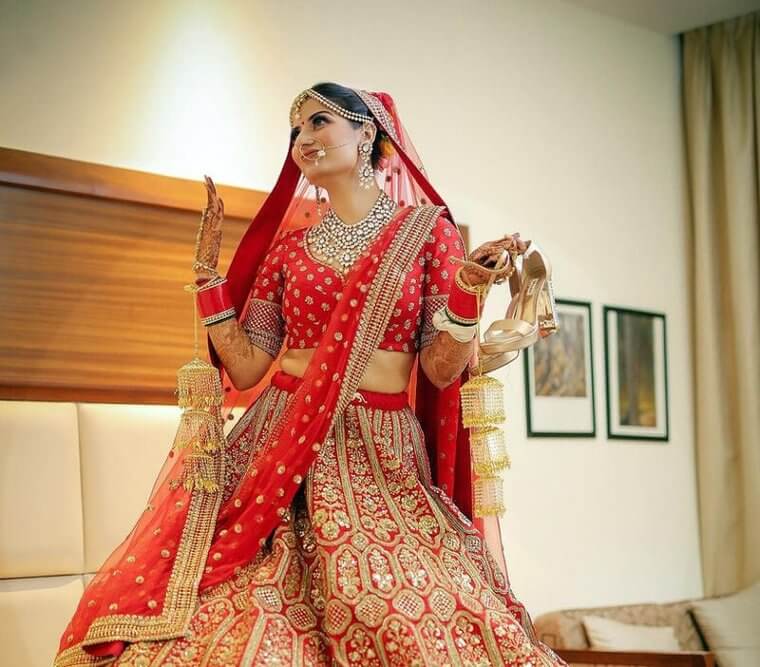 Though the bride is decorated literally from head to toe, the whole ensemble begins with a Bridal Saree ornamented with intricate designs of gold embroidery. The color of the saree is chosen based on its meaning, with red symbolizing strength, yellow prosperity, and green a new birth. Her hands and feet are covered with decorative body art known as Mehndi before she is wrapped in jewelry from head to toe. For the finishing touch, the bride places a Bindi above each eyebrow, leaving the space between them open for the red vermilion from her groom, symbolizing their union.
Japan
Though Christian weddings are becoming more popular in Japanese culture, most couples who go that route have a traditional Shinto ceremony as well. Because the ceremony is held at a shrine, the guest list is limited to the immediate family, with other loved ones joining the celebration at the reception. The Shinto priest performs a purification ritual that includes an exchange of saki between the couple while items such as fruits and vegetables are left as an offering.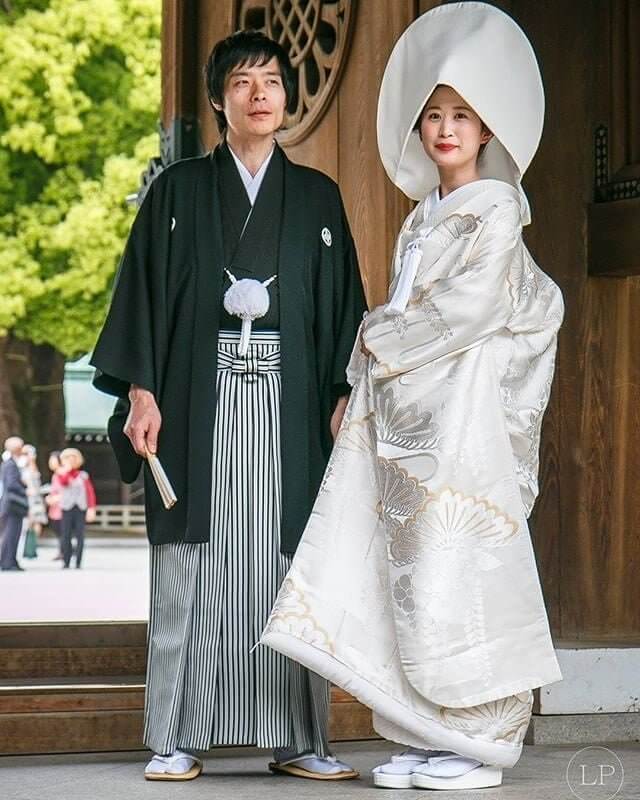 Both the bride and the groom wear the traditional wedding kimono called Uchikake; however, the woman's outfit also includes a large white headdress. As in the US, the white symbolizes purity, but in Japan, it also represents her willingness to adopt her husband's values. The headpiece is quite large so that it can masquerade the bride's "horns" as a symbol of submission.
Peru
While parts of Peru have also adopted the western traditions of matrimony, the smaller towns in the countryside still throw weddings the "old-fashioned" way. The highlight of the day is the decor of the venue; both the reception and ceremony site are embellished with color, color, and more color. Music is also a must; large bands or orchestras play throughout the event and well into the night. The ceremony consists of many blessings as well as an ancestor's speech reminding the newlyweds of their marital responsibilities.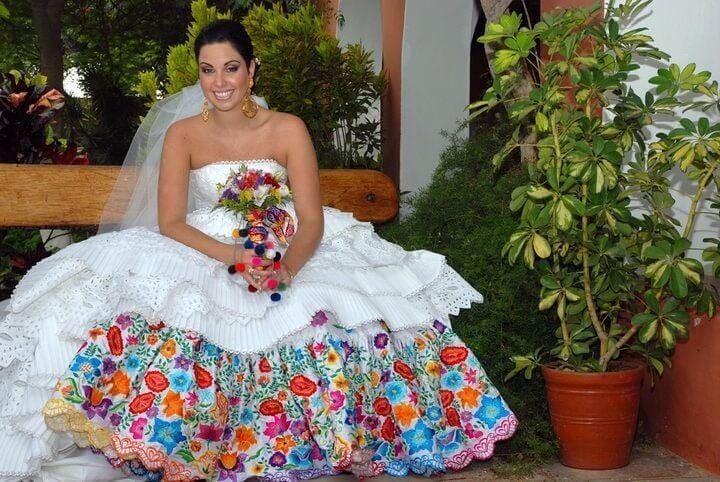 Just like the venue, the Peruvian wedding dress also includes vibrant colors. The gown is made up of several layers of colorful skirts embroidered with colorful geometric designs. The unique patterns and vibrant design are made specifically to coordinate with the groom's hand-crafted poncho.
Indonesia
Considering Indonesia is comprised of 17,000 islands with six official religions and 300 vastly different cultures, we would have to write a book to cover the entire country's wedding traditions. So, for today's article, we will concentrate on the ethnic group with the largest population, the Javanese. Traditionally, a Javanese wedding ritual happens in three parts, Siraman, Midoreni, and the actual ceremony.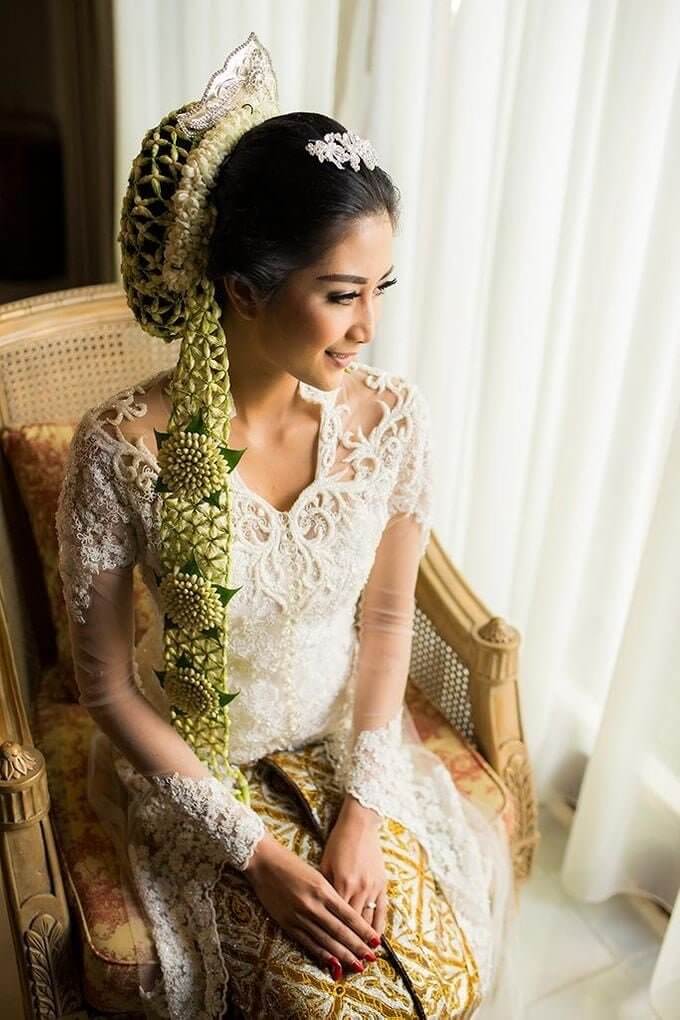 As in most countries, these traditions focus on the bride. On the first day, she is bathed in scented water surrounded by the females in her family. On the second day, the bride is kept inside the home, where she greets her loved ones offering her good wishes. She prepares for the ceremony on the final day, dressing in delicate batik fabric adorned with gold embroidery and jewels perfect for overlaying fitted pants and a lace blouse. 
Ghana
A traditional Ghanaian wedding celebrates the union of the bride and groom and the merging of their two tribes, so it is no surprise that it can seem like a royal affair. The ceremony begins with playful negotiations from both sides, ultimately resulting in the head of the bride's clan agreeing to the marriage. Gifts from the groom's family, such as expensive cloth, jewelry, and money, are then presented to the bride's tribe. As a final test, a group of masqueraded women parades around the groom to ensure he knows his one true love.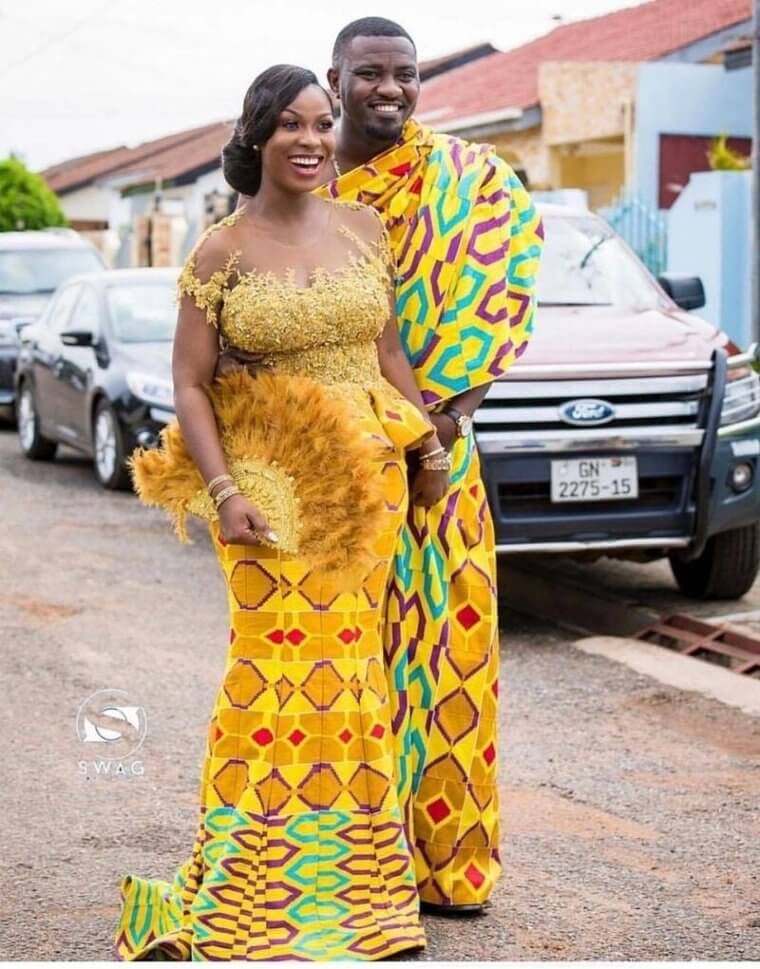 The bride is the last to enter the ceremony and is dressed like a queen dripping in gold. To honor their rich culture, both the bride and the groom wear brightly colored Kente cloth adorned with gold lace and beading. Of course, the bride also accessorizes her gown with unique gold jewelry and regalia.
Poland
Polish weddings are all about celebrating the happy couple while incorporating traditions and abiding by superstitions to ensure they have a long and happy life together. The festivities include the ceremony held in a church, the reception immediately following, and the next-day party that typically lasts three to four days instead. The four-day extravaganza is filled with tons of food, Polish wedding dances, mysterious rituals, lots of libations, and traditional games.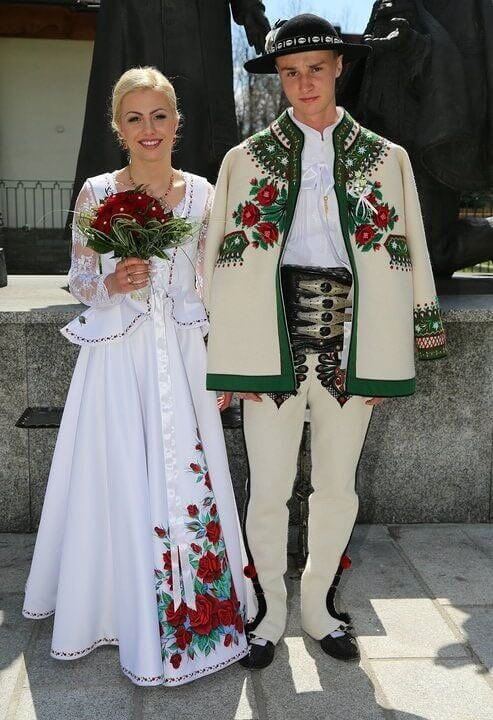 Brides in Poland do wear white gowns; however, they are typically embellished with colorful embroidered flowers that match the groom's coat. Instead of a long lacey veil, they wear a Welon or colorful scarf tied over their hair. While the dress and scarf are essential, the most crucial part of the bride's ensemble is their shoes. Superstition dictates that open-toed shoes at a wedding will allow their future wealth to escape.
Afghanistan
In the Afghan culture, weddings are usually elaborate affairs held at top-notch venues filled with flowers, music, food, and, of course, family and friends. Religious couples often practice the nikah ceremony where the bride and groom are separated and asked if they accept one another as their husband and wife. Once they both agree, the ceremony commences.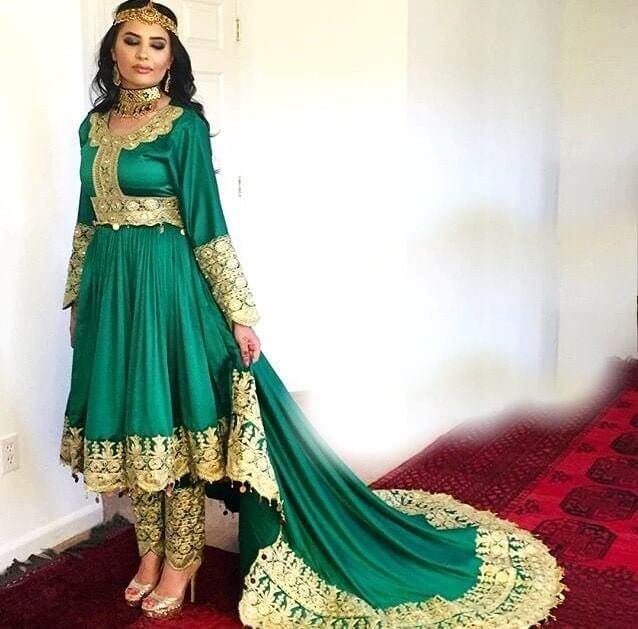 The women in the culture may choose between a red or a green dress made of expensive imported fabrics. Typically, an Afghan bride chooses green as it not only symbolizes wealth and good fortune but also is reminiscent of the vast fields surrounding the country. The fabric of the gown is usually silk with gold embellishments along the edges. The bride wears gold jewelry, delicate scarves, and jasmine flowers in their hair to make the ensemble complete.
Yemen
Though weddings in Yemen are filled with guests, the ritual before the ceremony is much more intimate. The females of the family gather at the bride's home, singing a song called Don't Cry Child to lure her away from her parents. While that may sound sad, the Yemenite people are innately happy, so the tradition brings much joy to all involved.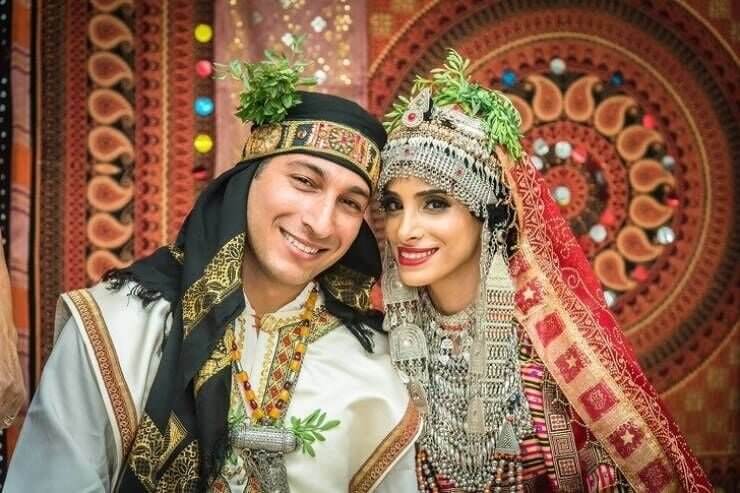 The bride's wedding rituals last for five days. On the first, the bride welcomes guests who arrive, offering roses. She is bathed in the rose water on the second day to prepare for her henna treatment the following day. Lastly, she is fashioned with an ornate headpiece called a Gargush made from vibrant red and gold beading, symbolizing fertility and good fortune. Along with the elaborate headdress, the bride is adorned with numerous necklaces. She is now ready for the fifth day, her wedding.
Tibet
While arranged marriages are becoming a thing of the past in Tibet, the traditional customs are still alive and well. After a period of courtship, permission to marry a woman must be gained from the family by the prospective groom. Once the union has been approved, gifts are presented to the bride-to-be's family. The couple is separated the day before the wedding while the monks pray to banish any bad luck. Once the ceremony begins, guests bless the bride and groom with scarves called Khatags and offer performances to bring them good luck.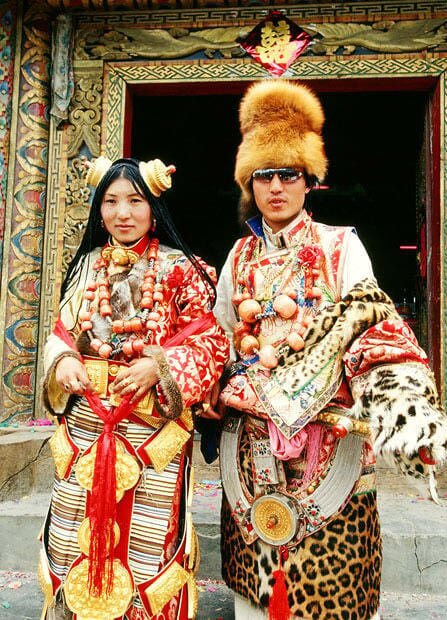 The wedding attire for a Tibetan bride is made up of layers of ornate wool topped with colorful aprons or a decorative robe. Per another unique tradition, the bride's clothing, hair ornaments, and robes are provided by the groom's family.
China
While western brides traditionally wear white as a symbol of purity, women in China choose a mixture of red and gold for their gowns and decor. Why, you ask? The Chinese believe that the color red is sacred as it signifies happiness, vigor, a life full of luck, and a deterrent of evil, all beneficial to having a successful marriage. 
While brides throughout China are all dressed in red, the actual ensemble differs between the north and south. In northern China, the Qipao is a one-piece full-length gown embellished with golden embroidery in elaborate designs. Brides in the south often wear a two-piece called Qungua or QunKwa, which is also intricately designed but incorporates embroidered symbols of a phoenix, dragons, or Chinese characters. 
Kenya
Though there are several tribes in Kenya, each with its own distinct traditions, the wedding rituals of the Kikuyu are pretty entertaining. As part of the wedding practices, the groom participates in the Ngarario by visiting his bride's house with his family members by his side. As they stand outside, the Kuhua Hoti takes place. This is a tradition where the women in the groom's family sing while bearing gifts. The female members of the bride's family then respond with a song of their own.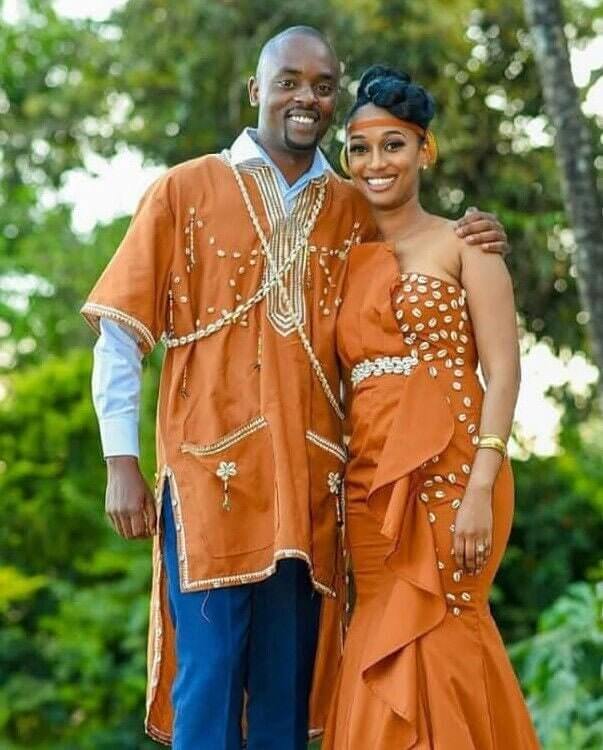 When the door is finally opened, the Gucagura muka wake is performed. This is a test where the groom must find his bride in a group of women, all dressed alike. Should he choose wrong, he is sentenced to a fine. When the ceremony takes place, both the bride and groom are dressed in cloths of brown tones embellished with shells and beads.
Norway
While Norwegian weddings are similar to those throughout the U.S and Europe, they aren't quite as elaborate. In fact, most couples opt for a small affair with a simple ceremony surrounded only by immediate family at the church or in city hall. No matter the size of the ceremony or the number of guests in attendance, brides in Norway will be wearing their traditional wedding crowns.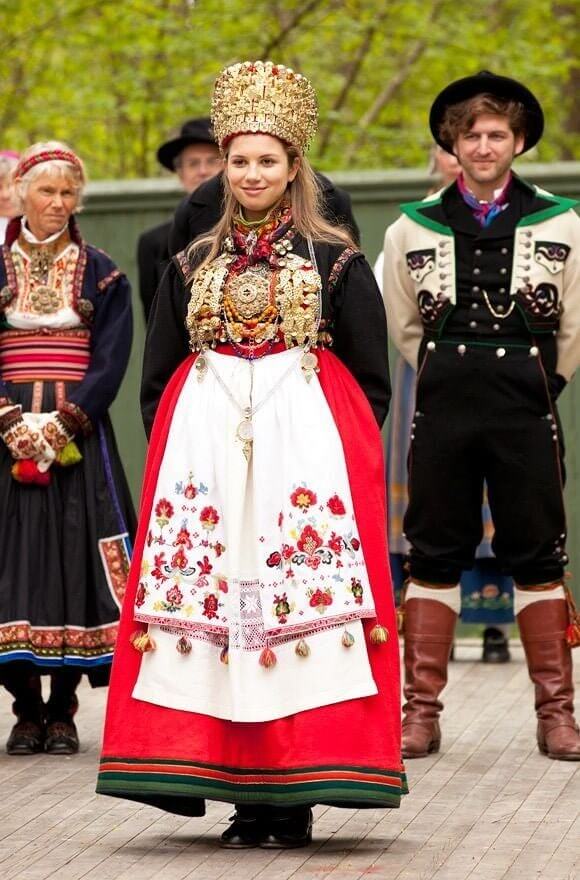 A treasured family heirloom, the wedding crown represents the bride's purity and is passed down from generation to generation. Typically made from silver, the headpiece is decorated with gold charms close enough together to make music as the bride moves. The music is believed to ward off evil spirits to ensure her future is full of happiness. In addition to her crown, the bride will wear a Bunad, a traditional Norwegian dress embellished with buckles and embroidered flowers.
Guatemala
The wedding traditions in Guatemala are a combined fusion of Latino, Hispanic, and Mayan practices. Their culture has a profound respect for the elders of the village and their religious beliefs. Because of this, their ceremonies include rituals, customs, and superstitions that have been passed down through the generations and are still respected.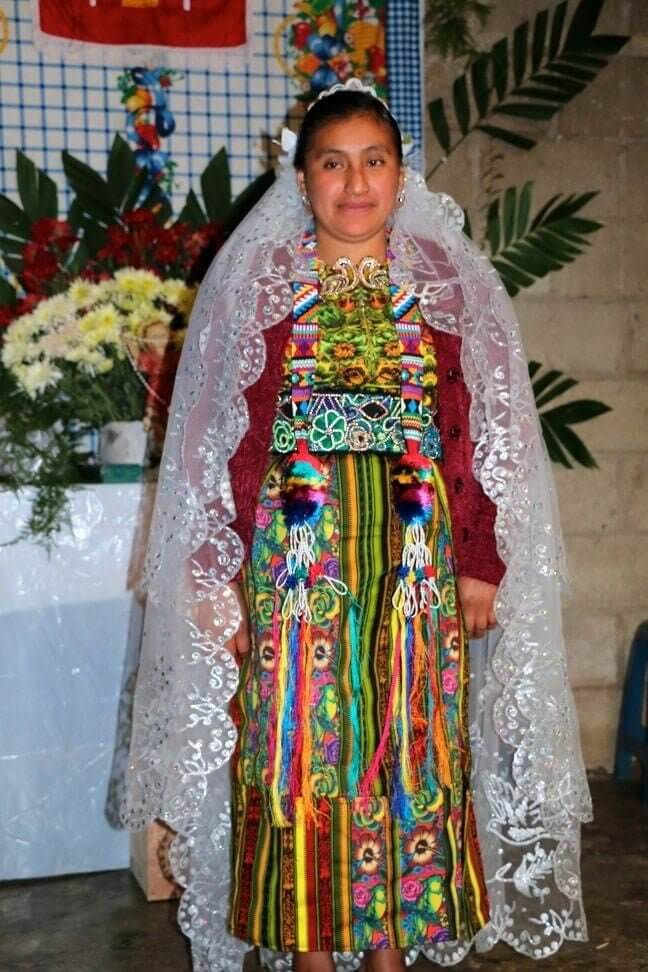 As for the brides, it is their veil that holds the most significance. While their traditional blouses and skirts are incredibly ornate and colorful, a widely believed superstitious tale surrounds the veil. For generations, it has been said that the length of a bride's veil determines how happy she will be in a marriage. This is why you will often see Guatemalan brides with veils over seven feet long.
Scotland
Aside from the beautiful and mysterious backdrop the Scottish isle provides, weddings in this country include rich traditions, folklore, and superstitions that make the occasions quite unique. Whether it be a sixpence in the bride's shoe or a sprig of white heather hidden in her bouquet, the intent of their superstitious practices is to bring the newly married couple nothing but luck.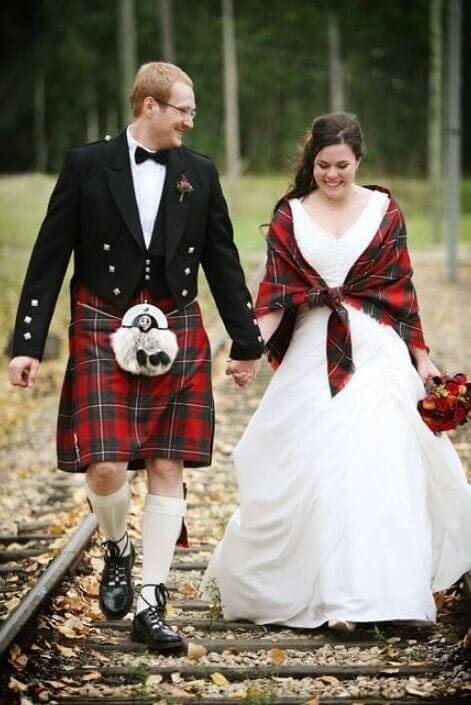 Dating back to Queen Victoria's reign, brides have traditionally worn white or cream dresses while the groom presents himself in his full Highland attire. To honor their heritage, the wedding gown will be adorned with a tartan cape, train, bow, or waistband to add a bit of the customary plaid Scottish flair. 
Angelina Jolie Went Down The Sentimental Route With Her Wedding Dress
​Angelina Jolie first met her now ex-husband, Brad Pitt on the set of Mr. & Mrs. Smith. The couple had a chemistry that no one could deny, a phenomenon everyone acknowledged after filming wrapped up. The tabloids were all over them at the time. Both Brad and Ange were at the peak of their careers, so every scoop was worth millions.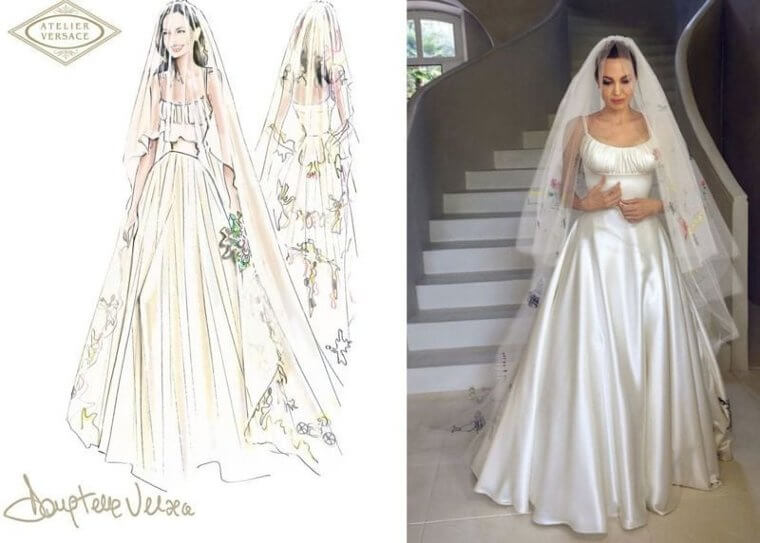 Pitt and Jolie eventually married after dating for a while, and they couldn't have picked a better venue for their wedding: the Chateau Miraval in France. Their marriage lasted nine years and, by the end of it, they had a brood of nine kids. It may be surprising for A-list celebrities like them to have a wedding ceremony with only 22 guests, but apparently, the couple was all about keeping their private lives just that: private. Jolie wore a wedding dress that served as an homage to her family as it was embroidered with illustrations made by the kids she'd already had at that time.
We Can't Take Our Eyes Off of These Celebrity Wedding Gowns
She looks amazing! These pictures of our favorite stars on their wedding day are going to make our week. Seeing them all beautiful wearing amazing wedding dresses AND truly happy... wow. Just take a look and thank us later.
Gal Gadot and Yaron Versano
These two lovebirds tied the knot back in 2008, 2 years after they met when Gal was already a known beauty in Israel, so there was a big media fuss around their wedding.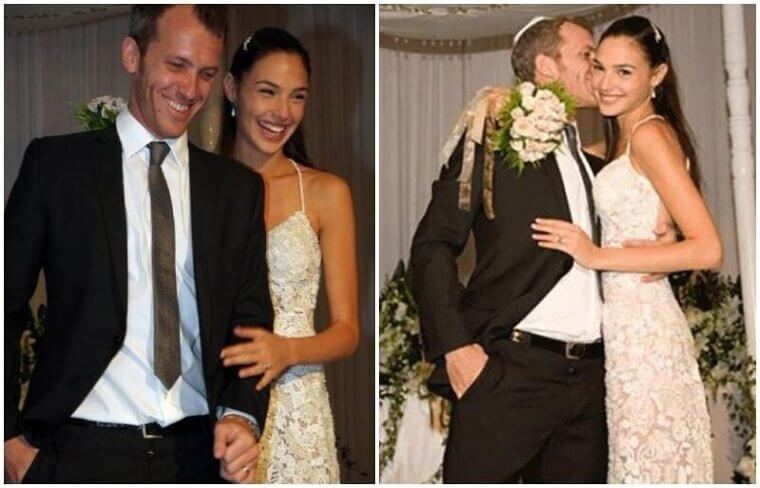 The dress was designed especially for Gal by designer Dany Mizrachi, a classic silhouette lace.
Sofia Vergara And Her Peplum Gown Showed What Colombian Curves Are All About
Sofia Vergara is one of the most beloved actresses in America. The Colombian comedic icon is best known for her role in the famous Modern Family series. She is as beautiful as she is funny, and thanks to Zuhair Murad, she became one of the most beautiful brides on this list.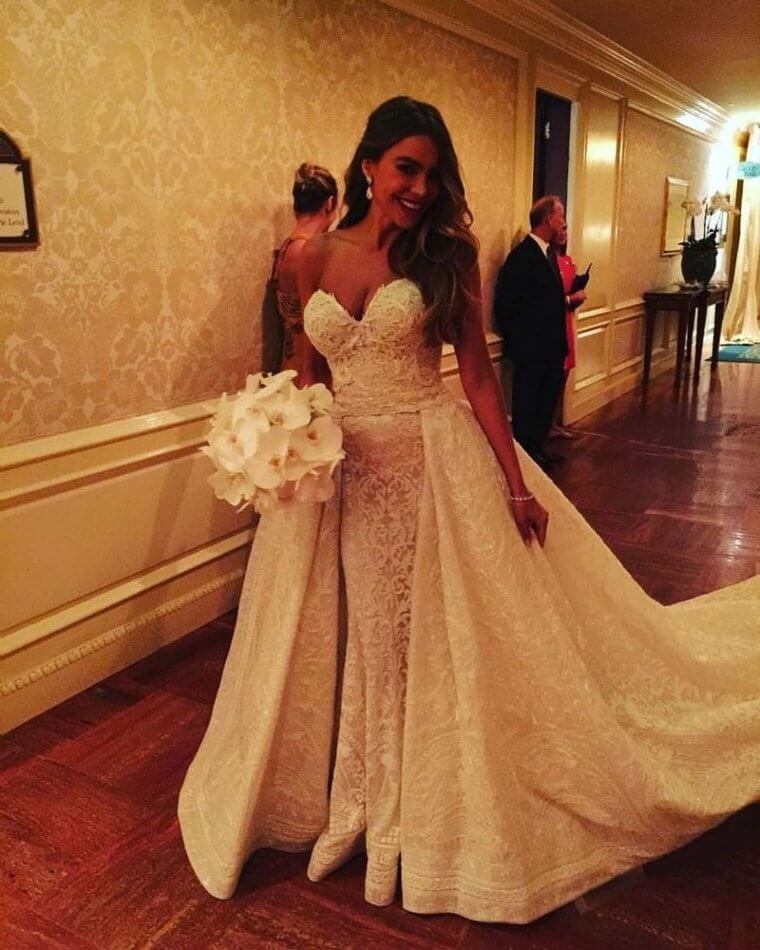 Magic Mike star Joe Manganiello married Sofia Vergara in a fairy tale wedding set up that came at an overall cost of $3 million. The venue was at the Breakers Palm Beach resort in Florida which cemented the two as a Hollywood power couple to be reckoned with.
Serena Williams Dazzled Guests With Her Wedding Dress
Serena Williams has become a household name thanks to her impressive prowess and killer instincts on the tennis court. With plenty of promotional work also under her belt, this iconic athlete has enjoyed a whole lot of limelight in her time. American kids see her as an inspiration to push for their dreams, regardless of their gender. It was quite fitting that she had a lovely wedding ceremony with successful tech giant and co-founder of Reddit, Alexis Ohanian.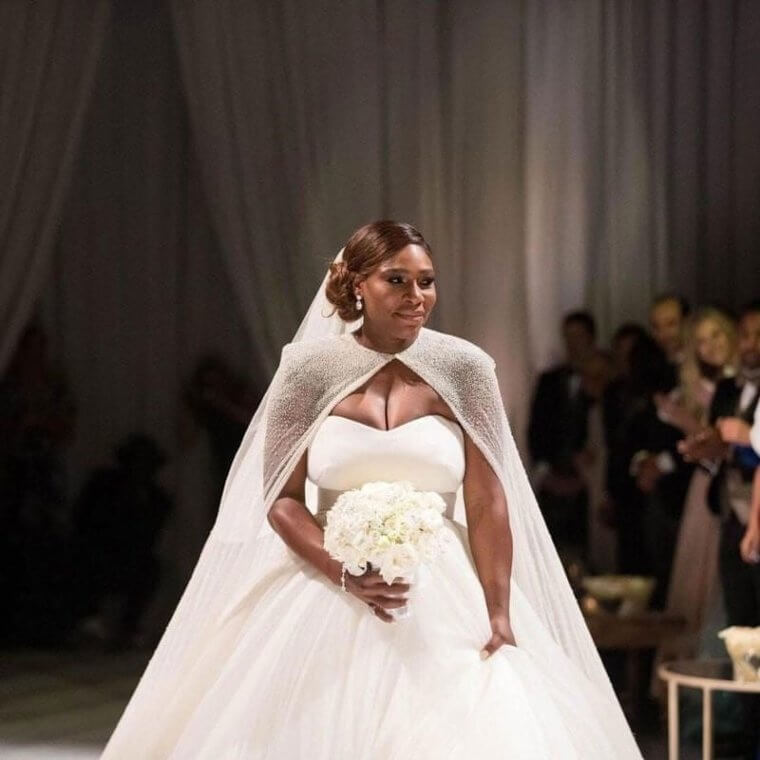 On their wedding day, Ohanian posted a picture taken from the event on his Instagram with a caption that read, "You are the greatest of all time, not just in sport – I'm talking about as a mother and as a wife. I am so excited to write so many more chapters of our fairy tale together. Moreover, my whole life, I didn't even realize it, but I was waiting for this moment."
Margot Robbie's Timeless Wedding Dress
Despite her desires for privacy, famous actress Margot Robbie is no stranger to being the center of tabloid rumors. Imagine her disappointment when a photo of her in a white gown walking down the aisle with a young usher was leaked by the media. She tried to keep her wedding out of the public eye but as she found out, Hollywood stardom comes at a price.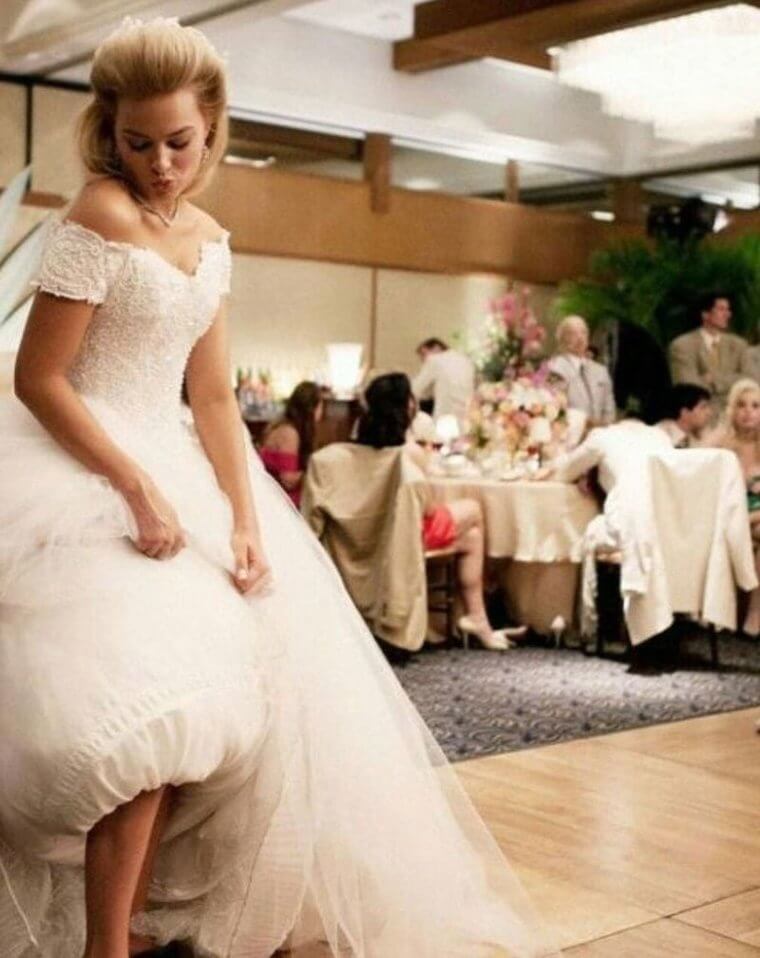 While she missed out on the privacy she was hoping for, Margot is the kind who likes to take charge of her own narrative. So, she eclipsed the leaked picture with an Instagram post showing off her beautiful gown, her stunning outdoor wedding and, of course, her charming husband.
Meghan Markle's Dress Was Nothing Short of Amazing
On May 19th, 2018, the world rejoiced when Prince Harry finally married his long-time girlfriend, Meghan Markle. Everyone wanted to see her wedding dress, and they weren't disappointed!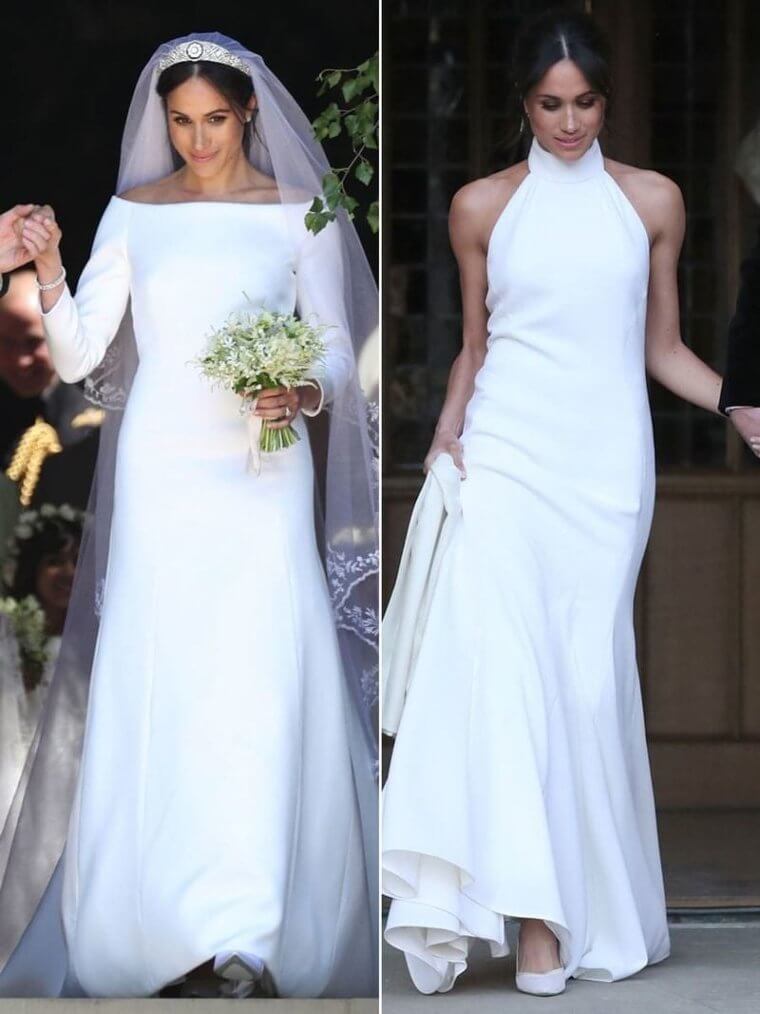 The now Duchess of Sussex wore a wedding gown designed by the first female director of the "House of Givenchy," Care Wright Keller. Nothing less was expected from an actress of Meghan's caliber, especially since she was taking her notoriety to a whole new level by marrying into the world's most powerful monarchy.
Jessica Biel Had A Flowery Affair
Jessica Biel married another 90s icon, Justin Timberlake. The couple did an amazing job of coordinating everything, bringing it to a stunningly beautiful culmination on the day of their nuptials. Biel was interviewed by Elle magazine where she went into detail about the gown and how she wanted it to create a tender, romantic silhouette like nothing anyone had ever seen her wear before.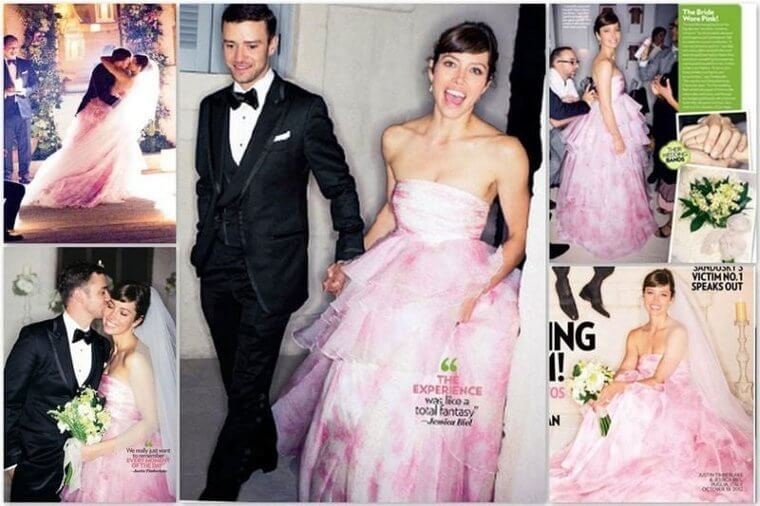 Biel's stunning wedding gown was designed by Valli. She wanted to wear a white dress at first, but the designer suggested a pink one would suit her better... and was she ever right about that!
Kate Upton Made The Right Choice With A Valentino Dress
In November of 2017, supermodel, Kate Upton, and Justin Verlander decided to tie the knot. Their wedding was a romantically dreamy Tuscan ceremony, and guests were left in awe at not just the dress, but everything.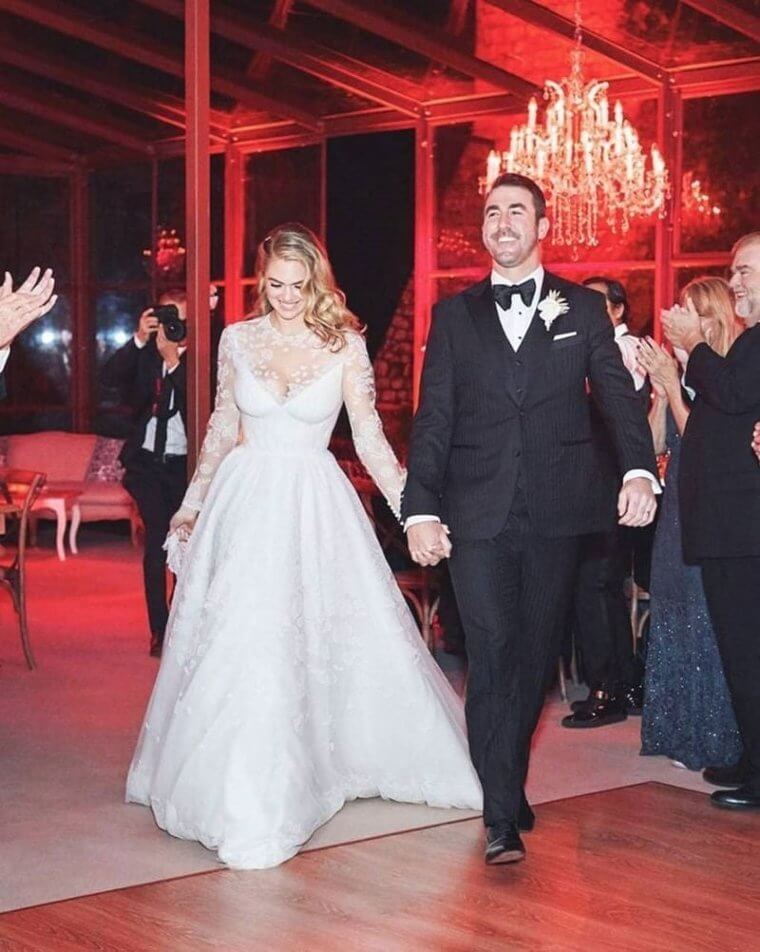 The Sports Illustrated model wore a comfortable Valentino gown. It was elegantly long-sleeved and had a long, white veil that connected to a bouquet of peach, ivory, pink, and pastel flowers.
Kate Middleton Claimed The Throne With Her Dress
Kate Middleton married her college sweetheart who also just so happened to be Prince William of Wales. It was an emotional event that will forever occupy a major space in modern British history.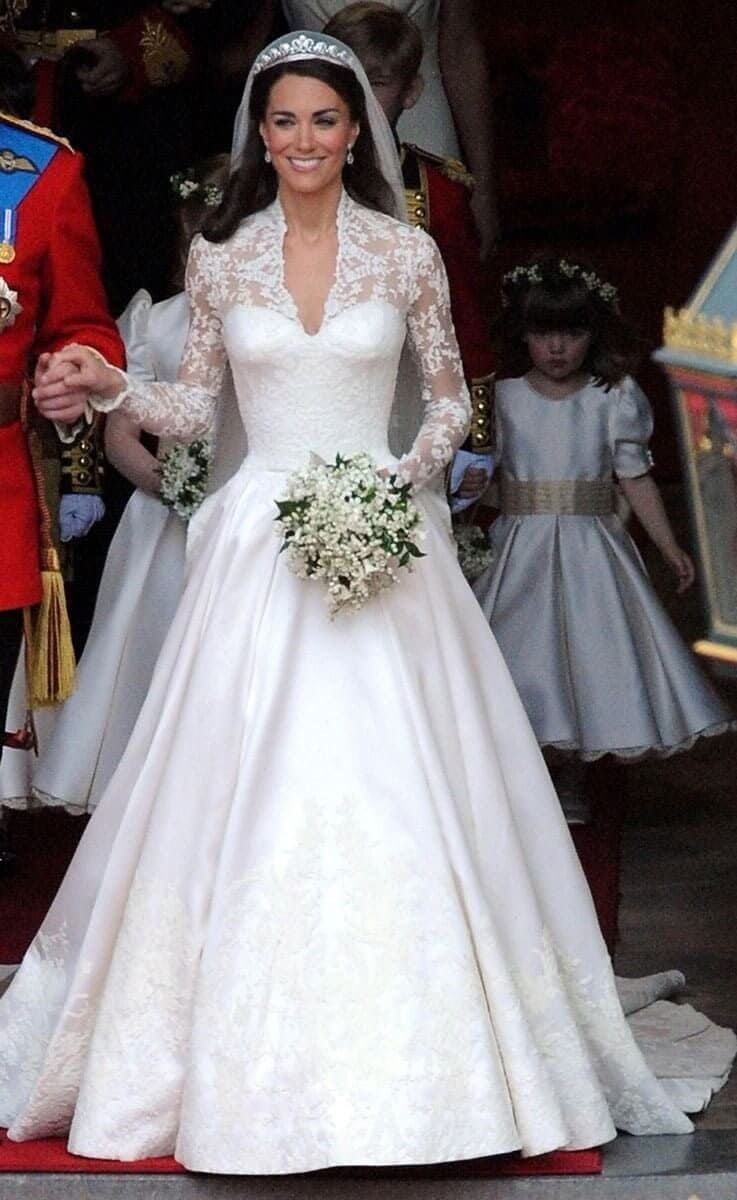 Young Prince William and his brother Harry became the topic of public conversation the moment their mother died. Princess Diana's royal funeral service was televised, and everyone saw the young princes crying tears of sadness. His wedding with Kate Middleton was watched by 2.5 billion. Talk about being the center of attention!
You Can Never Go Wrong With An All-White Gown Like What Lauren Conrad Wore
Native Californian Lauren Conrad got her first break when she starred in the hit reality show Laguna Beach. She's since developed quite the entourage, so choosing just a handful to be her bridesmaids was quite a task. In the end, she decided to do away with the decision making by just picking ten girls to be part of her bridal party.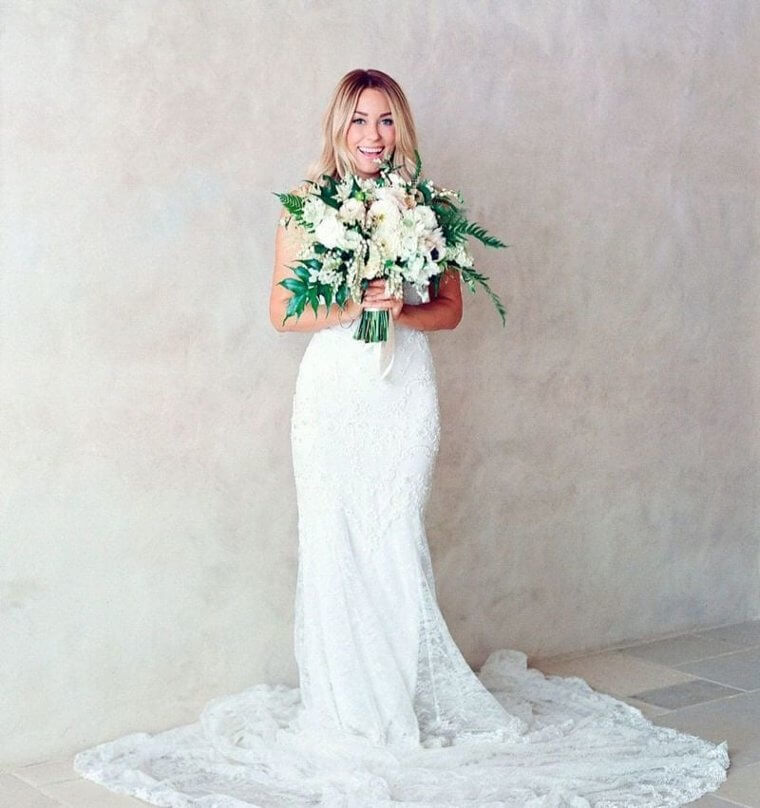 Conrad's wedding was an exquisite and touching event for her friends and family. The union of two souls is such a beautiful thing, one that certainly calls for a celebration. However, Lauren's dress was so stunning it was hard for guests to tear their eyes away from it and pay attention to the ceremony.
Amal Clooney's Off-Shoulder Gown Was EVERYTHING
Amal Alamuddin is the wife of America's most wanted bachelor of his time, George Clooney. The famous actor found his match in the successful and strong persona of Amal. Her beauty is only supplemental to the fact that she is a successful human rights lawyer from London.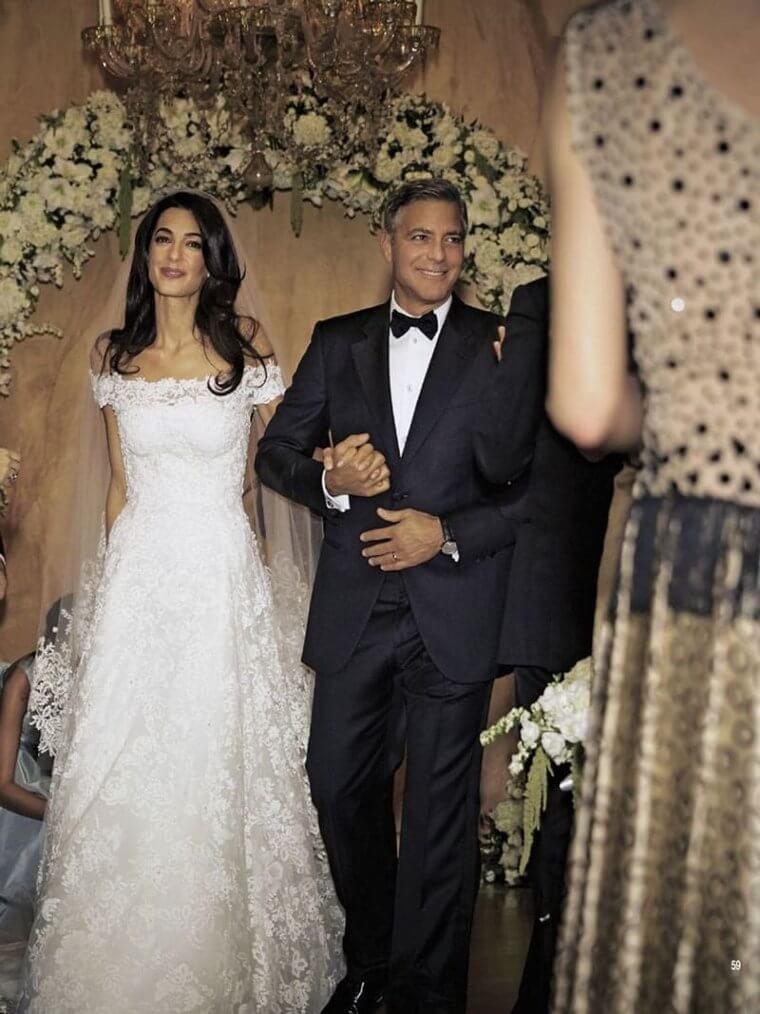 Amal and George deserve only the best, and they got just that when they married each other. On the day of their wedding, Alamuddin was wearing a wedding dress that left her guests in awe. But of course, anything that comes from Oscar de la Renta's Atelier is expected to deliver the amount of glam that Amal emanated. Her outfit change was equally stunning, taking her from the stylings of Oscar de la Renta to those of Dolce & Gabbana.
Chanel Iman Looked Like A Delicate Flower On Her Wedding Day
Contrary to popular belief, a bomb wedding can be planned in less than three months. Just look at how Chanel Iman and Sterling Shepard got married at the Beverly Hills Hotel. Their guests were star-studded, something that isn't a surprise considering Shepard is a famous football player and Iman is a supermodel.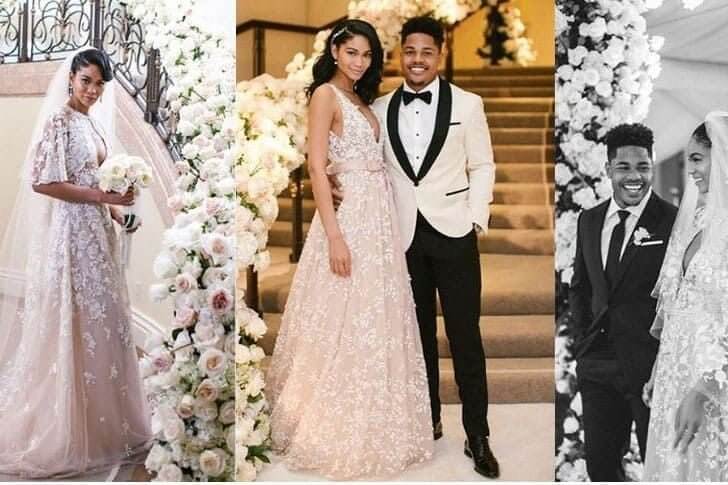 The Iman-Shepard wedding ceremony featured guests like Chrissy Teigen, Gabrielle Union, Odell Beckham Jr, Tiffany Haddish, Eli Manning, and Shanina Shaik. Chanel's wedding gown was created by the legendary Zuhair Murad and was trail-less.
Nicky Hilton Wearing A Valentino Haute Couture Gown
In 2015, Nicky Hilton was married to James Rothschild at The Orangery, a sanctuary that can be found in the Kensington Palace Gardens of London, England. She walked down the aisle in a Valentino Haute Couture gown that looked impossibly beautiful. Considering its $77,000 price tag, you'd sure be hoping for impossible perfection!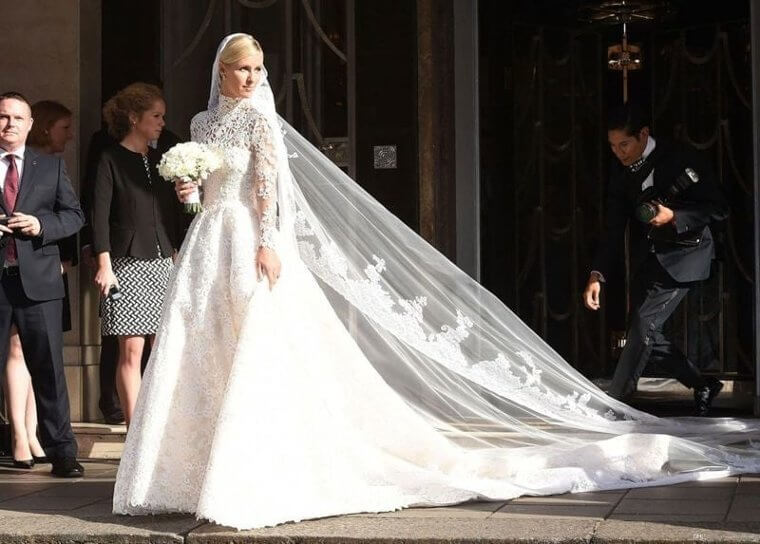 Being the sister of Paris Hilton and heir to the Hilton Hotel empire, Nicky didn't hold back on her wedding. While Nicky is already a power player, her husband is a member of the famed and wealthy Rothschild family, known for their vast finances and many philanthropic contributions to the world.
Ciara In Her Purest Form
R&B Singer Ciara and husband, Russell Wilson of the Seattle Seahawks, are a force to be reckoned with. The power couple chose to exchange their wedding vows at the beautiful pond of Peckforton Castle in Cheshire, England. They gave their loved ones a wonderfully memorable time thanks to their excellent wedding planning skills. Can you imagine the amount of stress and resources needed to fly in more than 100 guests for a wedding?
Ciara wore an Haute Couture gown adorned with lovely lace appliques, designed by high-end maestro Roberto Cavalli no less. The couple's adorable ring bearer was Ciara's beloved son, Future Zahir. The whole event was nothing short of amazing, and the photos of the enchanting union are here to prove it.
Renee Zellweger's Minimalist Wedding Felt Like The Humblest And Realest Wedding Ceremony Ever
Renee Zellweger and her husband, Kenny Chesney, knew that a wedding should be more about the feelings and commitment they shared than the wow factor. So they held a minimalist beach wedding as a nod to modern trends.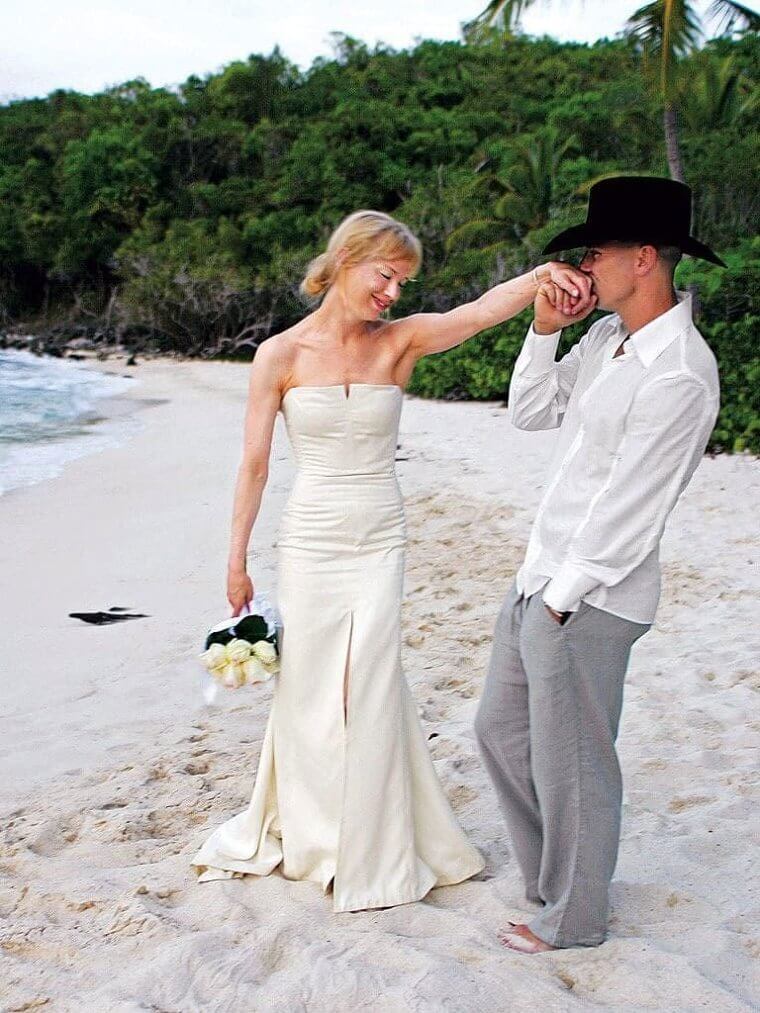 Caroline Herrera was the creative mind behind her jaw-dropping gown, and the designer truly did deliver. Herrera designs clothes for many famous celebrities, including Jessica Simpson and Idina Menzel. As it turns out, the dress Zellweger wore during her wedding had a more lasting impression than the marriage itself. Just four months after exchanging their vows, the couple had already filed for divorce.
Shenae Grimes Broke The Mold By Wearing Something Different
In the year 2013, Shenae Grimes tied the knot with Josh Beech, her long-term boyfriend. Both were enjoying their first flush of fame thanks to their parts in the renowned TV series, 90210. They decided to shake things up by going for a black dress rather than the traditional white; a bold move overseen by Vera Wang no less.
For Shenae, wearing a white dress on your wedding day was too mainstream, so she opted for the exact opposite. What's more surprising is that despite the prevalence of celebrity break-ups, the Beech-Grimes marriage still grows stronger every day.
Miranda Kerr Looked Like How Everyone Expected Her To Look On Her Wedding Day: PERFECT
Miranda Kerr is one of the most beautiful faces of Victoria's Secret, and that's saying a lot! She married the founder and CEO of Snapchat, Evan Spiegel. On their wedding day, Miranda strode elegantly down the aisle in a couture gown by Dior.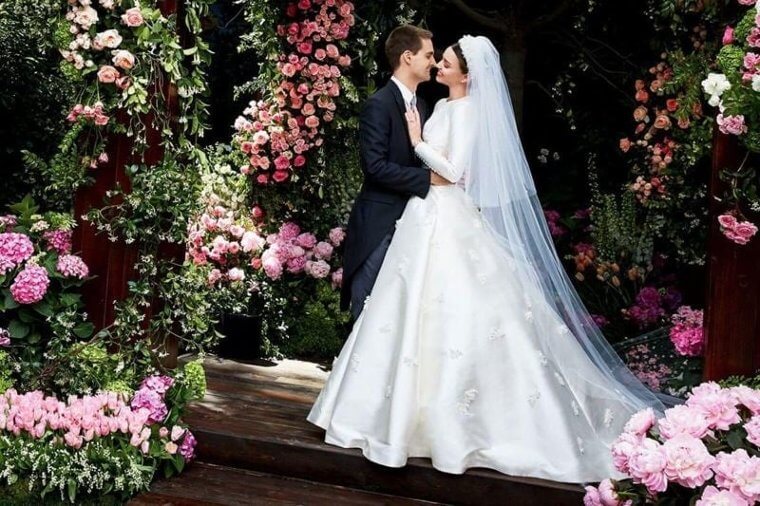 While this wasn't Miranda's first wedding – she also tied the knot with Hollywood actor, Orlando Bloom – we're hoping it'll be so happy that it's her last. The Kerr-Spiegel wedding was quite discrete, held at a family venue in LA, with only 45 guests present.
Ashley Tisdale Was the Hipster We've Always Wanted to Be On Her Wedding Day
Ashley Tisdale's most significant break came when she starred on the hit TV Disney Show, High School Musical. From here, her career went from strength to strength until she eventually scored a spot as one of Maxim magazine's most stunning celebrities in the world.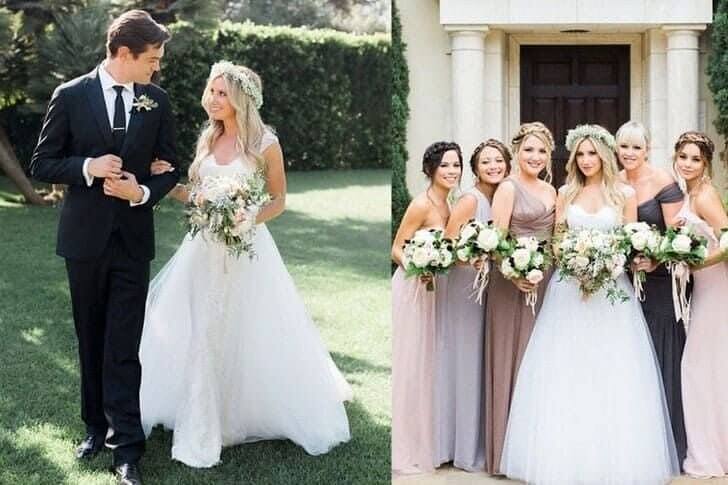 Tisdale ended up marrying musician, Christopher French. Their wedding was overflowing with celebrities including High School Musical co-star, Vanessa Hudgens, who was one of the bridesmaids. The couple opted for a simple ceremony, hosting the event at their private home located in Santa Barbara, California.
Kaley Cuoco's Caped Wedding Gown Had the Most Intricate Details
The actress who played the iconic role of Penny in the hit series, The Big Bang Theory took a unique path in the selection of her wedding dress. Kaley Cuoco shot to fame as the cute and hilarious neighbor of the Big Bang Theory gang.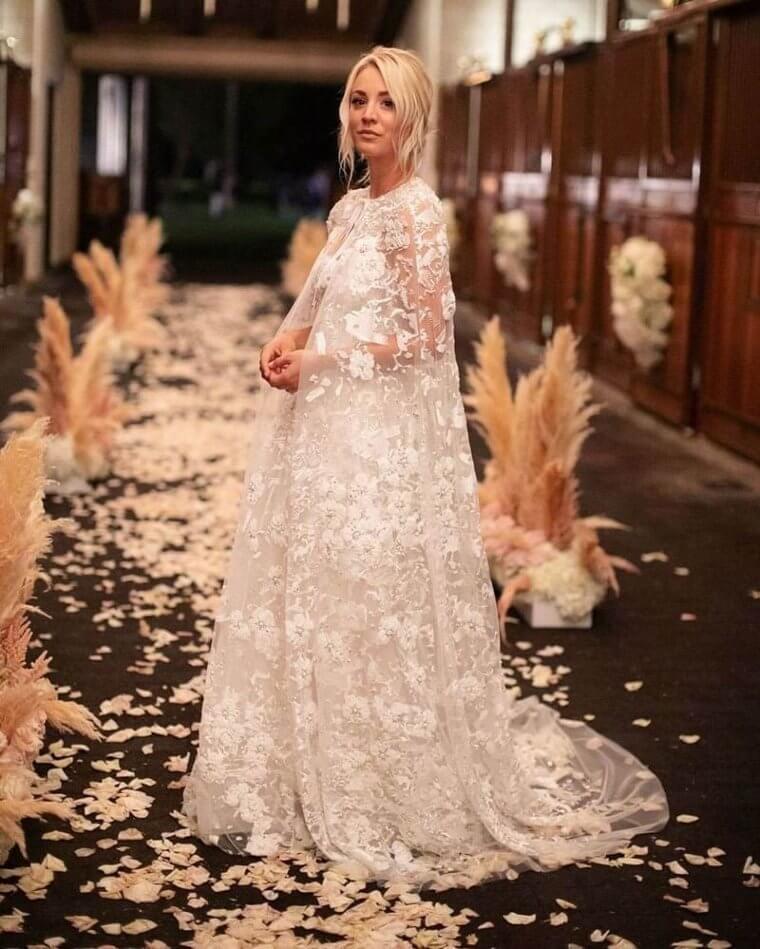 Cuoco admits to being in love with her role because it helped her catch that big break all aspiring actresses crave. Thanks to the show, she was able to buy a 1920s inspired wedding gown by one of the best designers out there, Reem Acra. You go, Kaley!
Everyone Expected Kim Kardashian to Wear a Stunning Dress, And They Were Right
The marriage of Kim Kardashian and Kanye West is arguably the most controversial and trending union to ever grace America. Considering their vast differences, it's amazing and impressive that they've been able to find common ground and form such a strong bond.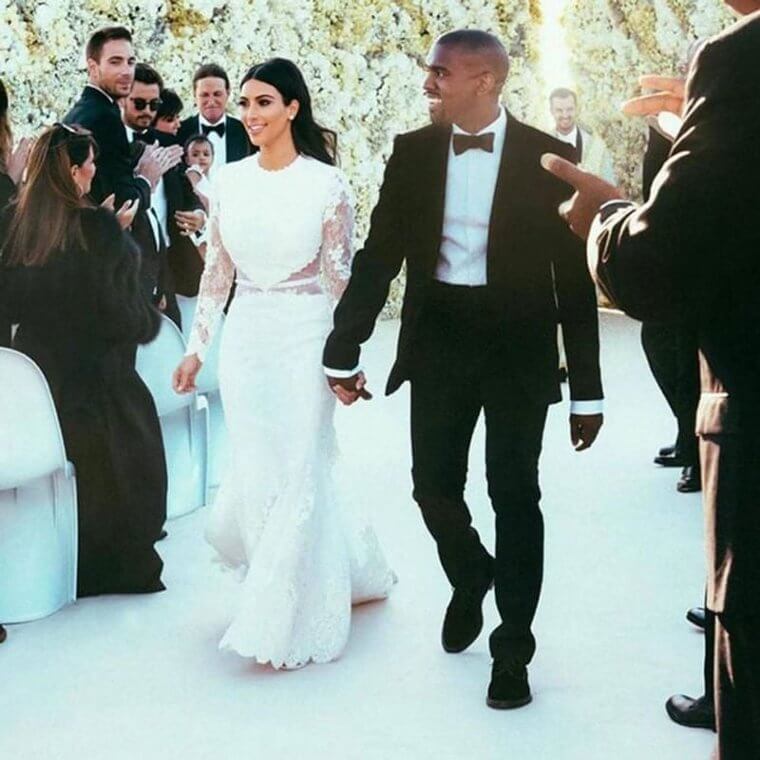 Kim and Kanye were both independently rich and famous at this point, meaning they had plenty of money to throw at the wedding and an impressive list of A-list celebrities to invite. The two didn't hold back either with their wedding costs rocketing to a shocking $10,000,000. Among the monumental expenses was a gorgeous gown designed by Vera Wang.
Gwen Stefani's Iconic Pink Gown
Gwen Stefani isn't just a fashion legend; she's also known for being a Punk & Ska icon. Her fashion sense has always been unique and bold, something that's not surprising given that she embodies the quintessential aura of a strong woman. While she may be an icon of strength and independence, that didn't stop her from falling in love with British Rocker, Gavin Rossdale.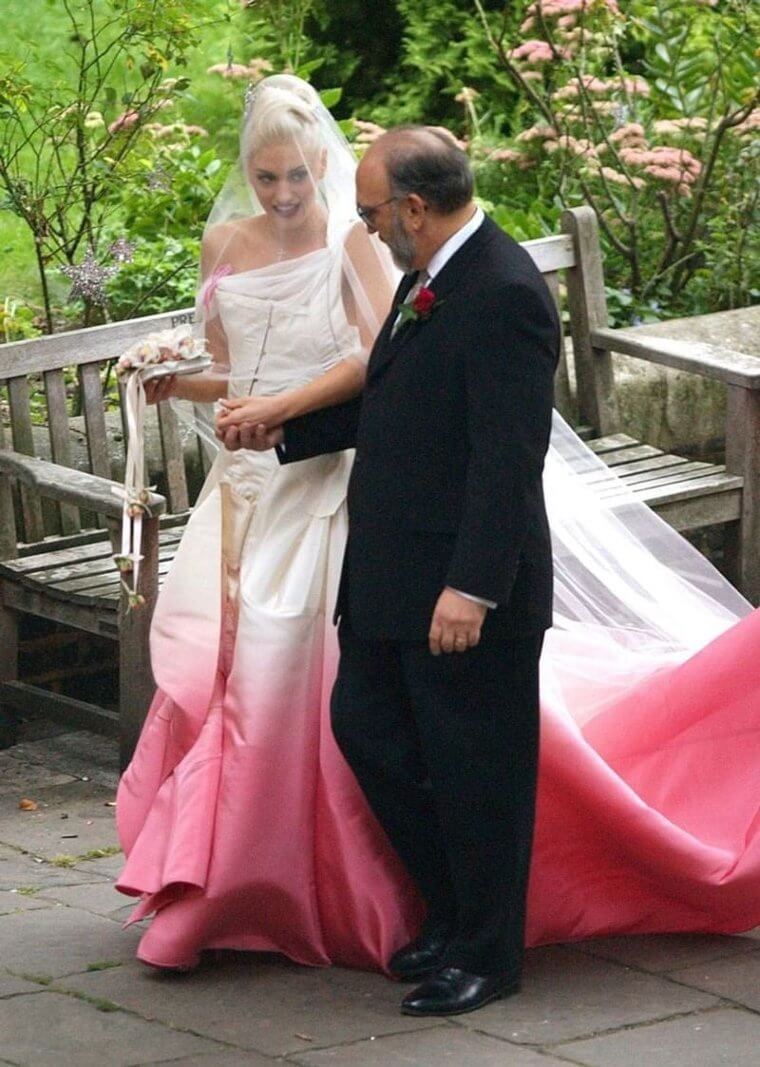 Their love for each other gave them three children. However, the pair went their separate ways in a split that was hard on Stefani, her family, and her fans. While they've never permanently reconciled, the 20 years they spent together were full of beautiful memories; and at least Gwen got the chance to slay in that stunning pink wedding dress!
Lara Stone Proved That Looking Sexy And Ethereal Is Possible
When the beautiful Lara Stone tied the knot in 2010 with famous British comedian, David Walliams, her guests bore witness to what was arguably the best wedding of their lives. The event happened at Claridge's, and Lara's wedding gown was designed by the phenomenal Riccardo Tisci, who is her good friend. The newlyweds actually indulged in a few outfit changes with the photo below showing off Lara's second Riccardo Tisci for Givenchy dress.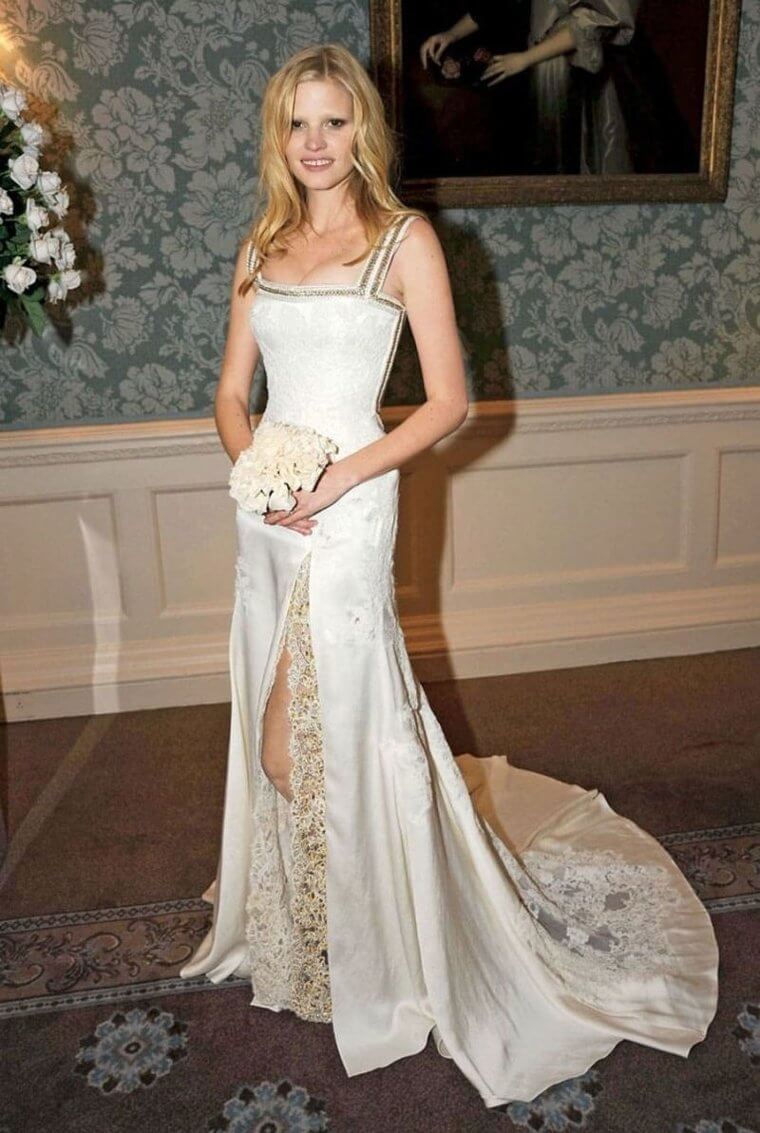 After staying together for a while, the couple decided to divorce, proving that even the most perfectly curated and lavish wedding can't guarantee a lifelong relationship. Wealth and happiness, it seems, are not directly correlated.