Words and actions are two different things, and many people tend to mistake one for the other. In most cases, one's actions carry more weight than their words, and it only worsens once photographs immortalize these moments. Luckily, it's not all doom and gloom, as some of these images are pretty hilarious. Surprisingly, there are a lot of pictures floating around with some interesting reactions, and we have taken matters into our hands to showcase the best of the best.
I Can't Smell Them, Chief
Working at a coal mine is not one of the most lucrative jobs, but a man's got to do what a man's got to do. It seems this miner here had a run-in with the dark side of the job after getting stuck in one of the shafts for some time. His eyes can tell his longing for some peace, soap, and tranquility.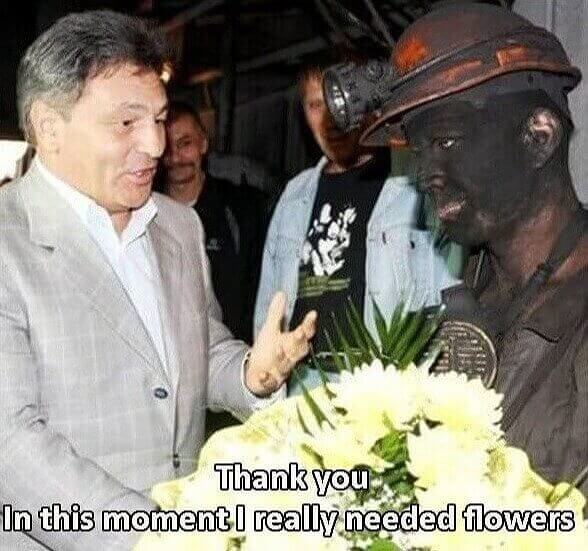 The guy in the suit probably missed the memo and decided to gift the man a bunch of flowers immediately after his rescue. The gifter is pretty enthusiastic about his kind gesture, but the miner has other things in mind. So, next time we recommend handing out flowers after the miner has showered, big man.
How About A Bedroom Seat
It's everyone's dream to travel in first-class, mainly because the legroom and service are unmatched. Unfortunately, this man is a prime example of why economy is not as fun as Hollywood might have you believe. The passenger sitting next to him is almost naked, which is a red flag.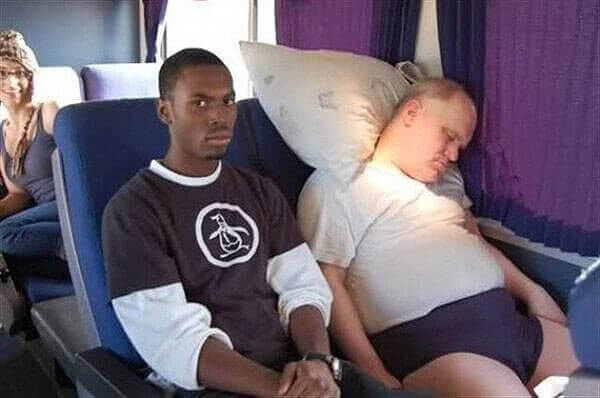 The man also came prepared to travel in comfort. Instead of carrying a neck pillow, this fellow came with a bedroom pillow, and he put it to good use. Hopefully, the guy is not a sleep-talker, as that would be the nail in the coffin. Aside from the awkwardness, we must give the sleeping man kudos for sleeping on his side of the seat.
A Little Too Much Gesturing
We can all agree that love is beautiful; from "good morning" texts to random kisses and hugs, who can say anything negative about that? The other thing we love about being in love and loved is the number of gifts you can get regularly. Well, unless you're this guy.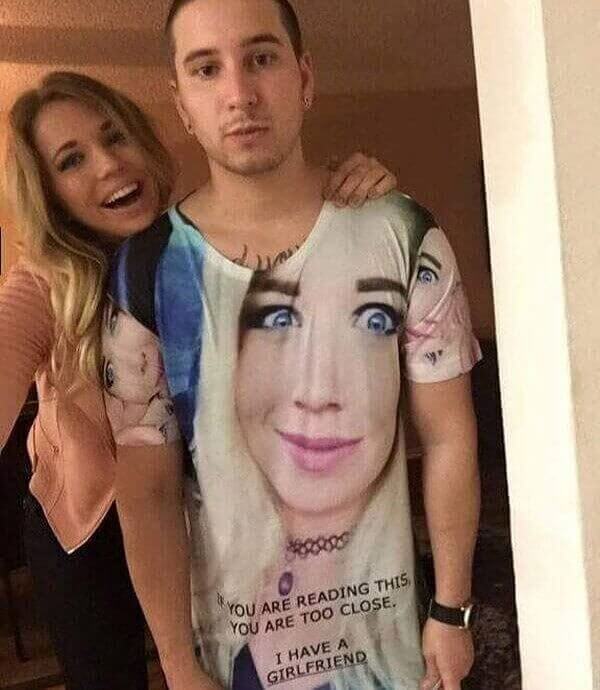 How to Scream With Wildlife
Everyone wants to go on safari until it's time to go on safari. This kid probably thought he'd be singing "Hakuna Matata" with Timon and Pumba, but he soon realized that's not how it works. He got a little too close to the wildlife, and the creature took the invite.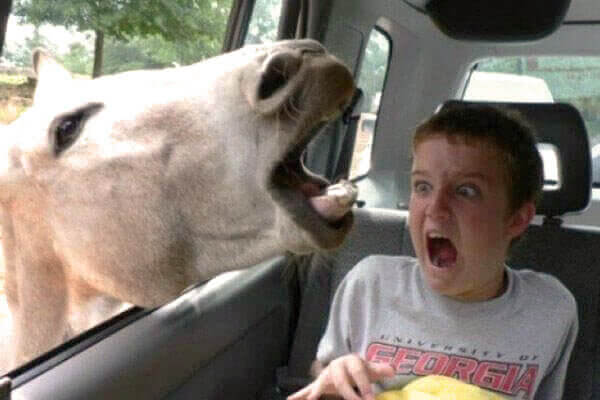 It seems Mr. Donkey here didn't have any ill will, as he just wanted to let out a good scream. That's not surprising, as even humans need to let out some frustration once in a while. An excellent example of this among humans is the little man over here who joined in on the screaming symphony probably out of fear and shock.

Moving at Her Own Pace
Romantic relationships are a two-way street built on communication and trust. This helps strengthen the bond and increase the odds of success. Even so, there are some moments when communication is not key, and one of these situations is when surprises are involved.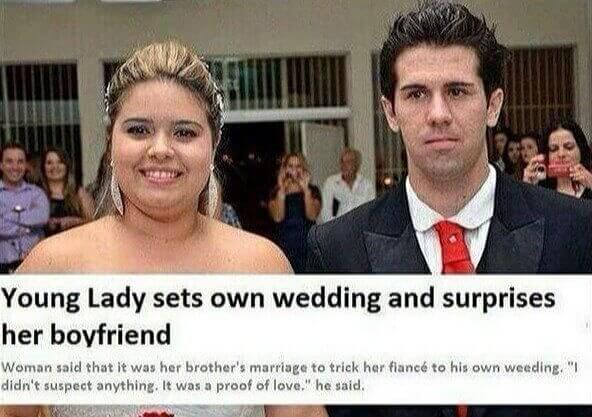 This lady decided to plan her own wedding and execute it without her fiancé's knowledge. How she managed to pull this off is a mystery, but she claims she told the man it was her brother's wedding and he fell for it. The groom's face says one thing, but he told reporters he didn't mind the gesture as it was an act of love. If that's real life, imagine what April Fools' Day is like in that household?

'La Conga,' Failed Version
Don't ever say no to a Conga line, or you'll risk being a killjoy. Nobody wants to be branded a social gloom, right? Even if the steps make you quiver, you need not worry, because this novelty dance is a basic processing line that only follows a circular motion. So, yes, it's as easy as one, two, and three.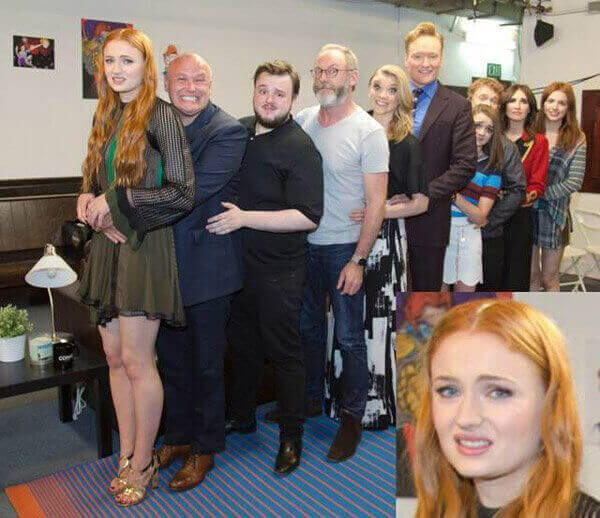 The first rule to this mixer dance is letting loose and having fun. Yet, this Conga frontrunner seems to miss the must-have game face. Correct us, but it looks like the 'Queen of the North' wants nothing but to flee the grip around her waist. Meanwhile, the guy from behind couldn't care less, all smiling for the joyous affair.

A Sight He'd Never Forget
Most kids love accompanying their parents for outings, be it a session at the local grocery mart or a mid-summer procession brewing at the community square. At least it's better than drowsing at home with the dog. Yet, despite everything, this young one was taken aghast, well apparent in the click, by the sight of his lifetime. Seemingly, he'd think twice before ever stepping at any public event.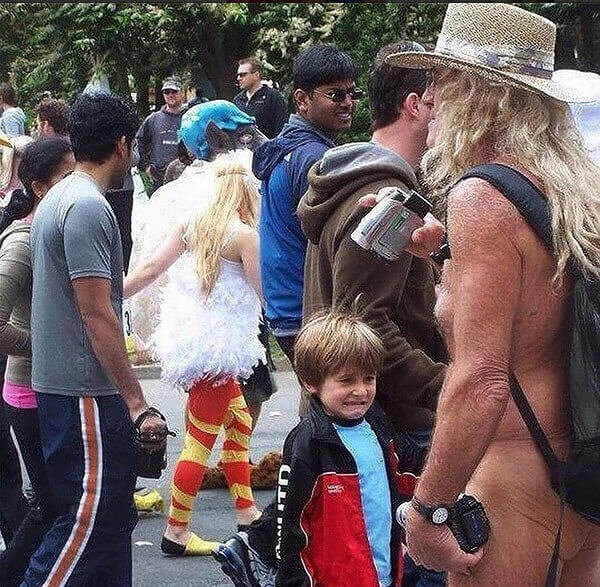 We're assuming the unattired man was part of some particular cult or was feeling such unimaginably hot that he resorted to wearing only his smile. Quite literally! We can't thank the cameraman man enough for clicking from an angle that exposed the least of the obvious!

I'm Not Ready to Be a Father
Almost always, the positive outcome of a pregnancy test will be received with mixed reactions when a couple wasn't exactly trying for a baby. More so, if it happens to be two teenagers who were goofing around without taking any precautions. From this photo, it's quite obvious who wasn't as pleased to learn that they'd become a parent soon enough.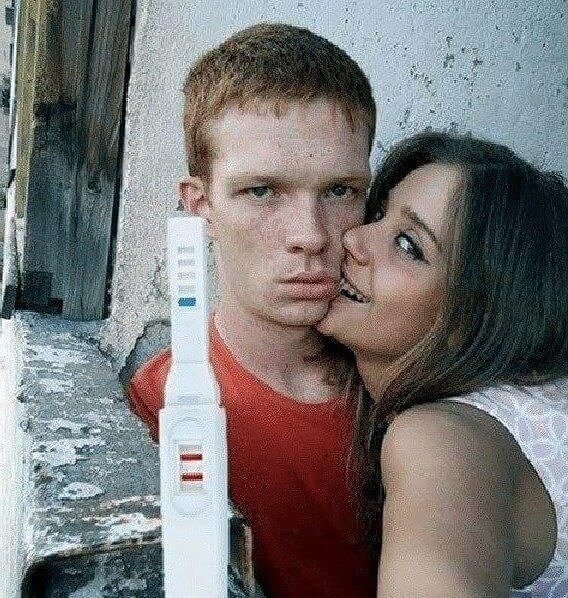 Or maybe that's his happy face and we are getting ahead of ourselves and being too harsh on him. There are a lot of people who have a hard time showing emotion and our guy here is likely one of them.

An Awkward "Groufie" to Remember
Making memories with friends at the beach will always have a special place in our hearts. Who doesn't love lounging by the water and relaxing to our heart's content? These girls had the same thought in mind, yet it appears their day just got a tad more interesting, judging by this picture.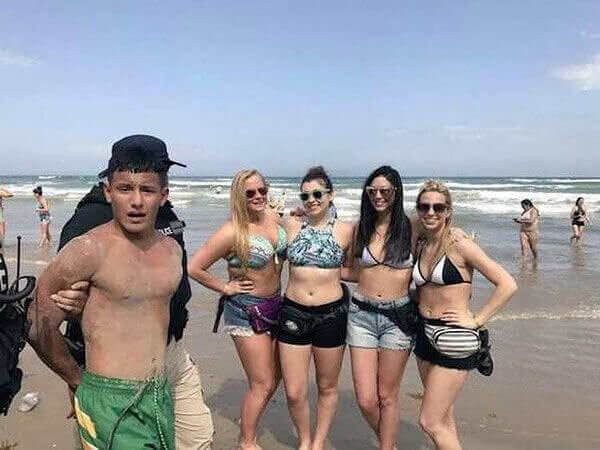 The lovely ladies likely hoped to cap their outing with an adorable group photo, but little did they know a handcuffed beachgoer would steal their spotlight. What's more, his facial expression toward the camera makes the image even more hilarious. Oh well, let's hope the girls got another shot without the man in the frame.

The Mother of All Bad Hair Days
Let's face it; we've all had bad hair days at some point, so it's pretty understandable why this woman on the right somehow feels sorry while looking at the other lady. Check out her long locks that seem to be on the verge of falling apart—it's a pitiful sight indeed.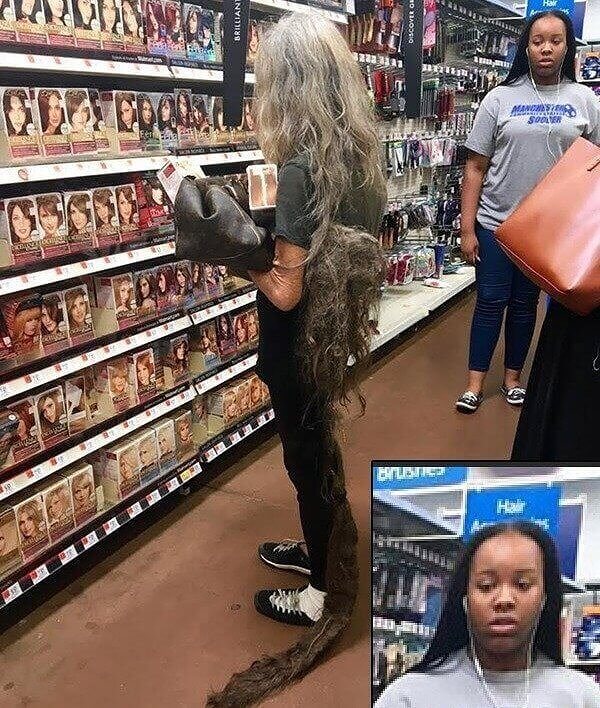 In any case, her confidence is still worth noting, since not everyone is brazened enough to walk down the street with hair like that. There's also a chance the lady has no clue her tresses are falling apart, or better yet, this is just her style. We guess we'll never know!

An Ice Cream Heist Gone Wrong
The look on this poor kid's face says it all, which is why we can't help but feel sorry that we think it's also amusing sight at the same time. When looking at this incident, it's hard to tell exactly what happened, but we guess his goal of getting some ice cream beyond his bedtime utterly failed.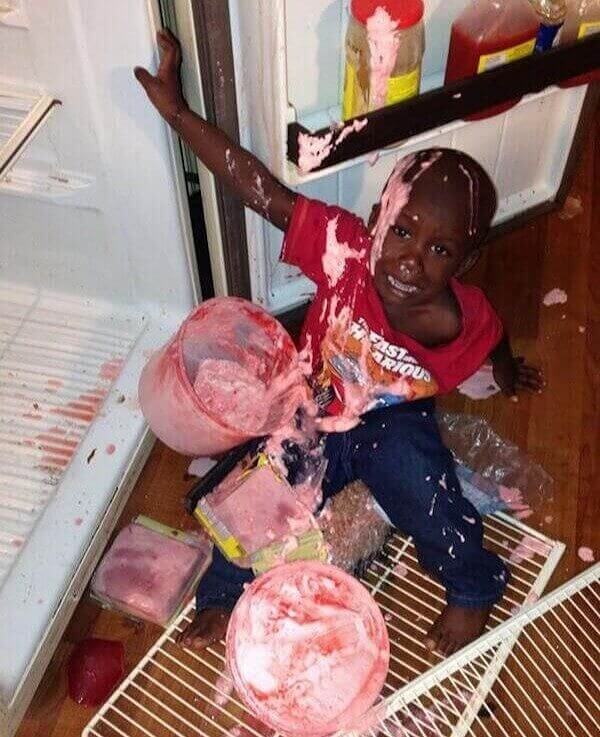 Anyway, parents shouldn't be too hard on the hungry boy, since incidents like this are all part of having a fun childhood. Maybe next time, they should just keep the desserts in an area that's out of children's reach. Hang in there, little guy!

Definitely Not Having a Fun Time
When you have older siblings, you can be sure to have wild experiences as a child like the little boy in this photo. They will tag you along for their flighty experiences because you know, no teenager wants to sit at home and babysit all day.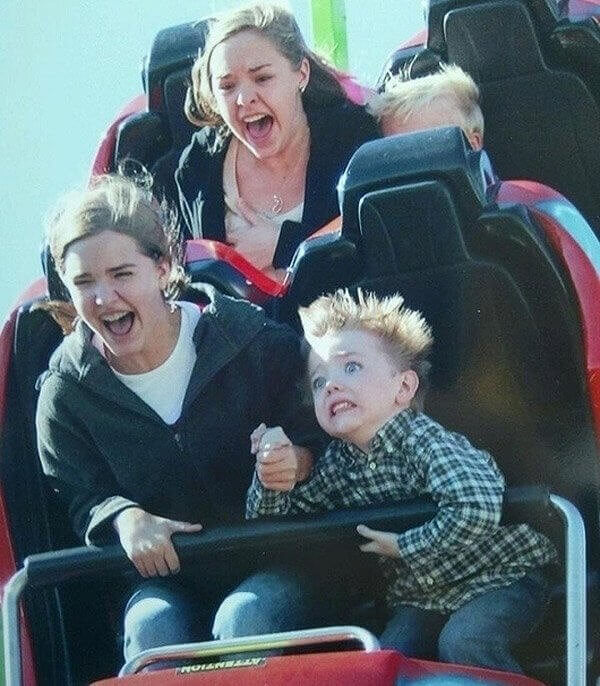 The problem comes in when the fun thing to do is riding on a rollercoaster at an amusement park because while it is both terrifying and exciting for older kids, it is purely terrifying for small kids. We hope this boy recovered from the shock that seemingly beat the wind's effect on his hair.

He Isn't Feeling That Dance Move
At this point, it's safe to say that there are several dance moves in this world, much more than you can care to count. While some movements are enjoyable to watch, others can make you look like you swallowed something bad, like the man in this picture.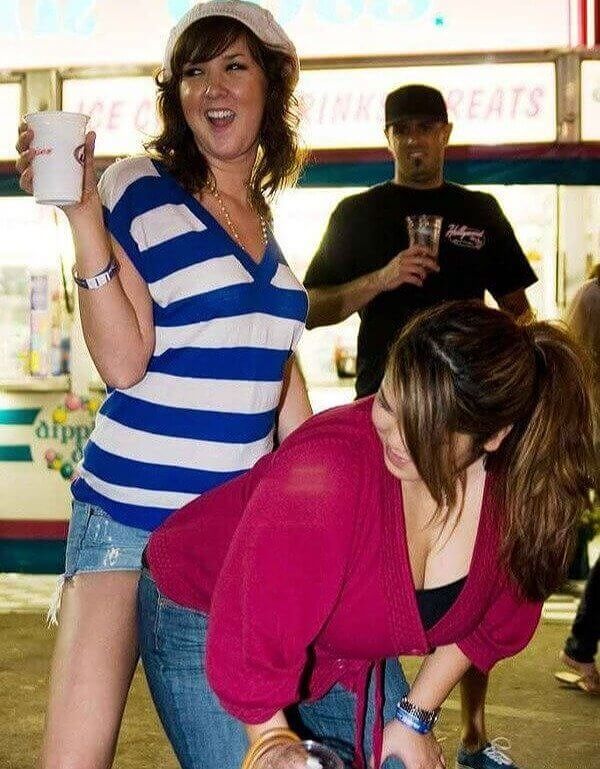 The two ladies looked like they were having the fun of a lifetime with how they were twerking, but this man was definitely having none of it, and his expression says as much. Or it could be that he wished he was the one getting all the action and having that much fun – who knows?

The Boy's Expression Says It All
The good thing about kids is that they don't know how to pretend. So unlike adults who can smile even when they're angry, you can spot an angry child from a mile away, and one thing that can get them in this mood is being in a place that they'd rather not be.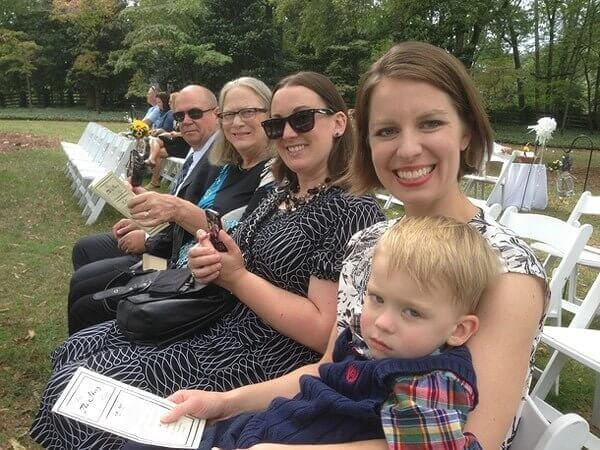 Take this kid, for example, this is a gathering with no one his age to play with, and he also has to wear formal attire – something kids hate. At that moment, several things made this boy unhappy, and his angry glance is enough information. At least, he's more genuine than the adult guests who are trying so hard to look happy when they obviously aren't.

Something's Obviously Wrong With the Top
There's so much to see when browsing through a store, and there's usually a corresponding reaction. This lady's expression tells us two things – either she doesn't like the layered necklaces paired with this top, or she doesn't agree with the inscription on the shirt. Our money is on the latter, since "boys are better than books" really sounds weird.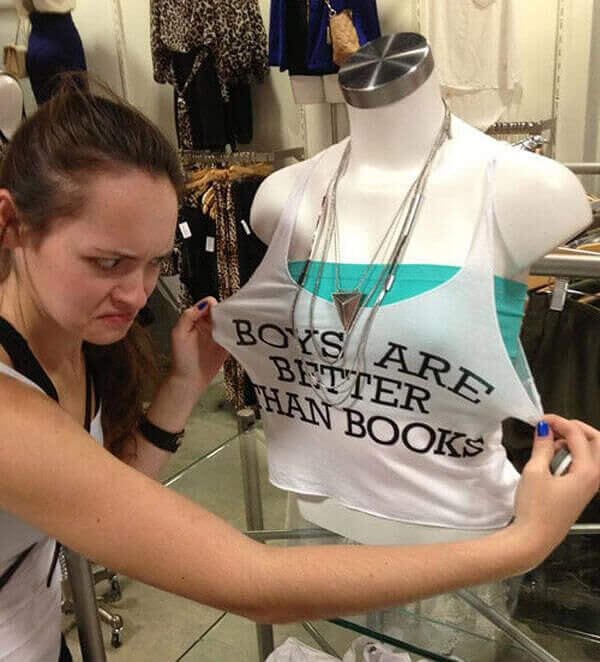 Let's just hope that some misguided teenager doesn't think this would go well with a pair of jeans. But who knows? The lady in the picture could have taken steps to ensure that this top didn't make it out of the store. Her expression doesn't look like she's letting this matter slide.

This Is More Than He Can Handle
Babies are precious, and their arrival usually comes with so much excitement. Still, everyone knows that these little bundles are very demanding, and it takes a lot of patience and endurance to take care of just one of them. Now, imagine having to deal with four of them at the same time; that's quadruple the time, stress, and money. So you can imagine why the new father looks this way.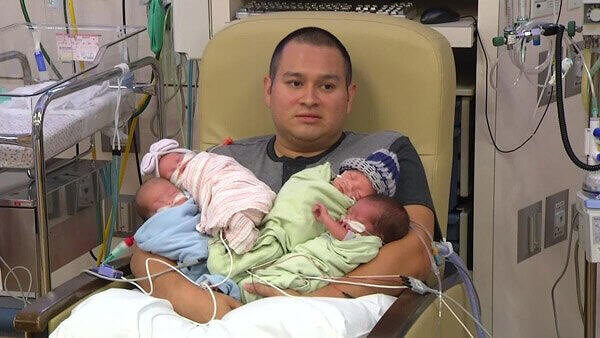 Thanks to ultrasound, he must have known that he would be a father to quadruplets, but perhaps the realization didn't hit him until the babies arrived. He's probably thinking about how the next few years will be, and we wish him good luck as he embarks on this journey.

New Dad Is in Shock
After having a set of twins the first time, this man was certainly not expecting anything less than one baby, but fate had other plans and set quadruplets his way. In this picture, he looks dazed, almost like he can't believe his eyes, and we don't blame him. He survived raising twins, and now he has to deal with four?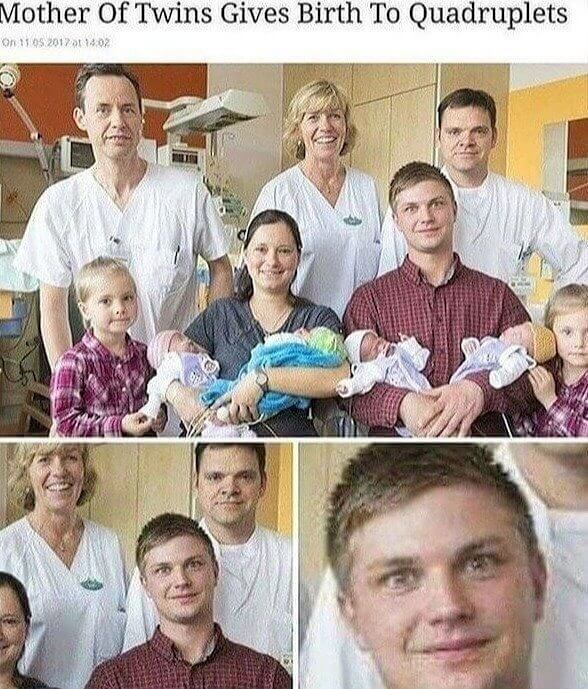 Well, it looks like one of them is taking the news well, and that's the new mother – kudos to her. However, it might be time for the couple to meet with the doctor for family planning unless they'd like to have octuplets the next time.

Forks Down, Camera First
Such a loss not to take a snap of that hashtag-worthy food platter, so please don't even think about stopping the lady's ritualistic behavior. They need to stuff that social media feed first before anyone else ruins the buffet. Of course, this bloke may not be pleased about it. Nevertheless, he certainly needs to compromise, or he'll risk leaving the table.

Apparently, it's a date for five people, not four. They need to include their everyday camera. Meanwhile, the solo male looks ready for a delectable bite. See how he's in deep eyeing the serving; that or he's sorry for choosing an overload of greens. He should go for it before the girls notice his sneaky grab.

No Harm Done, Just Forget It
Let's all hail the tiny winner who turns out to be a feisty lass. But, come on, dear referee, your seemingly pompous face isn't mending the situation right now. If we are being honest, even from the side view, her boy adversary is on the verge of a sorry fit. Or maybe what he wants is a rematch? Anyway, better drop the condescending eyes, ref, and let's get on to the next tournament.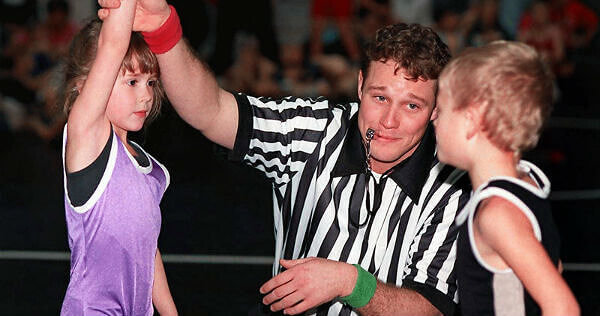 Surprisingly, the little girl managed to beat the challenging competition—impressive! Still, she looks conflicted and stupefied about the unexpected victory. Her winning exhibition is one boss-lady move made for a future queen bee, isn't that right?

Maybe Something Legal Next Time?
The only thing worse than doing something possibly illegal is posting it on the internet for the world to see—just saying. We hope the vehicle is in park mode for this duo's sake. Not to be a spoilsport on their month-long silliness as a couple, but fellows, you both might want to put on a seatbelt and get rid of that liquor fast.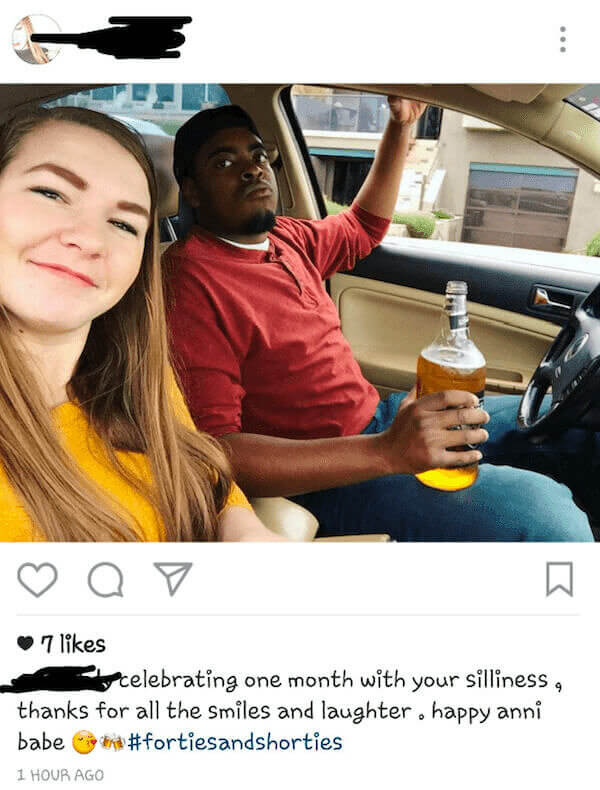 Alas, the boyfriend wants to end things; well, at least his girlfriend's social media filming. Maybe he looks disenchanted by the public display because he knows this could serve them some jail time. Then again, his lady love can't take a hint, still swarmed in her media feast—gee.

Over the Top Cowboy Chaps
There has been a fascination with cowboys for many years—no wonder they are glorified in movies and television shows. One usual trademark of buckaroos is ranch chaps worn over their trousers. Because the Western garment does not have coverage in the crotch and bottoms area, it is necessary to have something underneath, such as jeans.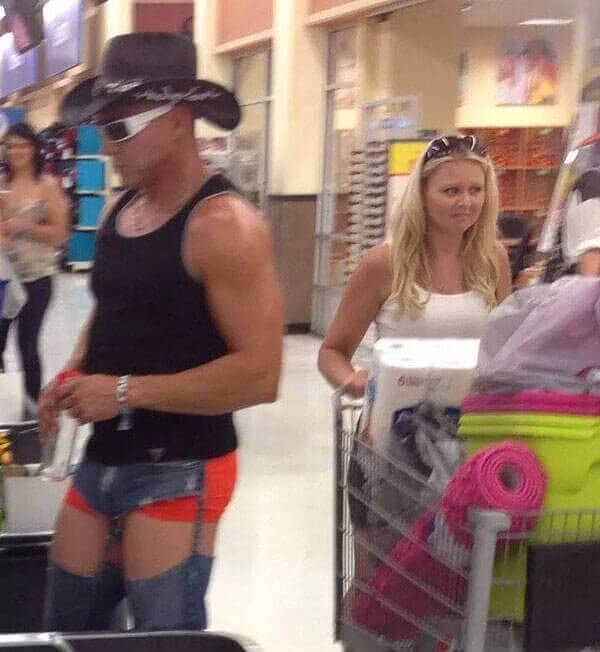 This particular cowboy went over the top and wore a modern take on the ranch chaps. The man will indeed get scratched if he is to ride a horse through prickly branches and cacti. No wonder the lady behind did not know how to react, as she probably thought his pants didn't make sense at all!

Just Walk On By
Judging by the passerby's reaction, there wasn't any event that could have explained these strange costumes. If it were Halloween, the man would surely mind his business and not appear clueless. If this group of people was aiming for consistency in their attires, it seems they failed. On the far left is a lady who looks like she came from a winter version of 'Cats.'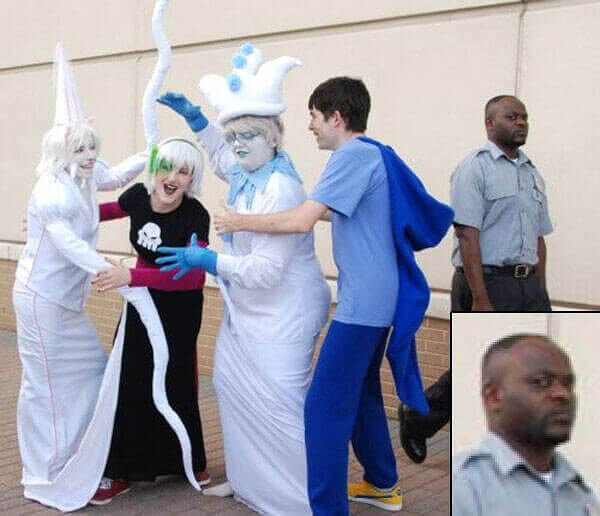 Her wizard hat made her outfit more confusing. Next to her is a goth-dressing 'Star Wars' fan with hair that's totally out of place. Then, someone who looks like a court jester from Queen Elsa's kingdom. Lastly, there's a young man with regular clothing, except for a disorderly cape. I guess we better just walk on by.

This Face of Hatred Is Unforgettable
We all have seen those people who don't like to get too close to water, and it seems like this baby is one of them. While we usually see that babies enjoy baths so much that getting them out of the tub can't be done without breaking a sweat.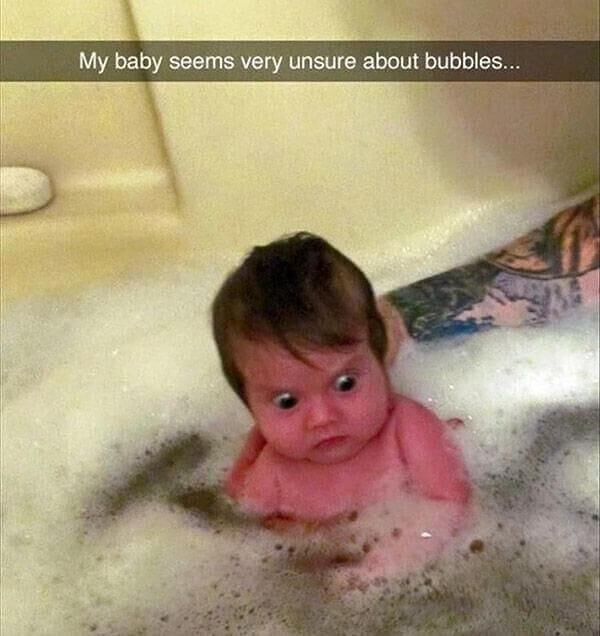 We also have exceptions like this little dude who does not enjoy the idea of cleaning up. Or maybe the infant is not up for the idea of having a bath with his dad. We wish that the photographer soon got done with his snaps, realized the discomfort on his face, and pulled him out; poor chap!

Wrong Timing for a Prank
If we were to guess what was happening in the photo based on the two ladies' expression, we'd say they were victims of a prank. The two cheerleaders on top of the pyramid probably wear undergarments with funny writing on them. In case our guess is correct, we have to applaud the performers below for just making faces and keeping their grips still.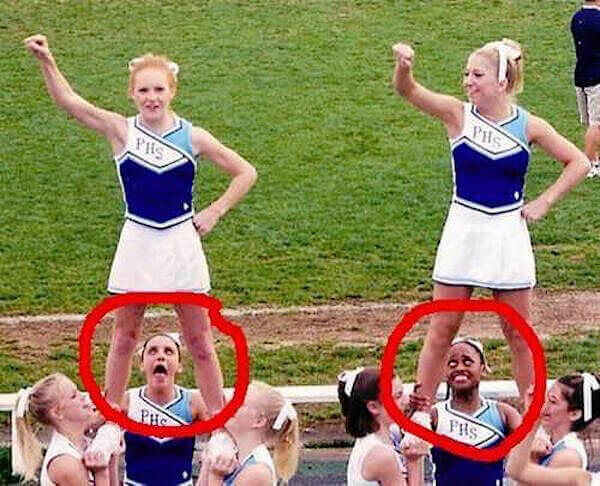 If the writings on their clothing were too hilarious, the young teenagers above could have fallen, breaking up the pyramid. To stay safe, it is better not to do pranks when cheerleaders attempt to perform this stunt.

A Dog's Human Chair
Pets bring joy to most children—well, except for this toddler. Who would not be unhappy when this dog made them into a chair? Nevertheless, we can understand the pup, which looks so excited about going on a trip. We know dogs love putting their heads out of car windows, and this cutie is probably no exception.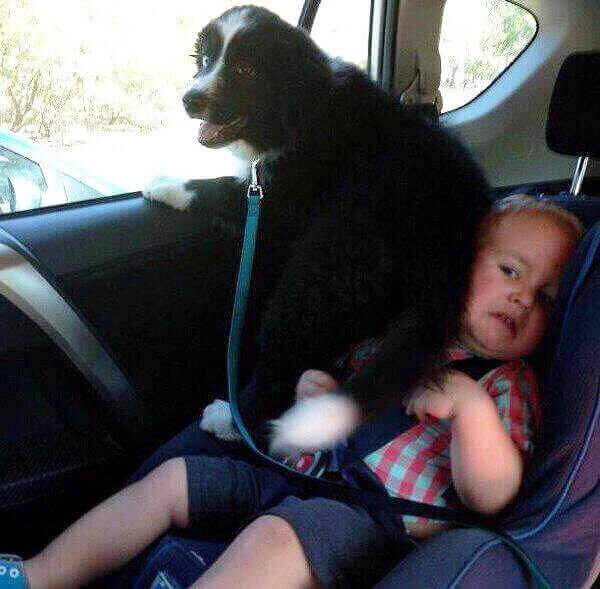 It's the animal's way of taking everything in—the air, the scenery, and the smells. Since the tot was the one positioned near the window, his pooch did not have any choice but to bear down on him. Surely the one who took the photo moved the child away so both could enjoy the trip thoroughly.

Something Made Her Uncomfortable
From this lady's expression, it appears like she does not like the guy's arm around her shoulders. There are several reasons why, one of which being that she did not consent to the action. It is also possible she did not know the guy and was confused as to why there was a need for a photo with him.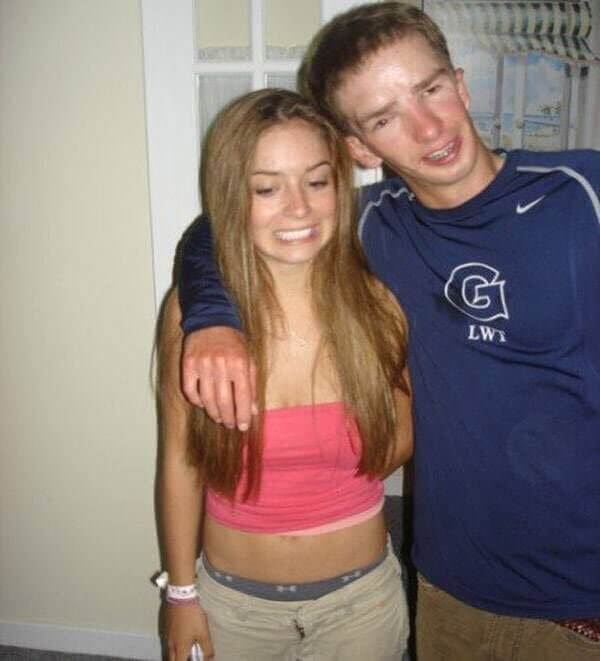 Of course, there is also the likelihood they know each other, and the woman is okay with the touch. She only did the face because she was taken aback by the camera in front of her. Some ladies like to be ready when their photos are taken in order to look their best.

The Big Vanilla Cone Dilemma
It's nice that these gorgeous women realized the value of sharing a dessert with friends when it's a tasty treat. Interestingly, the witness behind them had the same thought and is probably curious why the ladies picked a vanilla cone when chocolate or strawberry would have been a better option.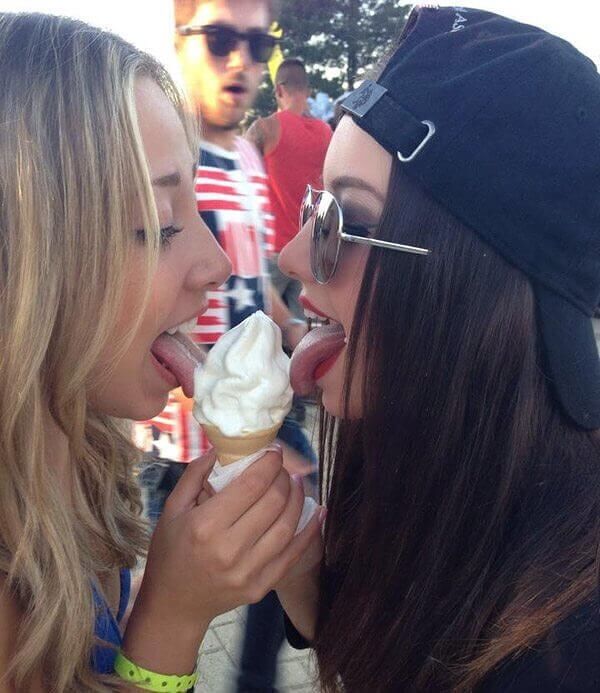 Truth be told, it's also possible the guy is offended by the idea that anyone would ever split one soft-serve ice cream instead of buying separate cones of their favorite flavor. It's considered unsanitary in many ways, right? Whatever the case, these girls are glad their teasing methods are working very well.

Is the Feline Applauding?
One glance at the shot and anybody might presume the cat, Fred, is cheering at some F1 race that its parent is watching on TV. Regardless, if the caption is anything to go by, the animal's furry paws captured a tiny fly between them. Then, confused about what to do next, it sits composedly, waiting for the man to hint some help.

Based on our vantage, the cat got two alternatives at its disposal — gobbling down the insect to cap the daily protein intake or letting it fly into oblivion with no malice. Say, just a wild guess, Fred didn't quite like the love branch idea and downed the poor thing right after the camera clicked this picture.

The Lady Has a Plan
They say all relationships work better when paired with excellent communication. Still, a handful of conversations end up having awkward aftermaths, no matter what. This couple, for instance, was out to see some lodging options and were discussing the interior of their future house when the lady decided to lodge the bullet by hinting toward parenthood.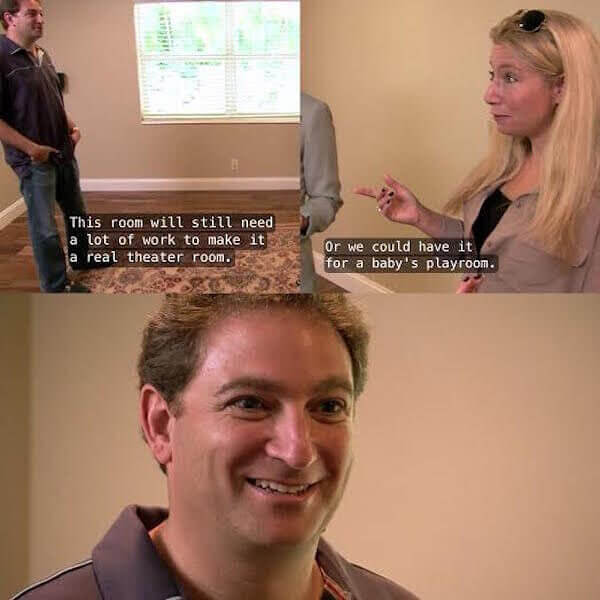 It was a brave move to open such a topic in a public place, and the look on her partner's face is enough to say he's nothing but caught in awe. Though honestly, we can't blame him either; maybe, he would have reacted a tad differently had the woman talked about it one to one.

Not Always a Rosy Experience
Safe for those afraid of heights, most folks would give anything to fly a parachute. Movies have especially made it look like that thing you don't want to miss out on in this life, especially doing it with a life partner. Well, it turns out skydiving isn't all sunshine and rainbows. Well, at least not when one is on a full stomach.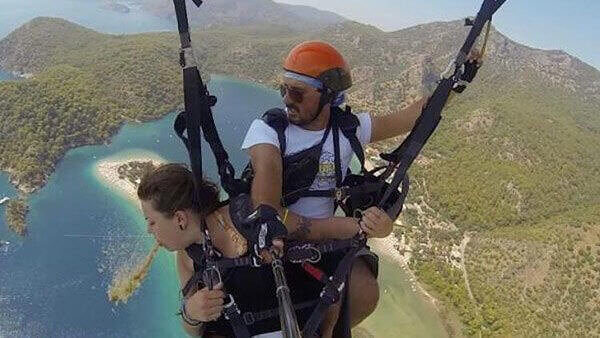 The woman in this photo had a bad parachute descent experience seeing she threw out all the food she'd taken before the activity. We've got our fingers crossed that this wasn't her last time in the air; we are all deserving of a beautiful parachute experience.

Too Many Questions to Be Answered
Undoubtedly, the couple here looks beautiful, but wait till we zoom into the lady's face and unravel a whole new set of questions. Why does she have those marker drawings on her cheeks that can, with some effort, pass for a vague mustache? Besides, on whose suggestion did she join her brows into a unibrow like that?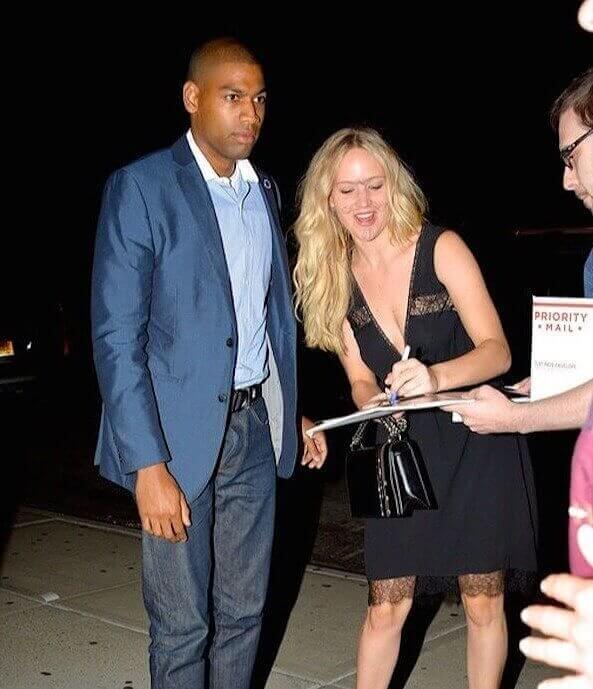 For the better, at least the gentleman looks surprisingly calm. Perhaps, they're headed for some costume party, but there's something else on the itinerary. First, the woman needs to collect an urgent package that, due to some peculiar reason, has arrived in the dark of the night. What are the odds, right?

A "Fanta"-Stic Parenthood Hack
A child's desire for "junk food" prompts parents to develop innovative methods to persuade their little ones to eat or drink something more nutritious. Sure enough, the parents of this young child have apparently done just that by substituting apple juice for the contents of a Fanta can, as shown in the photo.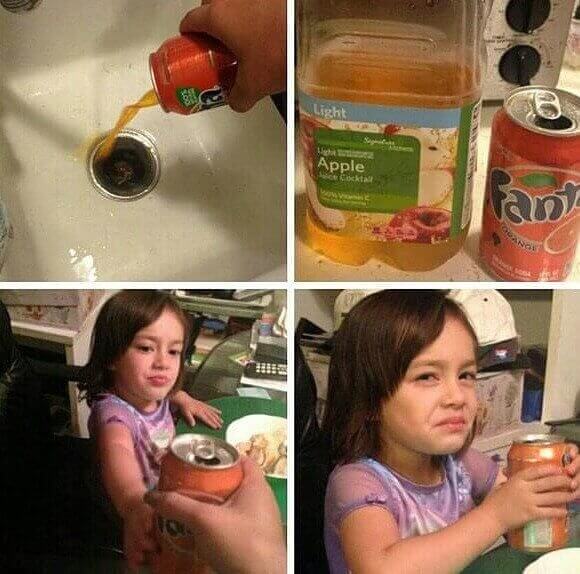 Yet, despite their best efforts, it's obvious this youngster was clearly not swayed by the ploy. That apple juice doesn't taste like Fanta to her, and she's too savvy to be fooled into thinking it does. While it's hard to tell from the snapshot, her last expression seemed to be one of admiration for the person who had fooled her. Nice try, mom!

What a Bad Start to the Holidays
Christmas season is around the corner, and we can tell this by looking at the cute red Santa hat on the panda's head. Yet still, let's not be too excited straight away because the look on the two people's faces screams that Christmas will not be that merry this time.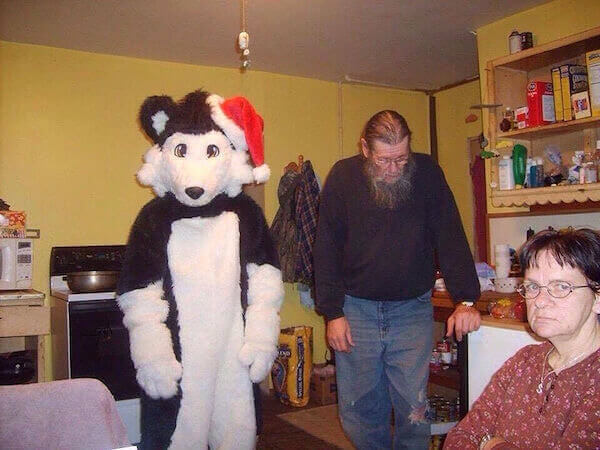 We can't be sure what could be the reason behind the frown on their faces. Maybe our panda friend forgot to bring snacks or showed up late to the party. Or maybe the two are disappointed to know that their friend is a part of the furry fandom community. Whatever might be the reason, all we know is that it's not a great start to the holiday spirit.

Photobombing in a Way Never Seen Before
Love them or hate them, but photobombers can make any picture memorable for sure; by ruining it, of course. This woman in this picture has done it in a unique way because photobombers step into memory with pure intention. On the contrary, this lady seems to be taken aback by shock or surprise.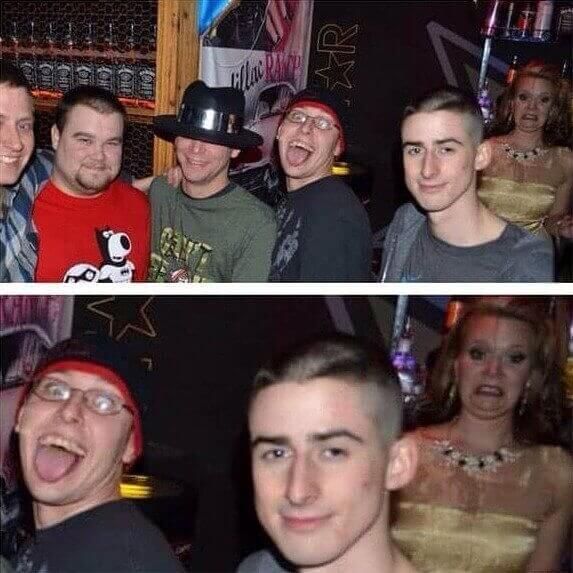 This picture has an air of curiosity about it. We can see that the pretty lady is all dressed up, and we can guess she was there to have a blast. So what exactly happened which caused her to give this expression of disgust. Was one of the guys wearing his pants too low and showing something nobody wanted to see? We don't know.

Are We Done?
Meeting someone that excites you is rare; ask the girl in the right picture and her swirling conundrum. Hence, there's no denying whose president she likes best; just look at her disparaging eyes silently screaming, 'Didn't sign up for this, let me out.' That's what an encounter with a leader looks like—bewildering fright. Bless you, America!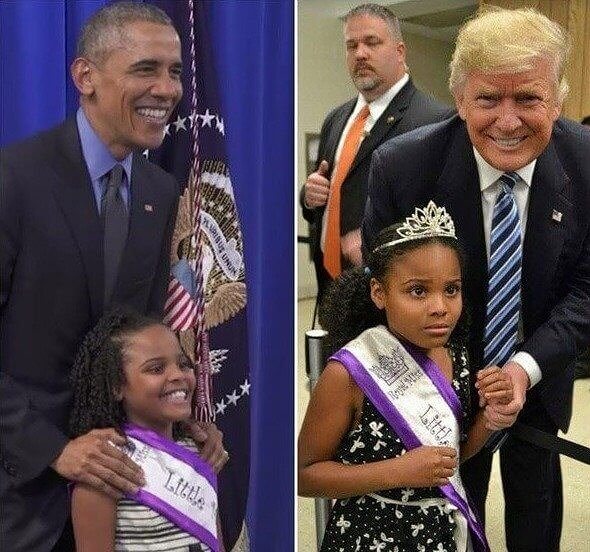 While Ms. Flint was all smiles and googly eyes when she took a snap with Barack Obama, she seemed oddly uncomfortable when it was Donald Trump's turn for a photo call. Yet, perhaps it has more to do with the latter's thumbs-up security fellow in the background, who weirded out the little lady with his stern expression and eccentric demeanor—my, my!

Fashion Police in the House
There are many ways of seeing and interpreting what could be going on in this photo. Some may see a star struck young man taking in their icon's physique and performing prowess while others see a lad whose concept of fashion has been shaken to its core.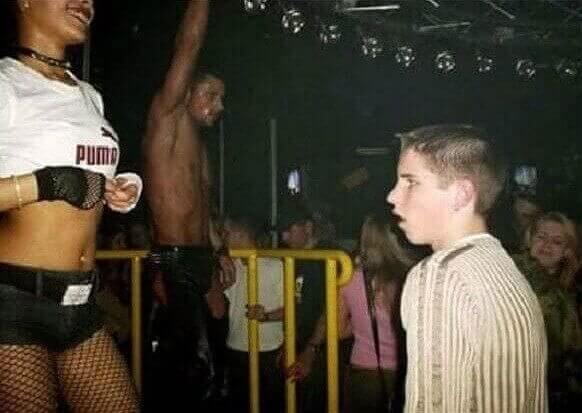 Our assumption also leans heavily on the latter because like the young man, we too can't get why this lady would cut a puma t-shirt into a crop top. Considering she was pairing it with gloves and leggings fish nets, an off-brand t-shirt would have saved the day as well as those coins but who are we to judge?

A Bonus Lap Dance for the Birthday Girl
Very few birthday surprises will match the thrill of having a stripper dance for you, and the lady here can attest to that. If anything, while a striptease is nowhere on the list of common birthday surprises, it isn't any more surprising than a bonus lap dance, and the birthday girl's facial expression when the dancer jumped onto her confirms just that.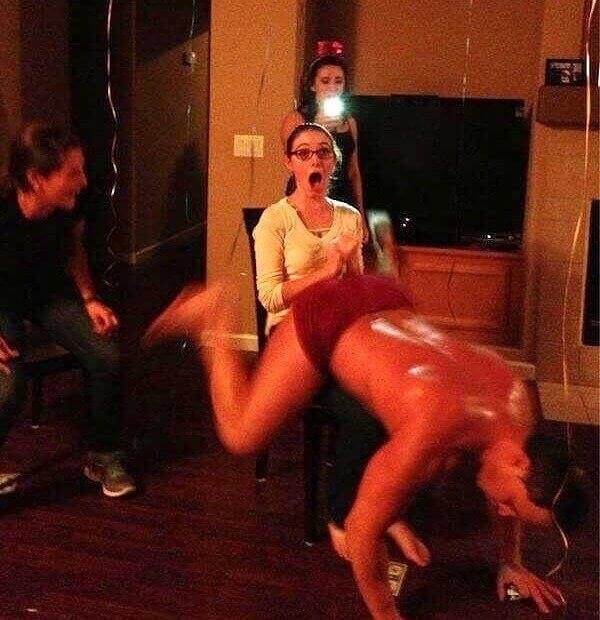 Her friends went out of their way to pull such an unforgettable experience for her. We have no doubt it will be one for the books for the longest time and couldn't agree less that there wasn't a better way to honor her 21st birthday.

A Wrong Performance at the Wrong Place
Art is beautiful, and what is even more beautiful is the fact that every artist keeps in mind the audience the platform on which it will go. So, the thing that makes the performance in the picture not so beautiful is that these two artists threw the idea of an appropriate audience out of the window.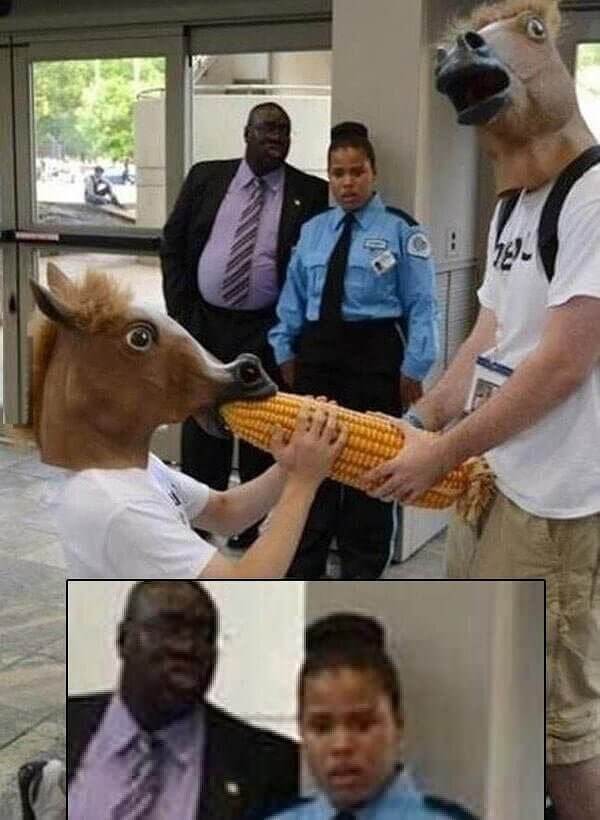 We get it, a lot of the people enjoy such humor, but the venue is definitely not a police station. Let's get to the officers' expressions later because we are more concerned about how these two got into a police station with donkey masks on. It seems like these two dudes took the phrase 'do as your heart desires' way too seriously.

The Importance of Finding the Right Size
Ever wonder why all these clothing brands have such a wide range of sizes? Well, so that everyone can get the perfect fit for them, simple. If that's the case, then what is it that makes some people struggle to fit into a much smaller size than what would be right for them?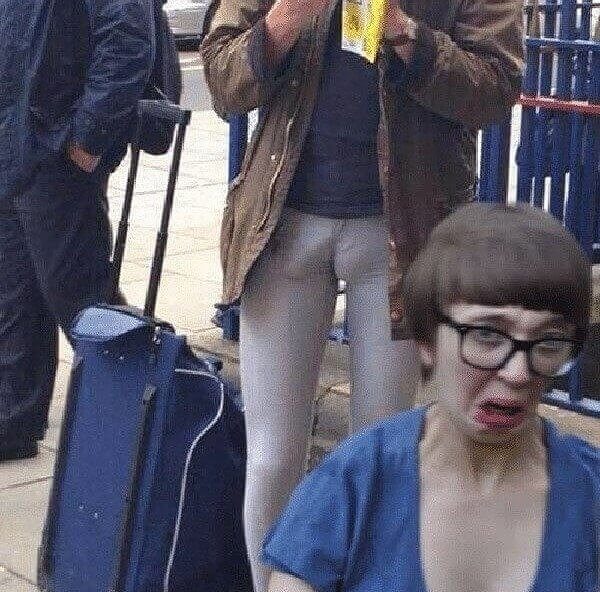 Such struggles often lead to embarrassing situations. For example, take this picture; the man over here must have wanted to show off his toned legs, so he opted for smaller pants. Unfortunately, his plans backfired when something else stole the show instead of his legs. We can't feel sorrier for the woman who became the witness to this uncomfortable situation.