A Nostalgic Photograph Showing How Times Have Changed
 
Nothing quite compares to the nostalgia of walking down memory lane as you browse through old photographs. Opening an old family album, laughing at baby photographs, and reflecting back on your childhood are special moments. However, nostalgia takes a turn when the pictures involve people that we idolize and moments that are unfamiliar. Let's dive into a few nostalgic pictures of iconic celebrities, mundane historical moments, and life in the arts.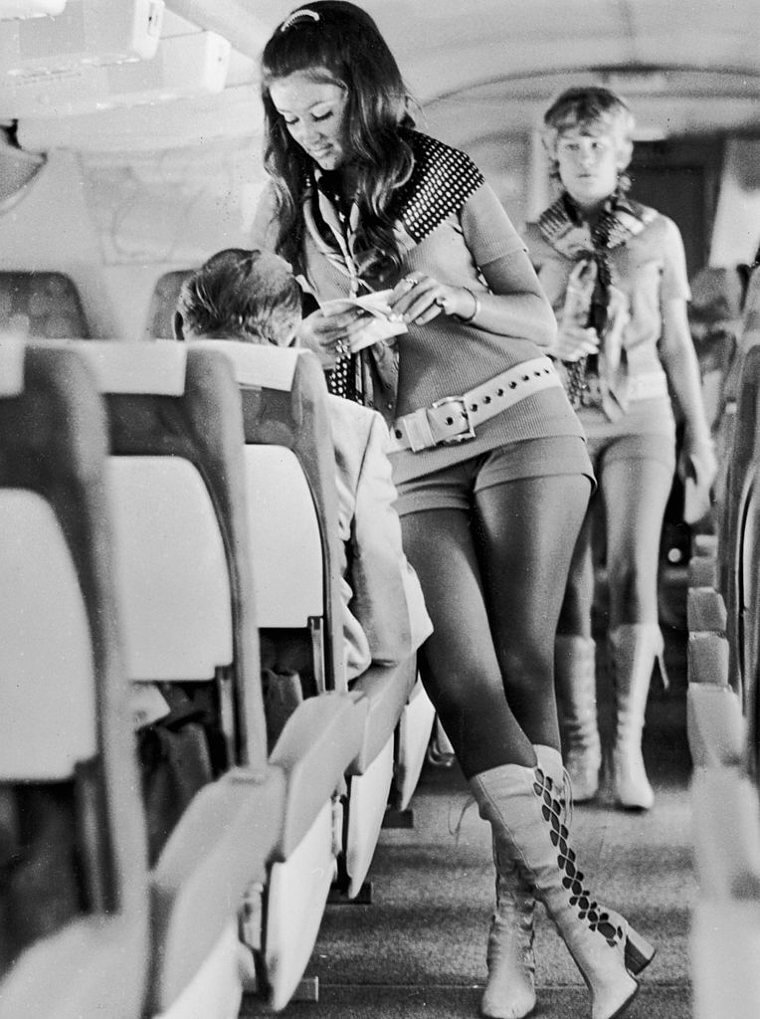 Kicking off our list is this photograph of a stewardess working for Southwest Airlines of Texas around 1972. Times have certainly changed! Not only is she not wearing a mask, but her outfit is a lot sexier than the usual corporate attire that we see when flying. Considering the kinky leather boots and flirtatious body language, it shouldn't be surprising that drinks served during the flight have names such as 'Passion Punch' and 'Love Potion'.
Even the Best Need to Practice
The Rolling Stones is an iconic rock band that has remained active for six decades, becoming one of the most popular and enduring bands in rock history - but their success didn't happen overnight.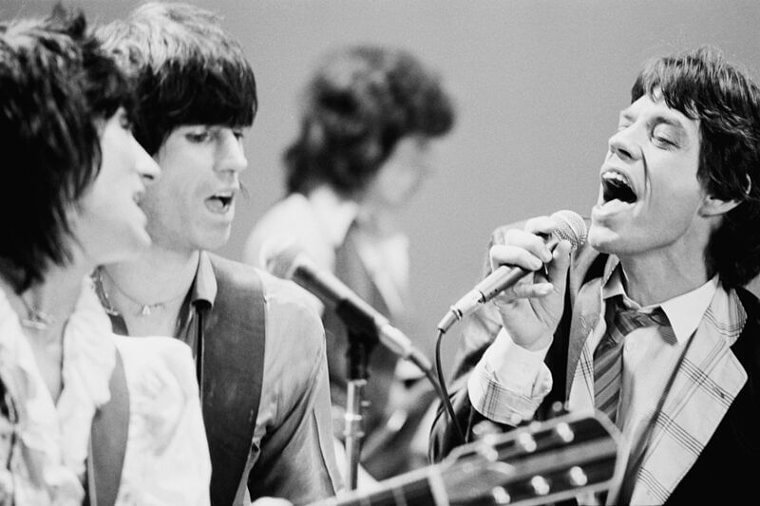 As you can see in this picture of the Rolling Stones during a rehearsal in New York in 1978, the legendary band had to put in the hours in order to find success. What a perfect moment captured of Ronnie Wood, Keith Richards, Bill Wyman, and Mick Jagger perfecting their vocals and instrumental sounds!
Licking an Ice Cream to Cool Down in the Heat of the Day
When you think of the James Bond actor's incredible talent, it's easy to put Sean Connery on a pedestal. But while the Untouchables actor has a long list of successful films to his name, he is just another human, with normal needs. And who doesn't need ice cream on a hot day!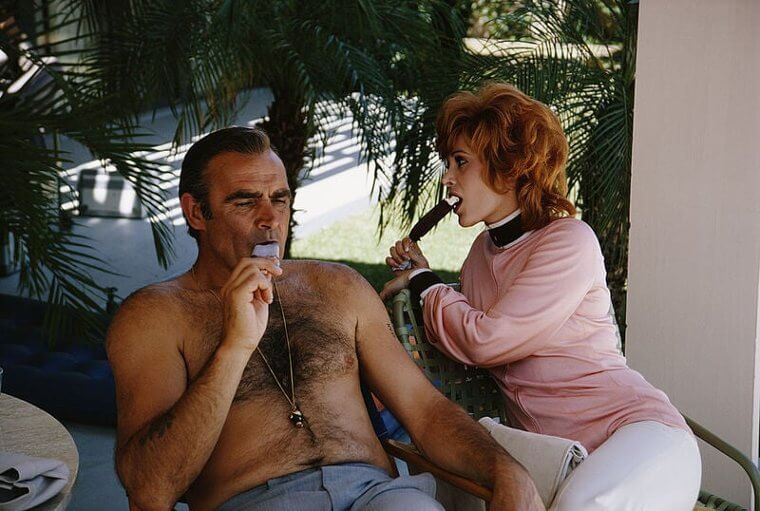 In 1971, photographer Anwar Hussein snapped this moment of Sean Connery and American actress, Jill St. John, relaxing on the set of the Diamonds are Forever. Judging by their body language, the on-screen romance was translated off-screen as well.
Science Fiction Characters Enjoy a Day on the Beach
The Star Wars franchise involves a series of cult classic films that have gone down in history, winning multiple awards along the way. As a result, the characters have become cemented in science fiction and space opera history. While some of the actors playing these roles have recognizable faces, such as actress Carrie Fisher in the role of Princess Leia, others are covered in costume.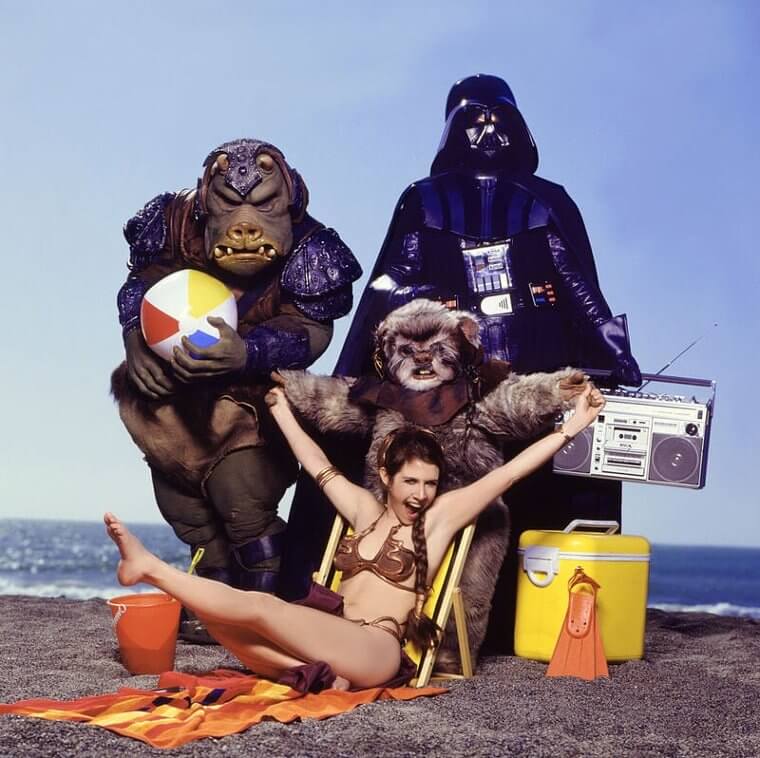 The Star Wars cast is living proof that you don't need to be of the same intergalactic species to share a unique bond. Just look at how Carrie Fisher is spending time with her Star Wars friends - a long way from space!
Muhammad Ali Endures Mundane Activities
Muhammad Ali lived a long and successful life before dying at the ripe old age of 74, however, his later years were marked by various conditions such as Parkinson's disease and spinal stenosis. The boxing legend chose a career that put his health at risk, despite the efforts invested in keeping him safe.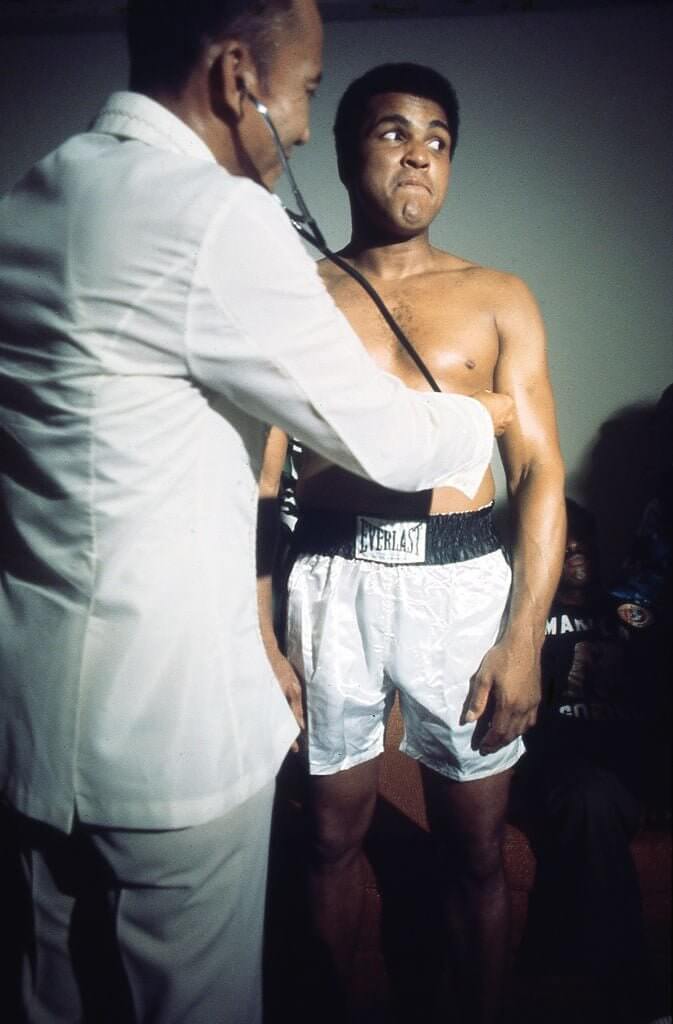 This picture shares a glimpse into the mandatory health checks that boxing professionals had to undergo before stepping into the ring. In this particular picture, snapped in Manila in 1975, Muhammad Ali rolls his eyes while being checked by a Filipino doctor. Once given the go-ahead, he would step into the ring and fight Joe Frazier for the heavyweight championship title - and win!
Even Superman Needs a Break
American actor, Christopher Reeve, has starred in many different films, including Death Trap and Somewhere in Time. Yet his most famous role is undoubtedly everyone's favorite DC character - Superman!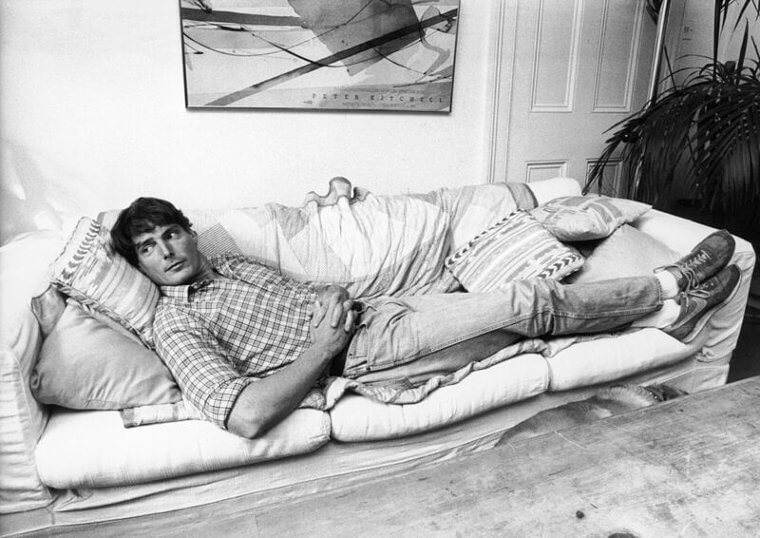 While he may not be dressed in the skintight costume that is normally worn by the comic book hero, this picture of Christopher Reeve, snapped in 1986, still paints him as a swoon-worthy individual. Although he may not be soaring through the sky or ripping open a button-up shirt, we understand that even heroes need a little bit of downtime!

A Moment From the Live Charity Concert
The Live Aid charity concert was hosted on July 13, 1985, in Wembley Stadium in London. The mammoth event was organized to raise money for famine relief in Africa, and it was supported by countless rockstars and festival attendees, raising $127 million for the cause.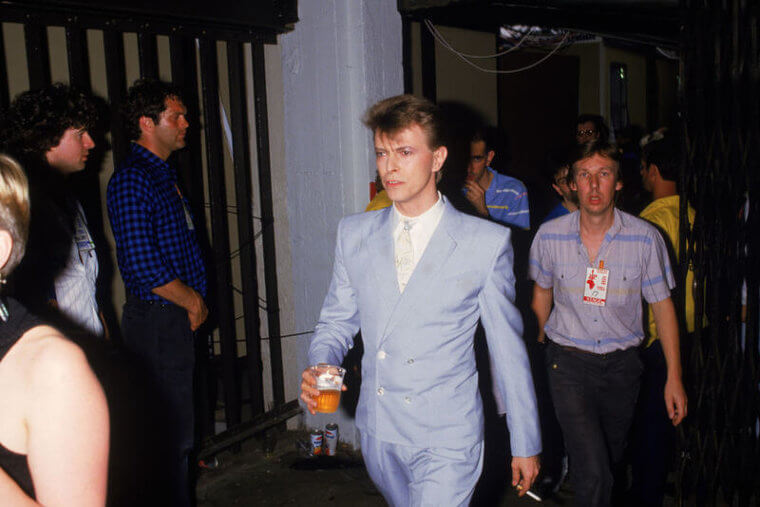 Included on the list of performers was renowned English singer, David Bowie, who sang Heroes in a moving performance  Sadly, his appearance was overshadowed by the highly publicized appearance of Freddie Mercury and Queen. Regardless,  this brief moment shows David Bowie looking dressed to impress, with laser focus.
A Collaboration of Musical Talent
What do you think when you hear the words "blue suede shoes"? Perhaps your mind drifts to a vision of Elvis Presley rocking out a performance on the stage? Did you know that Blue Suede Shoes is also the name of a documentary that details the revival of British rock 'n roll?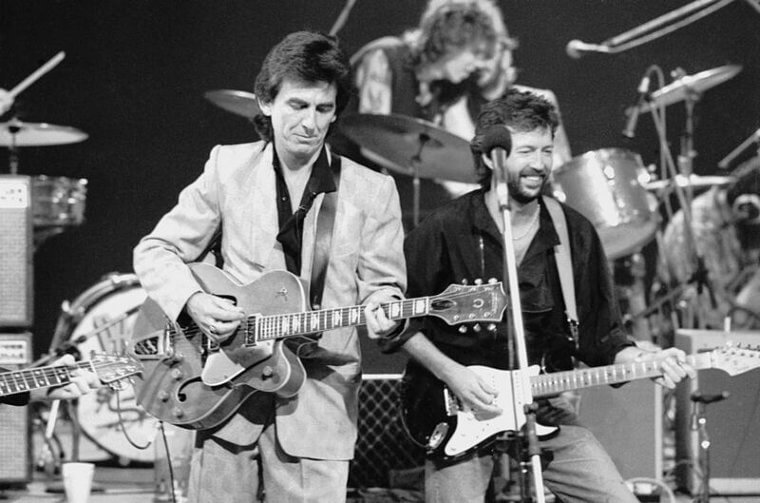 Photographer Dave Hogan captured this moment of Beatles guitarist, George Harrison, and English rocker, Eric Clapton, during the recording of Blue Suede Shoes at Limehouse Studios in London. The moment was prepared in an effort to shine the light on the legendary rocker, Carl Perkins. If you look closely at the photograph then you'll also spot Slim Jim Phantom and Ringo Starr in the background!
Taking American Rock to Brazil
Everyone knows AC/DC as the hardcore Australian rock band that dresses in traditional rock, grunge attire. What people don't expect to see is the electrifying group wearing nothing but a pair of revealing swimming trunks - yet here they are.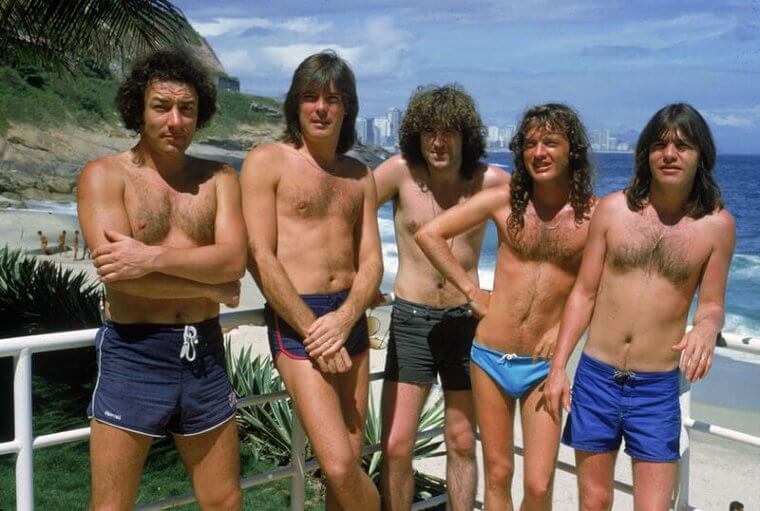 AC/DC members, Brain Johnson, Cliff Williams, Simon Wright, Angus Young, and Malcolm Young were relaxing at the beach in Ipanema in Brazil during a South American tour in January 1985 when they decided to do as the locals do - and let it all hang out. With all of the hard work that the group invested in producing good music, we'd say that they deserved the break!
Kicking off a Romance on the Football Pitch
Today, society celebrates sexual preference and equality in various aspects of life, yet it wasn't always that way. In 1921, when this photograph was taken, the gay culture was only just emerging in popularity and women were fairly new to playing sport.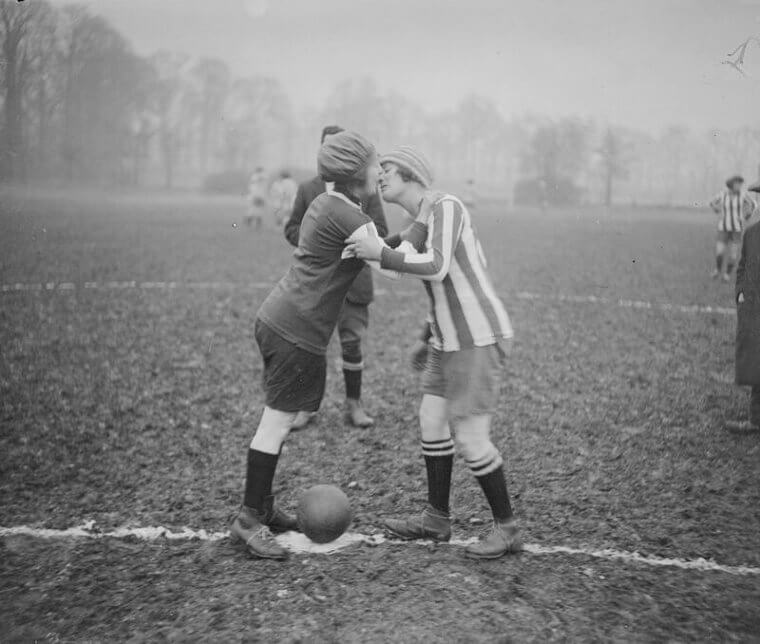 With this in mind, this photograph of two players from the Lyons girls' football teams kissing one another during a football match breaks several societal norms, helping to speed the attitude toward acceptance. As far as breaking stereotypes goes, this picture does a brilliant job!
The Musical World Meets the Silver Screen
When you live your life as a celebrity, you become accustomed to brushing shoulders with fellow icons. Renowned soul singer, Aretha Franklin, escalated to fame during the 1960s, during a time when racial prejudice was a harsh reality. At the same time, actors John Belushi and Dan Aykroyd were finding great success on the big screen.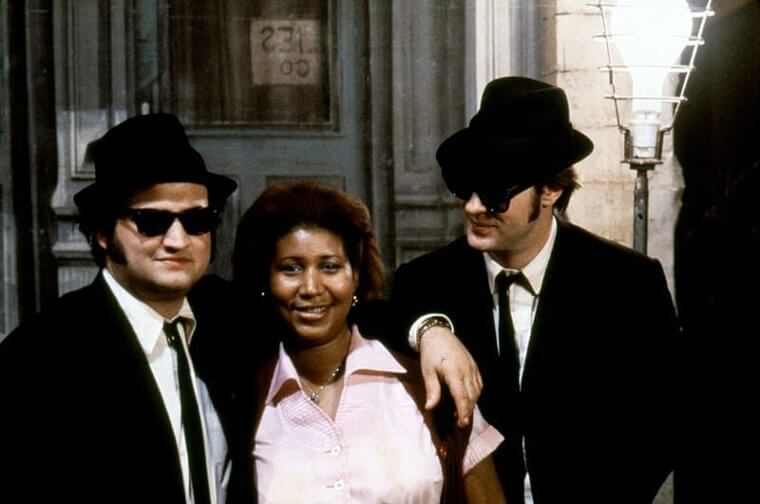 When The Blues Brothers film was released, it showed how beautifully the world of music and storytelling overlaps. This particular photograph of Aretha, John, and Dan was taken on the set of the film and shows a glimpse behind the scenes.
Two Females Members of the Kennedy Family
The prominent Kennedy family is well-known around the world, earning a reputation for being incredibly rich and perhaps a bit arrogant. Over the years, much light has been shone on John F. Kennedy, Robert F. Kennedy, Patrick J. Kennedy, and other male figures. Yet unlike most wealthy families that pivot on a patriarchal structure, the female members of the Kennedy family are also well-known and influential.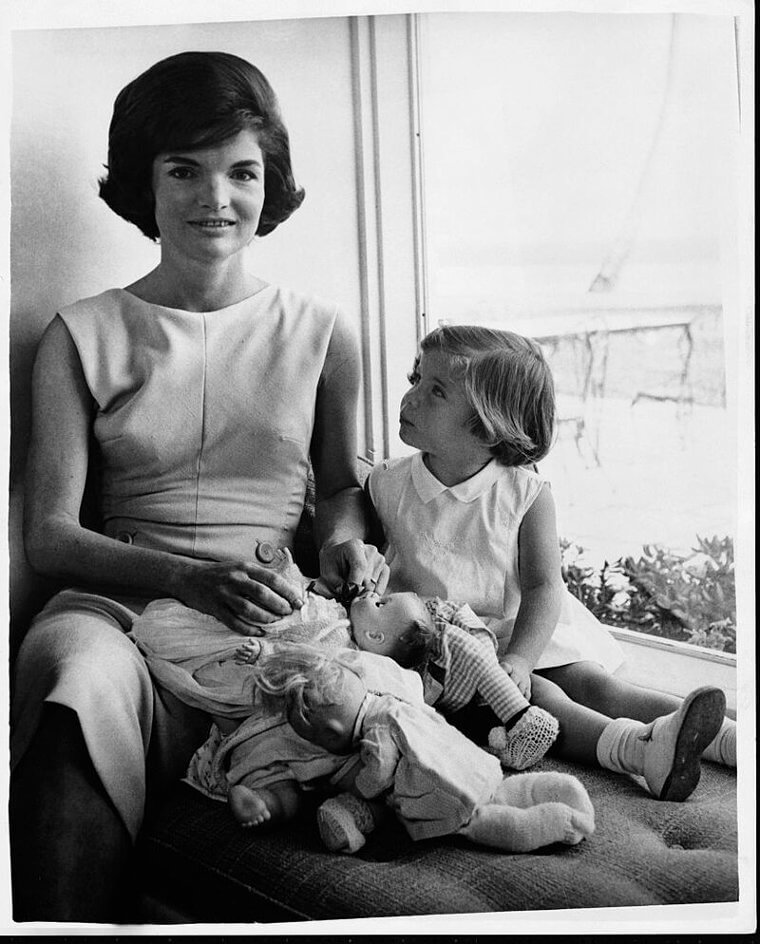 For example, Jackie Kennedy and her daughter Caroline Kennedy became respected as the First Lady and an accomplished diplomat respectively. This photograph of the mother-daughter duo was captured in 1960, showing a tender moment shared between the powerful women.
Elton John Was Once Married to a Woman
Today, Elton John is an icon for the LGBT community with a notable voice and prolific style. The British pop legend has basked in well-deserved fame for decades, with his story being told on various platforms, including the 2019 film Rocketman. Yet despite his stardom, most people don't know that Elton John was once married to a woman.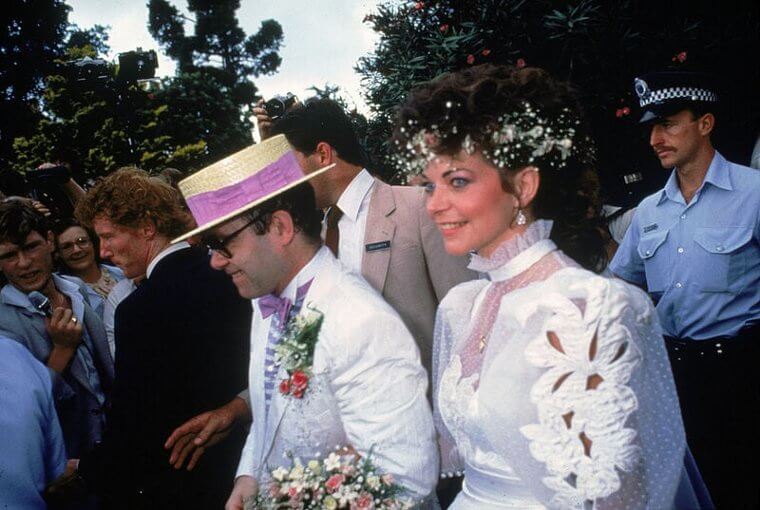 Elton John tied the knot with a German sound engineer, Renate Blauel, on Valentine's Day in 1984. While many of Elton's friends thought that he was gay at the time, the singer publically shared that he was bisexual. Although the couple divorced four years later, this photograph is proof of the special day.

A Deer Caught in the Headlights
Al Pacino has been type-caste as a rugged mafia boss, playing various roles such as Tony Montana in Scarface and Michael Corleone in The Godfather trilogy. Yet in this photograph from 1984, he seems to be the one on the receiving end of a scare.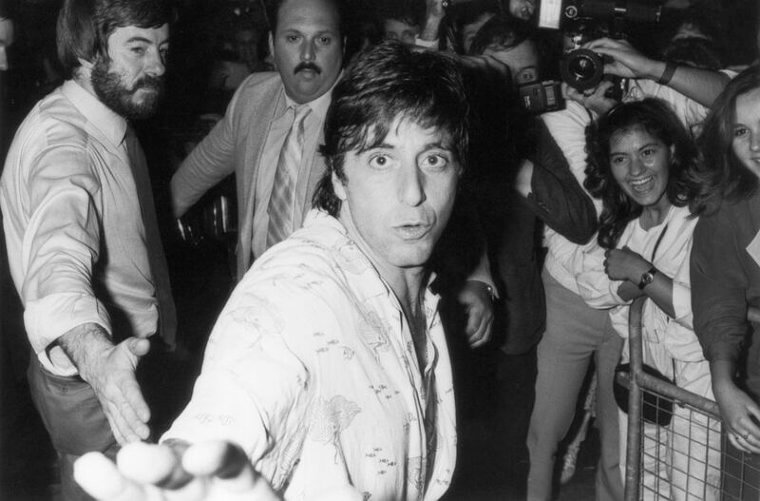 This expressive photograph of Al Pacino was taken as the actor made his way to the car. Surrounded by a sea of fans and photographers, the East-Harlem-born star strikes a pose before slipping into the safety of his vehicle. Who would've thought that he could pout so well!
Putting in the Work for a Role
Actors often put in a lot of work to encapsulate the true essence of the character that they play in various films and television shows. Some stars go on diets, others live in far-flung locations and even learn new skills. English actor, Roger Moore, picked up shinai to practice for his role in the television series, The Saint.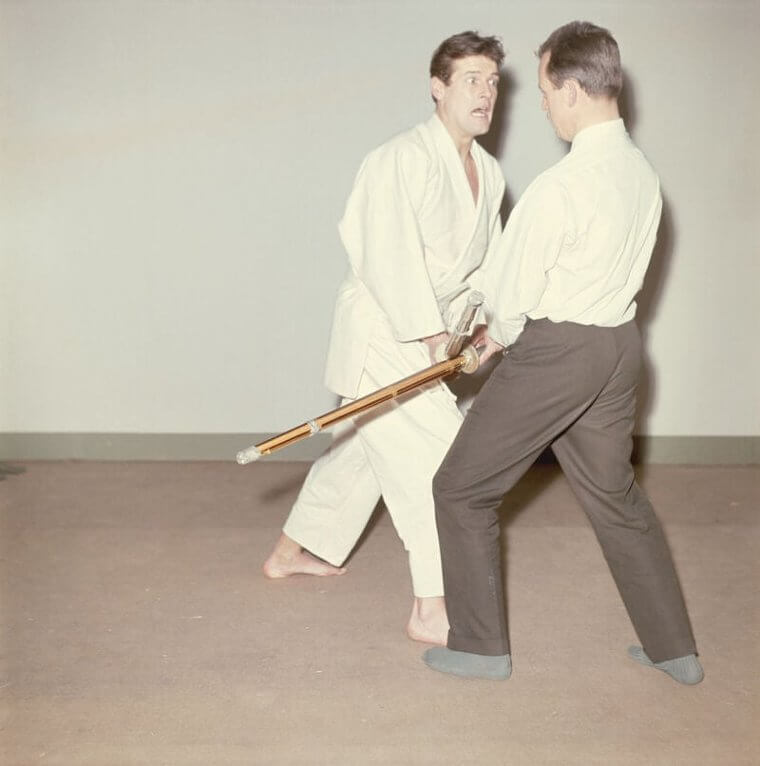 In this photograph from 1965, Roger Moore practices the Japanese martial art of kendo for his role in Templar, the mystery spy thriller television series. Judging by the expression on his face, the actor was giving it his all!
Legendary Singers Come Together for a Photograph
Nothing brings celebrities together like the occasion of an awards ceremony or high-profile party. In 1983, the British Record Industry Awards (BRIT Awards) were hosted in London and welcomed the cream of the crop in the music industry - including Paul McCartney and Michael Jackson.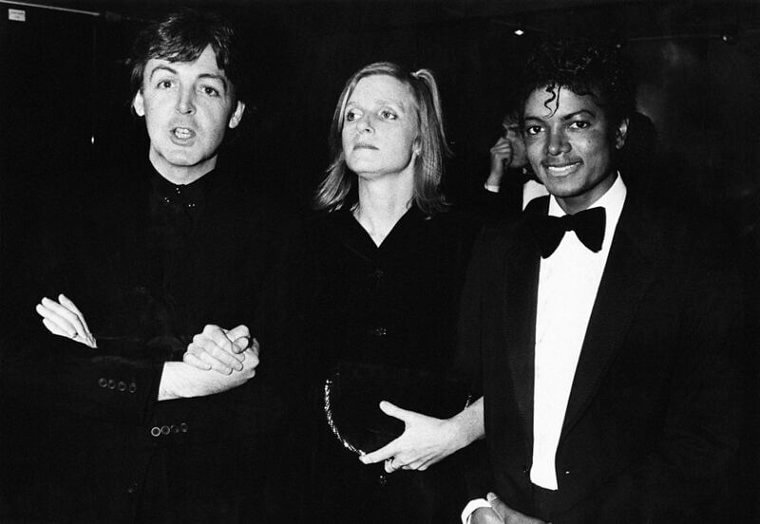 On the night, Beatles singer Paul McCartney scooped three awards - the Sony Award for Technical Excellence, Best British Male Solo Artist, and Outstanding Contribution to Music. Yet he still had time to pose alongside his wife, Linda McCartney, and fellow music icon, Michael Jackson.
One of Many Shots From Studio 54
Studio 54 is a popular theatre in New York City, but the venue initially flourished as a disco nightclub for the rich and famous in the 1970s. The notorious club attracted high-profile celebrities from around the world, providing a place to kick back, relax, and enjoy the chaos of the environment.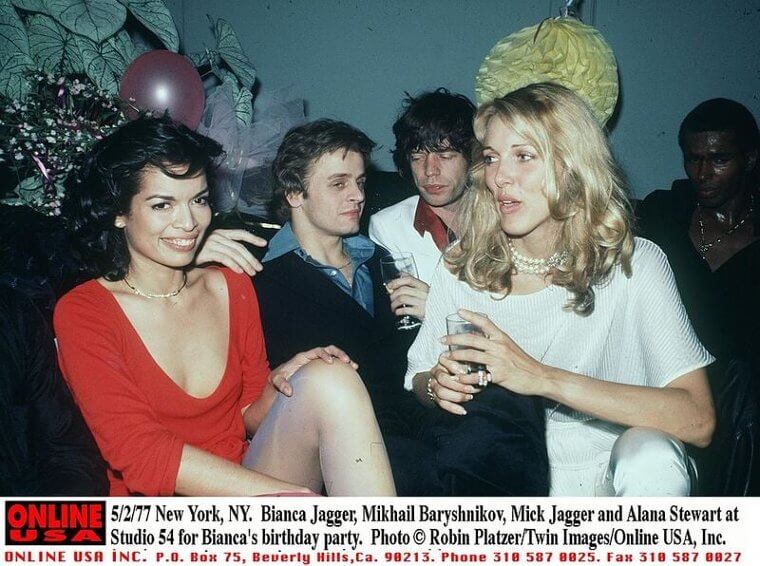 There are many candid photographs that have emerged from within Studio 54, including this one of Bianca Jagger, Mick Jagger, dancer Mikhail Baryshnikov, and Alana Stewart. On this particular night, the group was celebrating Bianca's birthday - and boy was it a party!

The Early Days of the Playboy Founder
Hugh Hefner has made history for growing the Playboy empire and developing the sexy symbol of the Playboy bunny. However, just like other brands that explode in popularity, Hugh Hefner started with an idea.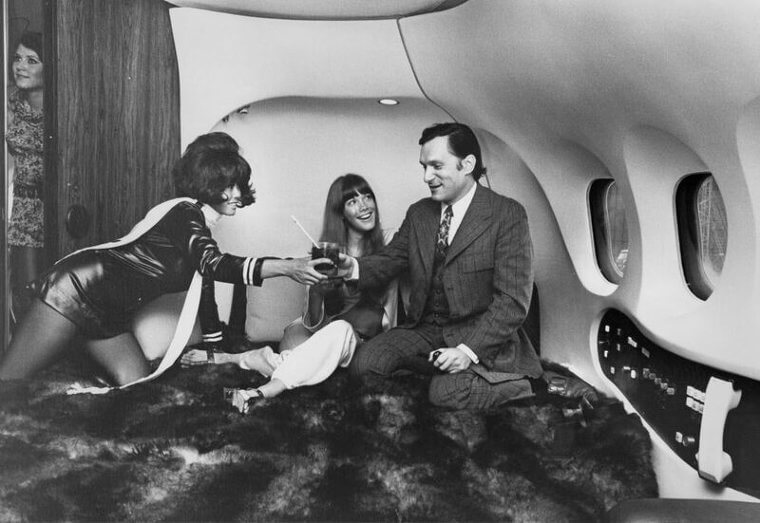 Before he passed away with a net worth of $50 million, Hugh Hefner was dating Barbi Benton and climbing the ladder of success. This photograph, taken in 1970, captures a moment that Hugh shared with his girlfriend on board his private DC-9 airliner, the Big Bunny, at London Airport. The couple was all loved up and ready for an extended holiday in Europe and Africa. Even in the early days, Hugh was surrounded by more than one woman, basking in his presence.

A Young Michael Jackson and Steven Tyler
The Beatles dominated the 1960s and 1970s, with their gentle rock music playing on every household's radio - including those of various celebrities. So, it should come as no surprise that top stars attended the Beatlemania Party hosted at Studio 54 in 1977.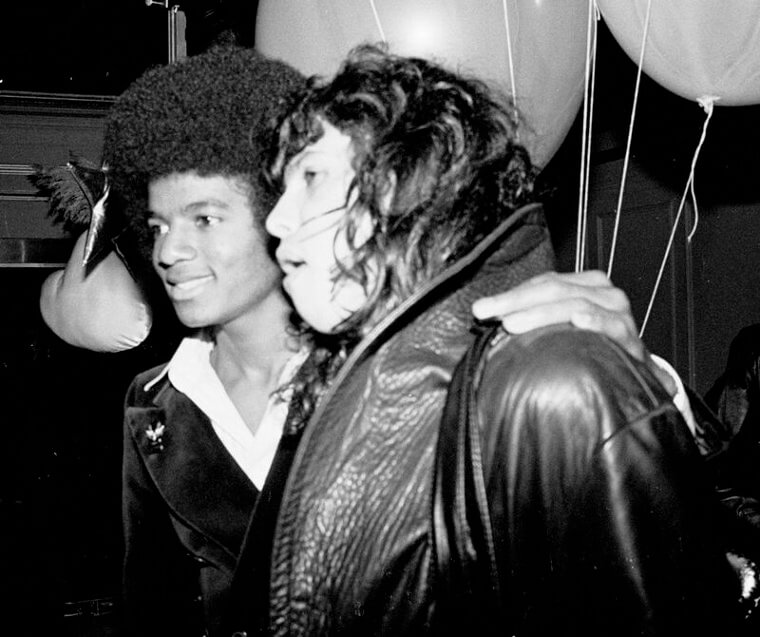 Michael Jackson and Steven Tyler of Aerosmith were two of the iconic stars that decided to get down and boogie to the sweet sounds of Here Comes the Son and Twist and Shout. Judging by this photograph of Michael Jackson and Steven Tyler, spirits were high and the mood was festive that night!
Twiggy Swaps the Runway for Motherhood
Twiggy was a cultural icon during the 1960s, using her teenage years to shift the popular perception of modeling. Her small frame and androgynous appearance catapulted the start of a new era of modeling.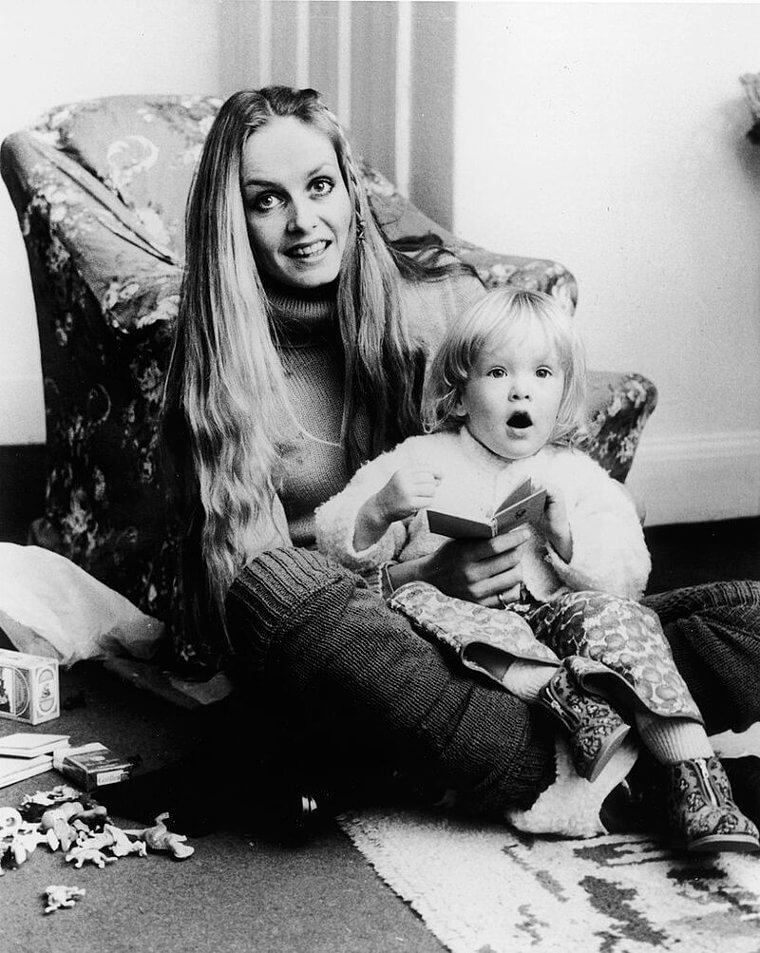 Yet this picture of the model and actress shows a different side to her. Captured in 1983, Twiggy is a long way away from the runway, sitting on the floor with her daughter, Carly Lawson, on her lap. The young child holds a book, there are toys on the floor and cigarettes nearby. Now that's an iconic image of the time!
A Model Steps Behind the Camera
Every now and then, an actor will choose to direct a film and a model prefers to take the photographs. For example, American actress and model, Christie Brinkley, was captured taking a photograph of her boyfriend, the equally famous singer Billy Joel.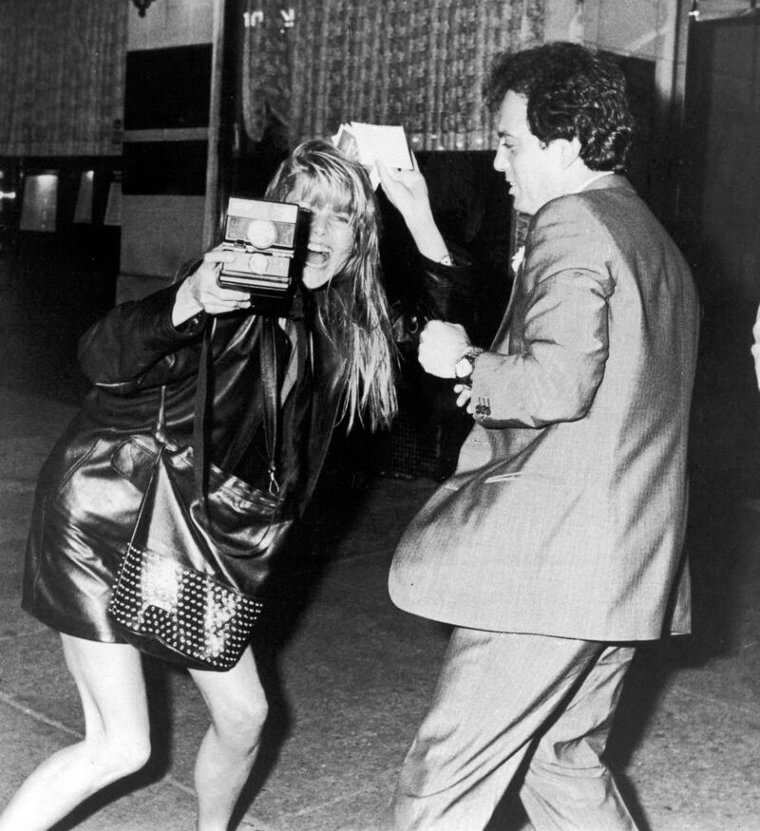 The moment was snapped in 1983, showing the sheer joy that Christie Berkley held while operating her polaroid camera. Although the pair have since split up, they remained good friends in the years that followed - perhaps coming back to this photograph as a recollection of their joyful romance.
An Album Cover Photograph for the Album Launch
Have you ever taken an awesome photo with your squad and felt inspired to drop an album? Members of Run DMC got together for the release of their album Tougher Than Leather when they got the perfect cover shot for the next album.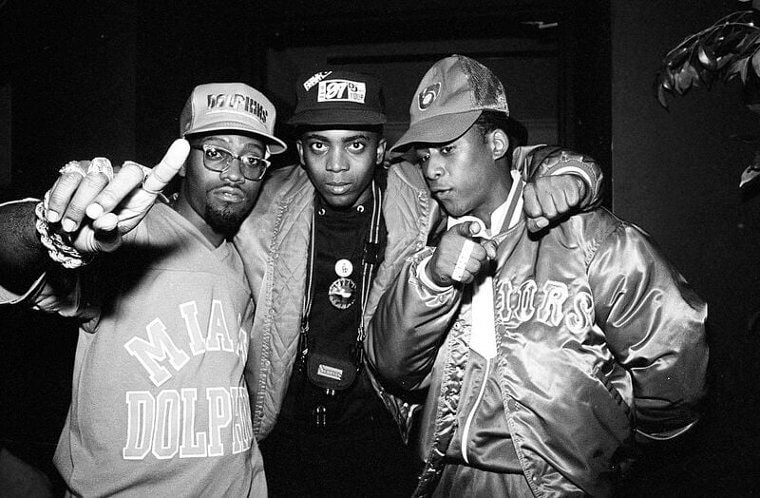 In this photograph, Daddy-O and Stetsasonic pose with a friend at a party that celebrated the release of their album in 1988. The group raised the roof at the Palladium nightclub in New York - and their beats continued to make people dance for years to come.

Pressing Pause on the Production of a War Movie
Period pieces have a way of absorbing people into a world that is far from their own, transporting people to various places such as sipping tea with the upper class of the Victorian era and getting down and dirty in war movies such as Kelly's Heroes.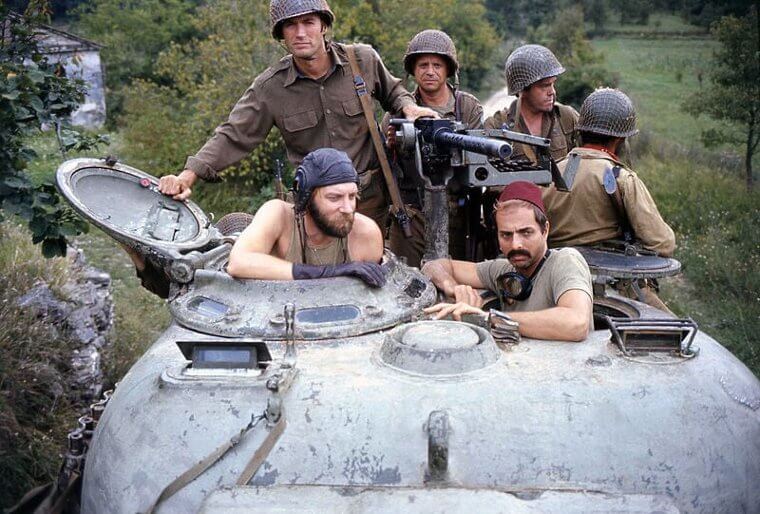 Actors Donald Sutherland, Clint Eastwood, and Don Rickles take a break from gunfire and sweat to catch their breath between shots. It's amazing what a photography camera can capture when the video camera isn't rolling. Someone needs to get these guys a few oranges for a halftime break!
Freddie Mercury Shares an Endearing Moment With His Close Friend
Freddie Mercury is a pop icon whose story is layered and complicated, revealing the rollercoaster life of the singer. If you've followed the tale of Queen, then you'll be familiar with the important role that Mary Austin played in Freddie Mercury's life.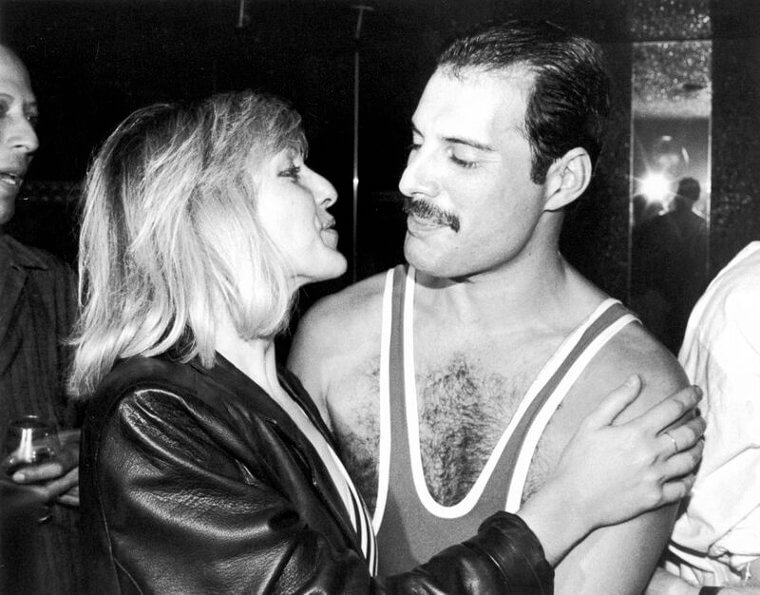 The close connection that the pair shared is glaringly obvious in this photograph which was captured during Freddie Mercury's 38th birthday party at the Xenon nightclub in London in 1984. If we didn't know any better, we'd think that they were leaning in for a romantic kiss.
Pop Legends Unite
If you look back on the list of pop legends who have rocked the world, you'll find Elton John and Rod Stewart near the very top. Both men dominated the 1970s, and their success trickled into the decades that followed.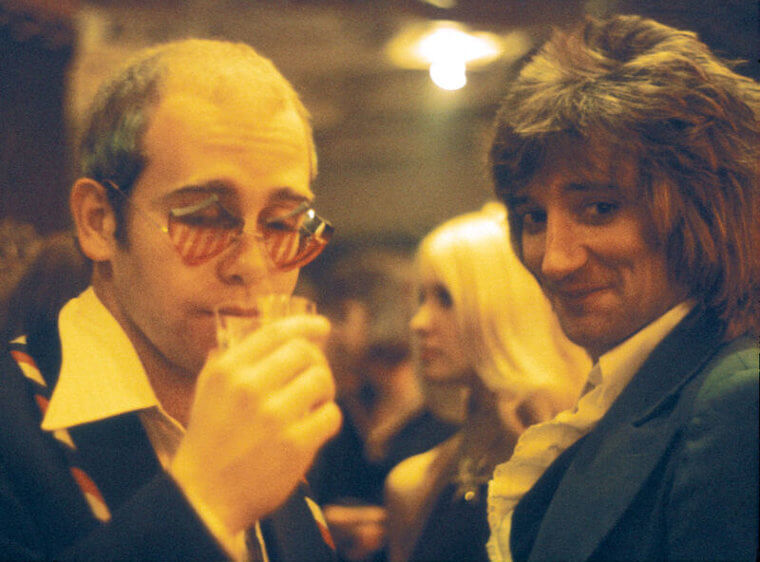 In a special moment at the Kilburn State Gaumont Theatre in London, the pair were captured as guests attending the Ron Wood and Friends concert in 1974. The expression on their faces reflects the comfort and confidence that comes with incredible success.
The Beatles Take a Moment to Kick It
When you're as famous as the Beatles, you spend the majority of your waking hours on tour, recording albums and listening to inspiration. Whenever the band gets an opportunity, members of the Beatles take the chance to relax - as seen in this photograph.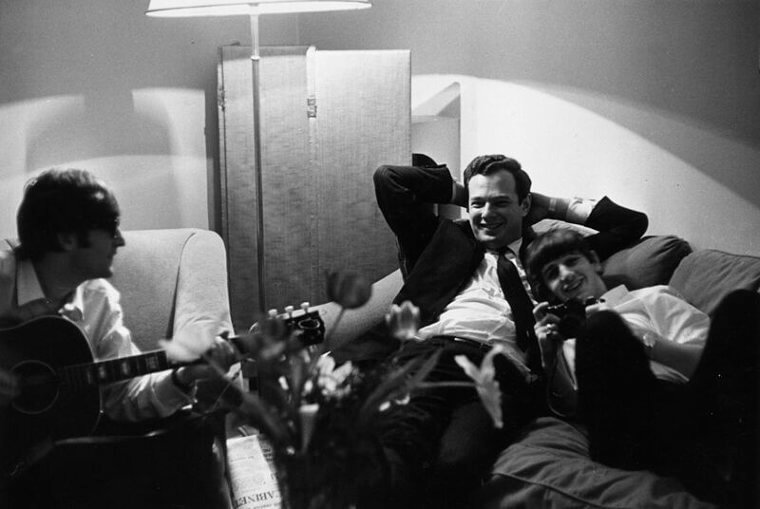 Captured in 1964, this vintage photograph shows band manager Brian Epstein having a good time and relaxing in Paris with band members John Lennon and Ringo Star. Luckily, the band members enjoy being in one another's company, and relaxing together is a favorite pastime.
Military Policeman Escorts a Young Priscilla Beaulieu
It's tough to imagine our favorite rock stars doing anything other than performing to large crowds and signing autographs. However, there once was a time when the King of Rock and Roll served in the American military.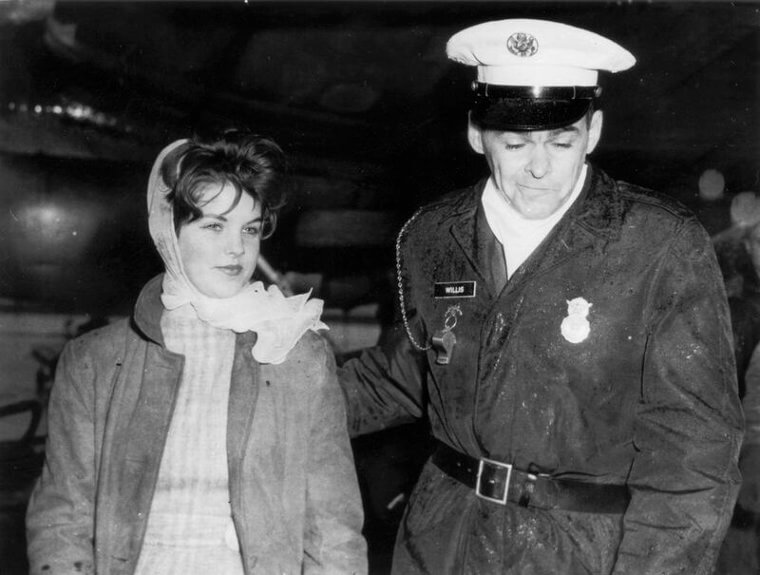 This photograph was taken in 1960, capturing the moment of 16-year-old Priscilla Beaulieu being escorted by a military policeman after saying goodbye to her future husband, Elvis Presley, at Frankfurt Airport. The lovebirds met in Germany and would go on to become one of the most iconic couples in rock 'n roll history.

Andy Warhol Strikes a Pose
There aren't many people with Andy Warhol's skills, the American artist, film director, and producer is best known for bright, colorful prints and portraits of celebrities. In this photograph, taken in 1971, Andy Warhol sits in front of the camera with a purpose.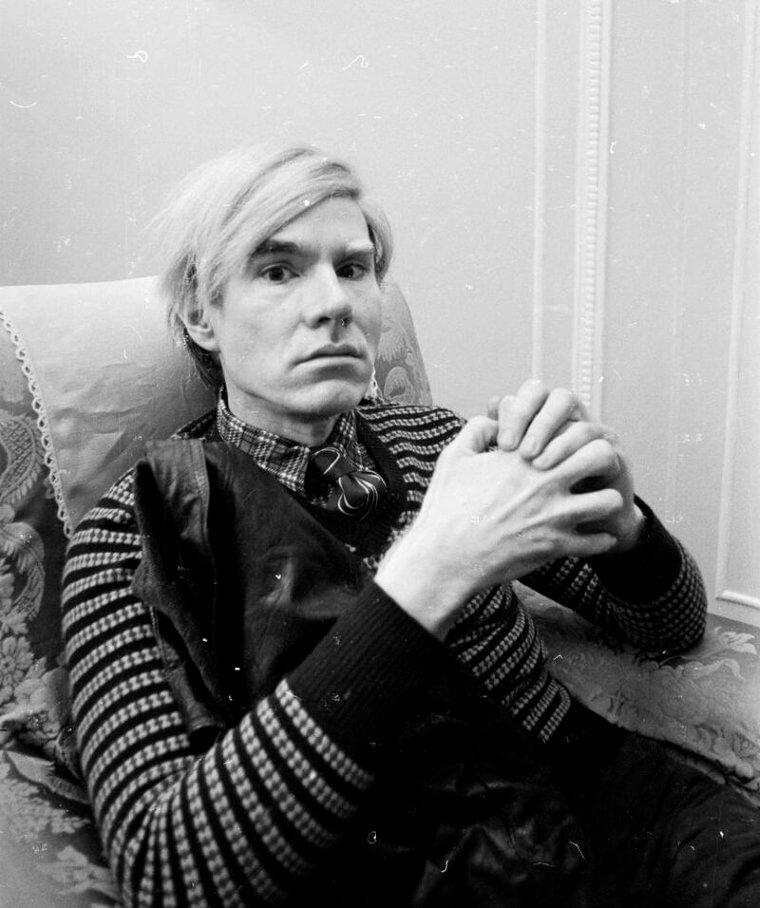 The picture was snapped at the Ritz Hotel in London while creating promotional material for his film, Trash, which was directed by Paul Morrissey and was critically acclaimed upon reception. If only we could catch a glimpse of what's going on inside his incredible mind!
Playing Tug of War With Marilyn Monroe
Marilyn Monroe was the ultimate poster girl during the 1950s, breaking hearts and crushing dreams. It comes as no surprise that she could get men to fight for her attention and in this picture taken in 1950, the playful tension manifested into a physical jest.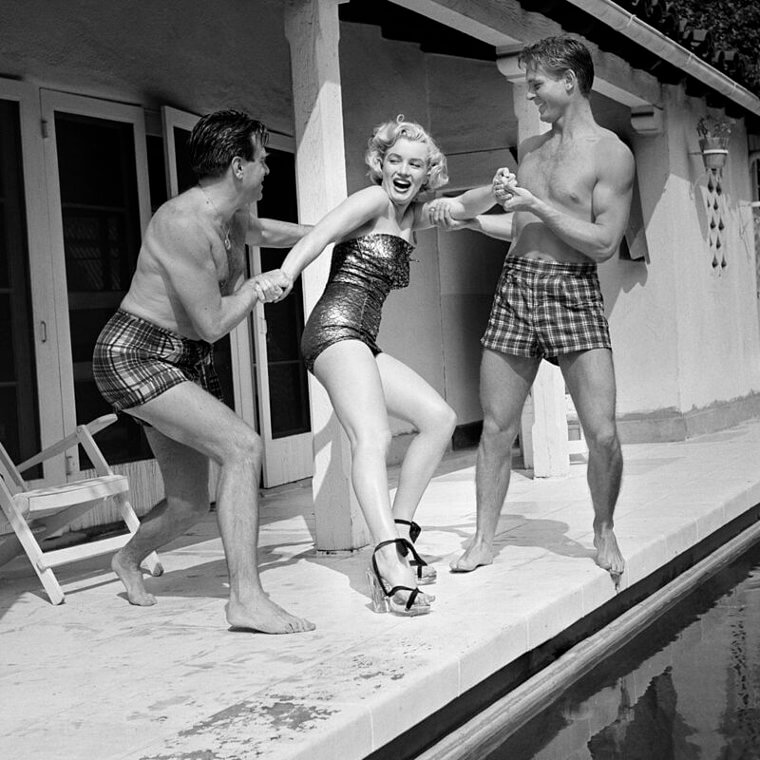 The photograph freezes a moment of Marilyn Monroe wearing heels and a bathing suit at the edge of a swimming pool in Hollywood, California. The only detail more eye-catching than the blonde bombshell is her position between two male friends. Judging by the smiles on their faces, they were all having a great time!
Radio Equipment Used for a Historical Moment
Before the invention of the camera, the recollection of historical moments relied on word of mouth and sketches. With the development of technology, the finer details of each historical moment have been captured - such as this picture of Miss Elinor Smith and Miss Bobbi Trout.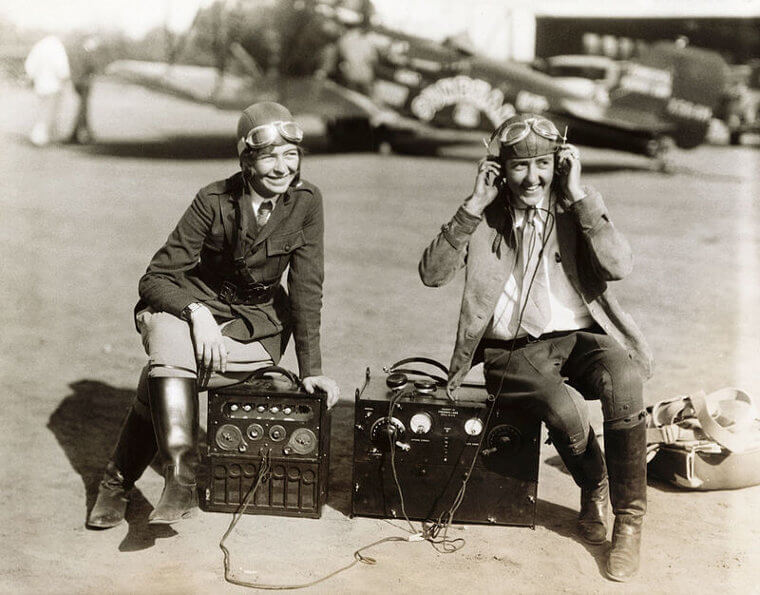 In this particular photograph, the two women are seated on top of radio equipment that was used to take upon the first woman's refueling flight for endurance. Shortly after this photograph was taken, the women took off in their sunbeam plane. Both women went on to become pioneers in aviation history.
Making Fun of Politics
Comedians take advantage of their amusing position to find the light side of life, often blurring the line between what's appropriate and what is out of line. Popular comedians play with taboo topics such as sex, politics, and other controversial topics.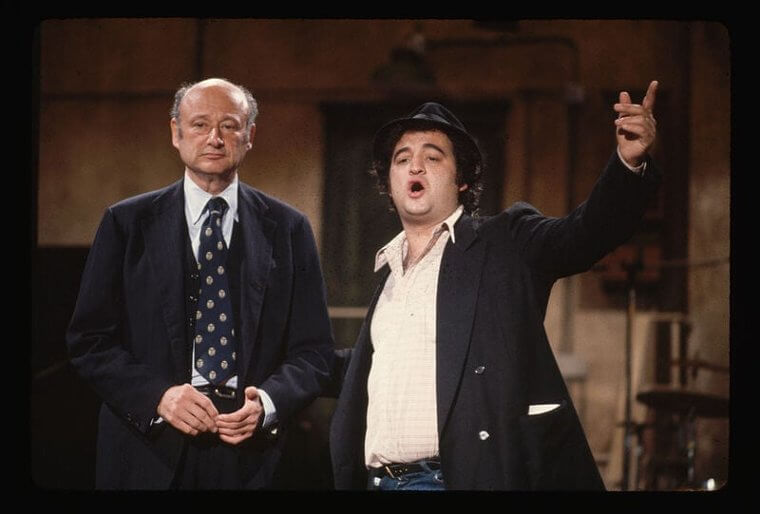 With this in mind, seeing comedian John Belushi alongside the former mayor of New York, Ed Koch is a formula for hilarious disaster.  The moment was most likely captured on the set of Saturday Night Live and we can only imagine the humorous content that the encounter inspired.
A Slick Shot of David Bowie
David Bowie is undoubtedly one of the most iconic singers to emerge from the British landscape, and it wasn't only because of his voice. The rock icon is also known for dramatic musical transformations and playing with the idea of gender identity.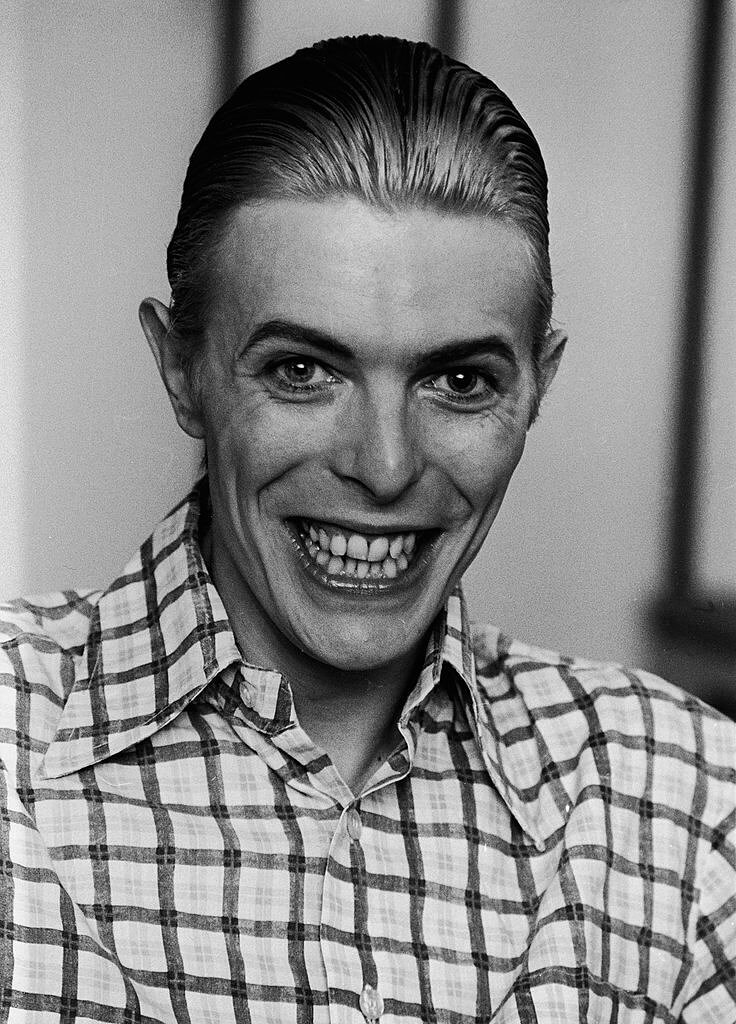 In this particular photograph, taken around 1980, David Bowie reveals the joy that he extracts from life. Wearing a plaid shirt with his hair slicked back, his expressive demeanor gives a hint of his evocative personality. Just looking at this picture will make you smile!
A Pop Duo for the Ages
There are only a few celebrity couples that can compete with Sonny Bono and Cher who took the world by storm in the 1960s and 70s. The husband and wife pop duo had an undeniable chemistry that captivated audiences - until it all fell apart.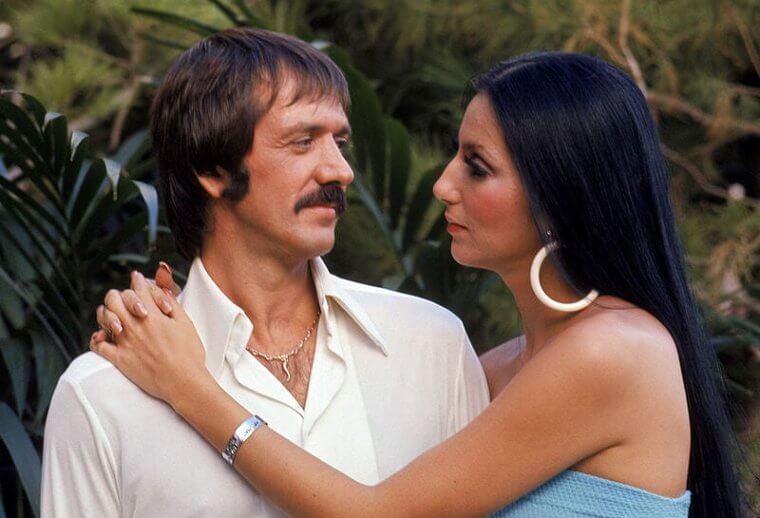 The couple divorced in 1974, but their romance was very much alive when this photograph was snapped in 1970. Posing for a promotional photograph for The Sonny and Cher Show, you can almost feel the romantic tension through this image.
Singers That Perform Together, Pose Together
The Bee Gees were all the rage in the 1960s and 70s, hitting the airwaves with Stayin' Alive and How Deep Is Your Love. After growing up together, the popular trio continued to be seen together, producing music to stand the test of time, and this photograph from 1970 is proof of their connection.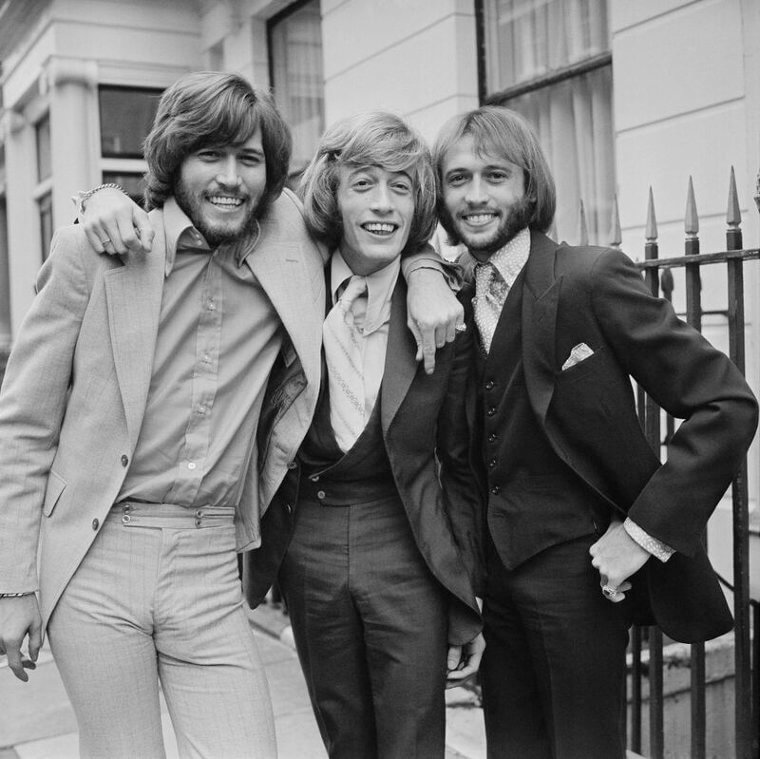 Brothers Barry Gibb, Robin Gibb, and Maurice Gibb smile for the camera and stand alongside one another in London. Can you spot the resemblance between their giant grins and matching suits?
Musicians Join Forces to Boost the Arts
Making it big in the entertainment industry is not an easy task, and it's even more difficult for minorities to get a break. In an effort to inspire the Indian arts in Britain, various celebrities joined forces to promote the first Festival of the Arts of India.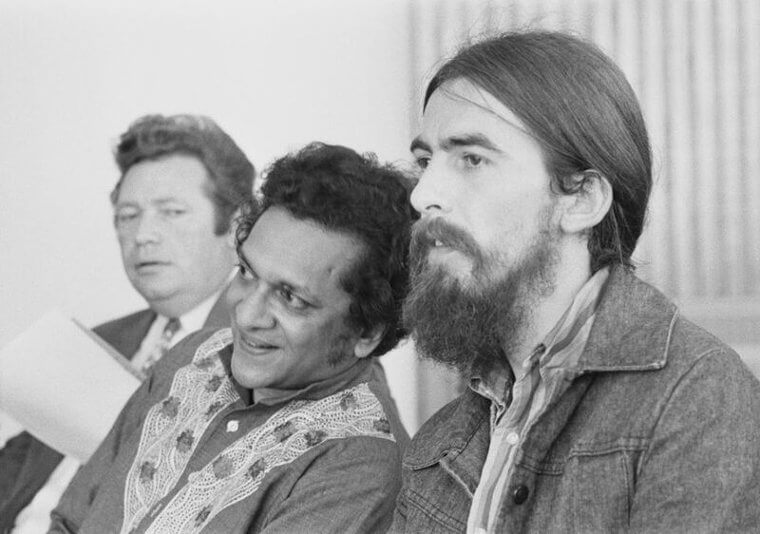 During a press reception at the Royal Festival Hall in London in 1970, a photographer captured George Harrison of the Beatles sitting alongside Indian musician Ravi Shankar. The pair seem to be bonding over a shared passion for music and uplifting the arts.

A Moment Captured of Husband and Wife
Louis James Lipton found great success as a writer, actor, and host of the Bravo cable television series Inside the Actors Studio. He was also the husband to Kedakai Turner, who dabbled in modeling, acting, and working as a real estate broker.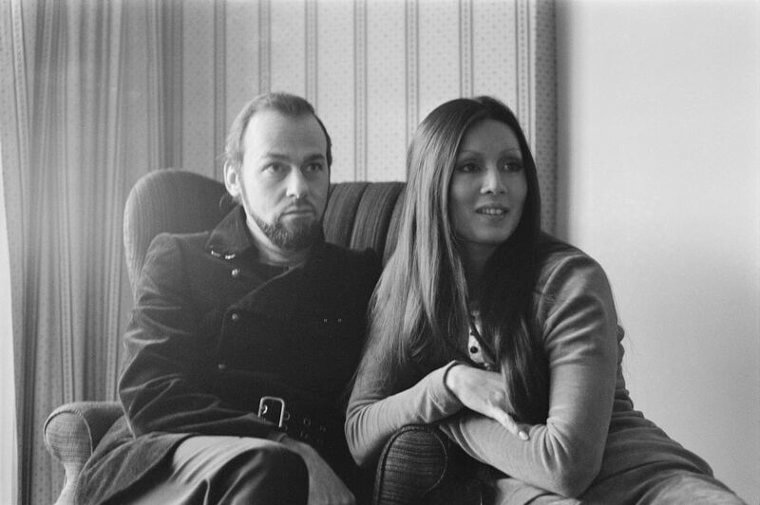 The couple tied the knot in 1970, and remained married until James Lipton passed away in 2020. Over the years, the pair shared many tender moments, including this one captured in 1970 of the couple seated together in London, being distracted by something off-screen.
A Moment of Greeting at London Airport
Although John Wayne rose to fame during the 1940s, his name echoes in Hollywood history and he has become an iconic figure in the Wild West scene. In this photograph, taken in 1965, the prolific actor swaps out the dusty landscape for the London Airport (which has since been renamed Heathrow).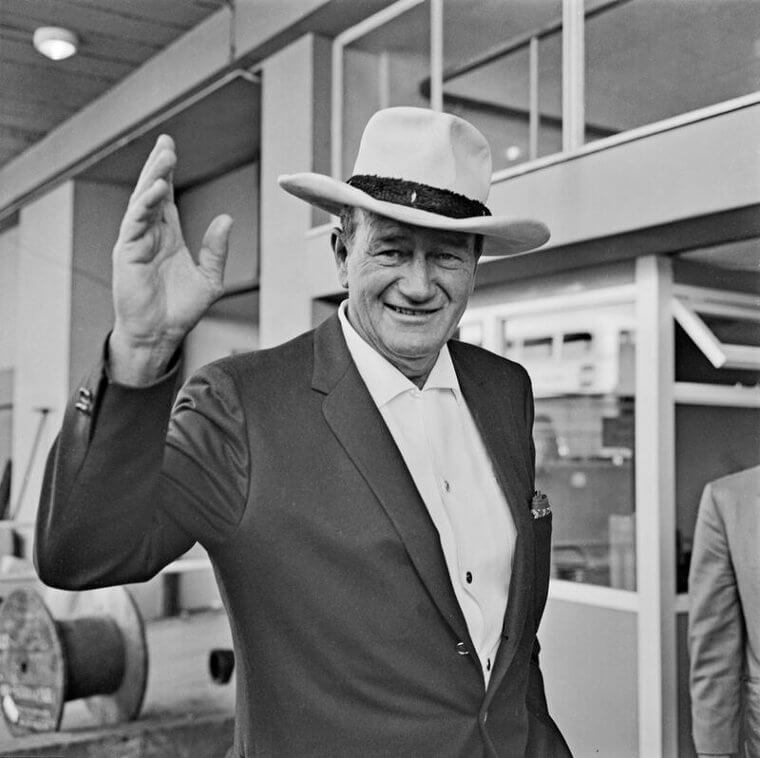 Although years had passed since his heyday, the American actor still carried himself with the same suave demeanor. As John Wayne waves at the camera, it's obvious that he is comfortable in front of the lens.
A Model at a Motor Show
The British International Motor Show has been hosted since 1903, first hosted at The Crystal Palace in London. While the venue and vehicles have changed over the years, the love for motor cars has remained strong, with plenty of photographic memories being collected at the event each year.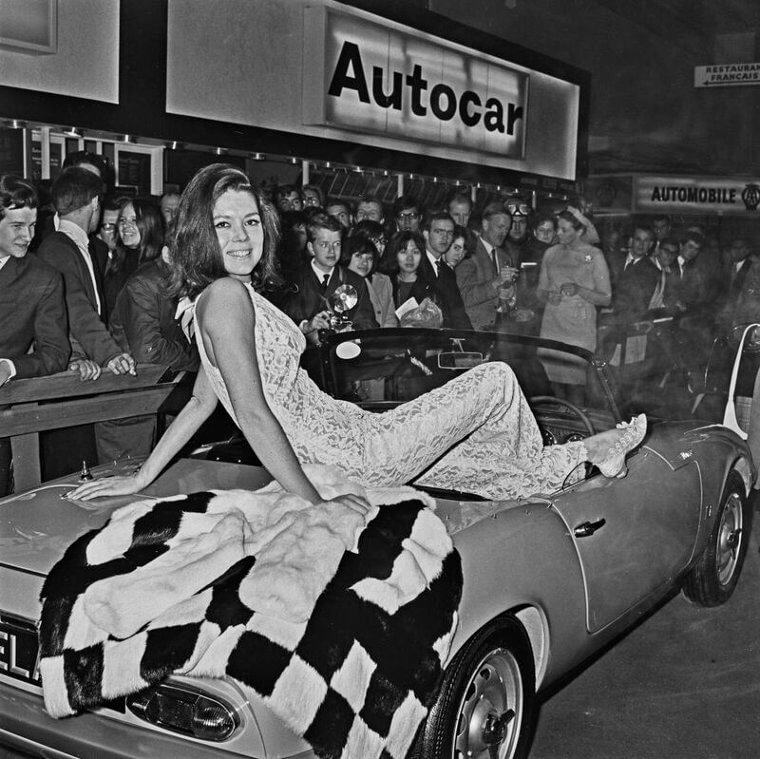 In 1965, this particular memory of English actress, Diana Rigg, sitting on top of a Lotus Elan at the British International Motor Show in Earl's Court in London was captured. In hindsight, she may have been a bit of a distraction from the main attraction!
A Magical Place for the Beatles
EMI Studios, since rebranded to Abbey Road Studios, is an iconic place in the history of the Beatles. The recording studio has hosted various musicians over the years but is most commonly associated with the legendary Beatles - who have recorded 190 of their 210 songs at the studios.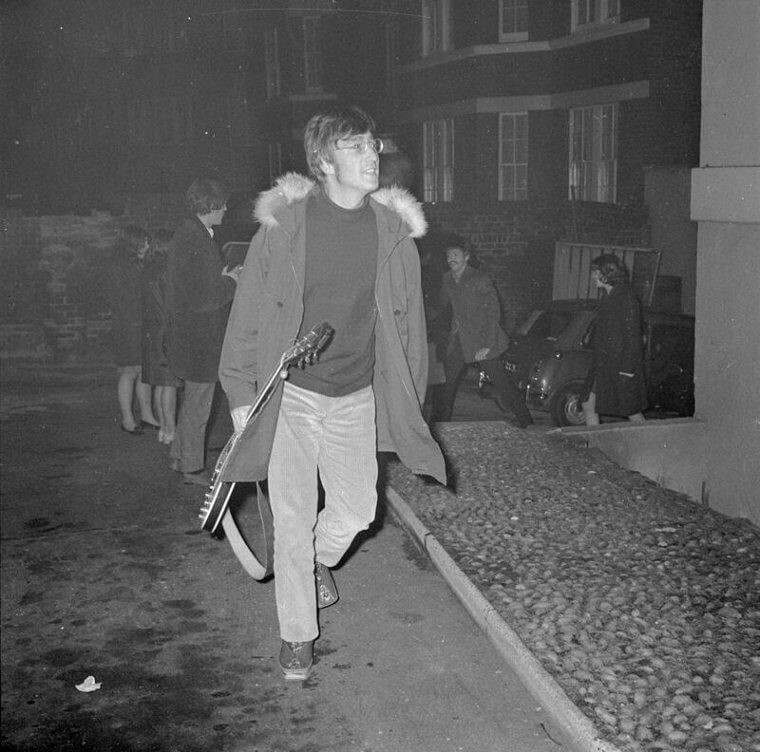 In 1966, this photograph was snapped as John Lennon arrived at the EMI studios in Abbey Road, London. At the time, it was just another day in the life of the iconic musical group, but the moment is weighted with nostalgia.

A Tender Moment on Film Set
Everyone knows James Dean to be a heartthrob of his generation, and Elizabeth Taylor to be a desirable woman. In this photograph, both elites are seated together, captivated by one another's company.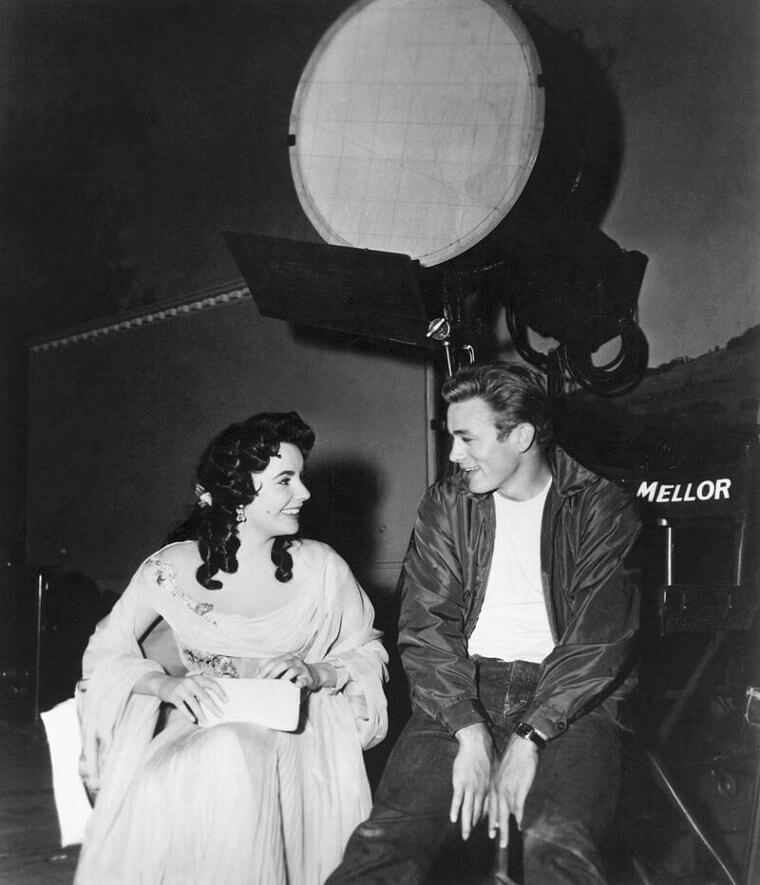 The photograph was taken on the set of Rebel Without a Cause, a film directed by Nicholas Ray in 1955. James Dean took the lead role, and strangely enough, he got the part because Elizabeth Taylor fell pregnant and the film had to be delayed.
What a special moment shared between the pair!