Wall Street, sitting in New York City's financial district, expands over an eight-block-long street and it's vastly associated with businessmen who are out to take your money. It's known for its long hours of work, countless financial winnings, its endless flow of inspirations for Hollywood movies, and of course, its slimy scandals. Here, we're looking at the most major Wall Street scandals that changed the course of history.
Bernie Madoff
Bernie Madoff will always go down as one of the most brutal schemers of his time. He caused many investors to commit suicide as investments to the value of $50 billion just went "missing". Madoff often commented that his investments' abilities to generate more money "were too complicated for outsiders to understand".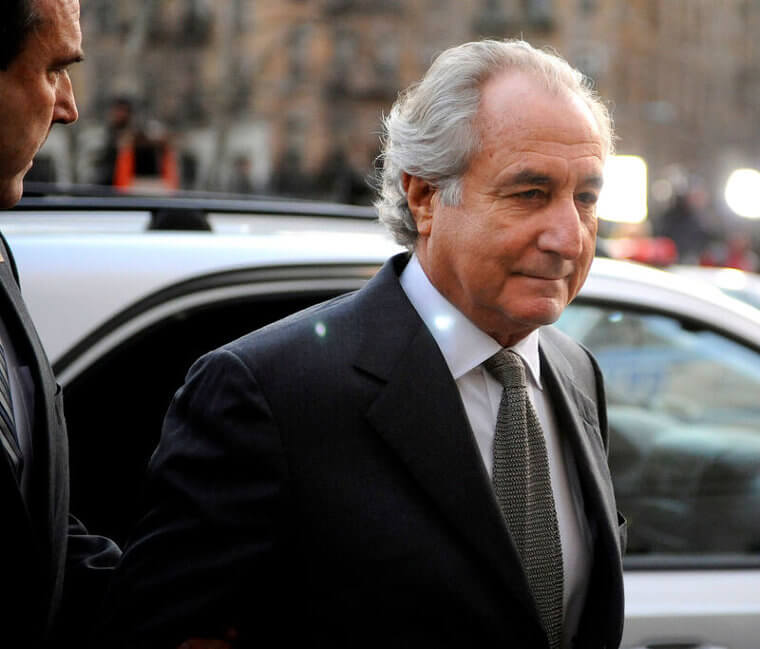 Madoff was the master of a Ponzi scheme where he would offer deals to only a specific target audience. He would explain the complicated facts of the deal, rather than inform them of any of the fine print details. His schemes took place right after the 2008 world recession and lasted almost 30 years. Bernie Madoff's name was left to become nothing but a beacon associated with shady Wall Street investment deals.
Albert Wiggin
Albert H. Wiggin became the poster child for the Great Depression. After markets crashed around the globe in 1929, Wiggin was cashing in on short stocking the banks and raked in profits of over $4 million. It was such a devastating internal scheme pulled off by Wiggin that his actions caused the United States government to name an act after him, dubbing it "the Wiggin Act."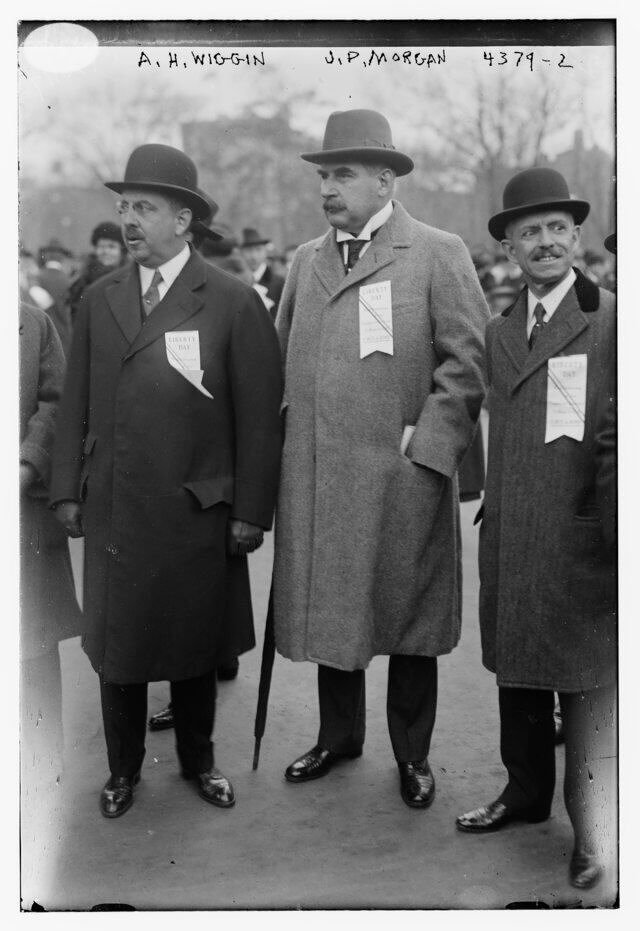 Chase National made Wiggin their top banker during the 20th century and Wiggin helped them expand their empire greatly all while making his historical scaley profits right underneath their noses. Wiggin was described as "the most colorful and attractive figure in the commercial banking world" by lawyer and American industrialist, Owen D. Young
Richard Whitney's Exquisite Facade
Richard Whitney was a poser who caused the very thing he pretended to fight to prevent. That is, the stock market crash in 1929. Whitney's attempt to save what was left of the stock market ultimately put him in the light of a knight in shining armor and even landed him in the position of presidency for the New York Stock Exchange. Unfortunately, all it was was a false front, and a sweet way to get inside the belly of the beast - the one he was slowly stealing from.
He was a trader with serious obsessive behavior when it came to dealing in stocks. He kept losing money and then taking loans from rich "friends''. Of course this wasn't sustainable and called for more desperate measures, leading to embezzlement from his clients. Six-thousand people came to witness Whitney get handcuffed and dragged away to prison.
Bruno Iksil
After the London branch of the enormous banking chain JP Morgan Chase reported that money went missing, it opened up a massive investigation by the United States government. Evidence led officials to one of the company's traders, Bruno Iksil. Iksil hedged bets on a large number of credit default trades in the hopes to make some profit off the company's back. Unfortunately for Iksil, the whole scheme failed as no profits were made, but $6.2 billion went "missing".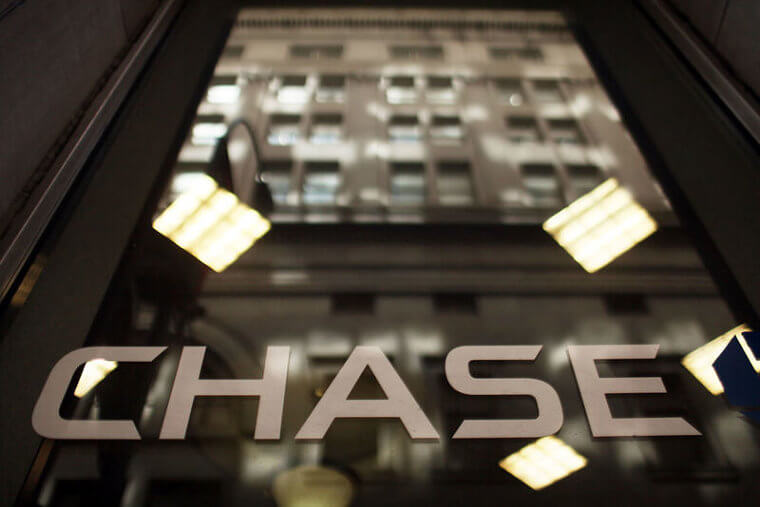 The investigation found Iksil guilty and he was forced to pay back a lump sum of $920 million to investors as his slimy dealings were exposed and the whole story blew up across the world. Many traders get caught out purely due to their greed. The events became known as the "London Whale Scandal".
Michael Milken
Despite going to jail after being convicted for racketeering, tax evasion to name a few, Micahel Milkin is now known as a presidentially pardoned felon and as one of the world's wealthiest people.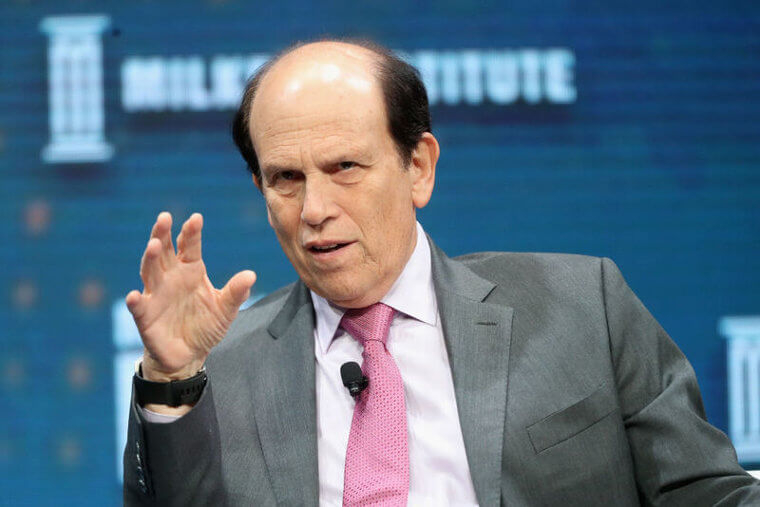 Known as "Junk Bond King", Milken specialized in big financial high-yield bonds and also played a major part in the development of that exact market trade sector. In the end he pleaded guilty to all of his charges. They all violated the U.S Securities laws but today his net worth still blows the minds of everyone who learns of his dealings. Milken's networth stands at $3.8 billion USD in 2022 according to Forbes.
Jordan Belfort
Unless you have been living under a rock, you will know about the Hollywood hit movie, The Wolf of Wall Street. Leonardo DiCaprio plays the role of Jordan Belfort, a somewhat genius scam-artist who scams investors out of over $200 million. He created an investment firm called Stratton Oakmont which had him drowning in FBI investigations in only a few short years.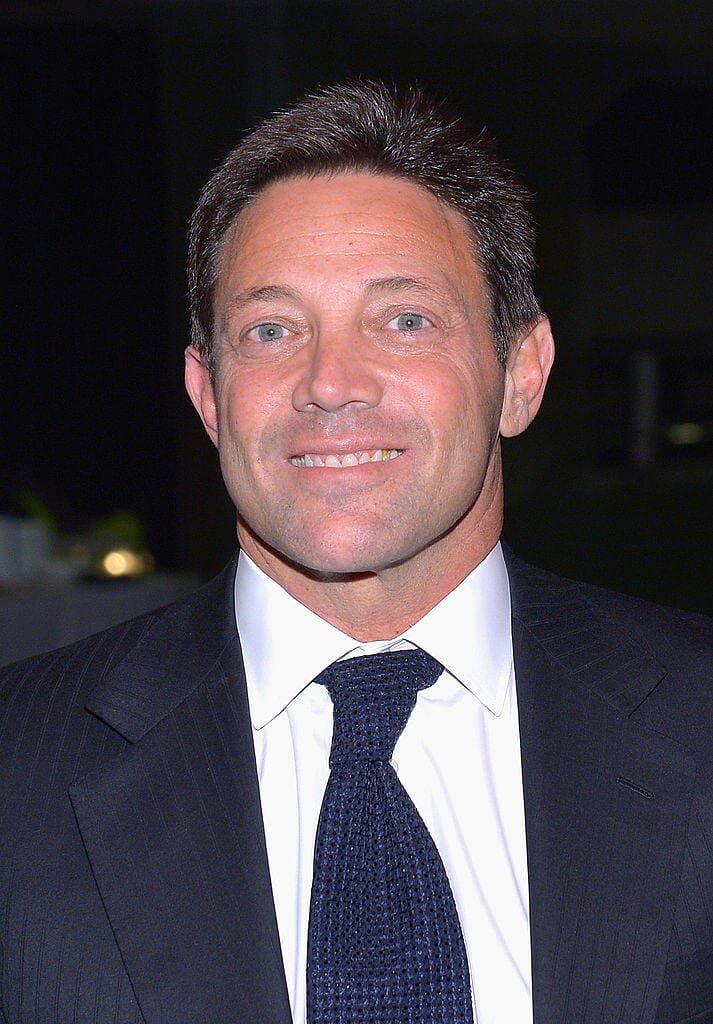 The former stock broker eventually landed in federal prison where he spent 22 months after pleading guilty to crimes involving mostly fraud and stock market manipulation. He went on to become a world famous motivational speaker, author, and American entrepreneur not too long after his release and quickly regenerated most of his income. The movie The Wolf of Wall Street  was a 2013 adaptation of his memoir he wrote in 2007.
Ivan Boesky
"I think greed is healthy. You can be greedy and still feel good about yourself," was a speech given by Ivan Boesky at a business school commencement in 1986. It is now famous and widely known as the "greed is good speech". Boesky was one of the slimiest American stock traders who became notorious for playing a big part in an insider trading scandal in the United States during the mid-eighties.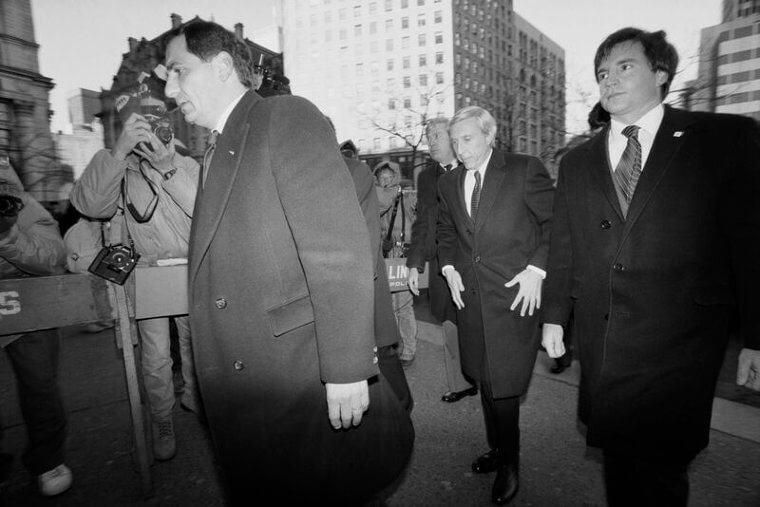 Ivan became an informant for the justice system after serving three years in prison after being charged with insider trading charges. Boesky pled guilty and was eventually fined $100 million for his actions. He became so famous for the scandal that the character of Gordon Gecko in the movie Wall Street in 1987 was based partly on him. Boesky's conviction is also featured in a CNBC documentary titled Empires of New York.
Bre-X
This next story felt more like a script to a Survivor episode, rather than a mining scam. A Canadian mining company called Bre-X released a statement claiming that they had come across massive reserves of gold somewhere in Indonesia. This was in October, 1995 and as soon as the public got hold of this information, their stock catapulted to $200 per share. The money, of course, seemed to have disappeared right about the time that Michale Guzman supposedly faked his own death by jumping out of a helicopter.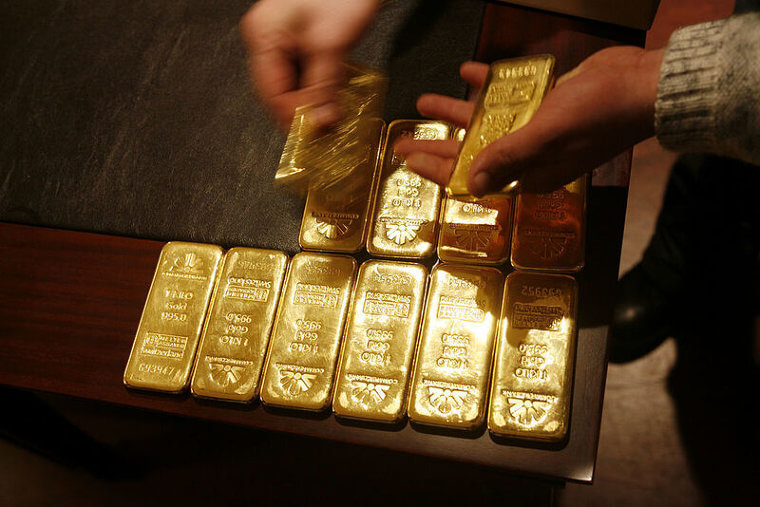 Allegedly his body was found four days later in Busang in Indonesia but it was severely mauled by animals. The body was never confirmed to be Guzman, and rumors ran wild after a body was reported stolen from a morgue close to where the helicopter left from. Turned out, the gold had also been planted and Bre-X filed for bankruptcy.
RefCo
Another almost unbelievable scam in the world of Wall Street stock exchange happened in 2005. A New York-based financing firm registered as a public trading company in August and within one day, their worth was up to $3.5 billion. As they say, easy come, easy go, and the truth soon came out. In the world of investments, that is like a speck of dust in the broader spectrum of things.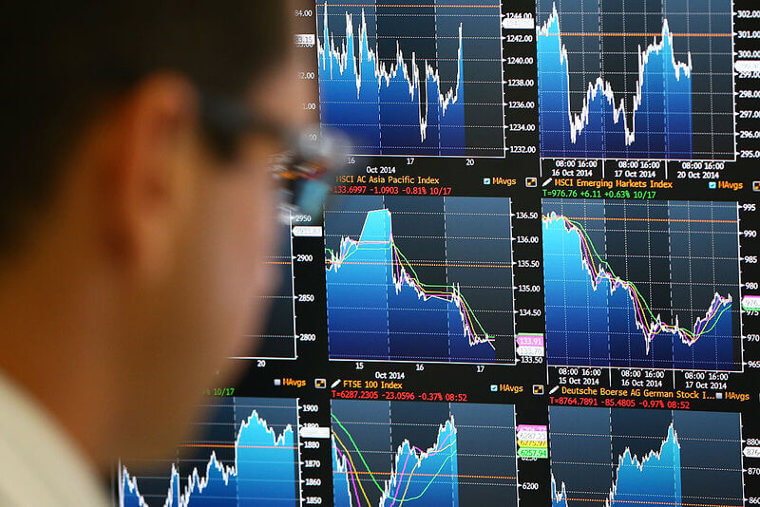 A thorough investigation later proved that RefCo's chief executive officer and chairman, Phillip R. Bennett, concealed $430 million in debts prior to entering, as well as $525 million in bonds which were fake. This announcement triggered a whirlwind of investigations and after only two months on the circuit they were fossilized. Though the company was a smaller size than many others, the regulatory impact will be larger than many other scandals to come.
The 2008 Recession
The stock market crash known as the 2008 recession was another scandal that could probably have been avoided had banks not offered high loans to homeowners knowing very well they would be unable to pay back. The debt became so big that it leaked over into many other aspects of society, industries, and different countries. Banks like Lehman Brothers even filed for bankruptcy.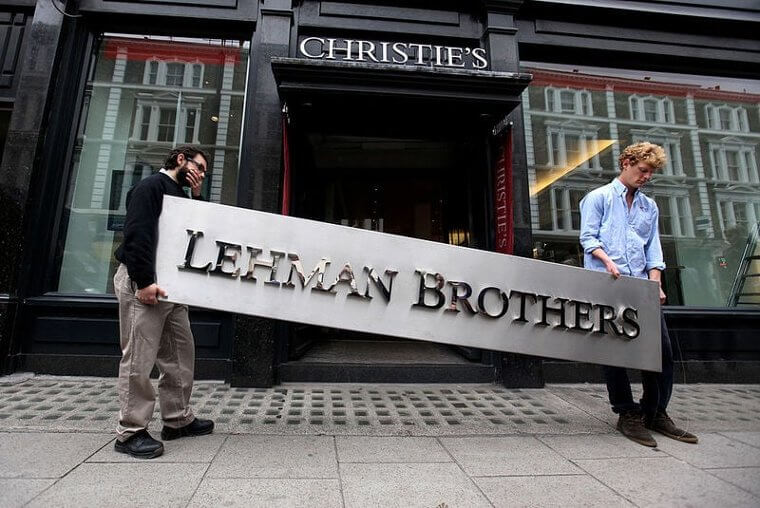 According to The Dow, it was the biggest point drop in history and Congress passed a massive bailout program for banks called TARP. It allowed the U.S Treasury to bail out the banking foundation of the countries affected. The bailout program was put in place purely to prevent a global and national crisis from unfolding but looking back now, this was only the beginning of the chaos to come.
Raj Rajaratnam
A Sri Lankan-American former hedge fund manager known as Raj Rajaratnam started his very own investment firm after many years as a loans officer and analyst as his career. His firm was called Galleon Group and was based on his information gathered by sources from other firms, "friends in high places'', who gave him information on stock rises and drops before the greater public became aware of them.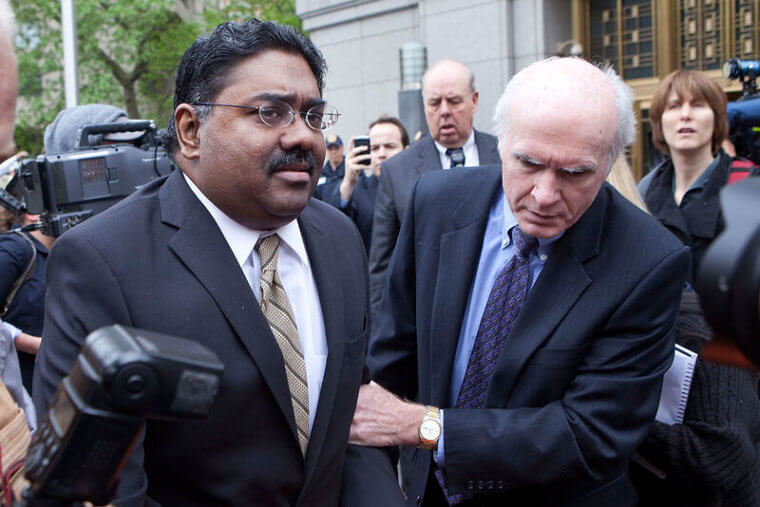 This scandalous give away of secret inside information ultimately contributed to $60 million in hedge funds, making it the biggest insider trading scheme in all of history. The FBI arrested him in New York on October 16, 2009 which ultimately led to the closing down of Galleon Group forever. He was incarcerated at Federal Medical Center, Devens in Ayer, Massachusetts, a facility that specializes in male offenders in need of long-term mental health care.
Dennis Kozlowski
Leo Dennis Kozlowski was the former CEO of Tyco who used the company's money for his own personal spending sprees. The man was clearly addicted to spending money as he paid himself a hefty $81 million bonus and spent another $14.725 million on art pieces. Aside from his personal spendings of company funds, he also paid an investment banking fee of $20 million to the company's former director, Frank Walsh.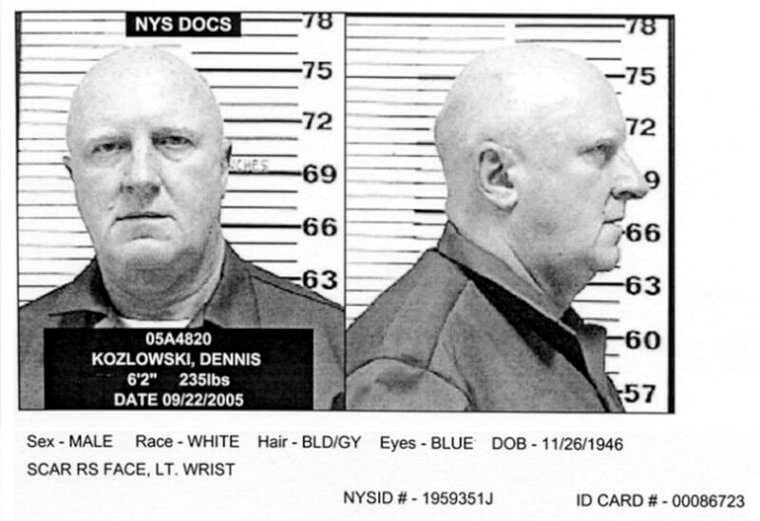 After being arrested he was sent to Mid-State Correctional Facility in Marcy, New York, where he spent six years as an inmate. After that he was transferred to Lincoln Correctional Facility in New York City, and eventually granted conditional release on 17 January, 2014. $500 million was forfeited back to Tyco under New York's "faithless servant" doctrine. 
John Rigas
Most people have bad days. John Rigas had 15 years of bad days when he got busted for his scaly dealings in the world of telecommunication. John Rigas was the owner of Adelphia, a telecommunications company which, thanks to the man himself, grew to become one of the biggest telecommunications companies in the United States. However, the way things looked on camera were quite different to what was happening behind the scenes.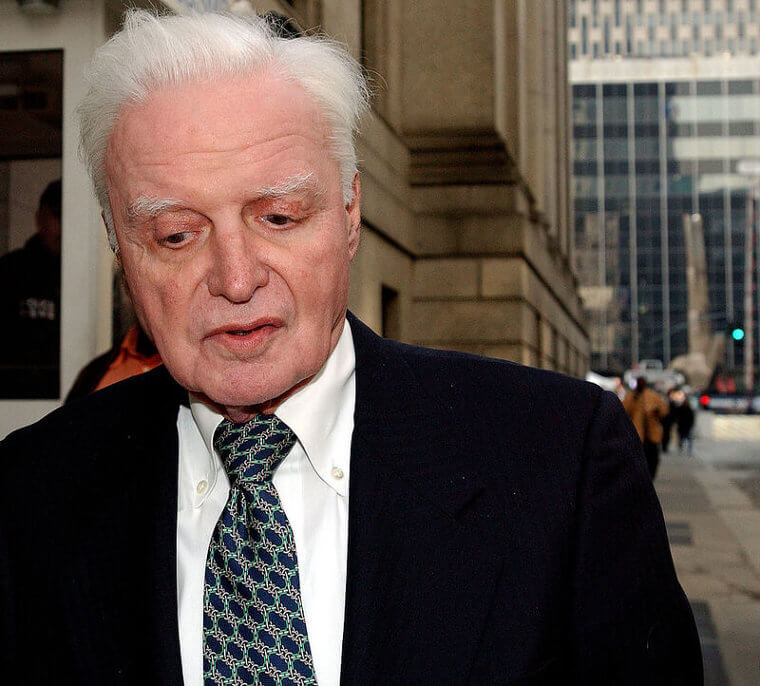 Firstly, Rigas and his family were hiding the fact that the company was around $2.4 billion in debt while quietly pocketing $100 million for their own personal gain. The inevitable happened when big lump sums of money went "unaccounted for" and Adelphia quickly moved from a flourishing business into being forced to declare bankruptcy. In the end, everyone lost and Rigas even had to sell his hockey team due to poverty.
Samuel D. Waksal
One of the people on Earth who has made the most money (and lost it) on a product that doesn't work. Neither was this very serious topic ever considered to be a sensitive subject for those who suffer from it or lost loved ones to it. Waksal founded ImClone, Arbitux which is an anticancer-drug he developed that was produced by the company and profits grew tremendously.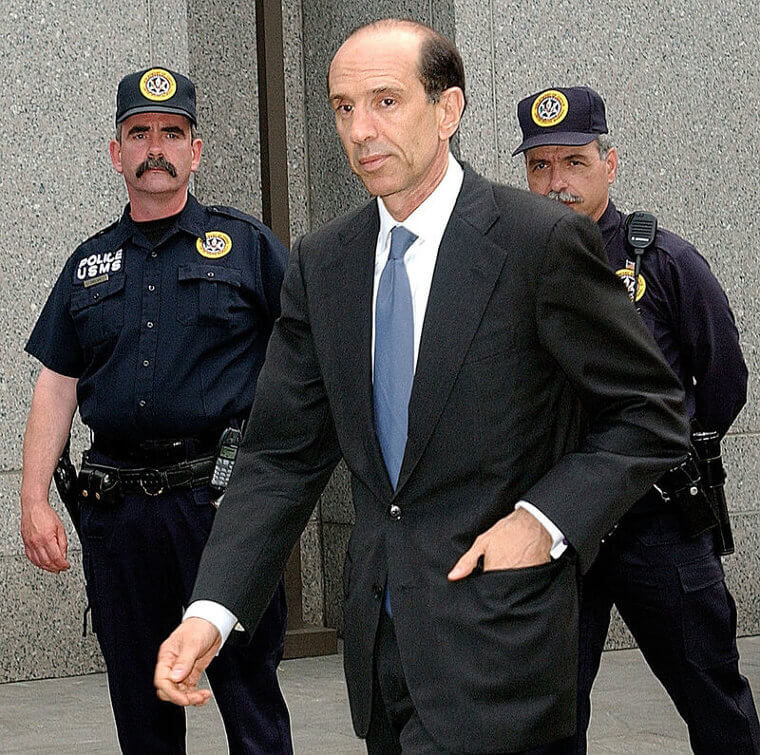 It grew so fast that he started selling shares to this company even though it was all built on lies and deception. With money at the root of the empire and no actual proof that the drug worked or that he even cared, the FDA released a statement that it was not approved and that the drug didn't work. Waksal was charged with insider trading and sent to prison in June, 2002.
Joseph Nacchio
In the '90s, telecom companies were popping up all over the place but the ones who made it to the top were the ones willing to put up a fight. Qwest Communications was one of the many who fought for supremacy and fought for first place. This led to their CEO, Joseph Nacchio, becoming a complete fraud who made fake contracts in order to drive up stock, giving their company more money to buy out smaller companies.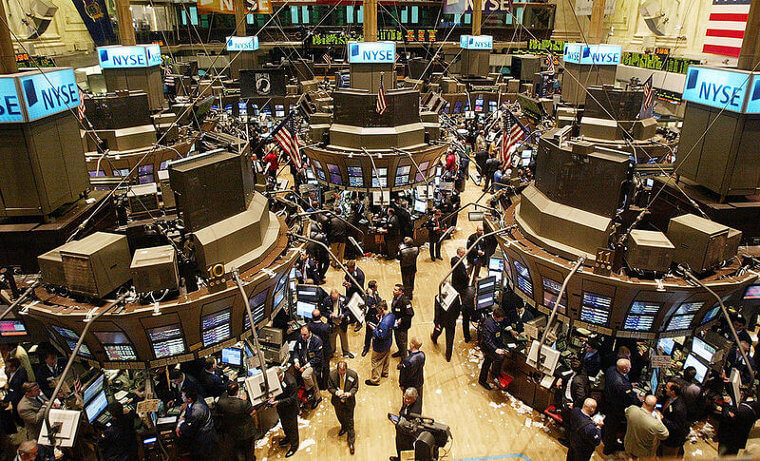 They were trying to leave no room for competition but like with all scams, they were caught out. Nacchio made a profit of $52 million selling illegal stocks which in the end, he was ordered to pay back right before his prison sentence. 
Sam Israel
He was quick to promise investors millions in return for their financial investments but when he failed to return their profits, all hell broke loose. Sam Israel was in debt of $450 million, which it turned out he stole from his investors by embellishing the truth as to where their money was really going. Sam Israel started out as the head of the Bayou Hedge Fund Group when the company was founded in 1996.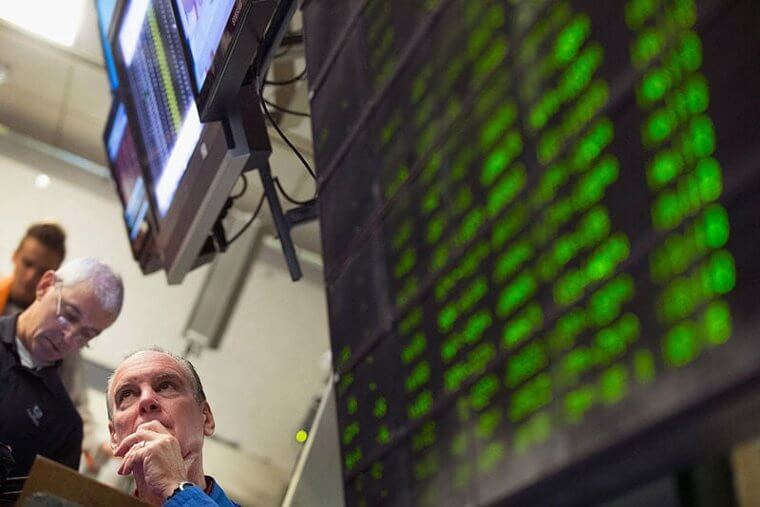 Their large group of investors were defrauded almost from right at the start as fake accounts were set up to provide them with misleading audited results after poor returns in 1998. Samuel Israel III together with CFO Daniel Marino both pleaded guilty to all charges. Both were given 30 years behind bars with Israel having to repay $300 million. 
Carpet Cleaning Scam
While still in high school, Barry Minkow founded ZZZZ Best as a carpet cleaning company. He started the company in the garage of his parents home and going public in December 1986, was immediately valued at over $300 million soon after.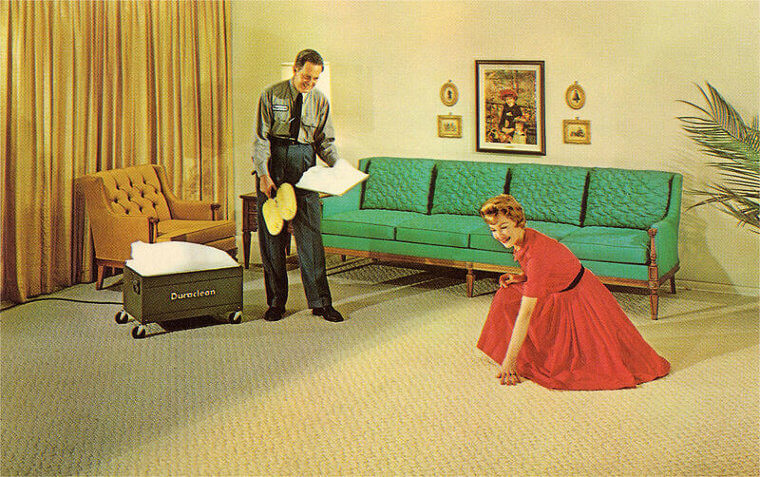 But it was all a front for a huge Ponzi scheme. Later it became known that when the company finally collapsed, 90% of it was all made-up. Minkow's little dream world was created through faking documents so he could take the "independent" company to the public in the hopes of big time investors. Despite supposedly turning his life around after serving prison time, you can't keep a bad man down, and Minkow was later sent back to prison for purposefully driving down stock prices and defrauding his own church.
WorldCom
When the communications company WorldCom got caught out, it sent shock waves through the United States. It was one of many in the industry to become known for their scams around the late '90s to the early 2000s as the industry opened doors for opportunity in telecommunication. WorldCom was the second-largest long-distance telephone company which led to one of the biggest schemes in the country. Bernard Ebbers, CEO, came up with a giant scheme to get them to the top, and keep them there. 
This was until his idea turned out to be highly illegal and did more damage to anyone involved than anyone could have ever imagined. He inflated earnings by $11 billion to maintain their stock price which led to their bust after trying to return payments back to investors of $6 billion. Ebbers was charged and sentenced to prison for 25 years on several counts of fraud. 

Enron
The scandalous, illegal business dealings and bankruptcy surrounding Enron eventually landed the founder and former chairman, Kenneth L. Lay, in jail. Aside from his 14 year sentence, the whole company was completely destroyed together with their auditing firm. To the world, Enron seemed to be what they considered the "Most Innovative Company". They were given this title by Fortune Magazine due to their consistent and major success. News feed articles dubbed their scandal: "The Fall of a Wall Street Darling''.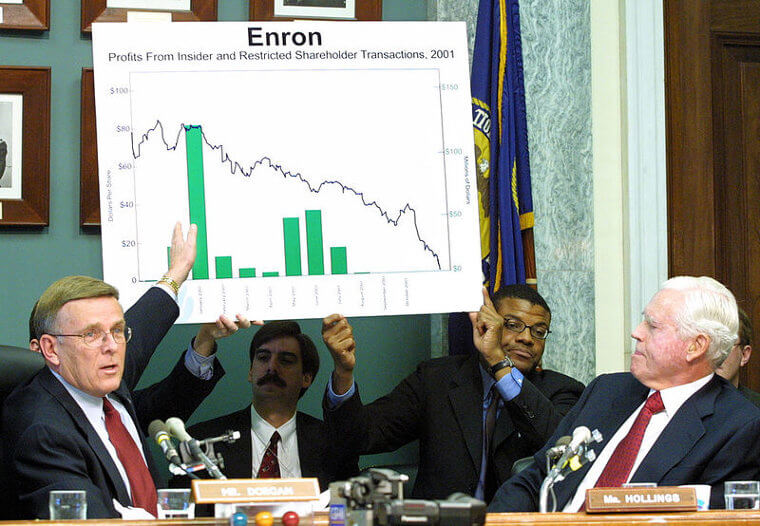 Their success was huge but so was their fall when it was discovered that they were fooling regulators for years with fake holdings and off-the-book accounting sheets. Their shares were worth $90.75 right before the company declared that they were, in fact, bankrupt in December 2001. Their money never really existed as they claimed to have $100 billion in revenues.
Andrew Fastow
Despite being charged with 78 counts of fraud charges, including money laundering and conspiracy, Andrew Fastow got away with a slap on the wrist. Fastow was the chief financial officer of the Enron Corporation. He was also ultimately the key figure behind all the off-balance balance sheets which never added up but only him and a few others knew of. He pleaded guilty to two only two counts of wire transfers and became an informant.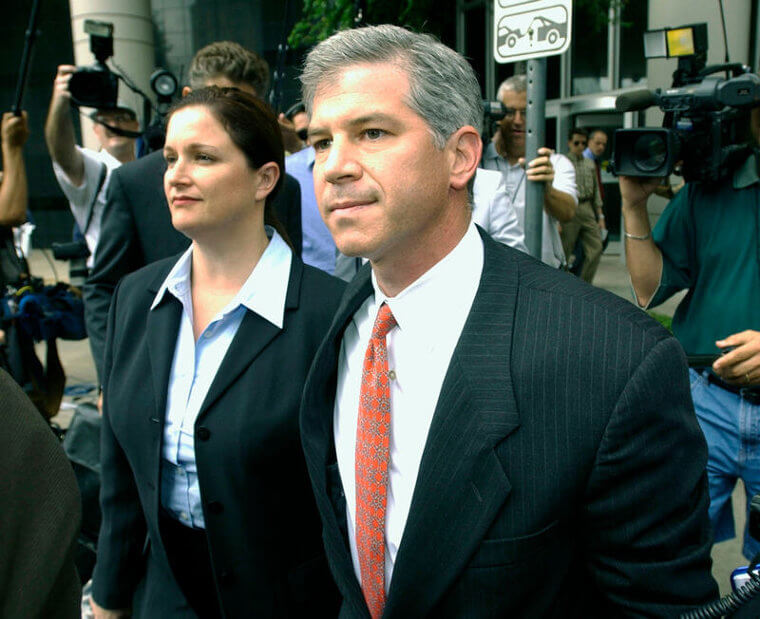 Fastow managed to abandon ship and snitch on the company's wrong doings when he realized they were just in too deep. Perhaps a change of heart?  We will never know his true reasons for snitching on the company, but despite his knowledge, he only came forward a little too late. His sentence, however, was reduced to only six years, while the rest were serving up to 14 years. 
Libor Crisis
Right before yet another "financial crisis", the Wall Street Journal announced that there were certain banks who were understating their Libor-applied asset sheets. Banks were pulling these stents all too often to profit from interest rates at lower prices. After much time spent on internal investigations it became known that these claims were, indeed, true. Independent studies proved that where there was smoke, there was a fire.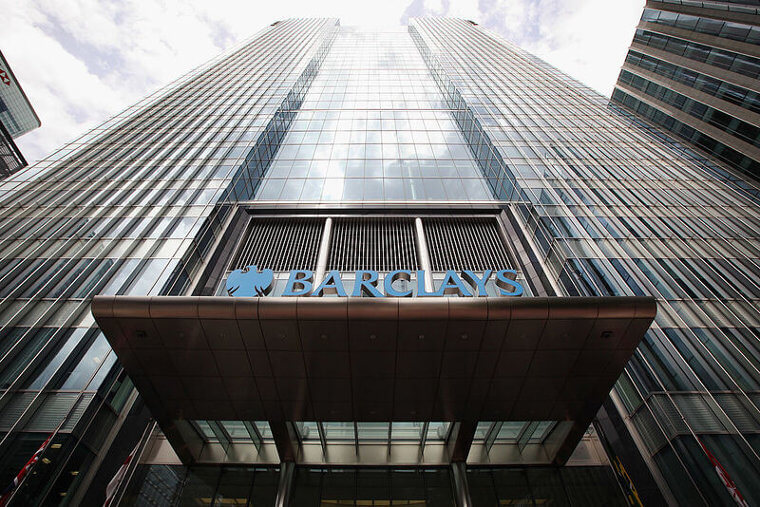 LIBOR (which stands for London Interbank Offered Rate) serves as a globally accepted key benchmark interest rate. In other words, Libor is the benchmark interest rate which the global market must obey, whether it's for major global financial loans or small short-term loans. This is the bar and it must be obeyed by everyone in order for any economy to sustain itself and continue to thrive or survive.
Martha Stewart
No one on this planet is exempted from committing crime. Not even the saints and especially not the rich and famous. Martha Stewart had her fair share of run-ins with the law due to some pretty slimy scandals. Stewart sold off her shares in the previously mentioned pharmaceutical company "ImClone". Remember them? The cancer treatment that did everything but treat cancer.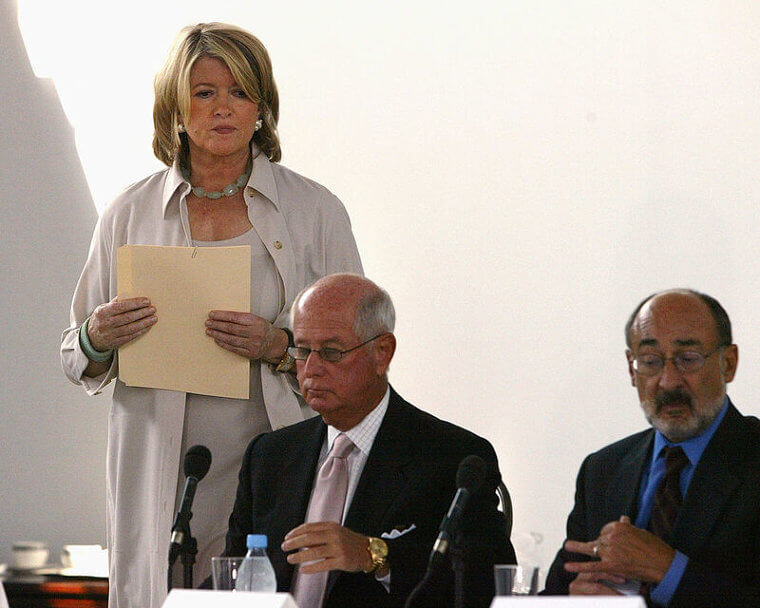 It happened only a few hours short of when stocks were announced to fall a whopping 16%. After some serious investigations into her "miraculous" decision to sell off her stocks at this exact moment, officials found that she was tipped off by a stock broker. As much as the broker wanted to do good by his little Miss Martha Stewart, she still went to prison for five months and was forced to pay a fine of $30,000 for insider trading information.

Up next, more of history's most massive scams...
The Biggest Scams in Modern History and the Con Artists Behind Them
The term "con artist" was coined in 1849 when William Thompson used his charm and wit to convince unsuspecting people to give him their watches, which he would then take and never return. He would approach strangers on the street and win them over through conversation. Before he was arrested, the police called their suspect the "Confidence Man" which was later shortened to "con man" and "con artist."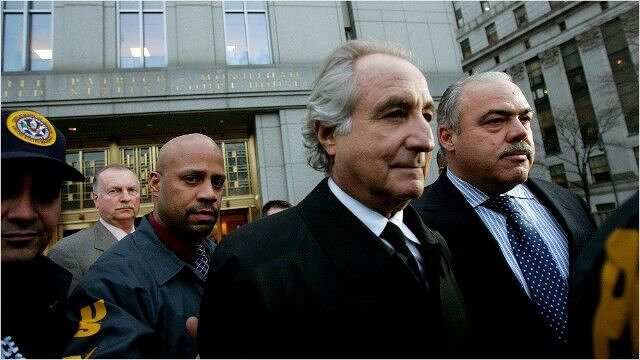 There is a long history of con artists who go through great lengths to scam people out of their hard-earned money so they can live a rich, luxurious life. And some of the most outrageous ones have occurred within the last century. Some scams are high-tech and involve the use of computers and cutting-edge technology. Others involve things as simple as blank checks or fruit baskets. Some scams even make it to the silver screen when their stories are adapted for Hollywood. Despite the various ways these scams ended up (extremely long prison sentences, deals with the authorities, and faked deaths, just to name a few), all of these scams have one thing in common: the devious con artists behind them. Keep reading for a list of the biggest scams of modern history and the con artists who ruined lives in the process.
Brooklyn Bridge for Sale
Have you ever heard someone say the phrase, "If you believe that, I've got a bridge to sell you" to someone who is gullible or naive? That phrase comes from the fact that so many con artists tried to scam people into buying the Brooklyn Bridge throughout the years.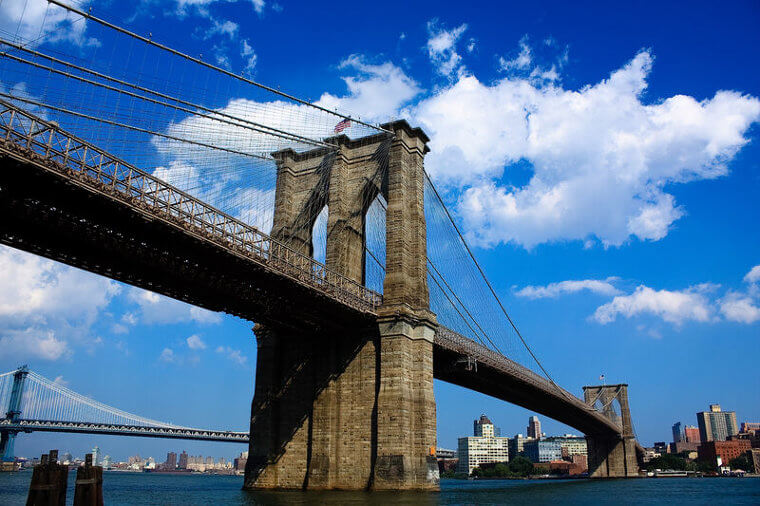 These con artists started their scams almost as soon as the Brooklyn Bridge was completed in 1883. They literally convinced people that they were offering a deal they couldn't refuse and said they could actually own the famous bridge. Some of the most well-known con artists who did this ploy were Paches O'Day, who sold it for $200 in 1899, William Mcloundy, who sold it in 1901 and spent two and a half years in Sing Sing prison for it, and George C. Parker, who actually sold it several different times throughout his scamming career.
Charles Ponzi and His Famous Scheme
Ponzi schemes were named after Charles Ponzi, who was the first man to commit one. Ponzi schemes are when a con artist promises investors quick and huge profits and uses the money of new investors to pay previous investors while keeping a large portion for themselves.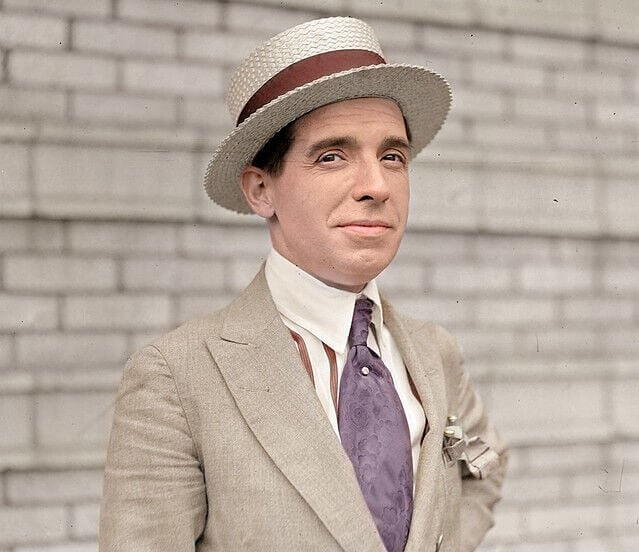 When Ponzi himself invented this scheme in the early 1900s, he conned people out of $15 million in just 18 months by offering profits of 50% to 100%. Ponzi was eventually convicted of this crime and imprisoned in 1920. However, he was paroled just a few years later, and when Ponzi was out of prison, he started running more scams which led to him getting imprisoned yet again. He was eventually deported back to Italy.
Lou Blonger, Crime Lord of the Wild West
While Charles Ponzi was scamming people in New York City, another con artist was dominating the wild west. Lou Blonger made his way across the western frontier with his brothers in the late 1800s, and over several decades, he was able to tame crime in the wild west by organizing it and working his way to the top of the food chain.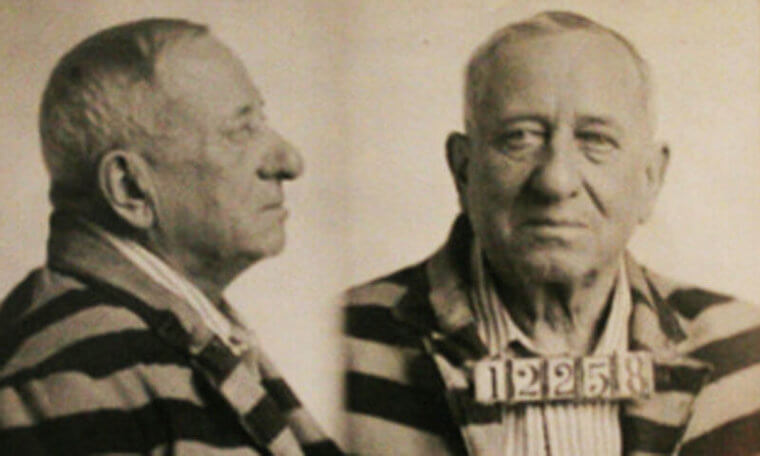 Primarily working in Denver, Colorado, Blonger reigned in all of the lawless men in the west to create an underground crime world that he operated for multiple decades. In fact, Blonger socialized with some of the most famous wild west outlaws at the time including Bat Materson, the Earp Brothers, and Doc Holliday. Blonger, who was a veteran of the American Civil War, was convicted of his crimes in 1924. He eventually died in prison.
Biggest Case of Mail Fraud
Mail fraud comes in many different forms, but the biggest case of mail fraud in history happened in 1936. In total, 28 people were indicted for this huge scam in December of that year.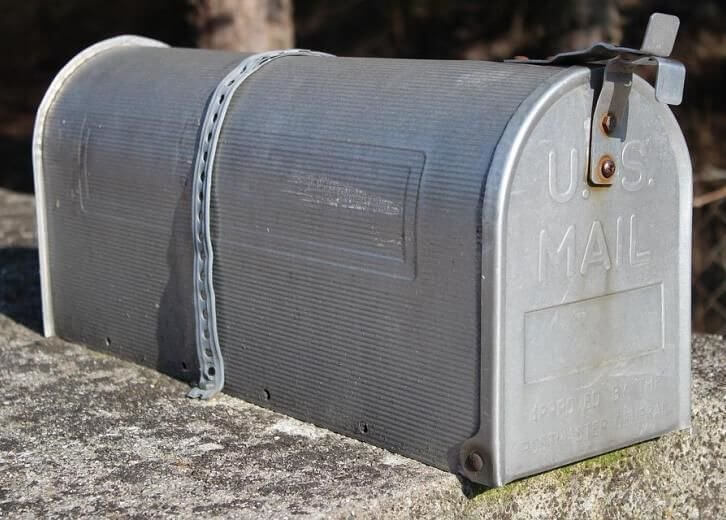 In this scam, the con artists claimed that they represented the estate of Jacob Baker, a wealthy man from Philadelphia, Pennsylvania. They claimed that he had died and his large estate was unprobated, which meant that there wasn't anyone to inherit it and anyone with the name Baker could claim the property. Thousands of Americans with the name Baker jumped at the chance to own such a nice property and sent in money to claim it. However, what they later found out was that the con artists did not represent a wealthy estate because Jacob Baker never existed in the first place. The con artists ended up swindling 3,000 people out of $3 million.
McKesson and Robbins Pharmaceutical Scam
Healthcare is a tricky business in the first place, but when you factor in con artists and their scams, it gets even more complicated. McKesson and Robbins was a pharmaceutical company that was purchased by Philip Musica, a career criminal, in 1938.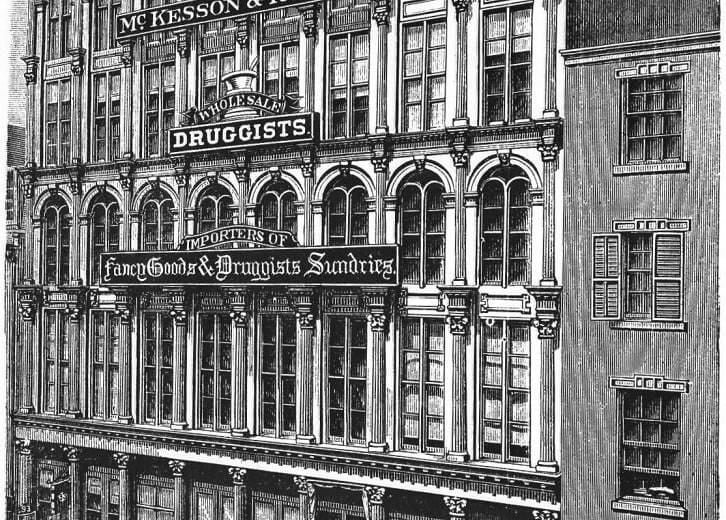 During the prohibition era, Musica had used a pharmaceutical company to cover his bootlegging crimes and planned to use McKesson and Robbins to scam people out of their hard-earned money. After buying the business, Musica had his brothers create fake companies to partner with. Then, they raised their assets to hundreds of millions of dollars and pocketed millions through those fake companies. It was one of the biggest frauds of the 1900s and actually was a catalyst for changing American laws in accounting and auditing. The McKesson Corporation is still around as a healthcare company today; in fact, it is one of the largest in the world.
Quiz Show Chaos
Quiz shows have always been popular. In fact, the quiz show The $64,000 Question was the first show to knock the ever-popular I Love Lucy from its spot at the top of the charts in the late 1950s. There were even at least 24 different quiz shows airing at the time.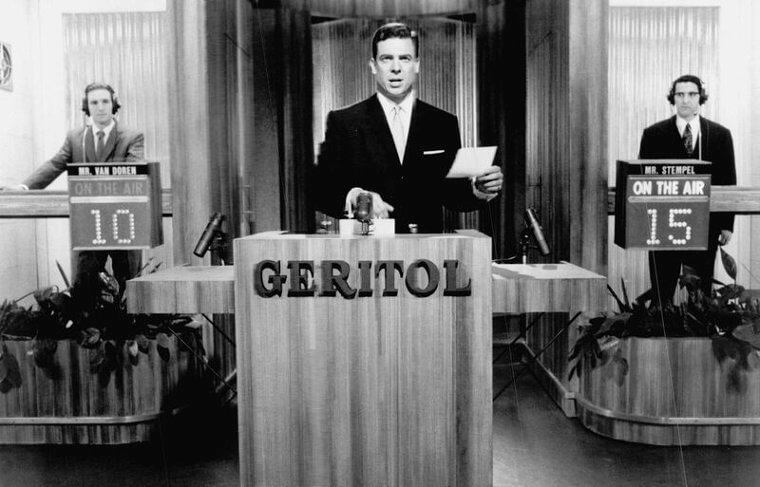 The competition between all these quiz shows became so tight that many people were suspicious that some of the shows weren't being honest. These suspicions were solidified when a champion of the quiz show Twenty One made a claim saying the show was rigged. While that particular claim was never proven to be true, several criminal and congressional investigations were launched and the public was so outraged that all 24 quiz shows were eventually canceled. However, the chaos that ensued actually had one bright spot because it inspired Merv Griffin to invent Jeopardy, which still airs today, where the contestants were given the answers first.
Payola Scams in the Radio Business
Right after looking into all of the claims against the popular quiz shows at the time, Congressman Oren Harris began investigating another pop culture scam: this time, the radio and a practice called Payola.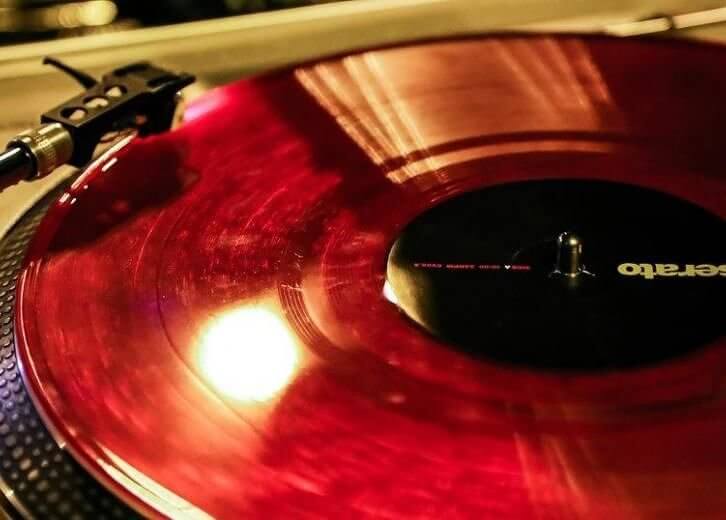 Payola was something common in the record industry where record companies would more or less bribe radio DJs with large amounts of money to play their songs more frequently, thereby giving them more air time and making their songs more popular. President Eisenhower had even denounced this practice, calling it dishonest. In the end, Congressman Harris determined through the Payola hearings that the practice of Payola was a breach of trust with the public since the airways were public.

Con Man Cons Con Men
If you've ever seen the movie Catch Me if You Can with Leonardo DiCaprio, chances are you are familiar with this next scam artist: Frank Abagnale Jr. Abagnale's scamming started early in his life. When he was a teenager, he paid thousands of dollars for dates with gas cards.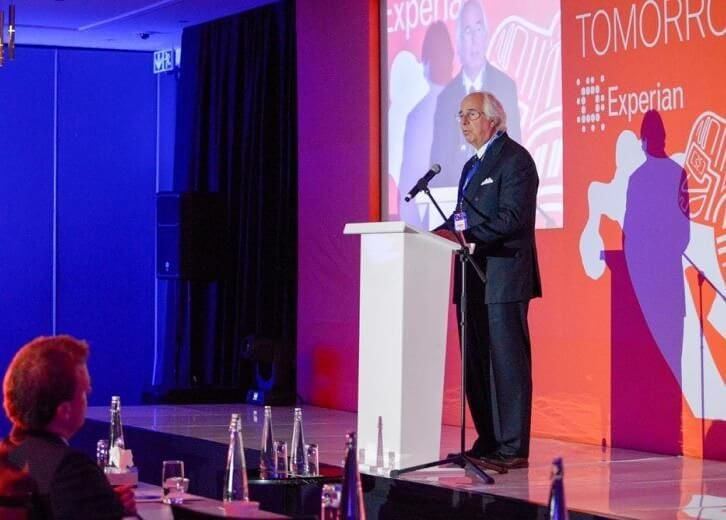 He would later go on to pass millions of dollars worth of bad checks and impersonate an airline pilot, lawyer, doctor, and professor. Abagnale was so charming that he got away with living many double lives and conning people all over the world. In 1969, he was the subject of a huge manhunt that eventually came to a head when he was captured in France. However, Abagnale was released from prison early so he could help authorities con and capture other con men like himself, which he continues to do to this day.
Equity Funding Insurance Scam
The Equity Funding Corporation of America was a hugely successful company on Wall Street during the 1960s and 1970s. It sold life insurance policies that were tied to mutual funds and was seen as a role model for other businesses.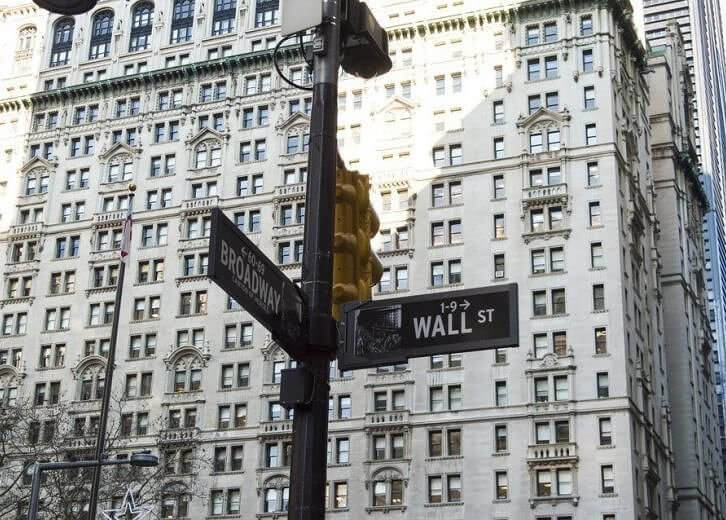 As it turns out, it had scammed policyholders and investors out of money with over 60,000 fake policies. The Equity Funding Corporation of America had made a profit by selling fake policies to reinsurance companies. Then, it sold more fake policies to cover the premiums on the original policies. Sometimes, it would even fake the death of a policyholder and keep the benefits for itself. In 1973, the Equity Funding Corporation of America filed for bankruptcy and many of its higher-ups ended up going to prison.
Crazy Eddie's Gets Even Crazier
During the 1980s, one of the largest chain stores in Brooklyn, NY was Crazy Eddie's. The chain had started as one electronics store during the 1970s and produced some of the most popular commercials at the time. However, the success of Crazy Eddie's was a product of the founder's fraudulent behavior.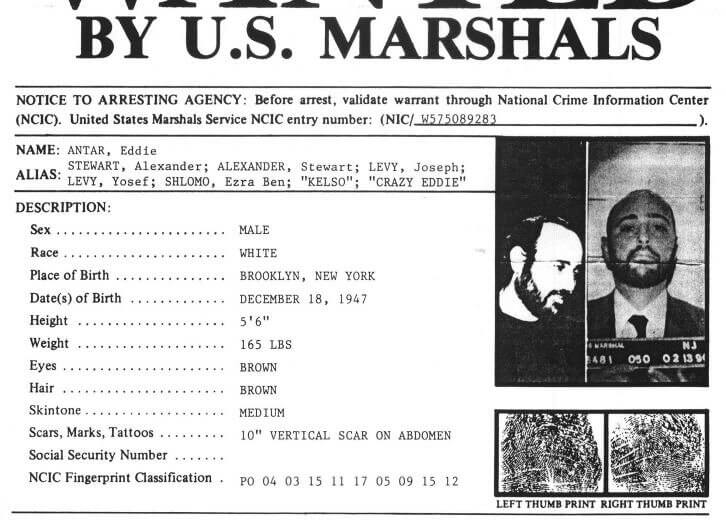 The founder, Eddie Antar, had started running his fraud back before the store ever became a chain. He filed bad paperwork, hid money, and avoided payroll taxes by paying his employees in cash. When Crazy Eddie's went public, Antar took the money he had hidden and started pumping it back into his business so his stock would be sold at high prices. By the end of the 1980s, Antar's scams were discovered. Crazy Eddie's went bankrupt and Antar spent six years in prison.
Three-Wheeled Scam of the Future
The gas crisis of the 1970s led to a panic surrounding cars and their fuel efficiency. More people wanted fuel-efficient cars, and Geraldine Elizabeth Carmichael had the answer. She had created the 20th Century Motor Car Corporation and the futuristic car, the Dale.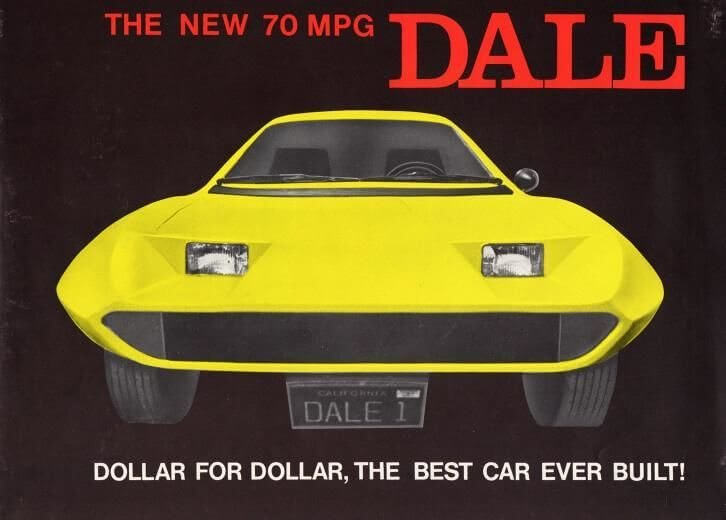 This was what Carmichael claimed would solve the fuel crisis. With three wheels and the ability to get 70 miles per gallon, people were quick to invest in the Dale. In fact, Carmichael received investments worth $30 million and had enough advanced sales to make another $3 million.

Later, Car and Driver magazine investigated the company and its futuristic car and found that not only was there no real Dale in existence, but there was no research or development taking place and no manufacturing or production plants working on creating the car, making Carmichael a con artist.
FBI Hustle Turned American Hustle
The next con artist was immortalized on the silver screen by Christian Bale in the movie American Hustle, which was nominated for ten Academy Awards including Best Actor for Bale.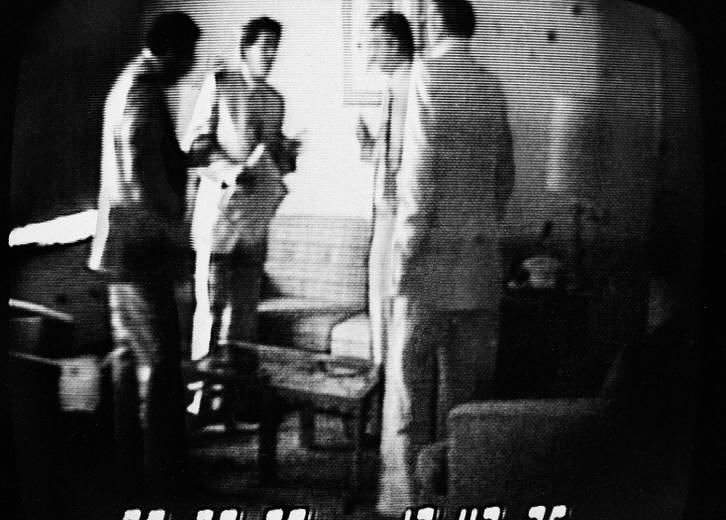 Bale played Melvin Weinberg, a man who was already about to go to prison for a long history of scams and frauds that he and his girlfriend had cooked up when he became a part of an even larger one. Weinberg was enlisted by the FBI in the 1970s to head a program called Abscam, which was controversial and elaborate, to say the least. The program aimed to reveal corrupt government officials, and to do this, they concocted a bunch of traps including one in which lawmakers were offered bribes by fake Arab sheiks. In total, Abscam brought six corrupt congress members to justice.
ZZZZ Best Ponzi Schemes
The next big scam is another Ponzi scheme that took thousands, if not millions, of dollars from unsuspecting people. Con artist Barry Minkow created a Ponzi scheme using his carpet-cleaning business ZZZZ Best Cleaners.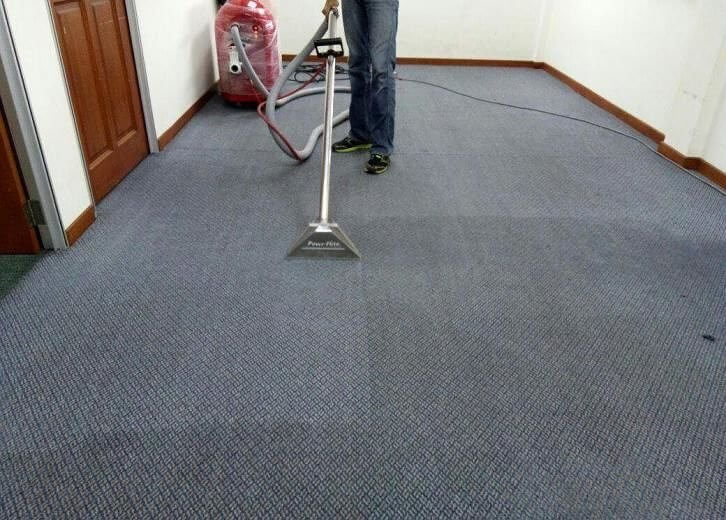 Minkow actually started his business when he was in high school. He worked out of the garage at his parents' house and began to grow the business until it went public in 1986. At the time, ZZZZ Best Cleaners was worth over $300 million. However, seven months after going public, the business was revealed to be a Ponzi scheme and went bankrupt. Minkow had been misleading regulators and defrauding investors the entire time. ZZZZ Best Cleaners sold its assets for $64,000 and Minkow went to prison for 25 years.

Televangelist Turned Con Artist
Jim Bakker was one of the most popular televangelists of the 1980s. He had Christian programs on both radio and television and his Praise the Lord Ministries had a huge following. However, in 1988, it all went downhill with one scandal after another.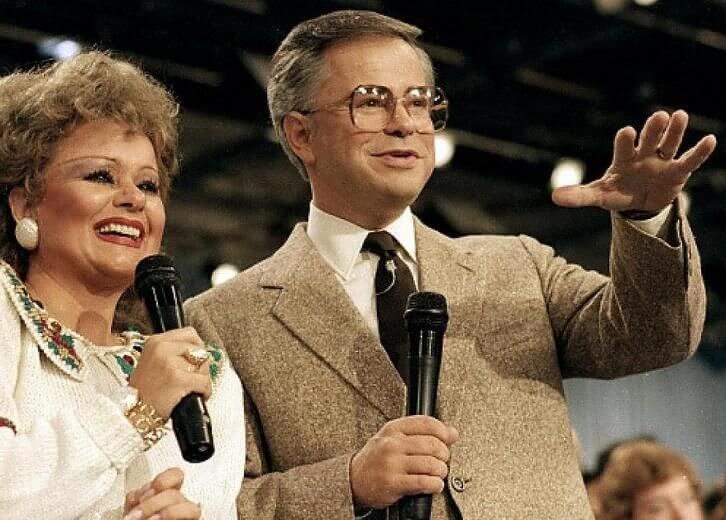 Bakker, along with his wife Tammy Faye, had been scamming everyone out of money, including investors as well as their supporters. Their financial scam would never have come to light if it hadn't been for the sex scandal that outed Bakker as a fraud in the first place. It all started when it became known that Bakker had paid Jessica Hahn, a church secretary, almost $300,000 to keep their sex scandal quiet. Bakker claimed that their relations were consensual, but Hahn claimed that he raped her. This discovery led to another: that Bakker had skimmed $158 million from his ministry. Bakker was sentenced to 45 years in prison, but the sentence ended up getting reduced to just eight years.
Insider Trading on Wall Street
The 1980s was a time of excess. Wall Street was booming and material possessions seemed to become more important than ever, and it was there that you could find the next con artist: Ivan F. Boesky.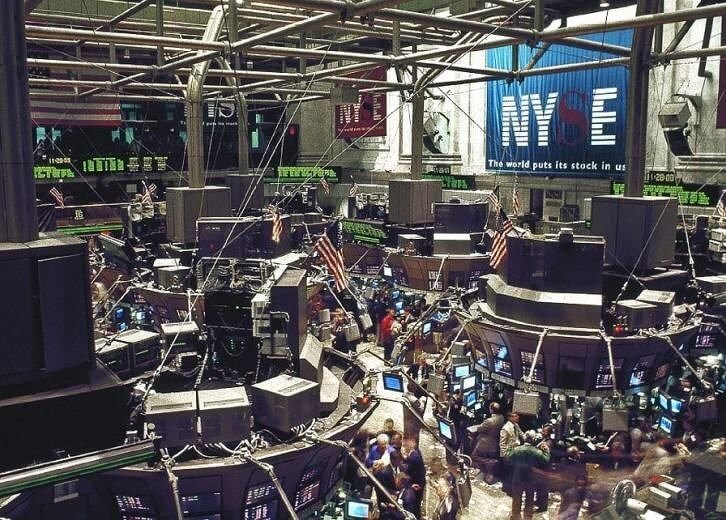 Boesky was a giant on Wall Street. He was a very successful trader that made a ton of money doing his job. However, in 1987, Boesky was revealed to be a fraud. The whole time, he had been illegally buying insider information that he used to boost his trades in a process called insider trading. He had made over $50 million by selling securities illegally but in the end, was sentenced to only three years in prison.
Banking With a Con Artist
A common theme you might be seeing is how frequent Wall Street scams were in the 1980s. At the time, politics and regulations that weren't strict made it easy for con artists to get over on unsuspecting people.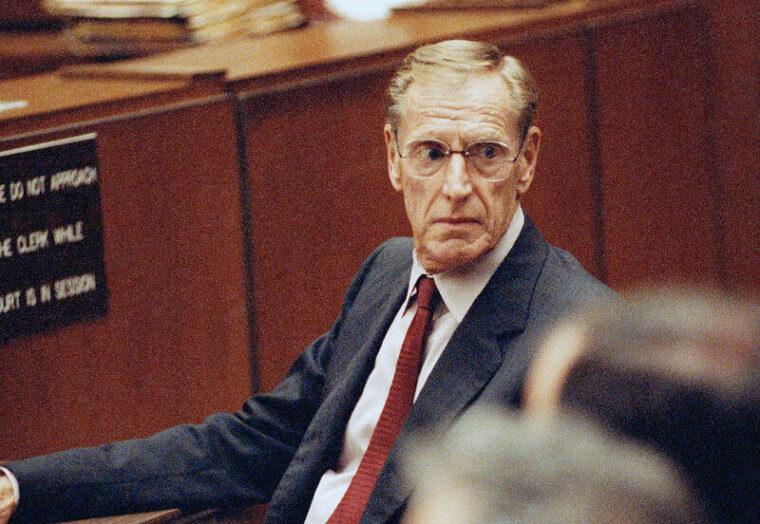 This is exactly what Charles Keating did when he used his bank, Lincoln Savings, and Loan, to run his scams. He used money from the bank, which was backed by the government at the time, to gamble and support various political campaigns. Not only did he use everyday peoples' life savings to do this, but he also cost taxpayers $3.4 billion. He was charged with a federal civil racketeering charge and a fraud suit, but the Keating Five, a group of government officials including Senator John McCain, tried to keep him from going to prison.
The Con Artist of Wall Street
Leonardo Dicaprio made this list yet again by portraying another con artist, Jordan Belfort, in The Wolf of Wall Street. Not many people might have known about Belfort's scams if it had not been for this movie.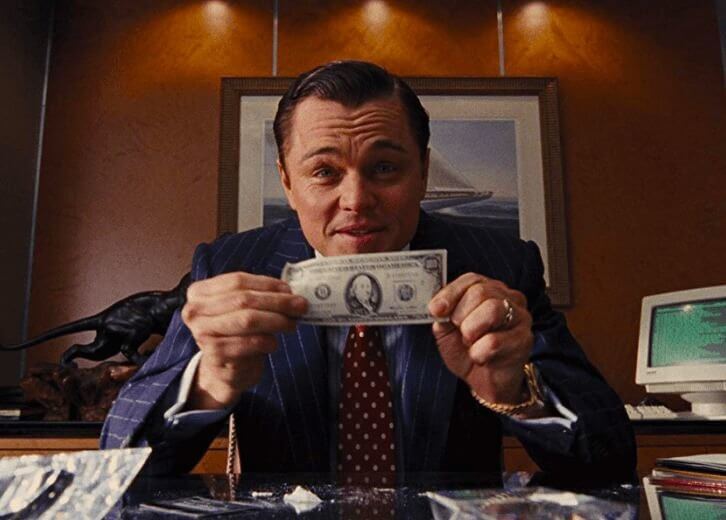 Belfort was at the helm of something called a pump-and-dump scheme. A pump-and-dump scheme is when someone buys a crazy big amount of stock that would otherwise be worthless. Doing this increases the stock's price and worth so the scammer can turn around and immediately sell all of their stock for a profit. Belfort committed corporate theft left and right using this scheme and got completely caught up in the drugs and sex that came with the grandiose lifestyle. In total, he stole over $22 million but went to prison for only 22 months.
20-Year Ponzi Scheme
This next scam is yet another Ponzi scheme. This time, this Ponzi scheme was conducted by James Paul Lewis Jr and lasted over 20 years.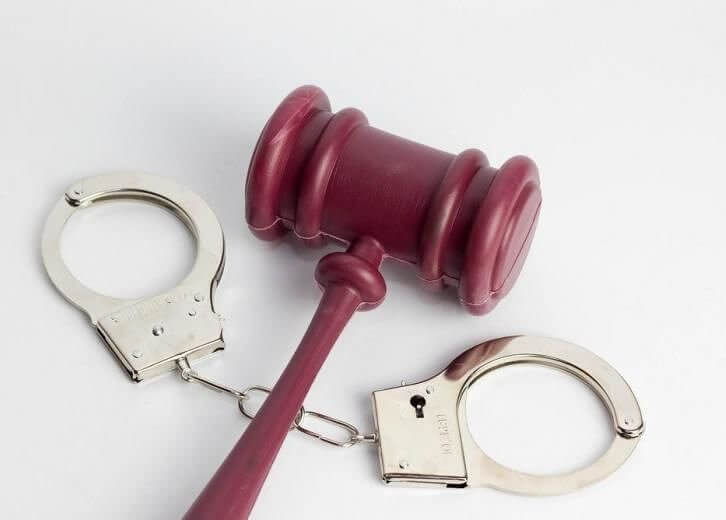 Lewis ran a financial business called Financial Advisory Consultants. During its 20 years of operation, Financial Advisory Consultants never even made a single investment on behalf of its investors. Lewis only used the money from his new investors to pay back the "investments" of his previous investors. Over two decades, he scammed thousands of people out of $814 million through his Ponzi scheme. He was eventually arrested in January of 2004 at a Houston, Texas motel.
Con After Con
Sometimes, con artists get pretty creative with their Ponzi schemes just like Sam Israel III did with his in 1996. That year, Israel had founded the Bayou Hedge Fund Group as a cover for his Ponzi scheme.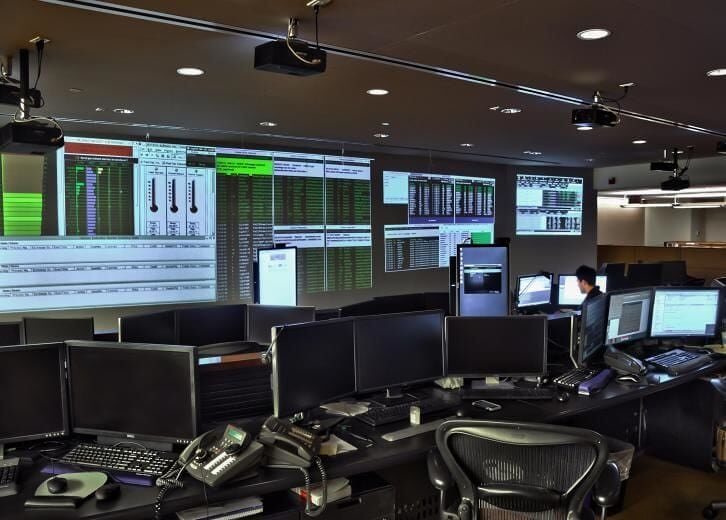 Israel quickly and easily received hundreds of millions of dollars from investors. With such large numbers, he was worried about people getting suspicious if he reported low returns. So, he decided to create another fake business. Israel created a fake accounting firm that "audited" the Bayou Hedge Fund Group and gave a positive report. Eventually, Israel was caught and sentenced to 20 years in prison for scamming his investors out of $300 million. But, ever the true con artist, Israel had one more creative and crazy twist up his sleeve: he faked his own suicide. In doing so, he was able to go on the run, but it wasn't long before he was recaptured.

Accounting Scandal of the Century
This next scam occurred in 1998 and was the biggest accounting scandal of the 1990s, if not the entire 20th century. While many more similar cases of corporate crime started popping up early in the 21st century, this particular scandal was huge at the time.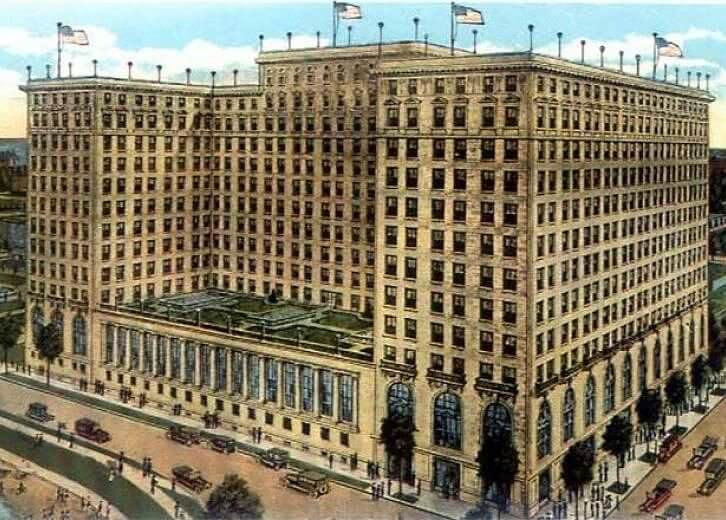 In 1998, Charles Forbes was the CEO of Cendant, which was a company that provided real estate and travel services. Eventually, this company became Avis Budget Group. Through this accounting scandal, Forbes did enough damage to bring the company's market value down by $14 billion in just one day. Forbes was sent to prison for 12 years for all of his corporate crimes, which included submitting false paperwork and deceiving investors.