She was an ambitious, intelligent, and witty socialite from Blue Ridge, Pennsylvania, already on her second marriage and still flirting with the eligible young men of British high society. He was the lonely future King of England who was desperate for a genuine connection. When the two collided, they began a scandal that would rock British society. This is the shocking story of Wallis Simpson and the abdication of King Edward VIII.
Scandal From the Start
Bessie Wallis Warfield, the woman who would go on to become Wallis Simpson, was a source of controversy from her very first breath. She was born on June 19. 1896, yet her parents had only been married In November 1895. The dates suggested either a very early birth, or conception before marriage.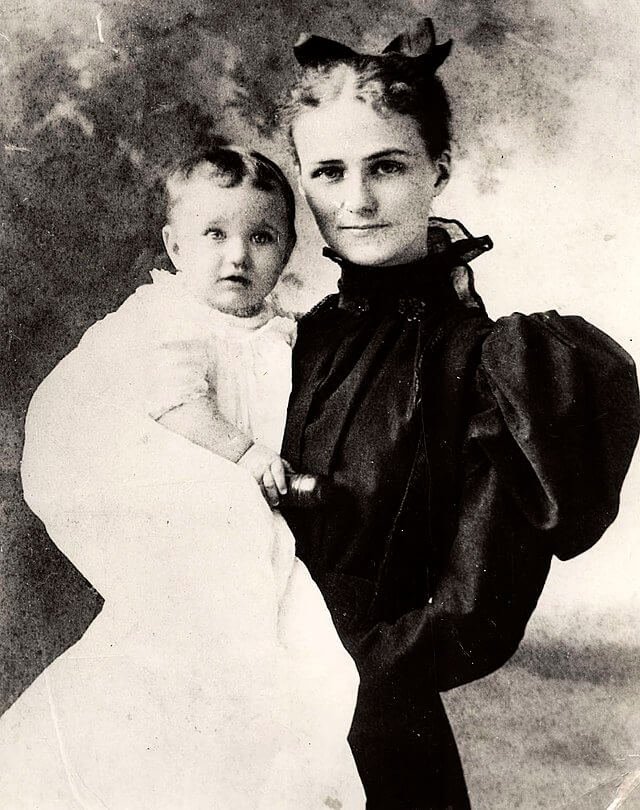 Of course, those outside the family would never be able to prove it either way, but the potential shame was enough that Wallis herself would later begin telling people her parents had actually married in June 1895. If baby Wallis did arrive early, it might have been to give her a small chance of knowing her father, Teackle Wallis Warfield, died of tuberculosis when she was just five months old.
Purse Strings
Wallis' parents had always been wealthy. her mother, Alice Montague, was from old money, and her father, Teackle Warfield was newly rich. The death of her father, however, created a huge amount of uncertainty over who would be responsible for supporting the widow and her new baby.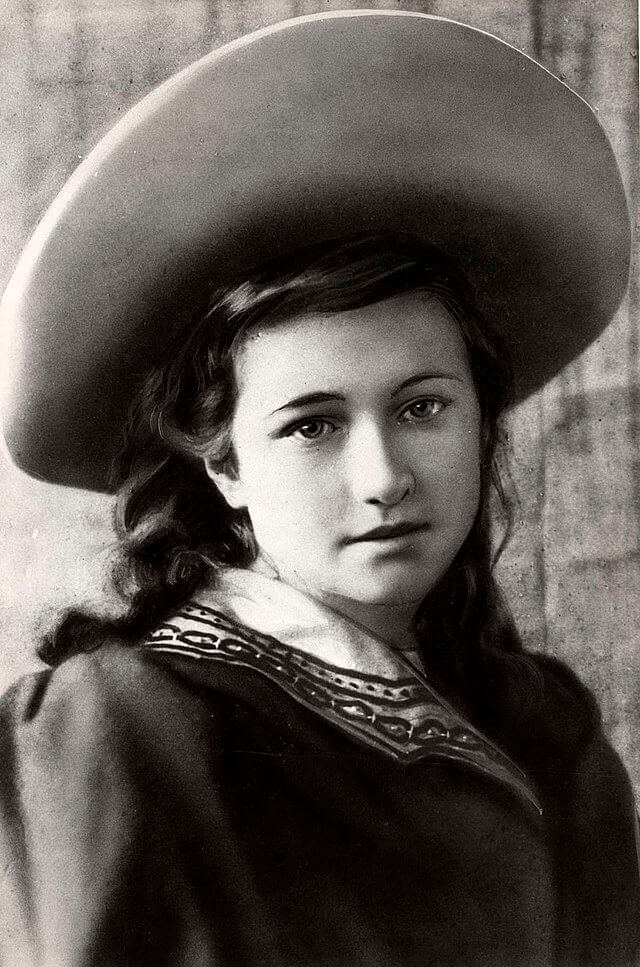 Thankfully, if a little begrudgingly, the Warfield family invited Wallis and her mother into their family home and gave them the money they needed to live. It was Wallis' uncle, Sol, who was in charge of doling out money to the stricken in-laws. It soon became rumored that Sol's relationship with Alice Montague had become more than platonic. Alice and Wallis were immediately thrown out of the home and left to fend for themselves - mostly.
Debutante
Though Sol could no longer bankroll Alice Montague's life, he could still send young Wallis to Oldfields, the most expensive girls' school in Maryland. There, Wallis realized she needed to become the master of her own fate and developed a reputation for steely determination and unwavering confidence.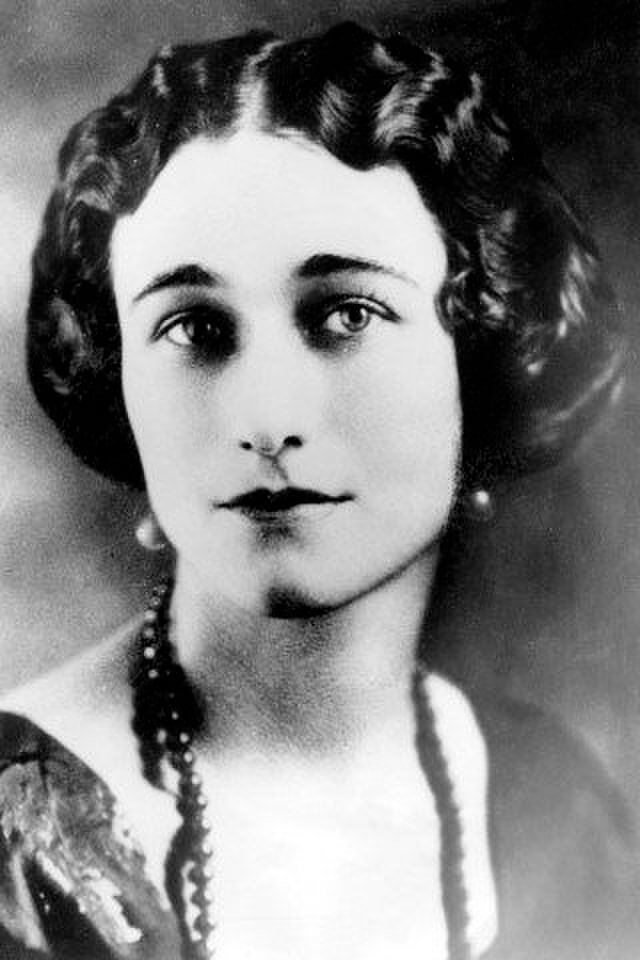 Wallis knew what she wanted and she knew how to get it. The first step to new financial and social security was to find a wealthy husband, and to achieve this she would need to become a debutante and have a coming-out party. So this is exactly what she planned to do in 1914. if she could persuade her Uncle Sol to pay for it. He refused, even going so far as to take out a newspaper ad to declare he would not be throwing any parties when "thousands of men [were] being slaughtered in Europe."
Branching Out
With no party to stay for and her twenties closing in, Wallis decided on a change of scenery. She traveled from her home in Baltimore to Florida, where she spent time with her cousin Corrine and her husband who was a naval pilot. Aviation, which was in its infancy at the time, offered an exciting new world for Wallis. However, two awful crashes Wallis witnessed while in Florida ensured she herself developed a strong fear of flying.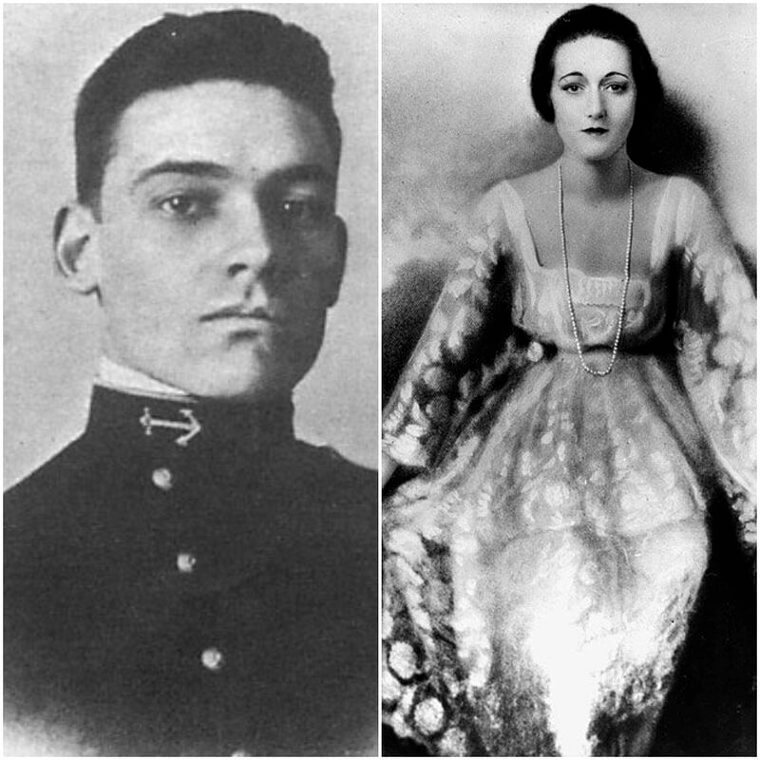 Wallis' fear didn't stop her from falling in love with her own pilot. Earl Winfield "Win" Spencer Jr. was a dashing young man and, while he didn't have the money Wallis had been hoping for, she couldn't help but fall for him. They became engaged that summer and were married in November 1916.
Problems
The marriage of Win and Wallis Spencer had barely begun when she began to notice problems with his behaviors. Win was a serious drinker, so much so that he and some of his flight buddies had found a way to bypass the "no drinking before a flight" rule which the navy imposed.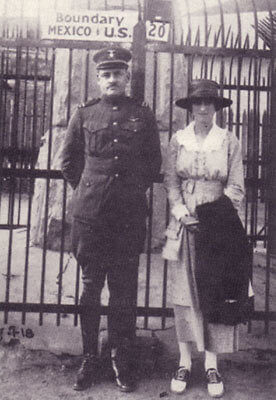 The flying men would hand round bowls of thin soup at parties, not letting on that the bowls actually contained martini. Spencer also became outraged on the couple's honeymoon when he realized Kentucky, where they were visiting, was a dry state. He was only persuaded to remain after remembering he had brought a bottle of gin with him.
Locked Up
While Win Spencer liked to drink, Wallis liked to flirt, something she had been quite used to doing as a free woman in Baltimore, but it wasn't received well by her husband at their naval society functions. Consumed with jealousy and alcohol, Spencer began locking Wallis in the house when he left and, on at least one occasion, had left her locked in a bathroom for several hours.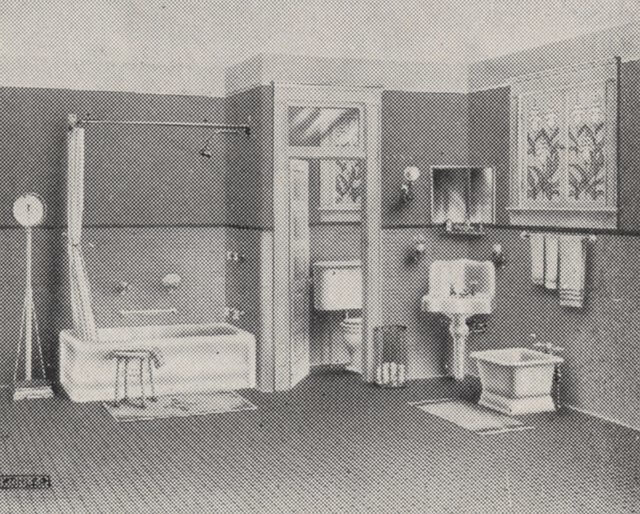 Despite Spencer's drinking getting worse, even resulting in him crashing his plane into the sea and somehow surviving almost completely uninjured, the couple managed to maintain their relationship in public. Their charade was much helped by the constant moving around required for Spencer's work. They even managed to attend some memorable parties together. While in California, the couple found themselves at a function attended by none other than Prince Edward, heir to the British throne.
Playing the Field
The fault in the relationship between Win and Wallis Spencer wasn't completely one-sided. Having settled in relative happiness during a posting in Washington D.C, Wallis absolutely refused to follow her husband when he was sent to work in Hong Kong. Instead, she remained in the U.S. where she had a lengthy affair with a dignitary from Argentina. Wallis only made the journey east after the affair ended.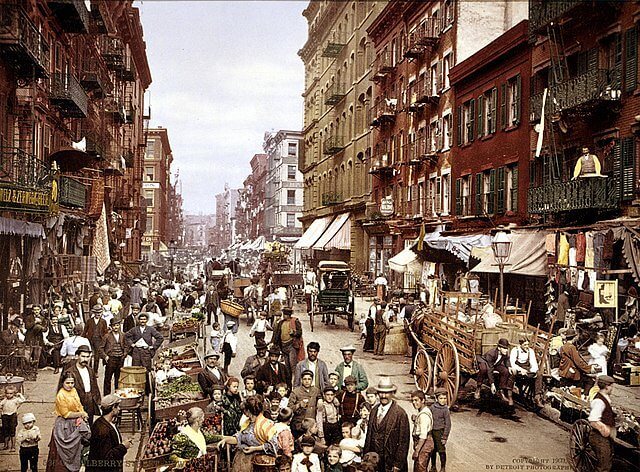 By now, the officially still married couple were ending and restarting their relationship on a regular basis. Eventually, while in Hong Kong, they decided to call an end to things for good. Wallis did not wait for a divorce before starting up new affairs with so many powerful men it was believed the U.S. government might be keeping a file on her.
Pregnant
One of Wallis' affairs was with an Italian diplomat she met in Beijing. It is believed she became pregnant as a result of this affair and found herself forced to seek out an abortion while still in China. The procedure is not thought to have gone well and Wallis was left unable to have children.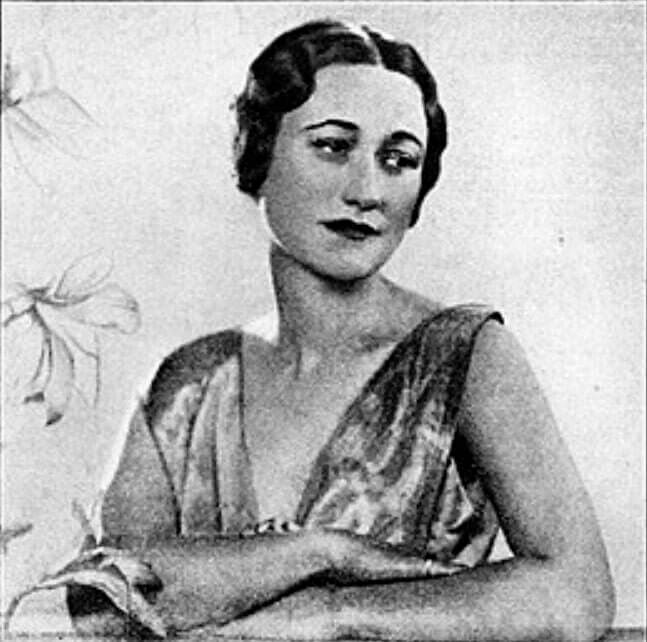 Devastated, she returned to the U.S. and told her family she would be going to Virginia to request a divorce. It was while she was waiting for her marriage to be legally declared over that Wallis received even more upsetting news.
Inheritance
The death of Uncle Sol brought mixed news for Wallis. Aside from the sadness over his passing, there was also a matter of what details his will would contain. Wallis was not left a huge fortune, but she was to receive a sum of $60 a month from a trust fund Sol had created in her name.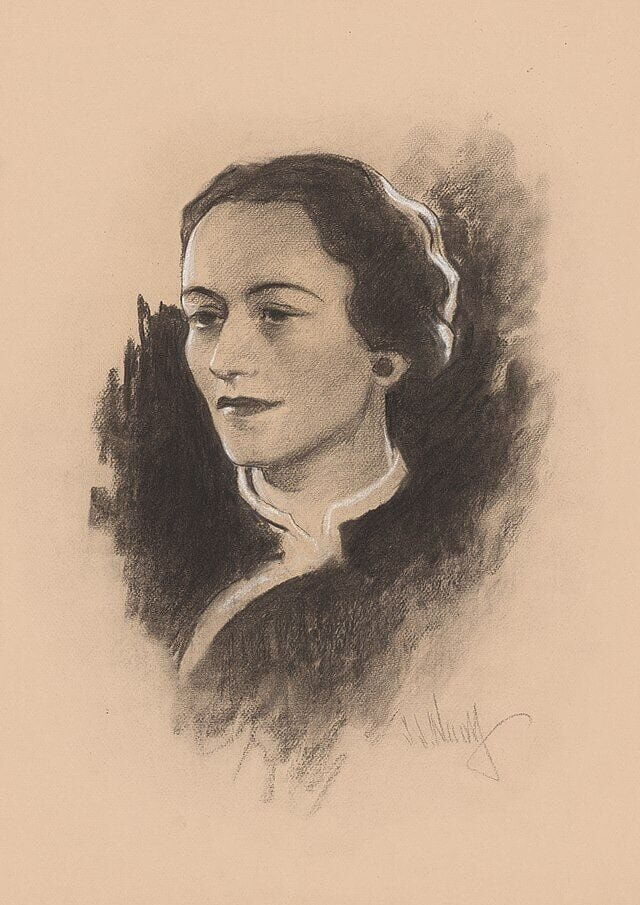 In today's money, the equivalent amount is around $800. Sol also donated a large portion of his wealth to set up a home for "aging and indigent gentlewoman," and insisted that one of the rooms be kept free for his niece, Wallis, when she no doubt required it.
Rumors About Her Genetic Sexuality
In recent years, researchers and biographers suggested that Wallis may have been born with DSD, also known as Intersexuality. Michael Bloch, who worked in Wallis's Paris home during her later years, claimed that he'd discussed her sexuality with doctors. He concluded that she may have been suffering from Androgen Insensitivity Syndrome. A female with AIS is born genetically male as she has the XY chromosome.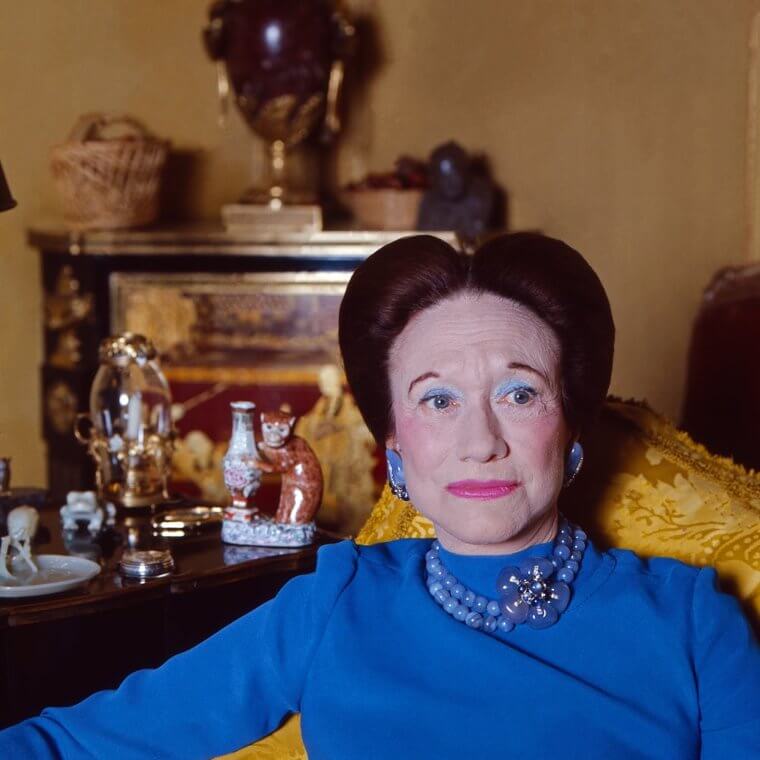 At puberty, the build-up of testosterone can result in long legs, large hands, and strong muscles that aid athletic ability — all of which Wallis possessed. She allegedly never had sexual intercourse with either of her first two husbands, of any kind, so she had spent time visiting brothels in China where she learned special oral sex techniques to give her a psycho-sexual hold over the Duke.
Becoming Mrs. Simpson
Wallis had been officially divorced for only seven months when she walked down the aisle for a second time. Her groom, the wealthy social-climber Ernest Aldrich Simpson had only been an officially single man for a few weeks. When Wallis had met Ernest, he had still been married.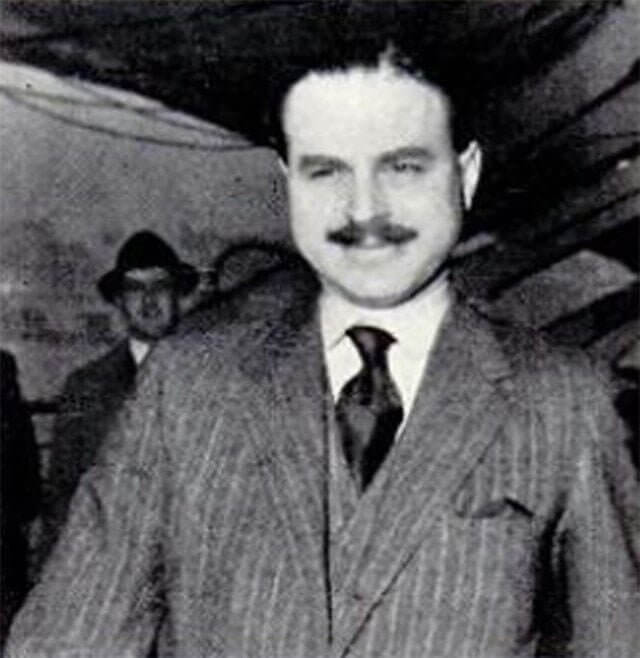 With scant regard for the feelings of his wife, Ernest ended the marriage and proposed to Wallis instead, making her the new Mrs. Simpson. The newlyweds moved to London and began making their way into English high society. This meant one thing above all others, getting to know the royals.
Becoming Mrs. Simpson
Wallis had been officially divorced for only seven months when she walked down the aisle for a second time. Her groom, the wealthy social-climber Ernest Aldrich Simpson had only been an officially single man for a few weeks. When Wallis had met Ernest, he had still been married.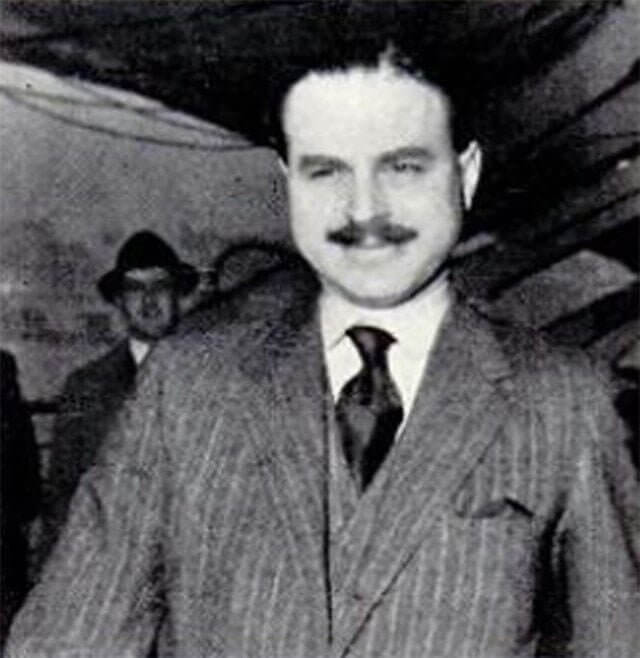 With scant regard for the feelings of his wife, Ernest ended the marriage and proposed to Wallis instead, making her the new Mrs. Simpson. The newlyweds moved to London and began making their way into English high society. This meant one thing above all others, getting to know the royals.
Climbing
While the marriage of Ernest and Wallis Simpson didn't have the same problems as Wallis' previous marriage, some cracks did soon begin to appear. Climbing the ranks of British society was costly and, despite his wealth, Ernest found himself overstretching in order to meet the expectations of the world he and his wife sought to inhabit.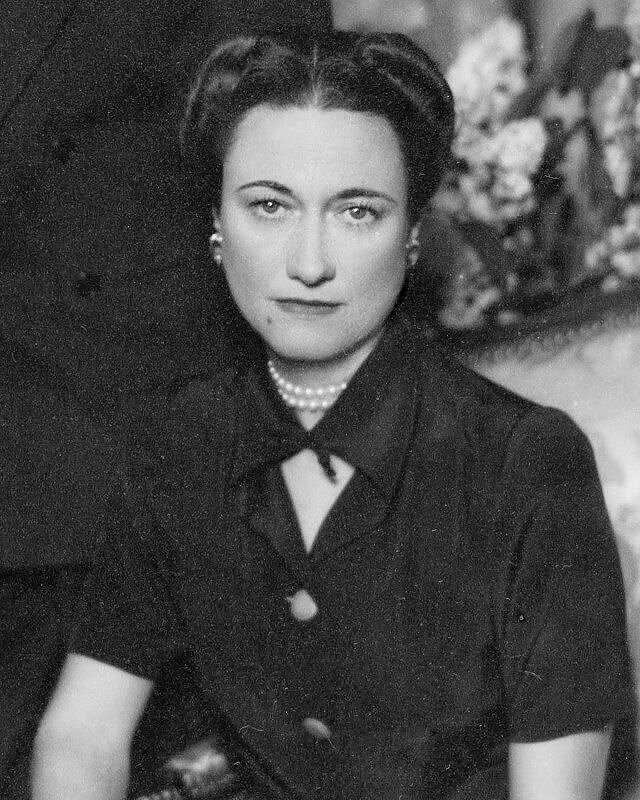 Wallis, on the other hand, never took her eyes off the prize, and soon that prize began to take the shape of a man. It wasn't just any man who had caught Wallis Simpson's eye, however, it was Edward, the playboy prince and next King of England.
Meeting the Prince
"Do you miss central heating?" said Prince Edward to Wallis Simpson at their first meeting. It was the same line he said to every new American woman he met, and Wallis was just sassy enough to point that out and admonish the prince. It got his attention and, in 1931, Wallis was officially announced to the court of King George V and his wife, Mary.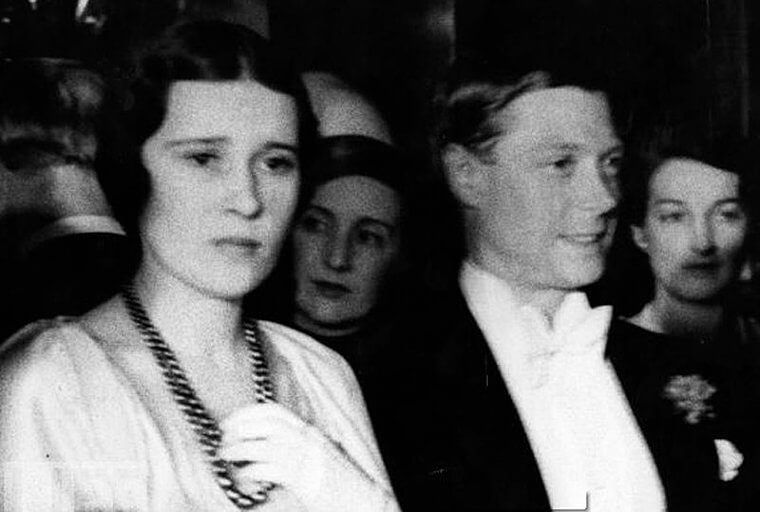 Prince Edward had a mistress, a divorced woman named Thelma Furness. When Thelma took trips away, however, Edward began calling and visiting Wallis with increasing frequency. It seemed Ernest and Wallis Simpson had truly succeeded in their goal to be members of the highest society in the country.
Changing of the Guard
While Wallis Simpson and Prince Edward were able to build a relationship without too much suspicion for a time, it didn't take long for tongues to begin wagging and people's noses to start being put out of joint. The first person to lose patience was Thelma Furness, Edward's mistress.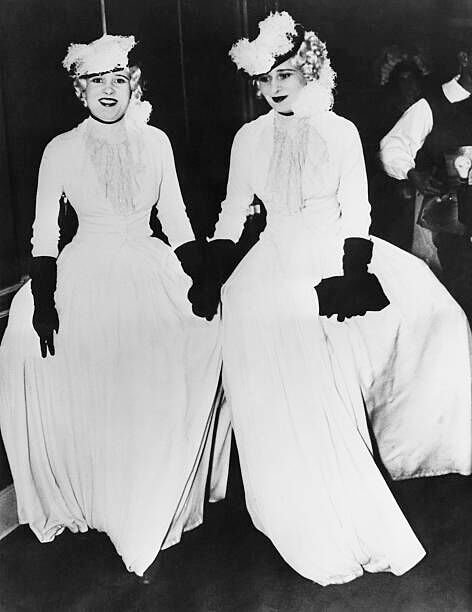 Seeing that Edward's attention was now firmly directed at his new American friend, Furness walked out on the prince and didn't look back. Ernest Simpson was slower to react, as were King George V and his wife, but something was happening which members of British aristocratic society were beginning to question.

Sparkling Giveaways
When Prince Edward's grandmother died, she left a beautiful array of jewelry to the young prince. The pieces were distinctive and recognizable to much of British high society. So it was noticed when Wallis Simpson began wearing the gems and precious metals which could only have been given to her by her royal friend.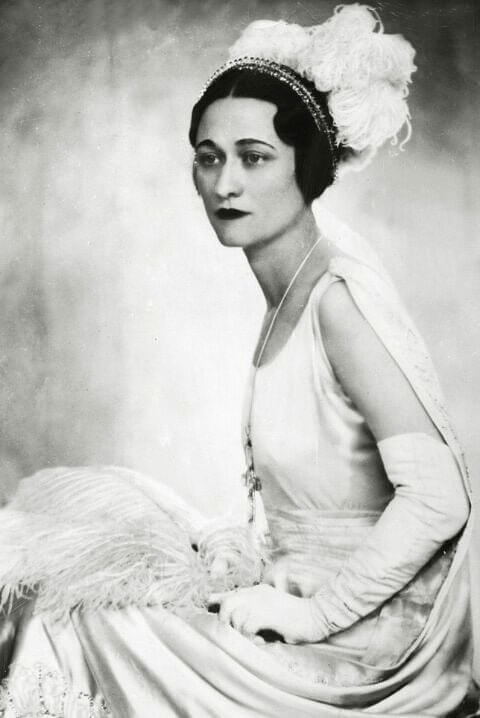 Finally, the penny dropped amongst the aristocratic crowd in which Wallis moved, and they turned against her immediately. What had this woman done to tempt the prince into her chamber? What sort of woman was she, exactly?
Stalemate
Wallis Simpson and Prince Edward found themselves in a difficult position. Everybody in their social circles knew they were having an affair but nobody was prepared to acknowledge it head-on. Rumors spread that the two had been caught being intimate together by a servant, or that Wallis was cheating on both her husband and Edward with a third man.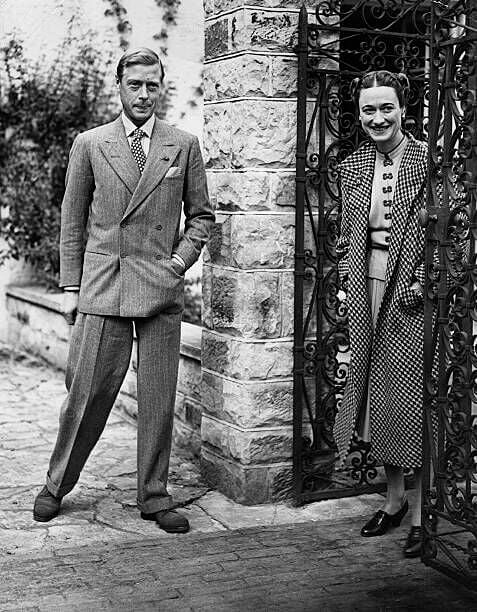 On the other side, Ernest Simpson carried on as if nothing was happening, as did King George V and his wife, who became increasingly irritated at Edward's insistence on spending time away with Wallis when he should have been completing the duties expected of his position. Duties he could not carry out with another man's wife at his side.
Coronation
In January 1936, King George V died and Edward was crowned. Edward VIII as he would be known, watched the proclamation of his ascension from a window of St. James's Palace. As he did, Wallis Simpson stood by his side. As King of England, the open secret of Edward's affair with a married woman was not a situation that could be allowed to continue.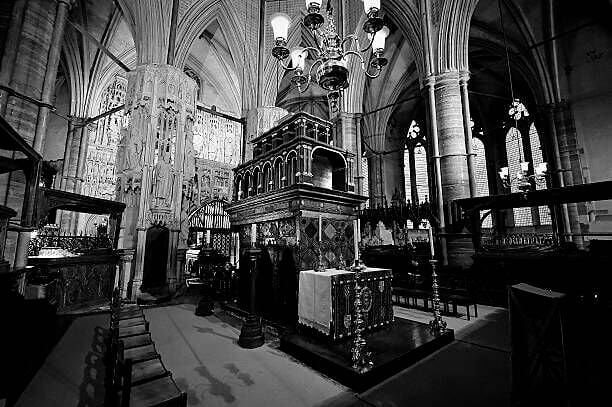 Under Church of England law at the time, the only way a divorce would be granted was for infidelity. The portrayal of an affair between Ernest Simpson and one of Wallis' oldest friends was engineered and Wallis Simpson's second marriage was registered to be legally dissolved. She would soon be free to be with her Prince Charming. Only, of course, things were not that simple.
That Woman
It is often repeated that Edward VIII couldn't marry Wallis Simpson because she was divorced and that was not permitted. That's not quite true, Edward was the king, he could marry anyone he chose. It was, however, the person he had chosen who was the problem.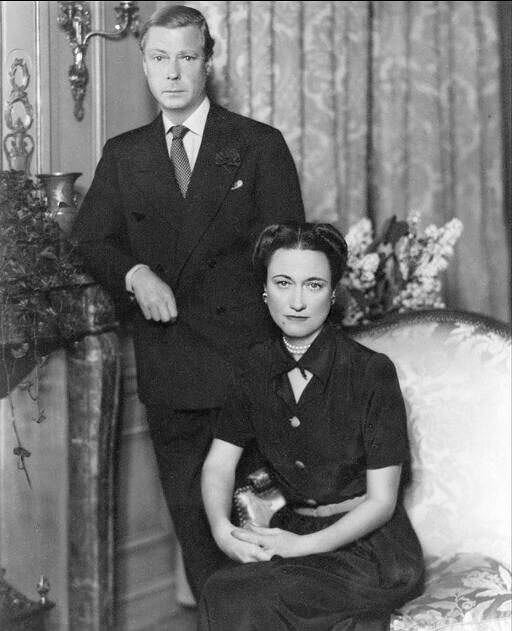 The Crown, Parliament, and the British Commonwealth were up in arms about the relationship between Edward and Wallis, the latter of whom was commonly and derogatorily referred to simply as "that woman". If Edward could not earn the support of Parliament and the Commonwealth, any marriage to his beloved Wallis would create a constitutional crisis.
Quick Fix
It's possible that if Edward VIII had shown a degree of patience and concentrated on winning over the hearts and minds of his politicians and his subjects, he might have eventually been able to make Wallis Simpson his queen. It was not Edward's character to wait, however, and he pushed for a solution that would let him make Wallis his wife immediately.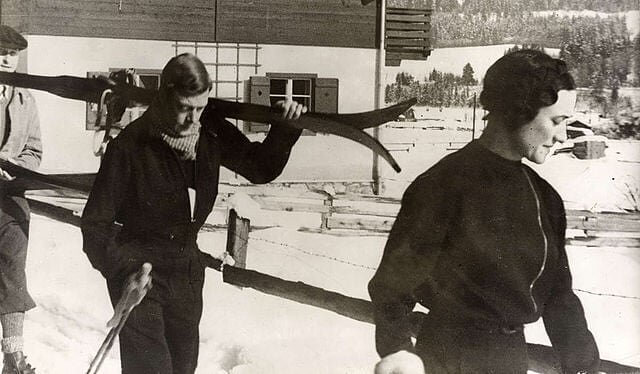 The British Prime Minister suggested a "morganatic marriage" one in which Wallis would not be given an official title. Edward wrote to Commonwealth leaders in Australia, Canada, and South Africa to ask if they would consider this acceptable. Each offered a firm "no".
Grave Constitutional Crisis
Despite U.S. newspapers carrying headlines such as "King Will Wed Wally" for some time, the British press had maintained a respectful silence on the affair, thus keeping the general British public completely in the dark about what their prince, and now king, had been up to.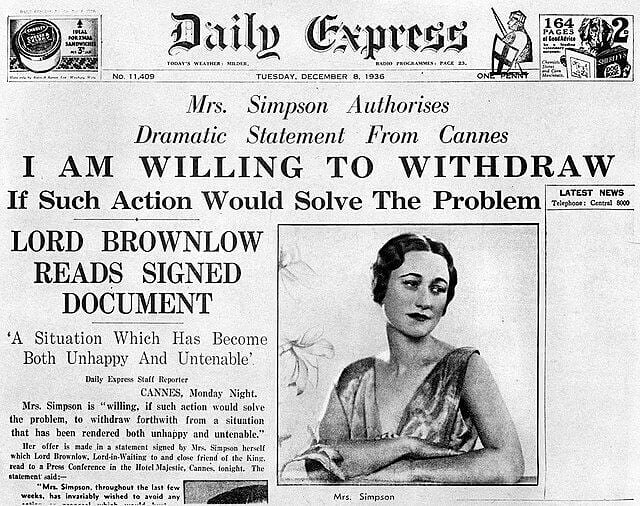 This couldn't last forever and, in December 1936, the headline "Grave Constitutional Crisis" hit the English newsstands. The shocked public reacted immediately. Crowds formed outside Wallis Simpson's house and threats were made on her life.
Escape
Fearing for her wellbeing, even though she was under the protection of the royal guards, Wallis Simpson decided to flee for safety and leave the country. The simplest solution would be to fly but, even in her terrifying situation, Wallis was too afraid to get into a plane.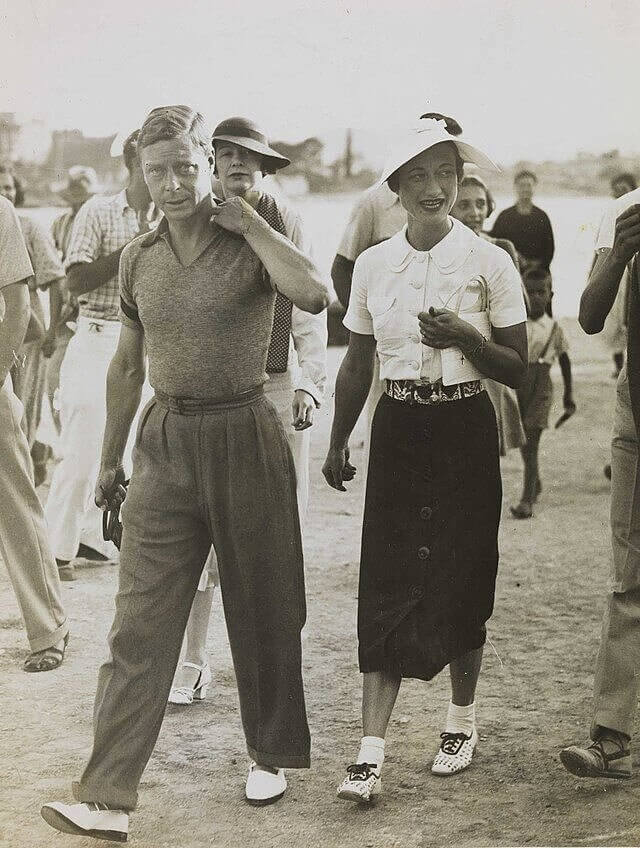 Instead, Wallis enlisted the help of Lord Brownlow, an old friend of Edward VIII, and made a dash for Cannes in France. Edward and Walis said their emotional goodbyes and she left. It would be three years before Wallis returned to England, but that time wasn't to be the calmer escape she had hoped for.
Unmasked
In the rush, errors had been made in preparing the documents Wallis needed to travel internationally under a false name and protect her privacy. Her identity was revealed in France almost immediately. A complex plan involving code names and safe arrangements was supposed to have been organized by Edward VIII but almost every part of it went wrong.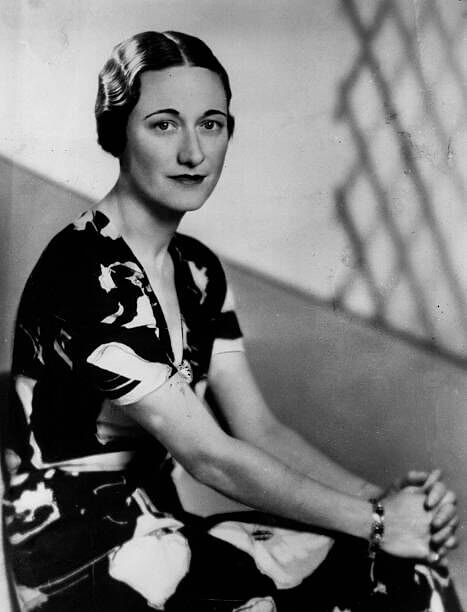 Wallis left confidential documents on a hotel bar. Her security guard ended up in a violent altercation with a photographer. The journey which should have taken half a day ended up taking three full days to complete.
She Said It Was Over
From the safe distance of Cannes, Wallis Simpson found herself with some time to think. She spoke with Lord Brownlow about what she should do. It might not have been what she wanted to hear, but the Brownlow was honest. There was no way Edward VIII could continue to be with her and keep the throne of England. Wallis accepted this and the pair sent a statement back to England announcing that she would withdraw from the relationship. The press and the public were satisfied, but King Edward VIII was not.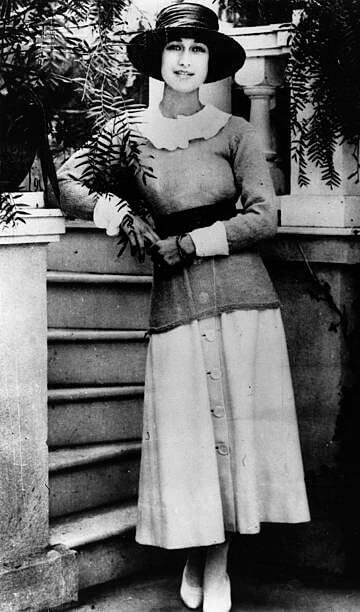 However, rumors went around suggesting that the true reason for Simpson's withdrawal from the relationship was simply because she did not wish to be Edward's wife. She merely enjoyed being his mistress. But everything changed when, just before the abdication, she had suggested they break up, Edward had reportedly threatened to commit suicide. And that is when the story changed...
The King's Decision
As it turns out, Wallis Simpson's magnanimous withdrawal from the scandal was unnecessary and futile. King Edward VIII, never one to wait when there was an action to be taken, had already made plans to issue a statement of his own. "I renounce the throne for myself and my descendants," King Edward VIII declared to the nation.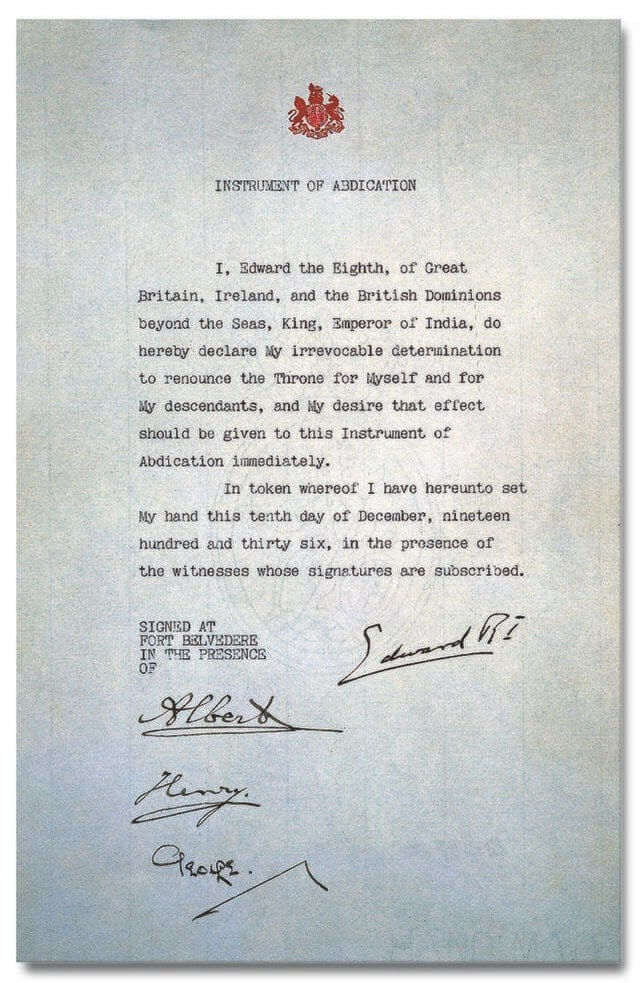 George VI would become the new king, and Edward would abdicate to marry Wallis Simpson instead. London's Evening newspaper, The Star, announced the shocking news on the cold Thursday night of December 10, 1936, followed by the rest of the world's press the next morning.
They Gave Up Everything
It wasn't only the throne that Edward lost when he abdicated his position. He also lost his access to the money which had funded his lifestyle since childhood, and was also now needed to fund that of his bride-to-be. He was homeless and jobless. The only thing he had to his name was the newly given title of Duke of Windsor.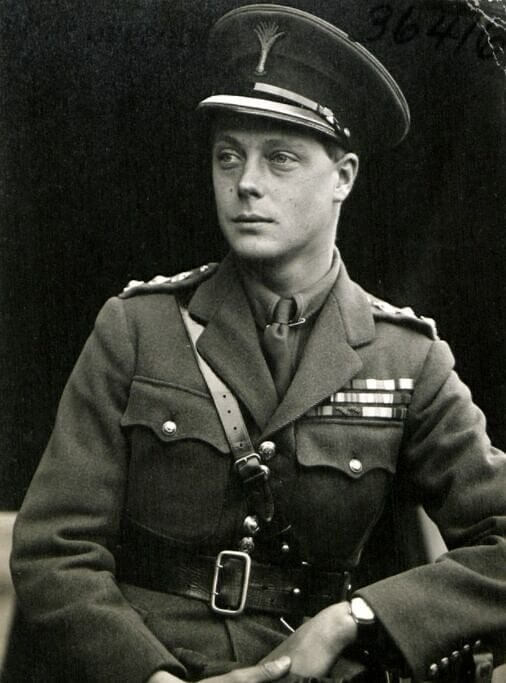 Edward and Wallis both also found themselves short on friends. The scandal which had rocked the world had taught them not to trust people and the pair quickly became isolated. They were also still apart, Edward couldn't do anything which might jeopardize Wallis' divorce, such as running to meet her in France. They needed to be careful, and they needed help.
Vienna
One friend Edward felt he could still trust offered to host him in Vienna while he worked out the next steps for his life. By all accounts, Edward's gratitude only went so far and he quickly began behaving like a spoiled child which, of course, he was.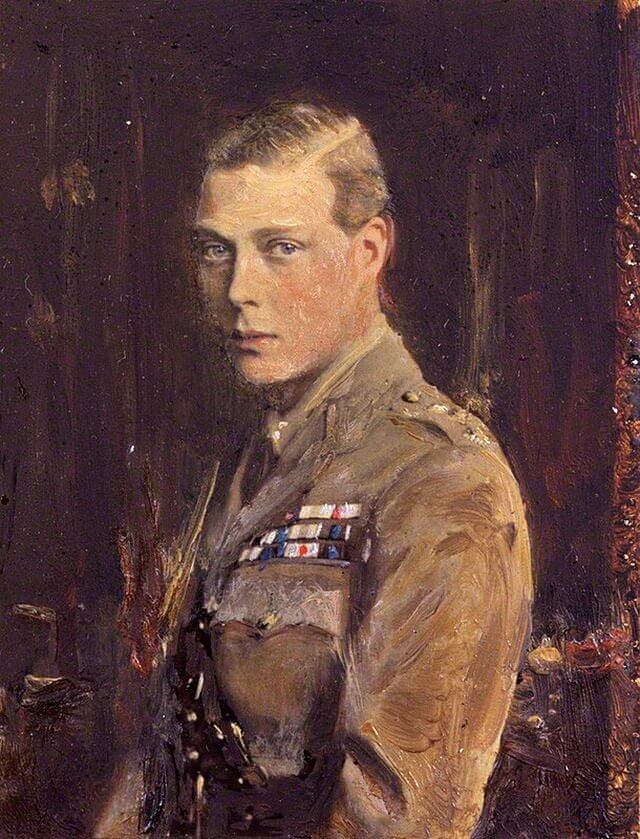 As heir to the throne he had never had to pay his own way before, and it proved a shock to discover this was how he would now need to live. Meanwhile, Wallis Simpson was in France and racking up huge bills as she planned the grand wedding she believed her and Edward would soon have.
Reunited
The moment Wallis Simpson's divorce was finalized, Edward travelled to meet her. In fact, he was there no more than a day after the legal stamp was placed on the documents. Edward's brother, George VI, helped find a chateau in France which would serve as a wedding venue and the scandalous couple chose a date of June 3, just a few weeks after they were finally reunited from their long five month separation.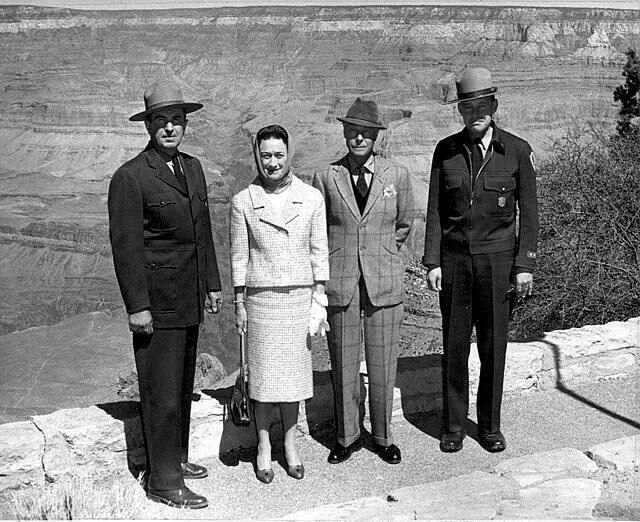 None of the royal family attended the wedding of Edward and Wallis but, thanks to an eloquent abdication speech by him and an elegant blue wedding dress for her, public opinion had finally begun to soften towards the couple. If Wallis thought she might finally become treated as a royal, however, she was sorely mistaken - even if she did instruct her own servants to refer to her as "Her Royal Highness".
Poor Choices
Edward and Wallis were already in the family's bad books. She had been refused an official title and they were both denied official royal visits. Some of the decisions they made as they entered their honeymoon did very little to help. The owner of the chateau in which they married turned out to be Charles Bedaux, a keen fascist and a supporter of the outspoken German, Adolf Hitler.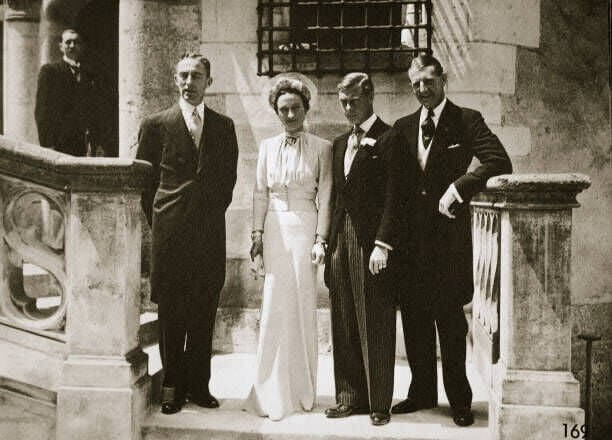 The honeymoon train which carried Edward and Wallis to Italy was owned by Benito Mussolini. While in Italy, Edward was captured on camera performing a fascist salute. Then, when Bedaux paid for Edward and Wallis to return to her home nation of America, his fascist connections caused such a stir the British ambassador asked them to cancel and the First Lady refused to host them.
Flirting With Fascism
When their U.S. trip was canceled, Bedaux suggested paying for them to visit Germany and meet Hitler instead. Edward spoke to the Chancellor in German and both he and Wallis joined in "heil" salutes during their stay. Rumors flared up that Wallis might have been a German spy as part of a long, drawn-out infiltration of the British Royals. Edward and Wallis returned to France after their visit until, when World War II broke out, they fled to Portugal to escape danger.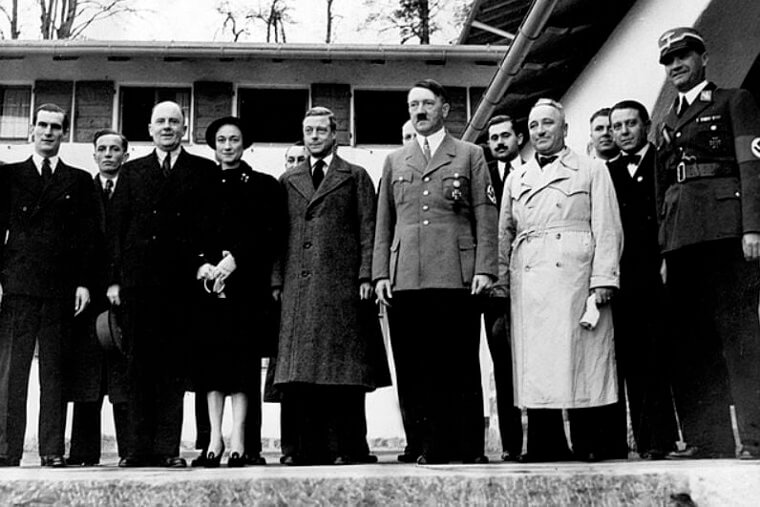 Then, in 1940, they were finally given a break by Edward's family. George VI made Edward Governor of the Bahamas and he moved with Wallis to live in the Caribbean sun. Wallis, however, continued to paint herself as the villain by making racist comments and taking expensive shopping trips to the U.S. while the rest of the world made sacrifices for the war effort.
Jewelry Heist
Free from the responsibilities of the royal household, Edward and Wallis Windsor let their true personalities run free, something which did their public reputation few favors. They were spoiled, naive, rich, and prone to being offensive. It restricted the work Edward was offered and did little to build bridges with Edward's family.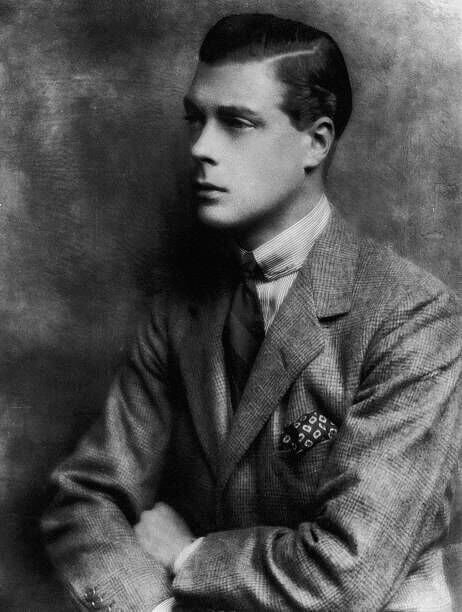 In 1946, the couple were burgled while staying at Ednam Lodge. $2 million worth of jewelry was taken, including several items which Edward had given Wallis from the inheritance left by his grandma. It was believed in some circles the royals themselves arranged the robbery in order to bring the jewels back into the family where they belonged, or the Windsors had done it themselves to claim on the insurance. Neither theory was ever proven.
A Shunned Retirement
As Edward and Wallis moved into retirement, they continued to feel the cold shoulder of the British royal family. They were both missed off the invitation list for Elizabeth II's wedding and Edward was not invited to visit during the illness of his brother, George VI, or to see him before he finally died.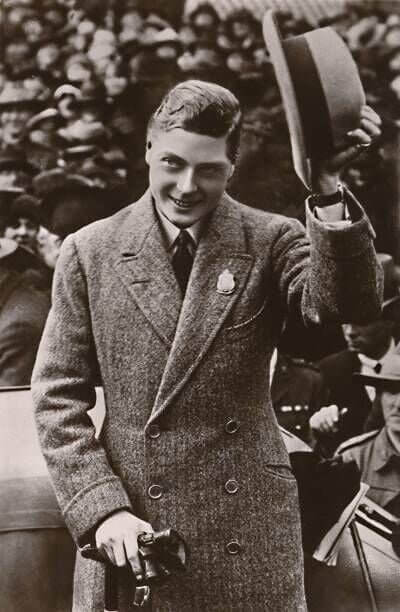 Edward was invited to the funeral of George VI, but Wallis was not. Wallis was also missed from the guest list at Edward's mother's funeral, and any other royal funeral until 1967.
A New Friend
Scandal almost rocked Edward and Wallis Windsor once more in the 1950s when Wallis went alone to New York, leaving Edward behind to write a book. Wallis was soon seen partying with a man 25 years her junior who went by the name of Jimmy Donahue. The obvious rumors of an affair surfaced quickly, prompting Edward to join his wife in the Big Apple where he could keep an eye on things.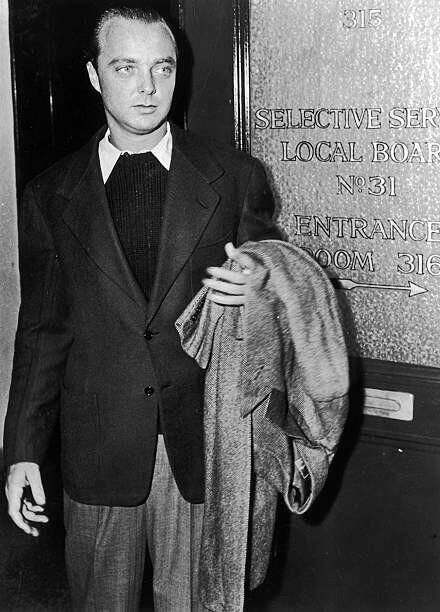 On arrival, Edward quickly learned there had never been any danger of Wallis being unfaithful with Jimmy - he was gay. The three were soon partying regularly together, leading to new rumors that they were actually engaging in a three-way affair. Once more, nothing was ever confirmed.

Edward's Decline
The full lifestyle which Edward Windsor had led began to catch up with him through the 1960s and his health steadily declined. He began spending more and more time in hospital and could no longer travel or party as extensively as he was used to. Wallis, on her part, worked on keeping her youth by undergoing various cosmetic surgeries, meaning she was in hospitals almost as much as Edward was.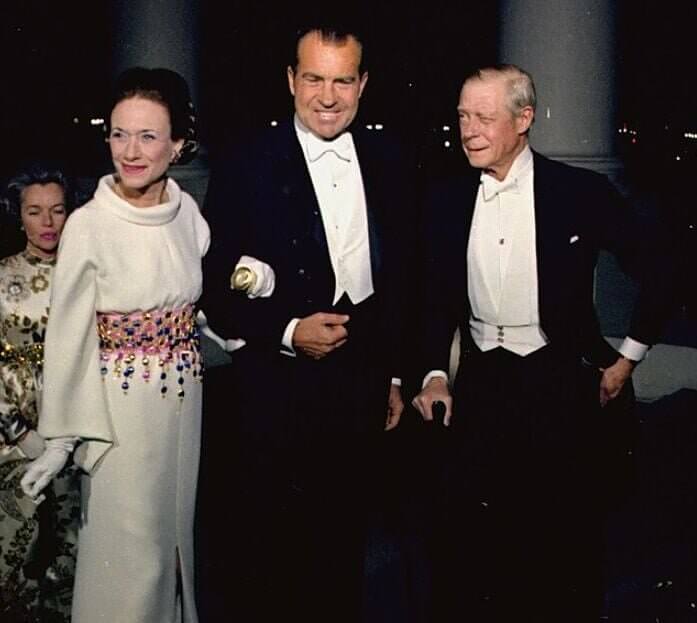 As Edward grew older, the royal family's attitude towards him softened. Eventually, as it became clear he was reaching the end of his life, Elizabeth II and her husband paid an official visit to the Windsors in France. The visit took place on May 18, 1972. Edward died just ten days later.

Final Farewell
After the death of Edward Windsor, the royal family extended a very brief moment of hospitality towards his widow, Wallis. Queen Elizabeth II arranged for Edward's body to be flown to England and for Wallis to stay at Buckingham Palace when she attended the funeral. Wallis, on her part, was too devastated and lost to enjoy this temporary warmth.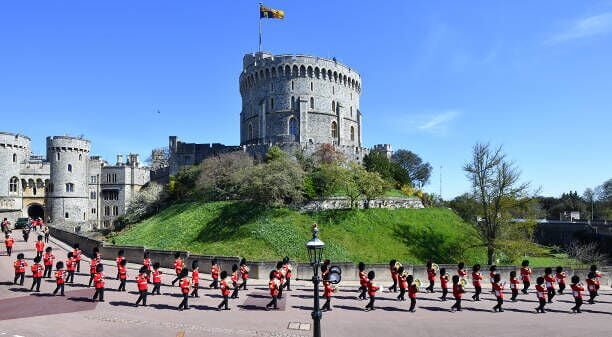 Wallis was seen to behave oddly at the funeral, some claimed she may have been given tranquilizers. She also appeared to be forgetful about her situation. When the Prime Minister offered her his sympathies, she simply replied with an invitation to France and  "The Duke and I would so love to have you." The royal family, who had not stayed at Buckingham Palace while Wallis was there, had her flown back to France immediately after the funeral and washed their hands of her completely from that day on.

Wallis' Decline
Now all alone in the world, Wallis Winsdor also found her health decline, particularly her mental state. Dementia consumed her, she began forgetting the names of everyone around her and selling off her possessions as she obsessively worried about money. The situation was not helped when Wallis' power of attorney was signed over to her lawyer Suzanne Blum.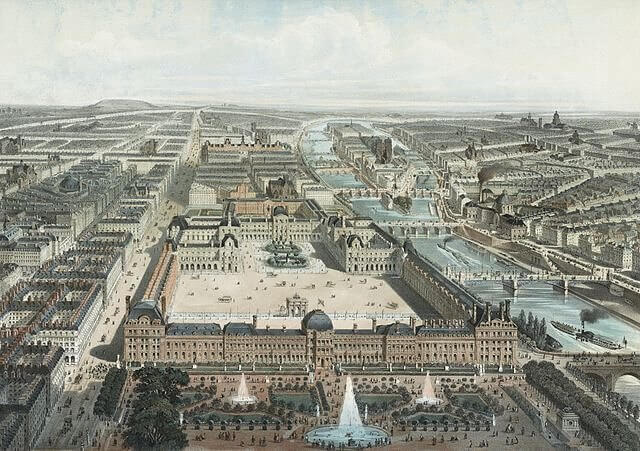 Rather than care for Wallis' needs, Blum began systematically selling off her charge's valuables, claiming they had in fact been sold years before. While Wallis needed to be looked after, she was instead robbed. Finally, on April 24, 1986, the woman best known as Wallace Simpson, the woman who ended a King's Reign, died at her home in Paris.

The End
Until her last breath, Wallis Simpson never forgot her contempt for the British royal family and their treatment of herself and Edward. So it was a surprise when the royal family arranged for Simpson's funeral to be held at Windsor Castle, and for her to be buried alongside Edward. Even stranger was the royal guest list. Queen Elizabeth II, Prince Philip, Prince Charles, Princess Diana, and the Queen Mother all attended.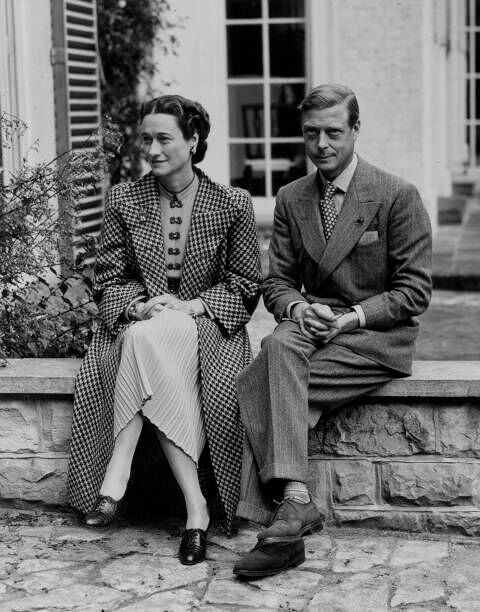 The story of Wallis Simpson and King Edward VIII is one of the most fascinating in the history of modern royalty. The only thought perhaps more intriguing is - what would have happened if Edward, a man who had a clear relationship with the fascists of Germany and Italy, had remained on the throne of England as World War II came into force? Did Wallis Simpson inadvertently change the entire history of Europe when she caught Edward's eye that day?