All people are different; everyone has their own chosen preferences and hobbies that they enjoy. So we also have some people who enjoy creating or remodeling their homes. Which is perfectly fine as long as one of those people doesn't overdo it. But tastes are not to be debated, don't you agree? In this list, you will see examples of silly, weird, and beautiful spaces.
Some Choose Candles, Others a Periodic Table
Many experts and people believe that showering is the best form of relaxation. Especially if you have a large bathtub that you fill with water and create a complete atmosphere for yourself. Some like to use bath bombs, bubble baths, or candles. This example is a little different from what we would normally expect. Someone has a periodic table in their bathroom, maybe because they shower periodically.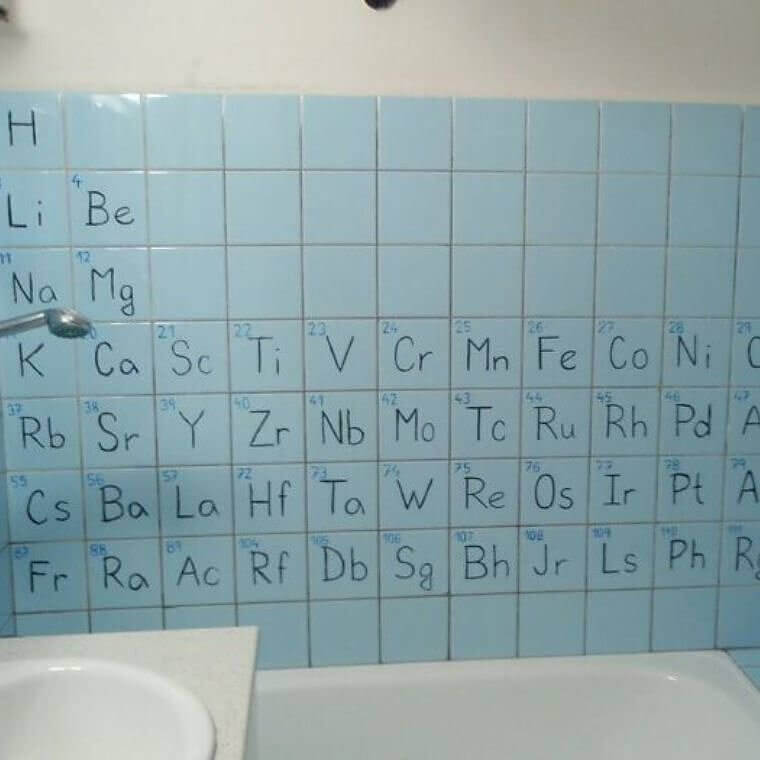 Just kidding! We can see that someone paid a lot of attention to these wall tiles and created an atmosphere for themselves. They may even have afforded their children some learning motivation. So they drew a periodic table for them so that the child could repeat it during the shower. In any case, we are interested in what the rest of the house looks like. Is grammar written all over the kitchen? Or are math problems written on the sofa in the living room?
Not a Millimeter Unused in This Room
We understand that this way of decorating rooms is liked. We are not one of those; simpler and minimalist variants are more our style. The photo of this room is the complete opposite of minimalism. But we will not discuss tastes, as we have already emphasized. What we tried to find in this picture is an empty and unused millimeter.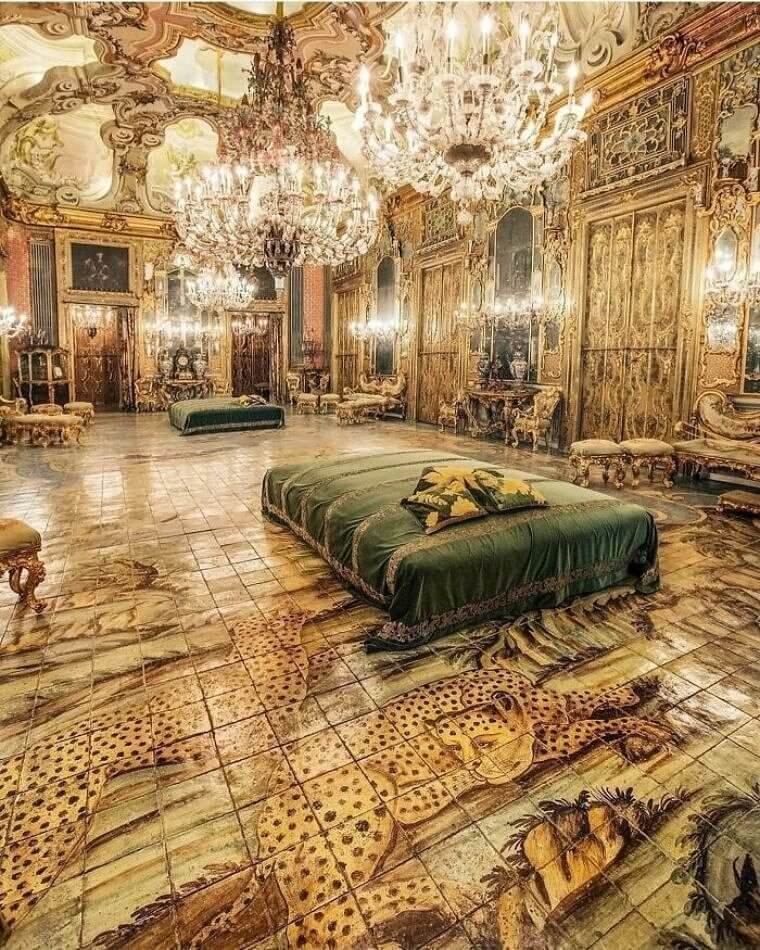 Do you see an empty corner in this room? Just imagine what the rest of the house looks like. We believe that they did not beautify their bedroom. What worries us is how long it takes them to clean their home? Also, if they lose something or forget where they left it, how long does it take them to find it?
New Level of Privacy
People want to protect their privacy, especially if these people are introverts. We believe that when you saw this photo, you thought the same thing as us - this is the idea of an introvert. It seems to us that this person has had enough of the world, noise, uproar, city life, or annoying neighbors. That's why the decision was made to create an atmosphere for themselves.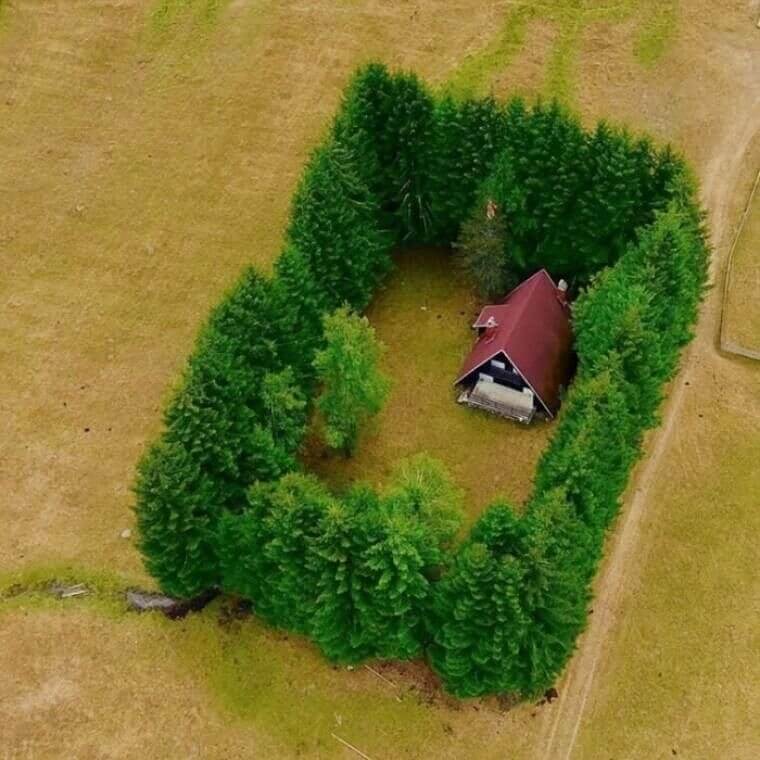 Creative, we must admit! No matter how much we were tired of the city noise or the neighbors, they certainly wouldn't have planted trees around our house and thus cut themselves off from the world. Honestly, this would be an ideal vacation spot. A place where you can come with your loved ones and rest your soul and brain. But to choose this as a place of permanent residence? No thanks. What do you think?

Too Glam or Too Scary House
Look at how much glitz and glamor there is in this picture. Hopefully, this is just one room, and the rest of the house doesn't look like this. It seems to us that it is the house of a supervillain. Although we glorify evil roles through cartoons and movies, this photo appears to us to be more of a reason to glorify those roles.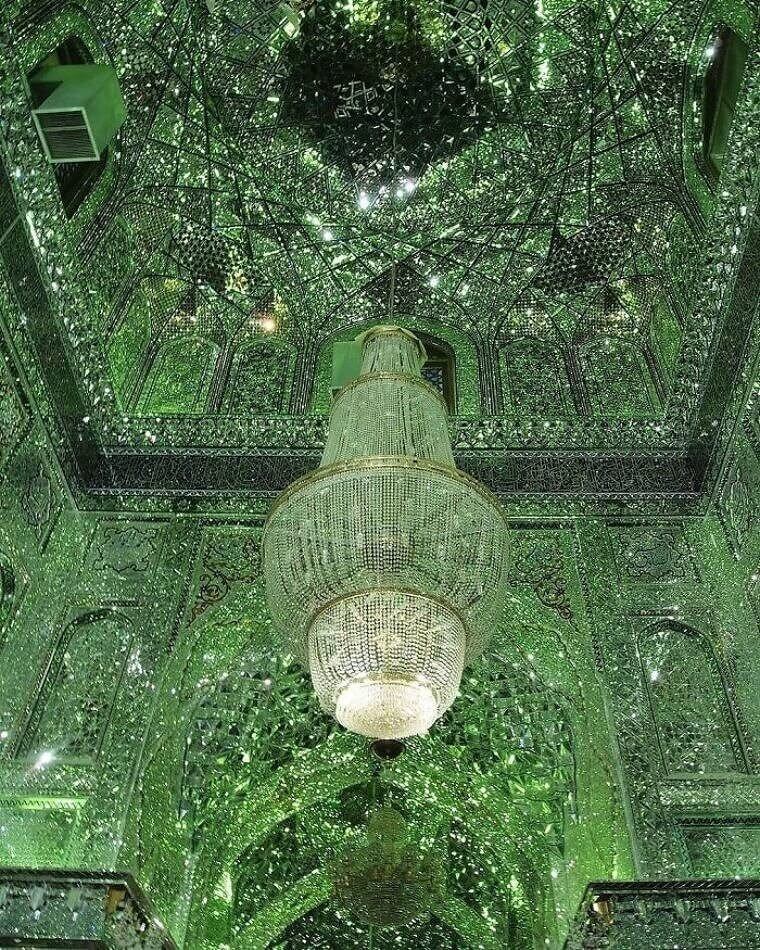 We don't know if it's the light that exudes that style, but it's really special. The owners of this room must be of the opinion that there can never be too much and that they cannot overdo the glamour. What do you think of this interior? Is it okay with you, or is it too glamorous for you?

They Must Be in Love With Their Looks
We all like to spend most of our time in front of the mirror. Even in the cartoon Snow White and the Seven Dwarfs, the mirror is shown as an important symbol. That symbol became iconic because of the statement of the supervillain "Mirror, mirror on the wall, who is the prettiest in the world?" The owners of this house took that statement seriously. Or they were inspired by her.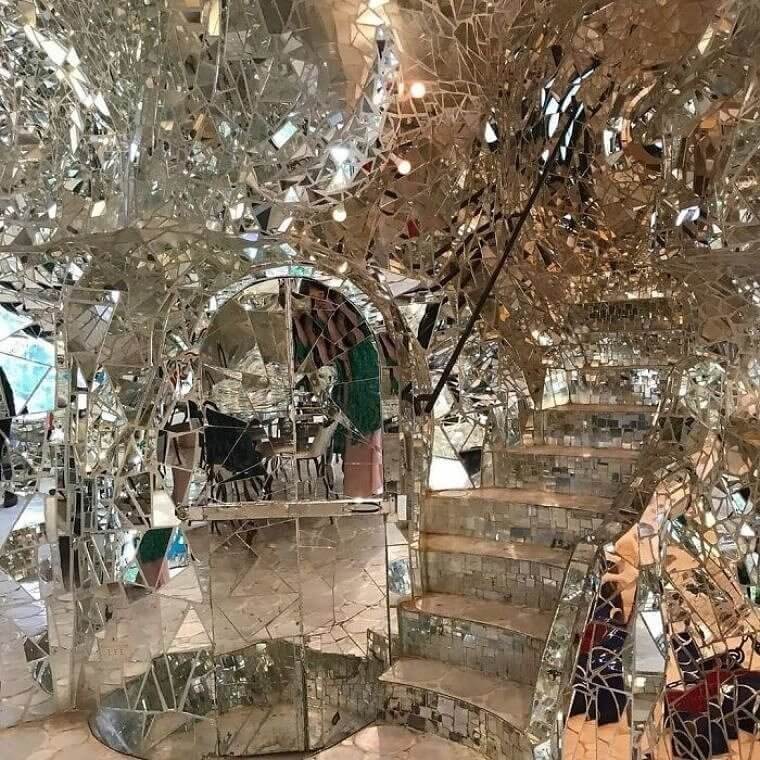 We admit it looks pretty cool. But as a passage in some club, you certainly wouldn't want to have this in your house. These owners seem to like to mirror each other very much, and that's perfectly fine. Nevertheless, they invested their money in the construction of such rooms. But honestly, looking at this photo makes us feel a little disturbed. Wherever they turn, you will see parts of your reflection on the little mirrors; creepy, right?
A Room for Relaxation and Fear
This toilet looks cute. We believe that lovers of the sea and fishes would sit there for hours enjoying the magnificent sight. And can you imagine people who are afraid of the sea and sea creatures? Imagine how much fear would awaken in them and how they would experience going to the toilet?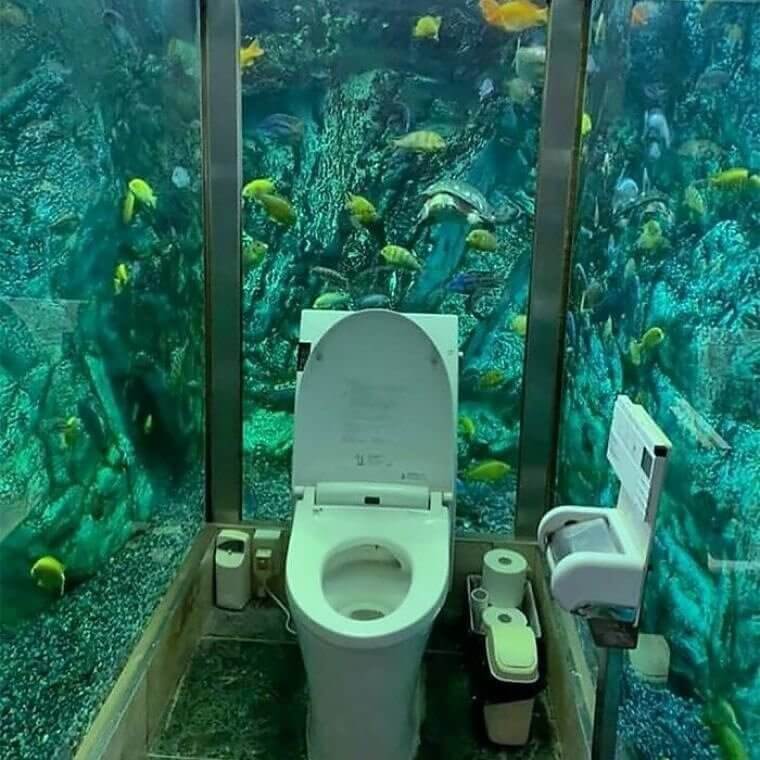 If you have a toilet like this, and your friends come to visit, be sure to ask them if they are afraid of the sea. Why? So that your guests don't go home traumatized. We believe that children would find this room very interesting and that it would be very interesting to spend time in an ordinary toilet. What do you think about this interior? Do you like it or not?

She's Probably a Barbie Fan
We know that there are various fanatics who show their loyalty in various ways. This person is probably a Barbie fan or likes the color pink a lot; we respect that. Is that obvious? Oh no, just a lucky guess. Just imagine what her closet or house looks like. It's probably all pink, like the car.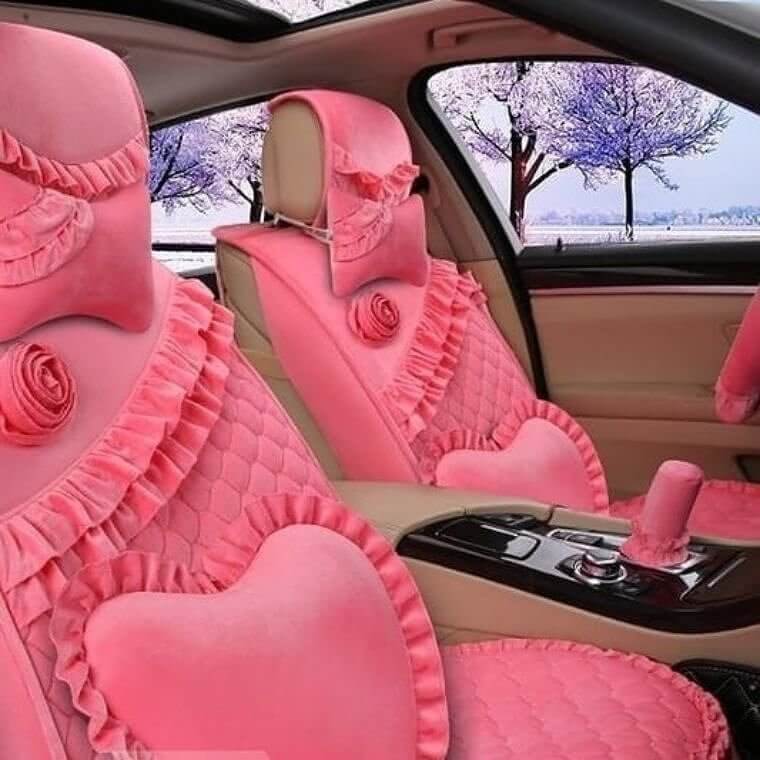 To us, these covers in the car look like someone threw up pink paint on them. She probably belongs to a certain type of people who even show their devotion through their scent. If this girl walked past us, we believe that even her perfume would remind us of the color pink. That's probably her goal, don't you agree? Are you someone's loyal fan, and how do you show it?

Toilet Paper in Enormous Quantities
The owners of this toilet certainly do not care and do not worry about whether there will be enough toilet paper. Surely this creation and idea came from some trauma. When we say trauma, we mean that these people found themselves in an awkward situation where they had no toilet paper or any replacement. For this reason, they equipped their toilet so that they never run out of toilet paper.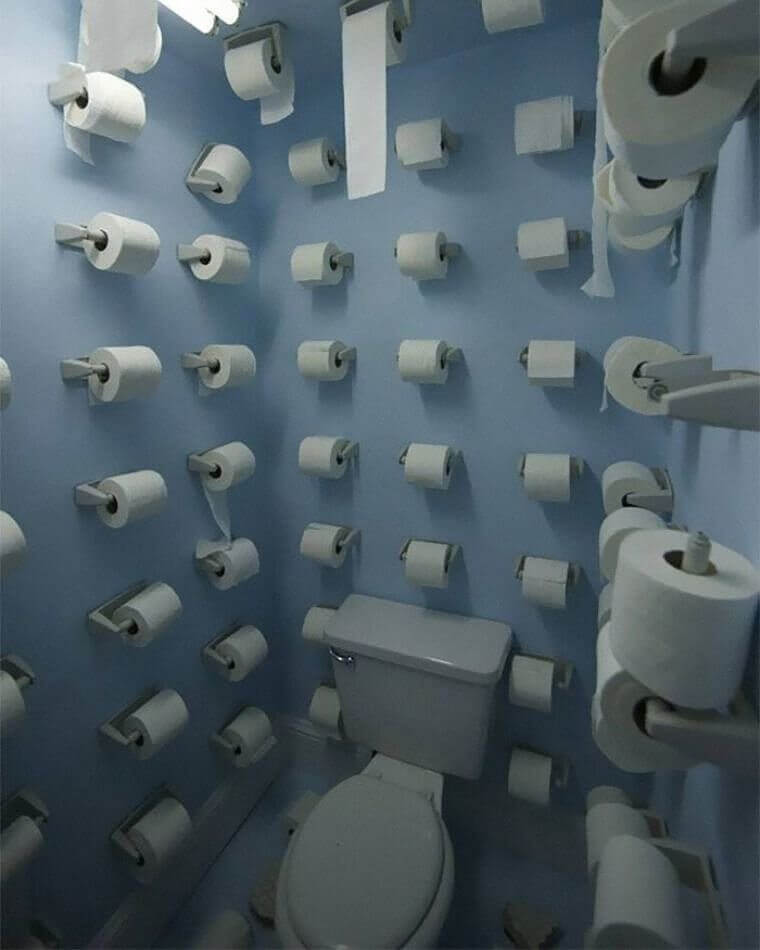 We think it takes two months to use up the toilet paper on these walls. We are interested in how they get the toilet paper from the toilet seat, which is right under the ceiling? Just imagine how comical and unpleasant it is. Do you like this kind of security?

Mushroom Design at Finest
Some things look more beautiful when they are smaller. In this case, we have a mushroom design that is magnificent. It looks like a cartoon scene to us. If you compare the people in the background with the size of these mushrooms, you will understand how the Smurfs felt. Pretty cool, right? What do you think of this design?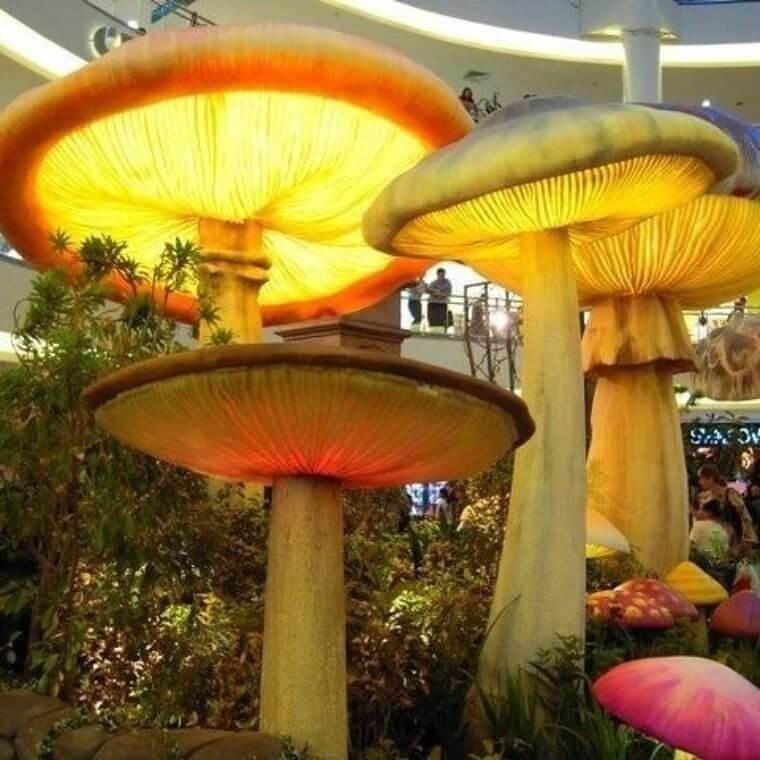 We hope that no one is afraid of large mushrooms; if you are, feel free to skip this picture. Maybe one of you has just been inspired to redecorate your interior. On this list, as you already know, you can see anything and everything. We hope some things will inspire you and help you discover your own style. Or if nothing else, to figure out what you don't want in your home.

Toilet Seat for Children
This toilet seat looks a bit bizarre. Do you agree? Or does it still seem like a piece of furniture that you would like to have in your home? To us, it looks like a toilet seat for children, but we believe that this was used by someone older. Which makes this photo even more bizarre. Who even thought of designing something like this?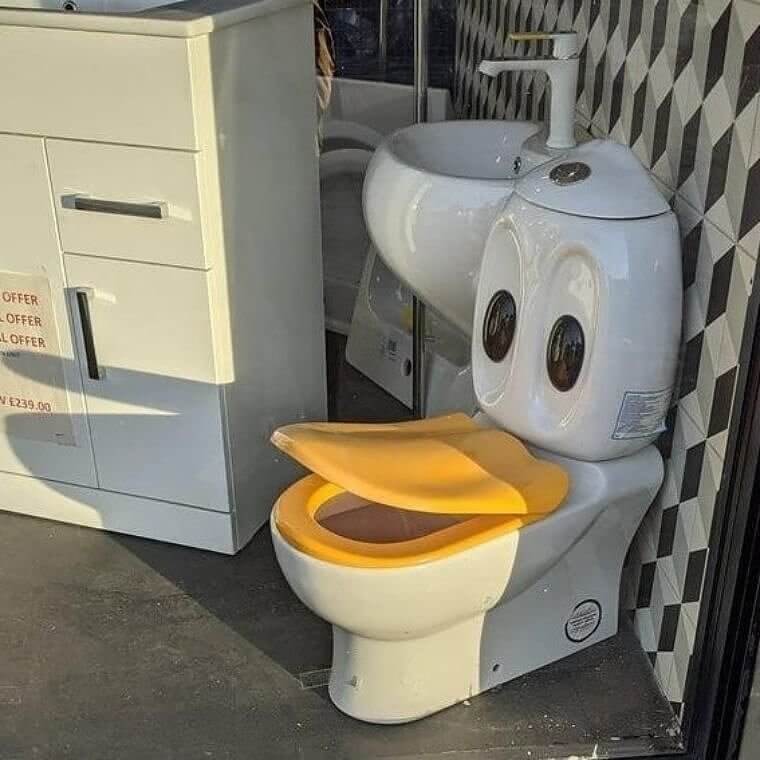 Imagine the person who created this loves the cartoon Dutch Duck. Or was this created when the creator was high? Those are the only two reasons why we think someone would make and create this toilet seat. Do you have any other idea how this came about? We hope that there are only a few of these toilet seats and that they are not part of mass production. Otherwise, they would have one more reason to worry about humanity.

Introducing the Magnificent Octopus Sink
As you can see, this is another example that is a bit twisted and a bit fancy. We have to admit that this looks very glamorous like it's part of a castle bathroom. Namely, this is part of the toilet in one of the restaurants. We believe that it goes with the image they have built, and that makes this photo even cooler.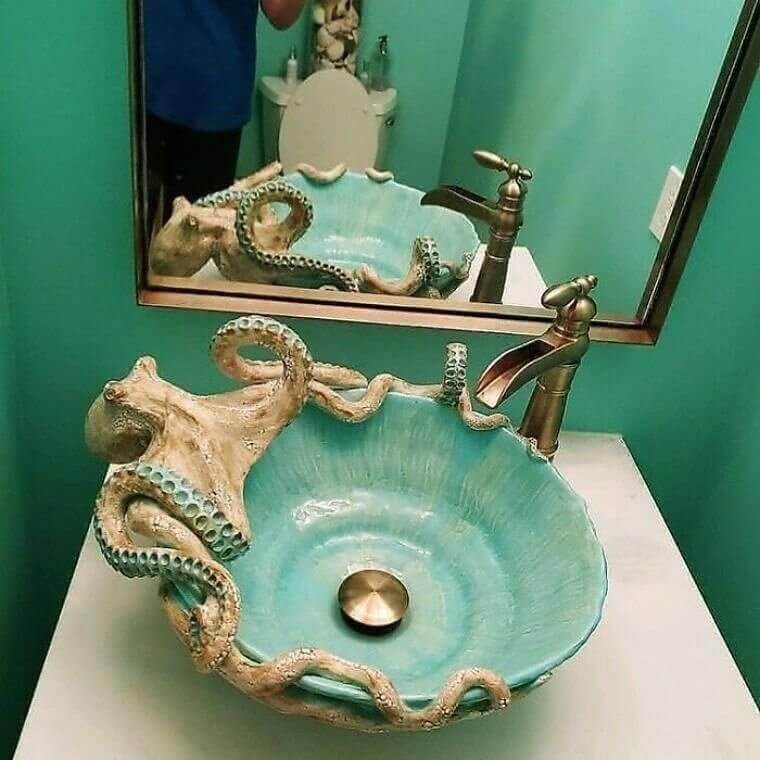 We don't know if you'd like to have this in your home bathroom, but it certainly looks great as a sight. Would you like to have something like this or something similar to this octopus sink? This question is not for people afraid of the sea or sea creatures or, more precisely, not for those afraid of octopuses.

Our Eyes Hurt Because of This
The first thing that came to mind was, what would this bathroom look like when they came home drunk? Are you getting a little dizzy looking at this bathroom photo? We can't even imagine how dizzy our heads would be. Why would anyone do this? Why did the owners of this toilet think it would be cool to have a delusional and confusing bathroom?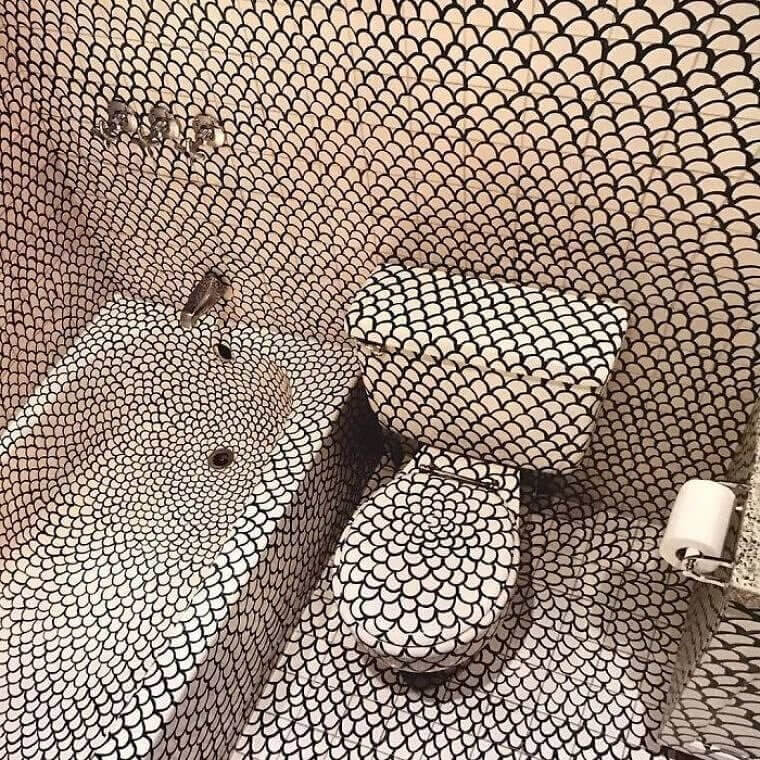 Let's hope this is some sort of prank or revenge, maybe a lost bet and that this is not a permanent look for the bathroom. Can you even imagine how much time someone spent creating this? They must have been bored, or maybe this was made during the 2020 lockdown. What do you think about this toilet?

This Fountain Was Made by Children
We have already created a scenario that preceded the creation of this. We think that it is a task for children to either use their pools or throw them away. Maybe they wanted to encourage children's creativity and make them spend their time away from the phone.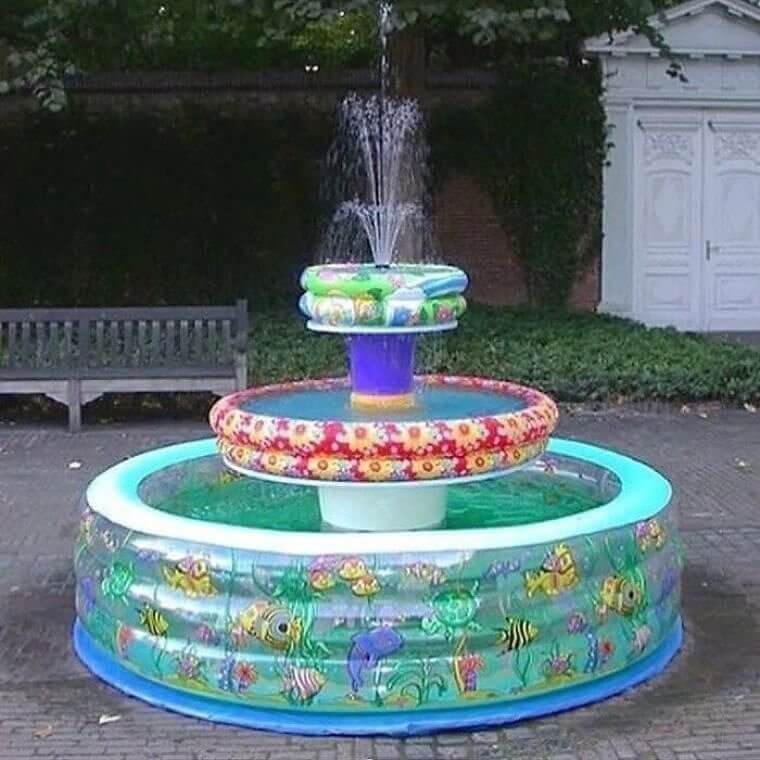 Of course, the parents were there to help make this, but the kids probably did most of the work. Or at least it was an idea created by children. We are sure that it was very fun and creative to make a pool fountain. This seems very interesting to us, and it would be cool to have fountains like this on the pools as part of the interior. How do you feel about this creation?

Glitter and Glamour, Again
We are increasingly convinced that people are attracted to things that shine. We've already had the chance to see shiny, glamorous, and glittery things on this list. But this is a bit too much. It seems to us that the owner of this wanted to achieve a wow effect, but she got a little carried away and overdid it. How does it seem to you?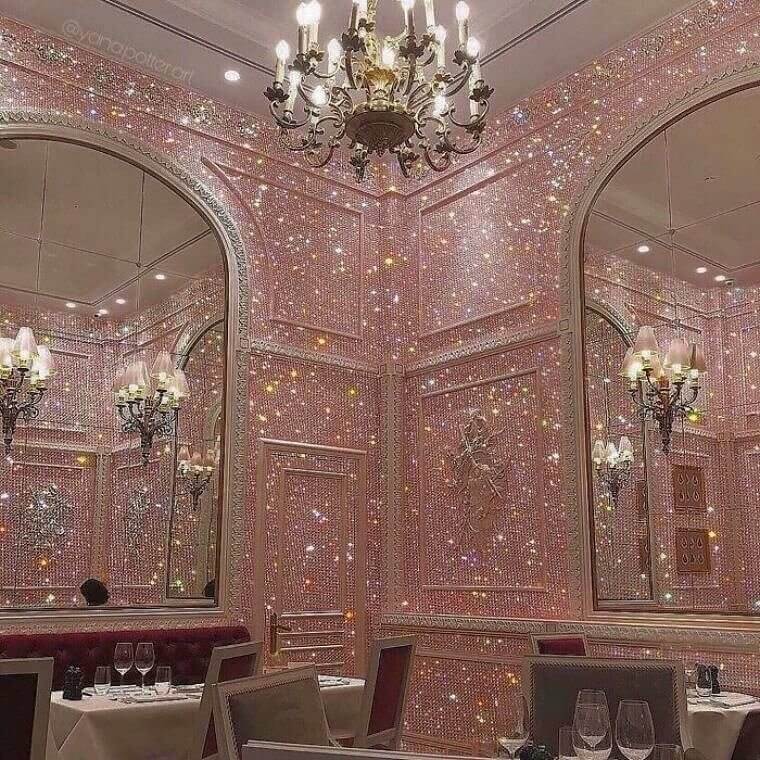 Tastes are subjective, but we wouldn't want our eyes to hurt from the amount of shiny things in our house. We can only hope that this did not cost much or that this is some silly filter that gives a glamorous effect to your interior. Or does this still feel like a restaurant? If it is a restaurant, then it is intended for a special elite.

This Couch Looks Tired
The silliest thing about this photo isn't that the pig is the main motif of the couch. What caught our eye is that the pig couch is very tired. Look at the pig's eyes. He looks tired, doesn't he? The pig looks like it doesn't like the role of the couch that has been assigned to it one bit.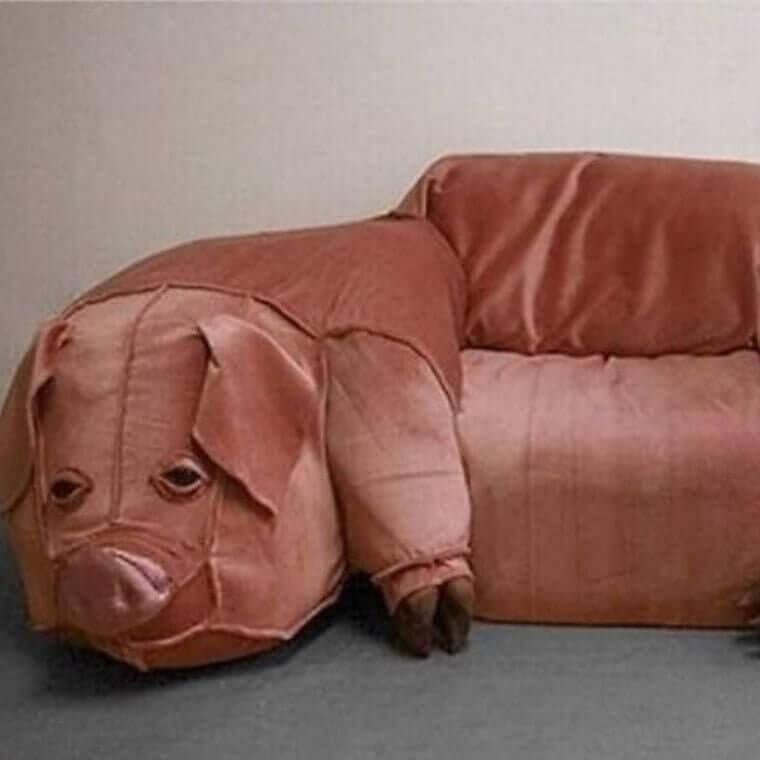 We feel a little sorry for the pig because of the situation he found himself in, but we hope no one jumps on him. Because it looks like someone hurt his feelings or like there were a lot of people on this sofa pig all night. Would you like to have a couch like this in your living room? Everyone likes to be inspired by something, but this kind of inspiration? We don't know who would like it.

Women Really Love the Pink Color
Like that girl who is a big Barbie fan, this girl also likes my pink very much. Maybe it's even the same girl, what do you think? However, this pink color has a different sheen. It looks like everything in this room was inspired by or made of bubblegum. Maybe someone created a 3D room to show the client what it would look like if their wishes were fulfilled.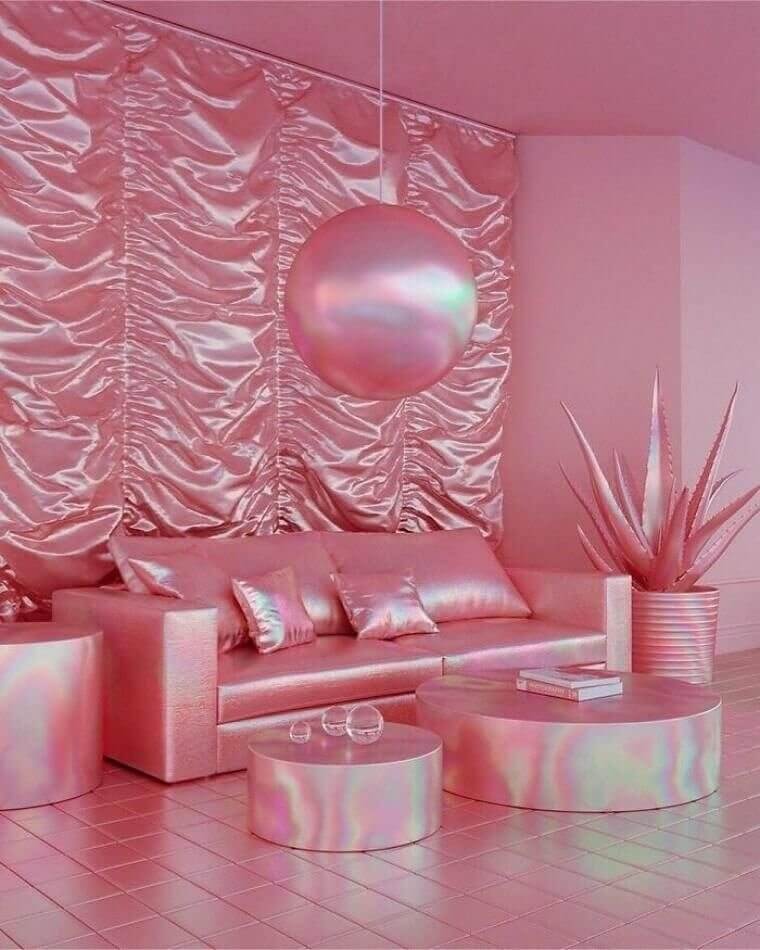 Do you like it when all the interior is inspired by one particular color? It seems a bit monotonous to us. We have emphasized that we like minimalism, but this is far from that concept. Having an interior in one color completely seems like a big no-no to us! Imagine waking up one morning and not liking that color anymore. Then it would be easier to change the house than to redesign everything.

Is This a Good Place To Chill?
Look at this room. It looks like a romantic bubble. The whole "transparent" part makes it completely special. But as much as it delights us, it also worries us. Would any of you feel safe and at ease here? When you walk into this, you know that everyone can see you.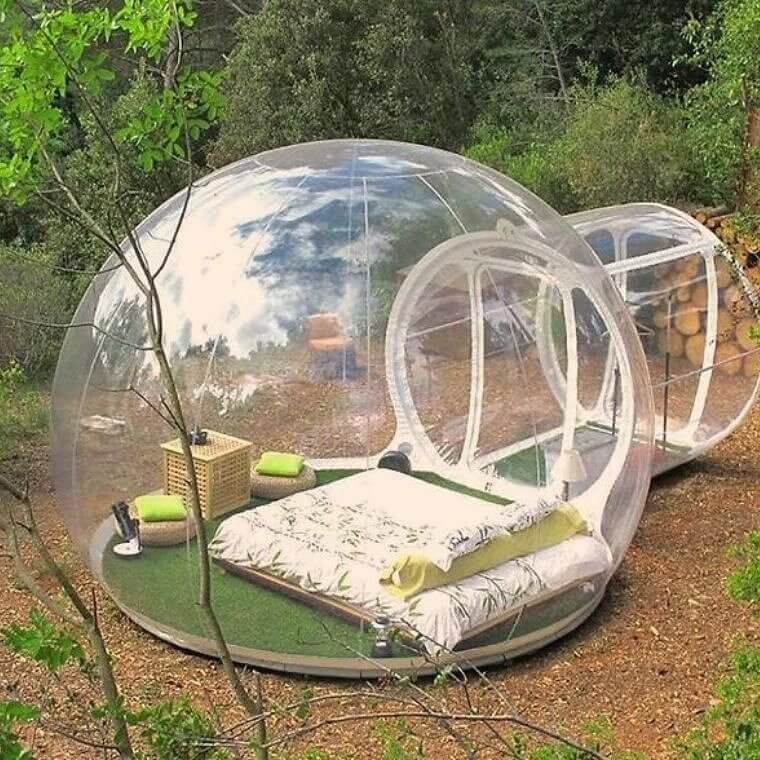 We don't know about you if you'd have a problem with someone watching you while you're changing. But to us, it seems completely insane and not even remotely usable. If someone invited us to spend an evening or a weekend there, we would think twice about agreeing and going there. It looks like you can't have your privacy at all. When you look at this picture, imagine someone is watching you while you are chilling inside.

We Fear the Dentist Even More
We know many people who are afraid of the dentist. We also belong to that group of people. The fear we have is unnatural, we know it, but it is stronger than us. But we also know that going to the dentist is inevitable and very necessary. Imagine you swallow your fear and go to the dentist and find yourself entering the office like this.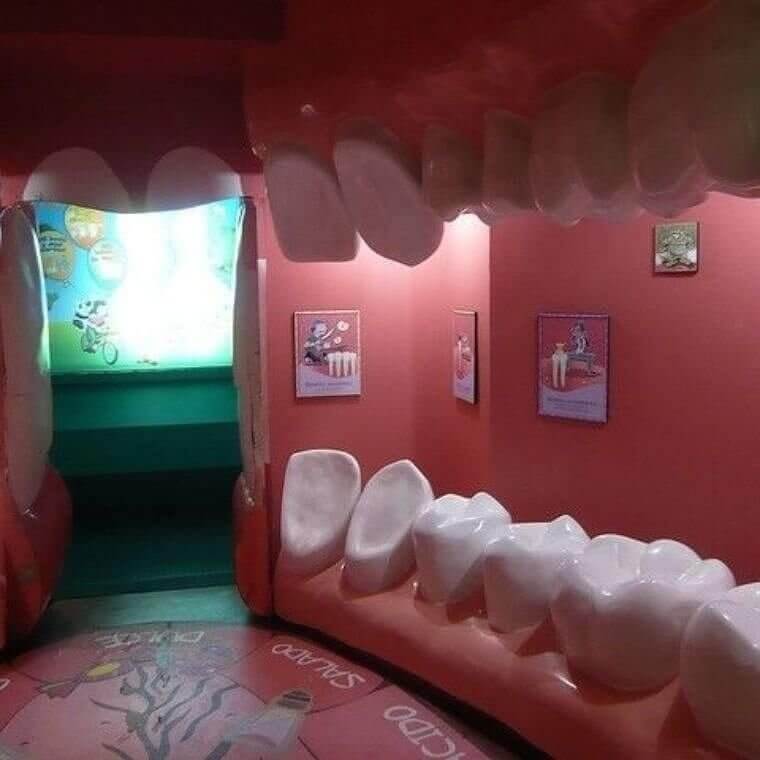 It looks like a scene from a bad horror movie, don't you agree? No matter how small or big the fear is in us, we believe that they would run away from there as soon as they set foot in this kind of surgery. We believe that the dentist's goal was to animate or provide an interesting atmosphere to patients waiting for their turn. But this has really gone too far and doesn't look pleasant at all.

Proof of How Little Creativity Is Needed
This is one of the silly examples that show that people just need a little creativity to create something! This person used the vases to portray how she sees them. Believe it or not, she sees these objects as mushrooms! She took a couple of vases and turned them upside down, and lined them up on the grass. She wanted to share it with the rest of the Internet and show off her little glass mushroom garden.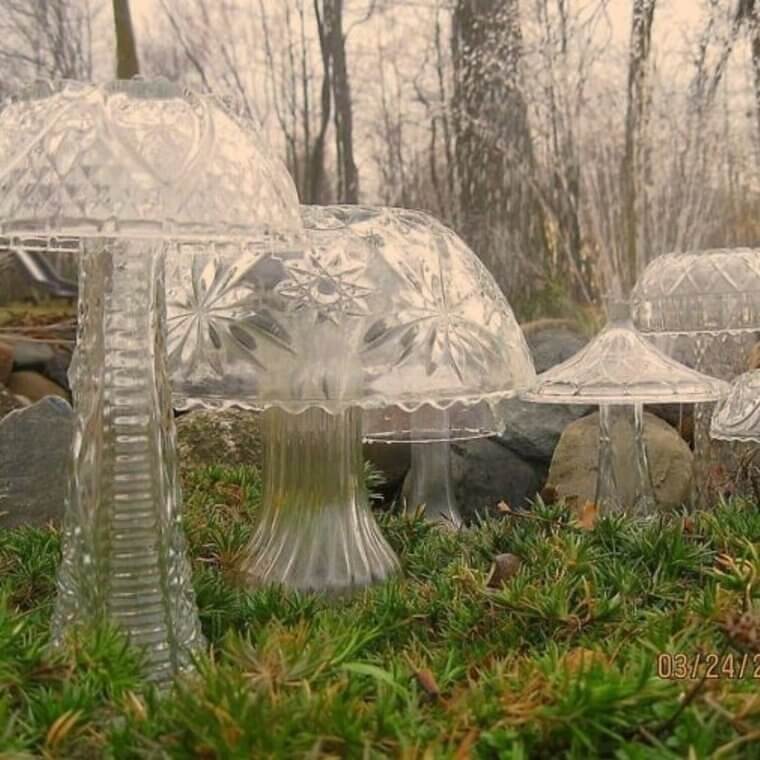 Very creative, don't you agree? In these examples, in addition to creativity, we see how differently people's brains work. Someone saw that vase as useless trash; someone saw it as an ordinary vase, while this girl saw it as glass imitation mushrooms. It really takes little for people to make something special out of nothing!

The Washing Machine Belongs to Grandma for Sure
When we were younger, we remember our grandmothers putting tablecloths everywhere. Especially if they knitted or sewed those tablecloths themselves. But this is a new level that we just discovered. According to this picture of the washing machine, we can assume that it belongs to some traditional-modern grandmother. Or does it seem different to you?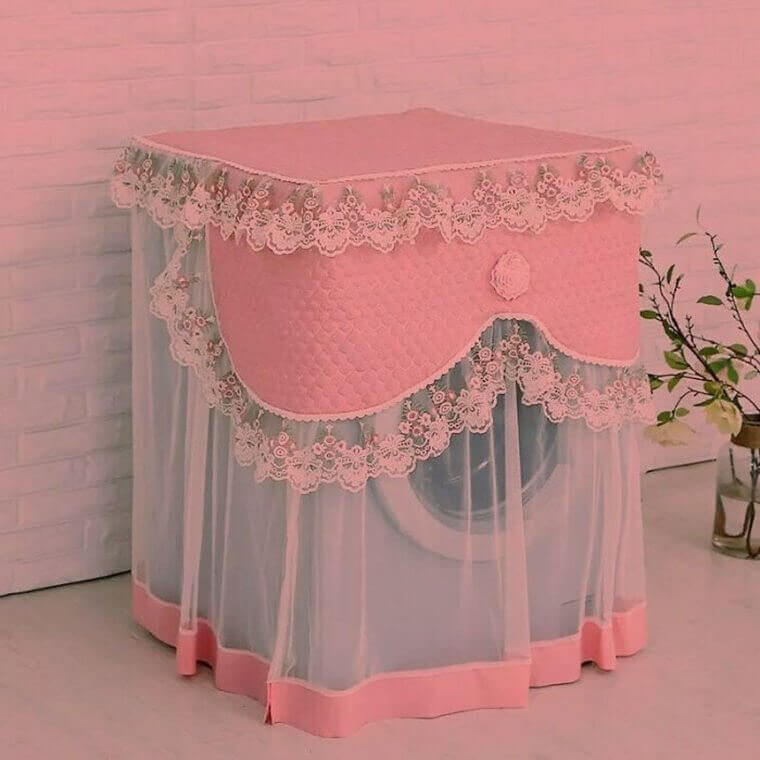 This grandmother is another lover of pink and floral patterns, as you can see. What is interesting to us is that it is not an ordinary tablecloth but a complete veil for the washing machine. It looks like grandma got the washing machine ready for the wedding, we just need to find the dishwasher, and there it is - the groom! Do you like this idea?

They Probably Couldn't Rent a Real Castle
Everyone dreams of their perfect wedding day. Especially brides, it's their special day. Also, every bride wants her wedding to be unique and memorable. As we can see from this picture, these newlyweds sure had a blast at that task! Just look at what they are married in.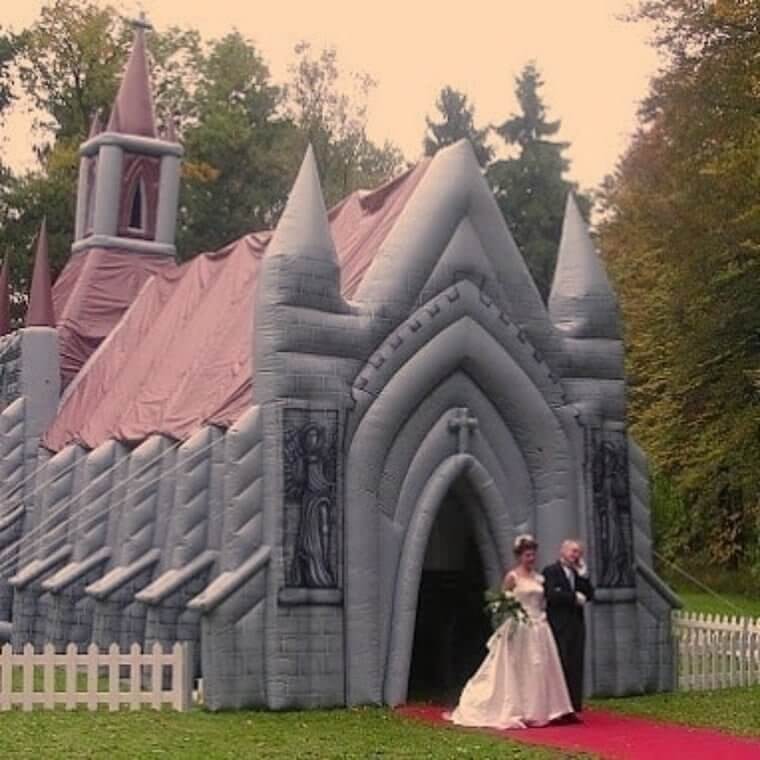 Maybe they wanted it on purpose because they are fans of castles. But something else seems much more logical to us. Maybe they couldn't rent a real castle, so they found an alternative. And then, thanks to that alternative, they accidentally turned out much cooler. It is a good alternative, only it looks a little dark inside, but we believe they enjoyed it. Which is the most important thing, right? Congratulations to the newlyweds!

A Paradise for a Cat
We know that many pet owners want to give their furry friends the best place to sleep. The owner of this cat didn't just think about the best bed for his cat; he created an entire room for his cat. We believe that the construction did not stop there. The owner must have built a whole house for the cat because she deserves it.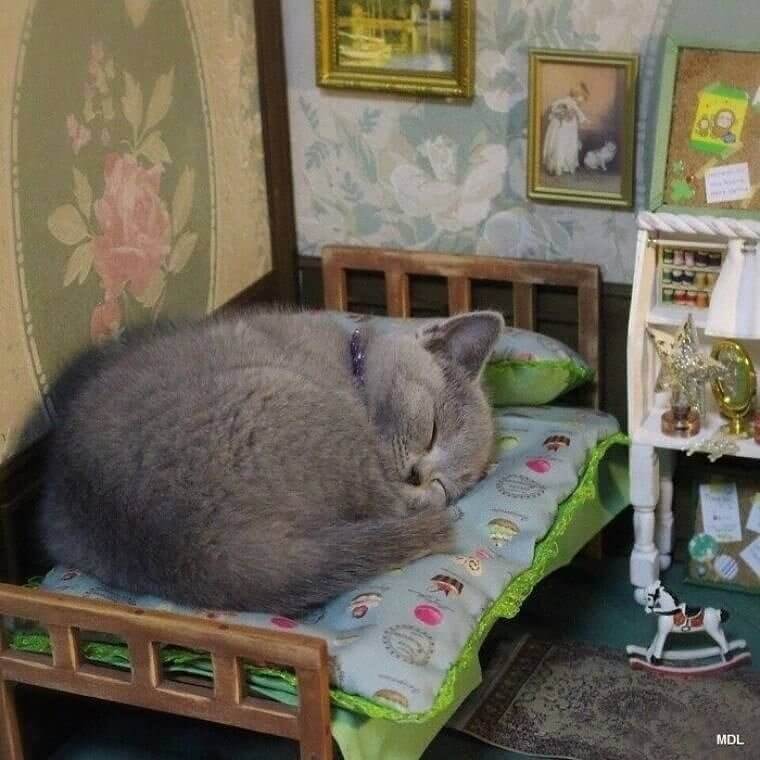 Just look at the details around the cat's bed. The bedside table caught our eye the most. The most interesting thing is that this cat has his own room (probably a house), and we know grown people who don't even have that. Can you imagine that? This owner will surely end up in paradise because he afforded his cat a completely heavenly atmosphere on earth.

Do Fairies and Mythical Creatures Live Here?
Just look at how many colors and flowers there are here. It looks beautiful! We don't know what this is or what this is a part of, but we do know that we wouldn't be getting out of here for hours. In addition to being full of colors and flowers, it reminds us of a fairy tale. If mythical creatures and fairies were real, would their world look like this?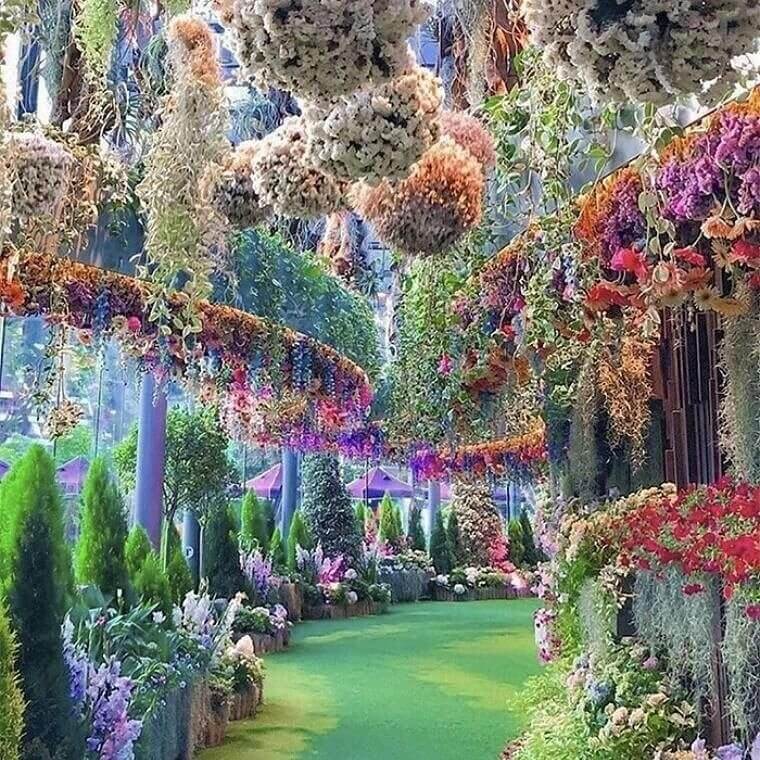 We admit that because of this photo, we started to fantasize and that this photo brought us back to our childhood. Tinkerbell from the cartoon Peter Pan would surely be delighted with this creation. Some will say this looks like there was a huge mess, and someone forgot to clean up. But as we already know, tastes are not up for debate.

Was This Created by Marvel?
Now we understand why some people would never leave their bathroom. Just look at the energy this bathroom exudes from the photo. It looks like Marvel's own bathroom. Or the bathroom of some huge Marvel fanatic. Right? Anyways, this is the first thing on this list that you would like to have in your home.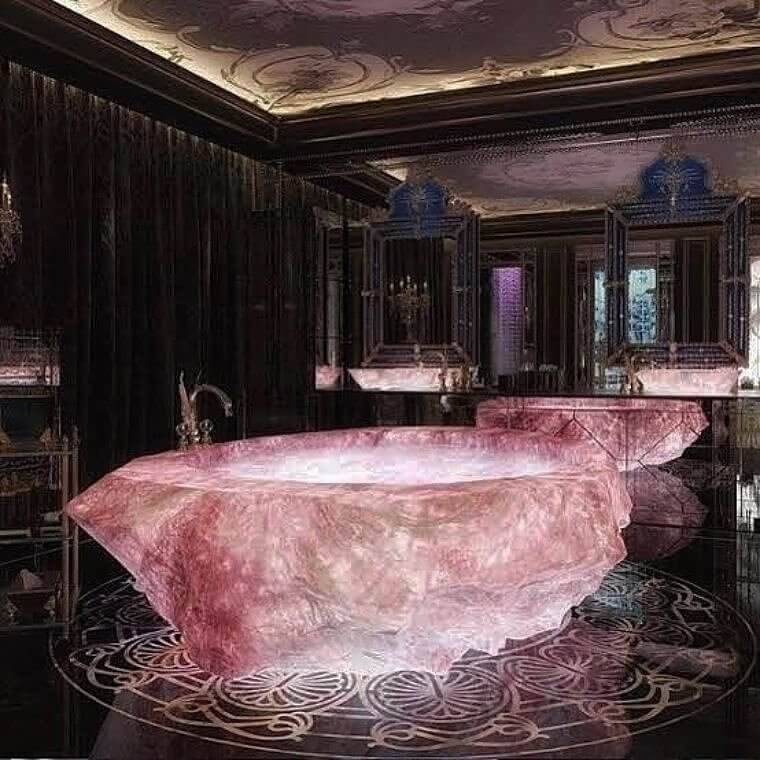 But if they had a bathroom like this, they certainly wouldn't leave it. And guests would probably not be received in the living room but right there in the chapel. As ridiculous as it is, we believe Marvel would be proud to see the bathroom. Do you like this kind of bathroom? Or is this style just not your "cup of tea?"

Would You Visit This Dragon-Fish Place?
This island looks like a tourist attraction. We give points for creativity! But are you a little scared of this dragonfish that surrounds the island? It appears enormously large, which makes it even more terrifying. We're a little afraid of this place. If we had the opportunity to visit it, we would have to get there while the light of day was present. We wouldn't dare at night.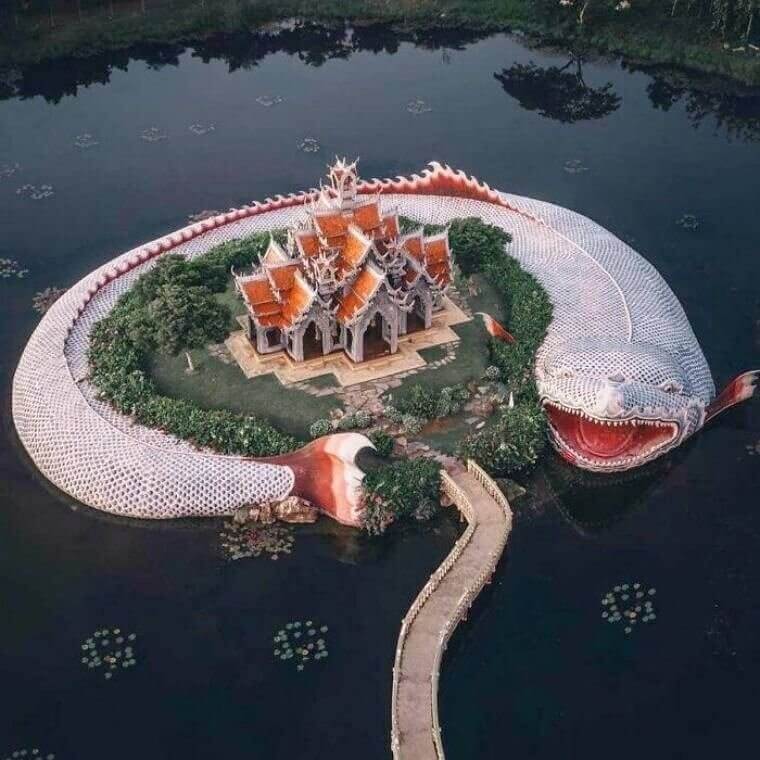 It looks spooky, like horror movies. If this place was inspired by that motif and made with the goal of scaring people, they succeeded. This dragonfish looks like it's going to sink a small island and everything on it any second. What do you think of this exterior? Would you visit this place?

The Owner Must Love Anime
It's a bit silly and crazy how many people show on the interior what kind of fanatics they are. Looking at this room, we can already assume that the owner is a fan of anime cartoons. Just look at the colors and motifs and the wallpapers that are everywhere in the room. Seems a little too much, doesn't it? But everyone can do what they want with their money.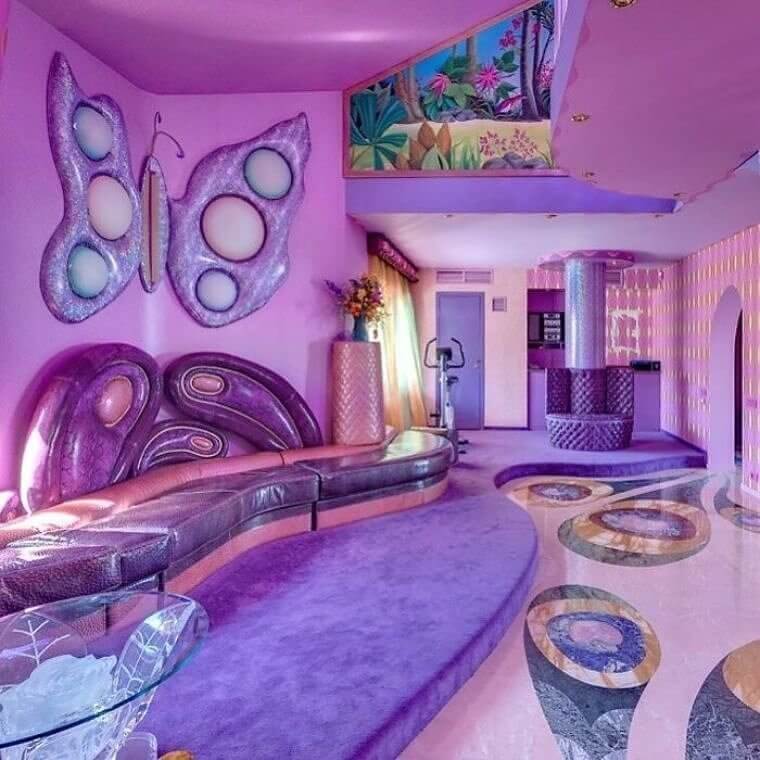 We just hope that one day she won't regret the money she paid for this room. Maybe this is just her bedroom, and the rest of the house is classic. Who knows. We can only say that we respect everyone's taste and that this is not something we like. What do you think about this style?

A Park Inspired by Cartoons
We all love cartoons, no matter how old we are. There are also those who are not fans of cartoons (they are very few), but they too would like this park. The gentle colors everywhere in the park caught our attention. We wished we could play there too, but it's certainly a scene no one wants to see.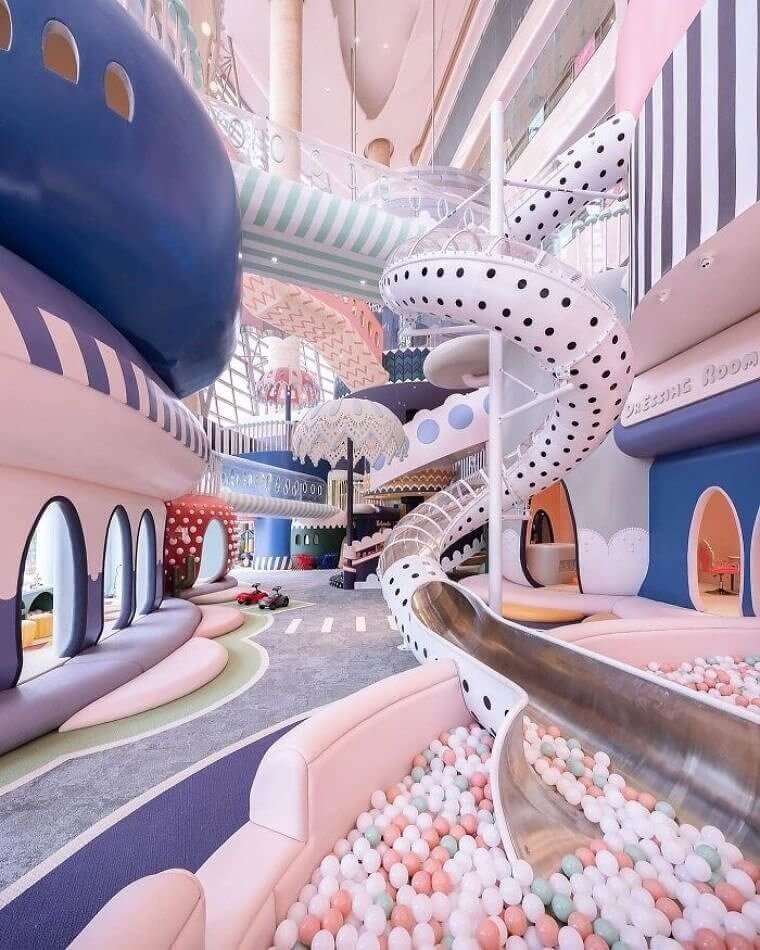 If you have children, imagine taking them here to have fun. They'd probably be busy all day, but they'd have to be careful not to get lost because this place looks huge. Perhaps children would not find this place so special, but surely every child would find something for themselves. If nothing else, it looks great as a place to celebrate your little ones' birthdays. Do you like this place?

There Is Tea for Everyone
You must have had the opportunity to see various types of statues in person or on the Internet. This is one of the designed statues that we will surely remember. The giant teapot and cup statue looks cool; what gives it an even better effect is what the fountain is built against.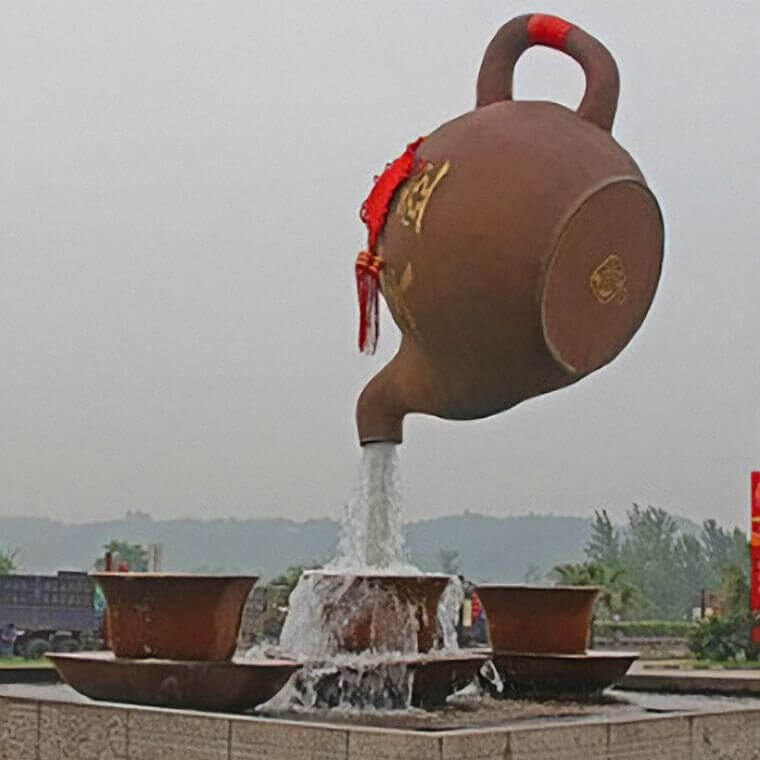 Well, it looks like tea is being poured from the kettle into the cup. Nice sight, isn't it? Although it looks like a giant ghost pouring tea for his ghost friends, it is a very interesting statue. We don't know where it is, but we're guessing there's tea for everyone in that town. We also believe that tea is their trademark. What do you think of this statue?

Hamburger Cloud As Decoration
If this place serves good food, as well as a great interior, then it would definitely be our No.1 place! To us, it looks like it was inspired by The Simpsons. Imagine that this place is close to you and that you can at least walk by it every day.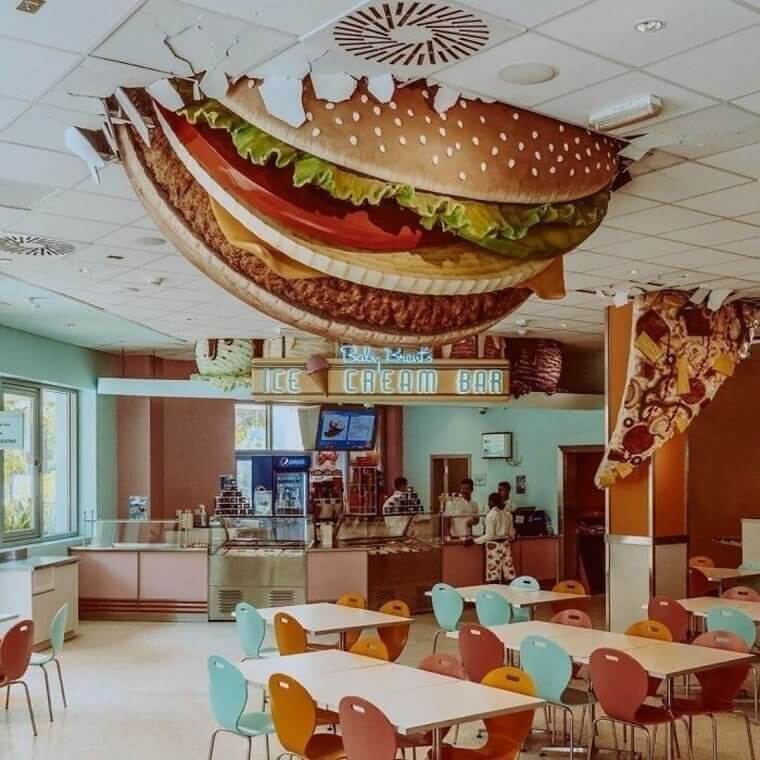 We believe that children like this interior, what do you think? Marketing experts have their tasks cut out for them! They certainly managed to attract many customers in a creative way. What caught our attention the most was the huge hamburger cloud that broke through the ceiling. We have to admit that we were left with no solution - delighted! We hope to be able to visit this place or at least something similar.

This Blew Our Mind
The people who did this must have intended to make walking easier. The locals were probably struggling with walking in the mud and the bad road. We all know how frustrating it is, especially if it rains heavily. You must have come across a situation where you want to go somewhere and get ready, but you get dirty because of dirty clothes and rain.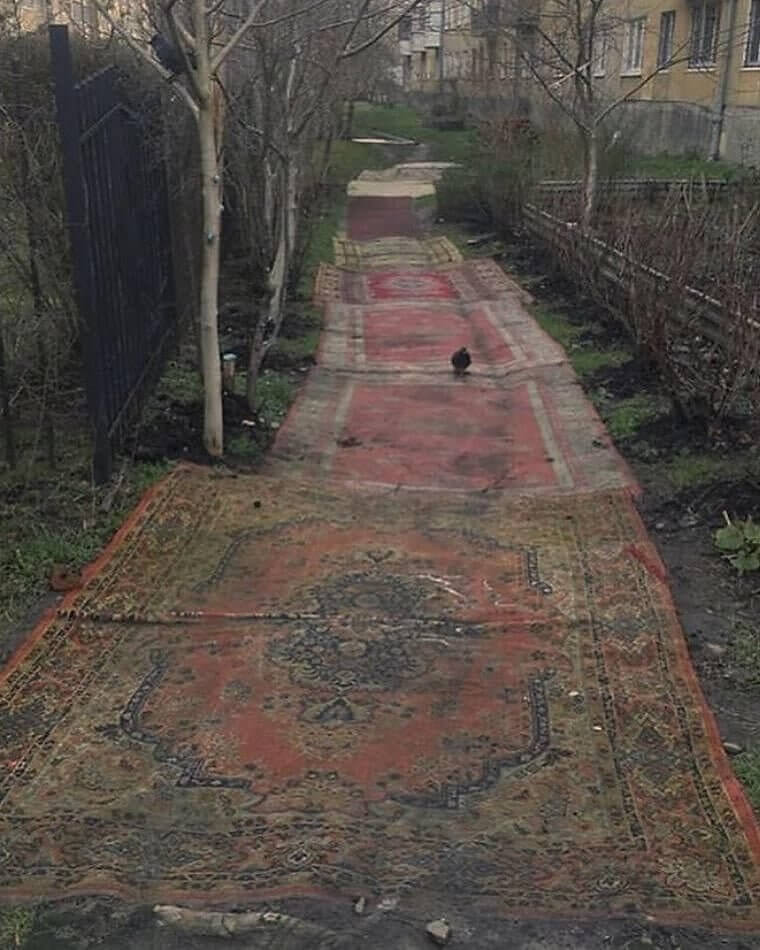 That's probably how the idea was born to reuse their old carpets and solve the problem. This act delighted us as a gesture of help and a good deed. Although this may not seem like anything special to many, we believe that this means a lot to the locals. How does this act seem to you?

Pet Parents Design Canine Quarters Worth Barking About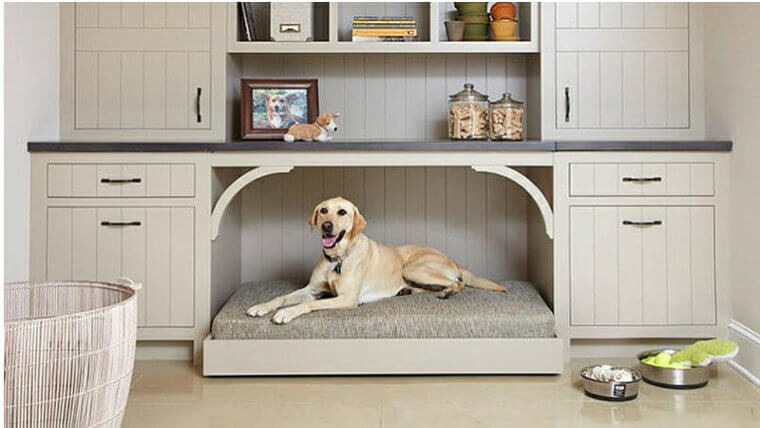 We have the perfect photos to showcase just how dedicated humans can be to their fur babies. There are bunk beds of course for more than two pups sharing a room, and plenty of chew toys to enjoy before bedtime. Every dog has its own personality and the rooms reflect just that, creating the dog rooms of their dreams. It's a great haven for Fido to relax after a hard days' work of chasing squirrels and digging up the backyard in search of their bones. From fun and fanciful to unadorned and minimalist, you would not believe how these pet owners have taken their dogs out of the dog house and given them a living space they can really bark about. 

This Room Has An Ensuite
It's usually the master bedroom that has an ensuite. This dog's room designed by Foley & Cox Interiors, Inc. put a lot of care into the pooch's needs with its very own private bathroom to do its business, complete with a sink to wash off. This is a great problem solver for whoever has to take the dog out for a walk in the middle of the night. The tiny fire hydrant really makes it pop.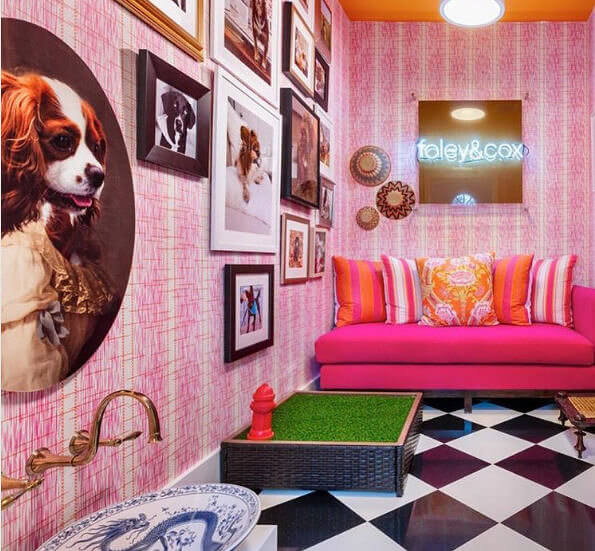 The doggie portraits throughout the room add a nice touch showcasing its furry playmates. The hot pink furnishings with matching pillows and checkered black and white floor gives it a 70s vibe. Wonder if the couch opens into a bed.

Pretty In Pink
Mia looks very content relaxing on her cool pink chaise lounge. It looks like she's ready for bed wearing her pink pajamas, with her favorite stuffed bear beside her. This room is a loving space from her mom Heather.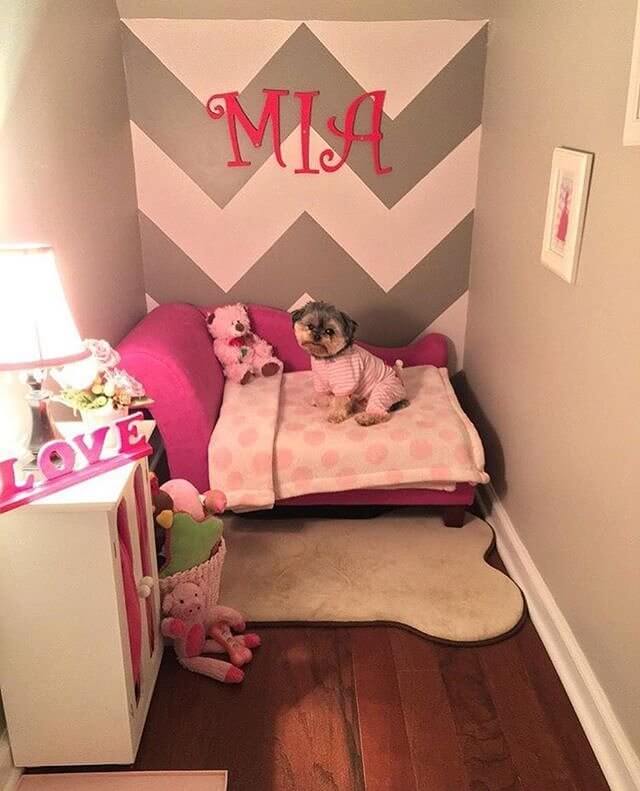 She wrote on Instagram, "We should spoil them with love as they return the favor with bringing us so much joy and happiness." Apparently pink brings her happiness as the color dominates the room. We can't really see what's in the dresser except for some pink peeking out. The pink plush toys and the pink 'Love' sign on top of the dresser, with a pink nameplate, are a dead giveaway that pink is mom's favorite color.

A Room Under The Stairs
Luna and Nova are Poochon sisters - Bichon Frise and Poodle mix - from South Carolina with their very own playroom under the stairs. It's a good use of extra space but from the looks on their confused faces, they're not quite sure what to make of these digs.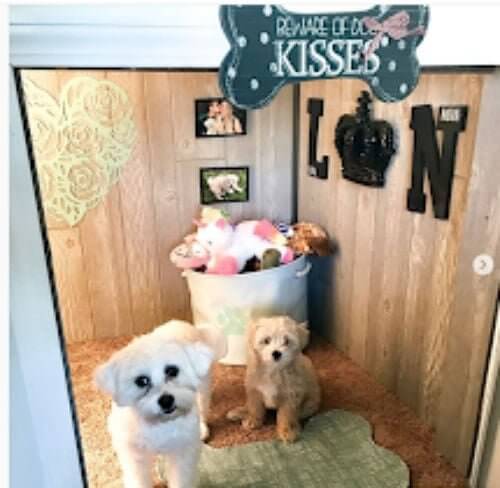 A lot of careful design was put into the paneled walls with matching shag carpeting, making the room appear bigger than it is. The monogrammed letters for their names above a tubful of toys let them know they're loved, along with a photo of their pet parents to reminisce about their puppyhood. The bone welcome mat so they can wipe their paws before entering their inner sanctum is priceless.

A Pomeranian Palace
These Pomeranian show dogs from England are living large. The pooches need their proper rest after a long day of strutting their stuff. There's a class system going on in this room with an upstairs, downstairs motif. Perhaps the winners get to sleep on the top beds and the ones who don't place get the bottom bunks.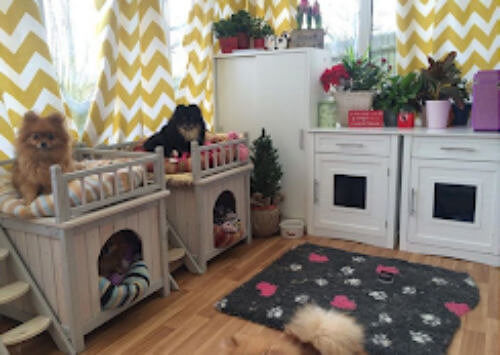 The greenery surrounding them gives the room an airy feel. If you look closely the curtains match the striped bedding, letting in just the right amount of sunlight. Aside from the designer beds, we're not quite sure what the furniture is all about. This could very well have once been the laundry room which explains the front loading doors. 

This Dog Likes Camping Out
Obie the Shih Tzu has his very own lean-to to camp out under the 'stars.' Of course, there's a bed inside the tent for extra comfort. His mom lovingly created this black and white room just for him.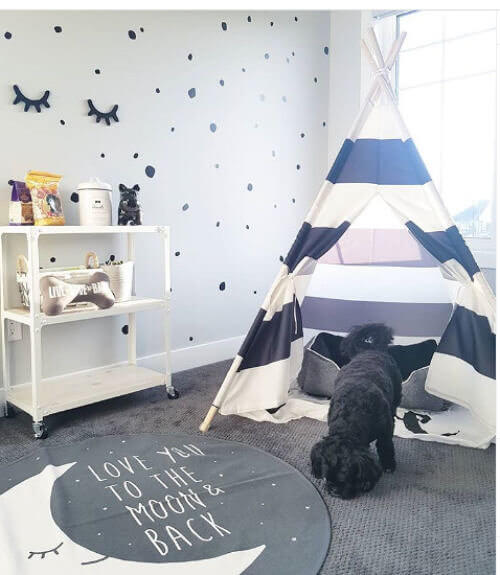 Her attention to sleep is evident in the closed eyes on the wall. Perhaps the polka spots were meant to be paw prints gone wrong. The roll-away cart has all his treats should he get hungry in the middle of the night and a cute little pillow in the shape of a bone. Obie seems to like the moon-shaped rug that says, 'Love you to the moon and back,'  It's a room definitely worthy of a sleepover. 

Recycling The Baby's Crib
This two-year-old Pomchi - Pomeranian and Chihuahua mix- named Zig has a twin sister Maggie but he obviously rules the roost. It's almost as if the dog was saying, 'I vant to be alone!' His little designer bed was once a crib for the human baby who lived in the house, complete with a pillow, and blanket for those cold wintry nights.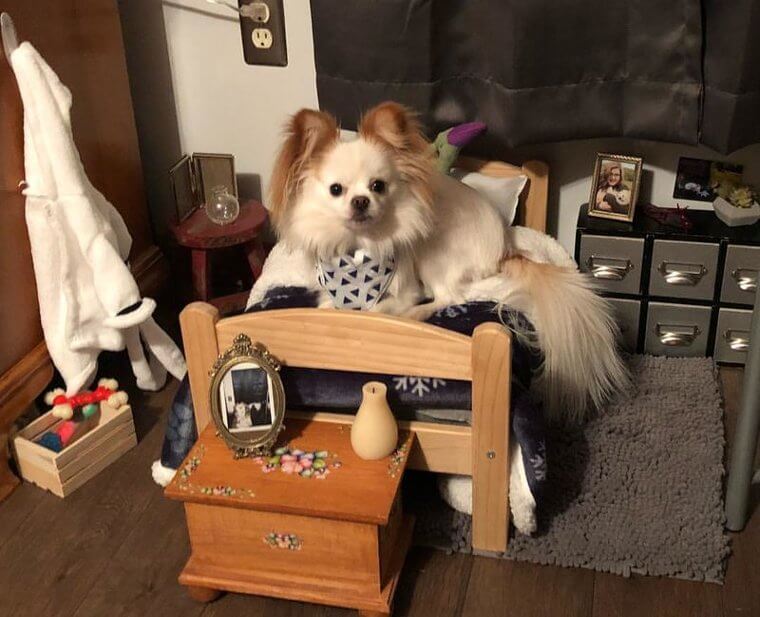 Notice the photos of his pet parents in case he forgets what they look like. There are tiny dresser drawers presumably stocked with treats, and a doggie robe hanging to slip into after bathtime. The toy chest at the end of the bed has a candle on it if Zig is feeling frisky. 

Night Lights Just In Case
George and Barney have side by side beds in their room. If one were to analyze this dog room, the wall mounts and pillows seem to signify their personalities. It seems George prefers the dark side with the bat, the dark sleepy face, and black 'G' on the wall; not to mention his dark-colored bed.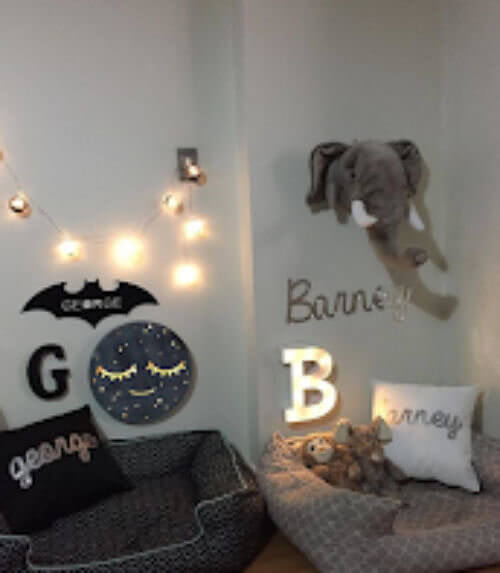 Barney, on the other hand, prefers the light with the white pillow, the white 'B' and little stuffed friends on his light-colored bed.  Mom put up night lights on George's side, just in case he was afraid of the dark. What he should be more terrified of is the elephant's head jutting out of Barney's wall! 

The Disturbing Dog Room
Not all dog rooms are cute. Case in point, this dog room for Louis which honestly, is a bit disturbing. OK, the miniature bed is a novelty but the fact that it's perfectly made is a little creepy, complete with a frilly bed skirt and cushy headboard.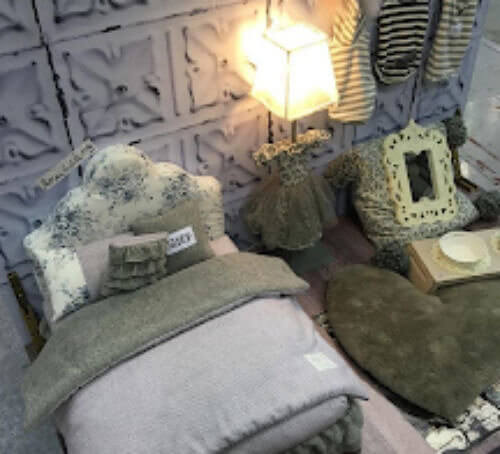 The other strange thing about this room is the striped onesies and the tiny leopard print dress hanging from the walls, presumably for Louis to wear. The dog bowls are laid out on a portable snack table in front of a mirror. Is that meant for Louis to watch himself as he lops up his food or something far weirder? This room would be ideal if Norman Bates had a dog.

A Little Night Music
Monaco and Saran, pictured here, are two miniature poodles who share a room in Tokyo. Their mom designed side by side pup tents (pun intended) with a tree to simulate the outdoors.  The beds inside don't look very comfy but with toys strewn everywhere, this is definitely more of a hang-out room.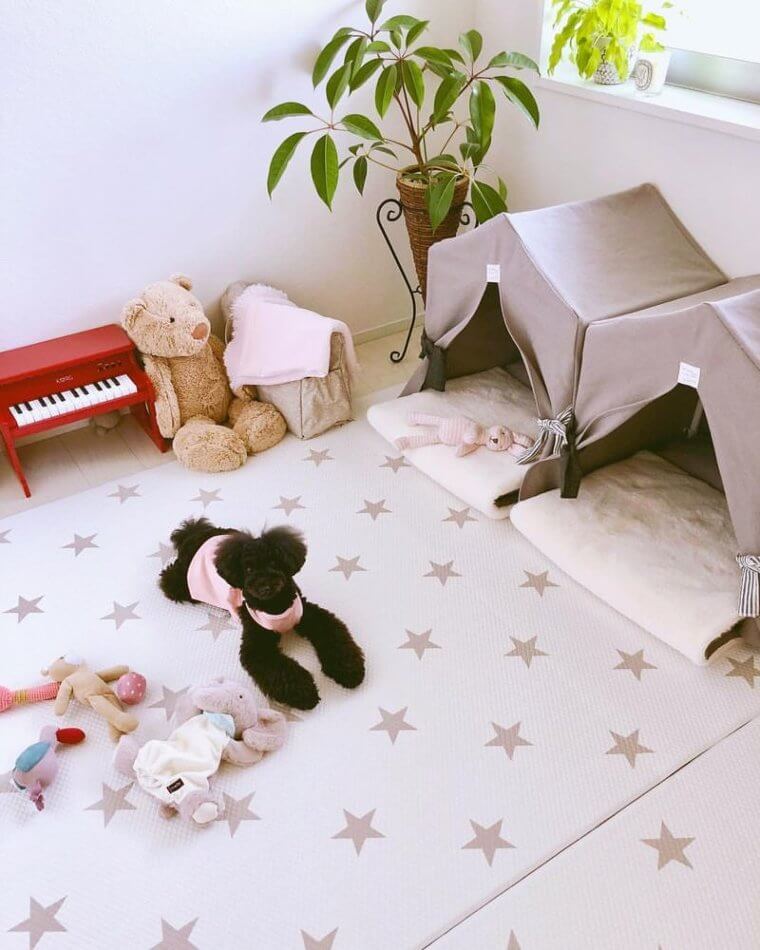 The piano in the corner adds a nice lilting touch because you never know when the poodle might be inspired to play a little lullaby to send them off to doggie dreamland. The giant bear looks like he's keeping watch. What sets this room apart from others is there is actually a window to wake the puppies up after a good night's sleep. 

The Sporty Doggy Den
If your dogs are big and sporty this room would be the ideal space for them. Vern Yip, an interior designer based in Atlanta, Georgia created this room for his four dogs Scooter, Hank, Bob, and Schmoo. Each bed is cushy with their collars hanging above it, and four hangers for their leashes. There are mini bidets with drinking water in case they get thirsty in the middle of the night.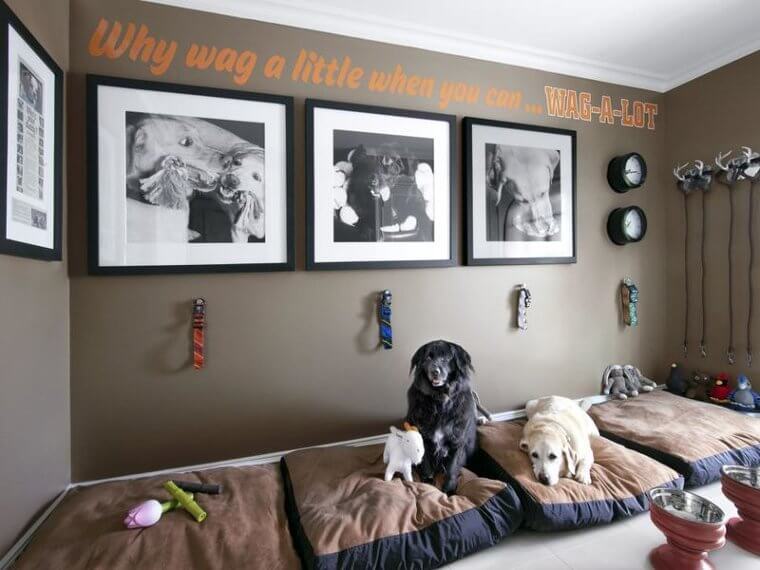 Lining the walls are playtime action shots with the slogan painted in orange posing the philosophical dog question, "Why wag a little when you can... WAG-A-LOT?" Not sure why there are clocks on the wall though, as we are pretty certain dogs can't tell time.

Chihuahua Quarters
This pet parent took the miniature motif for his pint-sized Chihuahua to the nth degree. He looks very much at home sitting in the four-poster brass bed that is fit for a pea rather than a princess; but is just the right size for this pup. The small dresser has a tiny lamp and Pilgrim hat on it - strange decorations for a dog's room - but perhaps there is personal significance behind it. 

Poncho has a hankering for gambling as it features a small painting on the wall of dogs playing poker. Playing on the fact that the Chihuahua is Mexican, a little antler hat rack holds his sombrero so he doesn't leave home without it. 

Closet Comfort
Cupid, a 12-year-old Chihuahua lost his pet parent when she moved off to college. Much to his luck, she was able to bring him to live with her - albeit in the closet. Cupid is none the wiser making himself comfortable in the tiny space.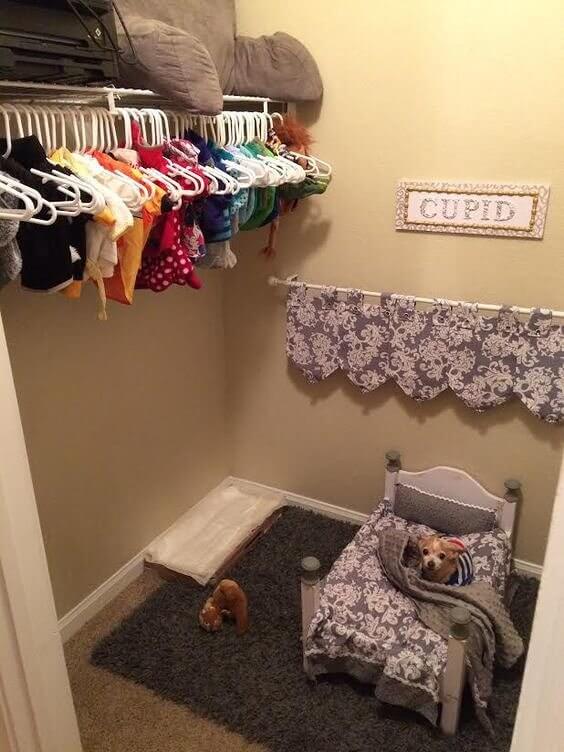 The pup's room features a small 4-post bed with cozy blankets, and a matching curtain above it, with a nameplate in case he should forget what he's called. Mom even put down a tiny weewee pad should the urge strike Cupid in the middle of the night. The piece de resistance is a clothes rack because you never know when Cupid might need to dress up for a special occasion. 

Morkie Matches Her Room
Zilla, the Morkie - a combination of Maltese and Yorkshire Terrier - is a perfect match for her unicorn room color scheme of purples, yellows, and blues. Her blue and pink onsey goes well with the blanket and the bedposts; along with the slightly bluish tint of her fur.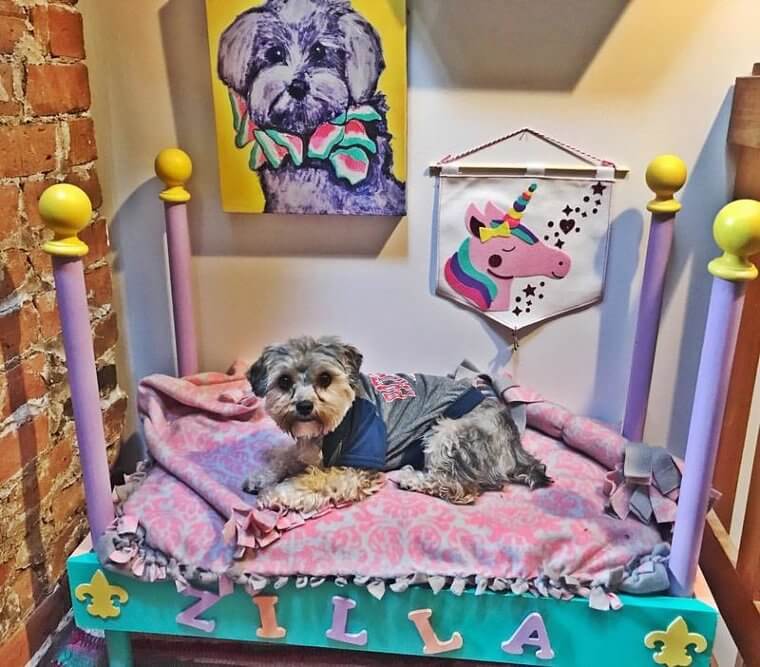 Living in Portland, Maine, this adorable 3-year old was the runt of the litter so it makes sense that she's pampered with this girlie-like room. Zilla's puppy pad even features a unicorn flag and caricature drawing of Zilla herself on the wall. The exposed brick makes for a trendy loft-like feel even though this could very well be a crawl space, ideal for snuggling and catching Z's.

Just Like A Nursery
This fur baby literally has a nursery-style room to call his very own. This room is so immaculate it doesn't even look lived in. Decorated in soft blues with fluffy white clouds painted on the wall, it's occupied by a Teddy Pomeranian who looks very comfortable chilling out.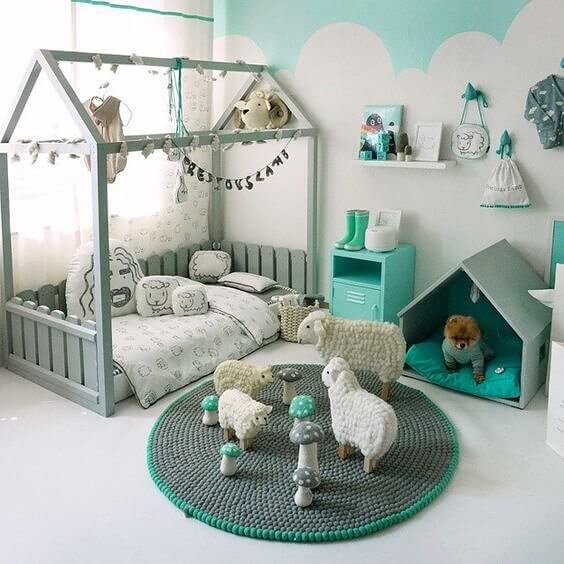 It looks like he prefers his tiny house to his crib. There are lots of little throw pillows to gnaw on, and a sheep family on their mushroom farm to play with before bedtime. Wonder if he shares his room with his human baby brother or sister because there are blue boots sitting on top of the dresser. There's no threat of rain inside this doggie oasis.

Sharing Is Caring
In a family, dogs and cats sometimes have to coexist under the same roof. Usually, they stay clear of one another. However, it seems that these two dogs weren't given much of an option to avoid their feline roommate. Granted, George the cat's bed which sits on top of her little cat house is higher than theirs in case a pillow fight should break out.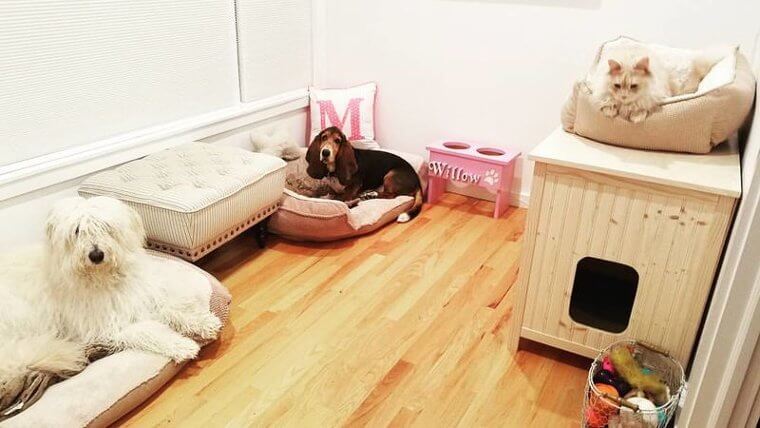 The 'M' pillow is for Martha, the big white dog.  Wonder if George drinks out of the matching dog bowls, named for the Basset Hound, Willow. Clearly this is their room from the basket filled with dog toys, but we have a feeling these guys are friends forever, despite their differences. 

The Odd Couple Roomies
These canine roommates look like their names could be Felix and Oscar from the classic television show, "The Odd Couple." The bulldog doesn't look very happy as he's been relegated to the circus-themed dog bed, while his roomie has the cushy digs; complete with a sleigh bed frame and floral pillows.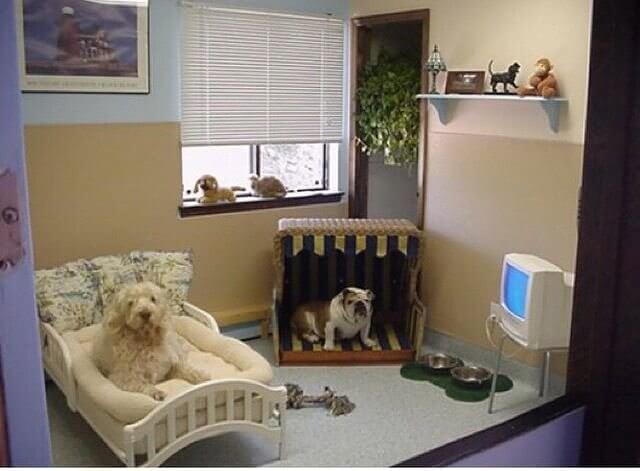 It is severely lacking in toys though, with one chew toy to share. A couple of furry friends are sitting on the windowsill and Curious George is on the shelf next to a photo of their humans. There's a lot of oddness going on in this room, primarily the television. Maybe they are allowed to stay up late and watch the nature channel if they behave. 

Dog In A Trunk
Instead of these pet parents giving their Louis Vuitton trunk to GoodWill, they have discovered another very important use for it. It has become a dog bed for their fur baby perching it on top of a fancy claw-footed stand.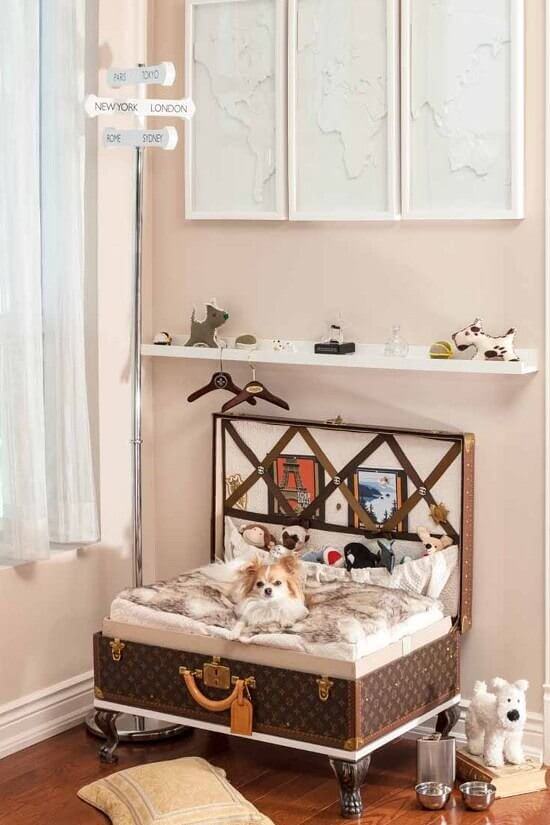 This is a traveling dog as it features photos of her adventures in Paris above her bed. There is even a cool little sling to store all her toys. The shelf above her bed has all her favorite figurines on it. The hangers above her bed may be empty at the moment but a cute little doggie outfit is probably somewhere in the house. They just have to make sure they don't close the lid though!

A Room With A Fence
This doggie room for Choco the Chihuahua has an indoor/outdoor feel going for it. For one thing, it has its very own built-in fence and teepee dog tent with a few toys so Choco can feel like he's sleeping outside and communing with nature.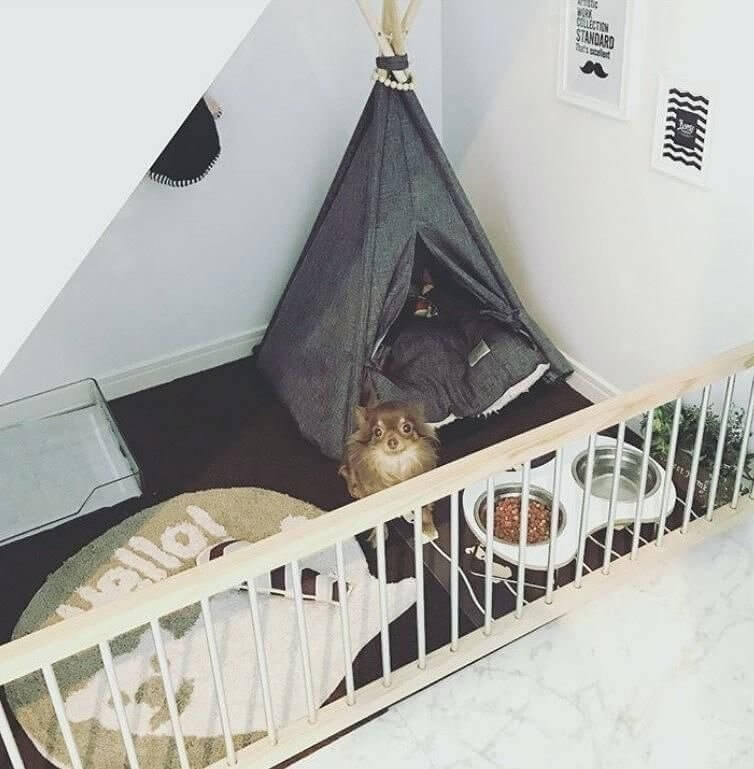 She never has to leave her room with plenty of food and water in case she gets hungry or thirsty in the middle of the night. The weewee pad even has its own container because you never know when accidents may happen. The artwork on the walls matches the stark decor. The best part about this room is the 'Hello!' rug for human visitors to feel right at home. 

Check Out My Groovy Digs
This Labrador Retriever pooch is living the groovy life in his colorful retro-fitted room of oranges, reds, and yellows. His hippie pet parents have given their pampered pet a fabulous striped blanket covered with accent pillows to match. The heart-shaped one was an obvious choice to show their love for him. The toys have been carefully chosen to match the 70s motif.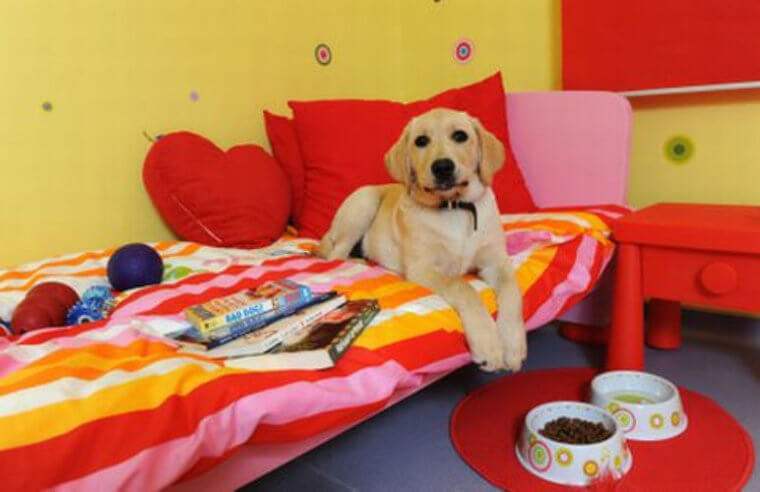 Even the dog bowls sitting on a red rug have decals on them that match the ones on the wall so there was some careful planning here. The books strewn across the bed are curious as we know dogs can't read, but perhaps it's for his humans to read him a bedtime story. 

A Room For A Tiny King
We all think of our pets like royalty and Kai, the tiny Maltese is no exception. This pint-sized pooch has enough space in his room fit for a king. The walls are all tricked out with signage such as "I had a life once but my dog ate it," and "Love Laugh Wag." The former probably reflects his pet parents' sensibilities more than his, but nonetheless, this is definitely Kai's room.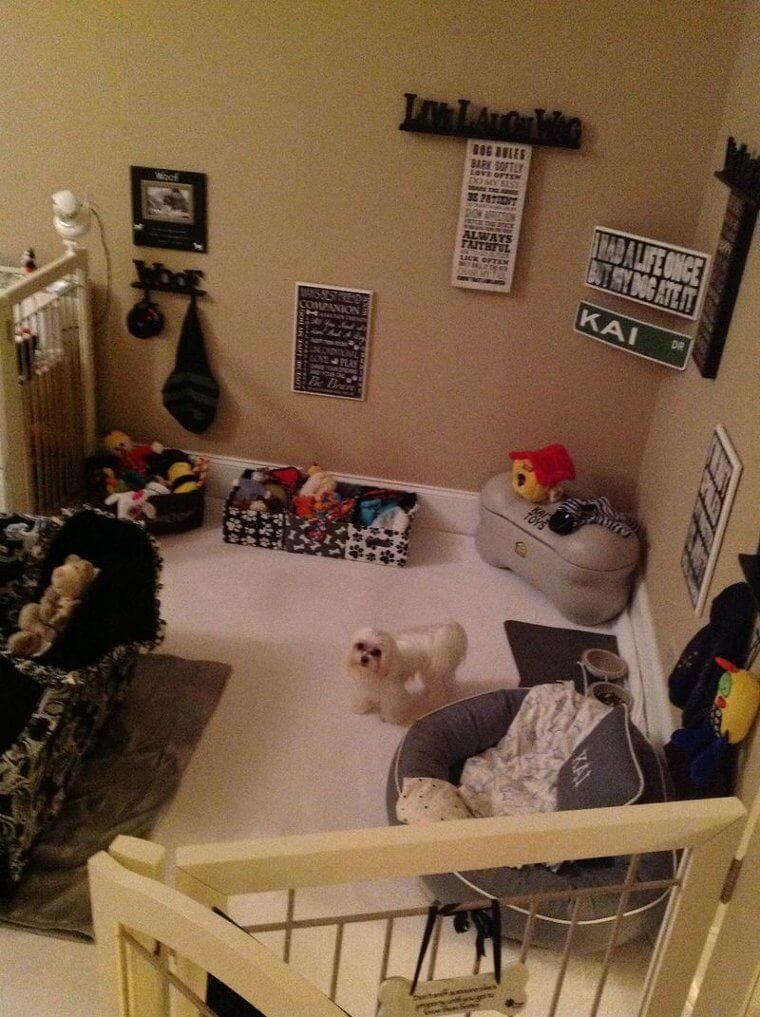 Kai certainly doesn't have a lack of toys to choose from for playtime before bedtime. The bone-shaped dresser probably stores the older forgotten chewies. With all this excess space you would think he'd have a bigger bed, but the line was obviously drawn there.