X-rays have to be one of the greatest inventions in medicine. Captured in 1895 for the first time by W.C. Röntgen, they revolutionized medical diagnostics, as they allowed radiologists to see dark patches in lungs, bones, and other organs that might point to an illness. It's not that uncommon for radiologists to find some weird, wacky things on X-rays, and we have decided to share some of them for your viewing pleasure!
Earliest Remnants of Peppa Pig
Going to get an X-ray can be pretty stressful for kids. Imagine how scary it is to stand in front of a huge machine you know nothing about. This little girl had difficulty calming down as she had her X-ray taken, so she asked if she could have her Peppa Pig doll with her as she was getting her X-ray scan done.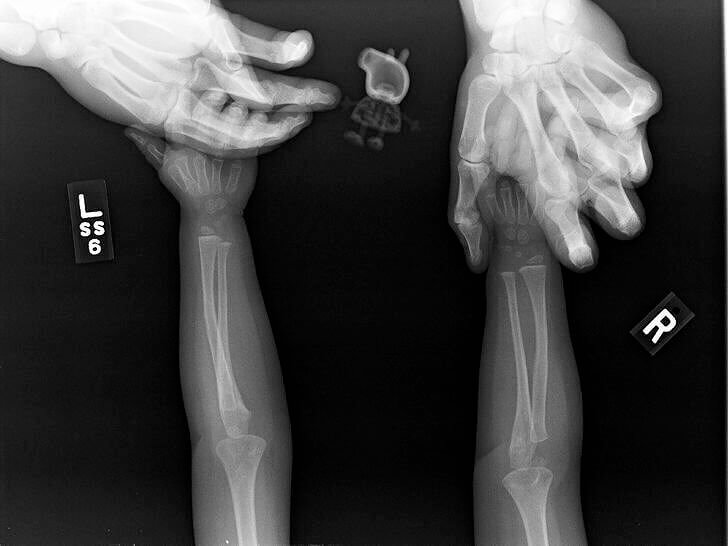 As you can see, her Peppa Pig toy is there to comfort her. We wonder what archaeologists will think a few hundred years from today when they encounter this shot. Who knows what they might think this means? How would you feel if you randomly came across this X-ray without knowing the backstory?
The Double-Headed Toe Is a Sight To Behold
How many toes do you have on each foot? Your answer is probably five. Please take a look at this medical phenomenon of a guy who has five toes as well, but with an additional toenail on one of them. This phenomenon was mind-bending for the doctors who treated him, so they decided to look into it deeper.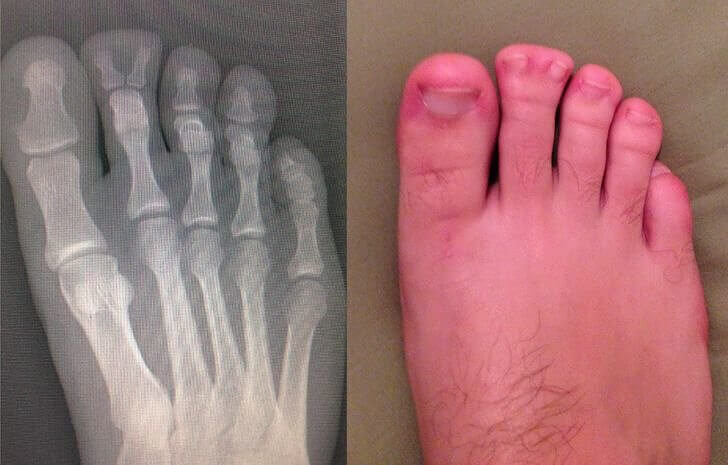 As you can see, the X-ray points to the fact that this guy has two bones on the tip of the toe. We're not sure what caused this, but it's a sight to behold. Imagine all the things you could do with having two toes in one! Okay, we're not sure how useful it is, but it makes for a rather bizarre X-ray shot.
This Condition Makes People Look Like Vampires
Contrary to Bram Stoker's ''Dracula'' and Stephanie Meyer's ''Twilight'' renditions of these blood-sucking creatures, vampires are not considered real entities outside of fiction. Even though vampires are not real, certain medical conditions make people resemble them quite a bit. One of these conditions is called ''multiple hyperdontia'', and we can't help but wonder if this condition inspired vampire folklore.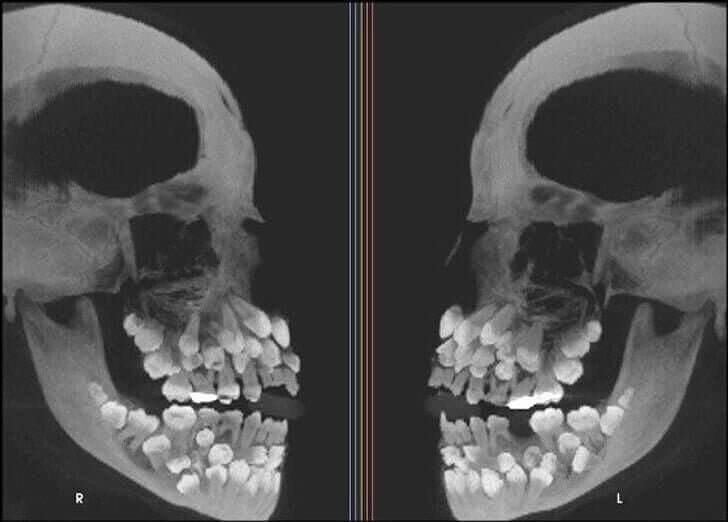 Multiple hyperdontia is a condition when people have more than normal amounts of teeth. An average person has 32 teeth in place, but people with this condition often have way more teeth stuck in their jaws. Although they're not visible on the outside, this X-ray perfectly depicts what this condition looks like on the inside.
The Stomach Bikini Bottom
Who lives in a pineapple under the sea? Well, not Spongebob. It appears he decided to move to a new location, as this person chose to host Spongebob in their stomach. We're not sure how he got there, but we can only imagine how hard it was to get him out. Imagine coming to take an X-ray, and the doctor finds out your stomach is the new Bikini Bottom.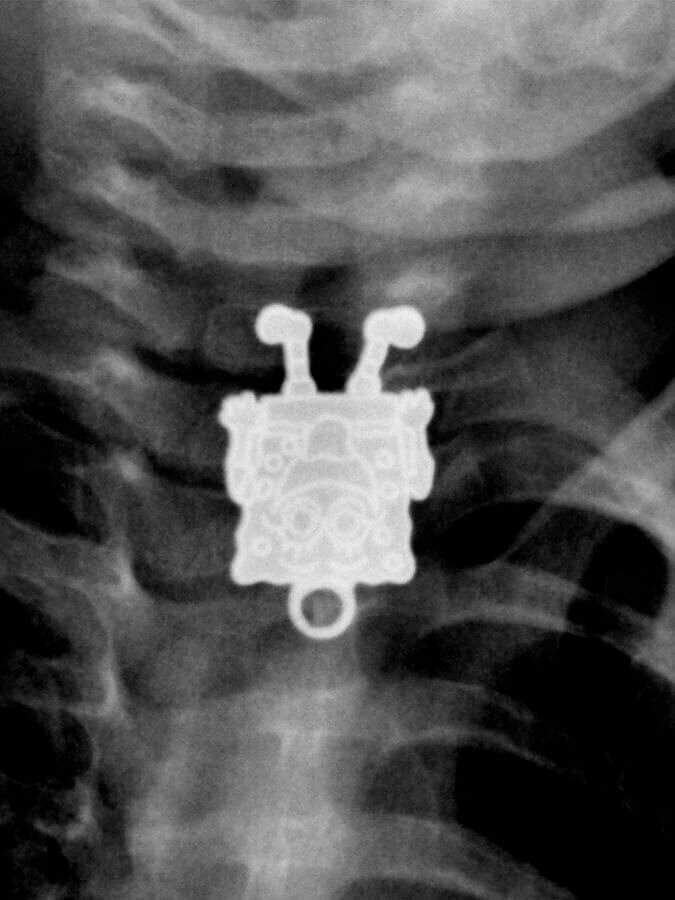 We can only guess that this is probably a child who decided to swallow their yellow friend. Kids often end up in the ER because they swallow small toys; it's interesting to see what that looks like on the X-ray. As far as we're concerned, this Spongebob doesn't seem to be having a bad time; look at his smile!

This MRI Is a Nightmare Fuel
Although MRIs and X-rays are not the same things, we can't help but include this hilarious MRI scan. We're used to seeing MRIs of people's brains from the top view; it's not often we get a chance to see it from a facial point of view. We're not sure if this is funny or terrifying, but it's an interesting perspective on our faces without skin and bones.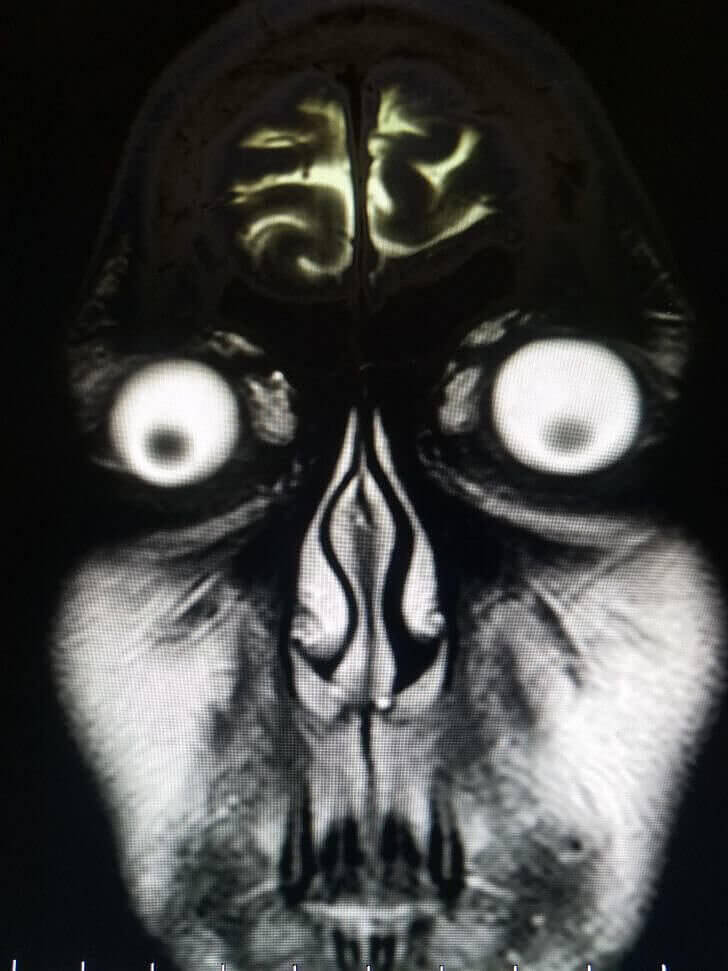 This scan gets scarier the more you look at it. Just look at that brain floating around! Don't you think this person looks like an alien on this MRI scan? We would be pretty terrified if we saw this face in the middle of the night. We're sure that this person looks lovely on the outside, but this shot is not doing them any justice.

The Hero Gets Stabbed in the End
Usually, robberies often occur in banks, drugstores, and gas stations. Three men were waiting for their bus one day before a robbery emerged right before their eyes. They decided to take matters into their own hands and attacked the perpetrators. Things got a little messy, and one person was severely hurt as a result.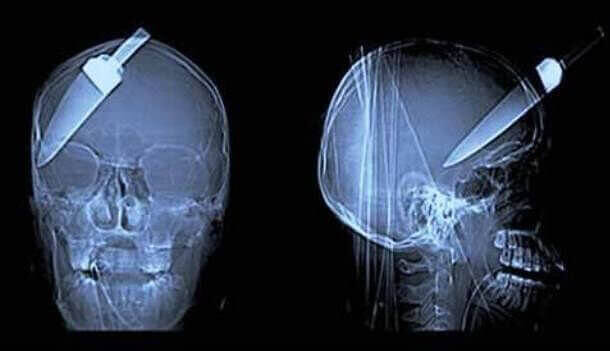 We understand that people are willing to do many things in self-defense, and if you have a knife lying around, your first instinct is to grab it and attack. This person was unlucky enough to get stabbed in his head. We just wonder how this happened, considering bones are pretty hard…

How Do Conjoined Twins Look on the Inside
It's pretty amazing to see how far modern medicine has come. This progress would've been impossible if X-rays were never invented. It's rare to see conjoined twins, and it takes a lot of preparation for doctors to detach them from each other surgically. Doctors order the patients to get an X-ray to see what exactly needs to be done to make things easier.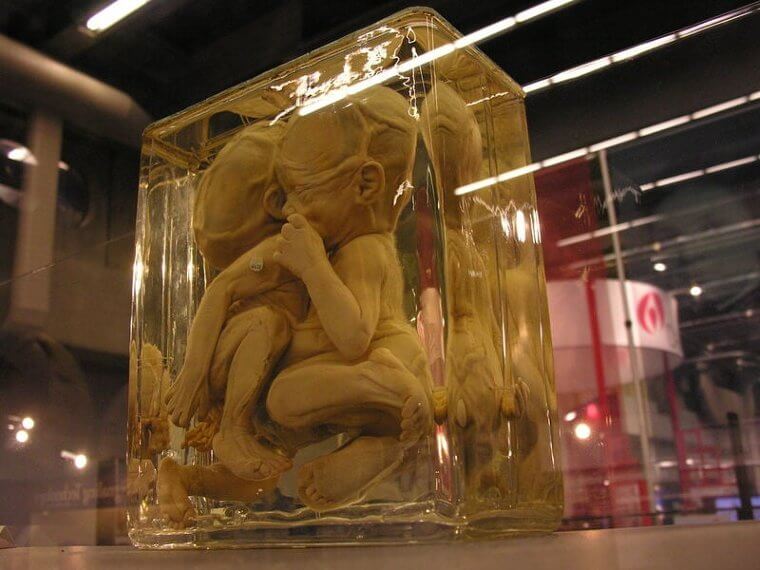 If we didn't know any better, we would believe this is a scan of some strange alien race that decided to visit our Earth. It's interesting to see what conjoined twins look like on the inside, as you can see they even share some of their organs. We can't even imagine how hard it is to perform surgery on them, considering many vital organs need to be meddled with.

Photobombing an X-Ray Might Not Be the Best Idea
If you know anything about X-rays, you're probably familiar with that radiologists and technicians ought to stay out of the room as they take the X-ray shot. This is so they can avoid unnecessary radiation exposure, but sometimes, they stay inside just for fun. Just take a look at this photobombing X-ray!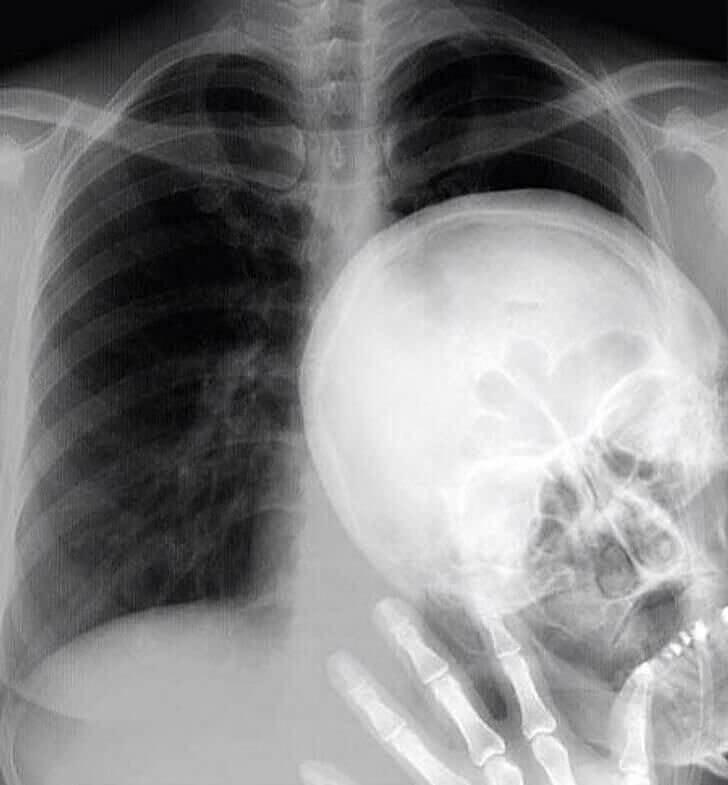 We believe this technician was probably sick of sitting in the same room for the entire day, so he decided to take a ''selfie'' with this person who chose to look at their lungs. Although it created a funny shot, we're not sure how healthy it is for the technician. Unnecessary exposure can lead to many serious diseases, so be careful with X-rays!

How Did This Person Even Survive?
It's not uncommon for people to get hurt in their place of work, primarily if they work on construction sites. This terrifying X-ray depicts a person who had a drill go through his skull. We're not sure how this even happens, but we can only imagine the pain this caused for this person. Just look at the size of that thing!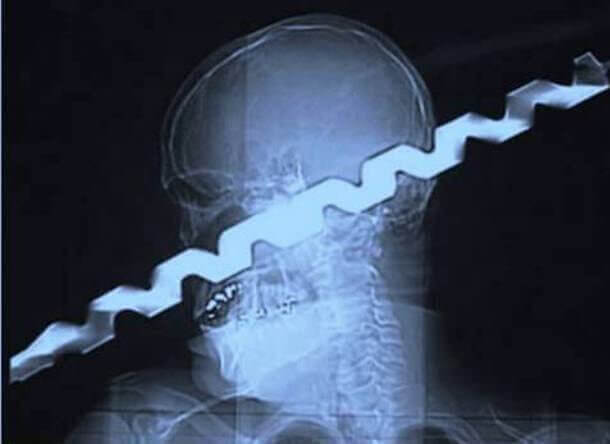 We're still in shock that this person managed to survive this. How does this even happen? Thankfully, modern medicine has evolved so much that things like this are salvageable. Just imagine the mess this made… Not sure we want to picture it, considering the X-ray is terrifying on its own. That must've hurt like hell…

That's Not How You Use a Hair Clip
Once again, children are back at it with their odd snack picks. It's not unusual to see children swallow small objects; that's why every small toy has a ''choking hazard'' warning imprinted on them. This, however, was not a toy. This child decided to eat their hair clip, and despite so many candy options out there, children still seem to enjoy inanimate objects as well.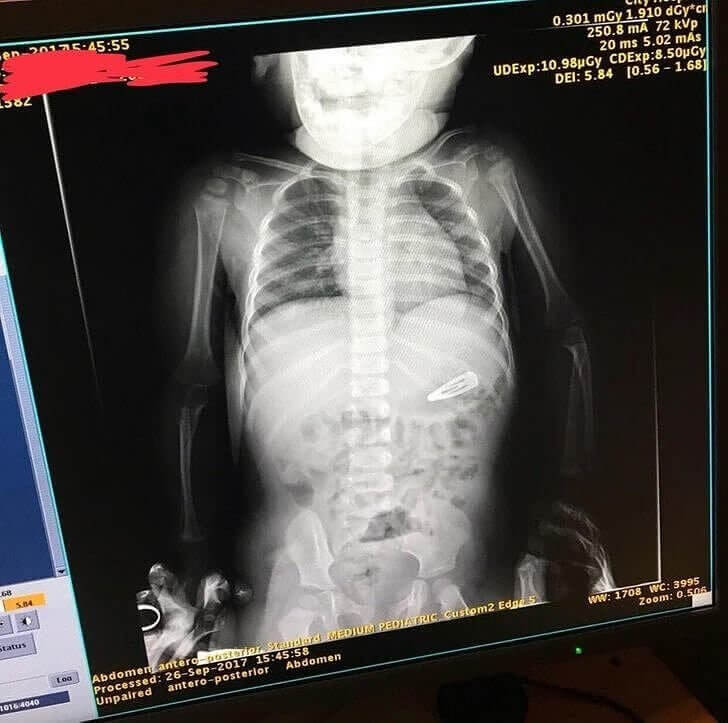 Just imagine being the doctor who gets to look at this scan. Thankfully, swallowing a hair clip has to be less severe than the previous guy who had a drill stuck in his head. We wonder what the therapy for this is… Do you just wait it out? Guess it depends on the thing's shape, but we're just happy that this child got the proper care they needed.

Make Sure You Count Your Instruments!
If you have ever worked as a healthcare professional in a surgical ward, you know how important it is to count the instruments as you use them during surgery. This isn't just for counting's sake, but to make sure nothing was left inside the patient's body. This patient, however, was unlucky enough to have their surgeon forget a pair of surgical scissors in their abdomen.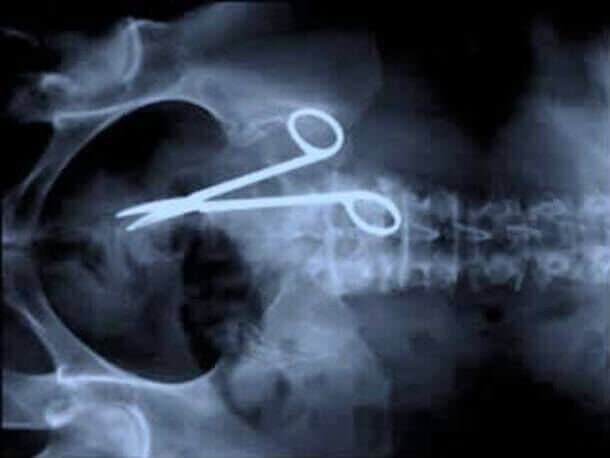 We're not sure what the repercussions for this are, but we hope this surgeon got disciplined. How do you leave such a large instrument in someone's body and forget about it? We can only guess that the surgery went on for hours, and the surgeon was tired, but they should've counted! Imagine this patient's shock when they realized someone left scissors inside their stomach.

Can You Count How Many Babies This Cat Is Carrying?
Humans usually carry out pregnancies with one or two children, sometimes even more, but it's not the norm. However, in the animal kingdom, giving birth to multiple babies at the same time is not that odd. Many strays often get pregnant because they're not neutered in time, and their pregnancies often result in many babies!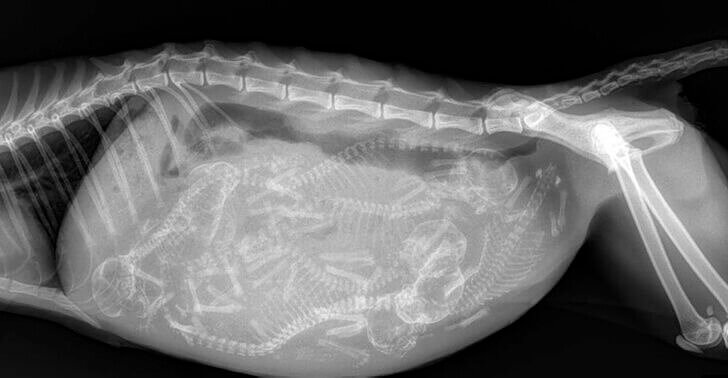 Just take a look at this X-ray of a cat's belly. Can you even count how many kittens she's carrying? We can only imagine the joy of this soon-to-be mom when her kitties take their first breath. Would you adopt one for yourself? We were thinking of adopting at least two. Just imagine how adorable these little furballs will grow to be!

Wearing High Heels Must Be Painful
Although seeing someone walk in heels can be pretty impressive, just look at this X-ray. Even though heels are classy, they resemble a torture device when you know what your bones look like when you wear them. It's not easy to walk in them, and your feet are probably not happy when it's time for you to wear them.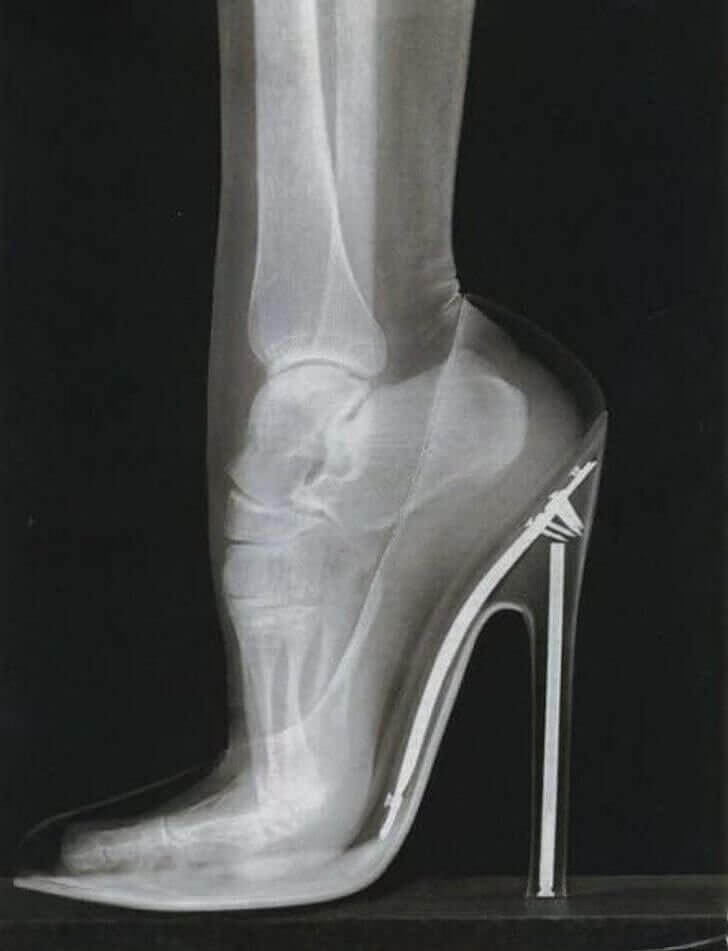 Whoever can walk a mile in these stilettos must have a high pain tolerance. Imagine the blisters and spasms your feet experience when you wear these! We've heard many times that these heels are only for getting in and out of the car. We can't imagine anyone genuinely enjoys walking in heels, would you agree?

How Did This Even Happen?
We have to say it- being a doctor is not easy. As a doctor, you see a lot of disturbing things daily, and this is just one of them. When a Pakistani prisoner started complaining about having abdominal pains, the prison doctor decided to take an X-ray of his stomach to see what was going on. He wasn't prepared for what he would see…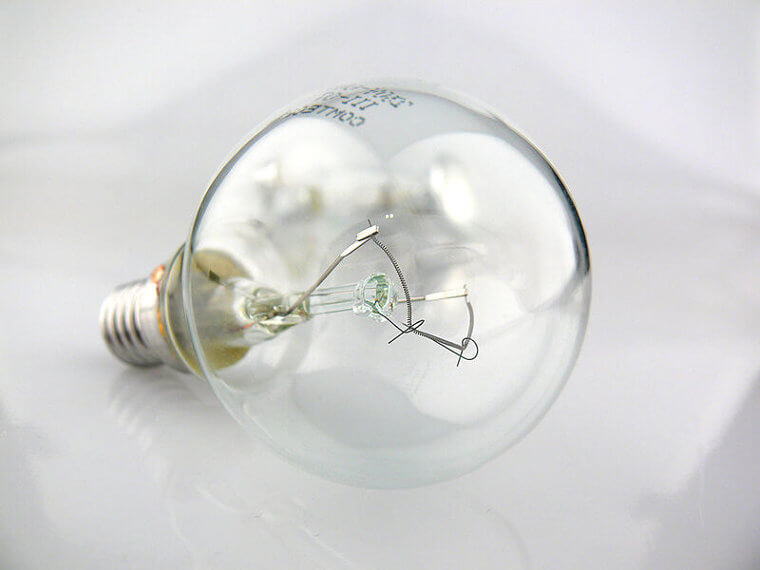 The prisoner somehow got a lightbulb stuck in his large intestine. We don't want to make any assumptions about how it happened; we hope the doctor managed to get it out. Just imagine that pain! Thankfully, the glass seems intact. Otherwise, who knows what other complications this lightbulb would've caused!

Egg Straight From the "Jurassic Park"
Some of the coolest-looking animals on the planet hatch from eggs. Many reptilians and birds come out of them, and did you know that birds are descendants of dinosaurs? Just take a look at this large Condor egg. Condor is a massive bird from the vulture family, and seeing it grow has to be one of the fascinating things to behold!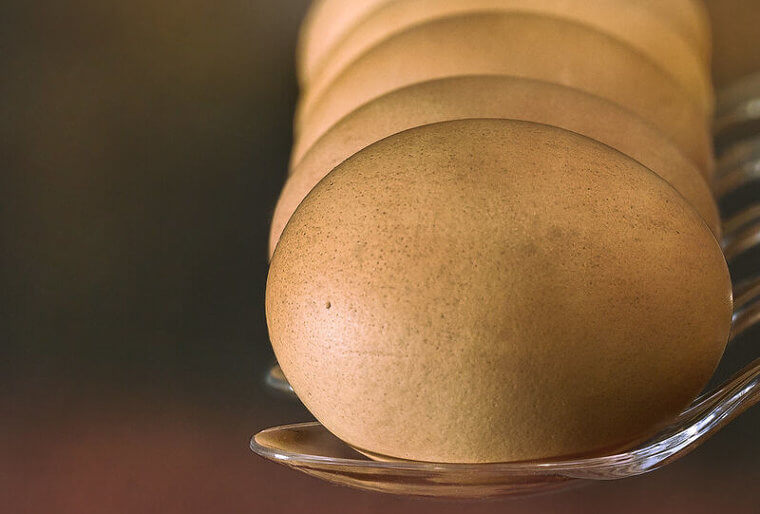 It looks exactly like something that would come out of ''Jurassic Park''. It makes sense, considering birds are the closest to living dinosaurs we can get. It's so interesting to see the process of their growth before they hatch. Being a scientist must be so fun, as you get to see things like this!

Horse Pedicure Is a Must
Horses have to be the most majestic creatures people get to encounter in their life. Not only do they look amazing and prideful, but they also help their humans transport things around. To maintain their balance and carry all that weight, they grow hooves to make standing comfortable for an extended period.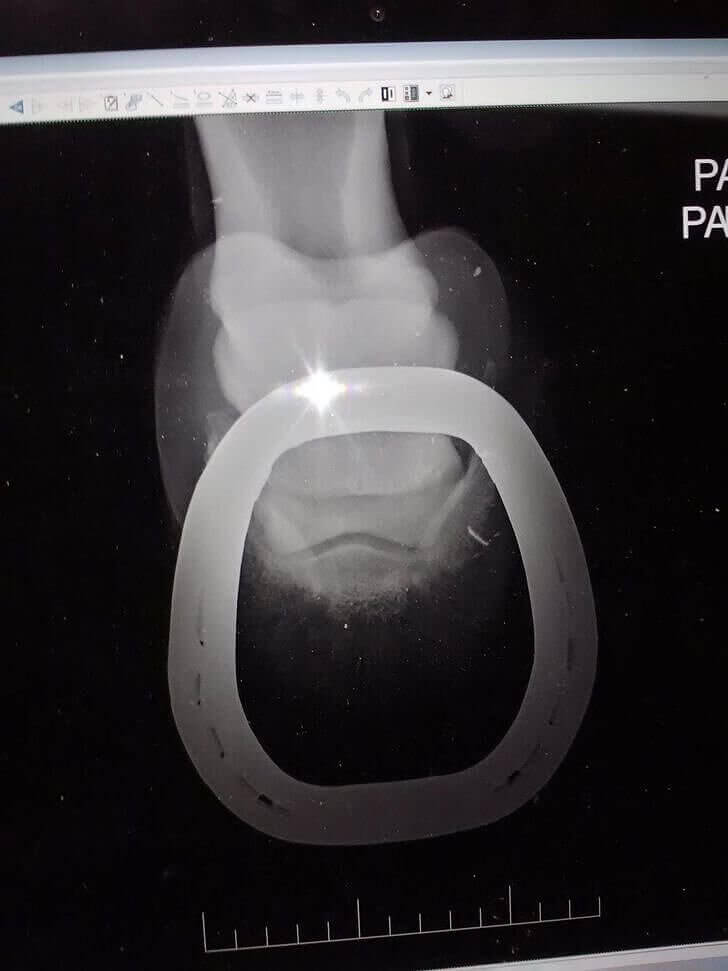 If you didn't know, hooves are usually protected by horseshoes. This is done to prevent the hoof from wearing out. Essentially, hooves are just really big toenails. They help with balance and posture, and having horseshoes attached to them is like getting a horse pedicure. It's interesting to see what it looks like on the inside…

This Proposal Took a Sudden Turn
It can be very challenging to plan out the perfect proposal. There are many things to consider, and although it might seem like a good idea to hide the ring in a drink, take this example for a lesson. When a guy in New Mexico decided to propose to his now-fiancee, he hid the ring in the milkshake he was having. Well, you can probably guess what happened after…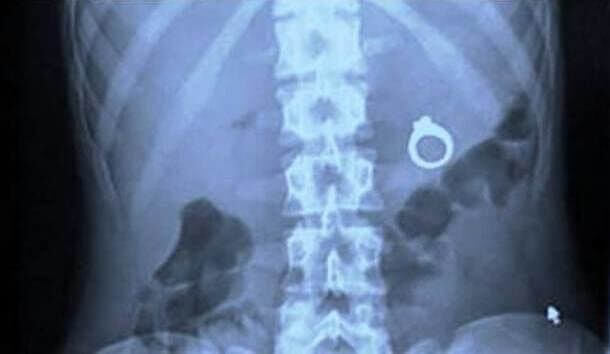 As you can see, the ring is stuck somewhere at the beginning of the ''journey'', and all left is to wait it out. We just hope the milkshake was tasty enough to make this mishap more bearable. How would you feel if you swallowed your engagement ring? We're not sure how comfortable we would be with wearing it after it had come out…

The Perfect Hiding Spot
If you ever go to prison (and we hope you don't), know that you will probably not be allowed to have a phone by your side. However, you would be surprised how many inmates try to go around this rule. The lengths they are willing to go to can be scary, as many use their bodies to hide things from the prison guards.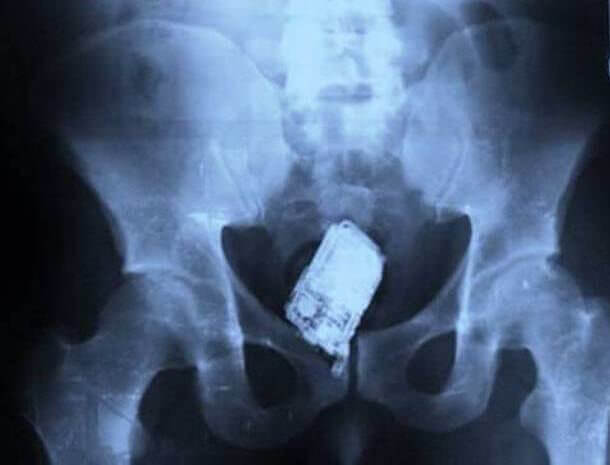 An inmate in San Salvador thought it would be a great idea to store his phone in a rather dark place in his body… We won't get into too much detail; the picture speaks for itself. He probably would've gotten away with it if it didn't get stuck inside. We can only imagine how much it hurt to get it out…

Is the Hatching Just As Slow as the Turtle?
Turtles are truly fascinating creatures. They're slow, they can grow very old, and most importantly- they hatch from eggs! Did you ever wonder where they store their eggs? Luckily for you, when this scientist came across a pregnant turtle in the desert, he knew exactly what to do. Please take a look at his fascinating discovery!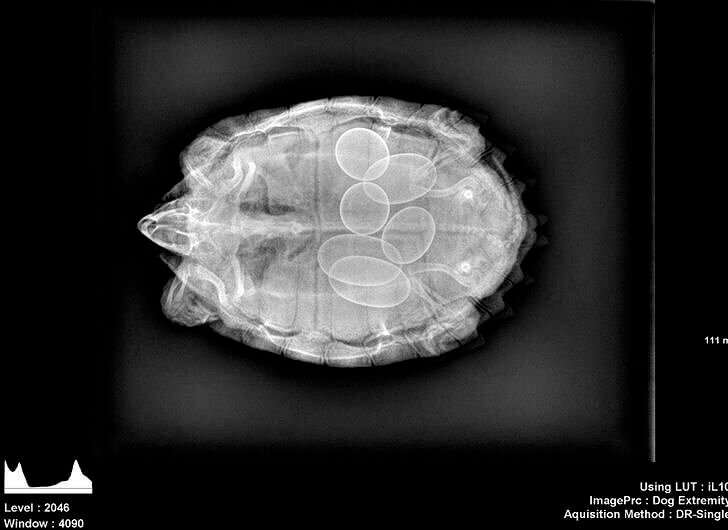 We don't know why, but seeing another life form before your eyes put things into perspective. When you look at this turtle, you can see that the eggs she's carrying are not in one specific place like most animals; they are scattered all around her body. Do you know how long turtles take to give birth to these eggs?

Take a Look at This Majestic Creature
It's not uncommon for people to have goldfish as pets. They're pretty widespread, look cute, and require minimal effort to be taken care of. Have you ever wondered what a goldfish looks like on the inside? Well, look no further. We're not sure how it was even possible to take a still shot, considering fish usually swim around their tanks all the time.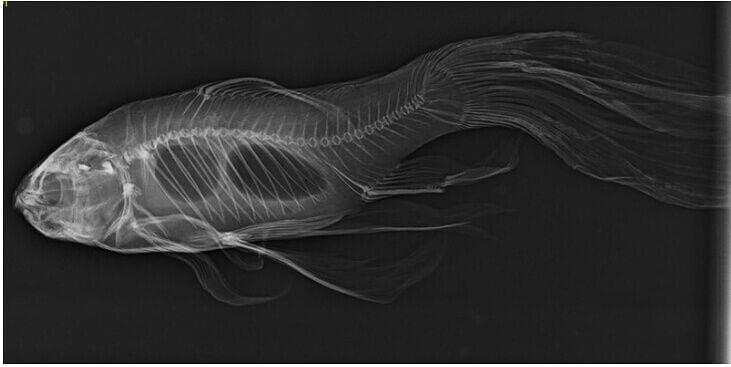 Just take a look at this dainty fish! It looks like some painting. Who knew there would be so many details to such a simple creature? We would love to have this X-ray printed out on our walls. How do you feel about seeing the fish so up-close and personal? It might be terrifying at first, but you quickly learn to appreciate its beauty.

Make Sure You Don't Run With Scissors!
How often have you been told not to run with scissors when you were a kid? You probably can't even recall the number of times. There's a reason for this common warning, and this X-ray perfectly depicts why. We're not sure how things got so far with this person, considering they weren't stabbed…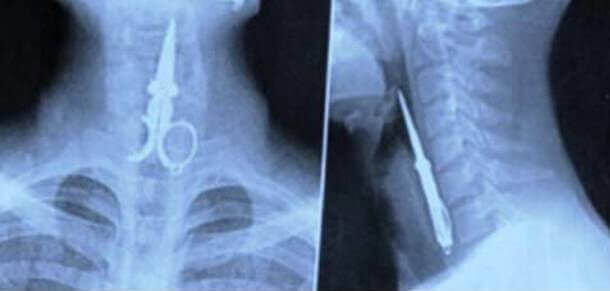 No, they were picking their teeth using the scissors, and they accidentally swallowed the scissors… We're a little skeptical about this because how do you just swallow a pair of scissors accidentally? We're sure there has to be a better explanation for this… Do you think they were running around with scissors?

Take a Look at the First X-Ray Ever!
Have you ever wondered what the first X-ray looked like? Although X-ray is not the most recent discovery in medicine, it still serves as an excellent tool for diagnostic purposes. When Wilhelm Röntgen invented the X-ray, he took a ''shot'' of the closest thing he had around- his hand. Take a look at what the first X-ray looked like below!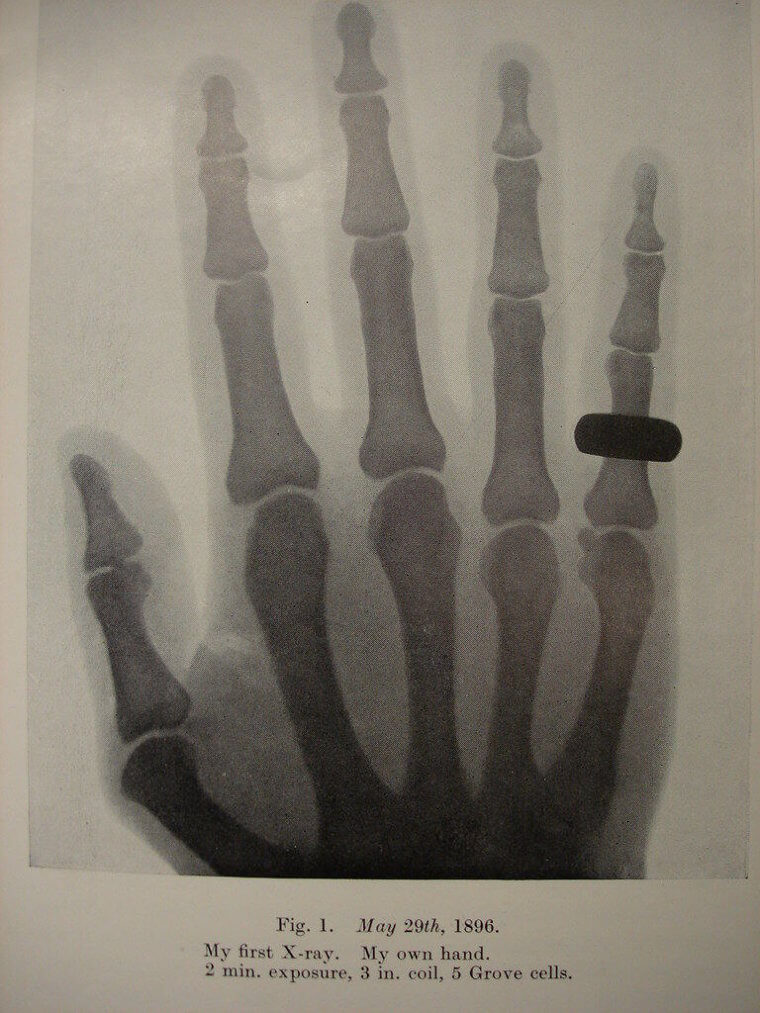 Although it's not that clear of a photo, you can see the outline of the bones within. The X-ray was a revolutionary diagnostic method, and many doctors later used it for autopsy, so they didn't have to cut the body up to see what was within. What a fantastic invention. Did you ever get an X-ray?

The Source of Your Toothache Isn't a Cavity, Sir…
Most of you would agree that a toothache has to be the worst pain you can experience. If you're fortunate, you will never have the chance to encounter this excruciating pain. In this instance, a toothache is taken to a different level. This time it's not caused by a cavity, and we can only imagine how hard it was to explain what's going on.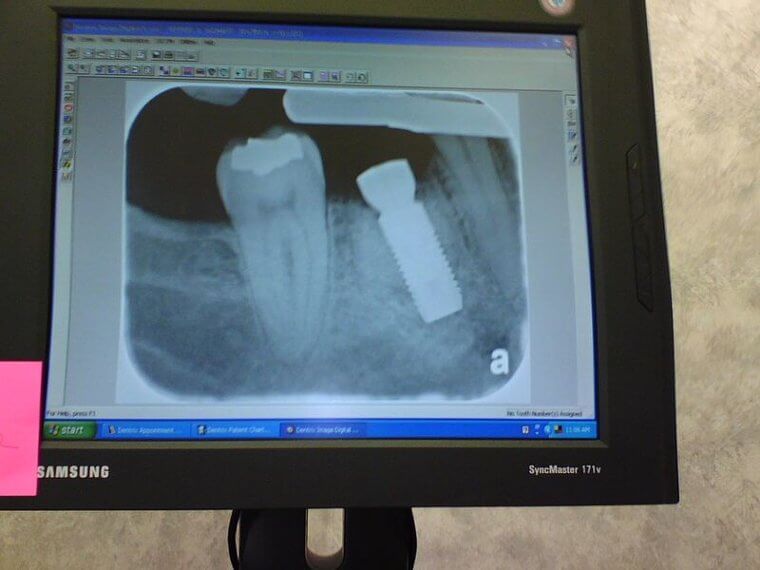 This man decided to visit his dentist when he started feeling a great deal of pain in one of his teeth. Much to his dentist's surprise, the cause of the pain wasn't quite tooth-related. When he took an X-ray of his skull, the dentist found that the patient had a nail lodged through his mouth. How?!

Don't Eat the Snowflake!
We are again back at children who love eating things that are not meant to be eaten. We're not sure what makes small objects so fascinating to kids, but as you can see, we have yet another case of it here. This time around, a kid chose to eat a snowflake ornament. Considering the jagged edges of the snowflake, this probably required going under the knife to get it out.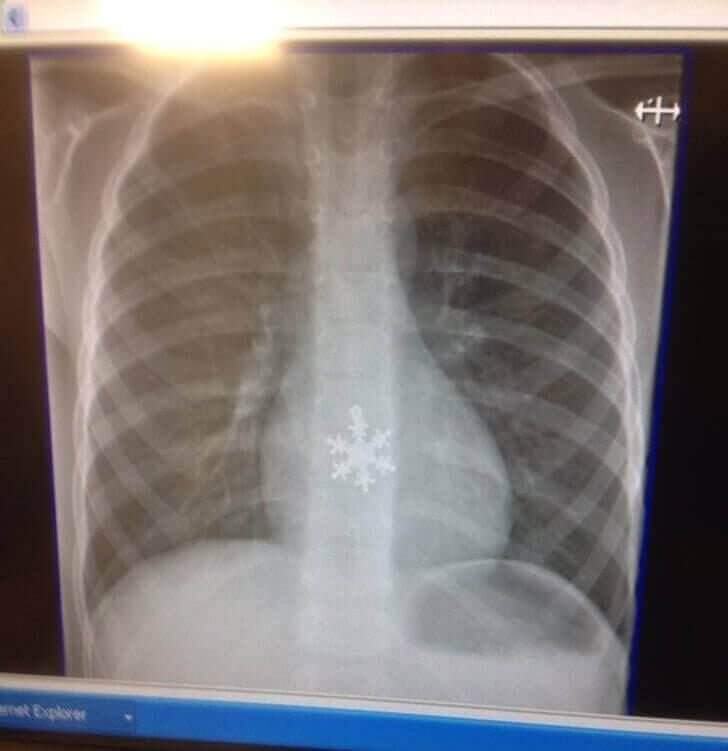 When people swallow small objects, they are usually advised to let them pass through independently. Suppose the shape lends itself to that, of course. Unfortunately, this person will have to take the harder way out. Just look at the edges of that snowflake! There is no way it can pass through on its own; it would probably get stuck somewhere further.

Can You Guess What Animal This Is?
Sometimes, looking at X-rays can be pretty confusing. We can usually determine what we are looking at on the X-ray, but it's tough to pinpoint what animal this is. Is it a dog? A cat? A rat? What would you guess? We know it has a tail and four legs, but that doesn't narrow down the choice …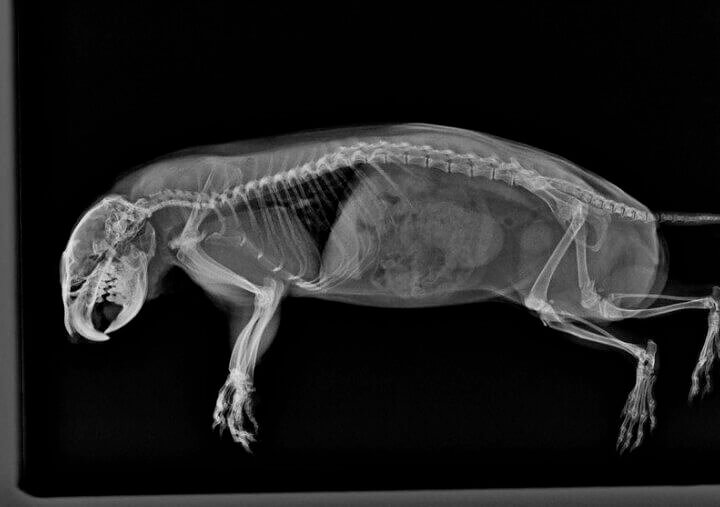 Okay, so we wouldn't make the correct guess either, but we know this is a dog. Although it looks like a rat rather than a dog, rest assured- it's just a puppy lying on his side. It's interesting how the animals we usually consider adorable usually look terrifying on the X-ray. Then again, what creature doesn't?

How Long Are the Snake's Intestines?
We're not sure what your stance on snakes is, but our opinion is that they're the most incredible-looking animals on the planet. They glide around effortlessly, and they get tangled up in themselves. They're even more fascinating when you look at what they look like on the inside. Just look at this X-ray! Isn't that amazing?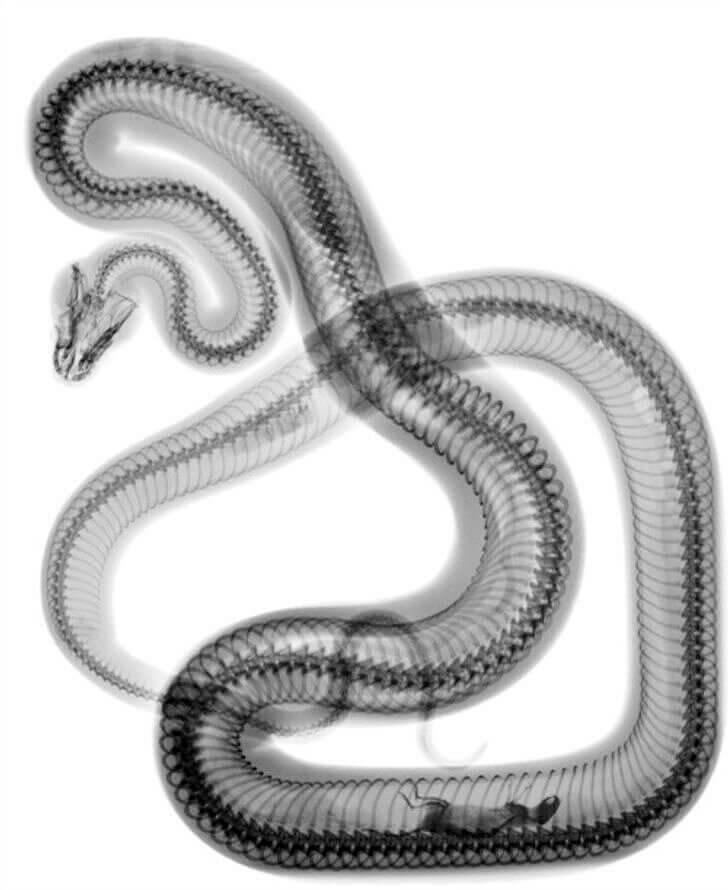 It's so interesting to see what a snake's intestine looks like. It's as long as the snake itself, and just by looking at it, that mouse has a long way to go before it is wholly digested. We're not sure why, but the fact that it's on an X-ray makes it a little less terrifying, would you agree?

People Need To Stop Putting Rings in Food
We're not sure what's up with all the people proposing with a ring hidden somewhere in the food? Although it has that surprising element, it can quickly go wrong if the person doesn't notice the ring in time. This poor woman had no idea that she would have to find her engagement ring after it passed through…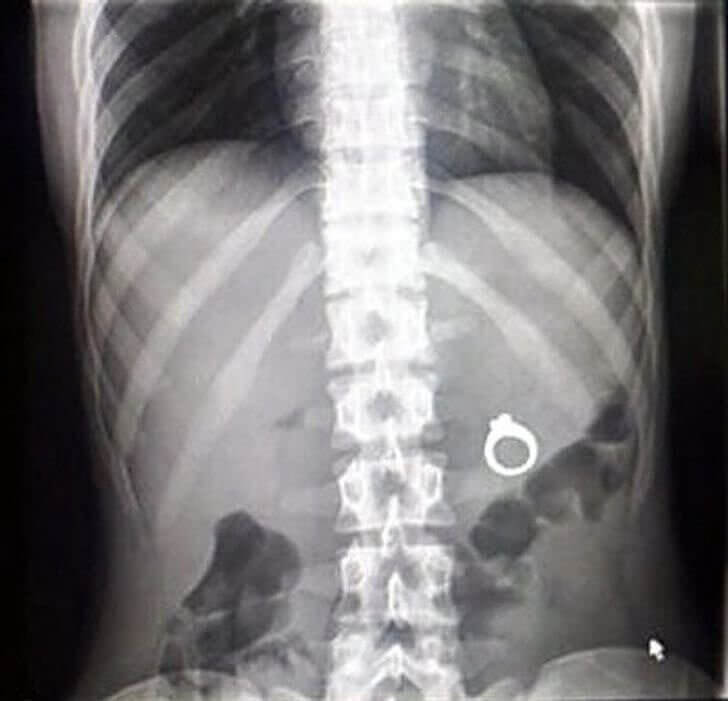 Looking back at it, although it's pretty hazardous to swallow inanimate objects, this way, she got to connect with the ring from within. Do we wonder what would happen if she said ''no'' to the proposal? Would she be entitled to keep the ring, considering its rocky way out? It's a moral dilemma, for sure. What would you do?

A Head Full of Nails
Not only are X-rays used in medicine, but they're also used by law enforcement when they're trying to figure out what the victim's cause of death might be. When the investigators arrived at the crime scene, they couldn't figure out the cause of death for this poor person. After they took an X-ray of their head, everything was pretty clear from that point on.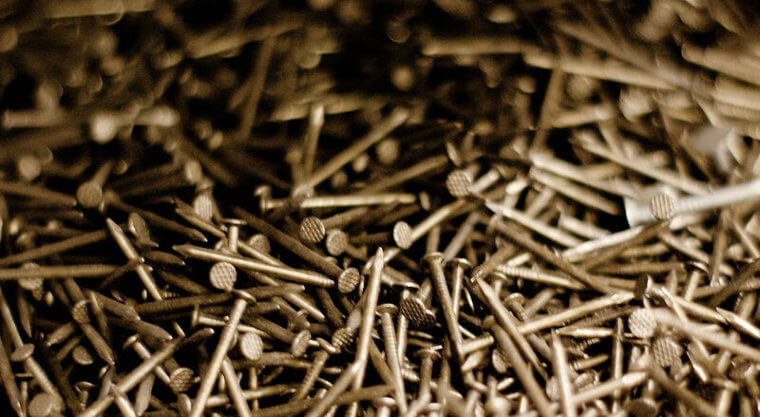 Someone used a nail gun against this person, and as you can see, the victim's head is full of nails. We can only imagine the pain they were going through… We're not sure how we feel about this one. On the one hand, it's terrifying, but on the other, it's fascinating to see what it looks like under the X-ray.

A Child Gets Injured by an Arrow
Archery isn't common practice for many, so seeing people get hurt by an arrow can feel out of place. A child in China was outside, having fun, when suddenly an arrow came down, piercing the child's eye socket. Although this was an accident, that didn't change the fact that the child had to be rushed to the hospital.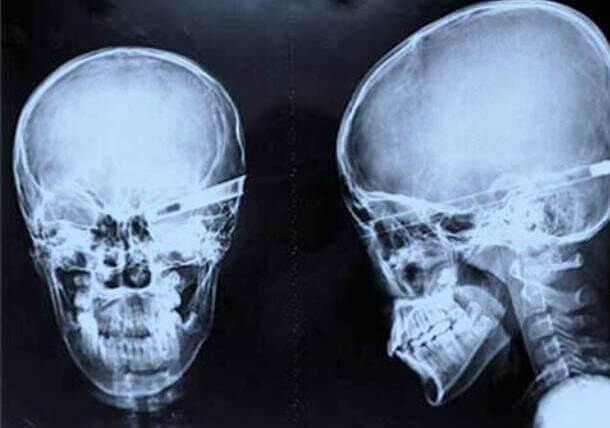 Thankfully, the arrow didn't cause too much damage. The doctors removed it with no complications; we just hoped the child could see after. Please be careful if you're into archery or anything else that might be dangerous for others. You can damage someone for life, or worse- have someone killed.

This Snake Eats Something Deadly
Unfortunately, as much as we love snakes, they lack the cognition to figure out what they should and shouldn't do. We're not sure how, but this snake found an electric blanket and decided to snack on it. You can only imagine how far the electric blanket stretched out in the snake's digestive system, almost 12 feet long!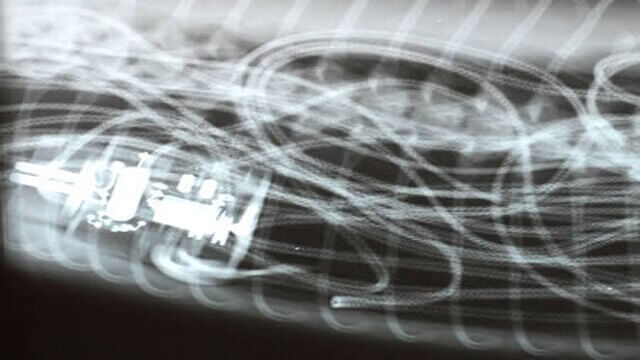 Snakes aren't designed to break down components of an electric blanket, so as soon as this snake's owner figured out what happened, the animal was rushed into the vet's office to get it out. It would've been impossible for the snake to digest it; we only hope they intervened in time…

Soldier Survives by the Stroke of Luck
If you've ever had a chance to speak to someone in the military, you probably know how intense their working regime is. It requires a lot of discipline and hard work and putting yourself on the line. These people are fearless, and they handle every obstacle with ease. This time around, a soldier was attacked with a knife, and we're honestly not sure how he survived.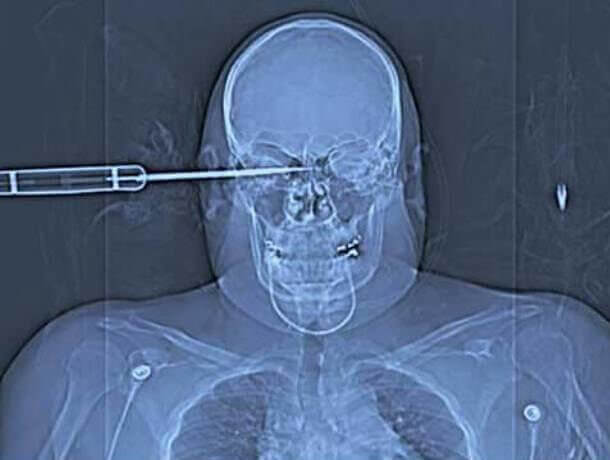 This guy got out of the situation alive after going through a rather intense and lengthy surgery by some stroke of luck. The doctors managed to remove the knife with no additional complications for the person, and we're glad to hear that this person is alive and well. This had to be a terrifying experience to go through!

This Dog Eats a Knife and Ends Up Under One as a Result
If you have a pet, you know how curious they can get. They want to know where everything is as they sniffle around the place, looking for their next toy. This puppy found a 13-inch-long serrated knife and decided to eat it whole. Although the dog is quite large, that doesn't mean that this knife wouldn't cause him any health problems.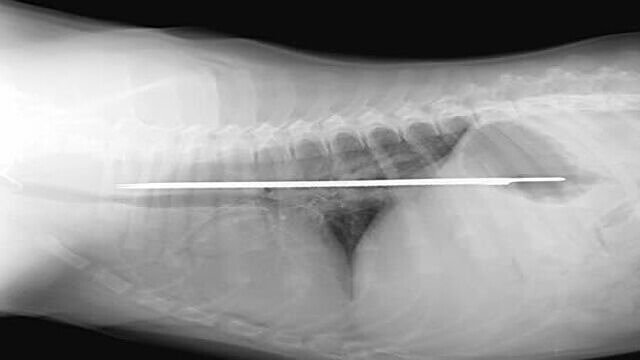 If you look at this X-ray, you can see that the knife got stuck between the dog's esophagus and stomach. After putting the dog under general anesthesia, it didn't take long to excise the blade. We can only imagine how stressed out the owners of the dog were! How would you feel if your pet got into this situation?

This Woman Eats 20 Cobblestones in Protest Against Her Husband
There are many ways to show your affection to someone, and usually, people tend to show it with a simple ''I love you''. We use many ways to show our emotions to our partners, and although it's not often we hurt ourselves when we're mad at our partner, this woman from China decided to eat 20 cobblestones as a sign of protest against her husband.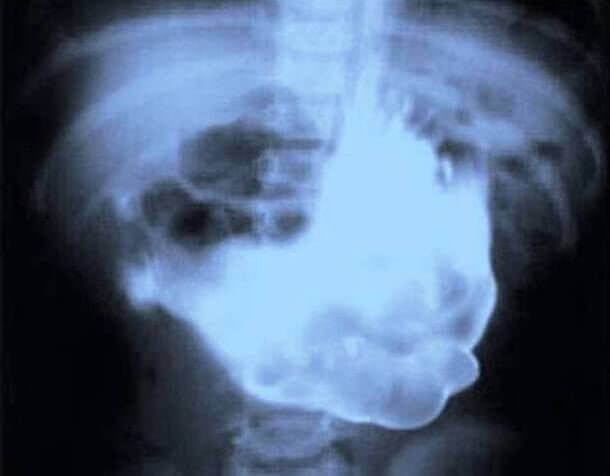 We're not sure what makes people go to such extreme lengths to prove a point, but here we are… What is the craziest thing you ever did because of your partner? Do you believe this woman is in the right? We're not sure what her idea behind it was, considering it hurt her more than it hurt her husband. We wonder if it was worth it…

Don't Leave Your Keys Around Babies
We're not sure how this 17-month-old baby got keys stuck in its skull, but we can take a guess. Many people tend to jangle shiny objects in front of babies for entertainment, but things can quickly go south if the keys are left with the baby, unsupervised. It's still a mystery, however, how this even occurred. What would be your guess?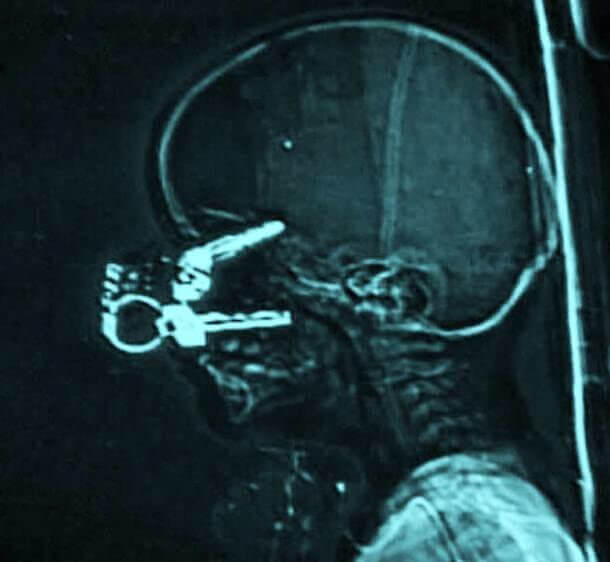 Although it looked terrifying on the X-ray scan, the baby was fine. The doctors somehow managed to remove the keys safely from the baby's face, and the surgery went without any complications. Considering how things could've gone, it's refreshing to know that everything ended well. We know we would pass out if we saw something like this in real life…

A Tragic Slip Lodged a Faucet in His Head
Have you ever slipped in the shower? If you have, you are probably familiar with that sudden sense of dread as your life starts flashing before your eyes. Worst case scenario, you might break a bone, but that's it… Or not? This man didn't expect to wake up one day with a faucet lodged in his head.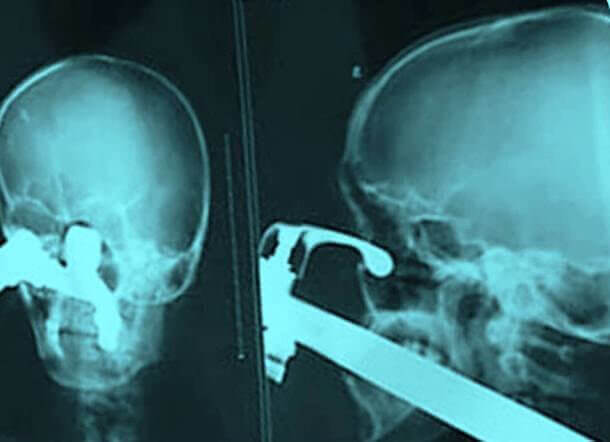 Just look at that thing! We can only hope that this person made it out alive. It seems to be completely stuck in this person's skull, and whoever worked on the surgery probably had a tough time figuring out how to remove it. Please make sure you're extra careful in the shower, as you can see what can happen if you slip…