The groom was so surprised that he didn't notice who was wearing the dress :-). Some brides take this day as a chance to really jump out of their comfort zone and leave a mark on their friends and family. As you will see here, they have defiantly left a mark alright. On this short list, you'll find some of the weirdest and most outrageous wedding dresses used in real weddings. Oh, and you'll also get to see Mama June and her camo dress. Don't worry.
More Balloons, Please
Okay, so you have a balloon obsession. Liking decorations is one thing, but wearing balloons head to toe is something entirely different. And not in a good way. Would you believe that this weird balloon dress comes with a balloon choker! Kudos to her for getting creative but let's be honest, this looks like something out of a college art project than a dress for a special occasion.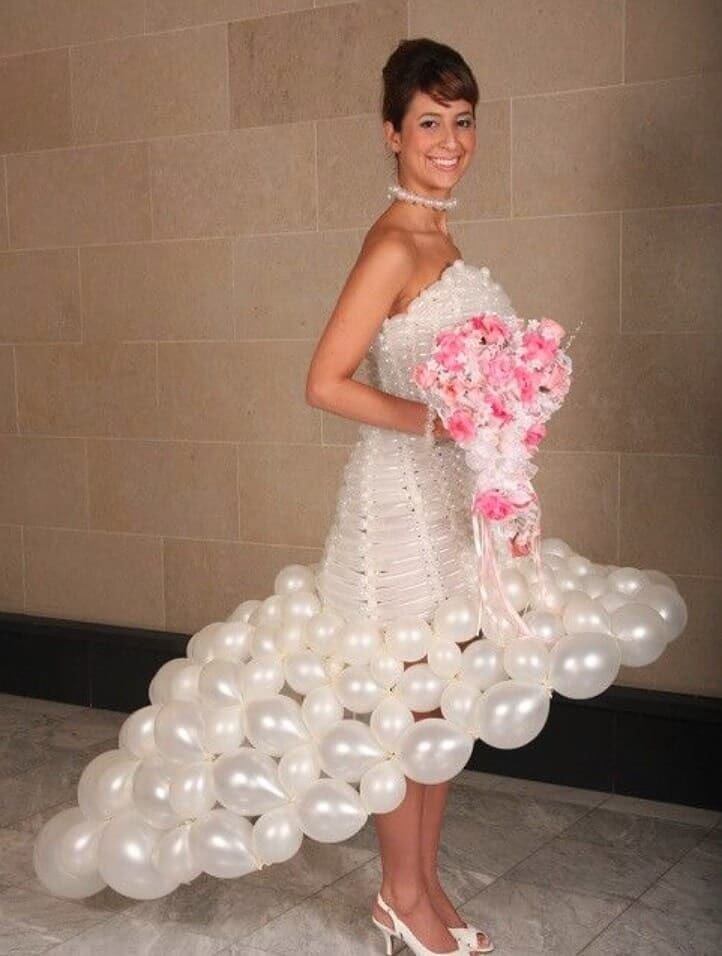 At least the dress is affordable and we can imagine it would be a laugh-a-minute trying to get out of it, rolling around and popping like fireworks.
Full of Patriotism
You know you love your country when… Does wearing the flag as your wedding dress say you love your country more than anything? Maybe it should!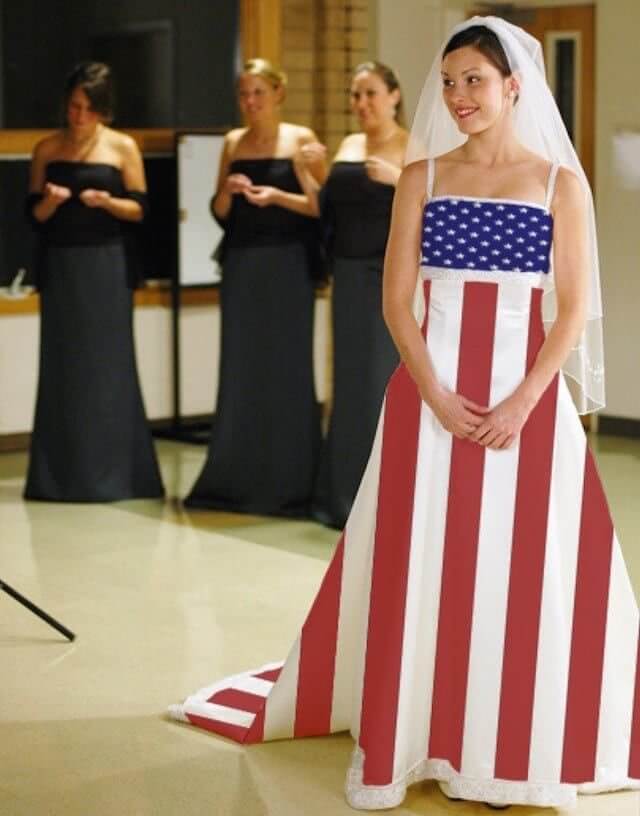 Customizing your wedding dress to reflect your love of something is common. The red, blue and white make a striking appearance against the black bridesmaid dresses.
Flower Power
As they say, it's your party so do what you want to do and forget everybody else. This dress may look ordinary at first, but once it flares up- the party starts. Although we don't exactly understand why you would wear dress that requires a whole operation, we can only hope this bride got the chance to show off.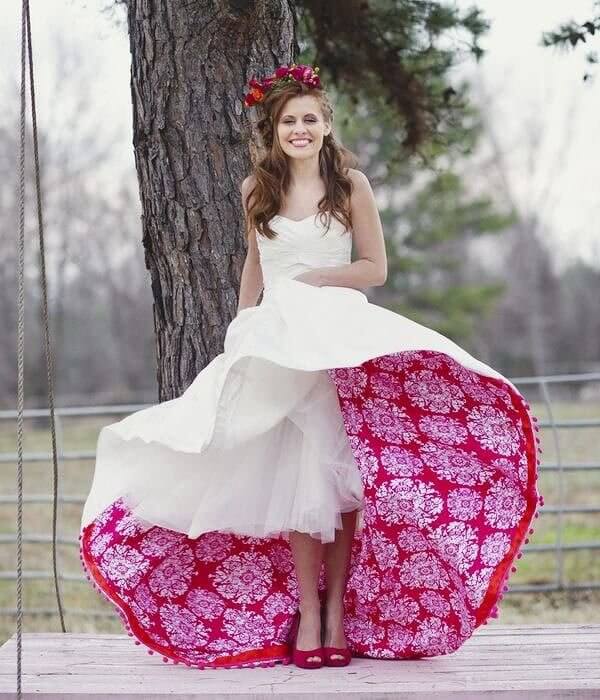 Oh, and that's before considering the wardrobe malfunction that could occur with all the spinning and twisting. We only hope the groom loves the bizarre dress as much as the bride does.
Feeling a Little Peckish
Ummm… Did this woman lose a bet? Or does she really love pizza THAT much? One thing's for sure, we're now all salivating at the mouth dreaming of what type of pizza to order next.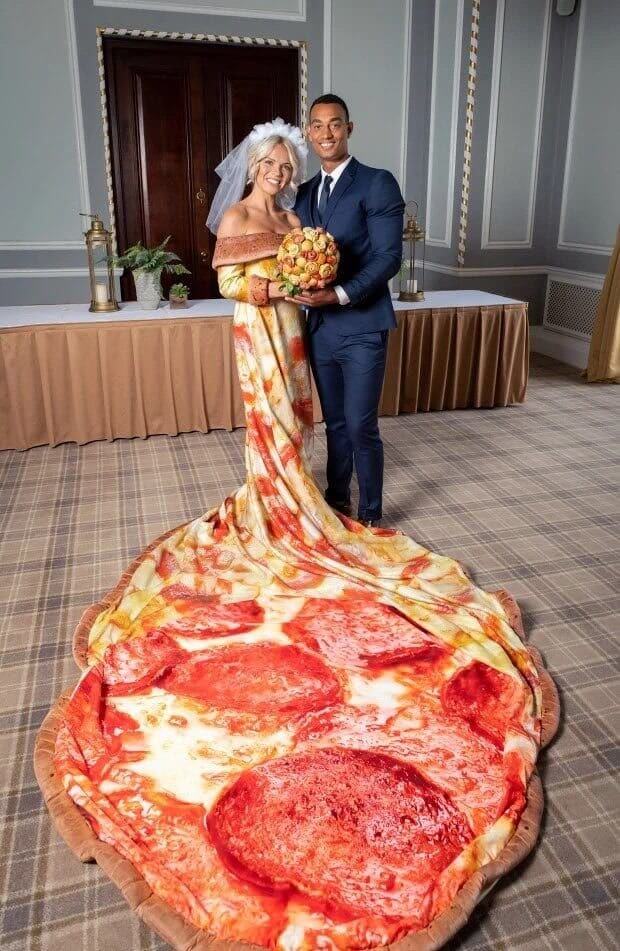 Will this bride look at her wedding photos in the future and wonder what was she thinking? Maybe, and maybe she'll stay committed to her love of pizza. We can only hope that the wedding reception had food that was better than the dress!
Taking the Crown
Just what were they thinking? Many folks are Halloween obsessed but when it looks like a pumpkin's crashed into your matching orange bride and groom outfits, can you blame us if we're a little worried. Orange is just a type of color that really - and we mean in a weird way, stands out.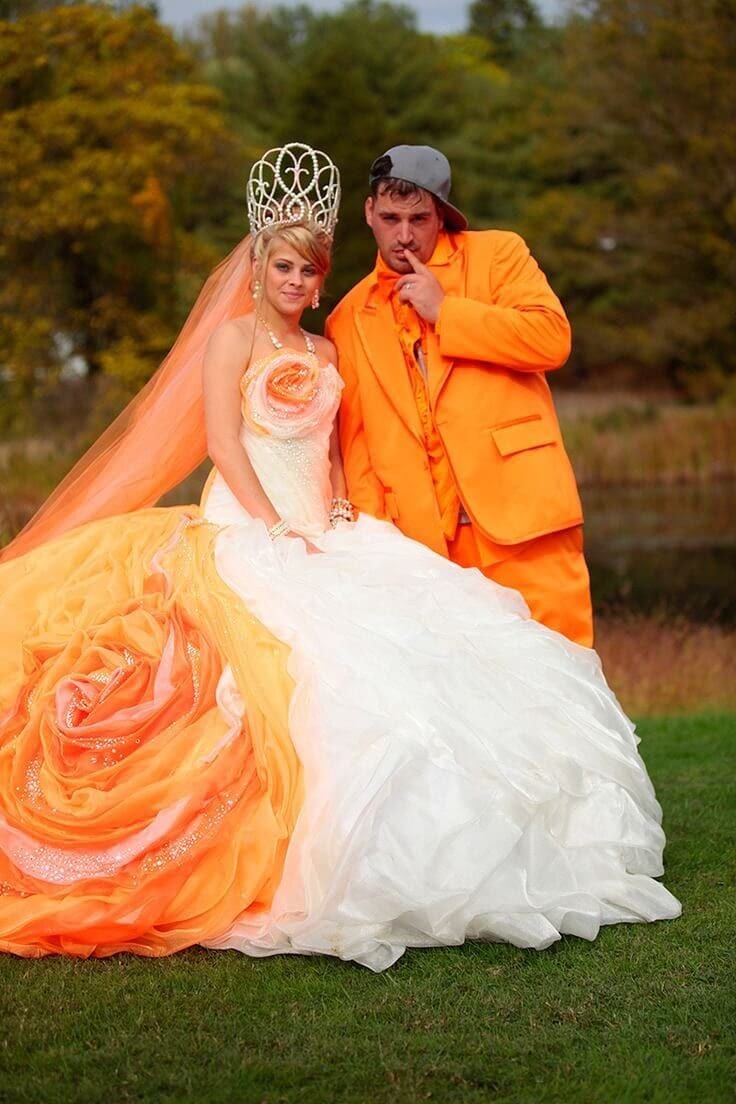 There are shades of orange that can be flattering. Well if you're Rhianna or Beyonce maybe, but no, this orange is a definite no go. And if the color alone isn't enough to put you off, then there's the gigantic Miss Universe style crown and the oversized orange rose flowers to contend with. How is anybody supposed to see her face amongst all that's going on. Or maybe that's the point? 
Over the Top Princess
Every little girl dreams of her wedding. Some of us have a few ideas and get more depending on the style that's trending, whereas others have every single minute detail planned. It looks like this woman never let go of her childhood princess dream. She has the poofy dress with so much material it looks as though it is suffocating her poor man.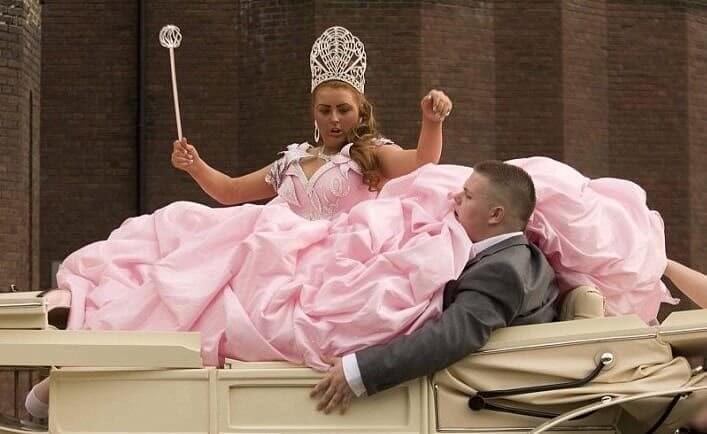 At least she looks like all her dreams have come true. She even has the princess carriage and tiara to complete her look. This is literally what dreams are made of. All that's missing is the cotton candy.
Catching the Train
Take a closet look, what's weird about this picture? Now when you say you want the biggest longest most grandiose train on your wedding dress, how long are we talking here? By the looks of things, this woman decided she wanted to get in the Guinness Book of Records for the longest bridal train in the world.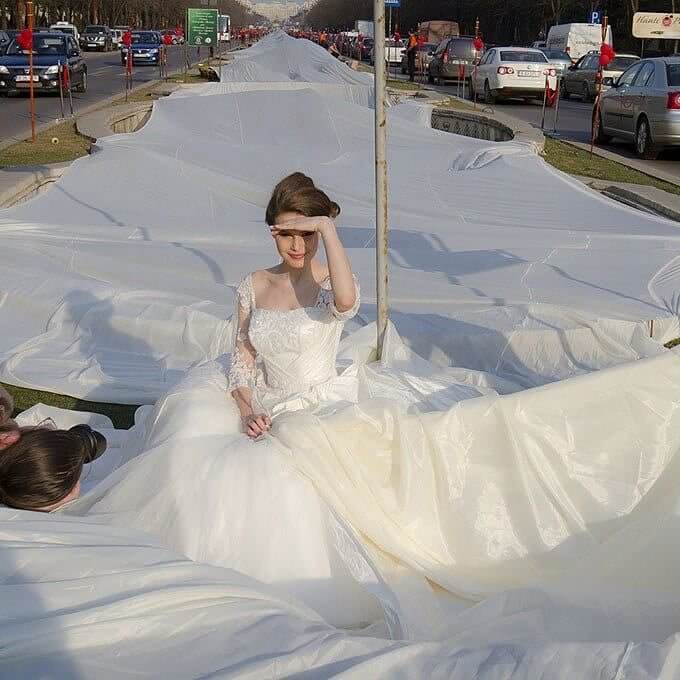 Imagine how many people it would take just to spread things out and then to carry it to where she's going. Phew, that looks like a full-time job.
Rolling With the Homies
Say what? Usually, it's a niece, nephew or a close friend's child that you include as your ring bearer or flower girl. Or maybe it's even your own little cherub that helps give you away on your special day. And you've probably seen or heard of brides wanting to include their cute little pooches in their wedding day, but have you ever seen an oversized sheep with long dreadlocks included in a wedding party?! We didn't think so.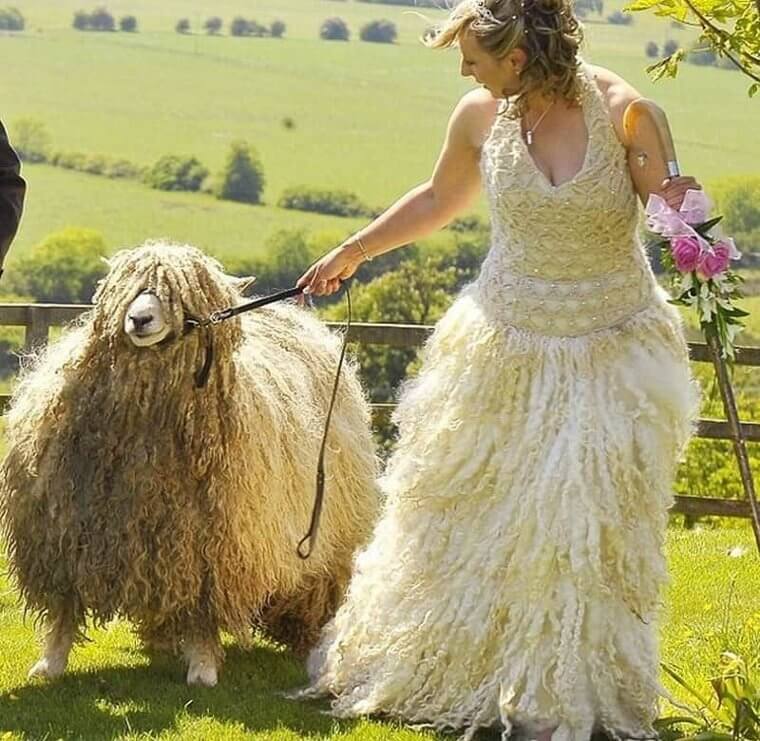 This bride took it one step too far when she decided not only to bring her beloved sheep with her to her special day but to design her dress to match! The bride wore a cream shimmery dress with fur details to look similar to her favorite animal.
The Ultimate Bouquet
Who needs a bouquet of flowers when you are the bouquet. This girl clearly has a love for roses. But a rose flower crown, head-to-toe roses on your dress and a rose corsage seems a little OTT to us. Let's hope that these flowers are fake, otherwise, the dress wouldn't last much longer than a few days. At least with a floral dress of this size, you wouldn't need to worry about perfume.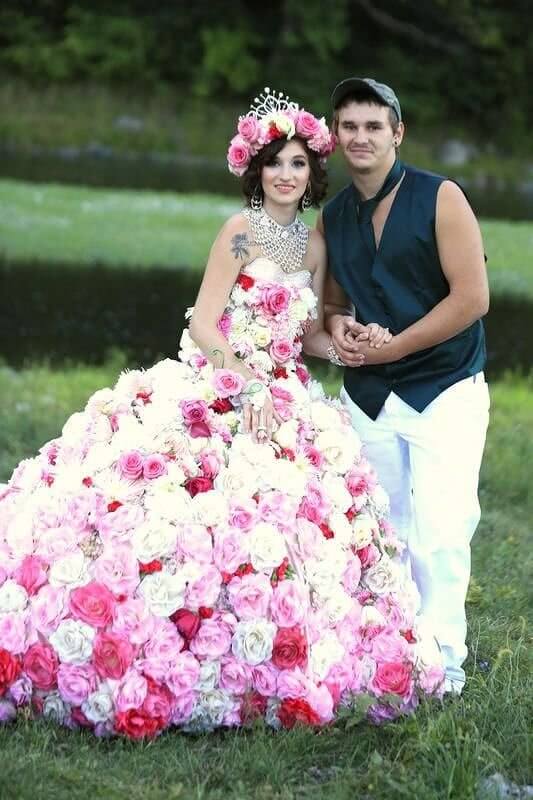 One thing is for sure, this bride's dress is something we've never seen before and looks as pretty as a botanical garden in spring. What is most concerning however is that It seems the bride here has put it an enormous amount of effort to look her best but her groom seems to have forgotten his shirt!
On Cloud Nine
The popular saying is that on your wedding day you feel like you're on cloud nine. And with enough helium balloons, you certainly will be up in the clouds. There are unique wedding dresses and then there are just plain odd wedding dresses. There seems to be a trend for making a wedding dress out of balloons.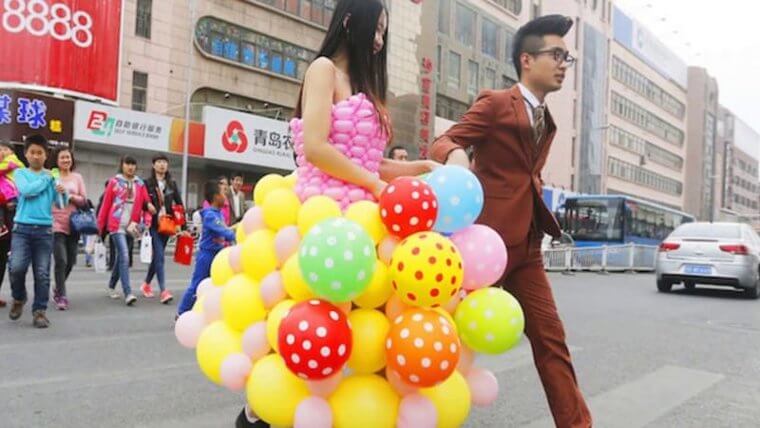 It's risky as they will burst as soon as you sit down, but it does look kind of cool. It's definitely a bizarre sense in fashion that's for sure.  
Making a Statement
These unique wedding dresses look more like Halloween outfits than wedding dresses. While some women choose a wedding dress of the rack, others go for a custom-made wedding dress, and some make their own. While we're not sure if these women found their unique dresses in an op-shop or created their own, they are definitely a dress nobody will forget in a hurry.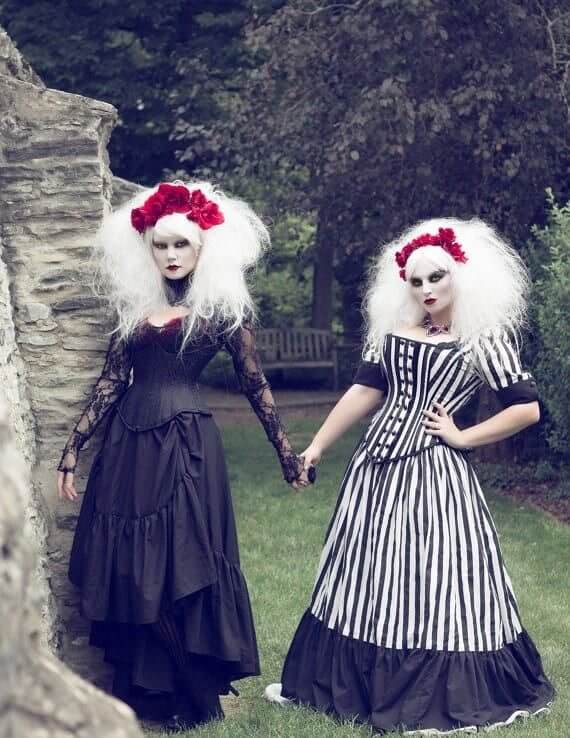 The black and white gowns certainly are a very different style and far from the traditional white or cream-colored wedding dresses. I guess with this style you could reuse the dress again for fancy dress occasions and for Halloween.
A Few Extra Legs
This wedding dress is bringing back memories of a movie with the octopus character… The Little Mermaid had an octopus lady, Ursula. Yes, this dress has us picturing Ursula. With tentacle-like application attached to the skirt from all sides, this dress is truly a sight to behold.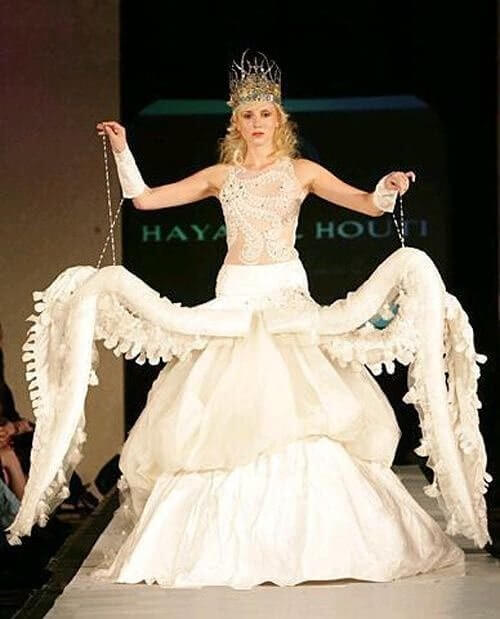 Not only is it incredibly strange, but it also requires way too much to maintain while walking, and the last thing a bride needs is another thing to worry about while she walks. Let's make it clear. Repeat after me. Legs should never be included as a detail on a wedding dress, ever.
Getting a Little Chilly
A lot of brides choose the ideal time to get married because of the type of dress they want to wear. Spring is a popular choice of season to get married in. Although some brides like to get married in the cooler months because they can then add a faux fur coat or glove details.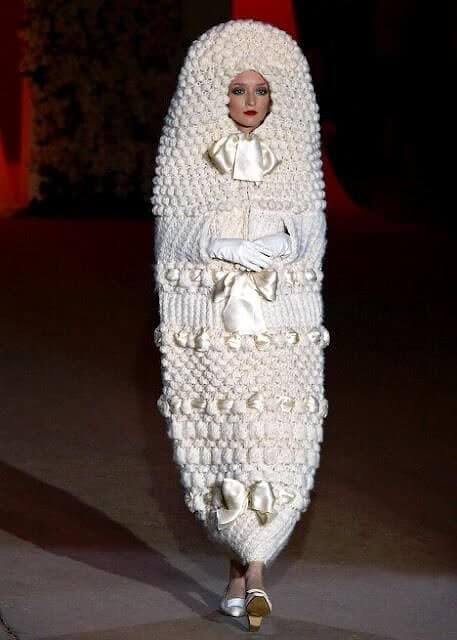 This woman took the term winter wedding to a whole new level. She looks more like a cocoon than a bride. We're thinking this might be better kept as a runway fashion statement than a practical wedding dress.
Husband and Wifey
If you can't afford a suit to wear to your wedding, never mind. The groom here opted for a regular t-shirt and jeans with blue graffiti over the top. Well, it's more about the people and love than what you're wearing right? It's absolutely a creative way of ensuring you all match on your special day.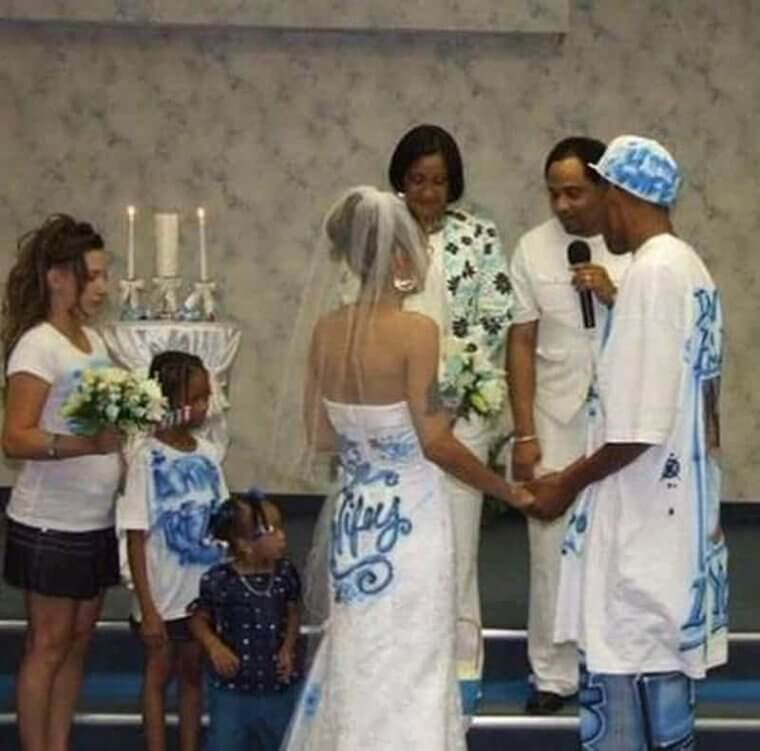 If you're looking for more of a DIY design, this family captured it perfectly. Each member of the bridal party has graffiti-style writing over their white t-shirts, caps, and even her wedding dress has 'wifey' scrawled across the back.
Getting Hot Under the Collar
Flaming crows! now that's a dress you'll never forget in a hurry. Do you think she's a firefighter? Or perhaps her husband is a firefighter? This dress is sure to get hearts racing, but not in a good way.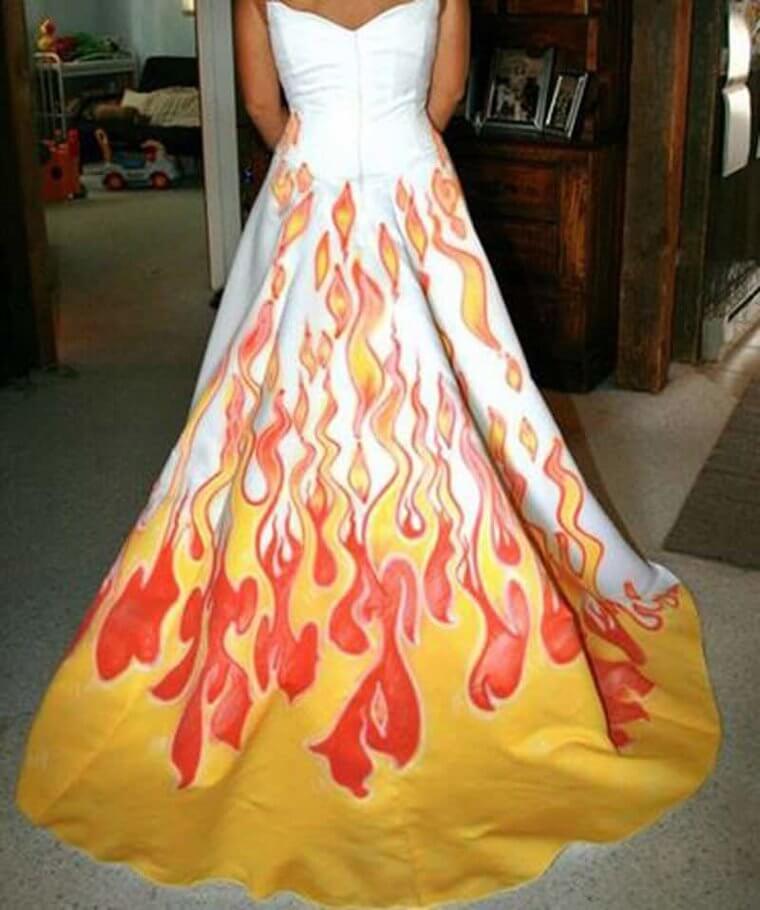 Although there is nothing inherently wrong with a colorful wedding dress, this is definitely not the way to do it. The ridiculously cartoonish flames make the dress look like a cheap Halloween costume, not a great look. But than again, maybe she just wanted to play a very specific game of "The Floor is Lava".
Goin' Hunting?
We're going to say this once and only once so pay attention. Orange is not a color that should be seen at a wedding. Unless you want to be the topic of conversation and not for all the good reasons. But hey, if like Mama June orange is your favorite color, you go for it. About the camo outfit, well, that's for the forest animals to decide. If they can see them with all that camouflage going on there.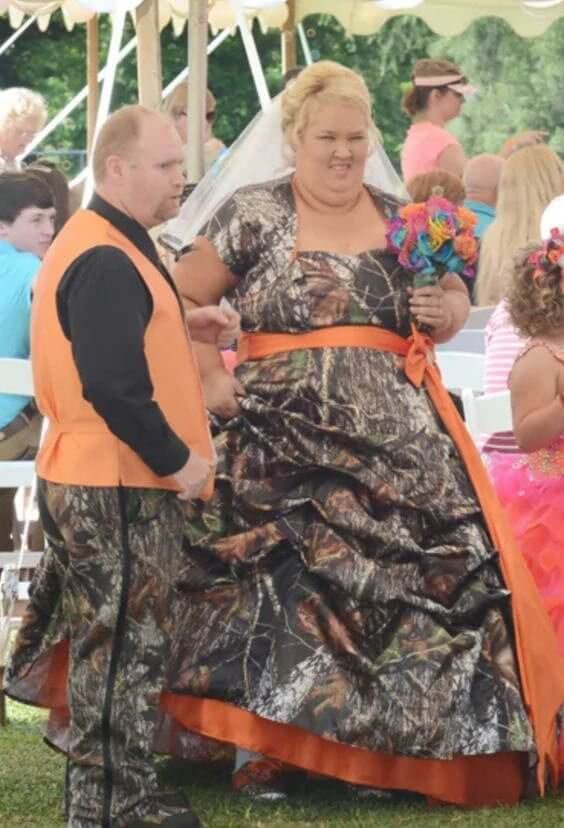 We're not so sure about matching bride and groom outfits. A man looks good in a tux and suit and we'd prefer it that way, not an orange vest that makes him look more like a traffic cone.
Noticeable
Well, if you want to get noticed on your wedding day - this is the way to go. Both sexes will double-take when they catch a glimpse of the bride. The groom, on the other hand, could wear whatever he wants, he will be practically invisible.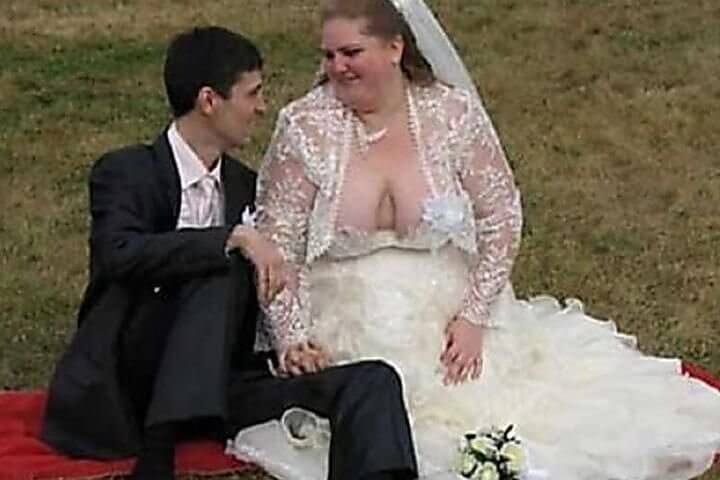 These wedding gowns are very common in eastern Europe and Russia. For some reason, they love to have cleavage on a bride. I guess it brings luck of some sort? 
Feeling Like a Unicorn
Never be afraid to be yourself. Even if it means green stockings paired with purple tulle and a rainbow shawl. A wedding dress like this one is sure to help you stand out from the crowd. The multi-layered tulle skirt looks fabulous with a subtle white overlay. We're just not so sold on the sparkly shoes, sparkly heart belt, and feathered mask.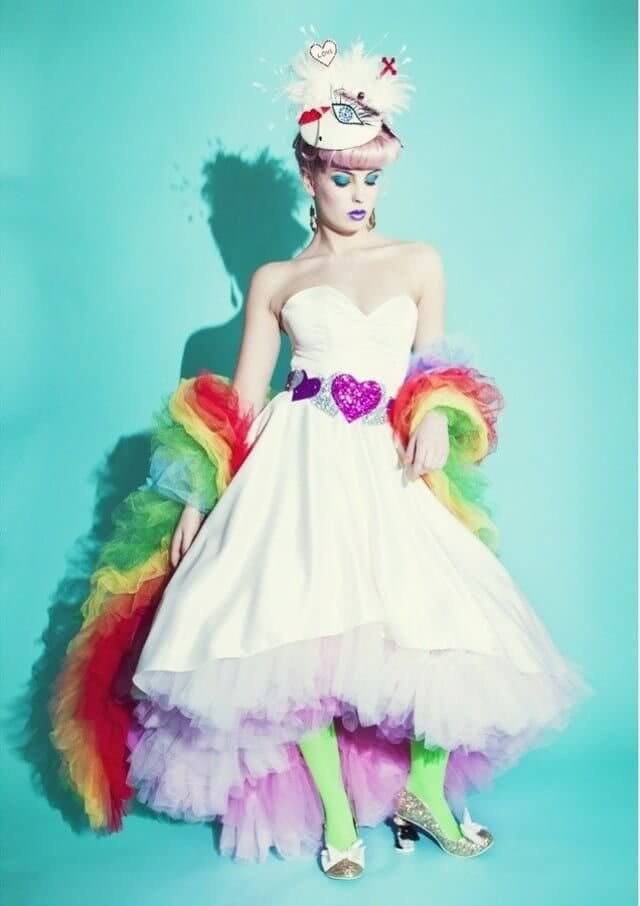 I'd say this is more of a photoshoot idea than a real-life wedding. But then again, you never know. People do strange things every day and every bride wants to be remembered on her special day.
Having a Balloon
Ah, high fashion. Always finds new and exciting ways to remind us that clothes are, in fact, not meant for wearing. Want a beautiful wedding gown? Better not have your ceremony next to cactus.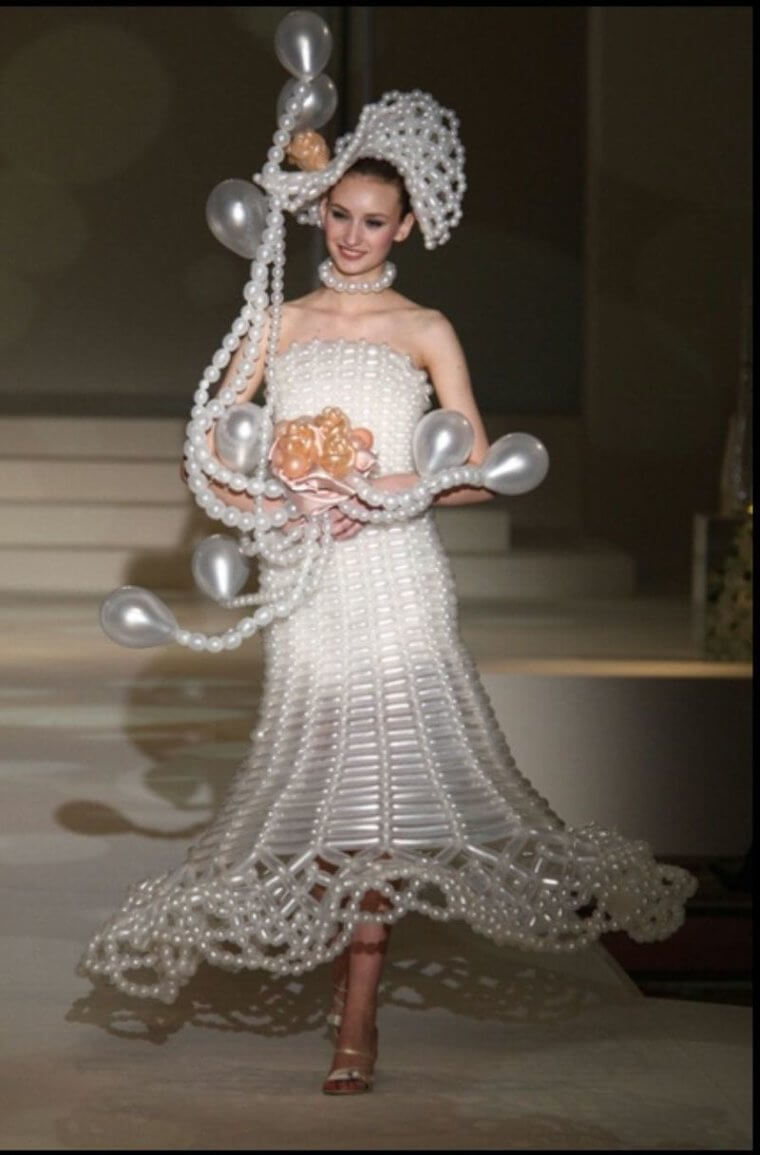 Indeed, white balloons are on most bride's wish list for their wedding, or perhaps candles and party favors. They're usually decorations though, not the main feature on the bride's dress. We'll stick to our old-fashion, popping-proof fabrics, thank you.
Going for Something Different
When the bride says the groom can wear whatever he likes, we're not so sure she means sandals colorful shorts that look like swim trunks and a black-tie suit jacket. He looks like he forgot his pants on his wedding day… and maybe he did. However, the bride is also wearing a creation that is equally as bizarre.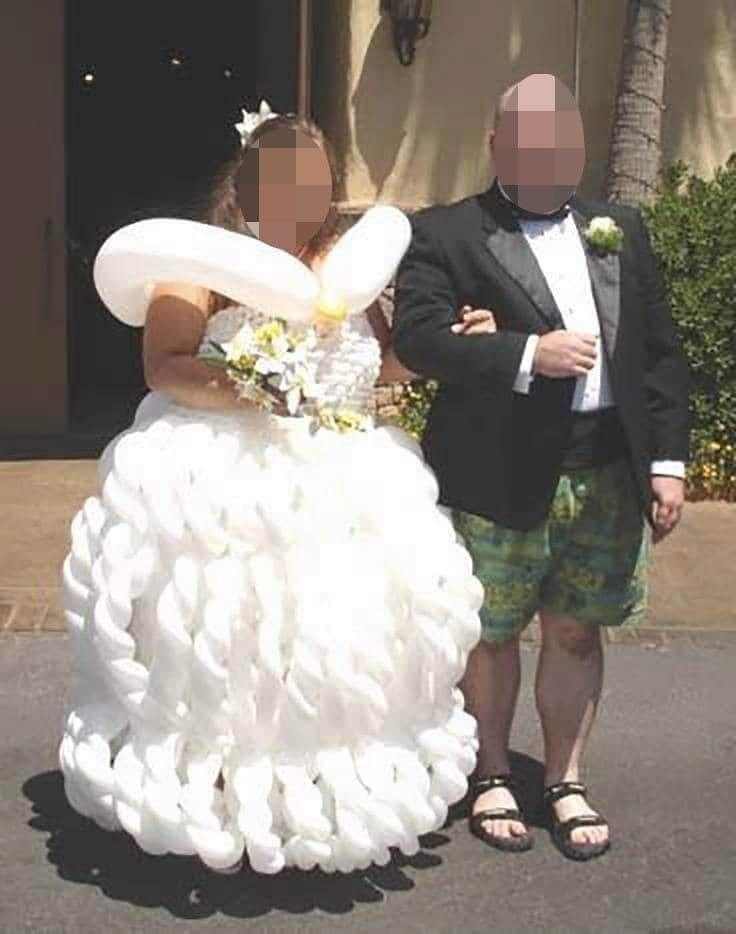 And again with the balloons. She gets credit for being able to fashion them in such a way as to create a mermaid shape and then add an oversized collar also made out of balloons. What we're thinking is 'how on earth did she get into this dress?' And 'did she make it herself or go to the buskers and get it free? Whatever her reason, we're sure these two will look back on these photos and have a laugh.
Pretty Hands-On
When you're about to get married, you get inspiration from magazines, friends, wedding websites, and stunning photography. But did you ever think about getting your inspiration from a museum? This interesting white dress is in fact made entirely out of rubber gloves.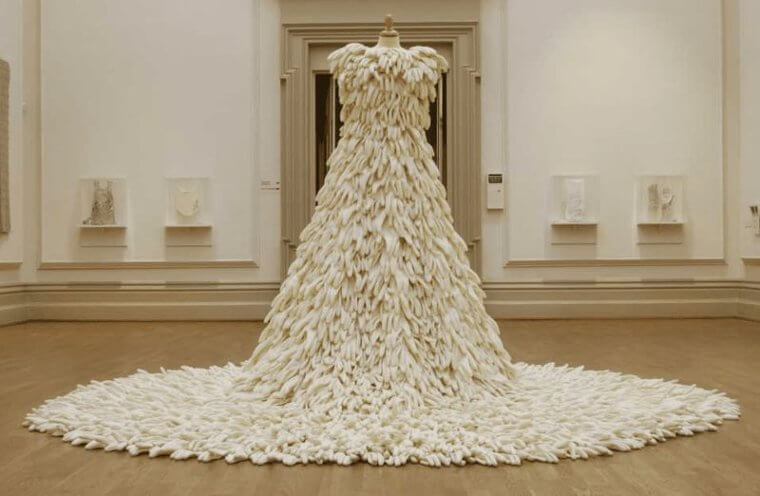 Now we're not suggesting that you head out to the nearest convenience store and stock up on white gloves, but it certainly gives you an idea for an interesting concept. Perhaps feathers or lace would be a better choice.
Two for the Price of One
Now this is something we've never seen before. Have you seen any creation of a wedding dress that looks anything like this?  It seems she's 'killed two birds with one stone' so to speak and combined her cake and her dress.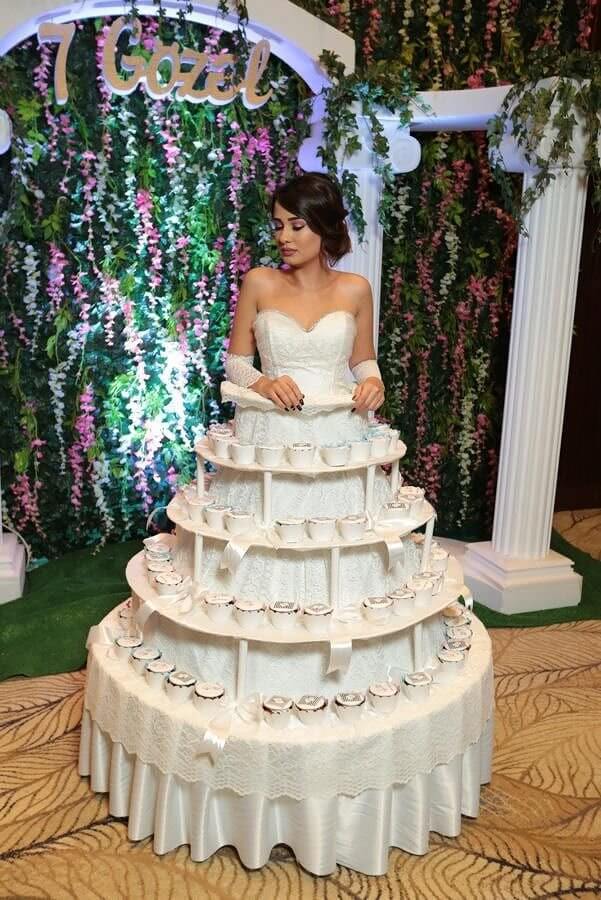 Let's just hope that she can carefully get out of the mini muffin tower without it getting all over her dress. The other option is that she stands in the corner and her guests come and have a chat while eating the wedding cake, off her dress!
Near, Far, Wherever You Are
This dress reminds us of a silky bantam chicken crossed with a Polish rooster. There's so much fluff and material going on you can't even tell which way the woman is facing. How do we even know if there's a woman under all that material? Maybe Lady Gaga is making a secret undercover appearance.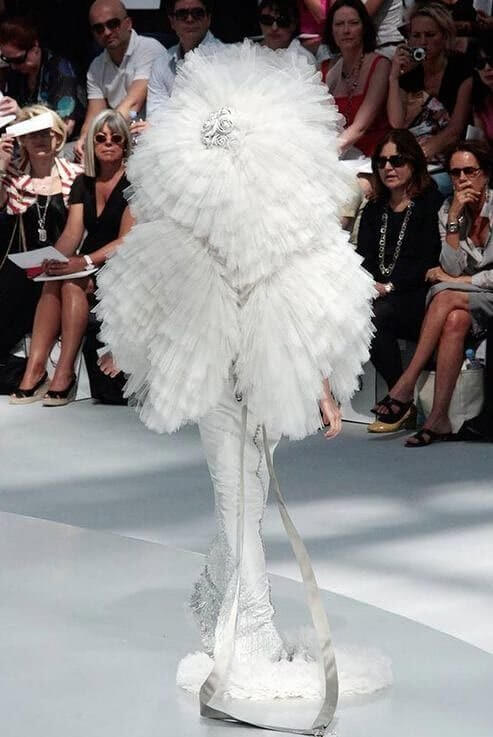 You definitely cannot say that this dress is plain and ordinary. There's something to be said to cover yourself in ruffles and call it a dress. Complete with a floor-length ivory ribbon and rose headpiece it's a statement dress you can't take your eyes off of.
Just in Case
We're not even sure what to say about this dress. This dress leaves us completely speechless. Who would think to cover yourself in toilet rolls and call it a wedding dress? I mean isn't this best for the hen's night activities. We're hoping this is the result of the best hens' night creative bridal dress.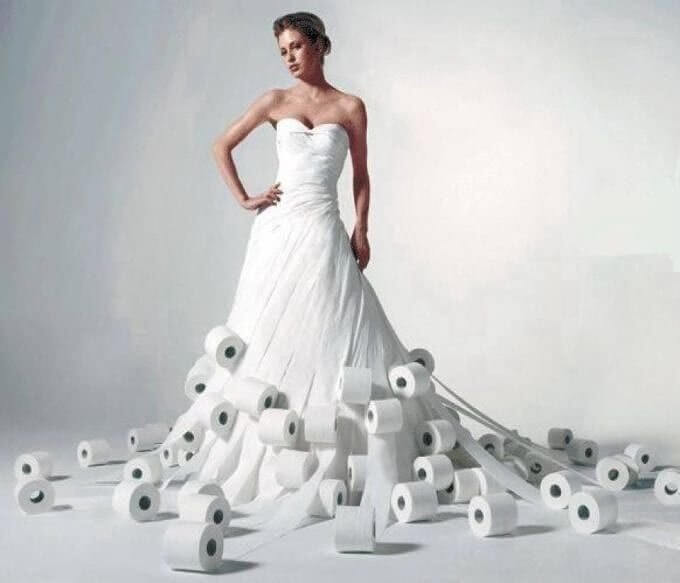 If that's the case we're in owe of the masterpiece of a dress that was created. At least when everybody at your wedding starts tearing up, you've got plenty of tissues - enough for the entire wedding and then some.
All of the Color
This dress looks like a cross between a children's birthday party where a glitter princess vomited and something you would use to clean dishes. Or perhaps she was going for the pinata look. If she was looking to be bright and cheery and make a statement, she did way more than that.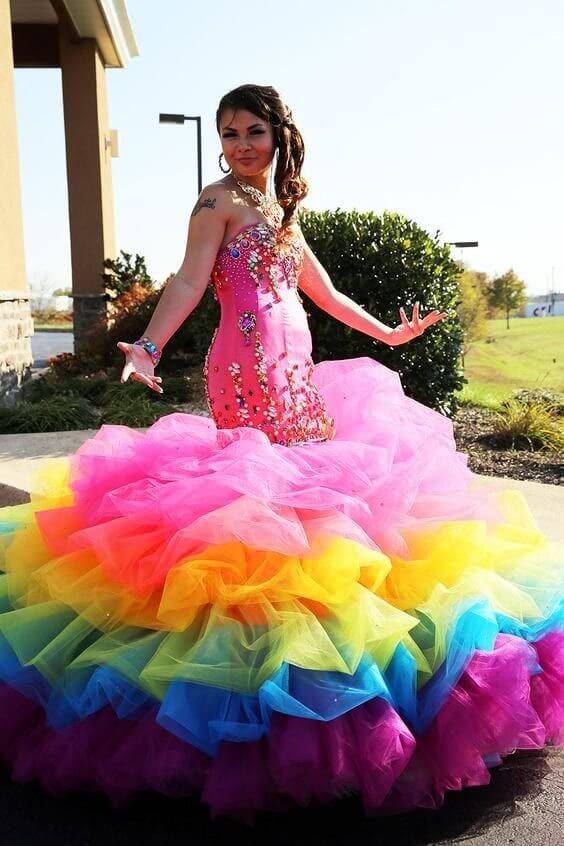 This dress is such a train wreck you can't look away. So long as she's happy with the look that's the main thing right? Let's just hope that the guests brought sunglasses. 
Solving a Few Problems
Now here's a dress we can all get behind, or more specifically get into. You can have your cake and eat it too. Yes! Now this is what the internet should be talking about. A dress made completely out of cake is a dream come true!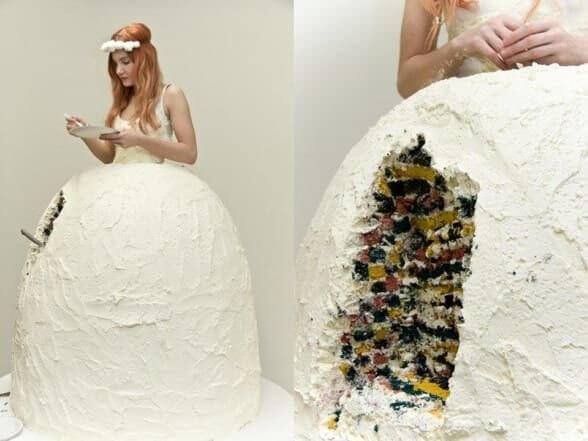 Not the most practical of dresses I'll admit but it's a sight to be seen and defs. instaworthy. What we're all thinking is how on earth she got into that dress? Or did she stand on the baker's table while they made it around her? Whatever the story it's bound to be a good one.
Constant Shade
Now here's a look that will have all eyes on the bride. You'll never have to worry about sun protection with a dress and veil-like this one. It's a showcase of lace material, but let's be honest, it's not the most practical veil.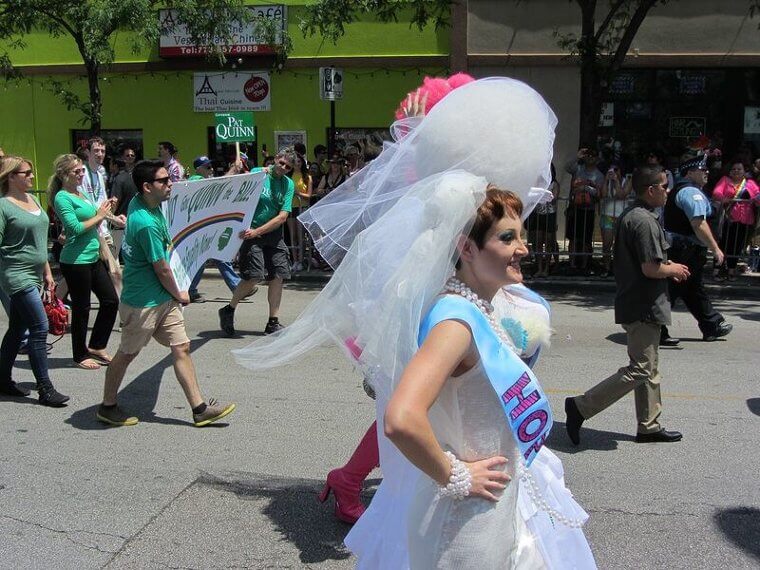 The dress is also unusual with its homely look. We're thinking that this type of look is better left at home than an everyday bride's look.
We Don't Get It
Are you an angel? Are you a swan? Decorations and delightful details are one thing but this girl clearly got it wrong. So many ruffles that it takes away from the beautiful dress. There is just so much going on here we don't know where to look. This dress is made worse by the massive split in the center and boots?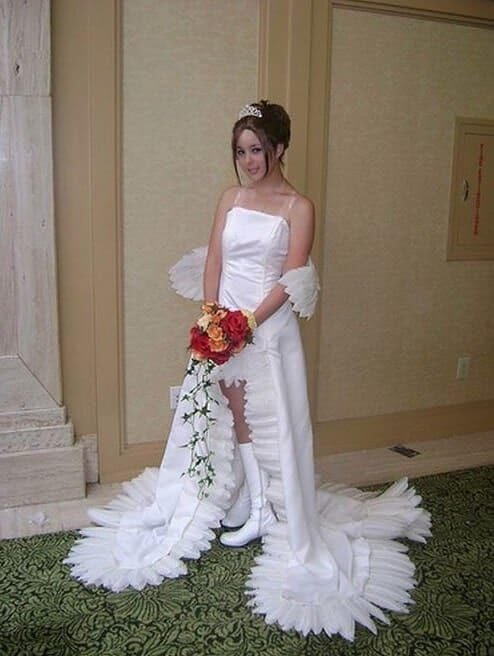 Boots are a solid no for a wedding or special occasion. If in doubt, always stick to the classic and traditional styles of dress. This way you won't cringe with embarrassment when you look back at yourself in years to come.
Medieval Bride
Many historians become obsessed with particular periods of history. The medieval period is a great example. It's filled with legitimate knights in shining armor and ladies who wore long white gloves and exquisite types of gowns. We really can't blame women who fall in love and say yes to medieval dresses.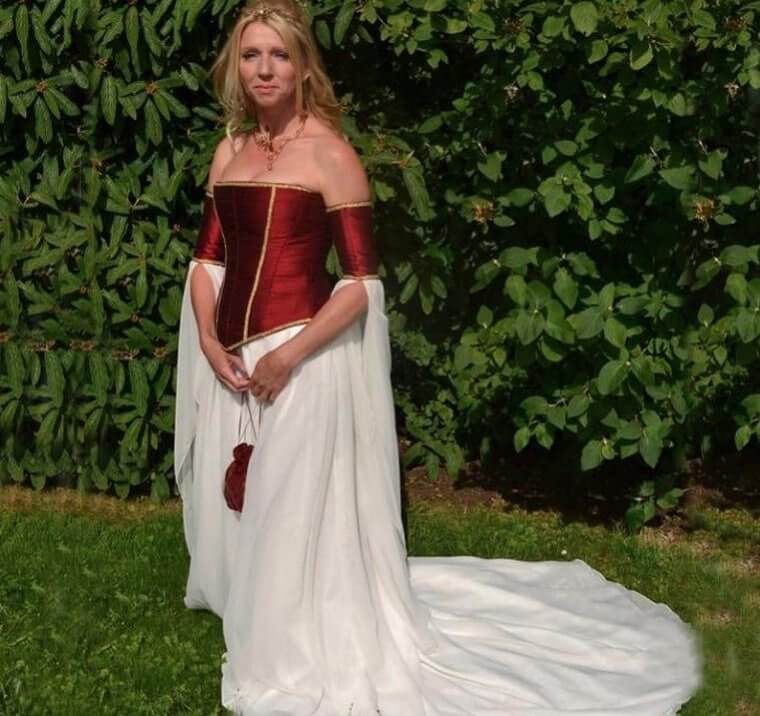 They are a sight to behold and who doesn't look royal in deep mahogany reds and delicate white lace. Add a touch of gold and a corset and any bride instantly transforms into royalty or at least medieval royalty. 
Fly Away Home
All she needs now is wings and the dress will be complete. Butterflies are considered to be a symbol of good luck so perhaps by wearing a butterfly design as your dress, your special day will be full of luck.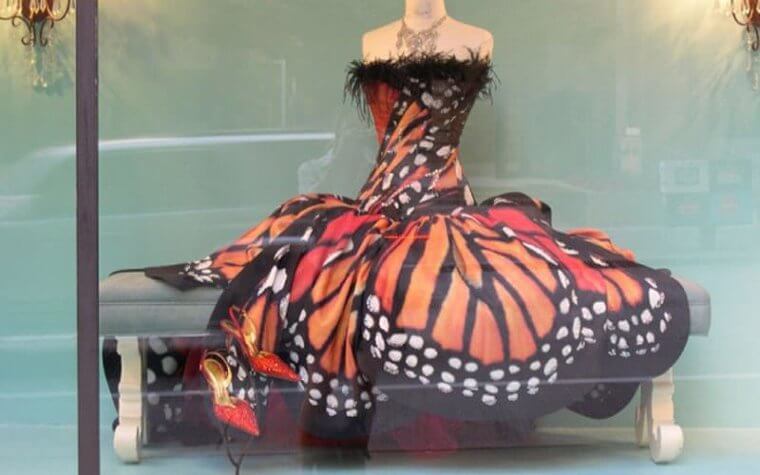 It certainly does bring a lot of color and charm to the dress. However, we think that this one is maybe more suited to ballroom dancing. But hey, to each their own.