The Wild West holds fast in the imaginations of many, and for good reason. During this era, the United States was proving herself and her people under difficult conditions and times of great highs and extreme lows. But besides for cowboys and saloons, there's much more to discover about the harsh beauty of the West, as these images prove.
Introducing Lone Star May Mackey and an Unknown Cowboy
Along with the likes of Annie Oakley and May Lillie, May Mackey was a favorite Wild West performer. Yet little is known about the star, and even less is known about the unidentified cowboy that sits alongside her in this photograph (taken in 1895).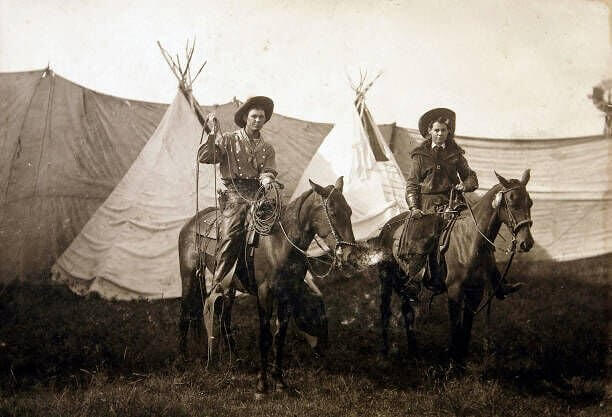 Judging by the guns, lassoes, gauntlets, and cowboy hats, we can imagine the type of performance that they would put on. The teepees in the background further suggest that there's a storytelling element to their performance — but we'd have to be there to see it!
The Power Held Within a Headdress
People are quick to associate large headdress pieces with native Americans, but not many are familiar with the honor of wearing one. The headdress is reserved for revered and respected elders who have earned the right to wear one through selflessness and leadership.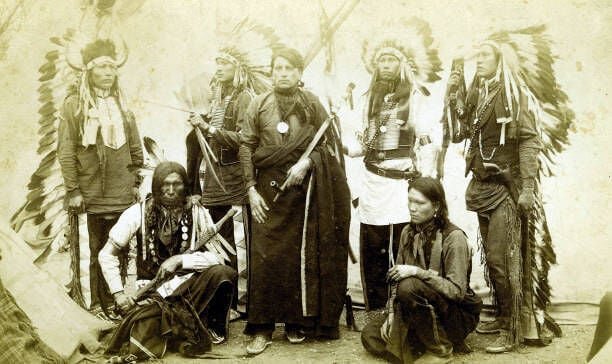 Buffalo Bill was familiar with this meaning and invited various chiefs to join his traveling show. The showman's relationship with American Indians was complicated, but as this photograph from the late 1880s reveals, the chiefs would join him for performances — going as far as London — and beyond!
Teenaged Mill Girls
More often than not, children were put to work and conditions were not always the friendliest. During the time before Children's Labor Laws, they were underpaid or not paid at all and many were poor or came from disadvantaged homes.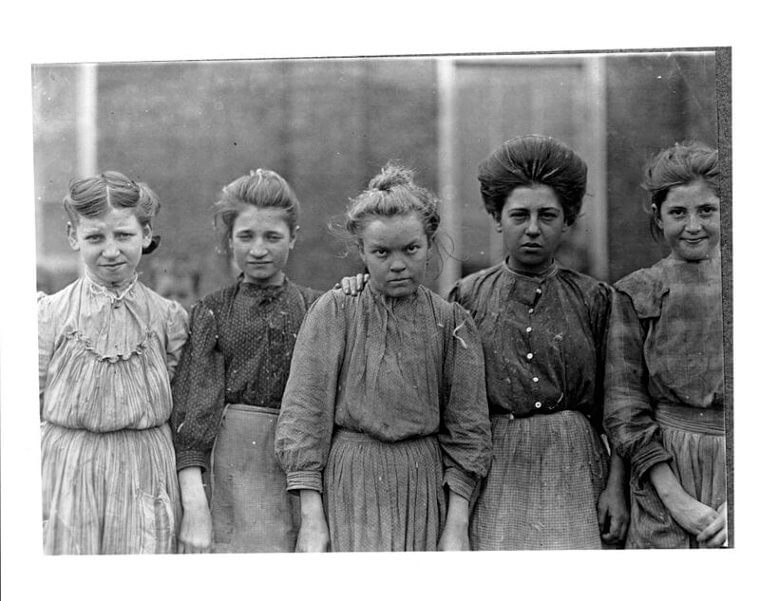 These are some of them. Teenage girls, some still very young, who are working in a cotton mill in Macon, Georgia. They even still have cotton lint all over them after a long day's work. 
A World-Renowned Rodeo Star
US rodeo star Annie Oakley famously said, "I ain't afraid to love a man. I ain't afraid to shoot him either." No words could better describe the highly skilled trick shooter who could give any man with a gun a run for his money.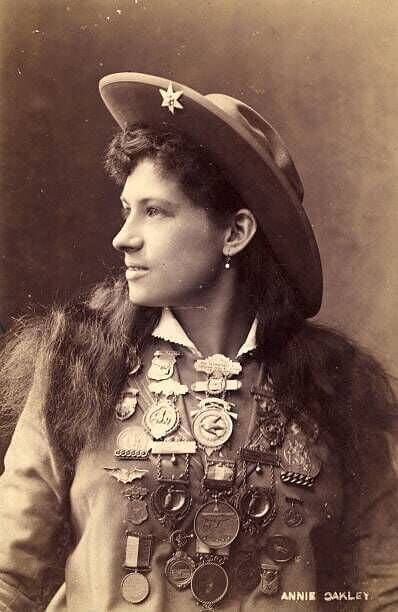 Born in 1860, Annie Oakley became a prominent figure in the Wild West long after her death in 1926. Traveling with the Buffalo Bill Wild West Show, her name was spread far and wide. Annie Oakley's undeniable success as a marksman and defiant personality is clearly expressed in this portrait!

A TinType of Two Western Men
This photograph is highly detailed, pulling you into the men's facial expressions, body language, and intricate surroundings. The tintype, which is a photograph taken as a positive on a thin tin plate, was captured circa 1885 and features two well-armed men — but the story is significantly more immersive.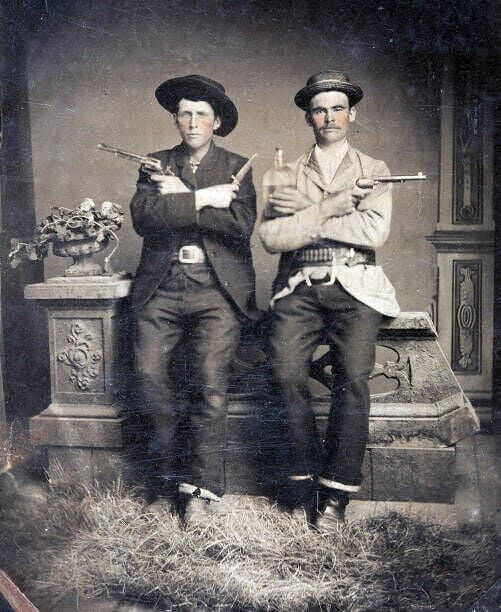 It's tough to tell which of these two men is more intimidating. While both hold barrel colt single action revolvers, the man on the left also brandishes a bowie knife while his partner holds a bottle of whiskey and wears a cartridge belt. To be safe, it's probably best to avoid them both!
Adding a Little Bit of Style to the Cowboy Attire
When cowboys and Wild West characters weren't exploring the territory or working the mines, then they were most likely gambling at brothels where a combination of alcohol and boredom often led to violence.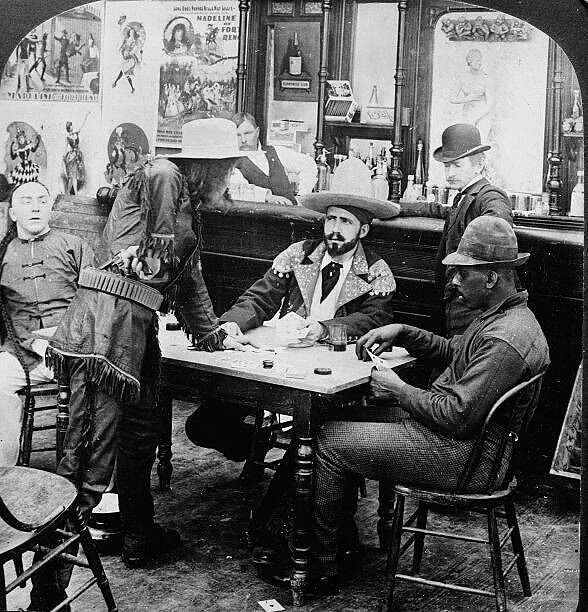 The characters in this photograph, taken in the early 1900s, show a group of gamblers on the verge of an argument. The man in a stylish, fringed leather jacket and cowboy hat hovers his hand over a revolver, suggesting that his ready to prove his point with a gunfight. During the Klondike Gold Rush in Alaska, this was a typical scene.
Saloon Girls in the Wild West
Saloon girls are another Wild West stereotype, conjuring images of voluminous hair, sultry corsets, and wooden staircases leading to a good time. However, the real story behind working as a saloon girl is a lot more dramatic and intimidating. For example, most saloon girls were refugees from farms or mills. And in the case of Lola Montez — from Ireland!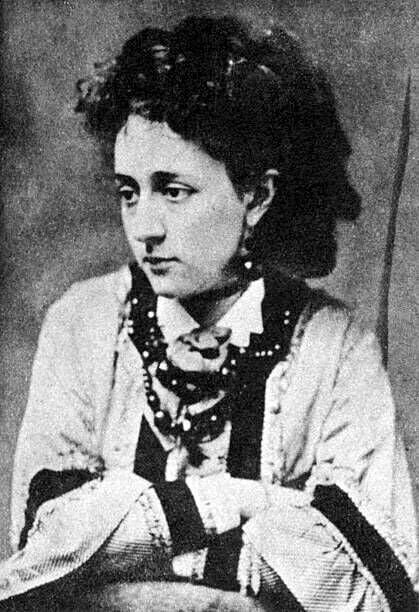 The Irish-born dancer and actress had a very complicated and well-traveled life to her name. By the time this photograph was taken circa the 1850s, she was performing for communities during the peak of the Gold Rush. Her legacy is long and intricate — and could fill an entire book!
When the Interpreter Becomes Family
Can you imagine the initial shock of Native Americans when they first came across English-speaking white folk? Everything about the encounter was foreign — from the language and the culture to the dress code and traditions. With this in mind, it's not surprising that some people learned to communicate in both languages to bridge the communication gap.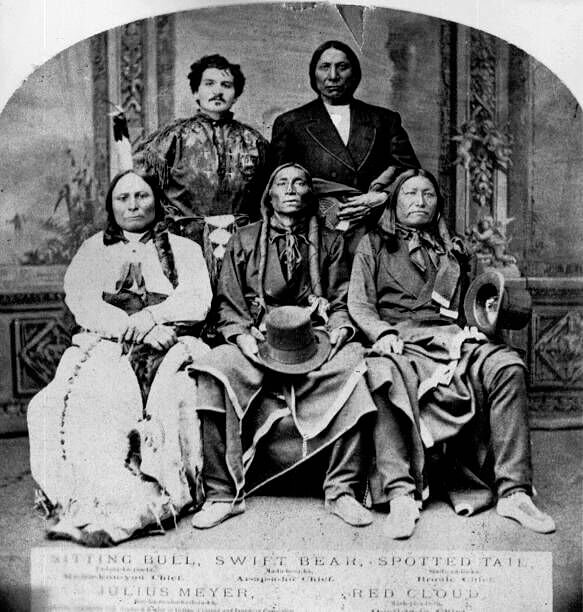 In this photograph, four Native Americans pose together with their interpreter. Included in the end result are interpreter Julius Meyer, and American Indians Red Cloud, Sitting Bull, Swift Bear, and Spotted Tail. We can only imagine how close the group became!
Buffalo Bill Wild West Show Arrives in Italy
The Wild West was a world of its own, living by its own set of rules and conduct. The traveling shows revealed parts of the Wild West with other parts of the world, and the audience lapped it up.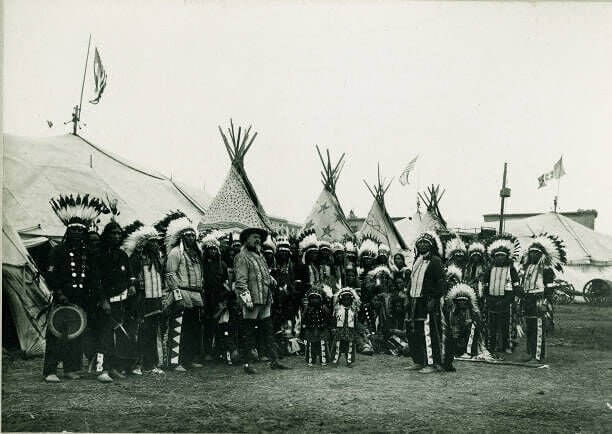 In 1890, Buffalo Bill and his performers arrived in Italy, and the show was an astounding success among the unaware foreigners. If you're wondering what was presented to the international audience — then this photo should give you a good idea of what the captivated audience saw!
Preparing for a Treacherous Trip
The Wild West was a period that had the main goal of expanding the frontier. People followed the gold and formed new settlements with each mission for expansion. In this photograph taken in 1867, we get a glimpse into what this lifestyle looked like for the people at the time.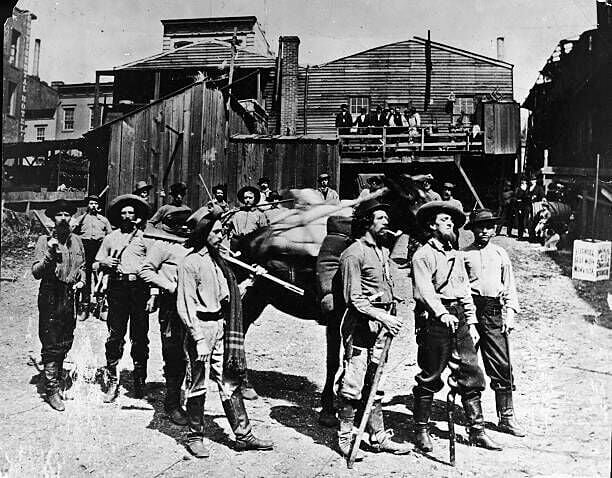 In this photograph, a group of prospectors prepares to hunt for mineral deposits. Uncertain about when they will strike gold, they have packed their heavily-laden horse with equipment and supplies, ready to explore (and excavate) the Northwest regions of the United States.

A Snazzy Representation of the Wild Bunch
There's power in numbers, and the Wild Bunch dominated the Wild West by working together as a terrifying outlaw gang. Pictured here are News Carver, Kid Curry, Sundance Kid, The Tall Texan, and Butch Cassidy. Of course, these are not their real names.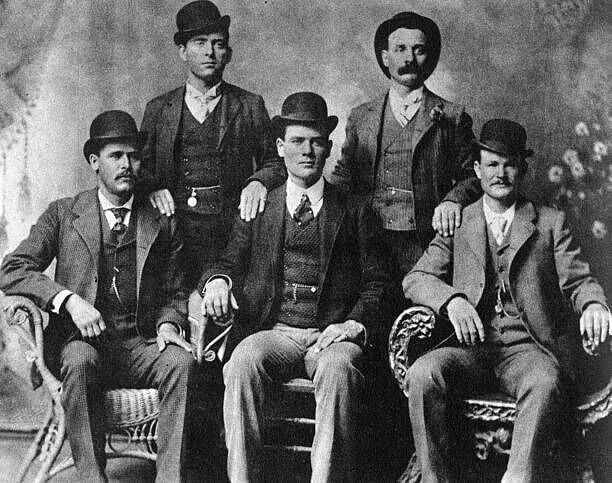 The group of bandits used Wyoming's Hole-in-the-Wall Pass as their base until 1901 when Butch Cassidy and Sundance Kid made the escape to South America. News Carver was shot by lawmen, the Tall Texan was captured and jailed, and Kid Curry was killed in a gunfight. This photograph is one of the only images taken of the group together!
A Regal Apache Leader
Have you ever seen a photograph that demands respect in the same way that this one does? Geronimo was a prolific Apache leader who lived from 1829 until 1909. Known for his fearless resistance, Geronimo stood his ground and did his best to protect his people against the threat of removal from tribal lands.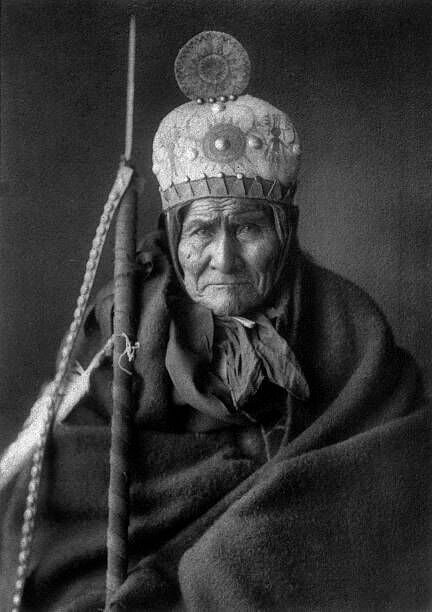 In 1905, photographer Edward S. Curtis had the honor of photographing the medicine man and the end result is nothing short of astounding. Even in his old age, Geronimo exudes awe and inspires respect.
A Legendary Cowgirl Flaunts Her Medals
May Lillie lived during a time when males dominated all aspects of life, and a woman's role was mostly associated with prostitution, delivering babies, and performing domestic activities — but not May Lillie. Born in 1869, the American sharpshooter and equestrian was a renowned performer.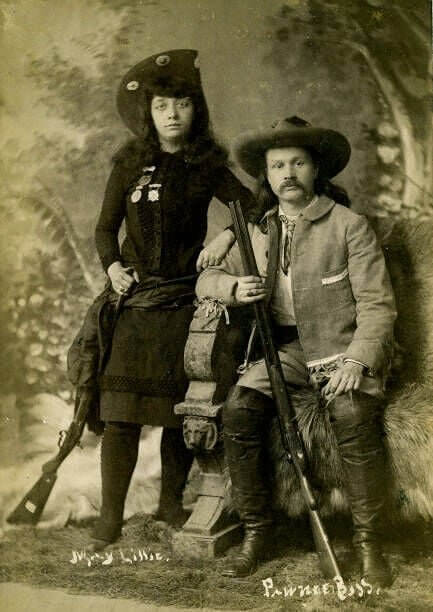 In this photograph, snapped around the 1890s, May Lillie stands alongside her husband, Gordon Lillie (whose stage name was Pawnee Bill). Her medals drape around her neck and she stands proudly alongside her rifle. That's one power couple that we don't want to upset!
Till Death Do Us Part
The Wild West is not limited when it comes to dramatic stories involving love triangles and violent endings. Cowgirl Calamity Jane and Wild Bill Hickock were both famous in their own right, and they crossed paths throughout their lives. The sharpshooter storyteller was allegedly in love with the law enforcement officer — but he denied a romance.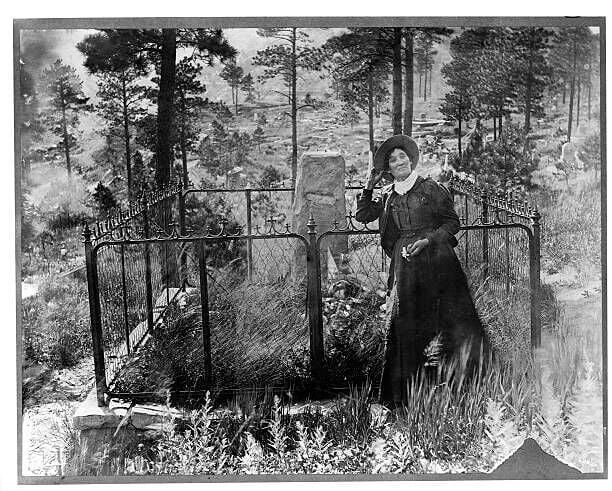 In this photograph, Calamity Jane poses at Wild Bill Hickock's grave. Although there is no evidence of a romance, she claimed that he was her lover and would be buried next to him in 1903. Judging by this picture, she seems rather thrilled with the idea!
A Group of Cowboys at a Roundup
Throughout the year, cattle are left to graze on the open plains. Each spring and fall, cowboys from neighboring ranches get together to round up the cattle and separate them according to owners and mark their own. This photograph, taken in 1880, depicts a typical scene of cowboys at a roundup.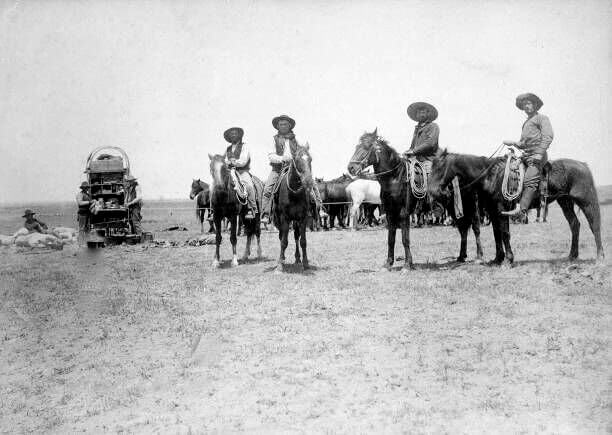 Located at the 3-C ranch, four cowboys watch over a group of nearby ponies. Another two cowboys work the chuck wagon in the background, while another relaxes on a collection of bed rolls. Once the new calves have been branded and cattle have been selected for the market, then the beasts will be left to roam free again.

It's Every Woman for Herself
It wasn't easy to survive in the Wild West. A combination of disease, environmental hazards, accidents, and bandits made the American Wild West a tough place to live, and it was every man — and woman — for themselves.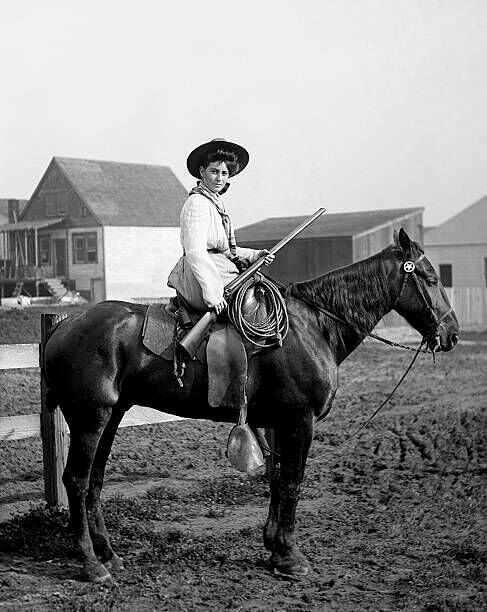 This photograph, taken circa 1905, shows a typical woman in the Wild West, straddling a horse while armed with a double-barrel shotgun. With piercing eyes, a cowgirl getup, and a serious demeanor, we have no doubt that she knows how to fire her weapon too!
Jesse James, the Legendary Outlaw of the Wild West
The lack of law during the Wild West allowed criminals to run free and hurricane through communities — pillaging people and places as they went along. Of all outlaws, Jesse James is one of the most infamous, earning a terrifying reputation in the process.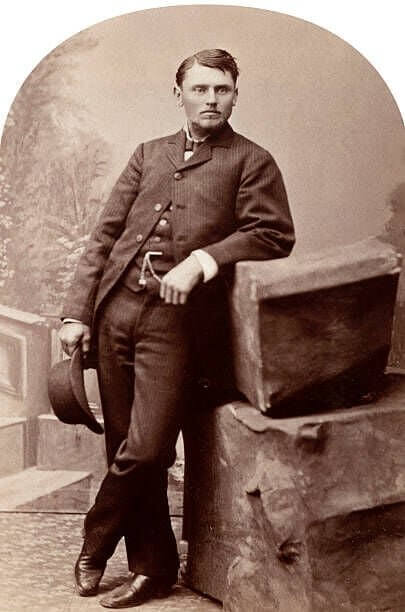 This photograph, taken circa 1875, shows a clean-shaven, presentable gent. But looks can be deceiving and behind the lens, Jesse James was a gang leader, bank robber, train robber, and murderer who ravaged the state of Missouri.
A Show That Attempts to Depict Reality
Wild West shows were traveling vaudeville performances that served as the main form of entertainment from 1870 to 1920. Pictured here is American showman William Frederick Cody, notoriously known as Buffalo Bill, who was a leading showman during the Wild West era.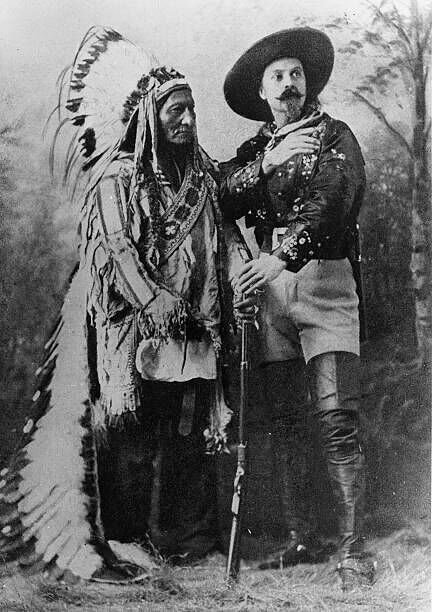 Alongside the American entertainer is the Sioux leader Sitting Bull, who was one of the main attractions in the show. With the show's intention being to reveal life in the American West, we can only imagine how Sitting Bull's scripted performance differed from his daily experiences…
The Mother of Outlaws
Most people have heard of Jesse James, notorious American outlaw, bank and train robber, and leader of the James-Younger gang. Lesser known but equally as dangerous was his brother, Frank James. The pair wreaked havoc and ignited terror during the Wild West era, and the woman in this photograph gave both of these men life…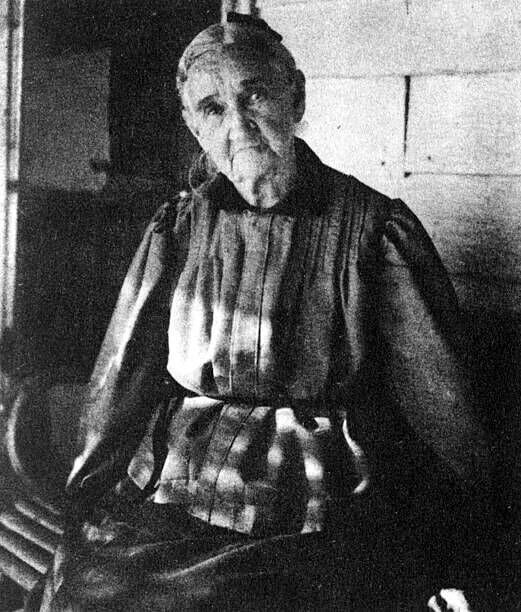 Zerelda Samuel was the mother to both outlaws, raising her eight children in the farmlands of Missouri. In her prime, Zerelda appeared as a strong, privileged woman but as this picture shows, the stress of having outlaws as sons will undoubtedly start to show. 

Two Outcasts Unite for a Photograph
Stories from the Wild West are filled with harmful stereotypes and scripted narratives, but not everything is as it seems. While most cowboys appear as white men, historical records suggest that there were a lot more cowboys of color than you may think!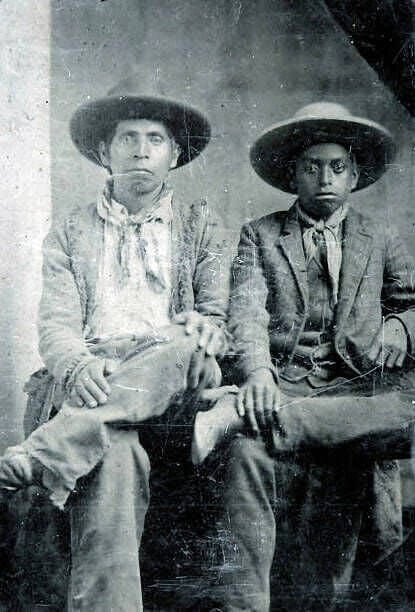 Take this photograph from circa 1865 as an example. A Native American cowboy sits alongside an African American cowboy. If you find the image startling, it's probably because Native Americans have been typecast as violent, primitive individuals. While images of Native American cowboys are rare, this photograph proves that history is more complicated than we suspect.
Wild West Law Enforcement
As the outlaws and bandits ran amok, law enforcement had the difficult job of cleaning up the mess. Photographed here is a U.S. Marshall with a badge of Newton, Kansas. The strapping gent is a clear depiction of what law enforcement looked like circa the 1890s — armed and ready for business.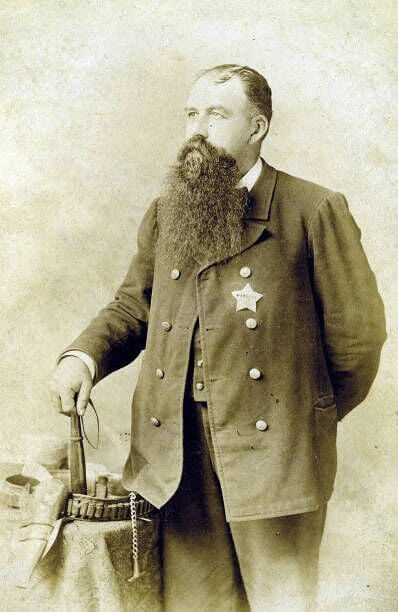 The Wild West sheriff's badge is an iconic part of the costume, and the rest of the getup in this studio shot is equally classic — from the gun belt and holstered revolver to the smug look of authority.
An Iconic Setting in the Wild West Era
The California Gold Rush was a milestone in the history of the Wild West, contributing to the industrial and agricultural development of the area, and spurring economic growth. This photograph of the Gold Hill mining camp in California is one of many camps in the region.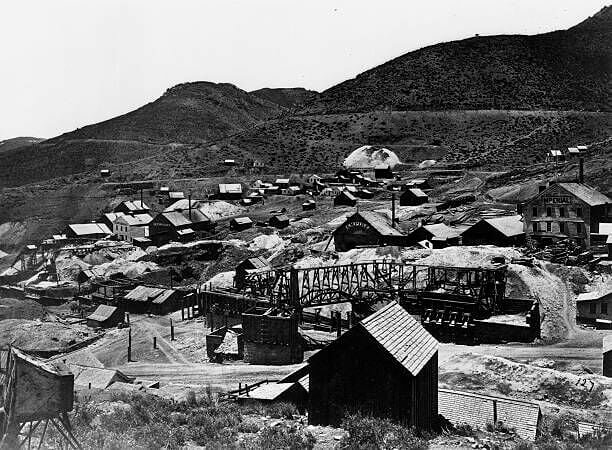 Not only does the photograph reveal the mining infrastructure used during the Wild West era, but also the architecture and natural landscape that surrounded the hub of the action. We can almost see the community going about their daily lives in our minds!
A Different Side to Annie Oakley
Without the medals hanging around her neck and her long cascading hair, we'd almost think that this photograph could be of our local high school teacher. In the previous picture, we saw a tough and intimidating version of Annie Oakley. In this photograph, snapped in 1922, she appears a lot more approachable and gentle — even when armed with a gun!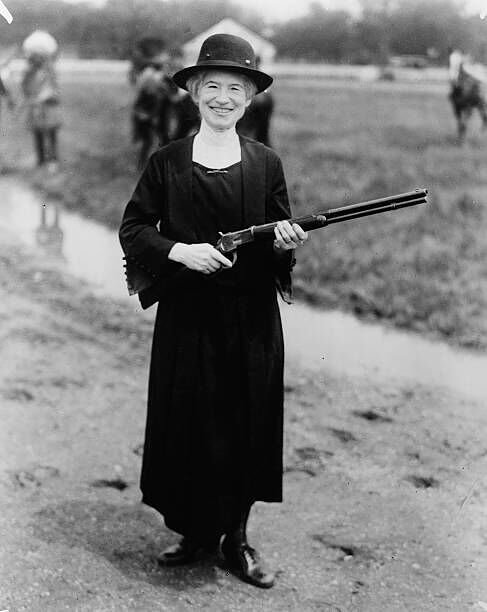 Born Phoebe Mozee, the rodeo star and sharpshooter found immense fame and success under the name Annie Oakley. To this day, her legend continues and her name is used to describe various colloquial terms — such as a free ticket in American baseball.
Buffalo Bill Holds Himself With Poise
Many of the Wild West legends found fame while touring with the man in this picture — Colonel W.F. Cody. Better known by his stage name, Buffalo Bill, the showman hosted cowboy shows around the American Wild West, but that's not all that he did.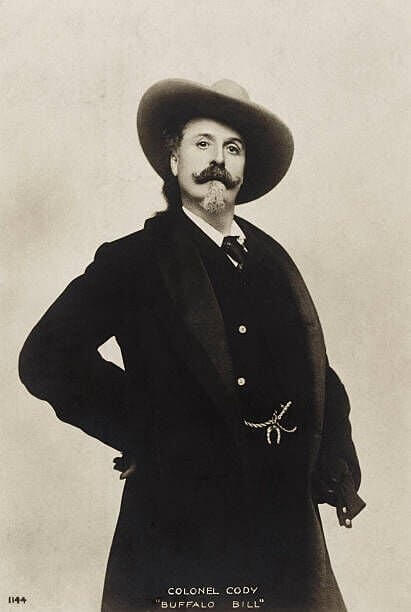 Buffalo Bill was also a renowned bison hunter and soldier. Between 1867 and 1868, he hunted buffalo to feed construction crews on the railroad, allegedly killing 4,280 head of buffalo. Well, that explains where his nickname comes from!

A Typical Sighting of a Cowpoke on the Ranch
There are a few powerful images that represent the Wild West lifestyle. From wide open plains and swinging saloon doors to bandits in their bandanas and cowboys on horseback — each visual is as powerful as the next. Setting the perfect example is this photograph of a cowpoke on the ranch circa the 1890s.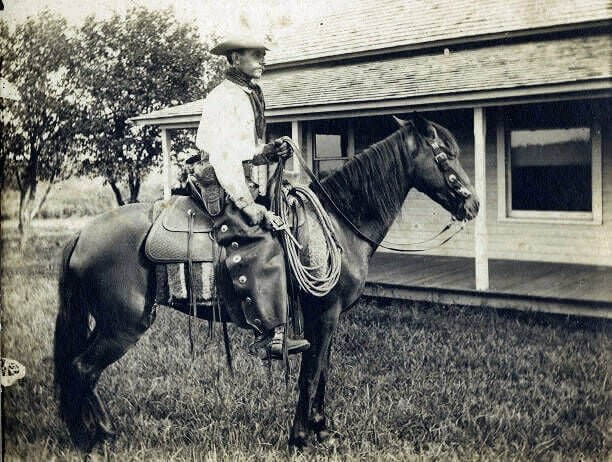 The young cowboy has posed in front of a ranch porch, appearing ready for action. His heavy leather claps prepare him for long hours of riding and his side pistol is ready to pull out on a whim. At the time, cowboys like him were a common (and delightful) presence.

The Colder Side of the Wild West
How would you set the scene of a Wild West film? Perhaps there will be dust, intense heat, and sweaty men? You probably wouldn't imagine a pile of slow delaying the construction of a railway line — but it happened!
As this photograph from 1866 shows, snowstorms added an additional challenge to an already-harsh environment. During the construction of the Pacific railway, this railway line snow plow was called in to rescue the mission. Judging by the size of the plow — that's some heavy-duty machinery!
The Woolier, the Better
With a cold stare and careful pose, we can only imagine that this handsome cowboy broke a few hearts during his time. Not only do his gold, tousled locks and smoldering gaze capture your attention, but his cowboy outfit proves that he means business.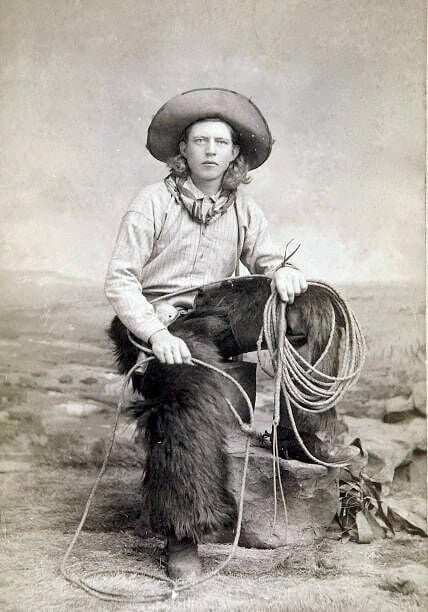 While the lariat in hand, kerchief around his neck, great cowboy hat, and holstered revolver are all equally impressive, it's the black wooly chaps that demand attention. We have no doubt that this cowboy's legs will be very well protected from brush scrapings, injuries, and other environmental hazards.
A Funeral Procession Honors a Sheriff
Streets in the Wild West were dusty and hot, and the ground seeped with bloodshed and tears that had been flattened by hooves. But the streets were also a place for community and triumph. This photograph from 1906 reveals one of the more endearing moments in Tonopah, Nevada.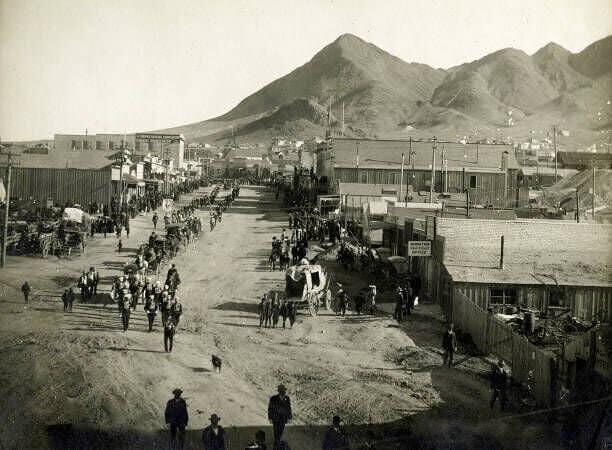 The photograph captures the funeral procession for Sheriff Thomas Logan who was shot and killed while coming to the aid of a saloon matron. The woman was being harassed by a drunk gambler and the brave officer came to her rescue, subduing the suspect until a deputy arrived. Unfortunately, he paid the ultimate price.
A Highly Valuable Wagon of Gold Ore
The Gold Rush had both positive and negative effects on the Wild West, aiding westward expansion. Tragically, there was a lot of collateral damage in the process, and people were driven by the lust for gold, no matter the cost. With this desperation and greed in mind, you can only imagine how the bystanders in this photograph felt seeing a wagon of gold ore cross their paths.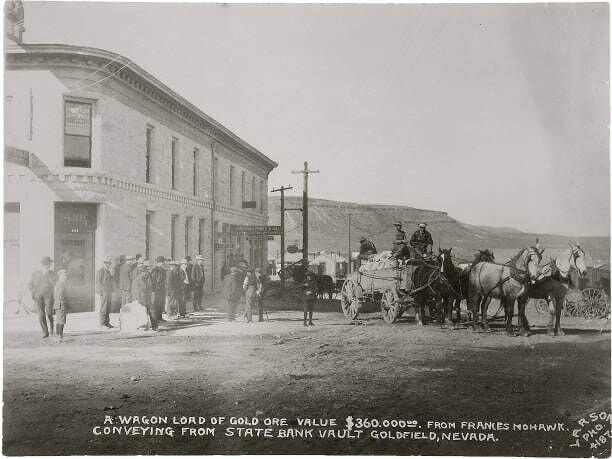 The photograph was taken in Goldfield, Nevada, and features a group of armed guards riding a wagon with a load valued at $360,000. Considering how many bandits roamed during the Wild West era, we can only hope that these guards were highly vigilant!
A Bandit Queen on Her Trusty Steed
It wasn't only men who wore bandanas and terrorized communities. Belle Starr was a female outlaw who earned a terrifying reputation. In 1886, a photographer got close enough to take this photograph of the bandit queen sitting side saddle on her horse — and she's gloriously mysterious.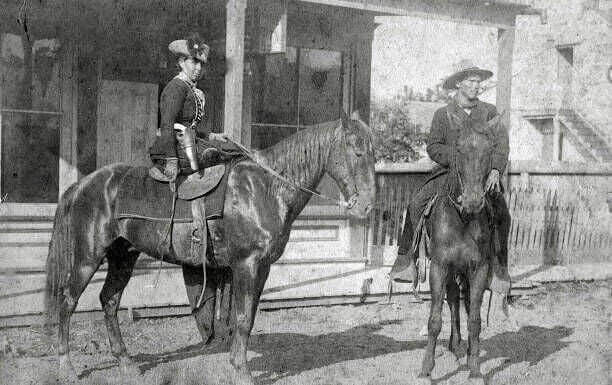 Belle Starr's success as a bandit is apparent in this photograph, as she flaunts a single loop holster with a pearl-handled revolver in it. With a riding crop in her left hand and leather gloves, it's easy to understand how she earned her status.

The Rapid Expansion of Nevada Street
If you're wondering what everyday life looked like during the Wild West, then this photograph of Main Street in Manhattan, Nevada, should offer a basic understanding. Snapped in the early 1900s, this photograph shows how the town appeared before it rapidly expanded to accommodate an influx of settlers. 
Manhattan was founded in 1867 with the nearby discovery of silver, serving as a community base for miners and their families. In 1905, gold was discovered and over 4,000 people flocked to the area, hoping to strike it rich.
Pictures From Inside Studio 54 That Captured Iconic and Historic Moments
If you follow celebrity history or stay up to date on all of the hotspots within the world of the rich and famous, you'll recognize the brazen logo printed on this frosted glass door. Launched at the height of the disco dancing era, Studio 54 has become famous around the world for a variety of controversial reasons.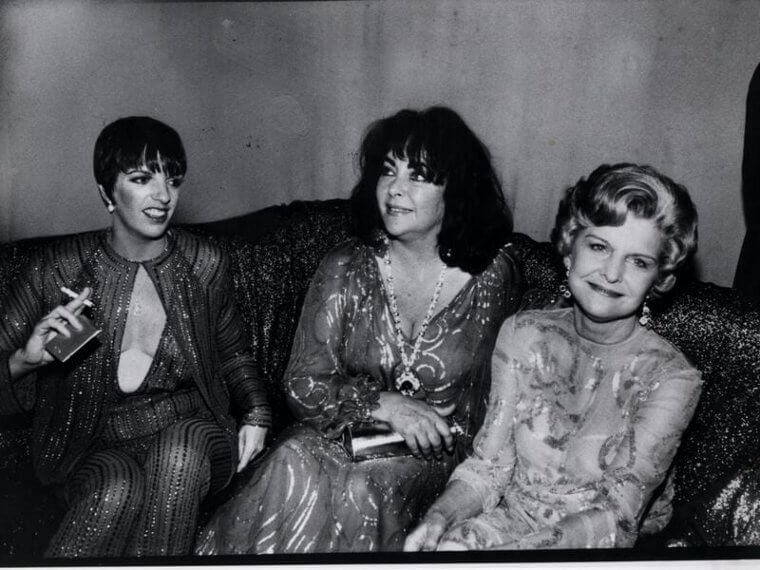 Located on 54th Street in Midtown Manhattan in New York City, the Broadway theatre was a disco nightclub that opened its doors in 1927. Before long, it became a playground for celebrity guests and was notorious for restrictive entry policies, often based on the guests' appearance and style. Inside, the club was even seedier, on the balcony and inside the basement VIP rooms. 
Care for a glimpse inside? Stay with us as we share some pictures from within.

Three's a Crowd
Today, Elton John is filled out and suited up, while Rod Stewart has transformed into a silver fox. But overall, the appearances of both men look very similar to their younger years, and you can recognize them in a flash!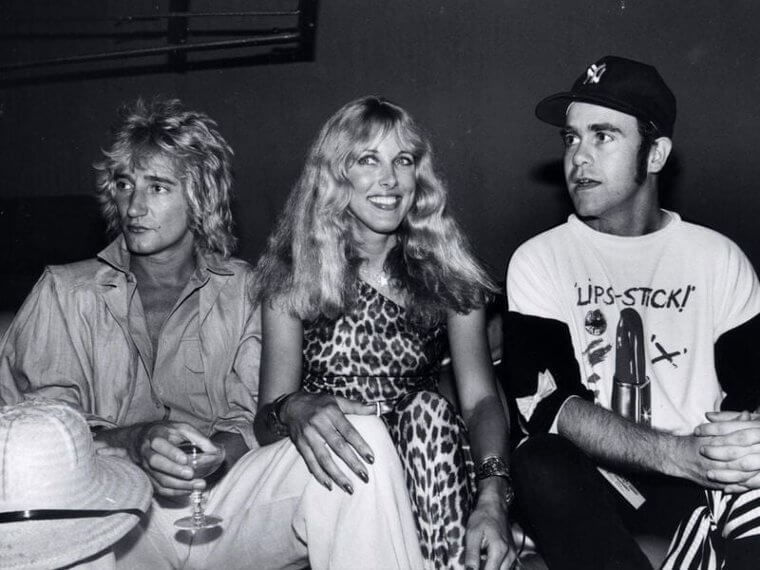 Rod Stewart sits with his then-wife, Alana Stewart, and a much younger version of Elton John. Looking trendy as ever, the raspy singer seems slightly aloof, while his wife seems preoccupied with a very cool Elton John. It's quite alarming to see such iconic singers in their younger years - and at Studio 54, no less.

The Village People Make Their Presence Known
Led by Victor Wilis, the Village People found fame as an American disco group loved and known for their outrageous on-stage costumes (and provocative lyrics). Yet as this picture shows, their costumes were not only reserved for performances but also for parties.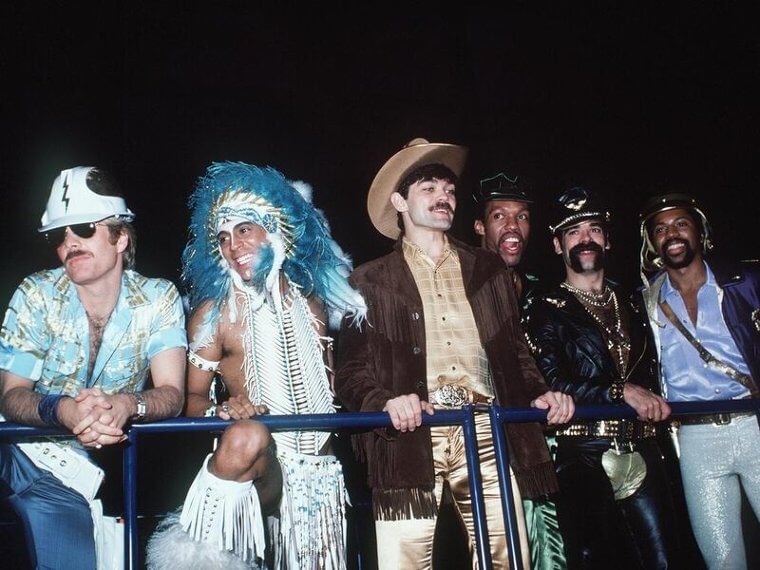 The group looks ready for some fun, leaning against the railing and deciding where to go first. Should they hit the bar? Is that a beautiful woman on the dance floor? Or is it time for a cigarette break? If we had to put our money on it, we'd suggest that they started a flash mob for their song "YMCA"!
Couples That Dance Together, Stay Together
Sir Michael Caine CBE is arguably one of the best actors to emerge from the United Kingdom. As of 2022, he's enjoyed more than 89 years of life, and he's lived them to the fullest - including spending time at Studio 54 with his wife, Shakira Caine.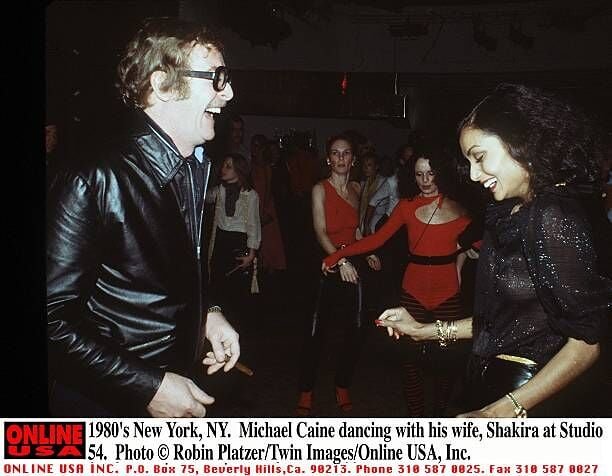 The couple, who are still married today, were getting their boogie on when Robin Platzer captured this fun-loving moment of the pair. Their joy seems palpable, and we can only imagine that their playful nature has contributed to their successful marriage of more than five decades!
Bianca Jagger Adds a Horse to Her Guest List
What's the most outrageous thing you've done to celebrate your birthday? While it's not unusual to stretch the rules on your special day, it is a bit outlandish to arrive at a hip and happening party venue on a white horse. Yet that's exactly what Bianca Jagger did when celebrating her birthday at Studio 54.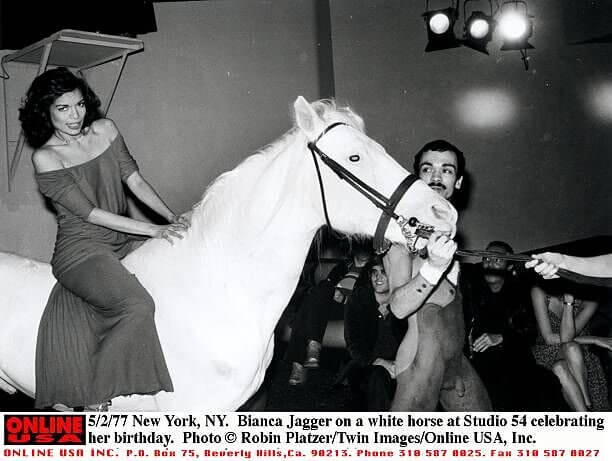 Luckily, photographer Robin Platzer was there to capture the moment. Otherwise, we may not believe that it happened at all. Regardless, Bianca looks elegant and graceful while perched on top of the beautiful, white beast.
Lize Minnelli Keeps Versatile Company
In one moment, Lize Minnelli is sitting pretty with the former First Lady Betty Ford, and in the next, she's hanging easy with Michael Jackson (pre-surgery). In this particular picture, which was also snapped by resident photographer Robin Platzer, the group was warming up to celebrate the New Year at the end of 1977.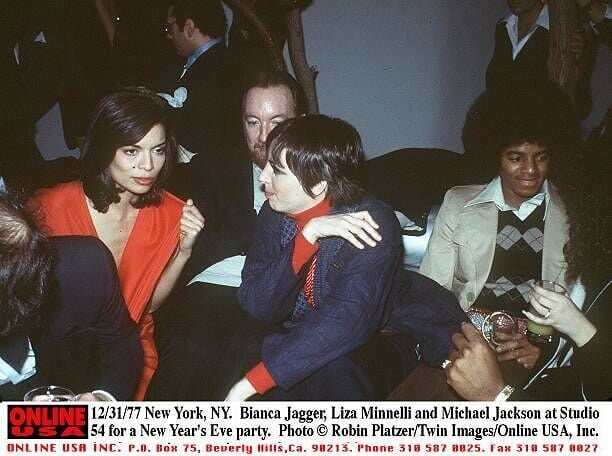 The scene looks relaxed and comfortable, with guests dressed warm and smart. We can only imagine the number of fascinating conversations that they had on that chilly evening, without a clue about what was to come in the following year…
Diana Ross Proves That She's the Dancing Queen
Diana Ross is one of the most iconic entertainers from the 1970s, and judging by this picture, she was in her element while dancing at Studio 54. The smile on her face is contagious, and we can feel the music through her posture.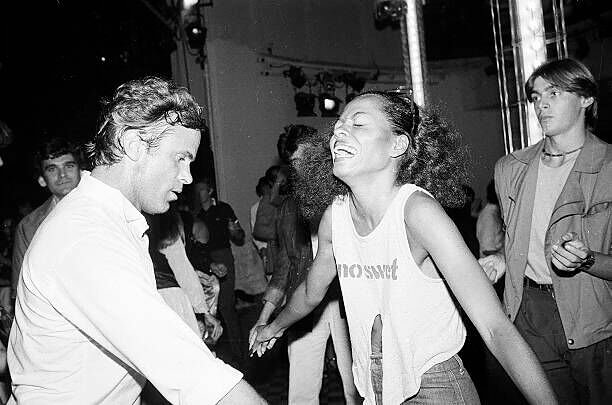 What song is the legendary diva dancing to, if you had to guess? Our money is on a loud, sing-along track that has the opportunity to play a little bit of air guitar - at least that's what the guy in the background is implying!
Better to Keep Identity Under Wraps
While many celebrities were bold and brazen about attending Studio 54, others were more concerned about the media's rumors. At least, what we're imagining is happening with this guest who has arrived wearing a mirror mask.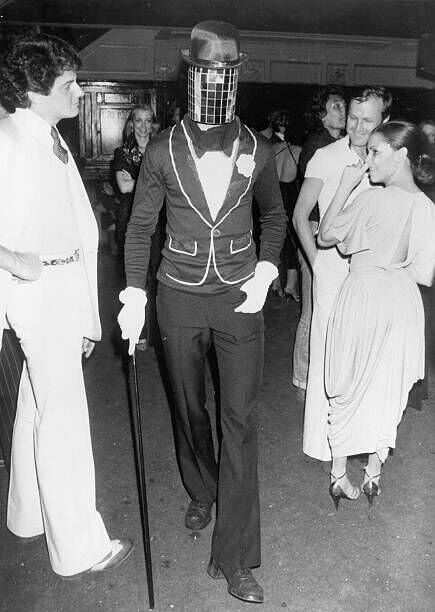 The mystery visitor arrived at the notorious venue in February 1979 with his identity carefully hidden behind an extravagant mask. Other guests were equally intrigued by the gent's strange getup, but every time they stared at the mask, they would see their own reflection staring back!
An Award-Winning Song Brings Interesting People Together
In 1979, They're Playing Our Song hit the airwaves and became a major hit. Studio 54 hosted a party to celebrate the opening night for the track, and it attracted quite an interesting crowd. If this photograph tells us anything, it's that the club scene blurs the boundaries between social groups and leads to everyone becoming friends.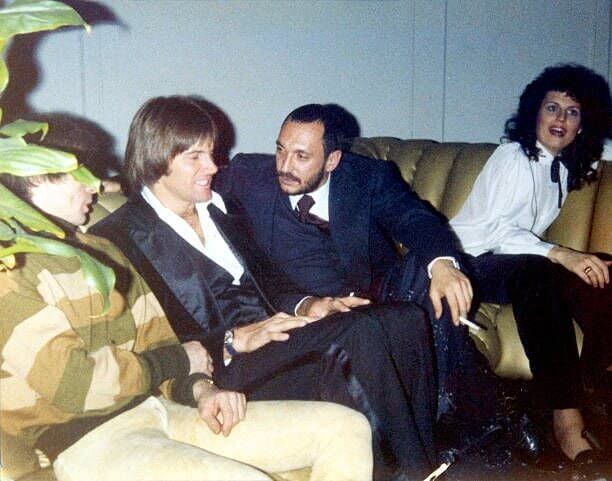 For example, famous ballet dancer Rudolf Nureyev sits alongside fellow dancer Michael Bennett and retired Olympian Bruce Jenner. Added to the interesting mix is Her's Lucy actress Lucie Arnaz. We'd pay big bucks to be a fly on the wall of that conversation!
Robert Kennedy Junior Isn't Camera Shy
You never knew who you would bump into when sauntering into Studio 54 during the 1970s. Depending on the night or the event, you could even cross paths with one of the preppy socialite Kennedy boys.
Robert Kennedy Jr. was enjoying a night out with his fiancee, model Jules Dreyfus, when the camera came by their way. Instead of shying away or asking for their privacy, the pair looked directly at the lens, allowing the photographer to capture a timeless moment. We have to admit, the pair do look gorgeous together!
A Candid Moment Captures High-Profile Guests
It wasn't always just partying inside the walls of Studio 54. Sometimes, there was a choir of people dressed in floor-length white robes. Judging by the dazzling outfits worn by these guests, the event was a class act - and we wouldn't expect anything less from these individuals.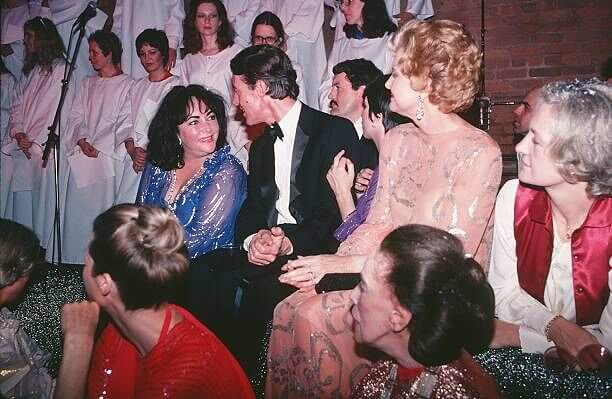 Sonia Moskowitz freezes a classic moment with Elizabeth Taylor, Halston, Betty Ford, and Martha Graham at Studio 54 in 1979. The only detail missing from this crisp and expressive picture is a hint at the conversation!

Bianca Jagger Arrives Dressed to Impress
There's no denying that Bianca Jagger can turn heads. But put her in a gorgeous evening gown and touch her up with makeup, and she can cause people to trip over their own feet. We can only imagine how the atmosphere shifted when she arrived at Studio 54 with Calvin Klein on this particular evening.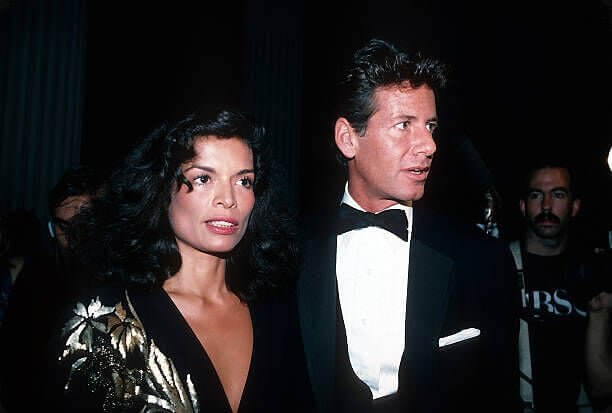 In January 1980, the pair rocked up with looks to kill. While Bianca appeared ravishing in her attire, special mention must be made of Calvin Klein looking dapper in a bow tie and tuxedo!
Betty Friedan's Animated 65th Birthday
When feminist author and social activist, Betty Friedan, approached her 65th birthday milestone, she decided to celebrate like there was no tomorrow - and Studio 54 was happy to oblige. Included on the guest list was American author Kurt Vonnegut.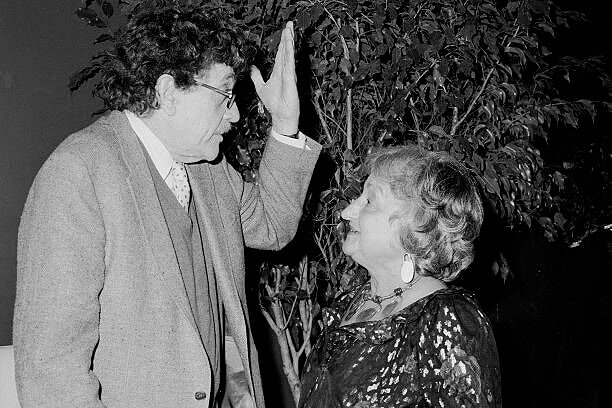 Photographer Susan Wood was working the floor that night and captured this expressive moment between the two friends, with Kurt raising his hand while chatting with the birthday lady. We'd love to know the words behind this spirited conversation, but a black and white picture will have to do.
Steve Rubell Fratenizes With Guests
Can you imagine owning a club as prestigious as Studio 54? Well, Steve Rubell didn't have to imagine because he really was the owner, and he took full advantage of the opportunity to socialize with high-rollers in between other owner responsibilities.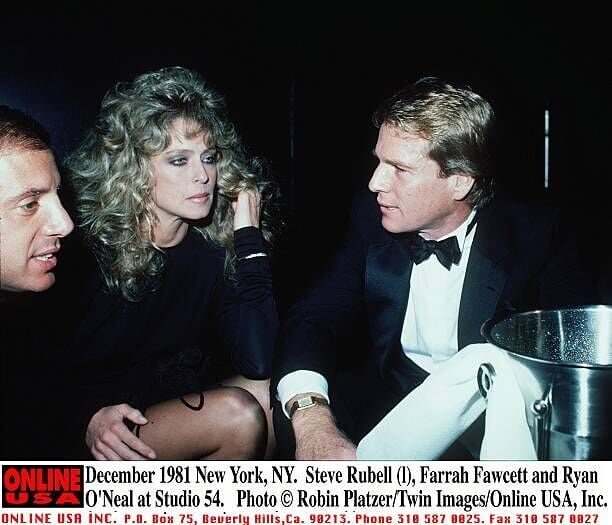 On this particular night, Robin Platzer captured Steve Rubell as he spent time with famous actress Farrah Fawcett and Ryan O'Neal. Judging by Farrah's facial expression, it seems as though she's ready to move on to the next conversation. At least Ryan O'Neal seems engaged!
Studio 54 Doesn't Appear to Have an Age Limit
While Studio 54 was often the site of unsavory behavior, there were still instances when young guests would walk through the doors. Just look at this picture of Brooke Shields, who started her modeling career when she was only a child!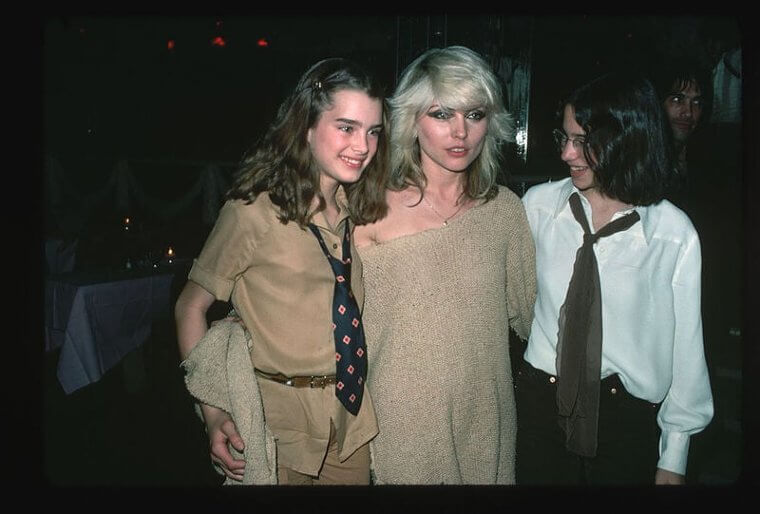 Also in the picture, captured by Lynn Goldsmith, is Debbie Harry, the singer from Blondie, and another young friend. We can't be certain whether the ties around the youngsters' necks make them look older or as though they are ready for school - but obviously, no one asked them for their ID when they arrived!