Life can demand a lot from women and you always feel like you need to buy the next product that will make your life easier but you don't want to waste unnecessary time and money. Be sure to read these helpful hacks that can assist you in organizing your life and don't stress – most of them use household items that you are bound to have already!
Whiten Your Smile With Banana Peels
Most, if not all of us, long for beautifully white teeth to form part of our smiles and first impressions when meeting people. While the market is flooded with all kinds of teeth-whitening products, you will be happy to learn that you can whiten your teeth at home for a fraction of the price with a daily food item: a banana.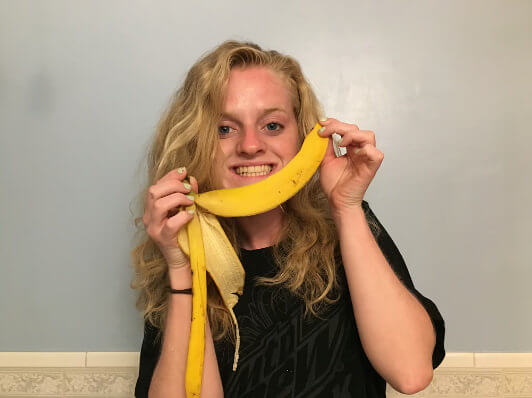 Banana peels can transform your teeth. By rubbing your teeth with a banana peel for 60 seconds three times a week, you can noticeably whiten them without much fuss. While banana peels whiten your teeth, it doesn't replace your cleaning regimen, so please continue brushing your teeth with toothpaste as usual too.
Thicken Your Eyelashes With Vaseline
Not all women are blessed equally when it comes to eyelashes. While some have naturally long and thick lashes, others find themselves spending fortunes on fake lashes or other ways to make them stand out. Here is a secret to thickening your eyelashes with a simple household product.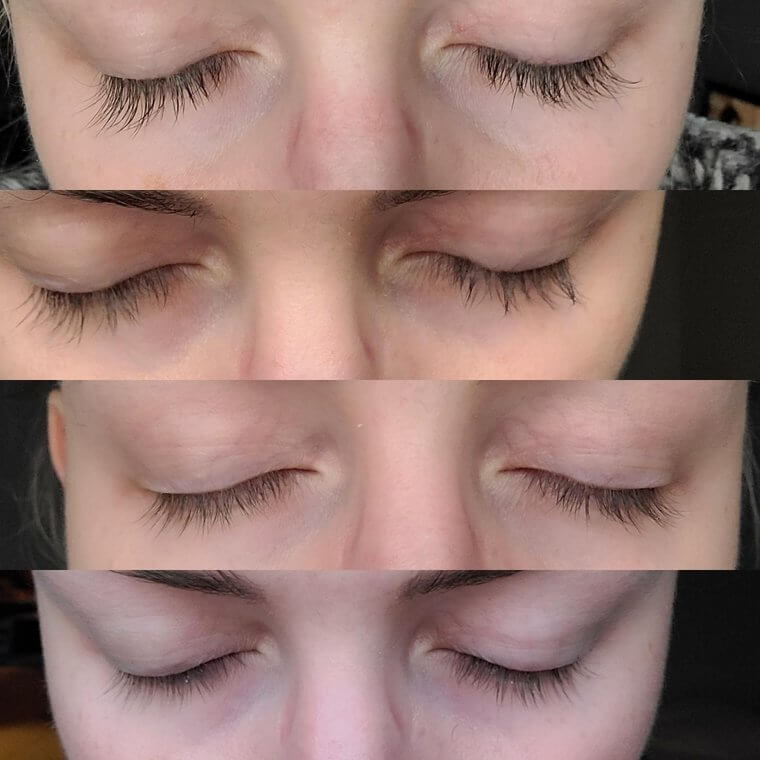 If you don't have Vaseline in your home, it might be a good idea to always have some on hand. In this case, apply the jelly to your eyelashes before bed at night. You can expect to see results in a few weeks and pass on all those mascaras and fake lashes which look unnatural and are so costly.
Exercise at the Most Beneficial Time
Keeping fit has endless benefits for anybody. And while some people get enough physical activity from their daily lives, most of us need to make time for working out during our busy days. Since days have many hours, it might be worth knowing when the most beneficial time is to get your exercise in.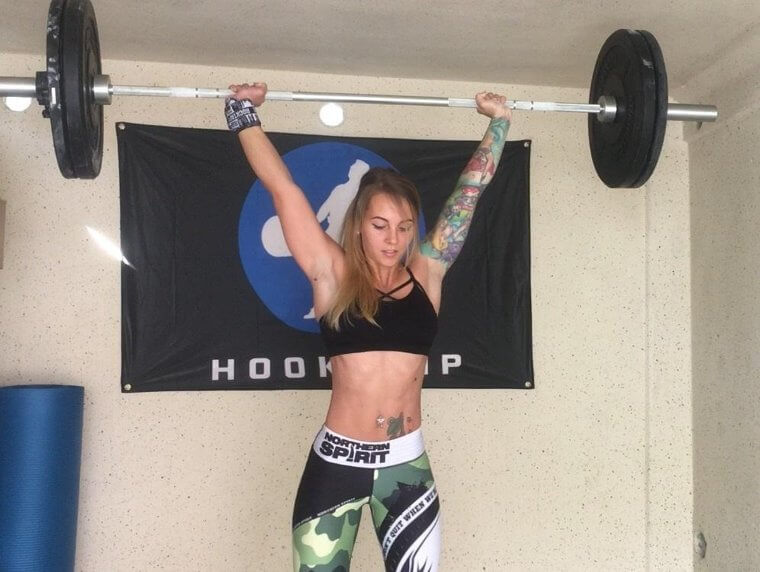 According to research, you are most alert and least likely to cause any injuries while working out between 5 p.m. and 6 p.m. Another benefit of this time slot is that when you exercise during this hour, you apparently have the best agility and hand-to-eye coordination.
Wear Costume Jewelry Without Consequences
It's fun and affordable to accessorize your outfits with costume jewelry, but there can be a slight drawback. While the jewelry looks great on the outside, it can often leave a green residue on your skin when you wear it for a long time.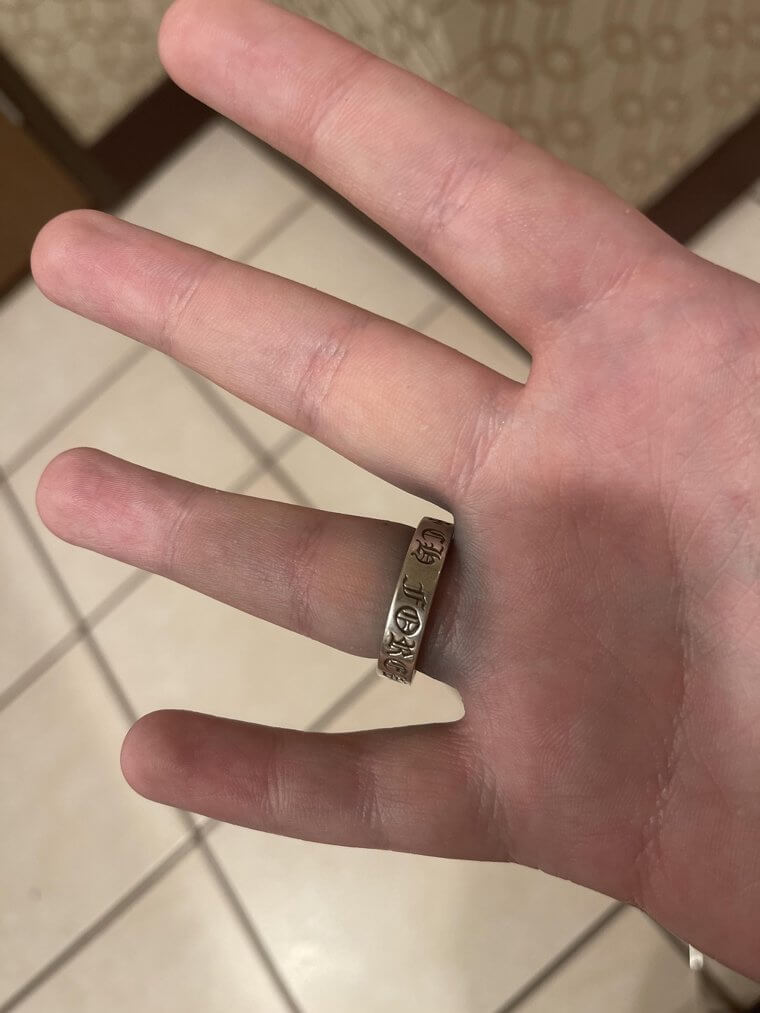 If you want to wear an assortment of adorable rings without having the green marks on your fingers afterward, simply apply a coat of clear nail paint on the inside of your rings. The paint will prevent the inexpensive metal from touching your skin directly, eliminating the green marks and also protecting your costume jewelry.
Wear Your Oversized Jeans With This Trick
Of all the different types of pants, jeans must be the most common as almost every person owns at least one pair. They are versatile and last many years, which means that they may fit you differently at some stages of your life. While there's not much one can do if your jeans are too tight, there is a handy hack to make your jeans fit when they are too large.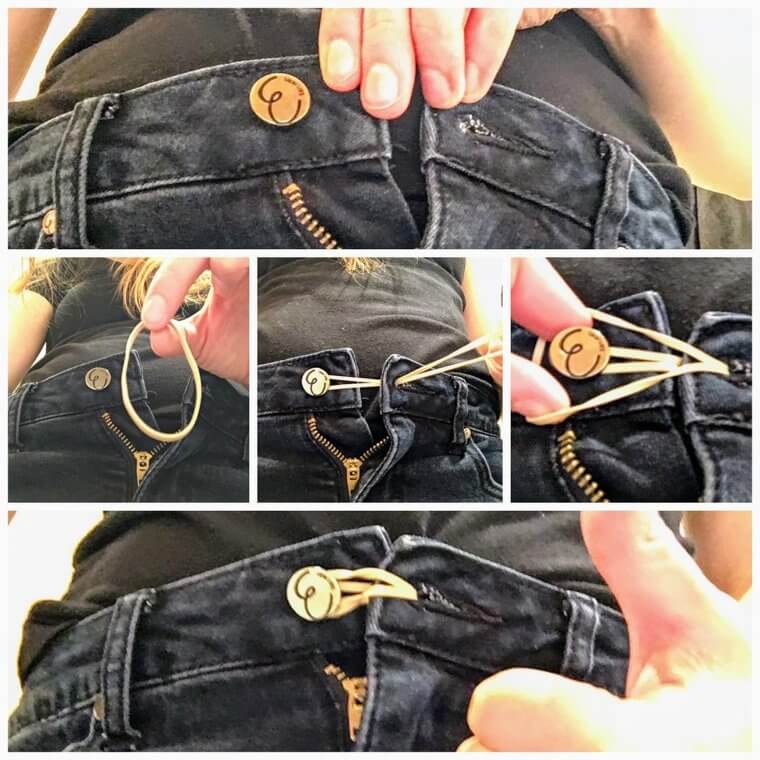 You can tie the top button of your jeans on one of your belt loops instead of using the original buttonhole. Or tie a band around your button to give yourself more space. You are sure to find one that fits your new waistline.
Use Hairspray to Protect Your Pantyhose
We would probably wear pantyhose more often if it wasn't for the risk of developing a run in them from just the slightest nick or scratch. The material is so delicate and prone to tearing which can lead to massive holes, but they are so good at making your legs look gorgeous! Luckily, there is a way to avoid those frustrating runs.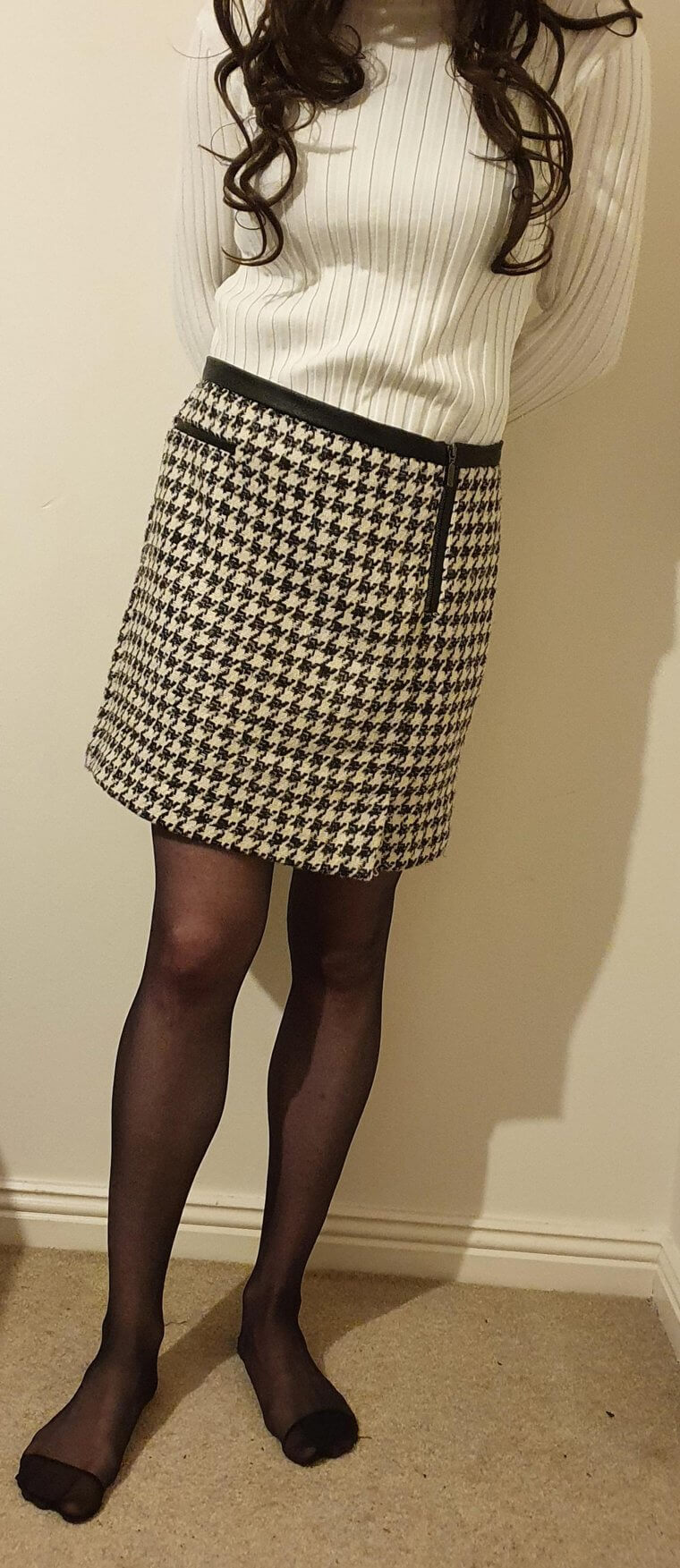 All you need is a cosmetic item that you are likely to have already, hairspray. Spray the hairspray on the areas of your pantyhose where they are most likely to tear and it will strengthen the material.
The Perfect Storage Container for Bobby Pins
While bobby pins are essential hair accessories for many women, their small size makes it difficult to find them when you need them most! Trying to find a loose bobby pin in your handbag can prove frustrating if not impossible, so use this hack to always find them easily.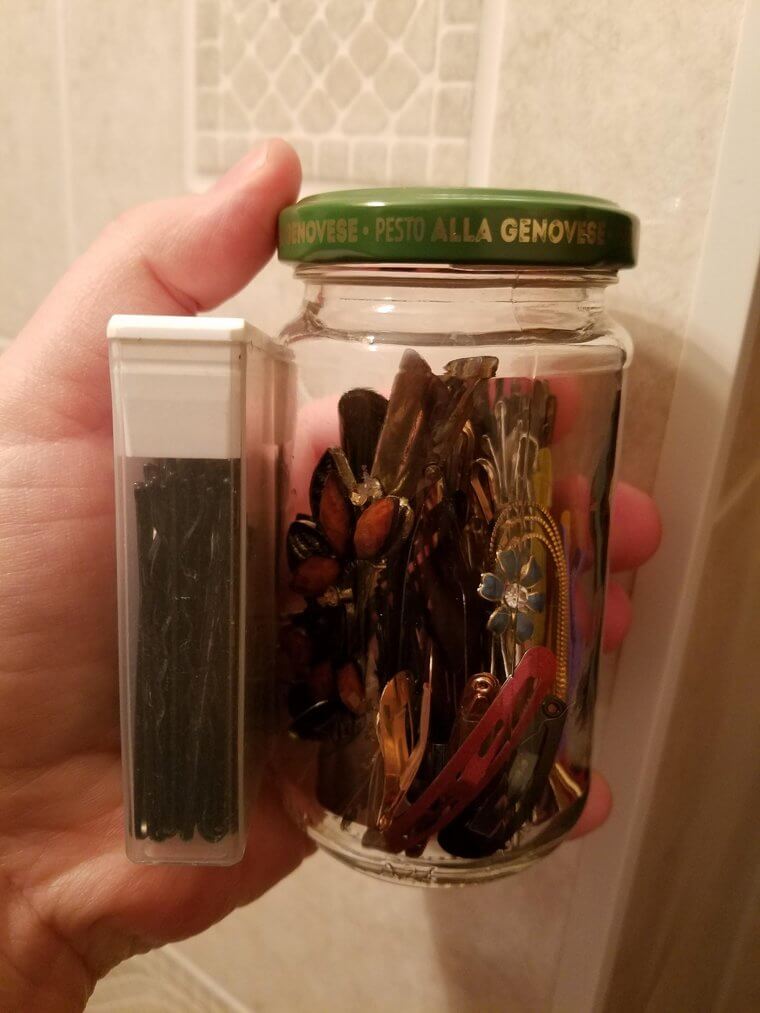 The small containers that Tic Tacs come in make the perfect storage containers for bobby pins and they even have an easy-access dispensing lid. The plastic containers are small and light, but large enough to locate in your bag.
A Rubber Band Produces the Perfect French Manicure
French manicures are the most impressive, but they are also the hardest to perform at home if you can't get an appointment at a salon. If you want to make an impression at a social event, there is a clever way to perform a seamless French manicure in the comfort of your home.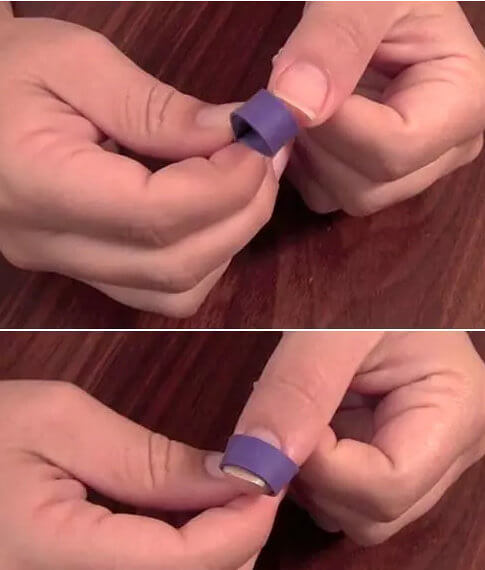 Besides your two tones of nail varnish, all you need is a rubber band. After your base paint is painted and dry, use the rubber band to create the nail tip border by wrapping it tightly around your finger. Next, paint your tips easily with the sturdy border and remove the band once the polish is dry.
There Is a Smart Way to Eliminate Bra Sweat
Nobody enjoys being sweaty and sweat marks on clothing can be incredibly embarrassing. Possibly the most humiliating is a wet sweat stain on your t-shirt below your breasts from wearing a bra in the heat…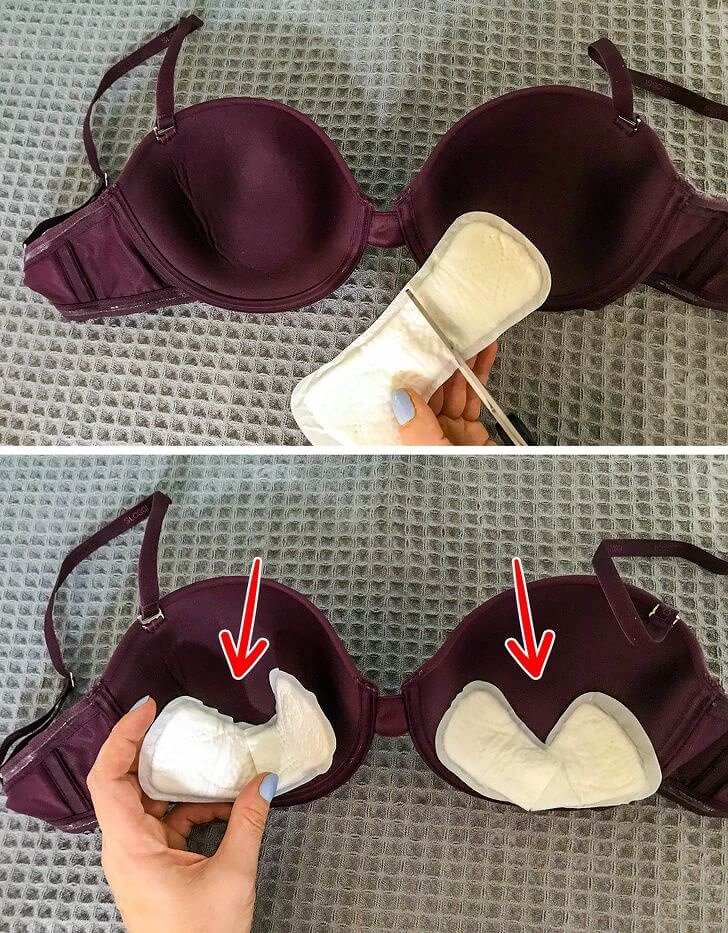 Fear no more, as there is a clever hack to avoid this phenomenon! panty liners can serve a different purpose by absorbing your sweat in this case. Simply stick them to the inside of your bra on a hot day and they will prevent your clothing from getting awkward sweat stains.
Dryer Sheets Can Prevent Frizzy Hair Days
Nobody is a fan of fizzy hair, especially when you need to get ready for work or an appointment and can't afford to waste time on trying to make your hair look good! Well, fear no more, because there is a quick and easy solution to fizzy hair: Dryer sheets.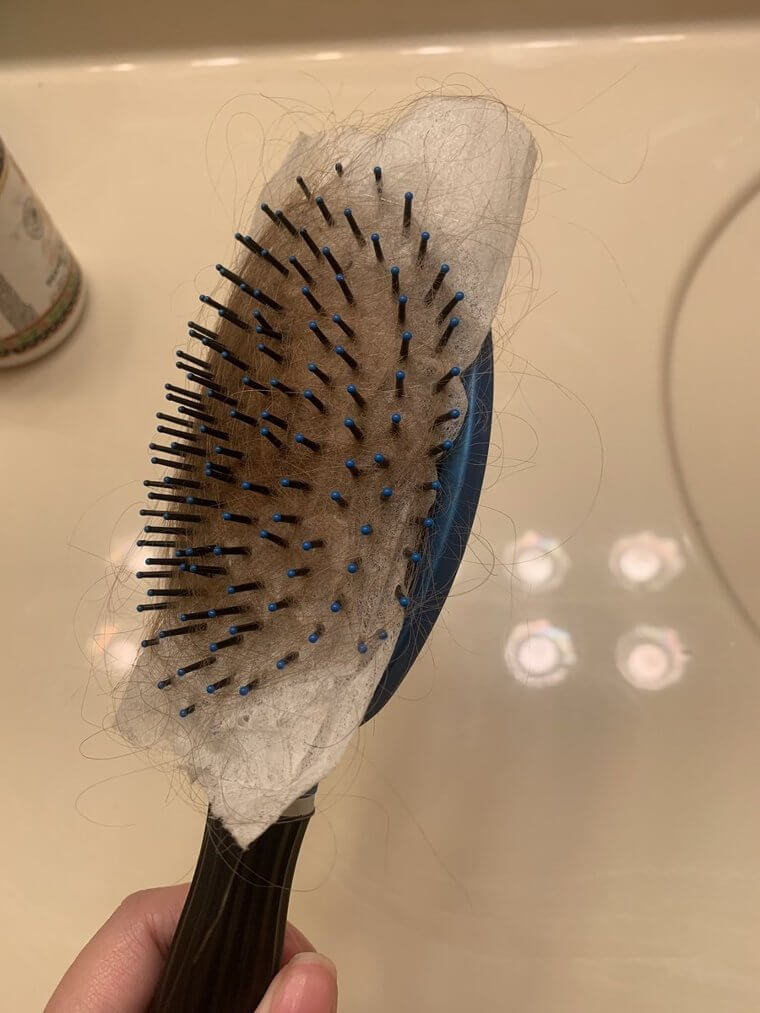 Simply take a new dryer sheet and put it over your brush before using it to brush your hair. Thanks to the properties of the dryer sheets, your hair will be static-free and cleaned from dirt and dust. Your hair grooming routine will be effective and fast thanks to this hack.
The Best Hiding Spot for Backup Cash
If you aren't familiar with this trick, it is never too late to learn. People often hide money in inconspicuous places so that they won't be left empty-handed in the event that they are mugged or robbed. That way, there is always a little backup money to help you get to safety.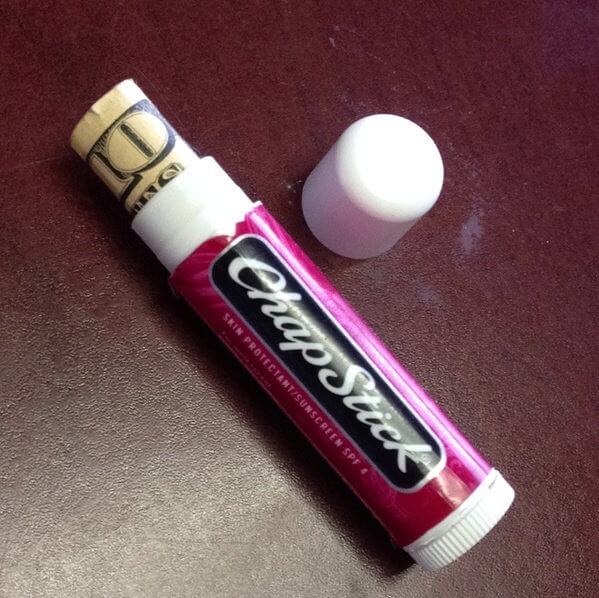 Thanks to the popularity and shape of Chapstick containers, they are very popular vessels for emergency cash stashes. They are small, but long and thin which accommodates a rolled-up note perfectly.

Avoid High Ponytails
Whilst high ponytails have long been a popular way to keep all the hair out of your face, studies have recently discovered that your hair can be damaged by the tightness of a high ponytail which in turn could lead to more of your hair falling out. If you always tie your ponytail in the same place, it could also lead to an increase in hair shedding.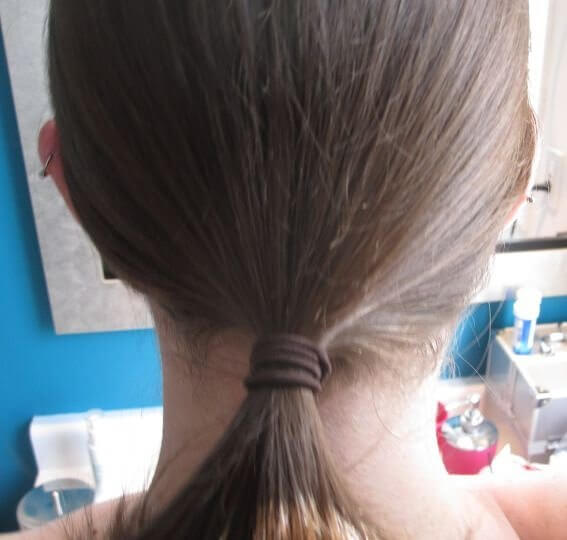 A healthy alternative to avoid shedding excess hair is to tie a low ponytail in various places each time you tie your hair. This will ensure that your scalp is not stressed which will lead to less hair loss. There are also many different ways and styles of tying low ponytails, so you can have fun doing it.
Make Your Own Shaving Cream
We usually think that we need to use foamy shaving cream to ensure a smooth shave, but that is not true. You can make your own shaving cream that won't leave your skin itchy after shaving as some shaving foams do. There is an easy and affordable way to make your own DIY shaving cream!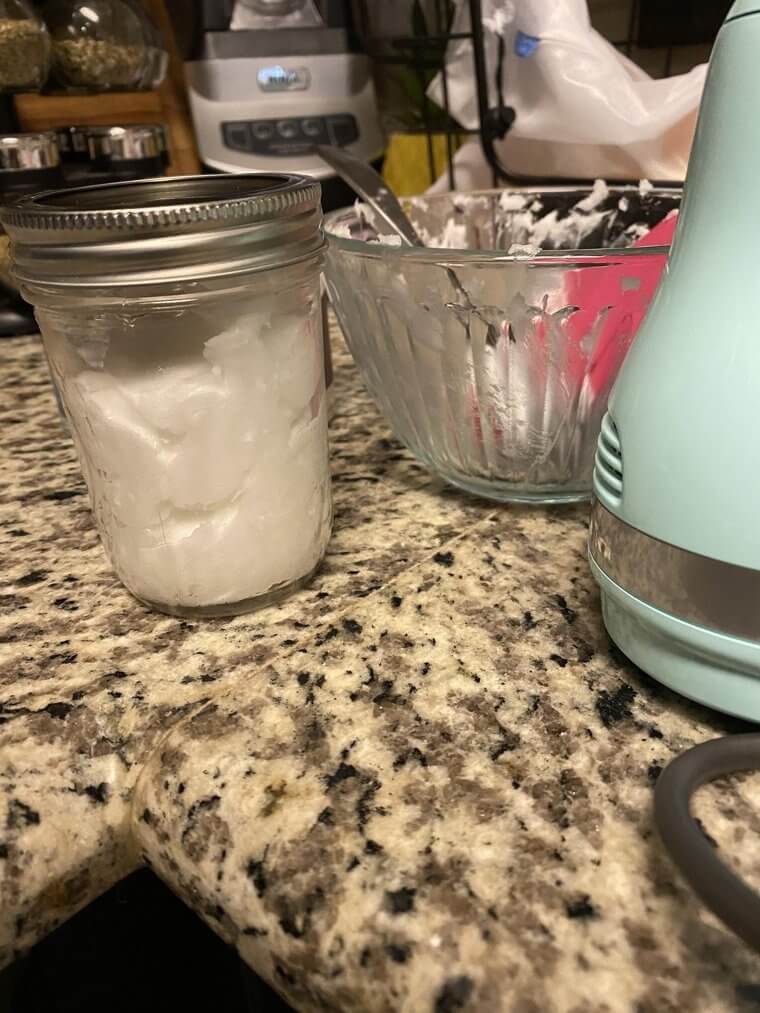 All you have to do is mix some baby oil and hair conditioner. When you apply it to your skin, it will soften your hair before you shave it. Your skin will also be soft and moisturized afterward and you can replace the baby oil with water if you don't have any on hand.
Keep Your Boots Ready for Walking Anytime
Boots have been in fashion for centuries and they are bound to be around for lifetimes still. So, whether you are a boot-lover or not, it might be useful to know how to care for them. If you were opposed to those tall, fashionable boots because they are hard to store, here is a handy way to keep a pair without hassles.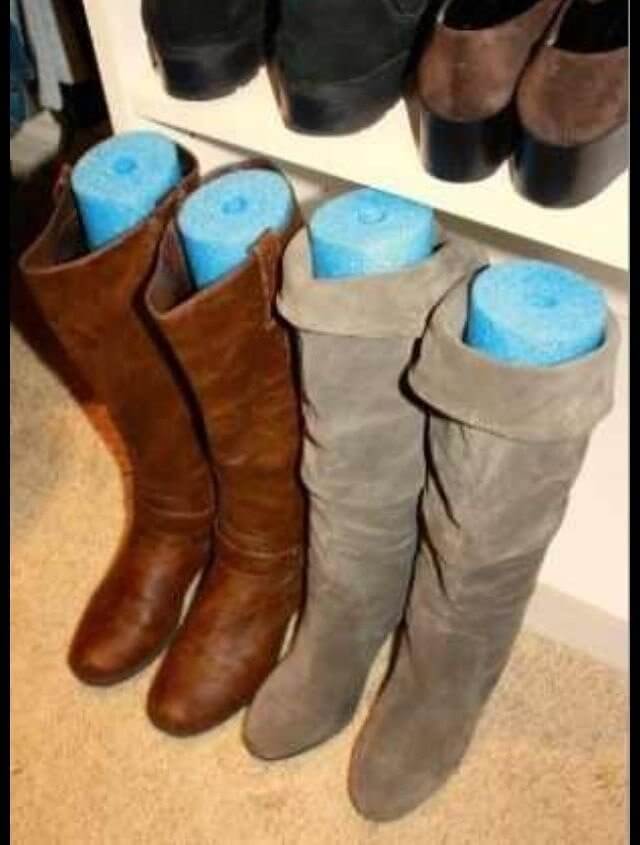 Pool noodles, which are affordable and easy to find, will keep your boots from folding and losing their shape. Simply insert them from the top and watch how your boots stay upright and ready for action whenever you might need them!
Transform Old Sweaters With a Razor
Sweaters are essential for the colder winter months and it's fun to collect an assortment of colorful and cozy sweaters over time. However, sweaters can quickly become faded and develop little balls of fluff which make their texture uneven and makes them end up in the bottom of the drawer.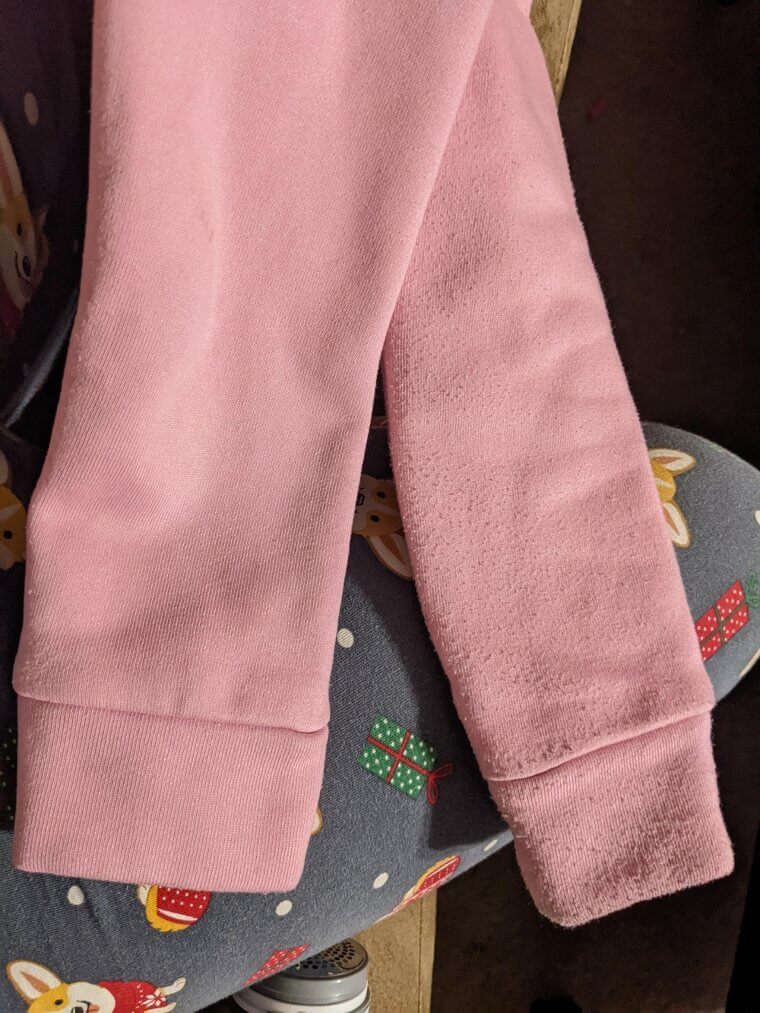 By simply investing in a sharp razor blade, you can restore your sweaters to their initial smooth texture. Just gently wipe the razor over the loose threads of your sweater and watch it transform back to its initial glory.
Avoid Over-Washing and Fading Your Denim
Jeans are a must-have item for everyday wear and it would be surprising if somebody didn't own a pair. One downfall of jeans is that denim can easily lose its fresh color and brightness from being washed often. However, jeans collect dust easily, so they naturally need to be washed on a regular basis.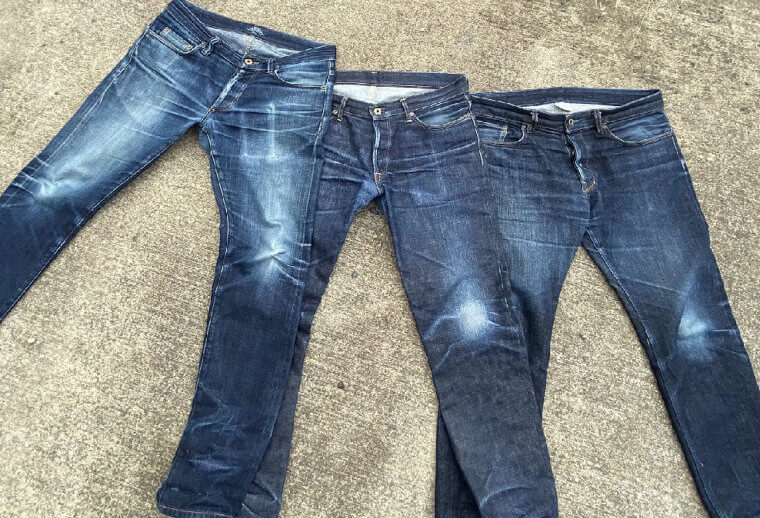 Luckily, there is a hack that can make your denim jeans look clean and fresh without washing them which leads to their color fading. If you keep your jeans in the freezer, it will eliminate any bad odors as the germs will not be able to survive, but your denim will maintain its color as you won't have to wash them as often.
Chill Your Wine With Grapes
When enjoying a nice glass of white wine and sometimes even red wine on a hot day, it is best when it is as chilled as possible. Sadly, adding ice cubes to your wine dilutes it and causes your tasty beverage to lose its flavor.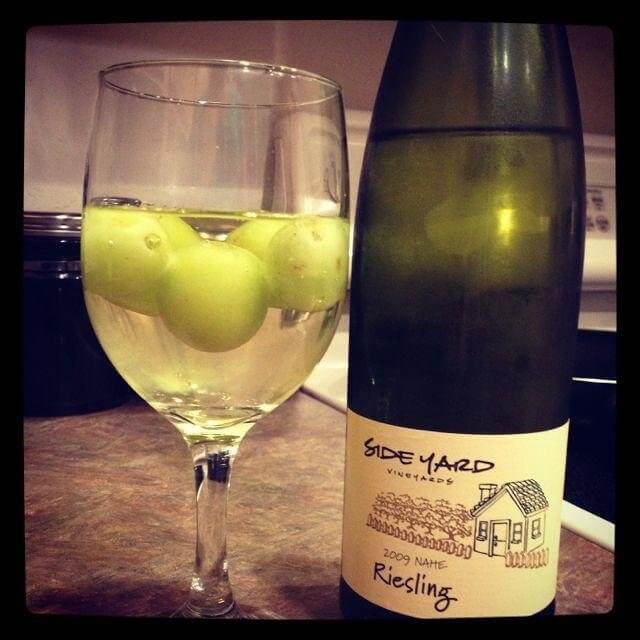 Luckily, there is an easy hack to having your wine chilled and still full of flavor. Simply keep some frozen grapes in your freezer and add them to your wine instead of ice. Your beverage will be perfectly cooled without being watered down.
Identify Your Keys Easily With This Hack
Most of us have large bunches of keys these days for everything from our car, house, work, etc. and it can get confusing when some of them look similar or even exactly the same. But fear not, there is a wonderful way to organize your keys easily!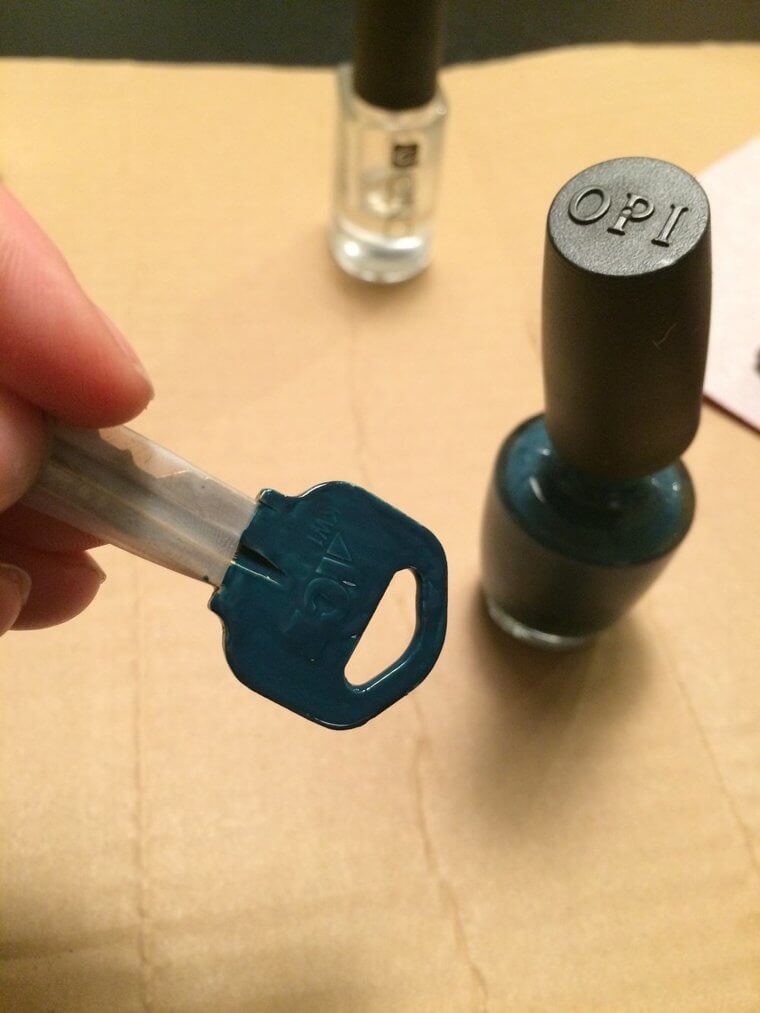 All you need is something as simple as a few different shades of nail polish. Use different colors to paint and identify your different keys and you will never have to fumble through the whole bunch in a rush ever again!
Use Your Hair Straightener to Iron Your Clothes
Hair straighteners have been a revolutionary tool in helping both men and women to style their hair as they wish. Their slick shape and light weight make them easy to travel with and it might come as a surprise that you can use these hot irons for something other than your hair…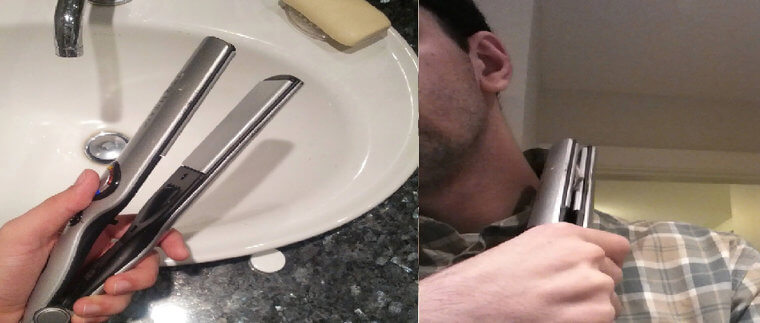 If you are having a bad apparel day, your straightener can come in handy to iron out those kinks! It can work even better than a regular iron as the slim shape allows you to iron out creases on your collar or between buttons with ease.
Your Eyelash Curler Can Double up as a Bottle Opener
The sound and image of a bottle cap popping open is the surest sign of the start of a party and a good time. If you have a bottle opener handy that is one thing, but if you have an eyelash curler, it is the most effective and exciting way to open a bottle with a feminine twist.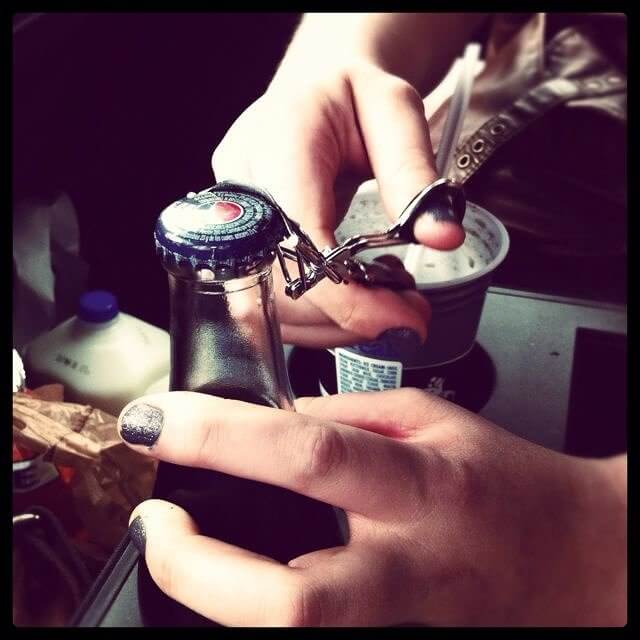 While they usually have very different uses, bottle openers and lash curlers actually have similar mechanisms. Start by placing the mouth of your curler on the edge of the cap, next make sure that the rubber pad is set on top, and then simply crack the bottle open by gently levering the curler down.
Use Clear Polish to Secure Your Buttons
It's not difficult to sew a button back on if it falls off, but it can be avoided. Instead of standing the risk of losing your buttons while you are out and about and probably never find them again, there is a simple way to ensure that they stay put.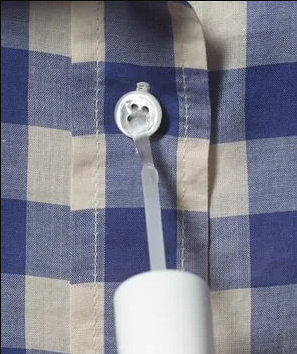 Clear nail polish comes to the rescue again. This time, paint it over your buttons and the threads that attach them. It will prevent the threads from coming undone and thanks to its transparency, your clever hack will go unnoticed by the naked eye!
Wear New Shoes Without Getting Blisters
Wearing new shoes can be a painful process, even when you do have the correct size. With this easy hack, you can avoid the blisters and torture of getting your funky new shoes to fit comfortably.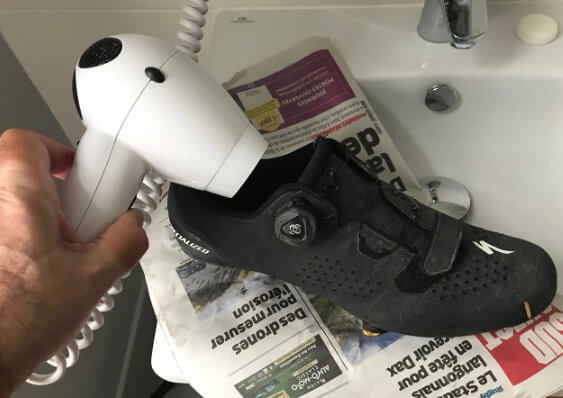 Put your new shoes on with a pair of socks and get your hairdryer handy. Use the low setting of the dryer and aim it at your foot whilst flexing your toes. Keep your flexed foot and shoe in the heat of the dryer for at least two minutes and voila! Your shoes will be loosened in the tight spots that cause those nagging blisters.
You Can Transform Your Baggy Jeans With Socks
If you want to pull off a sexy cow-girl look with jeans and boots but only have baggy jeans, there is a simple solution to prevent your jeans from bunching up inside your boots. All you need is a pair of long socks.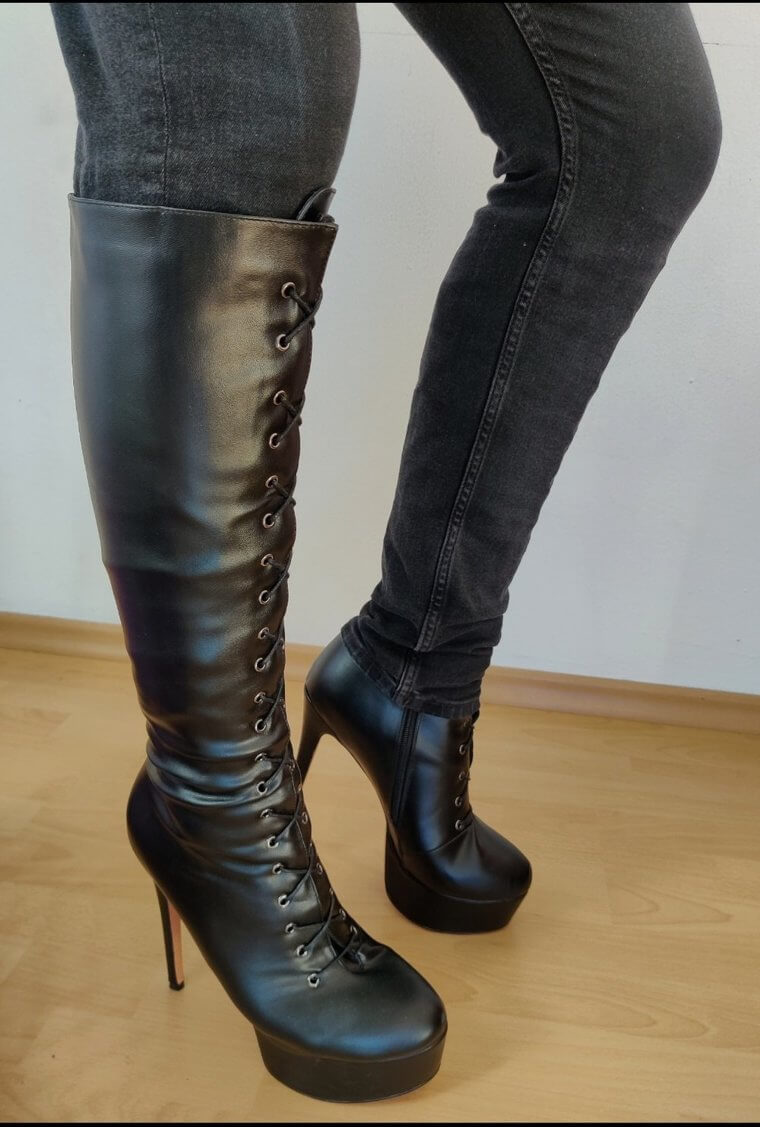 To fit your regular jeans inside your boots like skinny jeans would, simply put on your pair of long socks and tuck the ends of your loose-fitting or bell-bottom jeans inside. Your denim will fit comfortably inside your boots and your outfit will be perfect!
Utensil Trays Are Great for Jewelry Storage
Women often have several sets and pieces of jewelry and other accessories for different occasions. However, these tiny items are often hard to store and can get lost in drawers and other accessory items. For this reason, it is beneficial to spread out jewelry when you're not wearing it so that it's easier to find.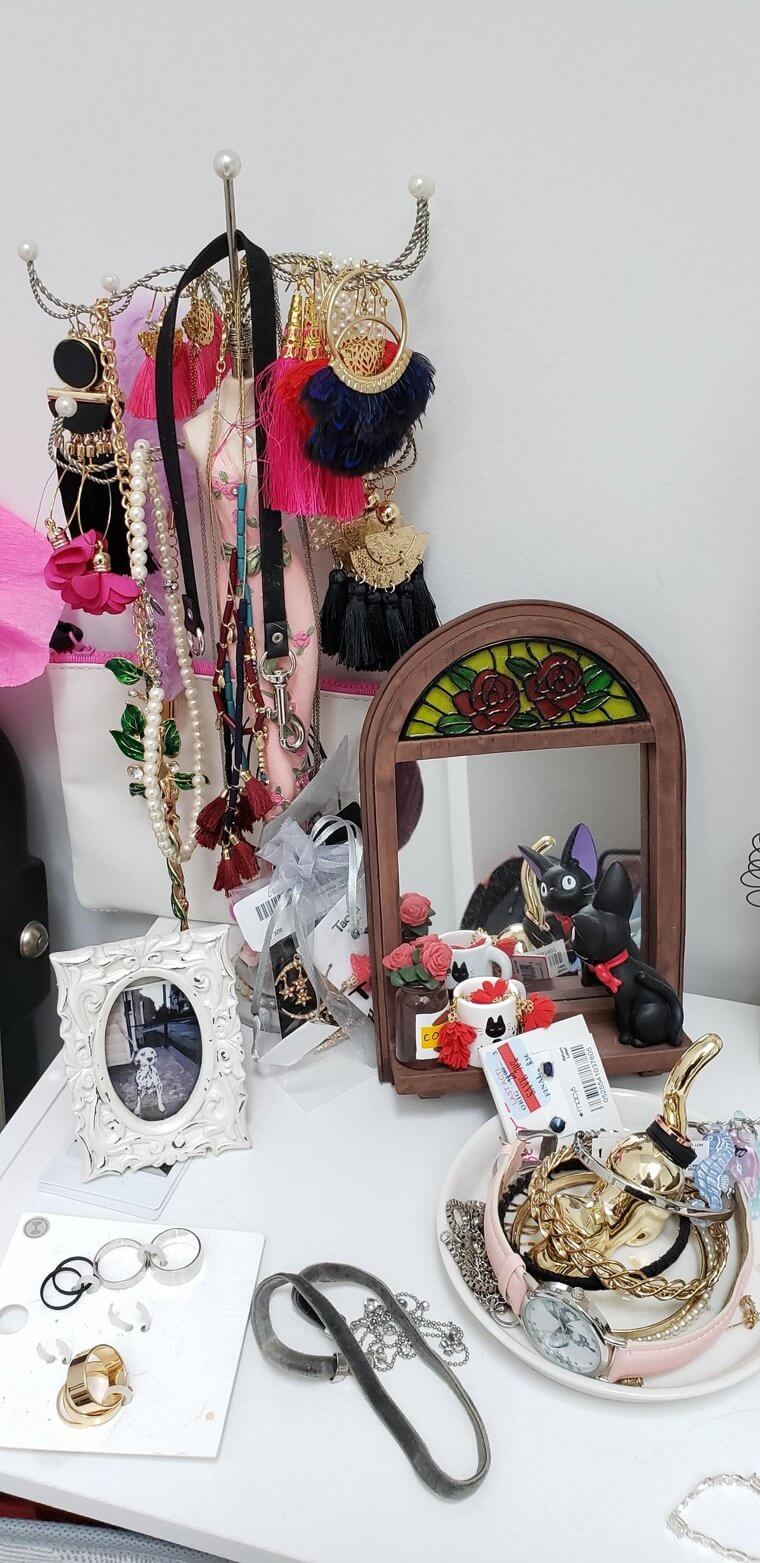 Thanks to their size and different partitions, silverware and other trays make perfect storage containers for women's jewelry. When using a tray, you can organize all your small items in one place and locate them with ease.
Make the Best Iced Coffee With Iced Coffee Cubes
Many of us rely on at least one coffee a day to get us going. The caffeine kick from a strong cup should be enough motivation to start the day, but what about when it is too hot? If you are in need of iced coffee but don't want to dilute your caffeine with ice, this hack is for you!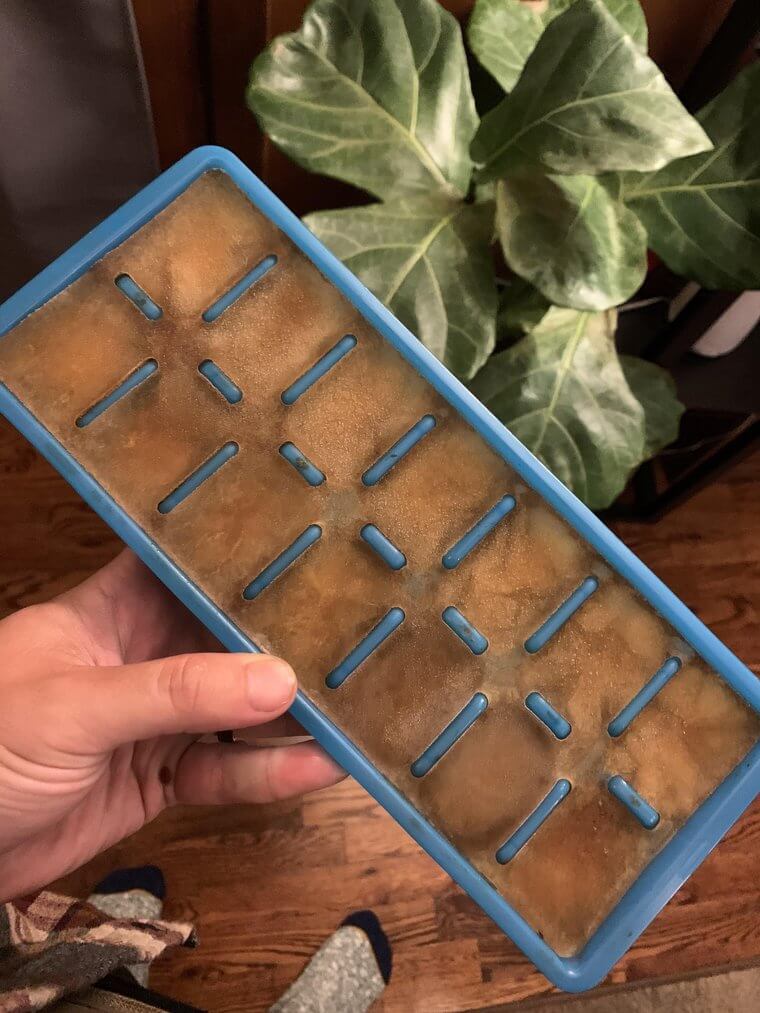 Make a strong brew of black coffee in the evening and pour it into an ice tray to freeze overnight. This way, you can cool down your morning cuppa without diluting it… Winning!
Make Red Wine Stains Disappear Easily
A lovely glass of red wine is the perfect accompaniment to a delicious meal, but like beetroot juice, this red liquid can be a nightmare if you stain your clothing with it. Luckily, there is an easy way to remove the horrific stains that red wine can cause.
A dash of white wine is all you need to kiss a red wine stain goodbye. Simply pour some onto the red wine stain and pat the area with a clean cloth until the stain disappears. Lastly, wipe away any excess liquid so that your clothing can dry.
Use a Rubber Band to Open Old Nail Polish Bottles
Sometimes, painting your own nails is the easy part. Opening used containers of nail polish can prove to be the hardest hurdle! When we use nail varnish, some of it inevitably ends up around the sides, which sticks the cover on like glue. With the use of a rubber band, you will be able to open even the most difficult bottle!
Get a strong rubber band and wrap it as many times as needed around the bottle cap's neck. This rubbery grip will allow you to twist the bottle cap with minimal effort and deliver the most satisfying result with minimum time wasted.
Try Using Men's Razors
For many decades, the color pink has been used in association with women and as a representation of femininity, but marketing strategies abuse this to target women. Often, products with lower quality might be pink in order to boost sales, like pink disposable razors.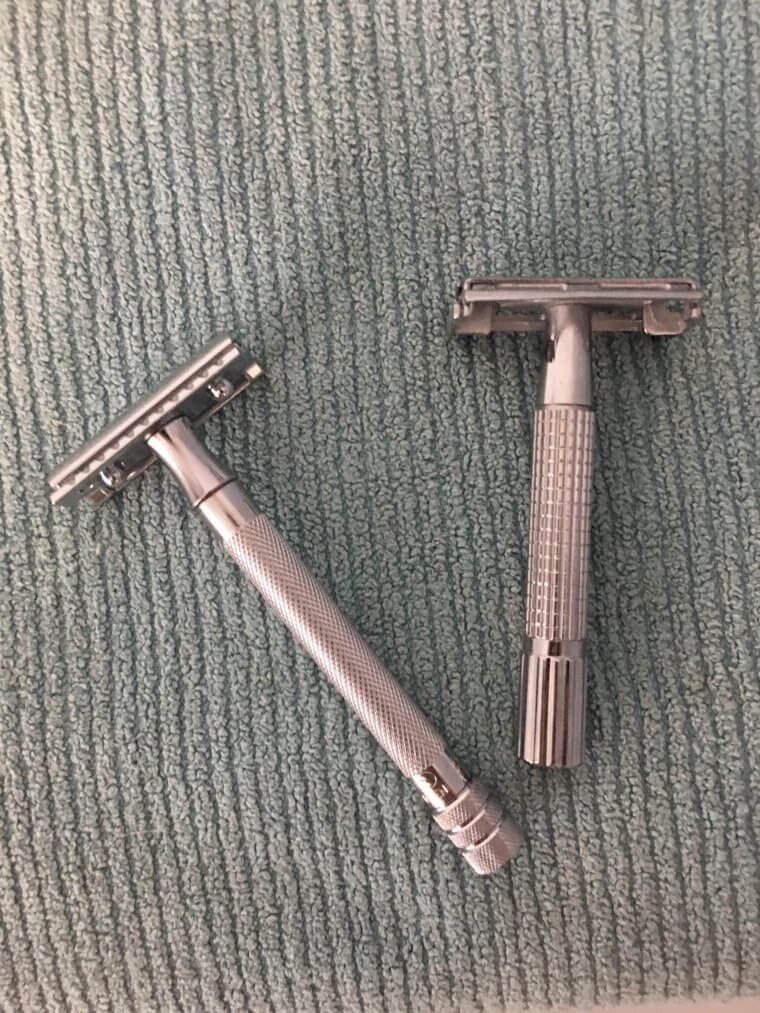 While these pink razors may even be more expensive, they are bound to be less effective than men's razors. Razors for men are often more economical, have sharper blades, and provide a smoother shave than their pink counterparts, so give them a try next time.
Sip on Chilled Water Throughout Your Day
Water is a daily necessity, especially for rehydrating on hot summer days. Most people prefer chilled water to quench their thirst and there is an easy hack that allows you to enjoy icy water throughout your day.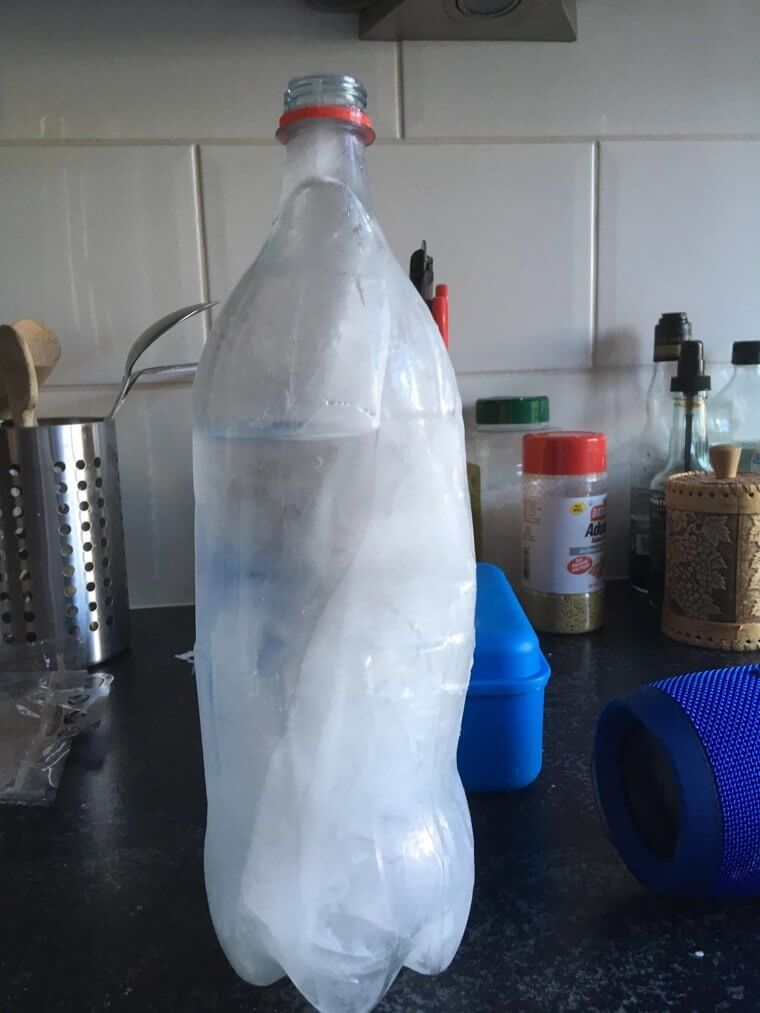 Instead of freezing your entire water bottle (which could take the entire day to melt), fill your bottle to half or three-quarters before freezing it overnight. When you are ready to head out, fill the rest of your water bottle with fresh water. This way, the ice will gradually melt, keeping your water cool and there will be enough available to drink throughout the whole day.

Arrange Your Jewelry for Easy Selection
It can be a tedious task trying to select the jewelry to accompany your outfit for the day, especially if your accessory items are disorganized. It can happen quickly to any of us, but there is a way to organize your jewelry without having to buy expensive jewelry organizers.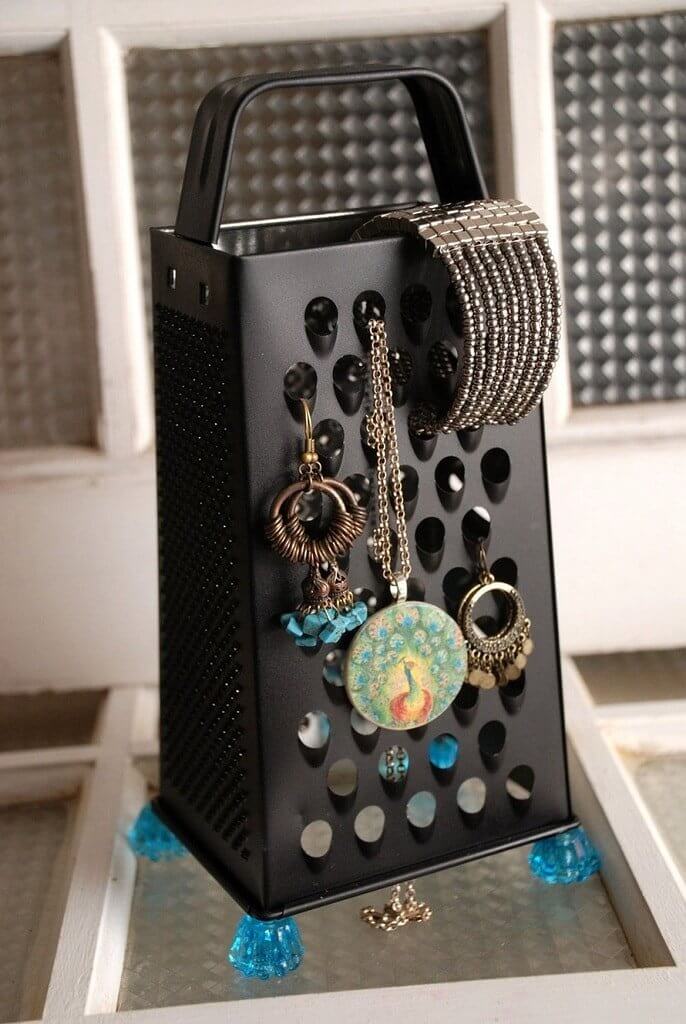 Something that you might consider throwing out, like an old cheese grater, can in fact make a cute earring organizer. By hanging them all, you will be able to see and select them easily. If you want to take it a step further, paint the grater first and it will make a beautiful piece of decoration in your room.
Keep the Odors of Dirty Laundry at Bay
The only downside of a great vacation should be lugging your dirty laundry home. Even when you separate your dirty clothes from the clean ones, the odor could spread or contaminate your fresh garments or make you feel uncomfortable.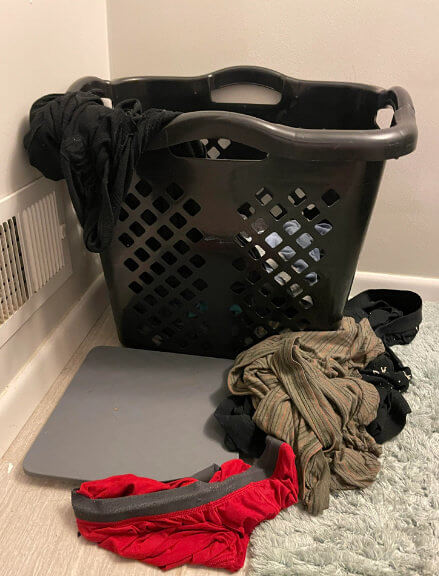 An effective way to prevent these unwanted scenarios is to put a soap bar with your dirty laundry. It will help to keep the nasty smells at bay and keep them from contaminating the clean clothing in your luggage. Of course, it won't clean your laundry, but it will buy you time until you get home!
Decorate Your Home With Interesting Bottle Corks
The ritual of opening and enjoying a bottle of wine that is sealed with a cork is both special and fun. If you tend to enjoy wine and sparkling wine at home, you are likely to end up with many corks that usually end up in the trash, but there is a more exciting way to utilize these pieces of softwood.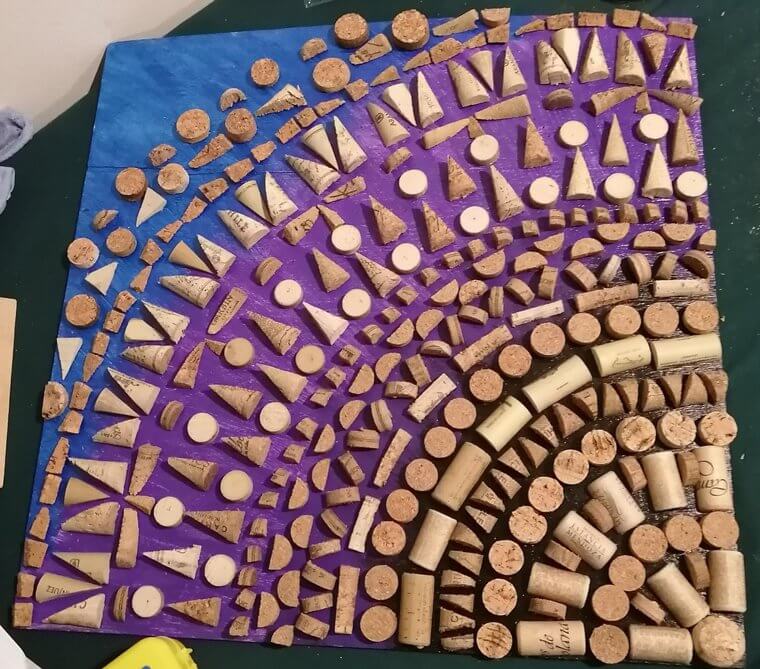 Every bottle will have a different size and shape of cork and you can use them to beautify your home. One option is to cut them in half and arrange them on a board with glue and hang it like a work of art. Another idea is to arrange your quirky corks in a photo frame.
Use a Clip to Detangle Your Earphones
Many people are moving toward Bluetooth earphones, but if you still have ones with a cord you will be familiar with the struggle of the ever-tangling earphones. To avoid this frustrating situation, there is a fast hack that you need to know about.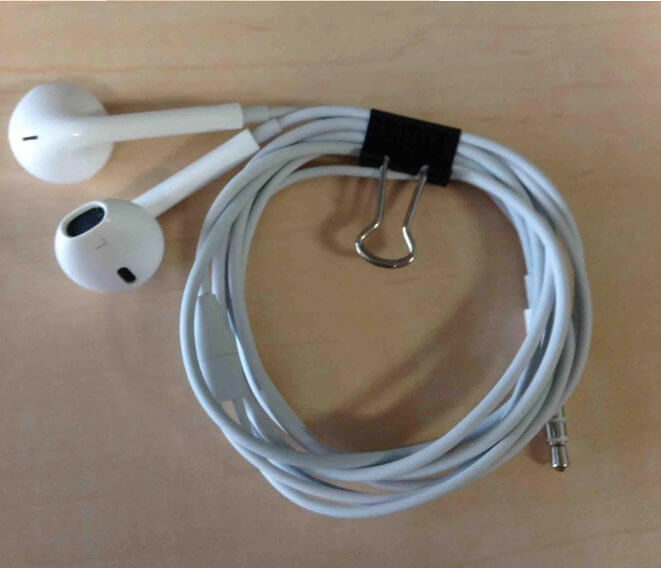 All you need is one clothespin or a binder clip. Use it to wrap your wires around until it is only your earbuds left. Then, clip the ends of your earbuds together with the peg, keeping the wire from unwrapping and your earpieces will be in place and ready to use next time.
Spice up Your Bobby Pins
Bobby pins have been arguably the most popular hair pins for years as they can facilitate many different hairstyles. Whether you need to pin back your bangs, style an updo, or hold your braids together, bobby pins can do it. Their only downfall is that they are a bit bland on the eye, but there is an easy way to make them stand out from the rest.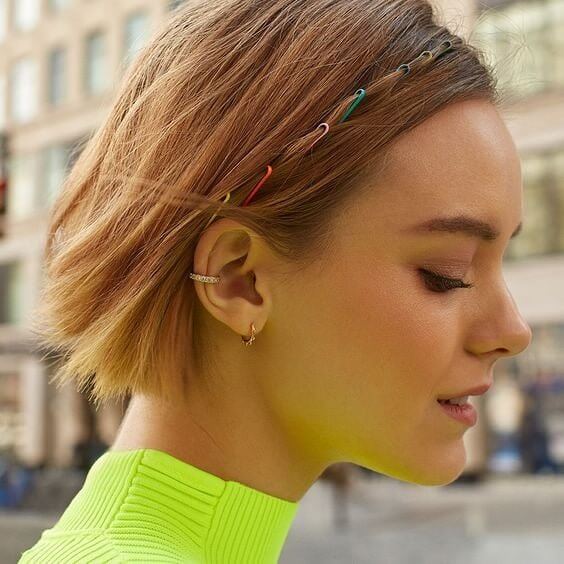 You can take your black or brown bobby pins to the next level by using a bit of glitter or colorful nail polish to jazz them up. Now, they won't only be useful, but beautiful too.
You Can Clean Your Nails With Toothpaste
Toothpaste has proven to be a very versatile product that can help with cleaning tiles, removing stains, and now also – it is a great tool to help you clean and whiten your nails. If you find your nails are stained or messy, simply grab the toothpaste from your bathroom.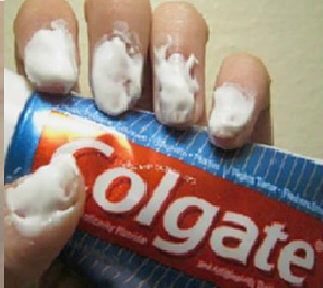 Toothpaste is already a whitening agent, but adding some lemon juice to it will deliver improved results. It is a powerful cleaner for stained nails and they are guaranteed to look cleaner than ever before.
Reinvent Worn Heels
When you find a comfortable pair of heels that are good quality, it would be a shame to have to get rid of them if they lose their initial shine. So, if your favorite pumps are starting to look a bit worn simply have some fun using your creativity to reinvent them.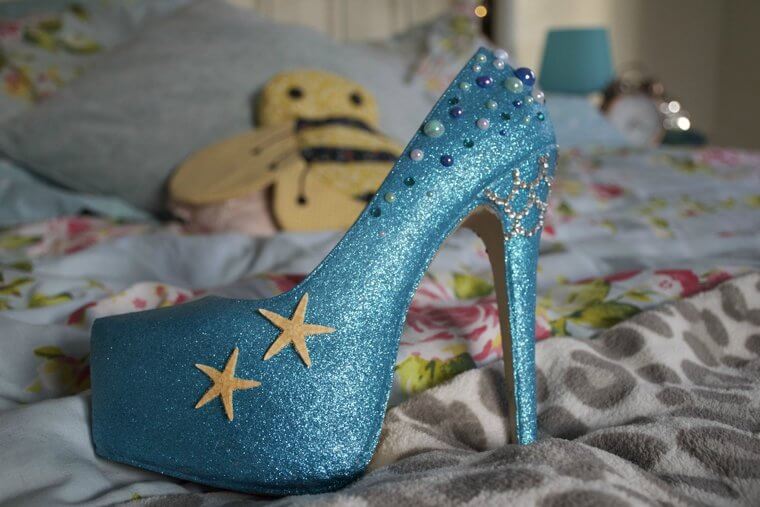 There is even the possibility that your heels will look better than before once you are done! Some ideas include using glitter to jazz up your heels or other decorative fabrics like fleecy yarn.
Make Water Stains Disappear Easily
Some of us have had to learn strict table manners which include using a coaster to place our drink on so that we don't stain the table. But what if your guests were oblivious to this and left a trail of rings on your wooden surfaces? Luckily, it can be rectified easily.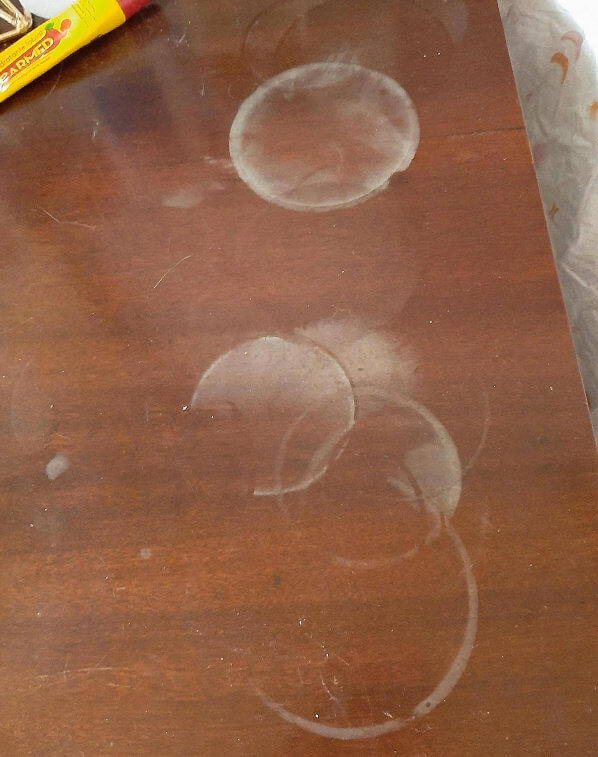 All you need is your trusty hair dryer. Use it on the low heat setting and point it at the undesired water stain. It will disappear like magic! You can use a drop or two of olive oil to finish off your new stain-free table by rubbing it in with a soft cloth.
Heating Your Makeup Can Help You Get More Out
Most women spend a lot of money on make-up, especially to get a brand that they like and trust. For this reason, it would be best to get your money's worth as make-up can cost a pretty penny. So, here is a pro tip to get the most out of your products.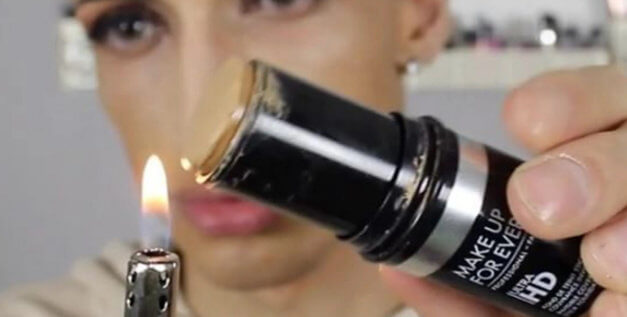 The heat from your hair dryer can help you to get products like foundation from the bottom of the container or out of the corners of the tube. By blowing the heat onto your product, it will melt and be easier to squeeze out until it's all done!
A Handy Spaghetti Stick Trick
In recent years, scented candles have become very popular, and with good reason. Besides adding ambiance with their candle flames, they also provide a lovely scent throughout the room. However, these pleasing additions to your home come with a price tag, so make sure to get the most out of them.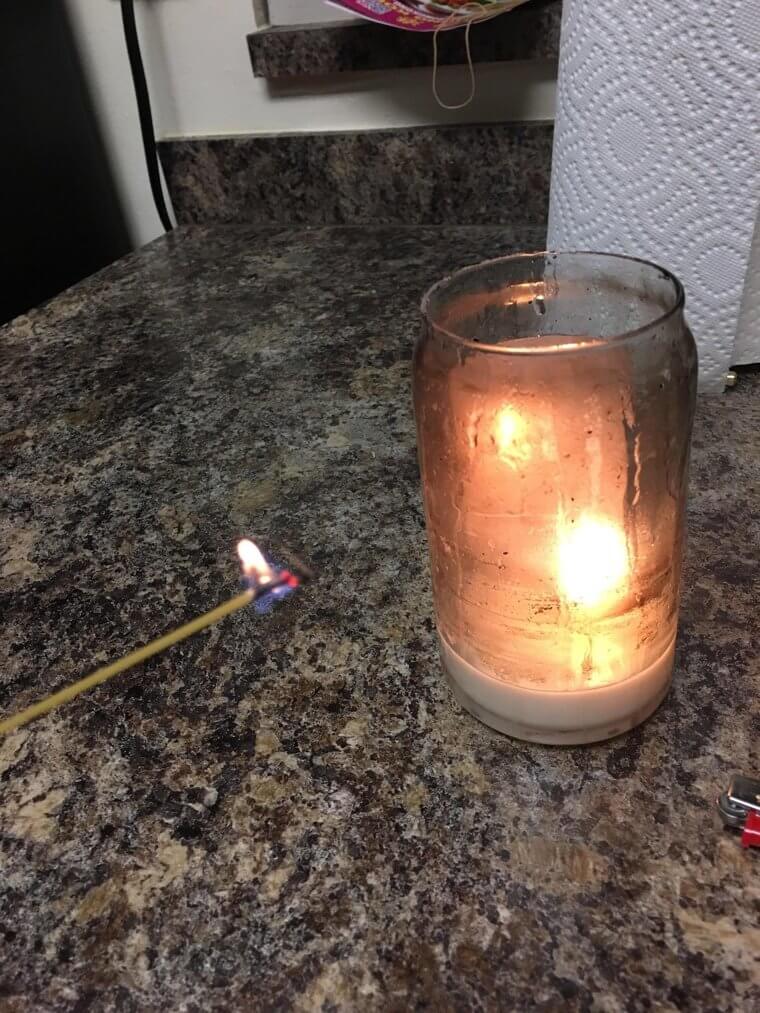 When a scented candle nears the end of its life span, it's usually difficult to light the wick when it is at the bottom and it's likely that you will burn your fingers. To avoid this, simply use a spaghetti stick! It has ample length and makes a great lighting utensil.
A Rotating Shelf Can Simplify Finding Items in Your Fridge
When hunger cravings strike, you don't want to have to waste a lot of time looking for a suitable snack, especially not when it's late at night. Luckily, there is a helpful hack that allows you to look through all the content of your fridge shelf without unpacking everything to search through it.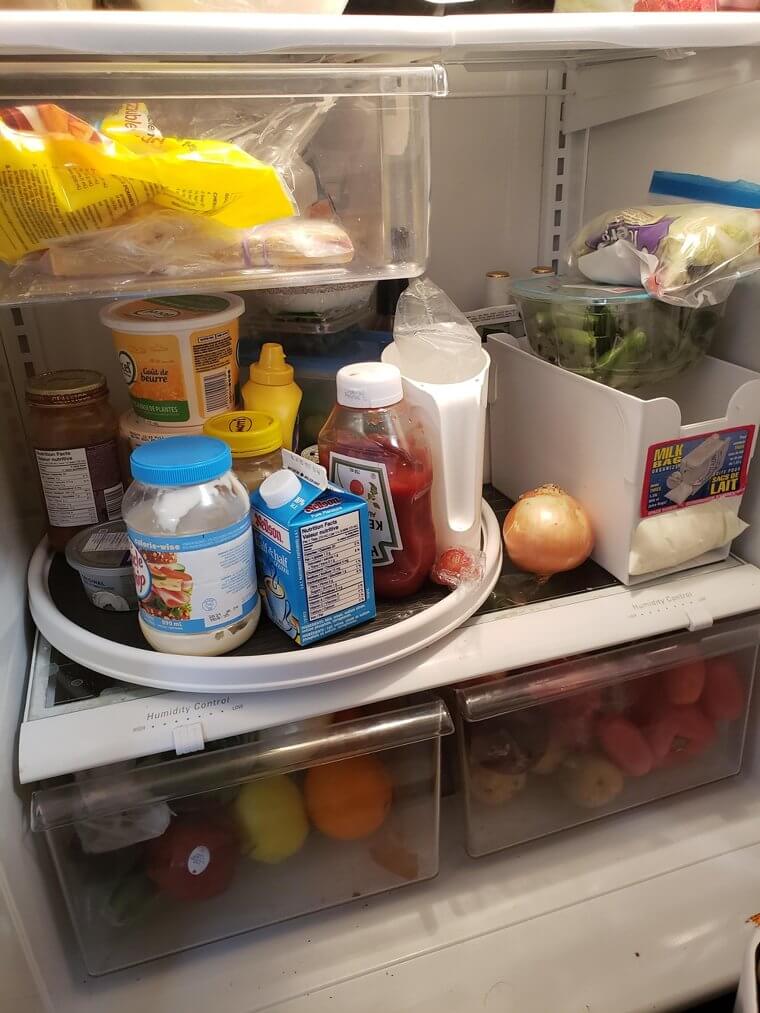 When you install a rotating shelf, you can see all the yummy goodies that might be hiding in the back by simply rotating the shelf! Your midnight munchies will be satisfied without wasting any time or unnecessary energy.