Being a professional wrestler is an incredibly intense profession, given the fact that there are so few places where wrestlers can earn a living wage, as well as spots on rosters being incredibly rare. The job usually requires a large amount of traveling and very little time off. This means that wrestlers frequently spend time with other wrestlers. This means that wrestlers will often make friends with their colleagues, who will travel the roads together, and spend the majority of their career together.

This adds a whole heap of challenges, as wrestlers will often get fired and change promotions. Wrestlers will also need to wrestle in the ring with their friends and have storylines where they need to be bitter enemies. In previous eras, wrestlers that were feuding and differently aligned were banned from appearing together in public. While that is no longer the case, WWE still keeps feuding wrestlers separated while in public, and wrestlers that have posted photos together with feuding wrestlers have been punished. Here is a list of those wrestlers who are true friends in real life.
Kevin Owens and Sami Zayn
Kevin Owens and Sami Zayn have faced each other countless times throughout their career. Their first matches date back to their early career in Canada where they wrestled as Kevin Steen and El Generico respectively. Owens and Zayn would then become stars for independent promotions, like Ring of Honor and Pro Wrestling Guerrilla. Owens and Zayn would make their way over to WWE where they both started in the NXT Developmental program.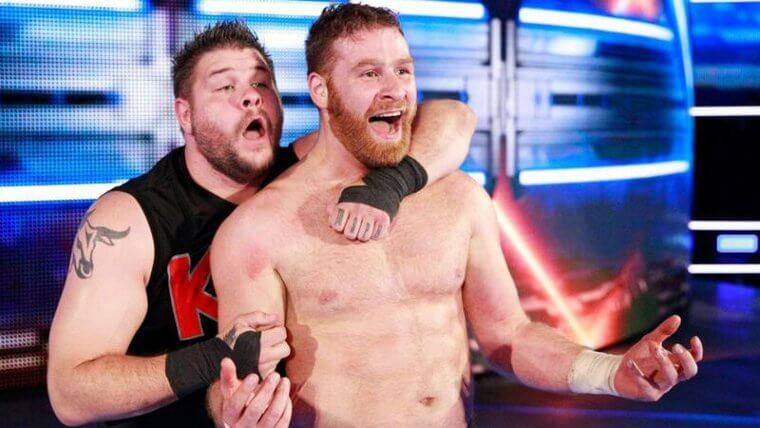 Owens famously turned on Zayn after the latter finally overcame Adrian Neville to win the NXT Championship at TakeOver R Evolution. Zayn and Owens would face each other for the NXT title, with Owens defeating Zayn for the title at TakeOver: Rival. Outside of wrestling, the two are close friends having traveled around together several times throughout their career. 
John Cena and Randy Orton
Randy Orton and John Cena certainly make unlikely friends. While Orton is a third-generation wrestler from the legendary Orton wrestling family, John Cena made his way to WWE via bodybuilding. In 2001, Cena and Orton trained together at WWE's developmental territory Ohio Valley Wrestling. They were part of a class in OVW that also included Brock Lesnar, Batista, and Shelton Benjamin.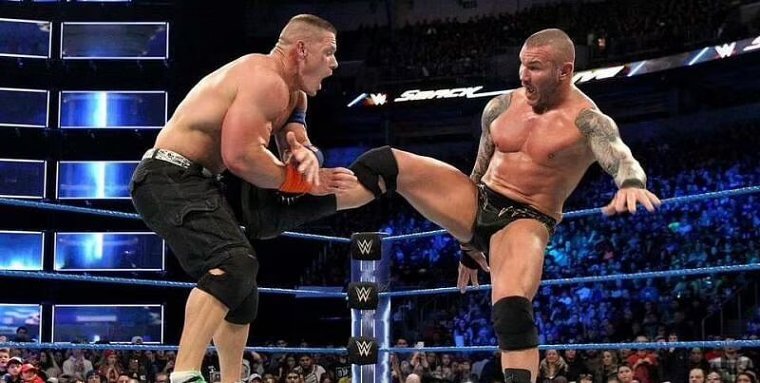 Throughout their respective careers, Cena and Orton have faced each other 123 times in singles matches with the overwhelming number of those matches involving the WWE World Heavyweight or WWE Title. The two have been involved in 257 matches, with Orton coming out victorious only 34 times.  Behind the scenes, Orton and Cena remain close friends with several photos of the two happily posing together.
Dean Ambrose and Roman Reigns
Dean Ambrose and Roman Reigns formed two-thirds of The Shield, alongside Seth Rollins, in WWE. The two were both in WWE's Developmental program together. Ambrose wrestled for promotions like Combat Zone Wrestling, while Reigns is a member of the legendary Anoa'i family. The two would face off against each other, and tag together briefly in FCW before making their way to the main roster as the Shield.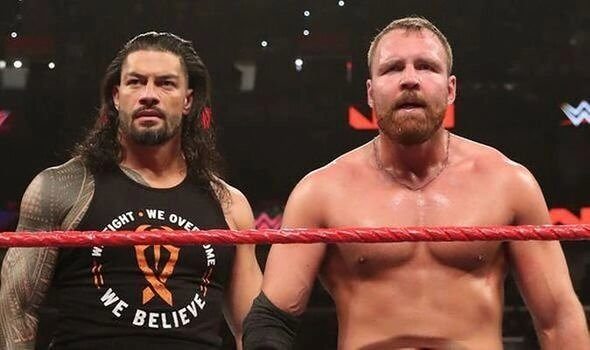 Even after the break-up of the Shield in 2014, Ambrose and Reigns continued to team together but would eventually face each other for the WWE World Heavyweight title. In 2018, Reigns announced on an episode of Raw that he had been diagnosed with Leukemia and would need to step away from wrestling. Reigns was greeted at the top of the ramp by Rollins and Ambrose who were both genuinely emotional by the announcement. Despite Moxley now working for All Elite Wrestling, both have stated, in separate interviews, that they support each other.
Bradshaw and Farooq
Bradshaw and Faarooq are best known for forming the Acolyte or Acolyte Protection Agency from 1998 to 2002. During their four-year run together as a tag team, the two would often drink together and travel between cities alongside referee and then SmackDown General Manager, Teddy Long. Together, the APA held the WWE Tag Team Titles three times before JBL would go on to have a successful singles run.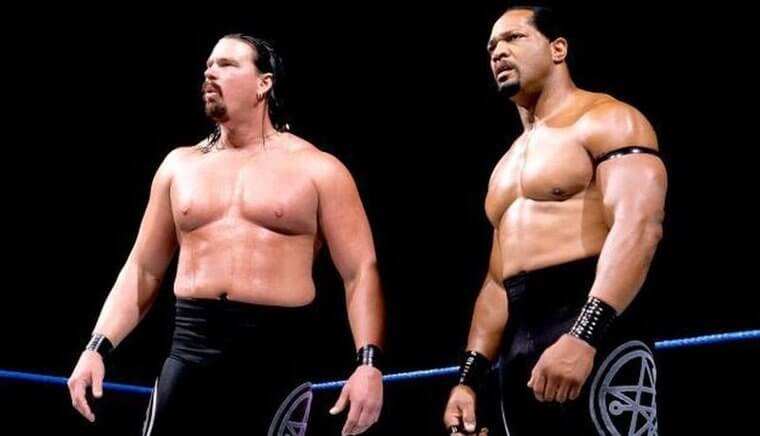 Ron Simmons, or Faarooq, would eventually retire in 2004 but would return for cameo appearances and special occasions. In 2012, Simmons was inducted into the WWE Hall of Fame by his longtime tag team partner and friend, Bradshaw. While Bradshaw was due to be inducted into the Hall of Fame in 2020, Faarooq might likely have been the one to induct him.

Terry Funk and Mick Foley
Mick Foley and Terry Funk are both hardcore legends in their own right. The two would become infamous for their incredibly violent deathmatches. In 1998, Foley, as Cactus Jack, and Funk, as Chainsaw Charlie, held the WWE Tag Team Titles together for a day after defeating the New Age Outlaws at WrestleMania XIV.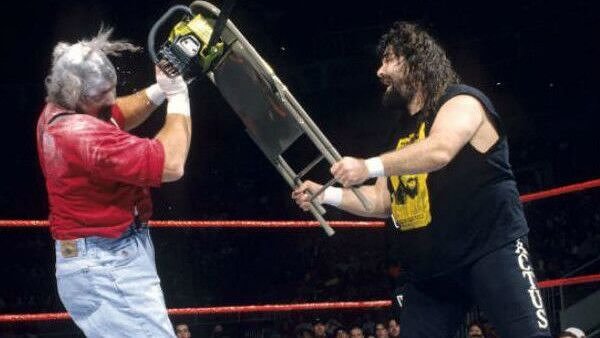 Foley and Funk last faced each other in 2006 but have maintained a friendship throughout their career. When Mick Foley was inducted into the WWE Hall of Fame in 2013, Foley chose Funk to do him the honors.

Rey Mysterio and Eddie Guerrero
Before Guerrero's untimely death in 2006, Eddie was very close with fellow wrestler, Rey Mysterio Jr. Guerrero and Mysterio wrestled each other in both WCW and WWE, after Mysterio joined the promotion in 2002. The duo faced off against each other for Mysterio's WCW Cruiserweight title on an episode of Thunder in 1998. In 2005, Guerrero and Mysterio would win the WWE Tag Team Titles from The Basham Brothers at the No Way Out PPV before losing it to Joey Mercury and Johnny Nitro.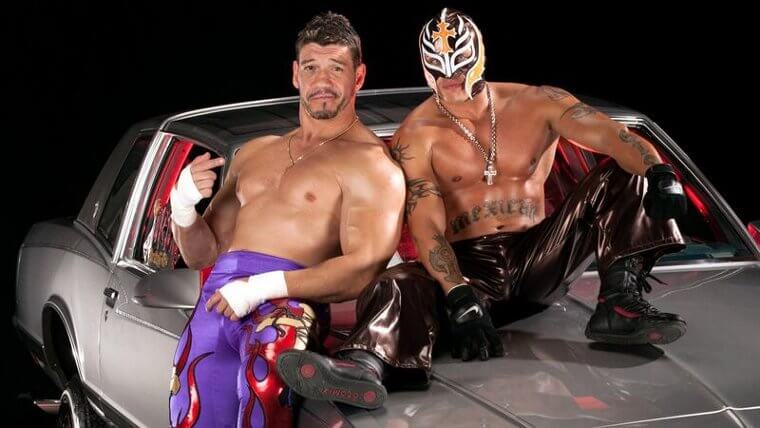 Later the same year, Mysterio and Guerrero would embark on a personal feud that centered on Mysterio's son, Dominick. One of their last matches against each other would be a ladder match for custody of Dominick at SummerSlam. After Guerrero's passing, Mysterio was one of the many superstars to give a moving tribute to the fallen wrestler. In 2006, Mysterio would induct Guerrero into the WWE Hall of Fame, alongside Chavo Guerrero and Chris Benoit.

Triple H and Sheamus
Undoubtedly one of the oddest pairings on this list has to be between Triple H and Sheamus. The two have faced each other on multiple occasions, including a singles match at WrestleMania XXVI between the two. In 2016, the two would team up at a House Show at Madison Square Garden to take on Dean Ambrose and Roman Reigns.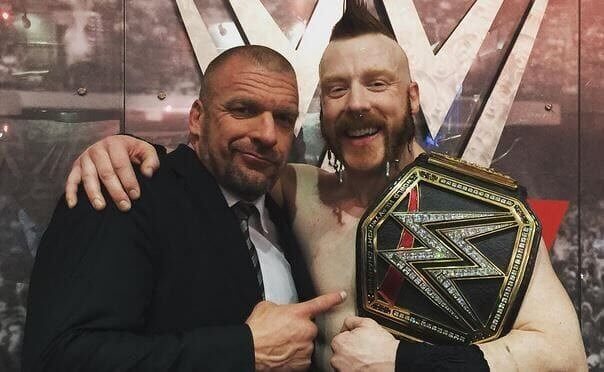 According to Sheamus, the two became friends after working out together in 2009. Since then, the two have reportedly worked out together frequently and will often trade tips and suggestions regarding their respective workouts. Sheamus added that while it's nice having a friend in high places, the relationship caused heat between himself and other members of the locker room.

Edge and Christian
While many of these pairs met and became friends in WWE, Edge and Christian have been longtime friends that worked their way to WWE together. Edge and Christian met while the two were in Secondary School in Canada, after Christian and his family moved to the area when he was a child. The two became friends and would begin wrestling training together in the mid-'90s for a local wrestling promotion.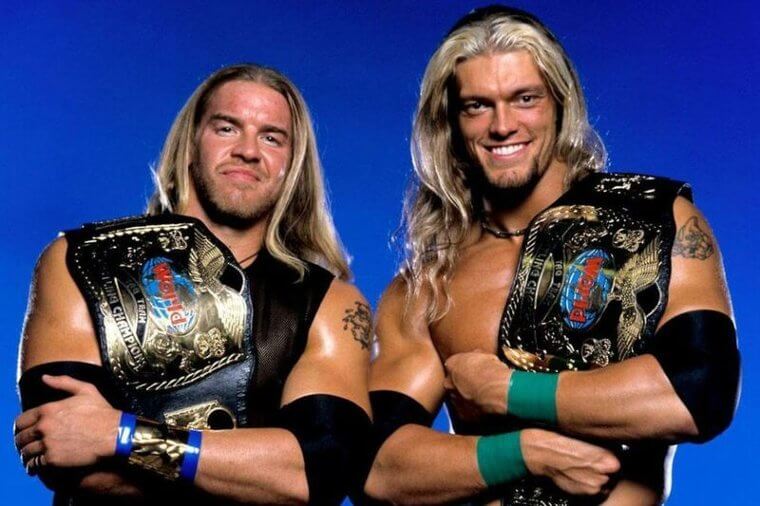 The two would also move in together at the start of their careers before being signed by WWE. While Edge was signed first, Christian joined the promotion shortly after and the two first faced each other in WWE in 1997. The duo would then form a tag team before going on separate singles runs. Edge would be forced to retire in 2011 due to injuries. The following year, Christian inducted Edge into the WWE Hall of Fame.  

Triple H and Shawn Michaels
The friendship between Triple H and Shawn Michaels has been apparent on-screen and behind the scenes. The two became friends after Triple H joined Michaels' notorious backstage group known as The Kliq. The group was made up of Shawn Michaels, Triple H, Kevin Nash, Scott Hall, and X-Pac. Triple H was reportedly made a part of the group when he joined WWE in 1995 and became the group's designated driver.

Before Hall and Nash left WWE for WCW, the four superstars shared a hug in the middle of Madison Square Garden during a house show. After Hall and Nash departed, Michaels and Triple H would form D-Generation X with the remaining members of the Kliq and new members that they recruited, like Road Dogg and Billy Gunn. Michaels and Triple H continue to work together behind the scenes in NXT, developing the next generation of talent for WWE.

Brock Lesnar and Shelton Benjamin
Brock Lesnar is a superstar who is notoriously introverted and doesn't usually spend time with other members of the roster. Lesnar has spoken about his hatred of large groups with Stone Cold during his podcast, and the Beast Incarnate also lives on a heavily fortified farm in rural Canada as a way of keeping away from others.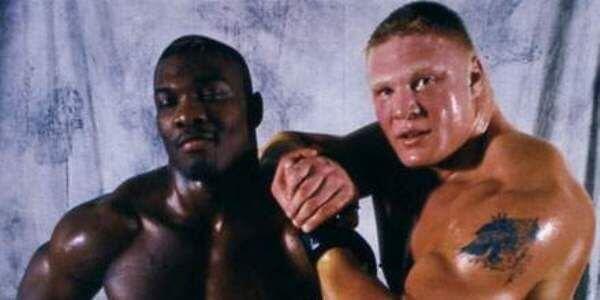 However, one person that has been very close with Lesnar, even before he became a big star in WWE, is Shelton Benjamin. Benjamin and Lesnar met when the former worked as a wrestling coach at the University of Minnesota where Lesnar studied and was a championship wrestler. When Benjamin joined OVW, Lesnar and Benjamin formed a tag team called the Minnesota Stretching Crew. Their friendship was acknowledged on WWE TV at the 2020 Royal Rumble. Benjamin is also the godfather to Lesnar's daughter, Mya Lesnar.

Trish Stratus and Lita
In the late '90s and early 2000s, the WWE's Women's division and the title were dominated by two women. Between Lita and Trish, the two have had 11 reigns with the Women's title between 2000 and 2006. Stratus and Lita were both inducted into the WWE Hall of Fame in back to back years.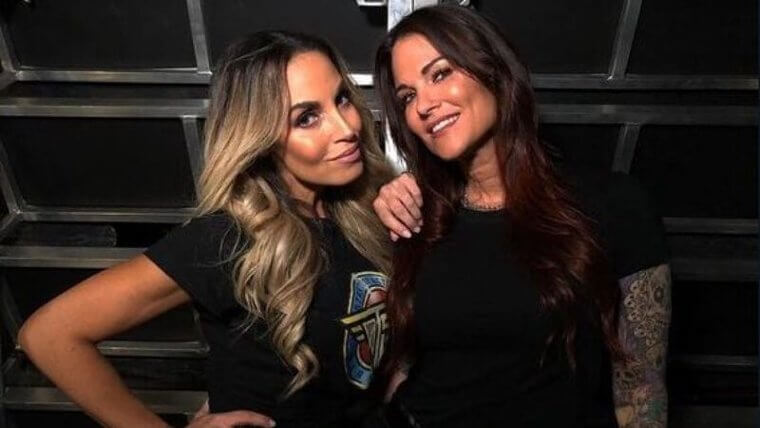 In 2014, Lita was inducted into the WWE Hall of Fame by her famous rival. Stratus has two children, a son born in 2013 and a daughter born in 2017. Lita is the godmother to Stratus's son and the two remain incredibly close after their respective in-ring retirements. Stratus and Lita returned to WWE for the first-ever All Women Royal Rumble in 2018. In 2018, the pair teamed up to face off against Mickie James and Alicia Fox.

Perry Saturn and Raven
Perry Saturn and Raven are both ECW alumni that also wrestled in WCW and WWE. Saturn has largely stayed away from professional wrestling and has dealt with significant medical issues. In 1997, Saturn was signed to WCW and became a member of Raven's Flock. Saturn would eventually jump ship to WWE in 2000 alongside Chris Benoit, Eddie Guerrero, and Dean Malenko with Raven joining the company just before the beginning of the Invasion angle. Both would leave WWE in 2002.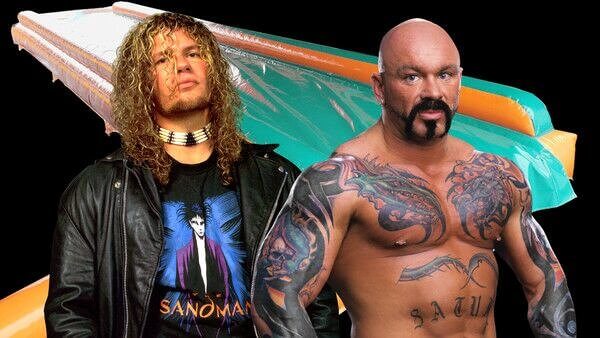 Saturn and Raven have reminisced about their drug-fuelled days on the road which often included sleeping with female fans and performing dangerous stunts. In 2008, it was reported that Saturn had gone missing with family and friends unable to get in contact with him. Saturn re-emerged two and a half years later having kicked his drug habit. After his re-appearance, Saturn and Raven have been able to reconnect and remain friends to this day.

Batista and Titus O'Neil
Usually, wrestlers who are friends occupy similar positions on the card, as wrestlers stuck in the mid-card will often be jealous of those in the main event. That doesn't appear to be an issue for Batista's friendship with Titus O'Neil. While Batista is a six-time World Champion, four-time tag team Champion, and two-time Royal Rumble winner, Titus O'Neil has only won the tag team titles once and was the inaugural 24/7 Champion.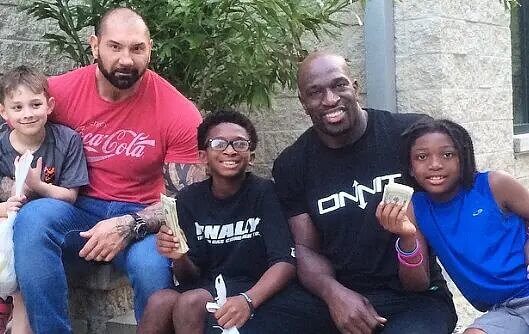 Despite the wildly different careers, positions on the roster, and the fact that they've never been in the ring at the same time, the two have become friends. O'Neil has spoken about the fact that his friendship with The Animal dates to a time before his wrestling career and that it was Batista that helped O'Neil become a pro-wrestler.

Sonya Deville and Mandy Rose
Mandy Rose and Sonya Deville both wrestled in NXT before being brought up to the main roster alongside Paige as a part of Absolution. After Paige was forced to retire due to injuries, Deville and Rose continued to wrestle as a tag team. The team challenged for the Women's Tag Team Titles but the duo was unsuccessful every time. In 2019 the team would fall apart after it was revealed that Deville had interfered in Rose's relationship with Otis.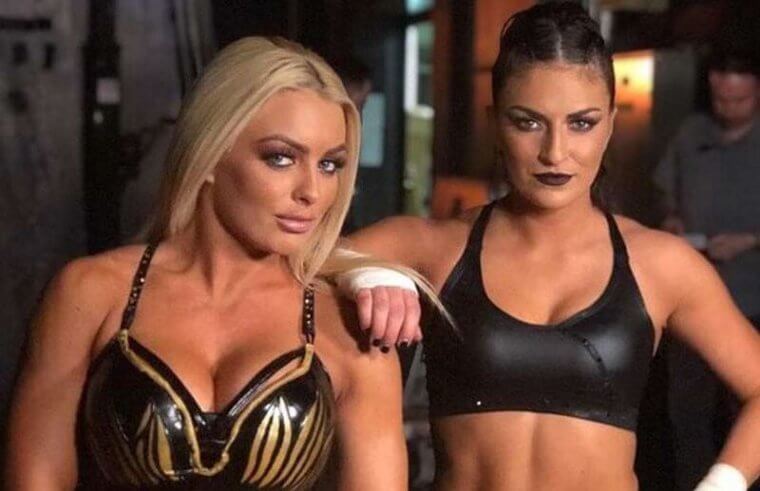 At the same time as they were feuding, Deville experienced a terrifying experience with a stalker and would go to court to get a restraining order. In the police reports and court filings, it was revealed that Deville was staying at Rose's house when the stalker broke into the home. Even though they were feuding on-screen the two were still incredibly close in real life.

Baron Corbin and Tyler Breeze
Many of the wrestlers who have become friends often met early in their wrestling careers, or usually in WWE's developmental programs. Corbin, Breeze, and former WWE wrestler, Tye Dillinger, became friends while training together at WWE's performance center in Orlando. The trio runs its own YouTube and Twitch channel known as The Sweetz.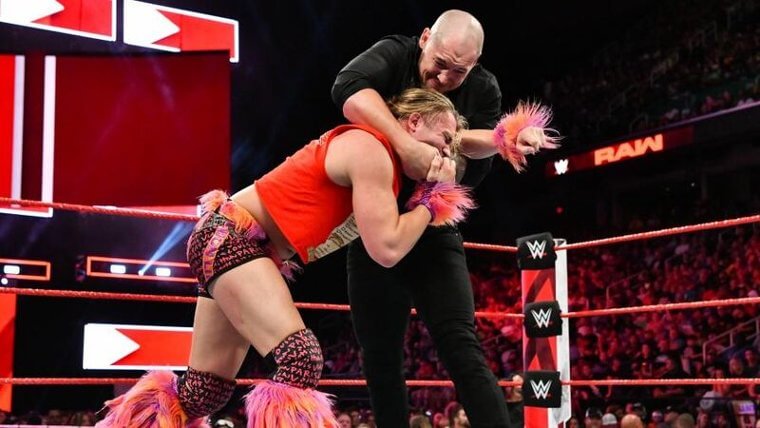 Breeze and Corbin have also traveled together between shows and have gotten into wild situations. They have also shared hotel rooms over the years as a method wrestlers use to save money on expenses. Corbin and Breeze have both faced each other multiple times in the ring, both in NXT and on Monday Night Raw.

Braun Strowman and Drake Maverick
These days, professional wrestlers come in all shapes and sizes, from the smallest Cruiserweights to the biggest Super Heavyweights. The difference is best exemplified in the giant differences between 140lbs Drake Maverick and 385lbs Braun Strowman. Strowman and Maverick met while both working in WWE, alongside EC3. The duo also started a business together and Maverick has even been mistaken for Strowman's son due to the comedic size difference between the two.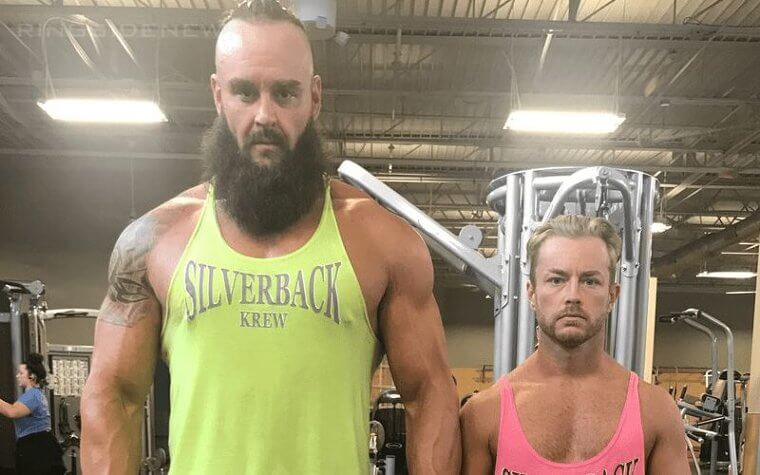 In 2019, when Maverick married his partner and fellow wrestler, Renee Michelle, Strowman was one of the groomsmen at the wedding and the two had photos at Maverick's Bachelor Party. The two have had vastly different careers, with Strowman a former Universal Champion who has frequently been in the main event, and Maverick who was recently released from his WWE contract only to be resigned to the company after a groundswell of support from fans online. 

R-Truth and Jack Swagger
It's amazing to think, but R-Truth has been wrestling since the late 1990s after making it to WWE as K-Kwik. R-Truth, who also wrestled under his real name of Ron Killings, is a former two-time NWA World Heavyweight Champion as well as a former WWE Tag Team and United States Champion. On the other hand, Jack Swagger held the ECW, WWE World Heavyweight, and Lucha Underground titles throughout his wrestling career. In 2019, Hager was brought in to All Elite Wrestling as a part of Chris Jericho's stable.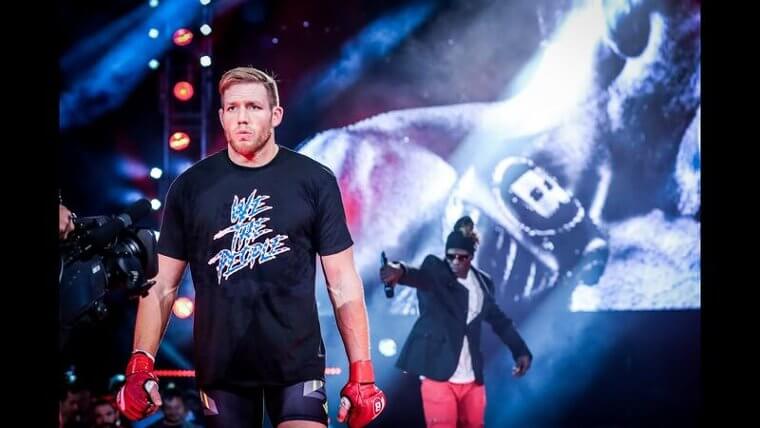 Swagger and R-Truth became friends while both working in WWE. According to Swagger, the two would travel together between shows and R-Truth was the first person he told when he planned to leave WWE in 2017. In 2019, Swagger made his MMA debut with R-Truth singing the former WWE superstar to the ring. According to Swagger, R-Truth is also close to Swagger's family as his children refer to Truth as "Uncle Ronnie".

Hornswoggle and Curt Hawkins
Hornswoggle and Curt Hawkins both made it to WWE around the same time, but both took different routes to get there. Hornswoggle was brought into WWE as the Leprechaun sidekick aligned to Finlay before being revealed as the illegitimate son of Vince McMahon and the anonymous Raw General Manager in 2010. Meanwhile, Curt Hawkins was signed to a developmental contract in 2006 before forming a tag team alongside Zack Ryder. Hawkins and Hornswoggle became friends after traveling together during their time in the WWE.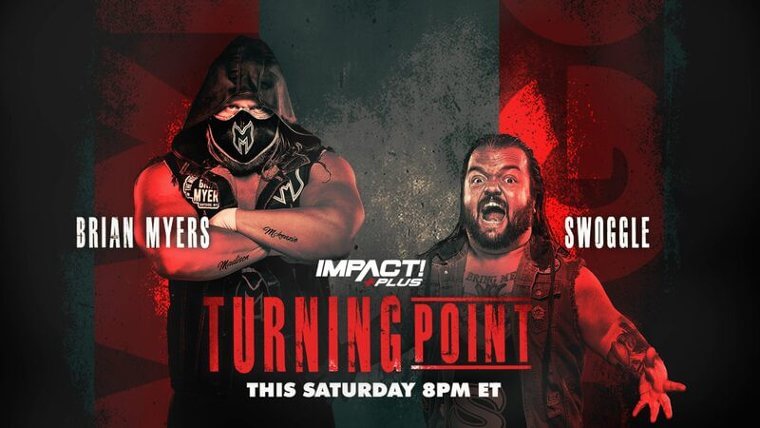 In 2019, Hornswoggle released his autobiography called Life is Short and So Am I telling stories of his life on the road with the WWE, and his experiences as one of the last Mini Wrestlers to work in WWE. One of the two Forewords for the book was penned by Curt Hawkins, who spoke about his experiences of traveling on the road with Hornswoggle. Hornswoggle also admitted that Hawkins was one of the first people that reached out after he was released from WWE in 2016. 

Johnny Gargano and Tommaso Ciampa
Johnny Gargano and Tommaso Ciampa both made their way through the independent wrestling circuit before finding their way to WWE as a part of NXT. The two would face off against each other at Pro Wrestling Guerilla before teaming in the 2015 Dusty Rhodes Tag Team Classic. Gargano and Ciampa defeated Bull Dempsey and Tyler Breeze in the first round before losing to Baron Corbin and Rhyno. The two would then form the popular tag team #DIY and go on to win the NXT Tag Team titles in 2016.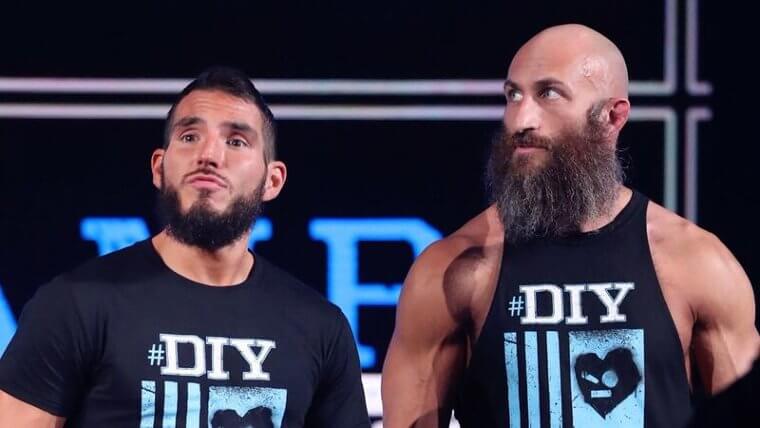 Ciampa turned on Gargano, attacking him and throwing him into the LED screens at the top of the ramp after the two lost a Ladder Match against the Authors of Pain. For the majority of 2018, Gargano and Ciampa would face off against each other at TakeOver: New Orleans, TakeOver: Chicago II, and TakeOver: Brooklyn IV. Despite the heated rivalry, Ciampa and Gargano are close friends with Ciampa being one of Gargano's groomsmen at his wedding to fellow wrestler, Candice LaRae.

The Undertaker and Kane
The Undertaker and Kane became friends after spending a long time together traveling as a part of the WWE. The two first faced off long before Kane would don the mask in WWE after the Undertaker appeared at Smokey Mountain Wrestling in 1995 while Kane was training there as a developmental wrestler. After their match, The Undertaker became one of Kane's biggest supporters to be called up to WWE.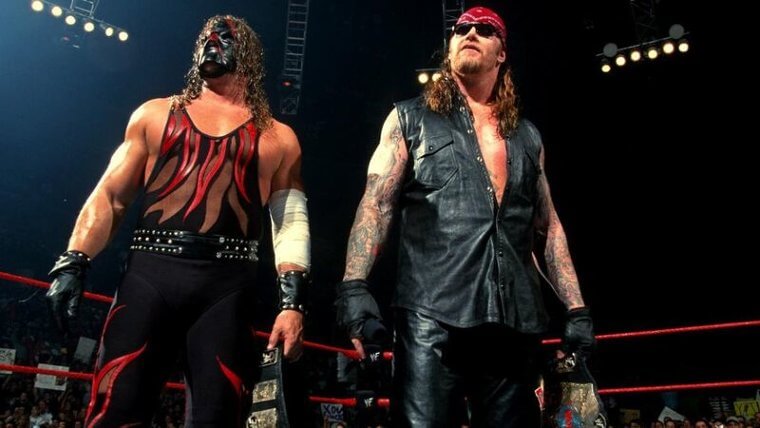 The two have feuded and teamed on and off since 1995, with their final match together coming in 2018 at the Crown Jewel PPV. The Undertaker has appeared at political events after Kane pursued a position in politics. Kane was also one of many of Undertaker's friends that appeared at the Dead Man's retirement celebration at Survivor Series 2020. When the Undertaker is inducted into the WWE Hall of Fame, Kane will be the front-runner to induct his kayfabe half-brother.

Bayley and Sasha Banks
Bayley and Sasha Banks together make up the Boss N Hug connection, and the duo is also considered one-half of the Four Horsewomen of NXT alongside Charlotte and Becky. Bayley and Banks met while working in WWE developmental territory Florida Championship Wrestling. When the developmental program was moved to NXT and Full Sail University, Banks and Bayley also made the jump. The two have had epic matches in NXT before being brought up separately to the main roster.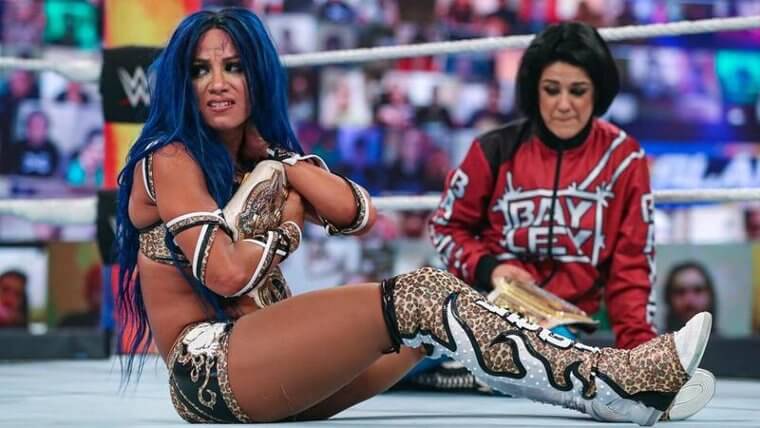 Behind the scenes, and occasionally in the ring, the two have been very close friends. Aside from their reigns as the Women's Tag Team Champions, the two often appear on Xavier Woods' YouTube channel UpUpDownDown. Outside of the ring, Banks, and Bayley have squared off in games of Mortal Kombat, and Injustice 2.

Matt Hardy and Gregory Helms
Matt Hardy and Gregory Helms, better known as Hurricane, have known each other since they were in their teens. Both Hardy and Helms grew up in North Carolina only an hour's drive away from each other. In 1997, Matt and his brother, Jeff, created the Organization of Modern Extreme Grappling Arts, or OMEGA, for them to wrestle in. Helms would also wrestle for the fledgling promotion before it folded. The two would reunite in WWE after Helms' WCW contract was retained by WWE in 2001.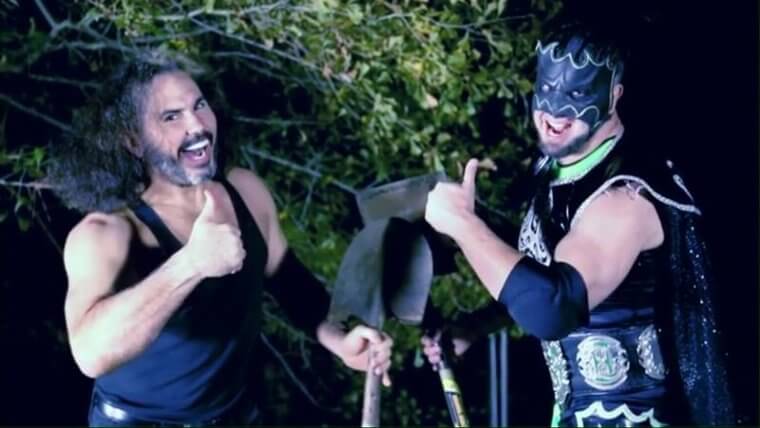 Outside of WWE, Helms has also appeared as a part of the Deleted Universe portraying his Hurricane character. Helms even appeared in Hardy's Elite Deletion match against Sammy Guevara in 2020 despite being on furlough from WWE at the time. 

Xavier Woods and Tyler Breeze
Before becoming Xavier Woods of The New Day, Woods previously teamed with Tyler Breeze in WWE's developmental programs Florida Championship Wrestling and NXT. Woods and Breeze also shared an apartment in Florida while they were both working in the developmental program alongside Viktor from Ascension. The two have remained friends over the years with Breeze frequently appearing alongside Woods on UpUpDownDown programming.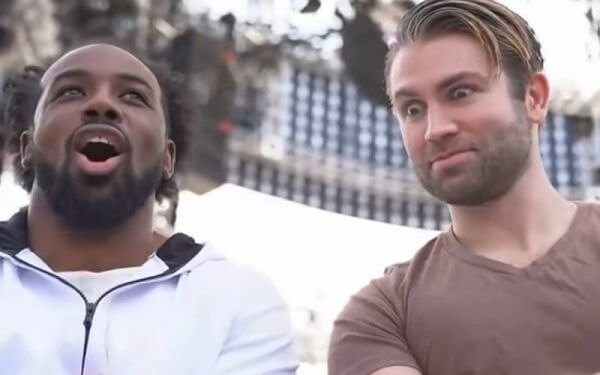 While their relationship is often frayed on YouTube, the two are very good friends and have bonded over their mutual love of wrestling and video games. When Kofi Kingston won the WWE Championship at WrestleMania 35, Breeze was one of the first people to congratulate the group, and Woods and Breeze shared a hug which captured the emotion of the moment, not just for Kofi but for the New Day and their friends.

Matt Hardy and Shannon Moore
While Gregory Helms and Matt Hardy became friends in their teenage years, Shannon Moore has been friends with Matt and Jeff Hardy since the age of eight. Moore and The Hardy brothers both grew up in the city of Cameron, North Carolina, and the Hardys trained Moore to become a professional wrestler. Alongside Helms and the Hardys, Moore was a roster member for OMEGA, the promotion founded by Matt and Jeff Hardy in 1997.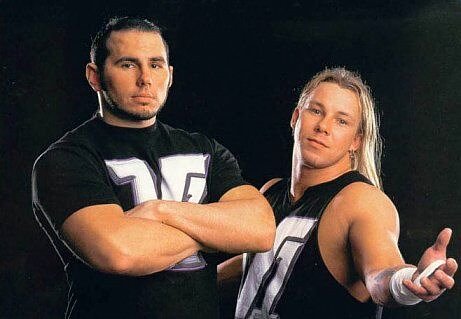 Moore would predominantly work alongside Helms in WCW before the company was purchased by WWE in 2001. After a short stint in WWE's developmental territory at the time, Heartland Wrestling Association, Moore was eventually brought to SmackDown as a follower of Matt Hardy. Moore was eventually released from WWE in 2005. Moore was also a member of Jeff Hardy's band called PeroxWhy?gen from 2003 to 2012 before quitting to focus on wrestling.

Ronda Rousey and Shayna Baszler
The relationship between Shayna Baszler and Ronda Rousey pre-dates either woman's entry into the world of professional wrestling. Rousey and Baszler are two of the Four Horsewomen of MMA alongside Marina Shafir and Jessamyn Duke. When Rousey was in the crowd at WrestleMania 31, Baszler, Shafir, and Duke were right beside her. Likewise, when Baszler was competing in the Mae Young Classic, Rousey, Shafir, and Duke were all in the crowd.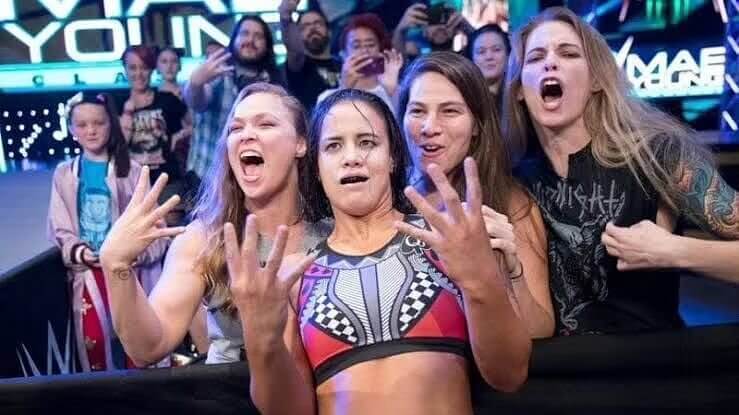 Baszler would be the first to sign for the promotion, followed by Rousey in 2018, and then Shafir and Duke signed later in 2018. Shafir is also married to WWE wrestler, Roderick Strong. During the Mae Young Classic, WWE also teased a possible Four Horsewomen of WWE against the Four Horsewomen of MMA in a YouTube video.

Bayley and Carmella
While Bayley's on-screen partner has usually been Sasha Banks, one of Bayley's best friends behind the scenes has been Carmella. Bayley and Carmella are often referred to by their joint name of "Bay-Mella". The two met while in NXT in 2016 and briefly teamed up in NXT but didn't last long together.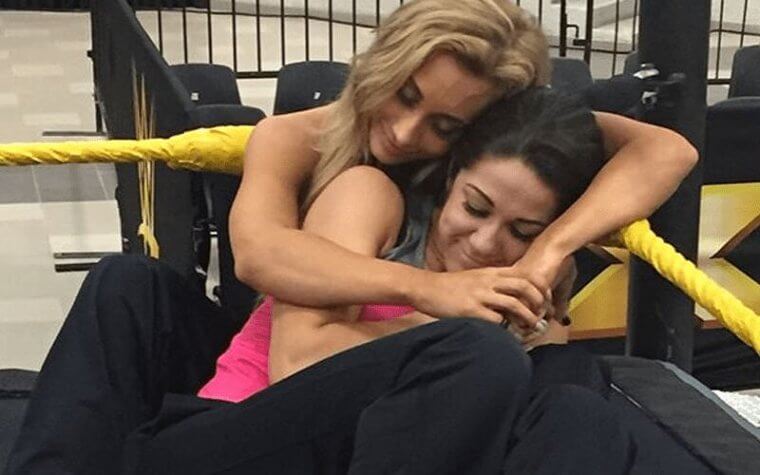 Behind the scenes, the two would often travel around Florida together during their time on NXT. The two would frequently post photos and videos of their travels and time together. The two enjoy spending time together and both have posted photos and videos onto their Periscope and Instagram accounts. 

The Miz and John Morrison
The Miz and John Morrison both came to WWE by way of the reality TV show, Tough Enough. Morrison would get his WWE contract after winning the third season alongside Matt Cappotelli. Meanwhile, the Miz participated in the fourth season, finishing as the runner-up to the eventual winner, Daniel Puder. In 2007, Morrison and Miz would team up for the first time on an episode of ECW against CM Punk and the Boogeyman.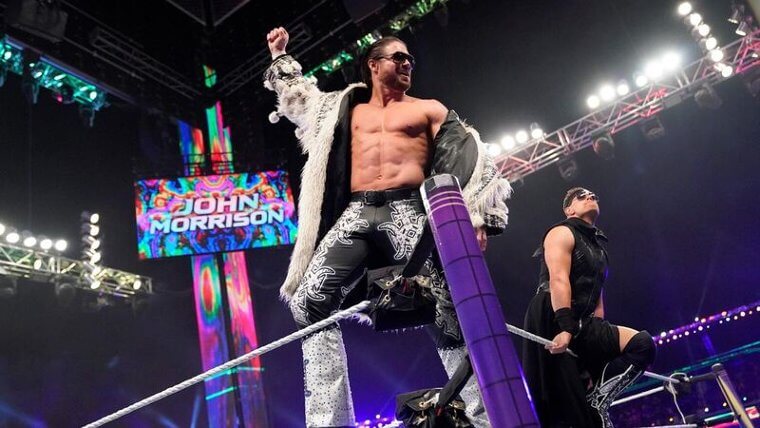 Morrison would leave WWE in 2011 to pursue other projects but maintained his friendship with wrestlers like the Miz and Dolph Ziggler. When the Miz married Maryse, Morrison was in attendance alongside Zack Ryder, Dolph Ziggler, Alex Riley, and ring announced Justin Roberts. Even before Morrison returned to WWE in 2020, he made appearances on The Miz's reality tv show called Miz and Mrs.

The Undertaker and Savio Vega
The Undertaker and Peurto Rican wrestling legend, Savio Vega, would appear to be a strange pairing. However, the two were very close during their time together in WWE. Taker and Vega were both members of the backstage group known as the Bone Street Krew. Despite the distinct different locations on the card, Undertaker faced off against Vega during their career.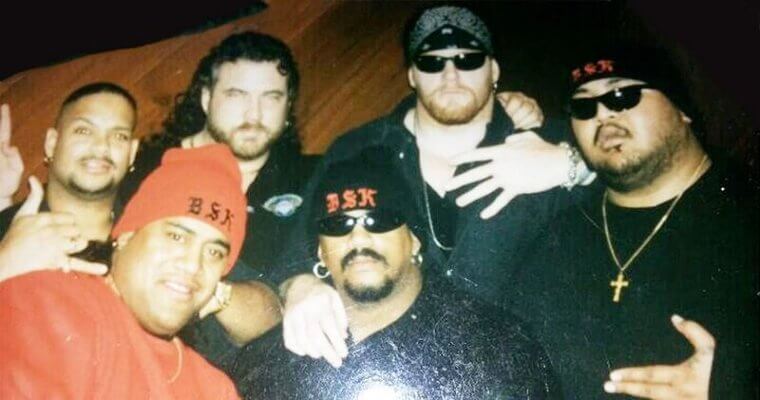 As one of the surviving members of the Bone Street Krew, Vega returned at Survivor Series 2020. Vega's appearance at Survivor Series 2020 was his first appearance in WWE in almost 21 years. Vega's last match for the promotion took place at a house show in Mexico where he teamed with Miguel Perez Jr and Kane to take on the team of Mideon, Viscera, and the Undertaker.

AJ Styles and Christopher Daniels
WWE Superstar, AJ Styles, and AEW Wrestler, Christopher Daniels, have worked together in TNA and a variety of other NWA affiliated territories. Styles and Daniels would face off against each other multiple times as well as holding the NWA Tag Team Titles twice in TNA. Styles and Daniels were voted the Tag Team of the Year by Pro Wrestling Illustrated in 2006.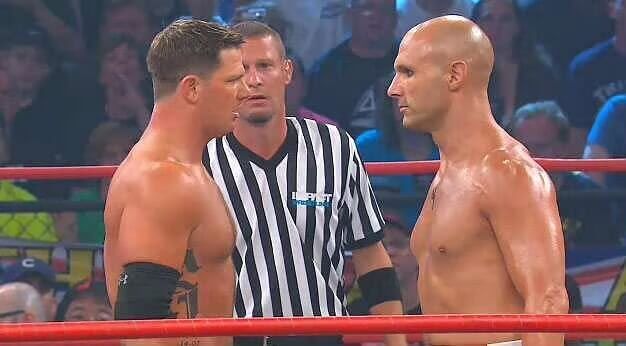 Outside of the ring, Styles and Daniels remain close despite working for different promotions. Styles' son was given Covell as the middle name, which is taken from Daniels' real last name. Daniels reciprocated the measure when he gave his son the middle name Allen, after Styles' first name.

Kevin Nash and Scott Hall
Kevin Nash and Scott Hall's relationship formed when the duo was wrestling in WWE as Diesel and Razor Ramon. The two were also a part of the backstage group The Kliq in the WWE and formed The Outsiders and the New World Order in WCW. Nash and Hall have held tag team titles in both WCW and TNA, while Nash held the WCW World Heavyweight Championship Twice. In 2002, Nash and Hall returned to the WWE alongside Hulk Hogan to reform the NWO.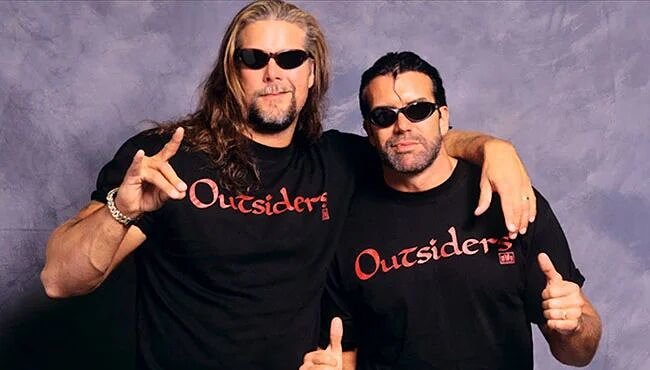 Behind the scenes, it was his relationship with Hall that resulted in Nash leaving WWE to join WCW. The two continue to make appearances together at fan conventions and independent wrestling shows. Nash has stood by Hall through his troubles with alcohol and drug addiction as well.

Finn Balor and Kevin Owens
Despite both Finn Balor and Kevin Owens making their names on the independent wrestling scenes, they became close friends during their time in the WWE Performance Center and NXT. Finn Balor made his name in independent wrestling promotions such as Fergal Devitt, or Prince Devitt, while Owens used the last name Steen before changing it when he entered WWE. Owens would lose the NXT Title to Balor at NXT's Beast in The East event in Japan.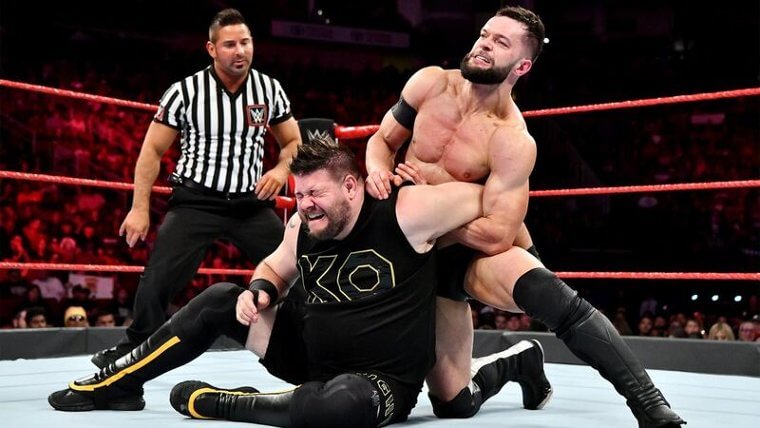 Outside of the ring, Owens has spoken about how his friendship with Balor grew after meeting for the first time at the performance center. The two have multiple photos together from their travels with the WWE. Owens has also stated that he would love to face Balor at WrestleMania. When Balor injured his shoulder, Owens was one of the wrestlers that stood by him, likewise when Owens was injured Balor picked him up after surgery.

The Godfather and The Undertaker
The Godfather was another member of the infamous Bone Street Krew, but Godfather's connection dates back to their time before WWE. In WWE, The Undertaker first faced off against The Godfather when he was wrestling as the voodoo witch doctor, Papa Shango, in 1992. The Undertaker would also feud against The Godfather when he portrayed Kama, The Godfather, and when he was in Right to Censor as the Goodfather.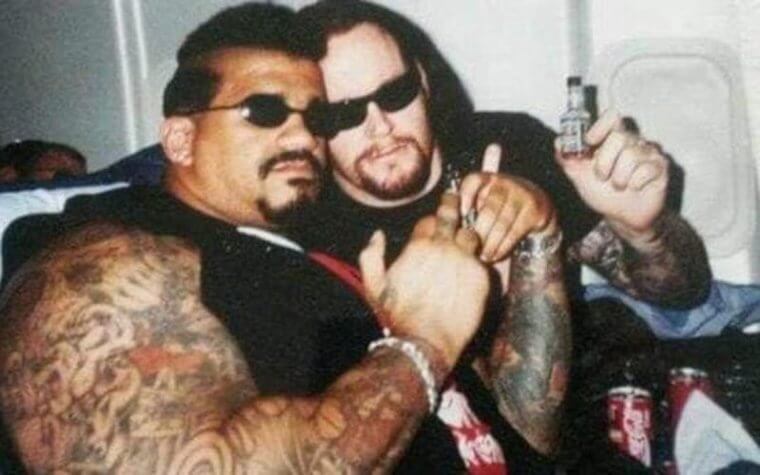 The Godfather and The Undertaker met while working in Memphis in the late 1980s. The Bone Street Krew was known as a group that would travel between shows together. Just like Vega and the other living members of the Bone Street Krew, Godfather also made an appearance at The Undertaker's retirement ceremony at Survivor Series 2020.  

Mick Foley and Bret Hart
Even though Bret Hart and Mick Foley had long careers, they were only in the same ring together on 17 different occasions. The first matchup between the two took place on a house show in Birmingham, England in 1996. The two would occasionally face off against each other in 1997, including their first televised match on Shotgun Saturday Night. Bret and his brother, Owen, would also face off against Dude Love and Steve Austin for the Tag Team Titles at a house show as well.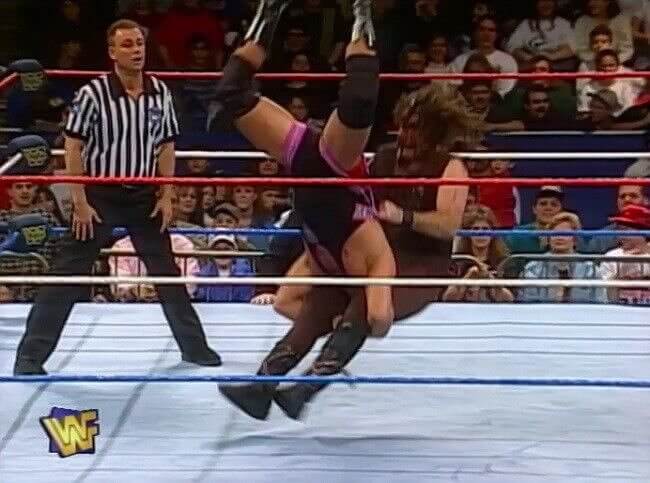 Behind the scenes, Mick Foley was a close friend to Bret Hart without being a member of the Hart Foundation. While many wrestlers would break into the Hart family by marrying one of the Hart siblings, this wasn't the case for Mick Foley. Bret Hart has told the story of how Mick Foley came to him after the Montreal Screwjob and offered to also leave WWE in solidarity. Thankfully, Hart talked Foley out of the decision and convinced him to return to the company.

Rob Van Dam and Sabu
Rob Van Dam and Sabu are two central figures in the rise of Extreme Championship Wrestling in the 1990s. Rob Van Dam was first trained by the "Original" Sheik, who was Sabu's uncle. Van Dam would work for WCW and AJPW before signing for ECW in 1996. It was in ECW where Van Dam reunited with Sabu where the two had a series of extreme matches for the promotion. Van Dam and Sabu would win the ECW Tag Team Titles in 1998 after defeating Chris Candido and Lance Storm.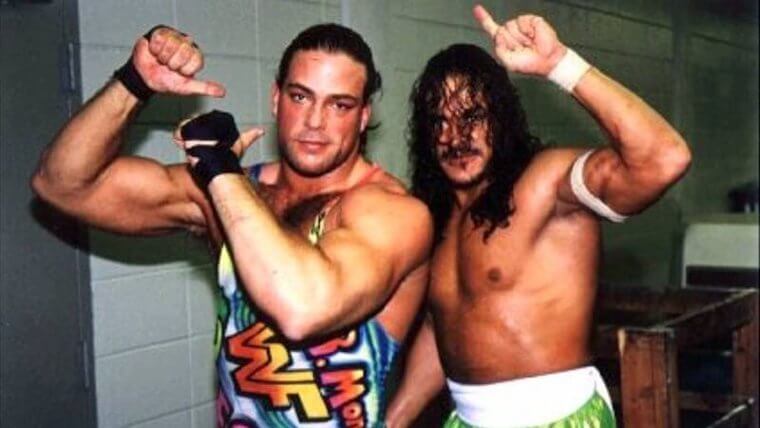 Van Dam and Sabu would often travel together, which led to an incident that would cost Van Dam his WWE title run in 2006. While traveling between shows in Ohio, the pair was pulled over by State Troopers who discovered a variety of drugs and drug paraphernalia in the car. Van Dam and Sabu would reunite again in Impact Wrestling in 2019 featuring in tag team matches against the Lucha Brothers and the North.

Bray Wyatt and Braun Strowman
Bray Wyatt and Braun Strowman were both a part of the Wyatt Family stable in WWE. While Wyatt would lead the family, which included Luke Harper and Erik Rowan in NXT before coming up to the main roster, they would be joined in 2015 by Braun Strowman. Strowman and Bray Wyatt would feud against each other in 2019 and 2020 for the Universal Title.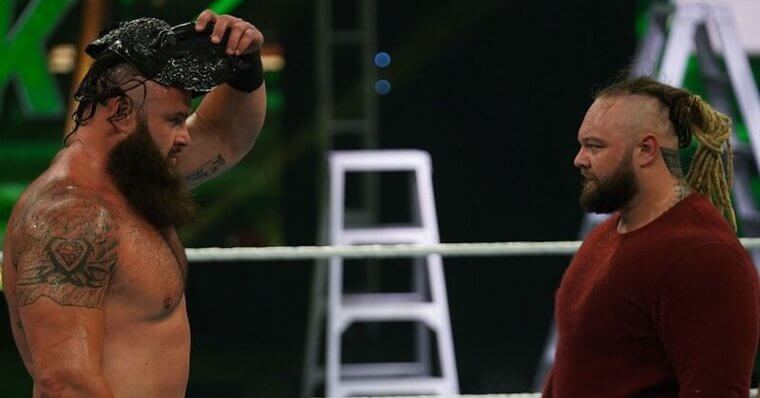 Outside of the ring, Strowman has posted photos holding Wyatt's son, Knash, on his Instagram account. In the social media post, Strowman also revealed that he was Knash's godfather. Strowman also congratulated Wyatt on the birth of his second child with JoJo Offerman in 2020.

Jim Ross and Steve Austin
Unlike others on this list, Jim Ross is not an active wrestler. Jim Ross is best known for being a play-by-play commentator for WWE. Ross provided play-by-play commentary for the promotion during the Attitude Era alongside Jerry "The King" Lawler and Paul Heyman, which coincided with the time when Austin's career had reached its peak. Ross also worked in WWE as a member of the talent relations department, which meant that he worked closely with wrestlers like Austin at the time.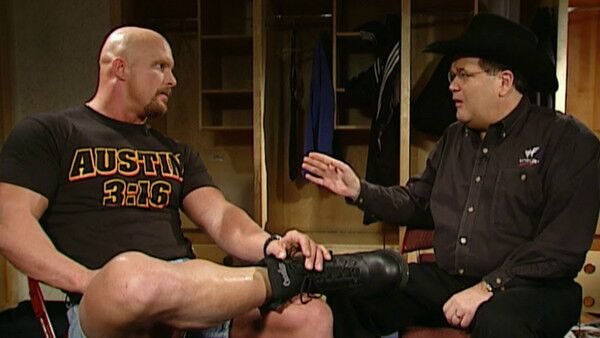 Much has been spoken of the relationship of Austin and Ross on-screen, with fans of WWE knowing that Austin and Ross had a great relationship. After Austin "took his ball and went home", it was Ross who was able to talk Austin into returning, something that Vince McMahon acknowledged when talking to Austin on an episode of the Stone Cold Podcast. Austin and Jim would reportedly travel together between shows as well.