Before she met Prince Harry, Meghan Markle was still the beauty she is today. Always pristinely dressed and perfectly groomed, Meghan Markle looks every bit the princess on every outing she makes. Her hair is never out of place and each dress or shirt hangs perfectly on her frame--even throughout her pregnancy, she floated gracefully through each royal appearance, ready for every photo op in signature high heels. It's hard to imagine she was born a commoner, though as these early photos show, she had all the polish and elegance from an early age. Although there is much more than meets the eye with the Duchess of Sussex, this California girl couldn't be more relatable. Below we take a look at her early life in photos and show how real and down-to-earth this royal lady still is.
 
Star Quality
Drawn to the stage from an early age, it's easy to see the star quality in Meghan, even at only five years old. She looks so incredibly comfortable belting out the childhood favorite "The Wheels On The Bus" here in 1986. Her stage presence is palpable, and her smile shows the ease with which she performed. These advance indicators showed a preview of a passion for acting that would serve her well.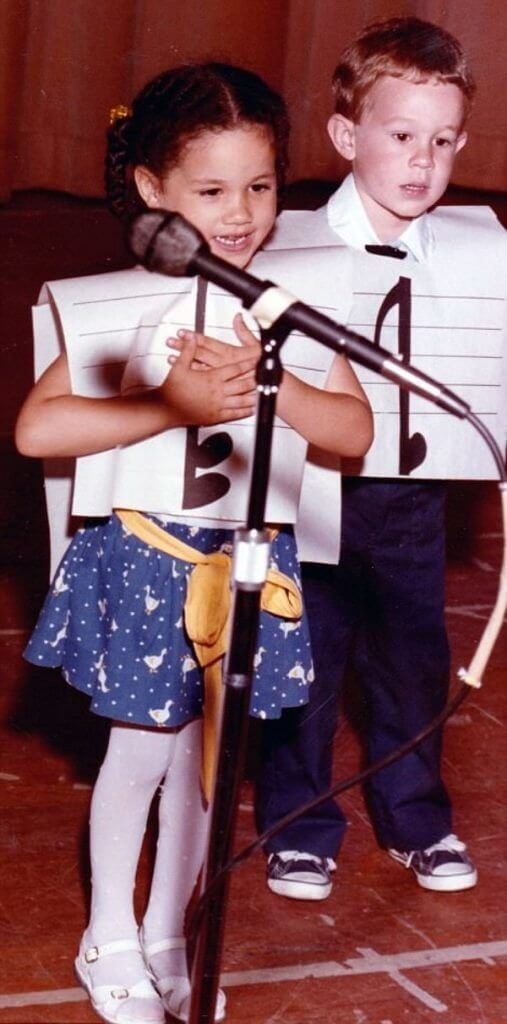 California native Markle attended a private elementary school called the Hollywood School House, formerly the Little Red School House, which prides itself on a diverse student body. The school has educated many children of film industry parents, including Lily-Rose Depp, so it was an ideal environment to foster a future celebrity such as Meghan, although no one quite knew it yet.   
The Pretty Preteen
Posing here with her pal, Meghan looks like an innocent 11-year-old schoolgirl that you could easily imagine having been friends with when you were a precocious pre-teen. Unafraid of the camera lens, Meghan and her friend are face forward smiling away as they while away a sunny day lying in the grass.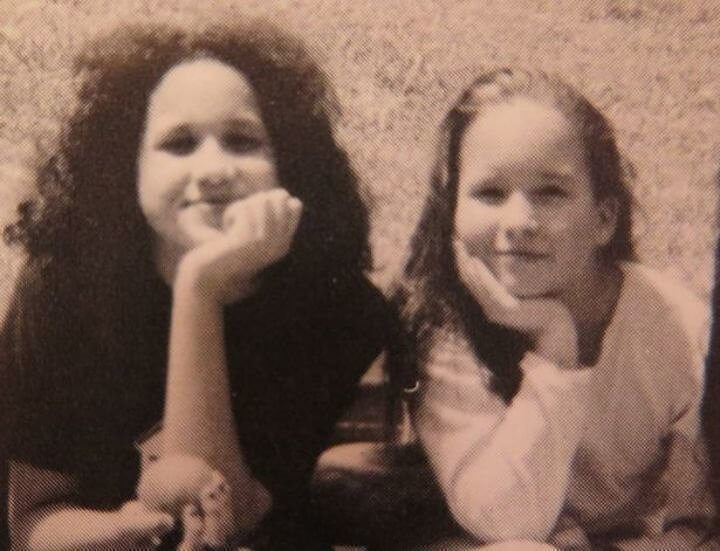 Meghan's parents gave her the cute nicknames of "Flower" and "Bud" - giving us an insight into what a delight she must have been at that age. To this day, her mum Doria still calls her "Flower", as she has blossomed so beautifully into adulthood. Thomas and Doria split up when Meghan was only six years old, but maintained an amicable relationship, ensuring that their daughter felt loved and protected by both of them.
Gal Pal Giggles
It seems like life was full of giggles for these two when each other were around. Pictured here is Meghan with her best friend, Ninaki Priddy, who she met at the Little Red School House when they were only two years old. These two had an inseparable bond throughout childhood and their goofy grins in this photo are a testimonial to that.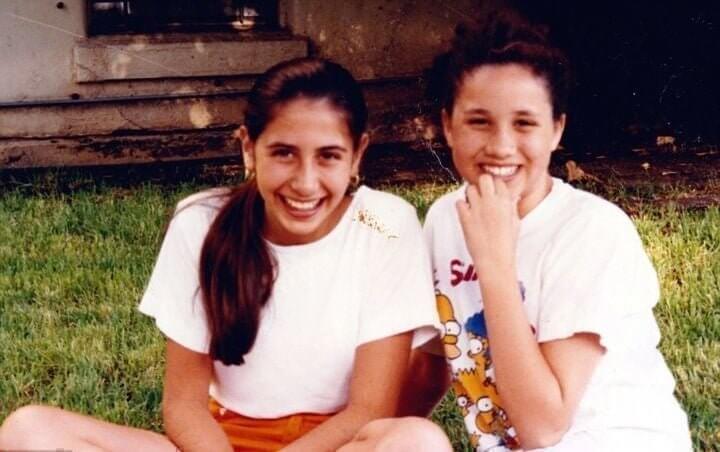 The Simpson's t-shirt Markle has on could give us a clue to what the two were laughing at, because Bart was big in the 90s! Imagining the two girls breaking into fits of giggles on a balmy California day is a great reminder that Meghan had a childhood just like many other ten-year-olds, even though not many grow up to be a Duchess!

Growing Up On Set
Most schoolgirls head home or to the library to do their homework, but Meghan's post-school hang out was on the set of some huge TV shows. Her dad, Thomas, was a lighting director of shows such as the hit sitcom Married With Children, so that was where Meghan spent much of her time.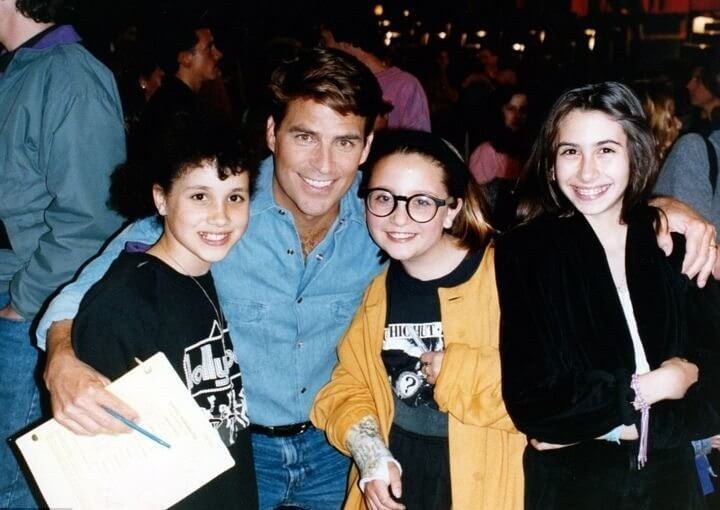 Markle spent ten years visiting her Dad on set, so perhaps it's no surprise that she felt relaxed in the world of television. According to her though, it was "a really funny and perverse place for a little girl in a Catholic school uniform". Thomas, obviously aware of this, often ushered her over to craft services during filming, so she'd be sheltered from the scenes that may have been less appropriate for her age!

The Best Babysitter
Meghan's the only child of her mom Doria, but her Dad, Thomas has two children from a previous relationship, Samantha Grant (née Markle) and Thomas Markle Jr. Substantially younger than her half-siblings, Meghan's sister Samantha is 17 years her senior. This also meant that Meghan met nephew, Tyler, her half-brother's son, when she was only 11 years old.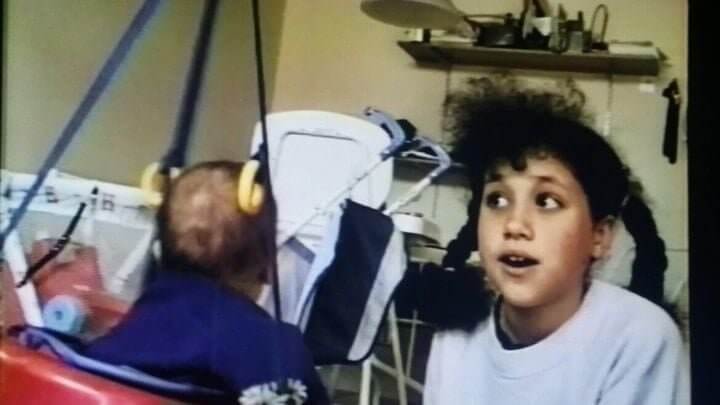 The future Royal quickly took to being an aunt, as the photo here with Tyler shows. Tyler fondly recalled, "She used to like to take us to the duck park. We would feed the ducks and run to the park when she babysat." Sounds like Prince George, Princess Charlotte and Prince Louis are lucky when Meghan comes around to babysit!

Sister Sister
Despite a significant age gap between elder half-sister Samantha and the resplendent Royal, they bonded from the beginning. Samantha doted on her little sister and claims she was the one who helped Meghan take her first steps.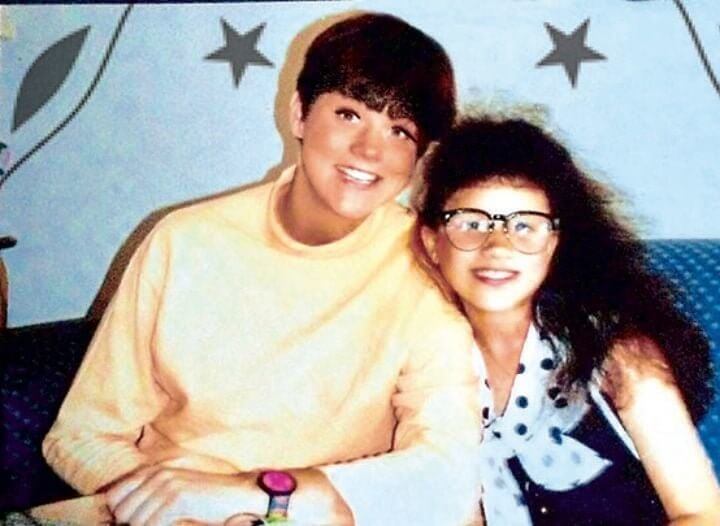 As often happens with siblings so far apart in age, the two drifted apart, both drawn into completely different life circumstances at different times. Their relationship may be rocky as of late, but we're sure both treasure this sweet photo of a simpler time in their lives. There must have been many days tucked up on the sofa together in their father's home.

Politically Driven From the Get-Go
At The Little Red School House, the private primary school Meghan attended, she became interested in political causes and even stepped up with some activism from an early age.  She even attracted the attention of the local media - a portent of things to come.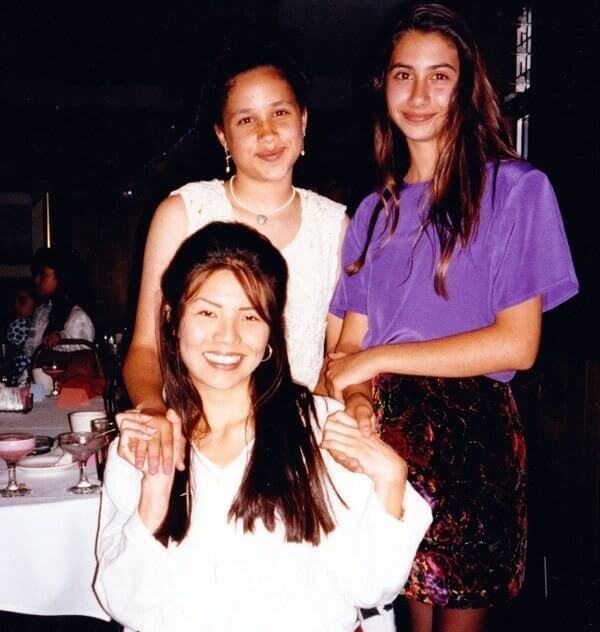 When a classmate burst into tears at the news his brother had been enlisted for the Gulf War, Meghan staged a protest against the war and encouraged fellow classmates to take part. They made signs that they displayed on the school grounds, expressing their political views. Meghan was already speaking out and making herself noticed, fighting for the greater good.

A Catalyst for Change
The cameras focused on Meghan before she even reached her teens, but not because she was a star in the making. Her political actions were getting her noticed at age 11, when she decided to take on corporate giants in the fight against sexism. At the time, Proctor & Gamble, the consumer goods multinational, aired an ad for dish wash detergent that bore the tagline "Women all over America are fighting greasy pots and pans".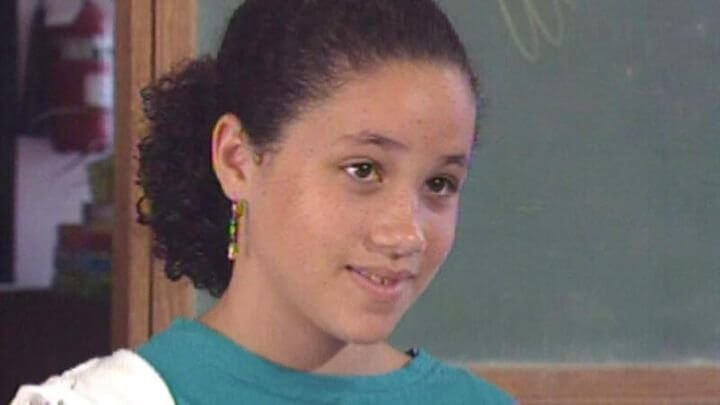 This didn't sit well with the young Meghan, who correctly thought that not only women do dishes. She began a letter writing campaign pointing out the sexism of the advertisement and sent her missives to public figures such as First Lady Hillary Clinton, Gloria Allred, and news anchor Linda Ellerbee. The outcry was enough for Proctor & Gamble to change the beginning of their tagline from "Women" to "People".

Daddy's Girl
Despite spending most of her time living with her mother, Meghan was incredibly close to her father when she was young, visiting him on set and hanging out at his home often. They both shared a love of Hollywood and Thomas was most encouraging when Meghan began to pursue her interest in theater.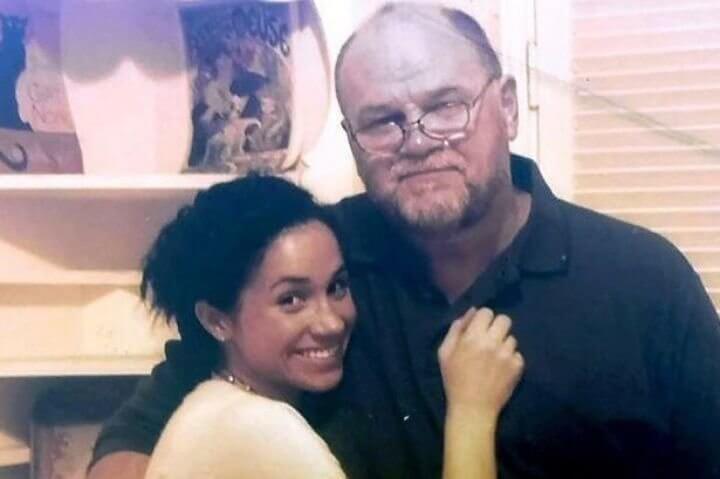 Hard-working and a committed father, Thomas volunteered by building stage sets at Meghan's school and supporting her in school productions that she appeared in. An unbelievably lucky break saw Thomas win $750,000 in the lottery, and thinking first of his beloved daughter, he sent Meghan to the best private school around, Immaculate Heart. This loving picture of Dad and daughter displays the bond they once shared.

A Beautiful Baby
Meghan's parents, Thomas Markle and Doria Ragland, met on the set of the soap opera, General Hospital. He was the lighting director and Doria was a studio temp. At first, they were madly in love and got marries at Paramahansa Yogananda's Self-Realization Fellowship Temple in 1979. In less than two years, baby Rachel Meghan joined them, coming into the world on August 4, 1981.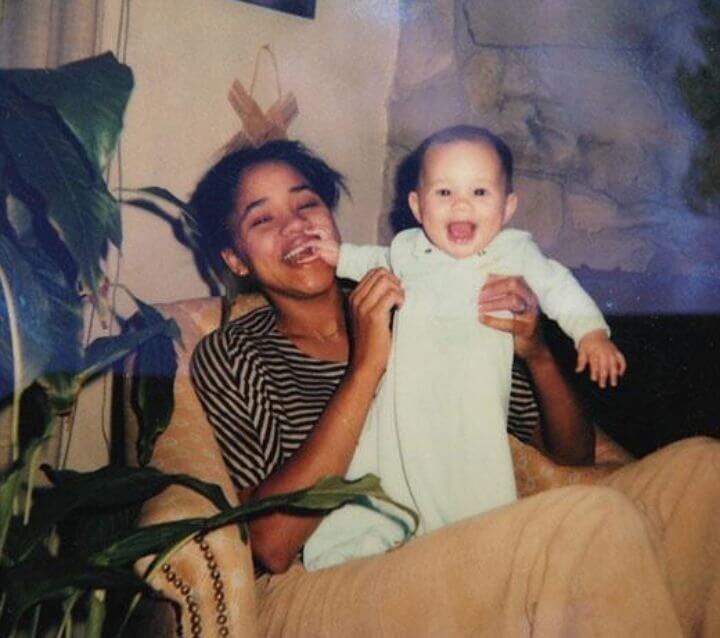 Her biracial status raised some issues from the start, as Markle recalls in an open essay she wrote for Elle in 2015, "There was my mom, caramel in complexion with her light-skinned baby in tow, being asked where my mother was since they assumed she was the nanny." However, Doria had a strong spirit that she passed on to Meghan to help her deal with any negativity that came her way in regards to her race.

Family Ties
As previously mentioned, Meghan saw her father both on the set of Married with Children and when he came to support her in school shows. She saw her half-siblings regularly, whenever they came to visit, and she bonded with her nephews, enjoying the camaraderie.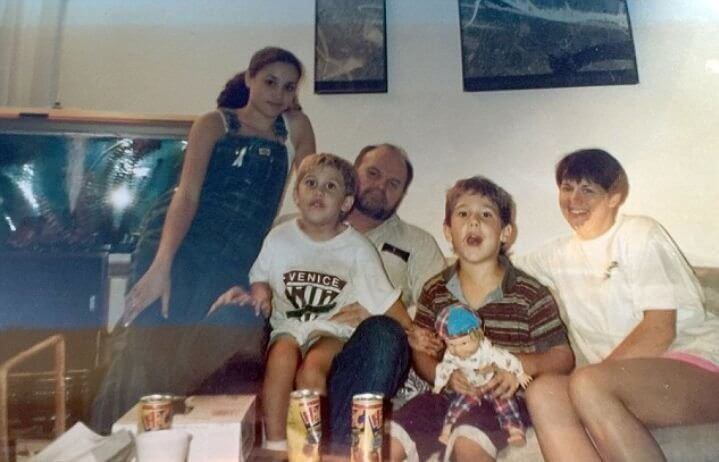 This cute shot shows an adolescent Meghan, looking every inch the 90s teenager in her blue denim overalls, posing alongside her father with her nephew Tyler on his knee. Although Tyler isn't in touch with his aunt much anymore, he speaks fondly of "Megs," and wishes her only the best in her new life as a royal, telling the press, "Everyone deserves to be happy."

Making Her Parents Proud
It's plain to see just how proud Thomas and Doria were of their little girl in this photo where they're all beaming! Meghan made good progress in high school at Immaculate Heart and built up her performance record. She landed many parts in school plays and was a popular girl among all the other pupils.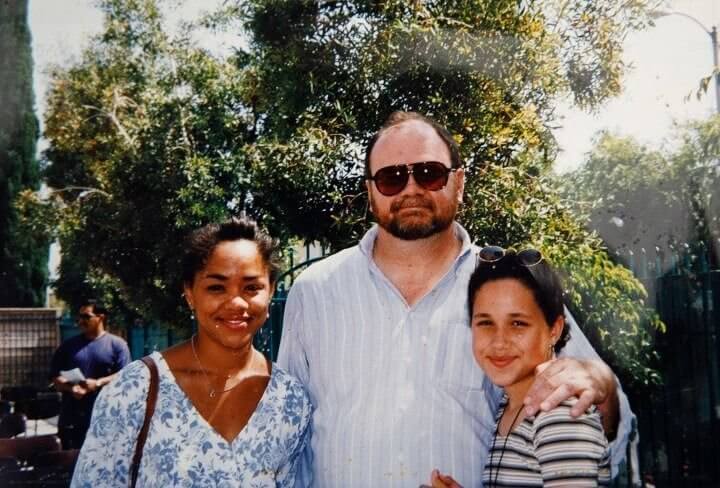 According to then-drama director of Immaculate Heart, Manny Eulalia, "A lot of pupils went to the show just to see Meghan," adding that "quite a few of the boys had crushes on her." According to one of her male classmates at the sibling school of her all-girls high school, Meghan was always a positive presence, bubbly and well-liked among her peers. It's not hard to see why a prince would find this attractive.

Goofing About
It wasn't all good grades, star-making stage shows and political rallies for the young Meghan, she also knew how to have fun with her friends. She may have been socially conscious but she was also very social. It seems like no one felt ill-will towards Markle at Immaculate Heart.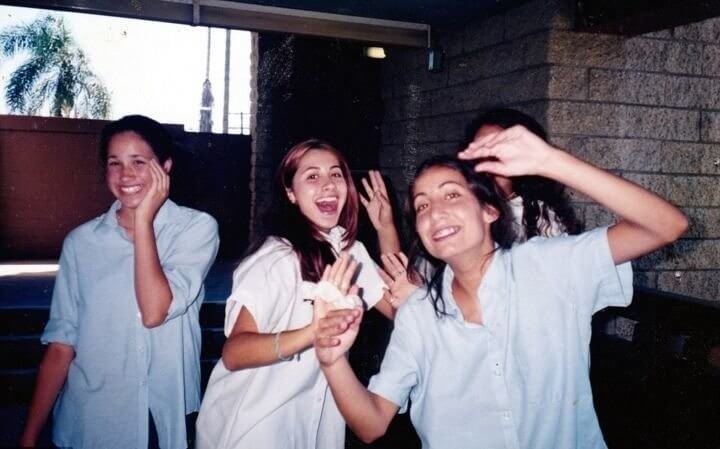 Here we see Meghan barely containing her laughter dancing about with two gal pals. Teenage years can be pretty awkward, but Meghan is remembered for possessing a self-assuredness beyond her years. She was a TA in drama and helped instill confidence in others. Where did she get that self-esteem from? Likely her home life. Meghan says she credits her parents with helping her to "find my own truth."

A Unique Family
Diversity was something to be celebrated in the Markle family, and Meghan says her parents always encouraged her to be confident and comfortable in her own skin. As a young child, she really wanted a set of Barbie dolls called "The Heart Family," which came as a black or white only set. This could have raised identity issues, as Meghan is mixed race.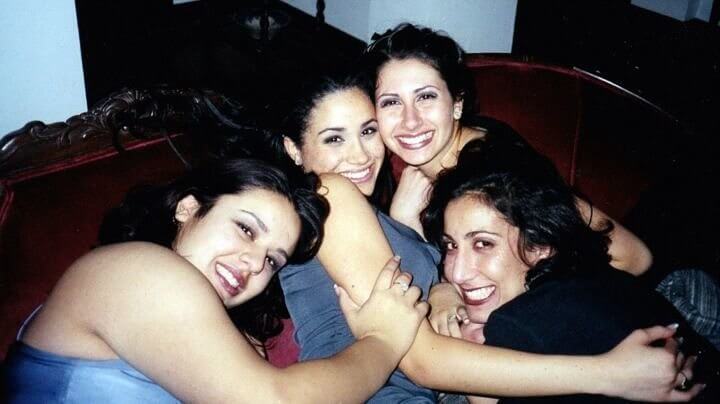 Daddy Thomas had this taken care of. Always wanting to make his daughter feel special, he bought both sets and assembled a family that matched Meghan's - black mom, white dad and one child of each race. Perhaps Mattel could have taken a page out of his book? There's no doubt that Meghan felt special, rather than different, which helped her fit in wherever she went.

Teacher's Pet
Here is the future star posing happily between two friends in her mother Doria's garden, which is in full bloom. This precocious child blossomed into an extraordinary young woman. A former teacher from Immaculate Heart, Maria Pollia says the teenager left an indelible impression, and it's clear the teenager felt the same.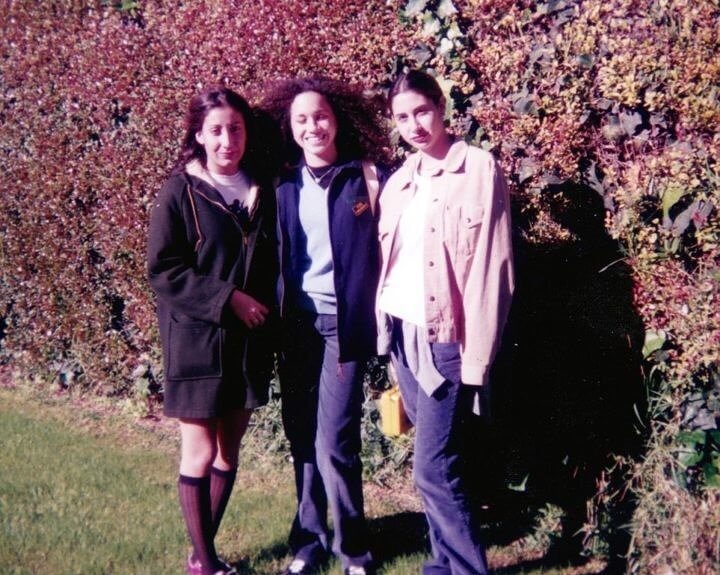 Described by Pollia as being "unusually compassionate" from an early age, this teacher and her young student formed a solid bond through volunteer work. Meghan had been fearful about returning to volunteer at a soup kitchen on Skid Row, but Mrs Pollia stepped in to reassure her, teaching her the valuable lesson that "life is about putting others' needs above your own fears." It seems that Ms. Markle has kept those wide words with her throughout her career and current duties as a royal.

Snapped Outside Her Future Residence
In 1996, 15-year-old Meghan took a European trip with her best friend Ninaki's family. There Meghan and Ninaki posed delightfully outside Buckingham Palace, marveling at the grandeur and history of the royal residence. If someone had told Meghan that she'd marry into the family that lived there, she'd probably have shrieked with laughter.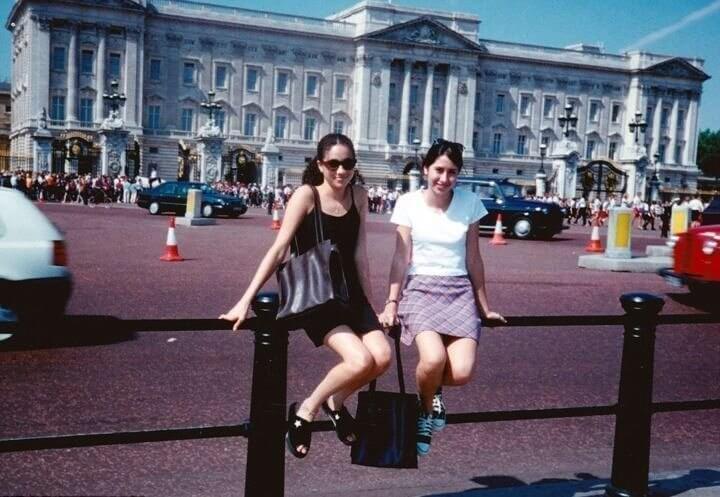 She couldn't have imagined that her soul mate was within touching distance on that summer trip. Still, it's plain to see that she had a ball with her friend and discovered the aspects of British culture that she loved. Little did she know that one day this whole country would be watching her wedding to their own Prince Harry.

A Summer Tour of Europe
On the same trip that Meghan and Ninaki took the year before starting their junior year of high school, the girls were photographed taking a break from sightseeing outside the Louvre in Paris. French was one of the subjects that Meghan took at Immaculate Heart so we're sure she spoke a few words in on this fabulous summer adventure. It certainly seems like she was getting some practice in for her royal tours.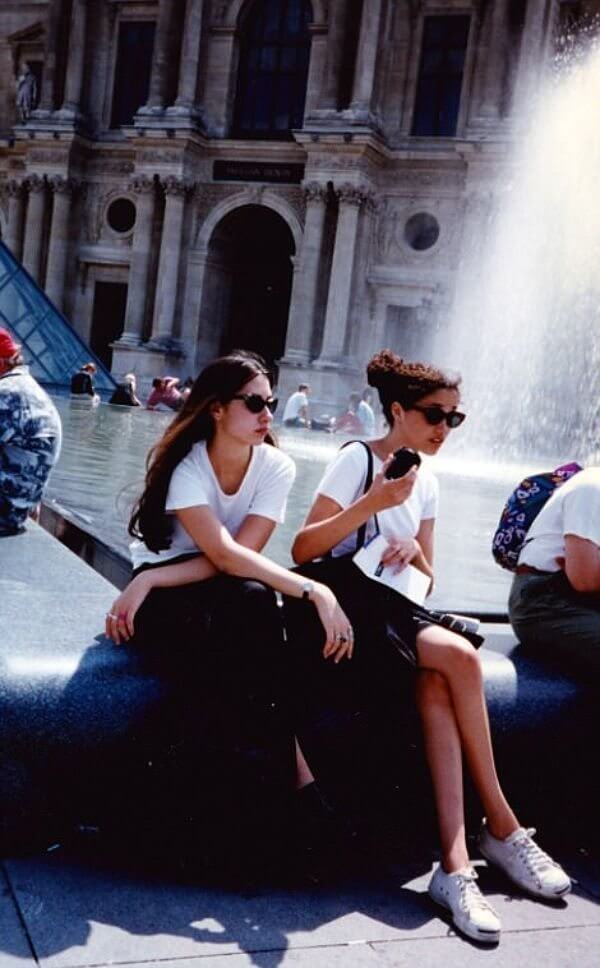 On a recent trip to Morocco, Meghan impressed both locals and the media alike when she conversed casually in French with everyone she met. Meanwhile, her charming husband, Prince Harry admitted that his own French was a little rusty. Perhaps the Duchess can help him out?

Diamonds Are a Girl's Best Friend
Another stop on their amazing trip through Europe was a visit to a diamond house. Clearly discovering her love for some sparkle, the two girls are wearing these rings with pride. Meghan's beaming smile would be echoed 21 years later when she debuted the exclusive engagement ring she received from Prince Harry, fit for his princess.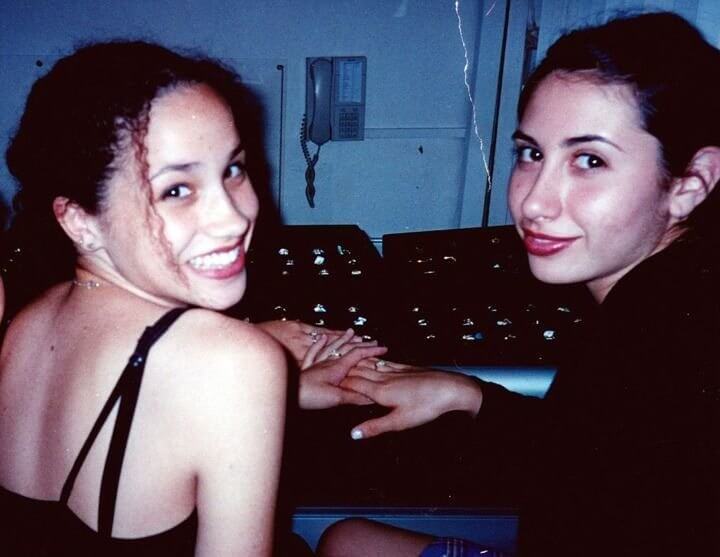 Prince Harry had Meghan's ring specially designed for her as a sentimental token of his love. At the center is a sparkling diamond sourced from Botswana, the country where the two fell in love. Flanking that are two stones taken from Princess Diana's personal collection, and we're sure she would have approved of her son's future bride.

Thoughtful and Kind
Meghan is known for putting others first in her life. Here we can see her, once again snug between two of her best gal pals, all ready for their high school prom. 17-year-old Meghan just glows in their company. She has been described as an incredibly supportive friend and a great listener. Her teacher, Ms. Pollia said that Meghan was great at connecting with people and "knew everyone's story."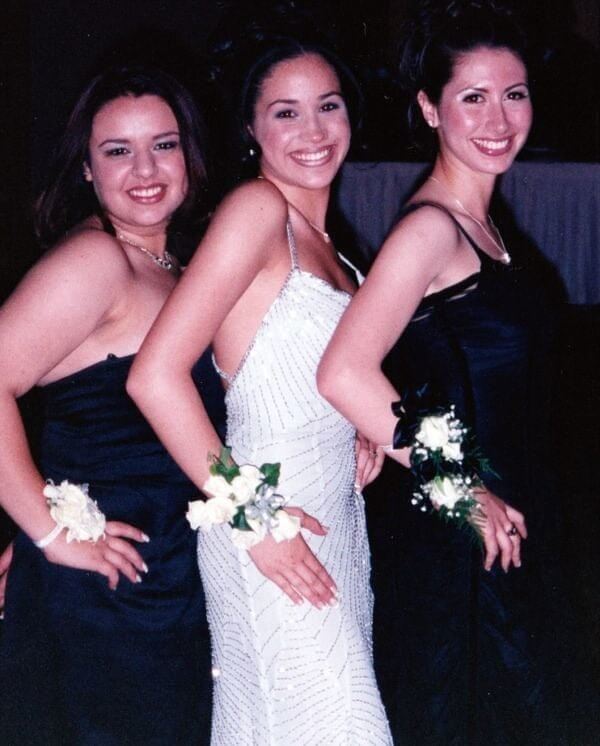 Even now, famous friends like Serena Williams, Amal Clooney, and former Suits costar Abigail Spencer are all quick to gush over "sweet" Meghan. Everyone seems to agree that she makes a fantastic friend. We kind of wish she was our friend too! As Serena Williams told Vanity Fair, "Her personality just shines."

A Tiara Fit for a Princess
Here we have Meghan when she was crowned homecoming queen, demonstrating her regal qualities to a high degree. Only 17 at the time, it seems like all the signs were pointing to her destiny as a royal princess. We bet she still remembers her suitor in this picture, who looks suitably delighted to be by her side.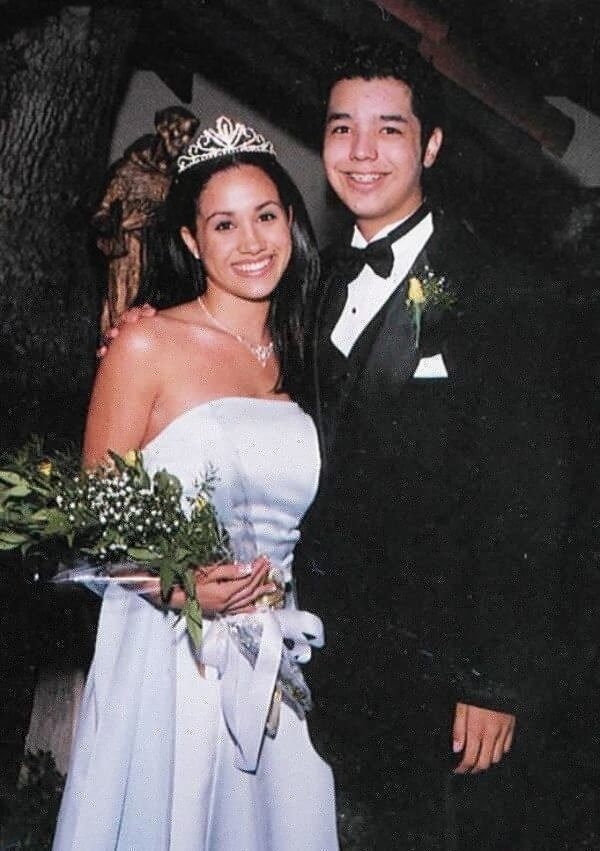 On her wedding day, Meghan wore a slightly more extravagant crown than the one of homecoming queen. Her "something borrowed" was lent by Queen Elizabeth to the blushing bride. It was Queen Mary's Diamond Bandeau tiara, which had been commissioned in 1932 by its namesake. It topped off Meghan's elegant look perfectly.

Dorm Room DIY
After her successful years at Immaculate Heart, Meghan was bound for college. She was accepted at Northwestern University in Chicago, one of the most prestigious universities in the United States. There she chose to double-major in performing arts and international relations. She somehow found time to do some DIY on her dorm room, as we can see in this photo.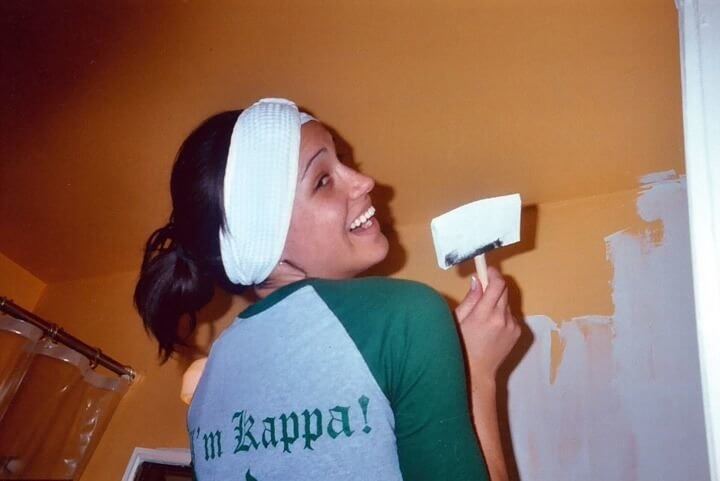 The first of her family to go on to higher education, Meghan had always known she wanted to study further. She put enormous effort into making it possible through scholarships, financial aid programs and work-study where her earnings from a job on campus went towards her tuition. Although it was hard work keeping everything going, in her own words she says "Without question, it was worth every effort."

Just Your Average Coed
While on a Royal Tour with her husband Prince Harry, the Duchess of Sussex reflected on her college years, noting how grateful she was that she had the opportunity to explore her academic interests. She complimented Northwestern as an environment that nurtured her innate curiosity, but it's of no doubt that her can-do attitude brought her far.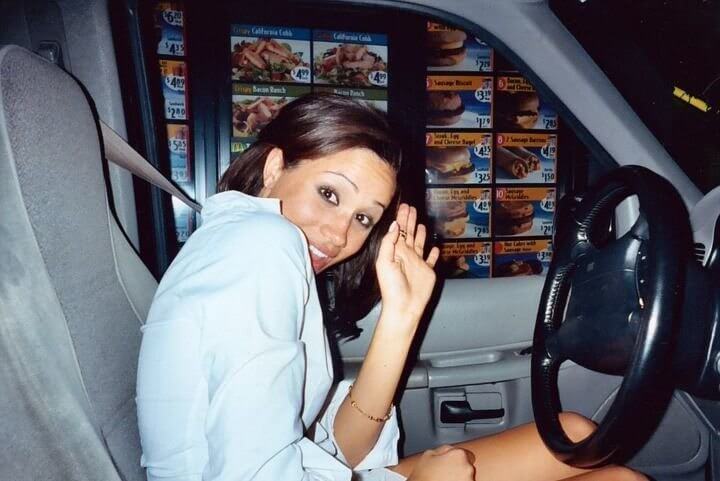 She is still pretty open about how much fun she had as a co-ed too, freely admitting that "The 24-hour Burger King definitely helped me put on the Freshman Fifteen." Haven't we all had those late-night snack cravings when cramming for a final? Perhaps this picture was on one of those jaunts to get said snacks! We're not sure there's ever been a Royal so relatable.

Smile For Your Sorority!
Meghan became a sister in the Kappa Kappa Gamma sorority at Northwestern University, as seen in this photo. She was involved in sorority events but didn't get too distracted by the crazy lifestyle of mixers with fraternities and late night college partying. Her academic pursuits took priority over everything else.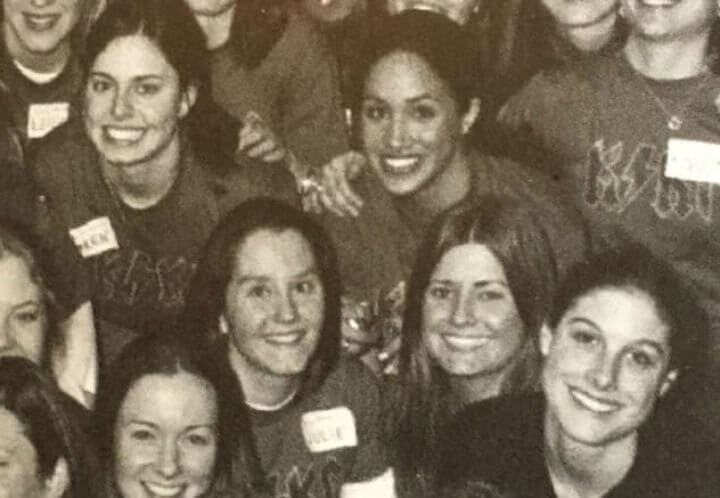 Meghan knew by now that she wanted to become an actor, so aside from all her dramatic ventures, she made an effort to learn as much as she could in other areas of education. This led to her major in international relations.  According to one of her professors, "She was one of those people that I would highlight for students. I would say, 'This is a possibility. This is a path you can pursue if you work hard.'" We can only imagine what the other girls in the photo say now!

Girl's Road Trip to Los Angeles
Still the best of friends, once they graduated college Ninaki and Meghan decided to take a cross country road trip from Chicago to Los Angeles. Meghan was keen to start building her resume and hopefully launch her acting career in the big city. However, there was still time to make memories along the way and they stopped in various places posing happily in front of local landmarks.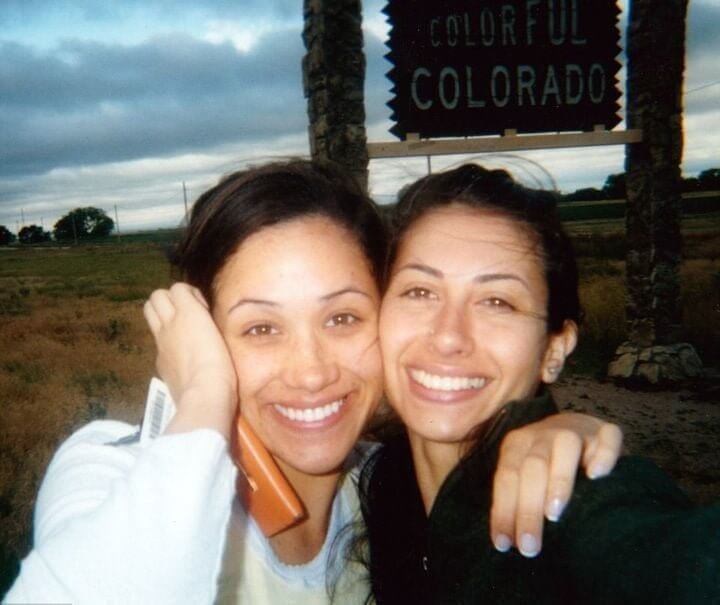 Here we see the fresh-faced twenty-somethings in Colorado, and there was a pit stop in Vegas along the way. This lengthy trip was probably good preparation for Meghan's later duties as Duchess of Sussex. These days she has to fly from country to country and visit both small villages and large metropolises as a figurehead in the monarchy.

A Million Dreams Come True
When Meghan finally got to Hollywood, she didn't become a superstar overnight. She traipsed from audition to audition and had to take all kinds of odd jobs just to pay her bills. Her parents were incredibly supportive, helping out wherever they could, confident their little girl would achieve her big break.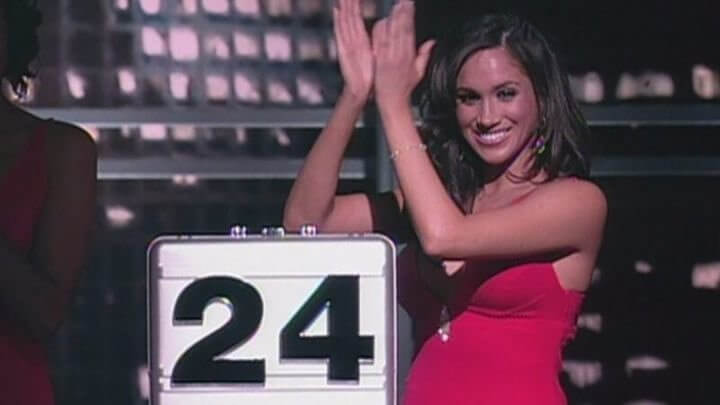 Her first screen job came in the form of Deal or No Deal, where she took on the role of one of the briefcase girls alongside a then-unknown Chrissy Teigen. What a future awaited the two ladies! Shortly after, Meghan graduated from walk-on parts and cameos when she was cast in the role of Rachel Zane in Suits. The show was filmed in Toronto, and it was there that she would meet Prince Harry, so this serendipitous step was not only her step to stardom but to a fairytale life that she probably never even dreamed of.